——————————————————————————
For those of you that don't know, I'm German. At least that's where my parents are from, where the rest of my family lives, and where I hold citizenship (in addition to the US). My mother is spending a couple of months in Germany, and I hadn't seen her in a while. Given that my family is spread out all over right now, with my dad in Tampa, brother in New York, and mom in Germany, I figured I'd go to Germany for a few days to visit my mom. This was over my winter break with a limited amount of time, hence the short trip.
As I outlined in a post just before I left for Germany, the booking decision making process was not easy. While I have plenty of miles for an award in every alliance, I wasn't sure which airline to book. The obvious choice to Germany is Lufthansa in first class, especially when terminating and originating in Frankfurt, given the incredible ground services Lufthansa offers with the First Class Terminal.
However, to avoid boring you, my dear blog readers, I decided it was time to try a new product, given how often I've written Lufthansa trip reports. I suggest going back and reading my post from before I left to see just how complex my decision making process was. I considered Austrian, British Airways, Air New Zealand, US Airways' new product, Delta, and many more.
Ultimately, given that I recently stumbled upon a nice bounty of Delta miles courtesy of SunTrust and their business checking accounts, I figured I might as well give Delta a try. Delta miles are commonly called "SkyPesos" since they're so much less valuable than most other mileage currencies, though shockingly enough I found award space in both directions for my preferred dates at the saver level of 100,000 miles roundtrip. The routing I booked was as follows:
Dec 20, TPA-DTW, DL1892, 11:40AM-2:20PM, First, 2hr40min, 757-200
Dec 20, DTW-FRA, DL142, 7:25PM-9:30AM+1, Business, 8hr5min, 767-300
Dec 25, FRA-ATL, DL15, 9:45AM-2:20PM, Business, 10hr35min, 767-400
Dec 25, ATL-SEA, DL2829, 6:55PM-9:25PM, First, 5hr30min, 757-200
Dec 27, SEA-IAD, UA260, 1:10PM-9:04PM, First, 4hr54min, 757-200
Dec 27, IAD-TPA, UA727, 10:03PM-12:28AM, First, 2hr25min, 757-200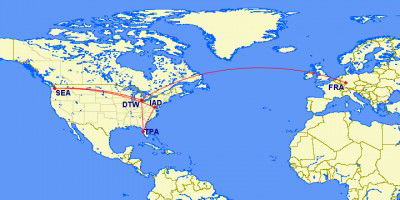 While the flights wouldn't be operated by Delta's new lie flat product, I was more curious about the food and service. Besides, the 100,000 miles cost me $220 to acquire, and the taxes on the ticket were around $70. $290 for a business class ticket to Germany? Deal!
As you can see, my journey on Delta ended in Seattle, since there was no award space to Tampa. I've always wanted to try Delta's domestic "pimped out" product (featuring audio and video on demand, power outlets, and inflight Wi-Fi), so flying to Seattle worked out surprisingly well. I then booked a one-way revenue United ticket from Seattle to Tampa via Washington.
Unfortunately while in Germany my routing got changed up a bit due to the snow storms, since my Atlanta to Seattle flight was canceled. I wrote about that situation here. Ultimately I got rebooked from Frankfurt to Seattle via Detroit. While I would have preferred to fly via Atlanta to see the difference in crews (I assume longhaul flights out of ATL are worked mostly by "legacy" Delta crews, while flights out of DTW are worked mostly by ex-Northwest crews), I was very impressed by the ease with which I was able to rebook online.
On the hotel front, you're probably wondering why I was staying at one to begin with if my mom is already in Germany. Well, she's kind of "roaming" all over, so doesn't have a place there at the moment. As luck would have it my preferred hotel chains have hotels in the two cities we needed to stay in: Mainz and Frankfurt. Not only that, but I needed one more night at a Priority Club hotel to round out their "Sweet Dilemma" promotion. We stayed two nights at the Hyatt Regency Mainz (108 Euro/night) and two nights at the InterContinental Frankfurt (107Euro/night for the first night, and I used a free night from the "Sweet Dilemma" promotion for the second night). Then in Seattle I spent two nights at the Grand Hyatt, taking advantage of their promotion offering 5,000 bonus points for a two night stay. As you'll see later on, all of these stays more than paid for themselves!
Before I start with my review, please read my post from yesterday about how jaded I've become with premium cabins. Thanks to my mileage obsession I've been able to fly nothing but international first class for several years now. While I consider myself incredibly fortunate to be flying business class, after that much first class flying, it almost seems like a simple form of transportation as opposed to an "experience." Nonetheless I did enjoy my flights and certainly enjoyed experiencing a new product.
Anyway, without more rambling, sit back, relax, and enjoy the ride. As usual, I'll try to post one installment a day whenever possible.
Questions? Comments? Gripes? Leave 'em below!