We landed in the upper A-gates, so instead of taking the tram to the main SkyClub, I decided to visit the one near my arrival gate.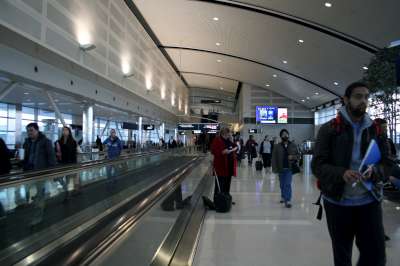 DTW terminal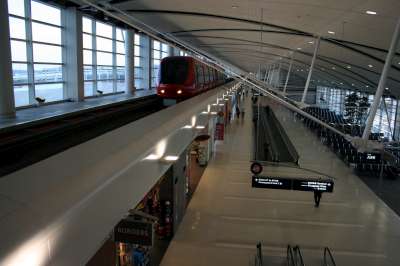 DTW terminal
Now, before I go on, it's time for some disclosure. I'm just a few months shy of 21, and I realized ahead of time that Detroit's SkyClub has a 21 + policy because they have an open bar. That being said, I've used the SkyClub in Detroit several times, including a couple of years ago, without issue. While the Red Carpet Club has an 18+ policy, I've been using it since long before that age too. I've also used plenty of other lounges in the US with an open bar. That being said, I understand the rule is in accordance with local liquor laws.
Anyway, I entered the SkyClub and was asked for an ID, which I provided, at which point the agent said "honey, you're not 21, you can't use the lounge." I explained that, in my 300,000 miles/year travel, this is the first time I've ever been denied access to a lounge. The other agent was on the phone with a supervisor about an unrelated issue, and said "here, talk to him," and handed me the phone. The supervisor on the other end said "so I hear you have a problem with our rules." While I hadn't said that, my thoughts were as follows:
While it's no reason for them to let me in, I've never been denied access to a lounge.
I think the inconsistency between SkyClubs is ridiculous. Most have bartenders, meaning the clubs are 18+, while some of the ex-Northwest clubs have open bars, making them 21+. Yes, this is a former Northwest WorldClub, but either go all self serve or all bartender, in my opinion. The experience shouldn't vary based on the airport you travel through.
If they have three SkyClubs in Detroit, why can't at least one of them have a non-self serve bar?
All I wanted was Wi-Fi and a quiet place to work, and there are plenty of 18-20 year old business travelers. Given that we "pay" the same for business class, I think they should have some alternative in place. Working in the terminal in Detroit isn't easy, since all the power outlets seem to be immediately below the blasting TVs.
The irony in all this is that I was offered wine aboard my inbound flight when I asked for lime. When I ask for a quiet place to work, I get denied, though.
Look, I respect the policy, but my point is simple – it's ridiculous that I would have to sit in the gate area for hours when all I want is to get some work done, as a premium traveler. I explained to the supervisor that I wasn't mad about being denied access in this instance, but was instead angry at the policy in general. His response, which I found a bit disappointing, was to "talk to Delta." Um, who am I talking to? You would think a supervisor would be a representative and ambassador for the airline…
I know I'll get heat for my stance on this, so let me repeat two things. I am not angry at being denied access in this particular instance. At the same time, I think it's ridiculous that they are entirely alienating 18-20 year old travelers. I had work to do, and Delta prevented me from doing it by denying me access to the lounge. Providing a practical suggestion, maybe they should work out a deal with the Westin that is connected to the terminal for either some cubicles or something for those between the ages of 18 and 20. If nothing else, the SkyClub advertises itself as a "serene escape while you travel." To me, that should be more about being able to get some work done in peace than boozing it up. So I guess the takeaway there is that if you're an 18-20 year old premium traveler, Delta doesn't want your business.
Anyway, with that frustrating experience behind me, the evening only went downhill from there. On the plus side, Detroit is one of the nicest airports in the country, so if I were to be stuck in a terminal, this would be the airport… at least usually. Unfortunately in this instance, the Salvation Army was raising money by letting anyone get on a stage and sing with a microphone for a $5 donation. Let's just say that the "talent" on stage made some of the first round auditions on American Idol look good. It was truly intolerable. Great cause, though torturing air travelers shouldn't be the best way to raise money, in my opinion.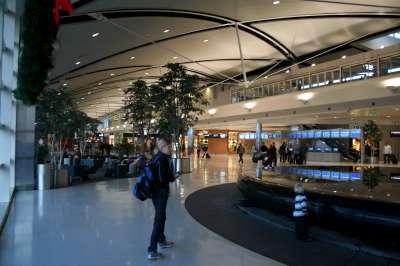 DTW terminal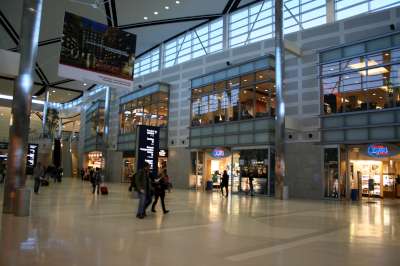 DTW terminal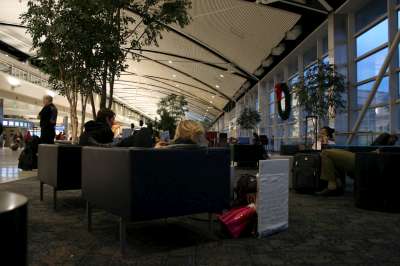 Comfortable seating area in the terminal
I spent the next couple of hours tweeting furiously (thanks to all those that put up with me and interacted with me, it made the layover pass that much more quickly). When I ran out of things to do, I started to ride the tram back and forth from one end of the concourse to the other. I was the only person over the age of four that seemed to be doing that.
At around 6:15PM I headed to gate A40 for an anticipated boarding time of 6:30PM (can someone explain to me why Delta allows 55 minutes to board a 767?). Looking at ExpertFlyer.com, I noticed that seats 6F & 6G still showed as empty (the last row of BusinessElite on the right side of the aircraft), so I asked the gate agent if I could switch to 6F (from 4F), assuming 6G would stay empty. The "red coat," without saying a word, ripped up my boarding pass and gave me a new one for 6F.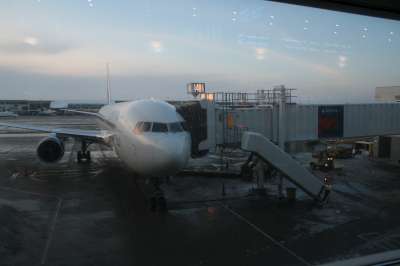 FRA-bound plane at gate A40
At this point the TSA and DHS set up shop at our gate. An older Middle Eastern man was walking around the gate area near the podium, and the gate agent asked if she could help him. He said "no, I'm just walking around nervously." Obviously his intentions weren't bad, but that quickly caused the TSA and DHS people to look up!
As boarding time rolled around the gate agent announced that our flight would be leaving from gate A38, so everyone made the trek over there. Five minutes later the same gate agent announced that this was an error, and we were actually leaving from A40, as initially anticipated. At this point the gate agent announced that there was a mechanical problem with the aircraft, and we would have an update in about an hour. Apparently a part was being flown in, which was to arrive at 7:15PM.
When 7:30PM rolled around, another announcement was made informing us it would be another 20 minutes, and they invited BusinessElite customers to return to the SkyClub if they wanted. If only!
Finally another 30 or so minutes later, boarding commenced. I was just happy to be on my way.