---
I got to the airport about 90 minutes before departure, and proceeded to the counter to get my boarding passes. I had booked a cheap revenue ticket from Seattle to Tampa via Washington Dulles, and fortunately my upgrades cleared on both segments 100 hours out. Check-in was a total mess, given that just about every flight that day was oversold, not to mention there were storms in the Northeast.
While the security lines were insanely long, Seattle does have a priority security line, which saved me a few minutes. Nonetheless, I somehow managed to get stuck in what appeared to be the "pacemaker" line, as I was just about the only one without one.
I briefly stopped in the Red Carpet Club, which is an absolute dungeon in Seattle. The highlight, though, was the overly friend Global Services concierge that was sitting at the desk admitting people. Her friendliness was contagious. Not only is the Red Carpet Club a dungeon, but it was packed, since the flight to Tokyo Narita was departing in about an hour. As a result I headed up to the gate area to see if the flight might need volunteers. Sadly it didn't.
I did, however, get to witness something pretty… interesting. I got to watch the flight attendants board the United flight to Tokyo Narita. United's Seattle flight attendant base is one of the most senior in the system, often referred to as "Jurassic Park." I flew with a Seattle based flight attendant not too long ago that was thrilled to be senior enough to finally be working the Seattle to Tokyo Narita flight in coach for the first time, and that was after 39 years with United. So you can imagine how senior these flight attendants were.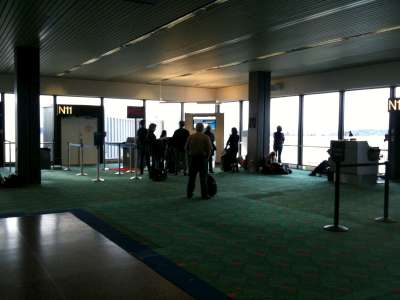 My departure gate, N11
The only thing not ancient about the plane heading to Tokyo was the paint job, as the 777 sported the post-merger livery.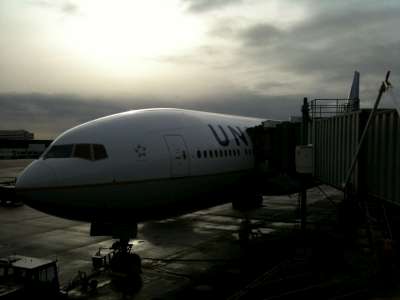 777 bound for Narita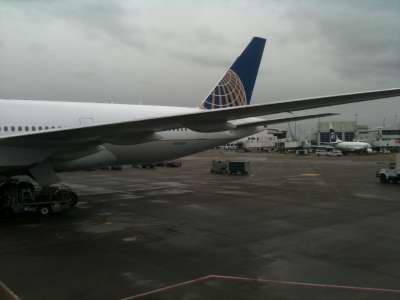 777 bound for Narita
Exactly 30 minutes before departure boarding began via the red carpet, for first class, 1K, and Global Services passengers.
United 260, SEA-IAD, 757-200
Monday, December 27
Depart: 1:10PM
Arrive: 9:04PM
Duration: 4hr54min
Seat: 6C (First Class)
Once onboard I settled into my preferred seat, 6C. I was welcomed by a familiar Seattle based flight attendant, Kathleen, who was all smiles.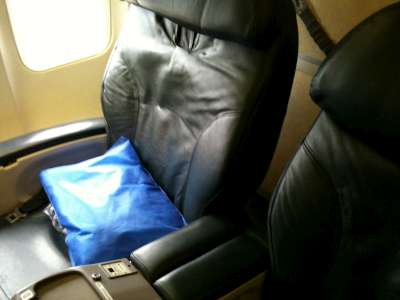 Seats 6C & 6D
An older gentleman settled in next to me, asking if I preferred the window seat (which was quickly resolved with a "no"). As boarding continued he kept looking back to coach, and I couldn't figure out why until he asked to get up. As he got up he said "gotta switch seats for marriage reasons," and soon enough his wife took seat 6D.
As boarding finished up pre-departure beverages were offered, consisting of the standard OJ or water. The captain announced our flight time of 4hr27min, anticipating an early arrival for us.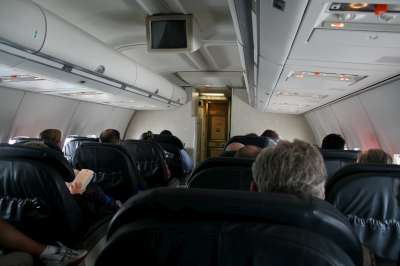 Cabin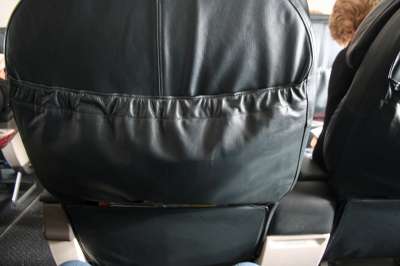 Legroom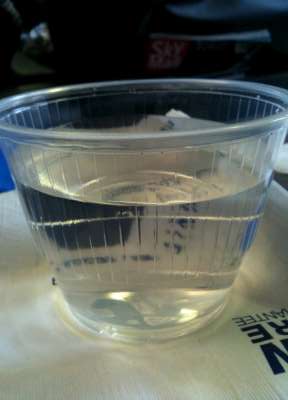 Pre-departure water
We pushed back right on time to the tunes of Jeff Smisek's voice, telling us about the "number of changes [we'll] see in the months ahead." Not liking them so far, Jeff!
After a quick taxi we were airborne and on our way to DC.
Once we leveled off, Jessi (the purser) and Kathleen (the first class aisle flight attendant) began their service. As luck would have it, they were two of the best flight attendants I've had in a long time. I find Seattle based flight attendants to be pretty hit-or-miss, given how senior they are. Either they take extreme pride in their jobs, doing their best to replicate service from "back in the day" (since many of them worked for United back in the day when they were only delivering mail), or they've totally given up on the industry and don't care anymore. These flight attendants definitely belong in the first category. That being said, the purser, Jessi, was actually insanely junior (and attractive). She only had 13 years with United, and was apparently one of United's most junior Seattle based flight attendants.
As we leveled off Kathleen started with the beverage service. I went with a Diet Coke with lime, which was of course complemented nicely by hot nuts.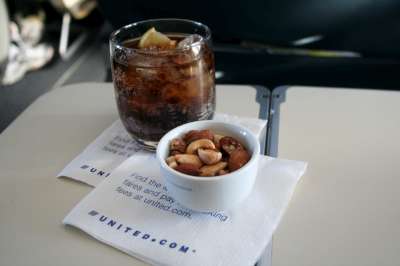 Diet Coke with lime and hot nuts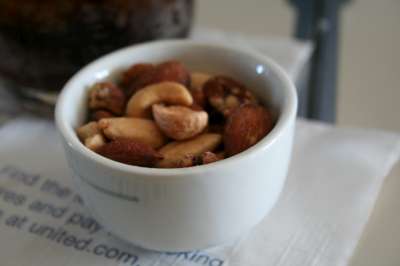 Hot nuts
At the same time, Jessi took meal orders the proper way: "Mr. Lucky, would you like to join us for lunch today?" After answering "yes," she provided a very detailed description of both meals. The choices were either the chicken sandwich or turkey salad, and I went with the salad.
While United's domestic meal presentation sucks, the food is actually really good (and reasonably healthy), in my opinion.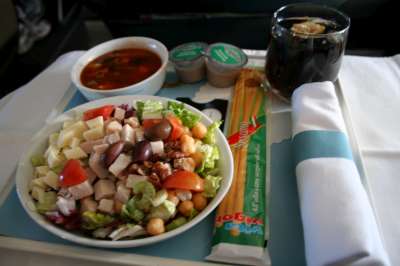 Turkey salad and minestrone soup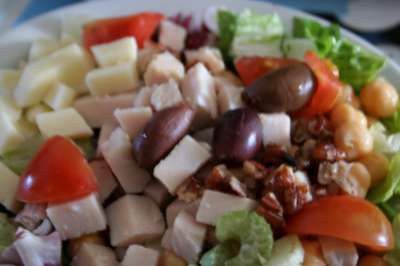 Turkey salad
On the main screen at that point was the movie, which was quite entertaining. I forgot the name, though it was about the guy that donated his sperm to his best friend. Okay, with that description, maybe I should try and dig up the name…
After lunch a warm cookie was served, and to be as much of an elementary school student as possible, I asked for a glass of milk with it.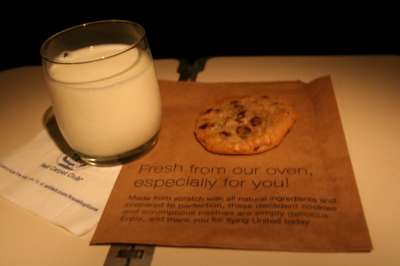 Chocolate chip cookie and milk
I dozed off for most of the rest of the flight, until about an hour out of Dulles, when the snack basket was brought around. They seem to have recently changed it, for the better. Here are the current contents: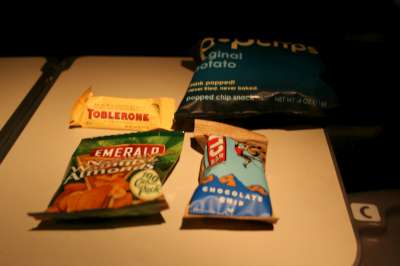 Snack basket contents
While we started our descent right on time, the Captain informed us that we would be entering an indefinite holding pattern. The weather at Dulles was awful, with winds gusting 30 to 40 knots, so they were severely restricted on the number of arrivals they could accept. Fortunately, despite a connection time of under an hour, my mind was at ease since it was the same plane scheduled to continue to Tampa.
This is where listening to Channel 9 gets exciting. There were a couple of planes low on fuel due to the amount of holding they had to do, so they had to declare an emergency. We ended up staying in a holding pattern for close to an hour, at which point we began our further descent. The approach was easily the bumpiest of my 300,000+ miles this year, though the landing was still smooth as silk.
We quickly taxied to the gate, though I stayed in my seat for a few minutes so those with tight connections to international flights (which seemed to be just about everyone) wouldn't misconnect.
Once in the terminal I saw that the same plane would indeed be flying down to Tampa, and I even saw the "we are looking for volunteers" text on the gate monitor. I asked the gate agent, and while she said that the flight was originally grossly oversold, there were a bunch of misconnecting passengers due to the delayed arrivals.
As much as the C & D concourses of Dulles are an absolute dump, there's something exciting about being at Dulles around 9PM. While you have a few domestic flights, you also hear the nonstop "final boarding calls" for flights to London, Frankfurt, Dubai, Kuwait City, Buenos Aires, Rio de Janeiro, Accra, etc.
Anyway, with only about a 15 minute delay, boarding commenced for the flight to Tampa.
United 727, IAD-TPA, 757-200
Monday, December 27
Depart: 10:03PM
Arrive: 12:28AM
Duration: 2hr25min
Seat: 6C (First Class)
At the door was none other than Kathleen, the same flight attendant I had from Seattle, along with the rest of the crew. I dozed off during boarding, only to be woken up by the Captain's welcome aboard, informing us of the flight time of 1hr40min, which would put us into Tampa right on schedule.
Sure enough everyone boarded quickly and we were on our way in no time. The taxi was surprisingly quick, and we we took off, sandwiched between a couple of 777s.
I dozed off most of the way to Tampa, though the only service on the flight was drinks and the same items from the snack basket that appeared on the last flight.
Sure enough we landed in Tampa on time, and I was ready to get to bed. My dad was waiting for me at baggage claim, and we sped home. Unfortunately, while trying to pull into my community, the road was blocked by a stopped car, with a naked female standing at the right side of the car urinating. Lovely. Of course I would have called the cops, but for the first time in probably a year, my phone was out of juice (the downside to not having power ports on planes). As a result we circled a few times, only to find them still there 15 minutes later. We tried scouting out a cop, with no luck. Finally, after about 20 minutes, they were gone, and I carefully "navigated" around the "puddle." I learned my lesson and bought a $2 car charger from Amazon in the meantime.