---
On Christmas Eve, right before going to dinner, I tried checking in online for my flight back to the States. I was scheduled to fly from Frankfurt to Atlanta to Seattle, however, while trying to check in I was informed that my Atlanta to Seattle flight was canceled. Bummer, though I was pretty impressed by the fact that the Delta website presented me with three reasonable alternatives that I could instantly confirm, especially taking into account I was on an award ticket. The options were as follows:
Frankfurt to Atlanta on my originally confirmed flight, and then Atlanta to Seattle on Alaska in first class (sounds nice in theory, though the weather in Atlanta wasn't good)
Frankfurt to Paris to Seattle in Air France business class (gets me into Seattle really early, which is nice, though the weather in Paris was bad)
Frankfurt to Detroit to Seattle on Delta
Since I wasn't in a mood to risk it, I went with the option through Detroit. While I would have preferred to connect in Atlanta for a couple of reasons, it just wasn't worth the risk.
Anyway, fast forward to the 25th. It snowed like crazy overnight on the 24th, like I hadn't seen for a very long time. So while I'd usually walk to the train station and take the train to the airport, I decided to take a cab instead. The cab had trouble driving through the snow, though at least the roads were empty. 25 minutes and 30 Euro later, I was at Frankfurt's Terminal 2.
I was expecting the airport to be a total mess, though to my surprise it really wasn't that bad.
Fortunately I had checked in online the night before and already had my boarding passes, though still proceeded to check-in, mainly to see if they might need volunteers (there was a prompt while checking in online soliciting volunteers).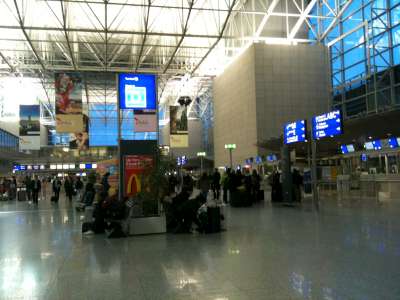 Terminal 2
Before even getting into the SkyPriority line, I had to wait for a few minutes for the agent at the head of the line to allow me in. That's the lame person that asks the security questions that are somehow going to protect us, like whether or not I packed my own bag.
Instead of waiting for a boarding pass reprint and talking to an agent, which would have taken forever since a lot of people were being taken off the Atlanta flight due to canceled connections, the agent just put a sticker on my passport and I was good to go.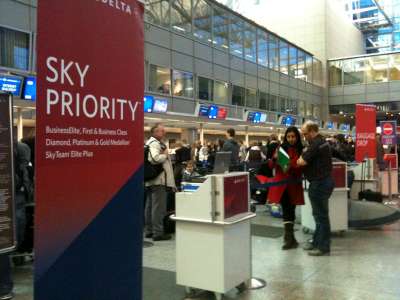 SkyPriority check-in
I got into the customs line, which only took a few minutes. The security checkpoints are only for sets of gates, so I would only have to clear that after visiting the lounge.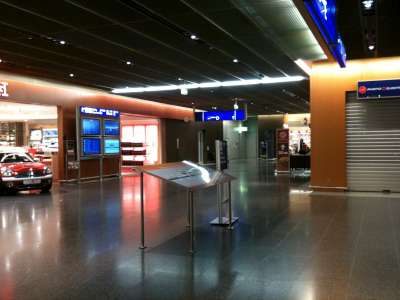 Duty free shop
Based on the signage it appeared that Delta uses the JAL lounge in Frankfurt, and I was promptly admitted.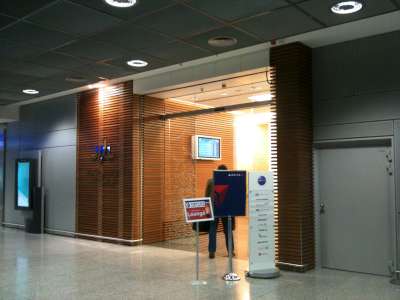 JAL lounge entrance
The lounge was decent enough. It was empty and had Wi-Fi, so I was a happy camper. The only frustrating aspect of the lounge is the code to access the Wi-Fi. Yes, I'm used to ridiculous codes, but this one deserves some kind of an award. I'll give you a hint about what it is: 12345678998765432112345678_. I'll let you guess the last number. C'mon, isn't this a bit of an overkill?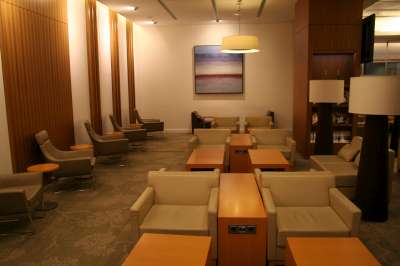 JAL lounge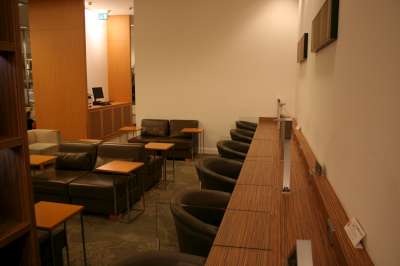 JAL lounge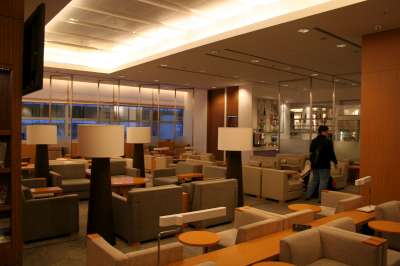 JAL lounge
The snack selection was mediocre, with croissants, finger sandwiches, and cereal.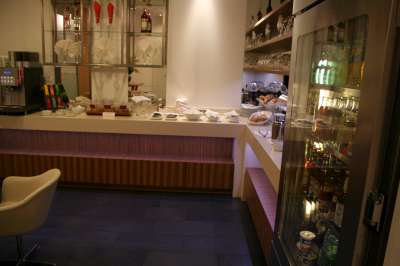 Food service area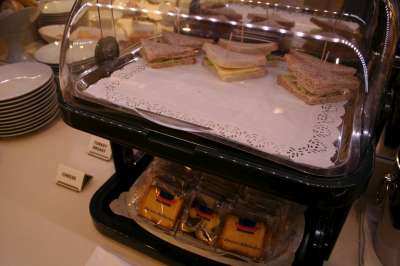 Snacks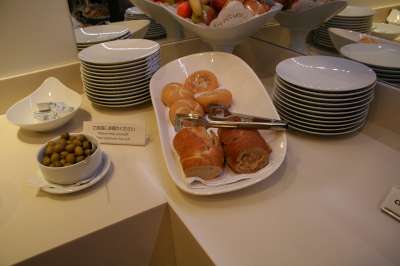 Snacks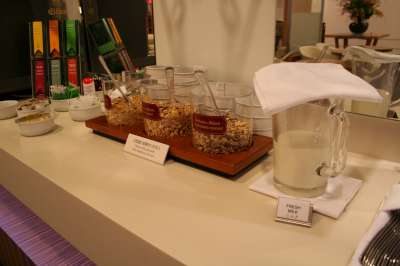 Cereal
According to my boarding pass, boarding was scheduled to begin something like 60 minutes before departure, so around that time I decided to head for security. While there was a premium and economy line, the economy line moved about three times as fast as the premium line (because it was feeding into three checkpoints, while the premium line was feeding into one checkpoint).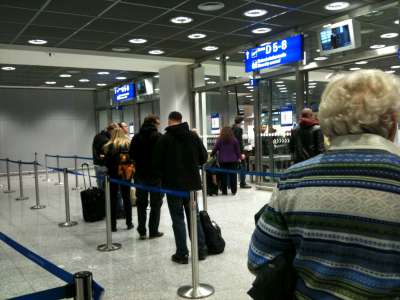 Security
Security in Europe is always… interesting. They wanted to more closely inspect my camera lens, so they took me to a back room where they ran a test on it. Fair enough, though what I've never figured out in Europe is whether the questions the security agents ask are "behavior detection" questions, or just them trying to be nice. The conversation always gets pretty twisted, though that may have more to do with being an American with a German passport than anything else. I seem to always give them headaches after they try to start a polite conversation with me.
The gate area was a total mess, not to mention our plane was parked at a remote stand, so it wasn't a gate as much as a bus terminal. This is where I really, really miss Lufthansa and the First Class Terminal experience. I don't remember the last time I was in Frankfurt and actually had to enter the terminal, so clearly I've been spoiled a bit too much. No wonder I've been telling people lately that Frankfurt Airport isn't all that bad!
The highlight of the gate experience, in a slightly nefarious way, was the "manager" (as he introduced himself), Eddie. I guess he's the supervisor for Delta in Frankfurt, and he's clearly American. Fair enough, though his German was quite possibly the worst German I've ever heard. It would make a German 101 class cringe. Given that they have German agents, I see no reason he couldn't step aside and let them make the German boarding announcements. Oh well, at least it was entertaining.
Speaking of boarding, I remembered just how much of a zoo boarding in Germany is! They started by pre-boarding anyone that needs a bit of extra time and families. I kid you not, that was over 80% of the plane. I waited until they started boarding business class, and counted a total of 30 people in the gate area at that point.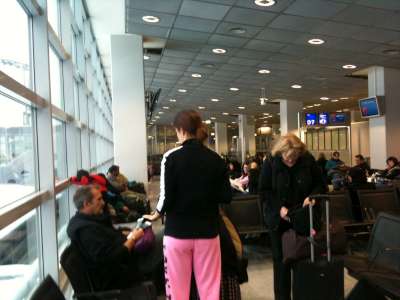 Gate area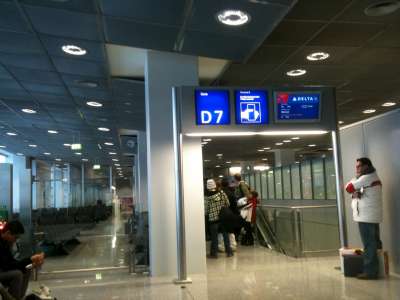 Boarding area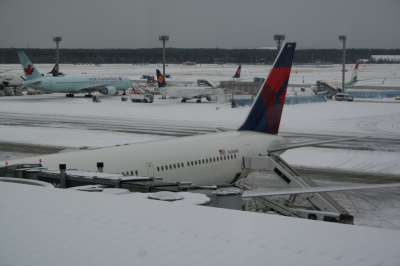 Tarmac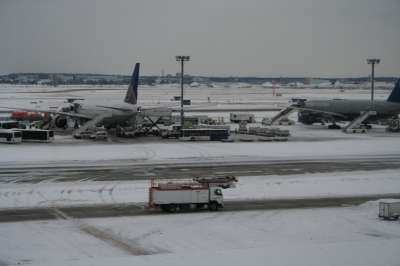 Tarmac
Delta 143, FRA-DTW, 767-300
Saturday, December 25
Depart: 10:20AM
Arrive: 1:45PM
Duration: 9hr25min
Seat: 2B (BusinessElite)
As an airplane geek at least the tarmac views are nice. Now, I've been fortunate enough to enjoy the tarmac views from a private Porsche Cayenne S for my last few trips, though at least this was something. 😉
After a five minute ride we pulled up to our 767.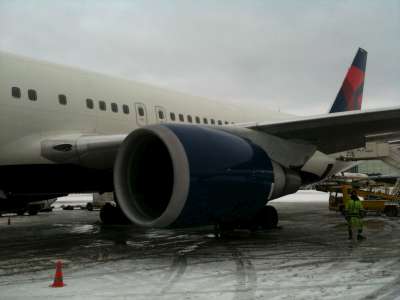 Delta 767-300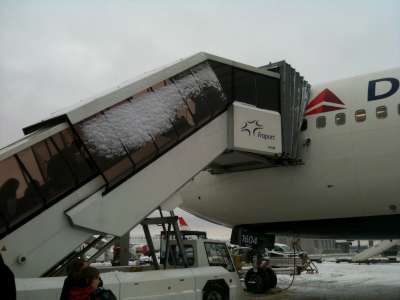 Delta 767-300
At the door was purser Nancy, who greeted everyone with a smile. She directed everyone to their seats, though strangely enough as I walked on, she simply said "you look like you know where you're going."
I settled into 2B, and moments after settling in was offered a pre-departure beverage.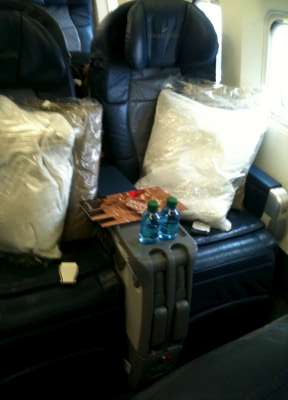 Seats 2A & 2B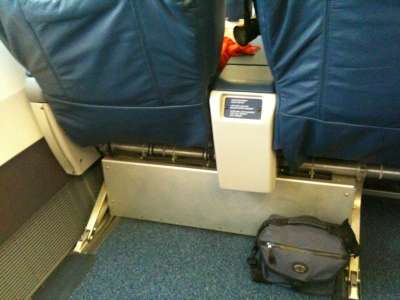 Legroom in row two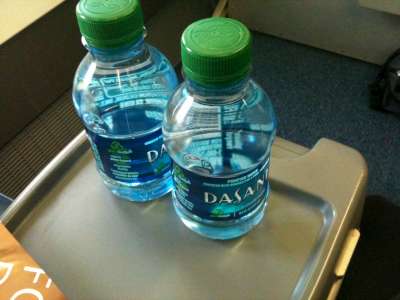 Dasani water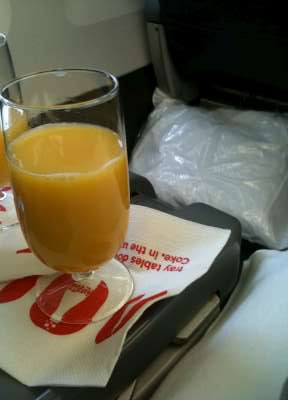 Pre-departure OJ
Boarding was a bit of a mess, as there were a few people in BusinessElite that were separated from one another. An older Japanese couple that seemed to speak neither English or German had one seat assigned in row one and one in row six, which made for a fun shuffle. Eventually boarding finished up, as the Captain came on the PA to wish everyone a merry Christmas and advise us of the flying time of 8hr47min to Detroit.
The older German couple seated on the other side of the aircraft in row two cracked me up, as the wife constantly made reference to Lufthansa and how much better they were, even to the flight attendants. For example, they boarded towards the end and the flight attendant offered to stow their bags in the closet. The lady, with her thick German accent, countered: "but on Lufthansa they always have room for our carry-ons in the overhead bin." This continued throughout the flight, especially during the meal service. 😉
As we pushed back the safety demo began. As we approached the runway some brown liquid started dripping out of the panel right above my seat. This continued for the better part of five minutes, much to the amusement of the two people seated across from me.
Once airborne I reclined my seat and played around with the entertainment system. I decided on the movie "Going the Distance." It had the term "frequent flyer miles" in the description, so instinctively I pushed "play."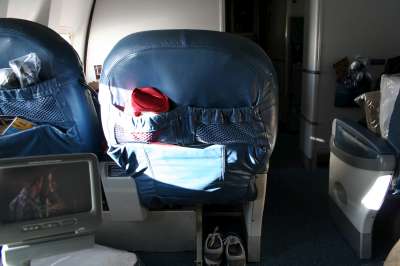 After takeoff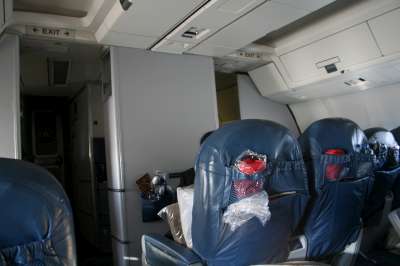 Cabin after takeoff
As we leveled off the meal service began, starting with the purser taking meal orders.
The lunch menu read as follows:
FIRST COURSE

A TASTING OF TWO APPETIZERS
smoked salmon with caper onion relish
and fresh mozzarella with tomato

CREAM OF ONION SOUP

FRESH MESCLUN SALAD
with sweet peppers, radish and walnuts

MAIN COURSE

PARMESAN-CRUSTED CHICKEN BREAST
with marinara sauce, gnocchi and broccoli

TENDER FILET OF BEEF
with peppercorn sauce, chive mashed potatoes, sauteed spinach and carrots

RICOTTA AND BASIL FETTUCCINE
with sauteed vegetables

ROASTED BEEF AND GRILLED SHRIMP
with a deviled egg, grilled zucchini and peppers
served chilled

If you would like more time to work or relax, we suggest this chilled entree as a LIGHT AND QUICK replacement to the traditional entree

DESSERT

SELECTION OF FINE CHEESES
offered with fresh fruit

VANILLA ICE CREAM SUNDAE
with your choice of sauces, whipped cream and chopped nuts

LEMON TART
And for those of you that are interested in the wine list, here it is:
WINES

WHITES
Albert Bichot Montagny
Burgundy, France, 2008

Zalze Bush Vine Chenin Blanc
South Africa, 2008

REDS
Casillero Del Diablo Reserva Cabernet Sauvignon
Puente Alto Vineyard, Chile, 2008

Patz & Hall Sonoma Coast Pinot Noir
California, 2007

DESSERT WINES
Jurancon Prestige
Cave de Gan Jurancon, France, NV

Ferreira Dona Antonia Reserve Port
Tras-os-Montes Portugal, NV

Chambers Rosewood Muscat
Rutherglen, Australia, NV

CHAMPAGNE
Champagne Piper-Heidsieck Brut
France, NV
I went with the chicken dish, which sounded pretty damn good to me. Like any good airplane meal, service began with the three vital elements: Diet Coke, lime, and nuts.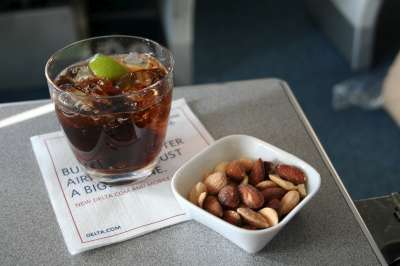 Diet Coke with lime and nuts
The appetizer and soup were served shortly thereafter. It was truly delicious, "simple" food. Some airlines try too hard, but Delta really wins in the appetizer, soup, and salad department.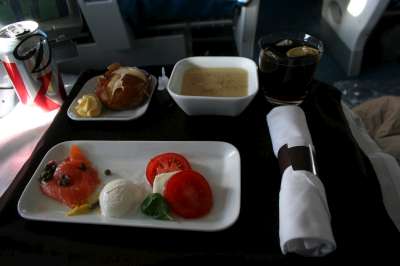 Appetizer and soup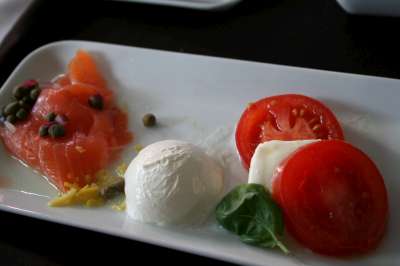 Smoked salmon with caper onion relish and fresh mozzarella with tomato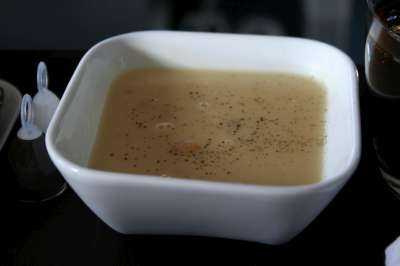 Cream of onion soup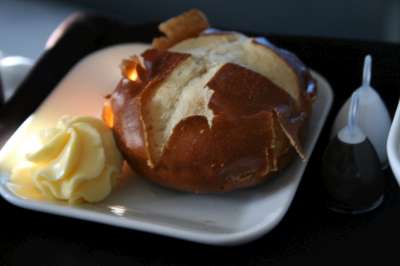 Pretzel bread
As soon as the appetizer and soup were finished, the salad was served with a choice of vinaigrette or creamy dressing. I went with the former.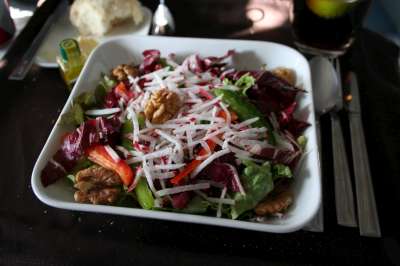 Fresh mesclun salad
The main course honestly sounded to me like the best airline meal ever. I love chicken, I love gnocchi, and I love broccoli. What could be better?
And while the meal wasn't bad, it didn't quite live up to my expectations. The gnocchi and chicken were dry, though the marinara sauce helped with that ever so slightly. It ended up being an average business class main course, though the appetizer, soup, and salad, were top notch.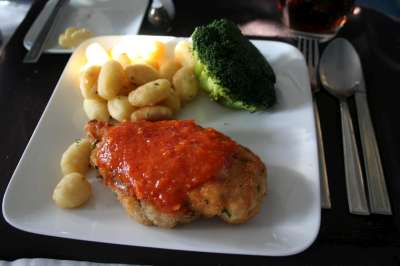 Parmesan-crusted chicken breast
For dessert was the ice cream sundae. I've gotta be honest, I'm trying to write this trip report but I'm having a really, really hard time doing so from looking at all this food.3AM hunger+pictures of ice cream sundaes=bad combo. Let's move on…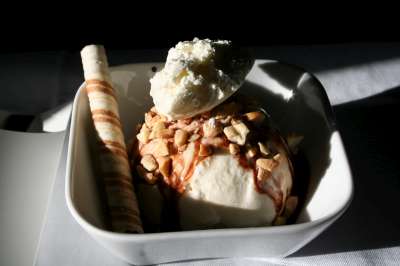 Ice cream sundae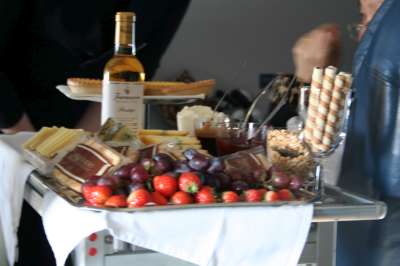 Dessert cart
The movie finished up right around the same time as lunch. Service finished up with a bottle of water.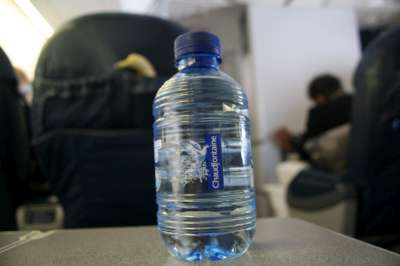 Bottled water
I ended up pulling a near all nighter on Christmas Eve, quite intentionally, so I could get some sleep on the flight. Fortunately it worked, and I slept soundly for about five hours, rocking to the Katy Perry and Jonas LA soundtracks available on demand (or maybe not…).
I woke up with about two hours to go to Detroit, so I decided to watch the same episode of "The Big Bang Theory" I watched on the way out. Yeah, I'm that much of a fan. As that finished up it was time for the pre-arrival meal.
The pre-arrival meal menu read as follows:
PRE-ARRIVAL MEAL

Please choose one of the below options

HOT TURKEY AND CHEDDAR CHEESE SANDWICH
with caramelized onions and peppers and a carrot and raisin salad

SHRIMP NICOISE SALAD
tomato, egg, green beans, olives and potatoes,
with breadsticks and fresh fruit

CHOCOLATE
I went with a Diet Coke to start, and went with the shrimp salad for the main course. The salad was really, really good.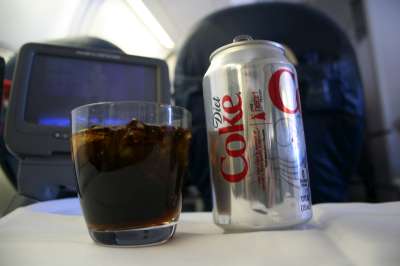 Diet Coke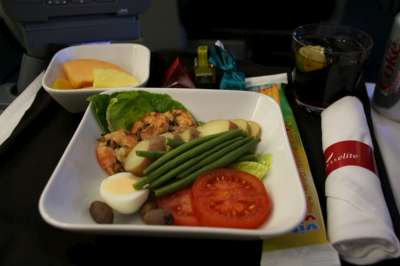 Shrimp Nicoise salad
As the meal finished up I started to get my seat back into the upright position. About 30 minutes out the Captain made the pre-arrival announcement, informing us that we would be arriving right on time in Detroit.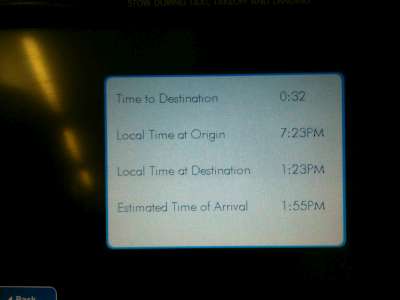 32 minutes to go…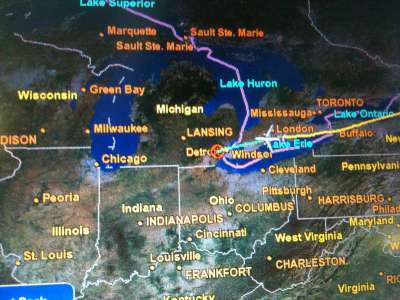 Almost there…
I forgot which gate we pulled into, though it was probably a mile from immigration, so that made for a very long walk. Fortunately we (apparently) beat the Amsterdam flight by just a couple of minutes, so there was no line at immigration. I wasn't asked any ridiculous questions, and literally 10 minutes after getting off the plane, I was re-clearing the TSA checkpoint to get back in the secure area for my flight to Seattle.
Speaking of that TSA checkpoint, I was the first passenger there (it seems to be just for passengers inbound from an international flight), and I witnessed a bit of a TSA pep rally, if you will. The "senior" TSA agent seemed to be the head cheerleader, as he proclaimed "yo, we got 300 people coming from Amsterdam and Frankfurt, we gotta get our $h*% together and make this work," as the guy standing next to him proclaimed "we can do this!" Ah, the TSA…
I made it back into the terminal with over an hour to spare.