Delta 142, DTW-FRA, 767-300
Monday, December 20
Depart: 7:25PM
Arrive: 9:30AM (+1 day)
Duration: 8hr5min
Seat: 6F (BusinessElite)
Boarding was through door 1L (not that there's another option on the 767), and I proceeded through the galley to the right side of the plane. I was the first passenger down the jet bridge, though there were already two people seated in business class, in seats 2C and 4B. They were air marshals, of course, and exhibited the full behavior throughout the flight.
The cabin looked well maintained, though certainly a bit "aged," since this is Delta's old product. Delta features flat beds on much of their longhaul fleet now, though none of their 767-300s feature it.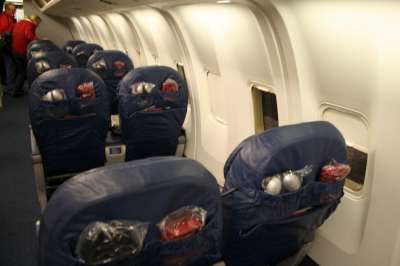 BusinessElite
A flight attendant was standing right behind my seat and immediately hung my coat. Each seat had a bottle of water on the center console, along with a pillow, blanket, and menu. The amenity kit and headphones were in the seatback pocket. I was offered an additional pre-departure beverage of orange juice, champagne, or beer in a can (which I found weird). I went with OJ.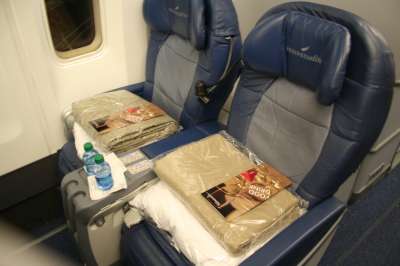 "My" seats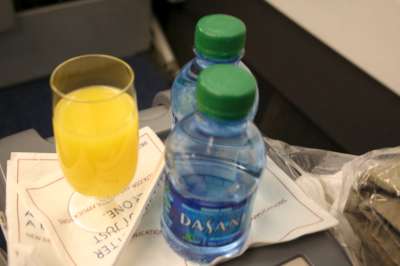 Orange juice and water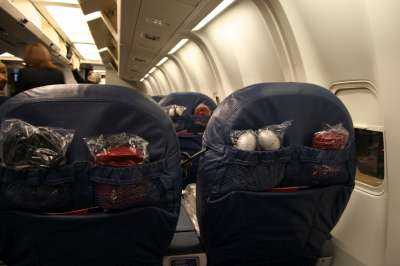 Seatbacks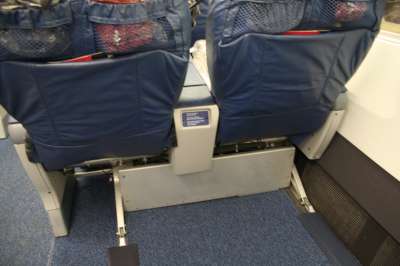 Legroom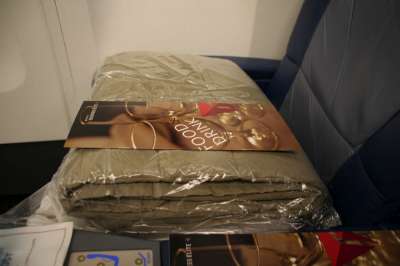 Menus, blankets, and pillows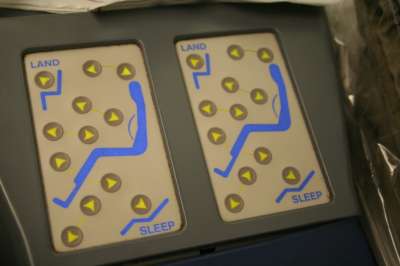 Seat controls
It has been a while since I've flown longhaul in business class, let alone in a recliner seat, so the configuration definitely felt pretty "tight." This is only made worse by the 767, which has some of the narrowest business class seats, given that there are six seats across in business class, compared to seven in coach. Fortunately I wouldn't have a seatmate, though if I did, I can say with certainty it wouldn't be a very comfortable ride (and it would be awfully weird taking pictures, since you're basically seated on top of one another).
I was surprised by how many Germans there were aboard, especially in business class (I figured they would fly Lufthansa). In the end, business class was about 80% full. As boarding finished up the purser, James, came by to take everyone's meal order.
The dinner menu read as follows:
FIRST COURSE

A TASTING OF TWO APPETIZERS
shrimp with lemon grass and marinated hearts of palm and roasted beets with blue cheese

TOMATO AND BASIL SOUP

MIXED GREEN SALAD
with jicama, yellow peppers, almonds, and roma tomatoes

MAIN COURSE

SALMON FRANCAISE
with crispy garlic, citrus mojo sauce, boniato puree and asparagus

FILET OF BEEF
with grain mustard sauce, sweet potato wedges, zucchini and yellow squash

LASAGNE PASTA BITES
with spinach and radicchio in gorgonzola sauce, topped with pine nuts

ROASTED BEEF AND GRAVALAX
with a deviled egg, hearts of palm and tomato
served chilled

If you would like more time to work or relax, we suggest this chilled entree as a LIGHT AND QUICK replacement to the traditional entree

DESSERT

SELECTION OF FINE CHEESES
offered with fresh fruit

VANILLA ICE CREAM SUNDAE
with your choice of sauces, whipped cream and chopped nuts

PUMPKIN CHEESECAKE
And for those of you that are interested in the wine list, here it is:
WINES

WHITES
Albert Bichot Montagny
Burgundy, France, 2008

Zalze Bush Vine Chenin Blanc
South Africa, 2008

REDS
Casillero Del Diablo Reserva Cabernet Sauvignon
Puente Alto Vineyard, Chile, 2008

Patz & Hall Sonoma Coast Pinot Noir
California, 2007

DESSERT WINES
Jurancon Prestige
Cave de Gan Jurancon, France, NV

Ferreira Dona Antonia Reserve Port
Tras-os-Montes Portugal, NV

Chambers Rosewood Muscat
Rutherglen, Australia, NV

CHAMPAGNE
Champagne Piper-Heidsieck Brut
France, NV
As he came to my seat he simply said "know what you're gonna have?" I ordered the filet of beef, and he said "soup?" No addressing by name, no welcome aboard, and no "what would you like for dinner." Just a bit disappointing, even for international business class.
One of the business class passengers arrived fairly late, and before he could even sit down, the purser asked him what he wanted to eat. He wasn't sure yet (for obvious reasons), so the purser said "well hurry up, cause I'm gonna start cooking soon."
It was also slightly ridiculous to me that the flight attendants were trying to get passengers to gate check bags towards the end of boarding, when one of the more logical flight attendants pointed out that most bins in business class were wide open. The gate checking culture of US airlines is just getting out of hand, and that's not specific to any one carrier. Enforce the rules (and get a bit resourceful), and we'll never have to gate check bags. Though I have a sneaking suspicion that flight attendants and ground crew get some sort of incentive pay for each bag they manage to gate check (despite there being no fee).
As boarding wrapped up the captain welcomed everyone aboard, and advised us of the flying time of 7hr32min. Unfortunately they were still waiting for their maintenance log, and said it would be a few more minutes till we were ready to go. It ended up being something like 30 minutes, all without any sort of updates. At around 8:45PM the door finally closed.
Once we pushed back, the safety video started playing (Deltalina can turn my mood around any day), and moments later the "flight attendants, prepare for departure" announcement was made. After a fairly quick takeoff roll we were airborne into the night sky.
As we climbed out I had a look at the entertainment selection. Fortunately, Delta does have audio video on demand, including lots of TV shows, movies, HBO series shows, and music. I decided to watch an episode of The Big Bang Theory, which was hilarious as always.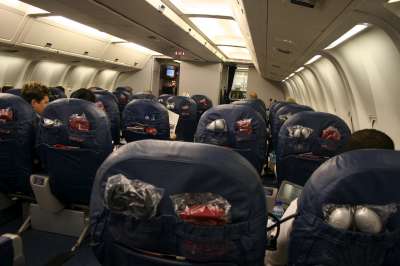 Cabin after takeoff
I also had a look at the amenity kit Delta provides, which consisted of socks, mints, earplugs, lotion, lip balm, tissues, a toothbrush and toothpaste, and a Delta branded pen.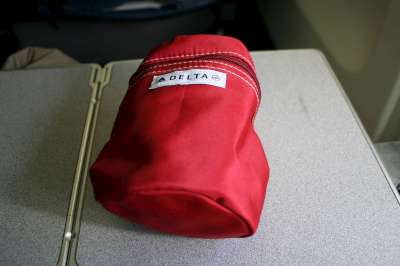 Delta amenity kit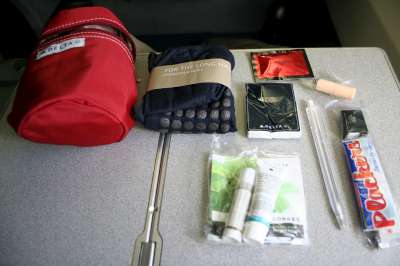 Amenity kit content
By the time the show finished up we leveled off and flight attendants were distributing hot towels and serving drinks. There seemed to be three flight attendants serving business class – the purser working the galley and then a flight attendant in each aisle. So despite being in the last row, service was reasonably quick. I ordered a Diet Coke with lime, which was served with barely lukewarm nuts.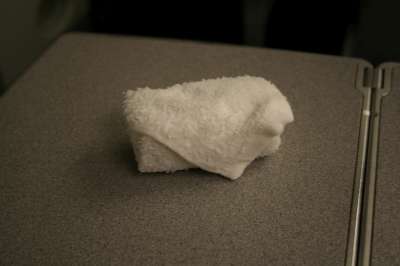 Hot towel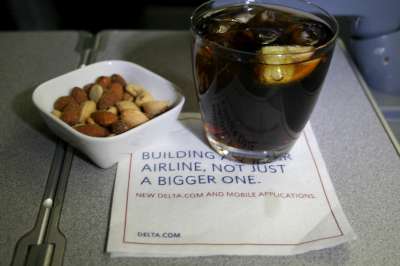 Diet Coke with lime and nuts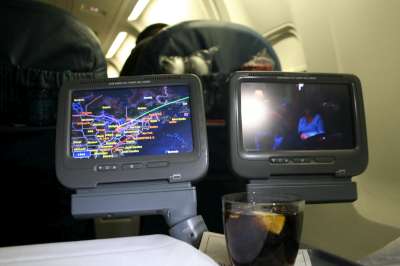 Beauty of two monitors: one for AirShow, one for TV
Shortly thereafter tablecloths were distributed, followed by the appetizer and soup course. I've gotta admit, based on trip reports I've read, Delta's food always looked top notch to me, and I wasn't disappointed. I think a lot of airlines try too hard on their premium cabin menus, but this was just fairly basic, good food. The appetizer was delicious, as was the soup, though it wasn't hot by the time it was served to me.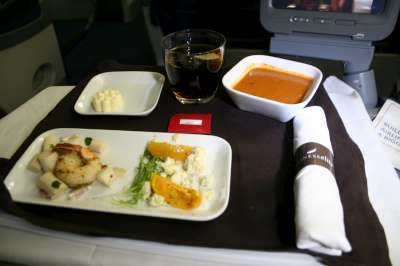 Appetizer and soup
The bread basket was also frequently brought around.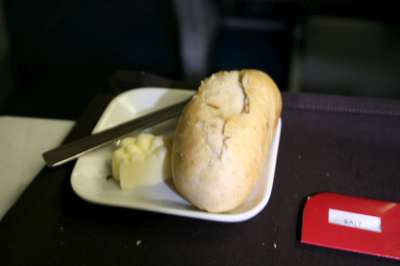 Bread
The flight attendant serving my aisle, was, once again, acceptable. She never really smiled or used any of those customer service terms I love so much (like "my pleasure"), though she was reasonably attentive and at no point rolled her eyes at me, so I guess that qualifies her as decent.
Shortly thereafter the salad course was served, either with a creamy dressing or balsamic vinaigrette. I went with the latter. It was tasty.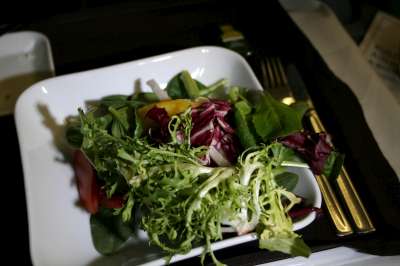 Salad
I played around a bit with the entertainment system, and eventually settled on an HBO Wanda Sykes special. Hilarious.
The main course was promptly served once my salad plate was cleared. It was far from the steak I had on Asiana earlier in the year, though it was still quite decent. I liked the sweet potato fries.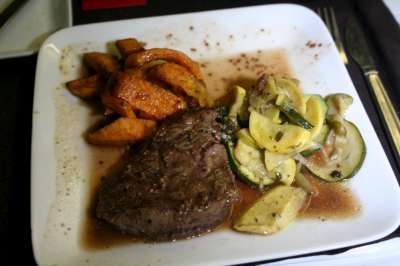 Filet of beef
The only part of the meal with a gap (time wise) was the dessert, as they waited for all passengers to be done with their main courses before serving it, given that it's a cart service.
It goes without saying that I went with the ice cream sundae, and of course it was delicious.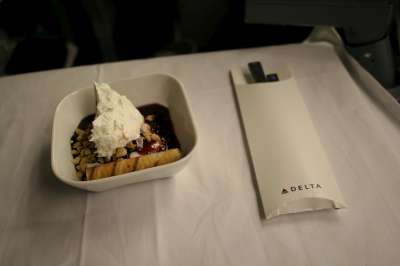 Ice cream sundae
The meal service was complete just a bit over 90 minutes into the flight, which is a good pace for a transatlantic flight. Water bottles were distributed and the cabin lights were dimmed.
By the way, it's probably worth noting that seat 6C is a pilot crew rest seat, which is a bit weird since there are curtains around the seat. On this flight seat 6D was empty, though it does seem a bit weird when there are curtains around a seat in business class.
At that point I figured it was time to get some sleep. I switched to the window seat (I prefer sleeping in window seats) and reclined it as far as it would go, which is about 160 degrees. It was like trying to sleep on a United Premium Service redeye, something I've become quite used to, since the seats are somewhat similar.
I got about four hours of sleep, though it was most definitely "airplane" sleep. In fairness, please keep in mind this is Delta's old product. They have two "newer" generation business class seats, so I by no means judge Delta by their seats, because I know they have better ones. But it was a reasonably decent nap for a short transatlantic flight, more than I'd usually get.
When I woke up the lights in the cabin were on and I was immediately offered breakfast. The menu read as follows:
PRE-ARRIVAL MEAL

Served with assorted breakfast breads and condiments

SEASONAL FRESH FRUIT

Please choose one of the below options

SWISS CHEESE AND MUSHROOM OMELET
with grilled tomato, potato cake and chicken apple sausage

OATMEAL RAISIN GRANOLA
with milk and yogurt
I went with the omelet, and was offered orange juice and coffee (I went with OJ).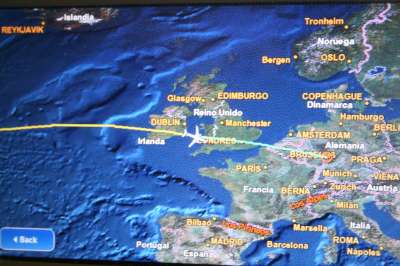 Over the UK…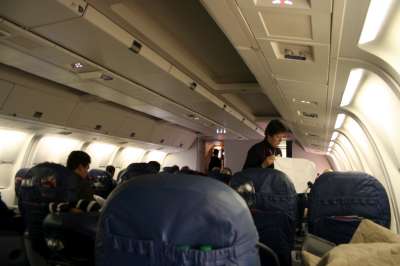 Cabin upon waking up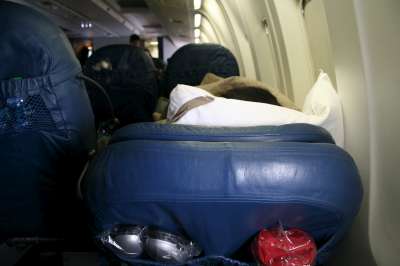 Limited space when seat in front is reclined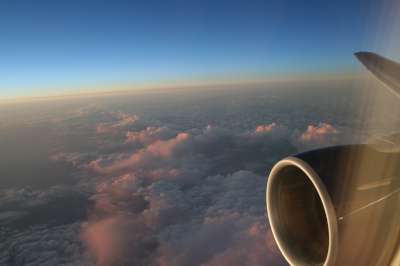 View outside when waking up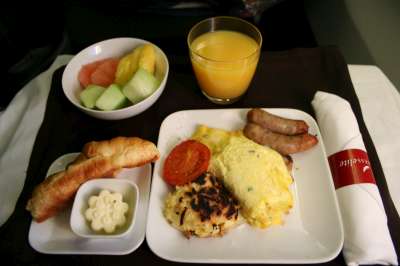 Breakfast
The omelet was, for the most part, rubbery. It was edible, though worse than the one United serves in domestic first class, which I didn't think was possible. The fruit was fresh and croissant crisp, so I wasn't about to complain.
I started watching an episode of Weeds, and as it finished up the captain announced that we were 80 miles from Frankfurt, though would be entering a holding pattern because they were down to one runway at the airport for landings due to the weather.
After about 40 minutes we were released from our hold and started our descent into Frankfurt. Visibility was very limited, so I could only see the ground from maybe 1,000 feet up. Boy, did it look different than Florida!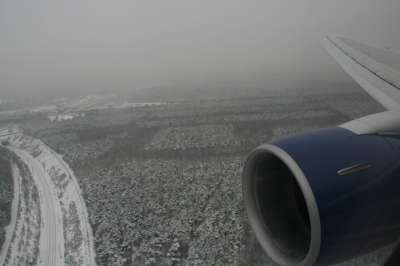 On approach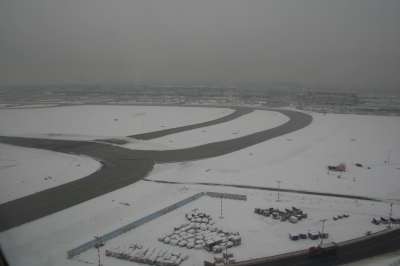 Snowy Frankfurt Airport
After a smooth landing we taxied for about 20 minutes, and fortunately parked at a gate as opposed to a remote stand by just before noon. As we deplaned the purser standing at the door didn't so much as say goodbye.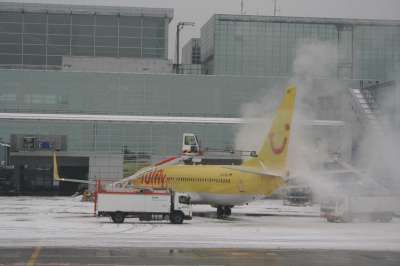 Plane next to us being deiced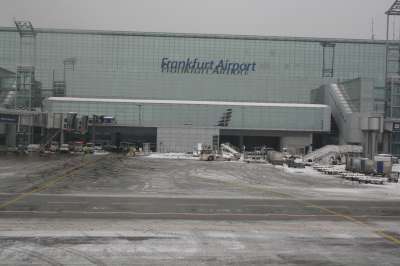 Arrival gate
Immigration was quick, though it took about 20 minutes for my bag to arrive, which isn't all that bad in the grand scheme of things. Outside of immigration I was met by my mother, and we took the train to Mainz for a couple of nights at the Hyatt Regency there.