---
Back in May I had the opportunity to fly first class on the Qantas Airbus 380 (see this trip report), and ever since I've been obsessed. I remember first seeing pictures of the Airbus 380 when it was in production and thinking "okay, what's the big deal?" It wasn't until after I flew it that I realized just how passenger-friendly the plane is. Not only is it spacious and does it usually have cutting edge first class products, but what really sets it apart for me is how quiet the plane is and the awesome tail camera, which takes the flying experience to a whole new level.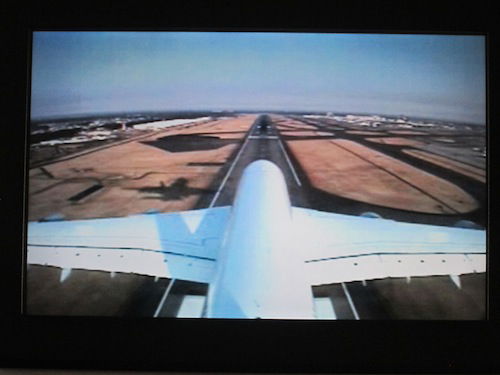 The thing is, I'm not just obsessed with first class, miles, and travel, but my first passion was actually aviation and planes. I started working on my private pilot's license at the age of 14, and my love for planes hasn't died off one bit since.
So I've made it a personal mission to stalk fly the Airbus 380 every opportunity I get, at least in a premium cabin. Hell, if there were an Airbus 380 with first class award availability flying to Topeka with a forced six day layover I'd take it in a heartbeat.
Which brings me to this trip. With the exception of Qantas, no airline consistently releases first class award space on the Airbus 380 to partner loyalty programs. That doesn't stop me from looking hourly every now and then to see if there's a mistake or change in policy. During one of my late night sessions with the ANA tool and Continental award search tool, I happened to stumble upon some Lufthansa Airbus 380 first class award space between Frankfurt and Tokyo. It was a complete coincidence, though woke me up pretty quickly. I was actually shocked to see that most dates in late December and early January had multiple first class award seats on the Airbus 380.

I assumed it was a glitch, so opened a different browser to verify availability with ANA, Aeroplan, and Continental. Yep, the space was actually there.
Now, admittedly there's probably a reason there was first class award space to Tokyo right after Christmas — Tokyo isn't exactly the warmest place that time of year. But still, this trip was about the Airbus 380, and even if it would be cold in Tokyo, I'd deal with it and still enjoy the city.
After playing around with availability I found a flight from Frankfurt to Tokyo with first class award space, and then two days after arriving a flight from Tokyo to Frankfurt with first class award space. Since there were two seats, I convinced a friend to come along.
I should mention that this all occurred just three days before departure, so there wasn't all that much time to plan. Now the challenge became finding award space between the US and Germany. Since I was only planning a few days in advance I was confident the space would open up, as Lufthansa is great about opening up unsold first class seats to awards last minute. So for the time being I just held the flights between Frankfurt and Tokyo using US Airways miles. They allow a three day courtesy hold, so I left the reservation like that until Christmas Day, the day before I knew we'd have to depart.
And sure enough, award space did open up that day between the US and Europe. For the outbound, Swiss had space between Chicago and Zurich in first class (their new product no less!), while Lufthansa opened up award space from Frankfurt to Orlando for the return. I really lucked out with that, since US Airways doesn't allow any changes after the original departure flight, and that return award space opened up literally the night before I was leaving. The stars had aligned and it was meant to be… or something like that.
In the end my itinerary looked as follows:
12/26 Swiss 9 Chicago to Zurich departing at 7:10PM and arriving at 10:55AM (+1 day)
12/27 Lufthansa 1191 Zurich to Frankfurt departing at 1:45PM and arriving at 2:50PM
12/28 Lufthansa 710 Frankfurt to Tokyo departing at 1:25PM and arriving at 8:35AM (+1 day)
12/31 Lufthansa 711 Tokyo to Frankfurt departing at 10:25AM and arriving at 2:15PM
01/01 Lufthansa 464 Frankfurt to Orlando departing at 1:35PM and arriving at 5:55PM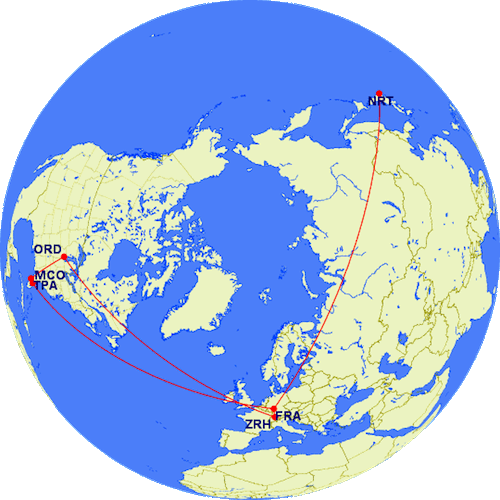 Given that we were looking at travel the day after Christmas, it's no surprise that there was no award space to Chicago. However, as some of you may remember, I was 13 miles short of requalifying for Executive Platinum with American, so this worked out perfectly. While American charged $200 for the one-way ticket from Tampa to Chicago, it was well worth it to lock in Executive Platinum status for the following year.
My favorite thing about the whole trip was the cost. I used just 120,000 US Airways miles, which I had purchased through one of their mileage purchase promotions for under $1,800. Taxes and fees were roughly $200, so I paid about $2,000 for four longhaul international first class segments on some of my favorite airlines, including two on the Airbus 380. I always live in fear of US Airways devaluing their award chart, so this was a nice way to burn some miles guilt free.
As far as hotels go, in Tokyo I redeemed 22,000 Gold Passport points per night for the Park Hyatt Tokyo — an absolute no brainer, given the number of good things I've heard about this place (and it didn't disappoint). We also had two overnights in Frankfurt, one in each direction. I decided to book the InterContinental for our outbound stay at a rate of 107 Euros, and the Westin Grand Frankfurt on the return at a rate of 129 Euros.
Sit back, relax, and enjoy, and see you in Chicago tomorrow.