---
Upon arrival we headed down the long corridor to the transfer area, where we had to switch terminals by train. The trains at Zurich Airport are pretty awesome, since they make cow noises and have animated scenes of the alps. You can always tell who's an American in the airport train, since they're usually giggling uncontrollably (that includes me)!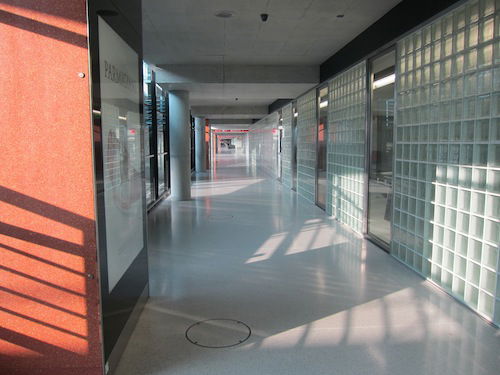 Upon arrival
The Zurich terminal is beautiful and airy (everything I'm not), though we headed straight for the first class lounge.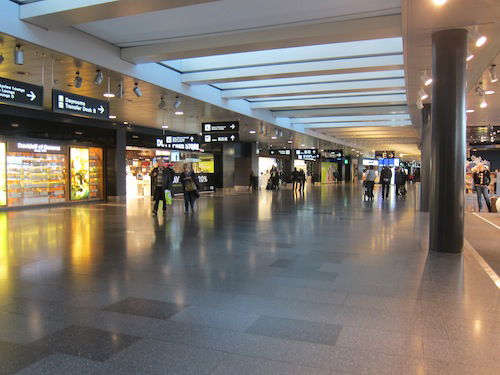 Terminal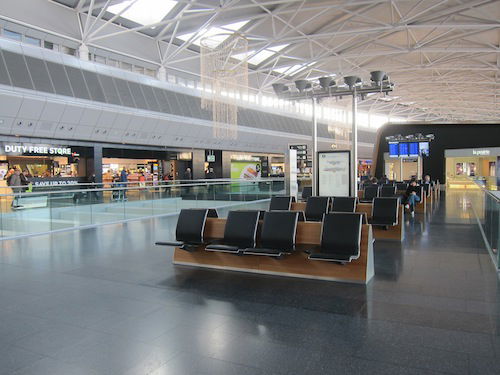 Terminal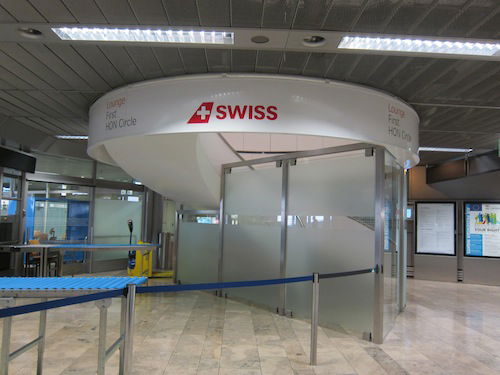 First Class Lounge entrance
We were welcomed at the entrance of the lounge and tried to find two seats together. The first class lounge isn't especially large, though very nicely appointed. It has a main seating area overlooking the tarmac, a restaurant area, several sleeping rooms, and showers. In a way it's very similar to the Lufthansa first class lounges, though I'd say just a notch below in terms of service and the food/drink offerings.
At the time we arrived the lounge was packed, as several flights were leaving to the Middle East, India, and the US. The pictures below were snapped at the end of our layover, when we had the lounge to ourselves.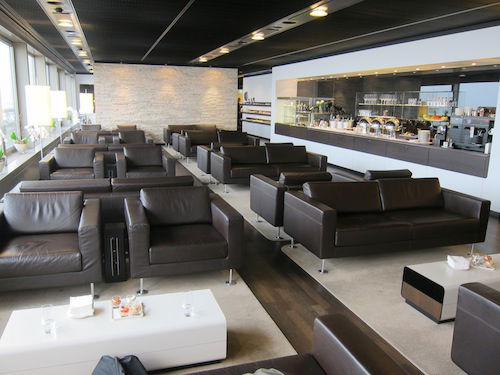 Lounge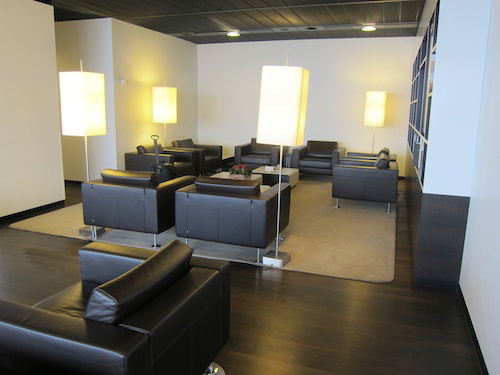 Lounge
After briefly checking my email I requested a shower room. The showers feature Bulgari amenities, which happen to be my favorite.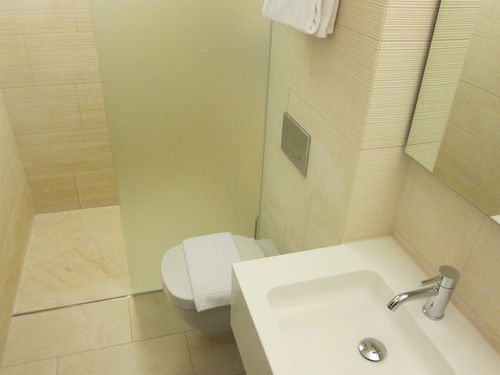 Shower room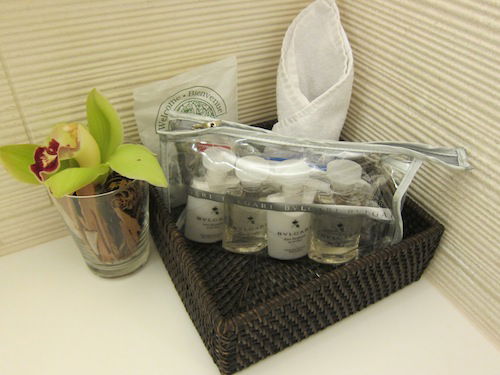 Bulgari amenities
After a shower I snagged one of the nap rooms for a bit of shut eye. The lounge attendant asked what time I wanted to be woken up, and I requested 1PM, which was 45 minutes before our departure.
Swiss nap rooms are a lot better than Lufthansa's, since they're actually beds, unlike Lufthansa's day beds. They also have pretty cool lighting.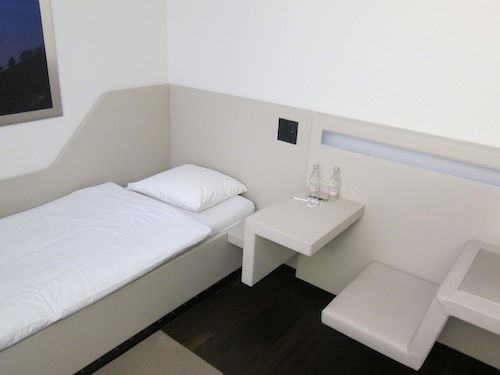 Day room
Sure enough, with Swiss precision there was an angry sounding Swiss lady outside my door at 1PM sharp — "VAKE UP ITS VUN PEE EMM YOU VILL FLY SOON." 😉
After waking up and getting ready to leave the lounge we were informed that our flight to Frankfurt was actually delayed by about 20 minutes due to fog.
Knowing how crappy Lufthansa's intra-Europe catering is, I had a look at the buffet.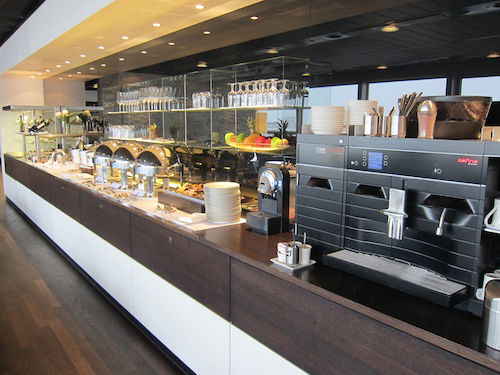 Buffet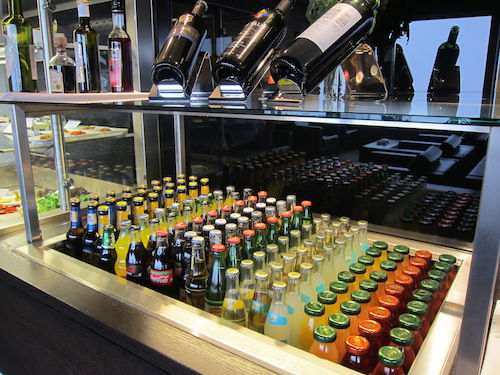 Who cares about the rest, I see Fanta!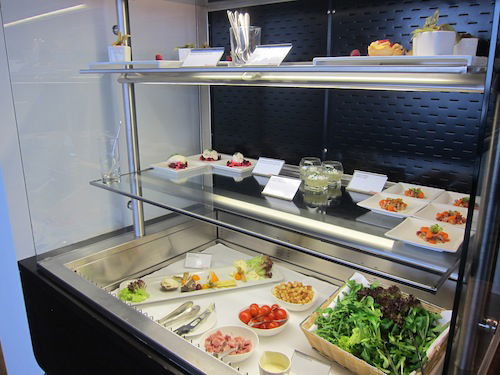 Salad bar
I settled for a bit of salad and lasagna, accompanied by an almighty Fanta.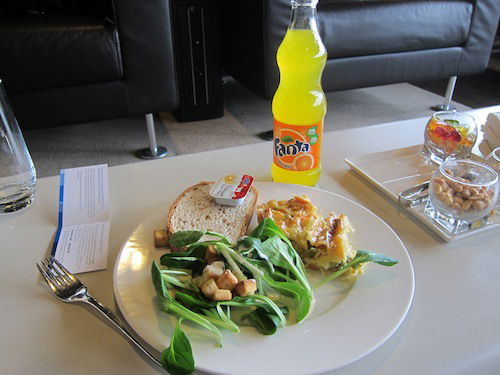 Lunch
At around 1:30PM we left the lounge and headed for our departure gate, which was a 30 second walk away.