---
We lucked out given that our departure gate, A62, was located adjacent to the lounge. Boarding was announced within a few minutes of arriving at the gate. While there was a mad rush for the jet bridge, there was a priority boarding lane which made the process painless.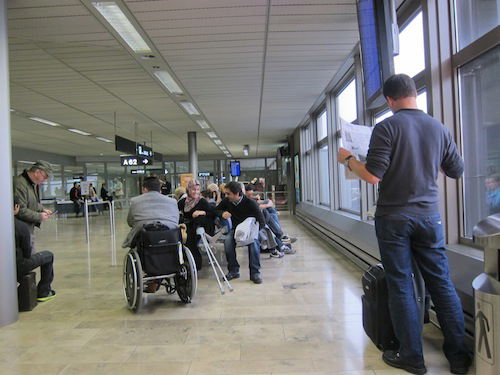 Gate A62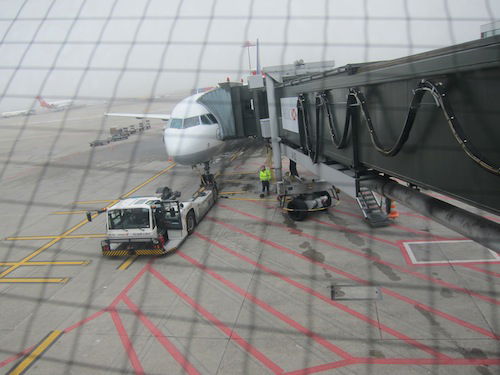 Our plane
Lufthansa 1191
Zurich (ZRH) – Frankfurt (FRA)
Tuesday, December 27
Depart: 1:45PM
Arrive: 2:50PM
Duration: 1hr5min
Aircraft: Airbus A321
Seat: 2D (Business Class)
Once aboard I was surprised to see that the business class cabin was only a total of three rows. For those of you not familiar with intra-Europe business class, it's basically coach with a blocked middle seat and better service. The benefit for the airline is that they can adjust the size of the business class cabin after every flight based on demand. It's efficient, though rather uncomfortable. For many flights between the hubs (Zurich/Frankfurt/Munich) I've seen business class go as far back as the exit row, so this was by far the smallest cabin I've seen in a while. I guess it's because we were traveling right after Christmas.
I settled into 2D, and within moments was offered newspapers and magazines by the cheery flight attendant. I talked to her for about a minute (in German), at which point she started talking to my friend. He doesn't speak a word of German, so stared at her blankly, and said "I don't speak German." Her response was priceless. Literally instantly, without so much as a pause to formulate a witty comeback, she said "well why not?" It'll never sound as funny as it actually was, though I nearly had tears in my eyes based on her presentation.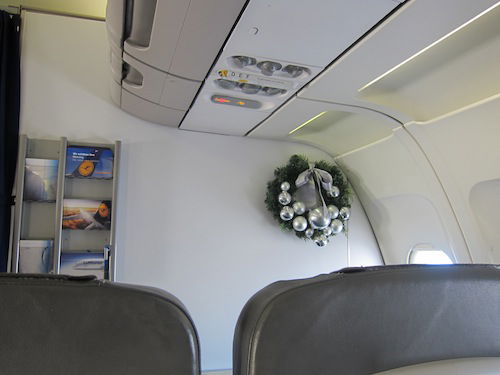 Business class cabin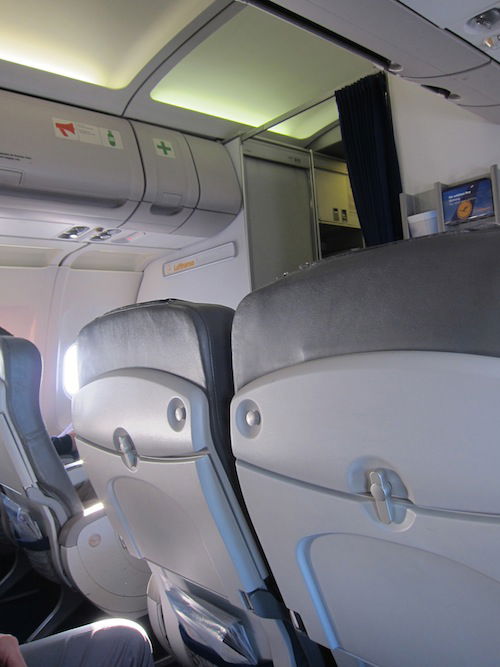 Business class cabin
Despite our delayed inbound aircraft, boarding was fairly efficient, decreasing our delay to about 10 minutes. As the cabin door closed the captain came on the PA to welcome everyone aboard, advising us of our flight time of 45 minutes, putting us back on schedule.
Our taxi was quick and once we broke through the clouds it was a fairly nice afternoon.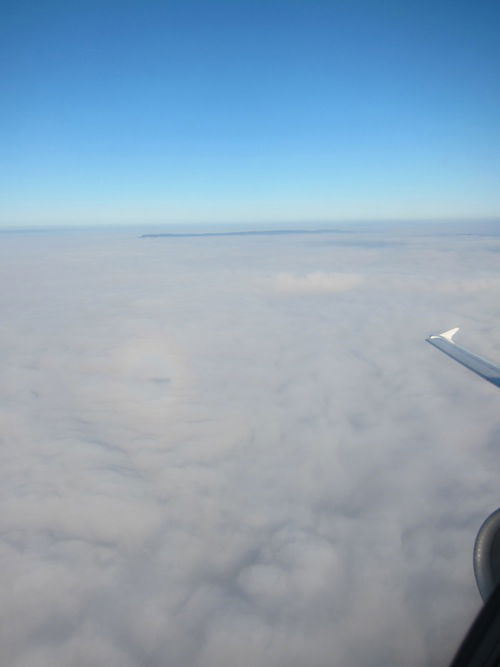 Climb out
As soon as we leveled off the snack was served, consisting of a prawn, some sort of curry dish, roll, and an apple pastry. It was tasty compared to my recent intra-Europe flights on Lufthansa. That was quickly followed by the beverage cart.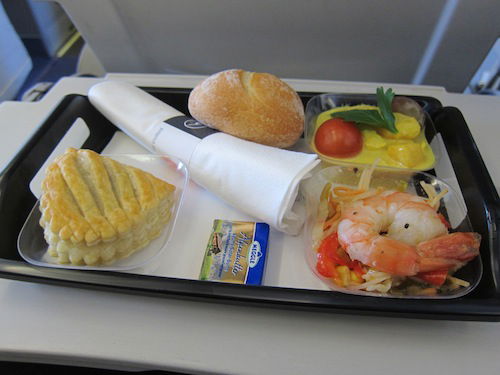 Snack
The highlight was the chocolate served afterwards, though I pocketed it for enjoyment at a later time.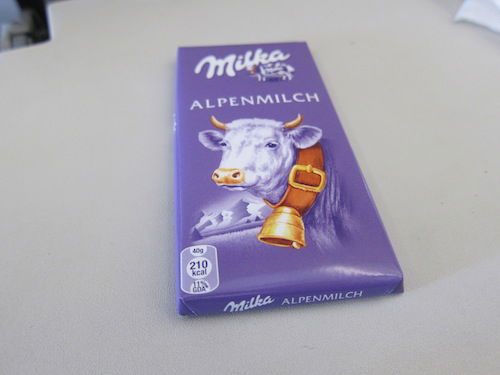 Milka chocolate
About 20 minutes before landing the seatbelt sign was turned on, and after a smooth descent and a 10 minute taxi to the gate, we pulled up to our stand just a few minutes behind schedule.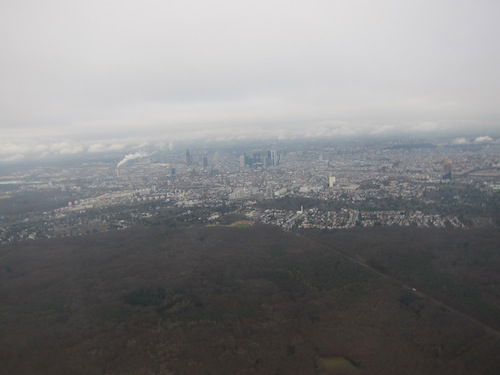 Approach
Unfortunately it was our unlucky day, since we were assigned a remote stand. The flight was empty, given that everyone fit on a single bus.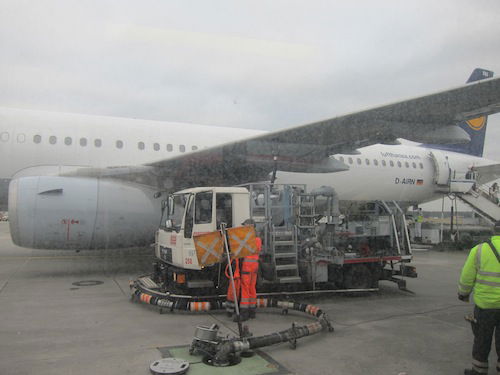 Plane from bus
After what must have been a five mile bus ride with a wannabe Formula 1 driver, we arrived at the terminal. From there it was a 10 minute walk to the train station, where we boarded a train for downtown.