I feel like I should change my mailing address to "business class on your nearest flight," based on the amount of time I've spent in business class lately. This is by design, as I've been doing what I can to review new business class products, given that I focused so heavily on first class in the past.
I've been disappointed by some airlines and pleasantly surprised by others, though they all have room for improvement. I've walked away from most carriers basically saying "they're a fine option if they operate the route you need to fly nonstop, but I wouldn't go out of my way to fly them." That's a stark contrast to my favorite first class products in the world, which I'd go out of my way to fly.
So it got me thinking as to what I value most in business class. What makes for a great business class product?
Everyone has very different preferences, so this simply reflects what I care about. I figured I'd share the 11 top things for me, more or less ranked, starting with the most important. The order can vary based on the individual flight, since I have different priorities based on the type of flight.
With that in mind, here are the 11 factors which make for a perfect business class product:
A seat with direct aisle access and no seatmate
I've long said that business class is all about the seat. While first class can be an over the top experience, the single thing I care most about in business class is the seat.
Ideally I'd like direct aisle access, I wouldn't like to sit next to anyone (or at least have enough privacy so I don't realize I'm seated next to someone), and I'd like to look out a window.
I've shared what I consider to be the best business class seats out there, which include the Apex Suites and reverse herringbone seats, which quite a few airlines offer nowadays.

Oman Air's new business class, featuring the Apex Suite
Wifi, ideally reasonably priced
I value wifi more than the average person, as this is the second most important business class feature for me. I hate getting off a longhaul flight and being way behind on work. Give me a flight with wifi, ideally where they charge a fixed amount with no data caps, and I'm a happy camper. Airlines like American, Etihad, and Lufthansa have especially good wifi options on their longhaul flights. On airlines like Singapore, on the other hand, wifi can be outrageously expensive.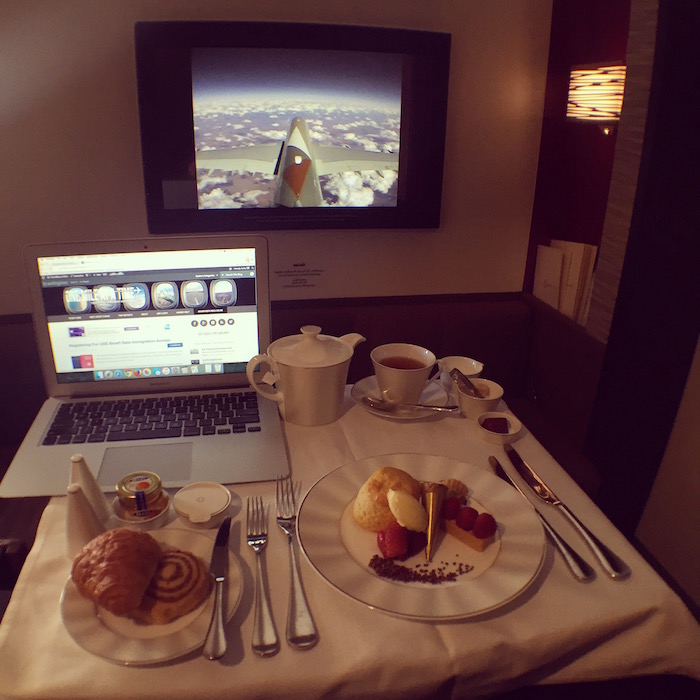 Office with a view, in Etihad's A380 First Class Apartment

An excellent pillow & blanket
As I said above, business class is all about the seat, though what's a good seat without a plush pillow and blanket? This might sound silly, until you fly an airline which gives you a pillow as thick as a piece of cardboard, like Iberia. This is an area where some airlines shine, by offering duvets, multiple large pillows, mattress pads, etc.

While not the best seat, Hainan business class comes with great bedding
Tasty food
Who doesn't like a good meal? I think many airlines would benefit from simplifying their menus. On airplanes, good food isn't about having something which is fancy, but rather having something which is well executed, given the constraints of serving food at 38,000 feet.
But if they can pull off complex/interesting and delicious food, that's all the better!

Incredible food in Austrian business class
Friendly & attentive service
I don't really necessarily care what the service style is, I just care that the flight attendants are friendly and seem like they want to be there. I'm just as happy with Cathay Pacific's hands-off service (where between meals you'll only see the crew in the cabin when you press the call button) as I am with Singapore Airlines' outrageously hands-on service (they're like ninjas in anticipating what passengers want).
A dine on demand concept and/or efficient service
There are plenty of airlines where their great food options are frustrating. For example, say you're on a six hour redeye and the incredible meal takes three hours to serve. That sort of ruins the point of a great meal, since it prevents you from taking advantage of the seat.
If it's a short flight, make sure the meal service is quick. Ideally there's a dine on demand concept, where you can order what you want when you want from a big menu. This is something the Gulf carriers do very well.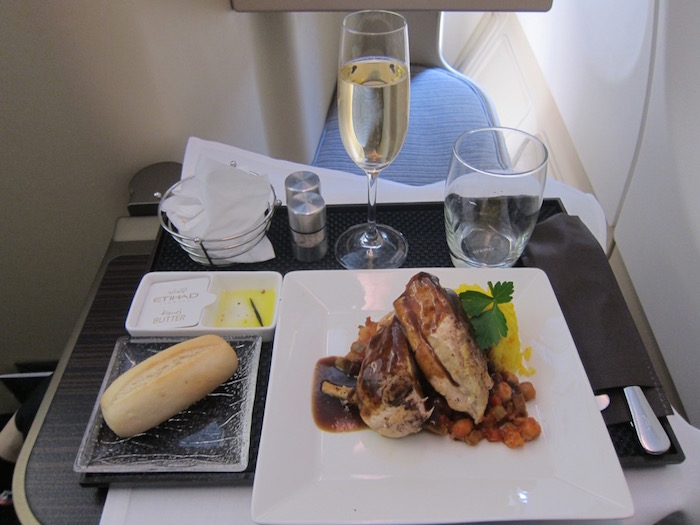 Dine on demand in Etihad business class
Extensive entertainment options
Personally I don't care that much about entertainment, but I sure won't turn down an airline with a thousand entertainment options, including entire seasons of shows. This is an area where Emirates really excels, with their ICE system.
Also, don't discount the value of a tail camera or an interactive airshow program. That can be entertainment in and of itself!

Tail camera on the Qatar Airways A350
Good coffee & espresso-based beverages
I love coffee. Airplane coffee is notoriously bad, but there's a huge variance in the quality of it. Beyond that, there are plenty of airlines which whip up top notch espresso based beverages.
Waking up on a plane after a great night of sleep to a freshly brewed cappuccino is pure bliss.

Freshly brewed cappuccino on Emirates
Good alcohol selection
That's right, I put coffee ahead of alcohol. Higher quality champagne is certainly preferred over lower quality champagne. The same is true of liquor, or at least just having some types of liquor at all. I was really surprised on my recent Aeromexico and Avianca flights when they didn't have gin.

Ideally do better with champagne than China Southern does in first class
Amenity kits and pajamas
Sure, I like having some goodies to take with me from flights, like amenity kits and pajamas, which some airlines offer in business class. But it's not something which is terribly important to me, since I typically bring my own pajamas, and I also have all the toiletries I need.
For example, Singapore Airlines doesn't give out amenities in business class because they find them to be wasteful (presumably it's ultimately a cost saving measure), and instead they have all the necessities in the lavatories. That works for me.

Awesome amenities in Qatar Airways business class
Some flair
Airlines can be great ambassadors of their respective countries, so add in some local flair and hospitality. This can be as simple as "local" boarding music, signature menu items from the airline's home country, etc. I love feeling like I'm on an "exotic" airline.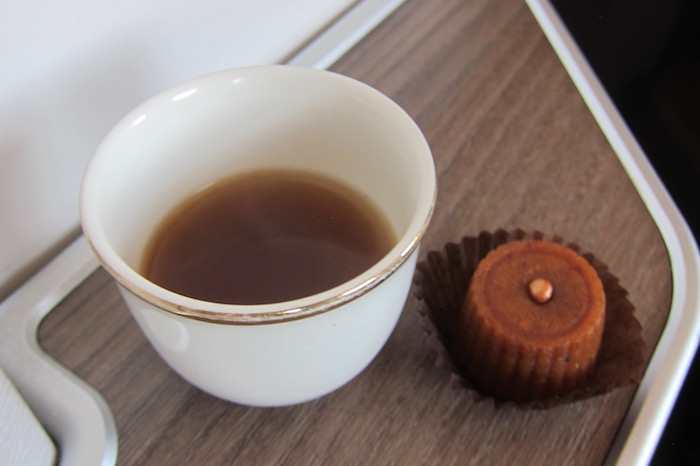 Arabic coffee and dates in Oman Air business class
What do you value most from a business class product? How does your list differ from mine?