Reader Jonathan Casey asked the following question in the "Ask Lucky" forum:
I am in the process of trying to book a Lufthansa first class award (less than 14 days out). I've been watching ANA, United, and Aeroplan site for the seats to open for the flight I'm trying to take which is currently sitting at F4. Last night availability showed up on the ANA site and United site, but Aeroplan didn't show any seats in first. I tried calling Aeroplan and the agent didn't see anything either. This morning ANA and United both still show 1 award seat and again Aeroplan both web and agent don't show a seat.

The day before and day after all 3 engines ANA, United, and Aeroplan show availability on the same flight so it doesn't seem like the space is being blocked unless Aeroplan is blocking this one specific day out of this specific city (Aeroplan has availability for other LH first the same day from other US departure points so that doesn't seem likely). Has anyone else experienced this where ANA and United show Lufthansa first and Aeroplan does not? What could be the cause of this?
I figured it would be worth answering the question here since we can step back and take a "big picture" approach to the question. What causes discrepancies in award availability between airlines, and what can be done about it? Looking at the question beyond Lufthansa, here are some of the things which most commonly cause discrepancies in award availability:
Airlines don't make all award space available to partner airlines
While not relevant to the above situation, this is probably the single most common cause of award availability discrepancy. There are three major alliances — oneworld, SkyTeam, andStar Alliance — and as a general rule of thumb the individual airlines make the same amount of saver level award space available to members of their own programs, as they do to members of partner programs.
That's a very general rule. There are certainly exceptions. Looking just at Star Alliance, for example: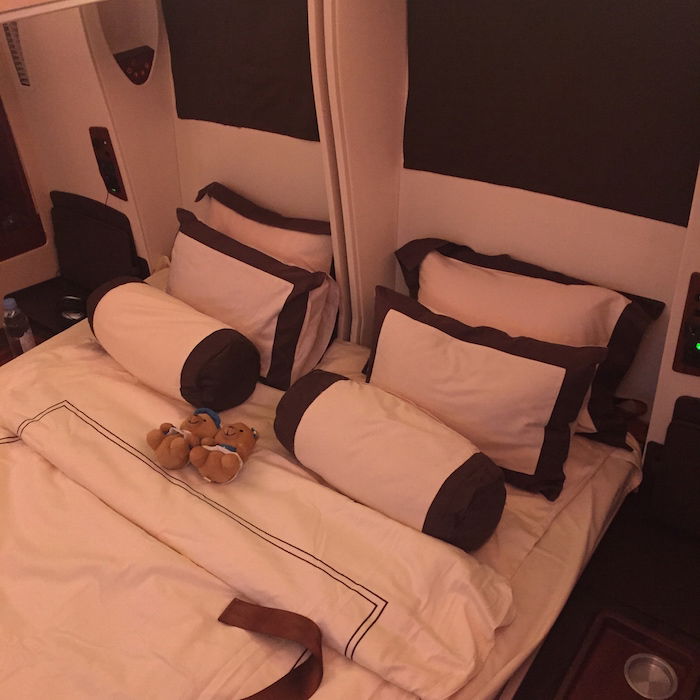 The point is, in some cases airlines just make more space available to their own members than to members of partner programs, which might explain an availability discrepancy when using an airline's "native" website to search for space.
Phantom award space
It's also quite common for airlines to show phantom award space. This happens with some frequency when you're using one airline's website to search another airline's award availability (for example, using British Airways' website to search Cathay Pacific award availability).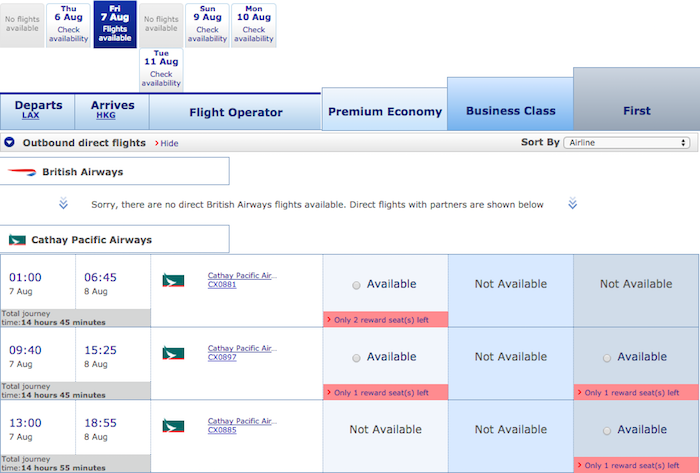 Technology just doesn't work properly sometimes, and that's the case here. So if you see Cathay Pacific award space on British Airways' website and American doesn't see the same space, it's probably not actually bookable with British Airways either.
The same is true for the Lufthansa first class award space displayed on the Aeroplan and United websites — it's not always 100% accurate.
Delays in accessing award space
While technology is for the most part amazing nowadays, not everything is actually "real time." So in the case of the Lufthansa seat in question, ANA's website is almost always the most accurate. Then it sounds like United's inventory updated pretty quickly, while there was some delay with Aeroplan.
I know it's tough to wait when you find the award space you want, but in many cases waiting just a few hours will cause the system to refresh by itself.
Other technical glitches
Then there are also all kinds of other "random" glitches which can occur. I wouldn't assume they're malicious, but rather technology sometimes isn't perfect. For example, there are certain ranges of United flight numbers which Aeroplan just can't display. There's no good explanation for it, but rather it's literally just a system glitch. This seems to apply to many United Express flight numbers as well.
Solutions to award discrepancies?
The frustrating thing about many of these discrepancies is that often there's not much that can be done.
In many cases the best solution is to simply wait an hour, or a day, or in some cases even a week. I know that's super frustrating.
Another thing you can do is request that an agent try to "direct sell" or "manually request" availability on a flight. It may or may not work — it all depends on the airline and the circumstances — but sometimes it will.
To clarify, this won't open up award space which isn't otherwise there. But the intent is that if the discrepancy is simply due to some front-end tech issue, this should allow an agent to request the space, and then it will either come back as confirmed or denied.
Whether or not an agent is willing to do it depends on the airline and in many cases the agent — for example, at Aeroplan they're almost always happy to try and request space, while at American they rarely will.
And then sometimes you've just gotta accept that technology sucks and look for alternatives.
Bottom line
Hopefully that's a useful overview of what might cause award availability discrepancies.
So what would I do in Jonathan's situation, based on the above?
Call Aeroplan and ask the agent to direct sell the space — explain you see that the flight has "O" seats, and therefore they should have access to it
If that doesn't work, be patient and wait, as Aeroplan availability should be updated at some point as well
If that doesn't work, look for alternatives; sometimes technology just doesn't show us any love
Have you ever dealt with an award availability discrepancy? How did you handle it?