---
On Wednesday I flew American Airlines first class from Miami to Las Vegas, which was a roughly five hour flight. I've been curious to see firsthand how onboard service has been adjusted as a result of the current pandemic, and wanted to report back on that.
Obviously onboard service is hardly a priority at this point, and some may even be surprised by my conclusion.
American Airlines first class service guidelines
When it comes to American Airlines first class service at the moment, flights fall into three different "tiers" — under 900 miles, 900-2,199 miles, and 2,200+ miles. How does service on these flights differ?
I should note that across all American Airlines first class flights:
There are no blankets or pillows
There are no pre-departure drinks
All service is in cups, so there's no glassware
Beyond that, here's what you can expect:
First class service on flights under 900 miles
On flights under 900 miles, American Airlines first class passengers can expect:
Drinks (including alcohol) upon request
No snacks of any sort
First class service on flights between 900 and 2,199 miles
On flights of 900 to 2,199 miles, American Airlines first class passengers can expect:
A paper bag upon boarding with a small snack, hand sanitizer, and a bottle of water; this is the same bag given to all passengers, including in economy
Drinks (including alcohol) upon request
First class service on flights of 2,200+ miles
On flights of 2,200 miles or more, American Airlines first class passengers can expect:
Meals served on a single tray, rather than in courses
Drink service (including alcohol)
My experience flying American Airlines first class
Our Miami to Las Vegas flight was in the air for just under five hours, and was blocked at over five hours. The route covers a distance of 2,174 miles, so we were just 26 miles under the threshold for a flight with a meal service.
For example, a friend recently flew from Miami to Los Angeles, and below is what the one tray meal service looked like on a dinner flight.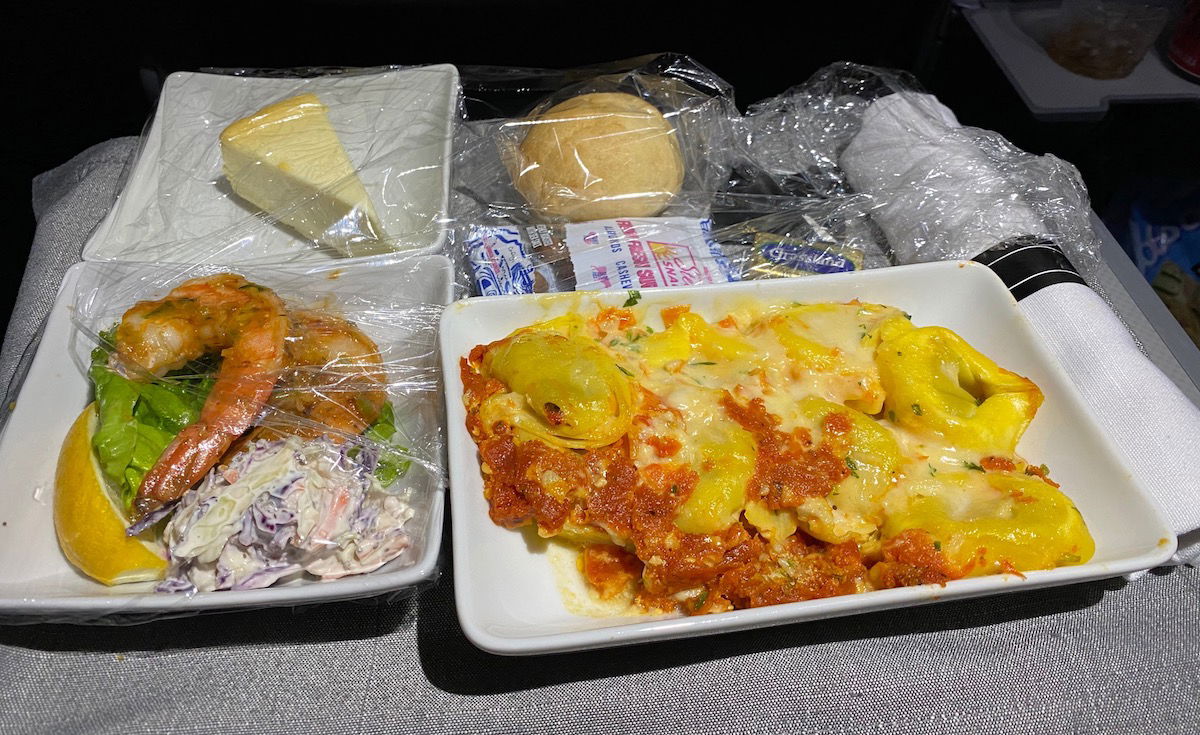 Meanwhile on our flight we were handed white paper bags upon boarding by flight attendants — the same were offered in economy and first class.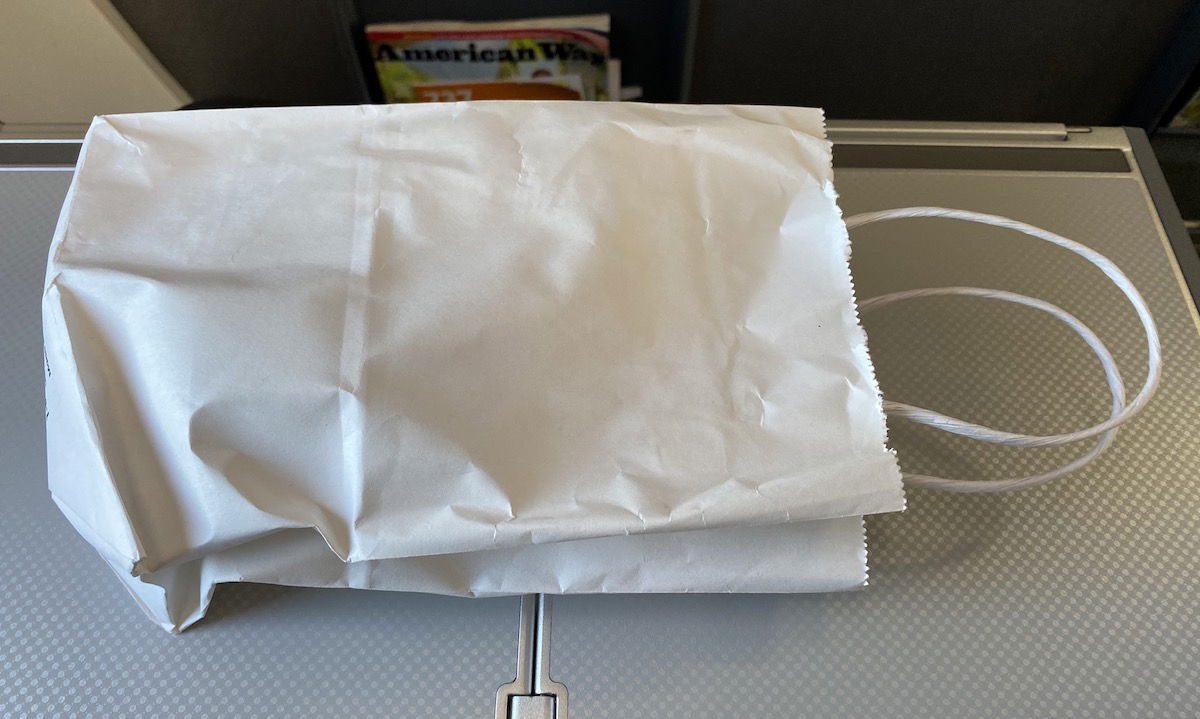 The bag contained:
A bottle of water
A honey maple snack (rather than the typical Biscoff or cookie)
A single use packet of Purell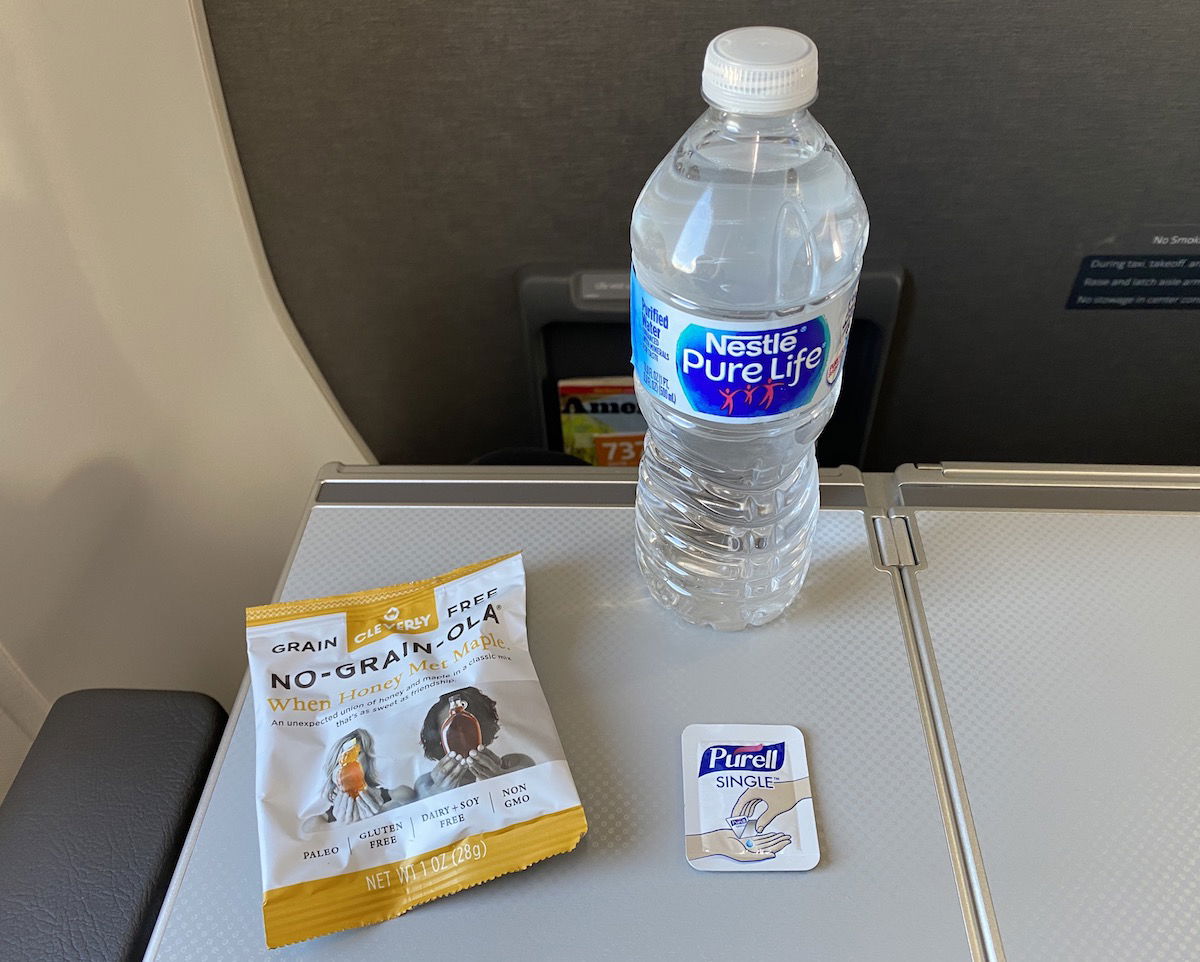 That was all the food offered on the flight, and in economy was also the extent of the service (with the exception of non-alcoholic drinks on demand). The only thing I really take issue with is that I think they should offer more than a single use packet of hand sanitizer where you're on a plane for nearly six hours. I get that procuring hand sanitizer isn't particularly easy right now.
The flight attendant working first class was lovely, and while service was technically "on demand," she did pass through the cabin several times to ask if anyone wanted drinks. I had a coffee towards the beginning of the flight (served in a cup rather than a mug).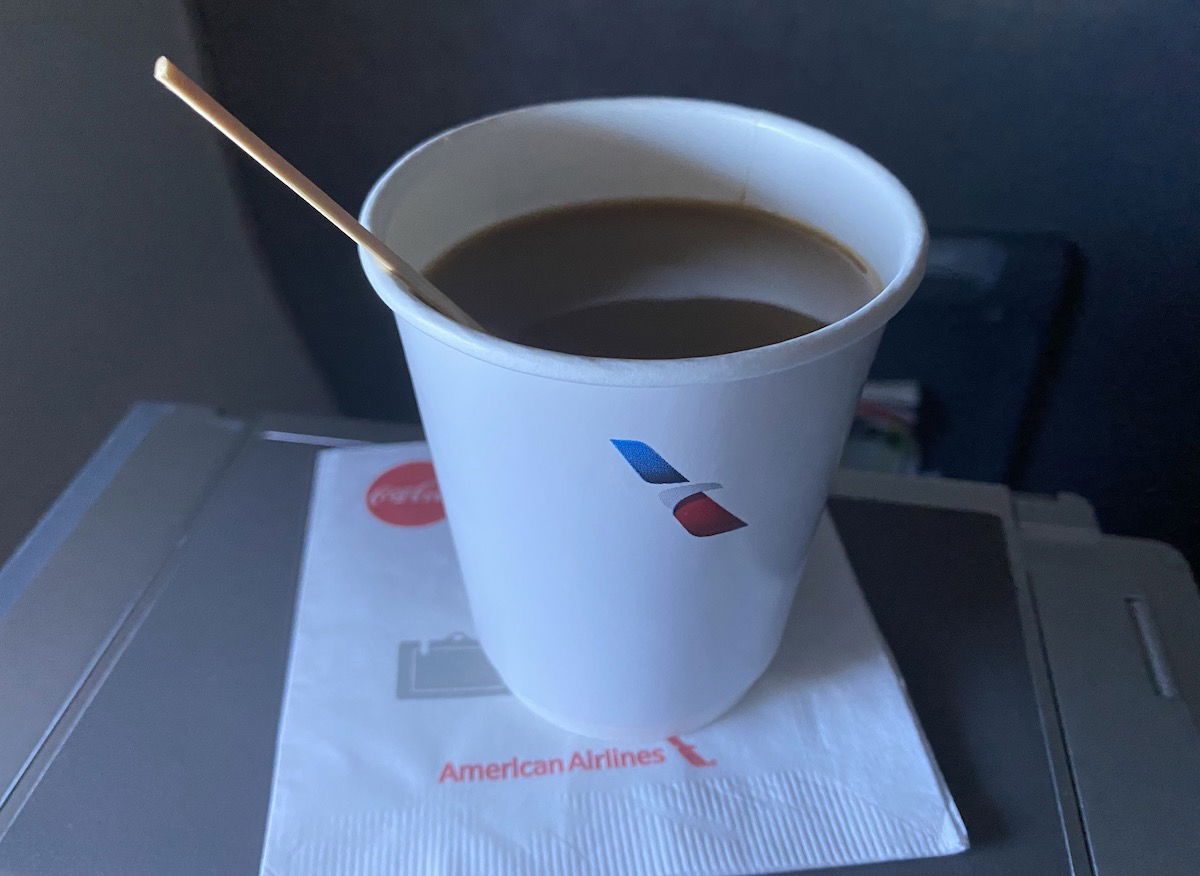 Towards the end of the flight I had a Diet Coke, served in an unopened can with a plastic cup and some ice.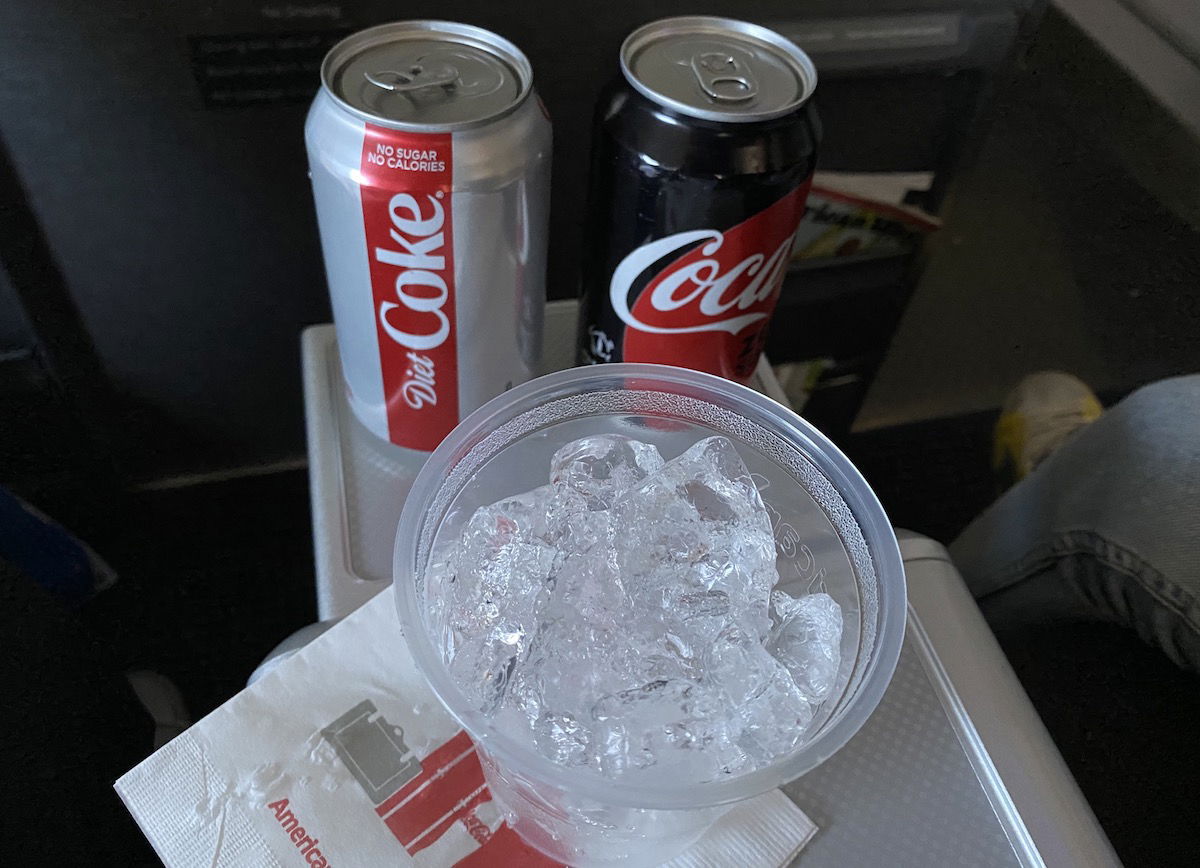 There's not much else to report as far as the onboard service goes.
This service was perfectly fine as far as I'm concerned
For so long this blog was largely focused on the minutiae of airline soft products. With the current pandemic, that's all out the window.
We've seen airlines take all kinds of different approaches towards catering during the pandemic. This ranges from Lufthansa maintaining the full regular service in first class, to Turkish Airlines serving boxed lunches and no hot beverages in business class. I don't think there's a single right or wrong approach to take.
In the case of this American Airlines flight I'd note:
I knew there would be no real meal service, so I brought some snacks
If the flight were 24 miles longer there would have been a meal, so don't totally judge five hour American Airlines first class flights by this
The biggest thing I learned based on my first flight in months is that I'm totally fine with virtually no service, and in many ways prefer it. Some people are bad at following the requirement to wear your mask, though the one exception is that you don't have to wear your mask while eating and drinking (and some people interpret that rather liberally).
The less service there is, the less opportunity there is for people to take their masks off. I hate that this is what it has to come down to, but frankly I'm not at all opposed to minimal or non-existent service on flights at this point.
Bottom line
American Airlines first class service is very limited right now. On our five hour flight there was a bottle of water, a small packaged snack, and drinks served on demand. And frankly I'm totally fine with that.
At this very moment flying — especially domestically — is about getting between two points as safely as possible. Not much else matters to me right now, personally.
What do you make of American Airlines' current first class service?