---
We spent the second night of our road trip in Page, Arizona, primarily so we could visit Horseshoe Bend. As we quickly learned, the real treat was just being able to drive around this part of the country, as the scenery is breathtaking.
Booking the Hyatt Place Page Lake Powell
Page has virtually every limited service hotel brand you could think of, and all the properties look as cookie cutter as you'd expect. Since my loyalty belongs to Hyatt, Marriott, Hilton, and IHG (in that order), I decided to book us at the Hyatt Place Page.
The rate for our one night stay was $127. This is a Category 3 World of Hyatt property, meaning a free night would have cost 8,000 World of Hyatt points.
I value Hyatt points at 1.5 cents each, so on the surface you'd think redeeming points would have made more sense, but Hyatt also has a great triple points promotion, and I had a Chase Offers deal for a further 10% off, so I came out slightly ahead by paying cash.
Hyatt Place Page Lake Powell review
As was the case with the SpringHill Suites in Springdale, we didn't spend all that much time at the hotel, not that there's all that much to review at a limited service property. Nonetheless I tried to check out all of the amenities.
Hyatt Place location
The Hyatt Place Page was easy enough to find, and is just a short drive from the main streets of Page. Frankly the town of Page is one of the less charming small cities I've been to, though it's clear that the draw here is the great nature, especially with nearby Lake Powell.
It would seem that most other hotel guests were there to go to Lake Powell, based on the number of boats on trailers in the parking lot.
Parking at the hotel is free, with no permit required.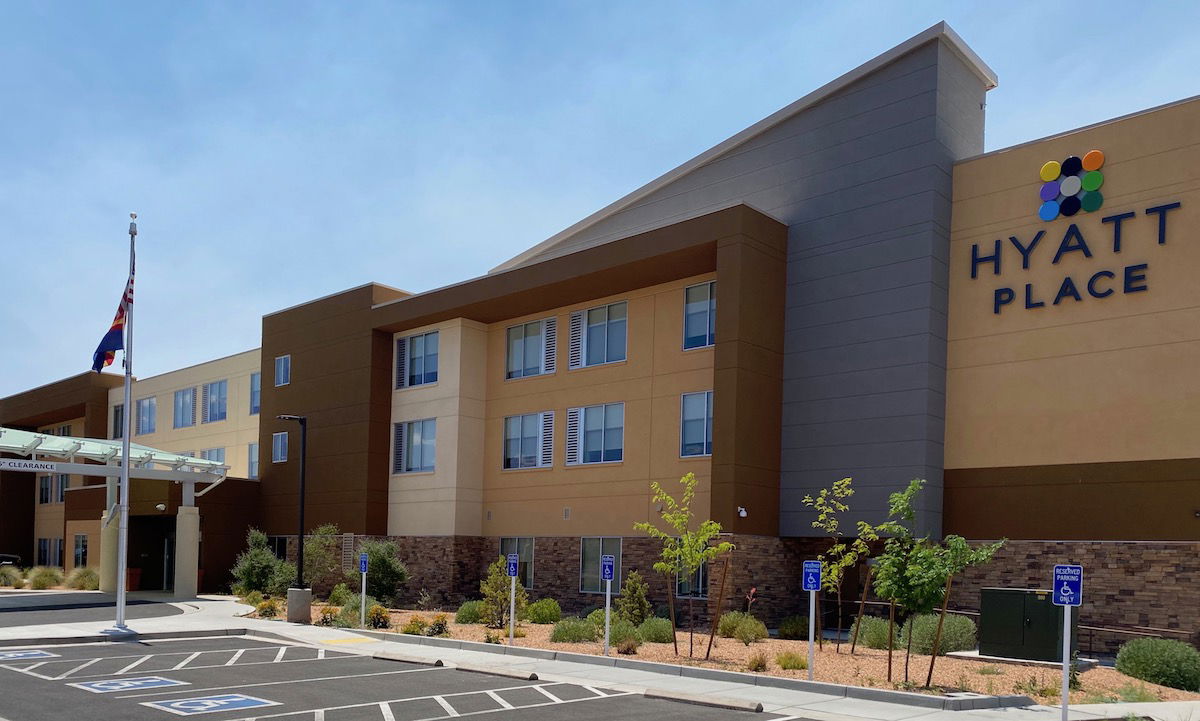 Hyatt Place Page exterior
Hyatt Place check-in & lobby
Hyatt Place Page is probably my favorite limited service hotel brand, as I find they're among the most consistent… for the most part.
The front desk was immediately inside the lobby, and there was a plexiglass shield that had been installed as a precaution.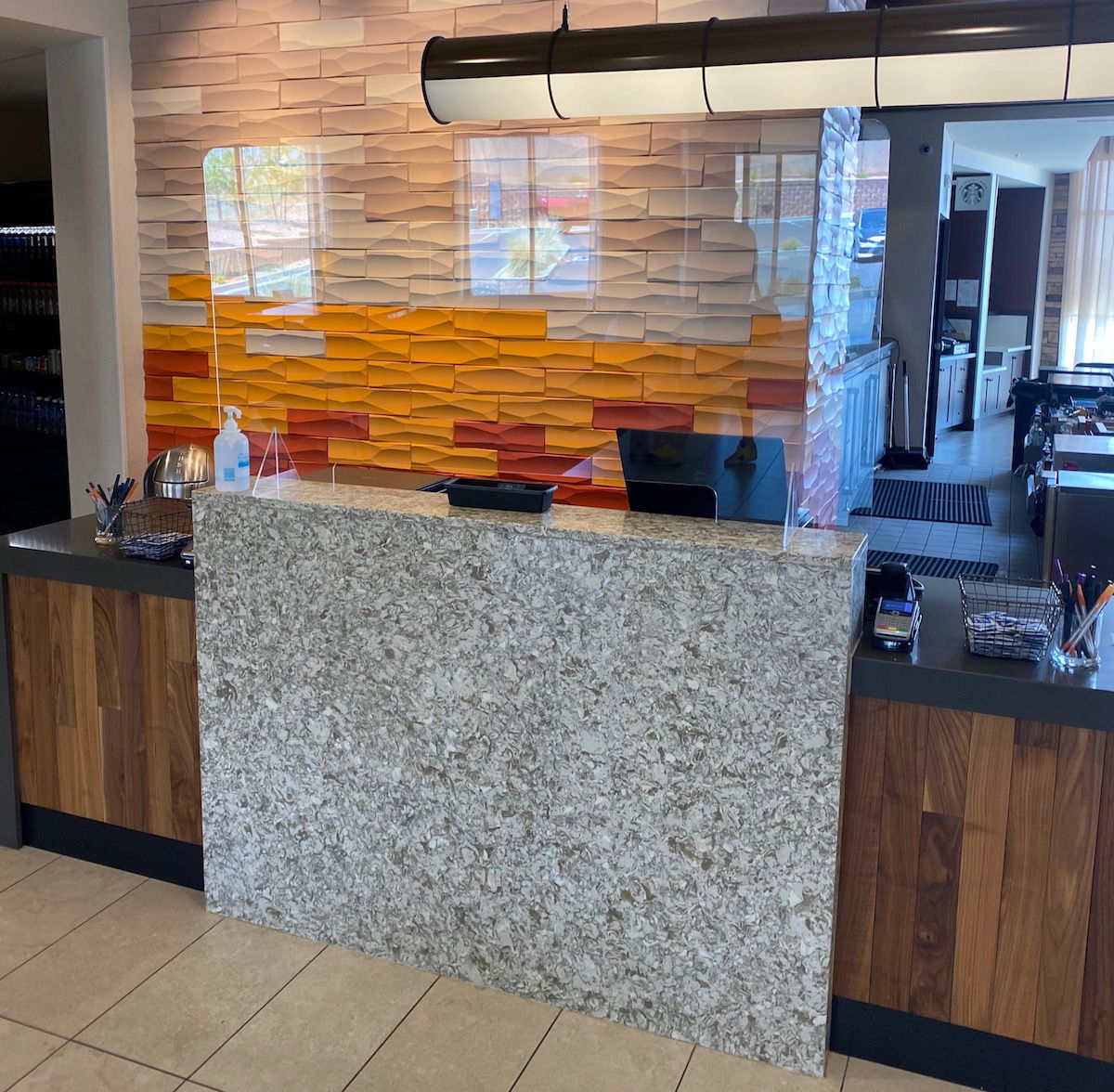 Hyatt Place Page reception
The check-in process was quick, and we were given keys to our room in no time.
To the side of the front desk was a typical grab-and-go Hyatt Place area where you could purchase drinks and snacks. As a Globalist member I received two free bottles of water, which I could take from here.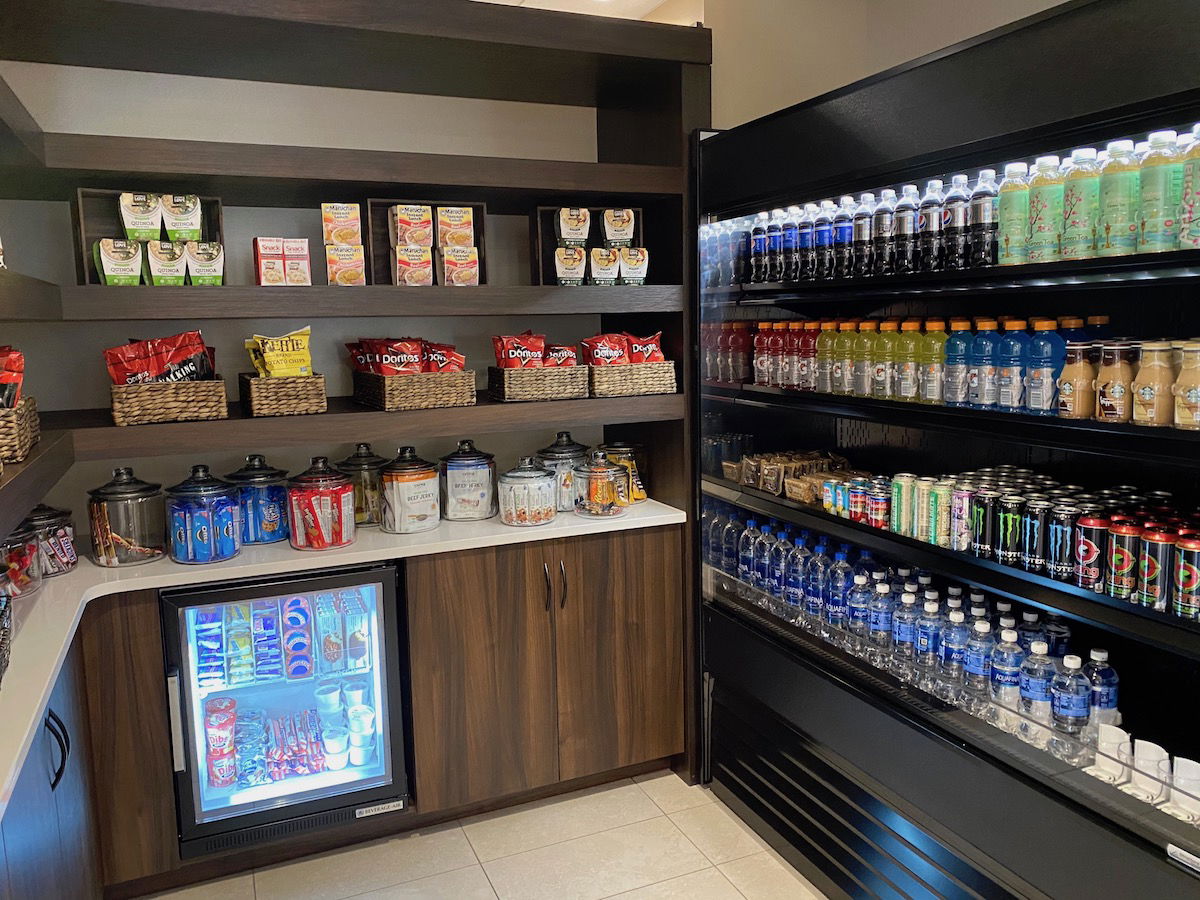 Hyatt Place Page drinks & snacks for purchase
Between reception and the entrance were some couches and communal tables (with limited chairs to allow for proper distancing).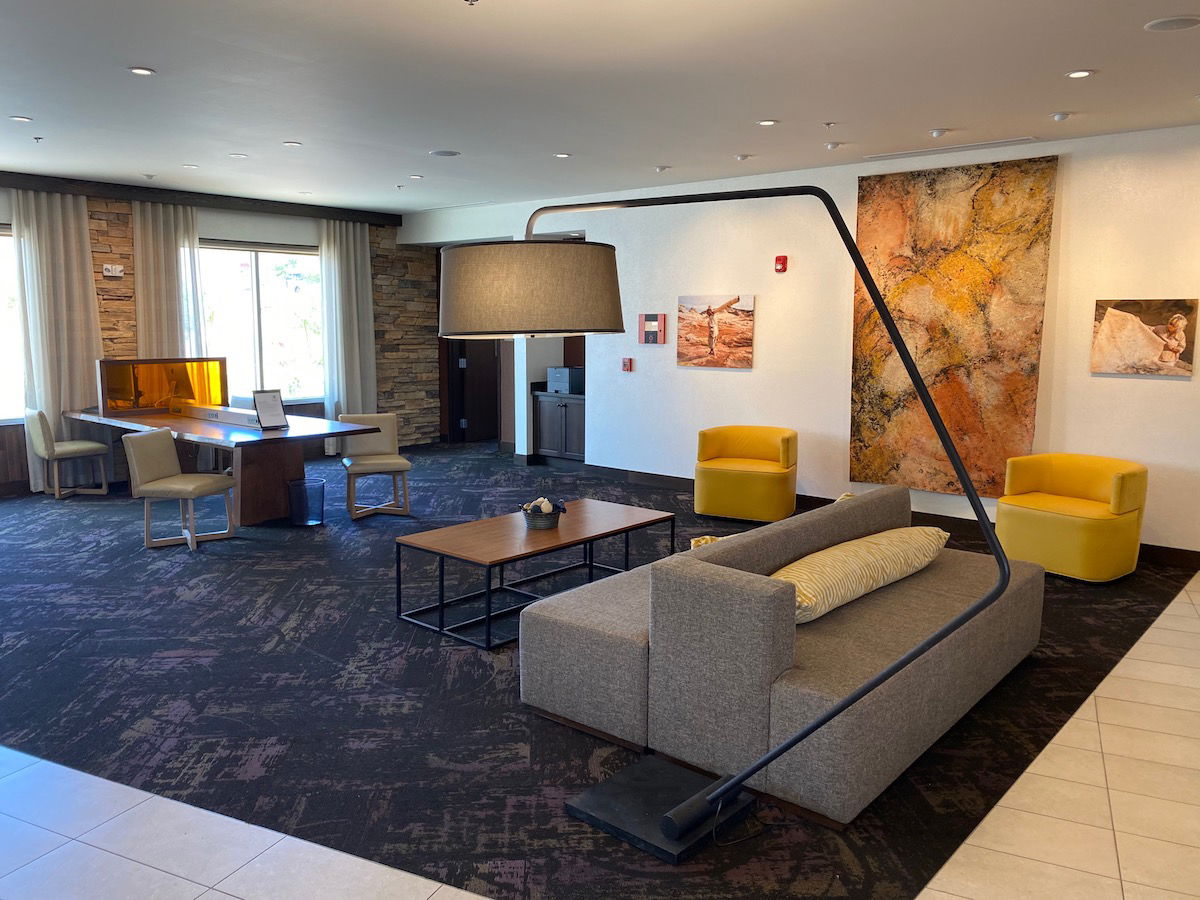 Hyatt Place Page lobby
Then to the side of the front desk was the main lobby area, with dining tables, communal tables, couches, and some cute nooks where you could sit. I thought the design was nice, and parts almost felt to me like a (decent) airline lounge.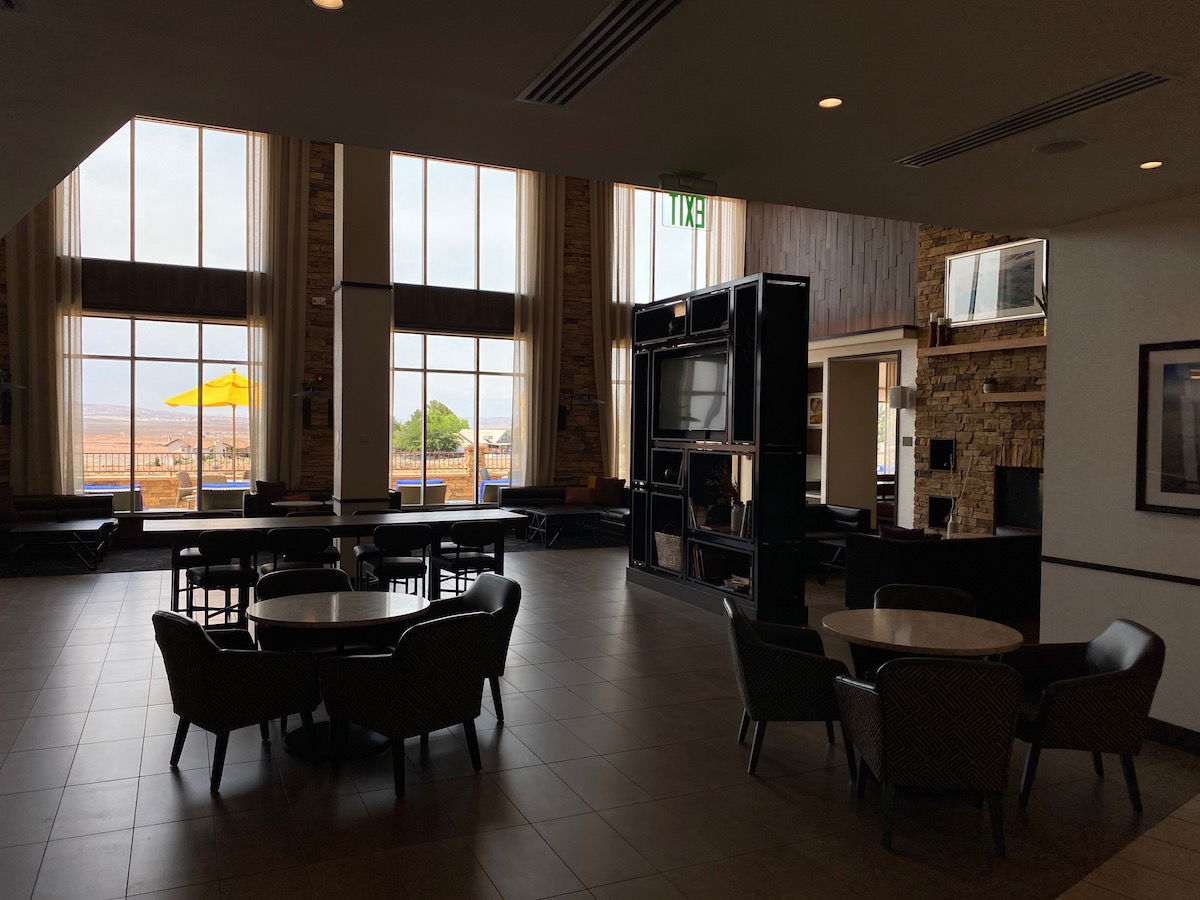 Hyatt Place Page lobby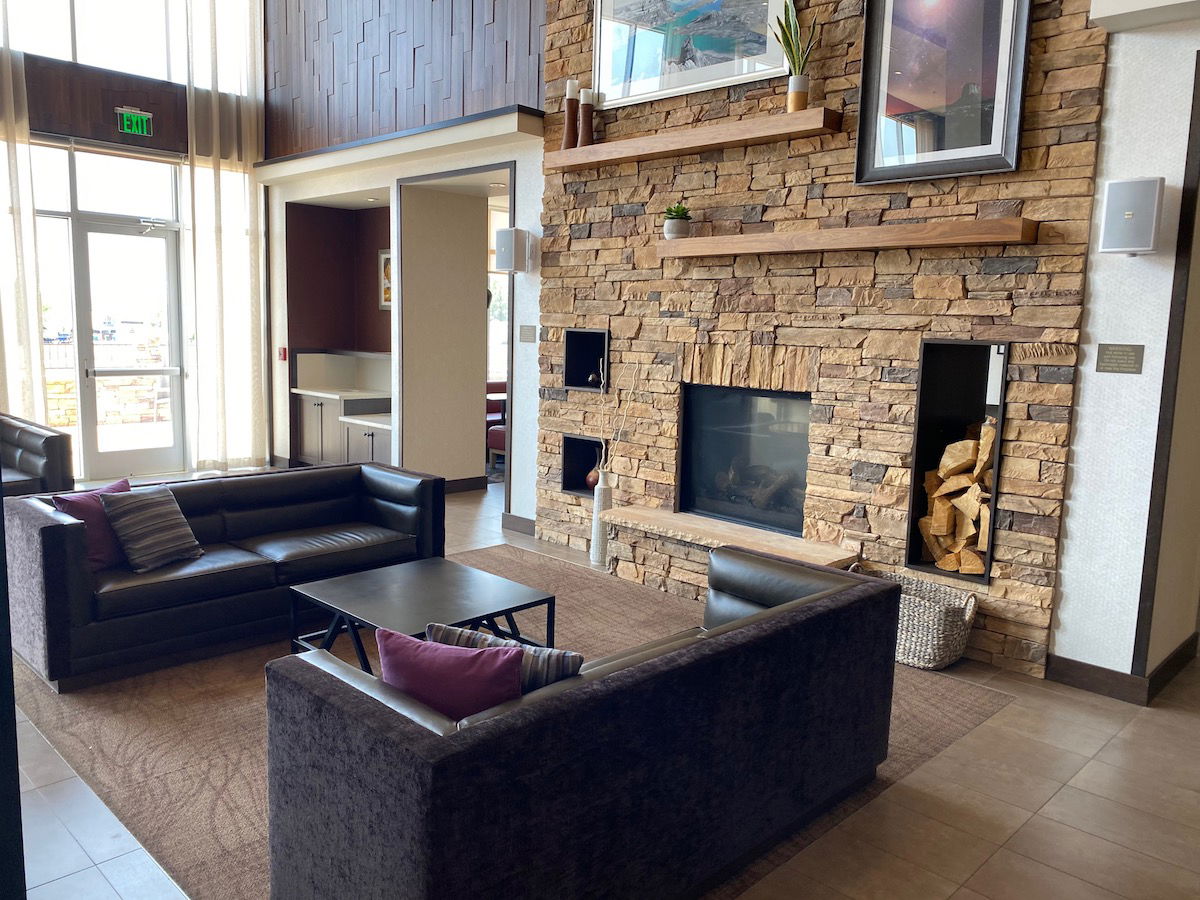 Hyatt Place Page lobby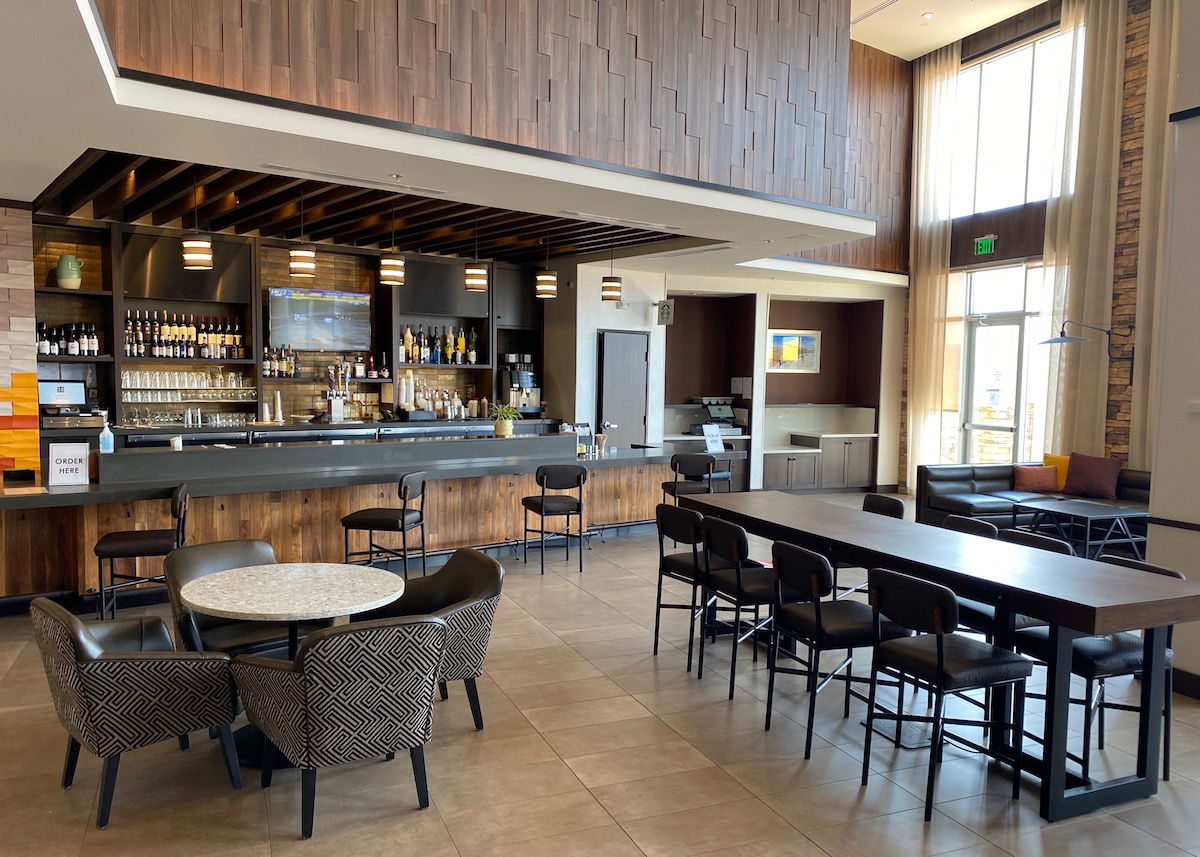 Hyatt Place Page lobby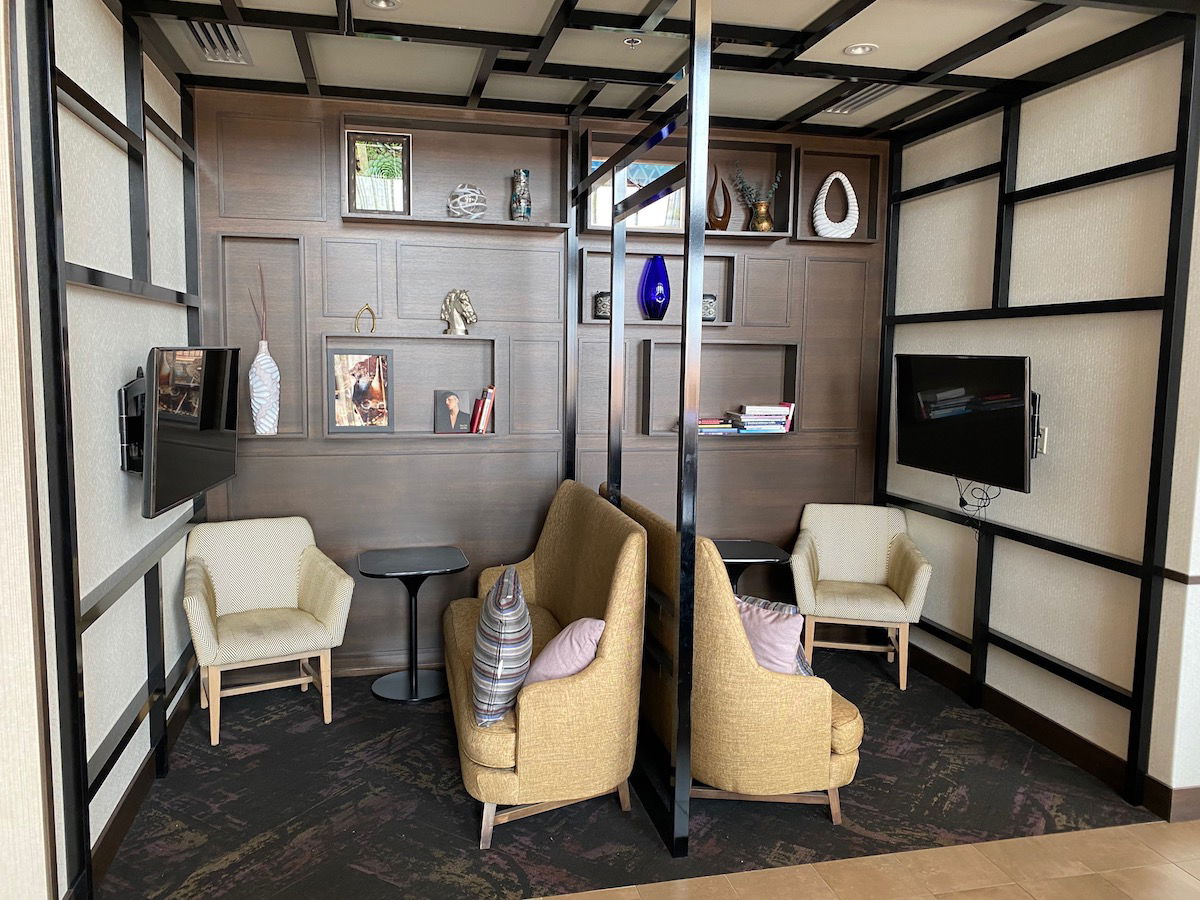 Hyatt Place Page lobby
Then in a room beyond that was more seating, which acted as the main breakfast room.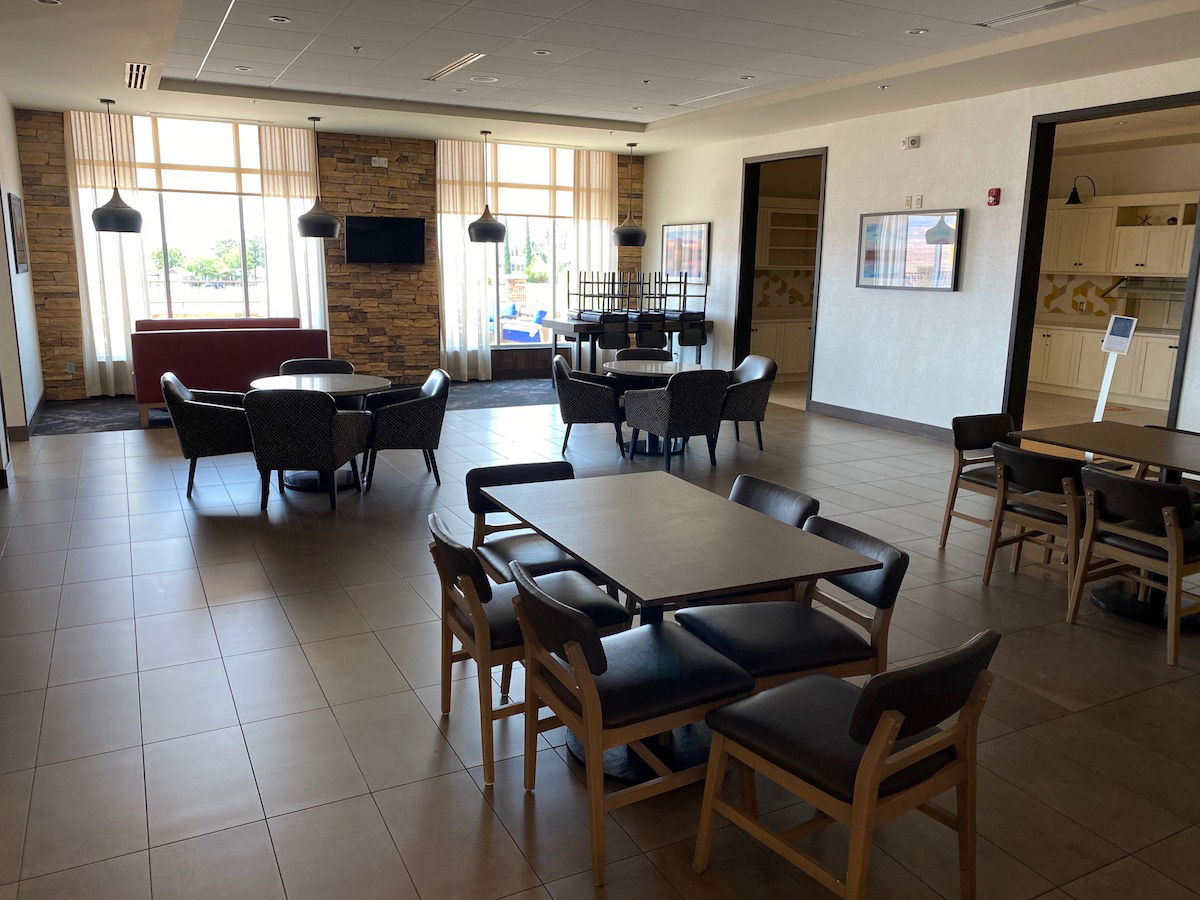 Hyatt Place Page lobby
There was also an outdoor terrace just off the lobby… look at those views!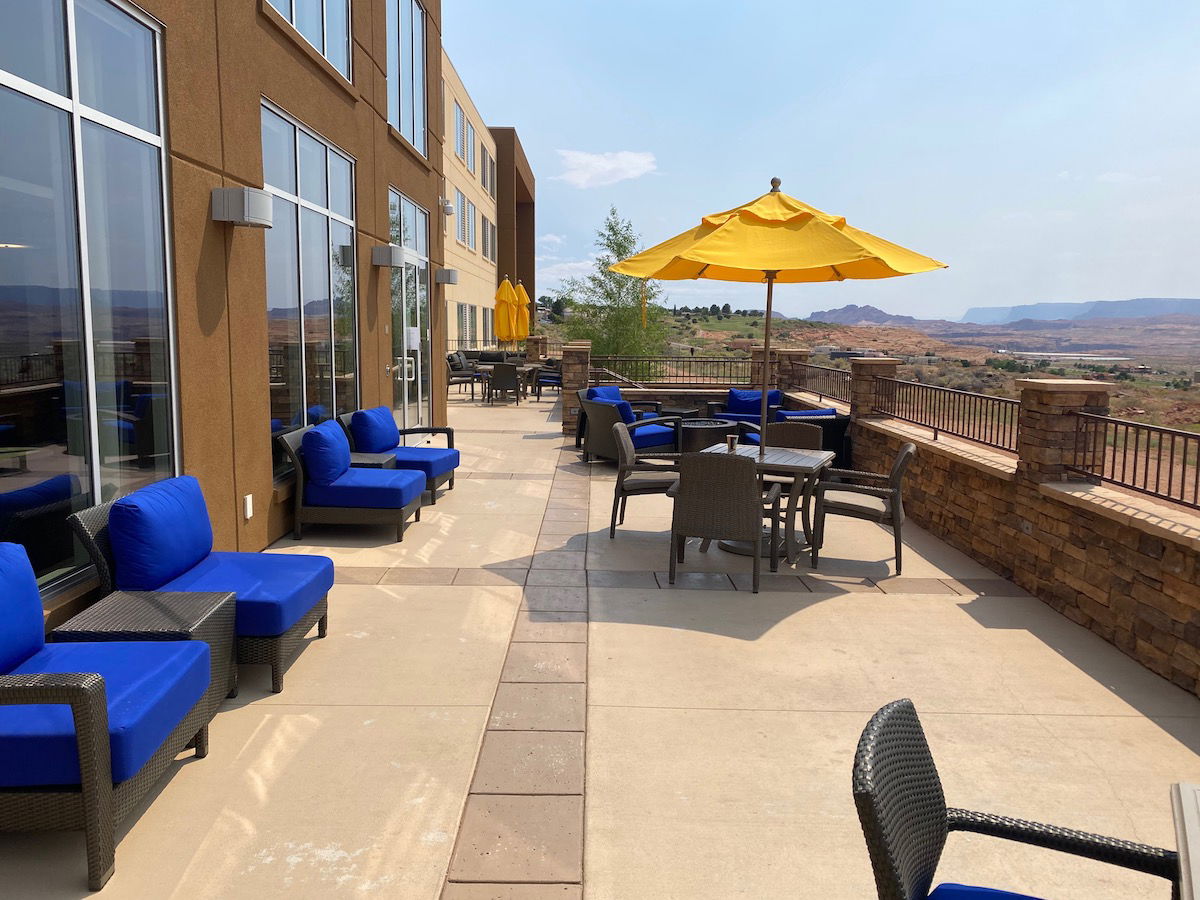 Hyatt Place Page outdoor seating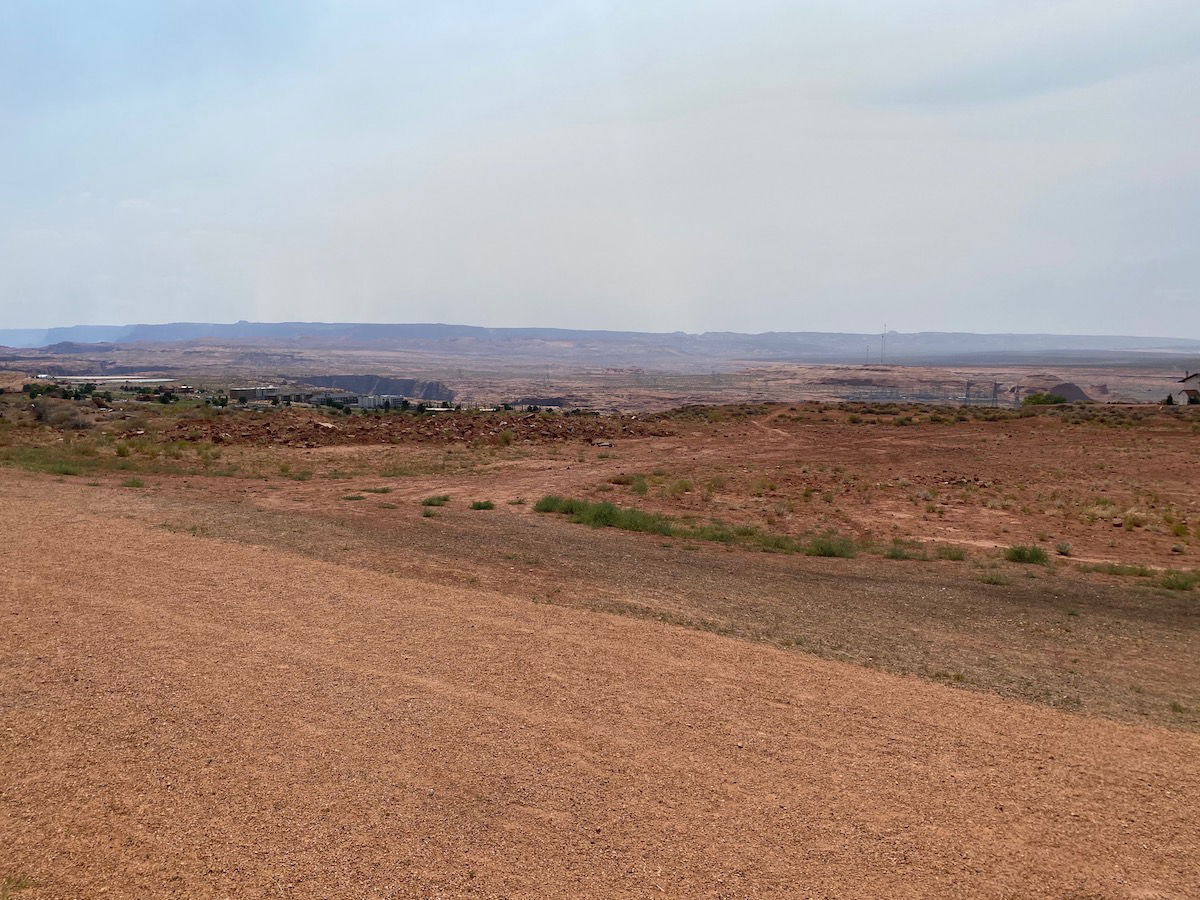 Hyatt Place Page view
Hyatt Place King View room
We took an elevator up to the third (top) floor, as we were assigned room 332, a king room with a premium view.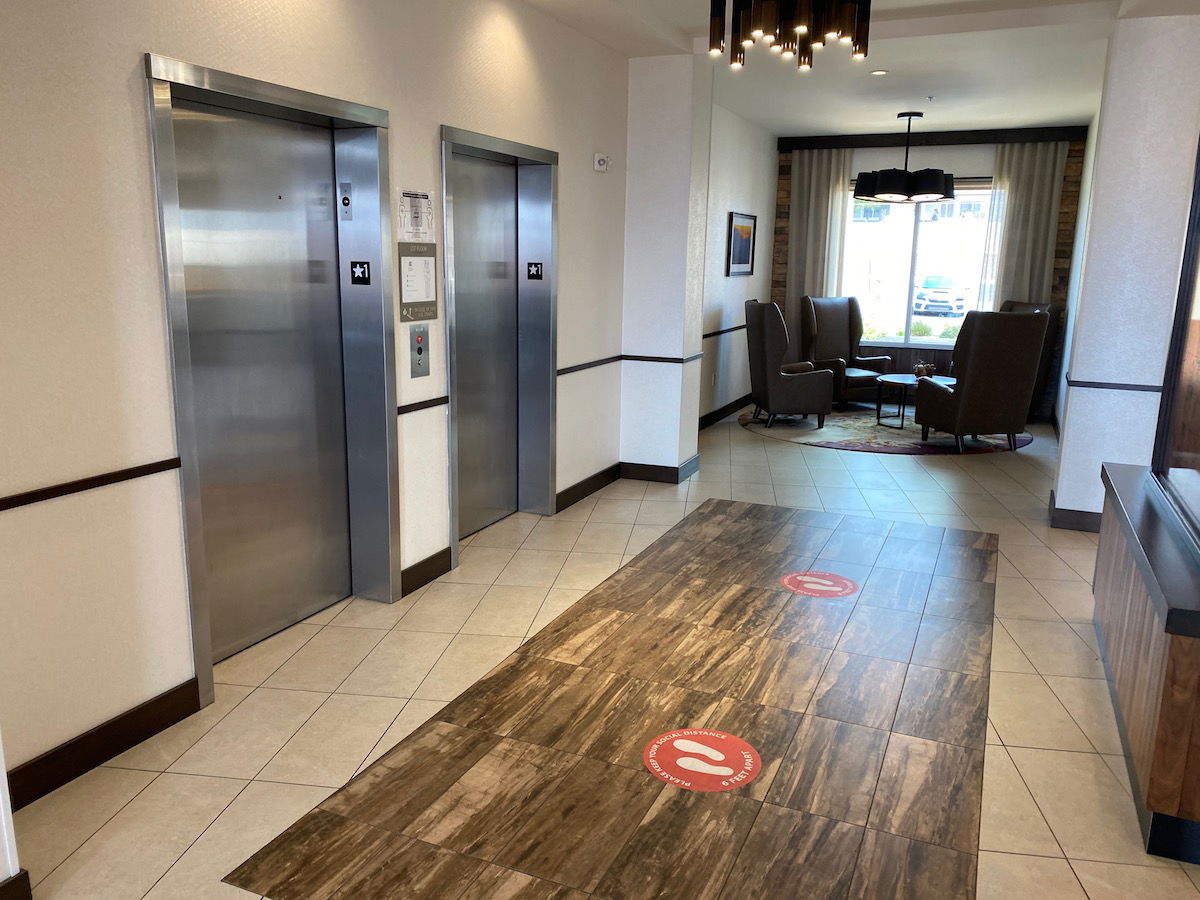 Hyatt Place Page elevators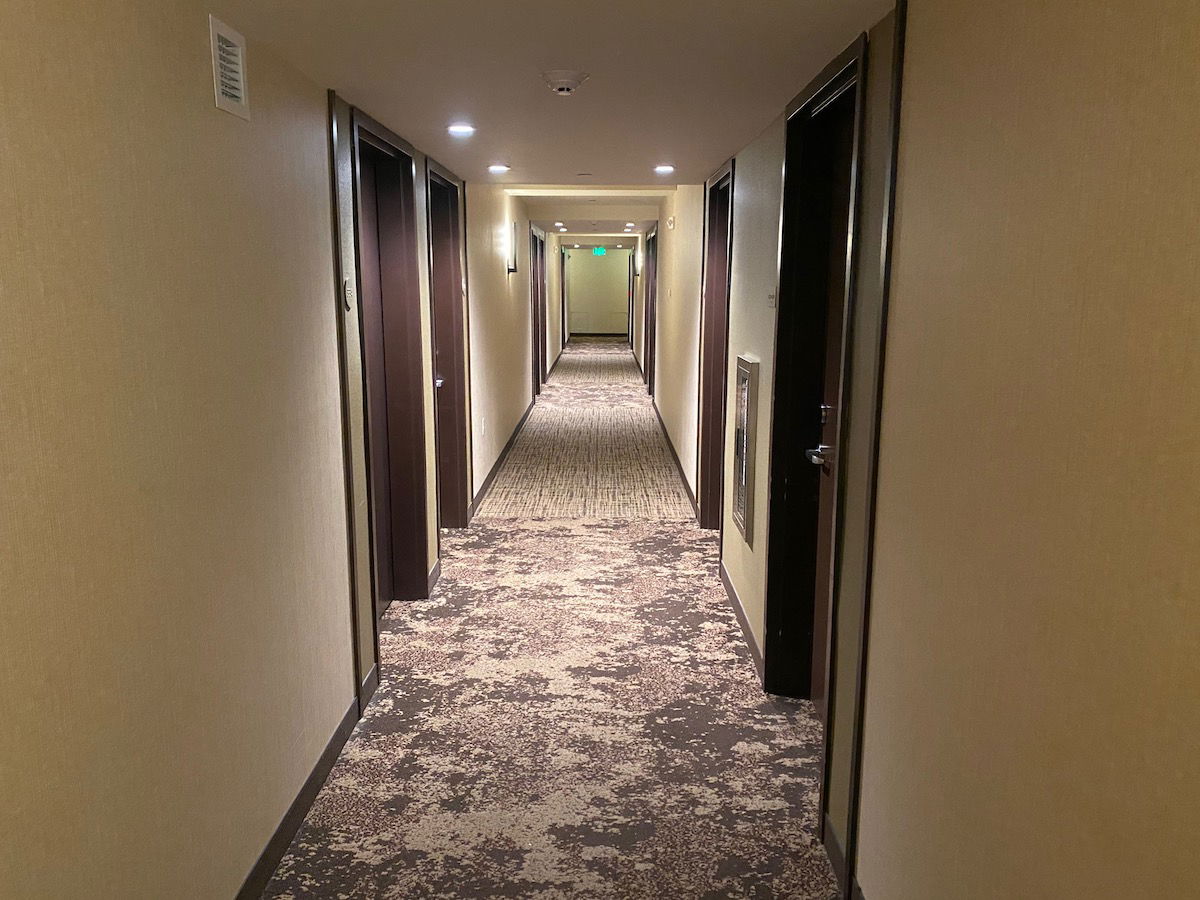 Hyatt Place Page hallway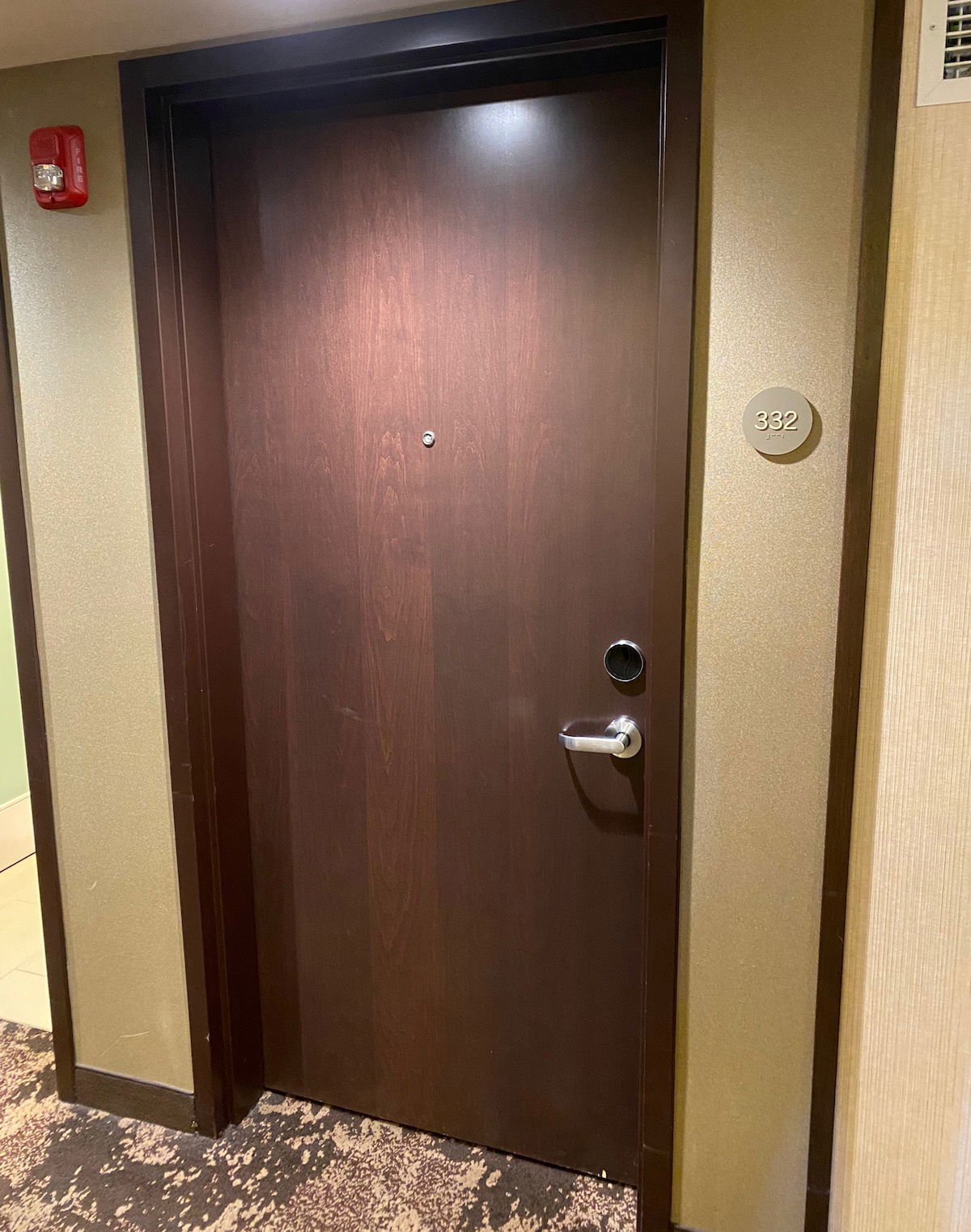 Hyatt Place Page room exterior
I appreciate how spacious Hyatt Place rooms area, though I do find the decor to be a bit bland. Our room featured a king size bed, and then there was a small partition separating that from a desk with a rolling chair, as well as an "L" shaped couch with an ottoman.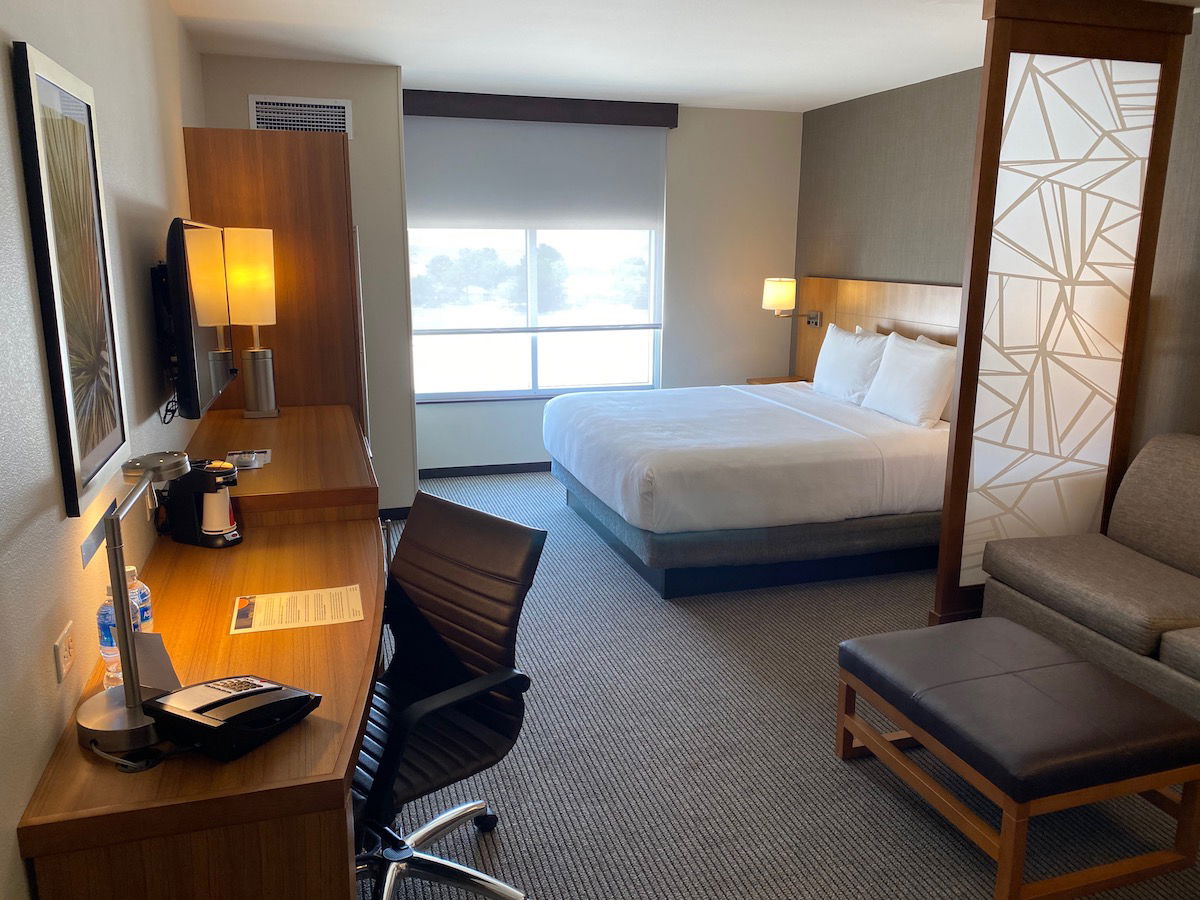 Hyatt Place Page king room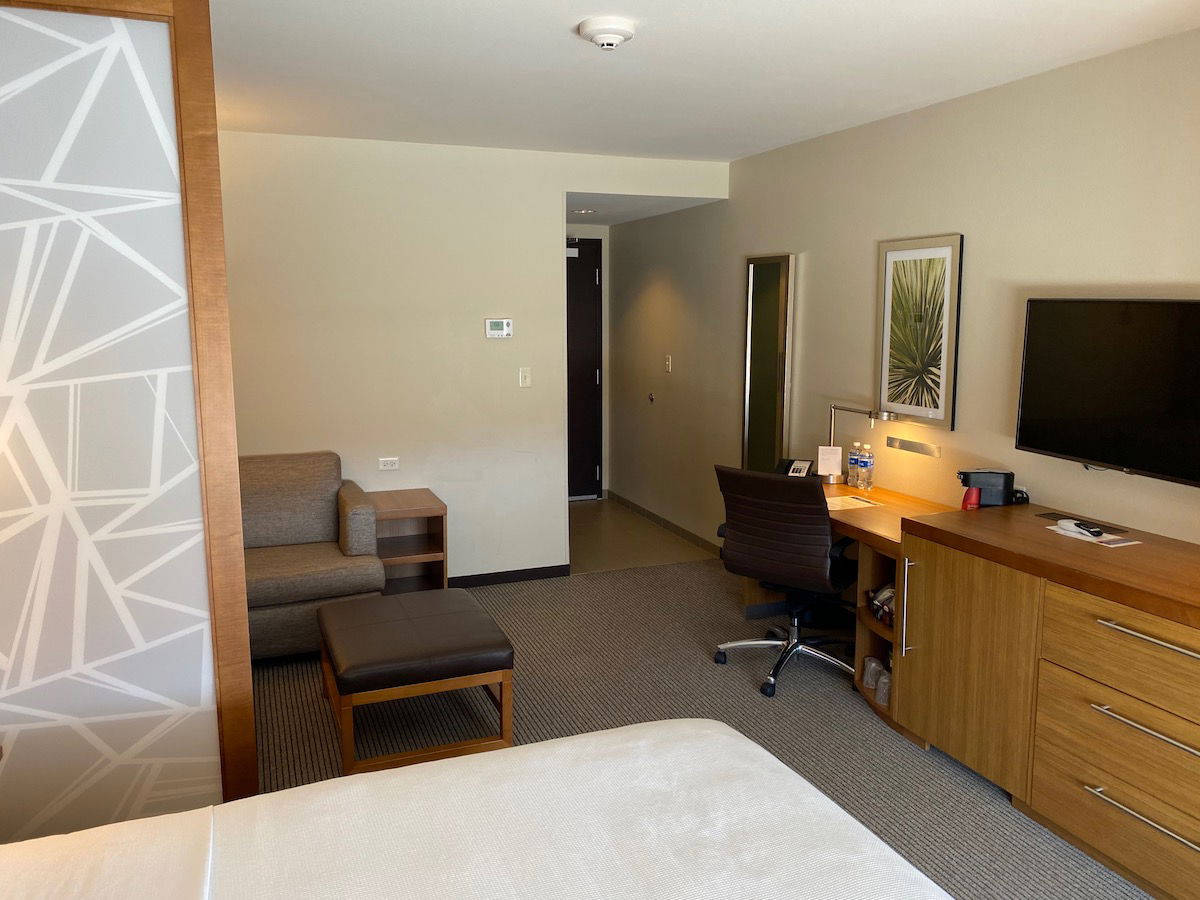 Hyatt Place Page king room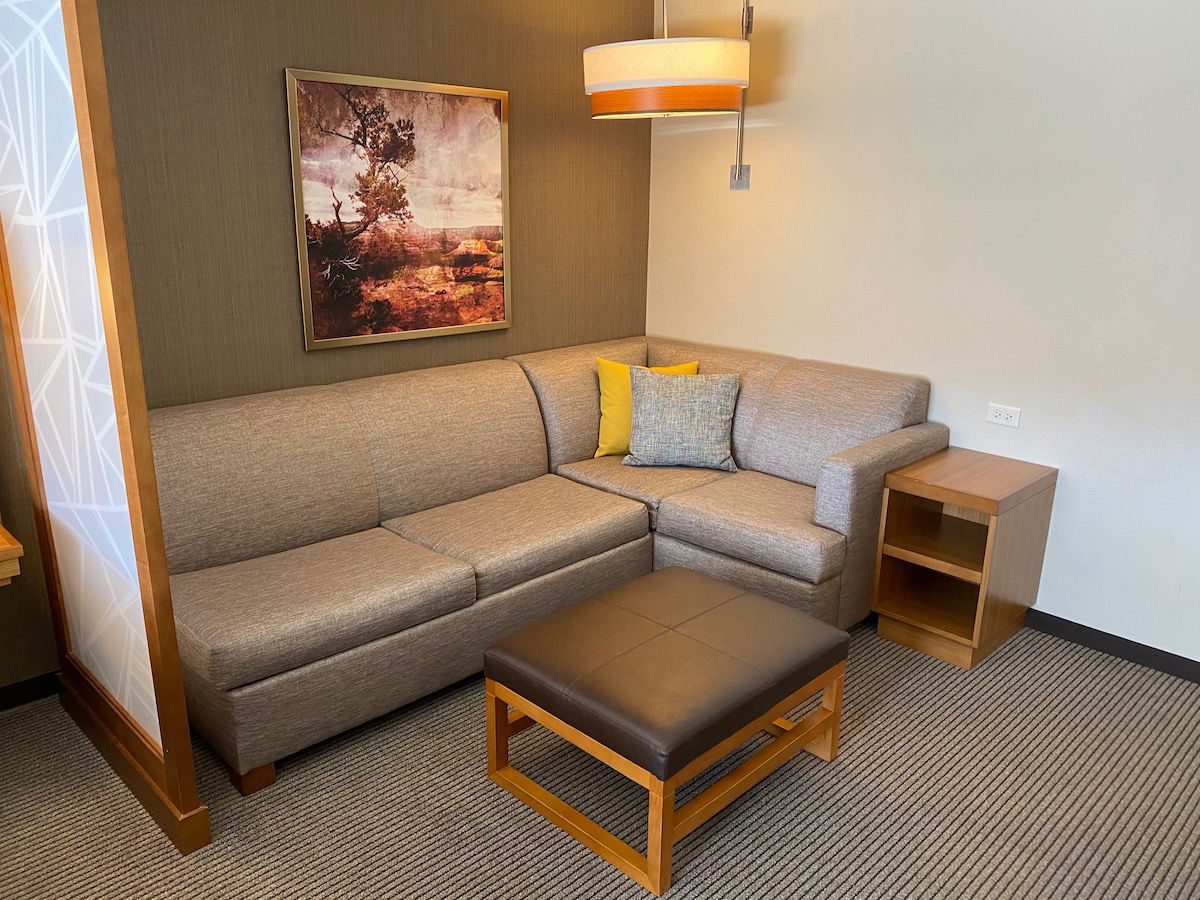 Hyatt Place Page king room living area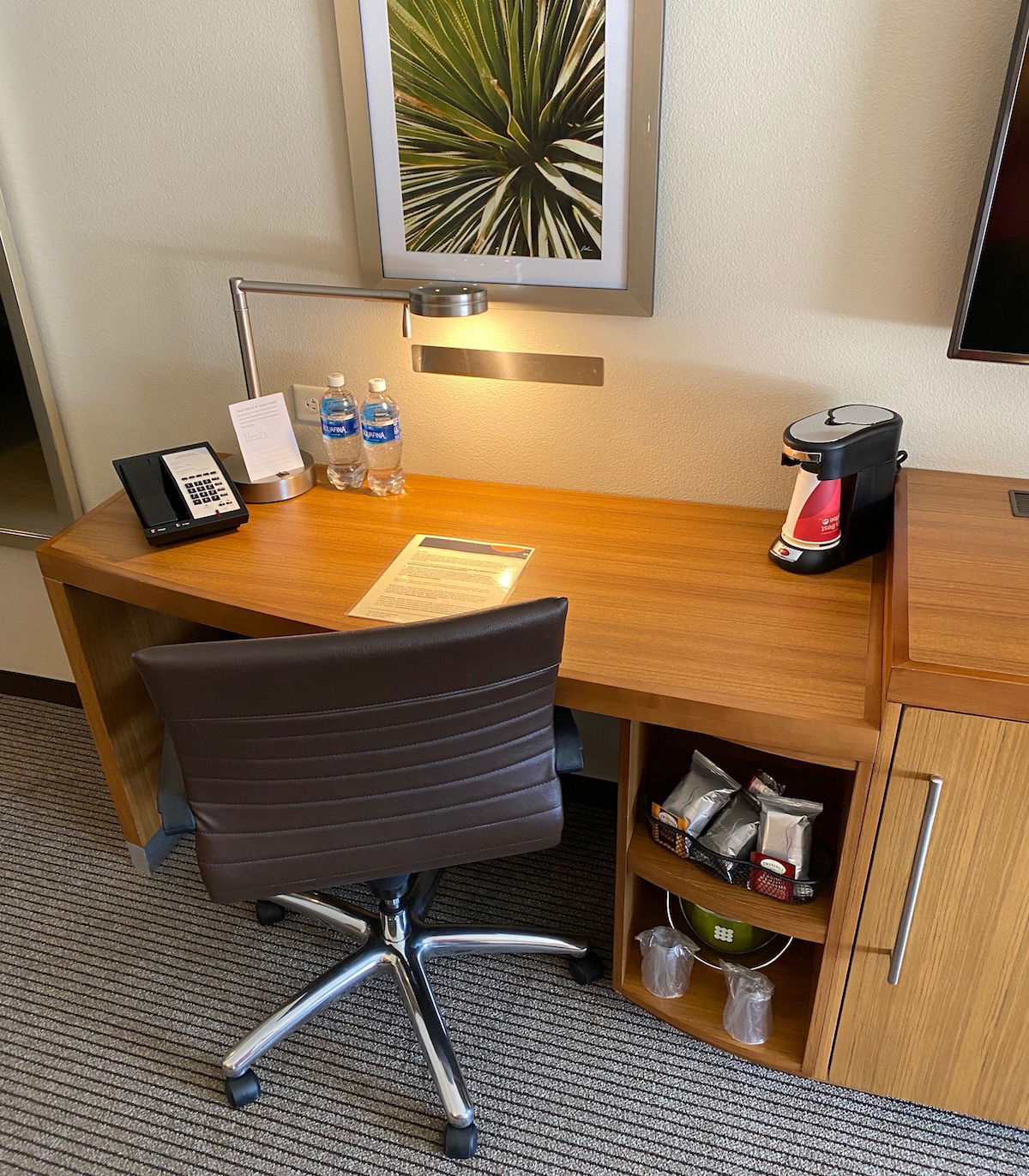 Hyatt Place Page king room desk area
The room had the same great view as the lobby, except there was a flat roof that extended out underneath it, which obstructed the view a bit.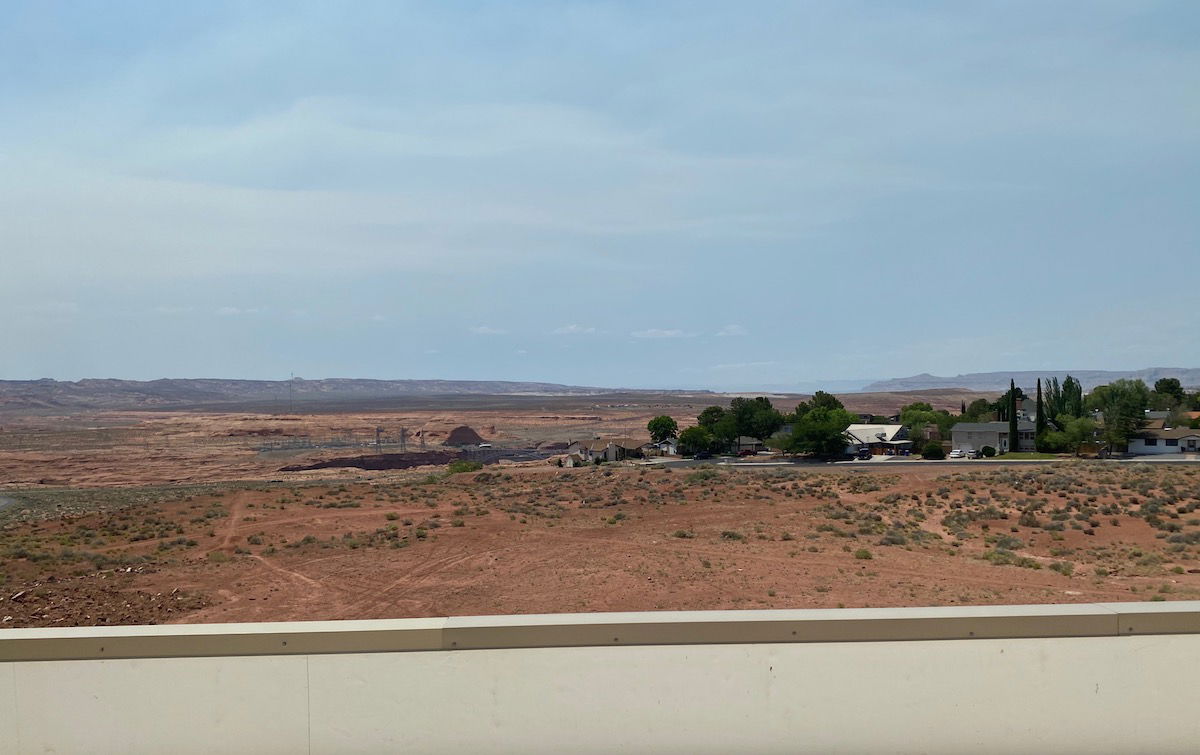 Hyatt Place Page view
The bathroom featured a sink, toilet, and walk-in shower, and toiletries were in individual containers (unlike most limited service properties, where they're in reusable containers).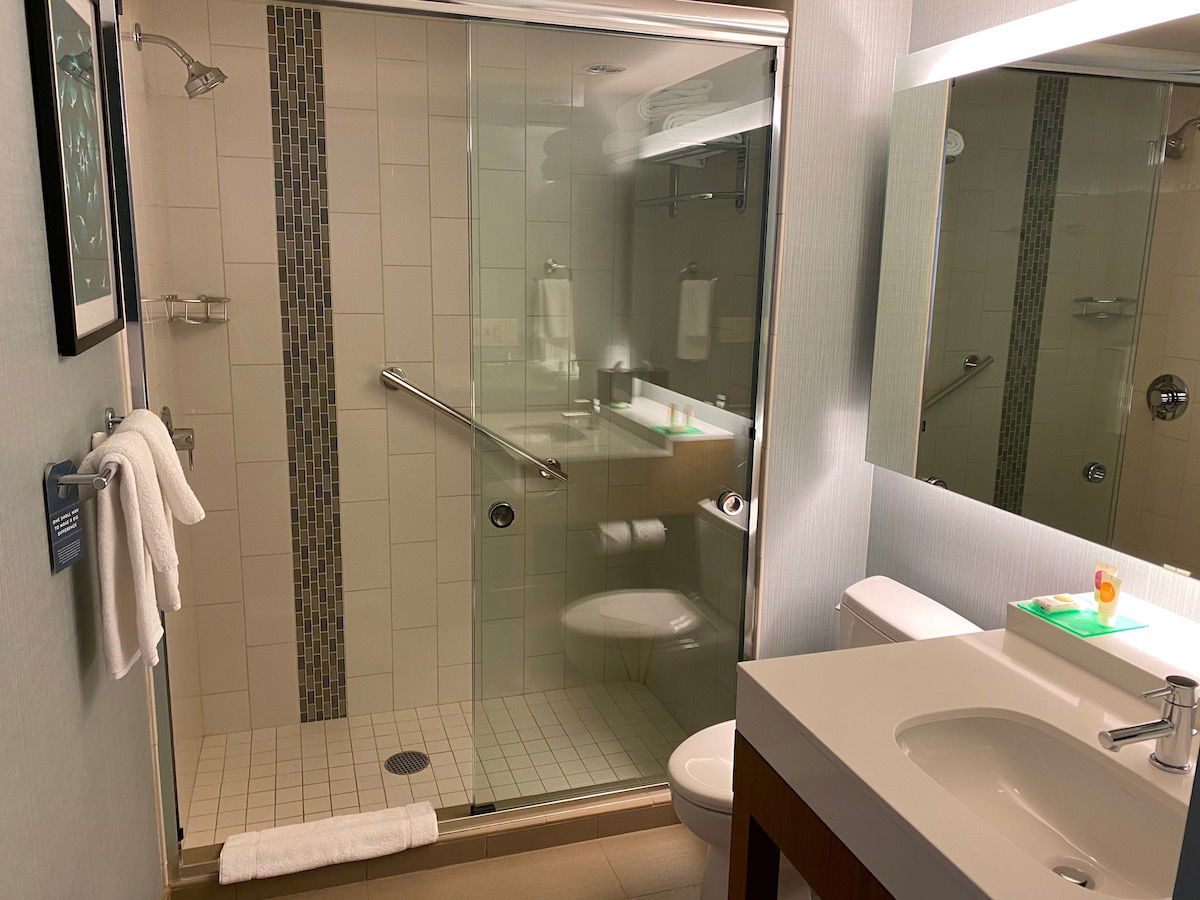 Hyatt Place Page king room bathroom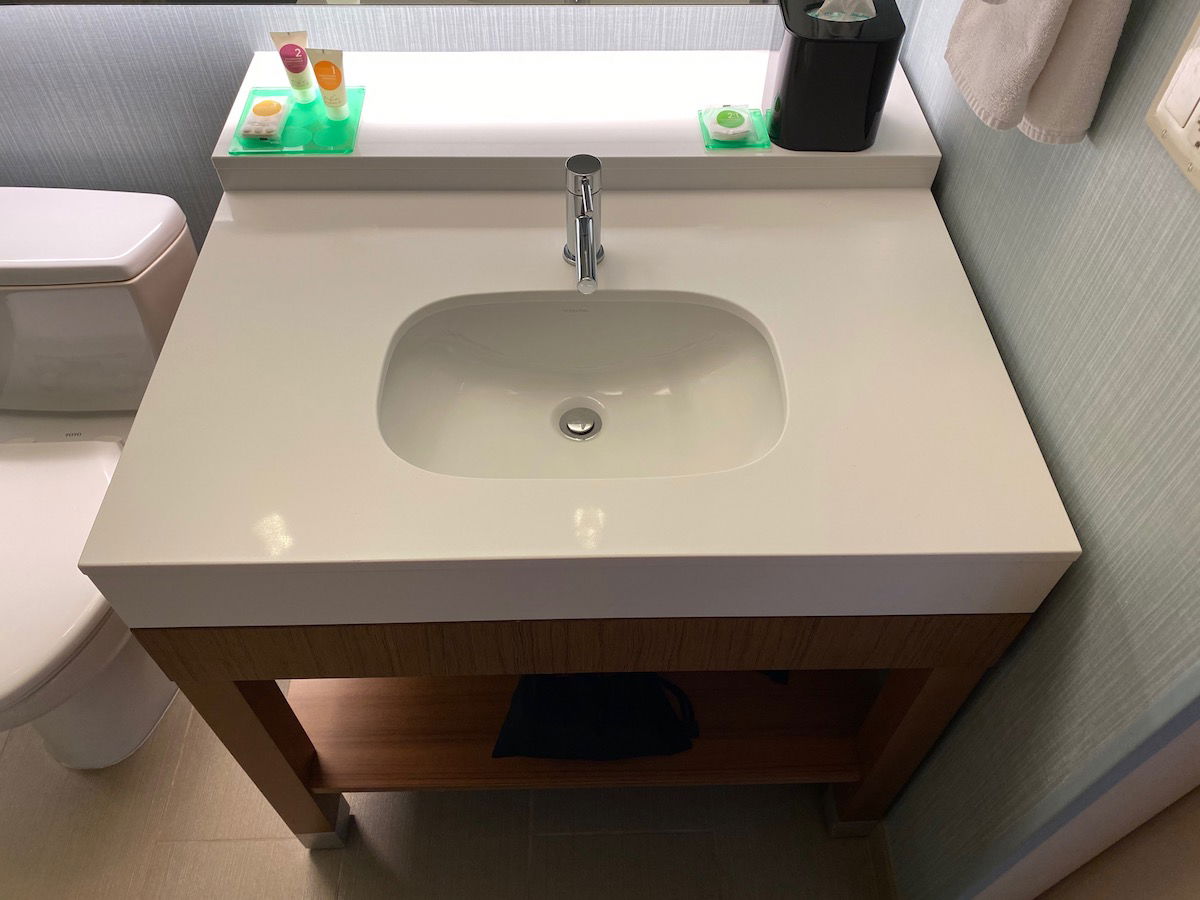 Hyatt Place Page king room bathroom
Wifi in the room was fast and free, and no log-in was required.
There was also a laminated card in the room explaining some of the changes being made in light of coronavirus. To summarize the two most important points:
Breakfast is still available, but there are pre-packaged options, rather than the typical buffet
Housekeeping is only provided every third day, if you're staying for extended periods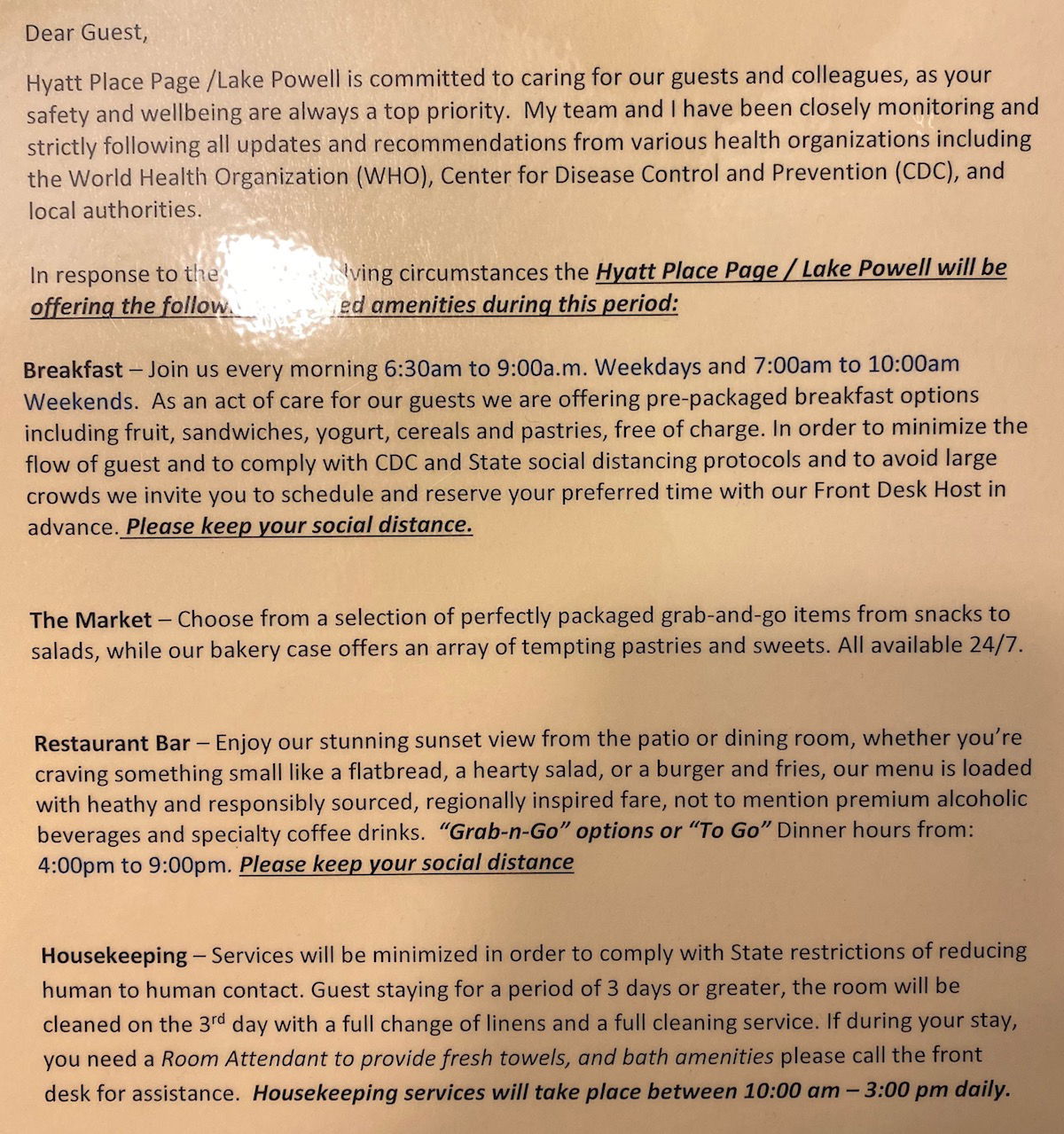 Hyatt Place gym
The Hyatt Place had a decent gym on the ground floor. I wasn't about to use this during the current pandemic, so we instead went on a run outside (which was surprisingly tough, given the higher altitude than we're used to in Miami).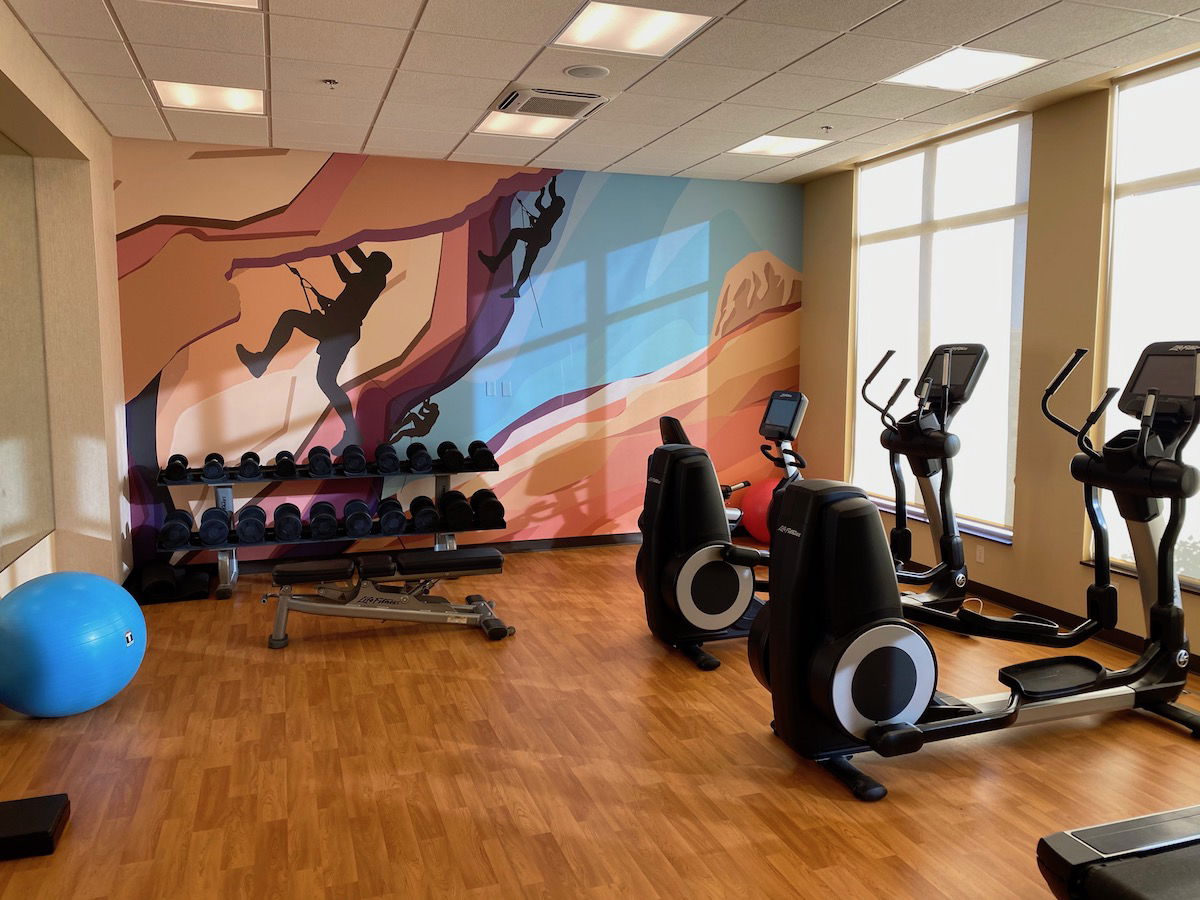 Hyatt Place Page gym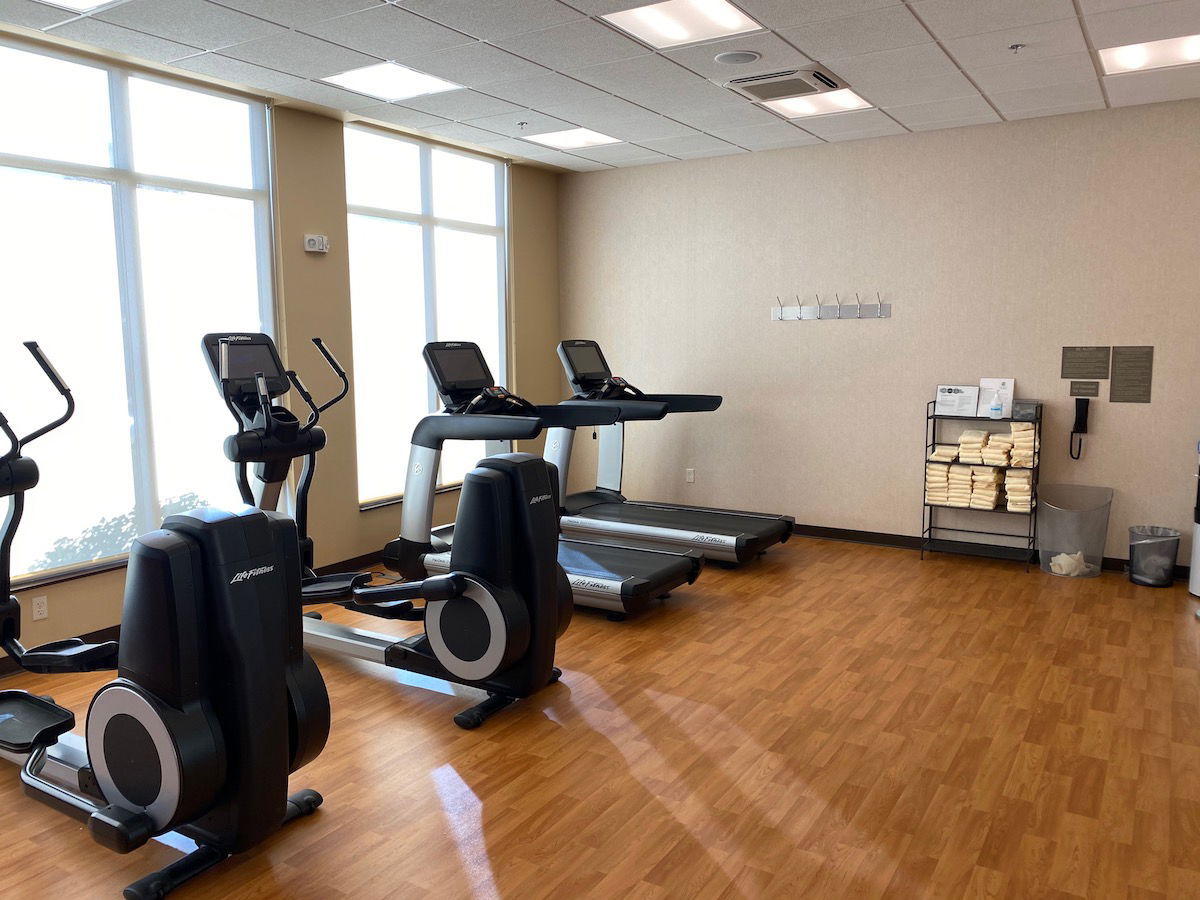 Hyatt Place Page gym
Hyatt Place pool
The Hyatt Place had an outdoor pool, though it wasn't particularly inspiring, and we didn't use it.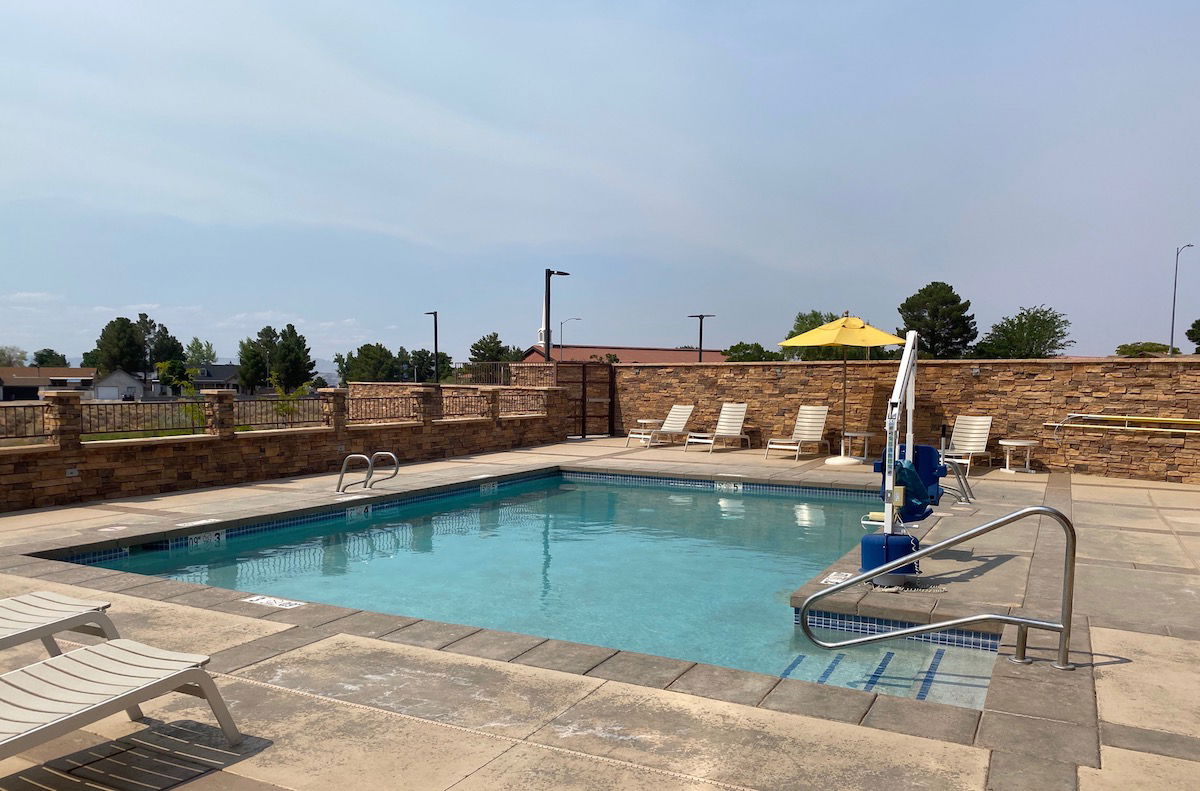 Hyatt Place Page pool
Hyatt Place laundry
The Hyatt Place had a guest laundry facility, which is something I would sure appreciate on a longer trip, and would have definitely sought out back when I lived in hotels full time.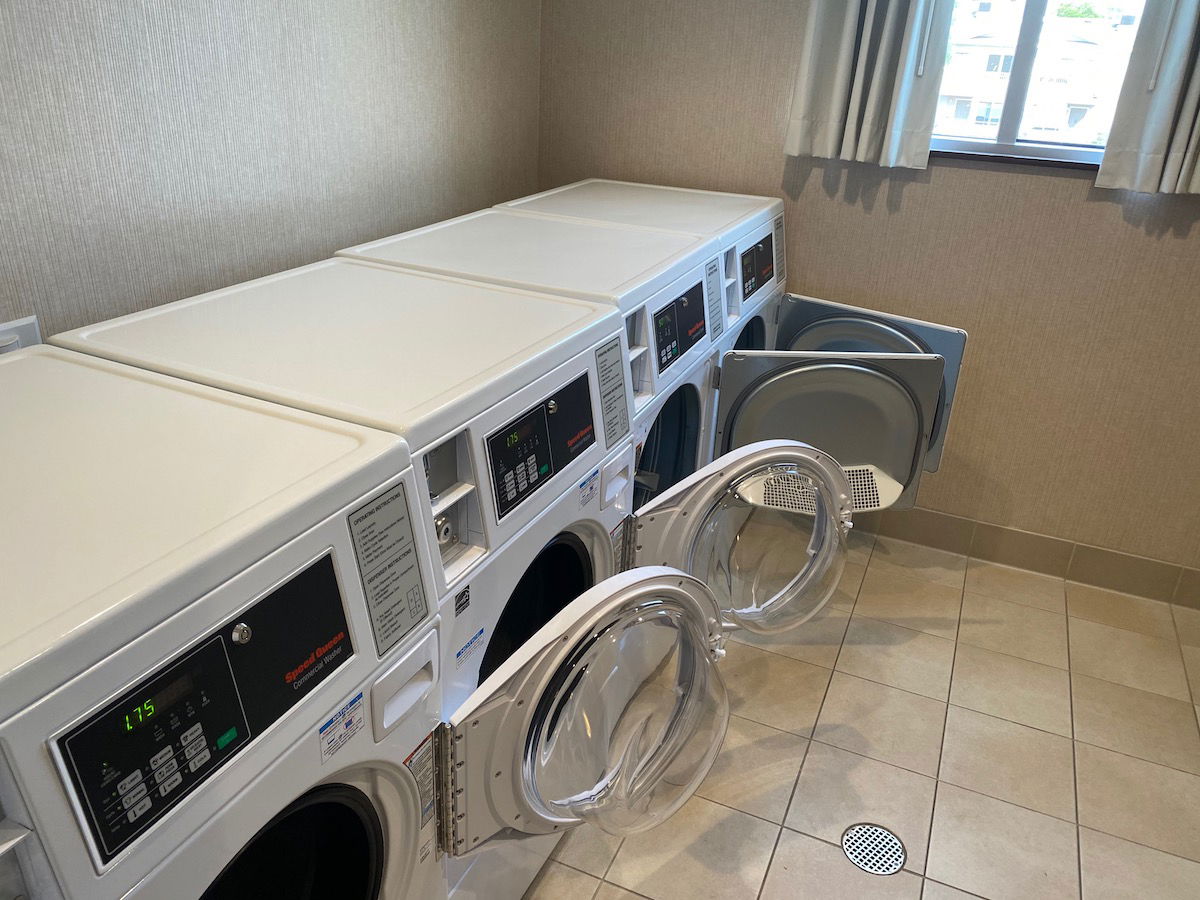 Hyatt Place Page laundry
Hyatt Place food & drinks
One area where I find Hyatt Place does better than most limited service hotels is with the food & drink options as well as the overall ambiance of the lobby.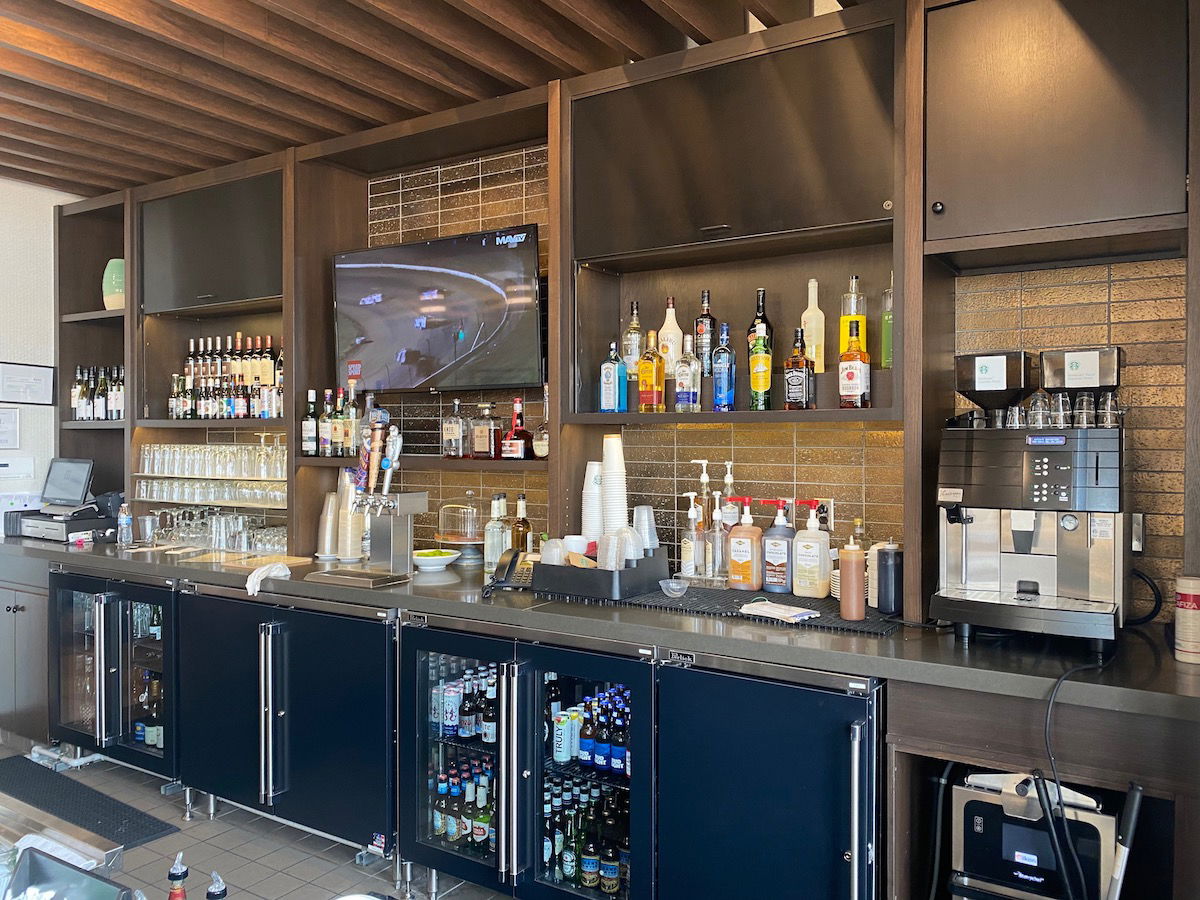 Hyatt Place Page bar
The menu read as follows: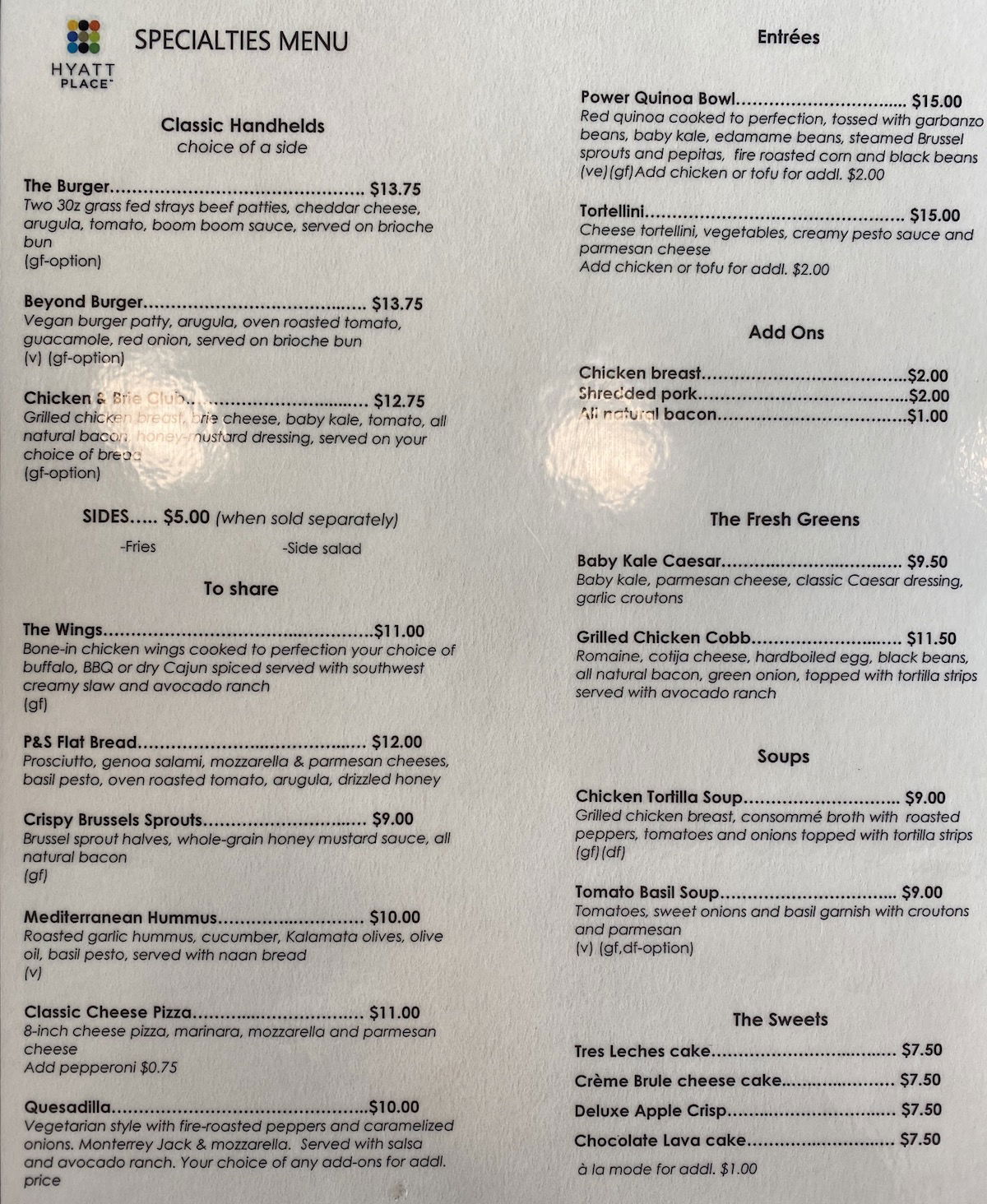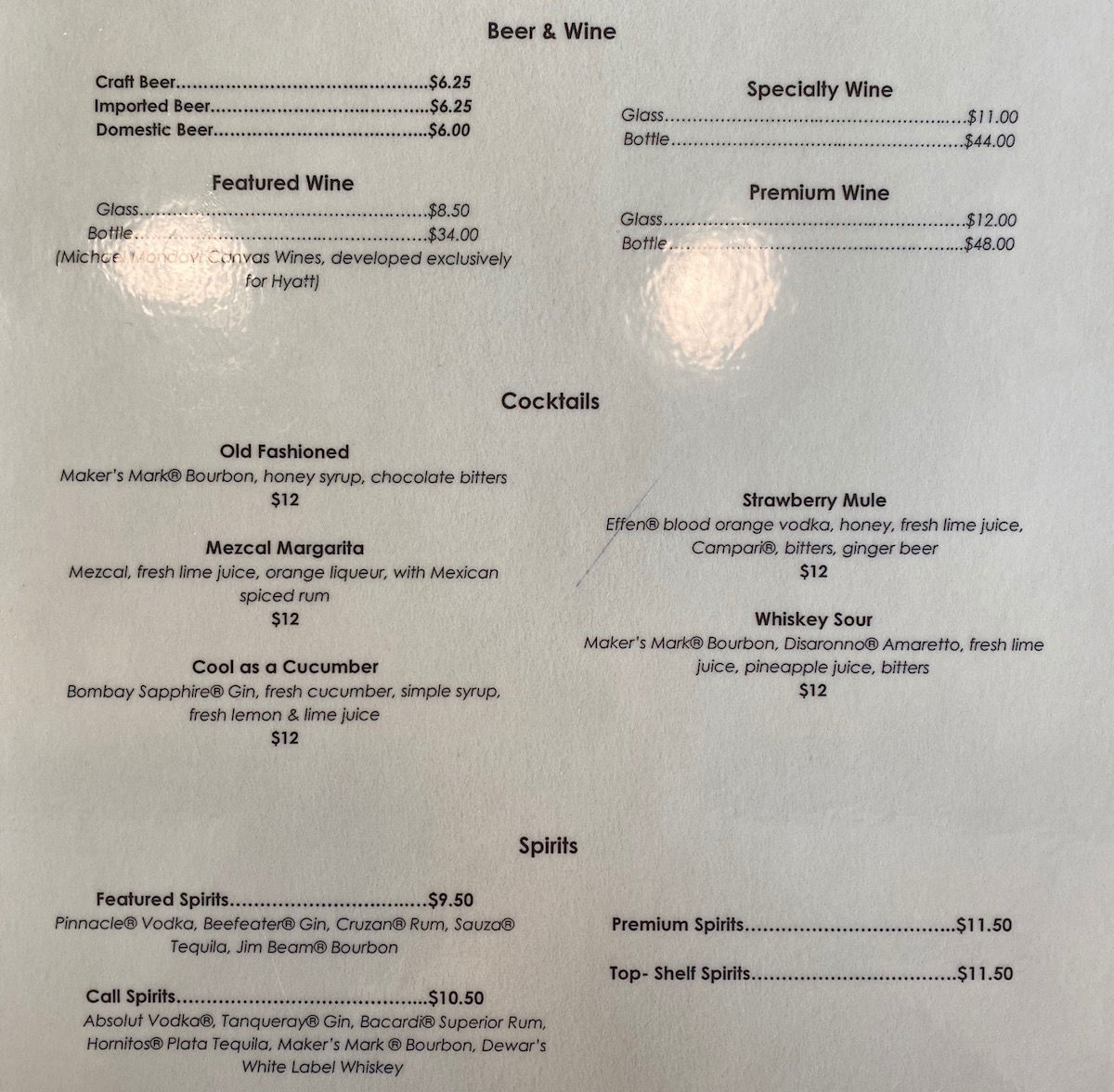 In the evening we decided to sit on the patio and have some drinks before heading to Horseshoe Bend. I had a dirty martini, while Ford had a Truly. Drinks are temporarily being served in cups, and despite the appearance, I have to say that the dirty martini was excellent.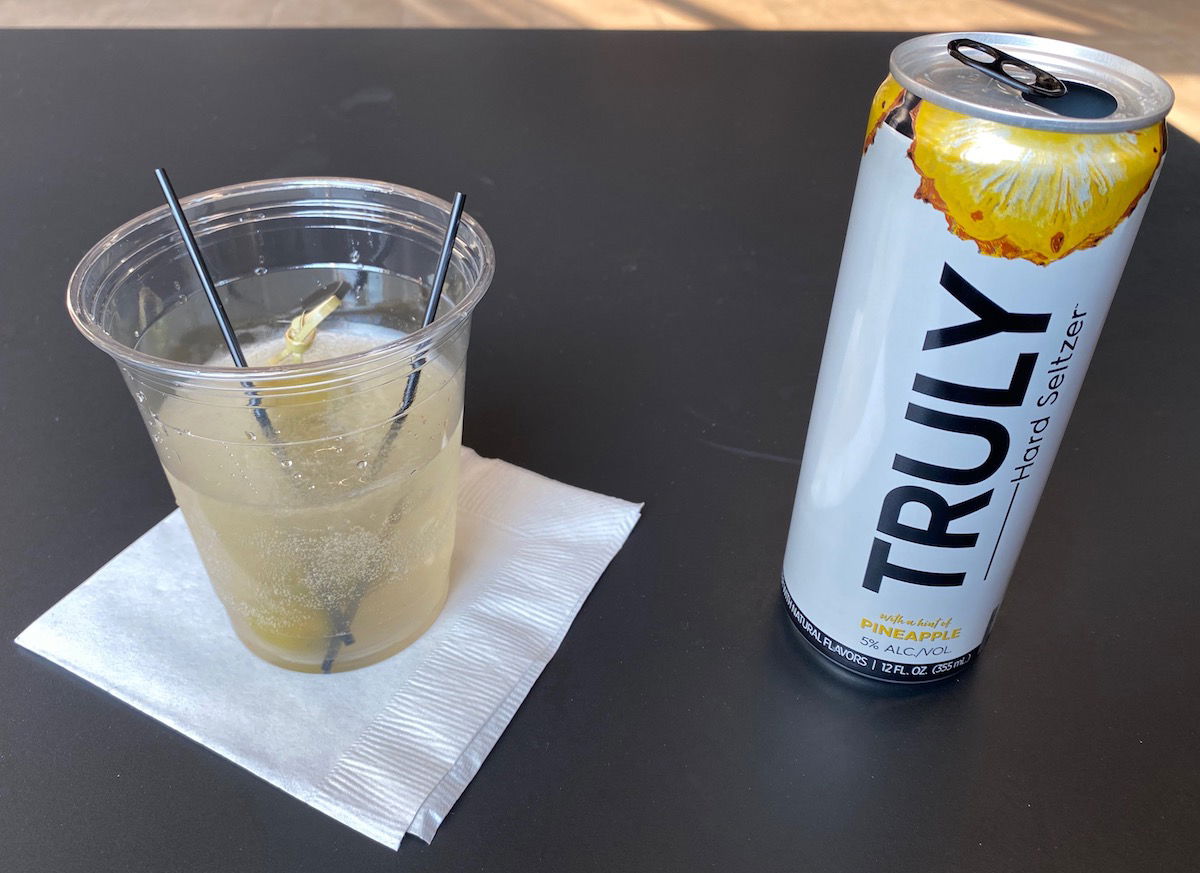 Hyatt Place Page drinks
Hyatt Place breakfast
The Hyatt Place serves breakfast on weekdays from 6:30AM until 9AM. Hyatt Place offers free breakfast as a brand standard, though understandably hotels have had to adjust breakfast offerings due to coronavirus.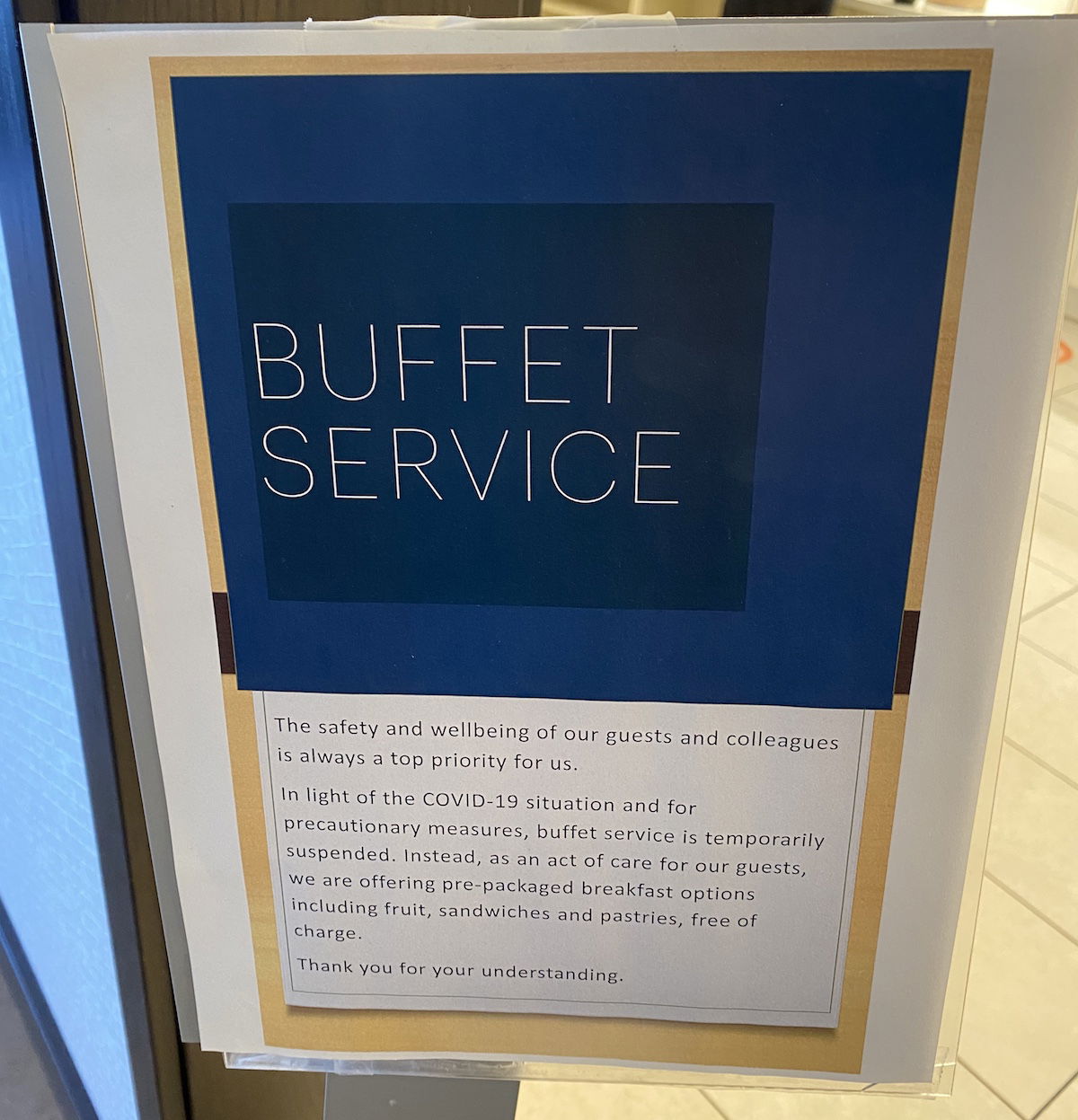 Hyatt Place Page breakfast buffet
There was self serve coffee, as usual.

Hyatt Place Page breakfast buffet
Otherwise the buffet mostly featured packaged items, including oranges, bananas, yogurt, instant oatmeal, bread, etc.
I think this was a pretty good selection given how quickly the industry has had to adapt, and personally I prefer this to the SpringHill Suites breakfast, where they give you a breakfast bag with a bunch of stuff in it (some of which you probably won't want).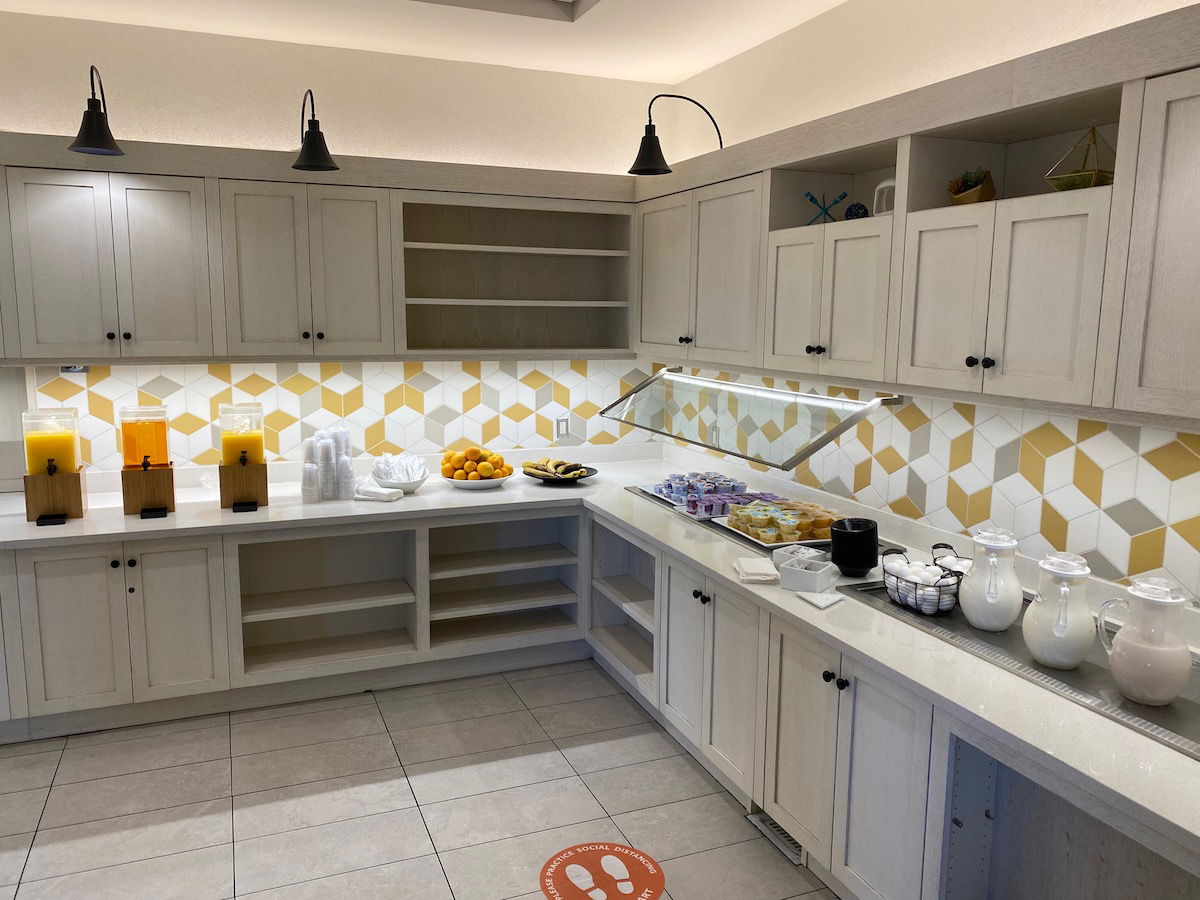 Hyatt Place Page breakfast buffet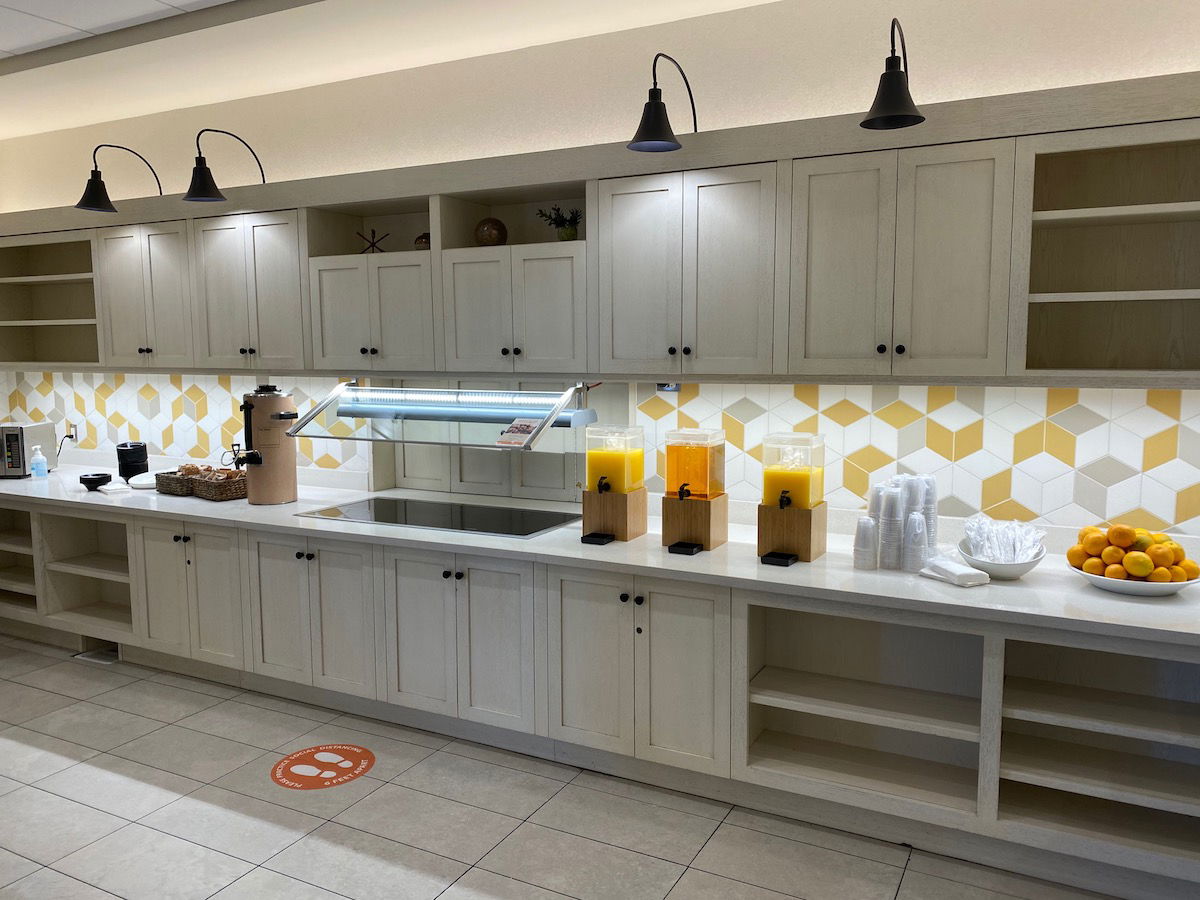 Hyatt Place Page breakfast buffet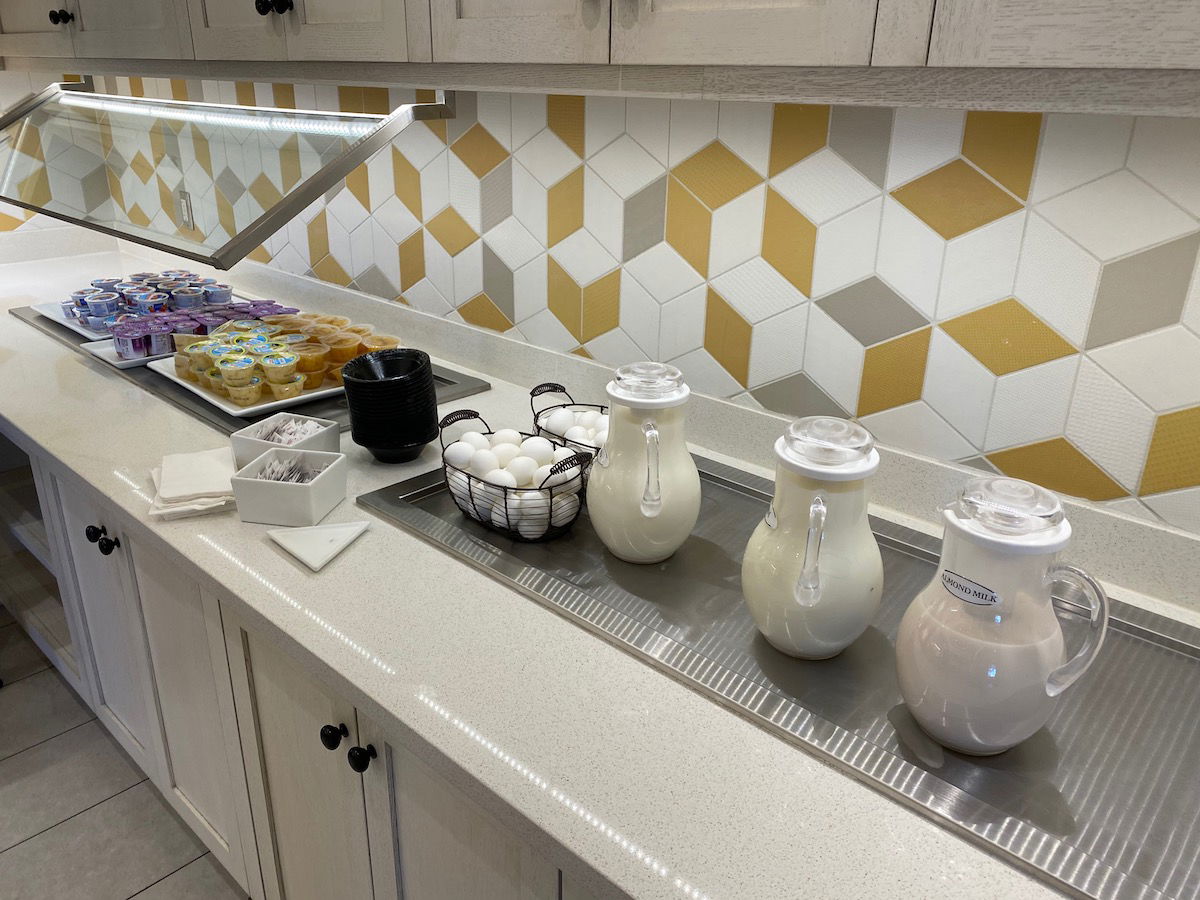 Hyatt Place Page breakfast buffet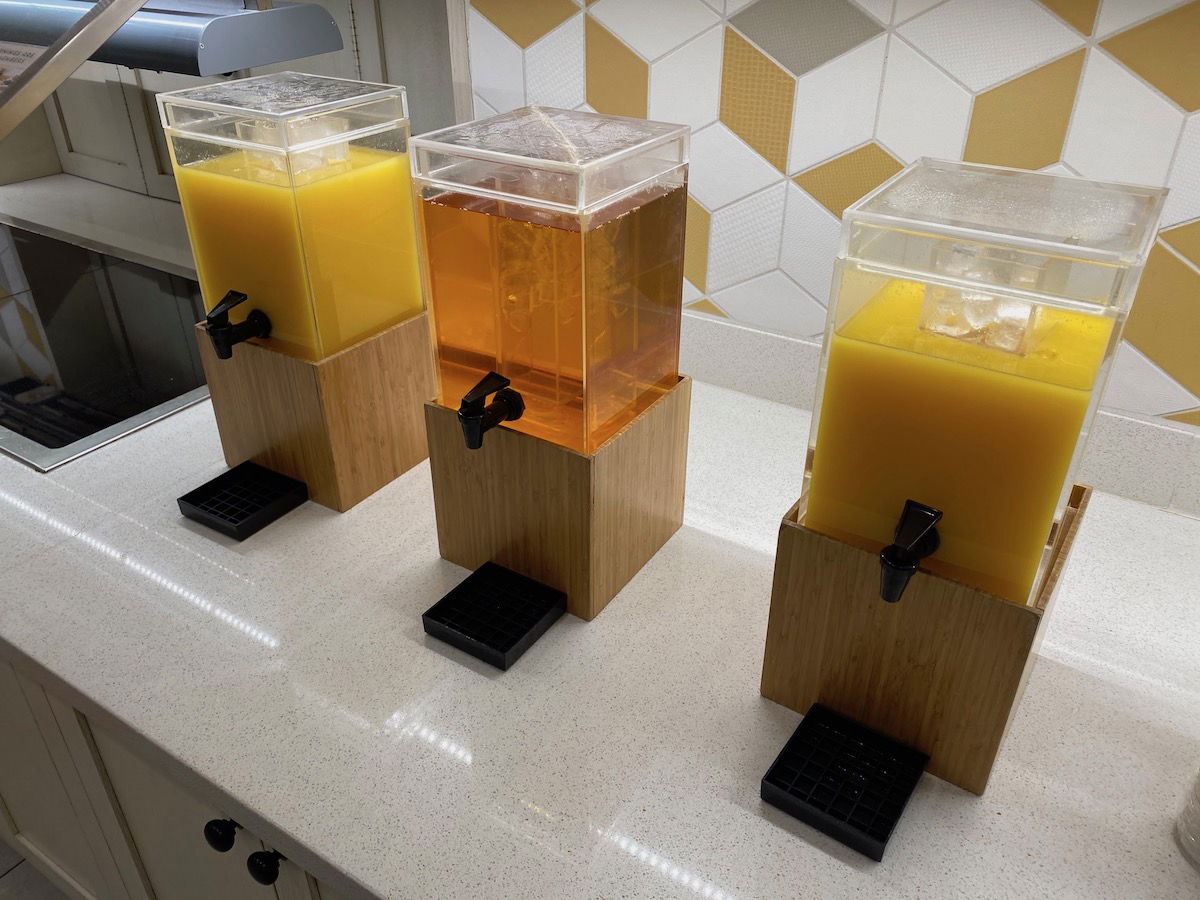 Hyatt Place Page breakfast buffet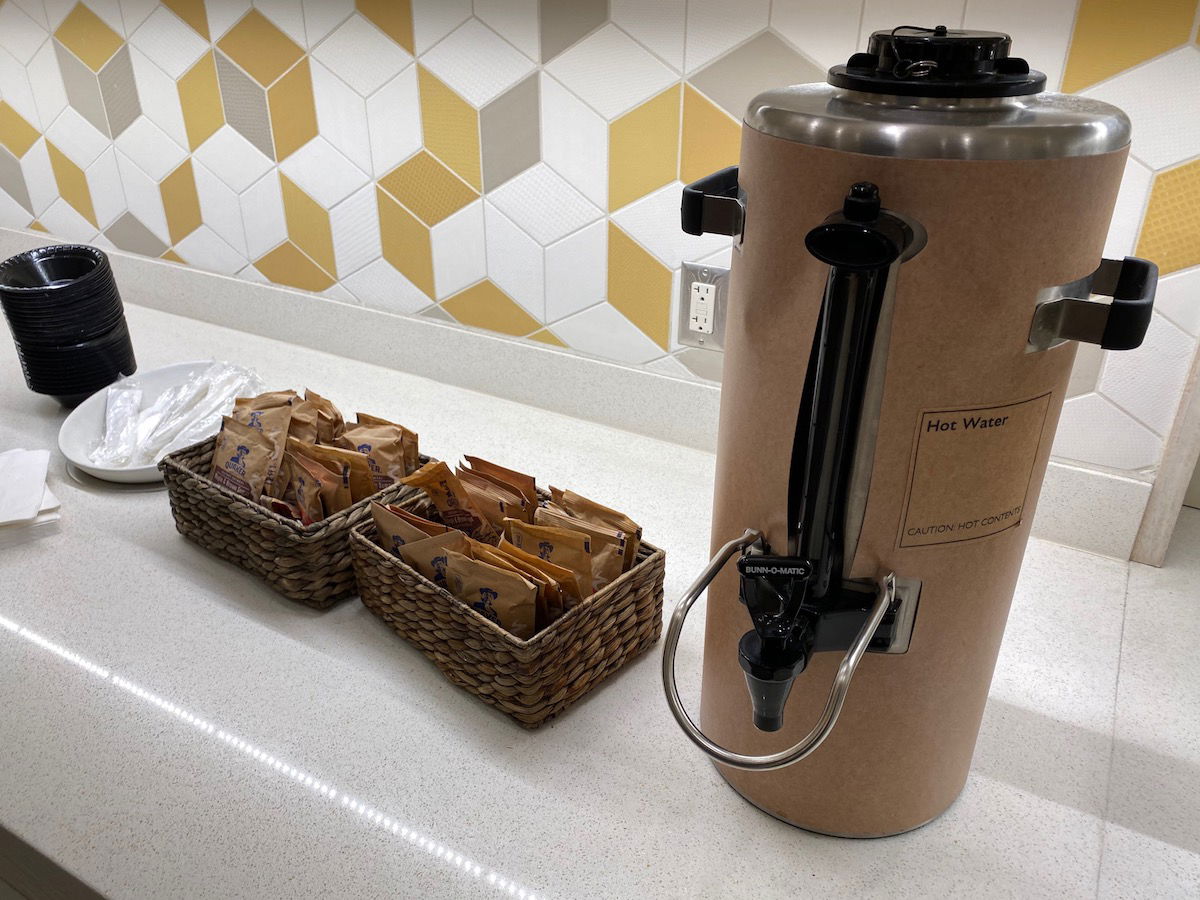 Hyatt Place Page breakfast buffet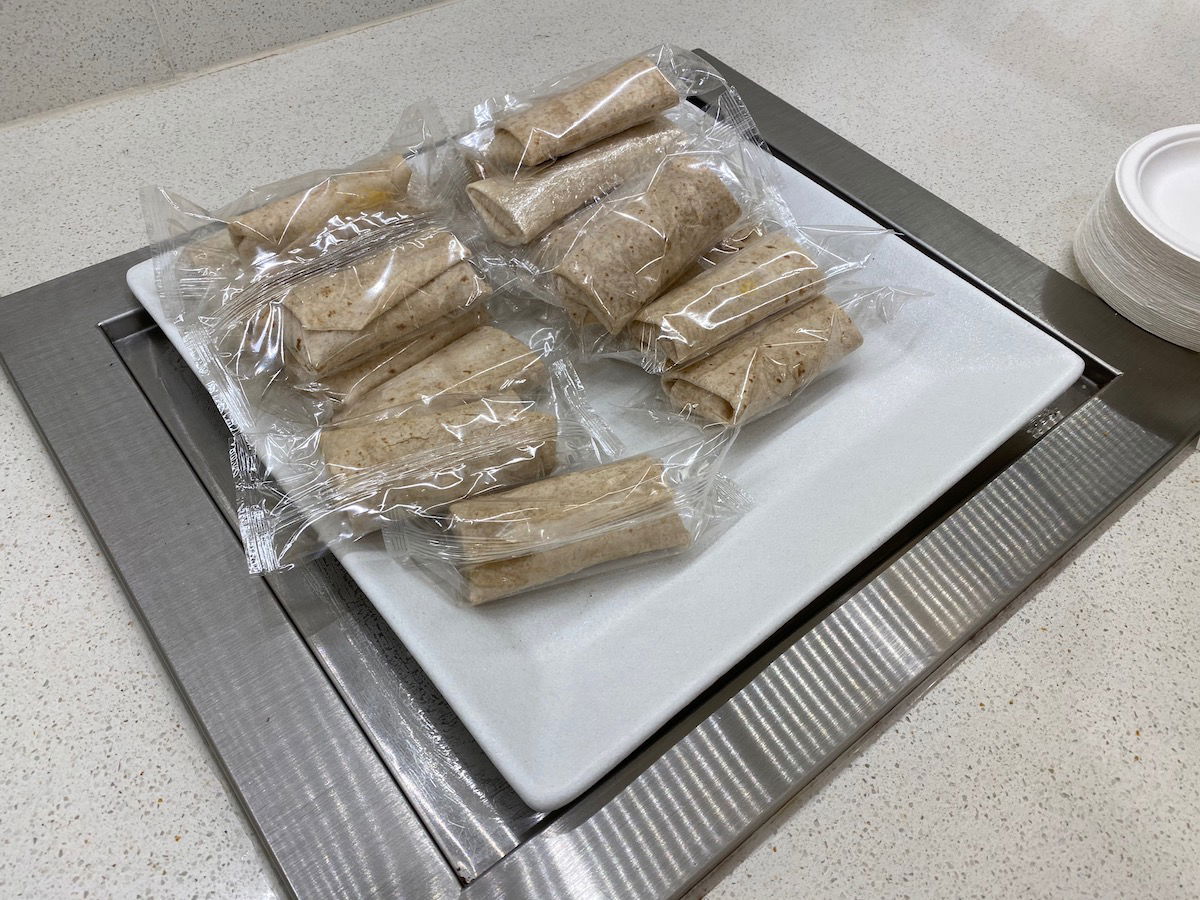 Hyatt Place Page breakfast buffet
Hyatt Place mask issues
Hyatt promises that employees at all hotels globally wear masks while on duty, though the Hyatt Place was by far the worst of the hotels on this trip in terms of employee mask compliance, as I covered in a separate post.
I don't want to harp on that since I discussed it extensively in a separate post, but rather want to share the email I received from the general manager of the property after my stay, as I filled out a post-stay survey. Here's what the general manager had to say:
I would like to sincerely apologize for you stay experience while visiting Hyatt Place Page Lake Powell. You are absolutely correct in that this is not the type of experience I would expect for my guests to encounter. Prior to resuming hotel operations on May 22nd 2020, the staff were training on how to behave in the workplace under the 'New work environment' and how to properly use Personal Protect Equipment. The training involved both Hyatt directives, Crescent Hotels and Resorts our management company directives, and city recommendations. I was personally involved in the training and the delivery of this messaging. It was very unfortunate for you to experience such a relaxed approach with regards to the proper use of protective equipment. Since reading about your experience, I have called together my staff to address these issues and reiterate the importance of following the property's expectations as it relates to safety protocols, cleanliness, and use of personal protective equipment. These are unusual times and my team and I are adjusting and adapting to the rapidly changing conditions on a daily basis. I welcome your feedback and will use this to illustrate to my team what we look like from the guest's perspective, not our own.
Hopefully this is addressed seriously by the property.
Hyatt Place Page Lake Powell bottom line
The Hyatt Place Page was more or less brand standard — the rooms were spacious (but land), I liked the lobby setup, and I thought they had a decent breakfast selection in light of current circumstances.
My only complaint about the stay was the lack of mask usage among staff, though I think that might be more of a reflection or Arizona rather than the Hyatt brand as such.
How do you feel about Hyatt Place compared to other limited service brands?