---
In mid-June, Ford and I did a four day road trip through Nevada, Utah, Arizona, and Colorado (I recognize that technically not all of those states are the "southwest," but I feel comfortable enough with the general theme).
In this post I wanted to talk a bit more about our road trip, and then in the next three installments I'll be reviewing the hotels we stayed at.
The inspiration for our road trip
Around mid-June I was planning on taking some sort of trip again, mainly to be able to report on how things are going in the travel world. My goal was was to fly somewhere and then plan a brief domestic trip centered around the outdoors from there, since that seemed like the safest option.
Friends of ours were doing a road trip from California to Colorado, and all the pictures they shared were breathtaking. I had never really done a road trip in that part of the country, so it seemed like a great itinerary.
I asked my friend an endless number of questions about their trip, and I guess I got so annoying that he actually created a four day itinerary for us, with lots of awesome recommendations (which was far too nice).
Our road trip itinerary
Let me start by acknowledging a few important things:
We were rushed on this trip, as four days wasn't nearly enough to see everything we wanted to see; at the same time, that was what worked best in terms of finding someone to care for Winston while we were gone
We planned this days in advance, and we weren't fully prepared for all the logistics; National Park logistics can be complicated under normal circumstances, let alone during coronavirus, where they are largely operating with different protocols
This post isn't at all intended to be a National Park guide, or anything (Steph is our resident expert on that); rather I'm just sharing my experiences as someone who has visited very few National Parks in the past
Here's an overview of our itinerary:
We landed at Las Vegas McCarran Airport, and drove to Springdale, Utah, in order to visit Zion National Park; we spent a night at the SpringHill Suites Zion National Park
The next day we drove to Page, Arizona, in order to see Horseshoe Bend; we spent a night at the Hyatt Place Page
The next day we drove to Moab, Utah, in order to visit Arches National Park; we spent two nights at the Hoodoo Hilton Curio Collection Moab
Here's a (rough) map of our route, between hotels and airports: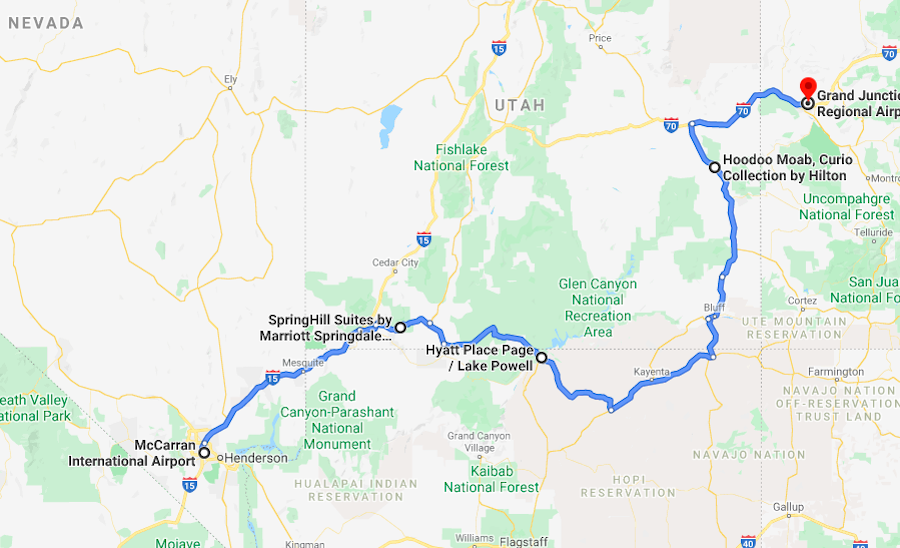 Our road trip route
Now let me share our day-to-day itinerary.
Day 1: Driving to Springdale
We landed in Las Vegas at around 11AM. From there we had to pick up our rental car, and make the roughly 2hr30min drive to Springdale, Utah.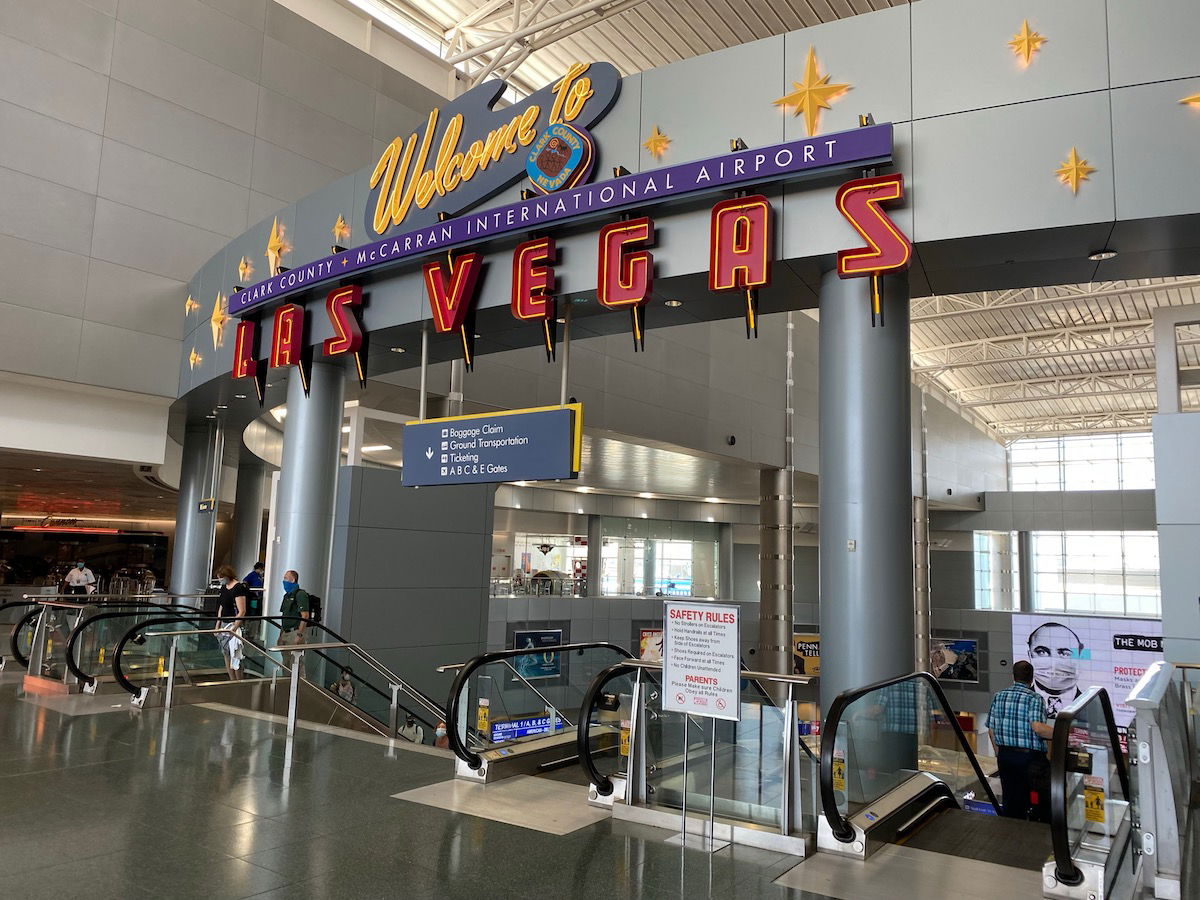 Arriving at Las Vegas McCarran Airport
Everything took a bit longer than we had hoped — that included getting on the shuttle to the rental car center (since only 10 people were allowed on each bus), we stopped to get some food (since there was no meal service on our flight), we had to pick up hiking equipment, etc.
I already loved the views on this drive, though they got significantly more beautiful in subsequent days.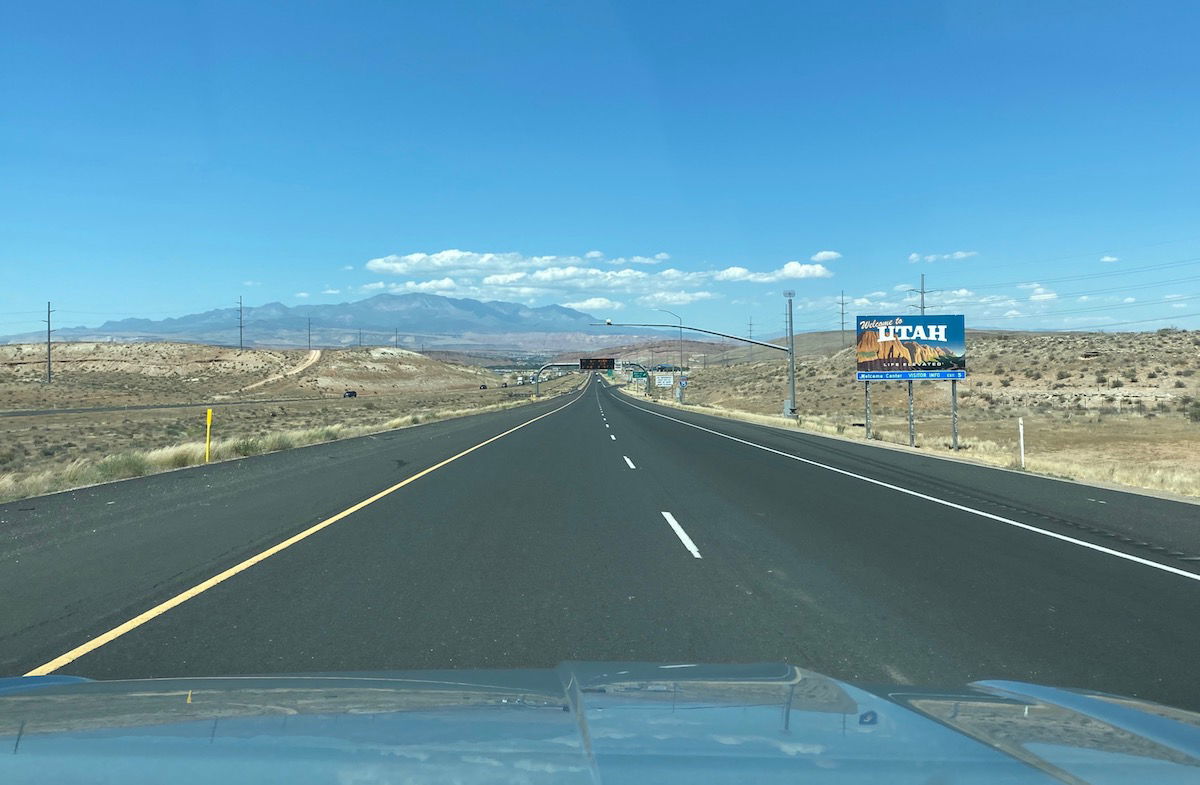 Entering the state of Utah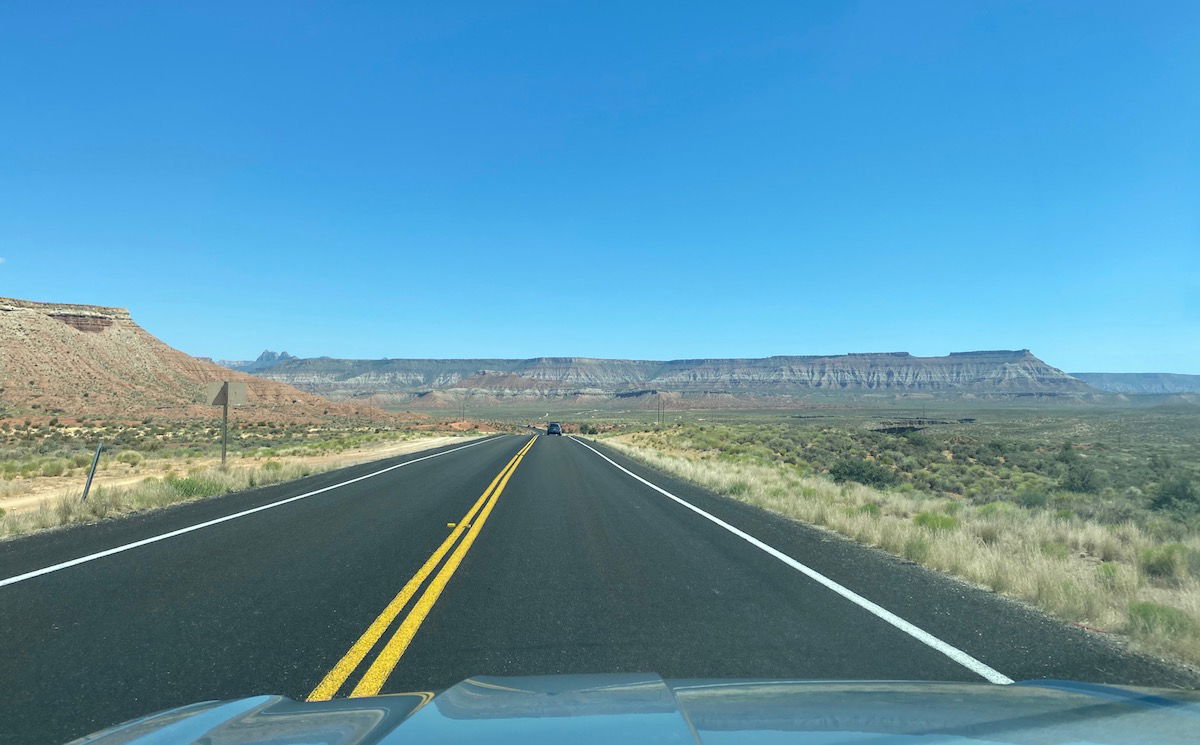 Driving to Springdale, Utah
Also, for whatever reason I hadn't processed that Springdale, Utah, was actually one hour ahead, so it was nearly 4PM by the time we made it to Springdale.
Our initial plan was to go on a hike in Zion National Park the same afternoon, but we learned that wouldn't be all that practical (I'll talk more about that below). Fortunately Zion National Park has a 12 mile highway you can easily drive through to enjoy the views, so we did that the first evening.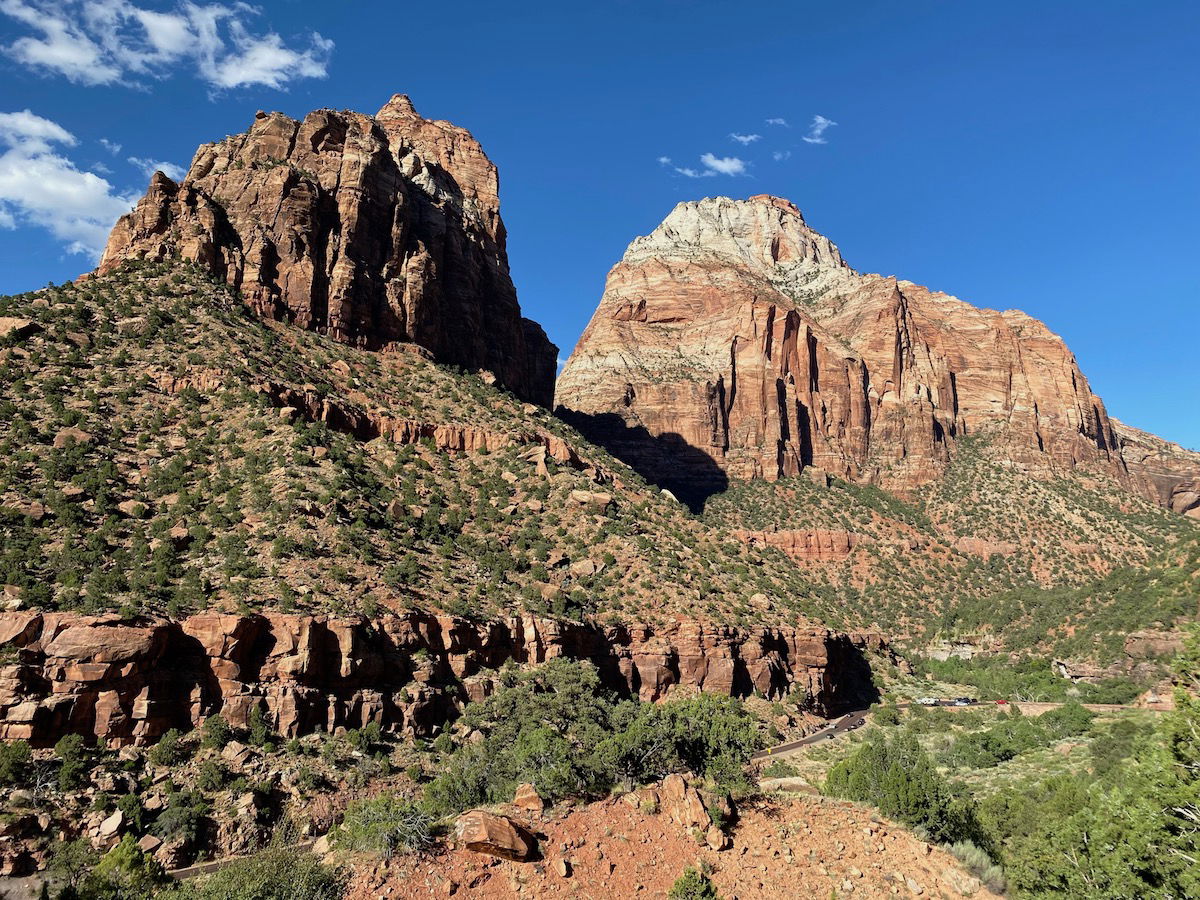 Zion National Park
Day 2: Zion National Park, Driving to Page, Horseshoe Bend
In the morning we wanted to hike The Narrows, which is probably the most well known hike in the park. What we had learned upon arriving in Springdale is that this wouldn't be so easy:
The entrance to The Narrows is many miles into Zion National Park, in a part that cars can't just freely drive into
Ordinarily the park runs a shuttle service that brings you deep into the park, but currently that's not being operated, due to coronavirus
As a result, you have to either arrive very early by car (because they only let in a few hundred cars), or have to book a private shuttle; we reached out to several companies, all of which basically said they're no longer taking reservations via email or phone, "as the daily volume of requests has been in the hundreds, for a resource in the dozens"
Therefore our best option was to just arrive early. The park opens at 6AM, and they let a few hundred cars in, but it fills up almost immediately. The problem was figuring out how early we had to arrive in order to secure a spot — some people told us we'd need to arrive by 2AM, while others said 5:30AM would be sufficient.
We ended up getting to the entrance around 4AM, and there were roughly 130 cars ahead of us (at least that's what a lady who was counting all the cars told us). Being parked in the pitch dark for two hours without any sort of cell phone data wasn't ideal, but I was happy that we made it in.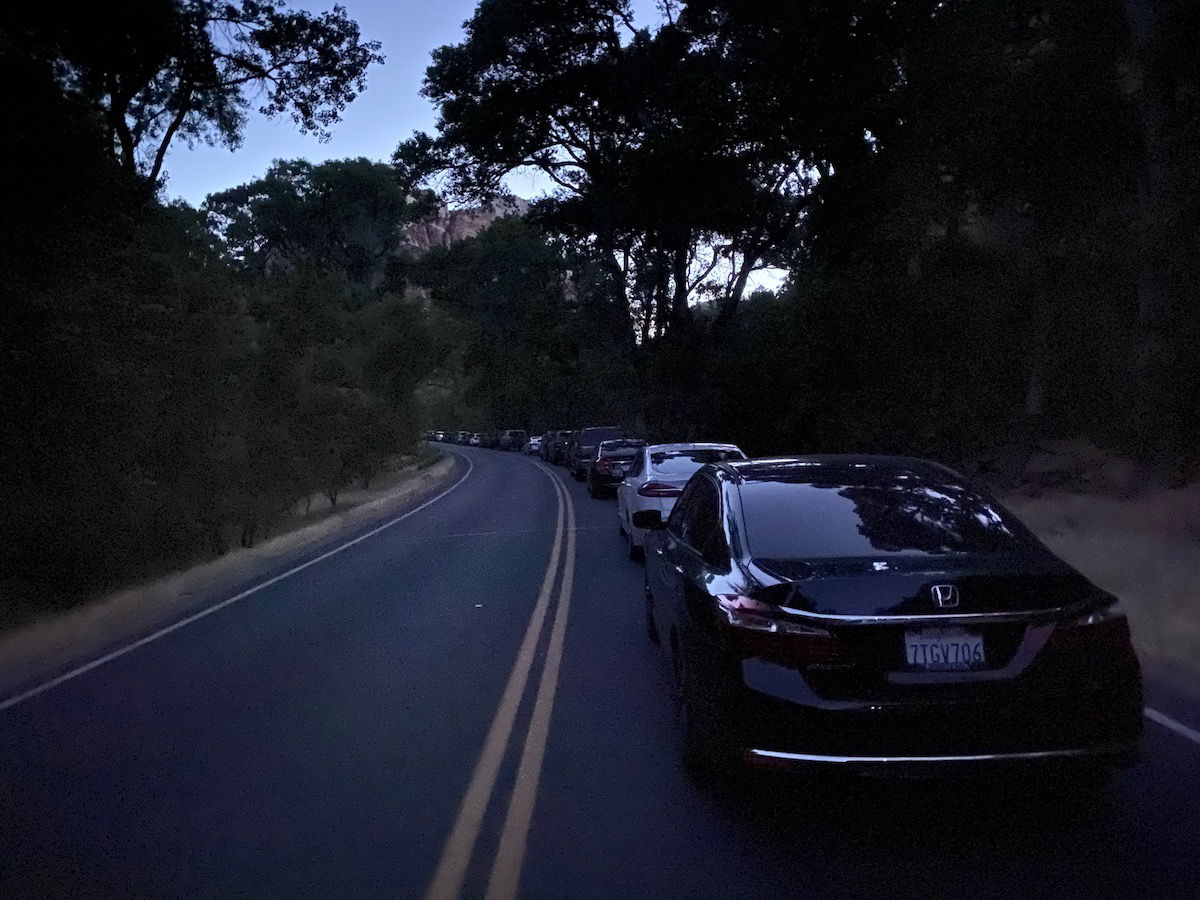 Waiting for Zion National Park to open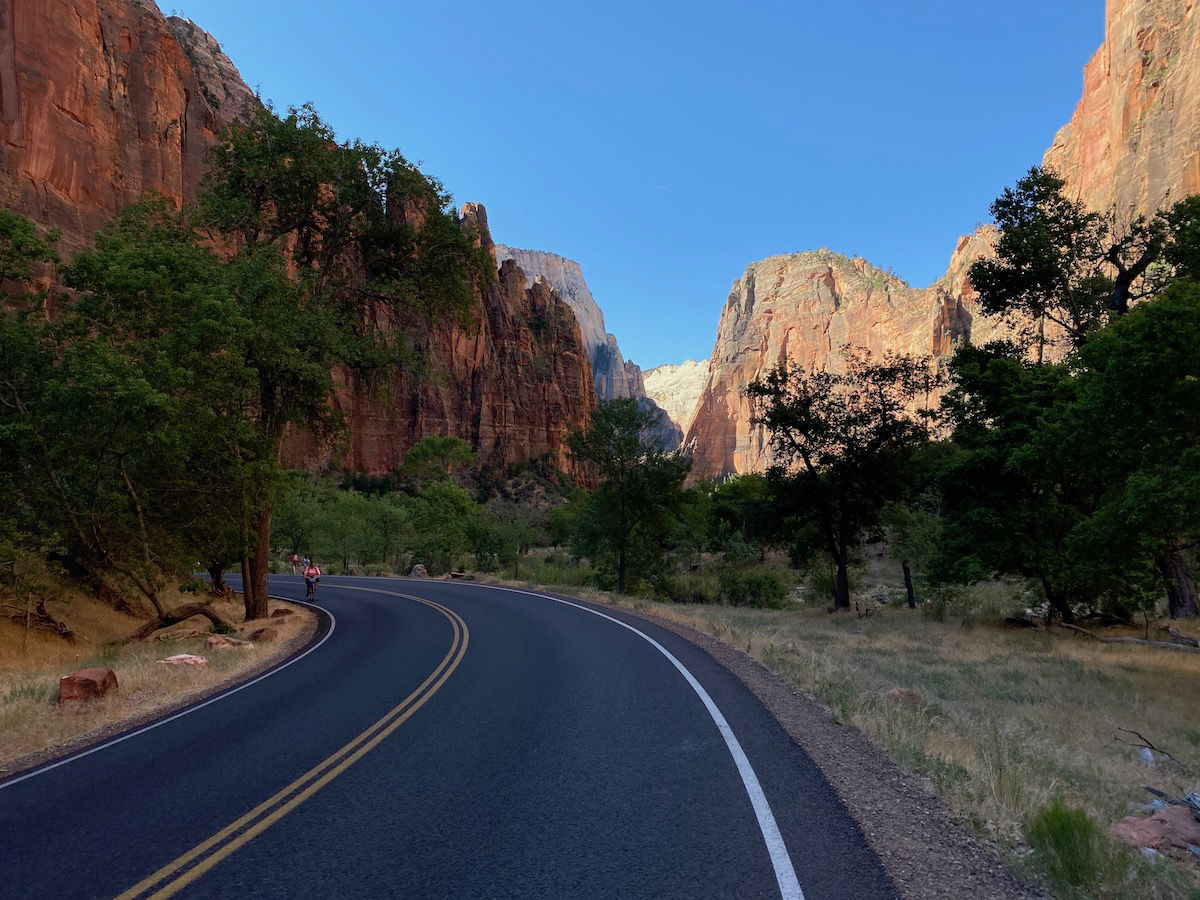 Driving in the "restricted" part of Zion National Park
The Narrows hike is primarily through water, which was a new concept for me. I mean, I've walked through water, but not for miles on end. We ended up hiking for about four hours, and enjoyed ourselves.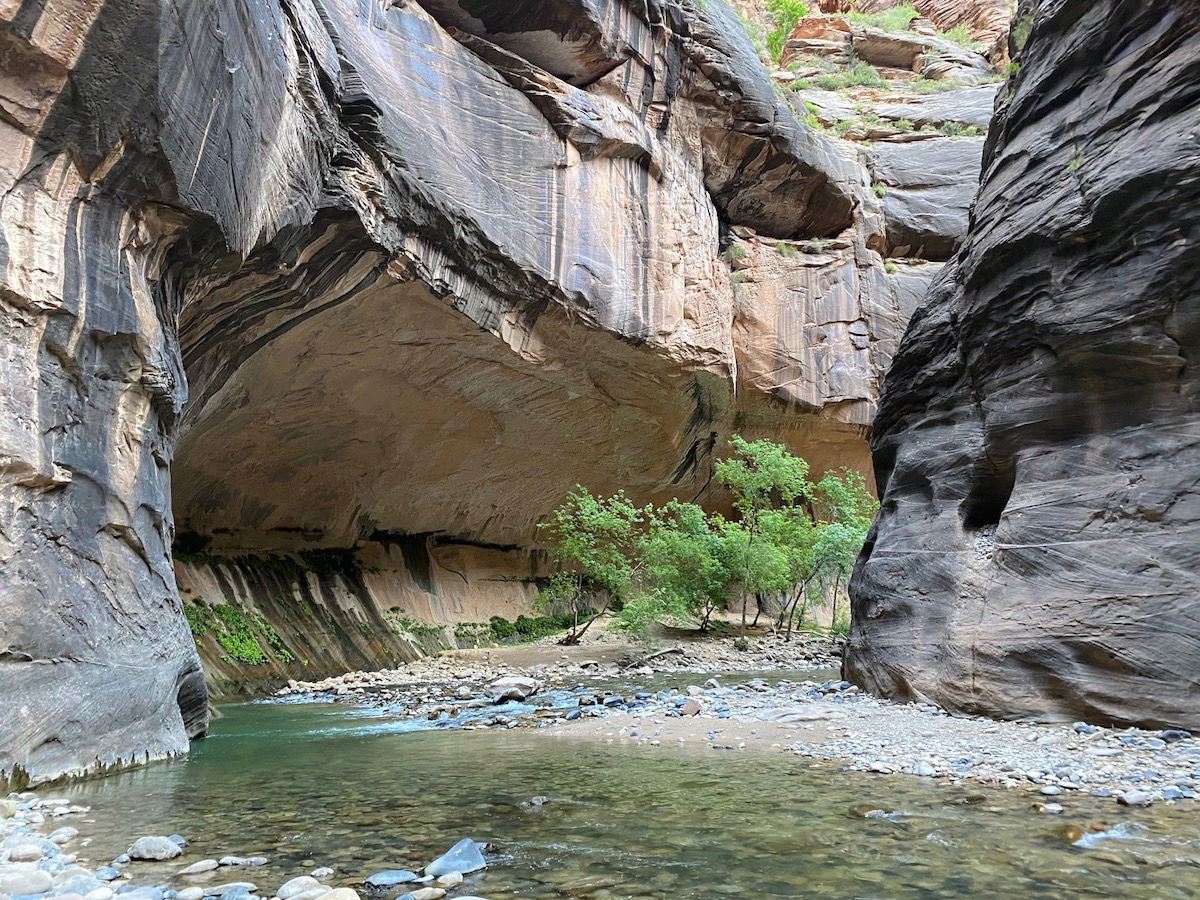 Hiking The Narrows in Zion National Park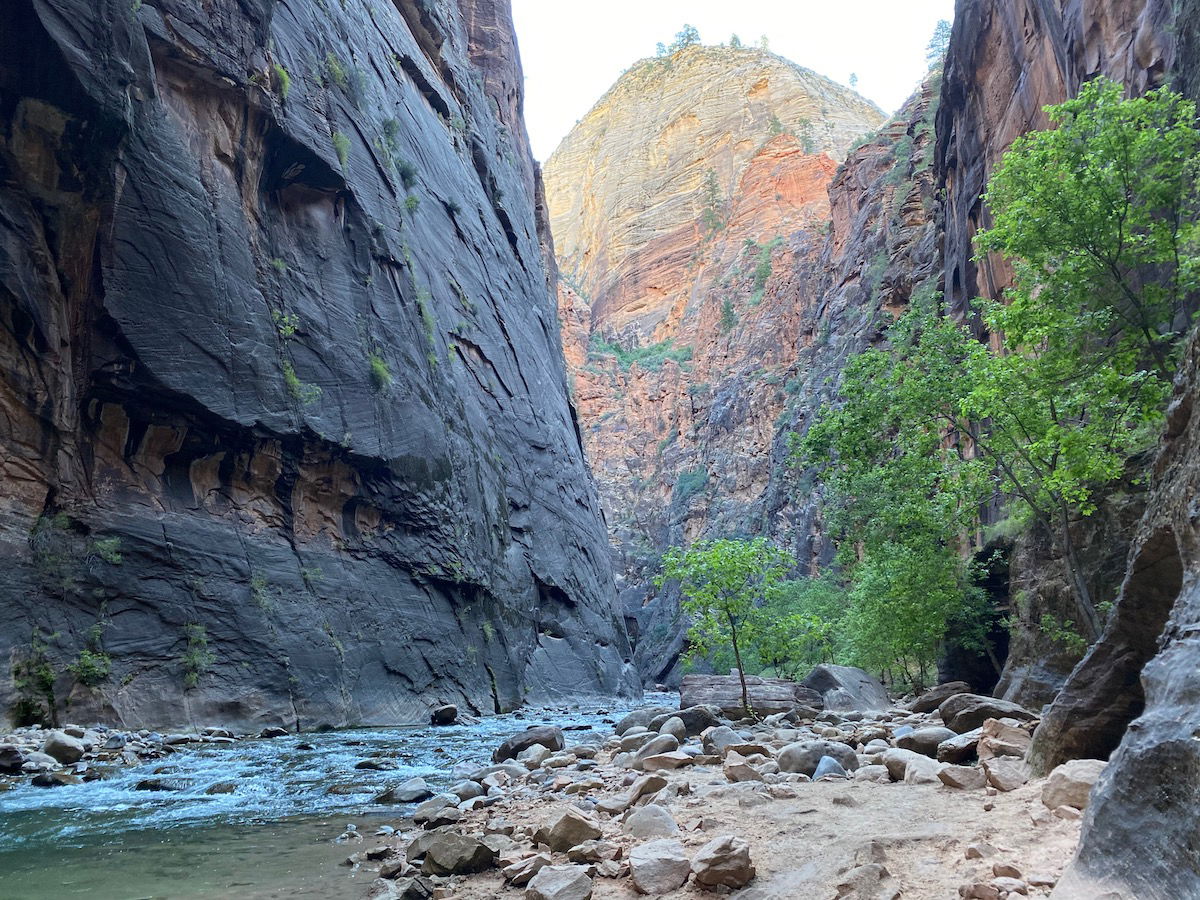 Hiking The Narrows in Zion National Park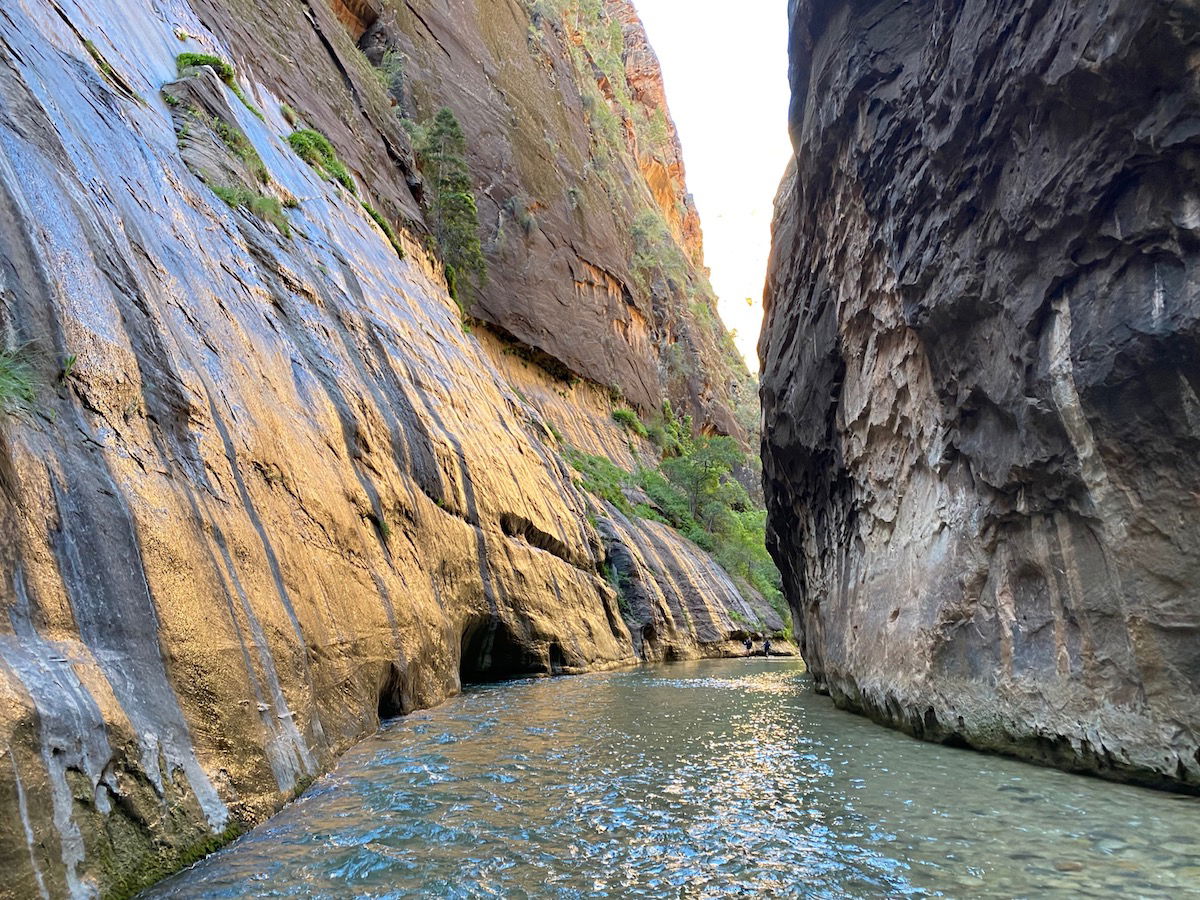 Hiking The Narrows in Zion National Park
After our early morning hike, we packed up our car and made the 2hr30min drive to Page, Arizona. The views on this drive were even better than during the drive the previous day.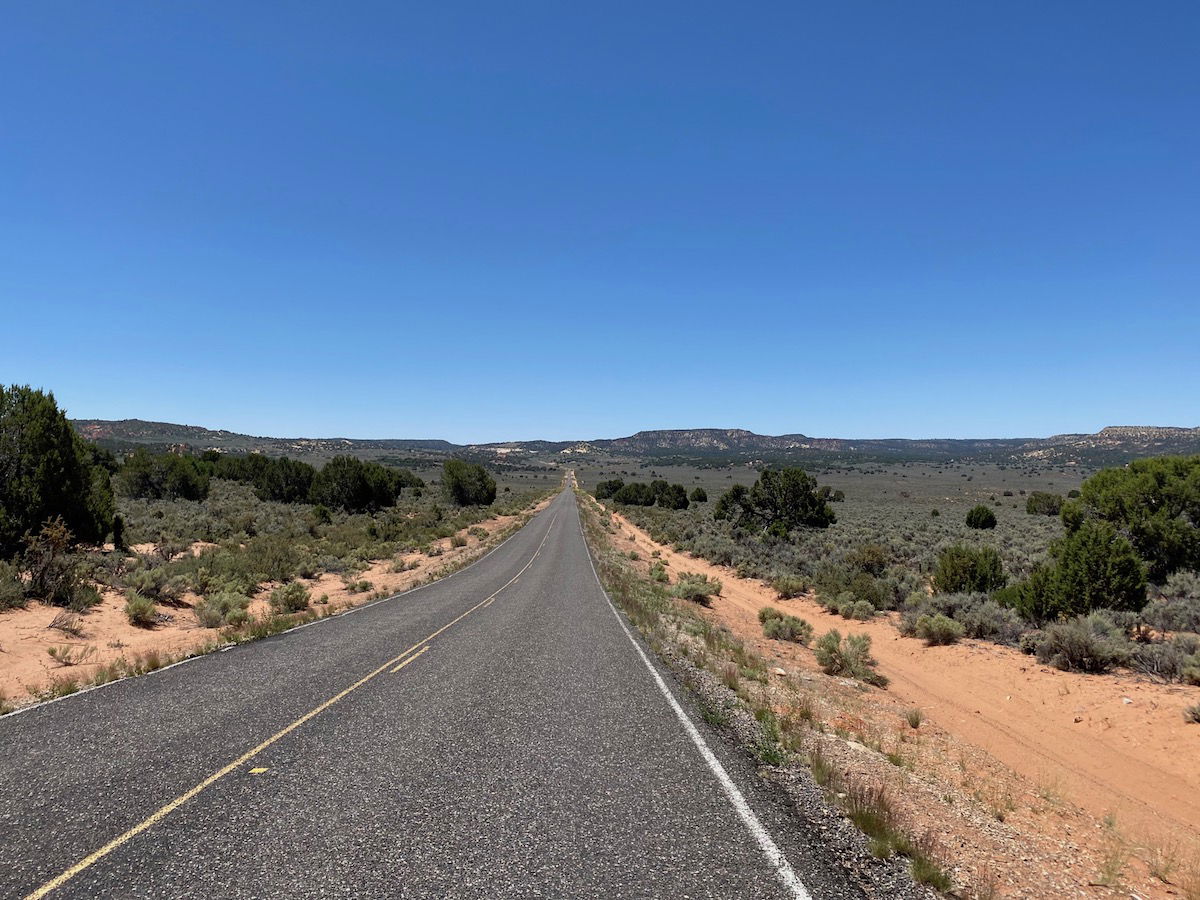 Driving to Page, Arizona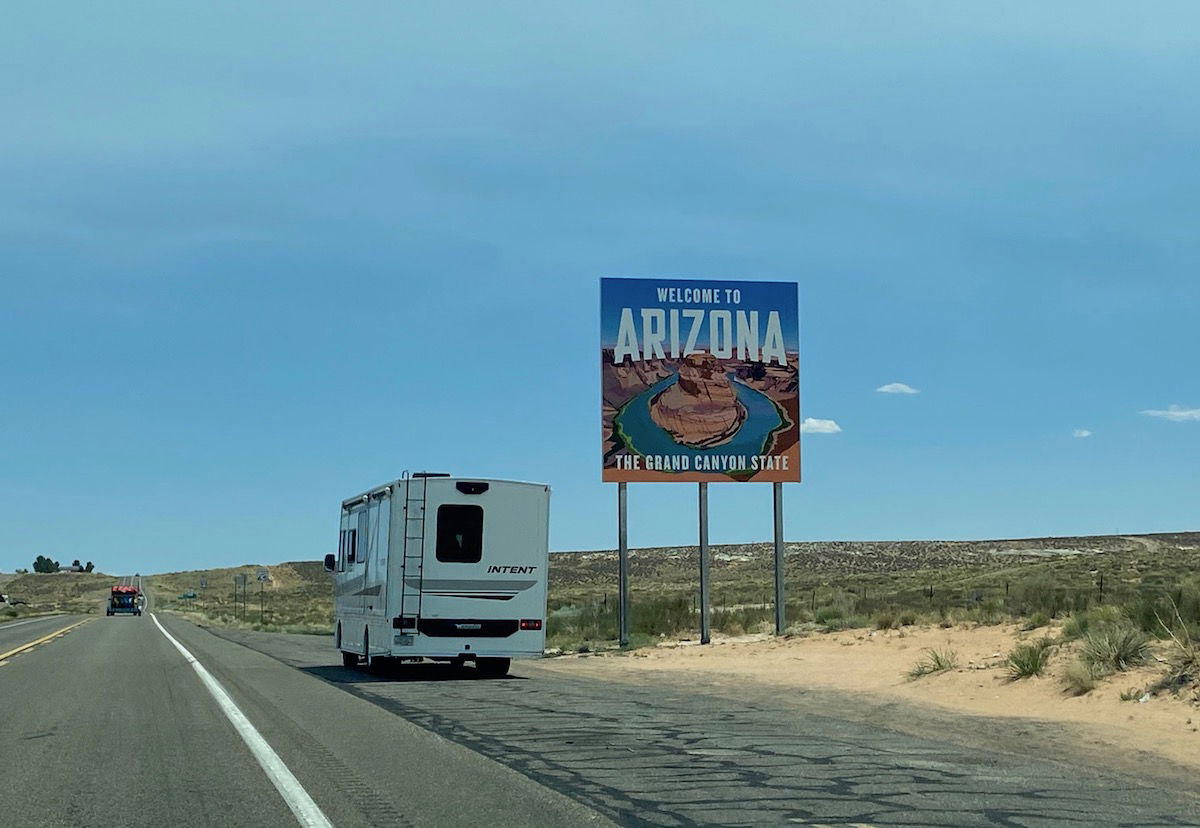 Entering the state of Arizona
In the itinerary that my friend put together, he recommended stopping at Coral Pink Sand Dunes State Park and Buckskin Gulch. Unfortunately we decided to skip those, given that we got up at 3:30AM, and were exhausted after our hike.
Instead we checked into our hotel. We then drove around Page, which is not the most exciting city on earth… I'm trying to be nice here. Page is right next to Lake Powell, so the views in the area are at least great. By the way, Page is also the nearest city to Amangiri, which is probably the best hotel in the US.
Then in the evening we headed to Horseshoe Bend, which is just a short drive from town. There was a $10 entrance fee, and then it was a roughly 10 minute walk to get to the actual attraction.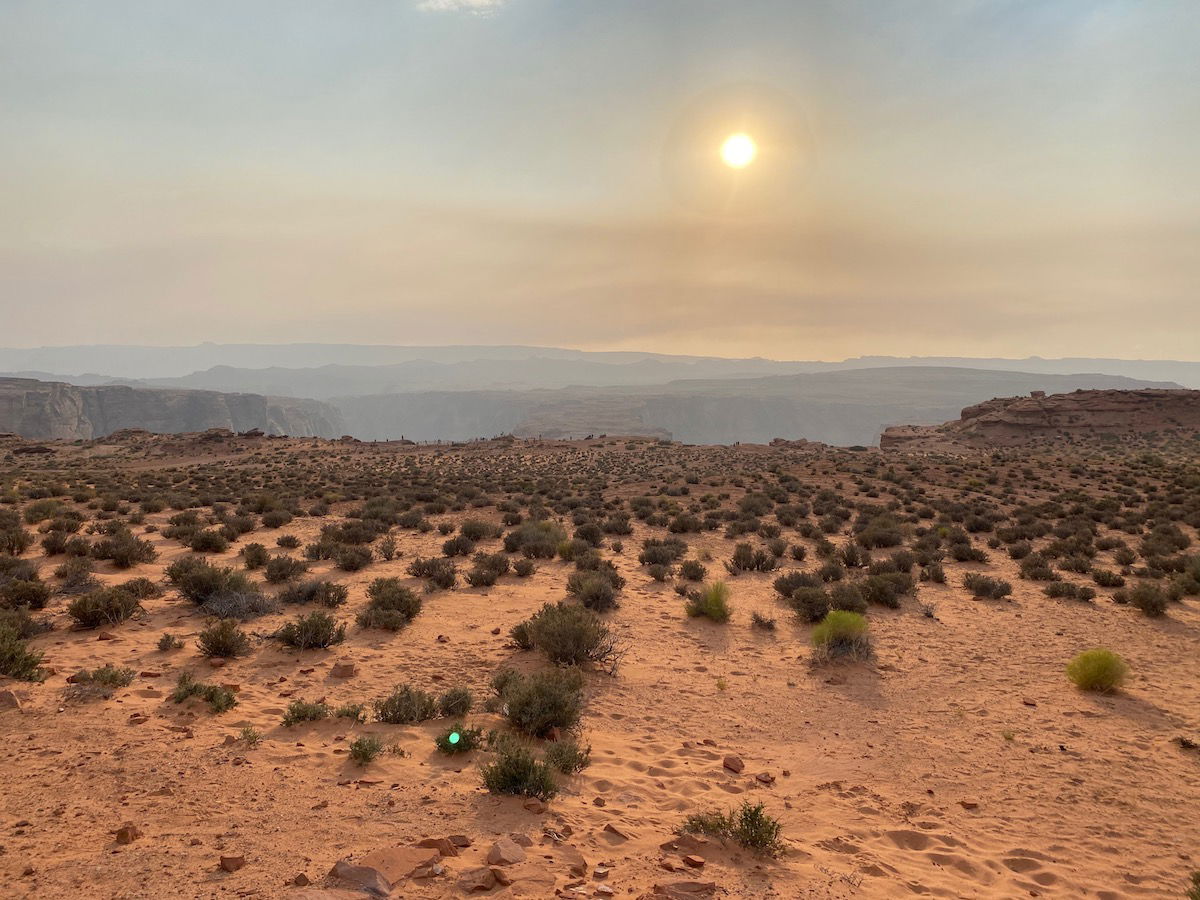 Walking to Horseshoe Bend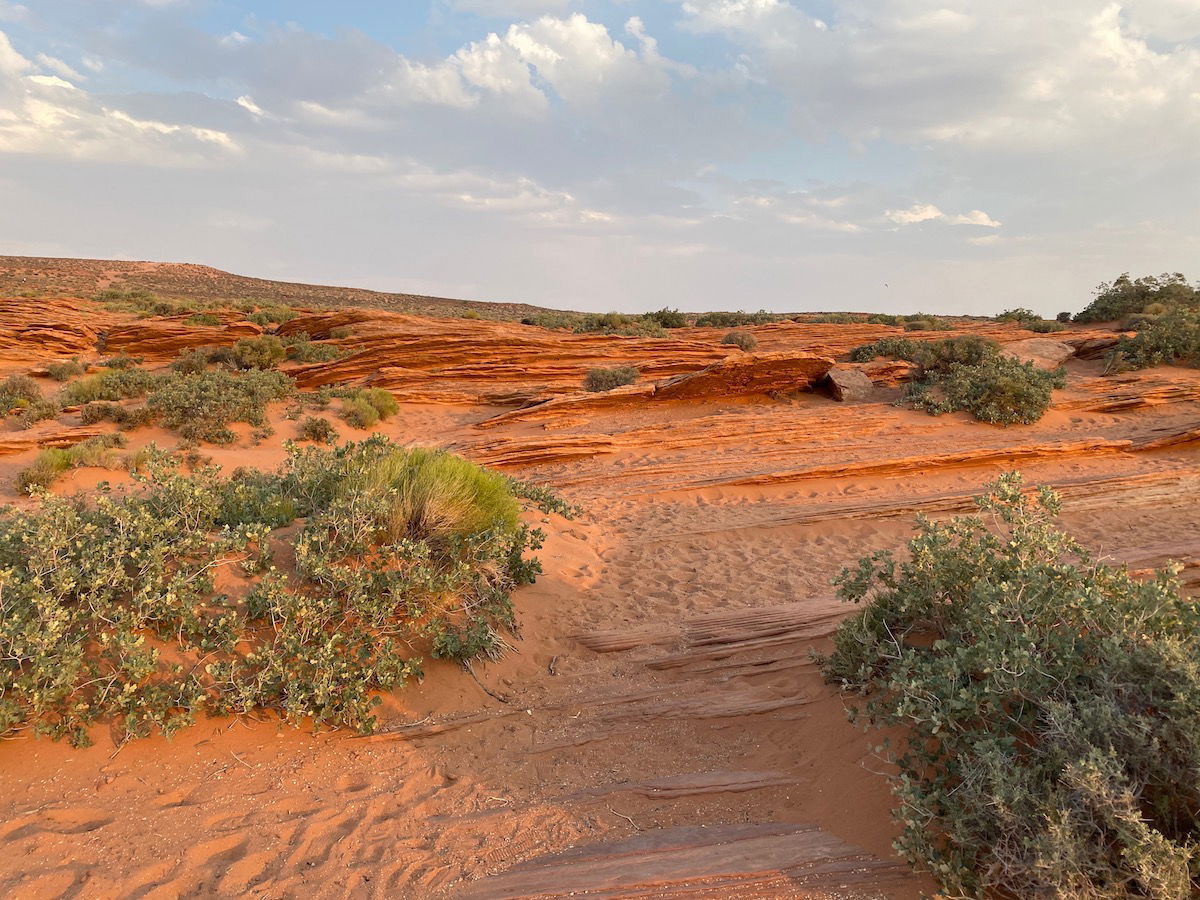 Walking to Horseshoe Bend
Seriously, how gorgeous is this?!?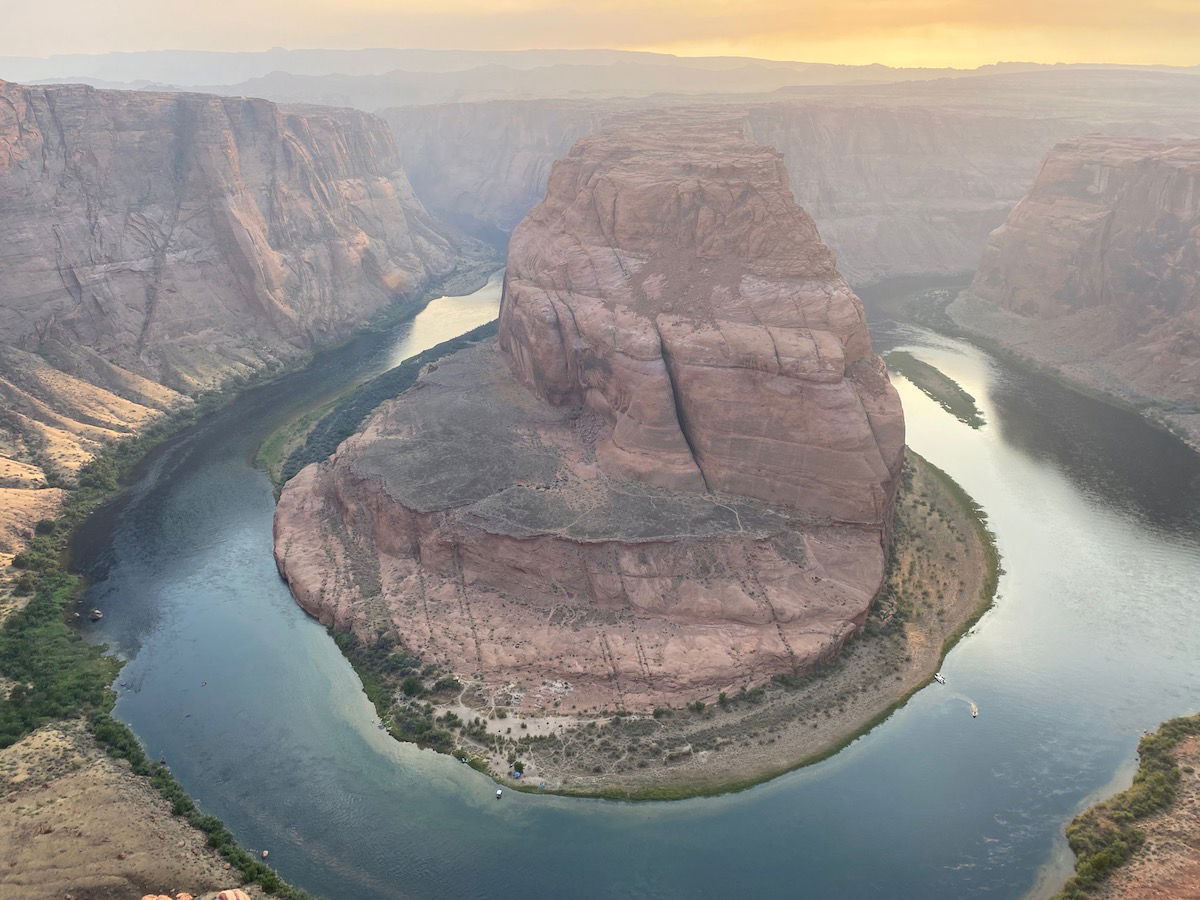 Horseshoe Bend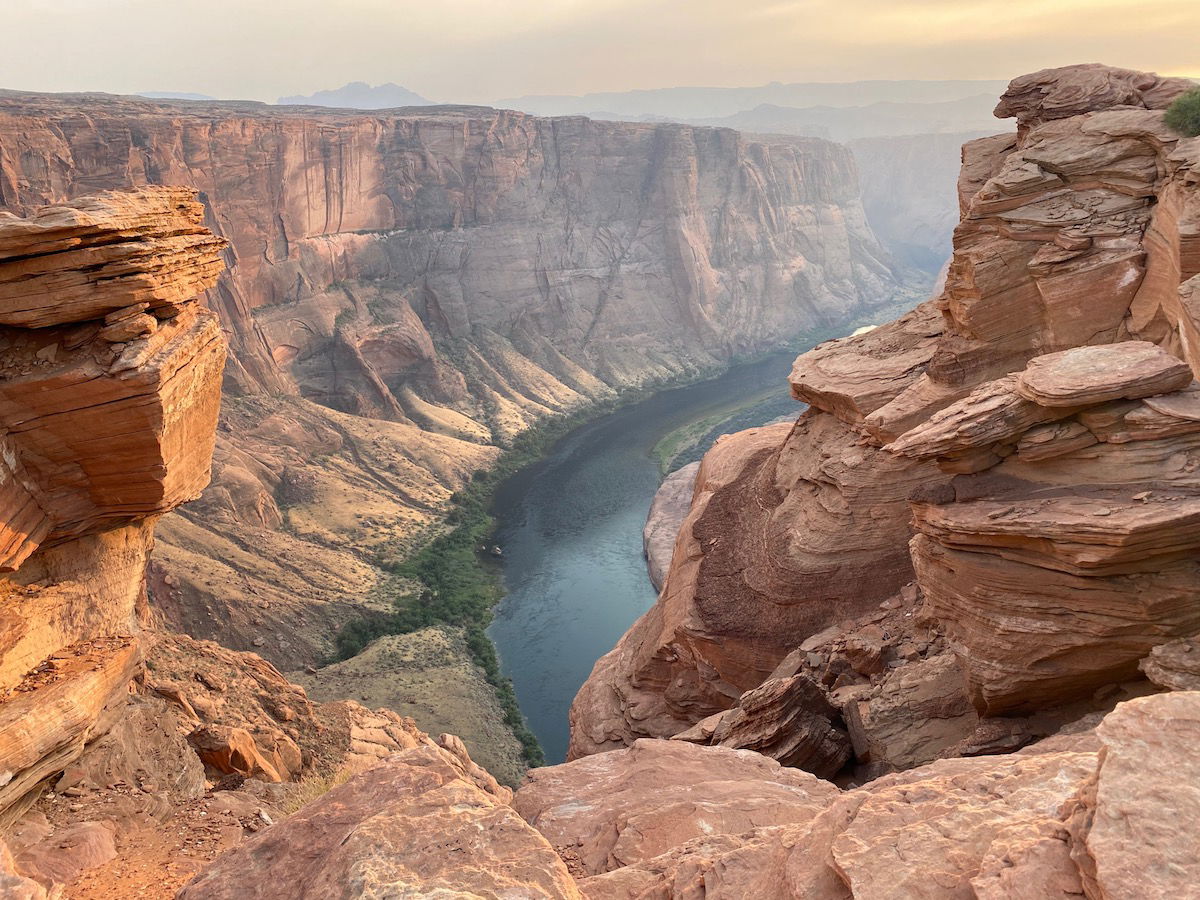 Horseshoe Bend
By comparison to Zion National Park, the logistics here couldn't have been easier — parking was plentiful, it was a short walk, and the views were possibly even more breathtaking. Horseshoe Bend is possibly the most beautiful, easy to access landmark I've ever seen.
Day 3: A leisurely drive to Moab
The next morning we made the 4hr30min drive from Page, Arizona, to Moab, Utah. The portion of driving between Page and Moab was probably my all around favorite part of this trip.
Obviously visiting National Parks is great, but the amount of natural beauty and even charming towns you can enjoy just driving in this part of the country blew me away.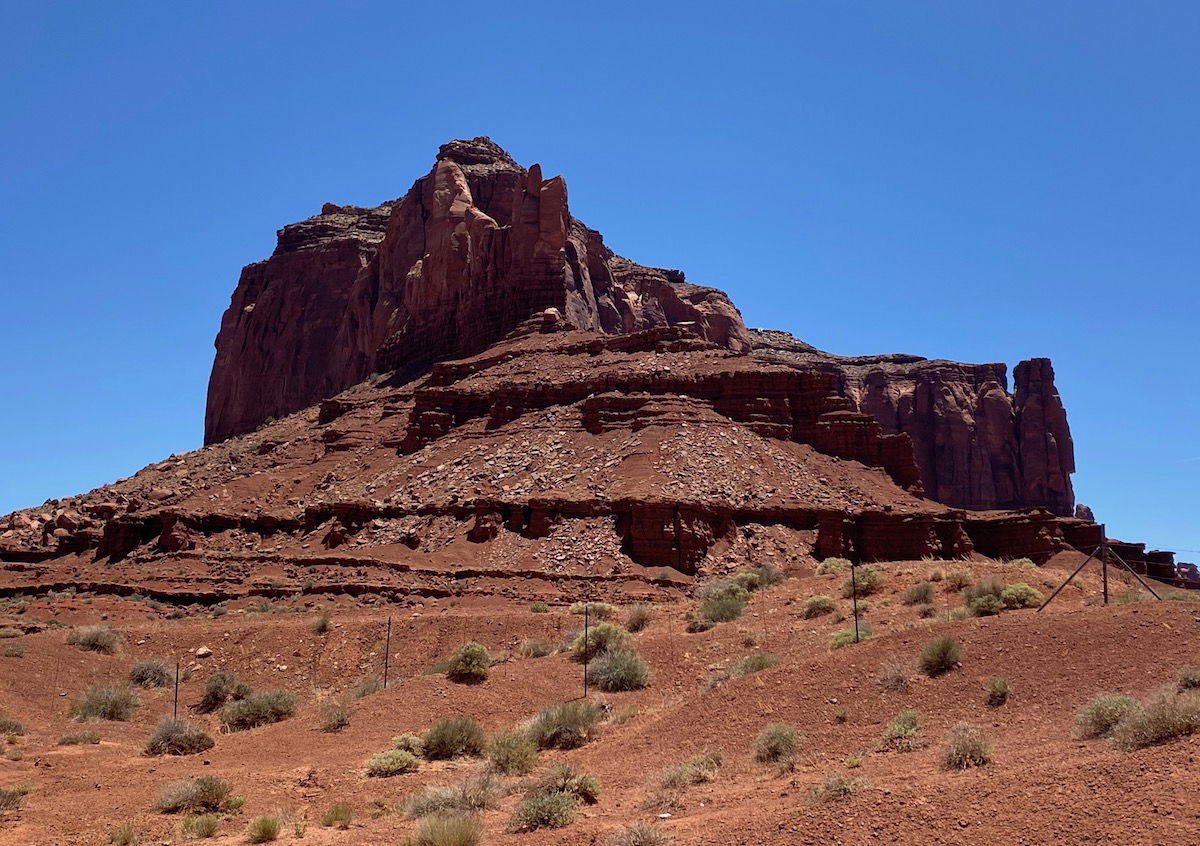 Driving to Moab, Utah
Beyond the physical beauty, I also want to say that driving in general in this part of the country was so enjoyable. There were wide open roads, sometimes we didn't see other cars for miles, the speed limit was high, and I didn't notice any speed traps.
We really took our time with this drive, and stopped at Monument Valley, near the border between Arizona and Utah.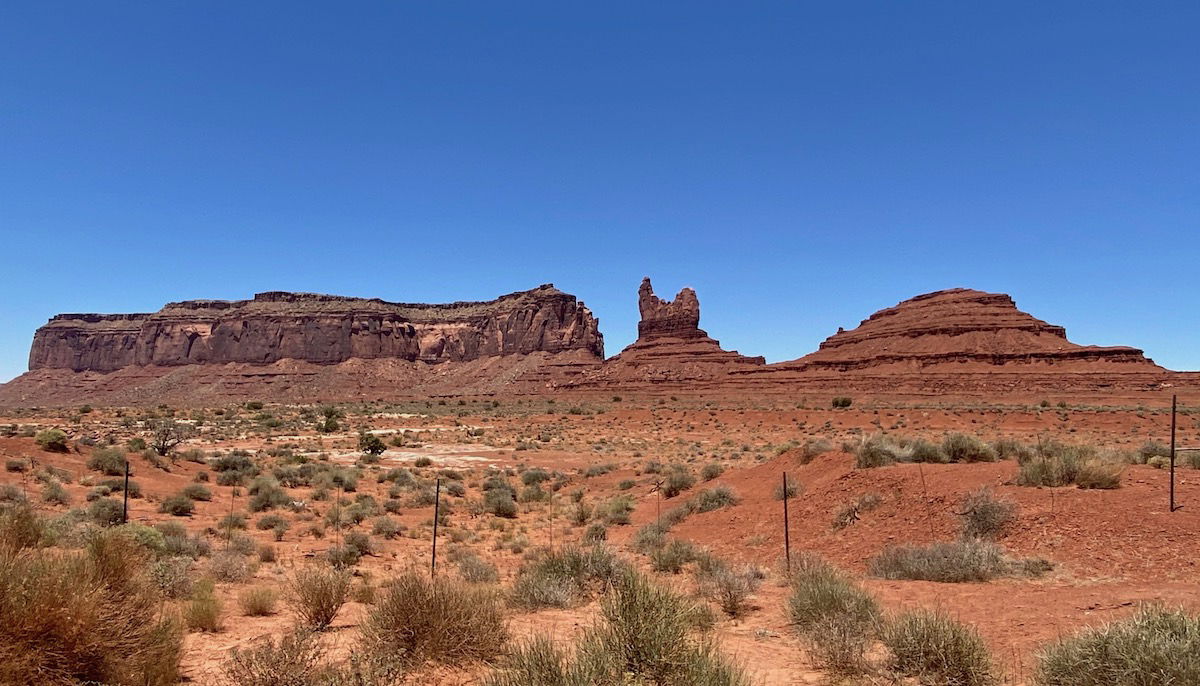 Monument Valley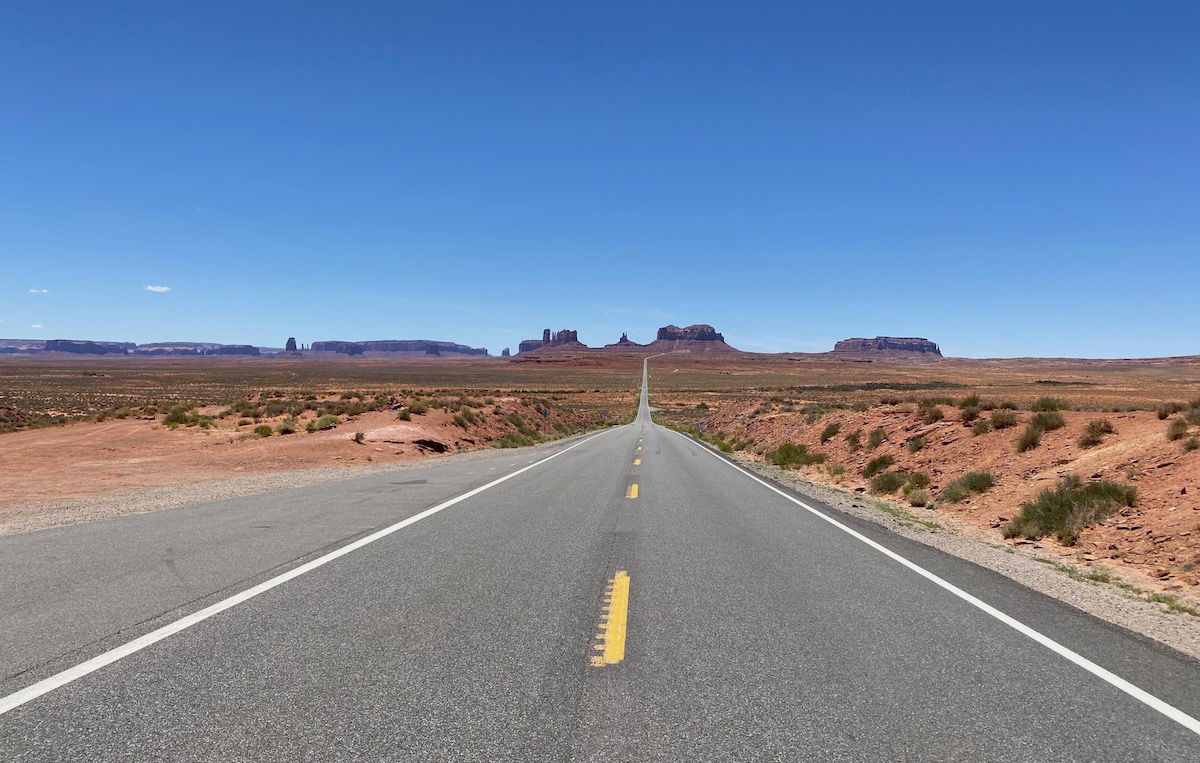 Monument Valley
We also stopped for a bit at Valley of the Gods, which had 17 miles of dirt roads with some awesome views.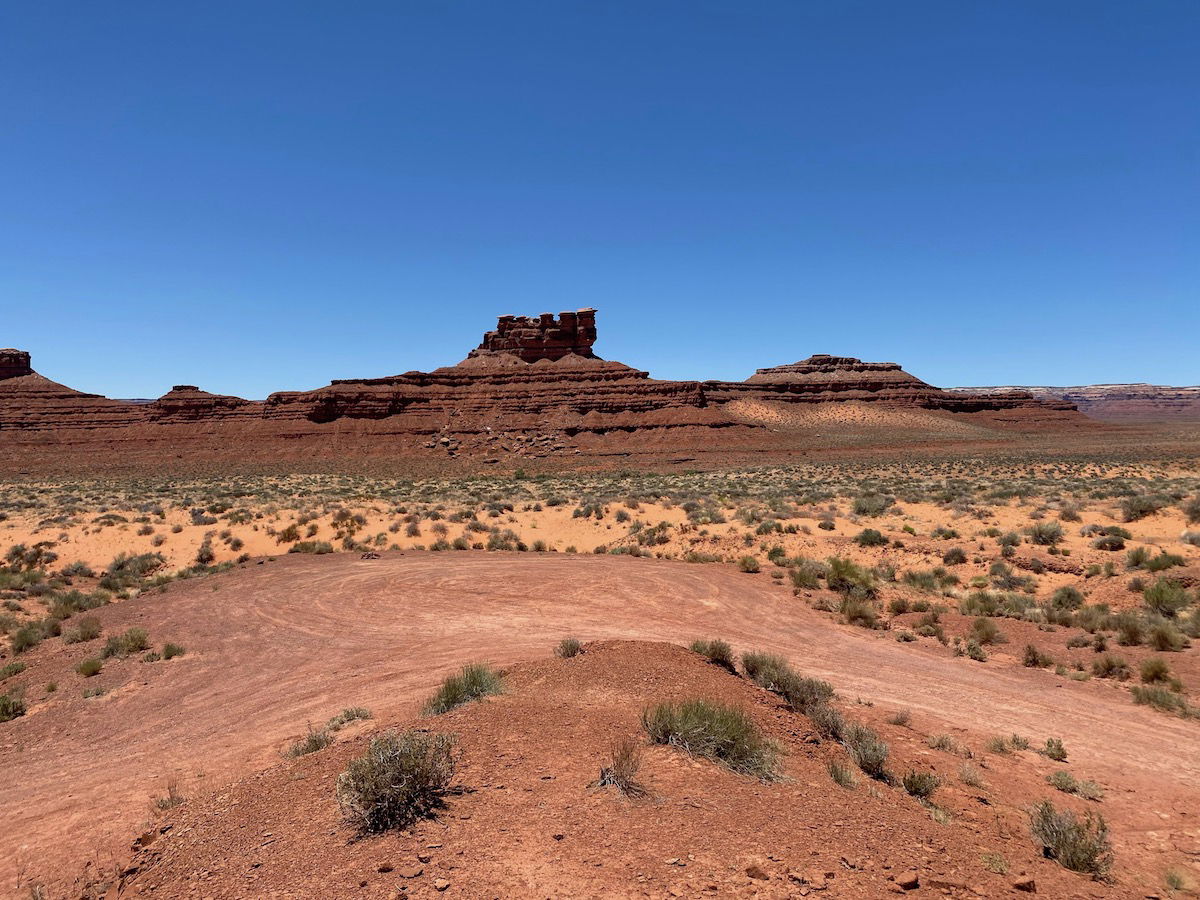 Valley of the Gods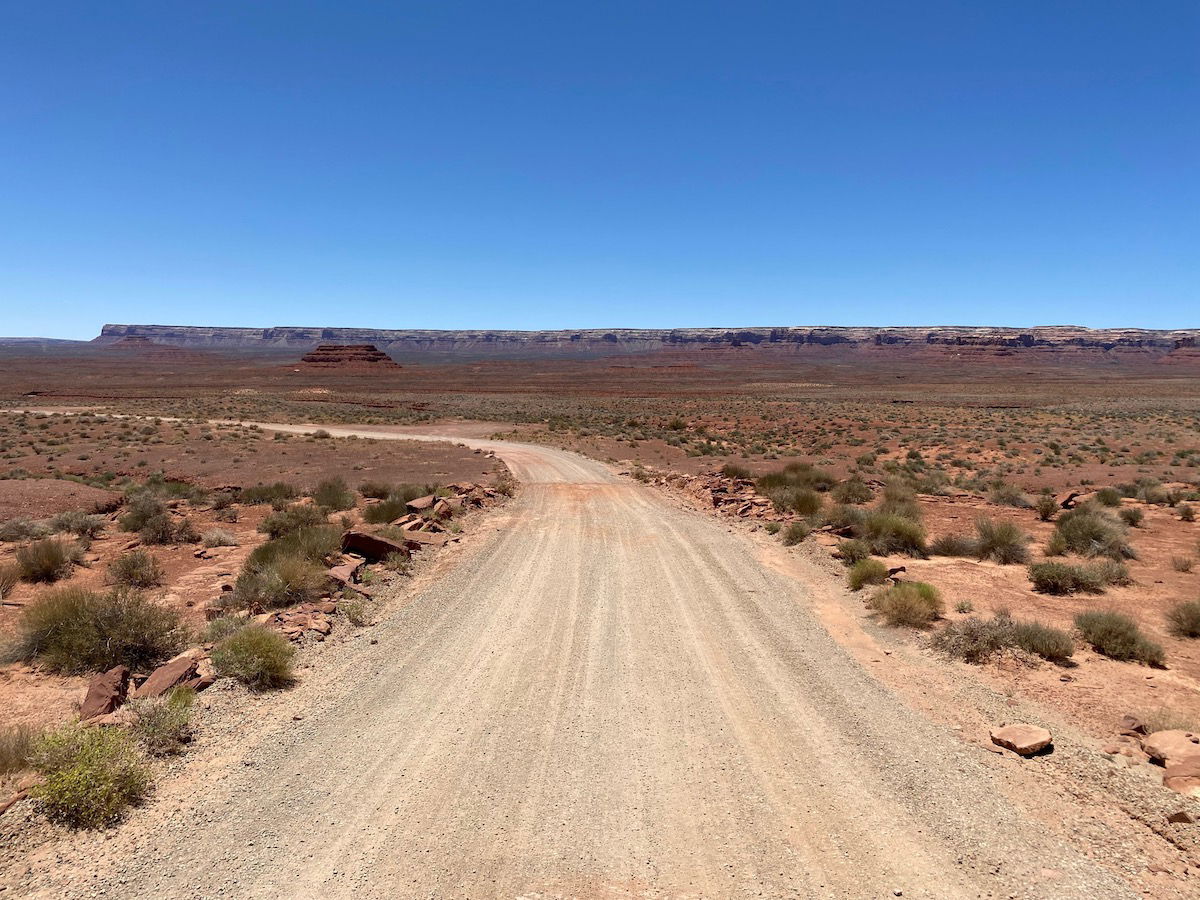 Valley of the Gods
It was surreal to be in areas this beautiful with so few people. We didn't see a single other person or car in our miles of driving in the Valley of the Gods, for example.
We arrived in Moab in the evening, and had an early dinner and called it a night.
Day 4: Exploring Arches National Park, UTVing
We got up early and enjoyed Arches National Park. The logistics were so much easier than Zion National Park. We could just drive right in, and then there are 36 miles of roads with a bunch of scenic lookouts.
While there's great hiking, you can get a lot of enjoyment out of this place without even leaving your car.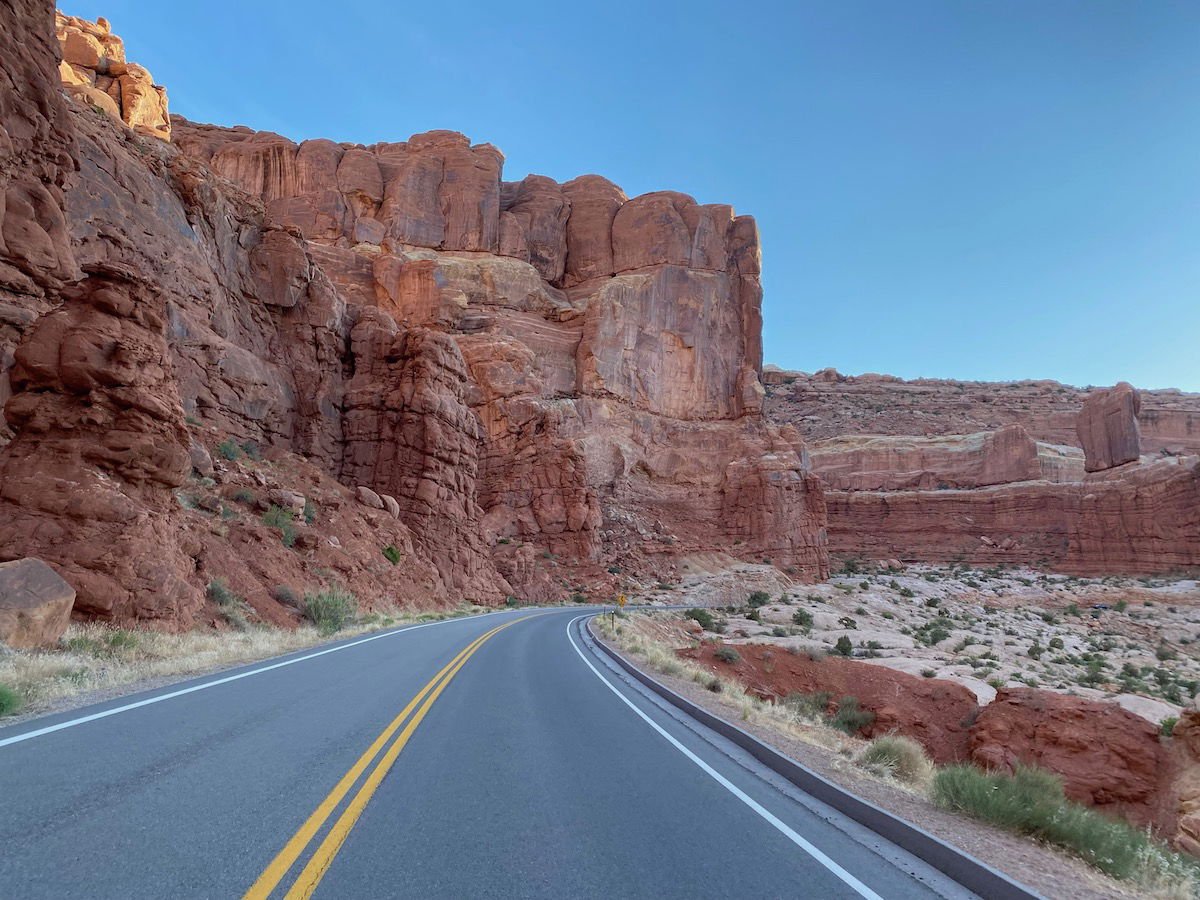 Driving through Arches National Park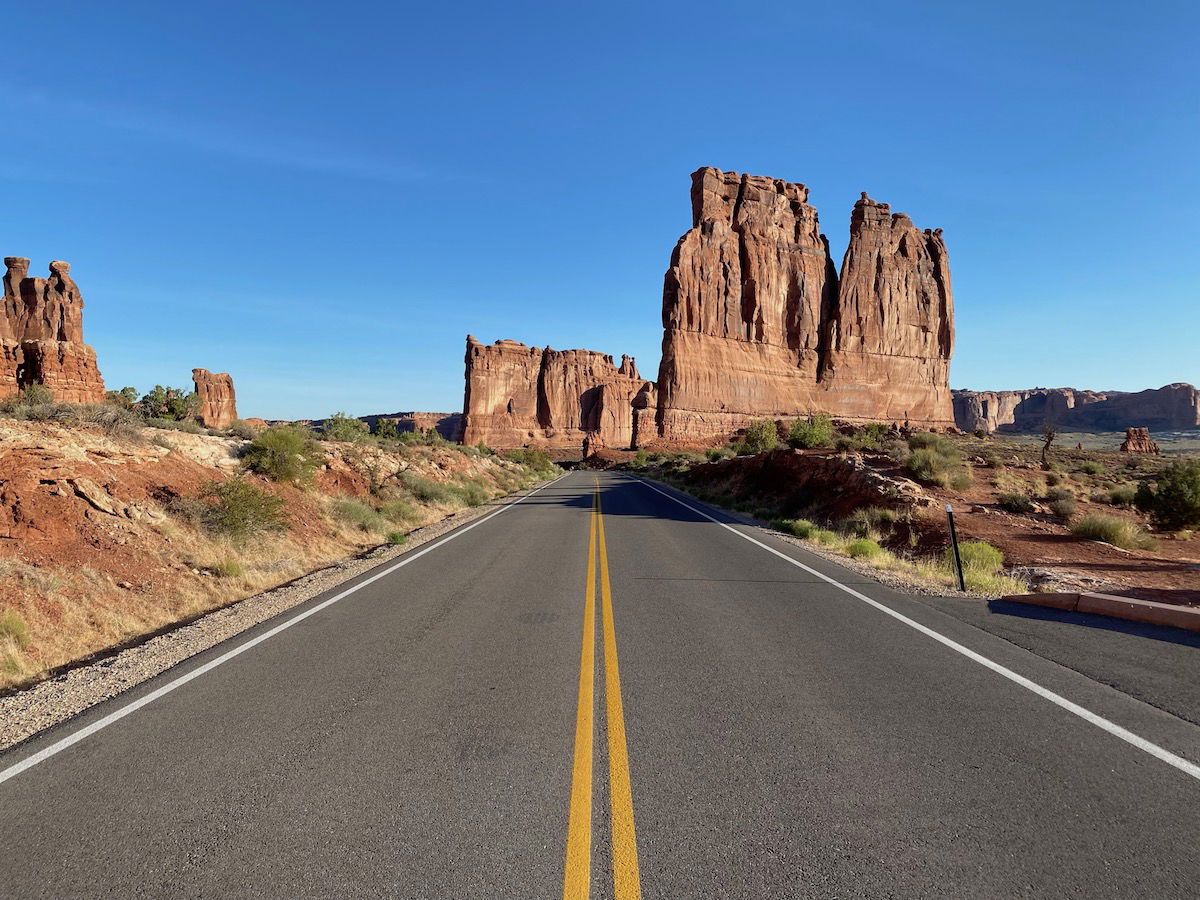 Driving through Arches National Park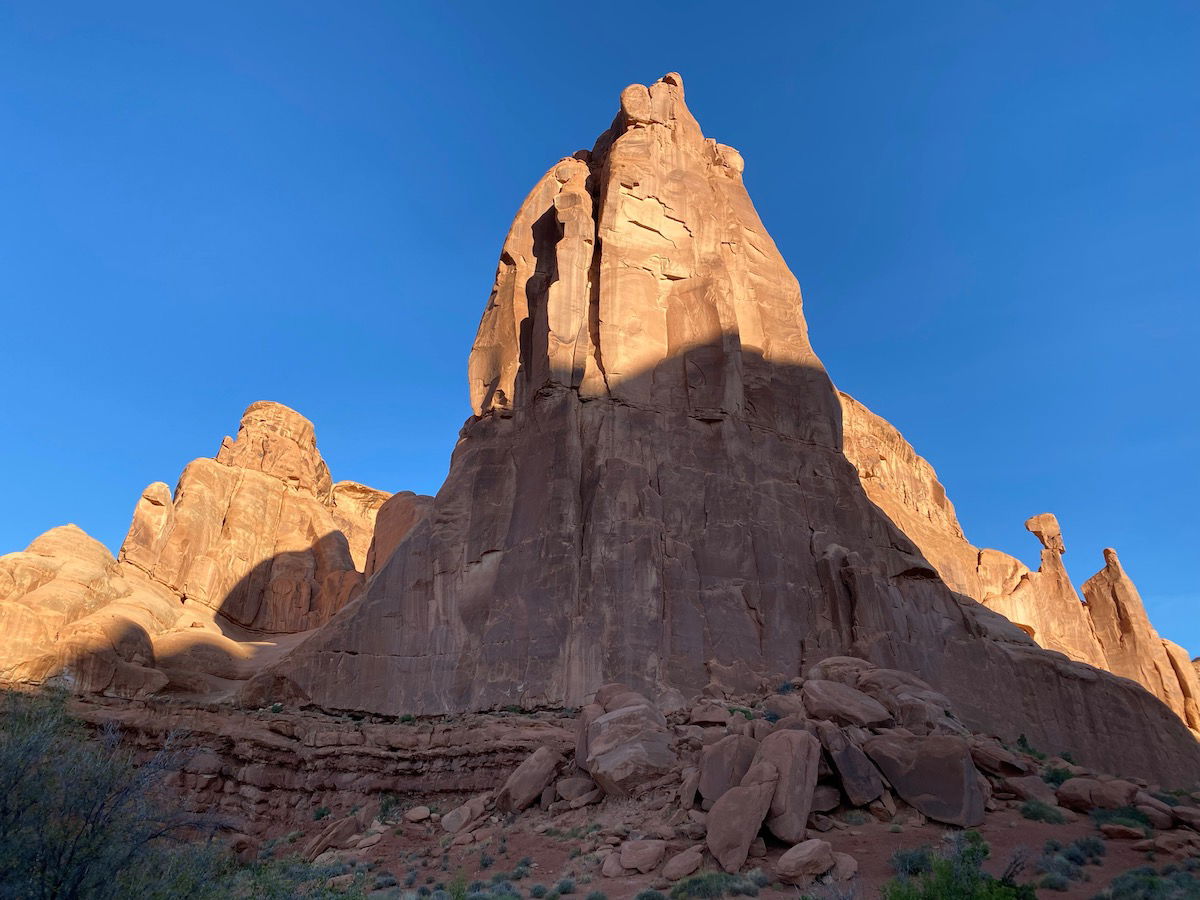 Arches National Park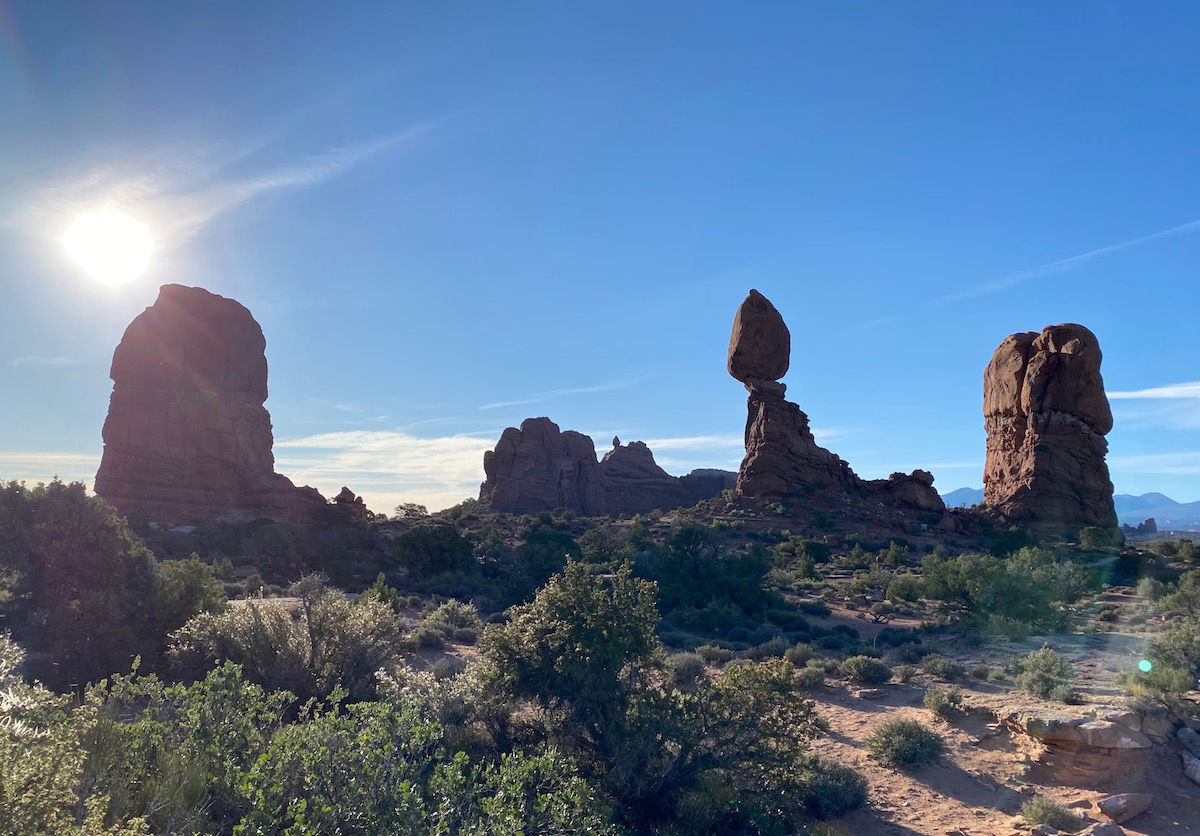 Arches National Park
The most famous structure in the park is Delicate Arch, which requires a roughly 30 minute hike to get to. Fortunately you can quite easily park near the base, so there's no planning required.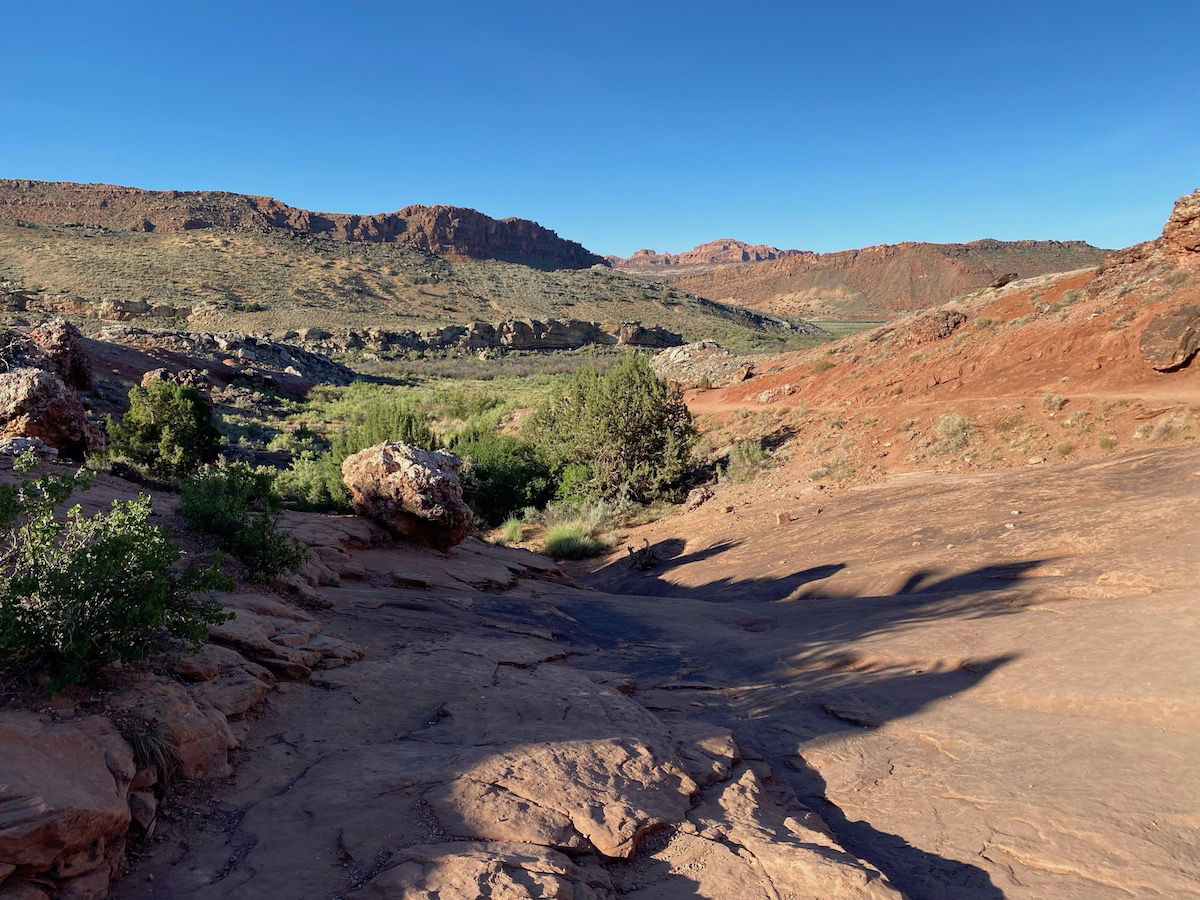 Hiking to Delicate Arch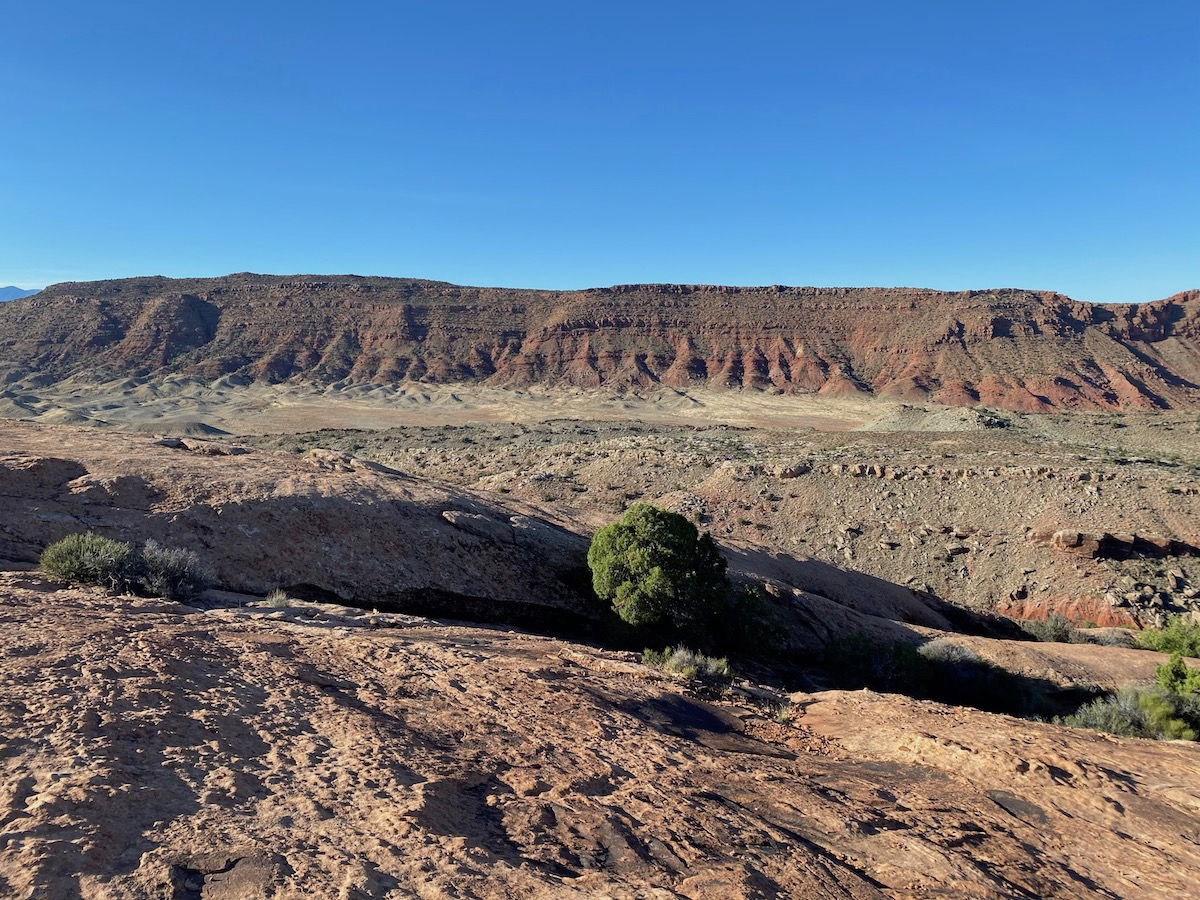 Hiking to Delicate Arch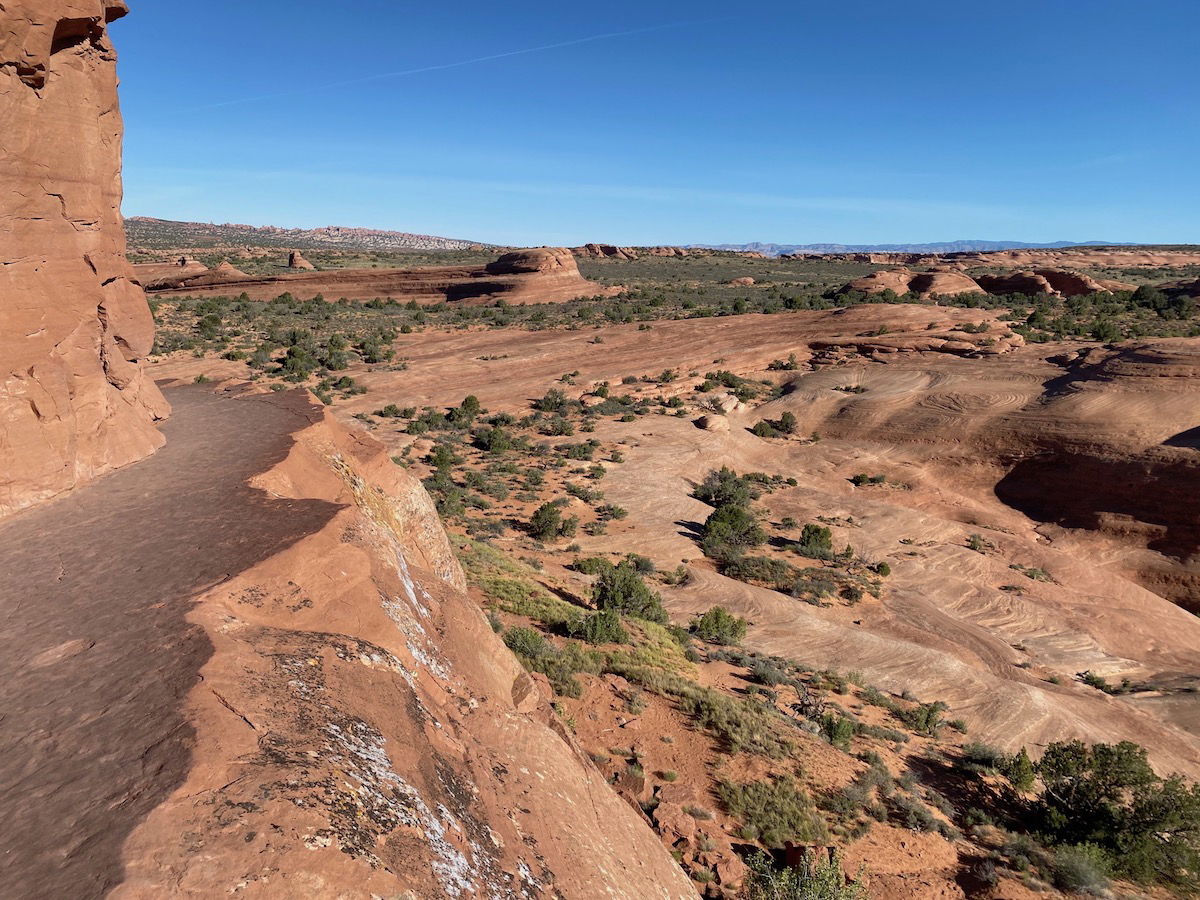 Hiking to Delicate Arch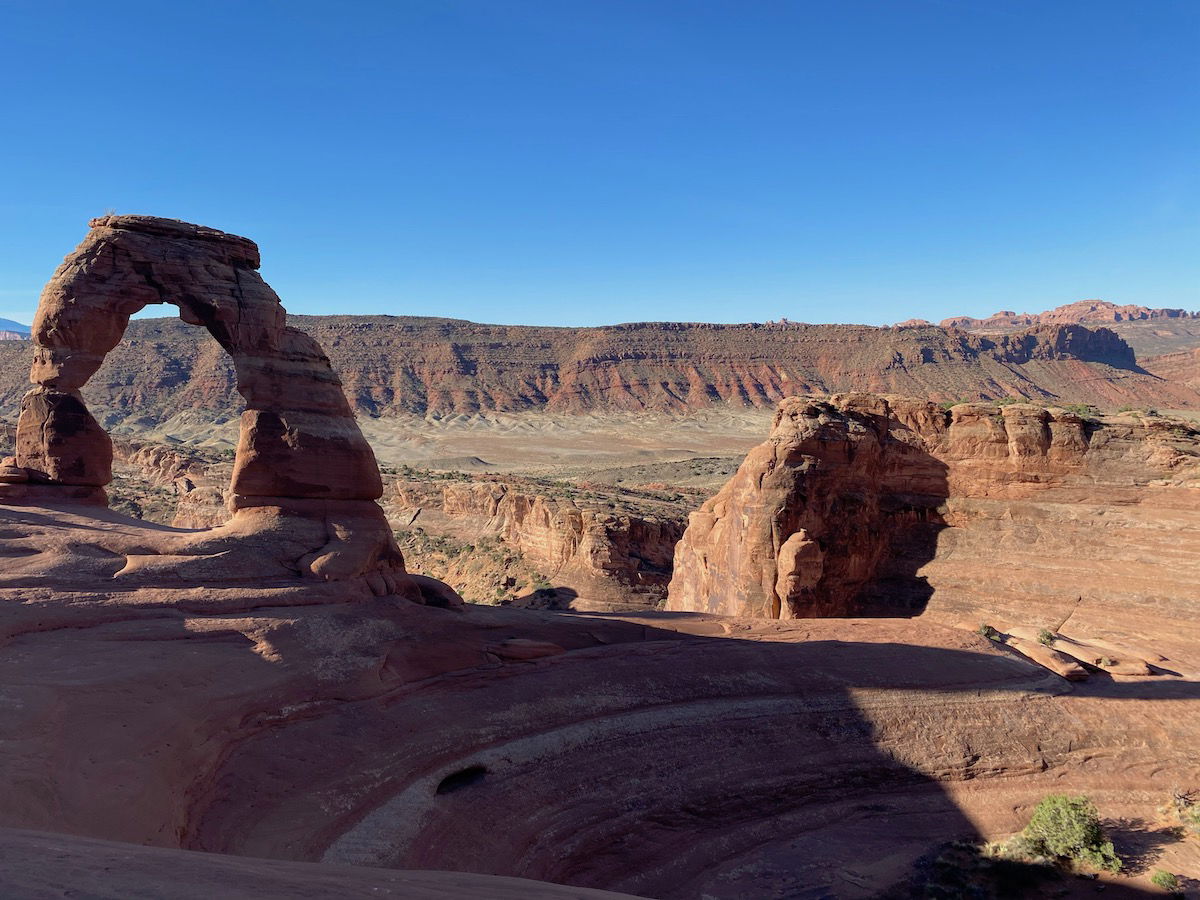 Delicate Arch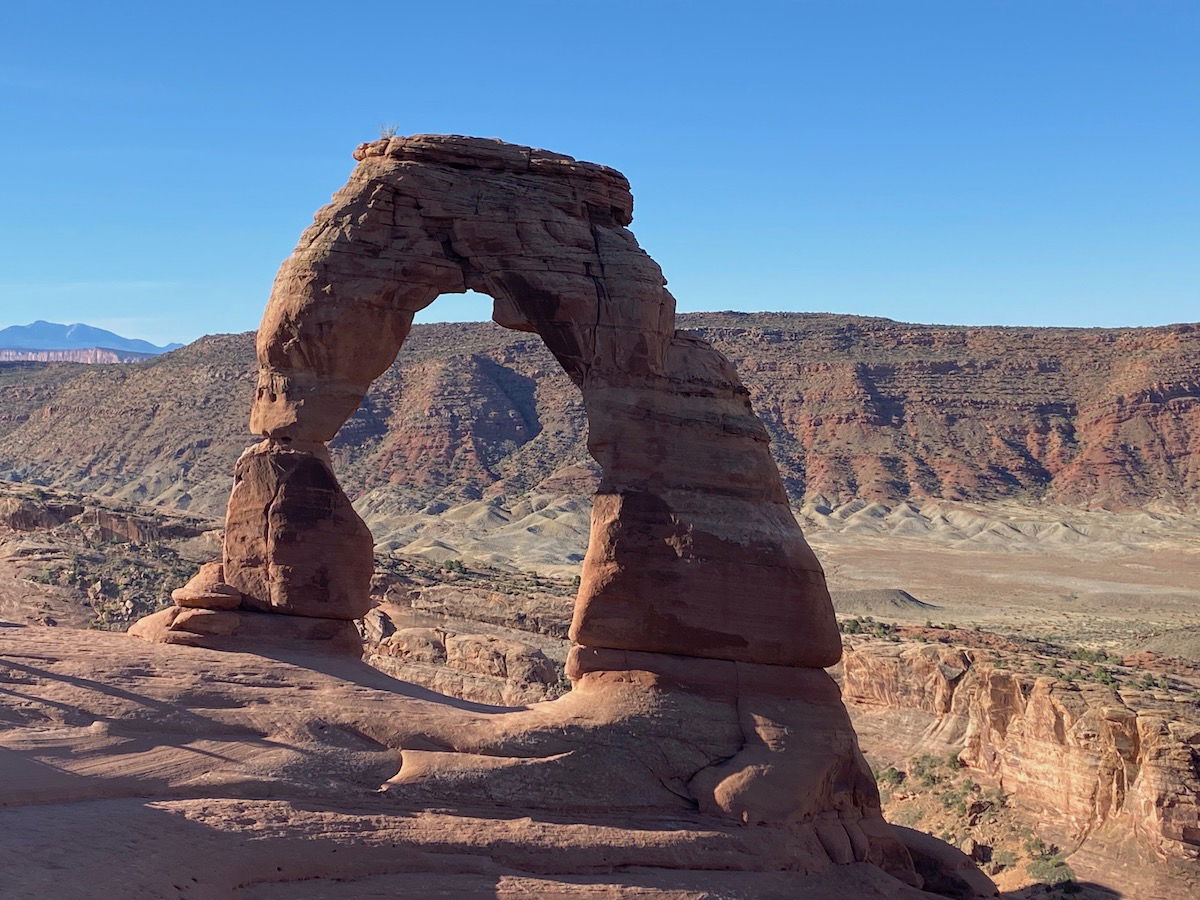 Delicate Arch
After spending the morning in the park, in the early afternoon we drove down a long dirt road along the Colorado River.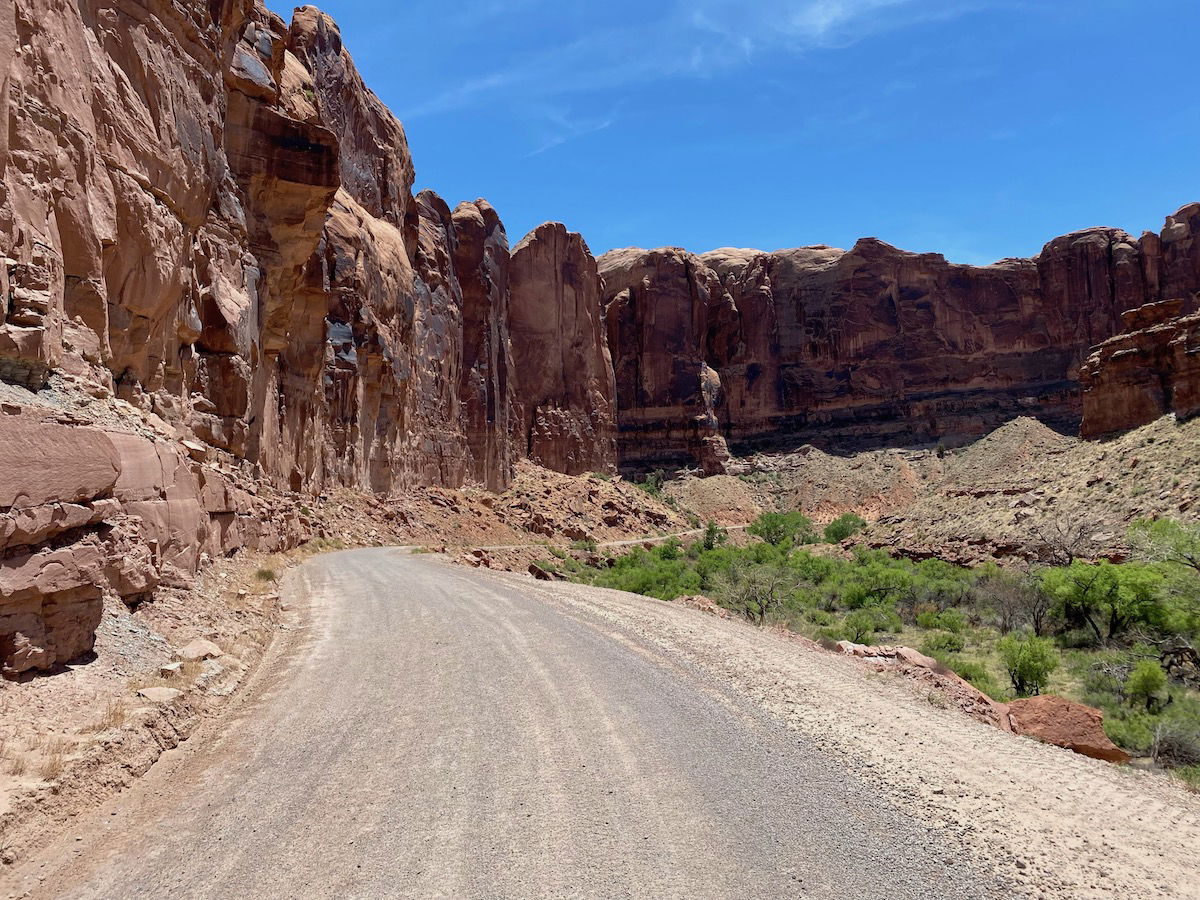 Driving along the Colorado River
In the evening we booked a UTV tour to Hell's Revenge. This was terrifying at first, but fun once we got the hang of it. I can't say the tour company we used was terribly professional:
When we walked into their office, the owner said "we don't allow masks in here"
The guy told us "someone just wrecked a brand new $25,000 UTV today by driving stupid," and then proceeded to say "you break it, you buy it," with no option for insurance
Somehow we still decided to do the tour, which lasted about 2.5 hours.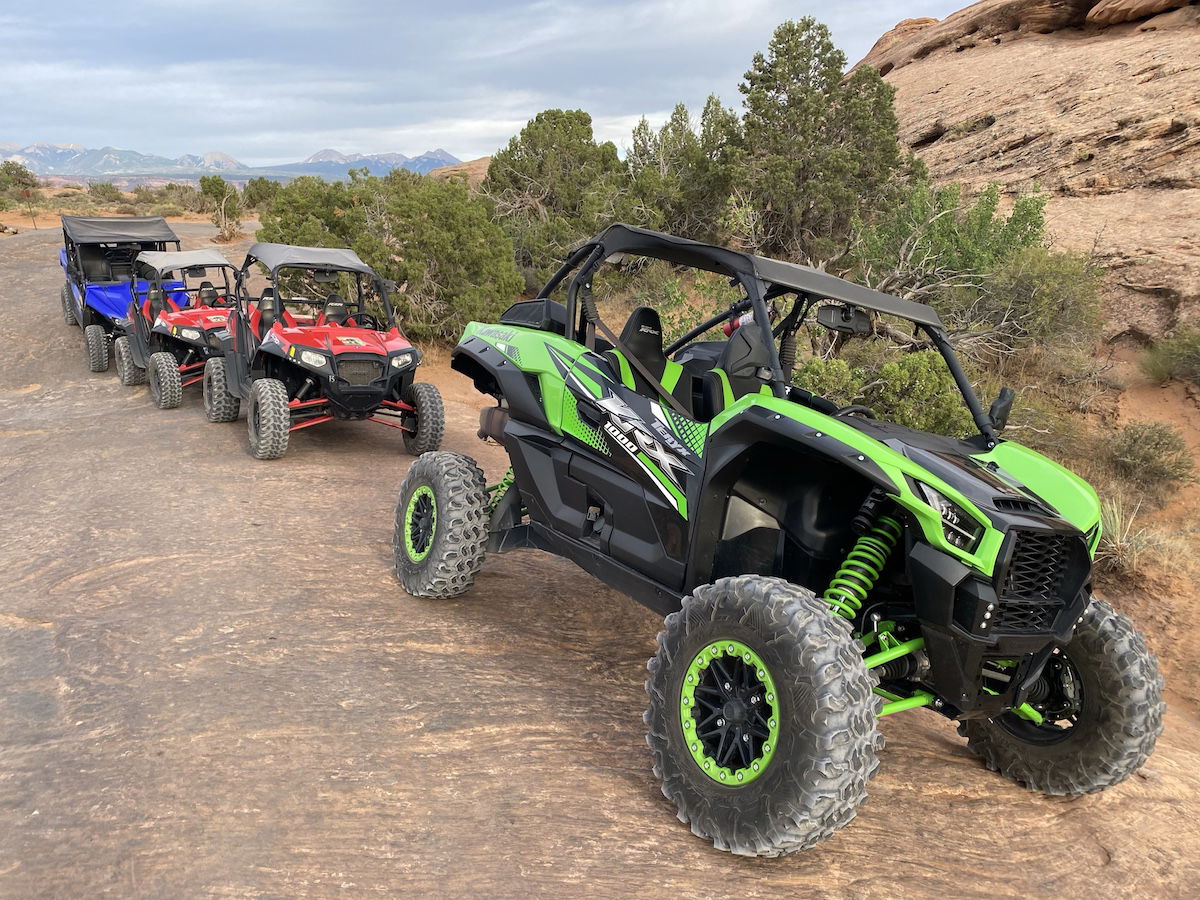 UTV tour to Hell's Revenge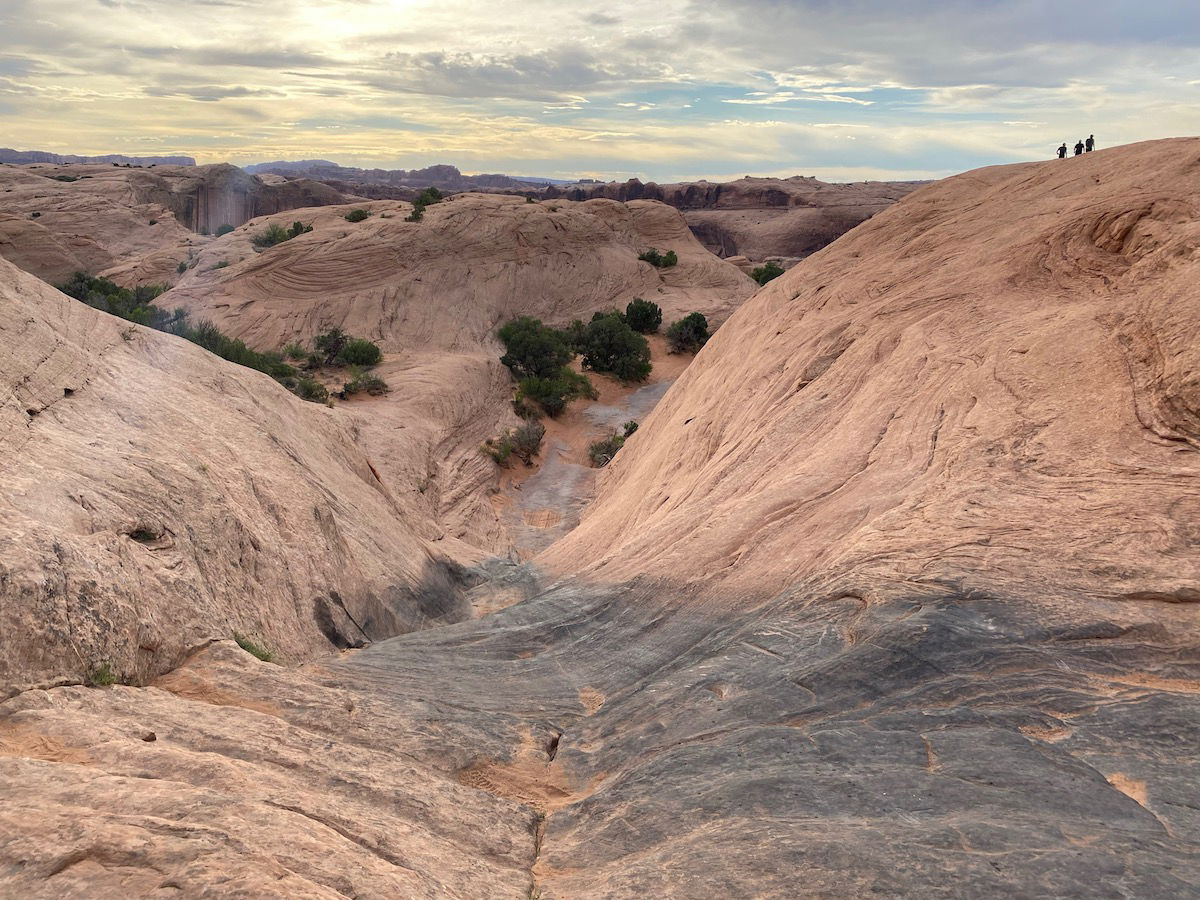 Views while on the UTV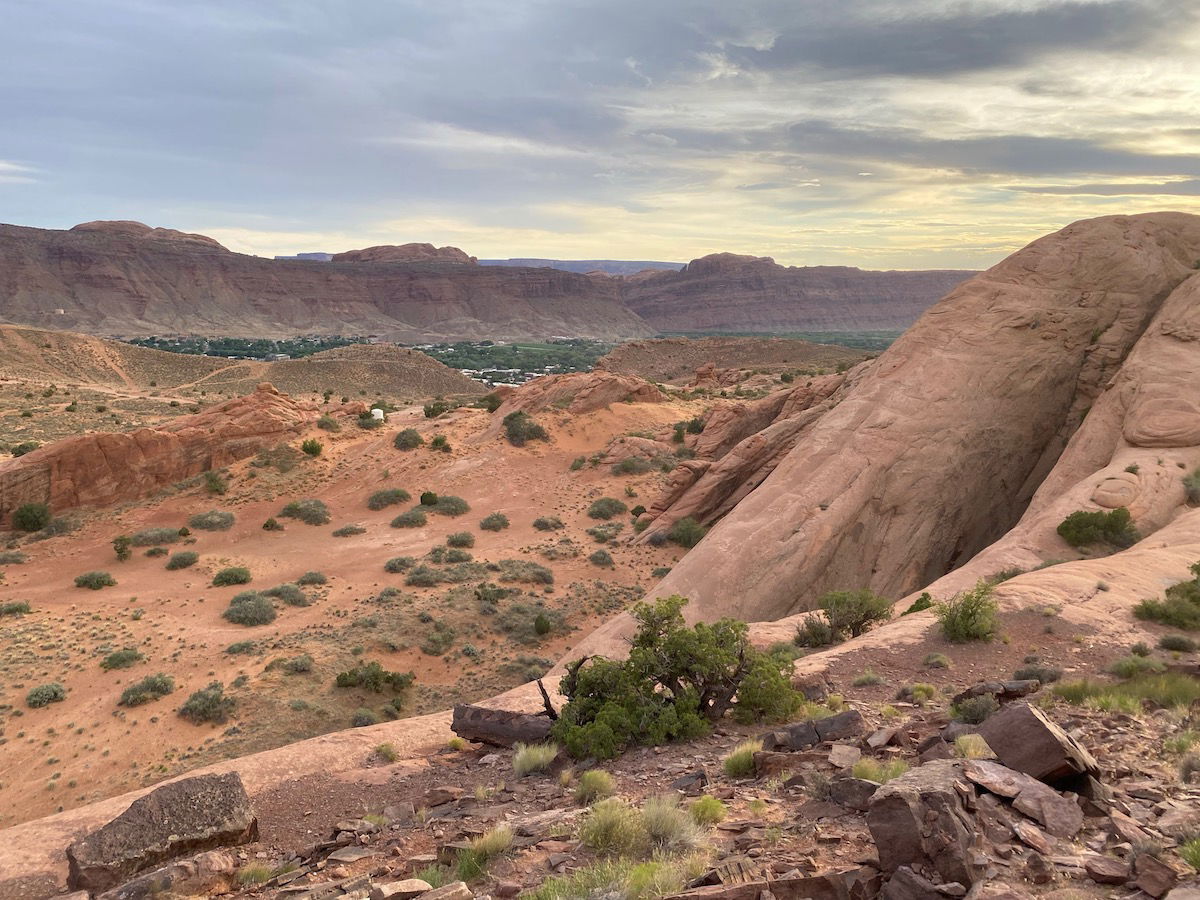 Views while on the UTV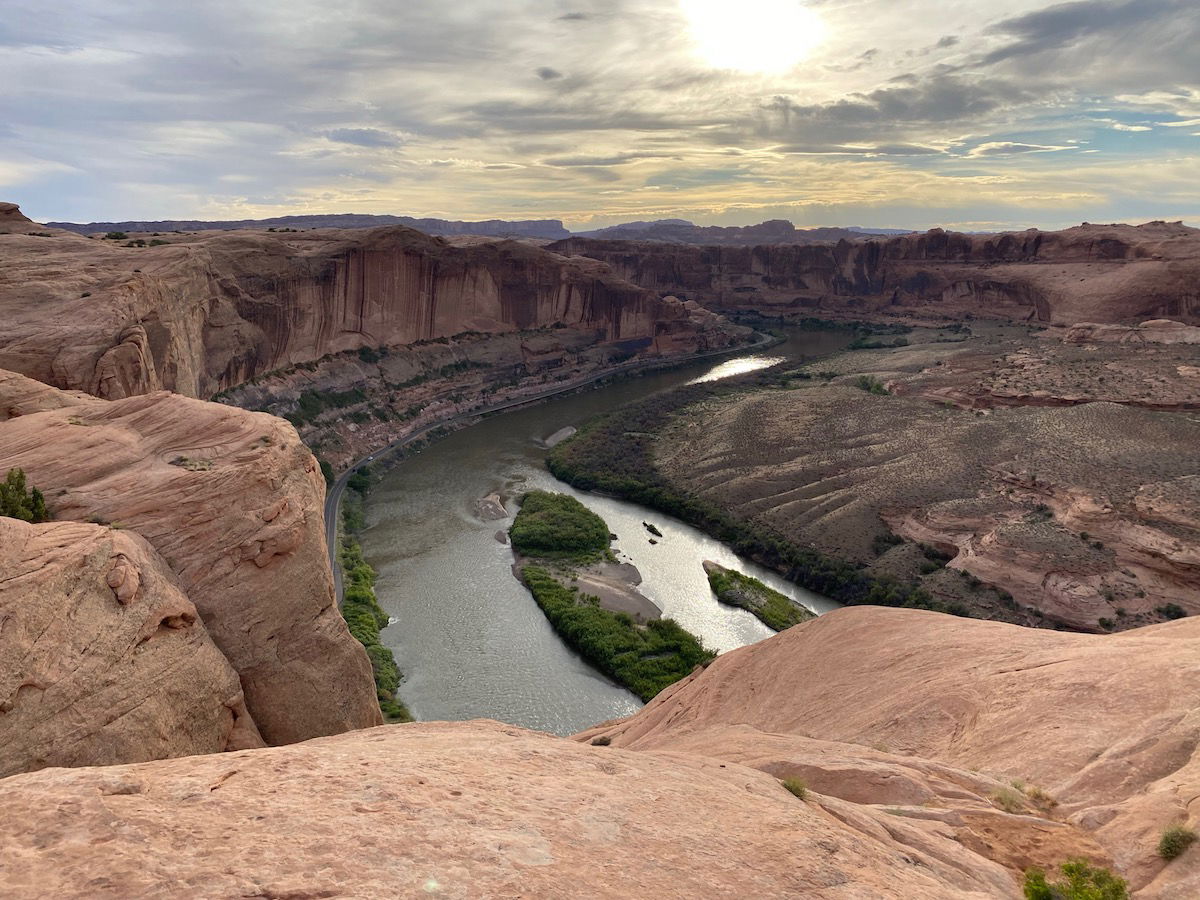 Hell's Revenge, Utah
Day 5: Driving to Grand Junction
We were flying out of Grand Junction, which is the closest commercial airport to Moab, Utah (or at least closest airport with one-stop service to Miami). That was a roughly two hour drive.
The speed limit on the highway in most of Utah was 80mph, which I've never before seen in the US. That was kind of cool, and the views continued to be incredible. I almost want to move to Utah just for how fun the driving is.
Bottom line
I'm so glad we had the chance to do this road trip. I can't believe I had never explored this part of the country before, and now that I've done it once, I absolutely want to go back.
It goes without saying it was planned last minute and was probably unnecessarily rushed, but we still had a great time. If I had to rank my enjoyment of things on this trip:
I almost enjoyed the driving more than actually visiting the National Parks, because I can't wrap my head around how beautiful the scenery is around these roads, and how you can just pull over anywhere and explore
We liked Arches National Park the most; I'm not sure it was more beautiful than Zion National Park, but the logistics were so much easier
Horseshoe Bend is breathtaking, and so easy to access
I'd definitely return to Zion National Park, though would want to plan it better next time, and take more than one day
Have you done a road trip in this part of the country? Any recommendations for other road trips in the US I should do?