---
My fourth transatlantic crossing of the week would be on Brussels Airlines, as I'd fly them from London to New York via Brussels. The motivation for this was to fly Brussels Airlines' new A330-300 business class, which is consistently being offered on their route to New York JFK.
Redeeming Miles For Brussels Airlines Business Class
Brussels Airlines is pretty stingy with business class awards overall, though I've found that they have fairly good award availability from Brussels to New York (it's not nearly as good in the other direction).
I managed to redeem miles for the following itinerary:
11/15 SN2104 London to Brussels departing 6:50AM arriving 8:55AM
11/15 SN501 Brussels to New York departing 10:35AM arriving 1:20PM
I booked this using Avianca LifeMiles, at the cost of 60,000 miles plus $313 in taxes and fees. There are no fuel surcharges, but the reason the taxes and fees were so high is because I was departing the UK, so had to pay the hefty UK Air Passenger Duty.
Brussels Airlines Business Class A320 Review
My boarding pass indicated that boarding would start at 6AM for my 6:50AM flight, so I headed to gate A20 a bit before then. It quickly became clear that they were nowhere close to starting boarding.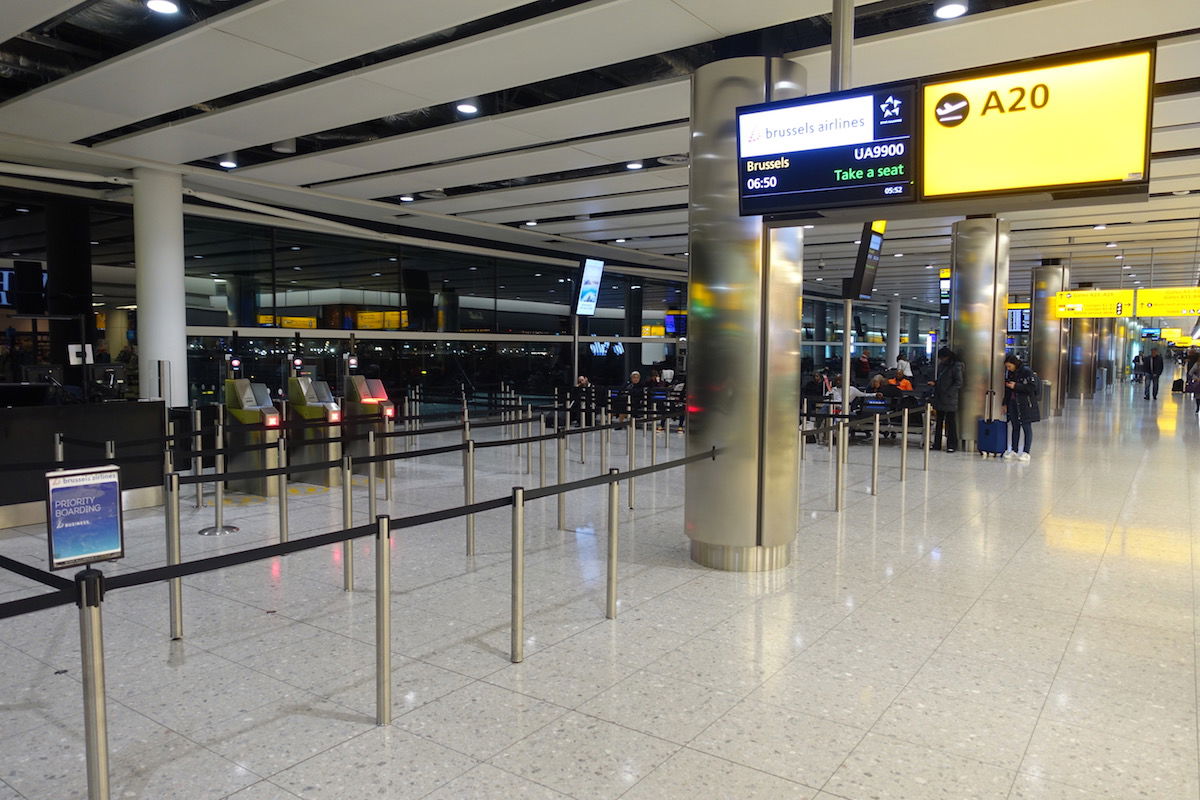 Brussels Airlines departure gate London Heathrow
Boarding ended up starting at 6:20AM, with those needing extra time being invited to board first, follows by business class passengers.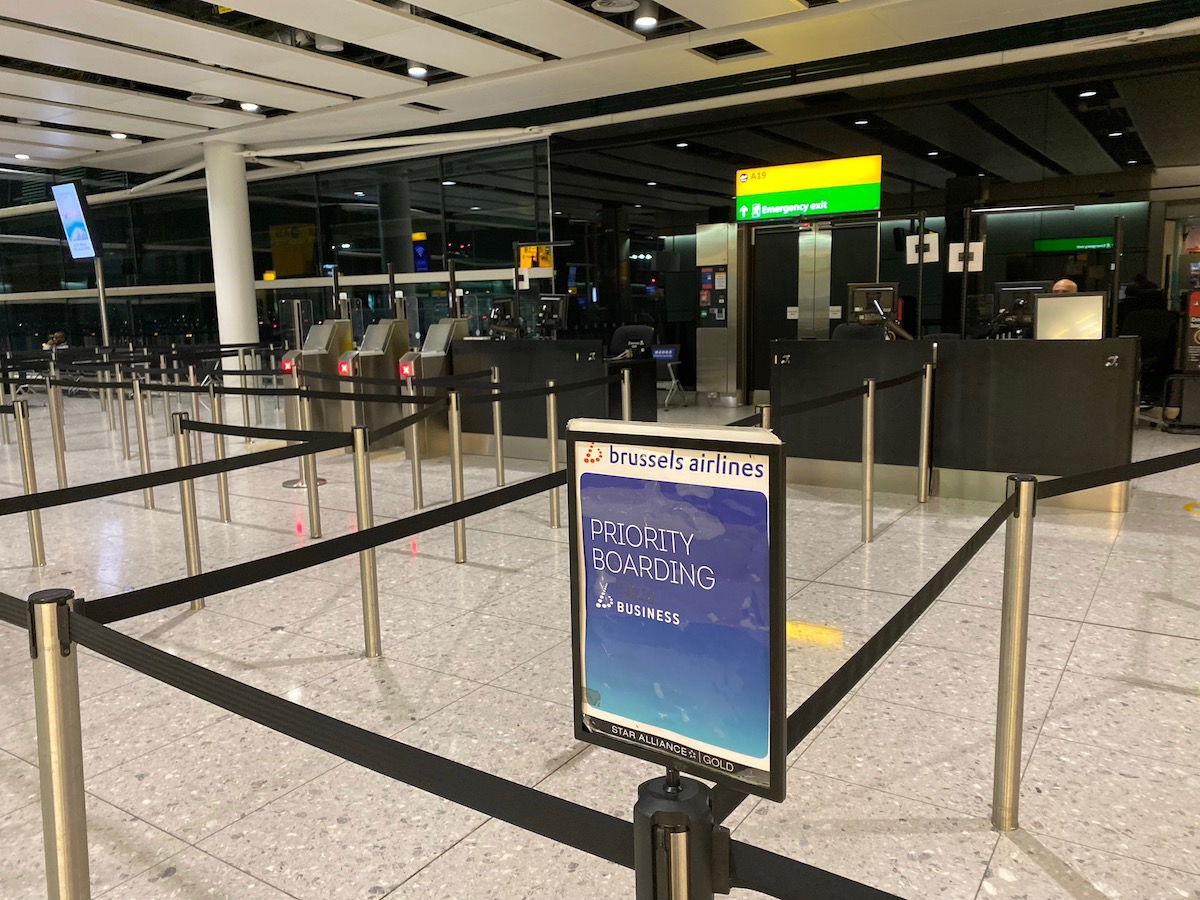 Brussels Airlines departure gate London Heathrow
Gate A20 must have the longest jet bridge in the world, though eventually I found myself at the door of the plane. I hadn't seen the plane from the outside at the gate, though based on boarding it sure looked to me like the plane was in the Eurowings livery rather than the Brussels Airlines livery, based on the purple "E" (that whole thing is a branding mess).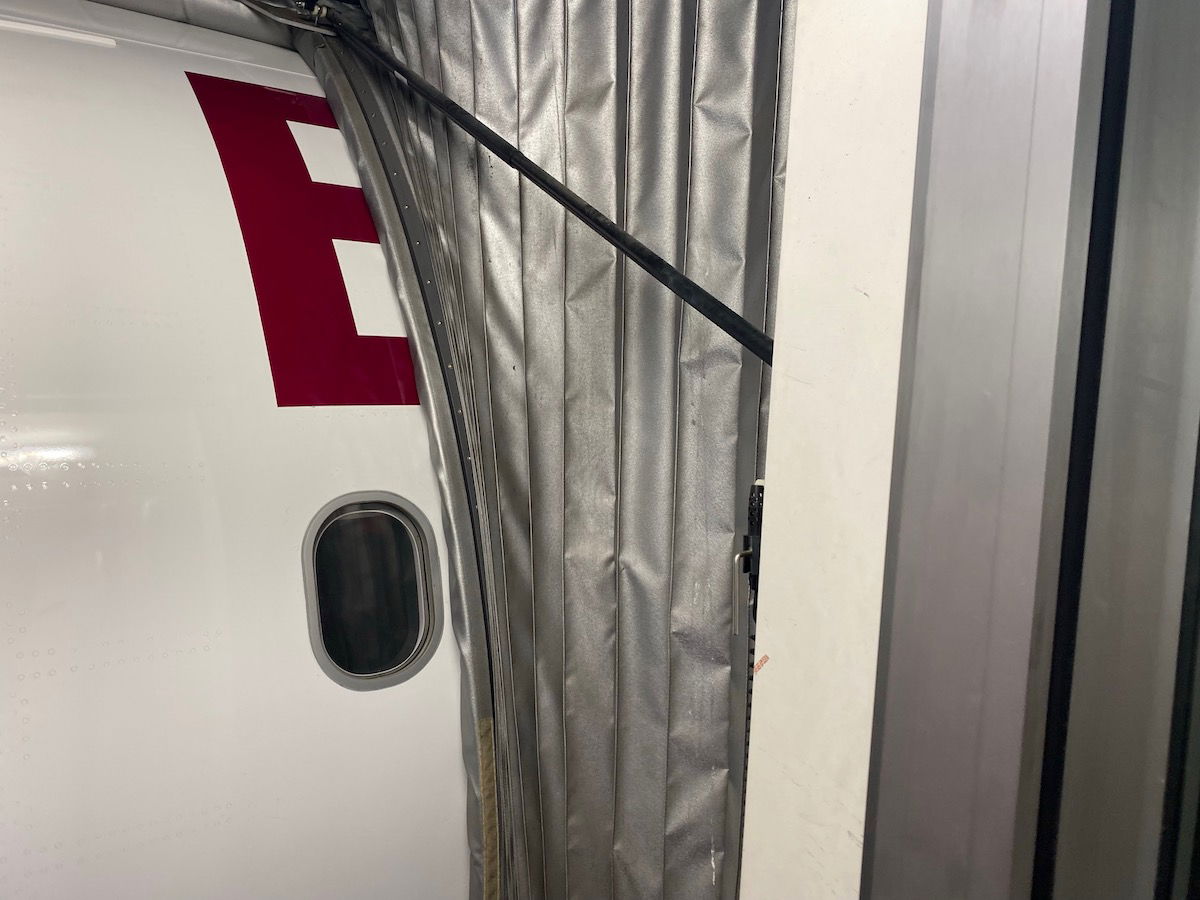 Brussels Airlines or Eurowings?
Brussels Airlines 2104
London (LHR) – Brussels (BRU)
Friday, November 15
Depart: 6:50AM
Arrive: 8:55AM
Duration: 1hr5min
Aircraft: Airbus A320
Seat: 2A (Business Class)
At the door I was greeted by the friendly purser, and quickly found my seat. As is the norm in intra-Europe business class, the cabin is nothing to get excited about. I'm still not exactly sure if this plane had the standard Brussels Airlines or Eurowings interior, based on the fact that the plane was painted in Eurowings colors.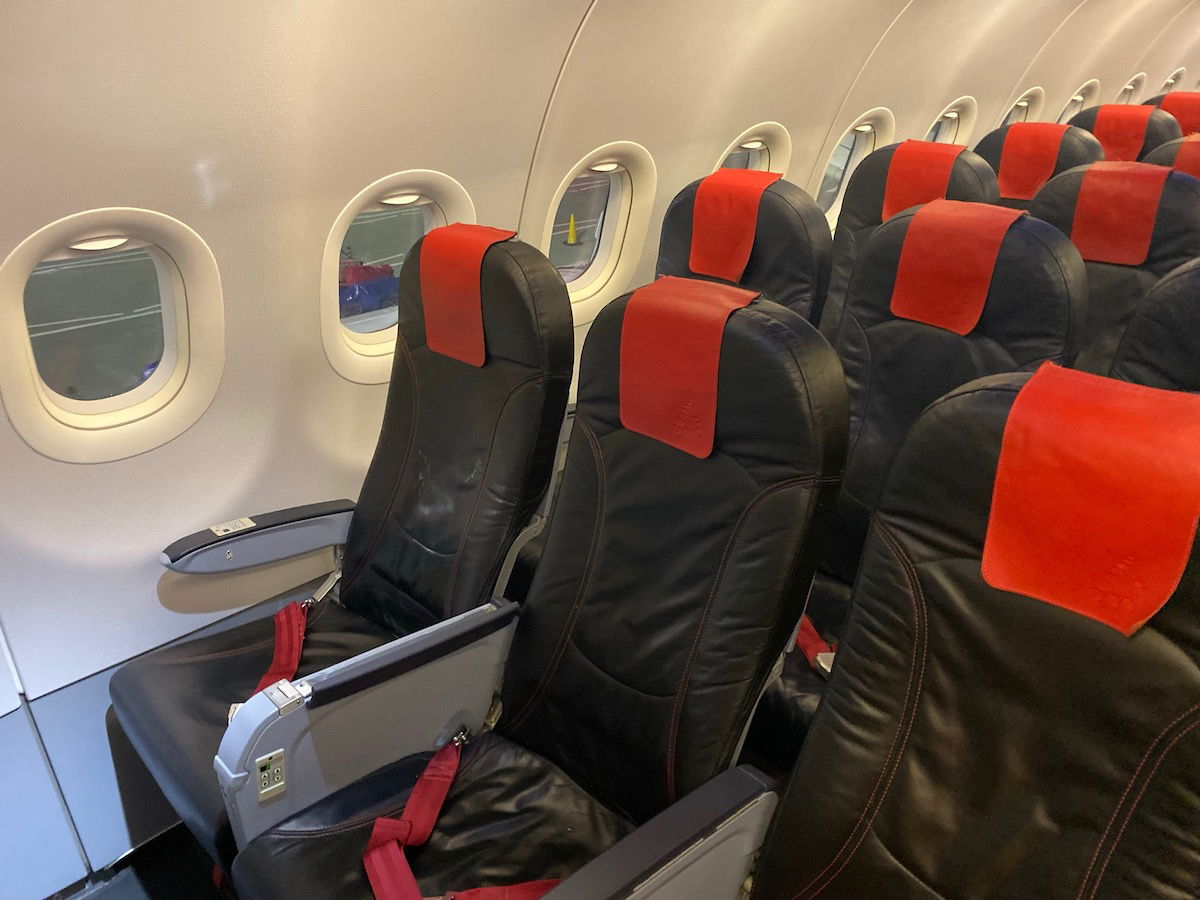 Brussels Airlines A320 business class
Business class consisted of economy seats with blocked middles. There weren't even those little tray tables on the center seats, and there was no curtain between cabins. The first three rows of the cabin were business class, so there was just a small sign after row three indicating that it was the start of the next cabin.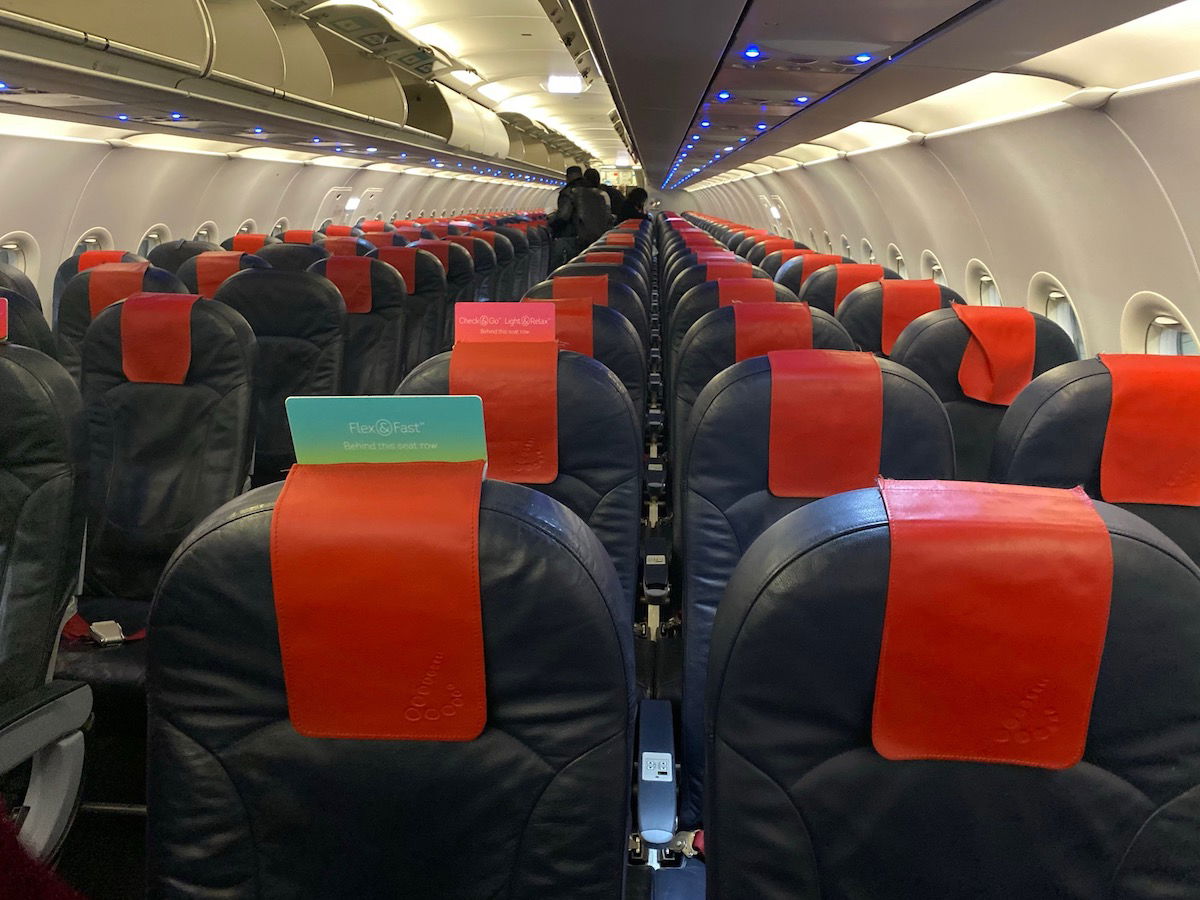 Brussels Airlines A320 cabin
I had assigned myself seat 2A, and the aisle seat stayed open.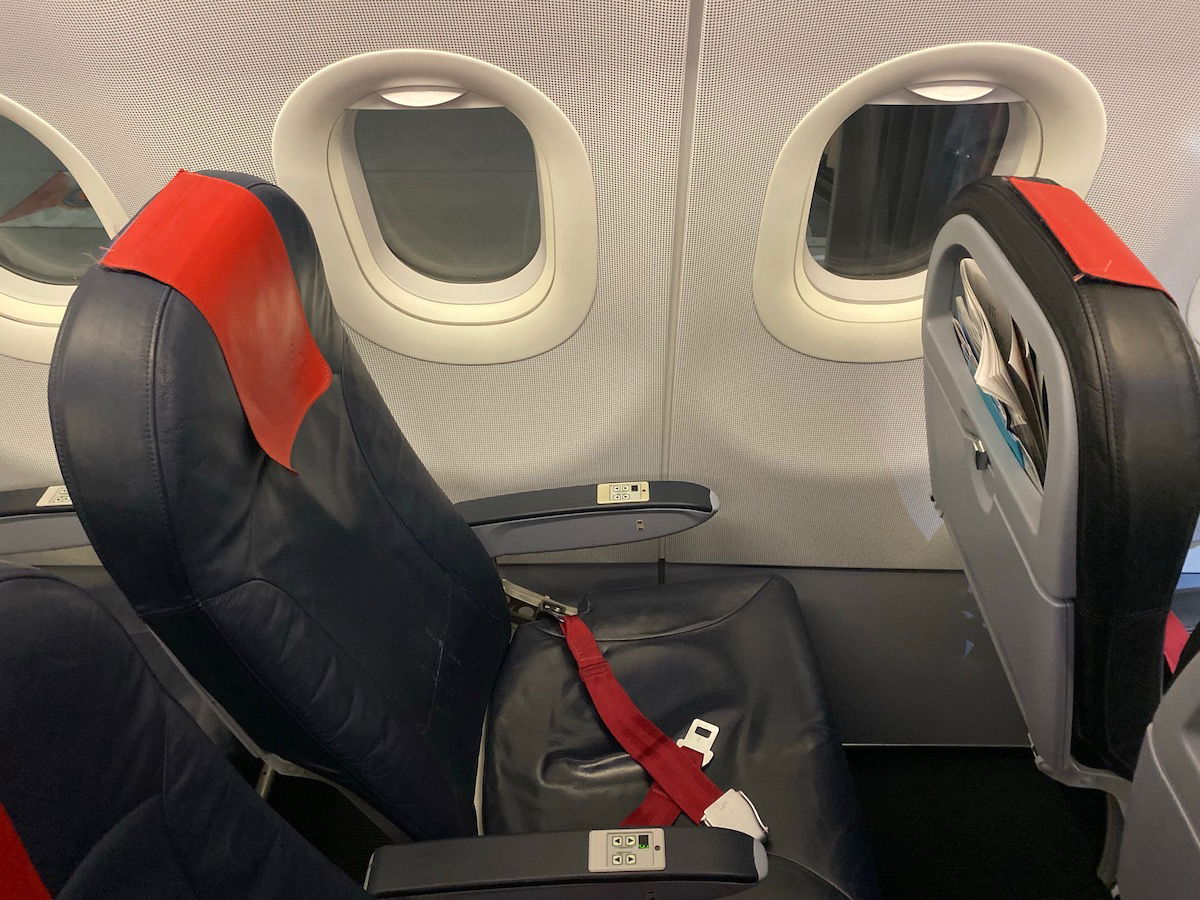 Brussels Airlines business class seat A320
The legroom in the cabin was normal for intra-Europe economy, and felt tight.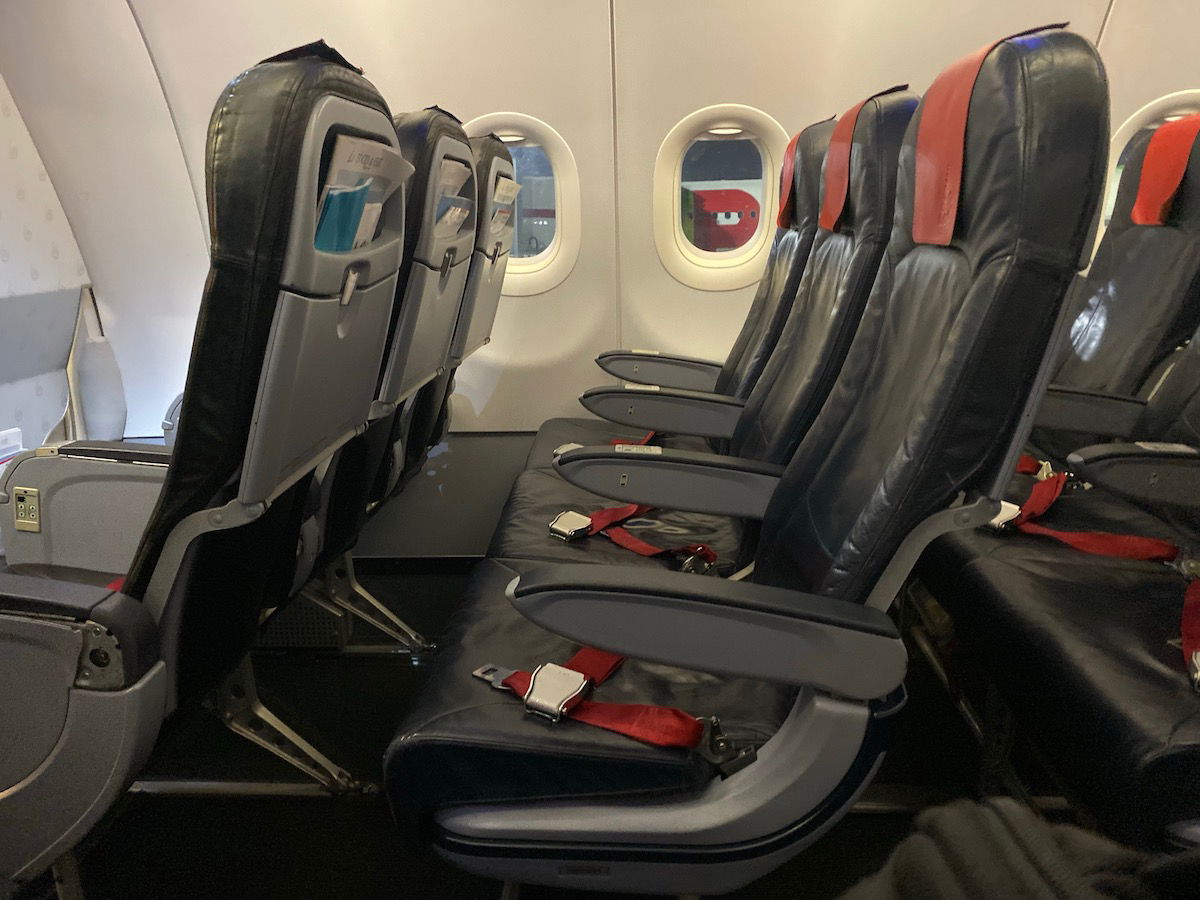 Brussels Airlines business class legroom A320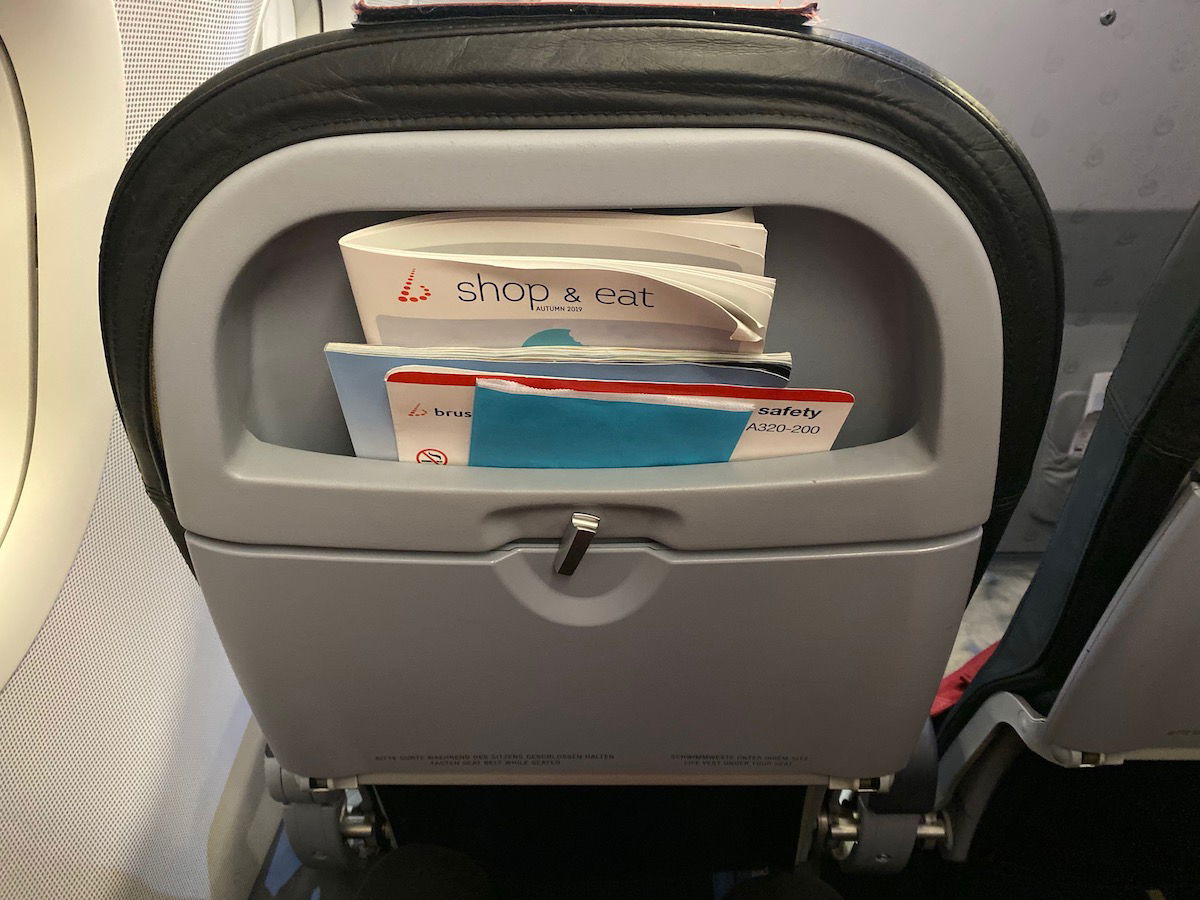 Brussels Airlines business class legroom A320
I would have selected a bulkhead seat (which is my preference intra-Europe, as it's more spacious), but the first row was already taken when I booked.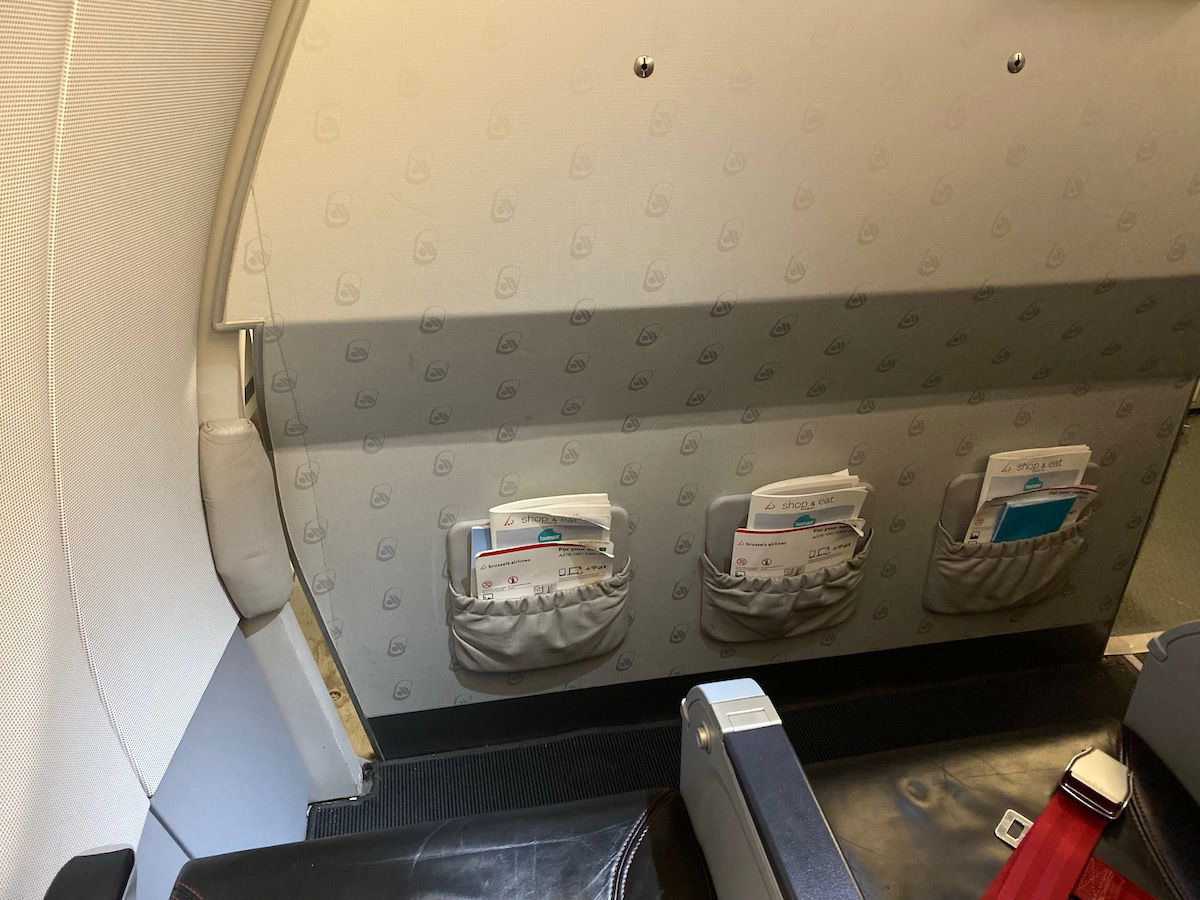 Brussels Airlines business class bulkhead legroom A320
The tray table folded out from the seat in front, and the literature pocket was behind the tray table.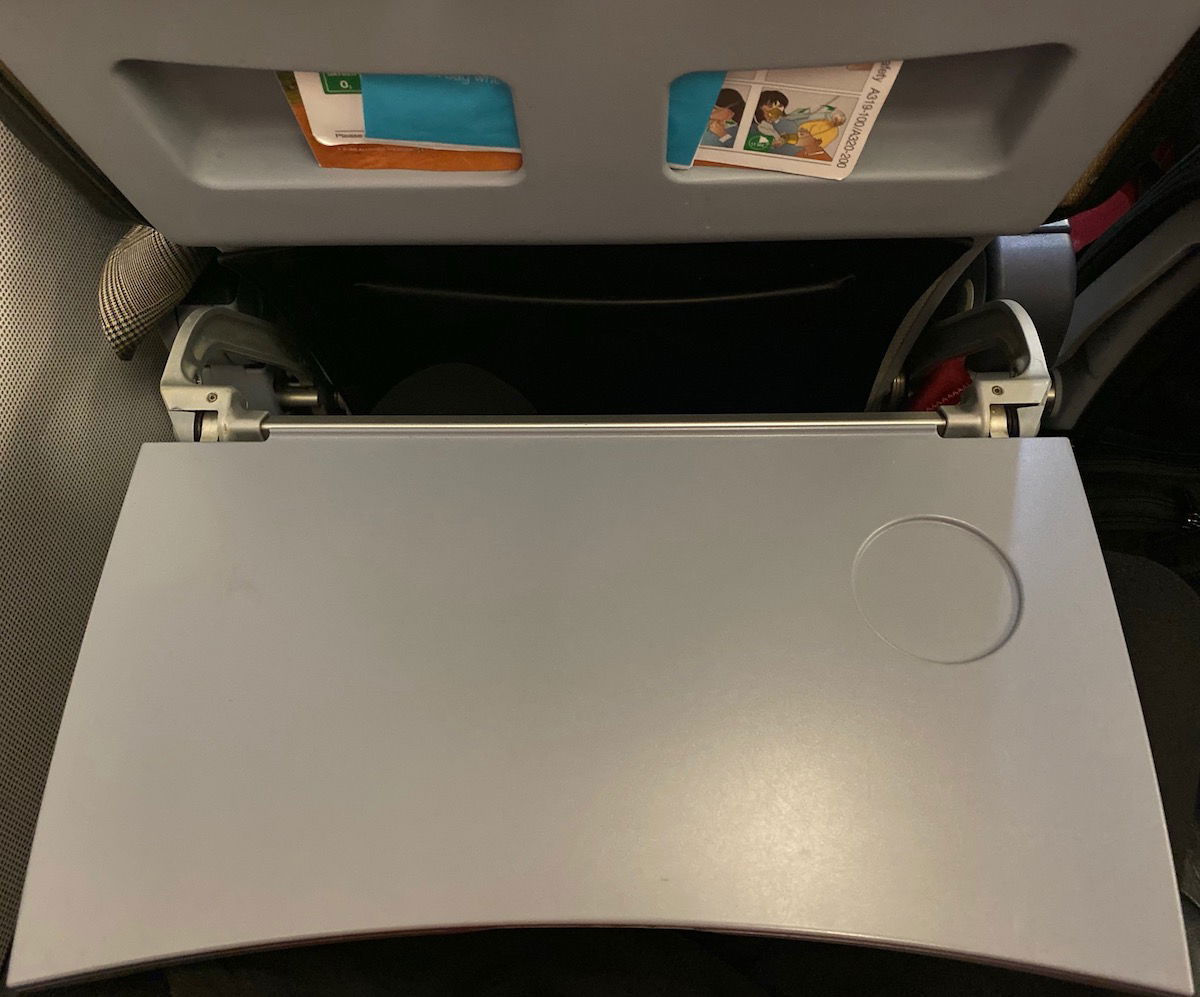 Brussels Airlines business class tray table
Each seat had a reading light and an individual air nozzle.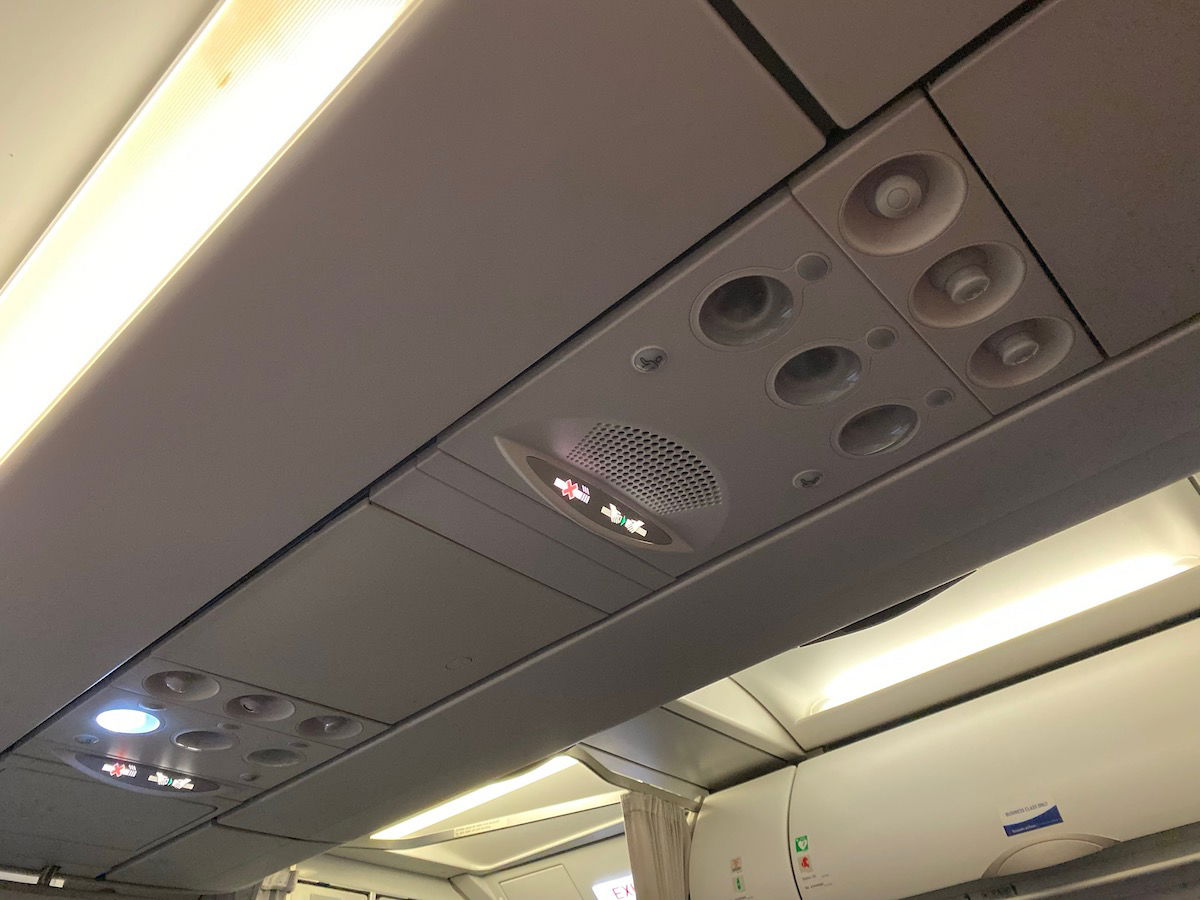 Brussels Airlines A320 over head consoles
Boarding finished right on time at 6:50AM. The main economy cabin was almost full, while in business class seven of the 12 seats were taken.
The moment the door closed, a couple of people tried to change seats to row three, not realizing this was business class. The purser saw this, and approached them:
"You need to return to your assigned seats please."
"Why? These seats are empty."
"This is business class, you can't just upgrade."
"Are you serious? The seats look the same."
"This is business class and you need to go back to your seat."
"How can you tell me that is business class when the seats are the same? Those people are getting screwed."
"Sir, I'm not going to have this discussion with you. Return at once to your seat."
I thought she handled the situation professionally, because the people upgrading were rude in their tone.
Just two minutes later the same people then tried to move to row four. As it turns out, row four is the "Flex & Fast" section, which also comes at a premium.
So they had the same chat with her again, and this time they became increasingly angry. Fortunately she was stern (without being threatening), and they returned to their seats.
Once that argument was complete, the purser announced our flight time of 40 minutes. As she made the announcement she stood in front of the cabin facing everyone, which I think is always a nice touch.
At 6:55AM the captain announced that we had to wait a couple of minutes for ATC clearance due to congestion. I feel like this happens just about every time I take a short haul flight to & from Heathrow. Fortunately the wait wasn't long, and by 7AM we pushed back, at which point the safety video was screened.
We had a reasonably quick taxi, and by 7:15AM we were cleared for takeoff on runway 9R.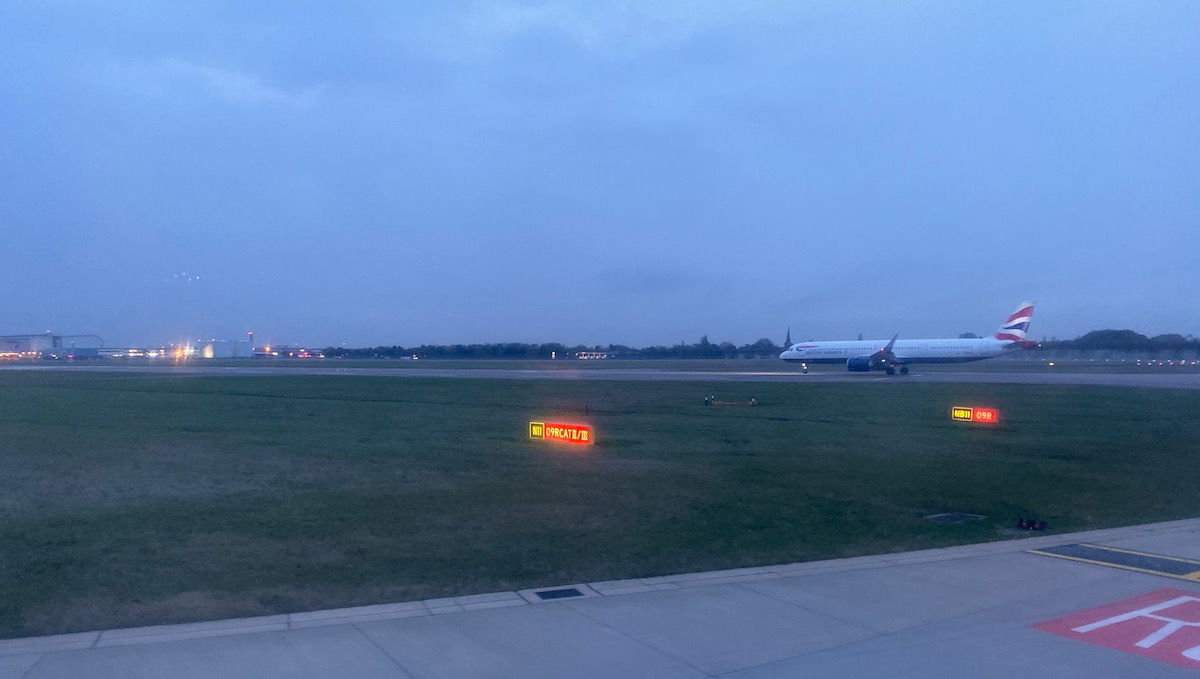 Getting ready for takeoff at Heathrow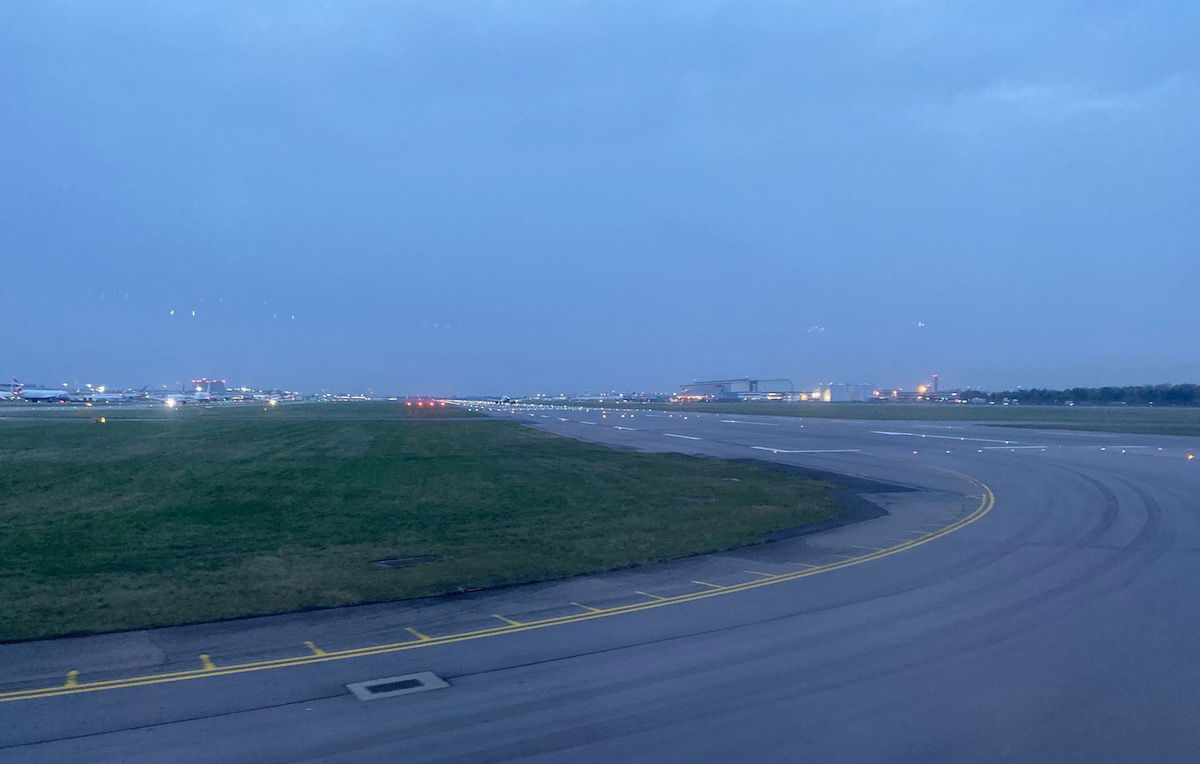 Taking off from Heathrow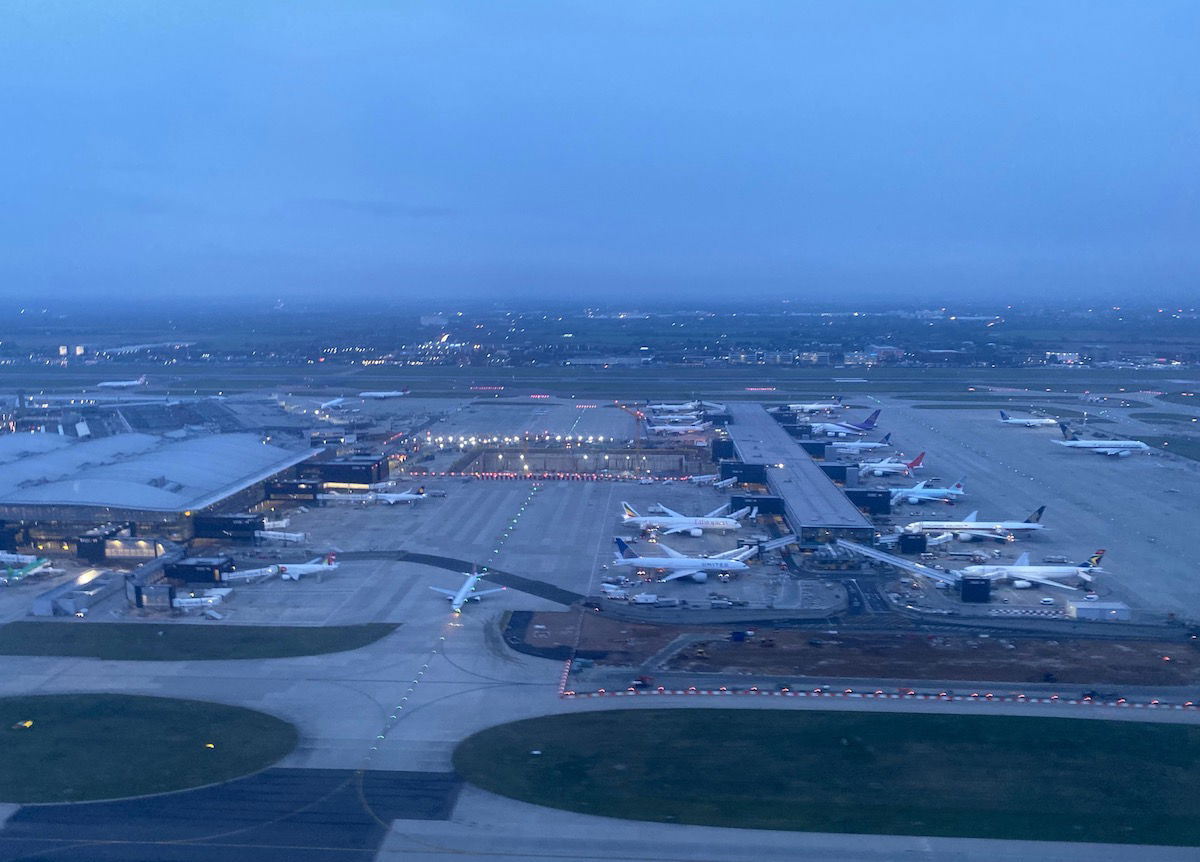 View after takeoff from Heathrow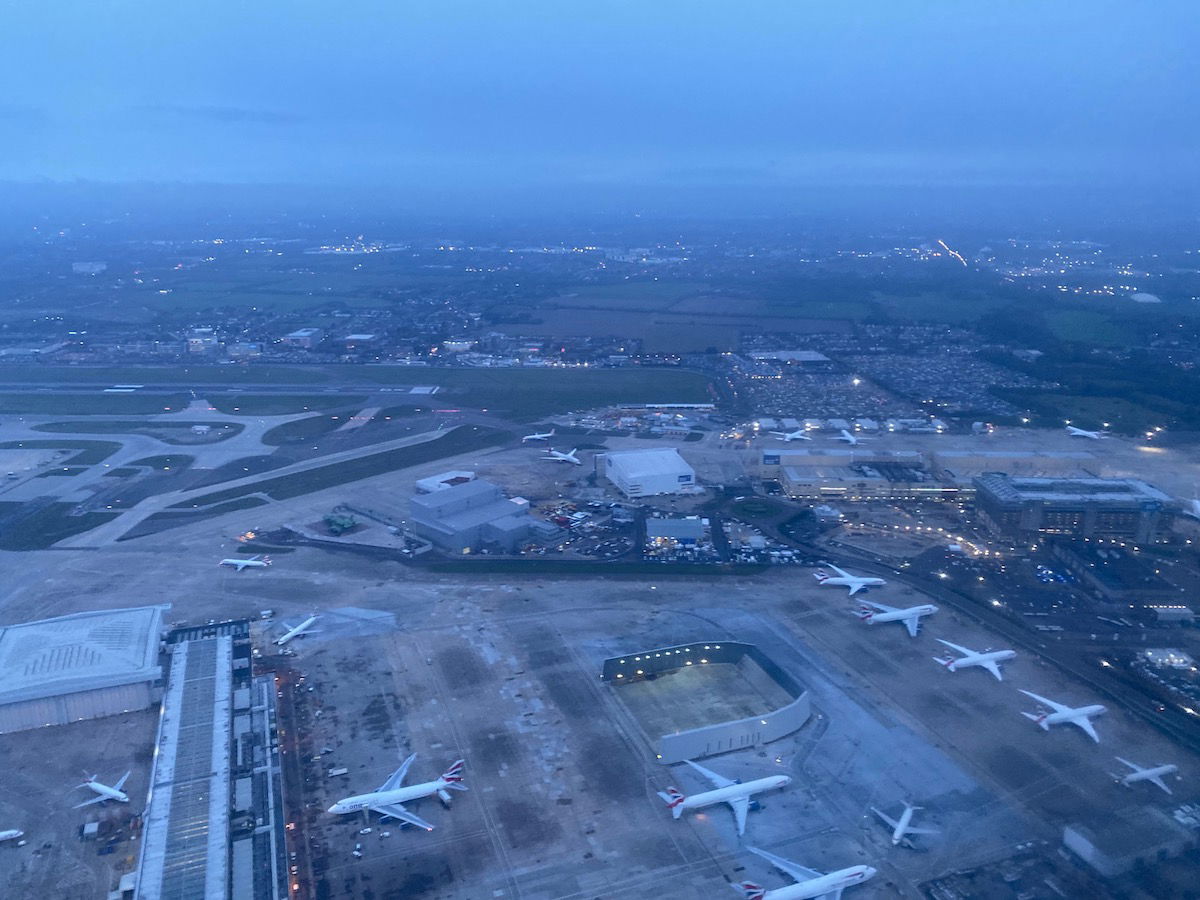 View after takeoff from Heathrow
The seatbelt sign was turned off five minutes after takeoff, and moments later the service began. First everyone in business class was given a tray with breakfast. This included a selection of bread from the breadbasket, some fruit, a yogurt, and some almond thins.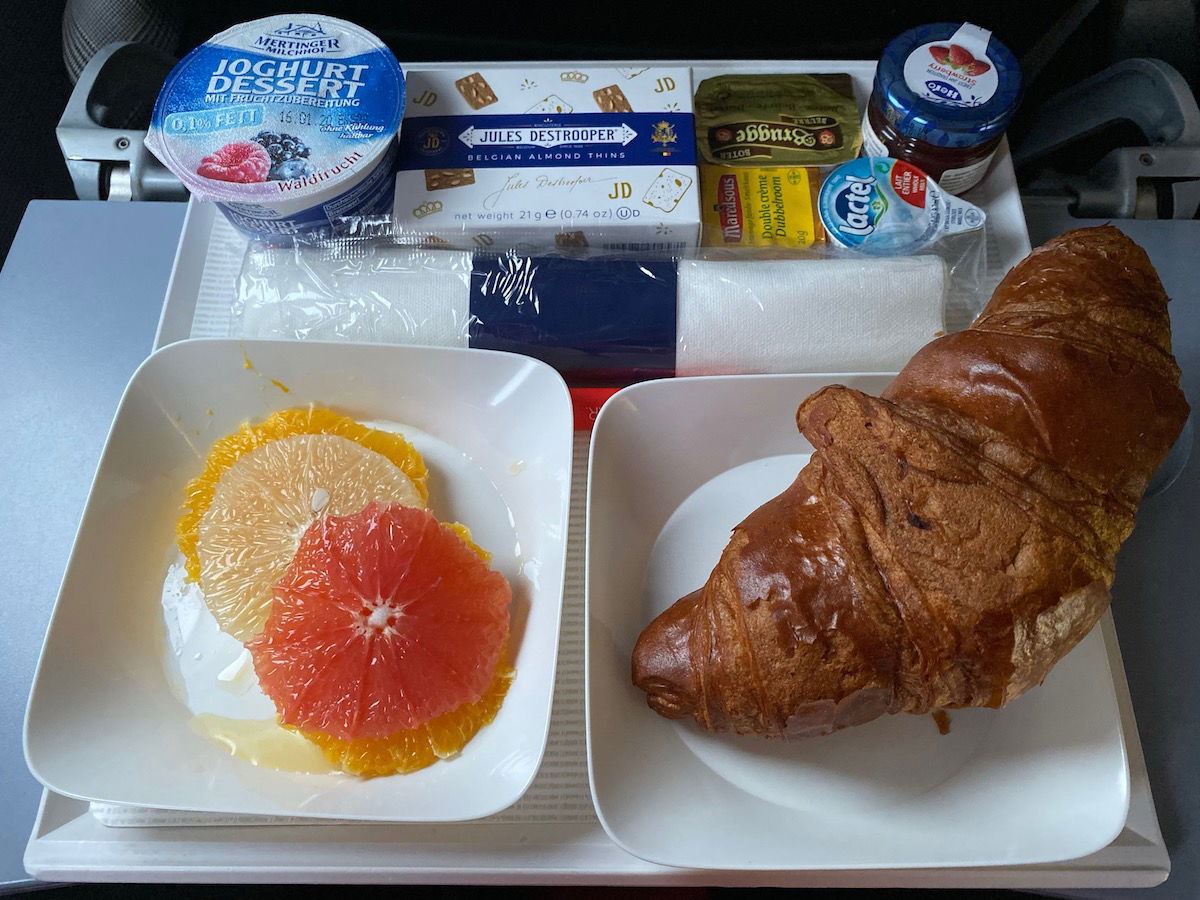 Brussels Airlines business class breakfast
Then separately a cart was rolled down the aisle with drinks. I ordered a cup of coffee.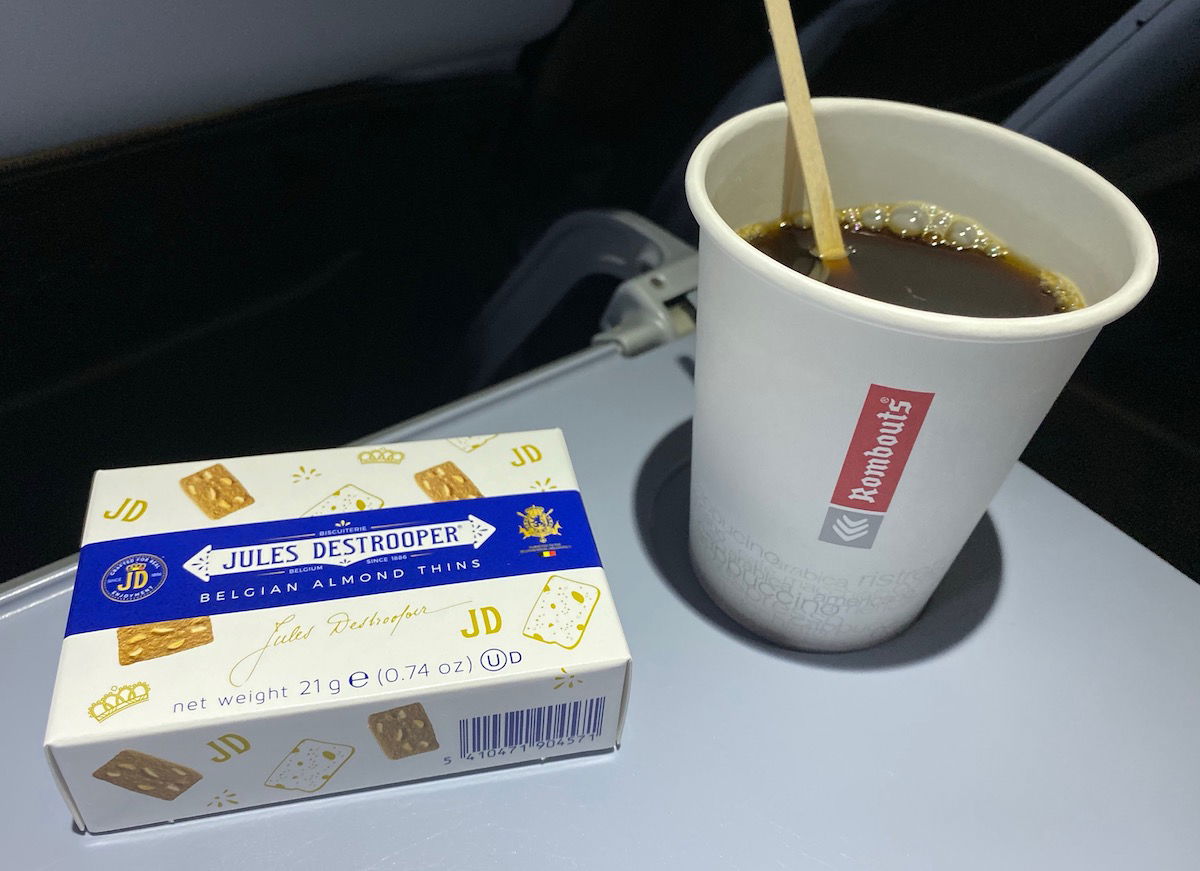 Brussels Airlines business class coffee
The breakfast was alright — certainly nothing special. I'd note that the utensils were all plastic. Also, the croissant was the flakiest croissant I've ever had in my life, which doesn't seem ideal if being served on a plane. I tried to eat it as carefully as I could, and it still went everywhere. I'm pretty sure there will still be croissant flakes around the seat when this plane eventually gets scrapped.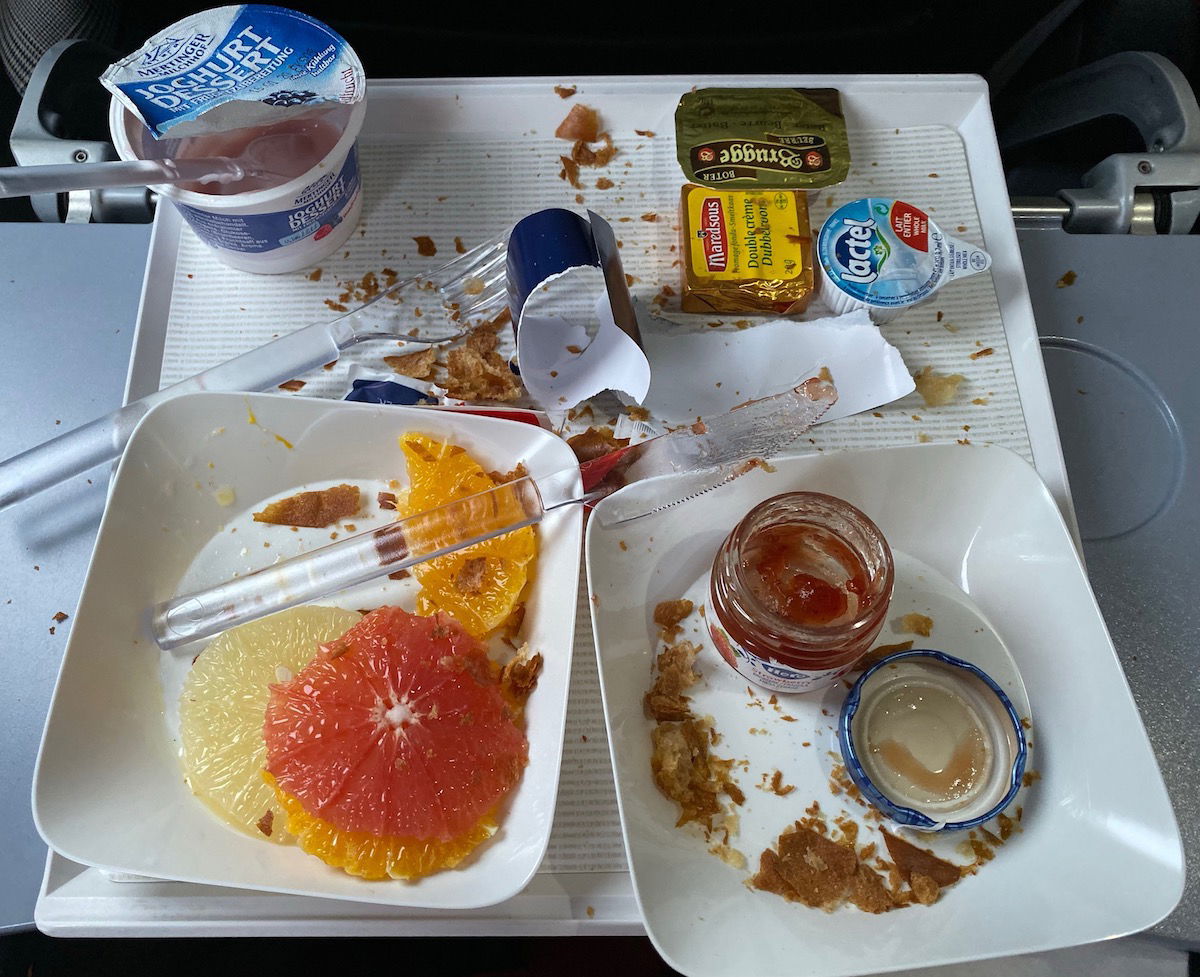 Brussels Airlines croissant flakes for days
The crew continued into the rest of the cabin to provide service, but given that food & drinks are only available for purchase in the main cabin, they were back in no time. I also quickly checked out the lavatory at the front of the cabin, which was pretty basic.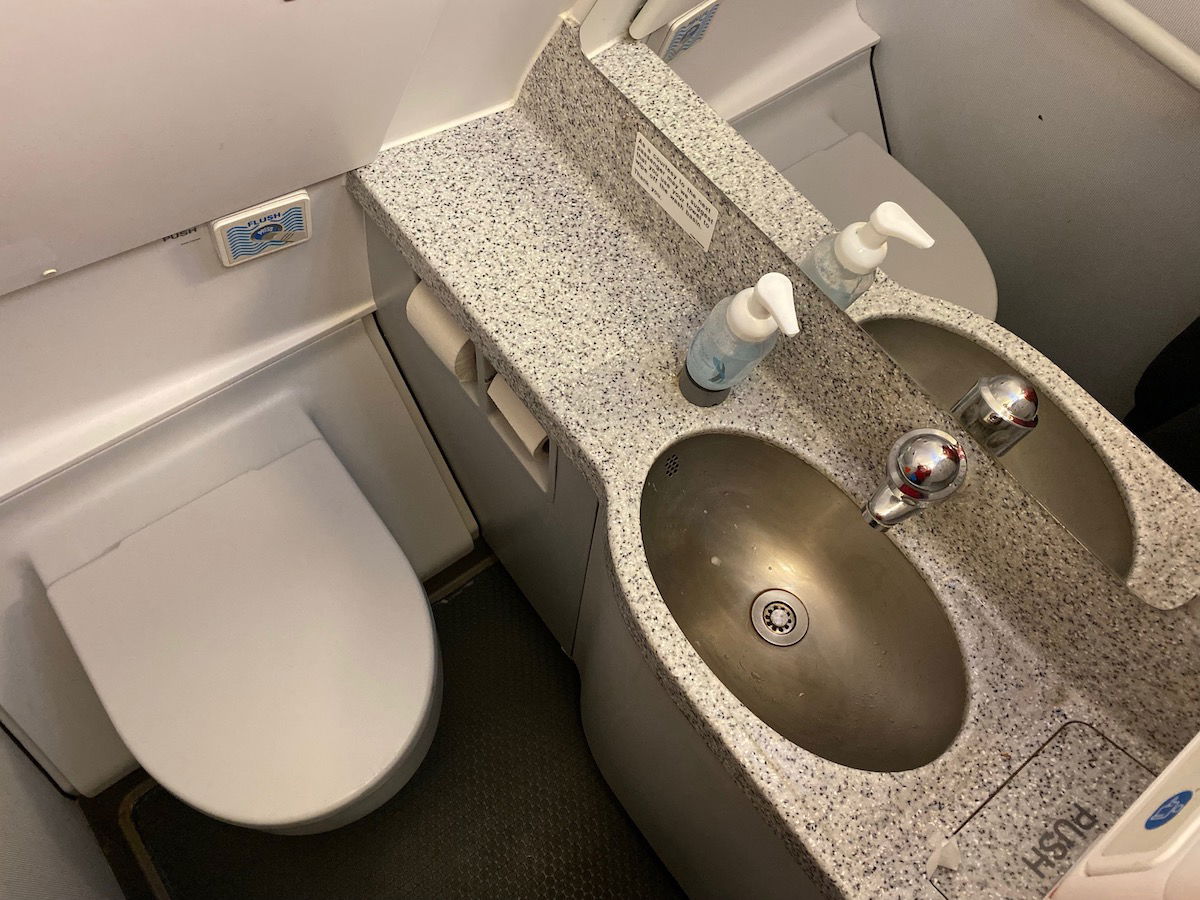 Brussels Airlines A320 lavatory
At around 7:45AM London time the captain made his pre-landing announcement and turned on the seatbelt sign, informing us that we'd be landing in about 10 minutes. As it turned out, we circled for a while above the clouds.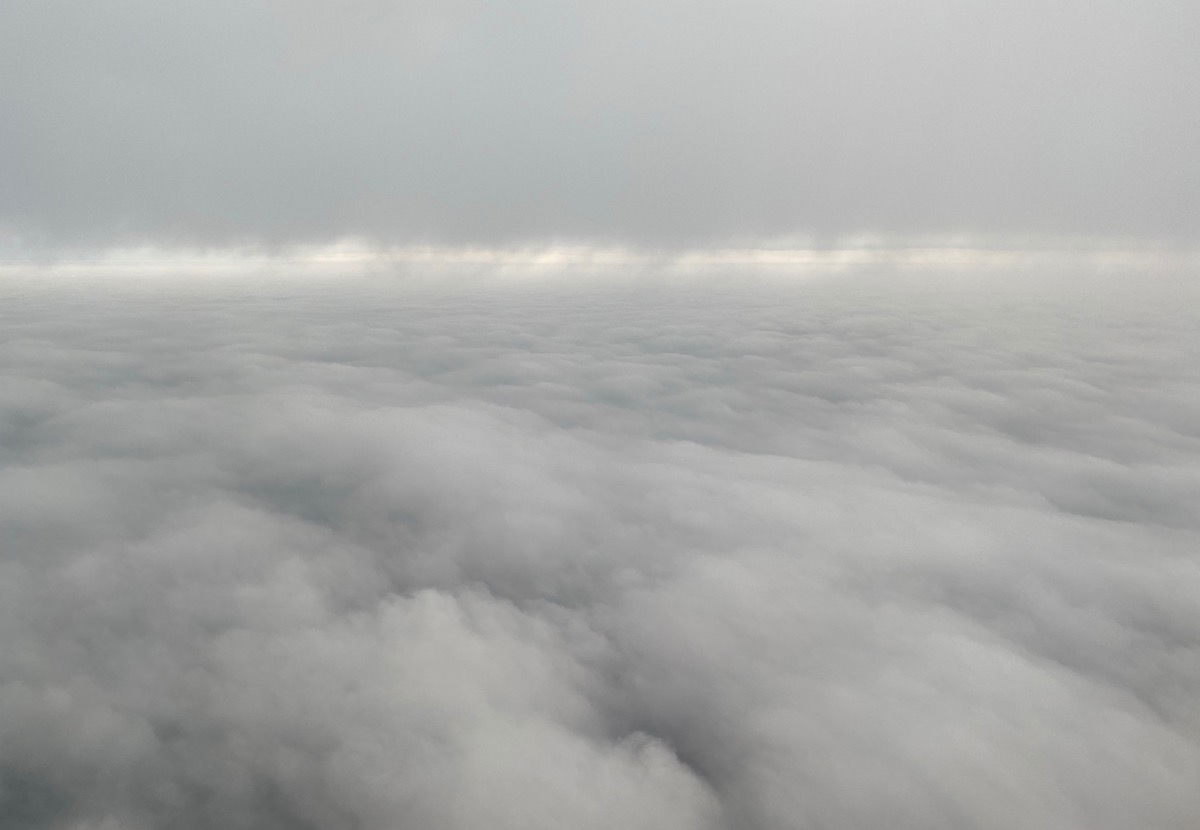 Descending into Brussels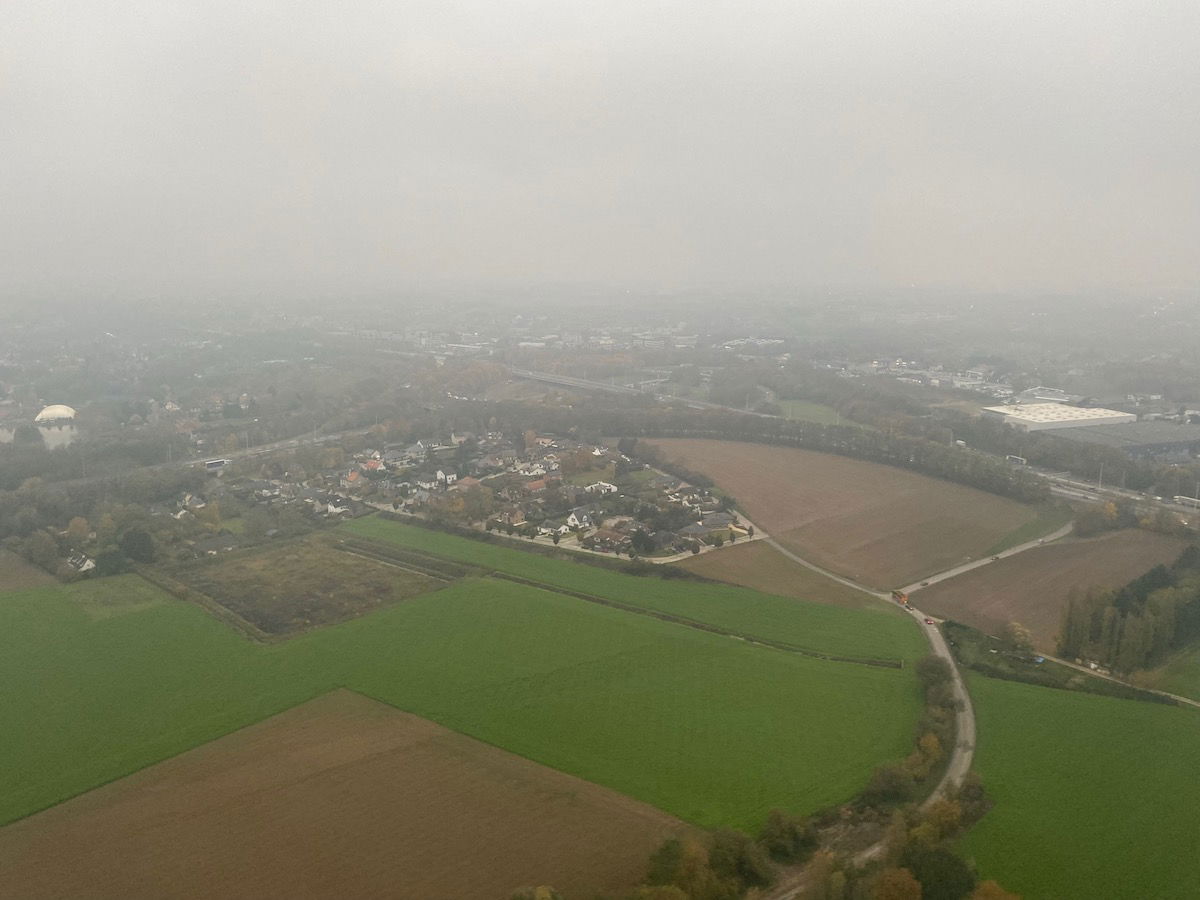 Descending into Brussels
Final approach to Brussels
We ended up touching down in Brussels at 9:05AM local time (there was a one hour time change).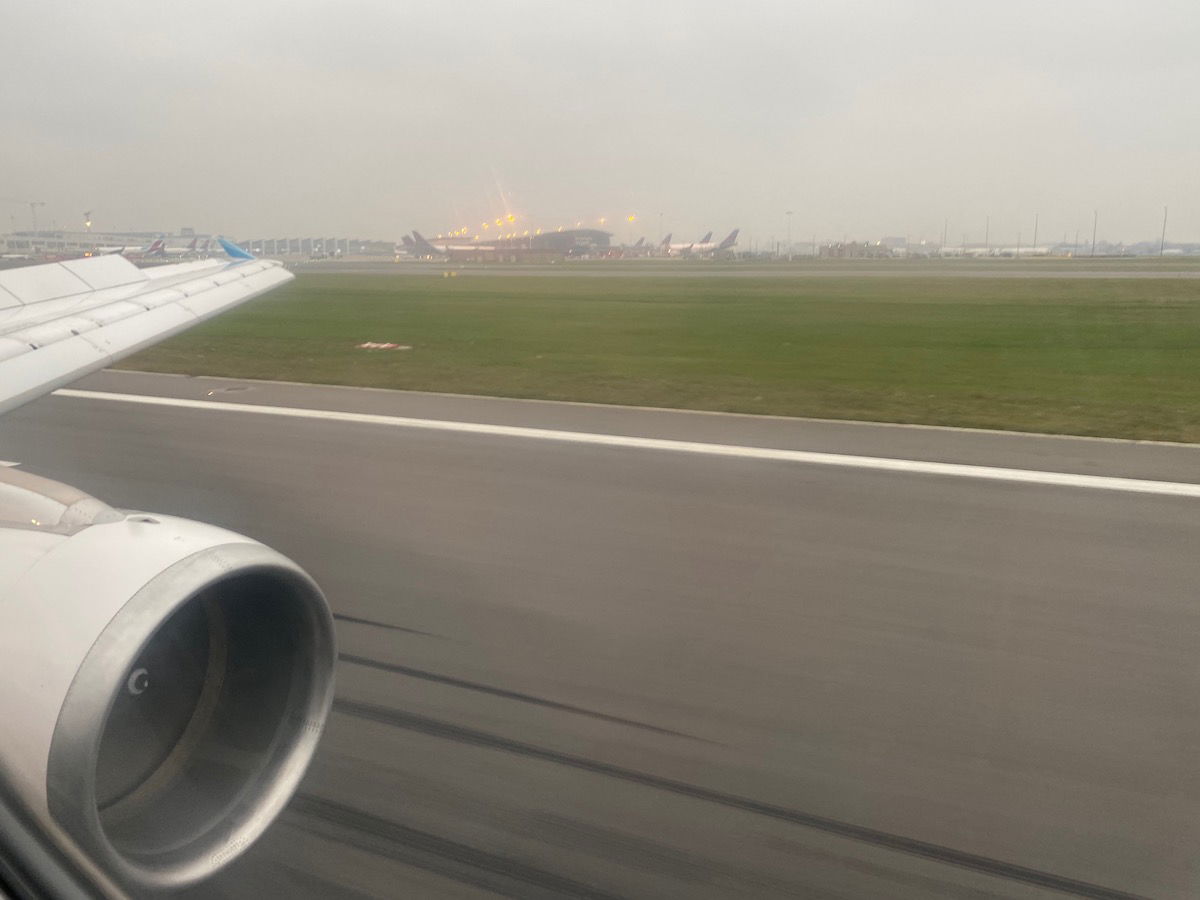 Touchdown Brussels
From there we had a five minute taxi to our arrival stand, which was remote. We parked next to a "real" Brussels Airlines A319.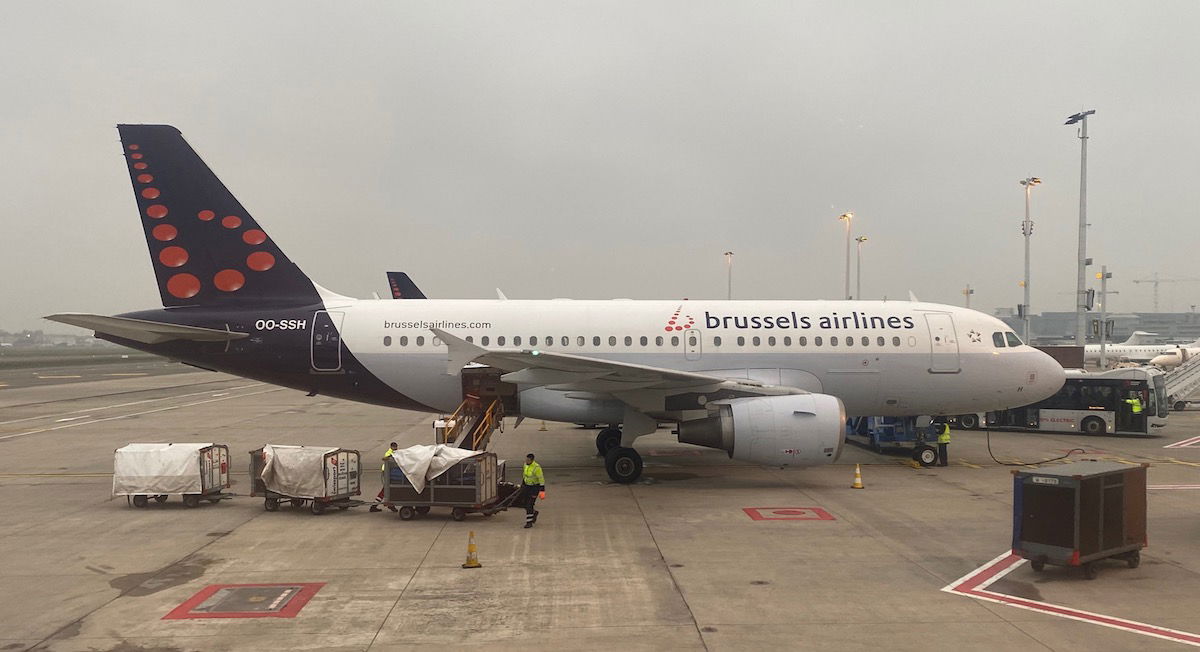 Brussels Airlines plane
I was happy to get an exterior picture of the plane, at least…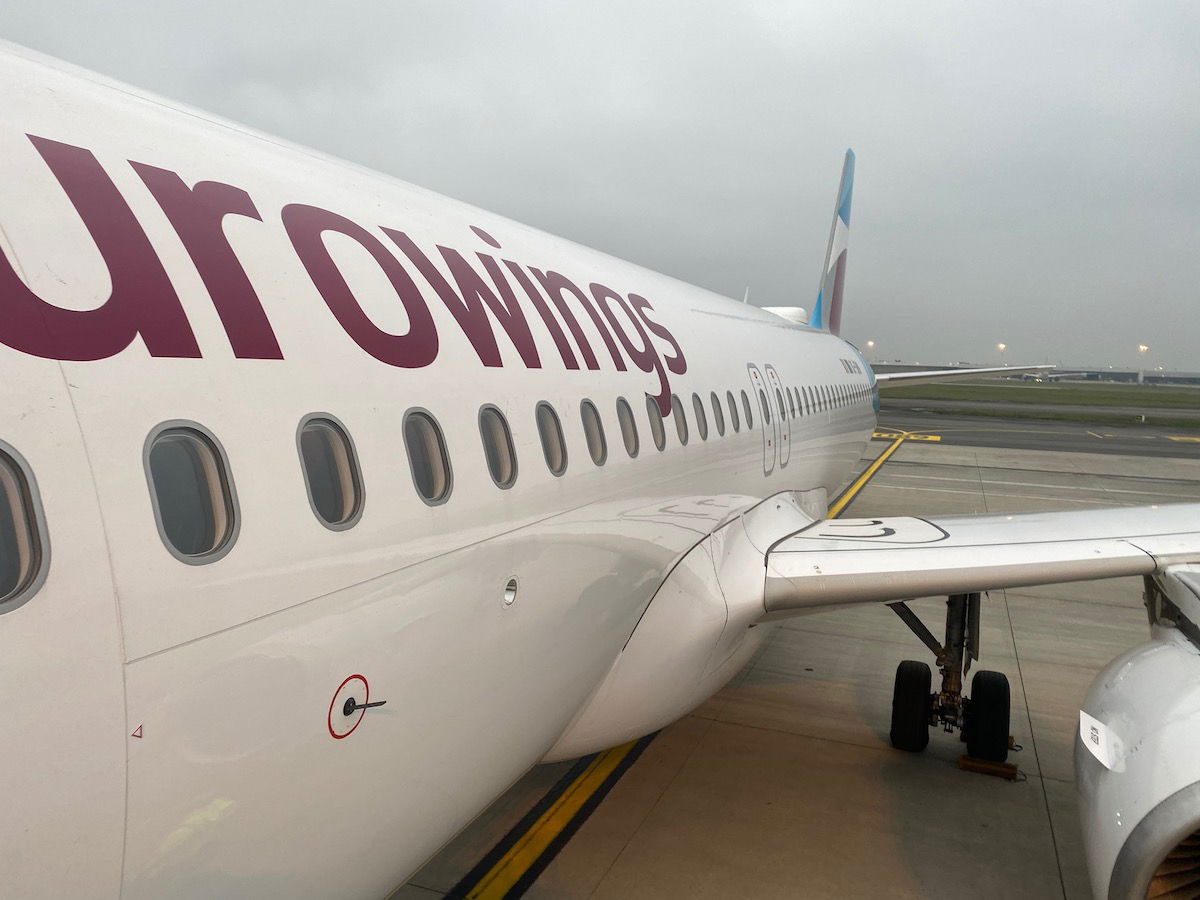 Eurowings A320 Brussels Airport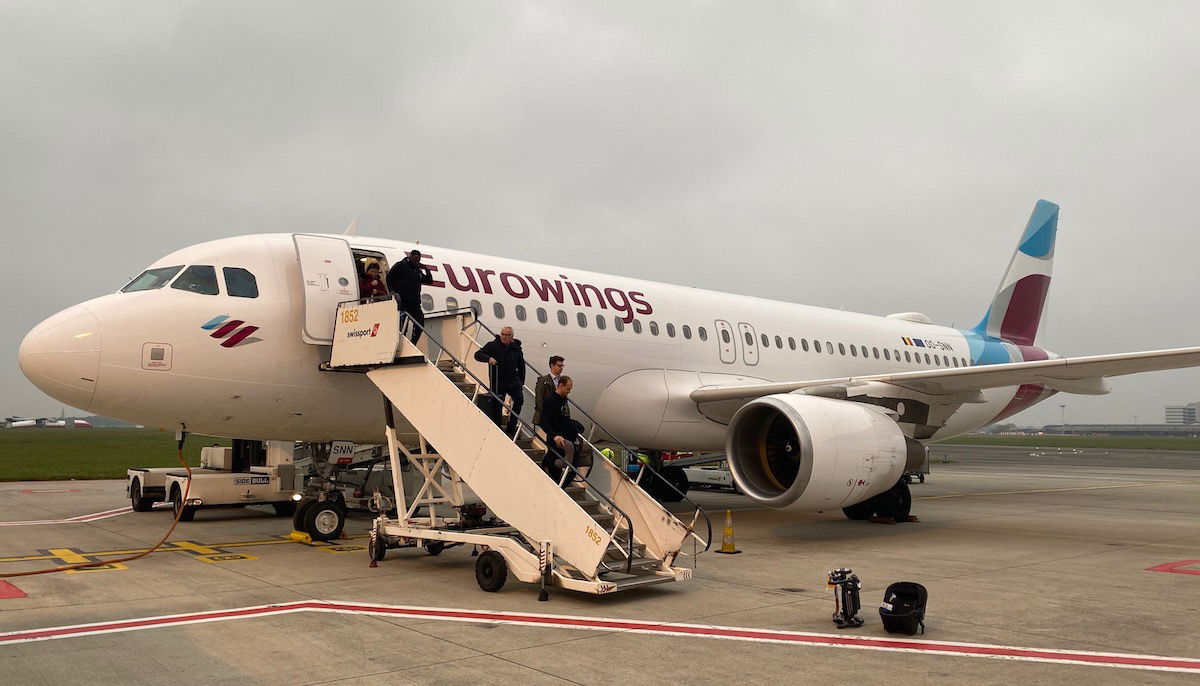 Eurowings A320 Brussels Airport
They waited for the bus to fill all the way up, and in the end I was in the terminal at around 9:25AM.
Brussels Airlines Business Class Bottom Line
Brussels Airlines' short haul business class was very bare bones. The meal was on the simple side (with plastic utensils), there weren't even tray tables on center seats, and there weren't curtains between cabins.
On the plus side, the crew was friendly, and handled a disagreement pretty well.
For a 40 minute flight this was totally alright, but I wouldn't want to fly with Brussels Airlines on a narrow body on a much longer flight.
If you've flown Brussels Airlines' short haul business class, what was your experience like?