---
As Ben has mentioned a few times now, picking flights for this trip escalated out of control. Like, ridiculously out of control.
The other flights we needed to book (the outbound flights for my husband and niece, and the return flights), had zero flexibility. It was very obvious what the best options were, and those took maybe seven minutes combined to decide on and ticket. But we agonized and deliberated over our outbound flights for days.
It's certainly not an actual problem, but sometimes when you have all the miles and all the flexibility, the pressure to find something "perfect" gets pretty intense.
I'm guessing some of you can relate.
What do you book when you can book anything?
While I am firmly on the record as stating Ben overhypes Lufthansa First, it is honestly the best transatlantic product you can redeem miles for. Particularly if there is space from the West Coast, which basically never happens.
So you can imagine my surprise when award space opened up to Munich, and Ben didn't want to jump on it: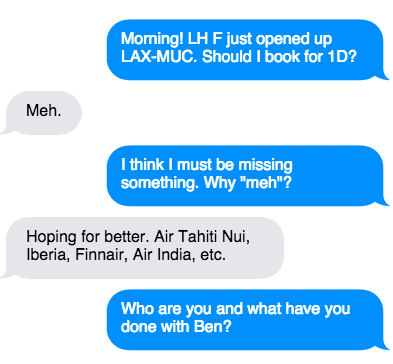 Which, of course makes sense. He is pretty passionate about this blog, and wants to review new stuff for y'all, and I can't really argue with that.
Of course, the problem is that once you've rejected Lufthansa first class, it's not like any other option is ever going to sound compelling. But gosh we tried!
In addition to all the great reader suggestions, we pitched each other on just about every carrier you can imagine, and routings ranging from the sorta convenient to the downright insane: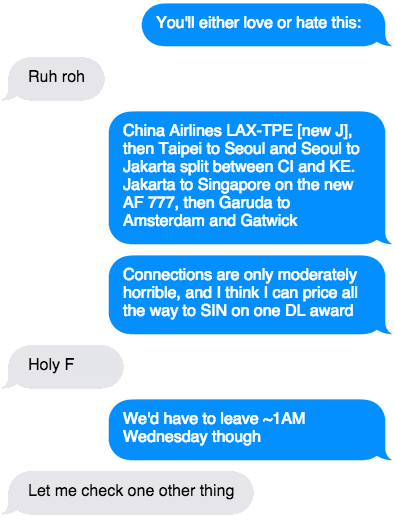 And eventually, it got to the point where just nothing sounded appealing, and we were getting pretty cranky: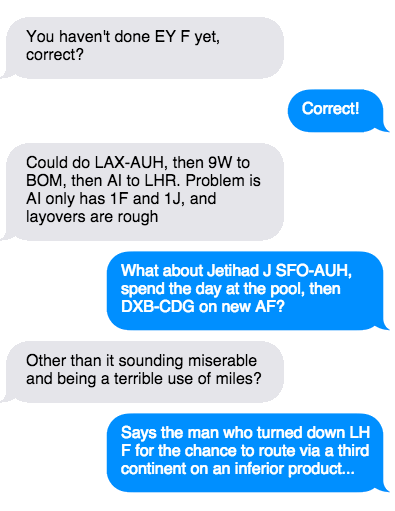 Finally, at about 10AM on Thursday morning, Delta released two seats from Los Angeles to London at the lowest level for Friday evening, which became the obvious (though unfortunate) choice.

Booking awards on Delta flights from multiple programs
So this is not something I recommend, not even a little bit, nope nope nope, but I figure it might be helpful to walk through this, just so you know why I suggest not doing this. 😉
If you've been following along, you'll remember that we'd gotten ourselves into a bit of a situation at this point:
We (really Ben) had transferred 125k Citi Thank You points to FlyingBlue in anticipation of booking flights on Aeromexico, but space disappeared before we could book
Ben's return flight had been booked using SkyMiles, so he'd paid ~$400 in the stupid "European origination" fees that Delta charges
Given that, we had two options for booking the flights:
Book both tickets through FlyingBlue like any sane person would
Try to modify Ben's Delta ticket to save the $400 in fees, and book my ticket through FlyingBlue
While the first option was relatively straightforward, it was more expensive. The second, however, would require some serious juggling of award space, a complicated conversation with at least one Delta agent, and a risk that FlyingBlue would cancel Ben's account if we used it to book a ticket for just me.
I'm sure it's obvious which option we went with. 😉
And even though we're pretty good at booking awards, it took a bit of trial and error. The plan was for me to call Delta (it was my account, and I love talking to phone agents), while Ben dealt with the FlyingBlue ticket.
Once I'd convinced an agent to modify the existing award and add an outbound segment (not a minor feat), she pulled one of the two seats for Ben, and set it up for re-ticketing.
And the inventory management system removed both seats from the system. So we wouldn't have been able to book the second seat through FlyingBlue.
So I made an excuse, had her release the seats, and we waited.
And waited.
And waited.
And looked at some other options for award space while swearing at each other for being idiots.
And waited.
About twenty minutes later, both award seats returned to inventory. This time Ben navigated all the way to the final confirmation screen on the FlyingBlue site, and the Delta system kept one seat for SkyMiles customers. A second agent understood what I was trying to do, and was able to pull that seat for Ben. He finalized the online FlyingBlue reservation right as I confirmed everything for the phone agent, and after a few tense moments of praying that FlyingBlue wouldn't decide to be ridiculous, we both had eTicket numbers.
The takeaway here is again, please don't do this, but if you ever find yourself in a similar situation, and need to book one seat with SkyMiles, and one with FlyingBlue, and there are only two seats, pull the seat from FlyingBlue first.
For the record, I don't hate Delta
I actually love Delta as an airline — their phone agents are my second favorite to Aeroplan, and their crews are almost always fun and happy.
SkyMiles sucks, which is why I throw my loyalty elsewhere, but the airline itself is lovely.
And my flight to Los Angeles was lovely as well. It was significantly delayed to the point where I ended up changing to a later flight (that arrived before my originally scheduled flight), but the San Diego SkyClub was a fine place to work for a few hours.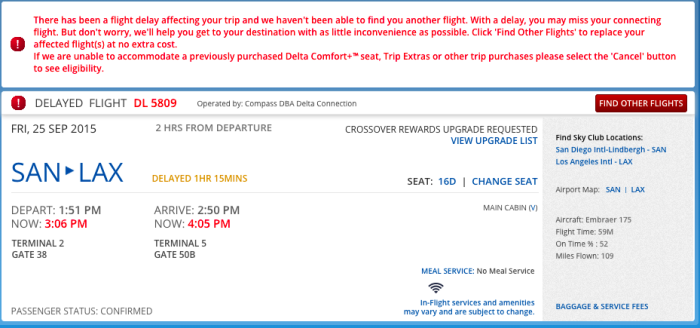 Beyond that, the flight change resulted in my being possibly the first person ever to actually clear a Crossover Rewards upgrade, so I'm definitely not complaining!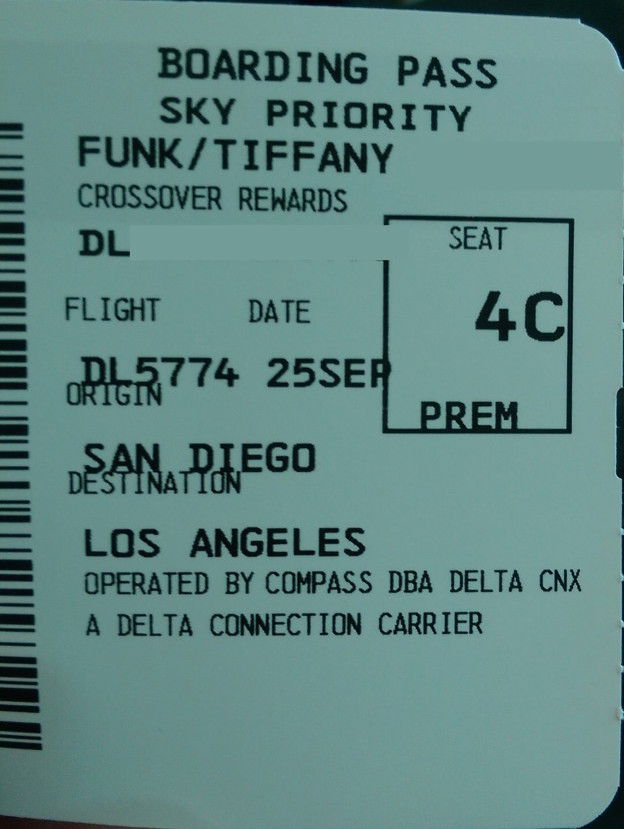 I might hate the Delta 767-300
Let's be honest — it's a pretty horrible airplane.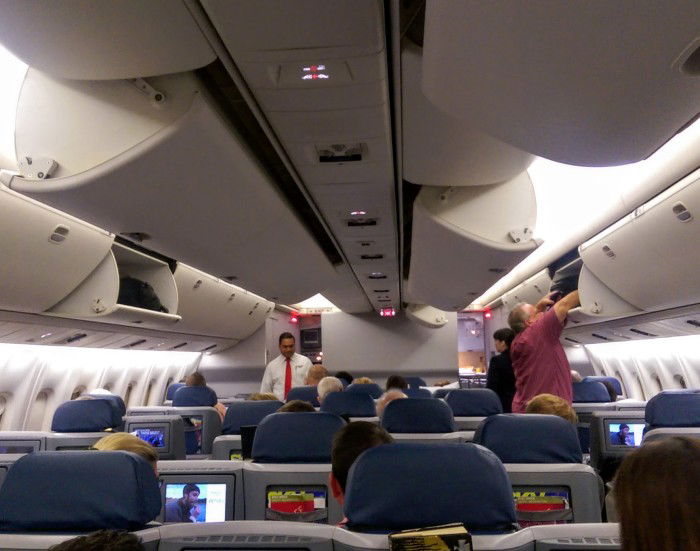 Ben will have his full trip report shortly, but I had a few main takeaways to share:
The seats are not comfortable. The cushions are thin, the configuration is weird, and the legroom situation is impossible for side sleepers
A little bit of mood lighting would go a long way
Two lavatories are not sufficient for a huge business class cabin and the crew
I've flown other Delta configurations, and feel like they generally have a really solid business class product. I love the blankets and pillows (especially the pillows!), and the catering and crews have always been great. The latter two were not so good on this flight, but the bigger problem for me was the seat.
I think I would probably avoid the 763 going forward. Particularly if you're a side sleeper, as only 50% of the seats have any foot room at all. And the problem with those seats is that you're practically in the aisle, so are getting bumped into all night.
If the lack of privacy doesn't bother you, then the orange seats below are the ones you'll want to choose if you have to fly this configuration. If you need a sense of space, the yellow seats are better, but they have the same foot cubby situation as the red seats. Even at 5'7″ and a size 9 shoe I couldn't fit both my feet in the foot cubby if I tried to sleep on my side, so keep that in mind.

On the plus side, I had lots of time to read my book! 😉
Overall
The final routing on Delta was certainly direct, and getting to London a day earlier made other aspects of life much easier.
Business class is obviously better than anything in economy, and it ended up being an all-around decent use of miles.
But it certainly wasn't as much fun as Lufthansa first class would have been!
Have any of you ever been in a situation where none of the options seemed good enough? What did you end up booking?