In the interest of full disclosure, One Mile At A Time earns a referral bonus for anyone that's approved through some of the below links. These are the best publicly available offers that we have found for each card. Opinions expressed here are the author's alone, not those of the bank, credit card issuer, airlines or hotel chain, and have not been reviewed, approved or otherwise endorsed by any of these entities. Please check out my advertiser policy for further details about our partners, including American Express, Capital One, Chase, and Citi, and thanks for your support!
Review: Delta SkyClub San Diego Airport
Review: Airspace Lounge San Diego Airport
Review: Air Canada Lounge Los Angeles Airport
Review: Delta One Check-In Los Angeles Airport
Review: Delta SkyClub Los Angeles Airport
We Skipped Lufthansa First Class For This?!?
Review: Delta One 767 Los Angeles To London
When Using Points Doesn't Make Sense
My First Experience With Airbnb
Review: SPG Suite At The O2 Arena For A One Direction Concert
Review: Virgin Atlantic Clubhouse London Heathrow
Review: Virgin Atlantic Upper Class 747 London To San Francisco
Review: Amex Centurion Lounge San Francisco Airport
Review: Delta SkyClub San Francisco Airport
Review: The Concourse Hotel LAX (Hyatt Affiliated Hotel)
---
Once past security I headed towards the Delta SkyClub, which is located about halfway down the terminal to the right, between gates 53 and 55. It's past Lemonade, which is probably my favorite "fast food" restaurant in the US (and a tempting alternative to visiting the SkyClub).
The SkyClub is located one level up from the main concourse, and the entrance seems to mostly be under construction, and has been for a while. You can either take the rather narrow stairs up a level, or you can take a freight elevator.
The entryway is also quite narrow.
Fortunately the club gets considerably nicer once inside. At the entrance I presented my boarding pass to London, and was promptly admitted. I was told the flight should be on schedule, and should board around 8:15PM.
The lounge is gorgeous, though lacks natural light. Near the entrance are a ton of seats underneath a circular dome with some cool neon lighting.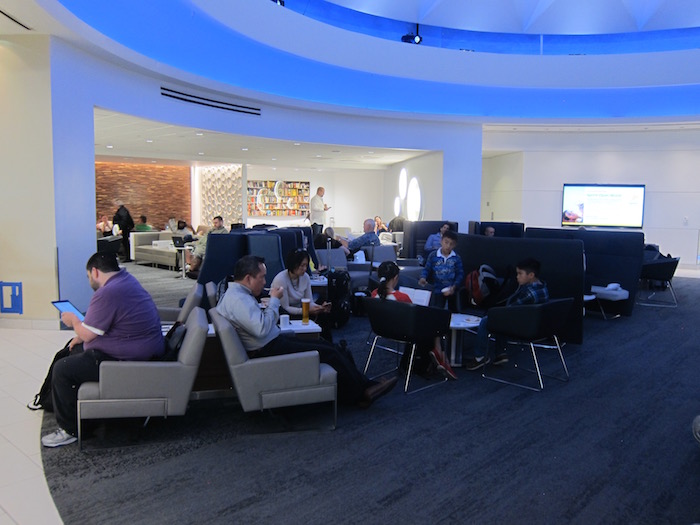 Delta SkyClub LAX seating area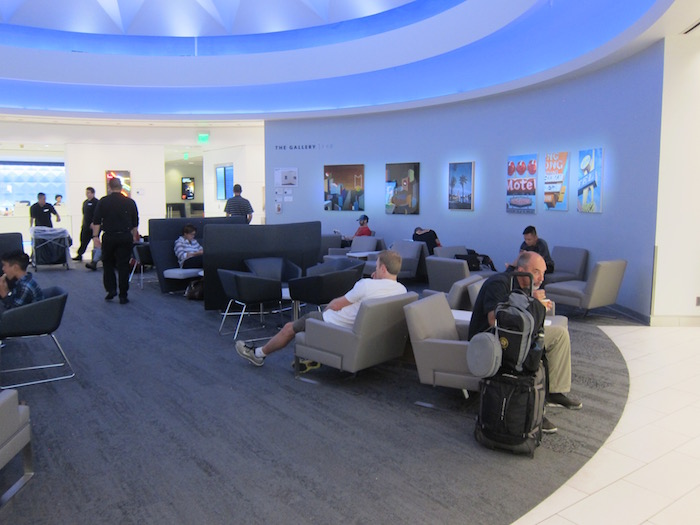 Delta SkyClub LAX seating area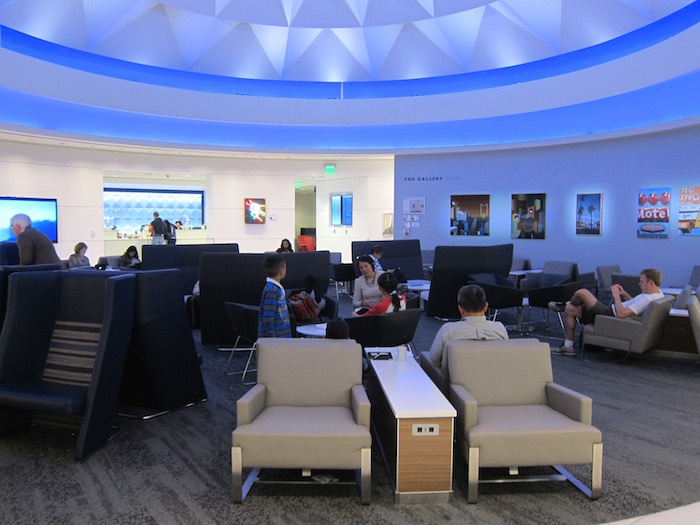 Delta SkyClub LAX seating area
The lounge is a good size, though not huge given the number of people who have access to the SkyClub and the number of flights Delta has out of LAX.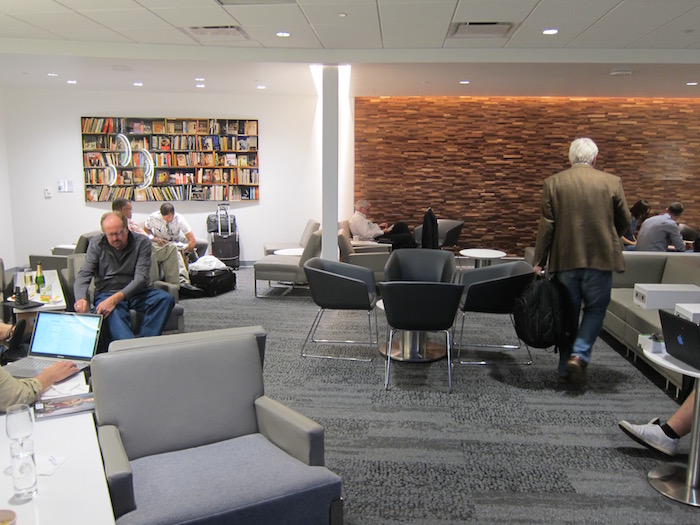 Delta SkyClub LAX seating area
Past those seating areas is the bar and buffet area.

Delta SkyClub LAX seating area
And then next to that is an area with dining tables and benches.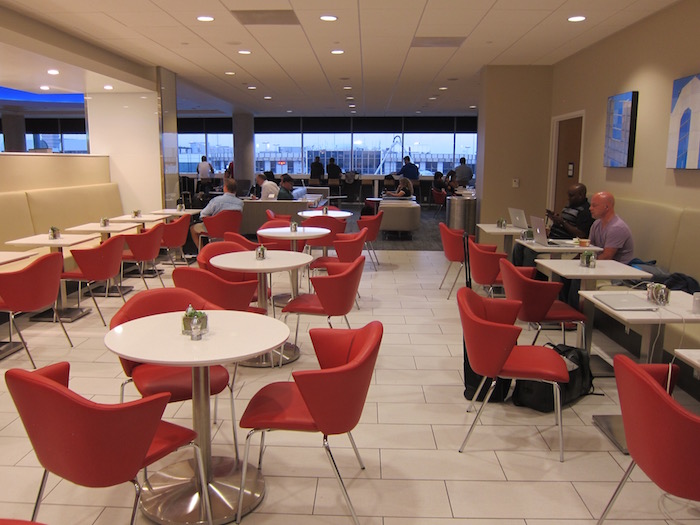 Delta SkyClub LAX seating area
Then the back part of the lounge has high-top seating facing the windows, as well as some of those cool private cubicle style seats, which Delta seems to have in most of their SkyClubs. I just wish they had built in power outlets.

Delta SkyClub LAX seating area

Delta SkyClub LAX seating area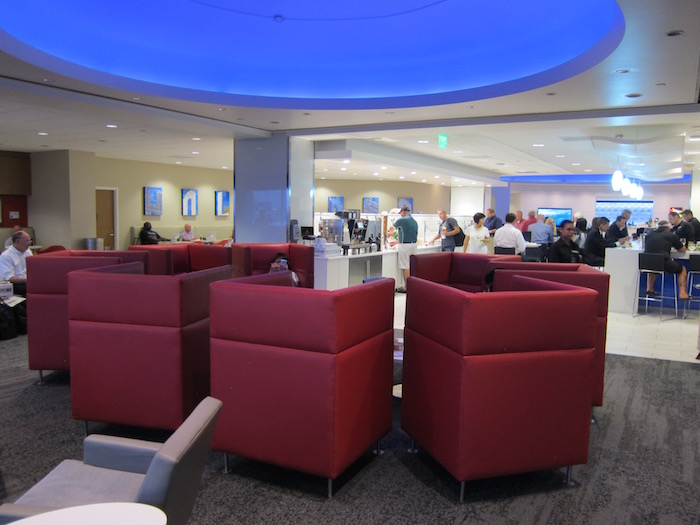 Delta SkyClub LAX seating area
Back near the entrance of the lounge is even more seating, though again, it lacks natural light.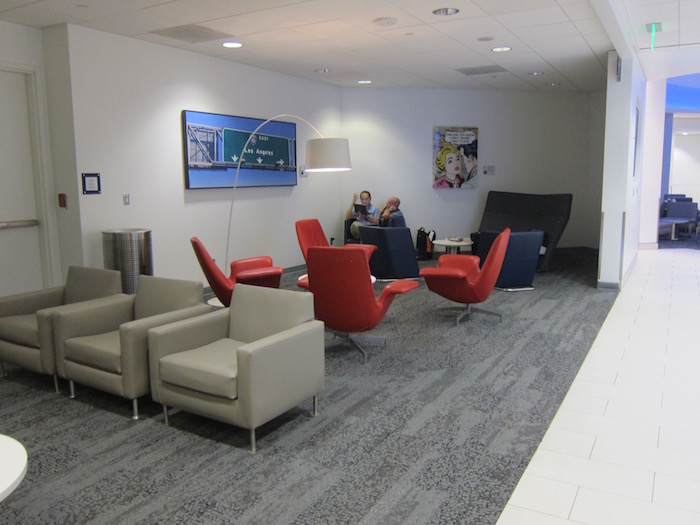 Delta SkyClub LAX seating area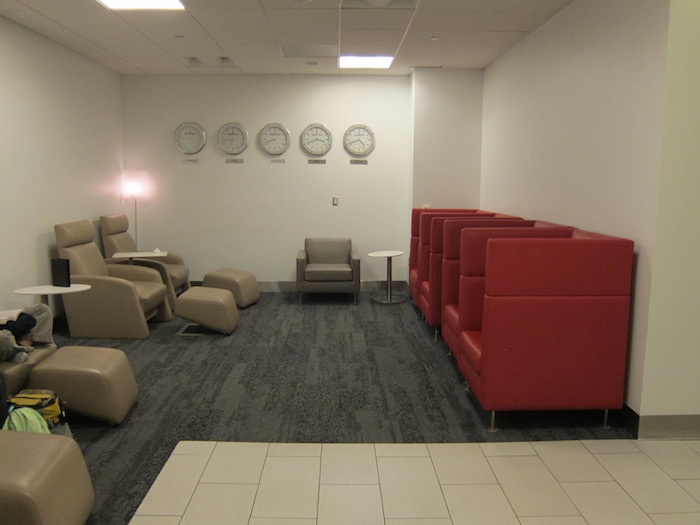 Delta SkyClub LAX seating area
In terms of decor I'd say the SkyClub is among the better US lounges, as the furniture is modern and fresh. That being said, based on my several past visits to the SkyClub LAX, it does seem to be consistently crowded.
The most impressive aspect of the SkyClub — and where Delta blows away the competition — is the food spread.
There's water and tea, and then a Vivreau water system with still and sparkling water.
Then the buffet really is leaps and bounds better than what's offered in other US lounges.
There was a chopped salad.
Then there were two types of soup.
Then there were several types of bread (including pretzel bread — yum!) and pita crackers with a variety of dips and spreads.
Then there were all kinds of fresh veggies, including celery, carrots, mushrooms, broccoli, and cauliflower.
Then there were antipasti sticks with sundried tomatoes and mozzarella, as well as bowtie pasta.
And then there was packaged cheese and freshly baked cookies (the cookies are frighteningly good).
Lastly, there were two types of snack mix which actually tasted good, as well as popcorn.
I do have to say that everything is tastefully plated, especially given the volume of food they're serving and how many people visit the buffet.
As is the norm at SkyClubs, there was a Starbucks espresso machine as well as standard drip coffee in a canister.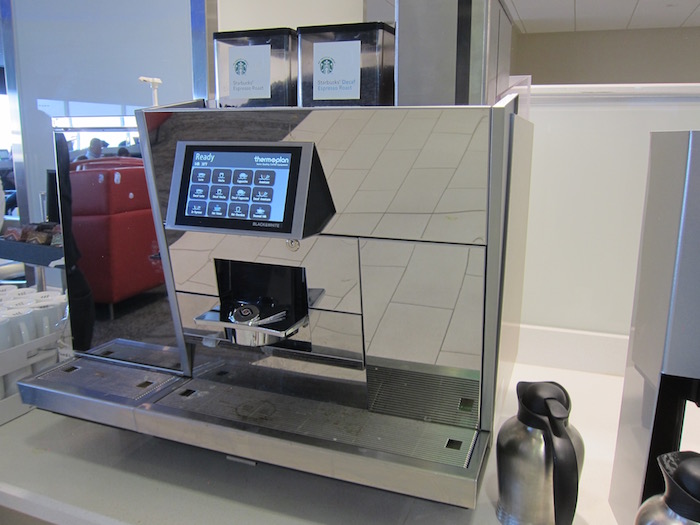 Delta SkyClub LAX espresso machine
The one thing I find odd about the food in SkyClubs is that all the forks, knives, and plates are plastic, which seems cheap to me.
I decided to have a snack in the SkyClub, given that I figured it would be 90 minutes into the flight to London before dinner would be served.
The bathrooms were stylish and well maintained, and there were also separate shower facilities.
I spent my time in the lounge catching up on work, which was easy thanks to the fast wifi connection. Tiffany joined me a couple of hours into my layover, as she had taken a separate flight from San Diego. The flight to London was at 9:10PM, so at around 8:10PM we headed to the gate, given that Delta seems so start boarding pretty early.
At around 8:20PM boarding commenced, at which point we were on our way to London!
Delta SkyClub LAX bottom line
As much as I don't love Delta's frequent flyer program, there's no denying that operationally they run a better airline than American and United. The SkyClub at LAX is well designed and has a superior food spread to what other US airlines offer.
That being said, the lounge does tend to get crowded, and the food isn't quite as good as what you'd get at an American Express Centurion Lounge, for example (not that there's one of them at LAX yet).
Is the Delta SkyClub LAX pretty awesome for someone entering using The Platinum Card® from American Express or The Business Platinum® Card from American Express? I'd say absolutely. That being said, in terms of international business class lounges, it certainly can't compete with the likes of the Virgin Atlantic Clubhouse, etc.
If you've visited the SkyClub in Los Angeles, what was your experience like?