As I first wrote about in late July, Starwood was kind enough to invite me and 10 of my closest friends (in other words, you guys!) to a One Direction concert at the O2 arena in London on September 28, 2015. They gave us the SPG Suite, similar to the one I just visited at the US Open in New York.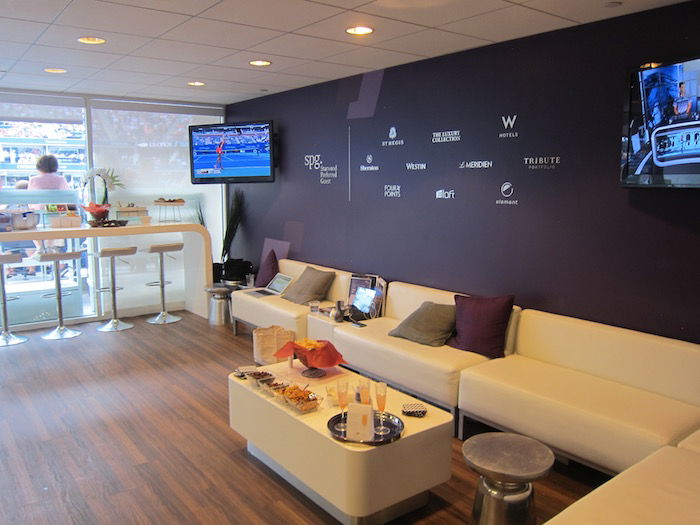 SPG Luxury Suite US Open
We held a contest on the blog to pick five winners to join us, each of whom could bring a guest. The five winners had some awesomely creative entries.
This is a fantastic experience which SPG members can usually redeem Starpoints for. As a huge One Direction fan/tween girl at heart, I'll do my best to behave. Especially since One Direction is breaking up next year, so this might just be my first and last One Direction concert. ZOMG!
Anyway, I'll be on the West Coast until late next week, when it's time to head to London for the concert.
Tiffany is always looking out for me, and over the weekend messaged to tell me that there was Lufthansa first class award space available from Los Angeles to Munich. That's usually a really tough flight on which to snag award space, especially nearly two weeks out.
The flight has Wi-Fi, is direct from the west coast, and would allow me to spend as much time on the ground in LA as possible. How could I say no?!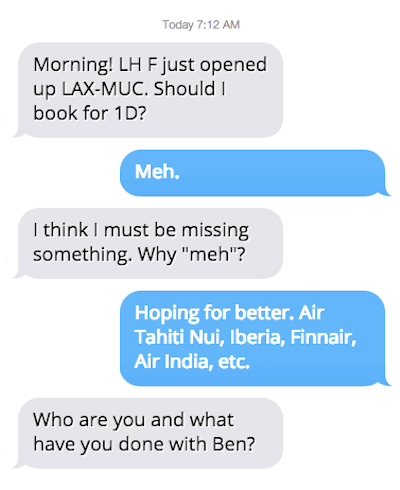 As you can see, I resisted the urge! 😉
So what else should I fly?
I've flown enough Cathay Pacific and Emirates and Lufthansa… I've reviewed a lot of airline products on the blog, so I'd like to try something I haven't reviewed before. Give me Air Tahiti Nui… or Finnair… or Iberia… or SAS' new business class… or Aer Lingus' new business class… or Ethiopian's new Los Angeles to Dublin flight… or Kuwait Airways… or Air India… or anything!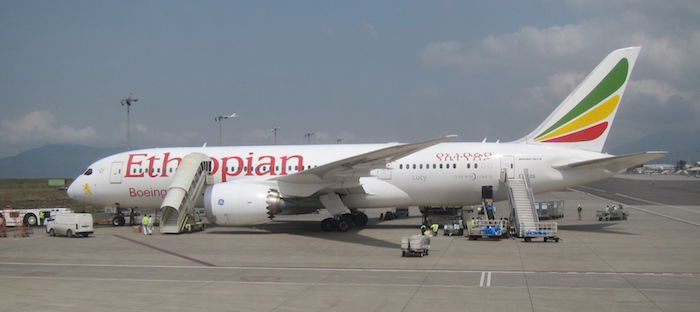 So I figured I'd open it up to you guys to decide how we should get to the concert. Here are the basic parameters:
Two seats (so Tiffany and I can both write reviews)
Leave Southern California (Los Angeles or San Diego) next Thursday or Friday (September 24 or 25)… Wednesday could even work as well, if need be
Need to be in London by Sunday at the latest, though preferably Saturday
If paid positioning flights are needed, that's not a problem
Travel must be in first or business class using miles (at the saver level)
Routing doesn't have to be direct, and can involve multiple awards — we don't mind routing via another continent
And that's about it. Basically we're looking to write reviews of products which would be useful or interesting or just plain ridiculous.
Of course I could come up with something on my own, but that doesn't seem nearly as fun as you guys deciding what we fly. Obviously deciding our routing won't be everyone's idea of fun, but if you're interested, we'll give whoever comes up with the routing we end up booking a $200 gift card to the airline or hotel chain of their choice.
Just leave a comment below with what you find. Award space can change very quickly, so we'll be monitoring the thread constantly, and are ready to book immediately. We're also in no rush to book, so don't mind booking even a day before departure. In the unlikely event we don't end up going with one of the proposed routings, we'll give the gift card to whoever comes up with the most creative option (as judged by us). But we really do want to go with something you guys come up with, no matter how ridiculous.
Lastly, to clarify, this doesn't have to be an insane routing. A simple transatlantic routing on one of the above carriers works great for us (I can't find award space on any of the above options as of now, but that could always change), though we're also not opposed to being crazier.
Can't wait to see what you guys come up with! Go gentle on us, please! 😉