FlyingBlue is the frequent flyer program for Air France and KLM, and it has some great things going for it, such as:
But goodness gracious the administration of the program is…a show. To say the least.
A bit of backstory
I'm a bit of a masochist (after all, I had a passionate relationship with US Airways), so I don't terribly mind that the FlyingBlue website is glitchy as all get-out. Or the indescribably poor call center.
I could go on all day, but to some extent that's just part of the game we play, and I'm okay with the general inconveniences.
I do, however, get irked when capricious and arbitrary "rules" are enforced. Particularly when these aren't actual rules as described in the terms and conditions, but rather just decisions made on the fly, or policies that are poorly communicated and only serve to generate confusion.
As an example, FlyingBlue opened up first class award availability to all members a few years back, something that had previously only been accessible to elites.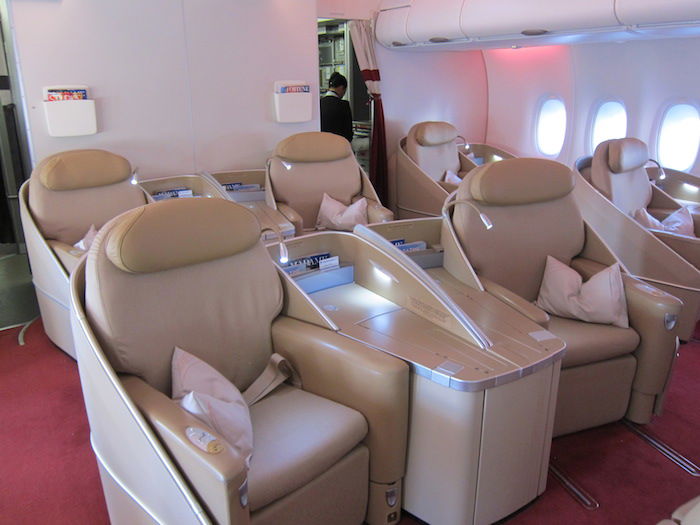 Shortly thereafter, the folks at FlyingBlue decided that had been a mistake, and canceled award tickets that had been booked in La Première. No warning, little communication, and no accommodation for passengers until they were pressed.
FlyingBlue has also been closing accounts of members who are searching award space "excessively." Which is totally fine, though a little aggressive, and again, seems like something that should be in the rules.
Fake rules can still have real impacts
View From the Wing first mentioned that the FlyingBlue fraud department had gone off the rails in January. In effect, FlyingBlue was suggesting that transferring in points from a partner (like American Express) was against the program terms — which is patently untrue — and the fraud department was thus canceling tickets booked with transferred points and closing accounts.
The latest iteration is that some people are being instructed to visit the airport in order to have their award tickets issued. This seems to be random, and can't be overridden by any FlyingBlue employees that I've found (though as mentioned, the North American call center is hilariously bad).
Even more obnoxiously, the airport staff hasn't been informed as to why people are showing up at their ticket counters to book award tickets. So the poor agents are asking potential passengers to call FlyingBlue themselves, and then pass their cell phones to the airport agent. Seriously.
At least you get a very stylish ticket (no email confirmation or anything, just this dot matrix handiwork):

This is obviously not the intention of the program, though despite valiant efforts to resolve the issue, and even with Gary offering to connect impacted members with FlyingBlue directly, it's still a problem. And I feel terribly for people who are walking into this with no warning.
Should you avoid FlyingBlue for now?
Reader chancepress asked the following in the Ask Lucky forum yesterday:
I'm really nervous about transferring 250,000 hard-won MR and TY points only to get the runaround from Air France.

I especially don't want to transfer the points if there's no business class availability, but I don't want to search before transferring points and have my account shut down. Would you recommend transferring in 20,000 or so points first, then searching availability, and finally transferring the rest of the points if I find what I'm looking for? Or should I just wait a few more months while they resolve whatever weird issues they're having?
I don't want to shy people away from the FlyingBlue program, but these are things you should be aware of before deciding to transfer points to FlyingBlue.
Whenever practical, try and open your FlyingBlue account before you need to transfer miles to it (if you have a few minutes, you can join FlyingBlue here)
If you're using your miles, be sure to use your credit card as well
When booking a ticket for someone else be prepared to document the relationship and nature of the transaction. FlyingBlue allows you to use your miles for others, but you can't buy or sell FlyingBlue miles
Even if you're following all the rules, and taking every precaution, your account may still be targeted for extra security.
Your first (and only) indication of this might be when attempting to pay for an award, and seeing the message to proceed to the airport for ticketing. Air France and/or KLM ticket counters can be found in the following cities, though you may have a limited time window each day when airline staff is actually present, which isn't terribly convenient for many of us:
Atlanta, GA (ATL)
Boston, MA (BOS)
Calgary, Canada (YYC)
Chicago, IL (ORD)
Detroit, MI (DTW)
Edmonton, Canada (YEG)
Houston, TX (IAH)
Los Angeles, CA (LAX)
Miami, FL (MIA)
Minneapolis, MN (MSP)
Montreal, Canada (YUL)
New York, NY (JFK)
San Francisco, CA (SFO)
Toronto, Canada (YYZ)
Vancouver, Canada (YVR)
Washington, DC (IAD)
There isn't a consistent workaround for avoiding the airport that I've found.
Some people have reported success when trying a few days later, or from a different browser, or a different IP address. You can try those things, but they aren't guaranteed solutions.
Frustratingly, there also isn't a timeline for when these "additional security audits" might be streamlined. Waiting it out might not be an option.
Bottom line
The FlyingBlue program has some terrific values, and I really hope they can implement a better system soon. I'm not a fan of adding caveats to redemption options, and I can't imagine that this is how Air France/KLM wants their brand to be perceived. So let's cross our fingers.
In the meantime, I wouldn't plan on redeeming points through FlyingBlue unless you're reasonably able to visit an Air France or KLM counter for ticketing. Not like that's a particularly reasonable thing to ask to begin with.
Has anyone else run into problems with FlyingBlue lately? Were you eventually able to ticket your award?