---
Tunisair 202
Tunis (TUN) – Montreal (YUL)
Wednesday, June 14
Depart: 4:15PM
Arrive: 8:10PM
Duration: 8hr55min
Aircraft: Airbus A330
Seat: 4K (Business Class)
At 3:45PM we arrived at the remote stand, and I proceeded up the stairs to the second door of the plane. There I turned left into Tunisair's business class cabin.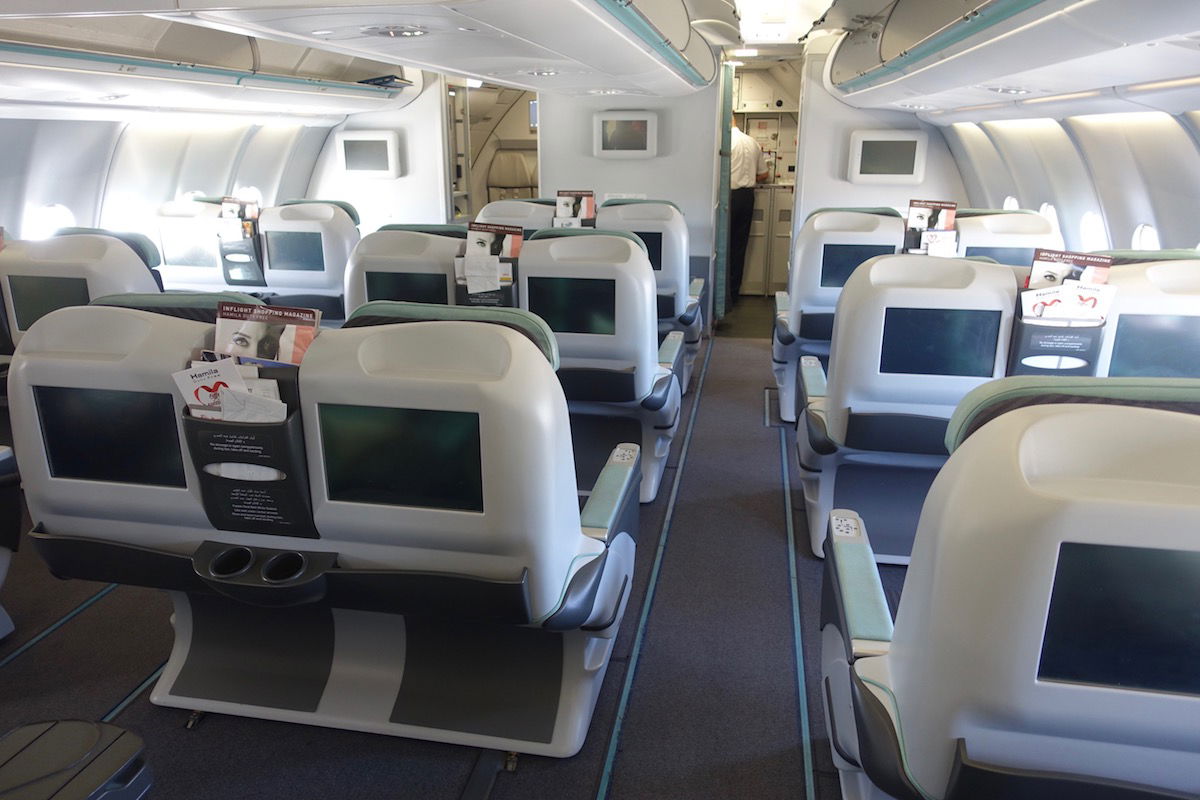 Tunisair A330 business class cabin
Tunisair's business class cabin consists of a total of 24 seats, spread across four rows in a 2-2-2 configuration. While Tunisair's A330s are new, the airline elected not to install fully flat seats on the plane, but rather has angled seats. As a matter of fact, the seats are virtually identical to those on Air Tahiti Nui.
Overall I like the turquoise finishes, though found the color scheme a bit odd for the airline, given that everything else in Tunisair's branding is red and white.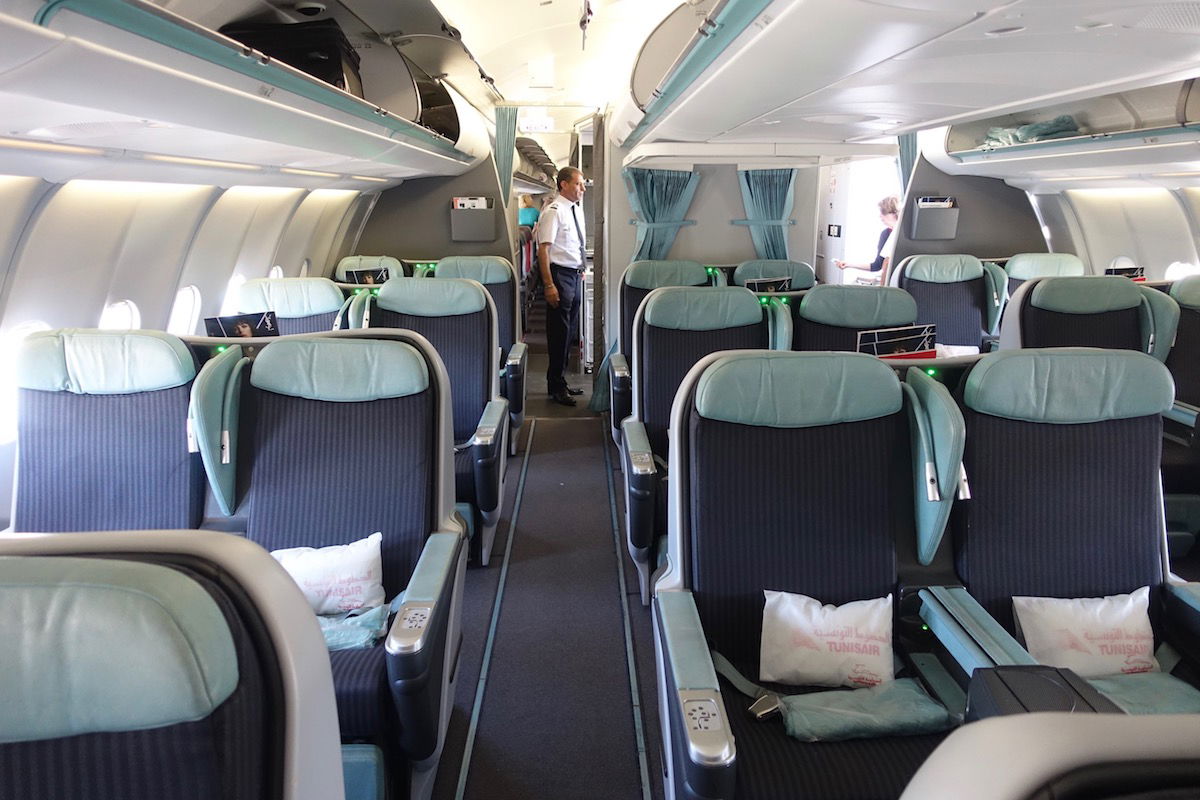 Tunisair A330 business class cabin
I had assigned myself seat 4K, the window seat in the last row of business class on the right.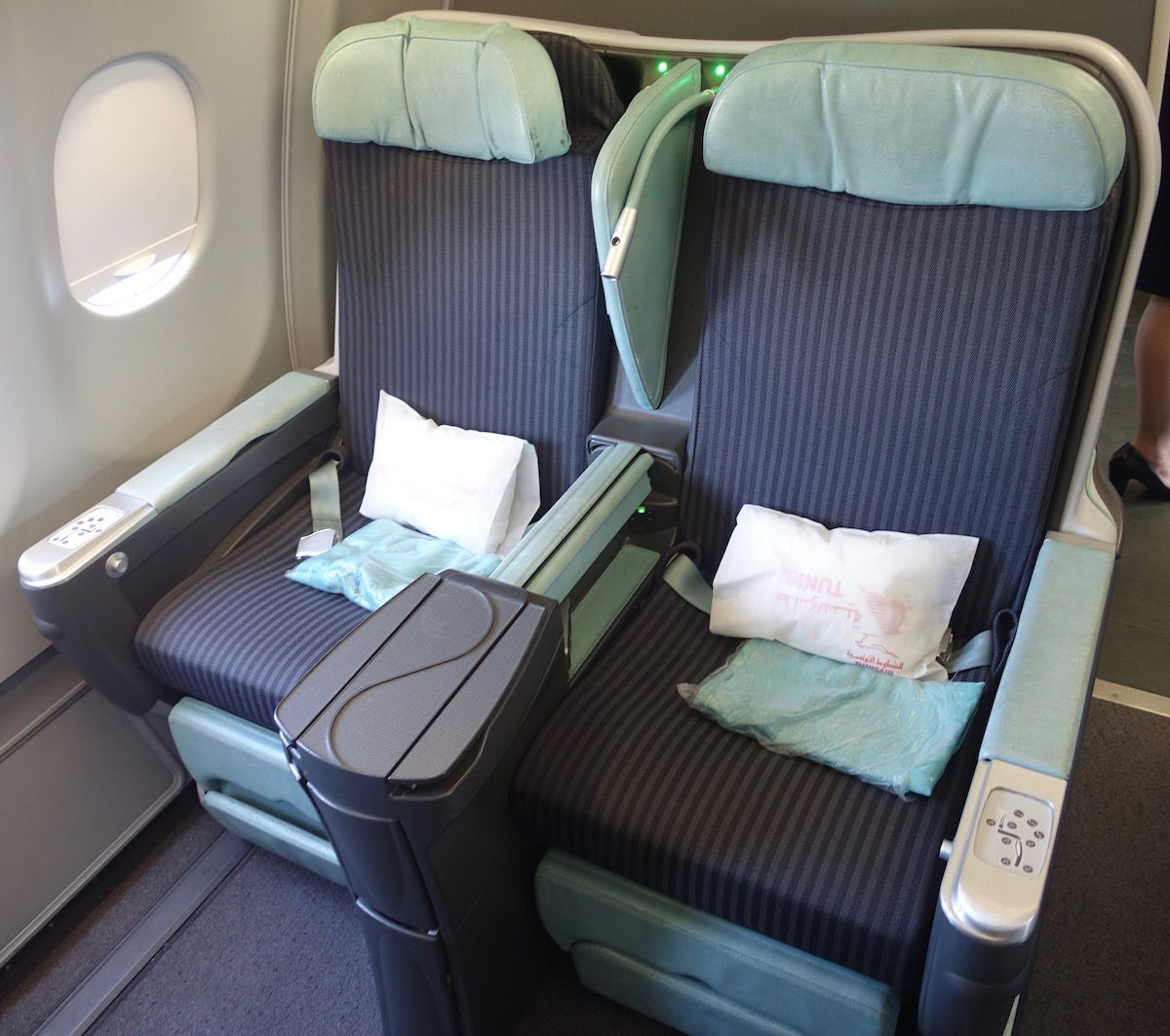 Tunisair A330 business class seat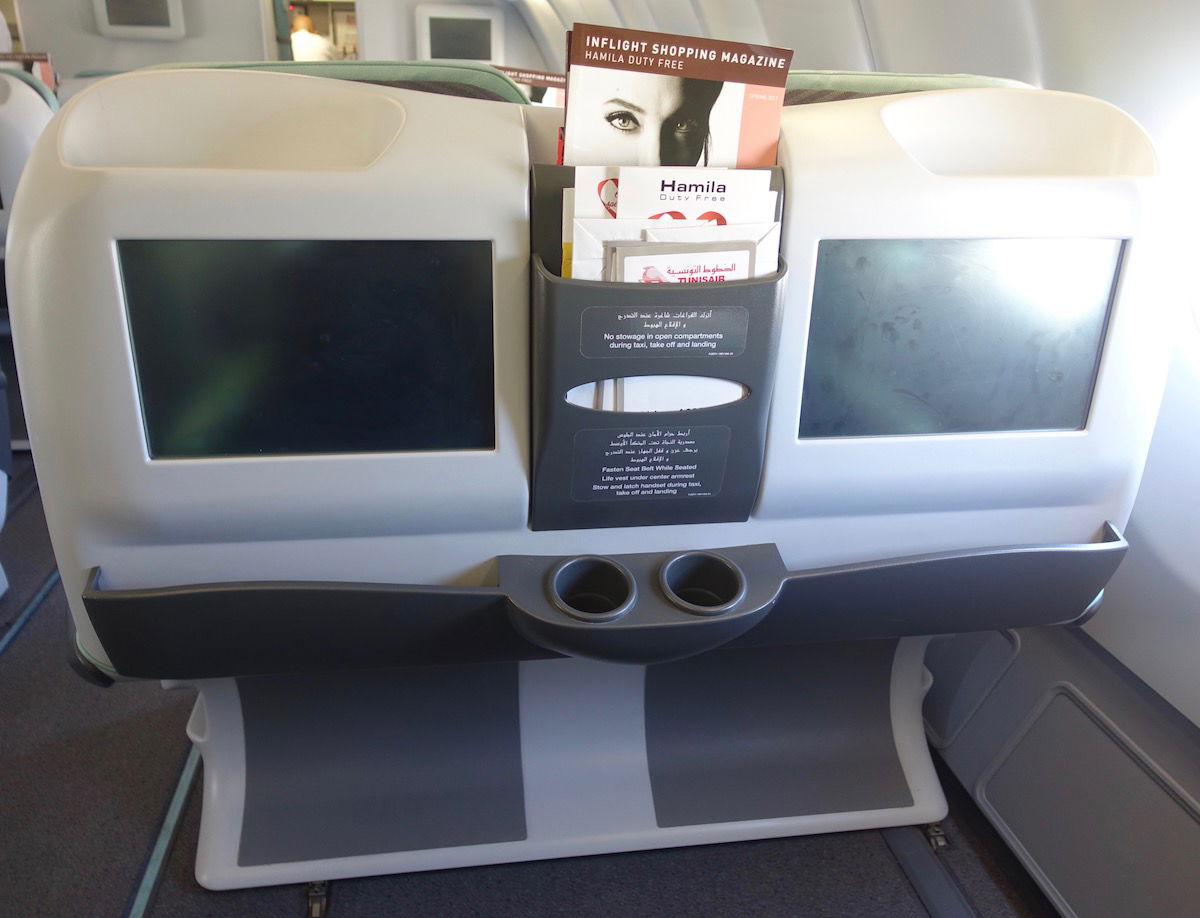 Tunisair A330 business class seat
On the far side of the seats were the seat and entertainment controls, both of which were easy to use.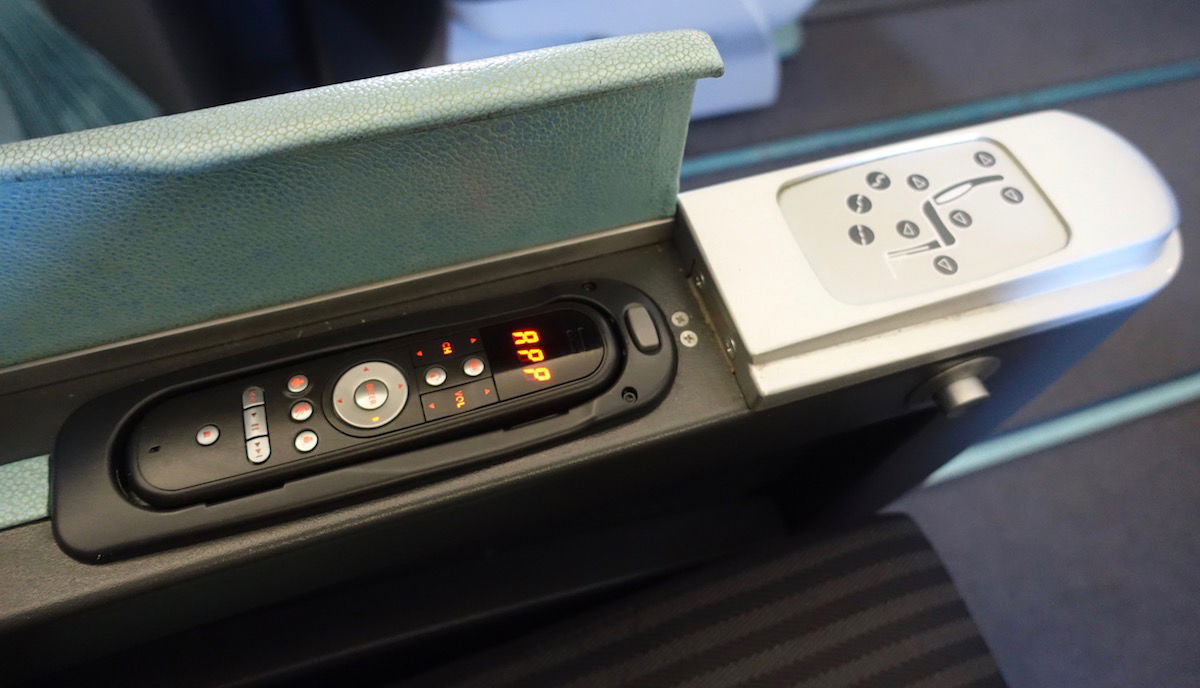 Tunisair business class seat & entertainment controls
Underneath the center armrest was a USB outlet, power outlet, and headphone jacks.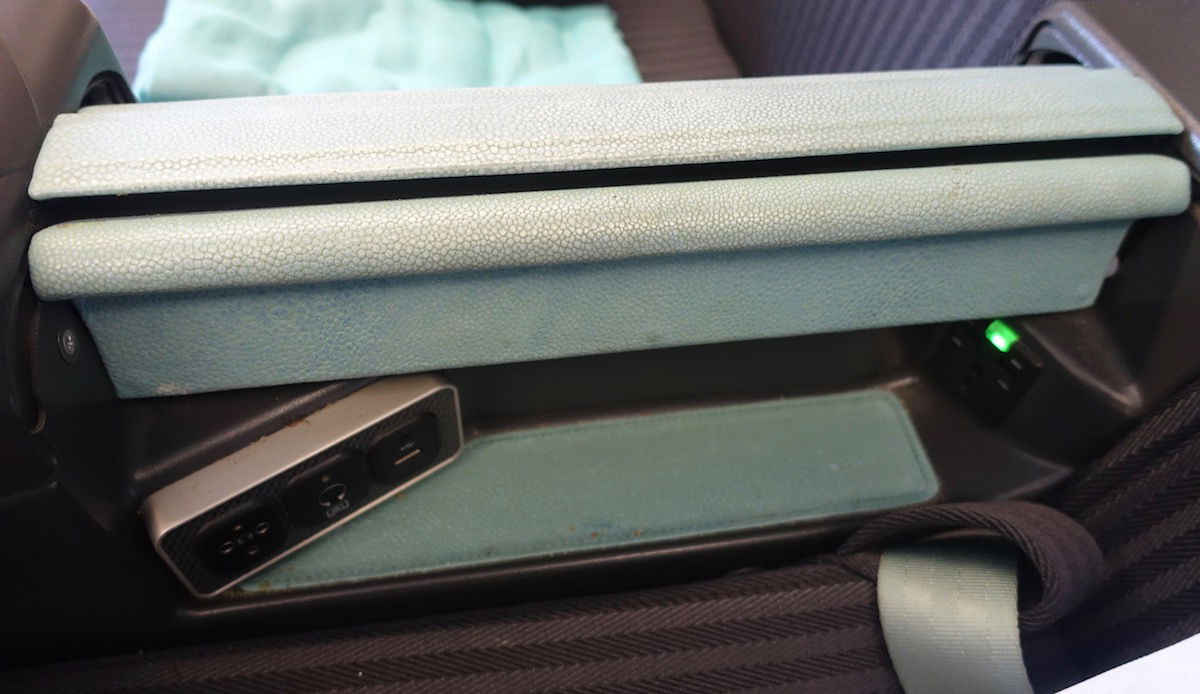 Tunisair business class power outlet & headphone jack
Behind that was a very small privacy partition, as well as the adjustable reading lights. Fortunately there was no one seated next to me on this flight, but I don't get why these types of seats don't have larger adjustable privacy partitions.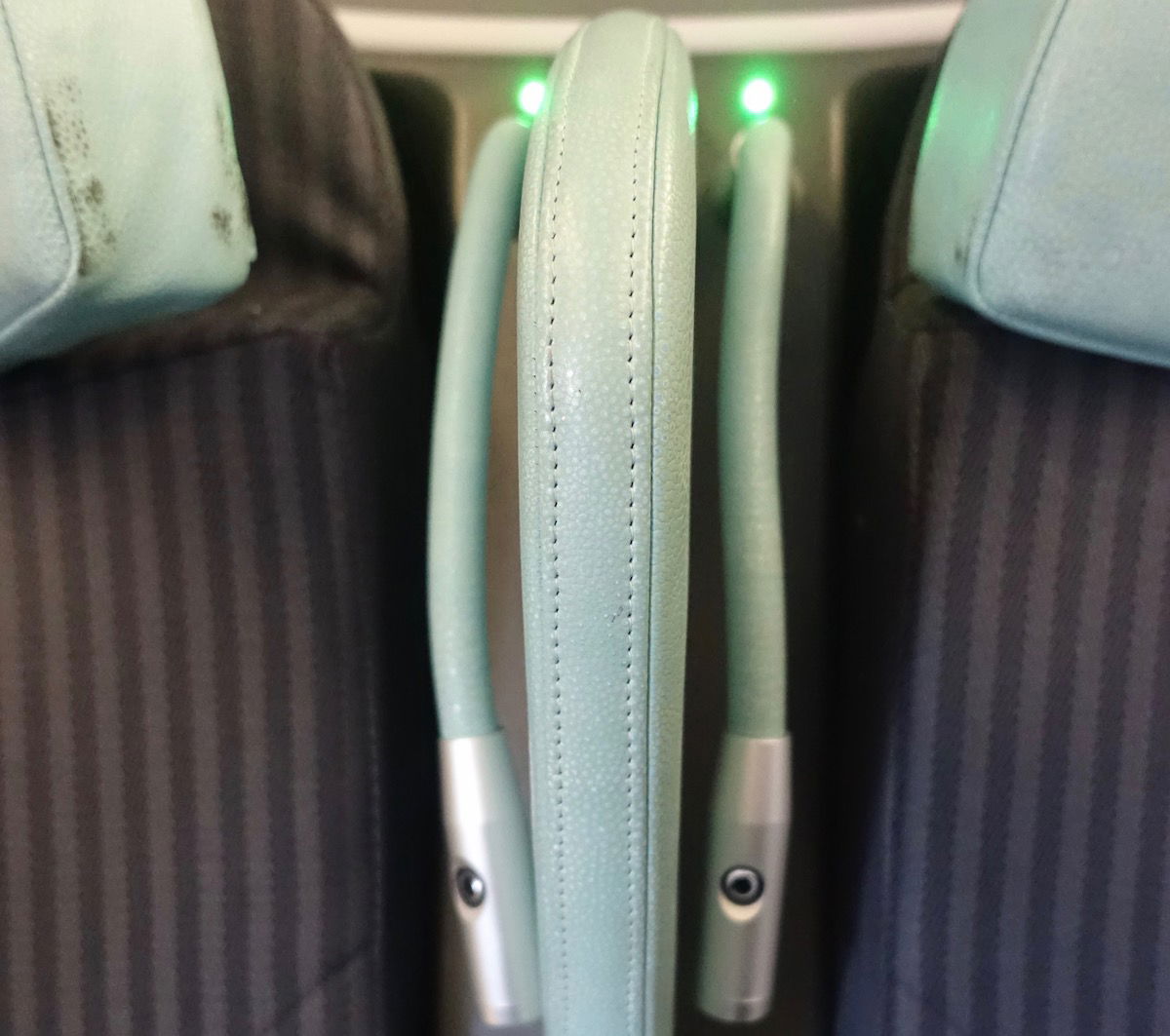 Tunisair business class seat reading light
The tray table extended from the center armrest, and was a single "piece" that rested on the opposite armrest.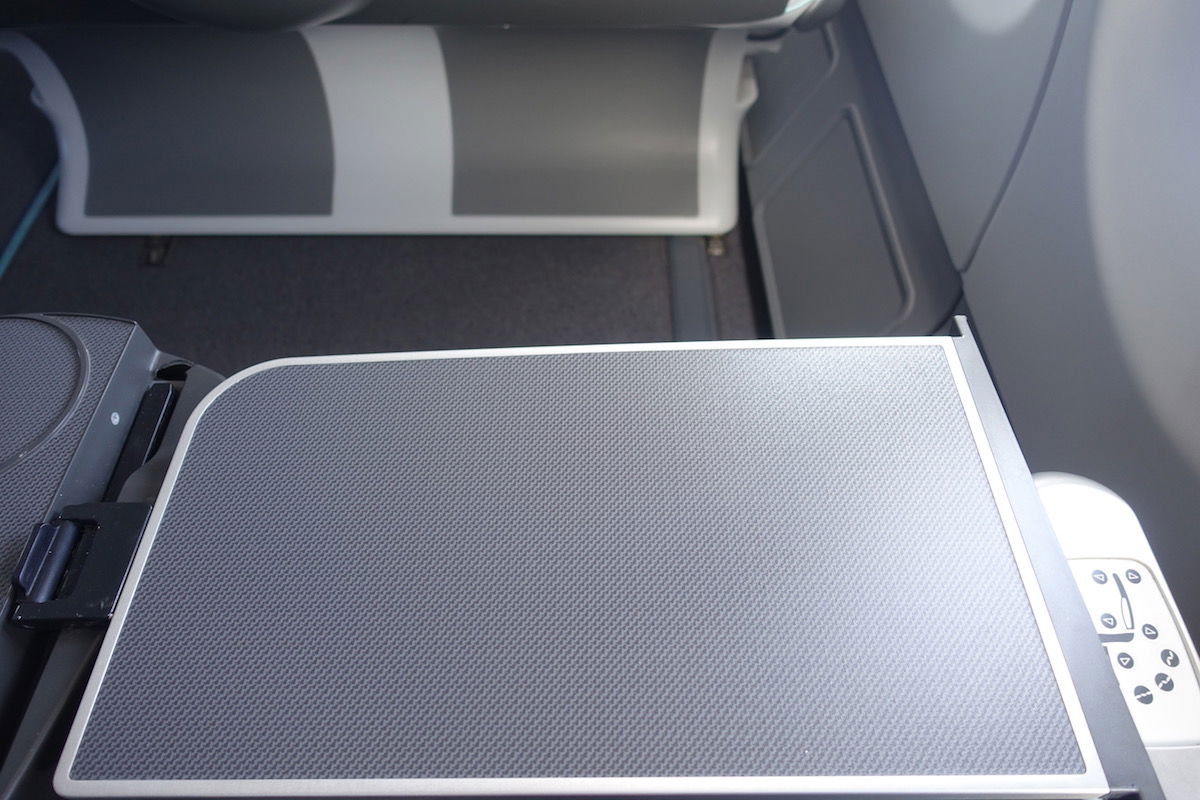 Tunisair business class tray table
Then on the back of the seats in front was a water bottle holder (now if only they ever distributed bottled water, which was one of my complaints about this flight, but more on that later).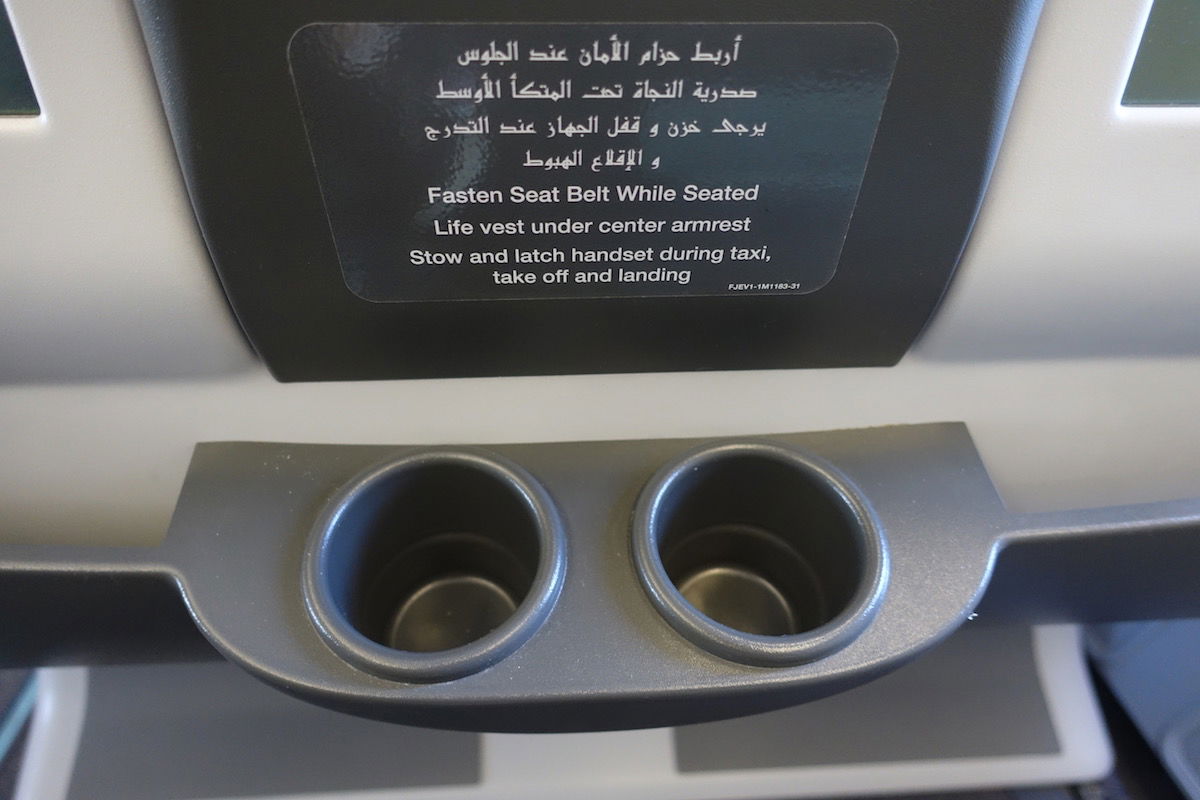 Tunisair business class seat bottle holder
Waiting at my seat on boarding was a pathetic little pillow and blanket. C'mon airlines, this kind of "bedding" just isn't acceptable on a longhaul flight. This is what I'd expect on a regional flight, or roughly similar to what I'd expect in economy on a premium airline, but certainly not what should be offered in longhaul business class.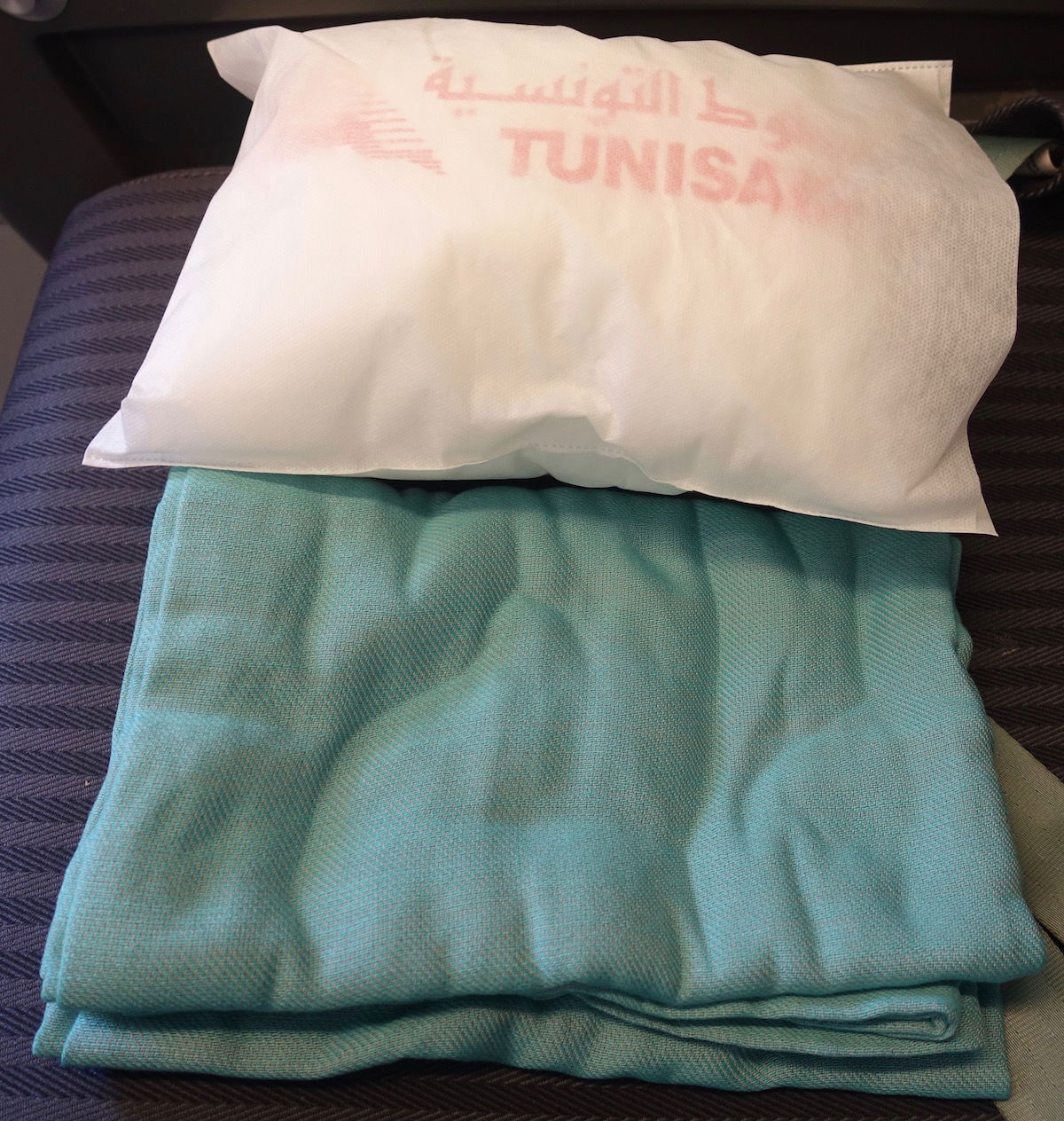 Tunisair business class pillow & blanket
The first bus didn't have any other business class passengers in it, so I had the cabin to myself for about 10 minutes.
About 15 minutes after boarding began, the crew came around with newspapers and magazines.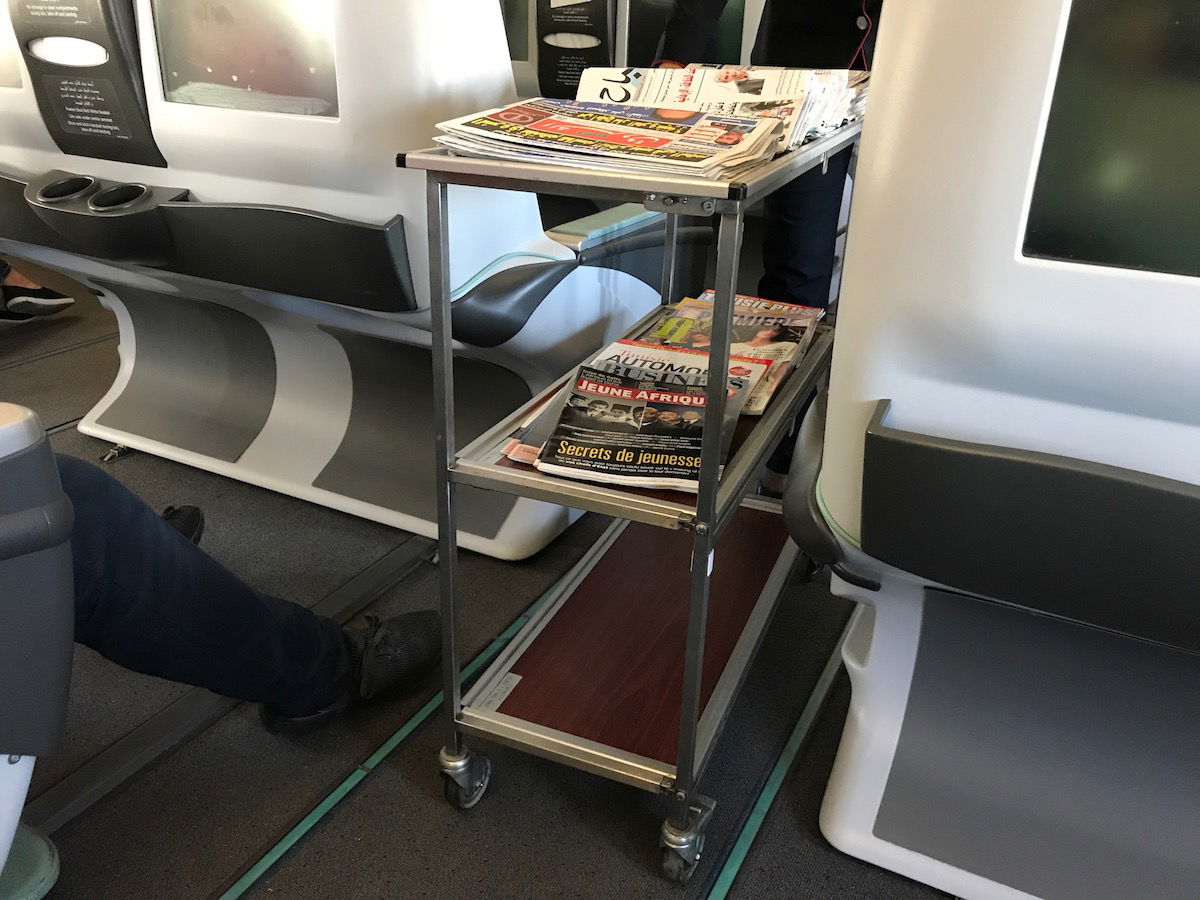 Tunisair business class pre-departure newspapers & magazines
A few minutes after that they offered pre-departure drinks, with the choice between kiwi juice, orange juice, and mango juice. I had the kiwi juice (which I don't think I've ever had before), and it was rich.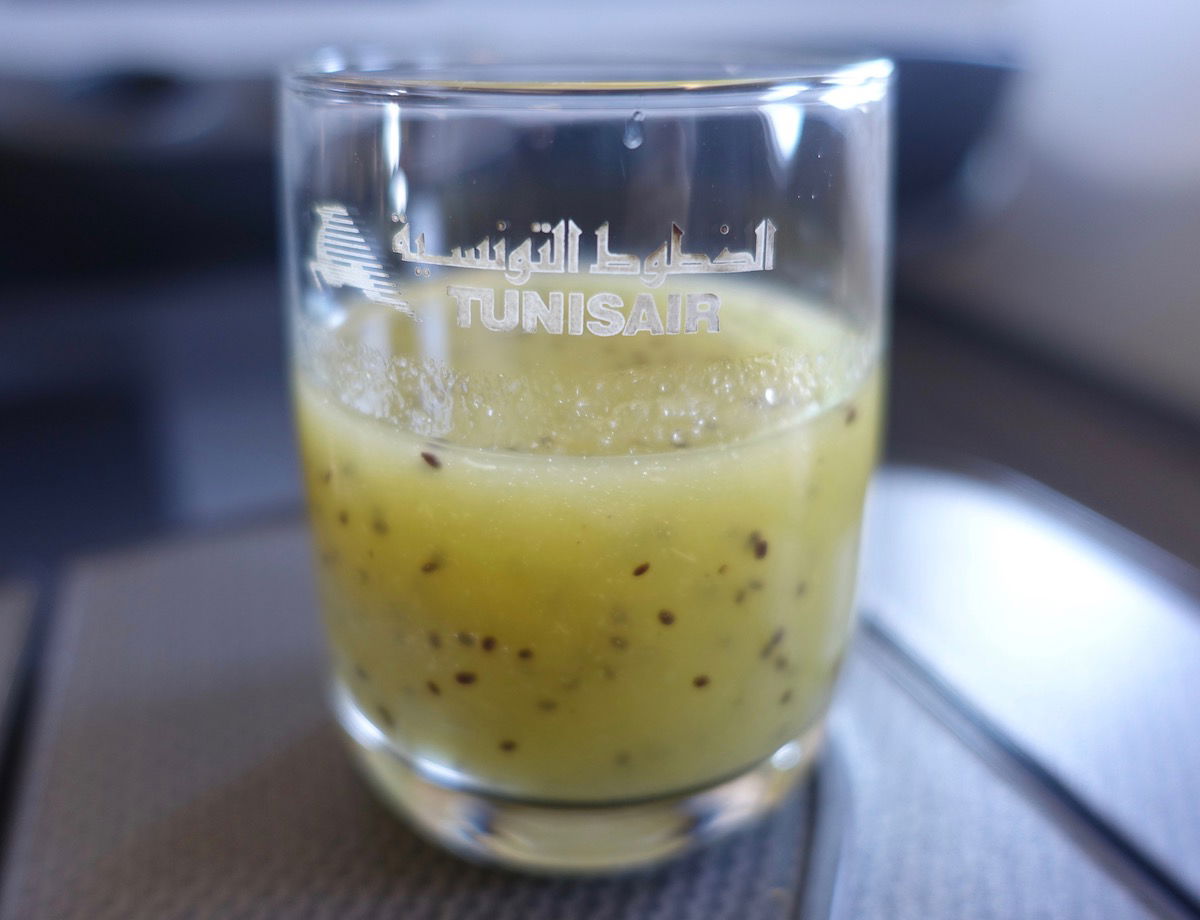 Tunisair business class pre-departure beverage
Eventually 18 of the 24 business class seats were taken. As mentioned above, fortunately the seat next to me stayed empty. That 75% load factor also includes several people being moved up from economy during boarding.
Perhaps the strangest part is that one of the flight attendants seemed to be traveling with her two young children. Unless my read on the situation was completely wrong (which the airline can investigate, I'm sure), this is completely irresponsible, and I don't know how the airline allows this. She spent much of the flight looking after her own two kids (who I would guess were maybe six and 12, or so). While they were well behaved, I just find that so unprofessional. It's one thing if there were another adult traveling with them, but even from a safety perspective this seems questionable. If an evacuation became necessary, something tells me she'd look after her unaccompanied kids before she looks after others. Anyway…
By 4:10PM the door closed, at which point the safety video was screened. Once that was complete, we began our pushback.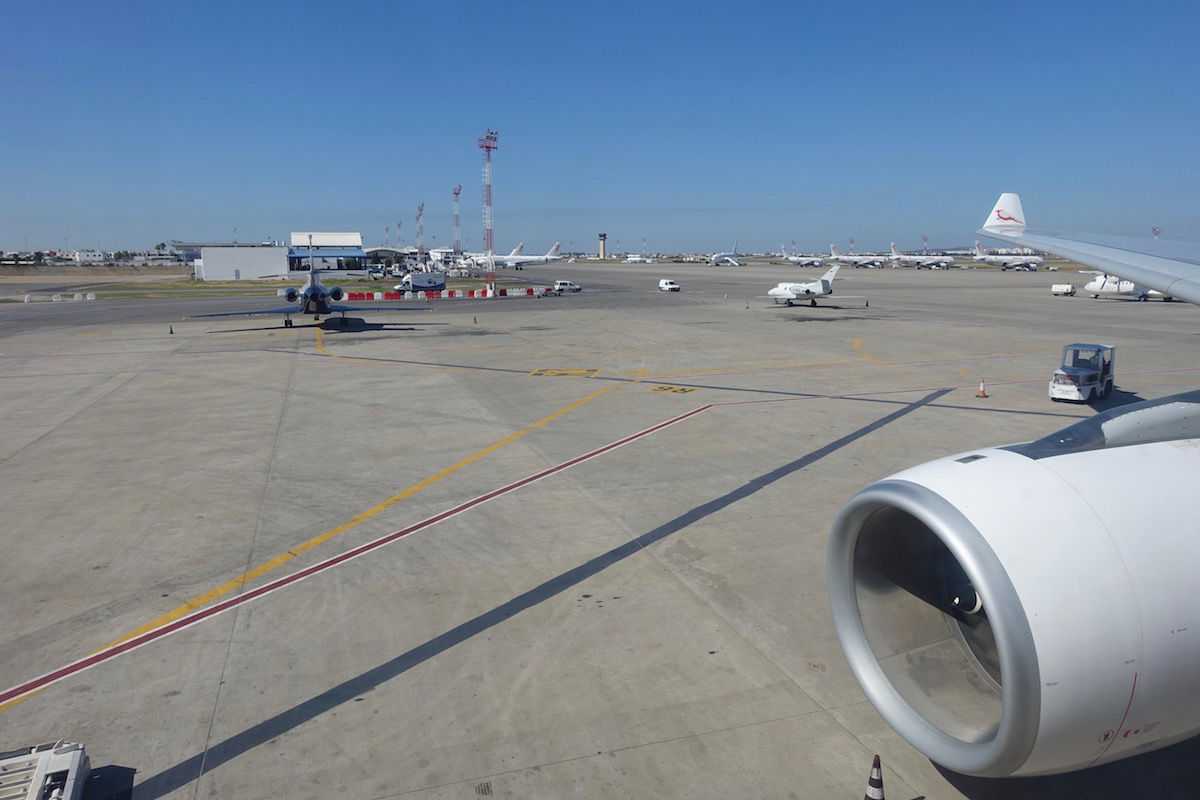 Tunis Airport ramp
The lead flight attendant made all announcements in Arabic, French, and English, so as you can imagine, they took forever.
Our taxi to the runway took less than five minutes, and at 4:20PM the captain announced "good afternoon ladies and gentlemen, 8hr50min flight, takeoff shortly."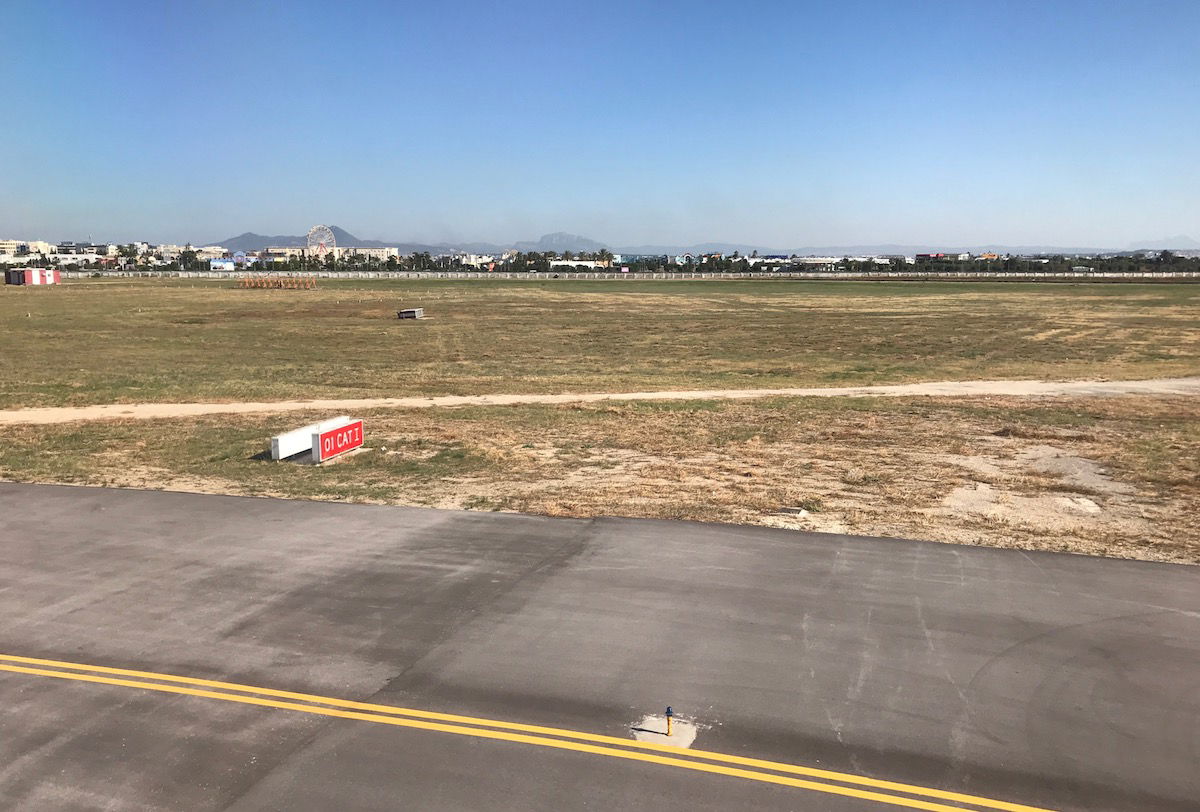 Taxiing Tunis Airport
Our takeoff roll was a bit crazy, as we had a "rolling" takeoff from the taxiway. Most of the time pilots will line up the plane on the runway and then accelerate, while these pilots added a lot of power while we were still at a 45 degree angle to the runway, so everyone was pushed to the side in a way I've never quite felt before on a plane. That isn't at all to question the skill of the pilots, but rather to say it was a cool sensation.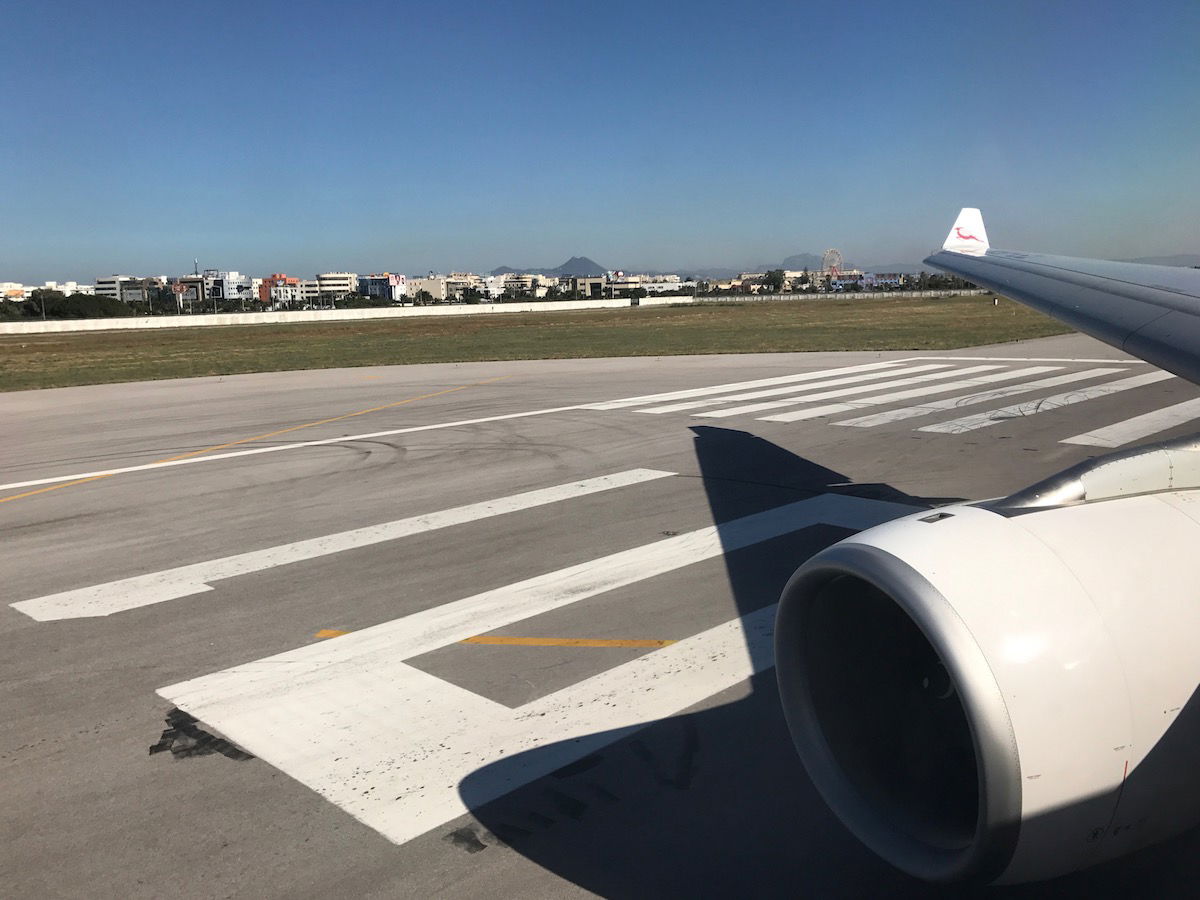 Taking off Tunis Airport
The views on our climb out, especially of the coast, were gorgeous.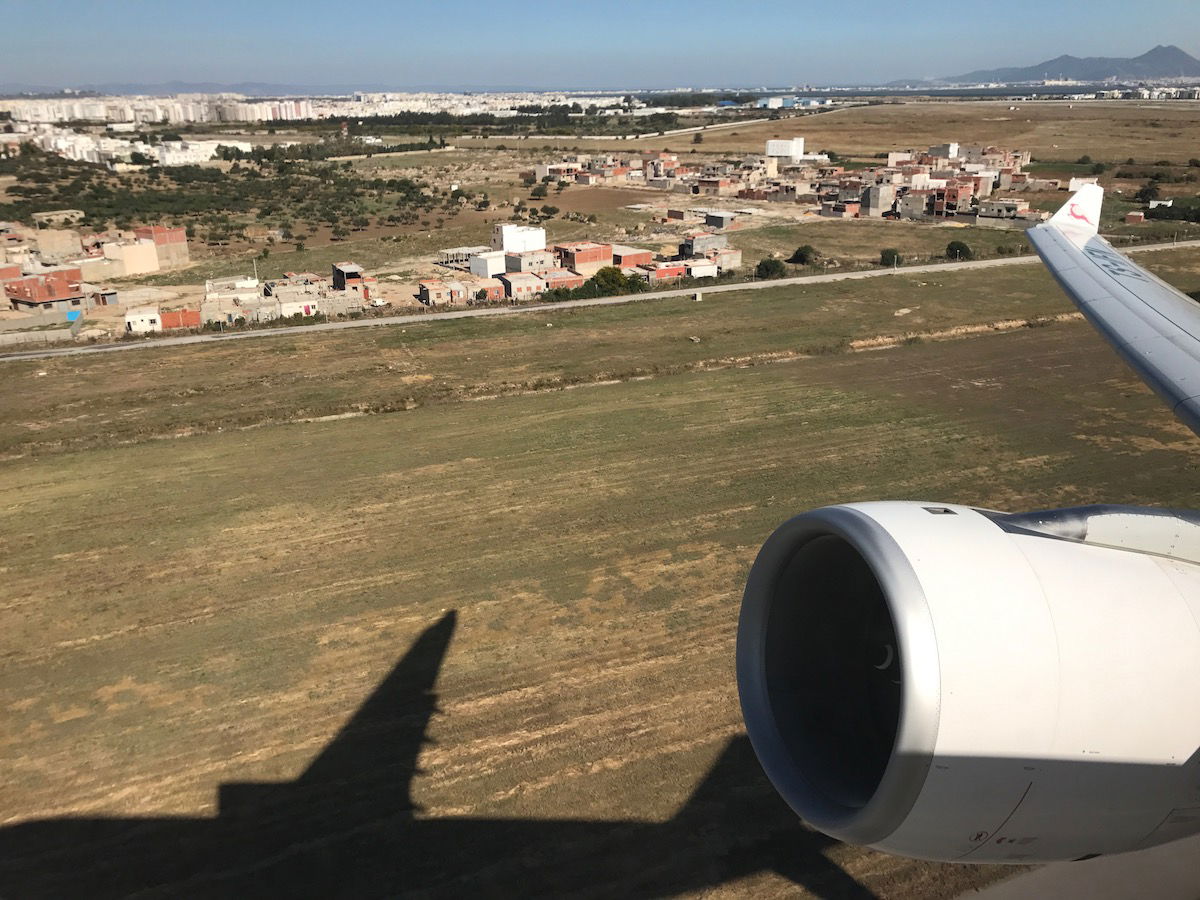 View after takeoff from Tunis Airport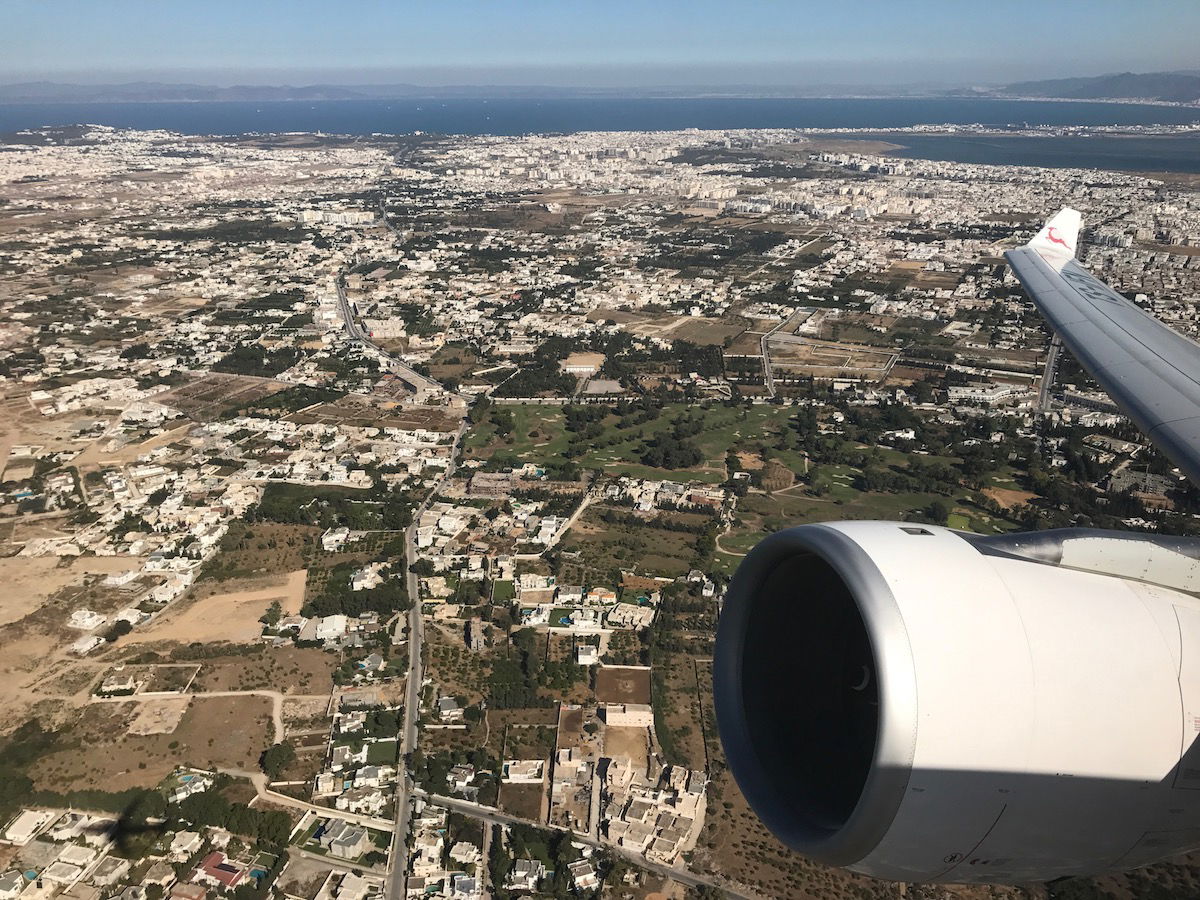 View after takeoff from Tunis
What a beautiful country that I'd love to explore more of soon.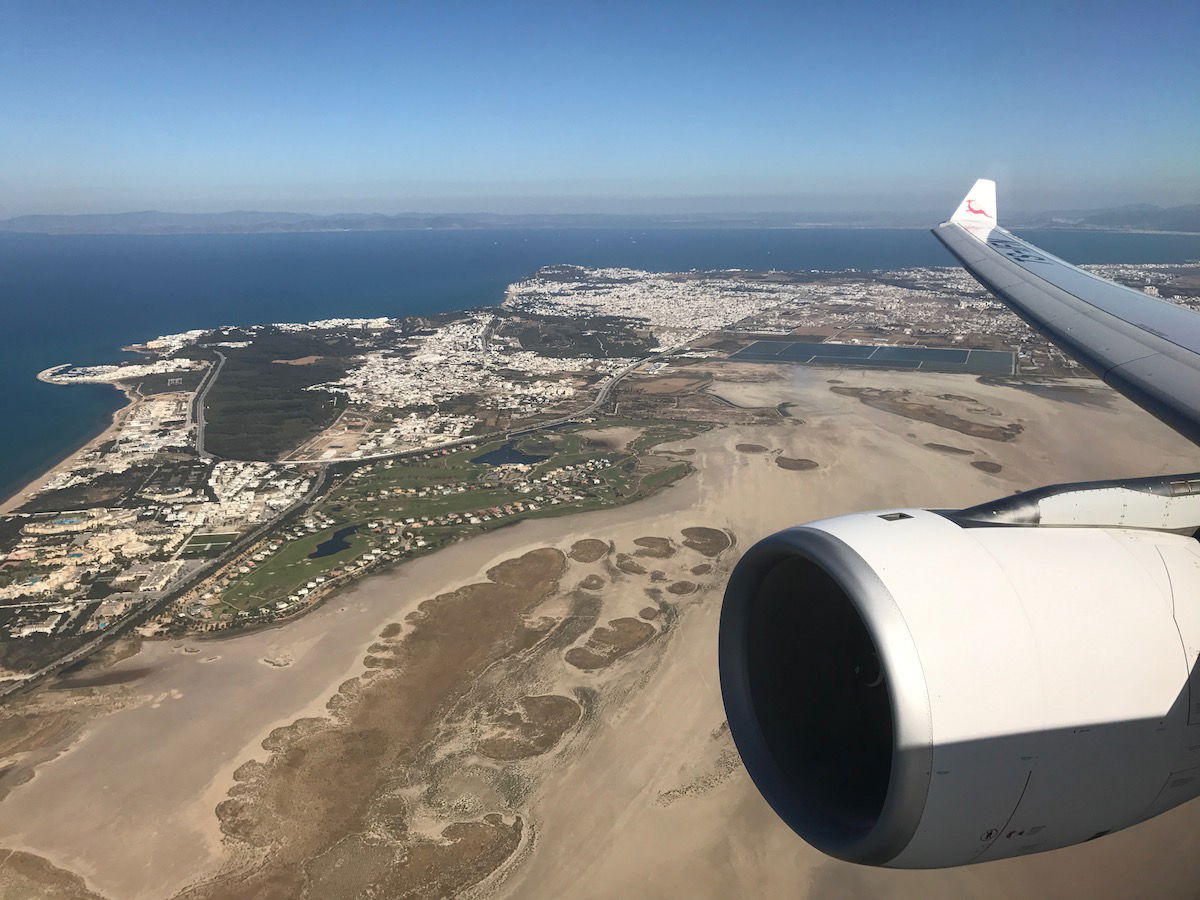 View after takeoff from Tunis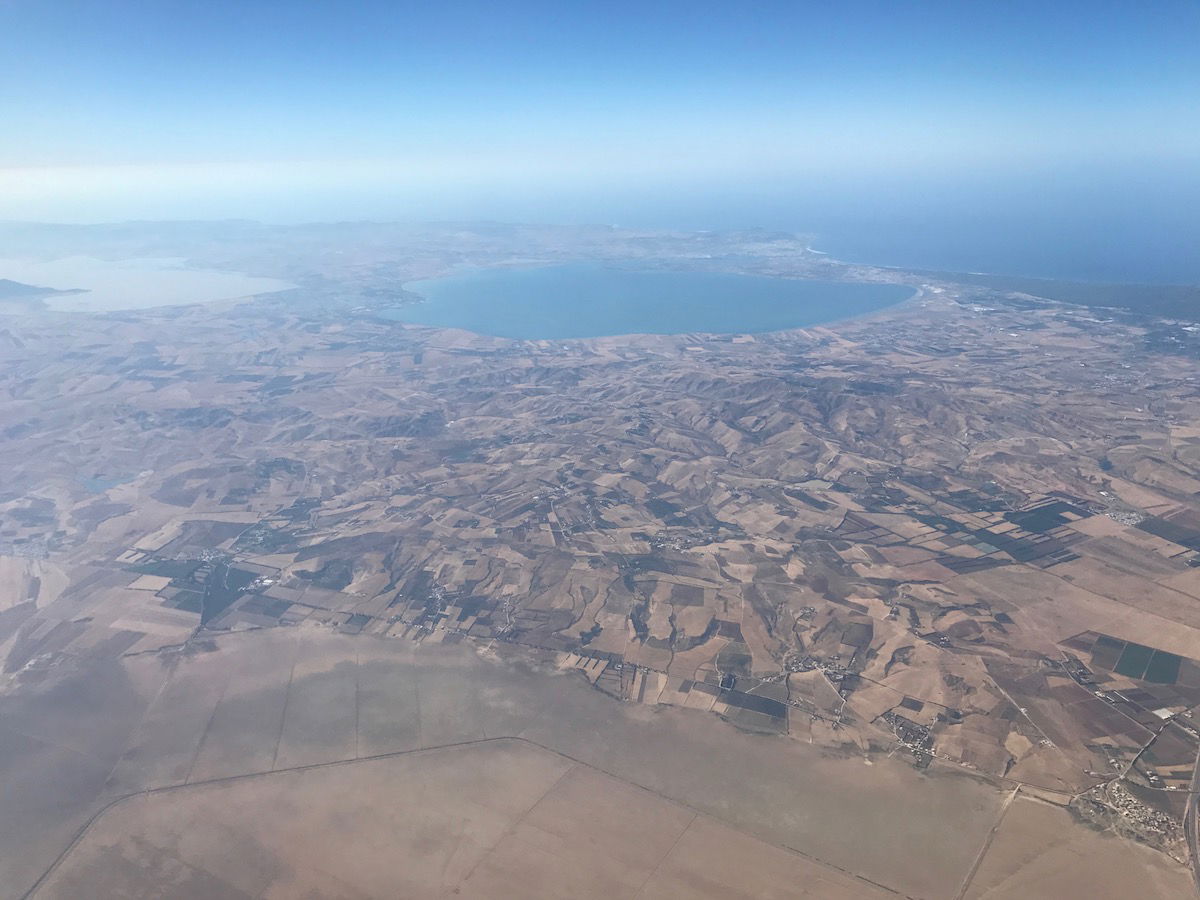 View after takeoff from Tunis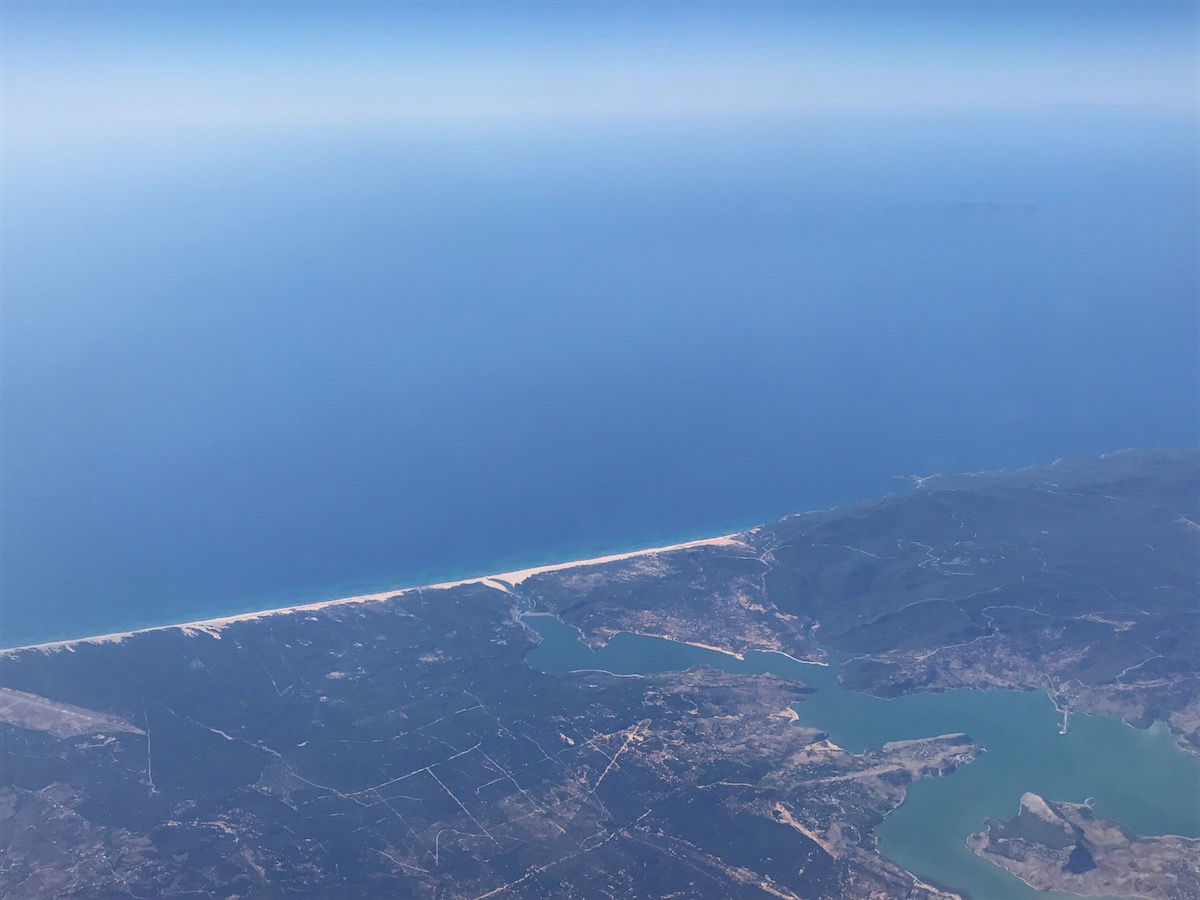 Flying along the coast of Tunisia
Five minutes after takeoff the seatbelt sign was turned off. About 15 minutes after takeoff the crew handed out amenity kits, landing cards for Canada, and headphones.
The amenity kit had the basics, including earplugs, eyeshades, a brush, lotion, etc.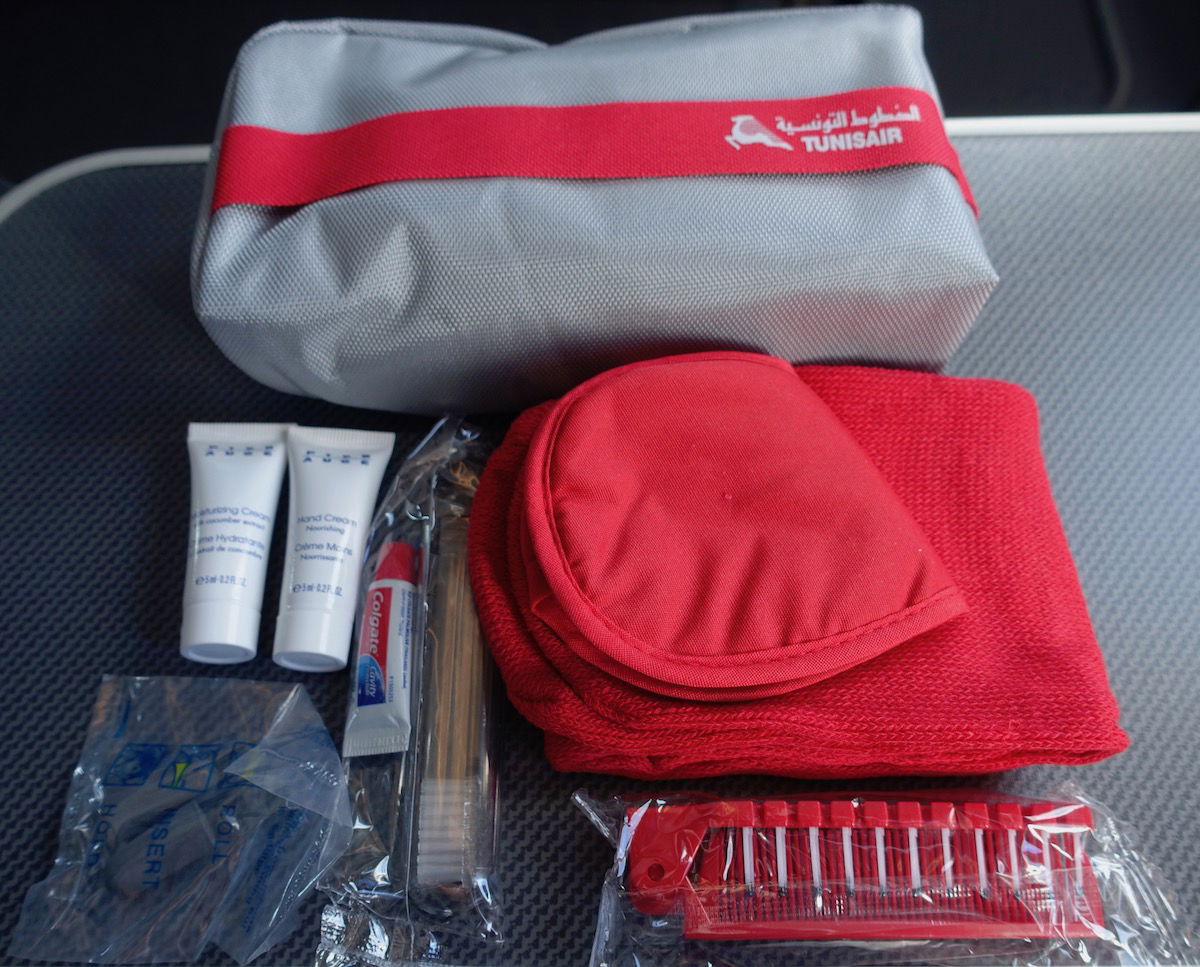 Tunisair business class amenity kit contents
The headphones were also pretty basic, so I used my own Bose headphones.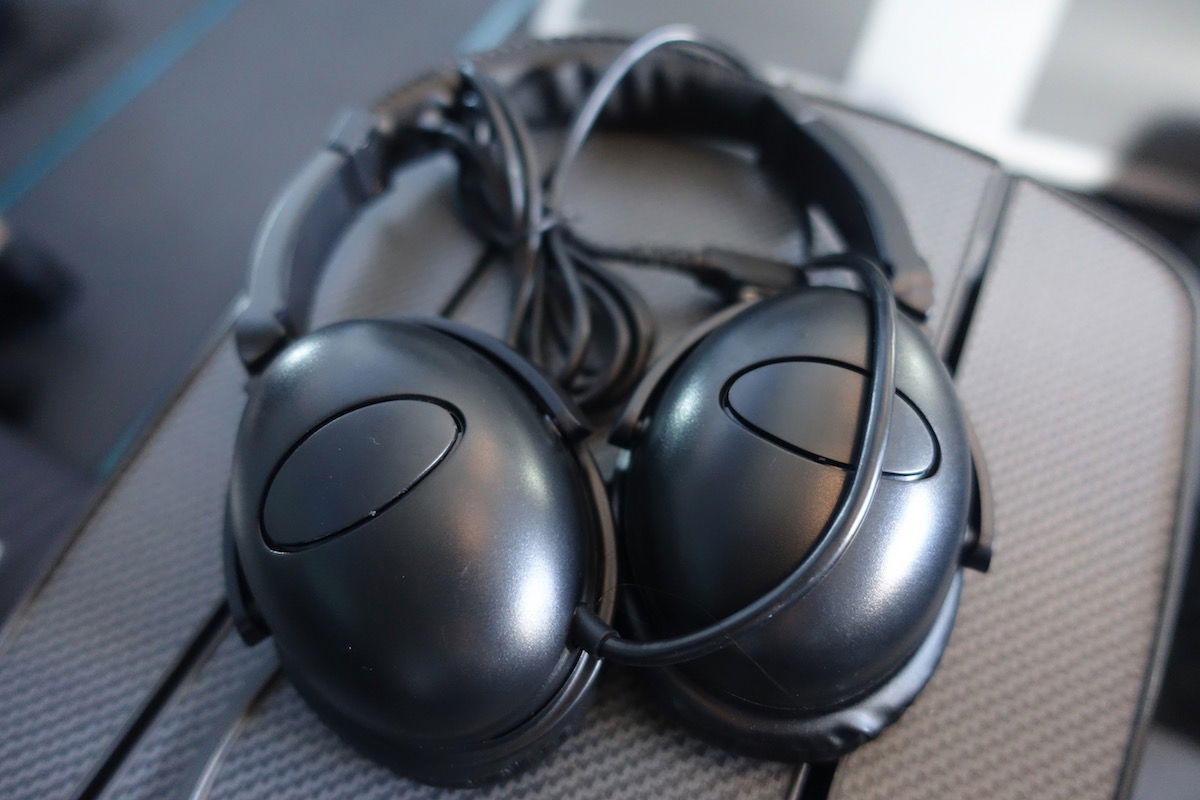 Tunisair business class headphones
As we continued our climb out, I browsed the entertainment selection.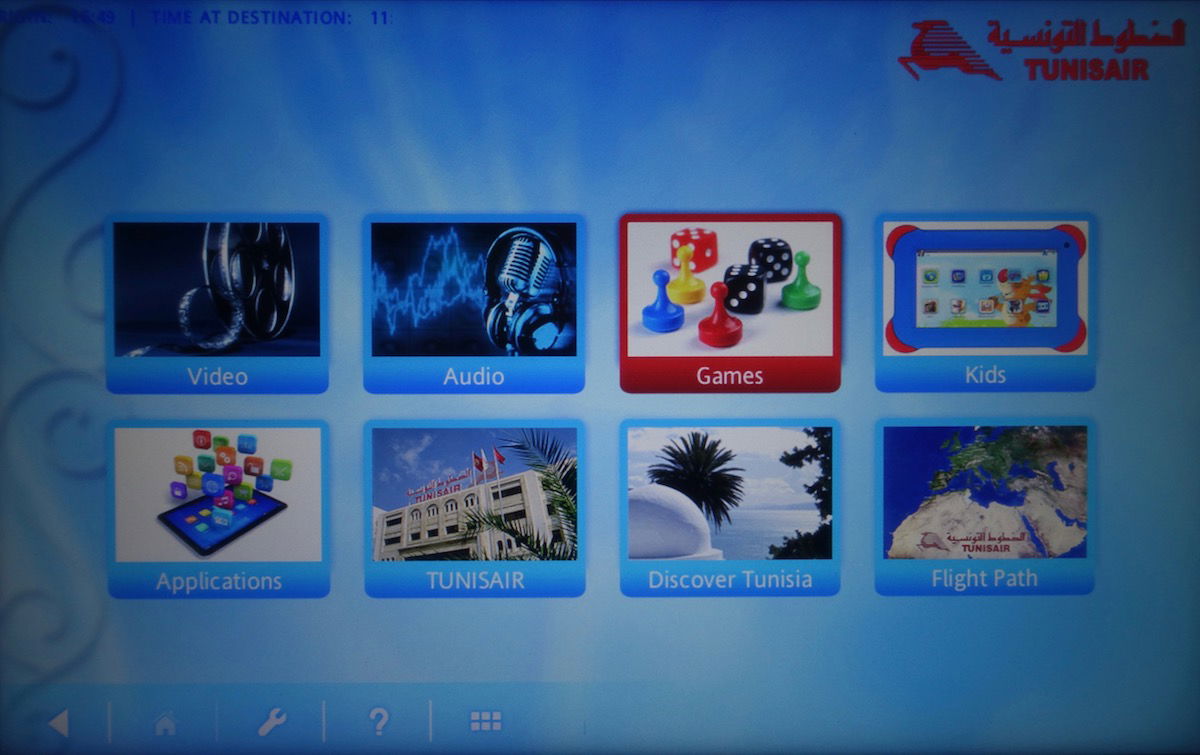 Tunisair entertainment selection
The selection was reasonably decent. There were 15 "new release" movies, and a total of 22 "Hollywood" movies.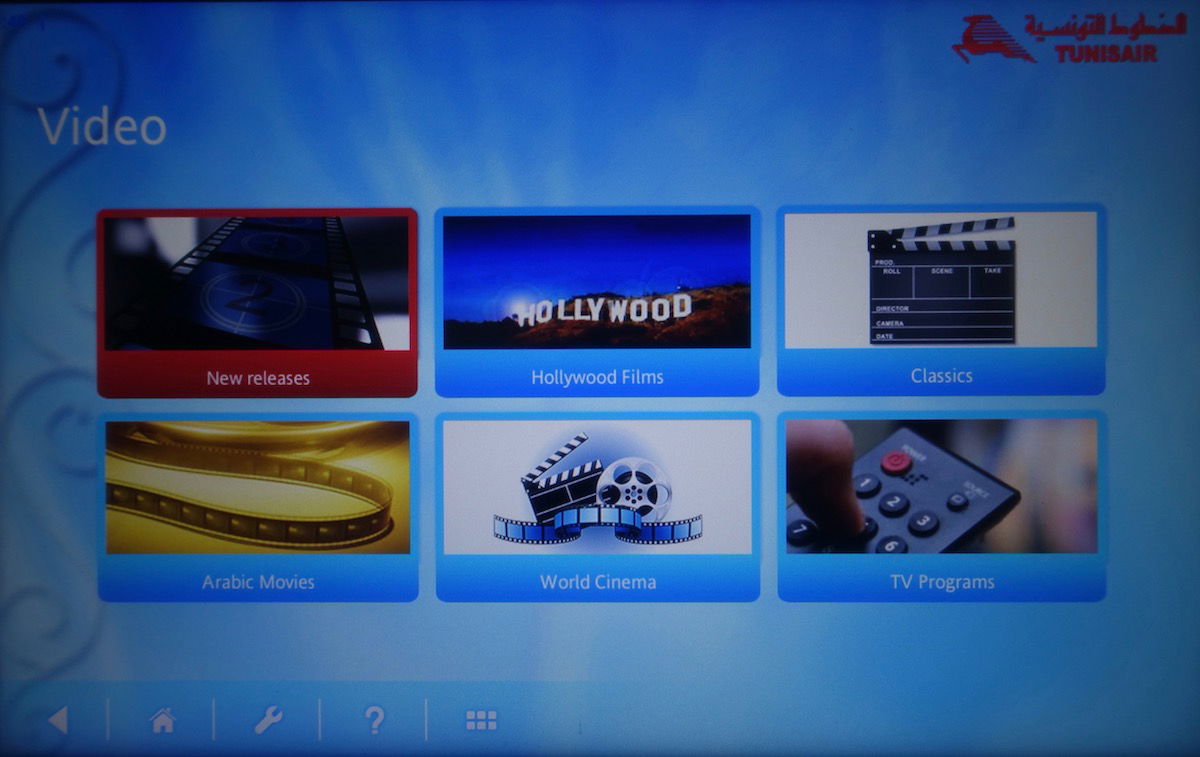 Tunisair entertainment selection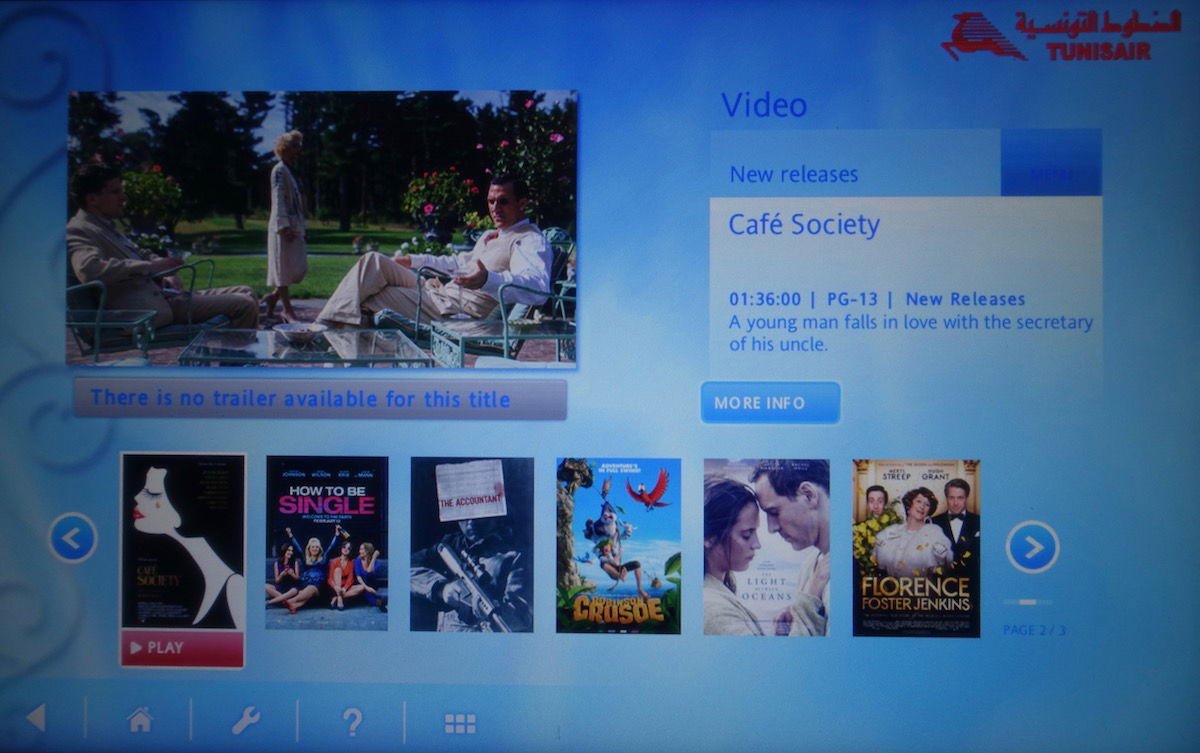 Tunisair entertainment selection
However, the sitcom selection was really bad, with the most modern choice being "Malcolm in the Middle."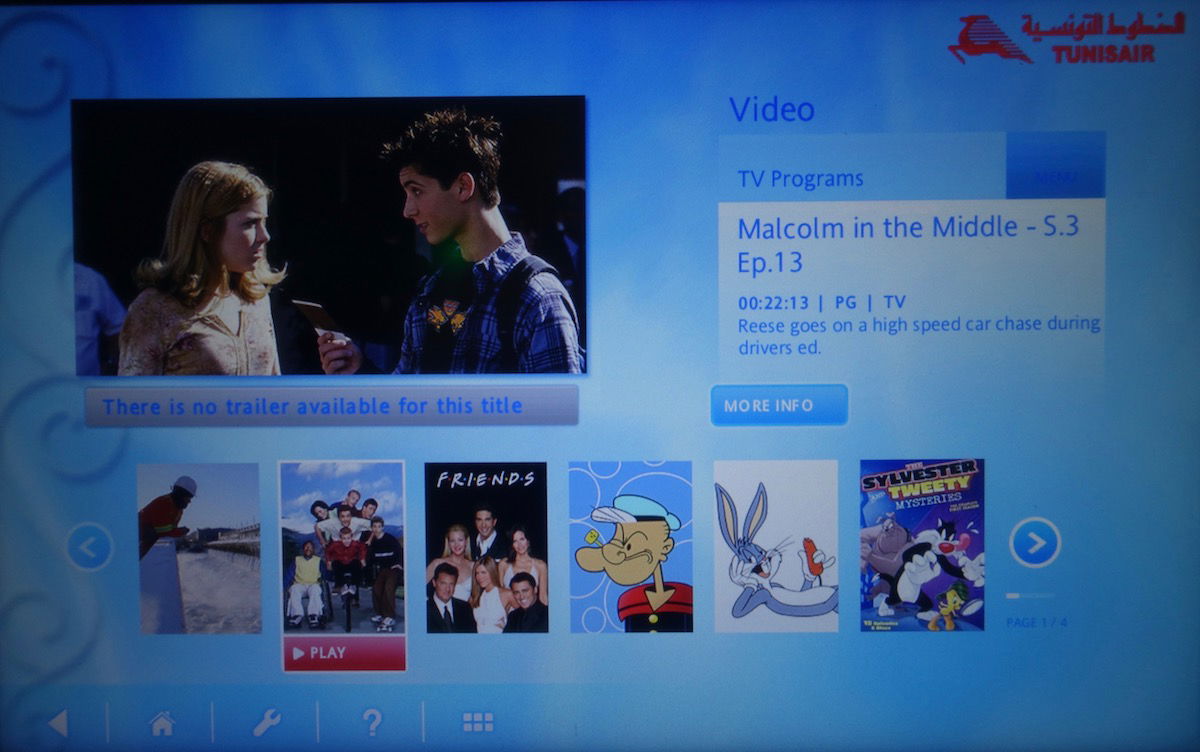 Tunisair entertainment selection
I also checked out the airshow, which was easy to use.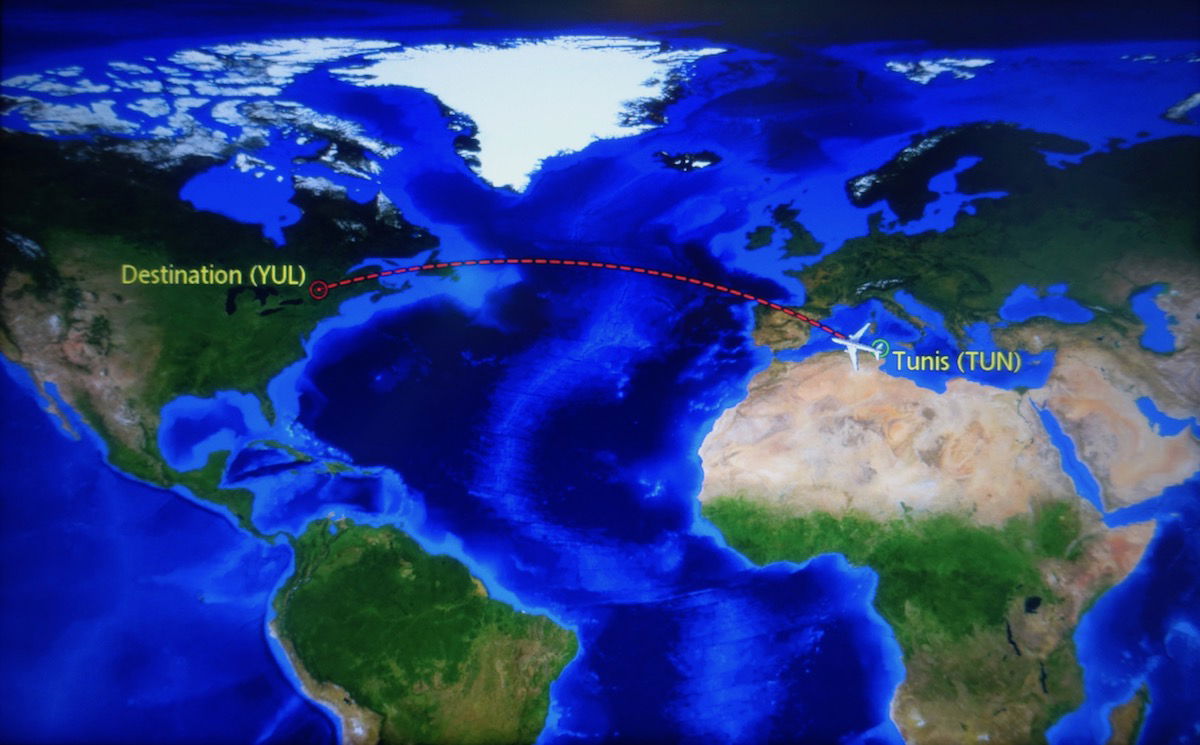 Airshow enroute to Montreal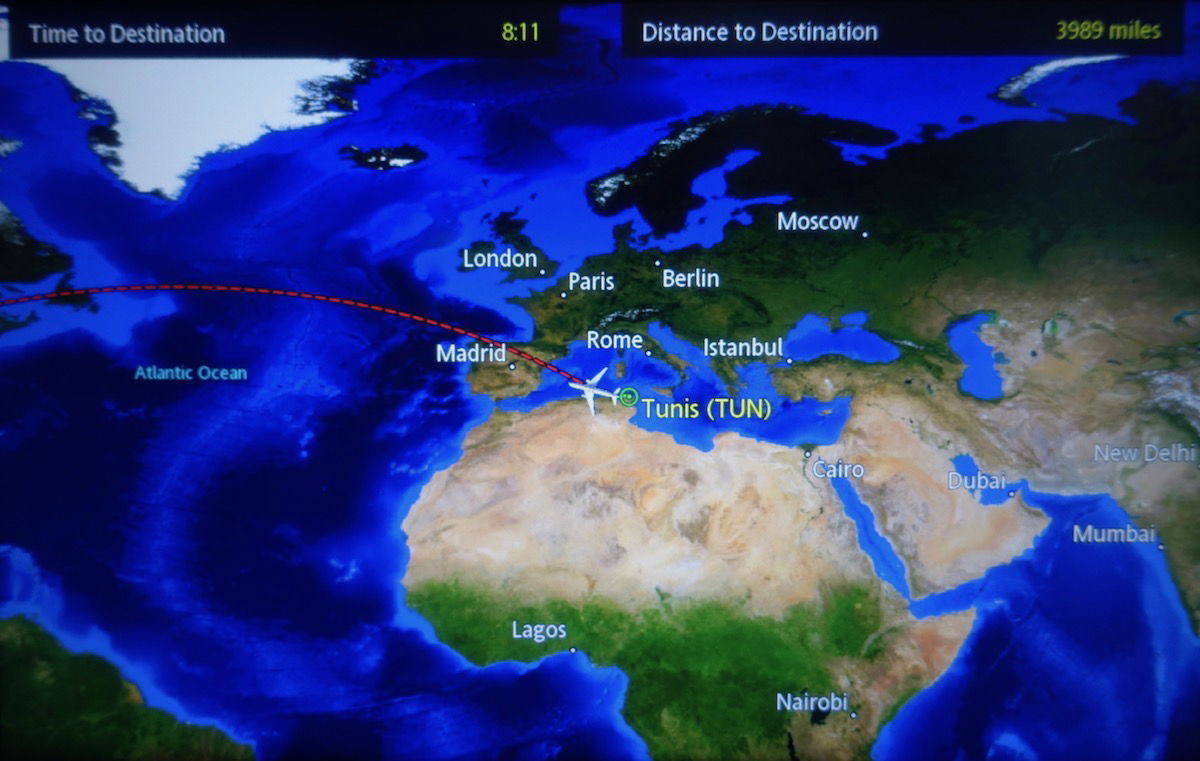 Airshow enroute to Montreal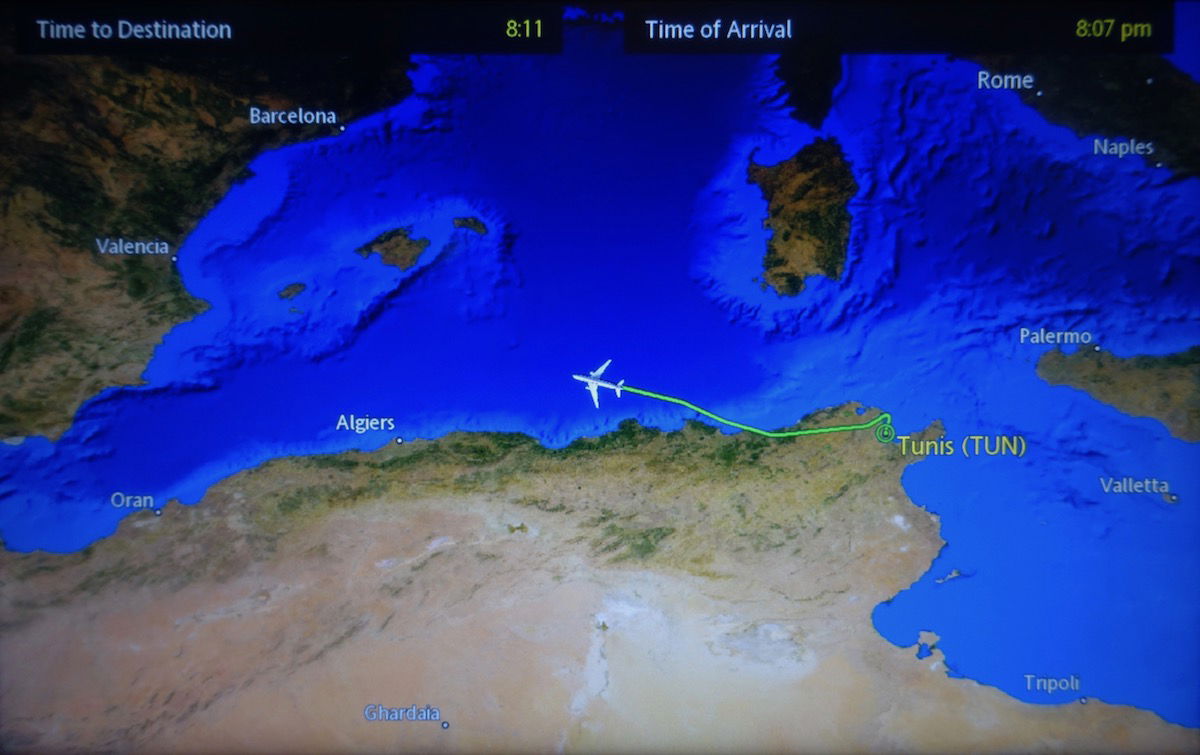 Airshow enroute to Montreal
I was expecting this flight to have Wi-Fi based on the press releases I saw when Tunisair first introduced these planes. However, Tunisair didn't have Wi-Fi on the A330. I asked one of the flight attendants about this, and he said "we hope to have it one day, Inshallah!"
Given my recent love of animated movies like Zootopia, Sing, etc. I decided to watch Storks, which was pretty good too.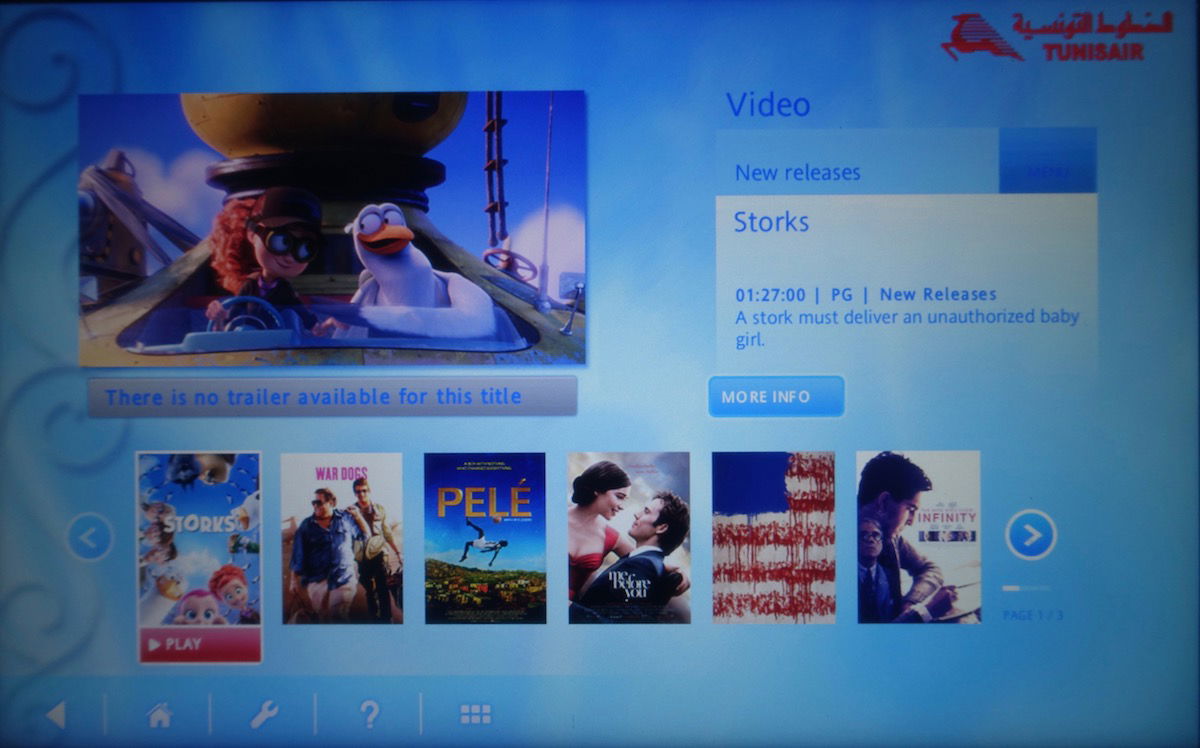 Tunisair entertainment selection
About 40 minutes after takeoff the meal service began, starting with warm towels.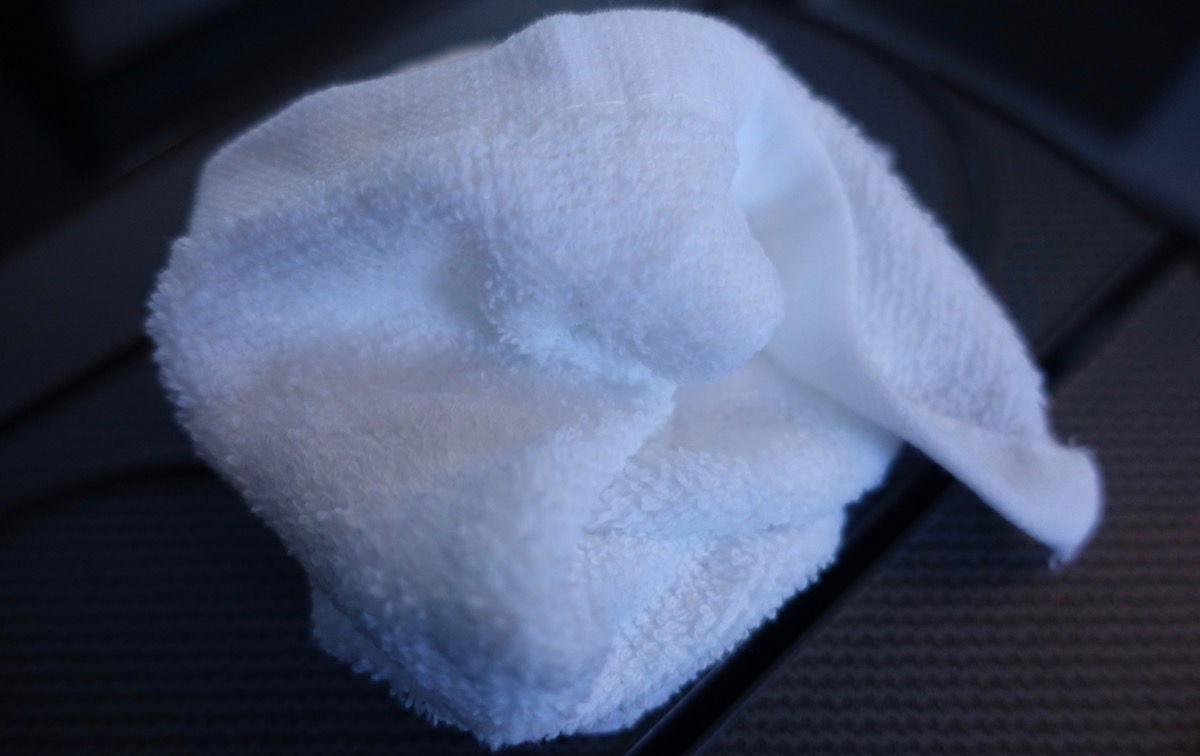 Tunisair business class warm towel
Then there was a selection of canapés, along with mixed nuts and drinks. The canapés were tasty, though to my surprise Tunisair was "dry" during Ramadan. The flight attendant was surprised by this as well, and didn't understand why.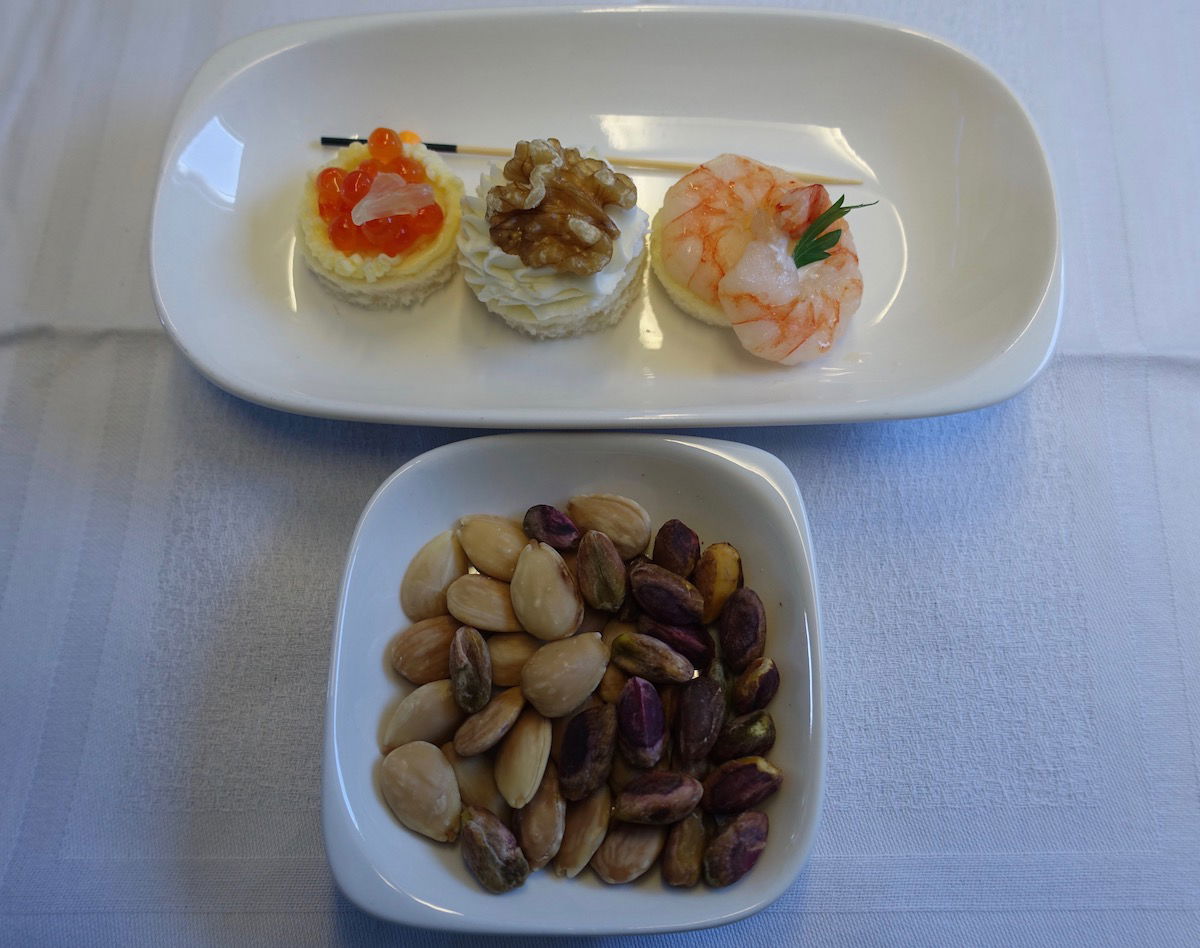 Tunisair business class starter & nuts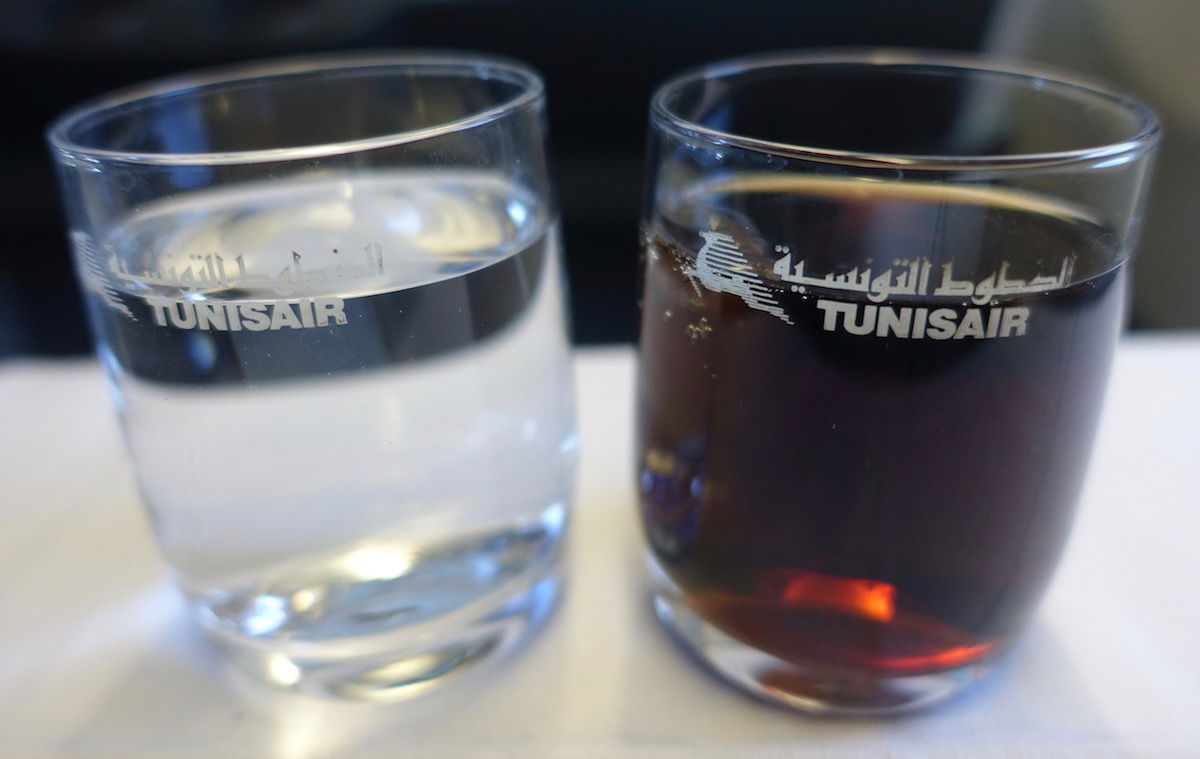 Tunisair business class drinks
Once drinks and snacks were served, the crew distributed menus.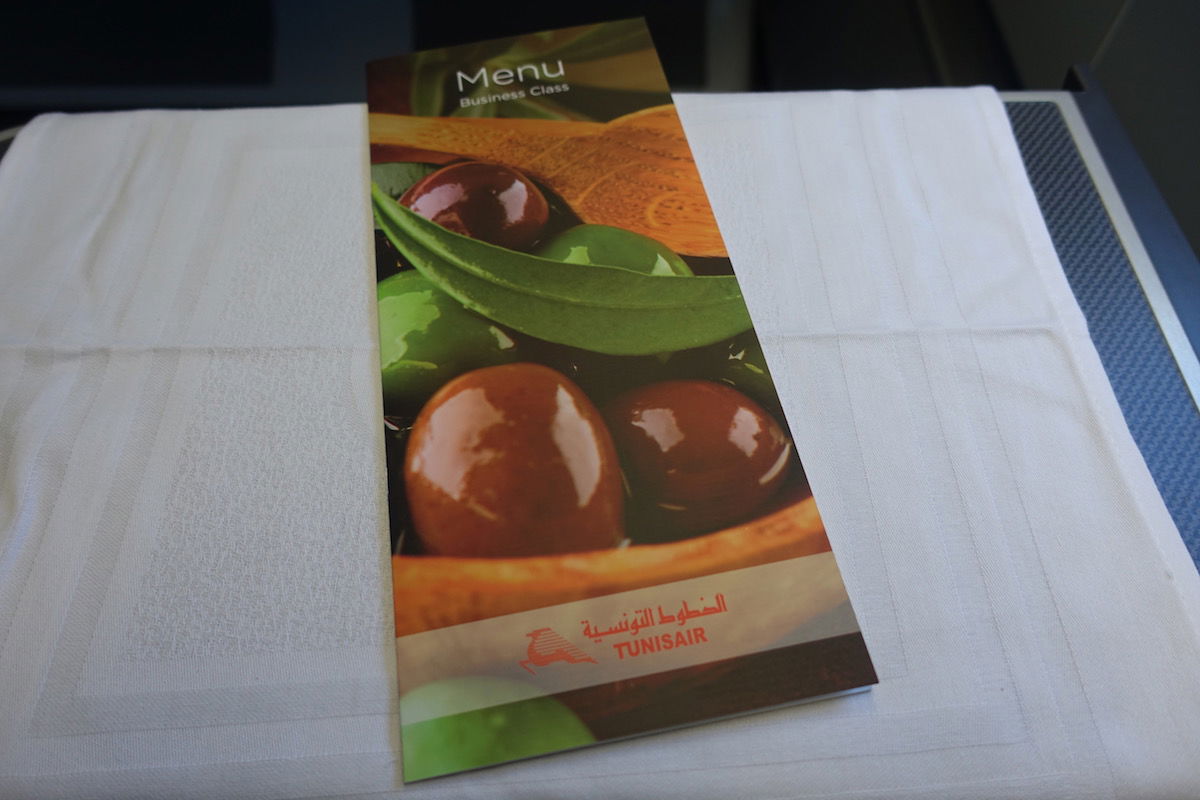 Tunisair business class menu
The lunch menu read as follows: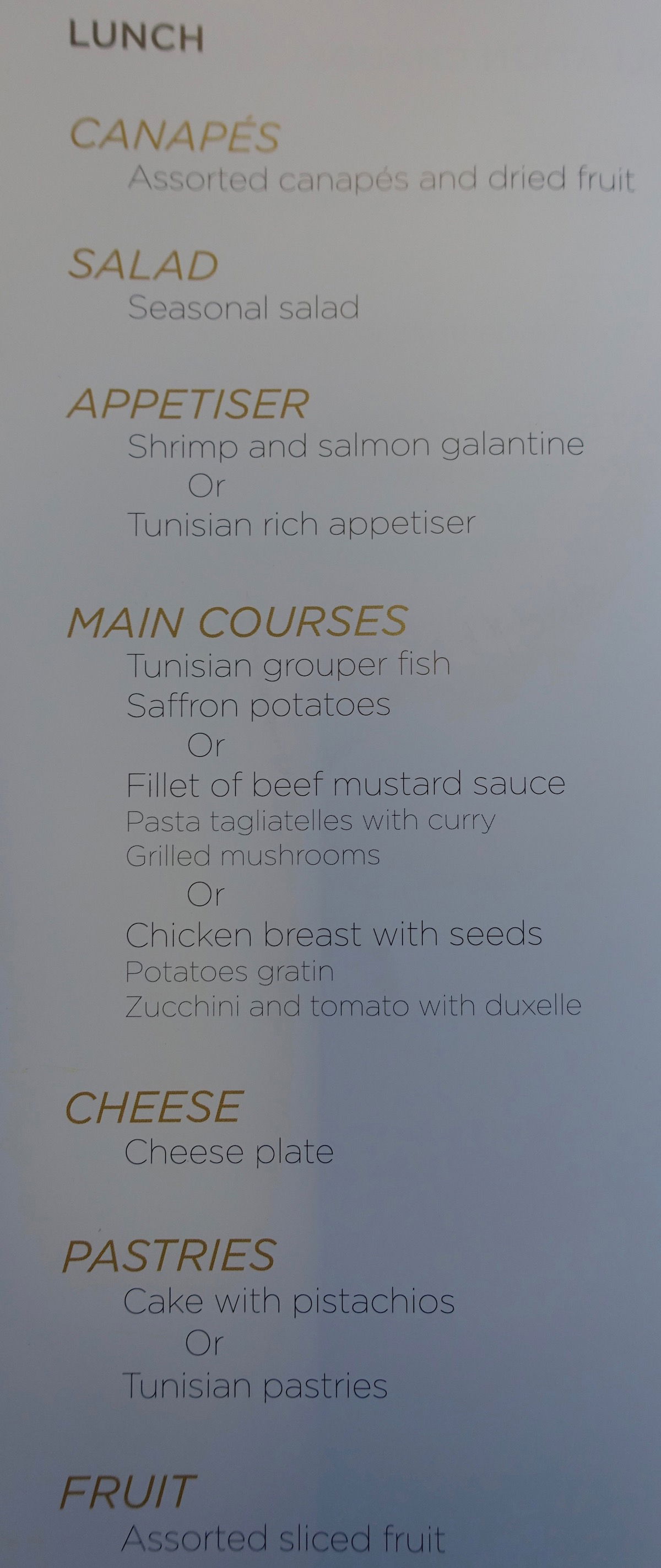 And the drink list read as follows (though wasn't accurate, since they weren't serving alcohol):

Appetizers were served about 10 minutes after the canapés.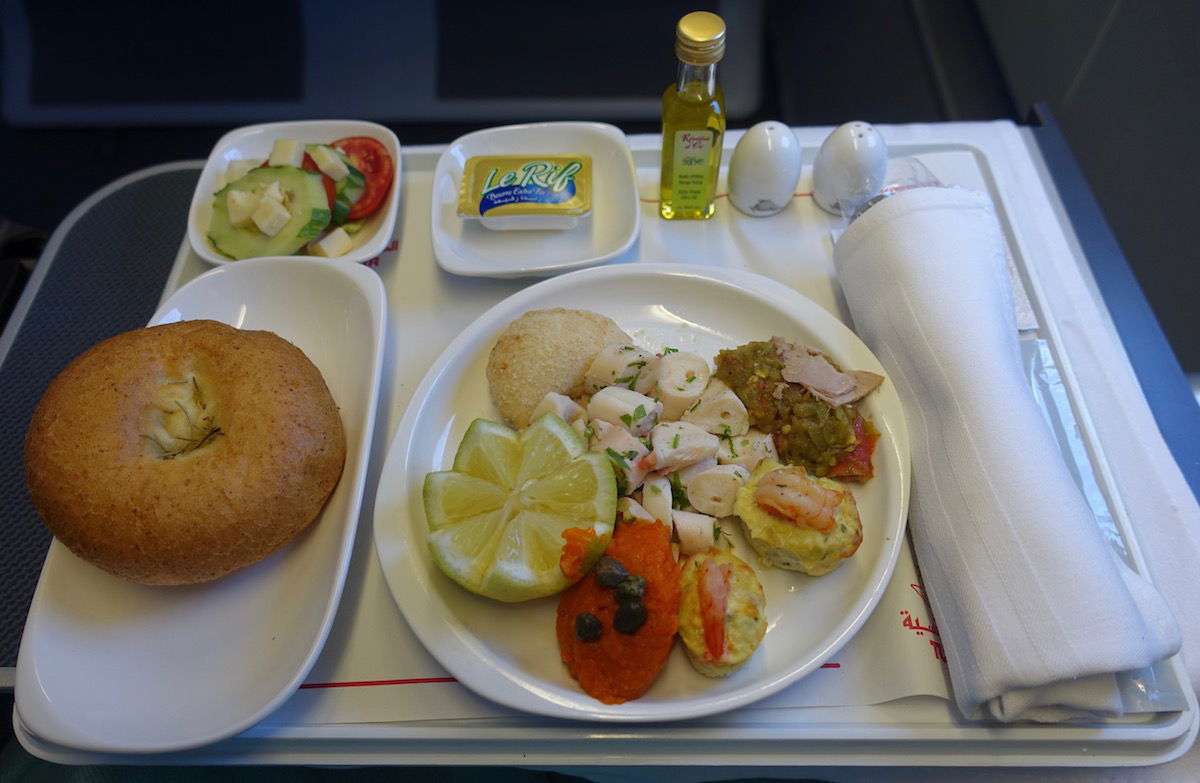 Tunisair business class lunch
I selected the Tunisian option, which was reasonably good.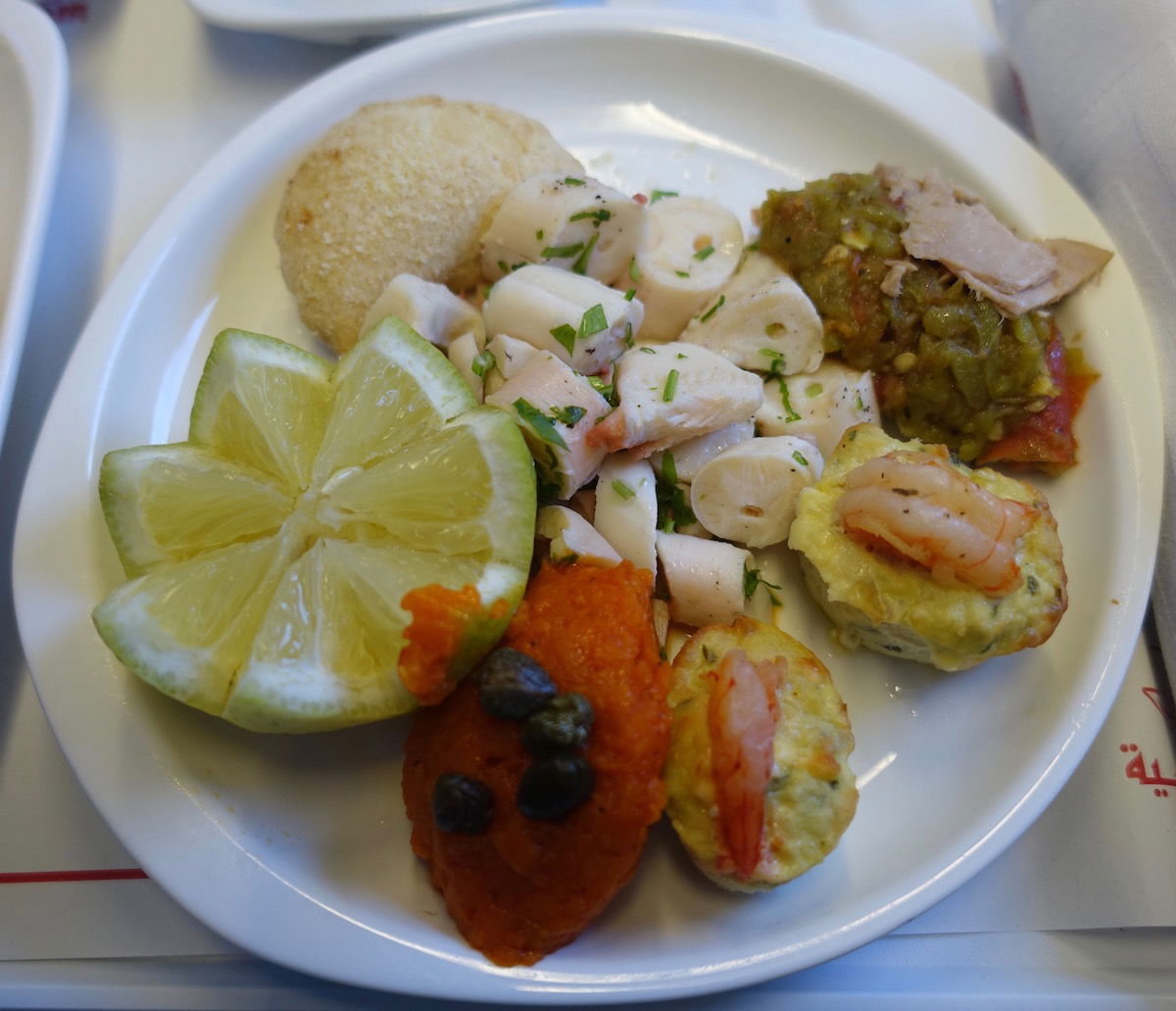 Tunisair business class lunch — Tunisian appetizer
There was also a very small side salad with cucumbers, tomatoes, and cheese.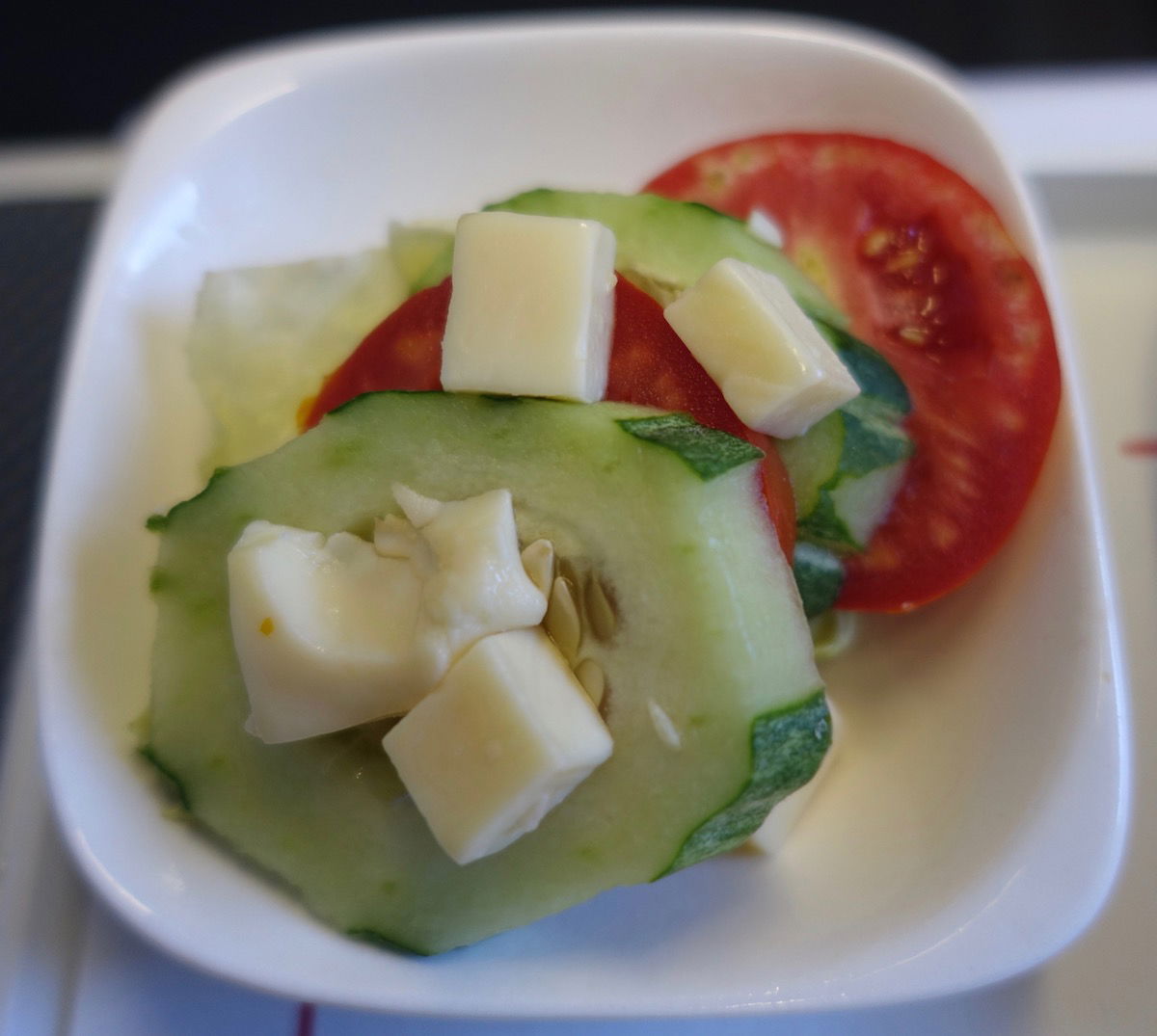 Tunisair business class lunch — seasonal salad
While not on the menu, I was asked if I also wanted some soup. I agreed, and was happy I tried it — it was super spicy.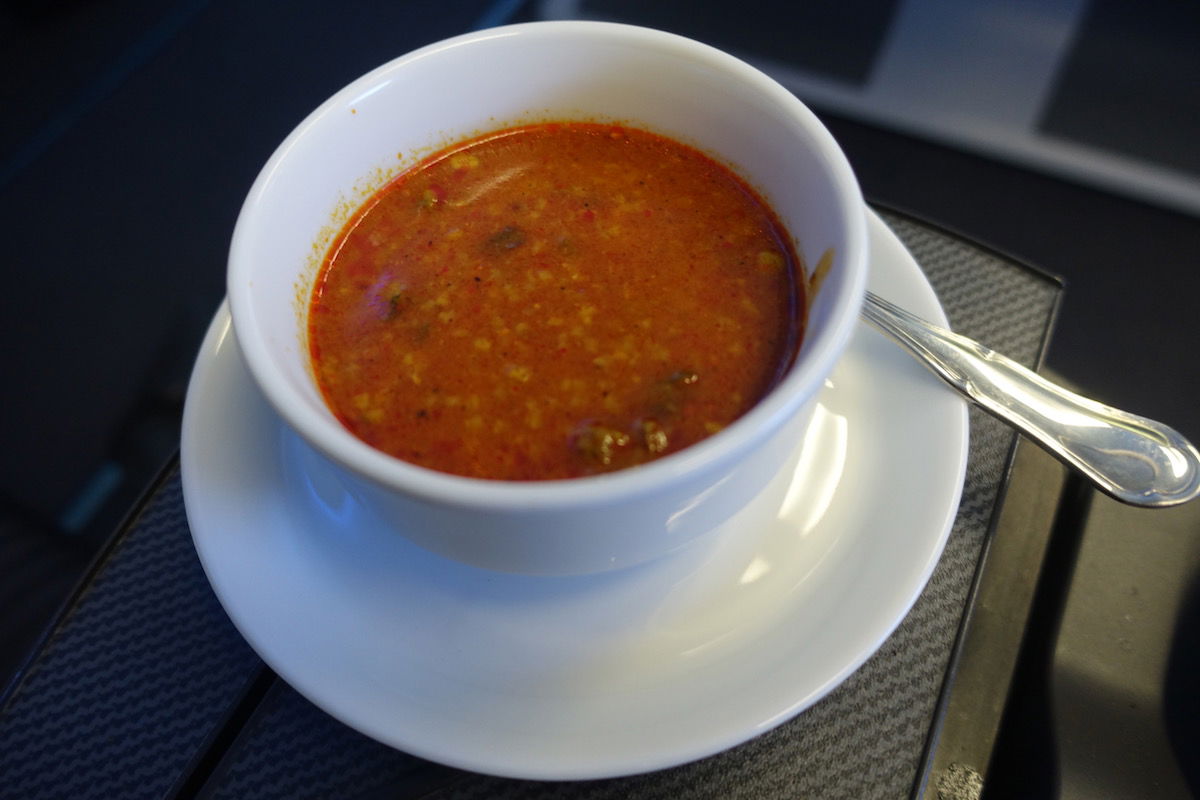 Tunisair business class lunch — soup
For the main course I had the Tunisian grouper with saffron potatoes. While perhaps not the most inspiring presentation, the quality was phenomenal. What a flavorful dish.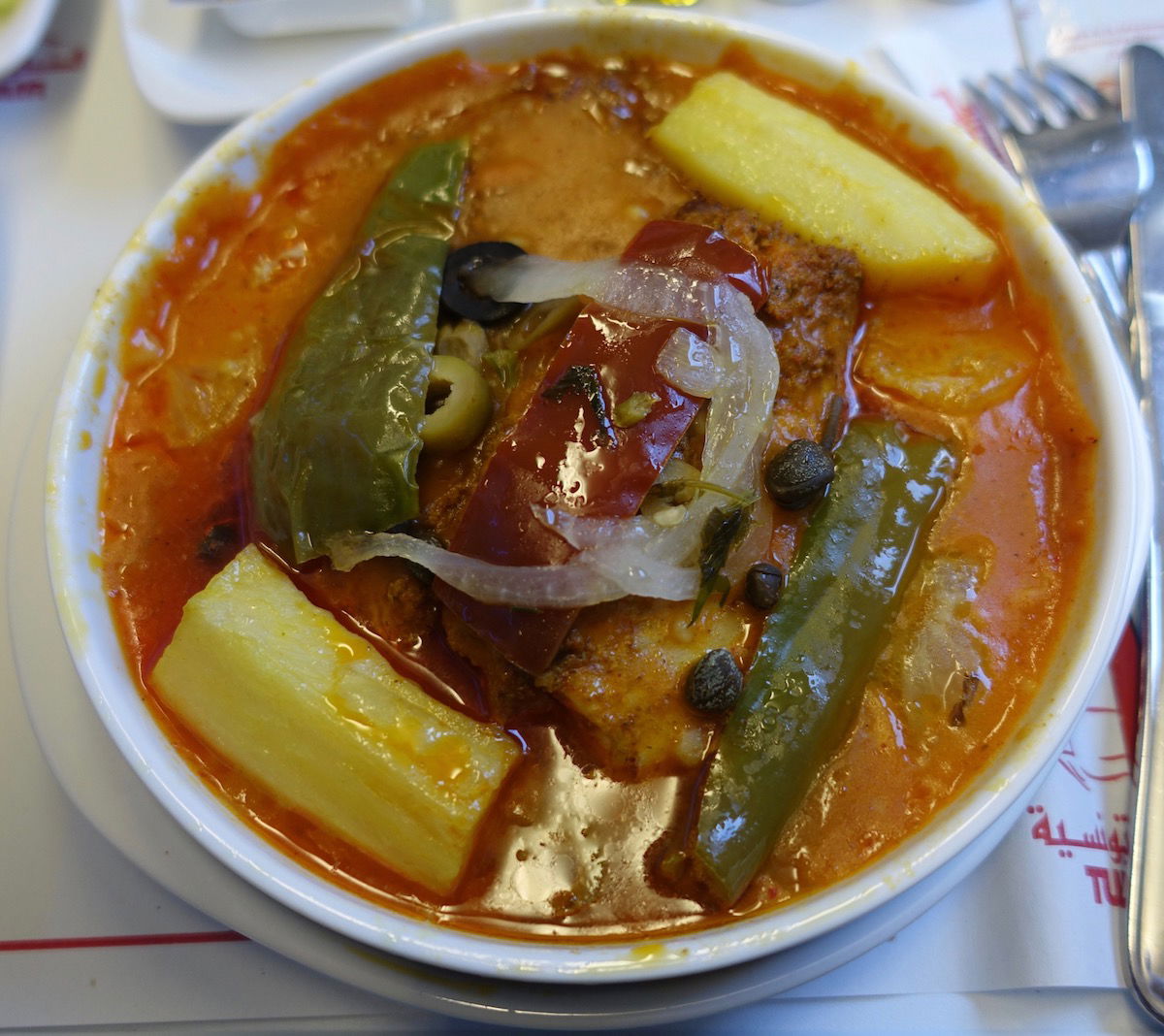 Tunisair business class lunch — Tunisian grouper
Next up was a cheese course. The crew rolled a cart down the aisle with the cheese selection, and prepared the cheese plates there.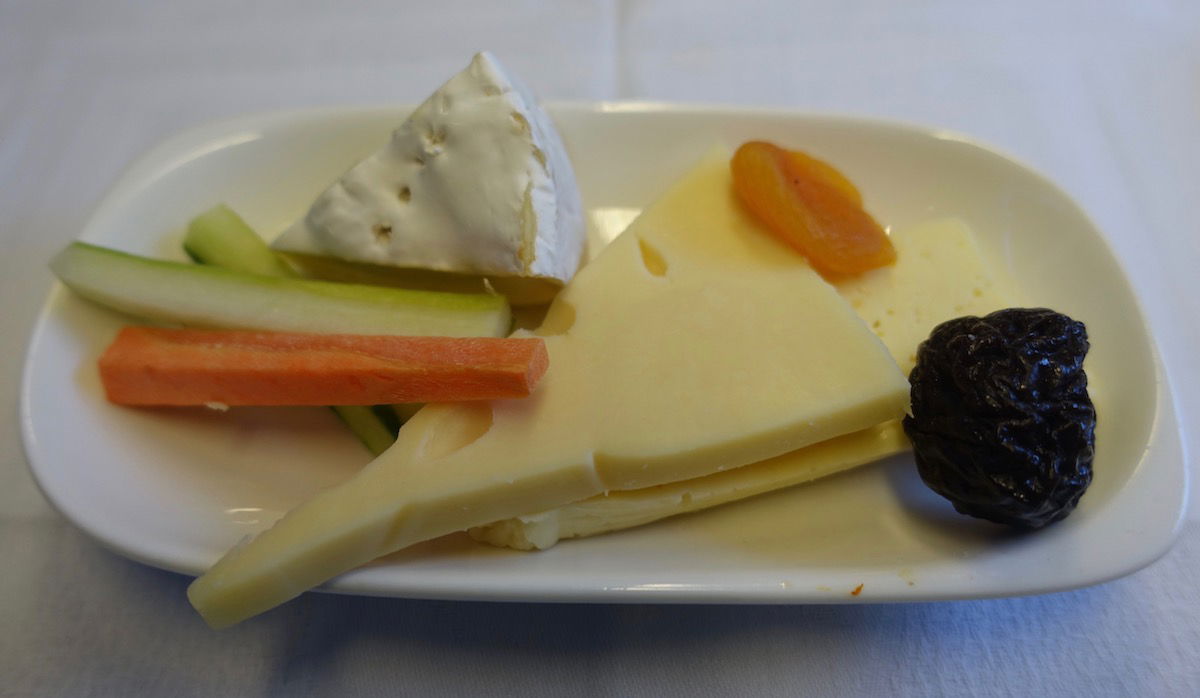 Tunisair business class lunch — cheese plate
Lastly I was offered the dessert, which consisted of a pistachio cake, as well as some fresh fruit.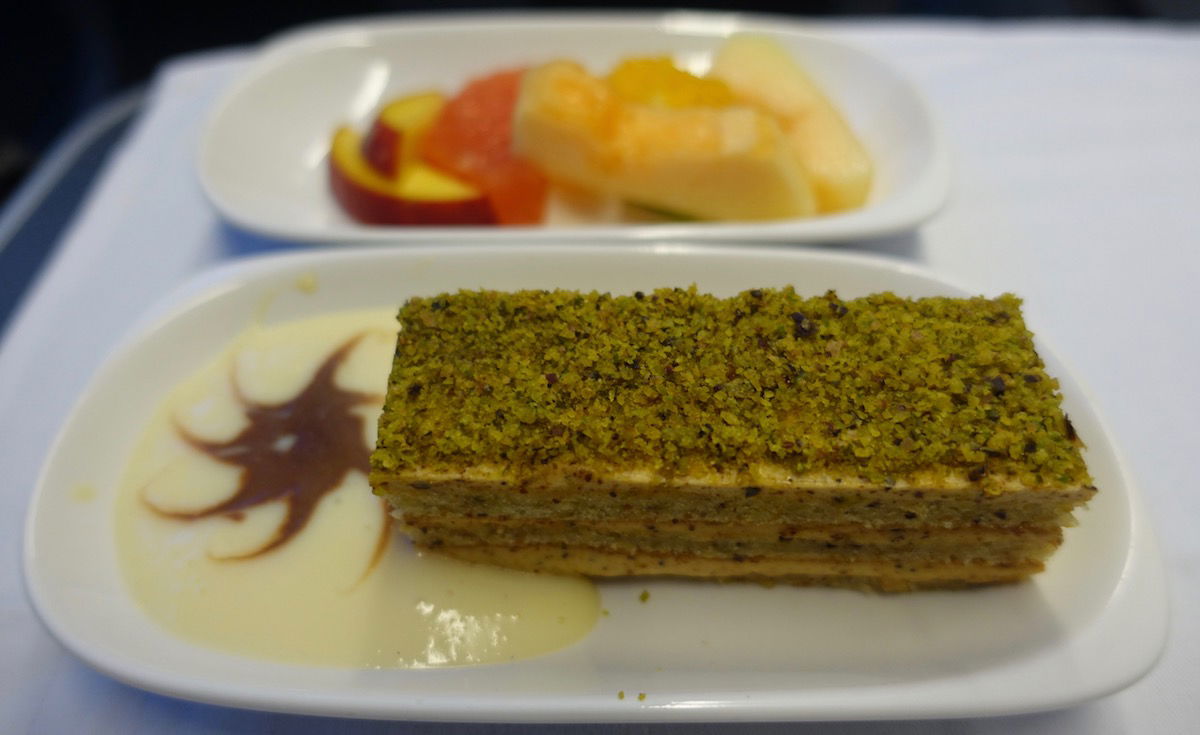 Tunisair business class lunch — pistachio cake
The meal service was done about 2hr30min after takeoff. What a huge, all around pretty good, meal. I was impressed.
Furthermore, the two male flight attendants working in business class were really friendly. No, they weren't the most polished flight attendants I've ever had, but they were genuinely well intentioned.
After the meal I figured I'd try to get some sleep, but a few minutes after reclining my seat I realized that wasn't going to happen. I'm not trying to be a diva, but I'm just someone who struggles sleeping unless I'm in a bed. I'm not the type who can sleep in a recliner seat, in a car, etc.
So for a daytime flight on an airline without great bedding, I realized I just wasn't going to get any sleep. So I gave up, and decided to work instead.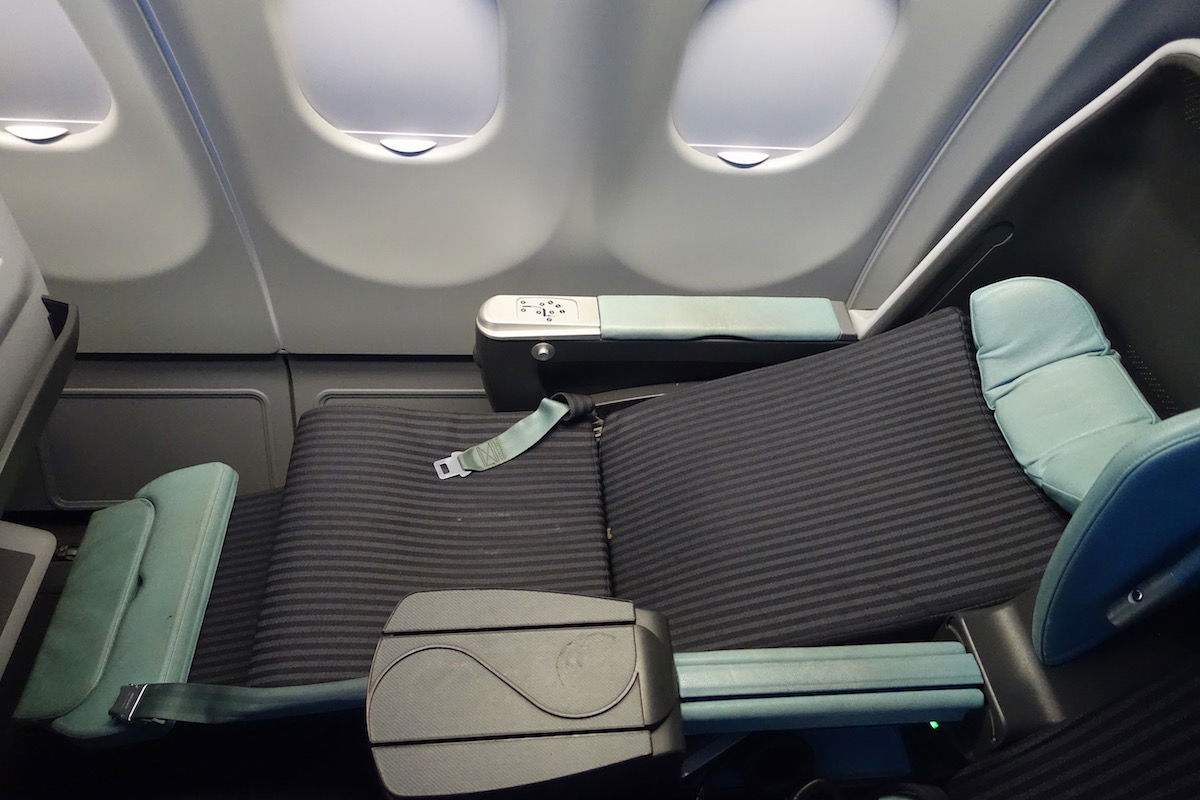 Tunisair A330 business class seat reclined
At this point we were just under six hours from Montreal, and starting our transatlantic crossing.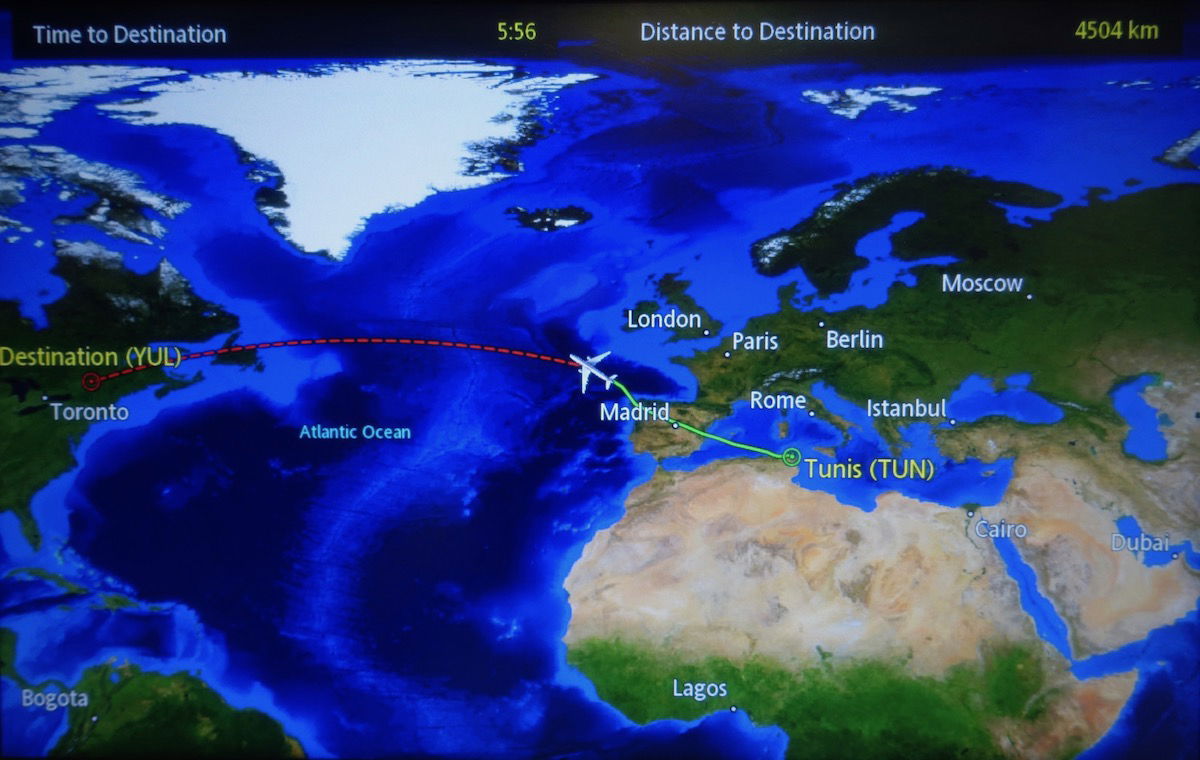 Airshow enroute to Montreal
Rather frustratingly there was a single business class lavatory in front of the cabin. The lavatories behind business class were always used by economy passengers, so I almost always had to wait to use the lavatory. The lavatory itself was reasonably nice, though the funniest part was that the cockpit door was almost never closed.
So I'd go into the lavatory, which is right behind the cockpit, and could have just as easily walked in there. The crew kept the door open as they were chatting in groups, and that way they could more easily talk with the pilots.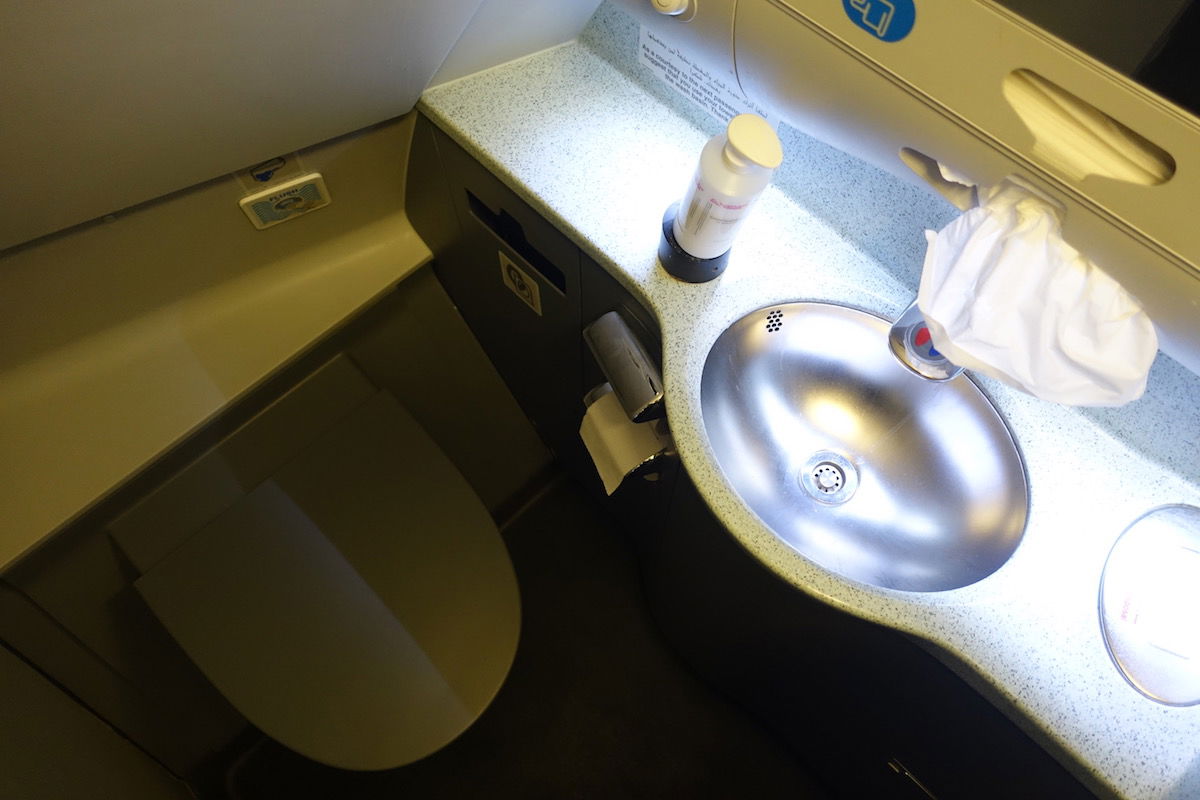 Tunisair A330 business class lavatory
I worked for several hours, and then eventually one of the friendly flight attendants asked me if I wanted a little snack. I figured I'd get one just for the photo op. They had chicken pastries and also some Tunisian desserts. One frustration I had was the lack of bottled water. As someone who likes to drink a lot of water when flying, I found it tough to stay hydrated on this flight.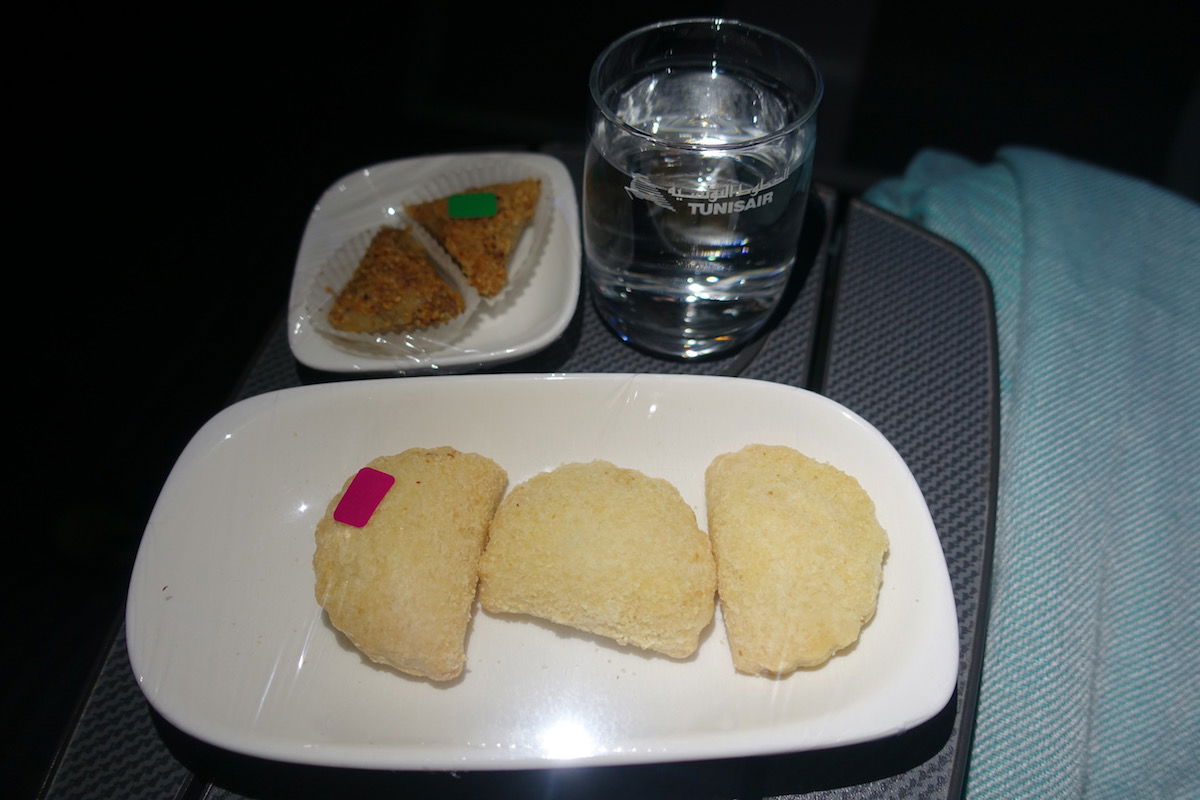 Tunisair business class snack
Soon enough we were just north of St. John's (hi, Fogo Island Inn!), and a couple of hours from landing in Montreal. There seemed to be some sort of medical emergency at the front of business class, as maybe a dozen people were around the seat trying to help someone. I stayed out of their way so wasn't sure what exactly happened, but it seemed to resolve itself.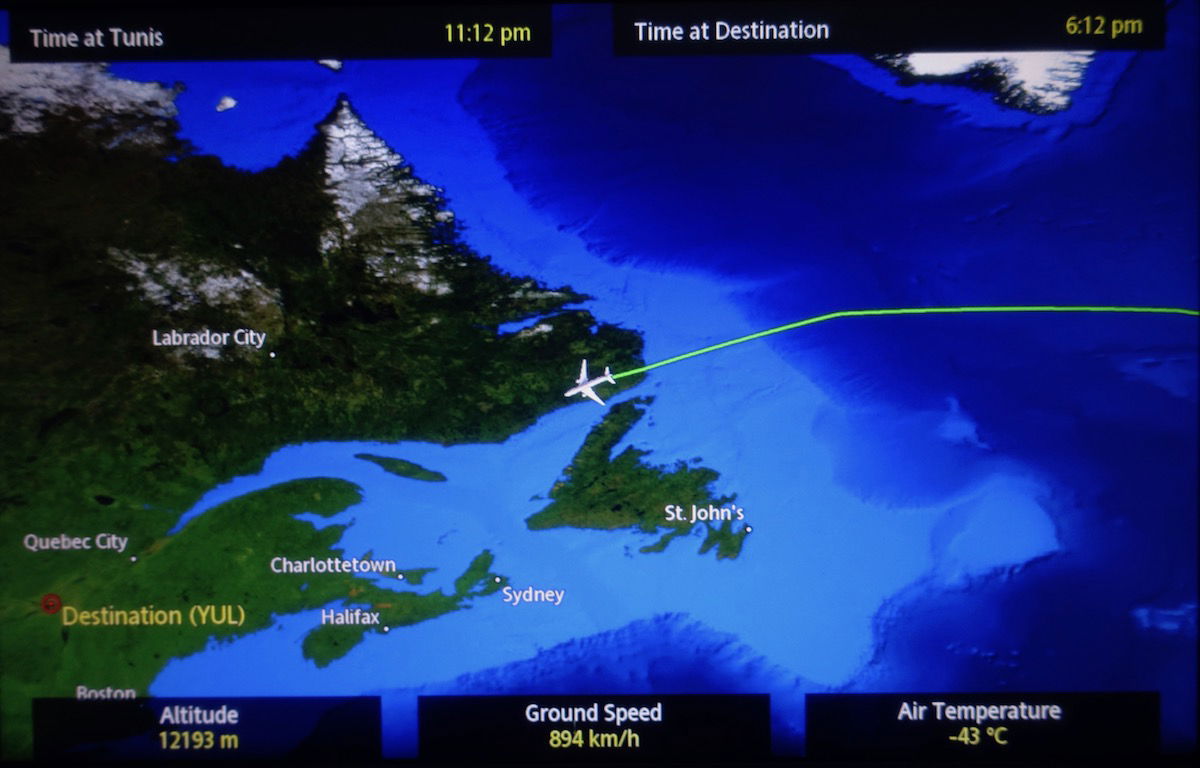 Airshow enroute to Montreal
At that point the crew came through the cabin to see if anyone wanted a drink. I ordered a coffee and some more water.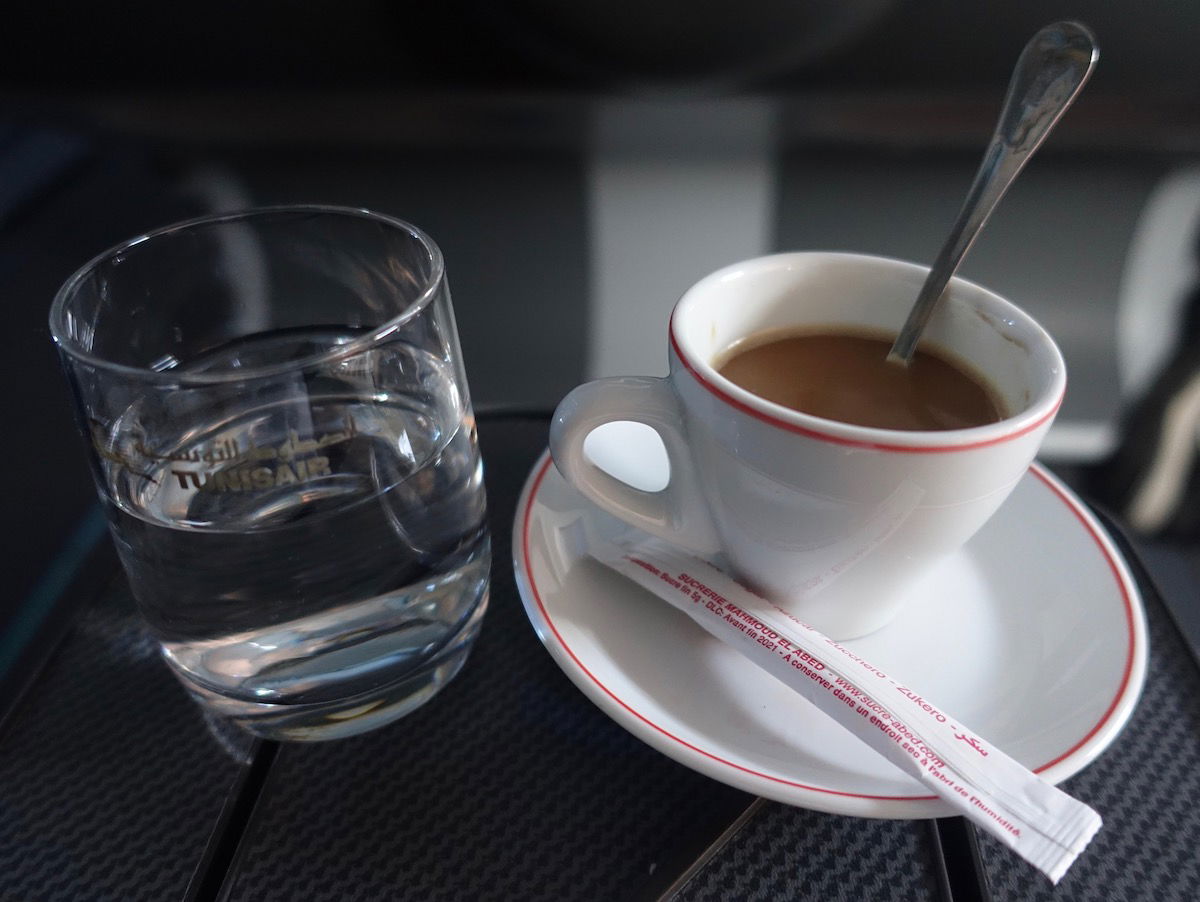 Tunisair business class coffee
Then about 90 minutes before landing the pre-arrival snack was served. The menu read as follows: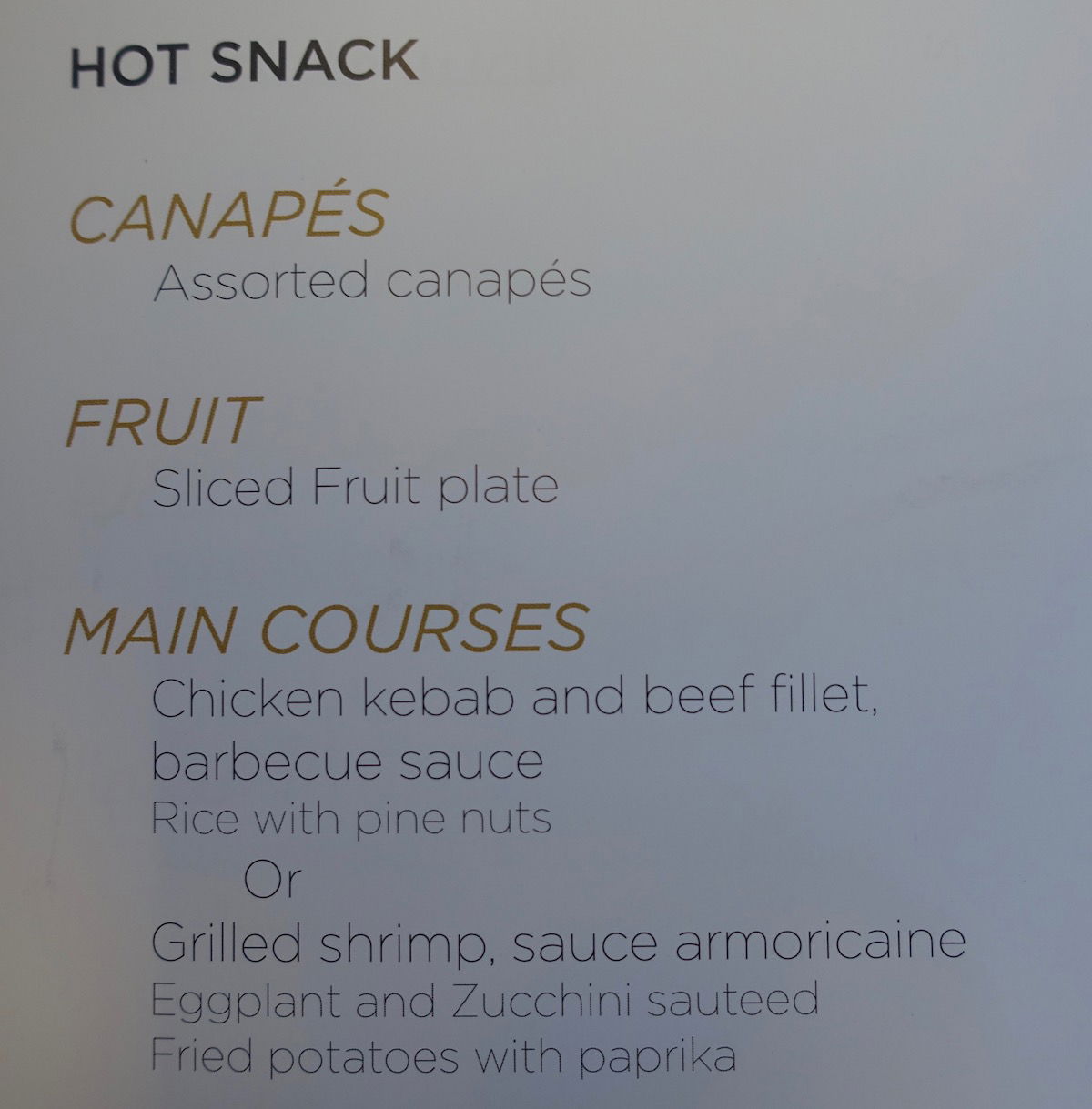 This time around everything was served on a single tray, including the canapés, main course, and fresh fruit for dessert. Overall it was once again a filling and tasty meal.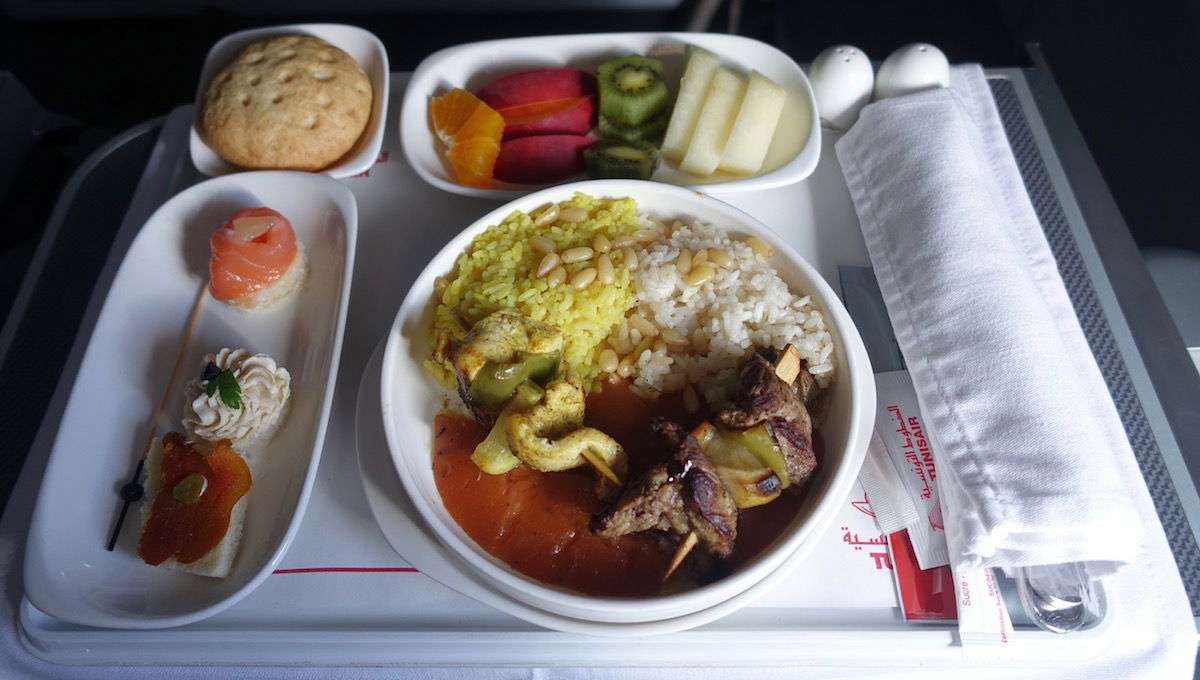 Tunisair business class meal — chicken kebab and beef fillet
After that the crew brought out cute little plates with two packaged chocolates each.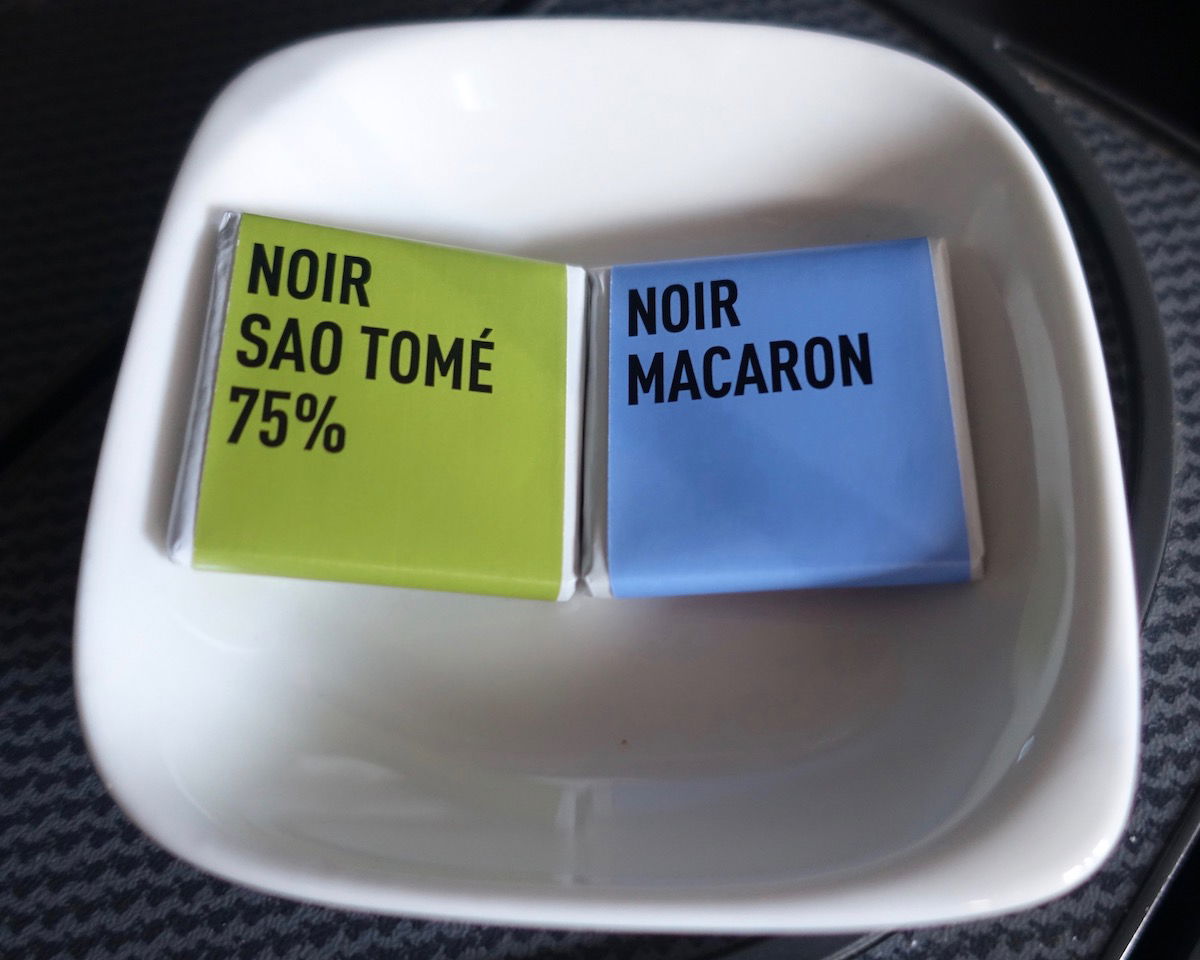 Tunisair business class chocolate
At around 7:30PM we began our descent into Montreal, and the seatbelt sign was turned on immediately, even though we were still at 40,000 feet.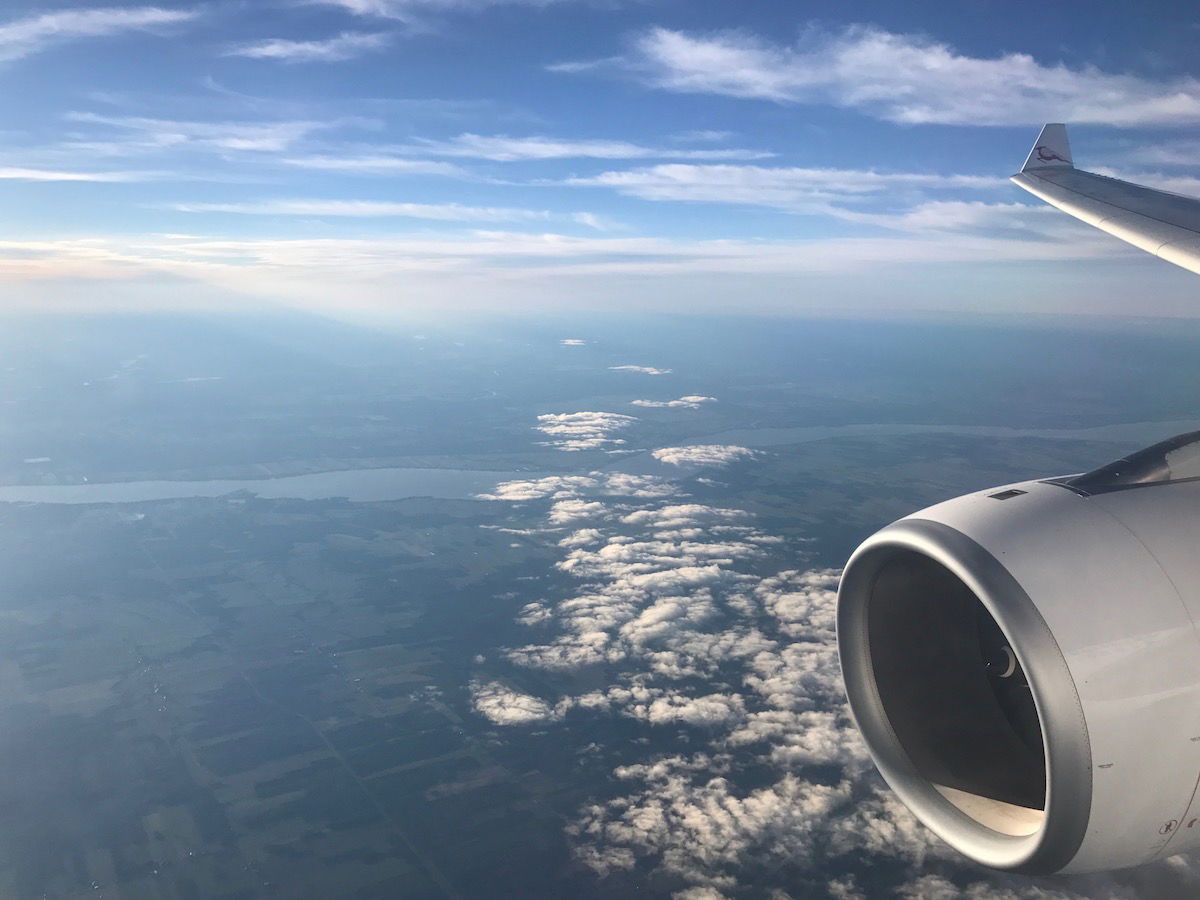 View descending to Montreal
I enjoyed the views on the descent, as it was a gorgeous evening in the area.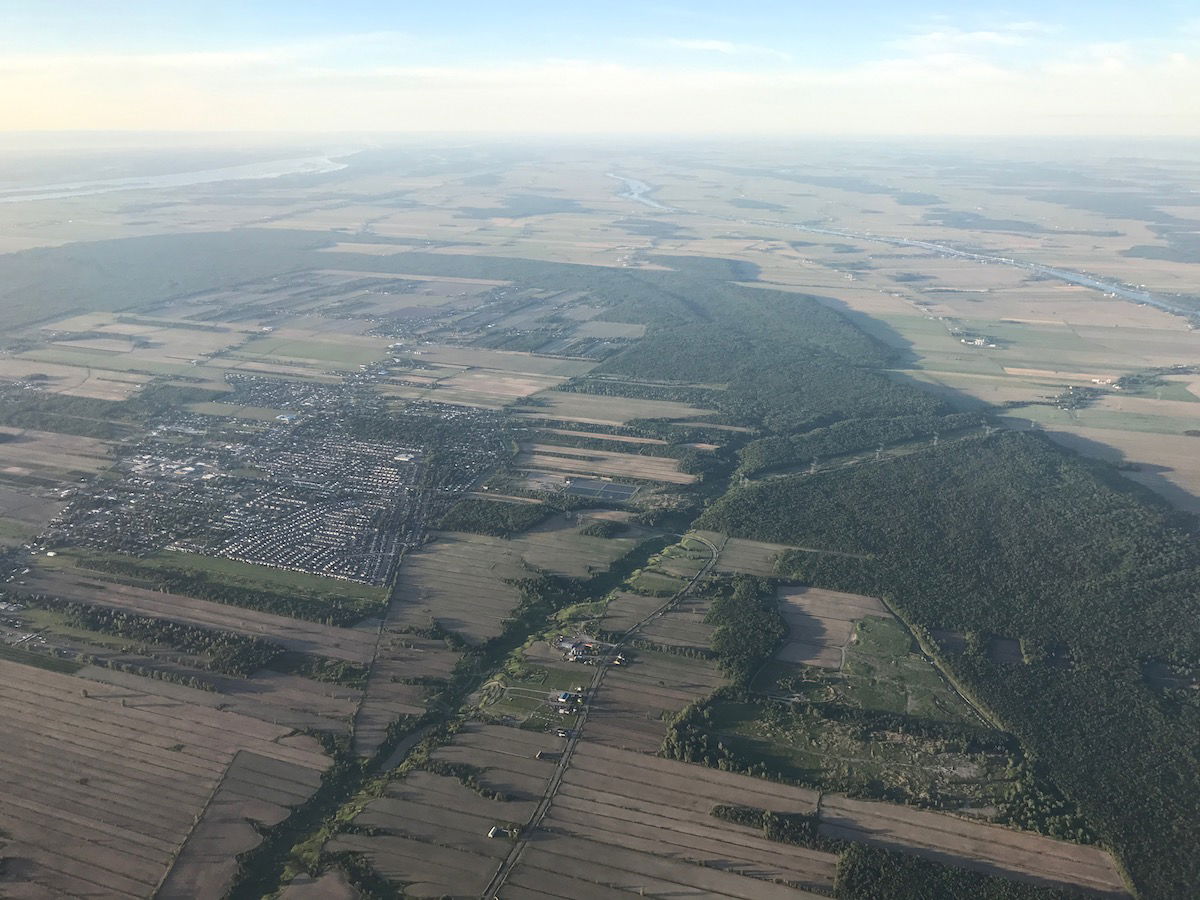 View approaching Montreal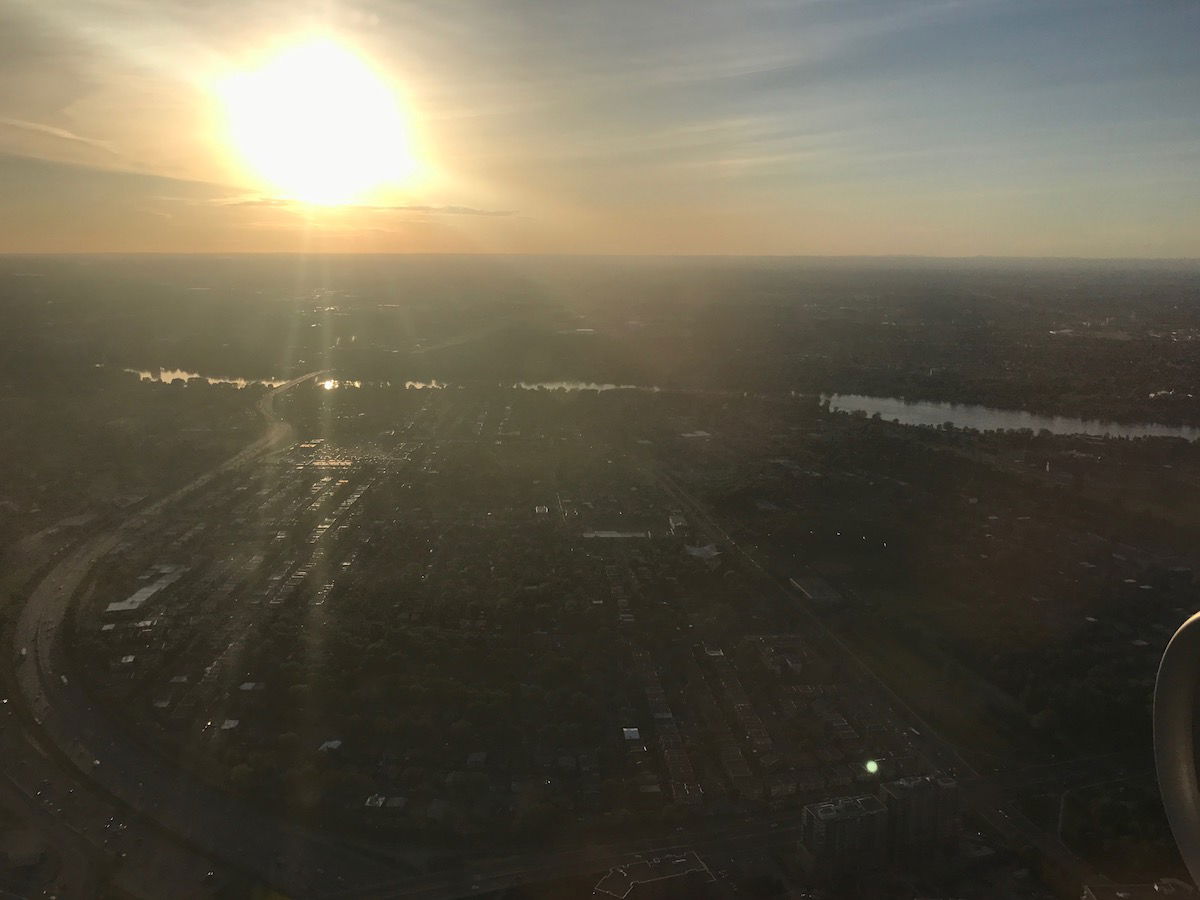 View approaching Montreal
We had a smooth touchdown at 8PM.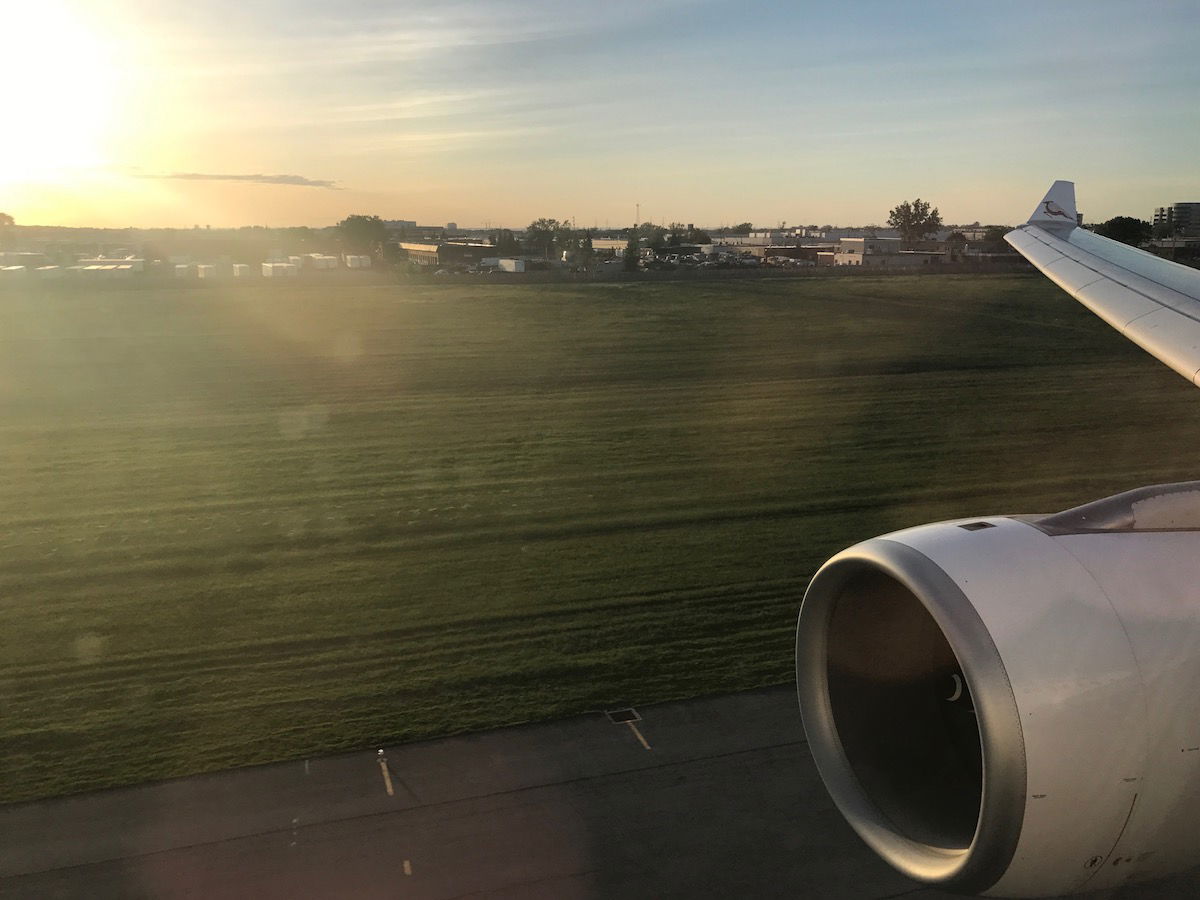 Landing in Montreal
Hi, Qatar Airways 777!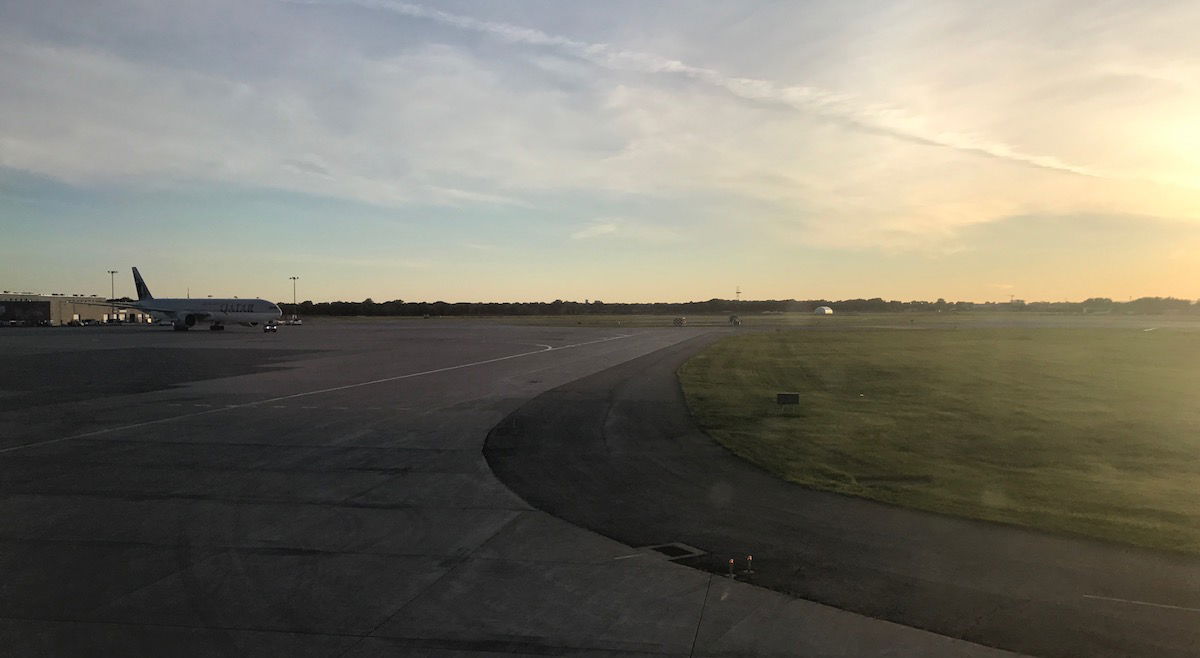 Taxiing Montreal Airport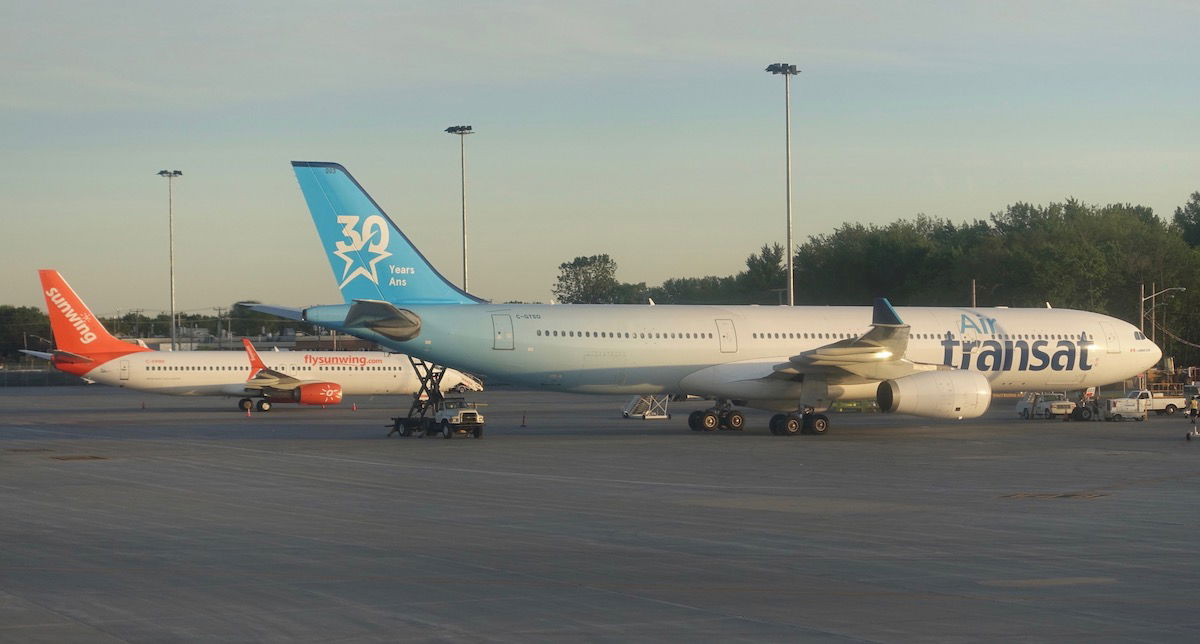 Air Transat A330 Montreal Airport
From there it was about a 10 minute taxi to our arrival gate, where we ended up disembarking at around 8:10PM.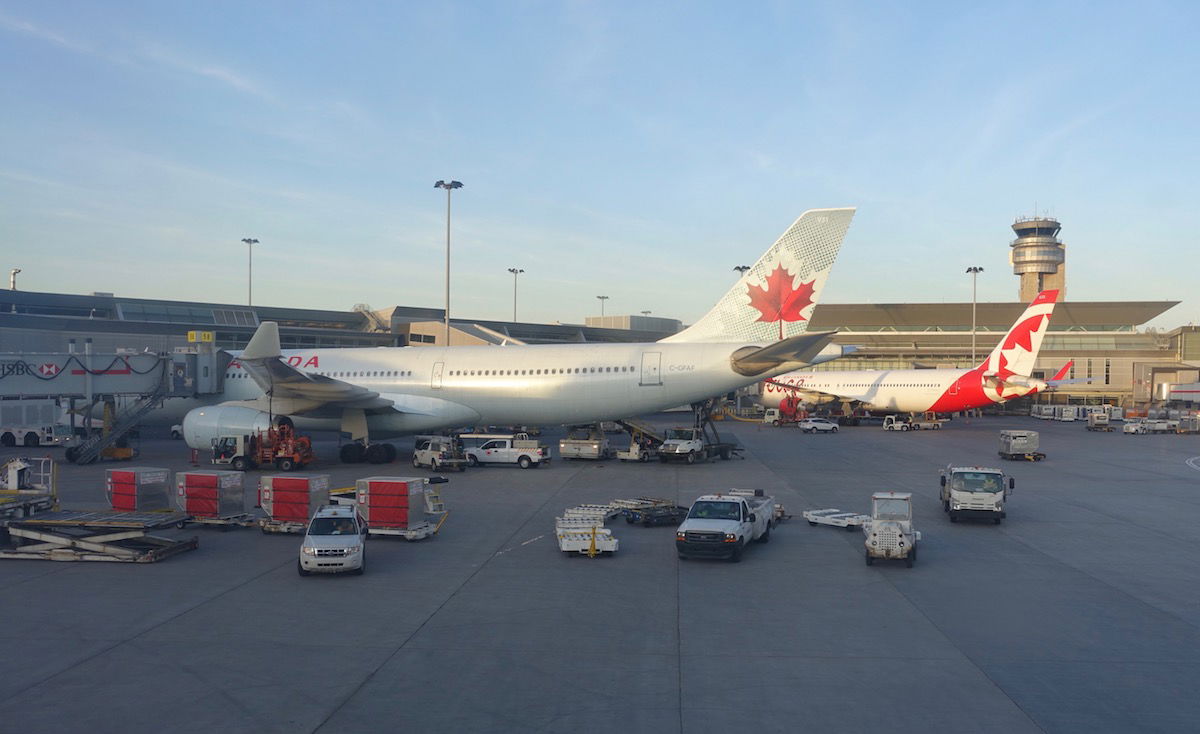 Arriving at gate in Montreal
Tunisair A330 business class bottom line
On the plus side, I found the food on Tunisair to be excellent, and the service to be well intentioned. So the airline has that going for them.
However, it's disappointing that Tunisair took delivery of these planes just a couple of years ago, and elected to install angled seats in business class. To top it all off, their bedding is terrible as well.
I wouldn't hesitate to fly Tunisair between Montreal and Tunis, since there's something to be said for the convenience of a nonstop. However, if connecting, I'd look at another option with a more comfortable product.