Introduction: A Rare First Class Opportunity
Review: Air Tahiti Nui Business Class A340 Los Angeles To Paris
Review: Hilton Zurich Airport
Review: New Swiss First Class Lounge Zurich Airport
Review: Swiss First Class 777 Zurich To Los Angeles
---
I knew that Air Tahiti Nui uses the Los Angeles International Lounge at LAX, which I recently reviewed before my Fiji Airways flight to Nadi. Therefore I decided to get to the airport as close to departure as possible, and head straight to the gate. I won't be reviewing the lounge again, though check out my previous review, as well as my overall ranking of lounges at LAX's Tom Bradley International Terminal.
I arrived at the airport at around 9:40AM for my 11:25AM flight to Paris. The check-in process was quick, I assume because most passengers on the flight to Paris were in transit from Tahiti, and most originating in Los Angeles had already checked in.
Security was reasonably quick, at least by Tom Bradley International Terminal standards, and within about 20 minutes I was through. My flight was departing from gate 159, located at the far end of the terminal to the left.
As you can see below, I was flying "Moorea." Air Tahiti Nui has five A340s, each named after a different island of French Polynesia. Four of the five A340s feature Air Tahiti Nui's new business class, and I knew off the top of my head that Moorea did, which was good news (the plane named "Bora Bora" doesn't feature Air Tahiti Nui's new business class).
While boarding was scheduled to begin at 10:25AM, it was clear that wasn't happening. The cabin crew only boarded at 10:30AM, while the pilots only boarded at around 10:50AM. Finally at 11:05AM boarding began, starting with those who needed extra time boarding, as well as business class.

Air Tahiti Nui departure gate LAX
Air Tahiti Nui 8
Los Angeles (LAX) – Paris (CDG)
Saturday, November 12
Depart: 11:25AM
Arrive: 7:20AM (+1 day)
Duration: 10hr55min
Aircraft: Airbus A340-300
Seat: 5L (Business Class)
I boarded through door L2, where I was warmly greeted by two of the flight attendants and pointed left towards the business class cabin. Air Tahiti Nui's new business class cabin consists of a total of 32 seats, spread across six rows. The first row has just two seats in the center section, while the other five rows are in a 2-2-2 configuration.

Air Tahiti Nui business class cabin A340
The cabin finishes are bright and tropical, so are a very nice fit for the airline, in my opinion. As you can see above, the overhead bins in the center section only start above row four.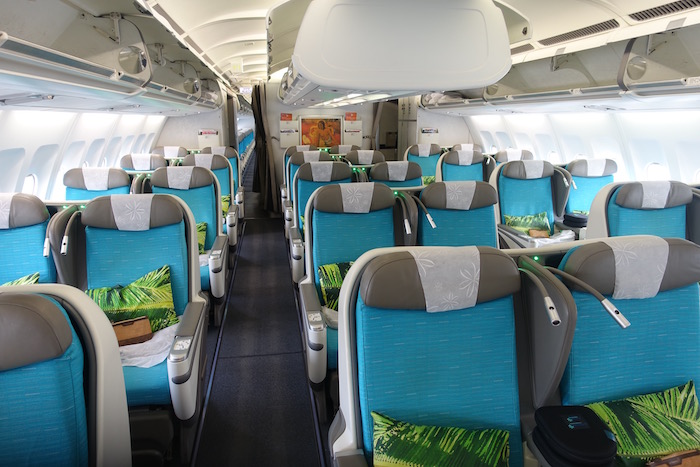 Air Tahiti Nui business class cabin A340
I had assigned myself seat 5L, the window seat on the right side in the second to last row (I was initially in another seat, but a few minutes before boarding I noticed that the aisle and window seats in row five were empty, so figured I'd switch in hopes of having an empty seat next to me).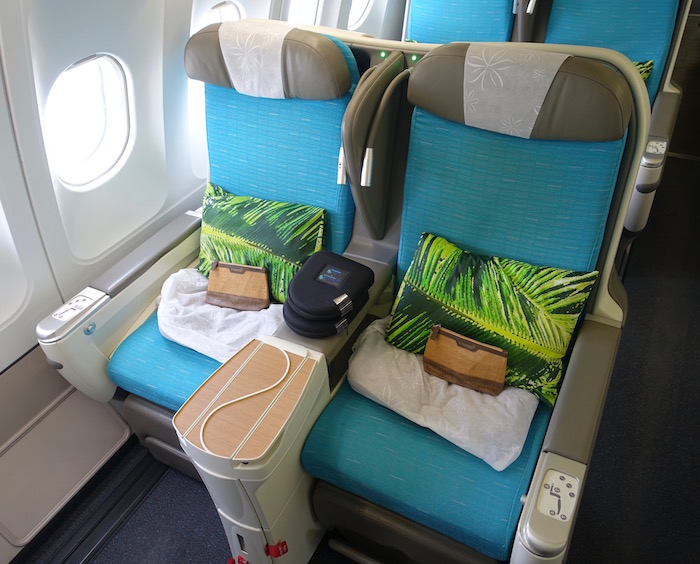 Air Tahiti Nui A340 business class seats
The seats had a lot of legroom, and were in good condition, at least based on their appearance. However, I found the padding in the seats to be horrible. I'm not sure if they're just really worn, or if they've had bad padding since day one, though this is one of the few premium cabin seats that I almost found uncomfortable to sit in while upright.

Air Tahiti Nui A340 business class seats

Air Tahiti Nui A340 business class legroom
In the console in front of the seats were two bottles of water.

Air Tahiti Nui A340 business class bottled water
Below that was an area where you could store your shoes, as well as the space where the legrest went when reclining the (angled) seat.

Air Tahiti Nui A340 business class shoe storage
The seat controls were located on the window-side armrest, and were super easy to use. There were three pre-set options, as well as an option to recline the seatback or legrest.

Air Tahiti Nui A340 business class seat controls
Behind that was the entertainment controller, which could be extended and held in your hand.

Air Tahiti Nui A340 business class entertainment controls
Underneath the center armrest were power outlets (110v and USB), as well as the headphone jack. There was an additional USB outlet on the actual entertainment screen.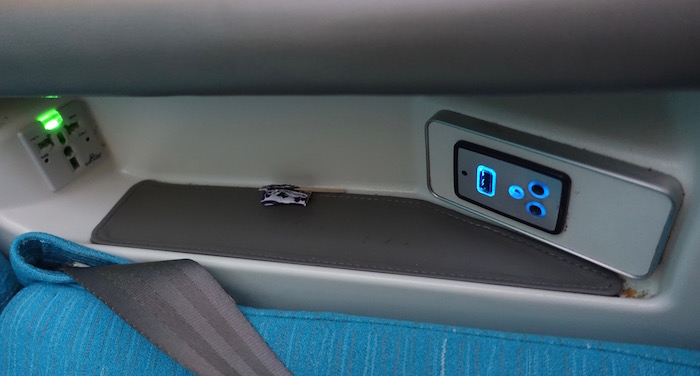 Air Tahiti Nui A340 business class power outlets and headphone jack
The tray table could be extended from the center armrest, and was a single tray that rested on the opposite armrest.

Air Tahiti Nui A340 business class tray table
Already waiting at my seat on boarding were headphones, which were okay. I ended up just using my own headphones, since they're much better quality.

Air Tahiti Nui business class headphones
Also waiting at my seat on boarding was an amenity kit. While it came in a cute bag, the contents themselves were very basic. The kit had just socks, eyeshades, earplugs, a toothbrush and toothpaste, and lip balm.

Air Tahiti Nui business class amenity kit
Also waiting at my seat was a pillow and blanket. The blanket was soft and light, while the pillow had very poor padding.

Air Tahiti Nui business class pillow & blanket
The business class cabin filled up really quickly, and it sure seemed like a vast majority of passengers were French and connecting from Tahiti (based on how tired they seemed to be, as well as how they were dressed).
Once most passengers were settled in, the crew came through the cabin with pre-departure beverages. The choice was between rose champagne and orange juice. I chose the rose, which was quite good, though the pour was tiny.

Air Tahiti Nui business class pre-departure rose
I've never been to Tahiti before, so I was curious to see how the people compared to Fiji, at least on the airline front. During my recent trip to Fiji I found the locals (including the airline crew) to be among the friendliest people I've ever interacted with. Of course French Polynesia is in a different situation than an independent country, though I found the crew to be interesting.
Most of the flight attendants seemed to be Polynesian, and what caught me off guard at first was how many of them had several visible tattoos. There's nothing wrong with that, but rather I just found it interesting, given that most airlines require crews to cover up tattoos (I realize that's probably different culturally here).
All the flight attendants seemed to be Polynesian, with the exception of the chief purser, who was indistinguishable from any chief purser I've had on Air France. I'm not sure if she was actually based in Paris, if she has lived in Tahiti her whole life, or what, but she was very different than the rest of the crew.
During boarding the chief purser announced that "crew members onboard are here for your safety and are identified by a safety badge," which is the same exact announcement they make on Air France. I believe it's even a French regulation that this is announced which would make sense, but often you mentally differentiate French Polynesian from Metropolitan France.
At 11:35AM boarding was complete, with a total of 29 of the 32 business class seats occupied (and I was very happy that the seat next to me was empty, given that it really makes a difference in these fairly tight forward facing seats). At that point the chief purser made her welcome aboard on behalf of herself, captain Jacques, and the crew. She informed us of our flight time of 10hr10min.
At that point newspapers and magazines were distributed, and then moments later the cabin was sprayed, in accordance with French regulations.
At 11:40AM we began our pushback, with an Air New Zealand 777 off our right wing.
As we pushed back the crew began a manual safety demonstration.
Given that we were taking off from runway 25R, it was just a very short taxi before takeoff.
At 11:50AM we were cleared for takeoff.
Our takeoff roll was long, as is the norm for the A340-300, given how underpowered it feels.
Our climb out was gradual, and as usual, the views climbing out over the coast were gorgeous.
The picture below can't really do justice to it, but we had an amazing view of a Korean Air A380 climbing out and flying along the coast. It looked so much closer in person, and really looked like it wasn't moving.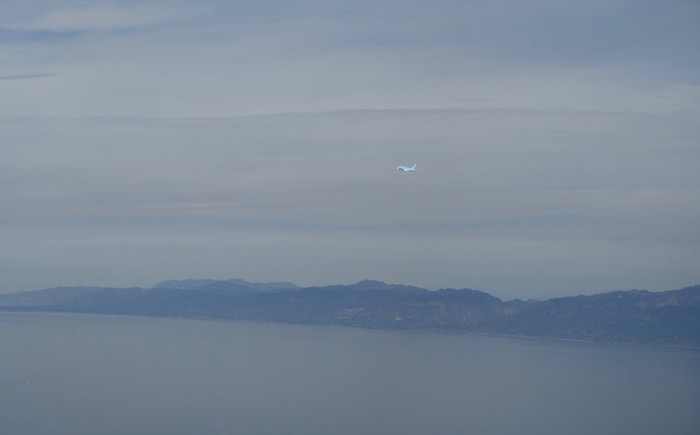 Korean Air A380 in the distance
Just five minutes after takeoff the seatbelt sign was turned off, at which point I headed to the lavatory. There was only one lavatory in front of the cabin, while there were two immediately behind the cabin. However, the ones behind the cabin seemed to also be intended for economy. Having just one dedicated lavatory for 32 business class passengers (plus the crew) isn't really sufficient.
The lavatories were pretty basic and not in great condition. They had moist towels next to the sink. I figured that was meant as an alternative to washing hands, though there was no soap, so it seemed to be the only option to clean your hands. Odd.

Air Tahiti Nui business class lavatory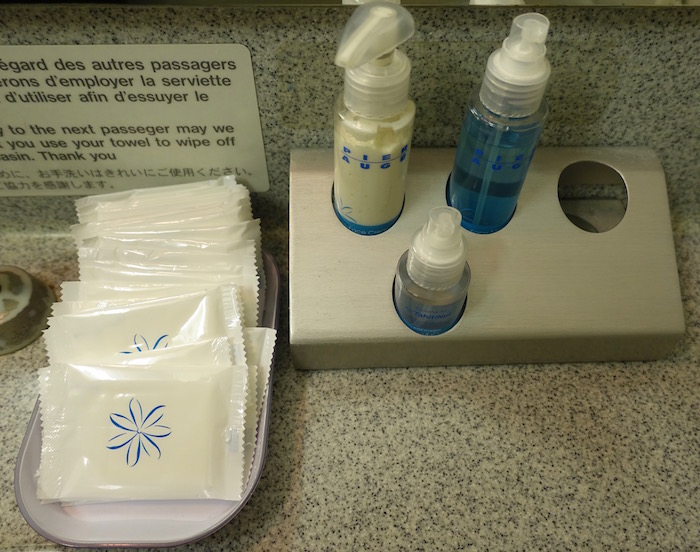 Air Tahiti Nui business class lavatory amenities
Once back at my seat, menus were distributed for the flight.

Air Tahiti Nui business class menu
After that, the crew came through the cabin with more amenities in a basket. It's weird that they didn't just include these in the amenity kit, but I suppose it's a cost saving measure. Amenities included a pen, moisturizing cream, and a razor and shaving cream.

Air Tahiti Nui business class amenities
After that, the crew came through the cabin with warm towels.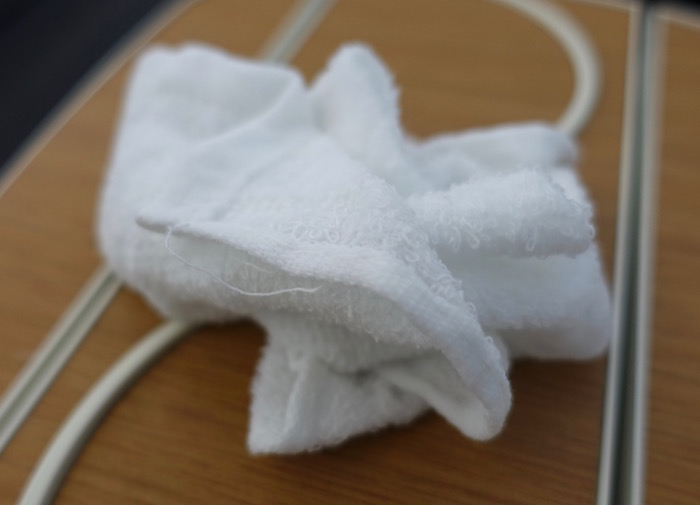 Air Tahiti Nui business class hot towel
On this flight there was a lunch service after takeoff, and then breakfast before landing, as is the norm on most transatlantic flights. The lunch menu read as follows:
The beverage list read as follows:
About 50 minutes after takeoff, the crew came through the cabin with drinks. There were a couple of unique things about the presentation. First of all, they used beaten up galley carts, though they had a long cloth hanging off the side to try to make it look a bit better. To me that just looked like a really cheap fix.
While US carriers unfortunately often use these galley carts, I far prefer when airlines either don't use carts at all, or at least use the open trolleys, which look nice.
On top of that, the flight attendants put on different outfits during the flight. I assume they just put this on over their other uniform. The bizarre part was that every crew member seemed to have a different uniform on. The two business class flight attendants had different color uniforms, while many of the economy flight attendants seemed to be wearing what looked like track suits, similar to US Airways' old uniforms. Odd.
I had a glass of (non-champagne) rose to start, which was excellent — it was light and refreshing. That was served with an amuse bouche, as well as a bag of pretzels. The branding on the pretzels was "Snack Du Jour," which I've last had on Amtrak. I've never seen it on a plane before.

Air Tahiti Nui business class lunch — rose, pretzels, and canapes
About 80 minutes after takeoff the crew rolled carts through the aisle with the appetizer and salad.

Air Tahiti Nui business class lunch — appetizer and salad
The appetizer had a few different things, including seared shrimp, smoked duck breast with beluga lentil salad, cherry preserves, candied orange peel, pickled shimeji mushrooms, and tomato caper salsa. The shrimp were pretty good, though the combination of everything was a bit odd, in my opinion.

Air Tahiti Nui business class lunch appetizer — seared shrimp and smoked duck breast
There was also a bland side salad with two slices of radish and one cherry tomato.

Air Tahiti Nui business class lunch mixed salad
There was a selection of bread from the breadbasket, though it wasn't warm and tasted sort of stale.

Air Tahiti Nui business class lunch bread selection

While the crew came through the cabin with appetizers, the chief purser came through the cabin to take meal orders. I tried to order the fish, though they were out, so I instead ordered the beef. The short rib was low quality, unfortunately. I realize short rib isn't filet mignon, but even by short rib standards it wasn't very good. The wasabi mashed potatoes were pretty decent, at least.

Air Tahiti Nui business class lunch main course — short rib with wasabi mashed potatoes and veggies
Once main courses were cleared, the crew came through the cabin with pre-made cheese plates. For business class I thought the cheese plates looked excellent, and the cheese was indeed very good.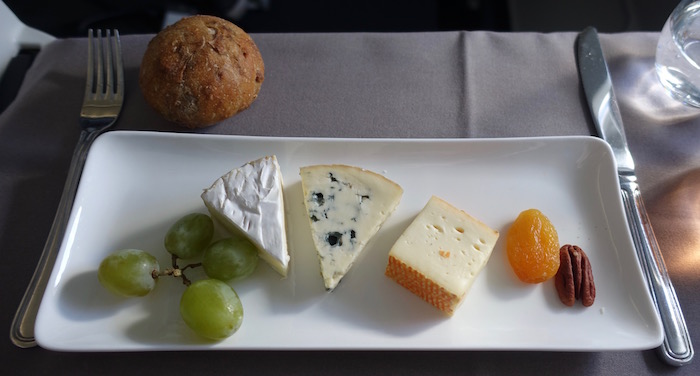 Air Tahiti Nui business class lunch cheese course
Lastly the crew brought around a dessert sampler. There was a fruit salad, as well as tiramisu verrine, apricot tart, and mango sherbet. I also had a coffee to accompany dessert. While the coffee itself was good, they only had Coffeemate creamer, and not fresh milk.

Air Tahiti Nui business class dessert
The meal was done about two hours into the flight. The appetizer and main course weren't very good, while I thought the cheese plate and dessert were excellent.
The service throughout the meal wasn't customized, which is to say that I felt like I was part of an assembly line. The crew would come through the cabin with a cart, then collect everything at once, then bring out the next course at once, then collect plates at once, etc. Drink refills weren't proactive, unless the crew happened to be coming through the cabin with the intention of doing so.
The crew also wasn't especially friendly. Don't get me wrong, they weren't rude, but it was clear they were just going through the motions, and smiles were limited. Fair enough.
After lunch I decided to browse the entertainment selection, which was easy to use.

Air Tahiti Nui entertainment system
I first checked out the airshow — at this point we were over South Dakota, with about eight hours till our arrival in Paris.
While I was hoping to sleep for most of the flight, the combination of an early departure out of LAX and the angled seats limited my ability to sleep. So I instead decided to watch a movie.
Air Tahiti Nui's entertainment selection wasn't great. There were 59 TV shows, though none of them were US sitcoms. The closet thing to a US sitcom was a Disney show.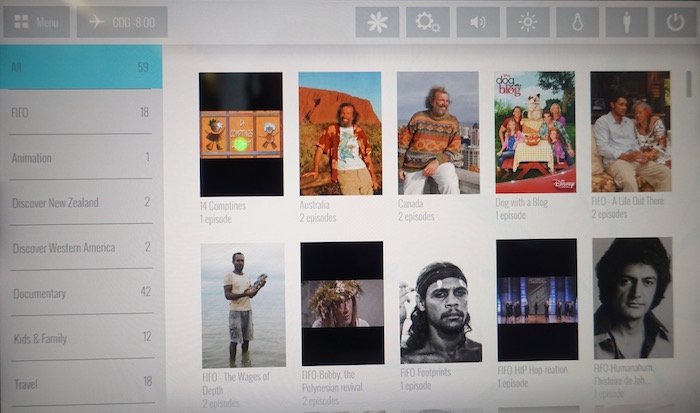 Air Tahiti Nui entertainment selection
There were a total of 23 movies, and several of them were French. Fortunately there were some movies I hadn't yet seen.

Air Tahiti Nui entertainment selection
Usually I don't have the attention span to watch movies, though given the situation, that seemed like the best option. I decided to watch "Bad Moms," which was one of the better airplane movies I've seen in a while.

Air Tahiti Nui entertainment selection
As I watched the movie I witnessed a gorgeous sunset through the window.
After the movie I decided to scope out the blogging competition, in the form of a Disney TV show.

Air Tahiti Nui entertainment selection
Soon enough we were beginning our Atlantic crossing, so I decided to recline my seat and try to get some rest.
I'm not a good sleeper to begin with, and in this case the seat had a pretty bad angle, so I'm not sure I actually managed to sleep. Instead I just sort of closed my eyes for a couple of hours, until we were south of Greenland.
Upon waking up I headed to the galley to see if they had any snacks — the only thing I could find were packages of mini Oreos.

Air Tahiti Nui midflight snack
I decided to watch another movie, so Ghostbusters seemed like the next best option. I don't think I've ever come across a Melissa McCarthy movie I didn't like.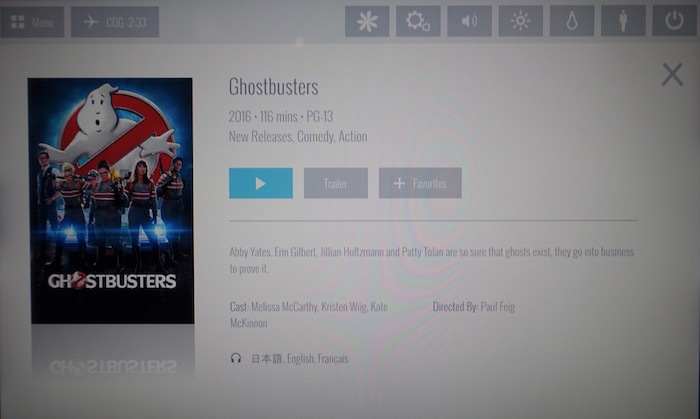 Air Tahiti Nui entertainment selection
The crew was absent between meal services, as I don't think I once saw them coming through the cabin to see if anyone wanted anything. I went to the galley several times to ask for water, and sort of felt like I was inconveniencing them when doing so.
While the first part of the flight was smooth, it got really bumpy about 2hr30min before landing in Paris. The crew had to be seated for about half an hour, though fortunately the ride smoothed out.
About two hours before landing the chief purser announced our location and that the breakfast service would commence shortly.
Sure enough, about 1hr45min before landing the breakfast service began. The menu read as follows:
First I was served a tray with some fresh fruit and peach yogurt, as well as a croissant and chocolate pastry from the breadbasket. I was also offered coffee.

Air Tahiti Nui business class breakfast
Once the fruit plate was cleared, main courses were brought out. I ordered the omelet, which was good for an airplane omelet. I especially enjoyed the potatoes au gratin, which were better than the usual breakfast potatoes you get on planes.

Air Tahiti Nui business class breakfast — omelet
The breakfast service was done about an hour before landing, at which point I worked for a bit.
Soon enough we were flying over London, and then across the English Channel.
About 35 minutes before landing we began our descent. The chief purser made a pre-landing announcement with our anticipated arrival time, though at no point during the flight did the pilots make any announcements.
About 15 minutes before landing the cabin crew came through to offer passengers candy. It was a nice touch, but perhaps sums up the service on this flight. You'd think they'd hand you the candy, make eye contact, smile, and say "thanks for flying with us," and instead they didn't even look up.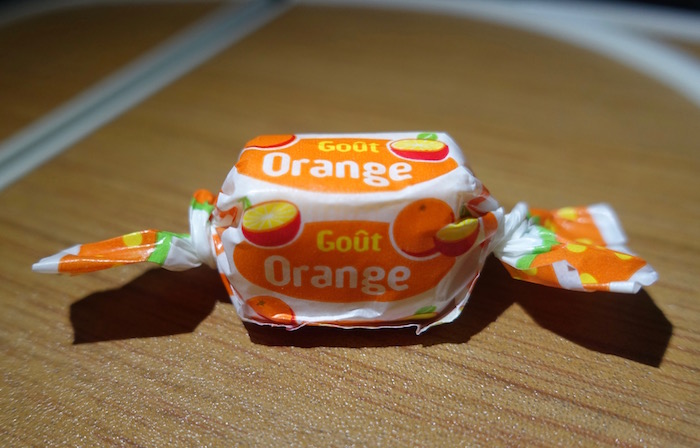 Air Tahiti Nui pre-landing candy
The seatbelt sign was turned on when we descended through 10,000 feet.
There was limited visibility on our final approach, and at 7AM we had a rough touchdown at Charles De Gaulle Airport. From there we had a 15 minute taxi to our arrival stand. On the plus side, arriving at a remote stand meant we had a great view of the plane on arrival. Unfortunately it was also cold and wet in Paris, so that's hardly a nice way to be greeted after a transatlantic flight.

Air Tahiti Nui A340 after arriving in Paris
The bus ride to the terminal took about five minutes, and then I began navigating my way through the maze which is CDG. I had to clear security twice, and my entire transfer took about an hour.
Air Tahiti Nui business class bottom line
Overall I was a bit disappointed by Air Tahiti Nui. I knew the hard product wouldn't be great, as angled seats aren't really competitive in business class anymore. In a few years Air Tahiti Nui will take delivery of some Boeing 787s, which should feature flat beds. Then again, I guess since most of their flights are to/from Tahiti, they have a pretty captive audience.
The food on the flight was okay, though not great. The appetizer and main course were disappointing, while the cheese, dessert, and breakfast were pretty good.
Mainly it's the service that disappointed me. The flight attendants weren't rude, though they didn't act like they were happy to be there. I was hoping the experience would somehow feel more Tahitian, as I love when airlines can temporarily transport you to their "home," even if you're not flying there. That feeling was nonexistent.
So to sum it up, I wouldn't hesitate to fly Air Tahiti Nui to Tahiti, given that there aren't many options to get there. At the same time, I wouldn't really recommend them for the transatlantic flight from Los Angeles to Paris, assuming you can avoid them.
If you've flown Air Tahiti Nui, what was your experience like?