A few days ago I shared thoughts about my recent Tunisair business class flight from Tunis to Montreal, which featured angled seats and subpar bedding.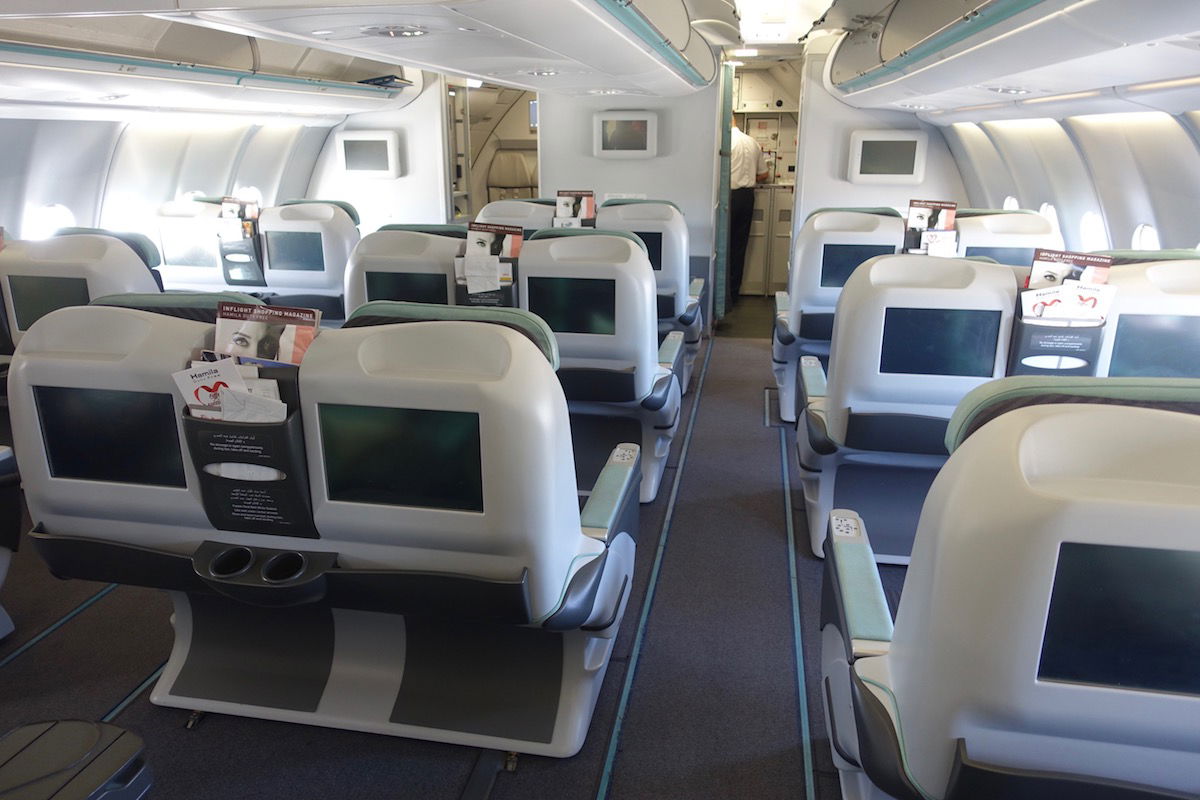 At the end of the post I drew the following conclusion:
Unfortunately I can't really recommend Tunisair in good conscience. Before flying them I was hoping they'd pleasantly surprise me, though they didn't. While the food was good and the service well intentioned and even friendly, the seats, terrible pillow & blanket, and lack of attention to detail in the product makes this a below average business class product.
In the comments section of the post, reader AdamR left the following comment, which raises an interesting point:
We read a lot of "It was not a pleasant flight but I wouldn't go out of my way to avoid them." But it seems no matter how poor the service, you always say that which is to say it doesn't mean anything if there are no airlines you would avoid. So, aside from maybe your flight on China Eastern (with the smoking crew), where do you draw your line for airlines that you would *actively* avoid because the hard and soft product are so abysmal? I may have missed it in previous reports but I'm curious to know if you have a quantitative/qualitative line that must be crossed.
I know it can send a mixed message that I write a negative review of an experience, but then say "I wouldn't necessarily go out of my way to avoid them," so let me explain.
Yes, I'm an airline product geek, so personally I'd go way out of my way to fly a product I found good, interesting, etc., since for me getting there is much of the fun. But I also recognize that for a lot of people, the goal is simply to get from Point A to Point B as efficiently as possible.
For example, as much as first class is significantly more luxurious than business class, I often find that I arrive most well rested in business class. That's because I don't feel the need to maximize every aspect of the experience as much. In other words, in business class I may go straight to sleep, while in first class I want to enjoy the champagne and have a five course meal, which often gets in the way of arriving well rested.
This is where the above comment about Tunisair comes into play. Let me give an example. Say you're trying to fly business class from Montreal to Tunis. The most direct option is on Tunisair, with an uncomfortable angled seat and bad bedding.
I'd say the best business class product, on the other hand, is Air France business class through Paris, which gets you a reverse herringbone seat on the transatlantic flight.
So you might think that's the better option, but is it really? Your options here are:
A great transatlantic flight, though in reality you'll only get at most 2-3 hours of sleep if you want to eat, and even if you don't want to eat, you may very well be woken up by the noise, smell, light, etc.; then you have an 85 minute connection (assuming there's no delay, because if there is you'll miss it and possibly spend hours at the airport), and then a 2hr25min flight in a horrible intra-Europe economy seat that has a blocked middle seat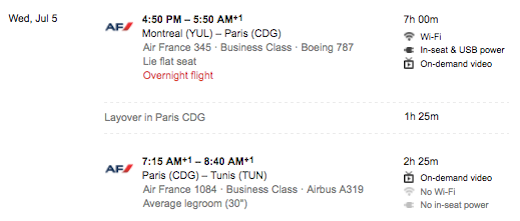 Be moderately comfortable for 8hr20min, not have to worry about a connection, etc.; maybe you won't be able to sleep on the flight, but your travel time is 2hr30min shorter, and I think a 2hr30min nap in a bed on the ground is more effective than what you get on the flight from Montreal to Paris, plus you get to avoid the terrible intra-Europe business class

Similarly, I flew Meridiana on Saturday, and as I did, I almost thought to myself that it's not a bad way to get to Naples from New York. I suck at sleeping on non-flat surfaces, but I managed to nap for a bit, and even if I was otherwise sitting around, I found that more comfortable than a two hour intra-Europe flight, plus a layover.
Conversely, on my flight from Munich to Naples, the couple across from me had just connected from the US and had a short connection, and were fuming the entire flight about the fact that their bags had misconnected. The wife was yelling at the husband almost the entire flight, and in retrospect I thought to myself that they wouldn't have had that issue if they just booked the nonstop.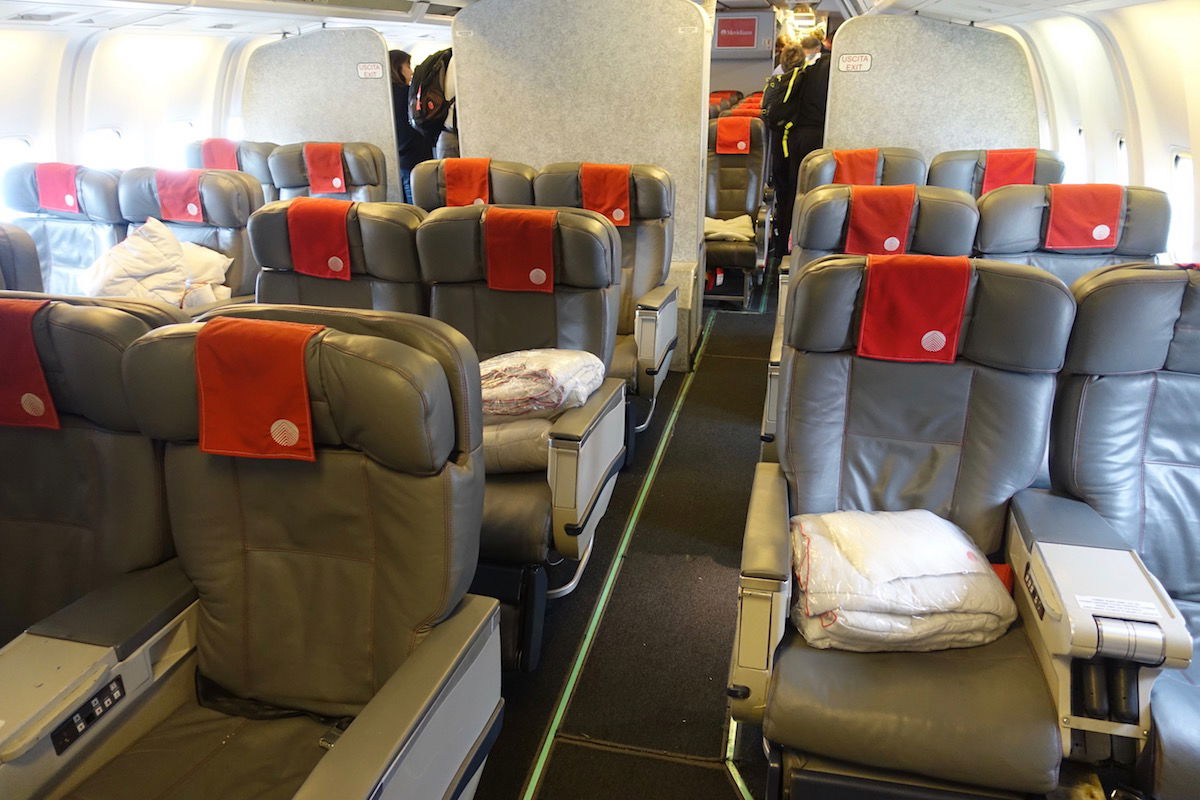 So where does that leave things? Am I admitting that my reviews are completely worthless, and you shouldn't bother chasing certain airlines? No, absolutely not:
For many of us, getting there is some of the fun, and we enjoy taking the long way to try new products; nothing is changing there
For many trips, the only choices available involve connections, so you very much can choose between several quality airlines (ie, Los Angeles to Bali, New York to Bangalore, Chicago to Nice, etc.)
Are there any airlines I'd absolutely avoid? As AdamR hinted at above, I'd say the only airlines worth avoiding are ones that make you actively uncomfortable. For me that was China Eastern from Los Angeles to Shanghai, given the smell of smoke the entire flight. Other than that, I don't know if there are any other airlines I'd totally go out of my way to avoid.
Bottom line
There are lots of us airline product geeks who enjoy going out of our way to try the best airlines. However, I think it's at least worth acknowledging that it can often make sense to compromise comfort for convenience. For many people travel is extremely stressful, and that's only amplified when connections are involved.
What do you guys think — is there merit to flying a worse product on a nonstop flight rather than a better product with a connection? Where do you draw the line?