In the interest of full disclosure, One Mile At A Time earns a referral bonus for anyone that's approved through some of the below links. These are the best publicly available offers that we have found for each card. Opinions expressed here are the author's alone, not those of the bank, credit card issuer, airlines or hotel chain, and have not been reviewed, approved or otherwise endorsed by any of these entities. Please check out my advertiser policy for further details about our partners, including American Express, Capital One, Chase, and Citi, and thanks for your support!
Update: This offer for the Citi Prestige® Card has expired. Learn more about the current offers here.
---
Introduction: A Journey To One Of The Four Corners Of The Earth
Is It Worth Upgrading To WestJet Plus?
Review: Comfort Inn Gander
How To Get To Fogo Island
Review: Fogo Island Inn
Review: Dining & Activities At Fogo Island Inn
Review: Sheraton St. John's Newfoundland
---
The Fogo Island Inn is one of the most special places I've ever been, both in terms of the hotel itself, and also in terms of the ~2,500 person island it's on. I'm going to be writing this review in two parts. In this installment I'll cover the hotel itself, as well as the facilities it offers.
Then in the next installment I'll write about dining at the hotel, as well as what we did around the island. Rates at the inn include all meals and non-alcoholic beverages, so if you're visiting Fogo Island you're likely to have all your meals here (there aren't really many restaurants on Fogo Island).
See the intro post for more on Fogo Island Inn pricing, and a general background on why the inn was built (this isn't your typical for profit hotel funded by outside investors).
The Fogo Island Inn is vastly different than anything else you'll see on the island, and that's clear from the moment you drive up. Despite how unique it is, it still doesn't feel out of place, given the landscape.
As we pulled up to the hotel there were a total of four cars parked there, which threw me off at first, since I figured most guests had rented cars, and this is where parking was. Well, as it turns out, the parking lot was so empty because there were just a few guests staying at the hotel.
As soon as we pulled up to the hotel, one of the lovely hosts came outside to greet us. She told us to just leave the car where it is, and they'd park it for us. I can't help but emphasize enough how every single person that we interacted with couldn't have been lovelier. They all made us feel like we were guests in their home, rather than at a hotel.
Before our visit I was reading TripAdvisor reviews of this place, and saw many people say "you arrive as guests and leave as friends," and even as an introvert, I wholeheartedly agree.
Just inside the entrance was a cozy sitting area with a furnace, as well as the front office.
However, check-in formalities were limited, and within moments we were shown to our room. The inn has a total of 29 rooms, with most of them being Labrador and Newfoundland rooms. The only difference between the two is that the Newfoundland rooms are on the fourth (top) floor, so have better views. We had booked a Labrador room, though were upgraded to a Newfoundland room.
Th elevator had a map of Fogo Island and its surroundings.
Instead of taking the elevator you could also take a staircase, which had nautical themed wallpaper.
The fourth floor hallway had hardwood floors and a bunch of natural light. We were assigned room 24, which was the second room on the left.
The host who brought us to our room told us a lot about the Fogo Island Inn concept, including reminding us that almost everything at the hotel is sourced from as close to the hotel as possible. So a lot of the furniture is made on Fogo Island, or at a minimum, in Newfoundland. You can really see that when you look at how thoughtfully the room is designed.
There was an entryway in the room with a long bench, a mirror, and a rack for hanging coats, etc.

Fogo Island Inn Newfoundland room entryway
No two rooms at the Fogo Island Inn are decorated the same, so they all have different wallpaper, blankets, pillows, etc.

Fogo Island Inn Newfoundland room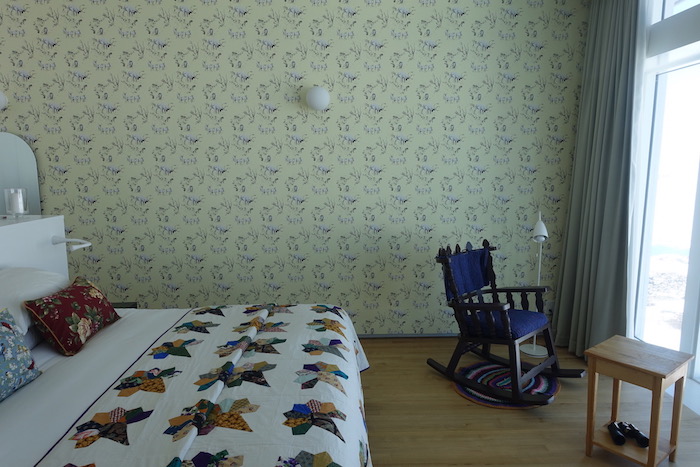 Fogo Island Inn Newfoundland room
Our host pointed out to us who had made our blanket, and in what year.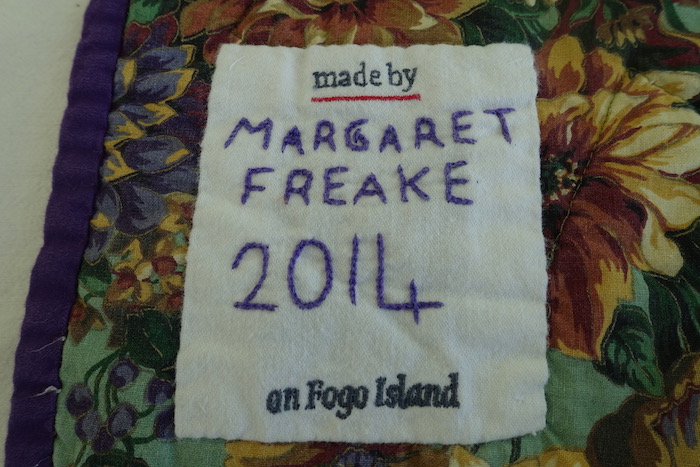 Fogo Island Inn Newfoundland room locally made quilts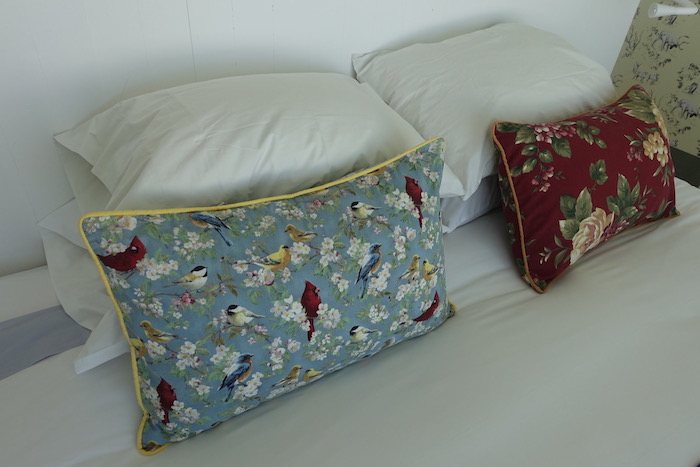 Fogo Island Inn Newfoundland room locally made pillows
In the corner of the room was a desk with a furnace next to it.

Fogo Island Inn Newfoundland room desk & furnace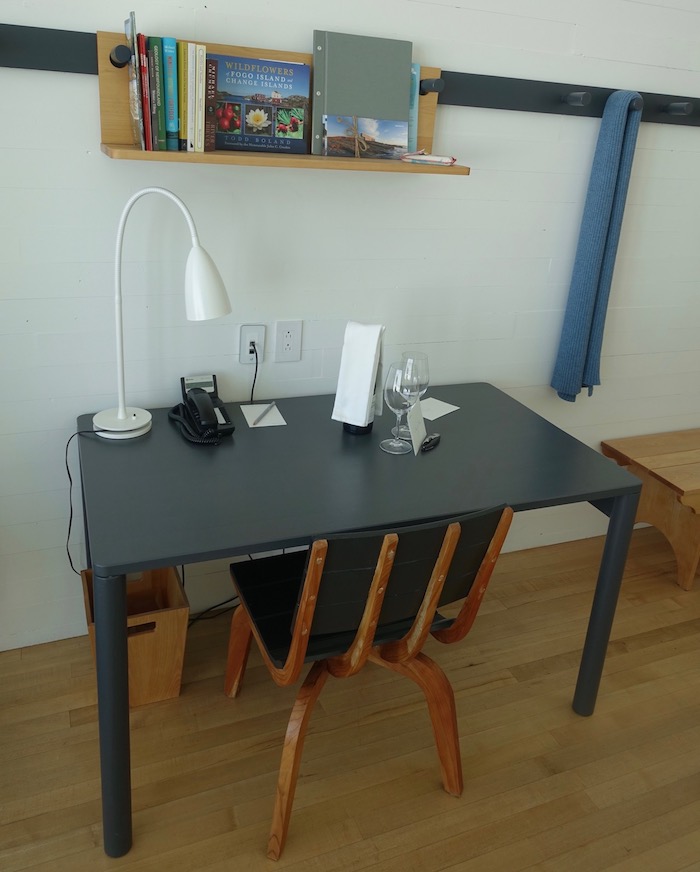 Fogo Island Inn Newfoundland room desk
Waiting on the desk was a welcome bottle of wine.

Fogo Island Inn welcome bottle of wine
I loved the furnace. In the evenings we'd call down to have them set it up, and then a guy would come to light it and bring a bunch of wood so that we could keep the fire going.

Fogo Island Inn Newfoundland room furnace
Closer to the window were two chairs, one of which was a rocking chair, and one of which had an ottoman.

Fogo Island Inn Newfoundland room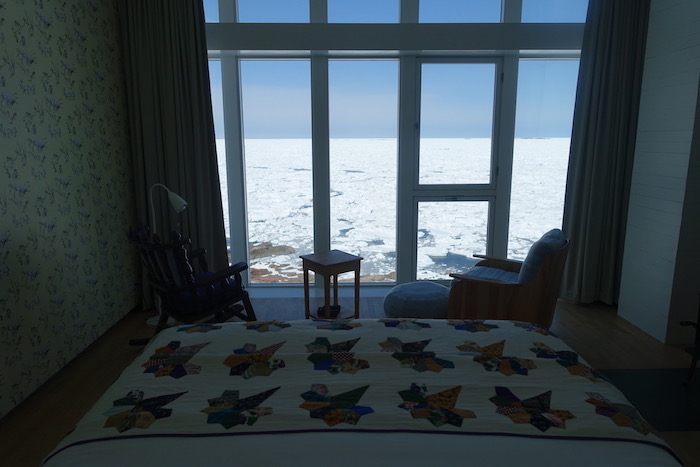 Fogo Island Inn Newfoundland room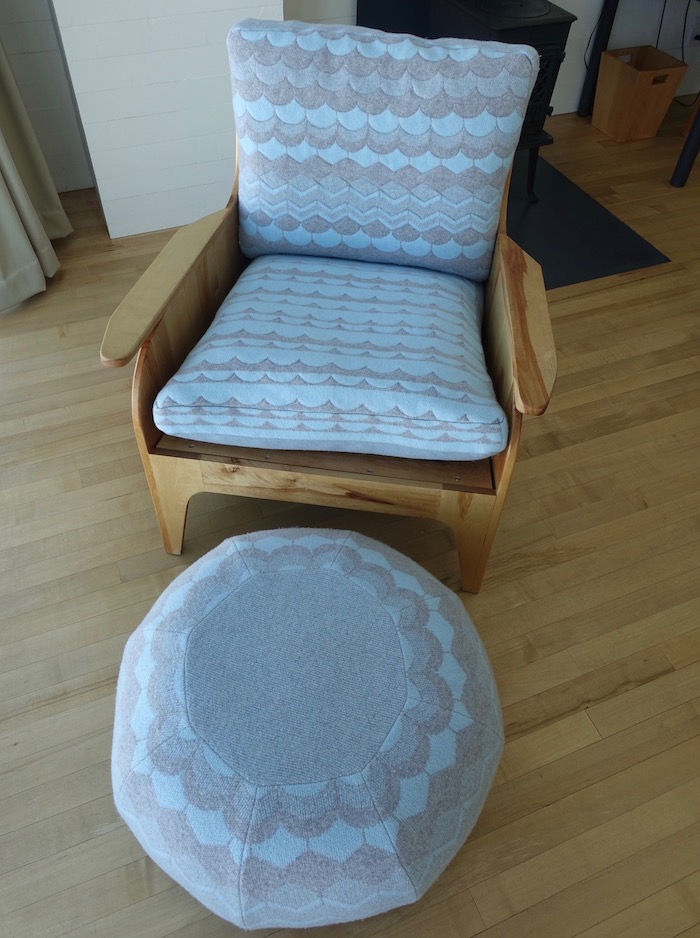 Fogo Island Inn Newfoundland room sitting area

Fogo Island Inn Newfoundland room rocking chair
Behind the bed was an exposed console, which had the in-room safe, slippers, bathrobes, etc. We didn't use the safe, and come to think of it, we didn't even lock our door at the inn (they don't have traditional hotel key cards, but rather have actual keys for each room). The place just has one of those vibes where you feel you can leave everything unlocked.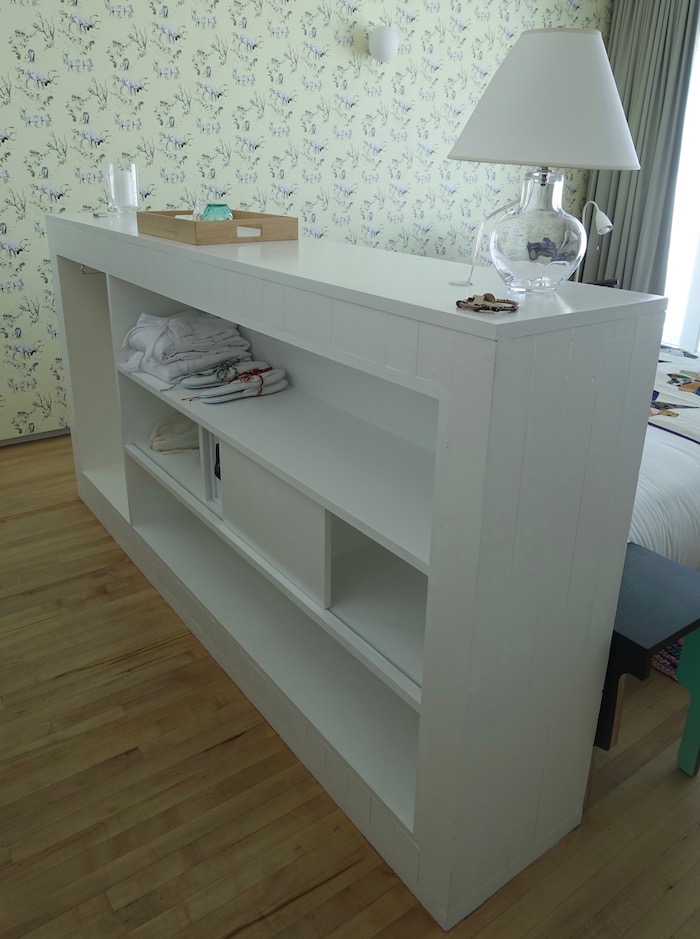 Fogo Island Inn Newfoundland room
I'm guessing that the Frette slippers were one of the few things not produced in Newfoundland. 😉

Fogo Island Inn Frette slippers
Behind that console was the bathroom, which featured a sink and mirror, and then a partitioned off walk-in shower and toilet.

Fogo Island Inn Newfoundland room bathroom
The shower had great water pressure and temperature control. It would have been nice if they had a bathtub as well, though I realize space is limited in the hotel.

Fogo Island Inn Newfoundland room shower
Toiletries weren't branded, but seemed to be very high quality.

Fogo Island Inn Newfoundland room toiletries
I also appreciated the heated towel rack, given how cold it can get in the area.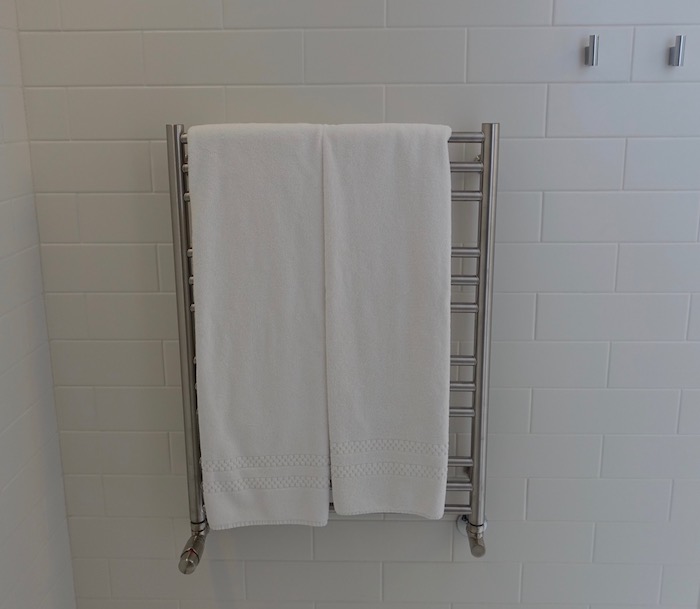 Fogo Island Inn Newfoundland room heated towel rack
The toilet was Japanese-style, which I always appreciate.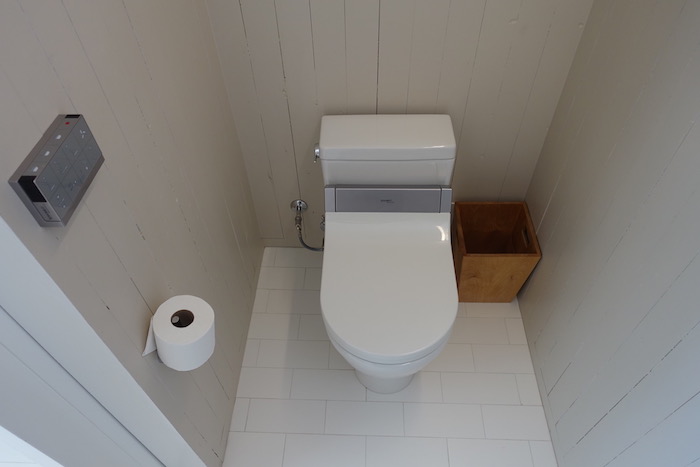 Fogo Island Inn Newfoundland room toilet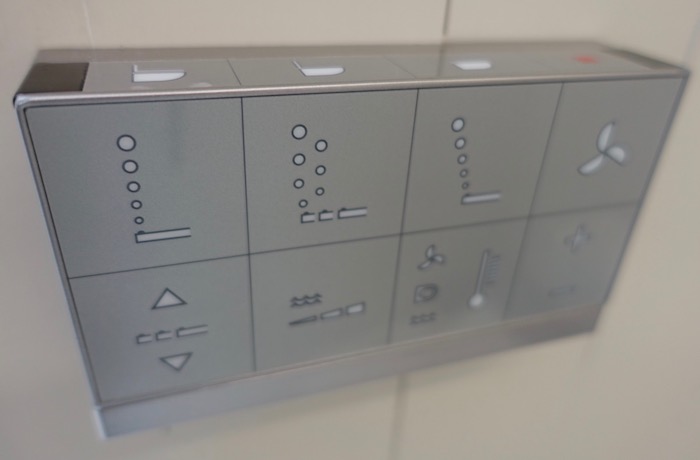 Fogo Island Inn Newfoundland room toilet controls
The room was absolutely lovely, though the highlight was the view. I don't think I've quite ever had a room with a view like this. We were visiting in late April, so I wasn't expecting it to be this cold or icy. Fogo Island claims that they have seven seasons, and it was supposed to be spring, rather than pack ice season. The weather partly limited outdoor activities, but from inside it was a sight to behold.
It's not often I unwind, but sitting in a rocking chair having a cup of tea and watching the scenery really put me at ease. There was something calming about the environment outside, about how there was no visible life and no changes whatsoever. It was like staring at a beautiful painting.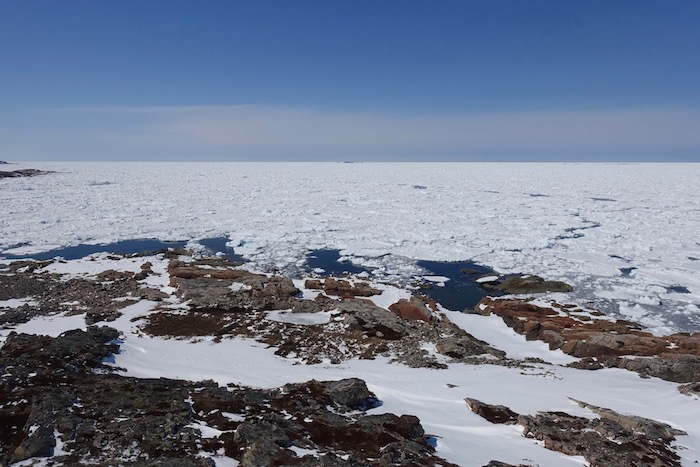 Fogo Island Inn Newfoundland room view
Our host familiarized us with our room, and then five minutes later returned with some welcome tea, freshly baked bread, and molasses. Ford typically avoids eating bread, but he not only tried it, but ended up having the whole thing. It was that good.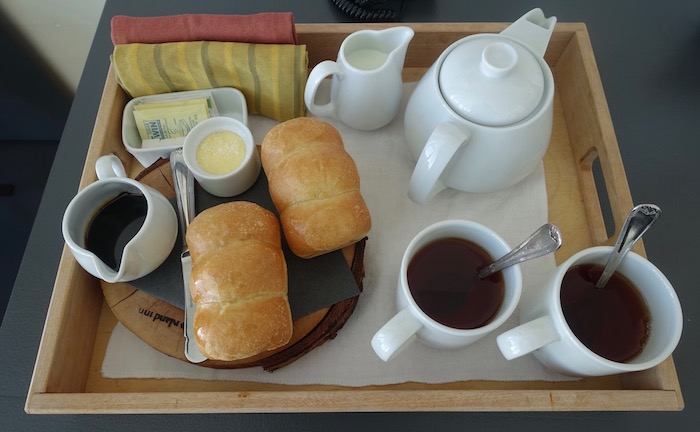 Fogo Island Inn welcome service — tea, fresh bread, and molasses
There's something else this hotel does that I find to be an incredible concept, that I've never before seen at any luxury hotel. The hotel offers what they call a daybreak basket. At around 6AM they put your preferred coffee or tea in front of your room, along with freshly baked scones or muffins, as well as an energizing juice.
As someone who is addicted to coffee, and usually likes to sip on coffee for about an hour or two before going to breakfast, I LOVED THIS. Usually I'm slow to get out of bed every morning, but here I popped out of bed like a road runner the second I remembered there was a fresh pot of coffee, along with warm scones or muffins, in front of our door.
Seriously, isn't that an amazing concept? I'd love to see more hotels adopt this. After staying at the Fogo Island Inn we spent a night at the Sheraton St. John's, and quite possibly my biggest disappointment was when I woke up the first morning and realized there wouldn't be a daybreak basket. UGH, life is hard. 😉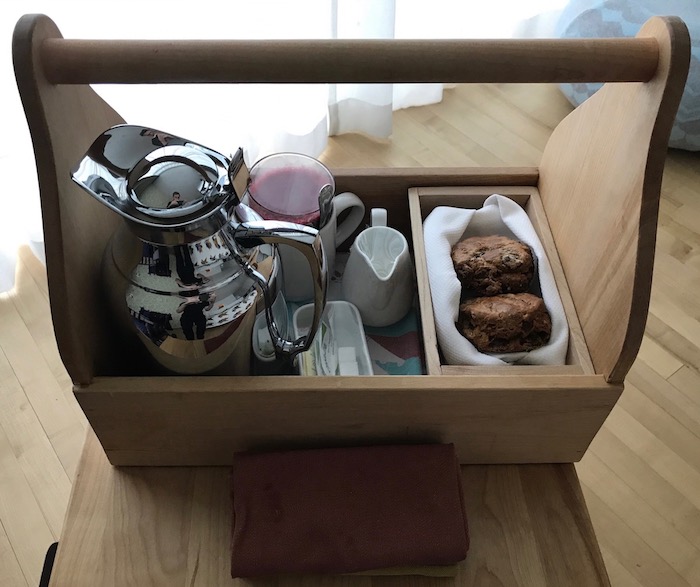 Fogo Island Inn daybreak basket
There was wifi throughout the hotel, and it was both fast and free.
Now let's talk a bit about what there is to do at the Fogo Island Inn, starting on the first floor.
On the first floor, just past reception, is the inn's restaurant and bar, where all the meals are served. I'll talk much more about that experience in the next installment.
On the opposite side of the lobby of the bar and restaurant was the library, which had all kinds of books and games.
Then on the second floor of the hotel was the gym, which was basic but sufficient, given how secluded the hotel is.
Then there was a cinema with a few dozen seats. That might seem random, but several times a day they screened shows about Fogo Island and the area, and they occasionally have speakers there. They screen the documentary "Strange & Familiar" at least once a day, which is a must see. It's about Zita Cobb (the Fogo Island Inn founder) and Todd Saunders (the Fogo Island Inn architect), and really helps you understand the Fogo Island Inn's role in the community. Here's a trailer for the film: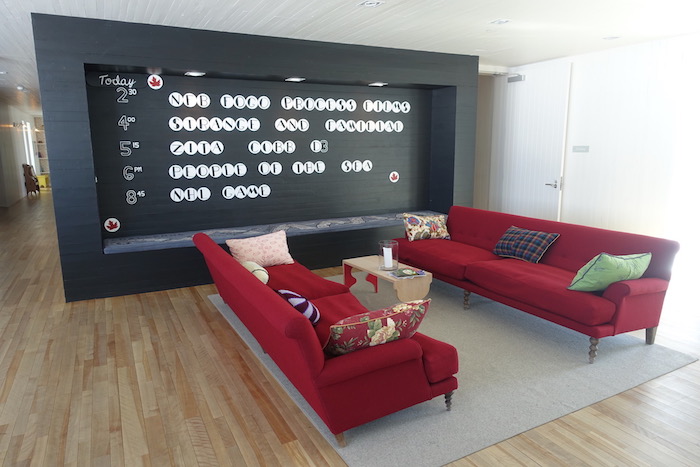 Fogo Island Inn cinema exterior area
There are also some tasty snacks in the cinema, for what it's worth. 😉
Also on the second floor was some meeting space, which wasn't being used during our visit (when we checked in I think a total of four rooms were occupied, including our room).
Then on the fourth floor, near our room, were the steam rooms and hot tubs.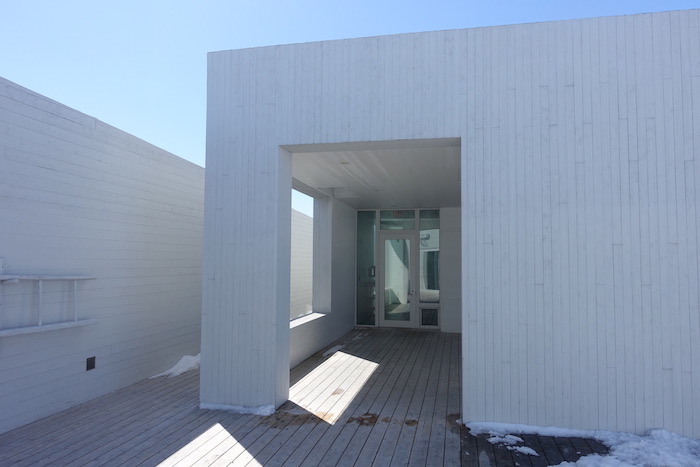 Fogo Island Inn sauna & hot tub entrance
There was almost a reception area of sorts, even though the area wasn't staffed.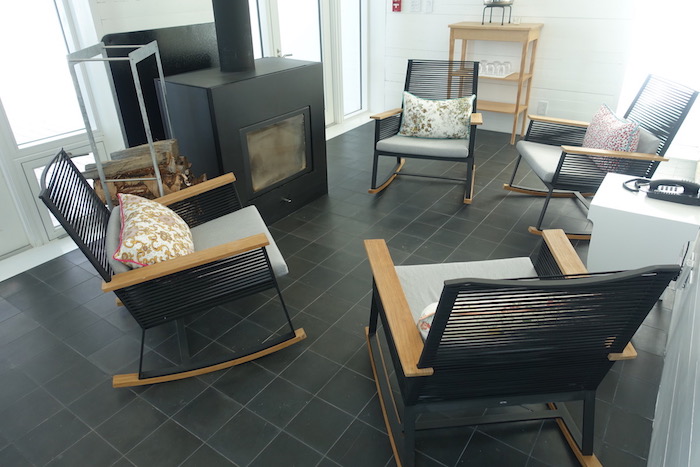 Fogo Island Inn sauna sitting area
There were showers near the sauna and steam room.
Then there were two outdoor hot tubs. They're usually covered, but you just phone down when you want to use them, and they'll set them up within a few minutes.
Ford and I used the hot tub at sunset on our last night at the inn, and it was just magical. The whole scene was so beautiful it almost didn't seem real.
Even in the middle of the day there are some insanely cool views from the hot tub deck.
Before I visited I was surprised to learn that the hotel doesn't have a spa. What $1,000+ per night hotel doesn't have a spa? However, after visiting I totally get it. That's not the type of place this is. This is an inn where you feel like you're visiting family and they're cooking you great food and treating you like their guests. The concept of a spa would almost seem out of place and uncomfortable, in a way.
Like I said, in the next installment I'll talk more about food at the hotel and activities in and around the hotel. As a hint, it partly includes really really cute Newfoundlands.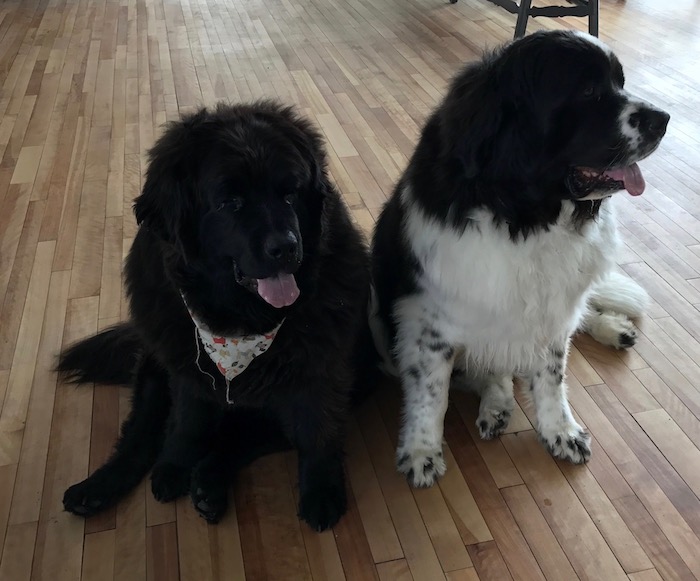 Newfoundlands at the Fogo Island Inn
Fogo Island Inn bottom line
To me the experience of visiting Fogo Island felt transformative. When it comes to super expensive hotels, you have places that feel like luxury factories, where there are hundreds of guests and you feel like a number, despite paying a ton. Then there are some small, intimate hotels where you feel like you're actually getting a good value. I've written in the past about Aman hotels, which I consider to be pinnacle of hospitality. To me, the Fogo Island Inn felt like an Aman. I'll talk more about the incredible service in the next installment, and equally, some of the locals we met.
I'll once again share the video created by the inn, featuring Zita Cobb, the founder. I think it beautifully sums up the spirit of this place:
Lastly, as I explained in the introduction, if you're looking to book the Fogo Island Inn, they have fixed pricing, so there are potentially two ways to score a deal on a stay at the Fogo Island Inn:
Book through Virtuoso, which will come with a room upgrade subject to availability, a $100 hotel credit (that can be applied towards alcoholic drinks, since most other things are included), and early check-in and late check-out, subject to availability; the rate is the same as the publicly available one, and any Virtuoso advisor should be able to get you those benefits if booking through them (Ford can do so, and can be reached at [email protected])
Book through the Citi Prestige Card to get a fourth night free