---
Saudia 22
New York (JFK) – Riyadh (RUH)
Friday, June 9
Depart: 5:00PM
Arrive: 12:05PM (+1 day)
Duration: 12hr5min
Aircraft: Boeing 777-300ER
Seat: 3L (First Class)
I boarded through door L1, where I was greeted by the cabin supervisor and brought to my seat. Saudia's new 777-300ER first class cabin consists of a total of 12 suites, spread across three rows in a 1-2-1 configuration. You'll notice that there are no overhead bins, so the crew takes your bags as you board, and stores them in the closet.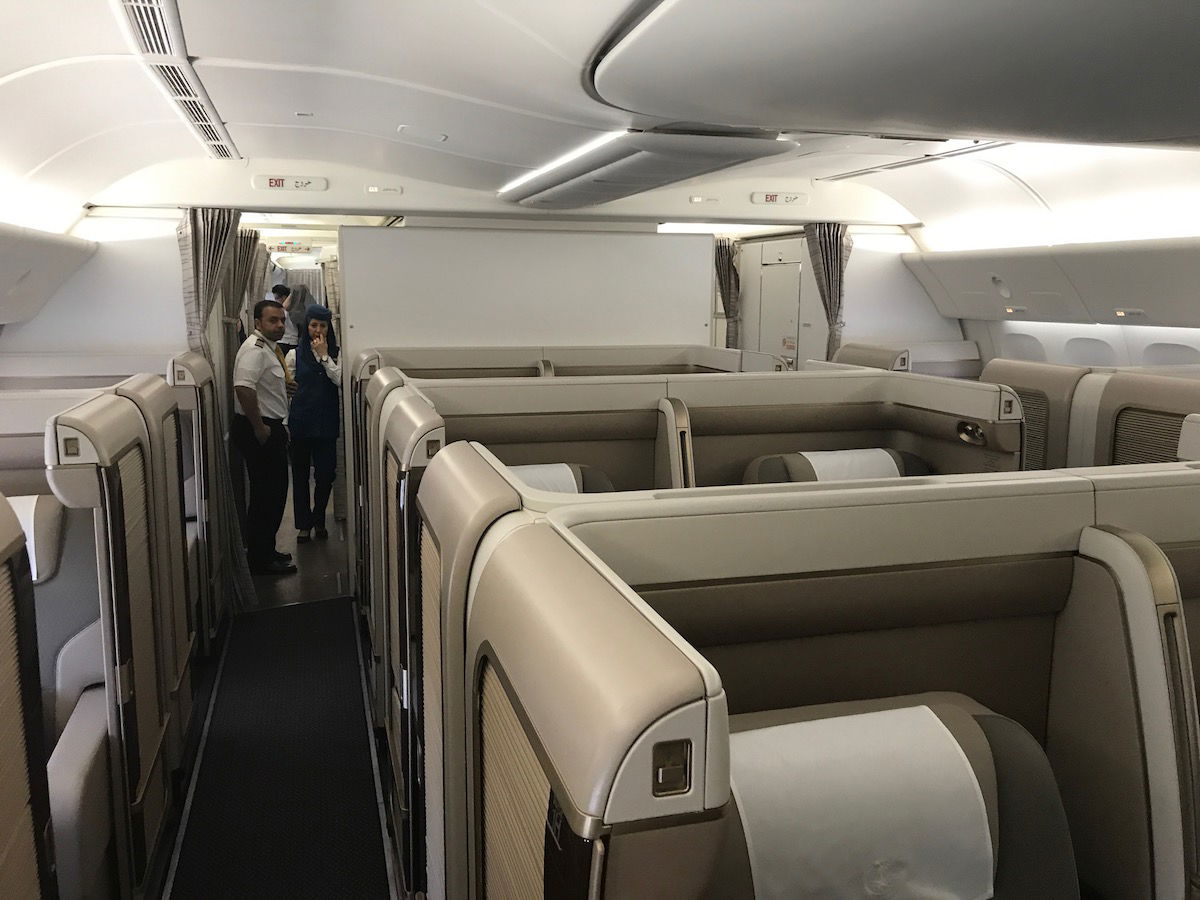 Saudia 777-300ER first class cabin
The bones of the seat are almost identical to those on Garuda Indonesia, except the Saudia first class cabin is an extra row. That means Saudia's first class cabin takes up the entire space between doors one and two, which is a huge space (Garuda has two rows of first class and then two rows of business class between doors one and two).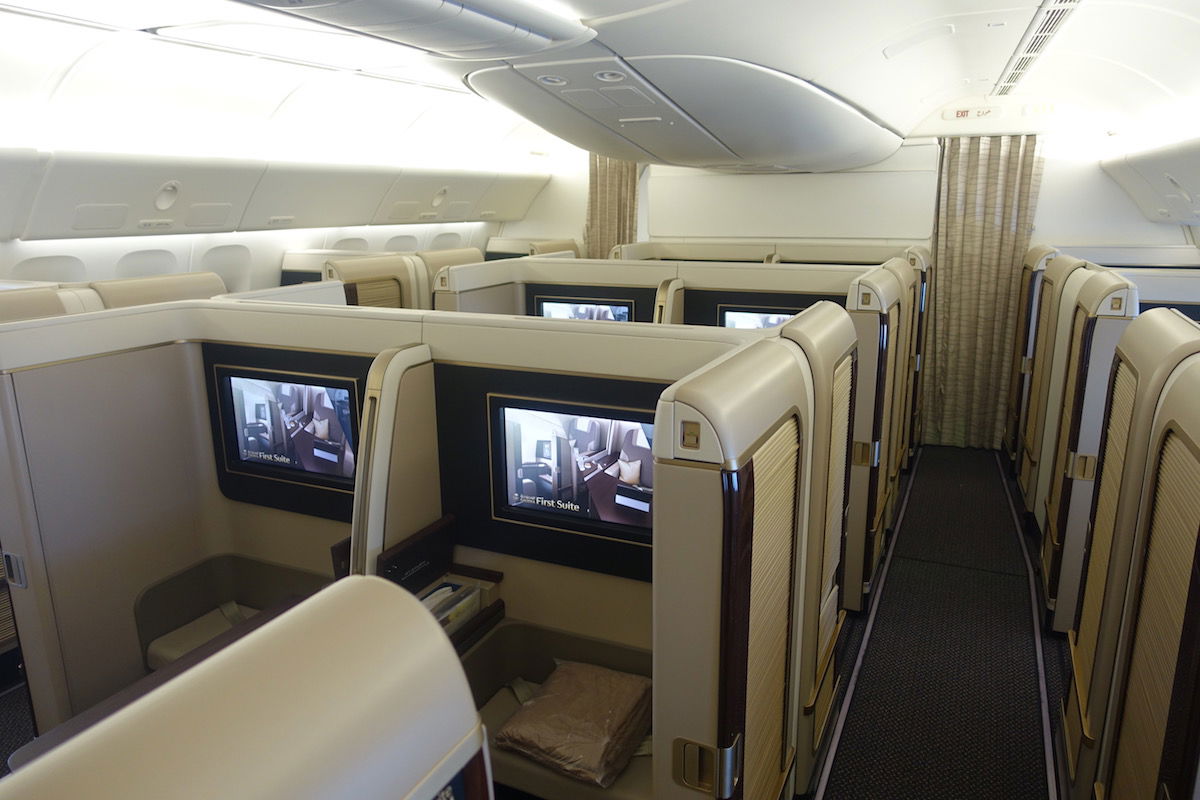 Saudia 777-300ER first class cabin
I had assigned myself suite 3L, the window seat in the last row of first class.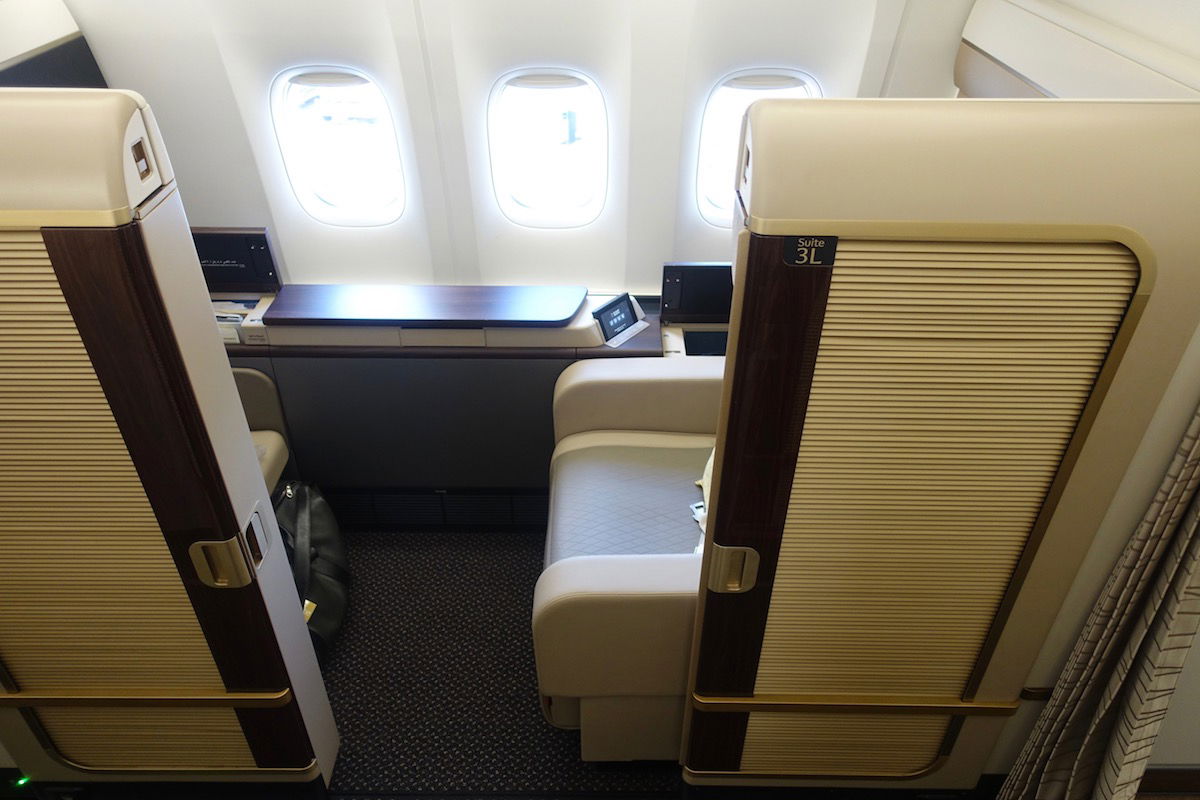 Saudia First Suite
I thought the suite finishes were gorgeous, and while the tones were fairly neutral and agreeable, they did a good job mixing up colors a bit.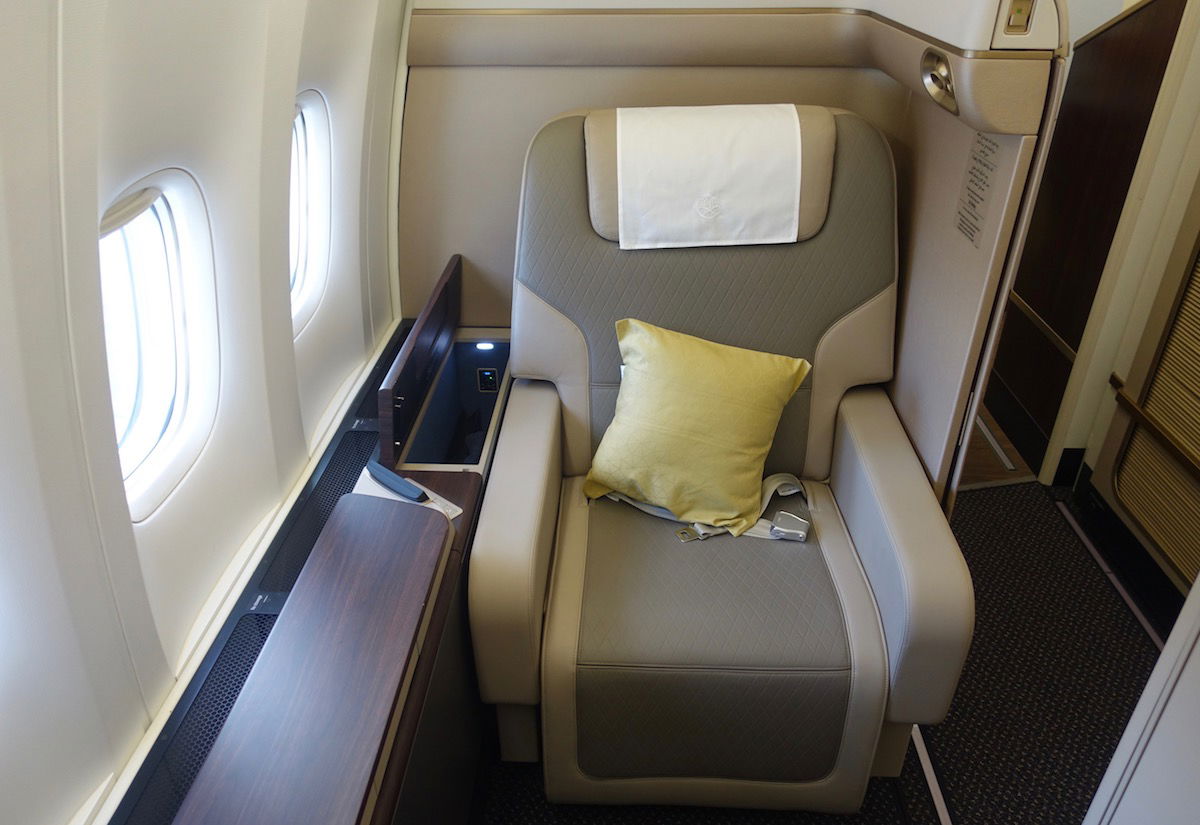 Saudia First Suite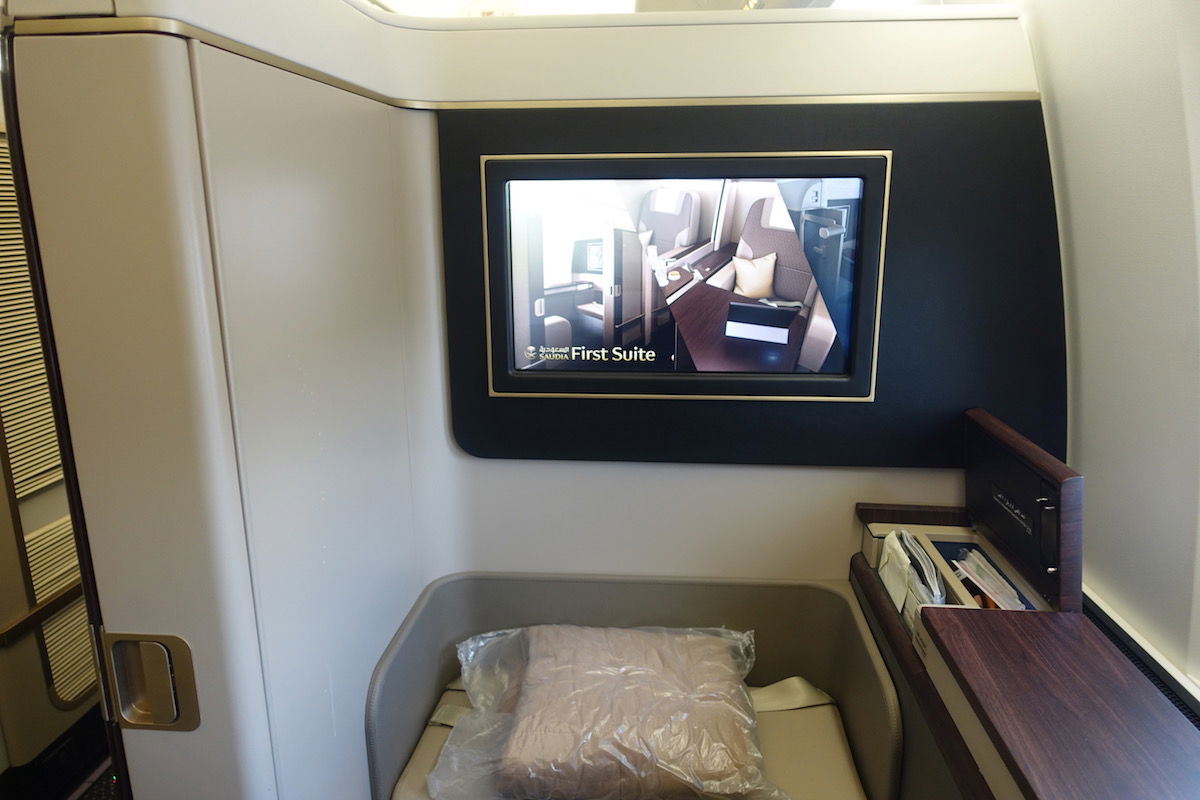 Saudia First Suite
Those traveling together will want to select the two center seats, which have a wall that can be lowered or raised depending on your preference.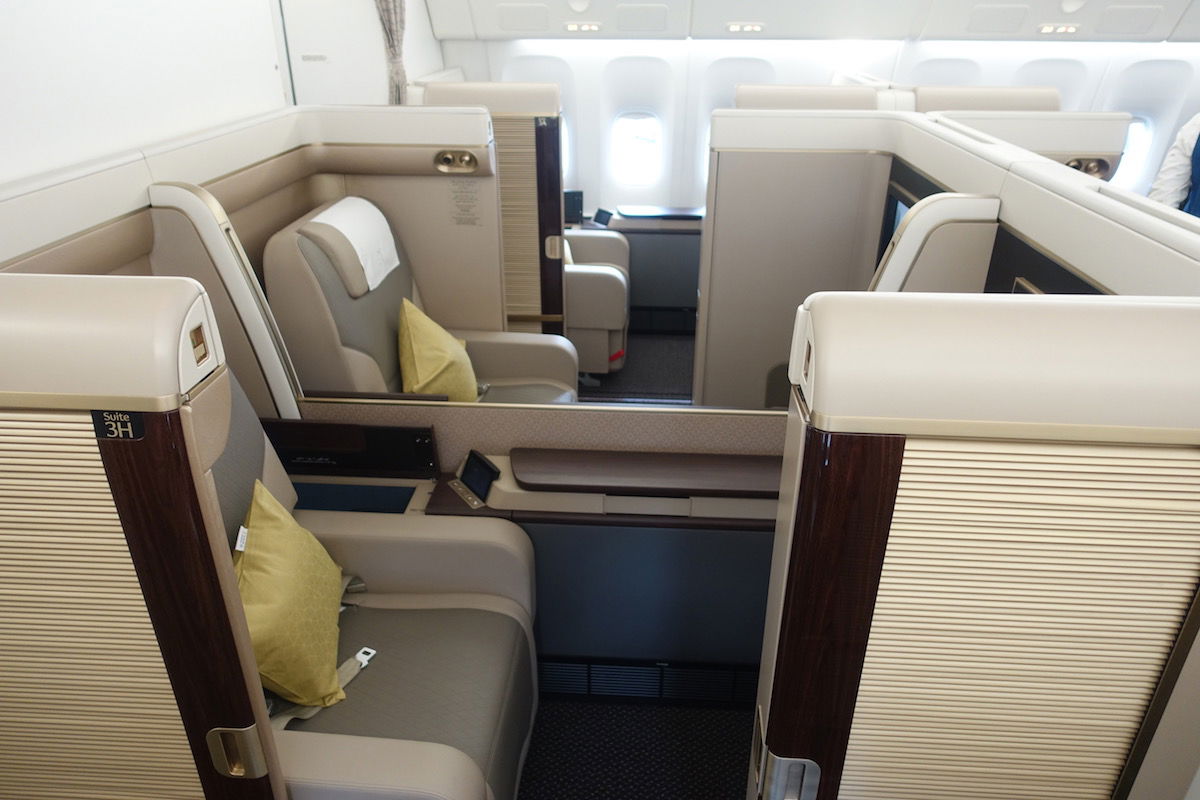 Saudia First Suite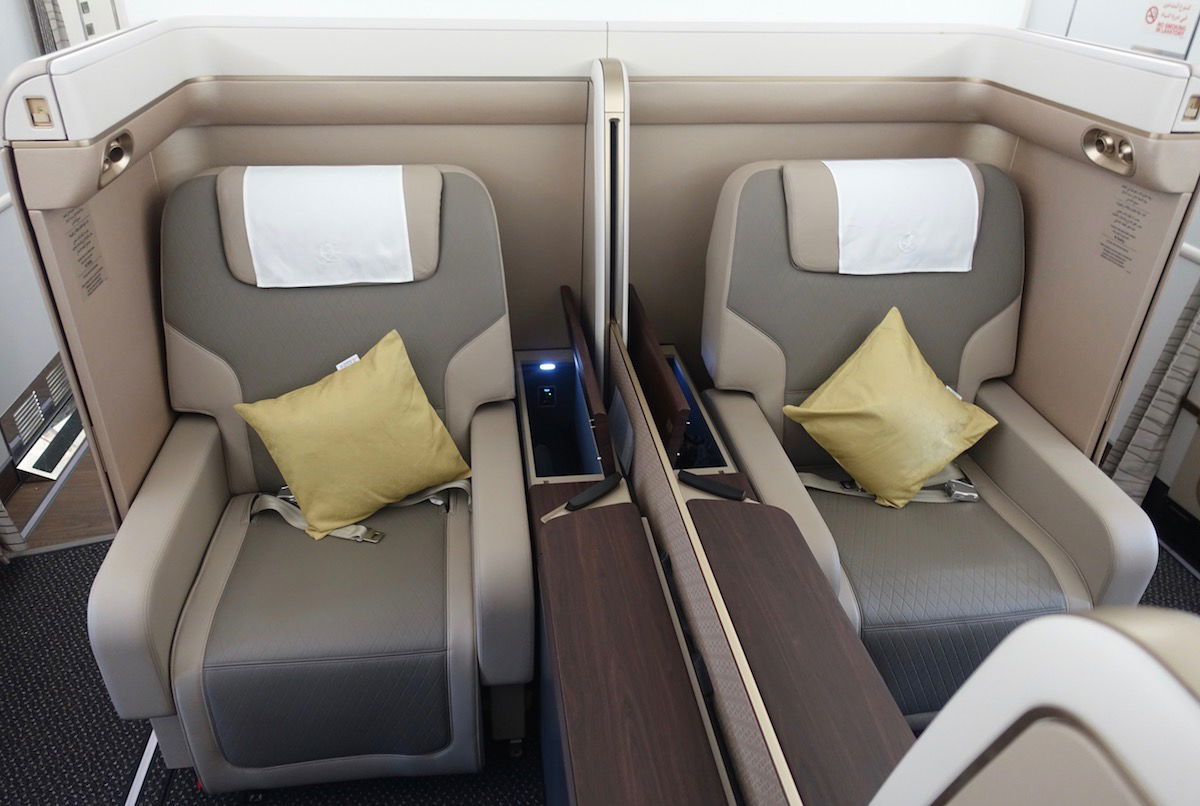 Saudia First Suite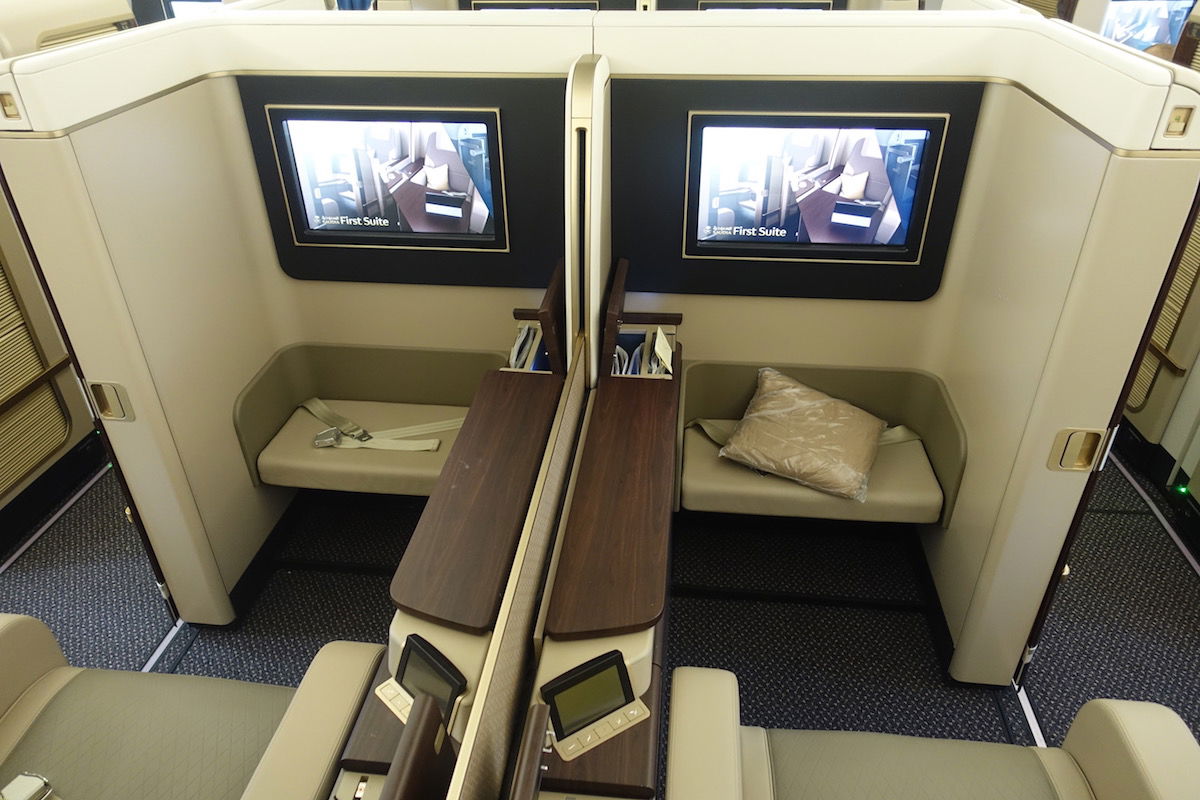 Saudia First Suite
In terms of the seat itself, in the very back right of the seat was a compartment which could be used to store things.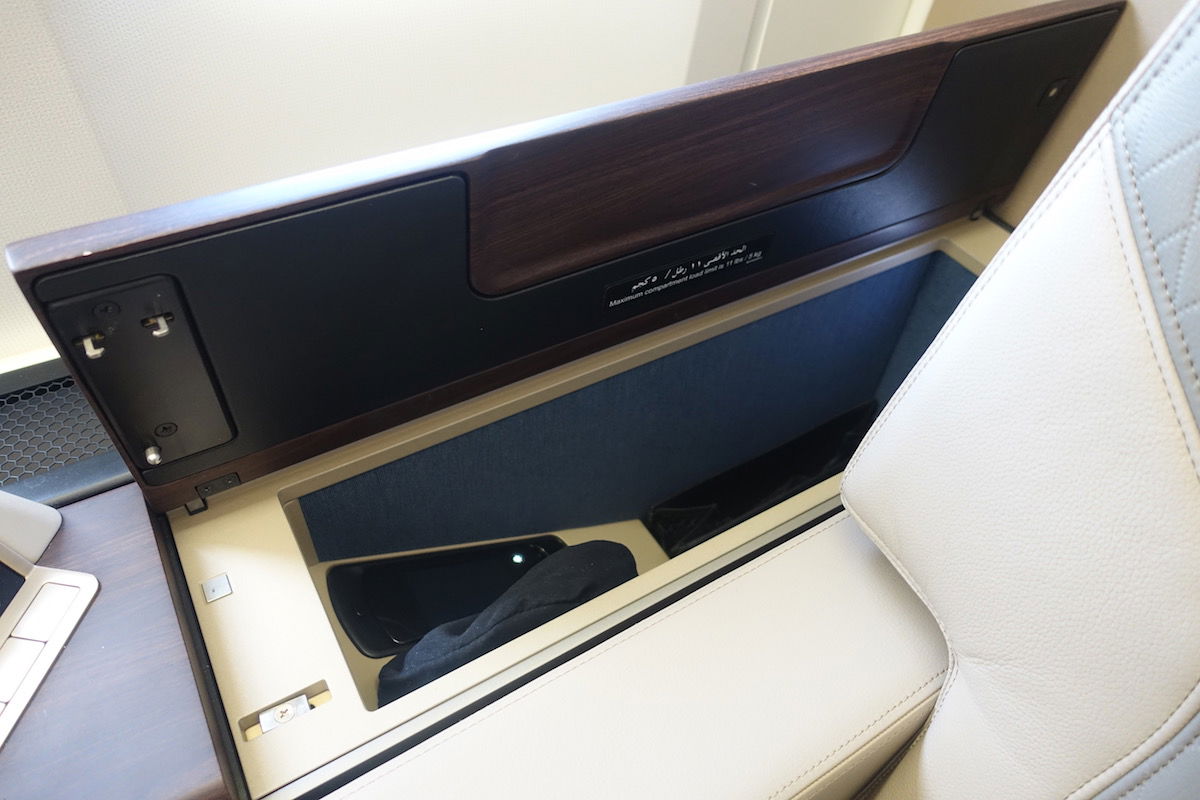 Saudia first class storage
This also had the entertainment controller, headphone jack, USB ports, a water bottle holder, and the power outlet.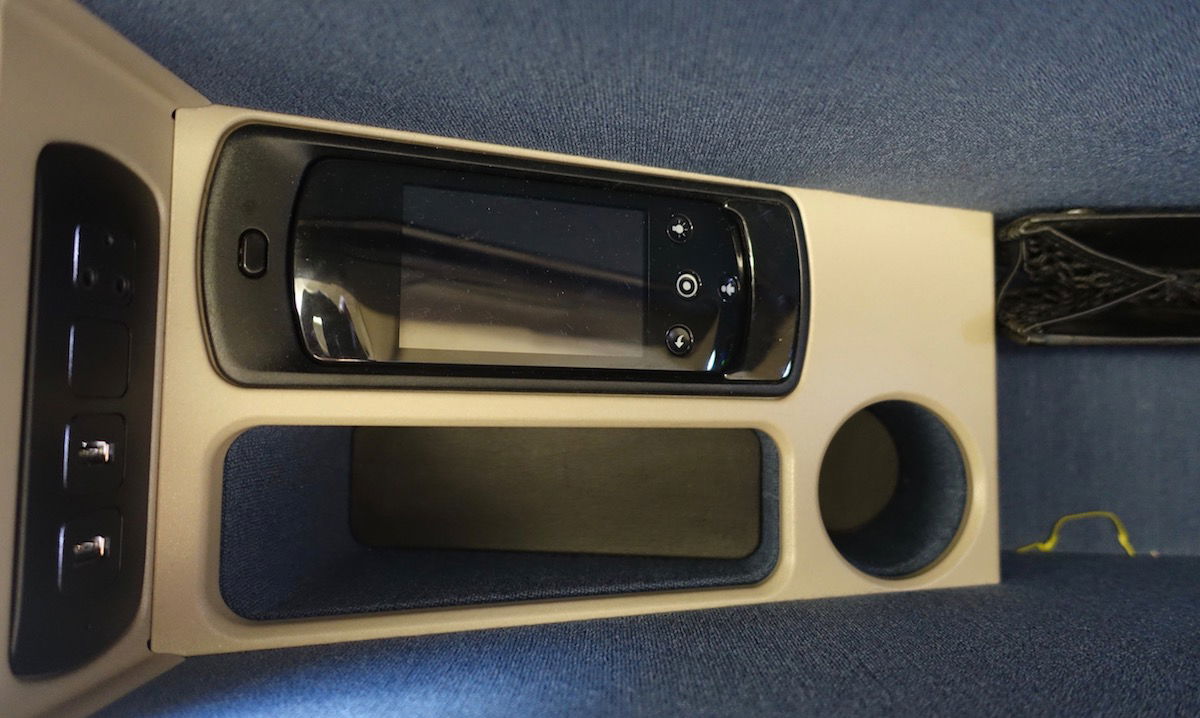 Saudia first class entertainment controls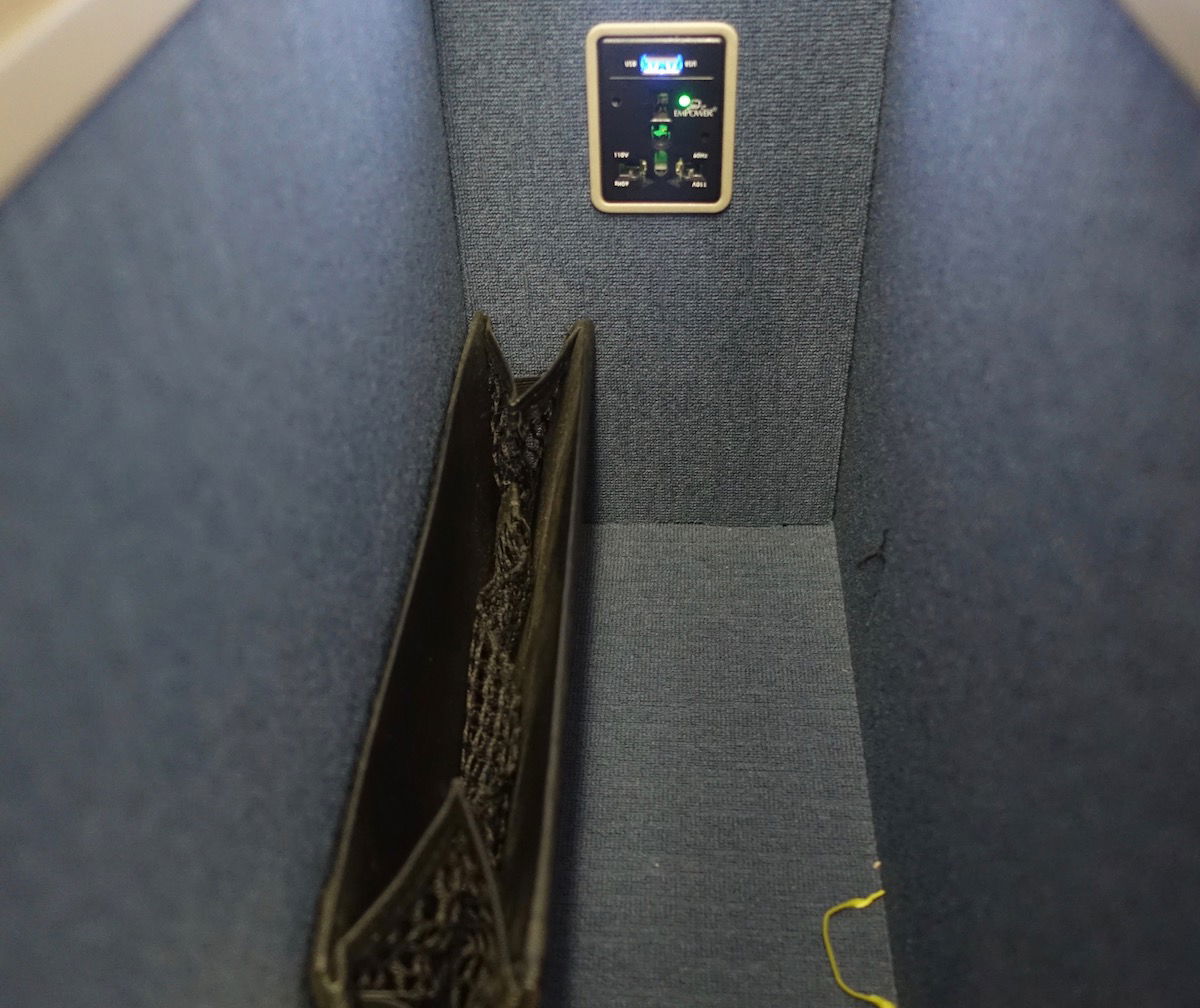 Saudia first class power outlet
In front of that was a small monitor at the side of my seat where all the seat functions could be controlled.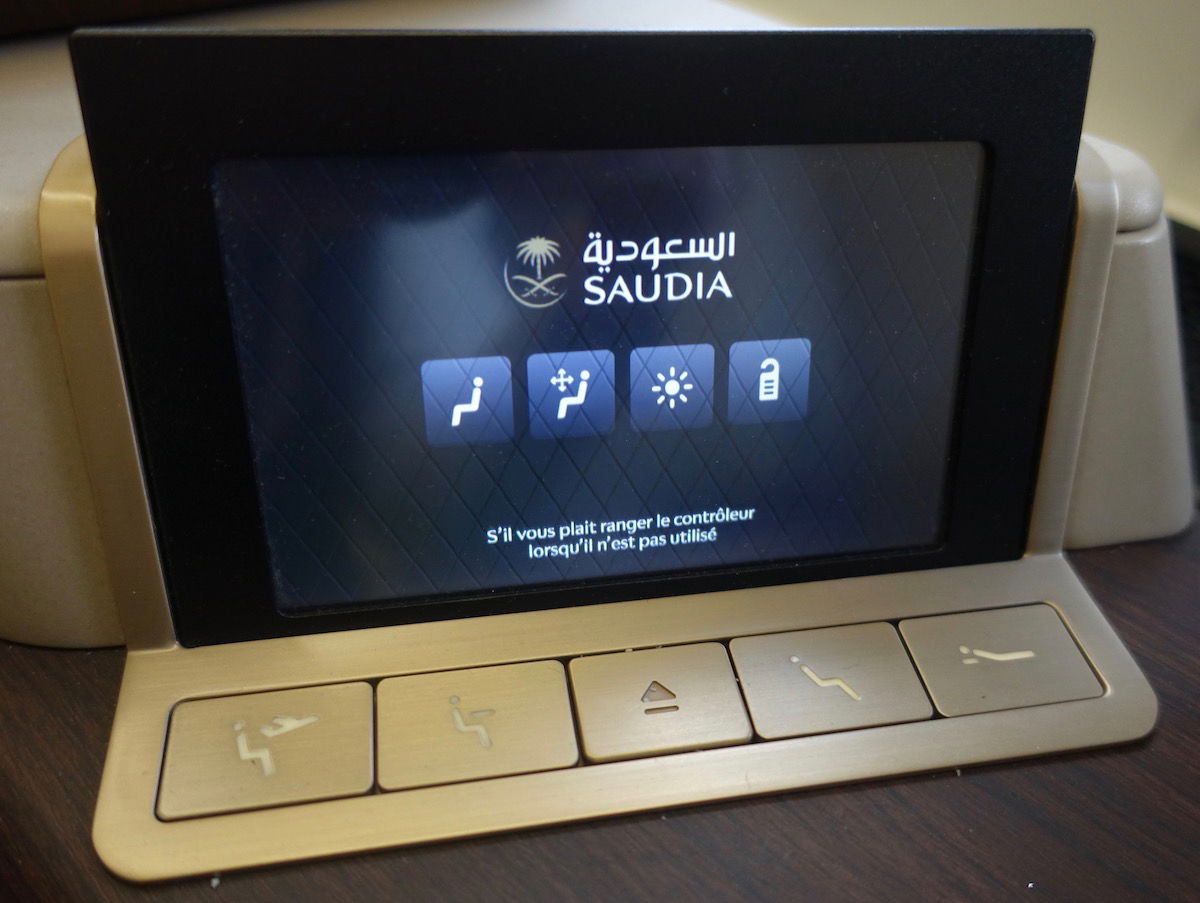 Saudia first class seat controls
Then there was a long counter of sorts, which could be raised to take out the tray table.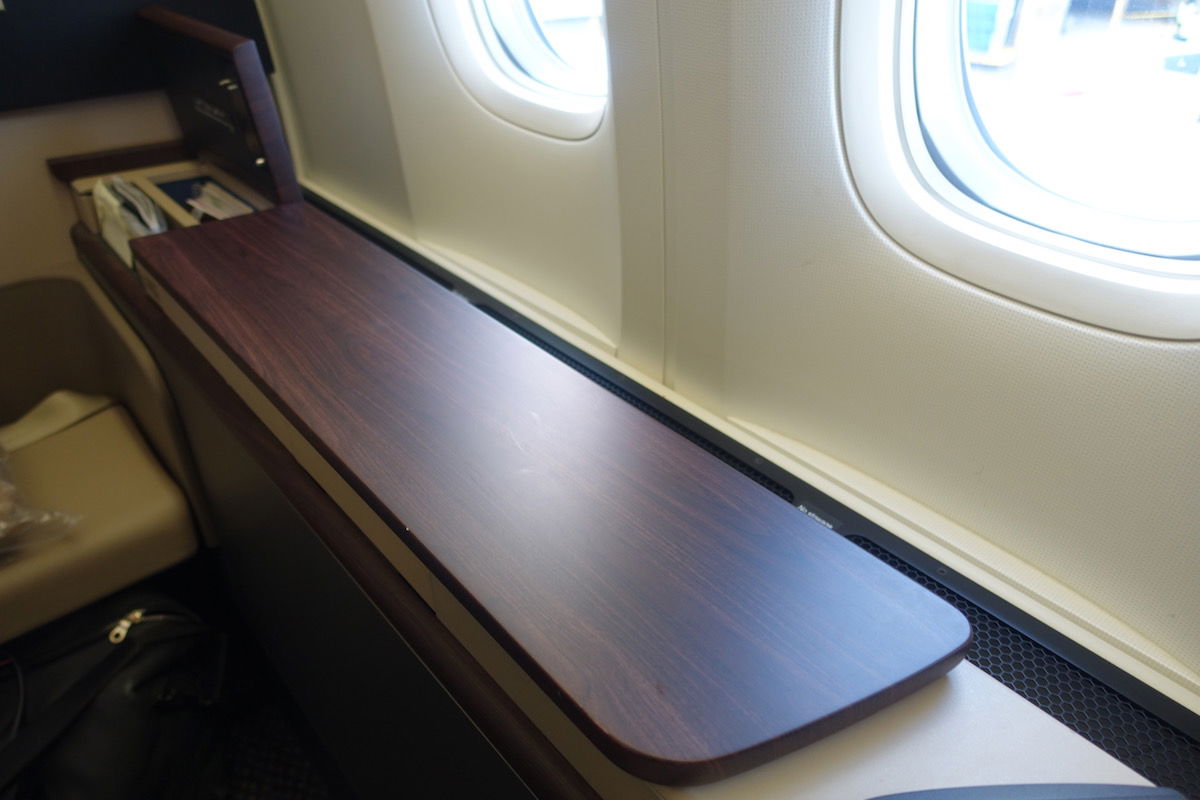 Saudia first class counter
The tray table was massive, and could be folded over in half. This is also perfect if you want to dine with someone else, since the suite has a buddy seat, so there's plenty of room to serve two people at once.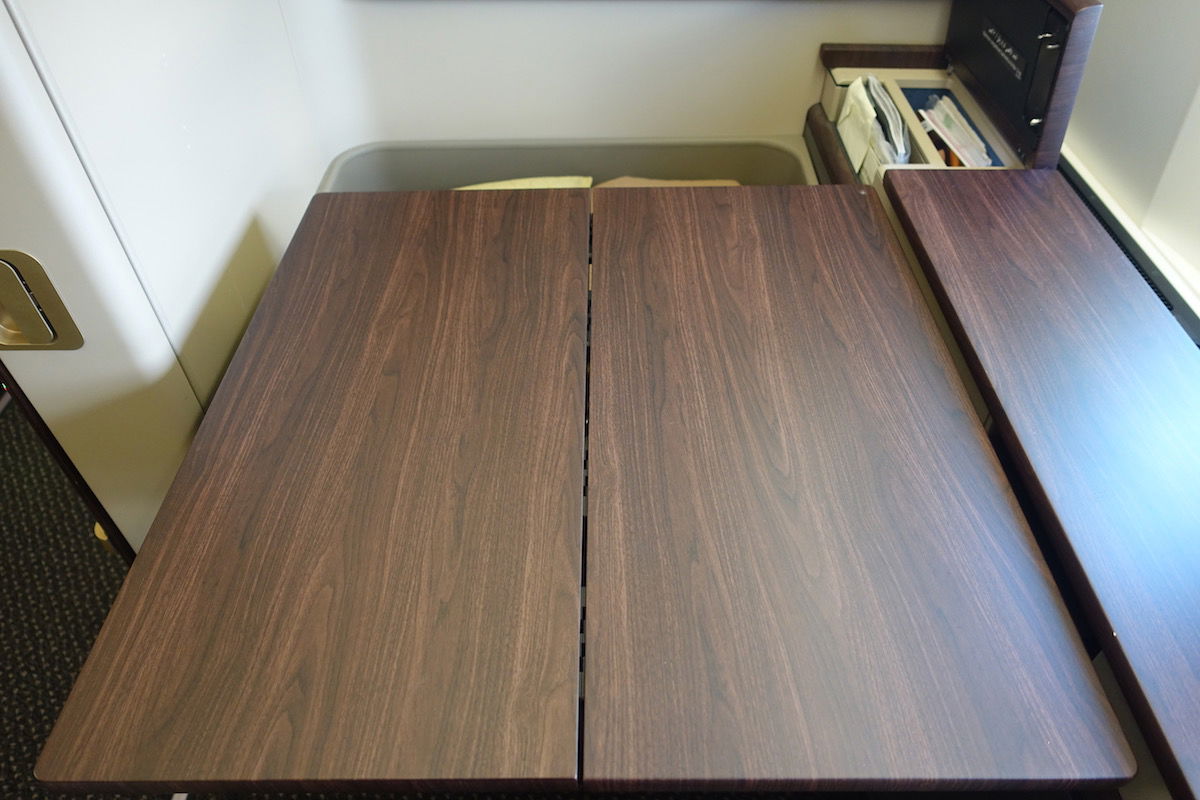 Saudia first class tray table
On the left side of the seat was a reading light as well as an individual air nozzle, which I really appreciate, given how hot many airplane cabins tend to get.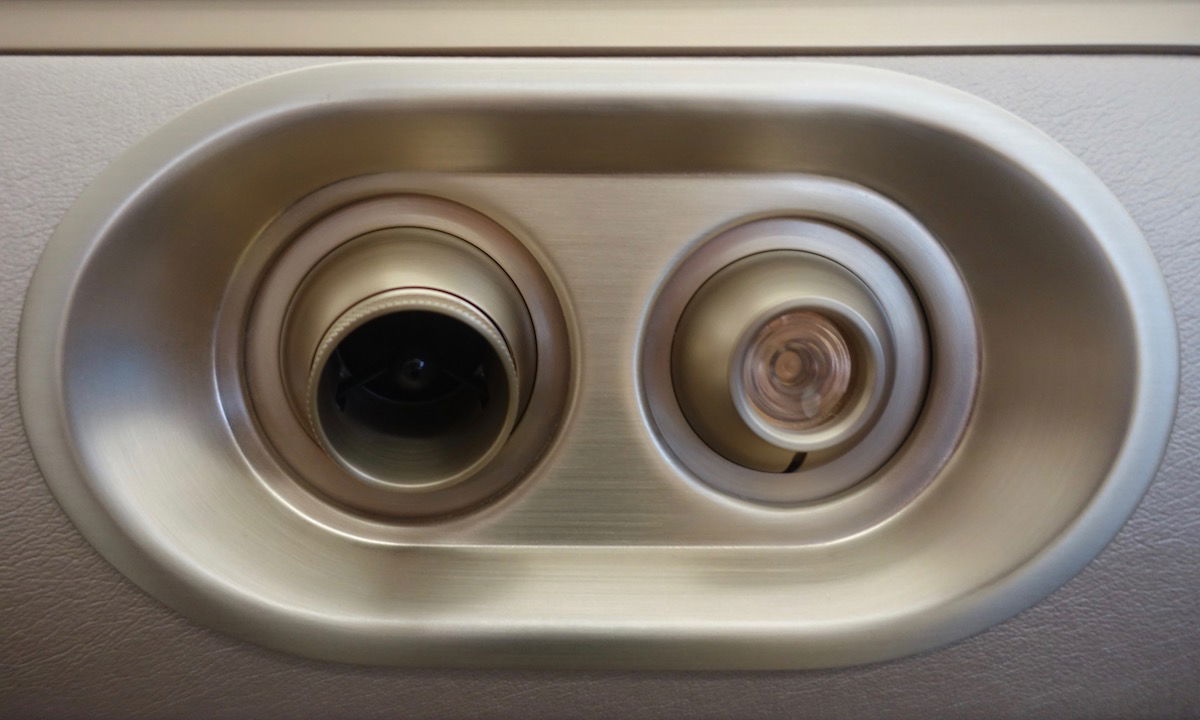 Saudia first class reading light & air nozzle
Waiting at my seat on boarding was a pillow and blanket. My assumption was that there would be a more substantial blanket later on, but there wasn't. The pillow and blanket were both a decent size, though were scratchy.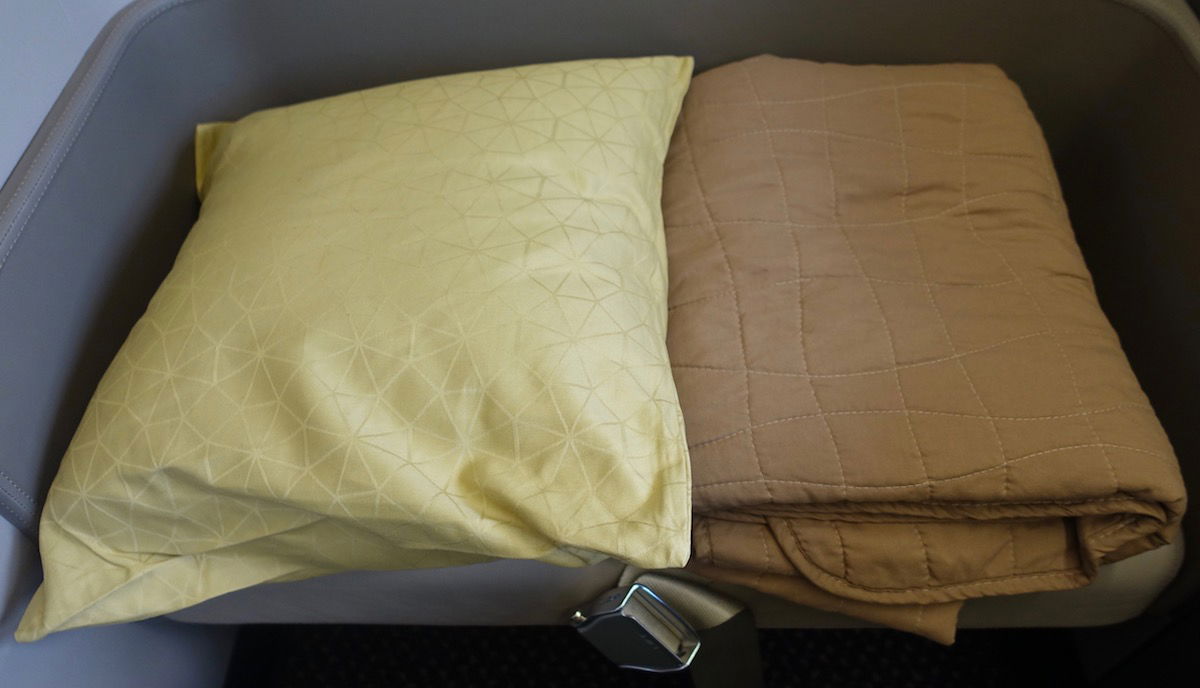 Saudia first class pillow & blanket
Headphones were also at the seat on boarding, and were fairly basic — I used my Bose headphones.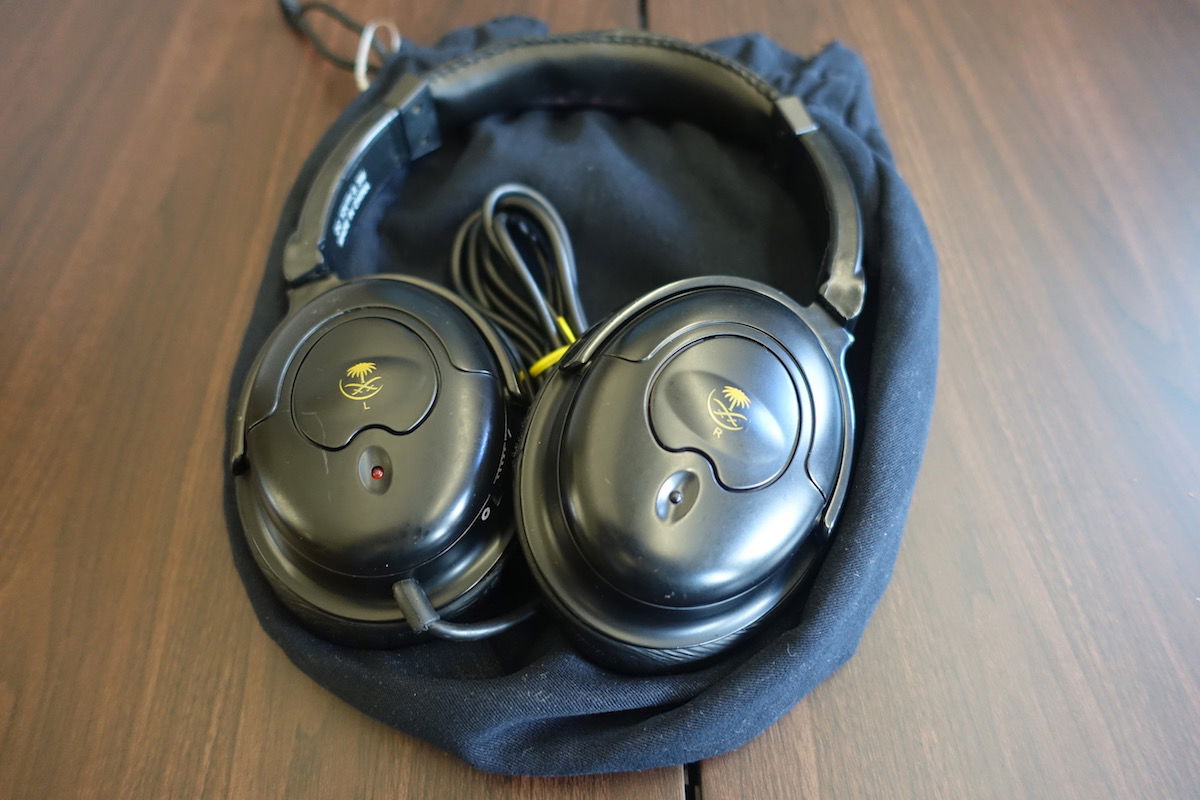 Saudia first class headphones
Moments after settling in, the individual crew members came by to introduce themselves. Taking care of me was Lejla from Bosnia, Hanane from Morocco, and Chef Ali from all over the world. No joke, all three of them were absolutely fantastic. They were friendly, attentive, and charming. In fairness, though, there was only one other passenger in first class (who was observing Ramadan), so I basically had a crew of three to myself.
Lejla started the service by offering me a hot or cold towel — I chose a hot towel.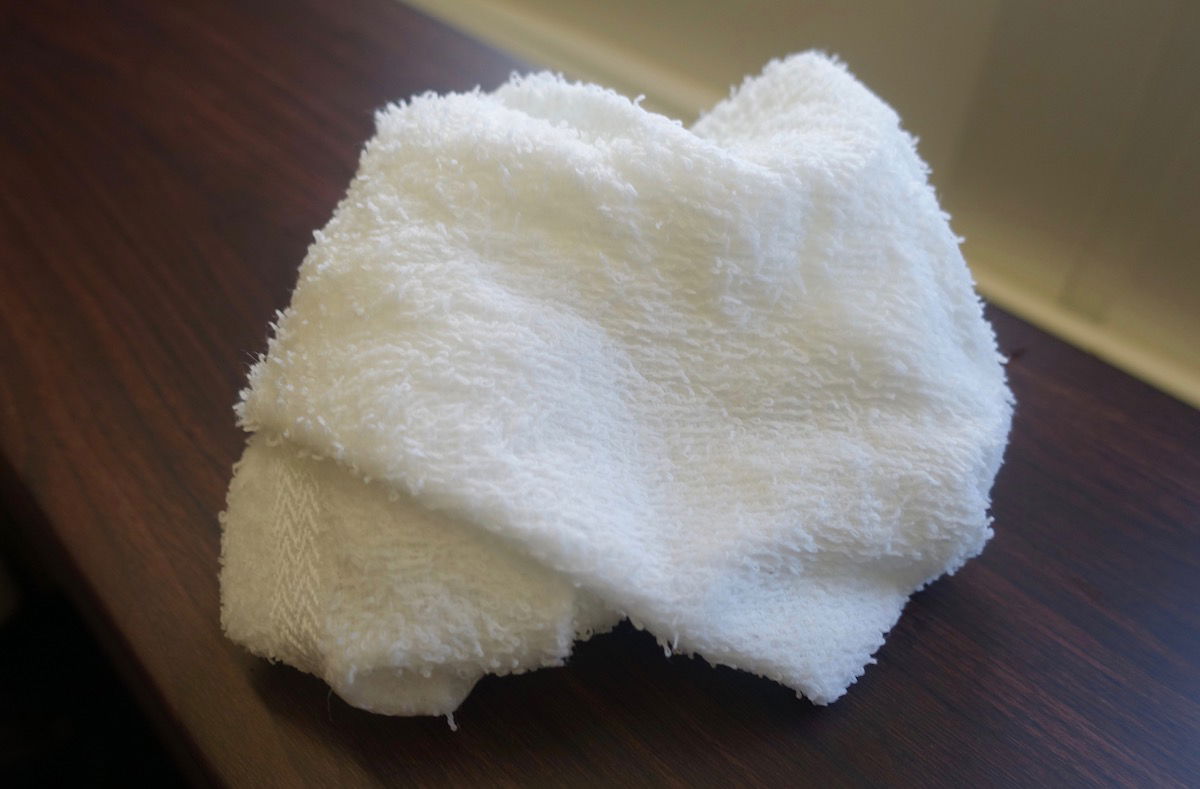 Saudia first class warm towel
I was then offered a drink, and selected a lime juice, which was served with mixed nuts.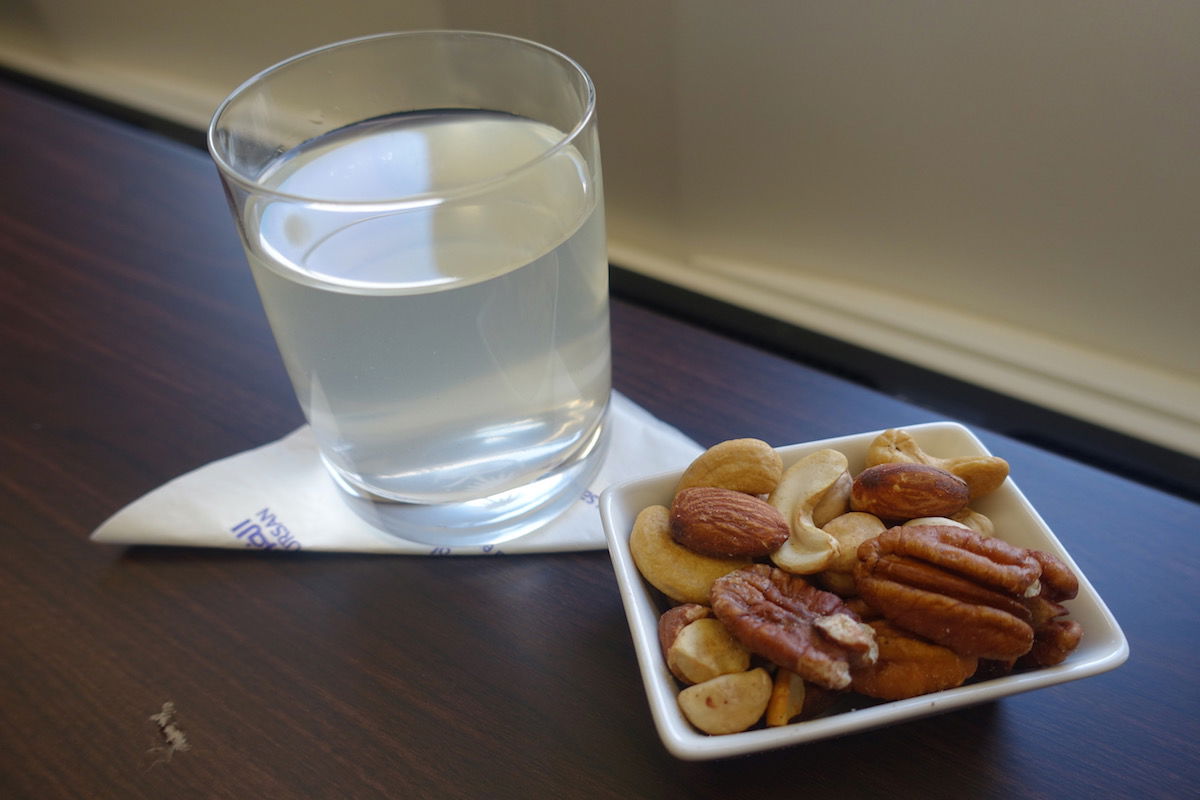 Saudia first class pre-departure drink and mixed nuts
Chef Ali came by my seat and we had a long conversation. He was a fascinating guy, as he was born in Bahrain, grew up in New Zealand, lived in the UK, and has now lived in Saudi Arabia for quite a while. It was fascinating to hear his story.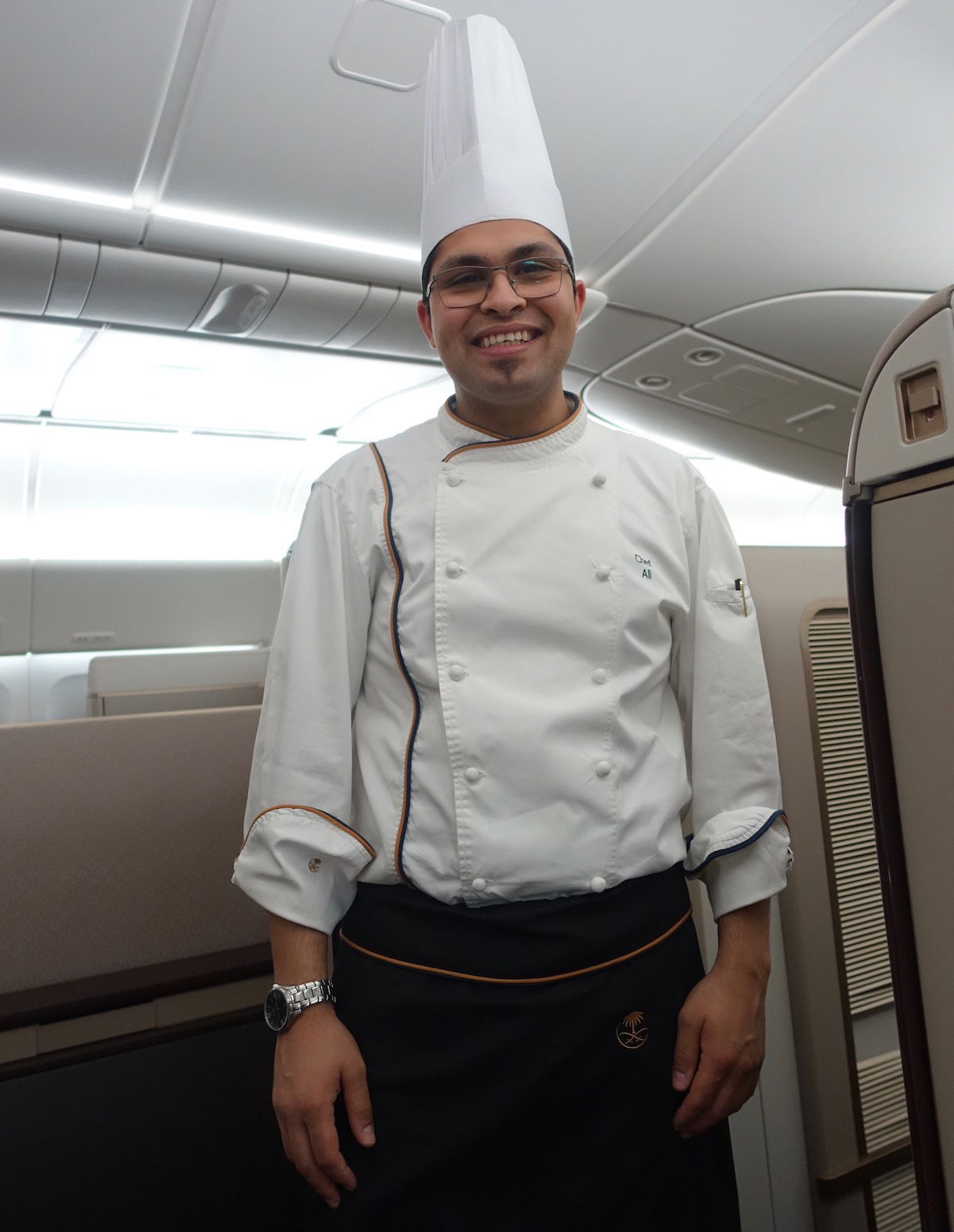 Saudia first class chef, Ali
The onboard chef concept is pretty new for Saudia, and they only offer this service on longhaul flights to Los Angeles, New York, and Washington. Ali presented me with a beautiful leather folder that had "The Suite" written on it, and said he'd come back in a bit to discuss the menu in greater detail with me.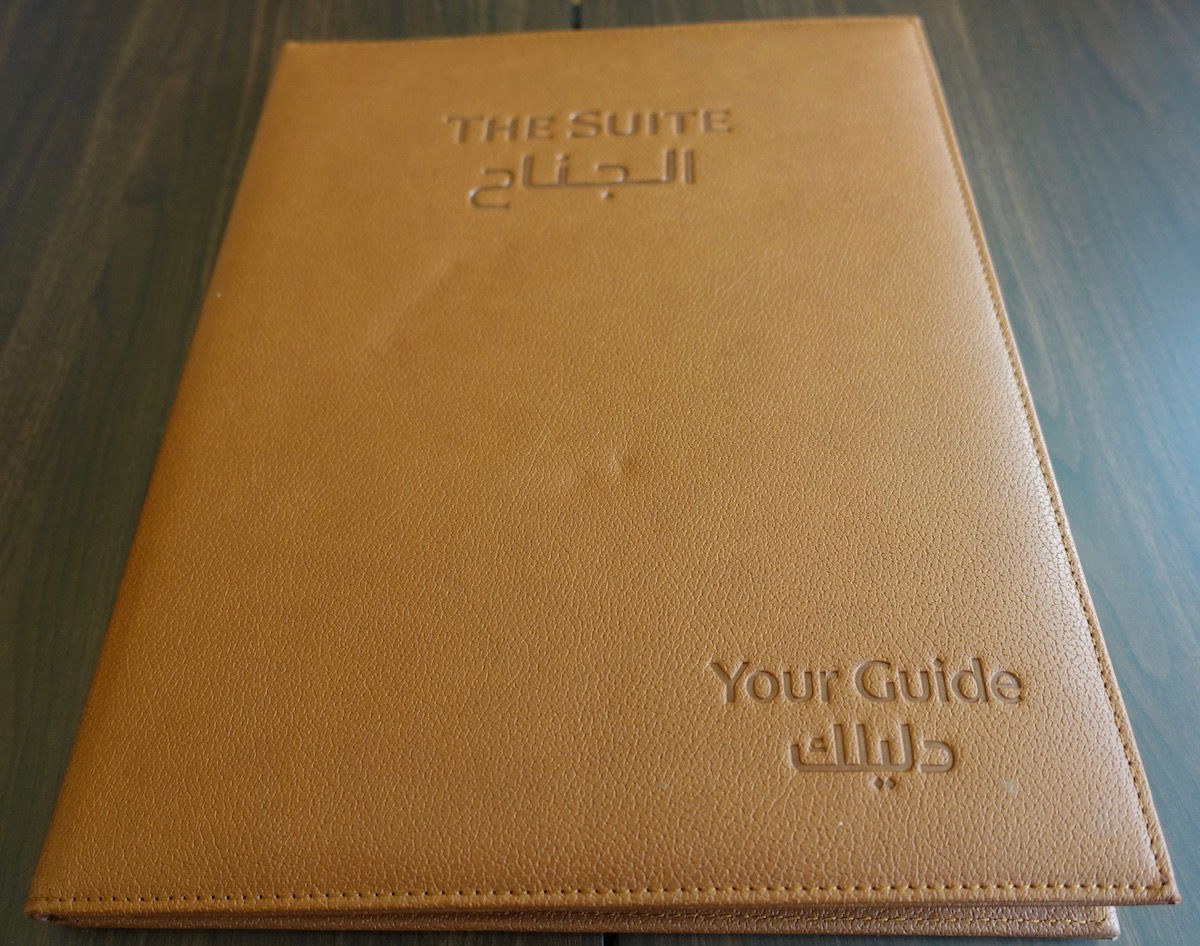 Saudia first class leather folder
Inside the folder was a pamphlet describing Saudia's new first class service, the menu, as well as a luggage tag.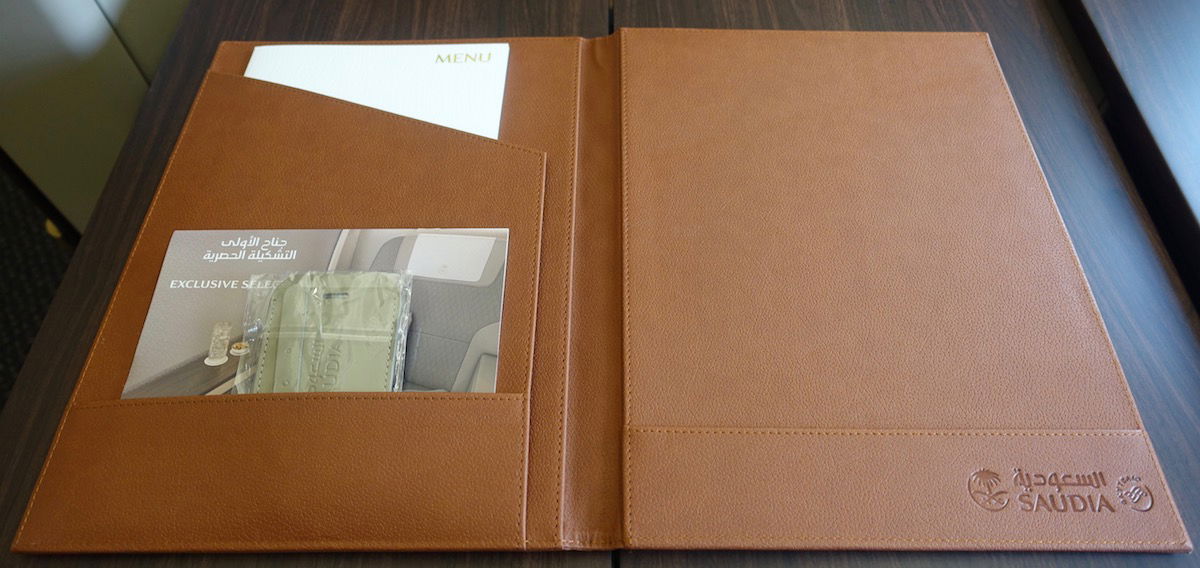 Saudia first class leather folder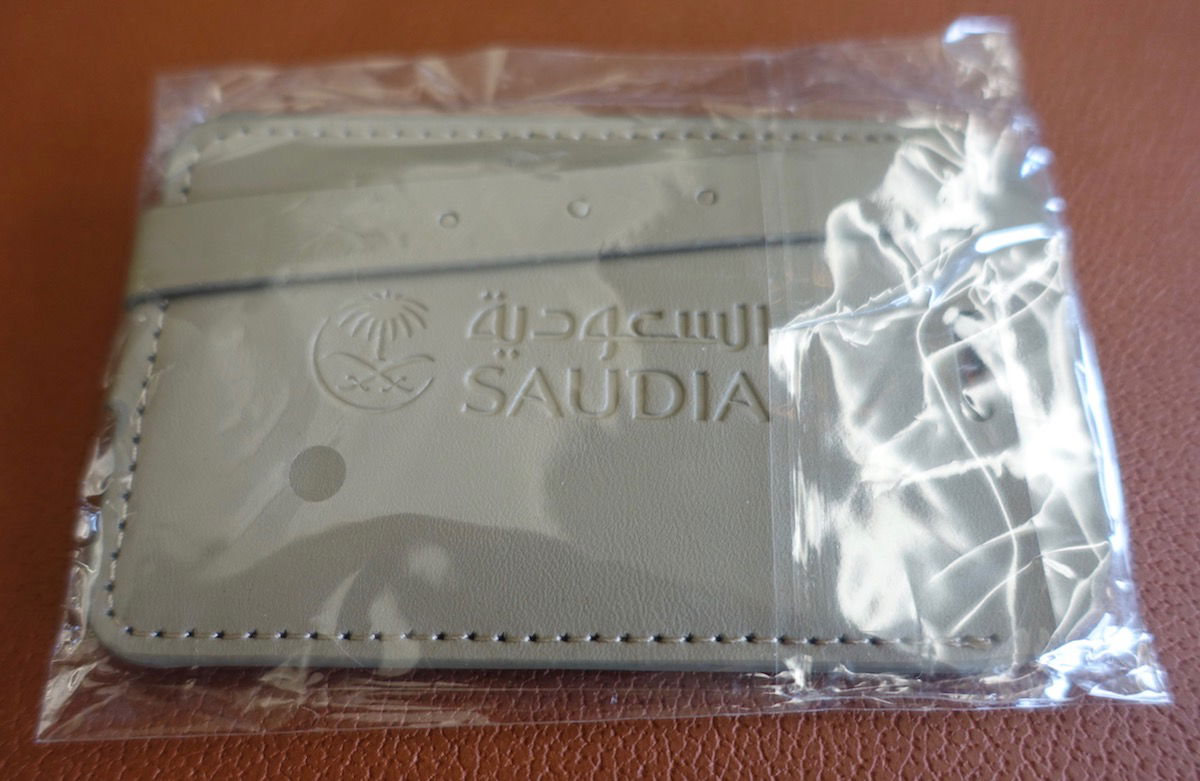 Saudia first class luggage tag
Here's the description of the Saudia Suite amenities in the binder: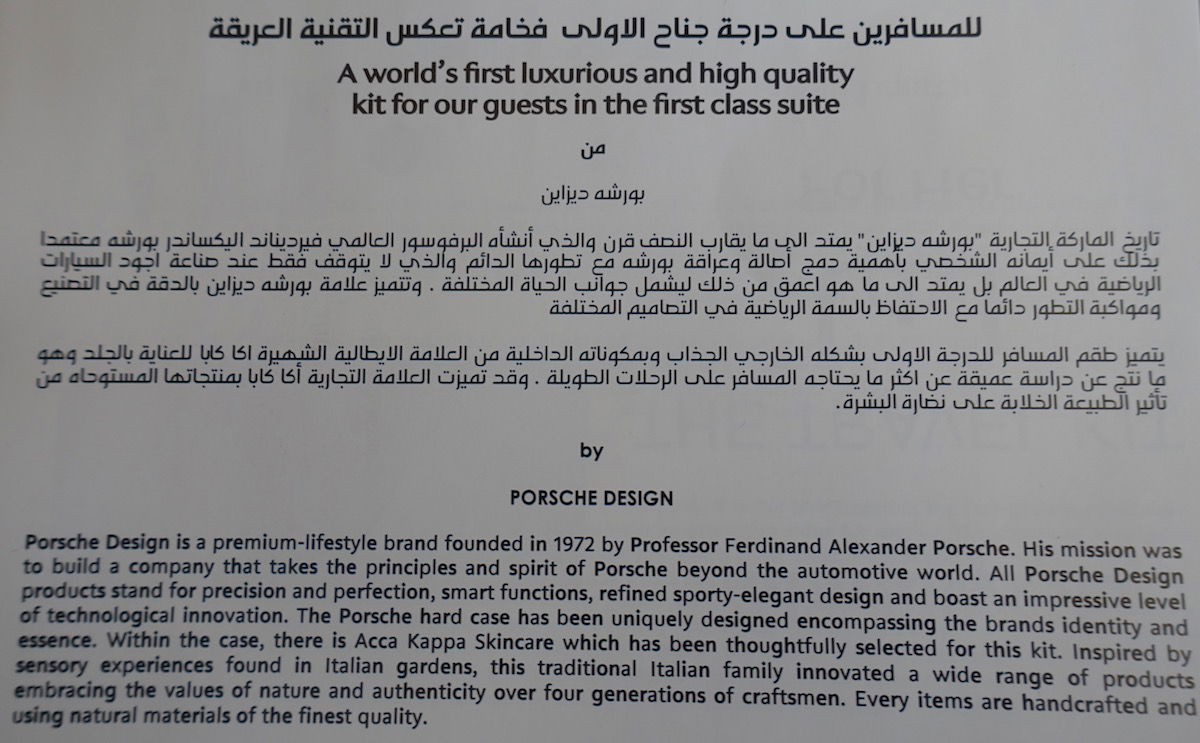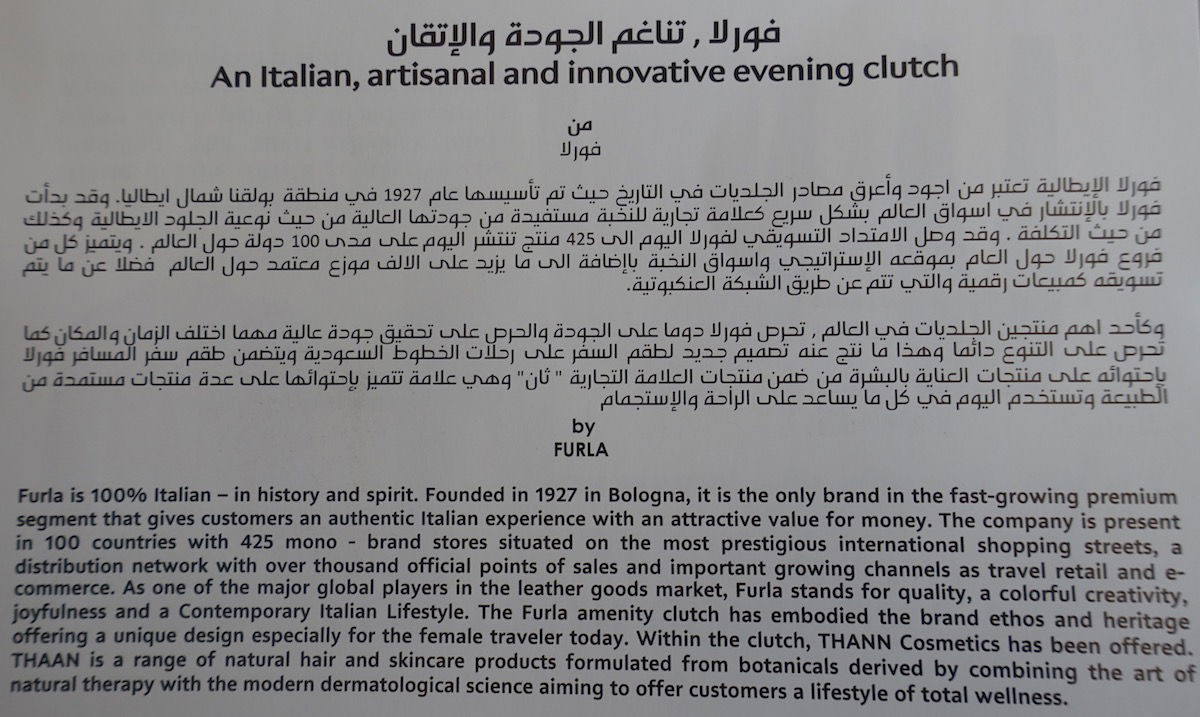 About 10 minutes later, Chef Ali returned to go over the entire menu with me, explain that I could eat what I wanted when I wanted, etc. On top of that, I was impressed by the degree to which the meal could be customized. Not only was there an extensive menu, but I was asked exactly how I wanted everything prepared.
At 5PM the cabin door was closed, at which point the captain added his welcome aboard, and informed us of our flight time of 11hr20min, and cruising altitude of 34,000 feet.
10 minutes later we began our pushback, with an Aeroflot 777 off our right side, which brought back fond memories of my Aeroflot flight from Los Angeles to Moscow.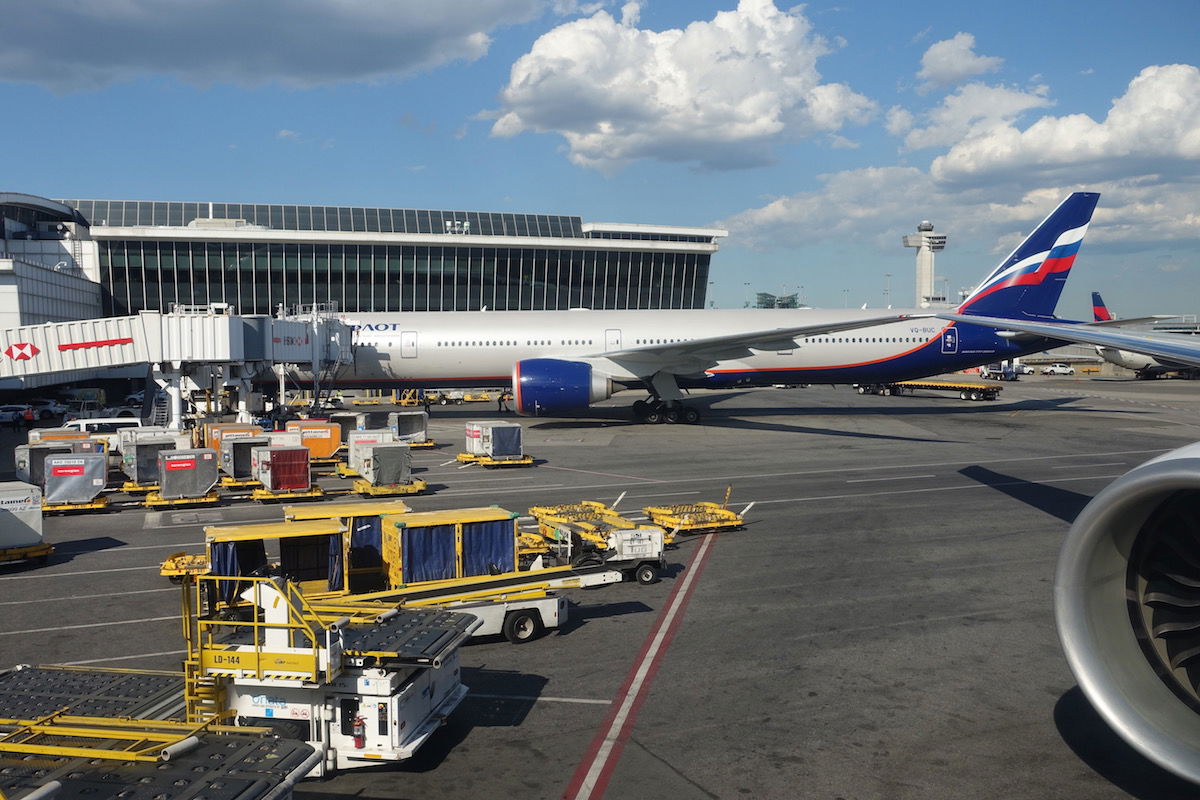 Aeroflot 777 JFK Airport
As we pushed back the prayer and safety video were screened.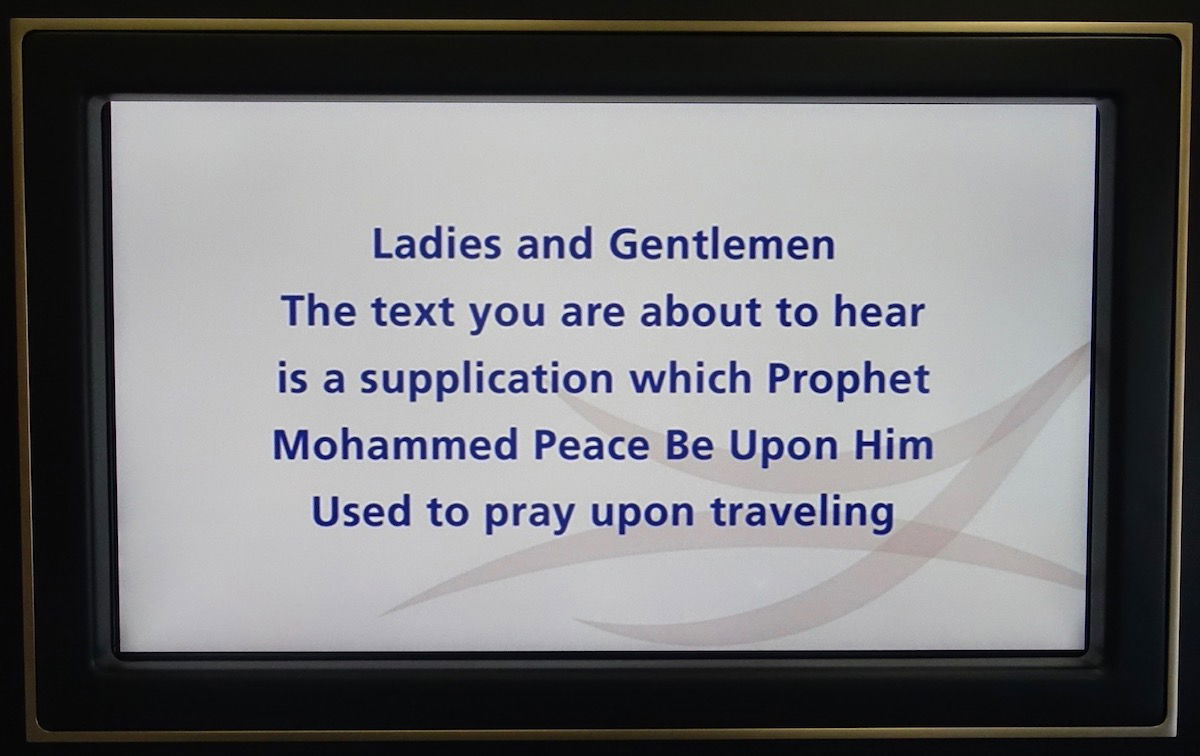 Saudia pre-flight prayer
By 5:15PM we began our taxi, and passed an Air France A380 and Alitalia A330.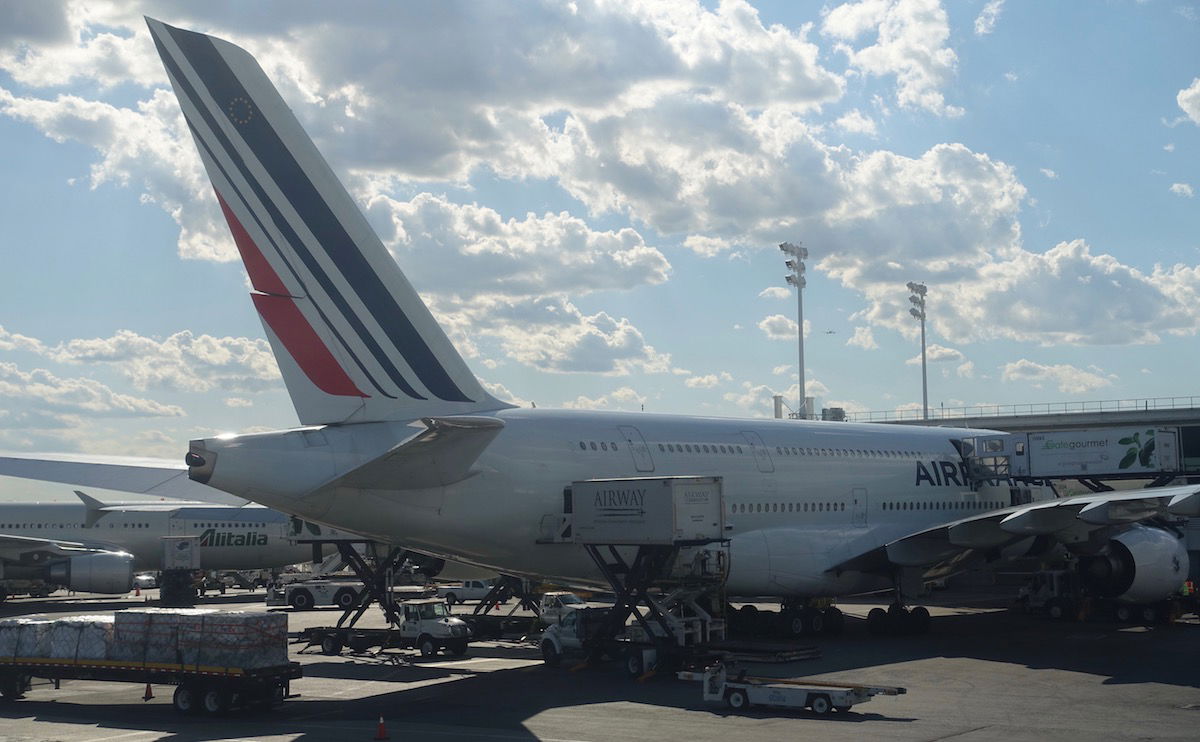 Air France A380 JFK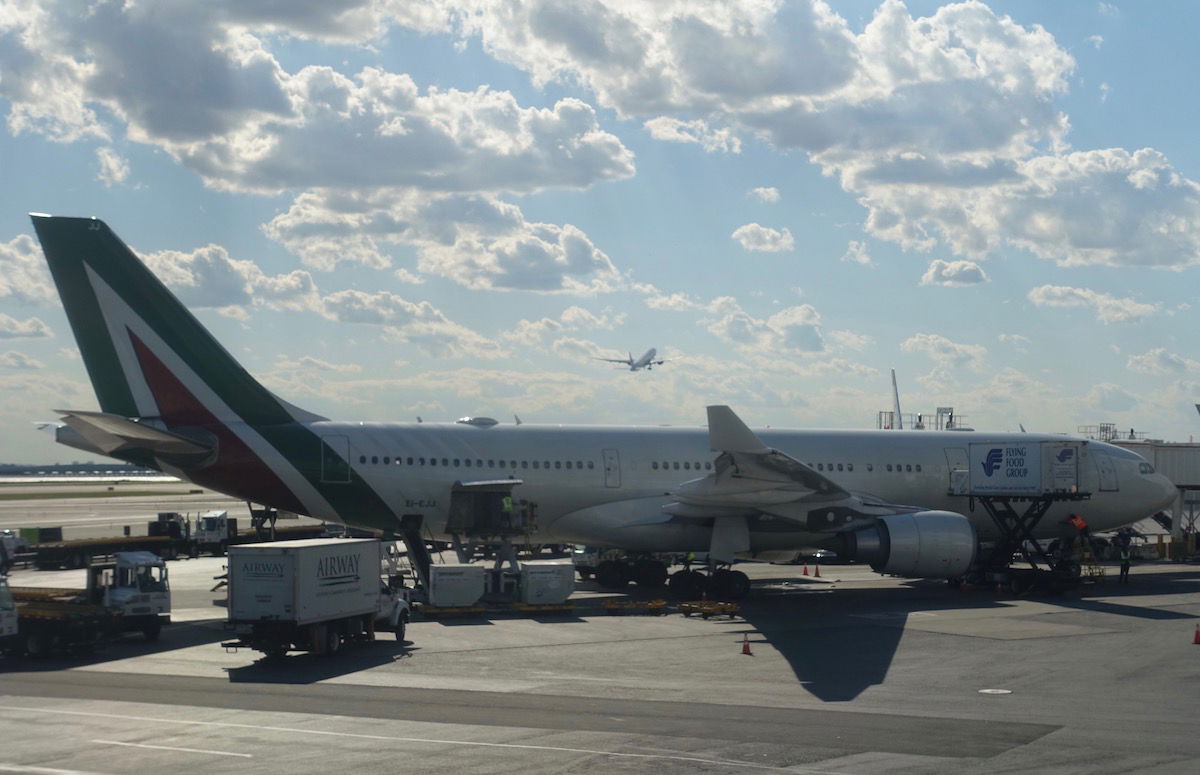 Alitalia A330 JFK
After a roughly 10 minute taxi, we found ourselves at the end of a very long takeoff queue for runway 31L. At this point the captain came back on the PA to explain the situation. I was amused that he started every announcement by referring to passengers as "folks," which was a cute touch. "Good afternoon folks, your captain, we just have about 30 planes ahead of us, so it may be another 30 minutes before we are cleared for takeoff. For those fasting, you can expect to break your fast about 2-2.5 hours into the flight. I appreciate your patience."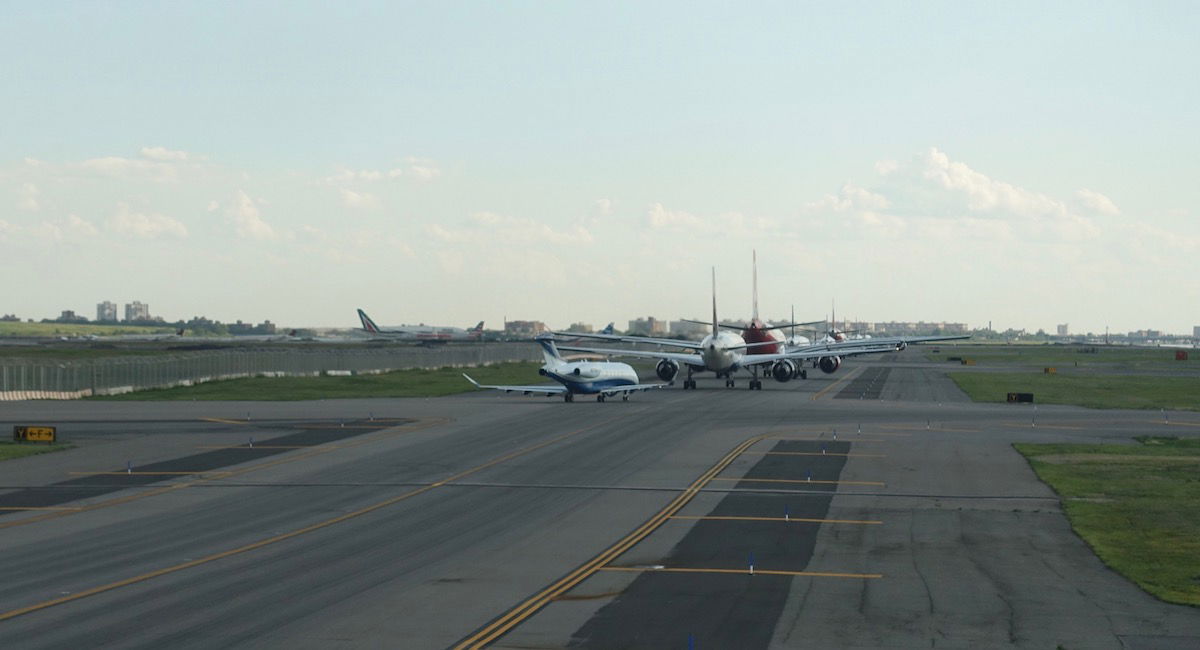 Line for takeoff at JFK
After quite a wait we were close to the front of the line.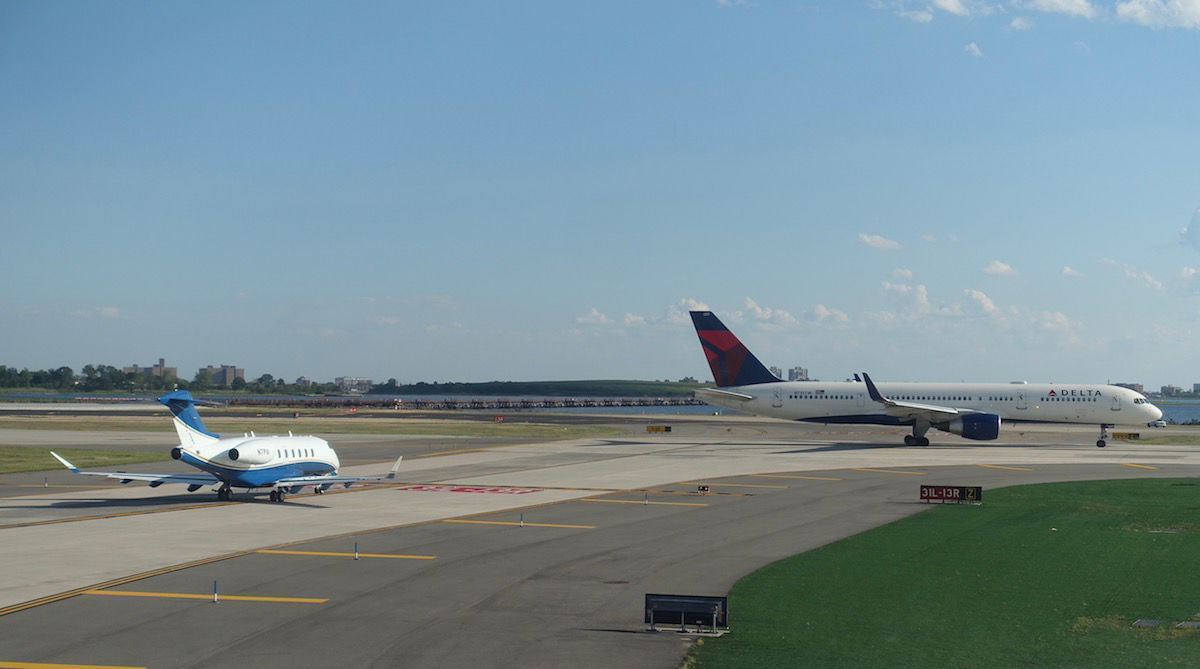 Number three for takeoff
At 6PM we were cleared for takeoff on runway 31L.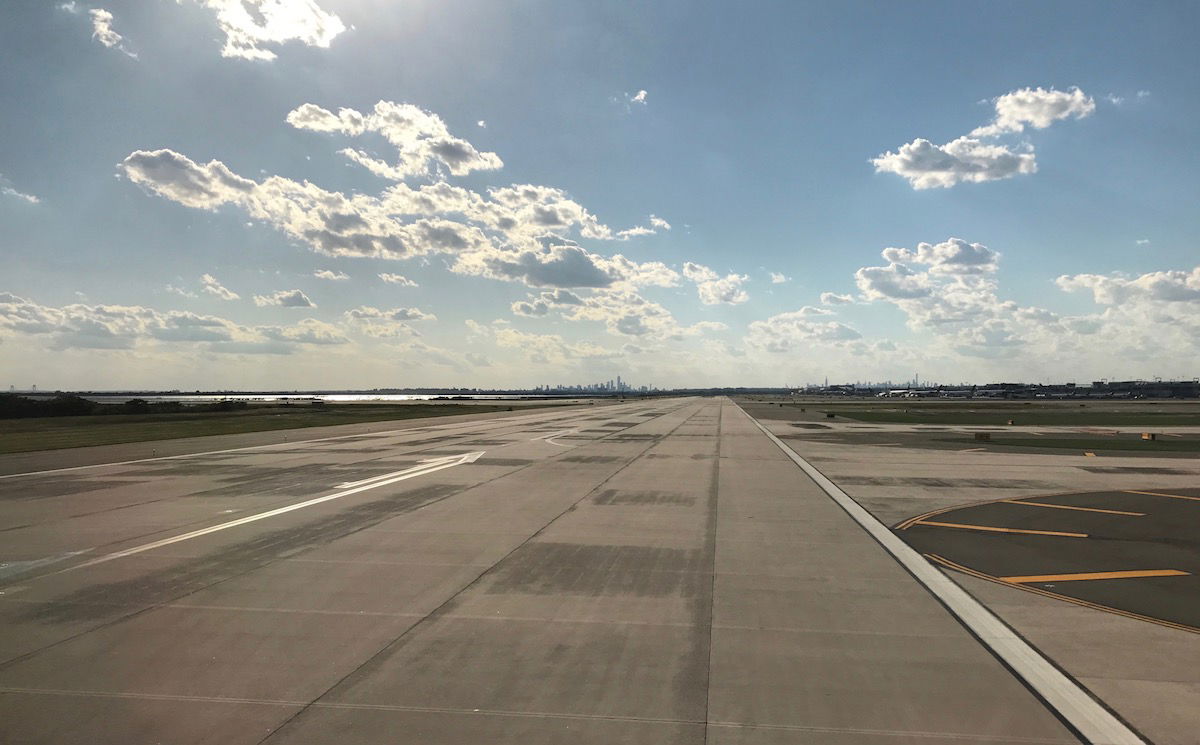 Taking off JFK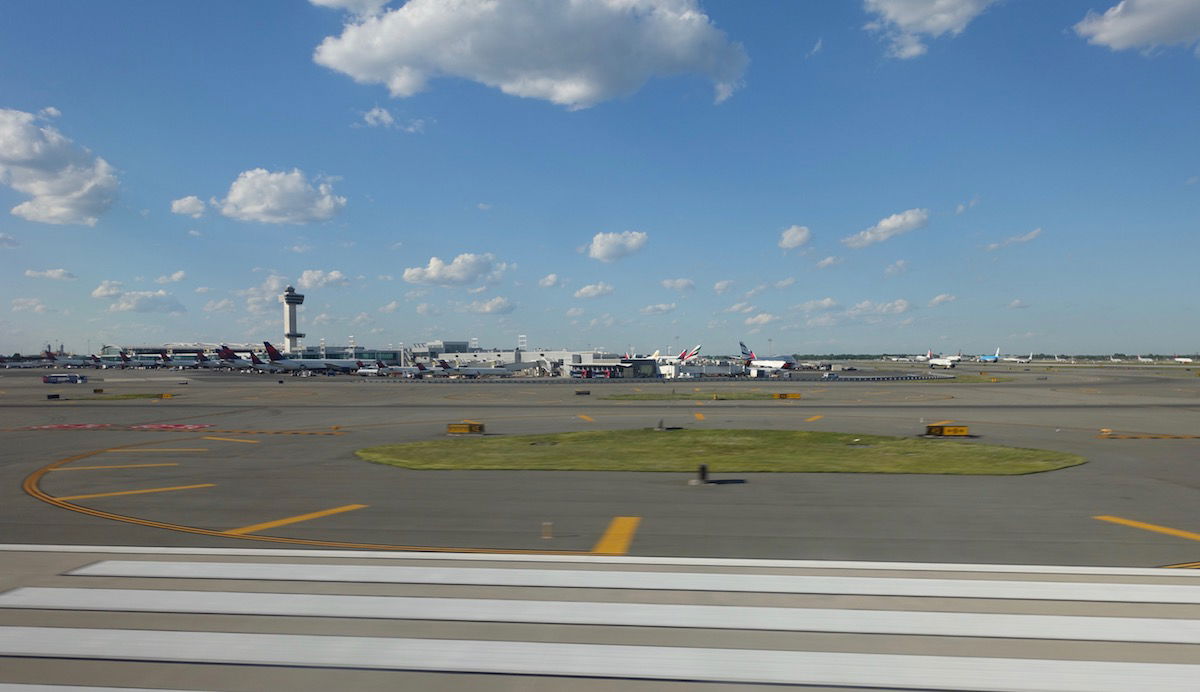 Taking off JFK
We had a long takeoff roll and then a smooth climb out — what a gorgeous afternoon it was. There were even some views of Manhattan off the right side.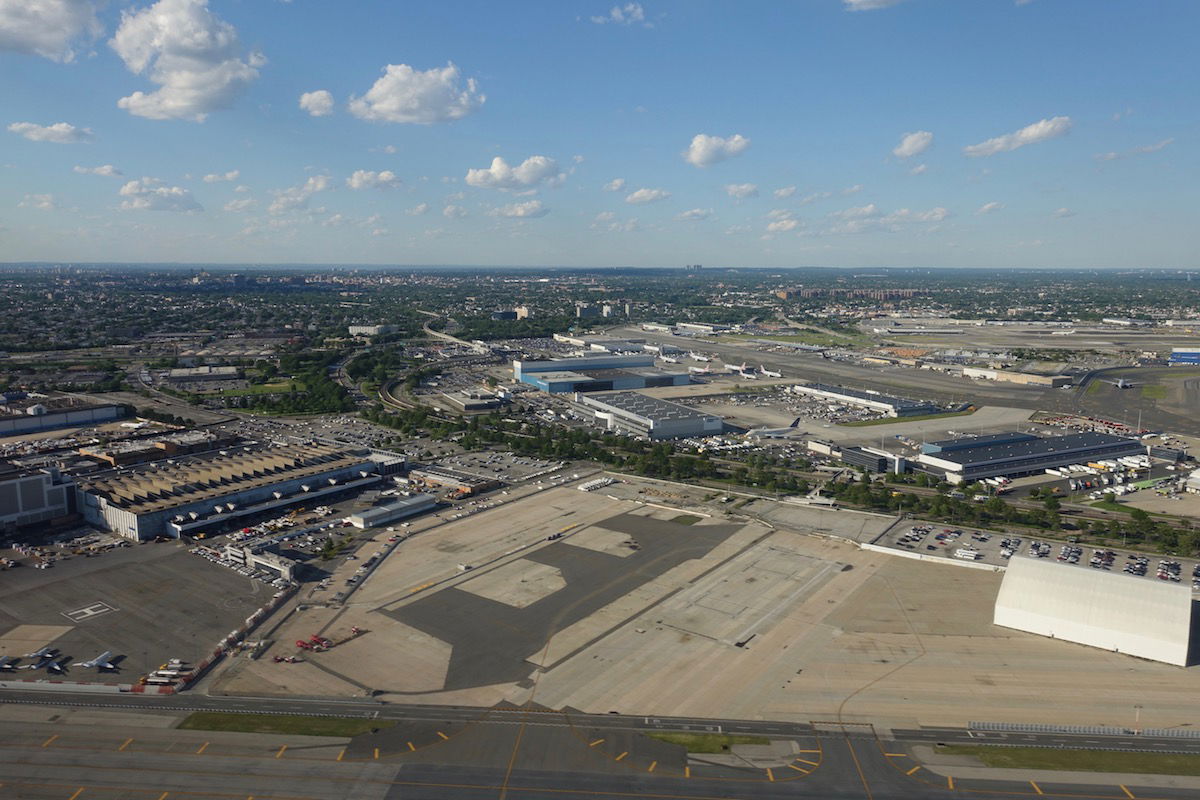 View after takeoff from JFK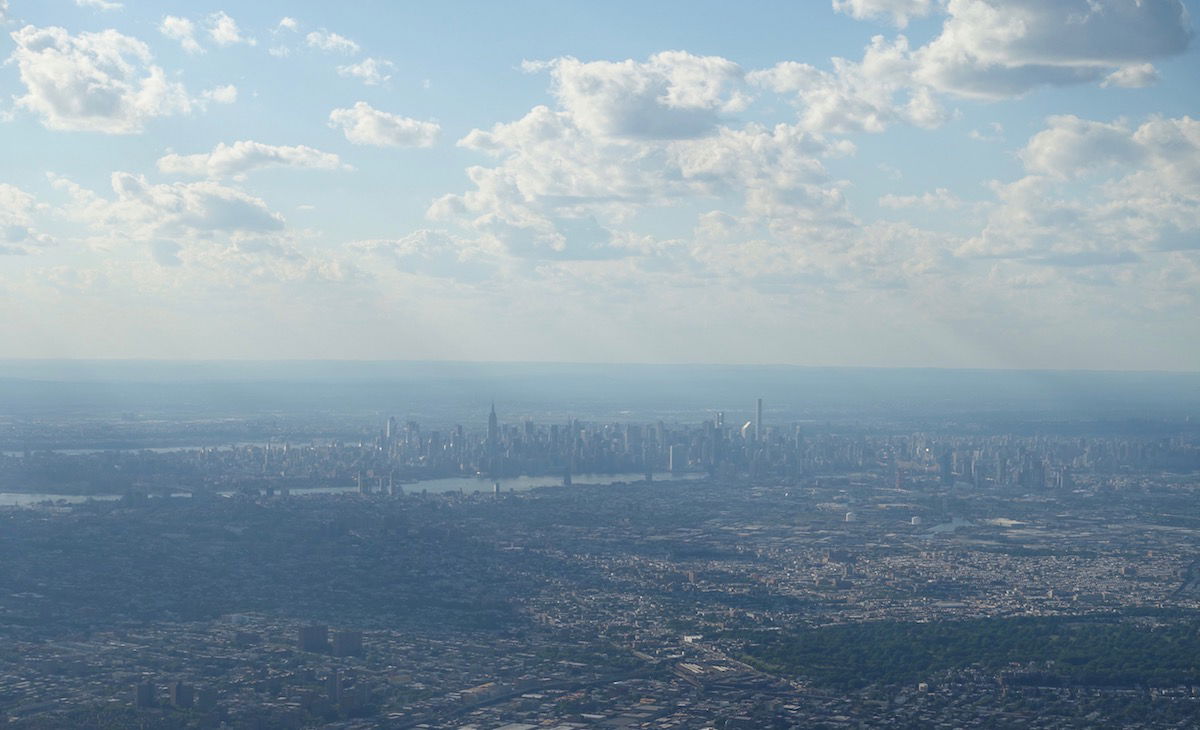 View after takeoff from JFK
The seatbelt sign was turned off five minutes after takeoff, at which point I checked out the area behind the first class cabin, where there was a walk-up bar, as well as the two first class bathrooms.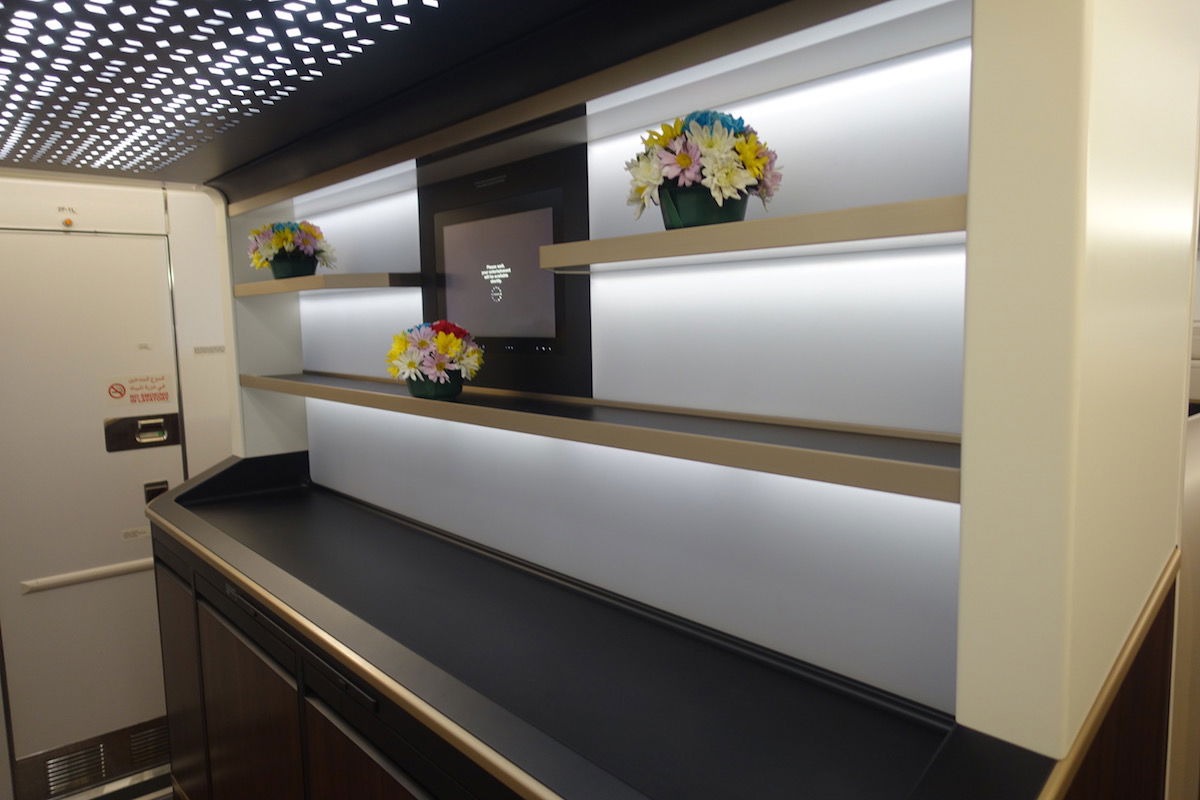 Saudia 777 first class bar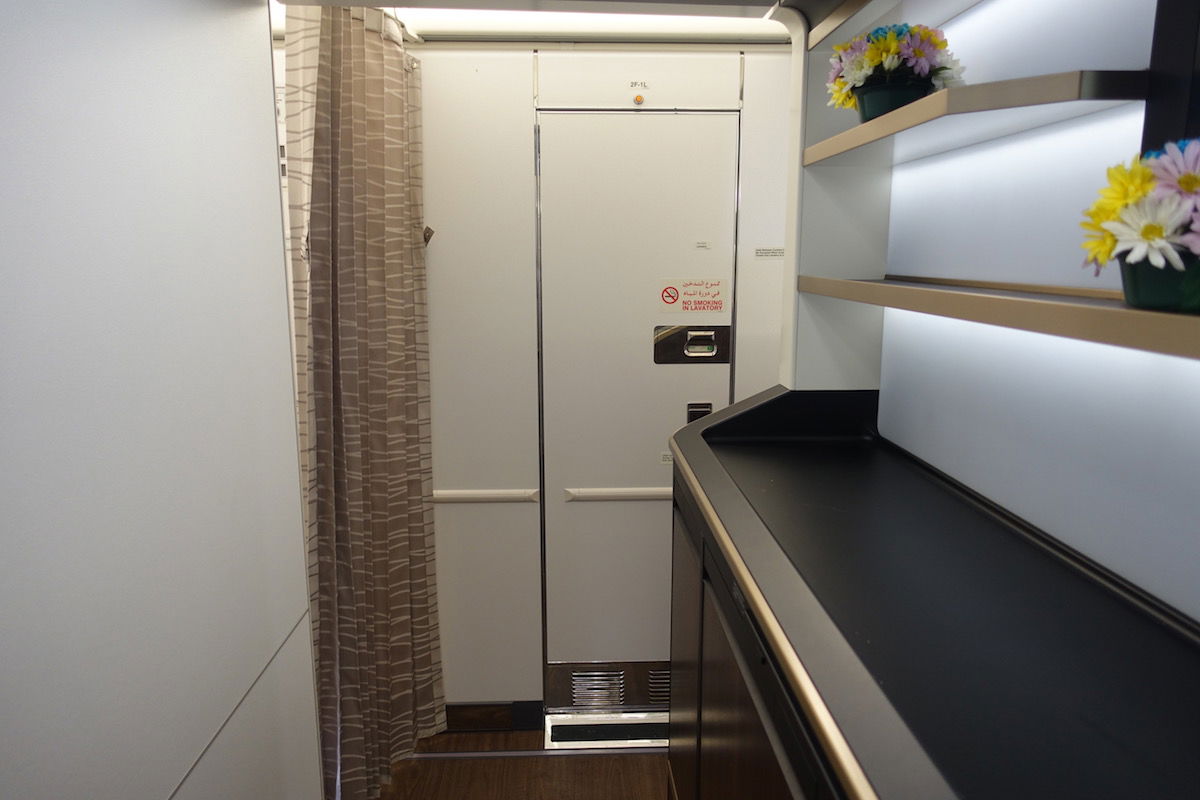 Saudia 777 first class bathrooms
The bathrooms were a decent size and nicely designed.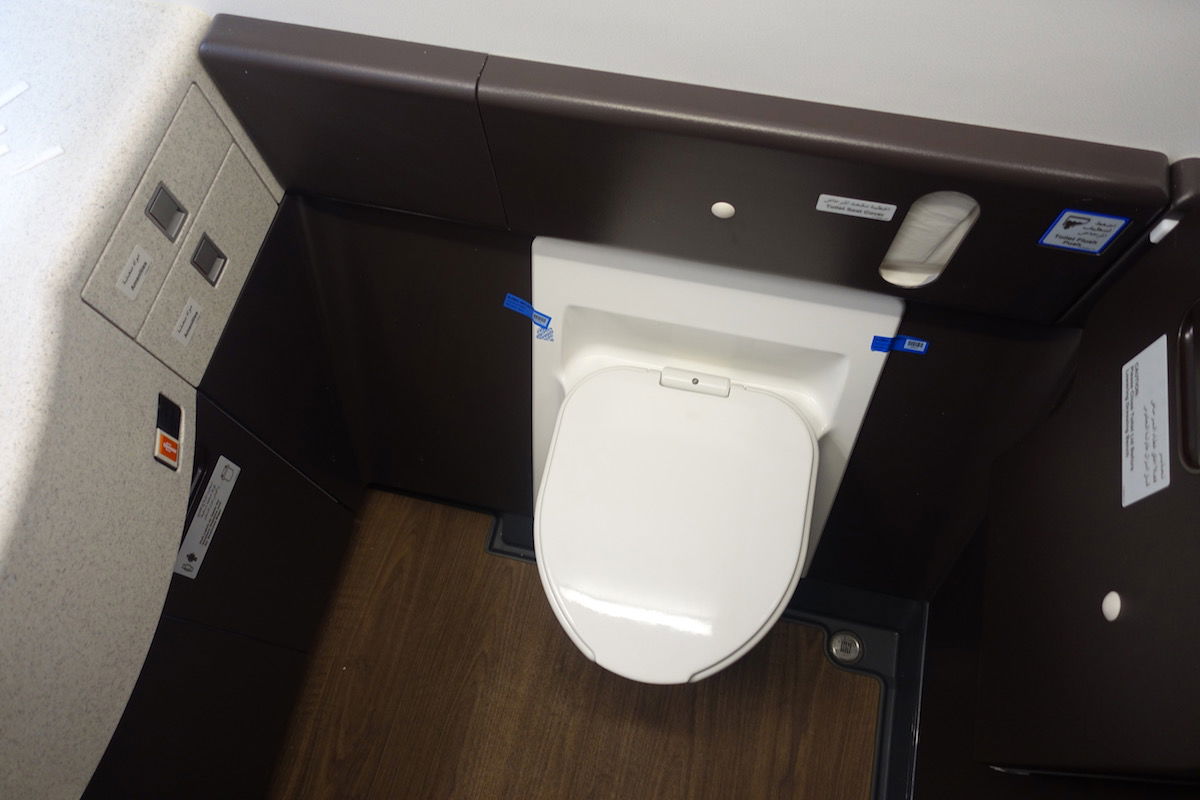 Saudia 777 first class bathroom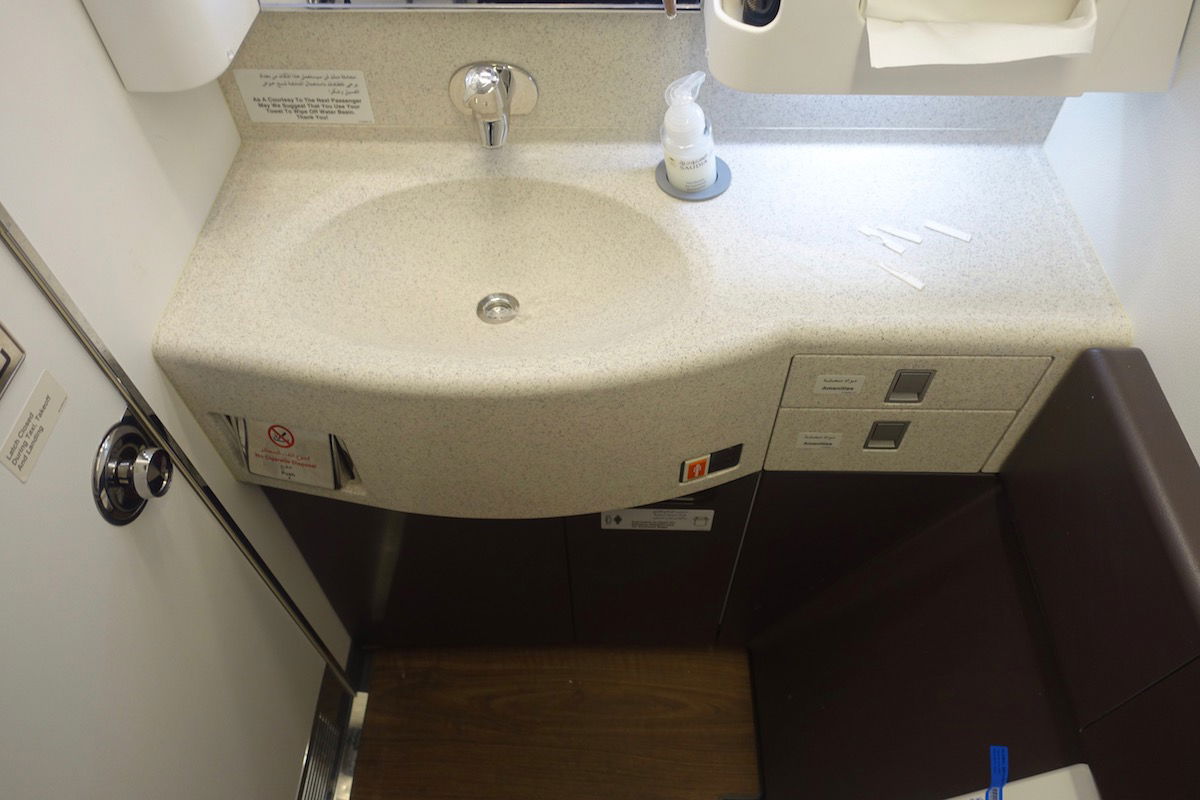 Saudia 777 first class bathroom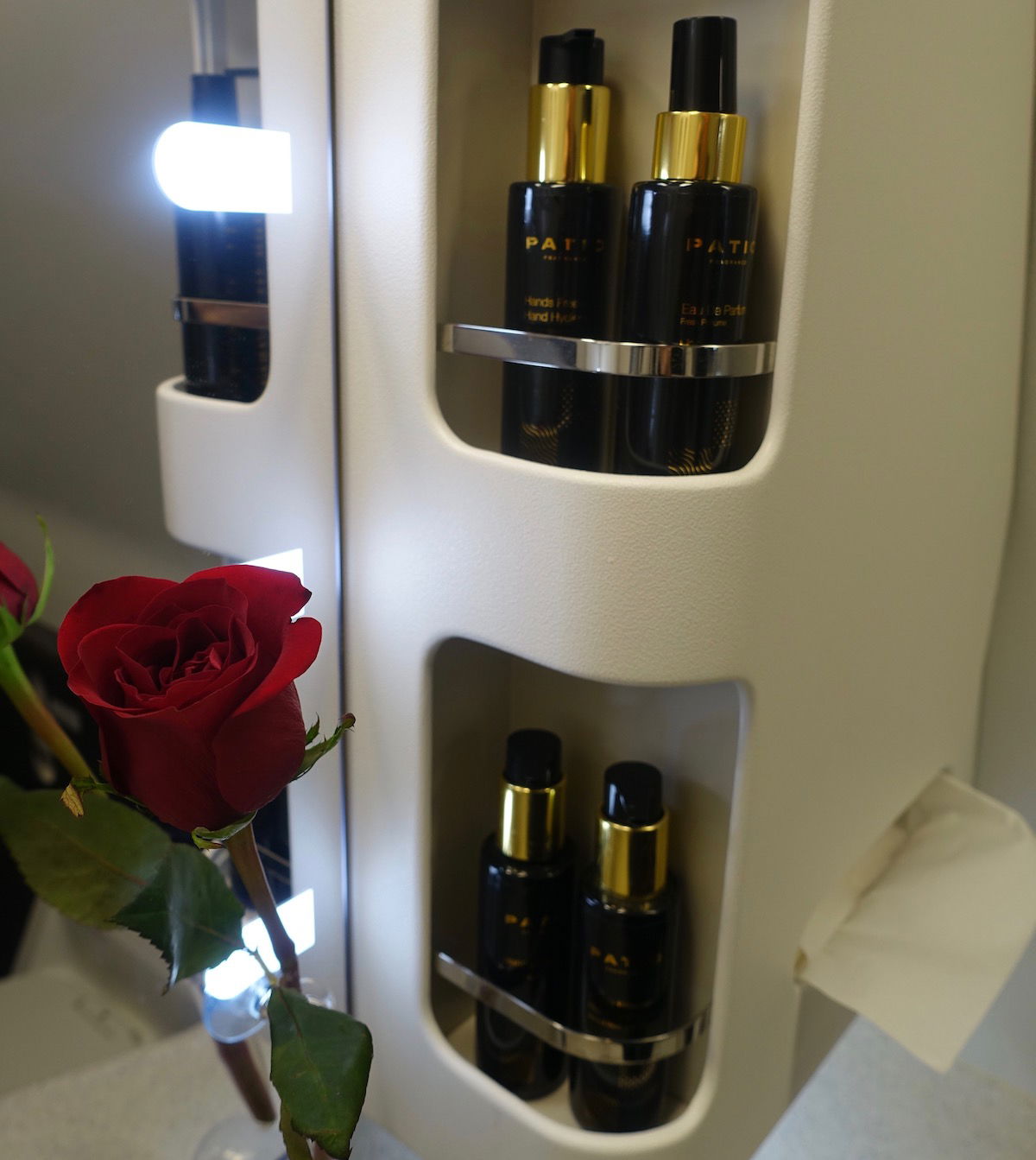 Saudia 777 first class bathroom amenities
Once back at my seat, Lejla and Hanane came by to offer me some Arabic coffee, as well as dates and chocolate.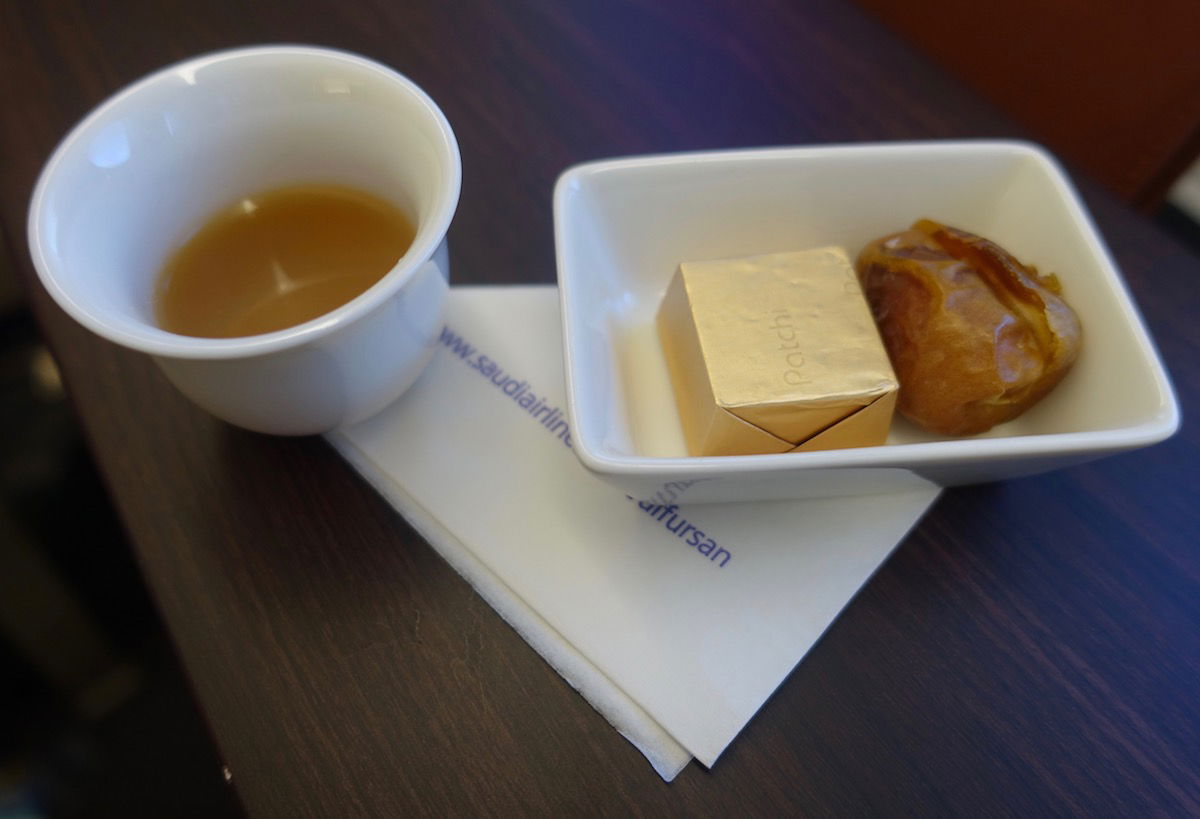 Saudia first class Arabic coffee, dates, and sweets
I was then offered an amenity kit and pajamas, both of which were designed by Porsche Designs, as well as a sleeping kit.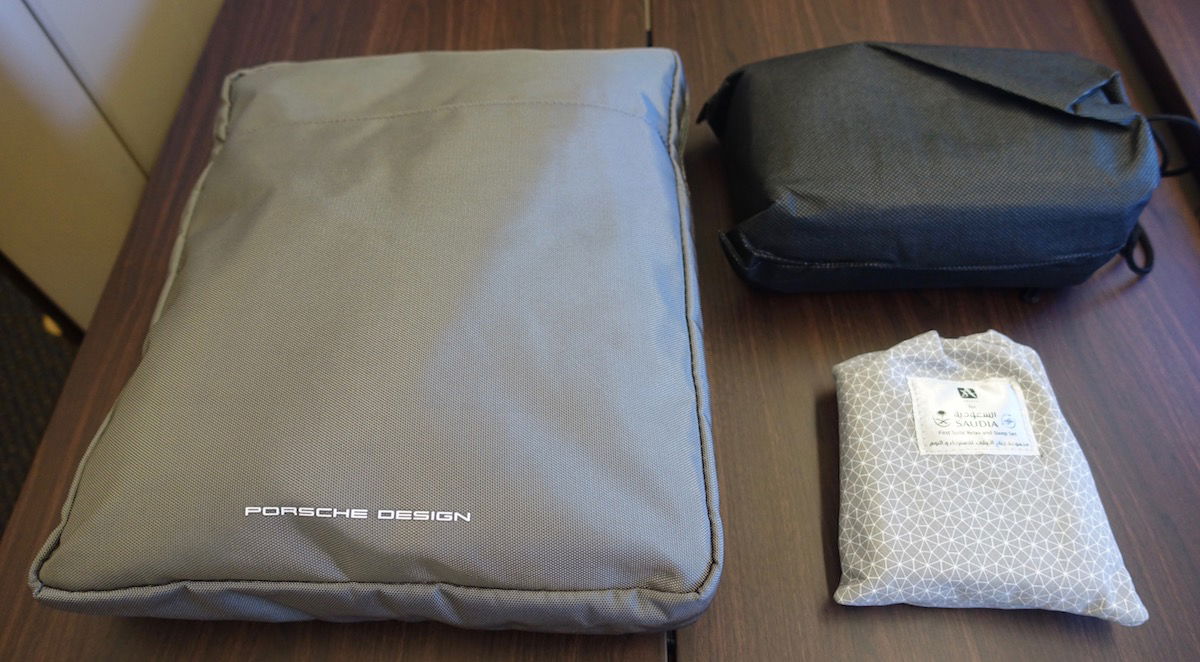 Saudia first class pajamas, amenity kit, and sleep kit
The pajamas were stylish and high quality.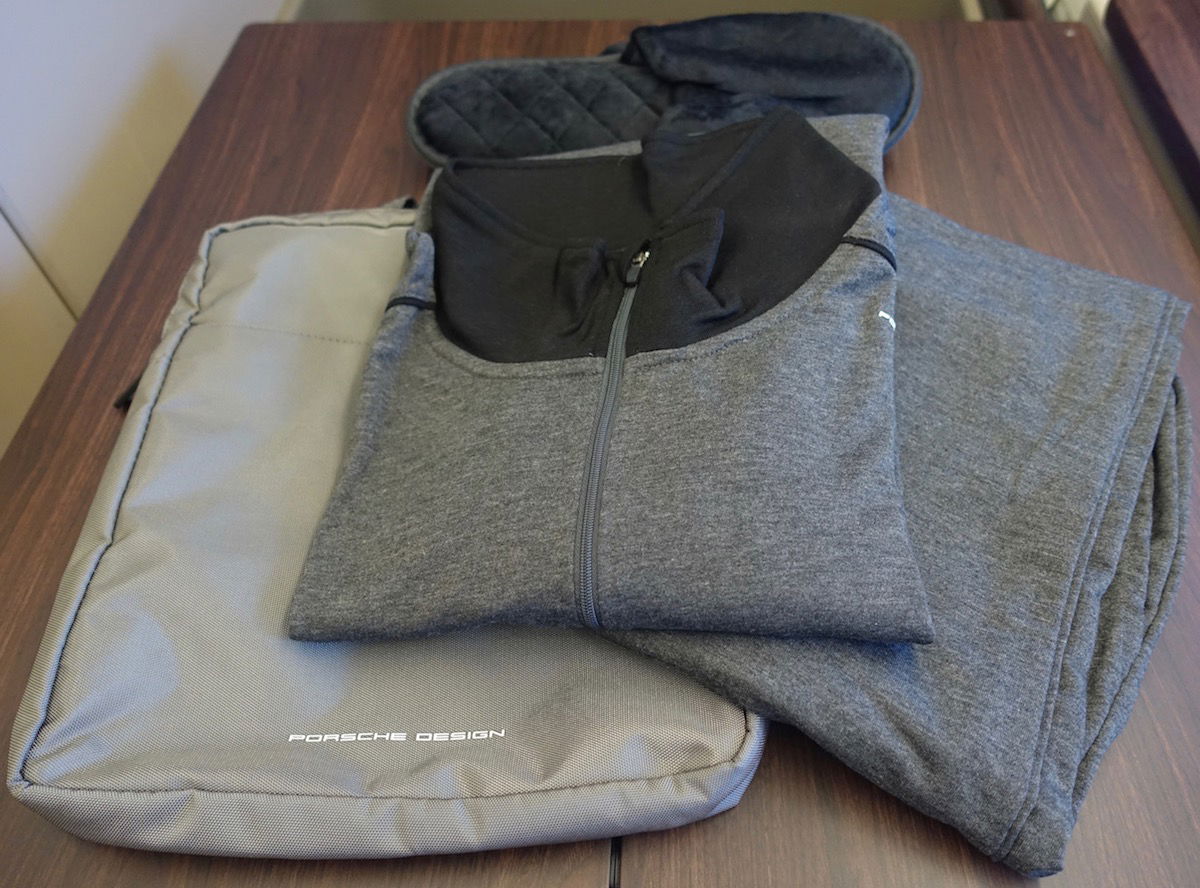 Saudia first class Porsche Design pajamas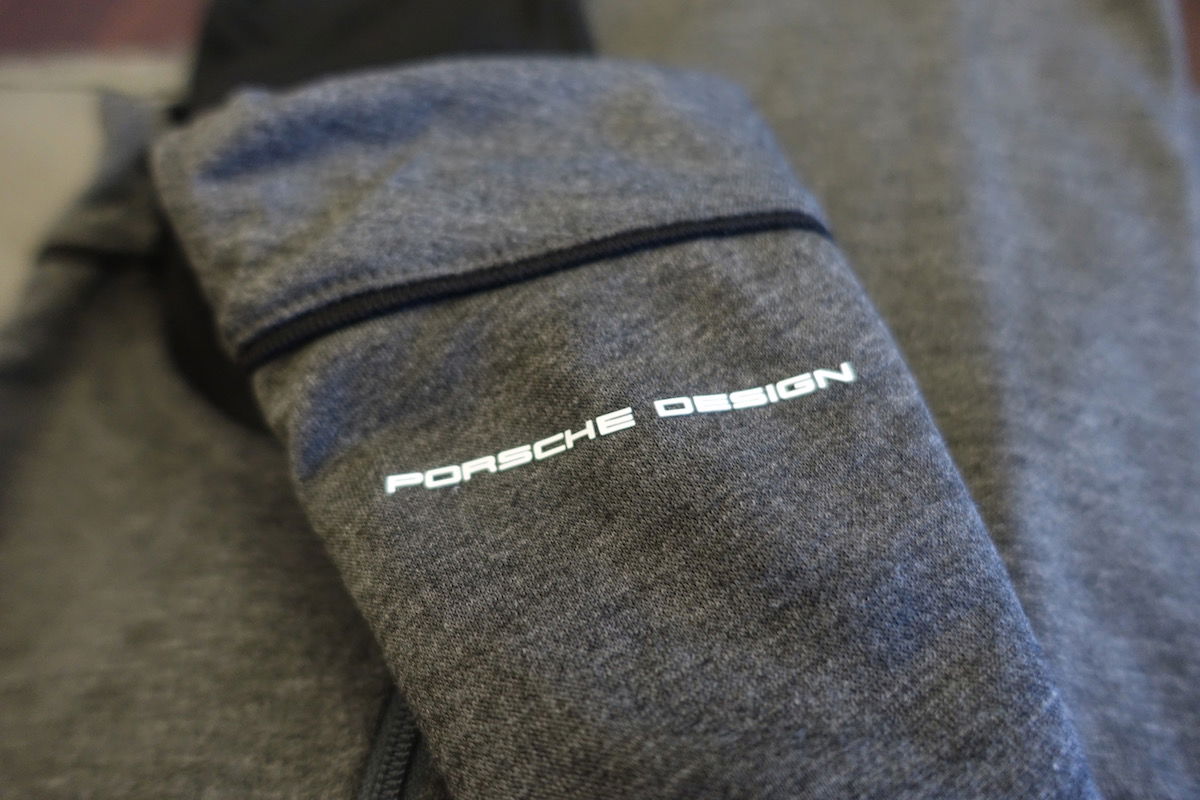 Saudia first class Porsche Design pajamas
The kit looked almost like a Rimowa amenity kit.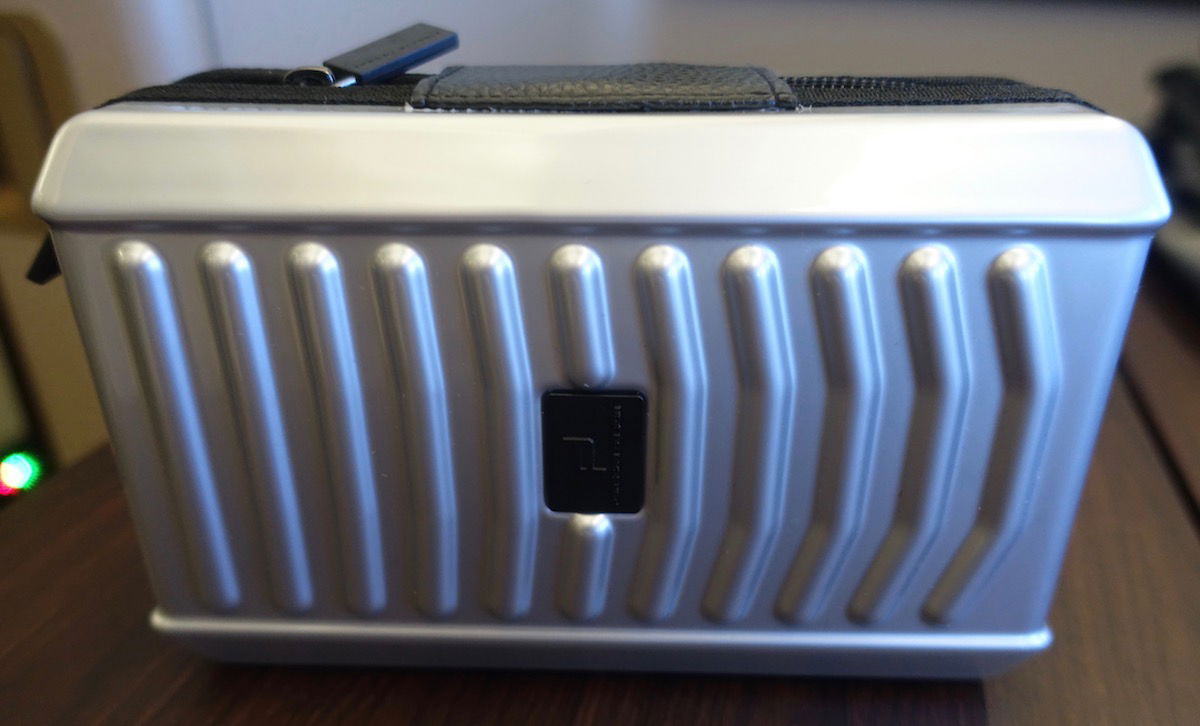 Saudia first class Porsche Design amenity kit
It had Acca Kappa toiletries, as well as some things I haven't seen in other kits, like a lens wipe and charging device.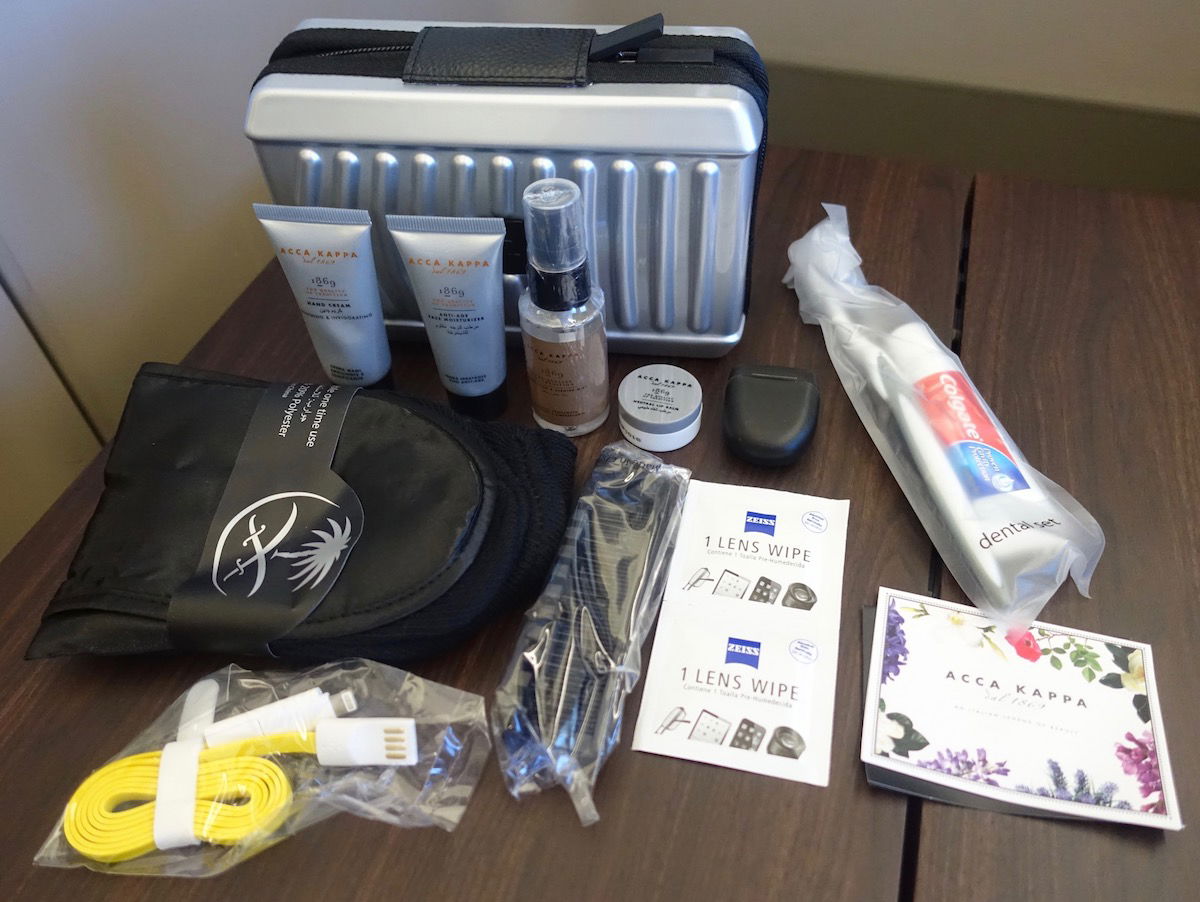 Saudia first class amenity kit contents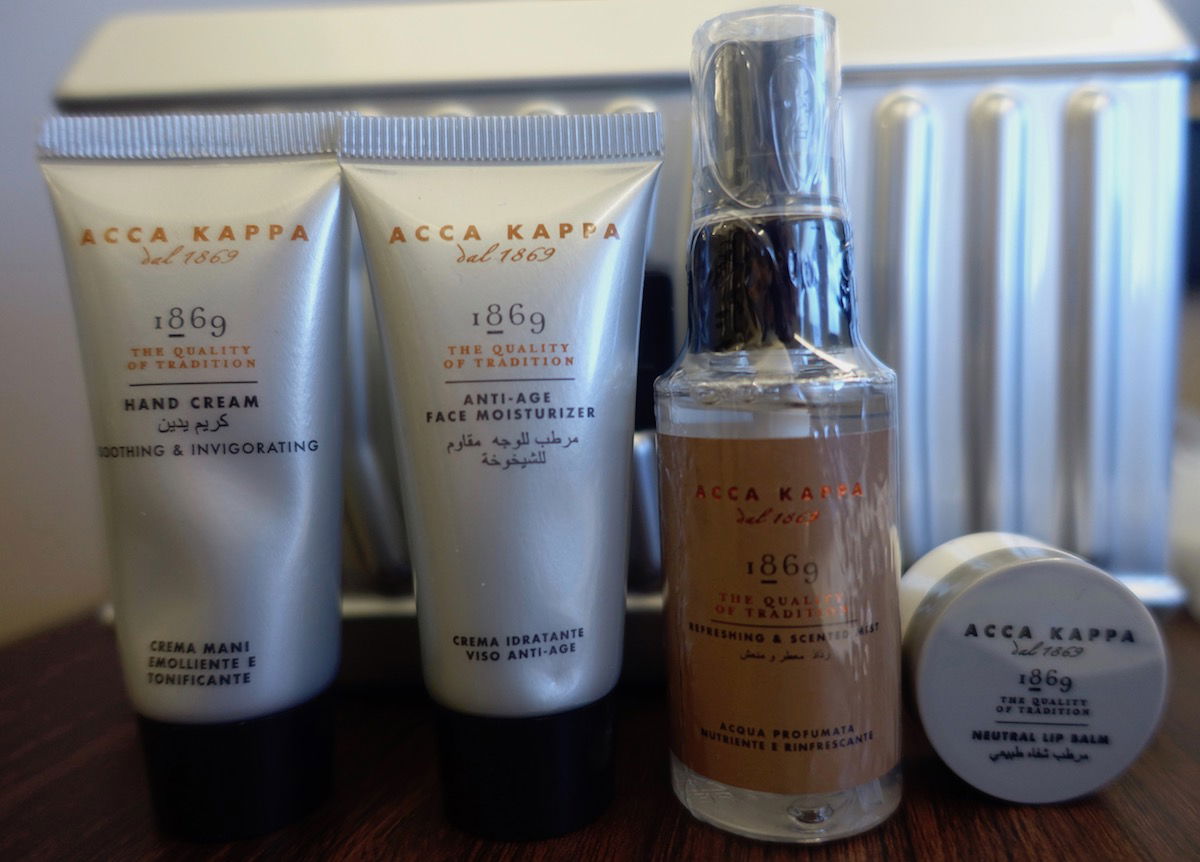 Saudia first class Acca Kappa amenities
In addition to the amenity kit there was also a sleep kit, with things like hand sanitizer, foot cream, pillow mist, and an aroma stick. I haven't seen that before…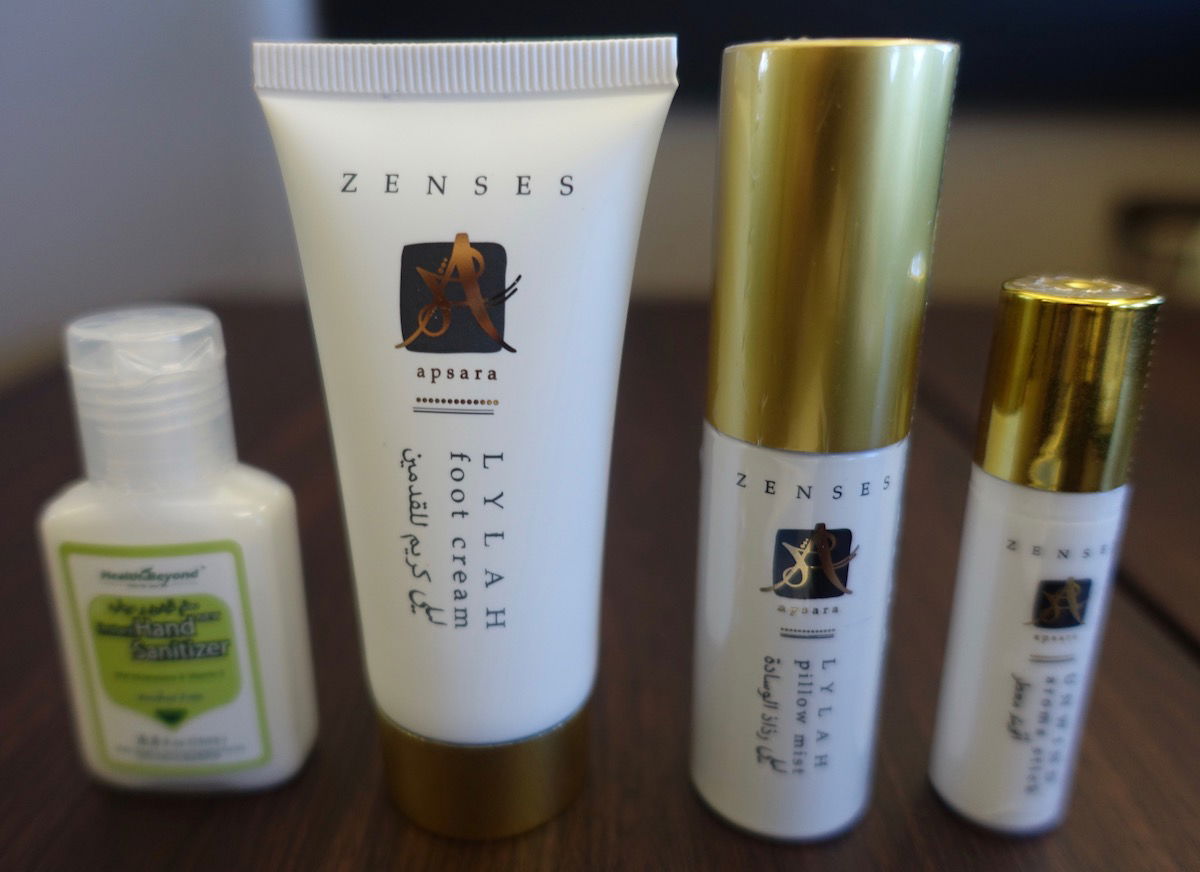 Saudia first class sleep kit
Once I had been given all my amenities, the cabin supervisor Mamdouh came by my seat to welcome me onboard. He was a super nice guy, and unlike my previous Saudia flight, there were no shenanigans here.
Per my request, the meal service began less than 30 minutes after takeoff, so I could maximize sleep. Here's the explanation of Saudia's onboard chef program: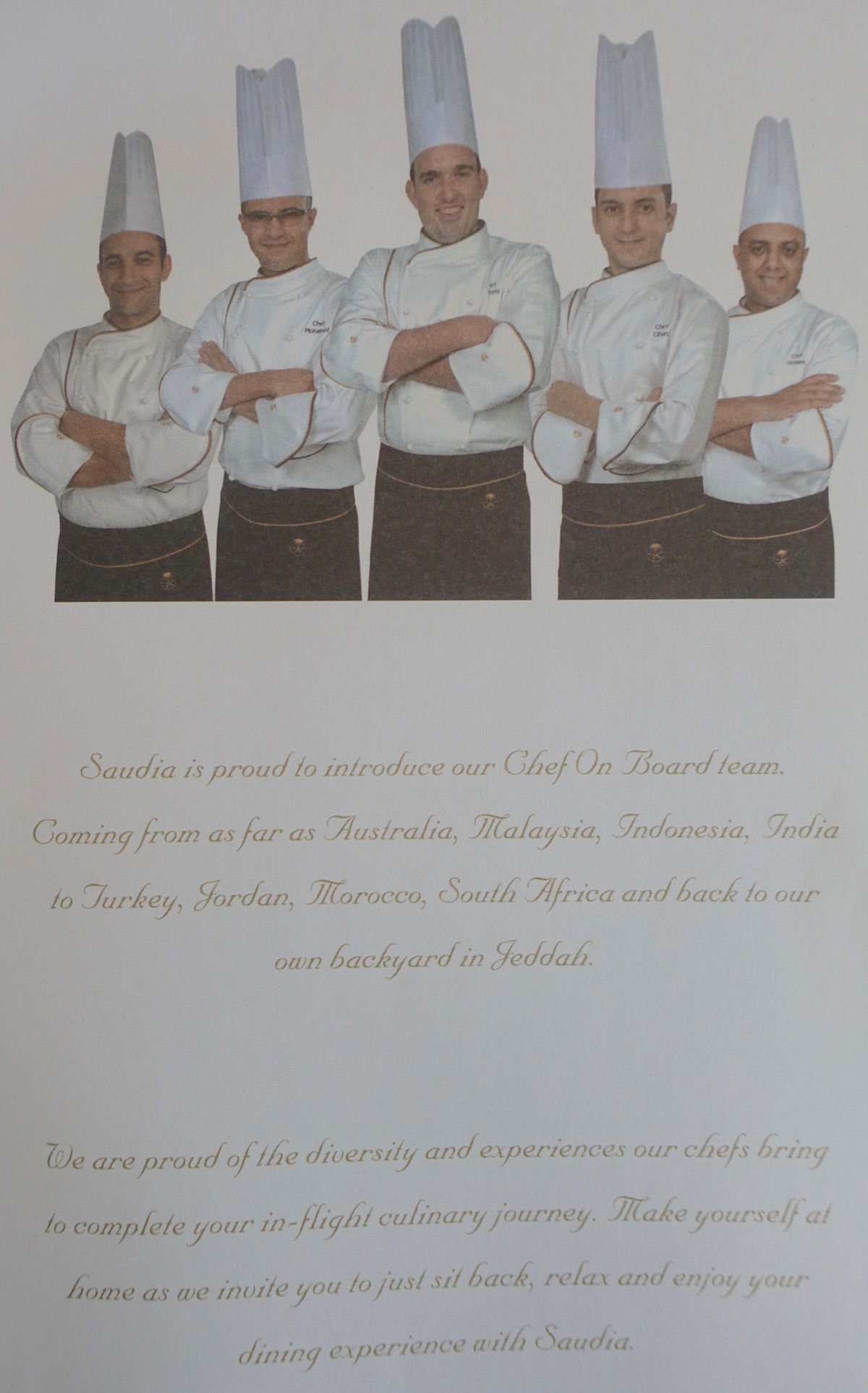 Here's the drink list: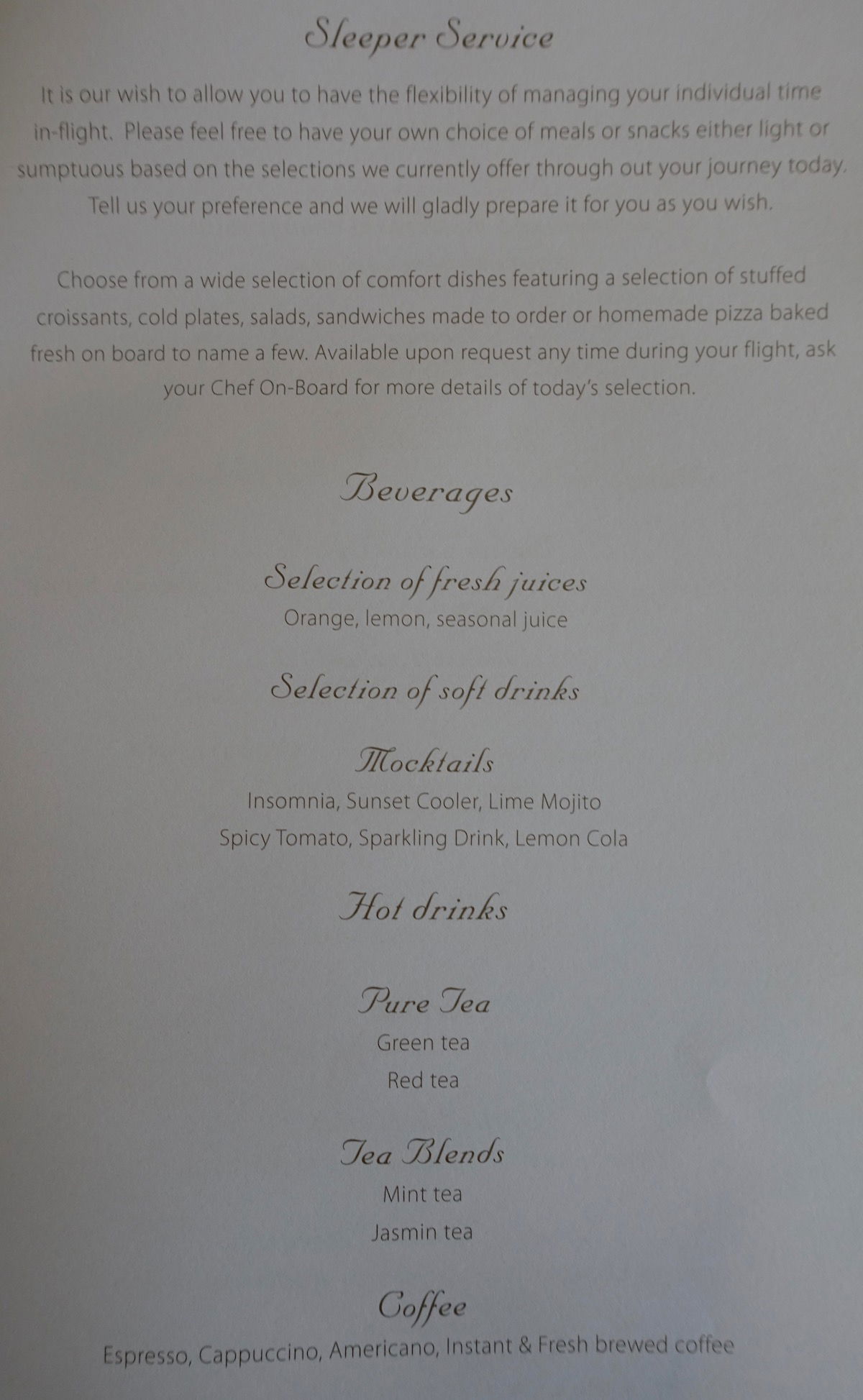 And here's the dinner menu: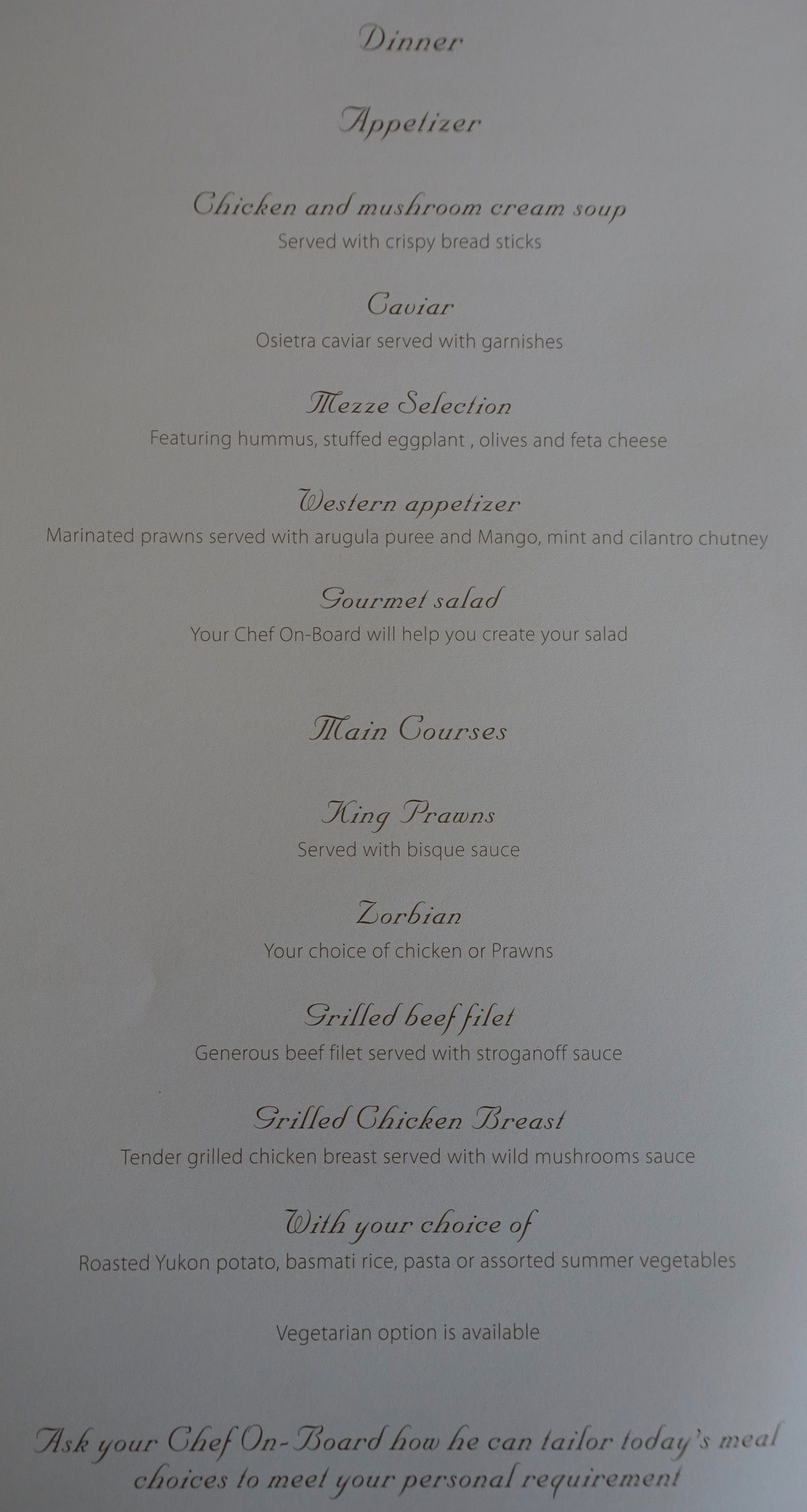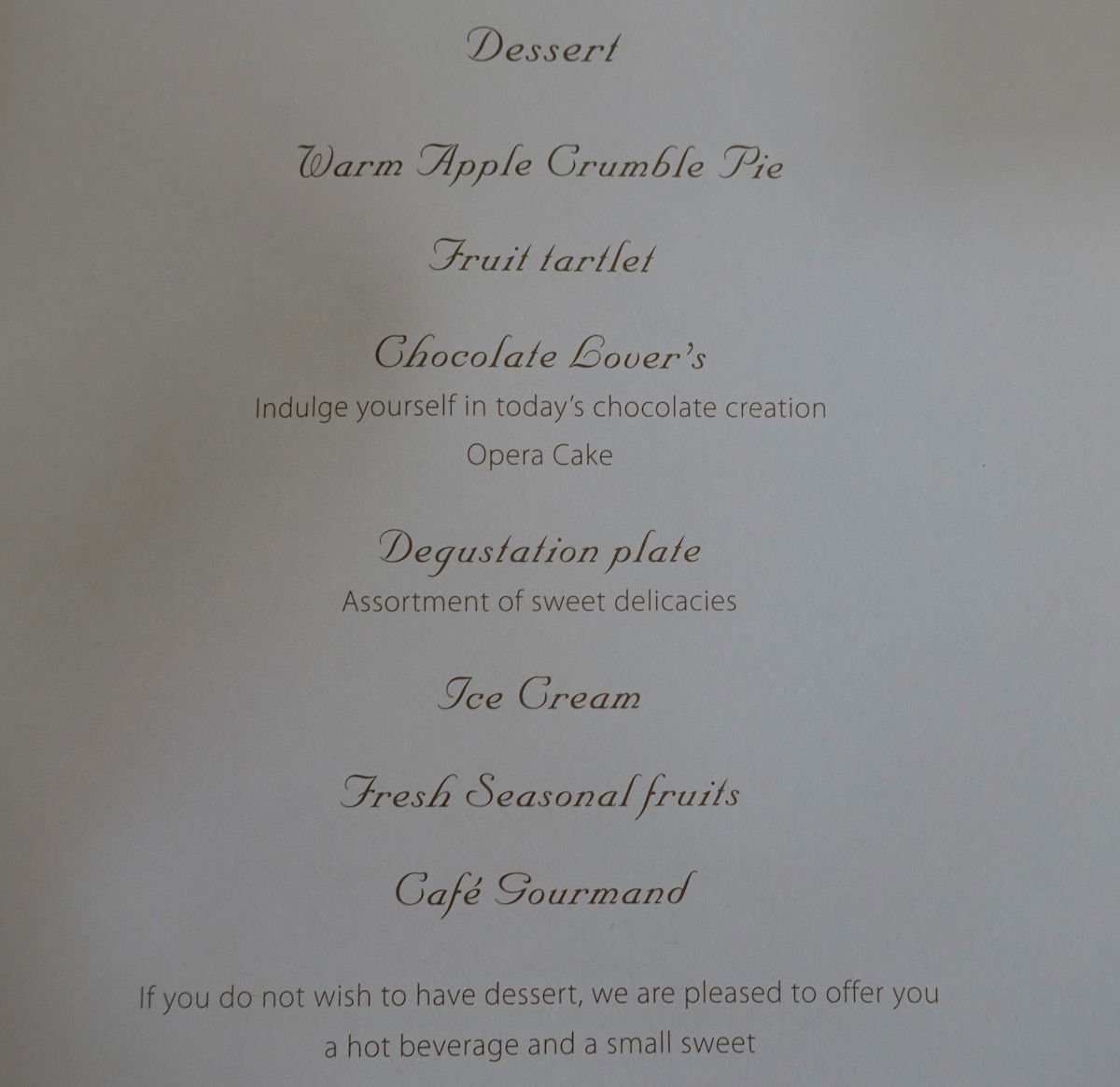 Since I wanted to experience the product as much as possible, I went all out in terms of what I ordered. Lejla did a great job setting my table and always clearing things, while Ali presented me with each course. First I was brought an empty personal breadbasket, and then they came around with a tray that had a big selection of bread. I chose some garlic bread, pretzel bread, and pita bread.
I started my meal with a chicken and mushroom cream soup, which was excellent, and beautifully presented.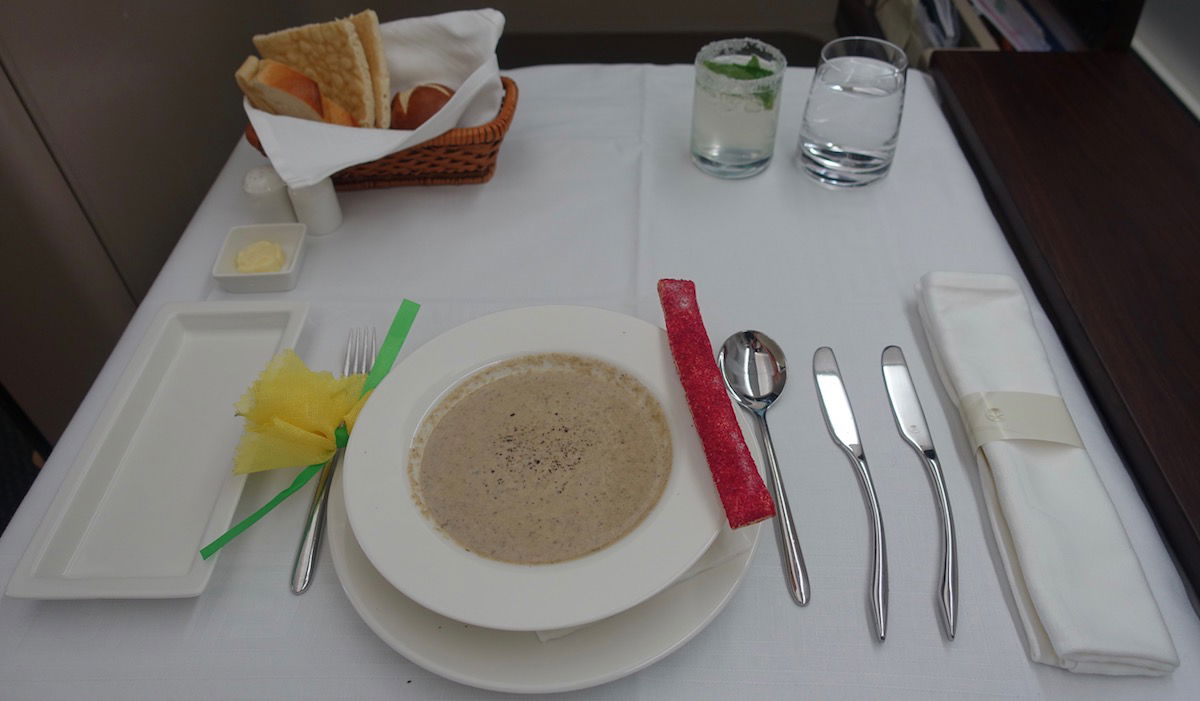 Saudia first class dinner starter — chicken and mushroom cream soup
Saudia is a dry airline, so I figured I'd try my luck with one of their mocktails. Ali recommended the lime mojito, which I ordered. Much to my surprise, it was very good, and had a kick to it, despite being non-alcoholic.
On one hand I of course wish Saudia weren't a dry airline, though in other ways I liked it. I wasn't tempted to overindulge, and after dinner got a great night of sleep. So as much as it's fun to "party" on a flight, being on a dry airline does help with arriving well rested.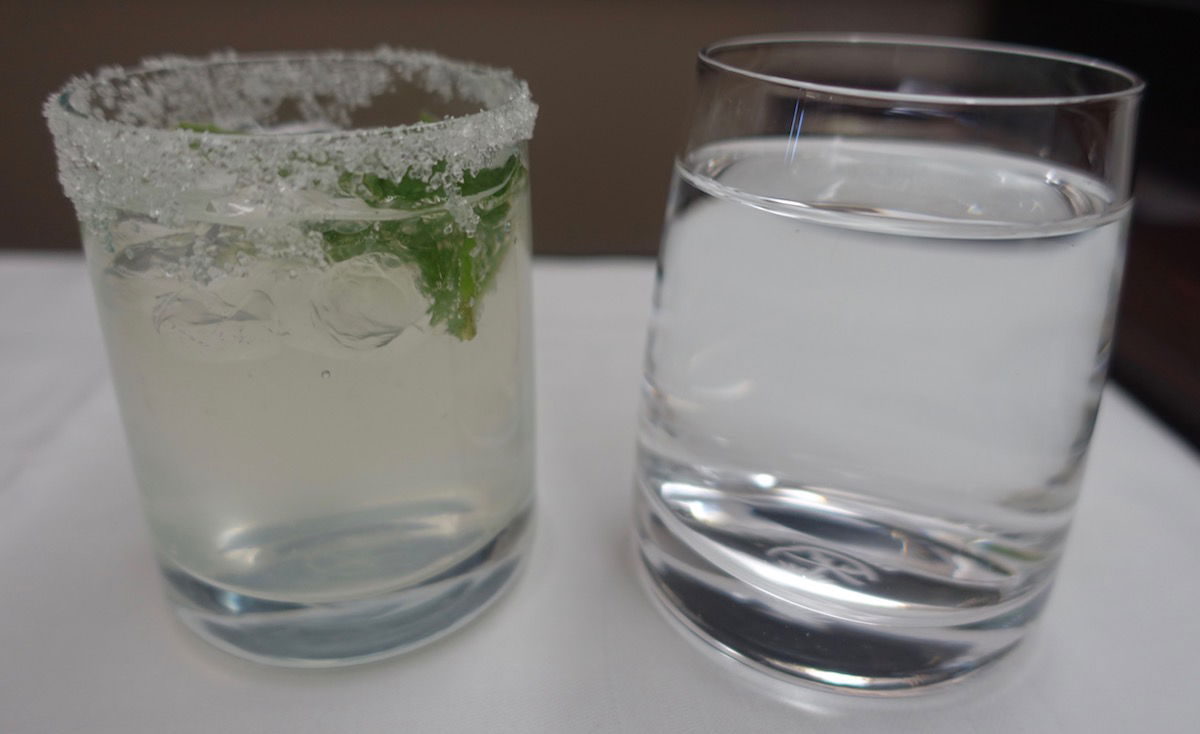 Saudia first class dinner drinks — lime mojito and water
Next up was the caviar course. Impressively, Saudia offers Petrossian caviar. While the portion was small, the presentation was beautiful.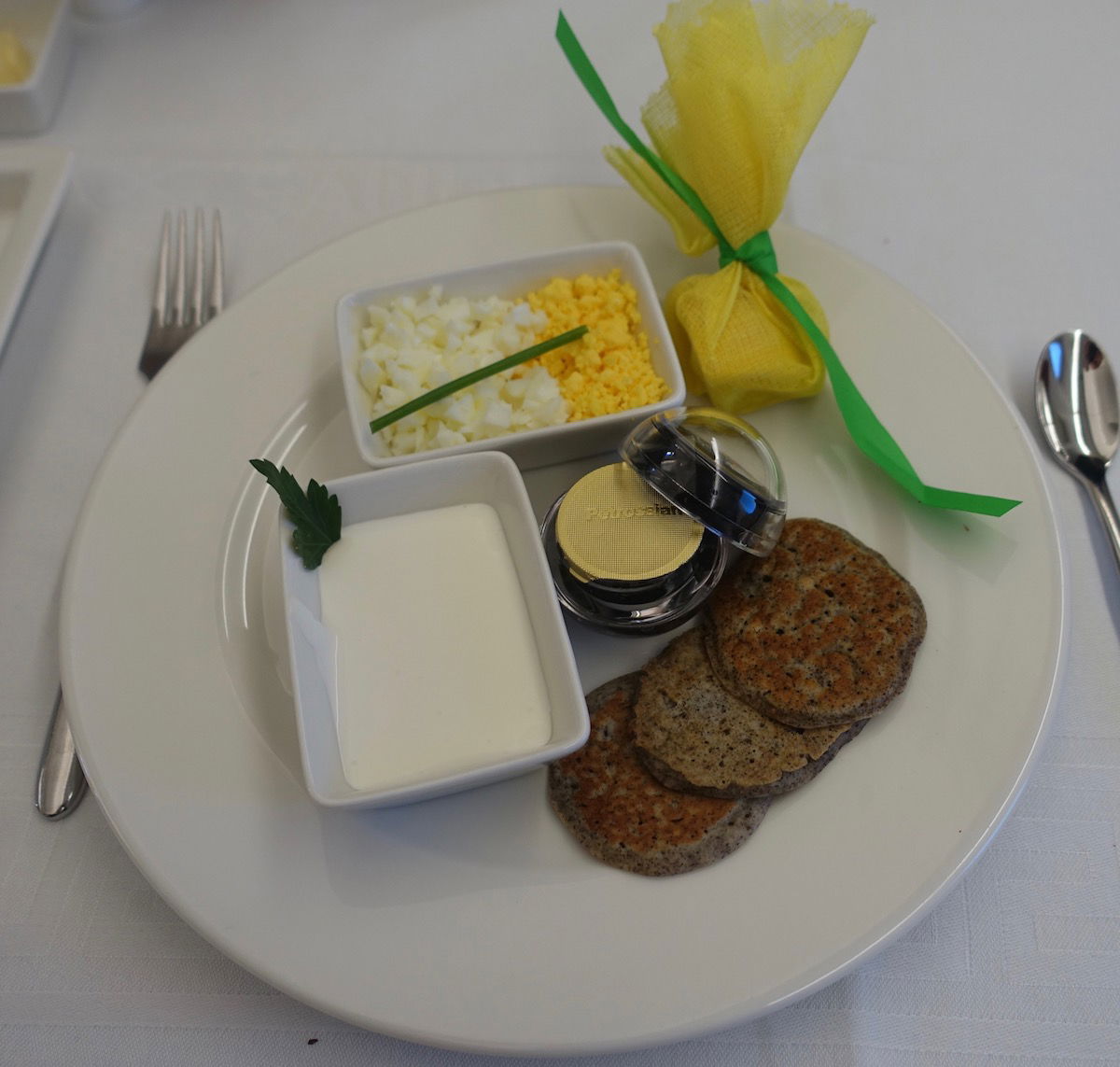 Saudia first class dinner — caviar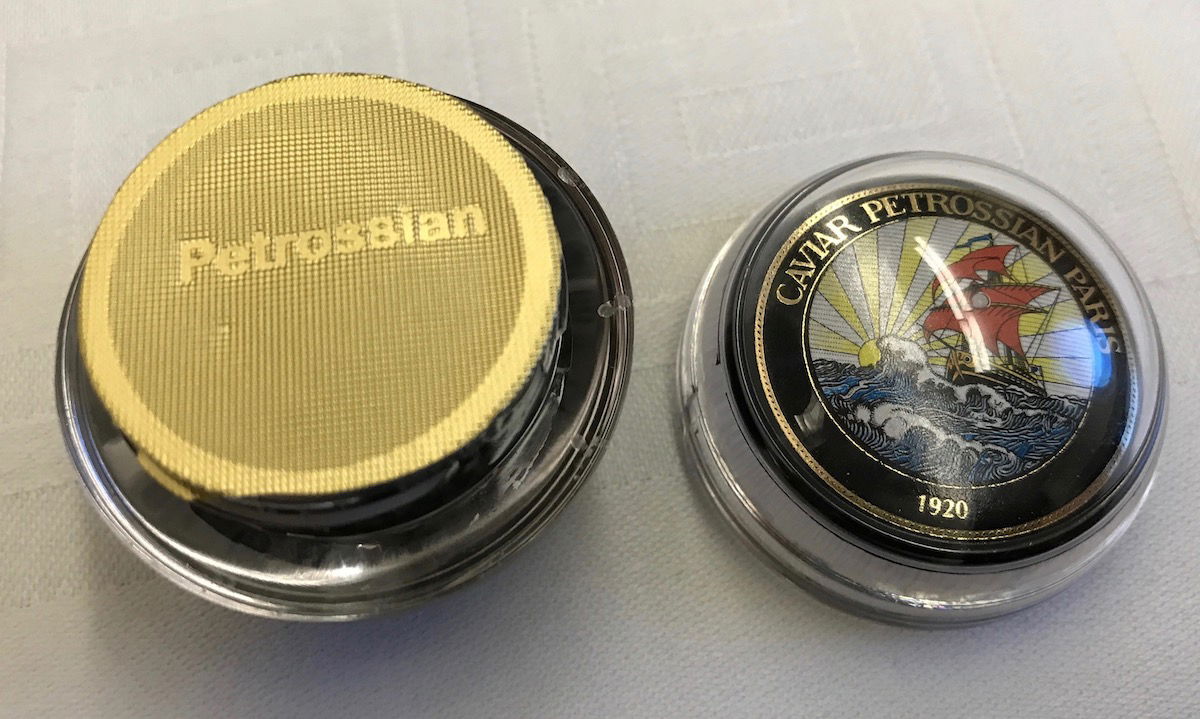 Saudia first class dinner — Petrossian caviar
Next up was the mezze, which wasn't exactly traditional. I quite enjoyed it, especially the greek side salad.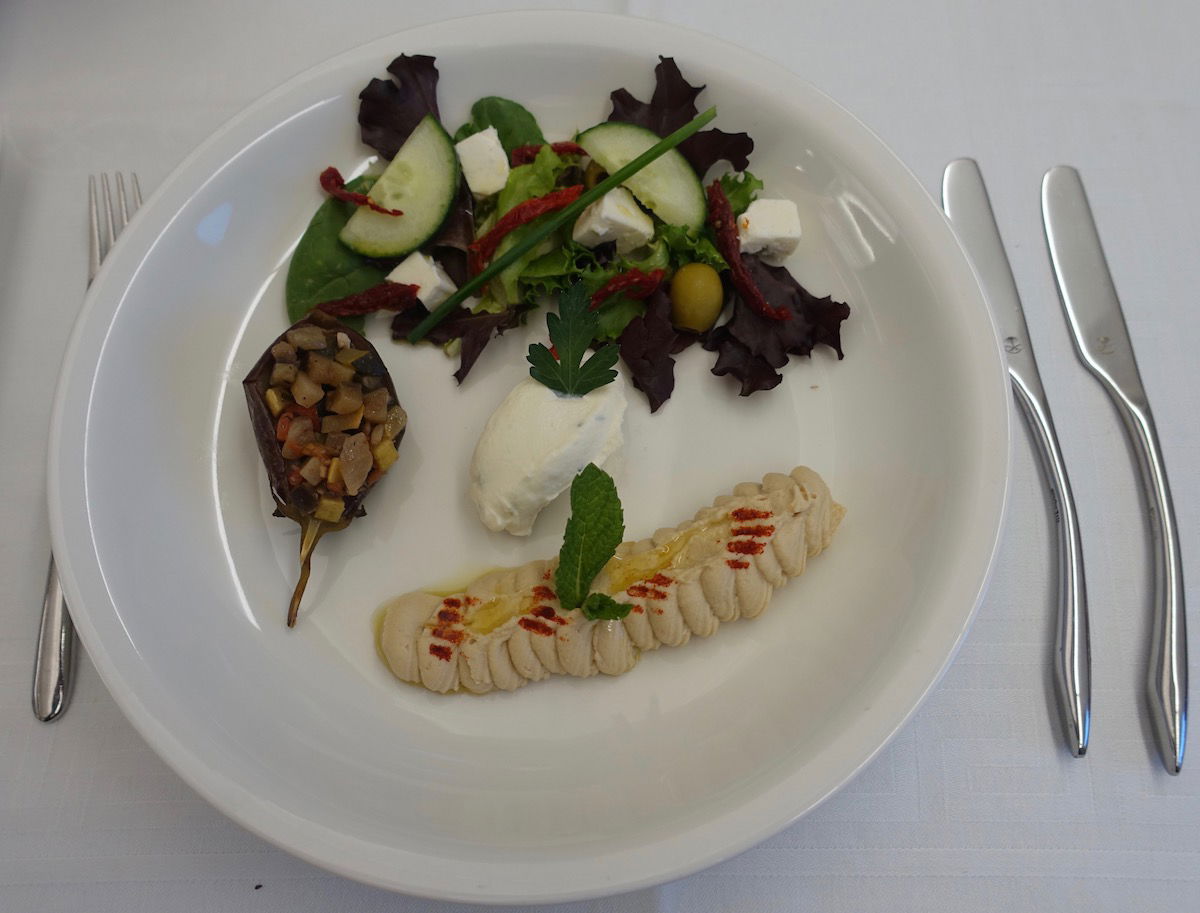 Saudia first class dinner starter — mezze selection
Next up was the main course, which Ali nicely customized for me, with an Arabic preparation. It was delicious, and I thought the presentation was beautiful as well.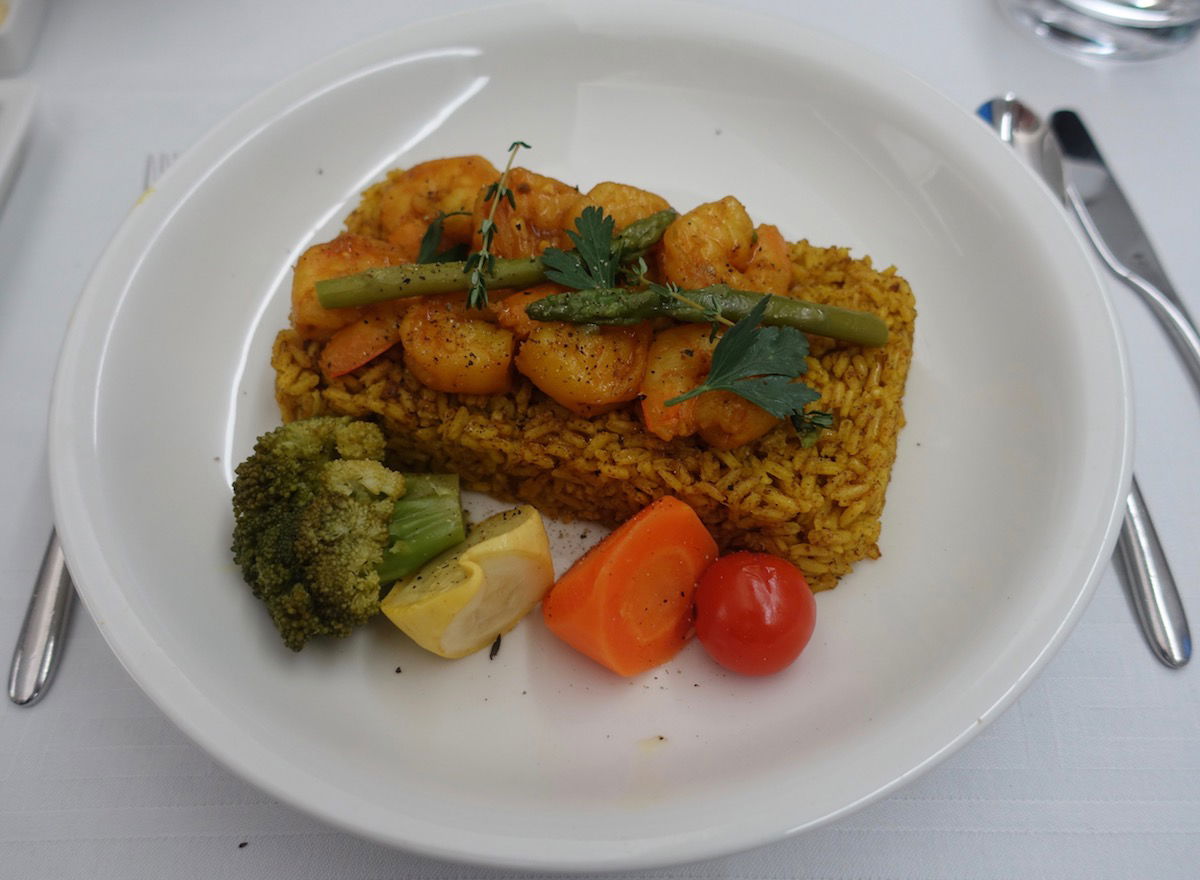 Saudia first class dinner main course — prawns
Lastly for dessert I selected the "chocolate lover's" option, which included a decadent cake and some fruit. I had a cappuccino to go along with it, which I suspect may actually have been powdered. If that's the case, that's disappointing, especially for a dry airline (and if it's not the case, they need to just improve the taste of them). 😉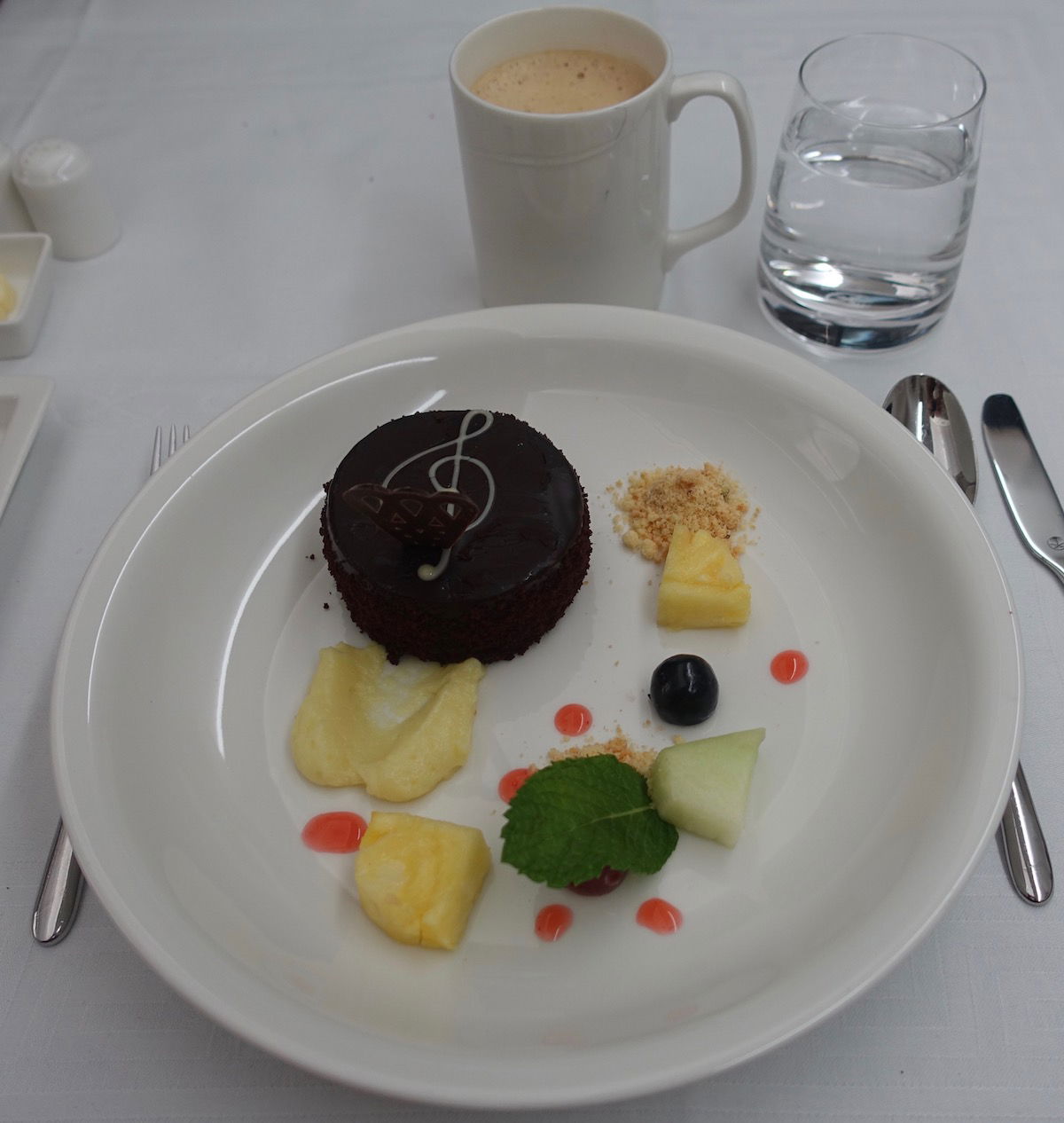 Saudia first class dinner — chocolate lover's dessert
The meal service was done about two hours into the flight, as the sun was starting to set (and presumably as virtually everyone else in the cabin was very hungry). Service throughout dinner was phenomenal. I had three crew taking care of just me.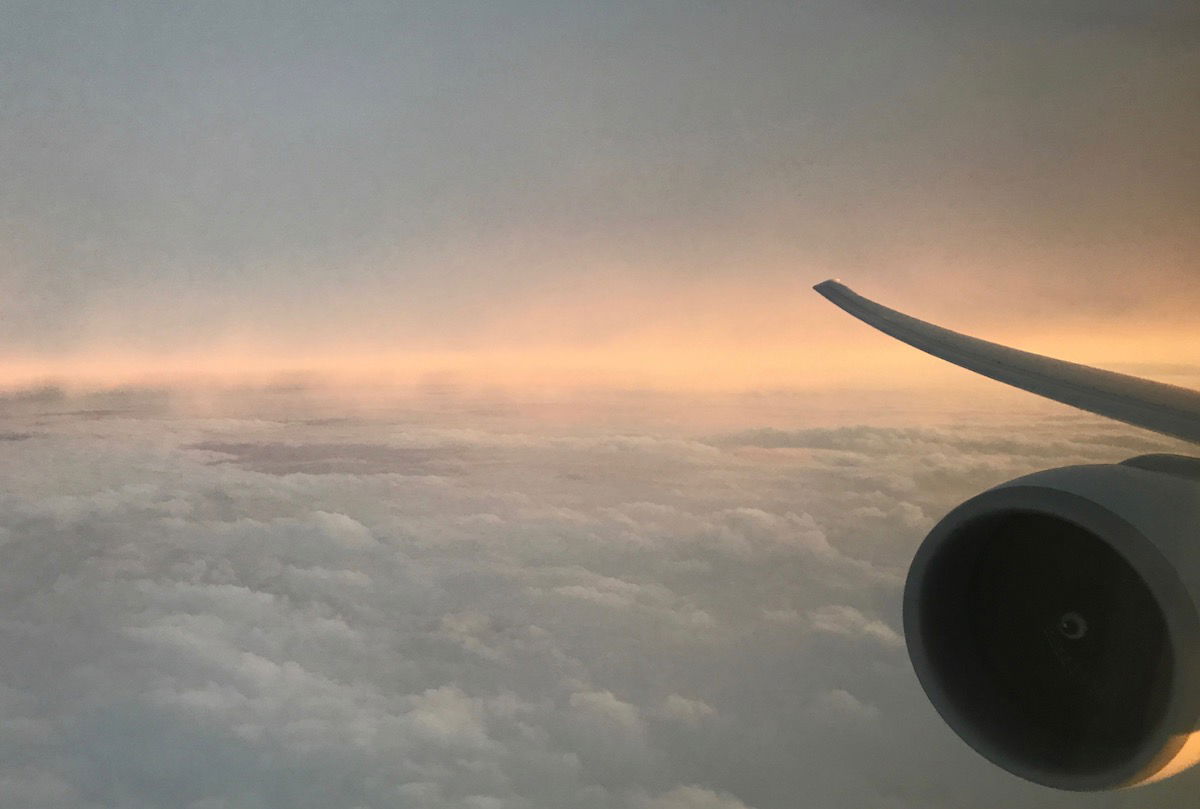 Sunset enroute to Riyadh
Once the meal was done I asked to have my bed made, and in the meantime I went back to business class. Business class on Saudia's new 777-300ER is in an excellent reverse herringbone configuration. This is a similar product to what I had when I flew Saudia's 787 business class.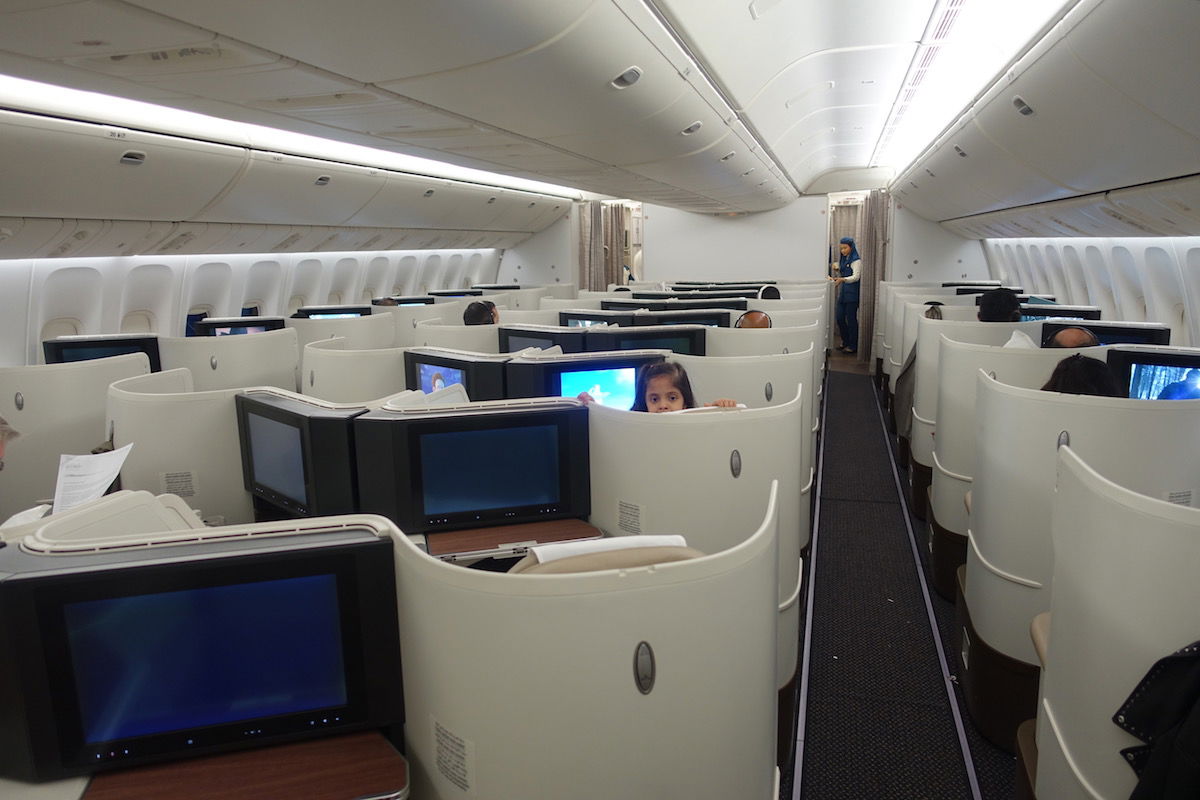 Saudia 777-300ER business class cabin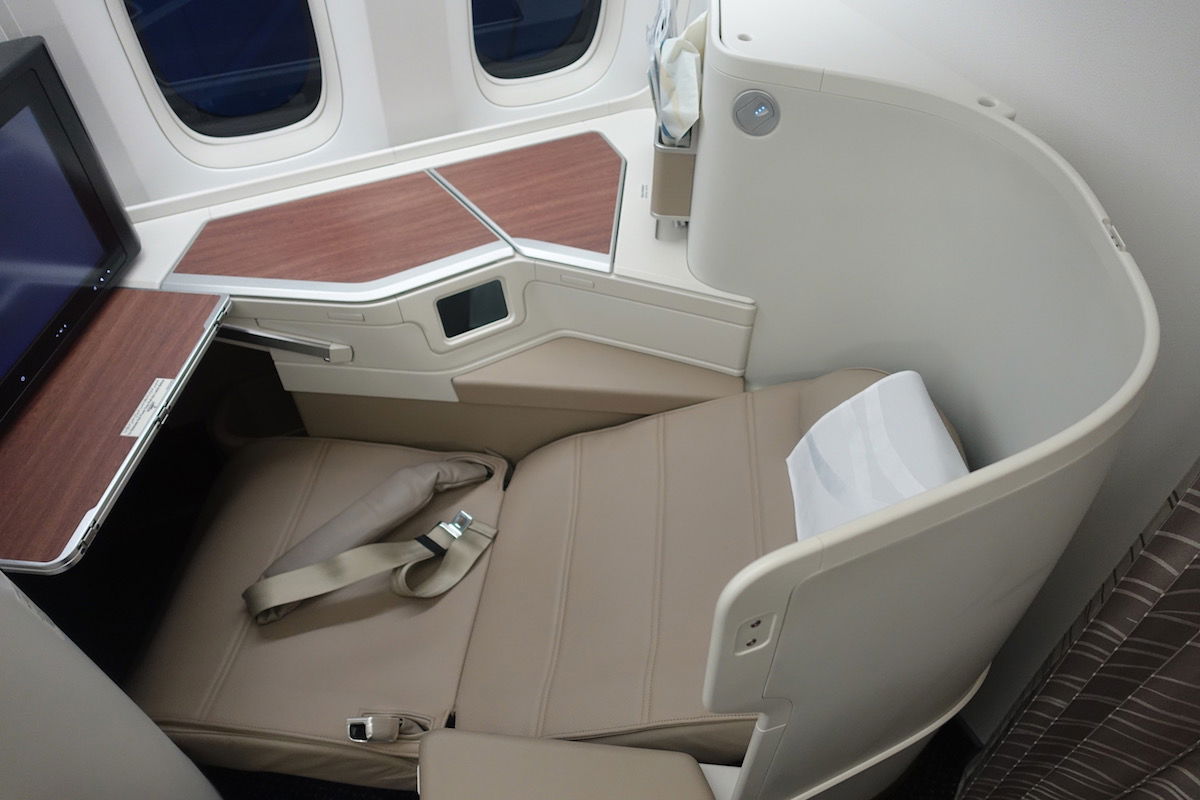 Saudia 777-300ER business class seat
By the time I was back at my seat my bed had been made. This is one area of the product that disappointed me. Saudia has invested so much in their new cabins, but doesn't have proper bedding. The bed consisted of two pillows (one of which was scratchy), a very thin mattress sheet, and a scratchy blanket.
Saudia's first class seat is pretty hard to begin with, so the bed was very firm.
C'mon Saudia, you've invested so much in this product, have a proper mattress pad and duvet, along with some plush pillows.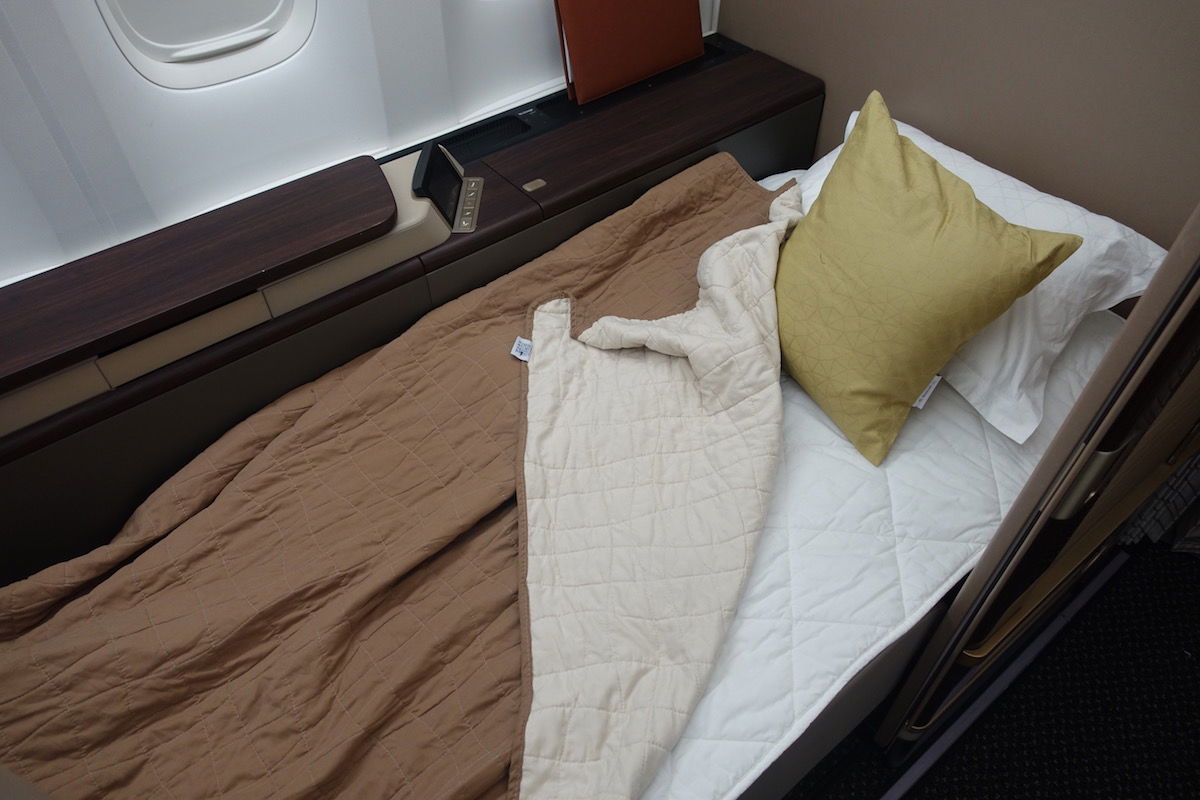 Saudia Suite bed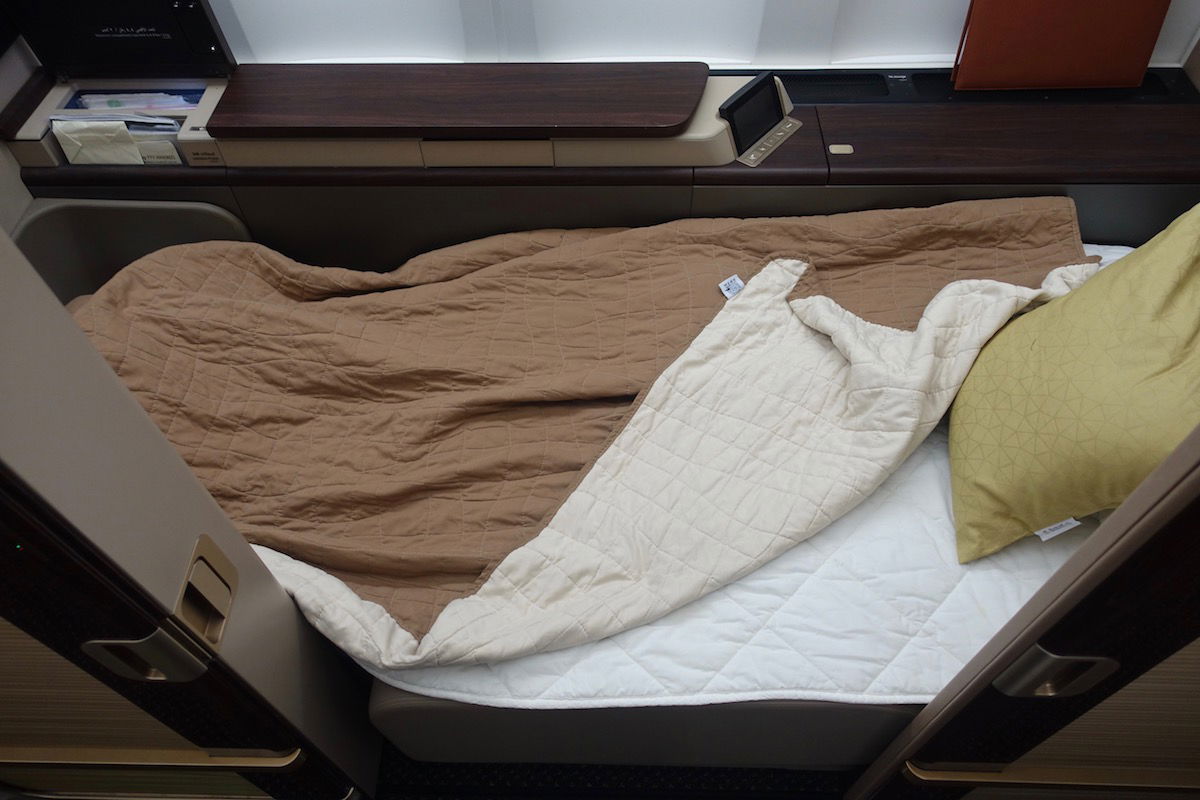 Saudia Suite bed
Shortly after I got in bed, there was a PA indicating that people could break their fast — "ladies and gentlemen, it is now time for Iftar. May Allah accept all our good deeds." Flying Saudia during Ramadan is fascinating. We had about nine hours remaining till arrival in Riyadh, so I browsed the entertainment selection, starting with the airshow.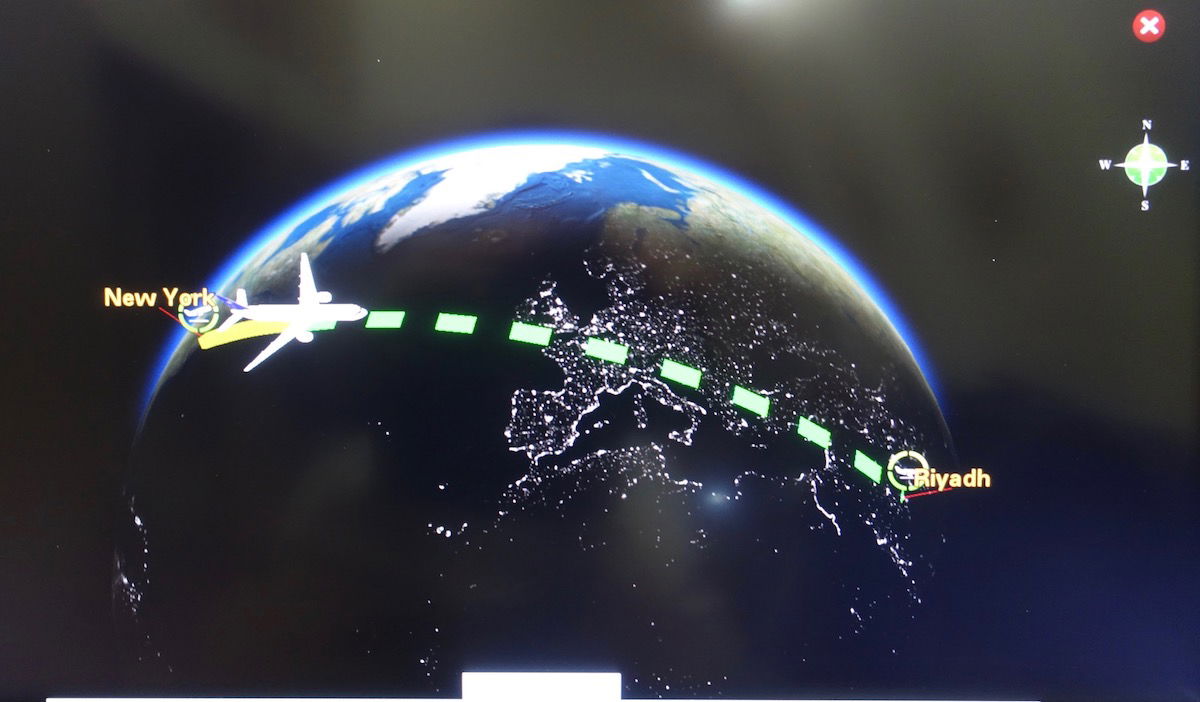 Airshow enroute to Riyadh
The entertainment selection was quite impressive, with dozens of movies. There were also quite a few sitcoms, though it mostly seemed to be older episodes. Do keep in mind that all the entertainment is heavily edited, given that this is a Saudi Arabian airline.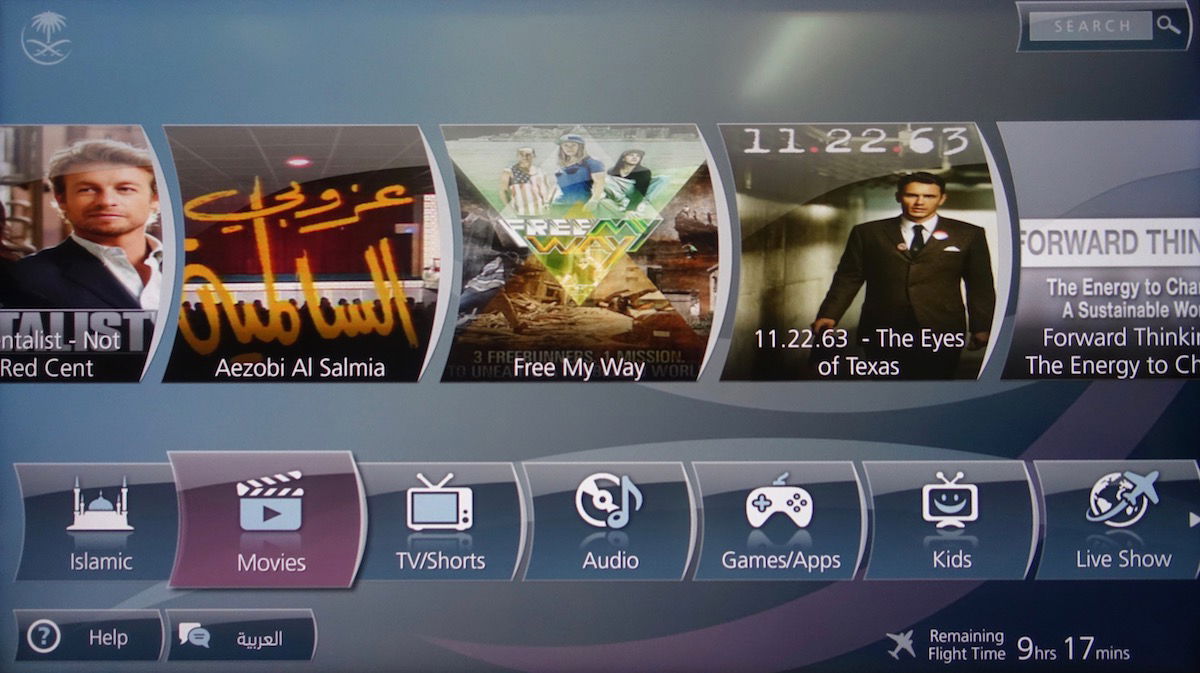 Saudia entertainment selection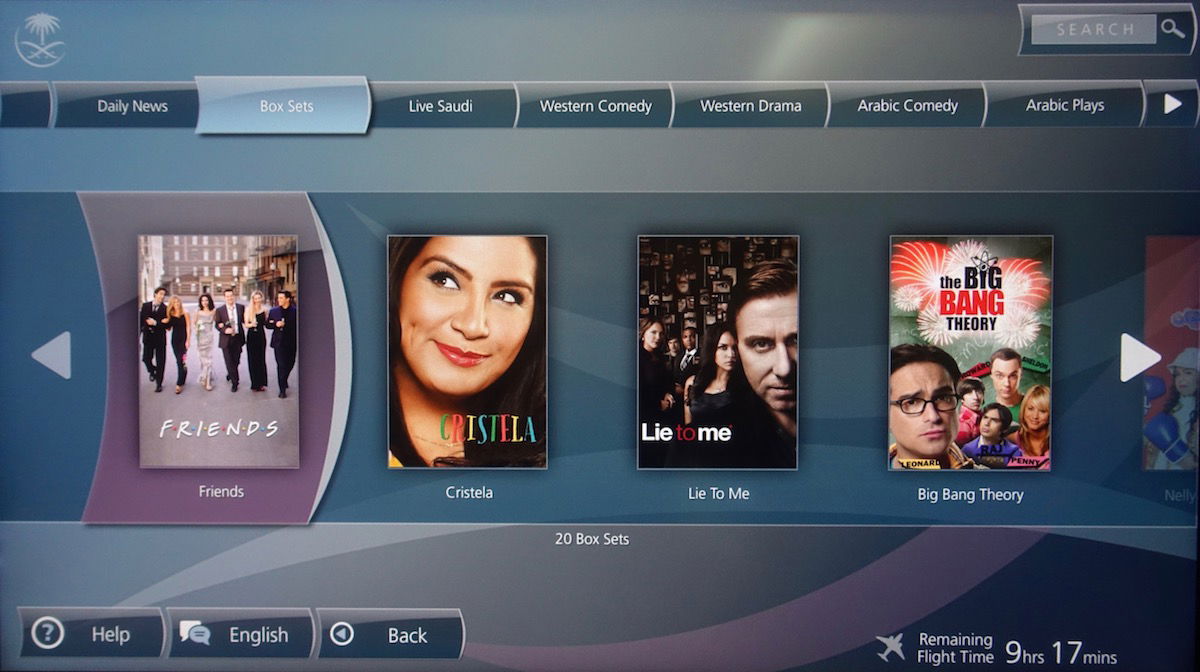 Saudia entertainment selection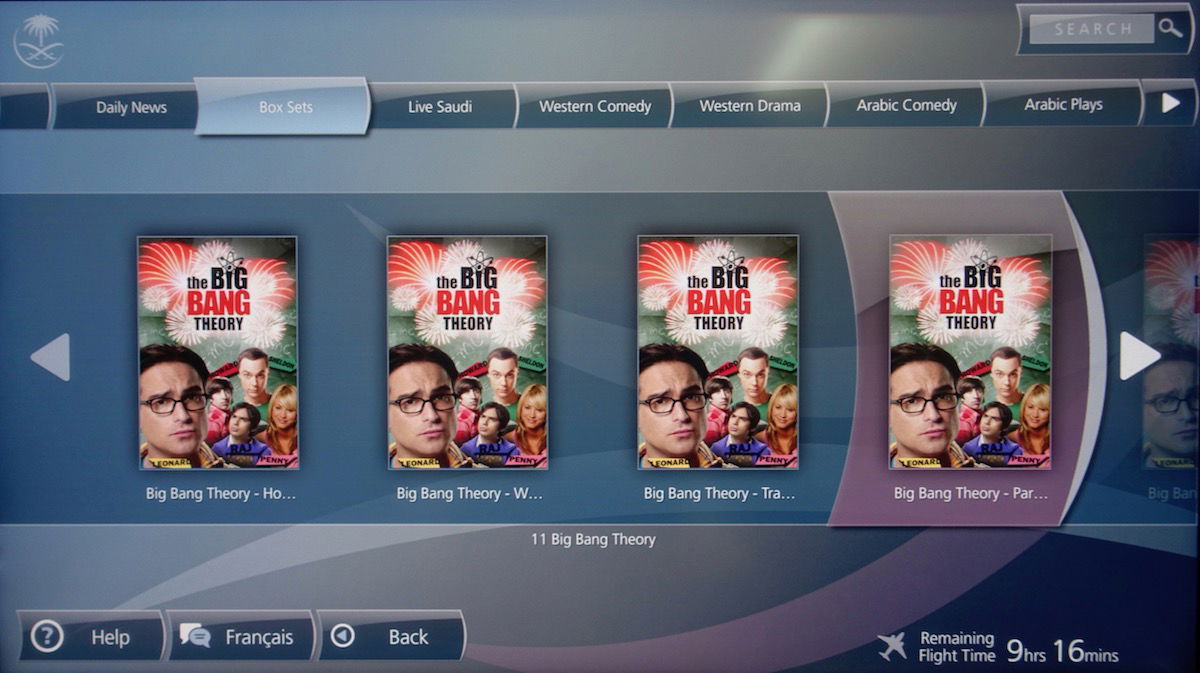 Saudia entertainment selection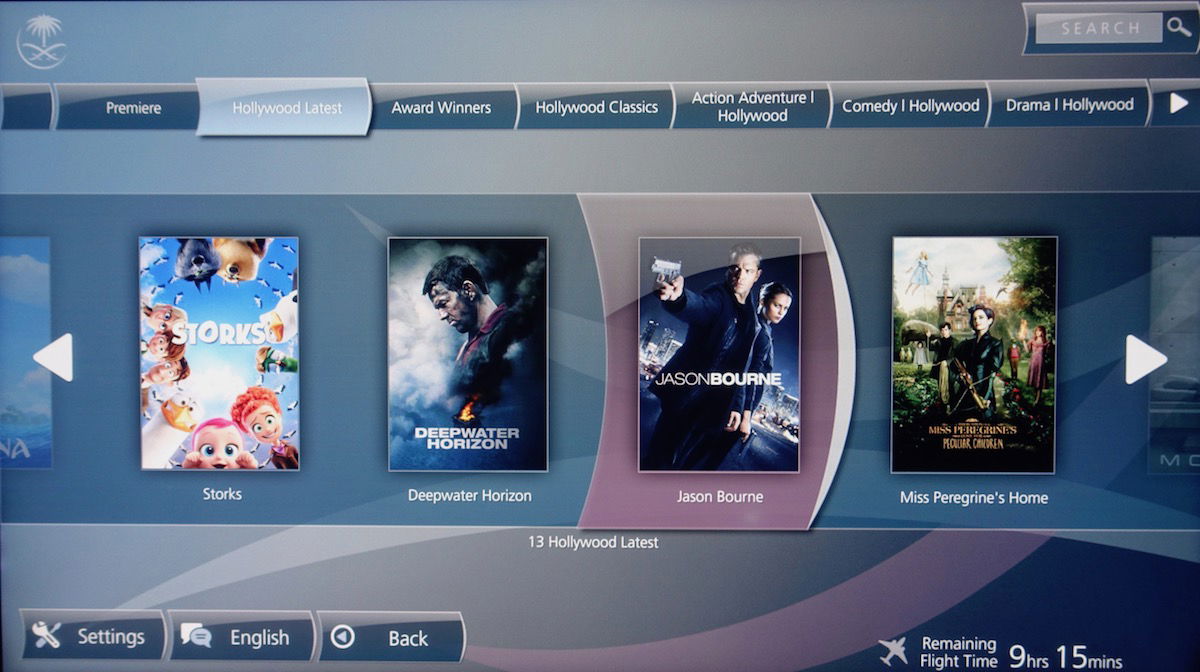 Saudia entertainment selection
I also connected to the inflight Wi-Fi. Minutes before takeoff I got an email with a code for free Wi-Fi, which I guess they offer first class passengers. That's impressive.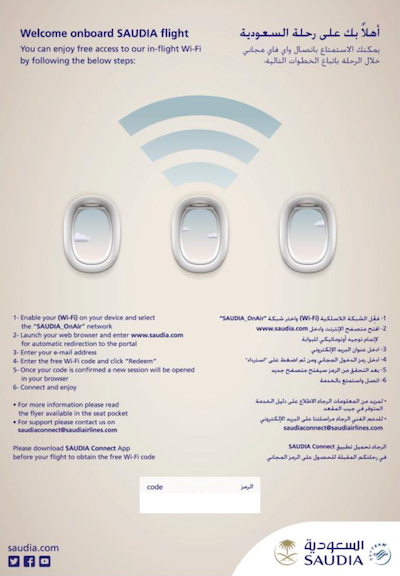 Free Wi-Fi on Saudia
All passengers get 20MB of Wi-Fi for free.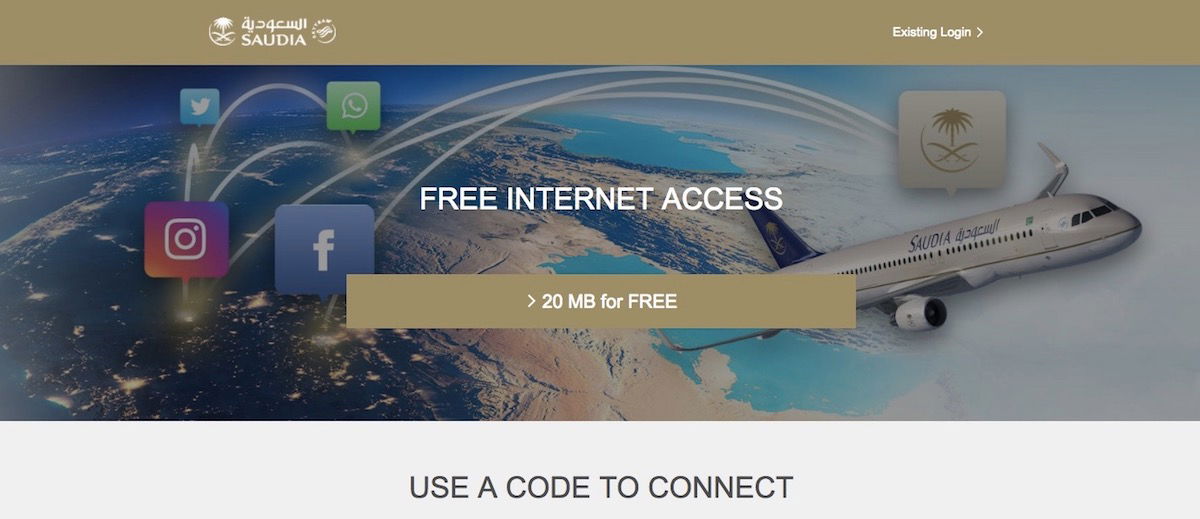 Saudia Wi-Fi
Here's the pricing beyond that, which is pretty reasonable: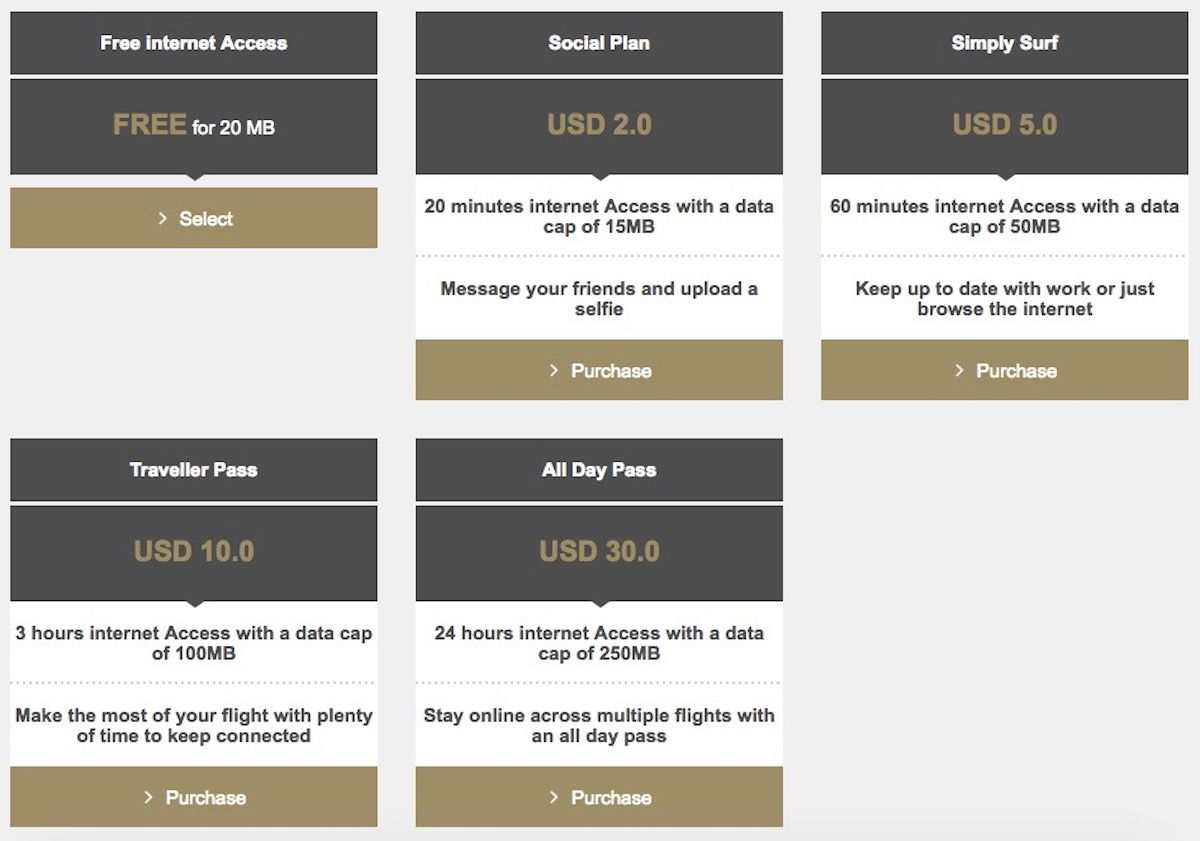 Saudia Wi-Fi pricing
My free Wi-Fi pass came with 1024MB of data, which should last just about anyone for the entire flight.


Saudia Wi-Fi limit
While the pricing was reasonable and I appreciated the free Wi-Fi for first class passengers, Saudia uses OnAir, which I find to be the worst Wi-Fi provider. So it was painfully slow, unfortunately.
As I watched a couple of TV shows, I couldn't help but notice how drastic the mood lighting was. I appreciate when airlines have mood lighting and use it, though I still think the ideal setting at night is "off," rather than something that looks cool but isn't necessarily soothing.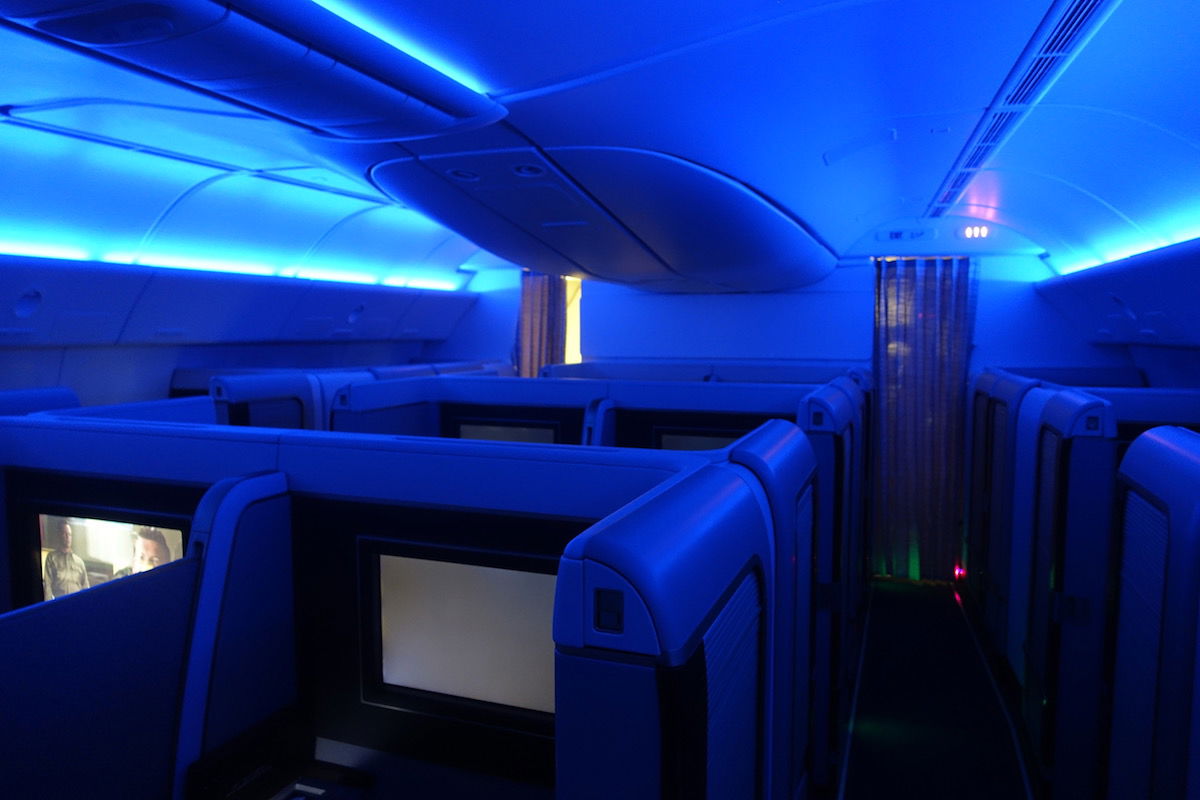 Saudia cabin mood lighting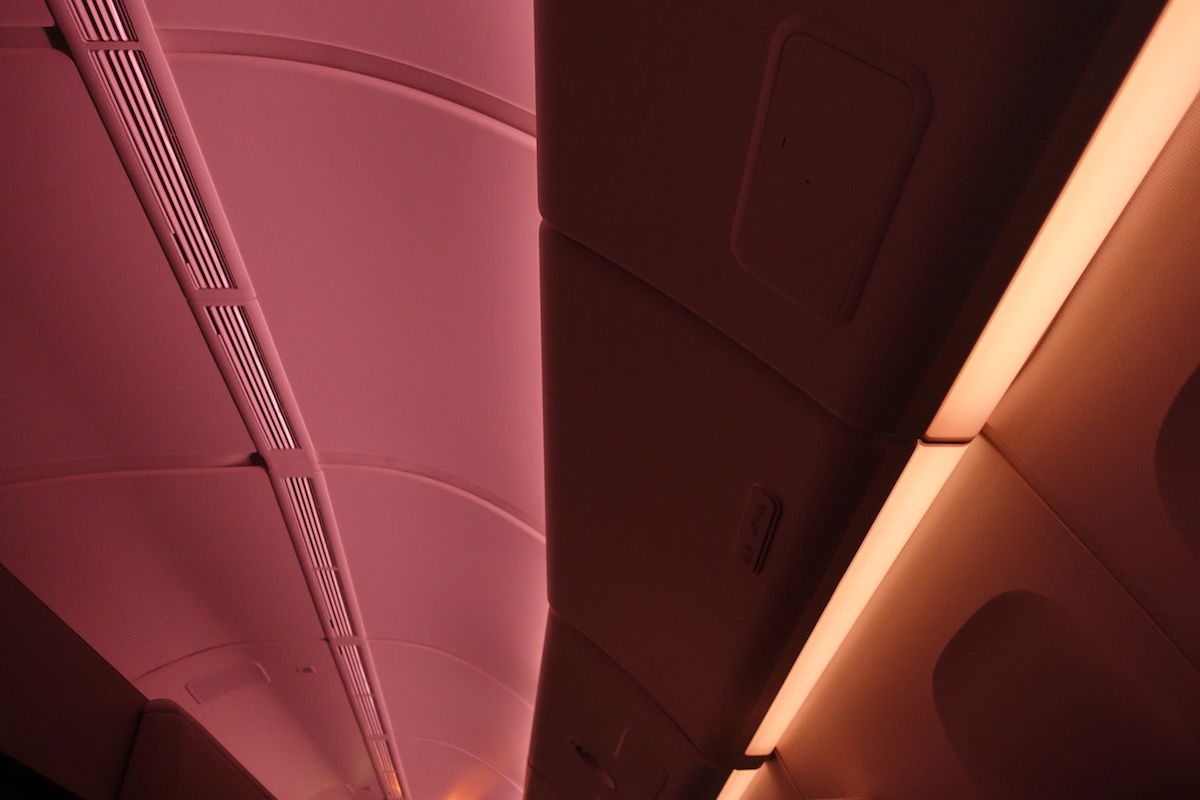 Saudia cabin mood lighting
Before going to sleep I briefly checked out the snack bar behind first class, just to see what was there. There was whole fruit as well as some packaged snacks. I believe the bar setup is much more extensive for longer flights, but for a quick overnight flight this was more than sufficient.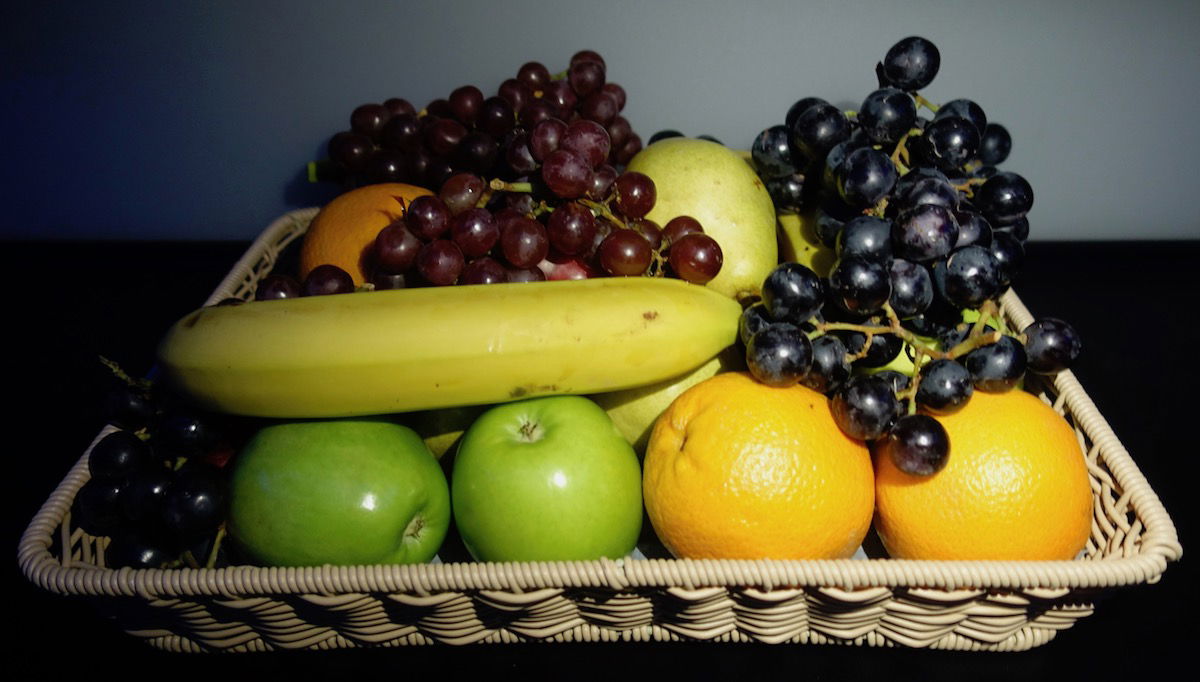 Saudia first class snack basket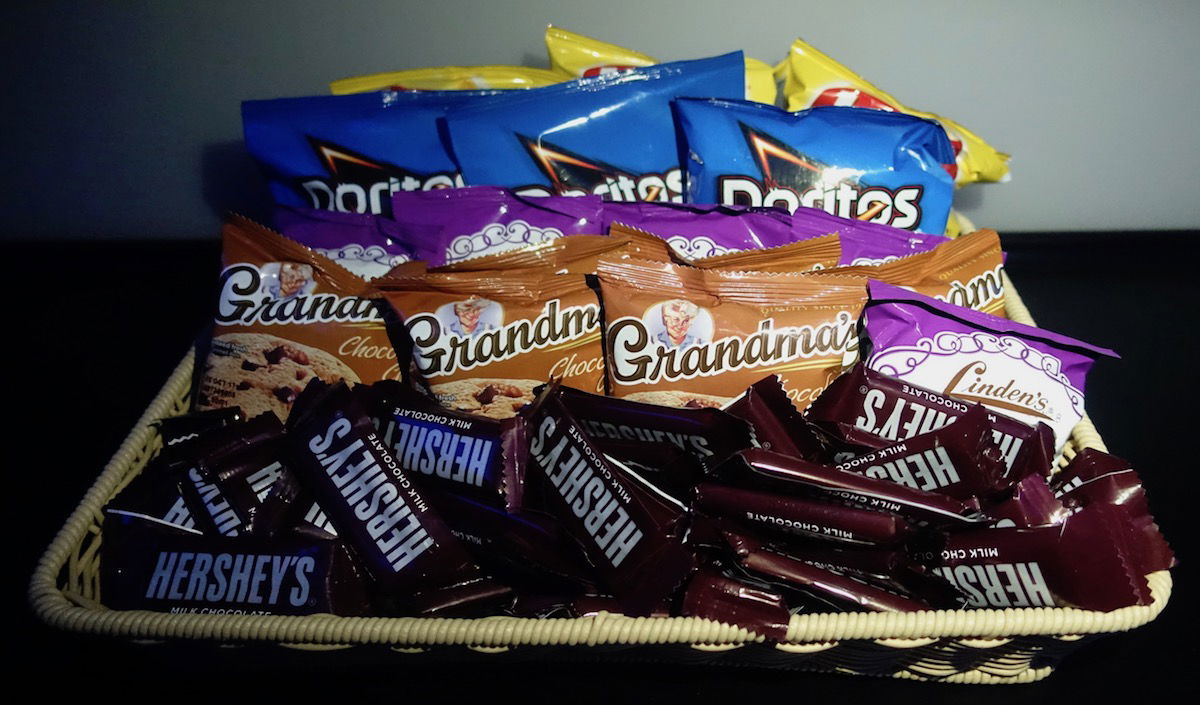 Saudia first class snack basket
I fell asleep with about eight hours left to Riyadh, and got a solid six hours of sleep. I woke up about two hours before arrival, as we were over Egypt.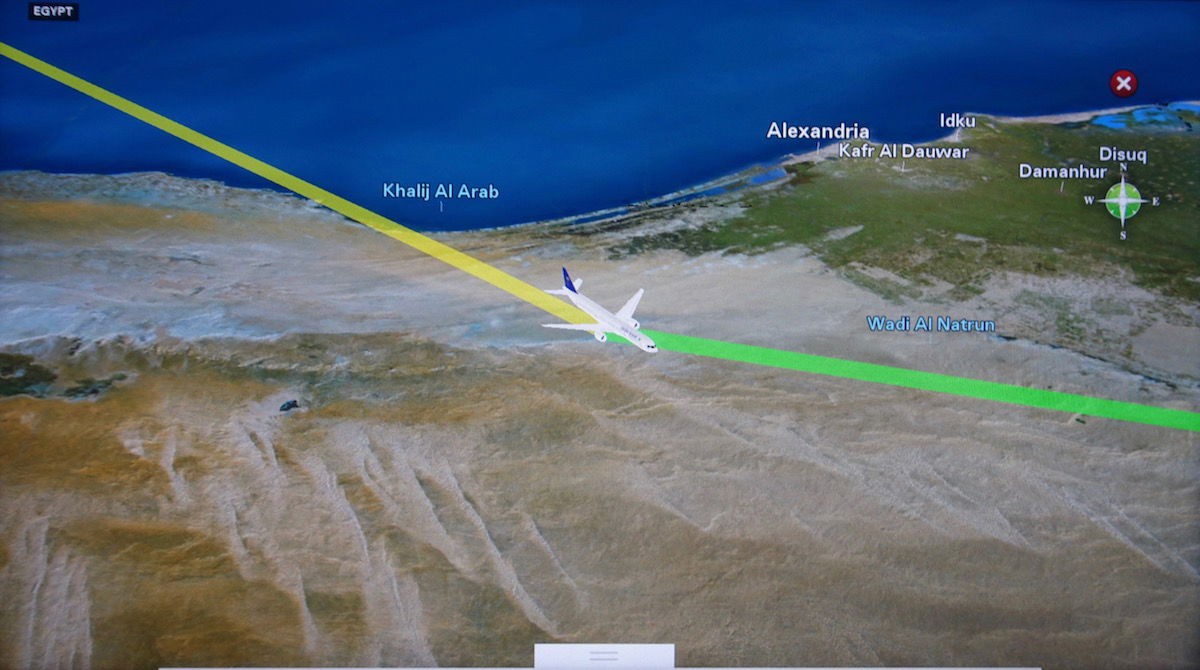 Airshow enroute to Riyadh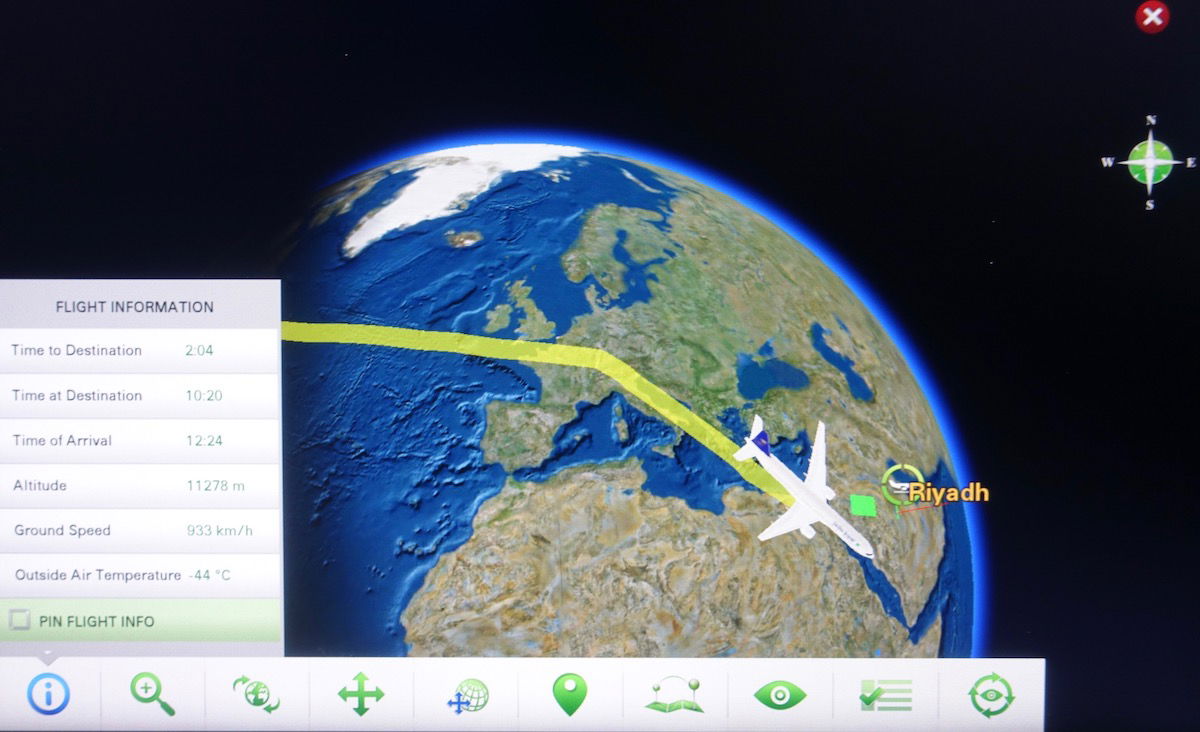 Airshow enroute to Riyadh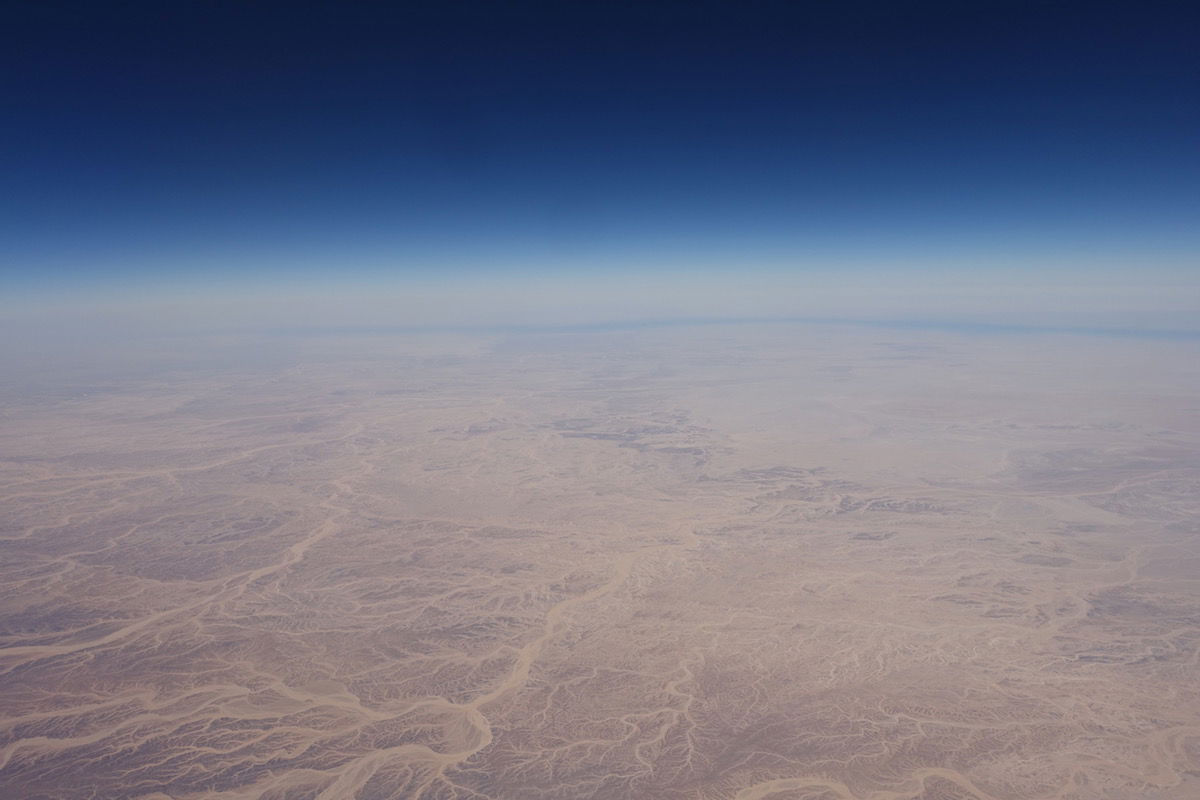 View enroute to Riyadh
Within five minutes of waking up, Lejla was at my seat to see if I wanted anything. I ordered a coffee and some bottled water.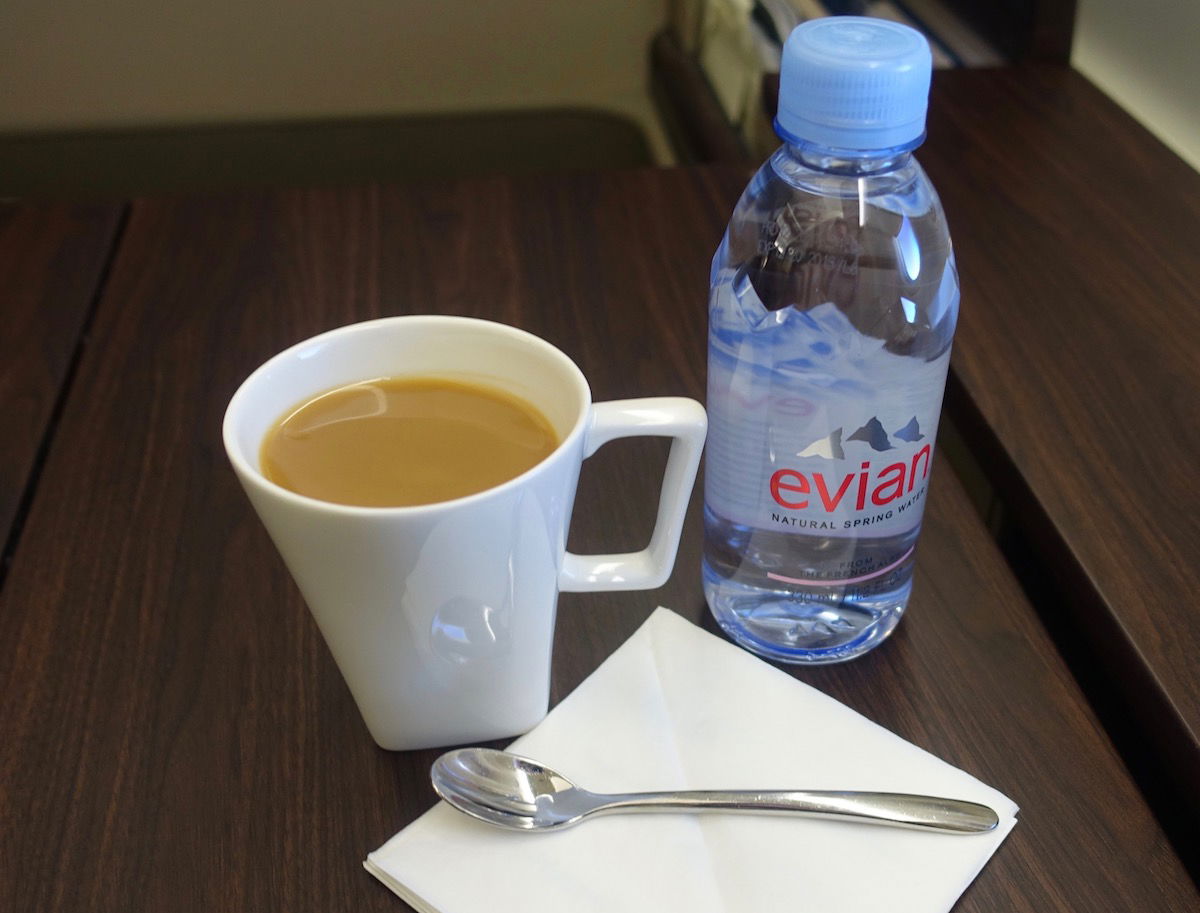 Saudia first class coffee & water
I was also asked when I wanted to have breakfast, so figured I might as well have it fairly soon. The breakfast menu read as follows: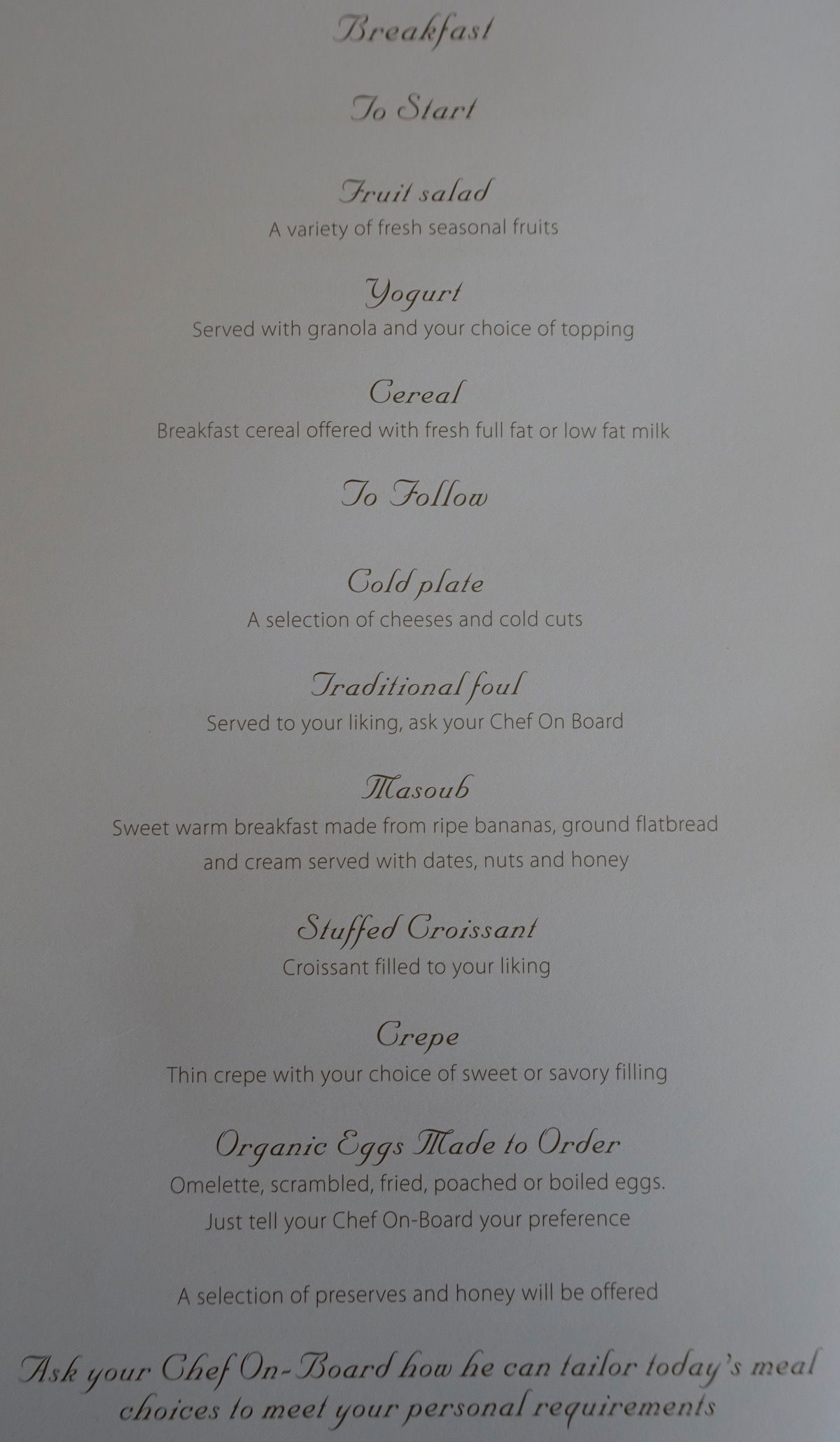 Service began with a delicious smoothie.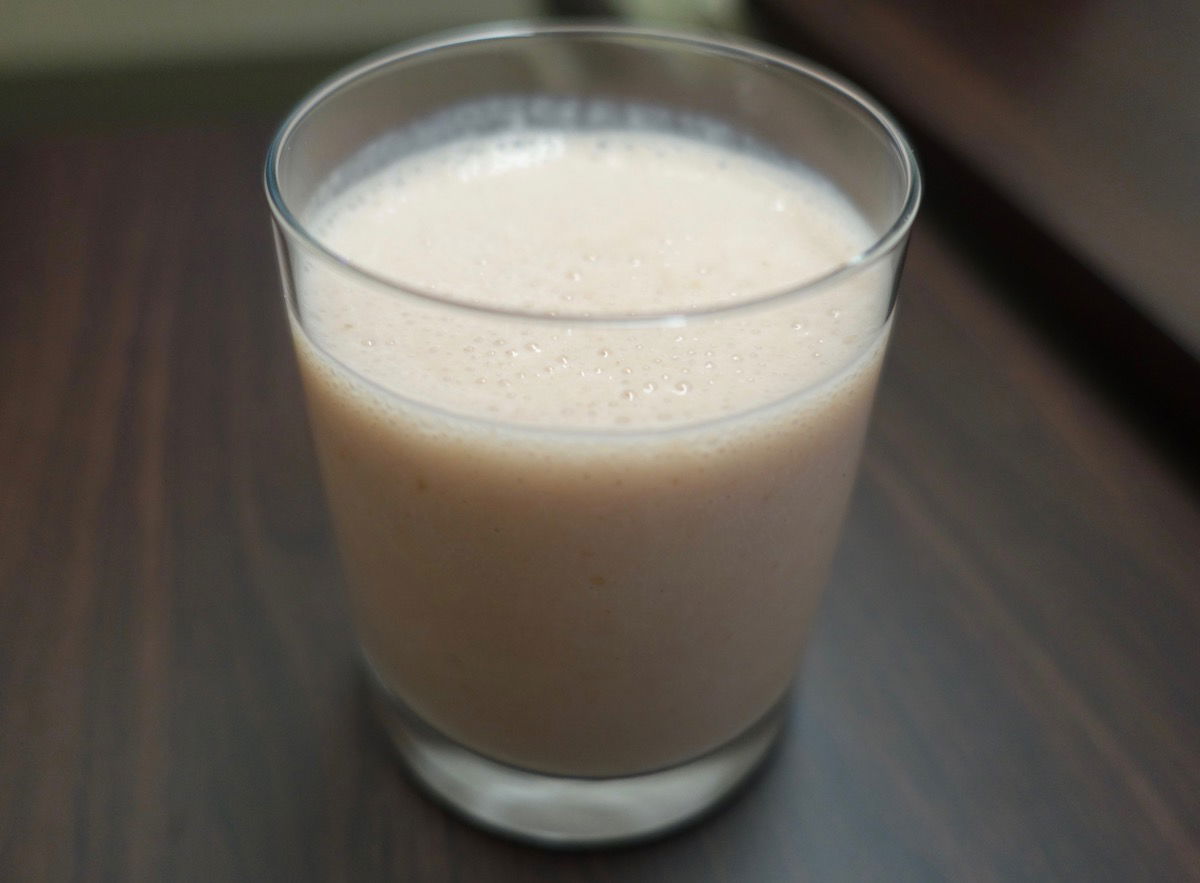 Saudia first class breakfast — smoothie
After that my table was set, and I was offered a selection of croissants and pastries, along with a fruit plate, with melon, watermelon, pineapple, and grapes.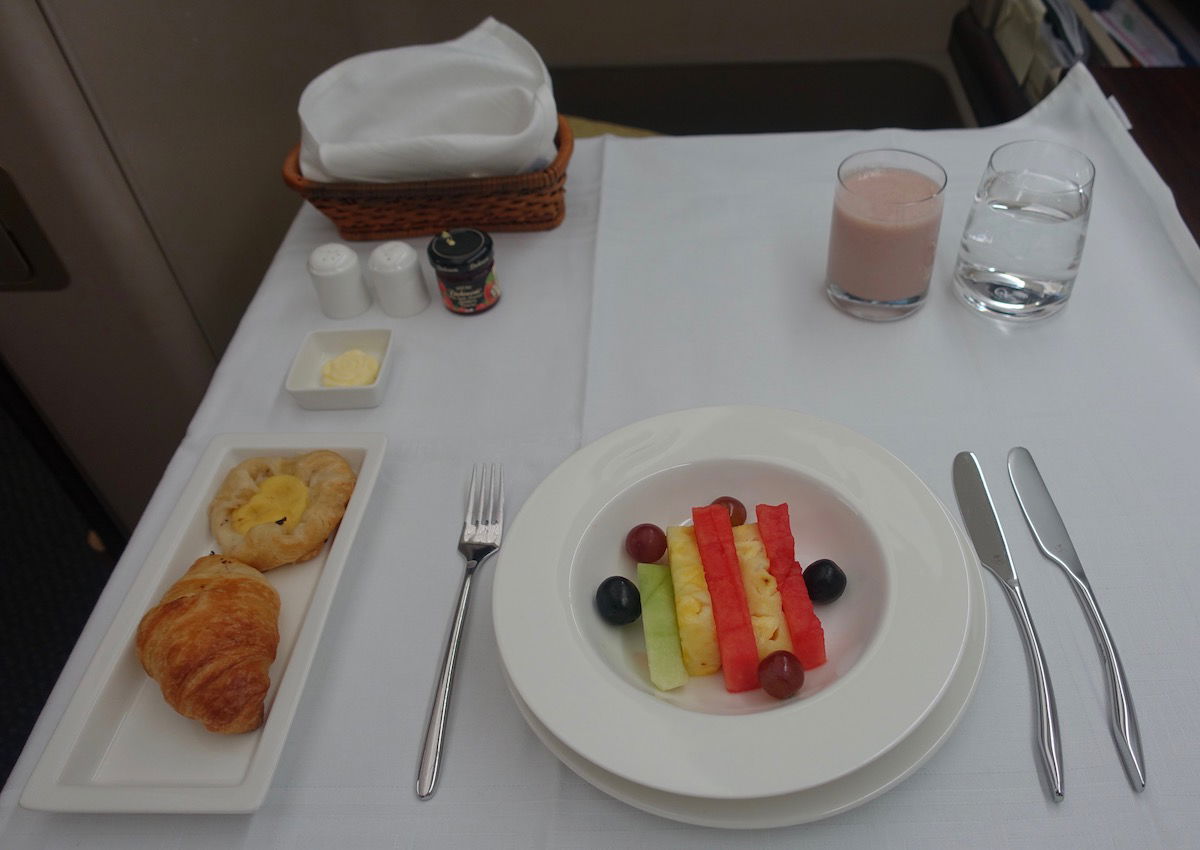 Saudia first class breakfast — fresh fruit
Next I was offered a gorgeous parfait.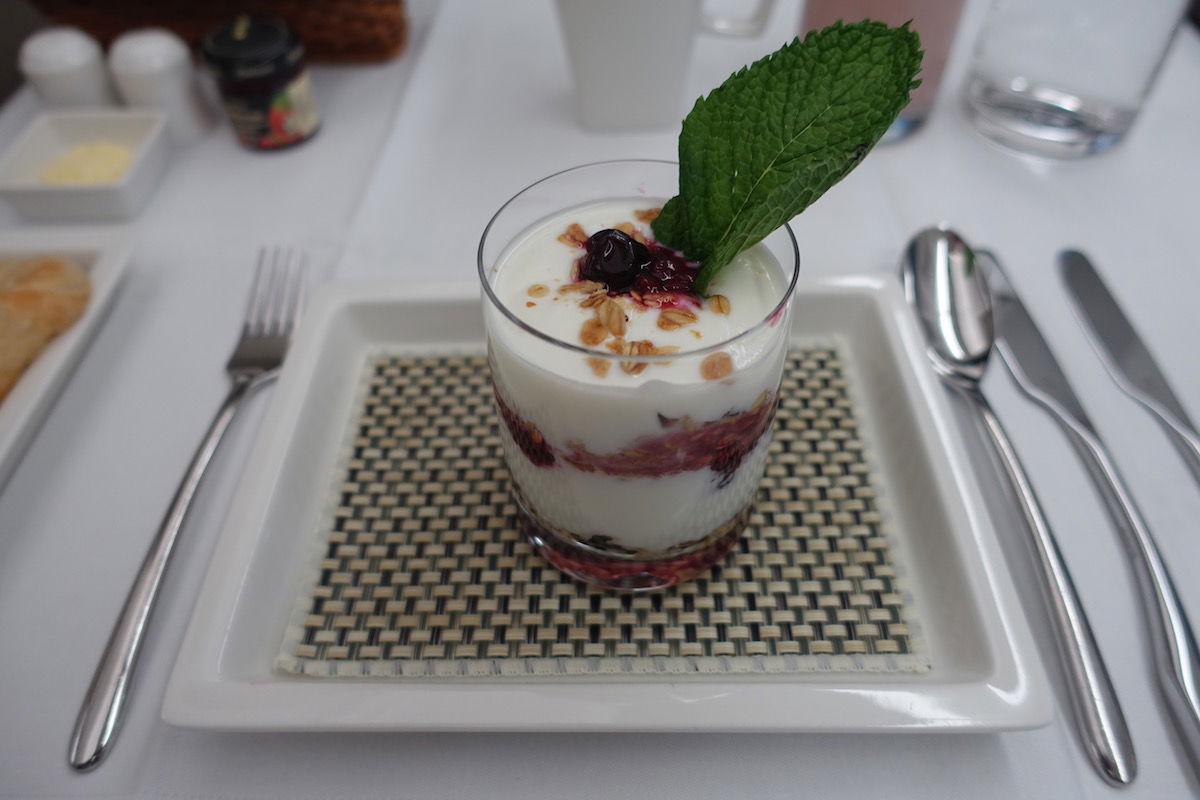 Saudia first class breakfast — yogurt with granola
Saudia also offers made to order eggs in first class. I asked for scrambled eggs well done. What great presentation!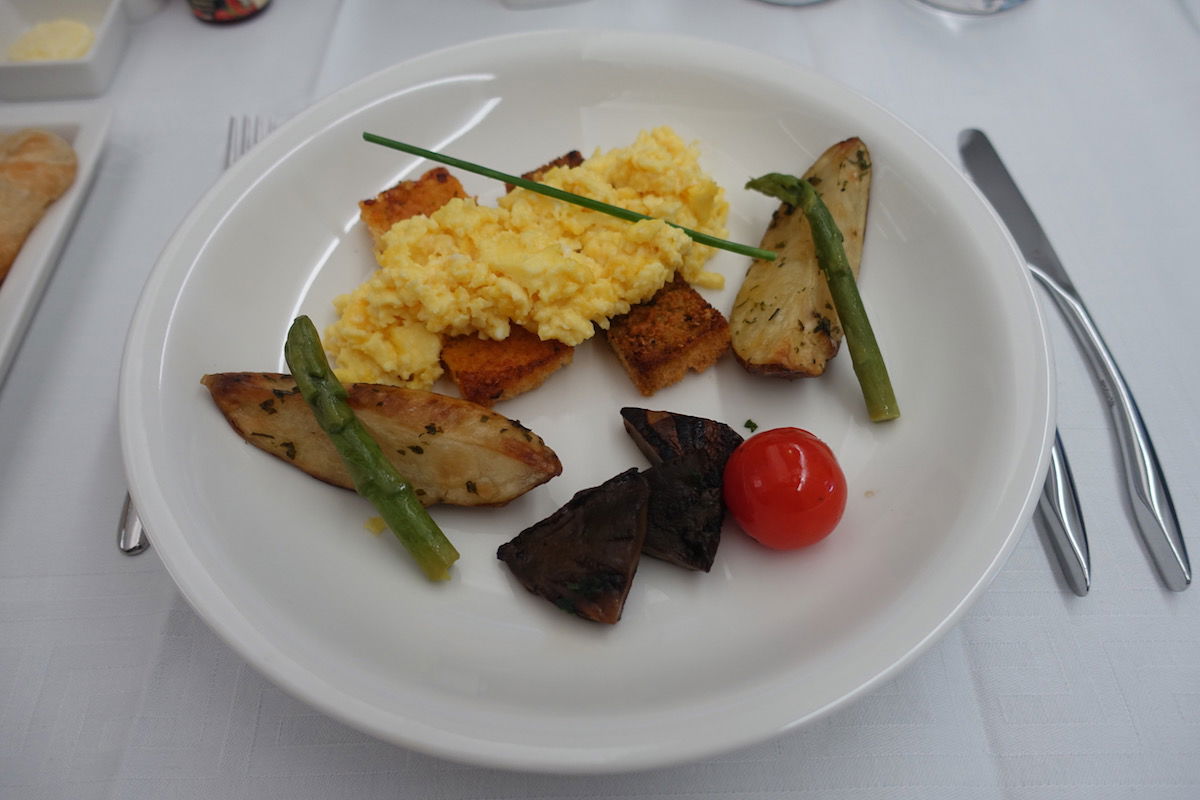 Saudia first class breakfast — scrambled eggs
I was full at this point, but Ali insisted that I try the masoub, which he described as a sweet Arabic breakfast. I'm a sucker for any sort of Arabic dessert, so couldn't resist. It was incredible. As explained on the menu, masoub is a sweet breakfast made from ripe bananas, ground flatbread and cream, and it's served with dates, nuts, and honey. It was so good.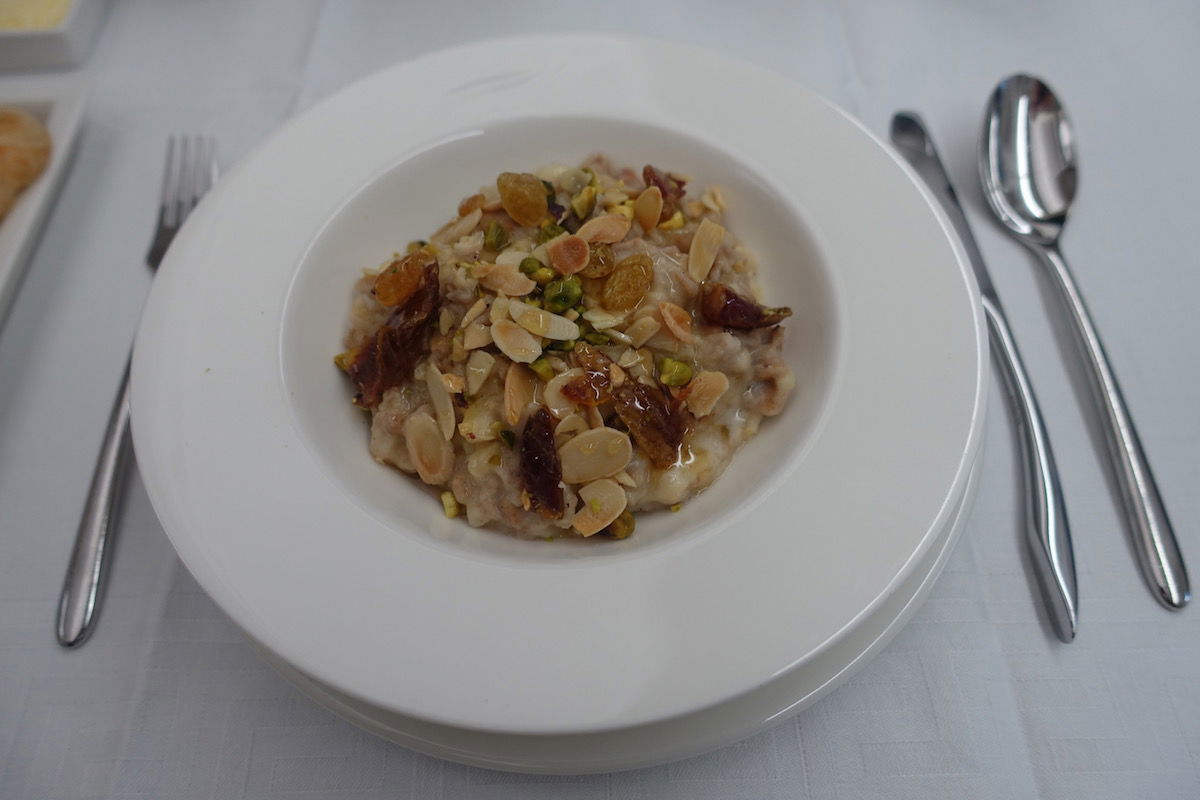 Saudia first class breakfast — masoub
At 11:55AM the captain made another announcement, informing us that we would be landing in about 35 minutes. He seemed like a super nice guy, and in addition to thanking everyone for flying Saudia, he made another announcement I've never heard before. "I've received a note from a passenger thanking me for the great service from the cabin crew, but it is them and not me who should be thanked. I would like to thank the entire cabin crew for their service, they did a great job flying to New York from Riyadh and I will make sure the feedback goes to the concerned department."
He took a lot of pride in his job, and that's something I have a lot of respect for.
We began our descent at around noon, at which point I just gazed out the window until our arrival. During the descent the cabin manager, chef, and two flight attendants all came by my seat to thank me for flying Saudia.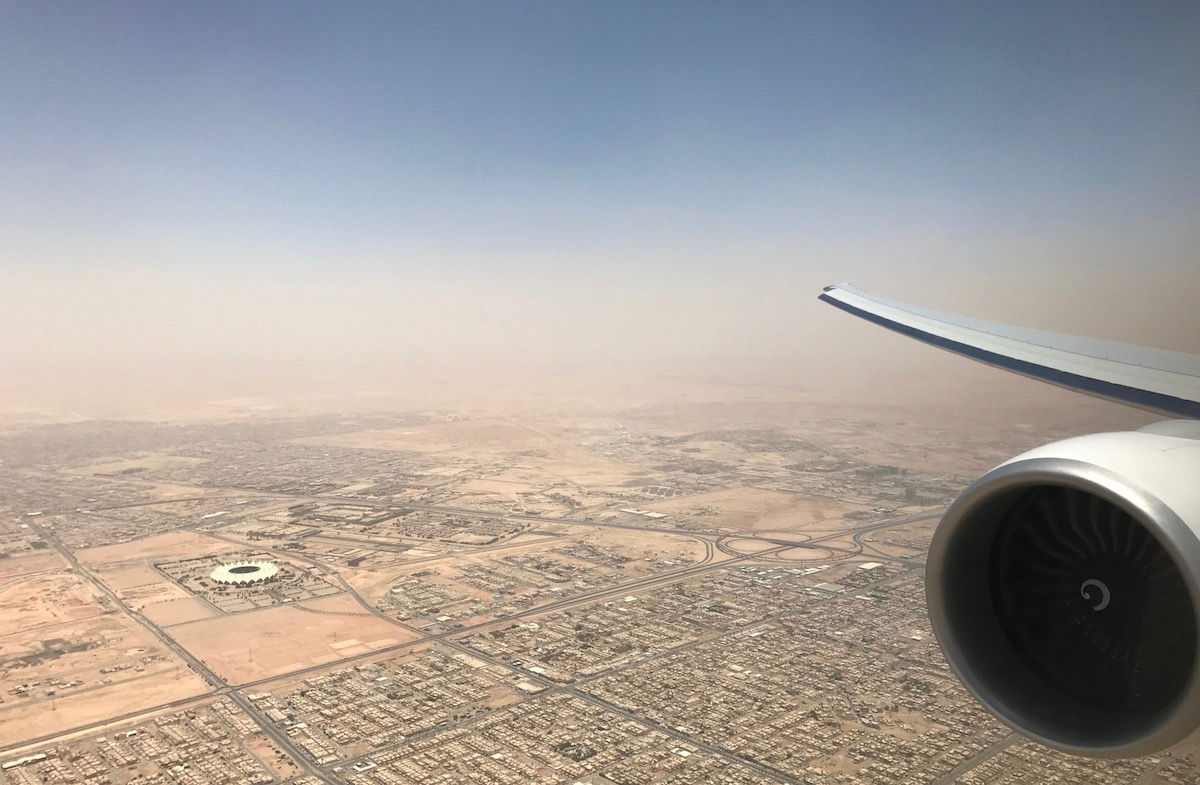 View approaching Riyadh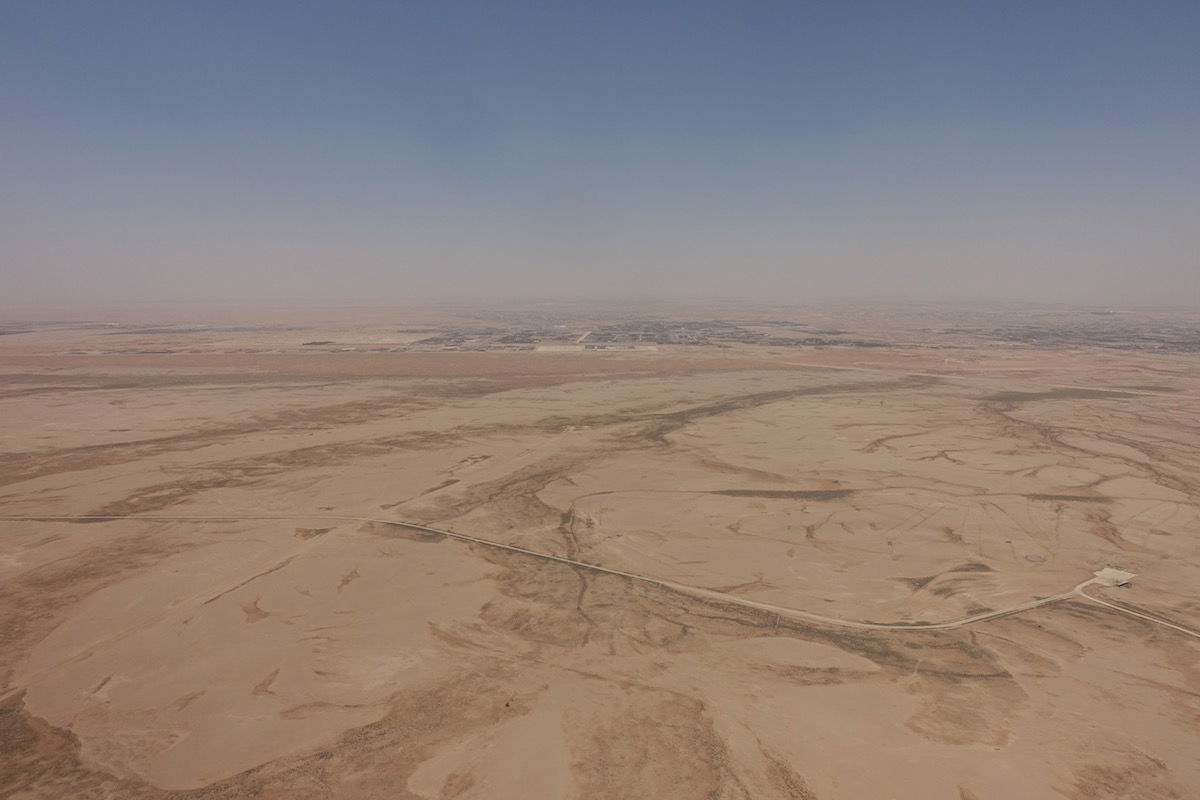 View approaching Riyadh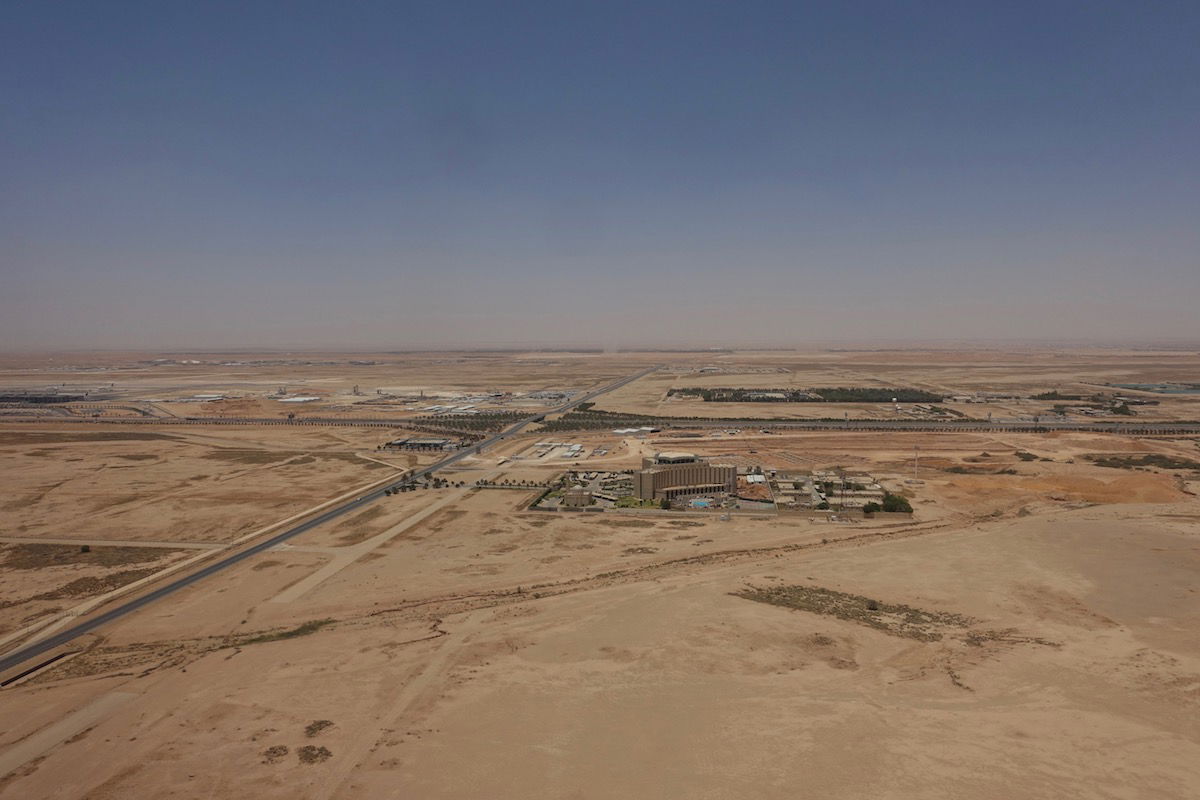 View approaching Riyadh
It's actually only on the descent that I discovered that Saudia has a pretty high resolution nose camera on their 777s, which was cool to look at. We touched down on runway 33L at 12:30PM sharp.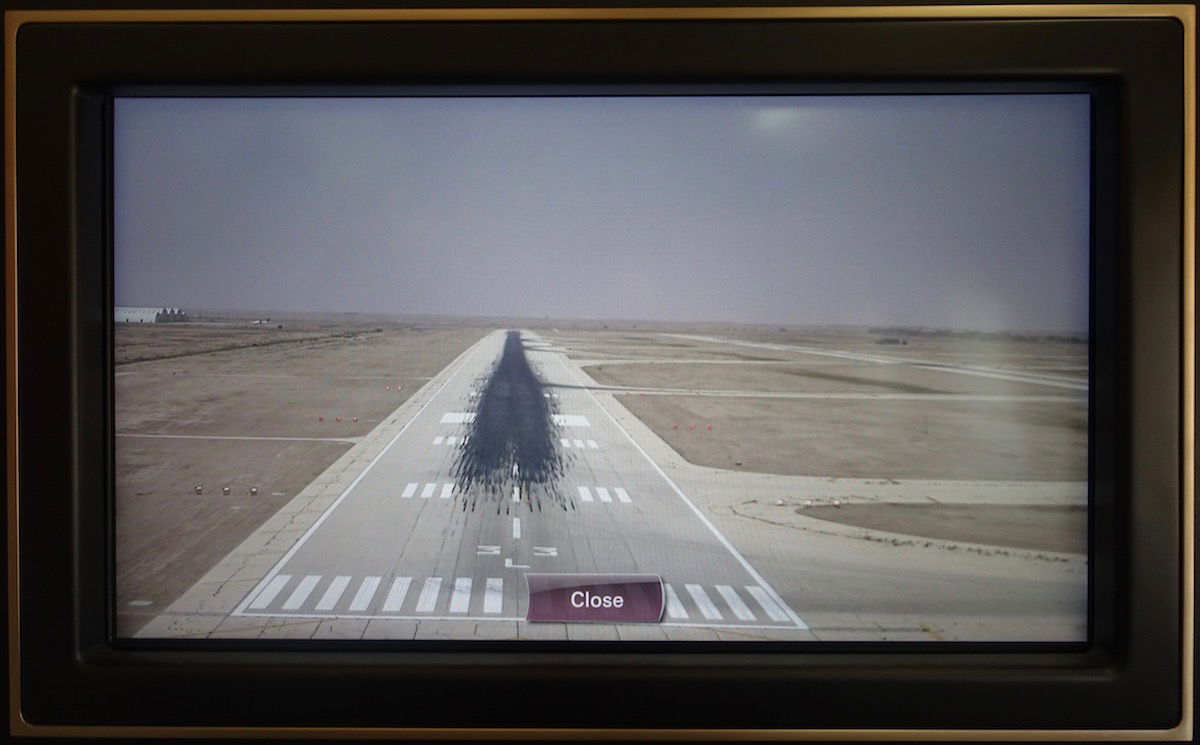 Nose camera landing in Riyadh
Our touchdown was the smoothest imaginable, and from there we had a 10 minute taxi to our arrival gate.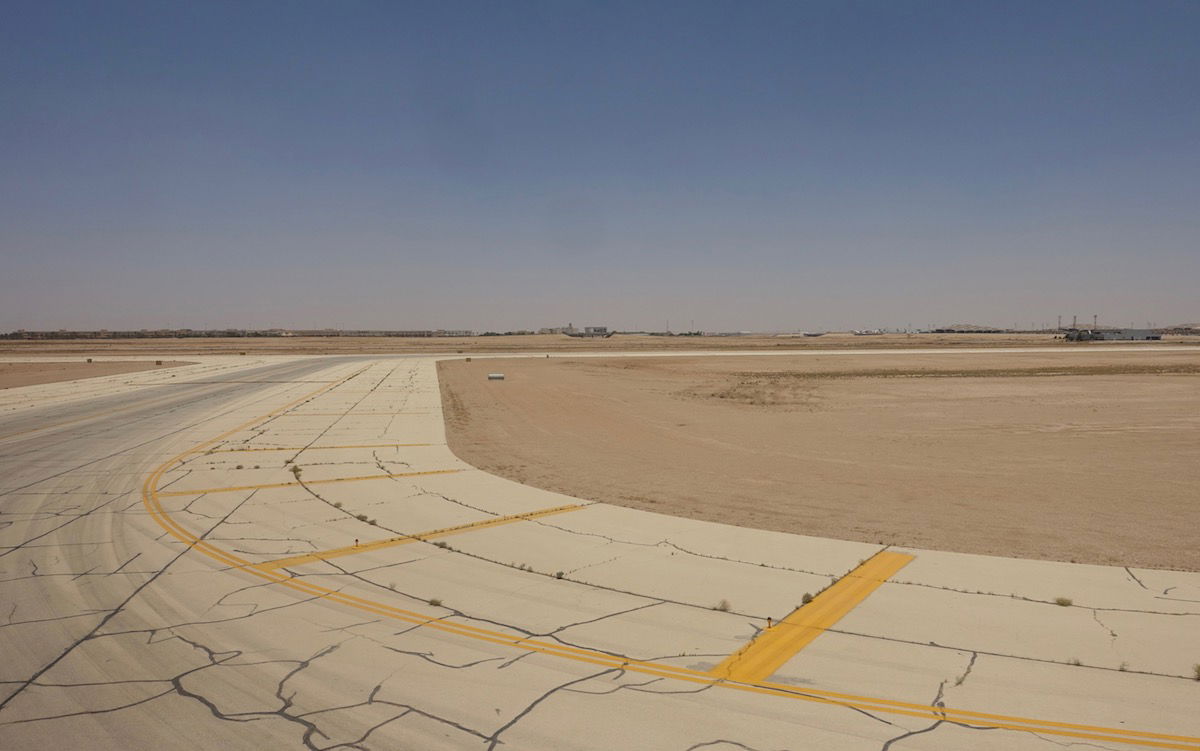 Taxiing Riyadh Airport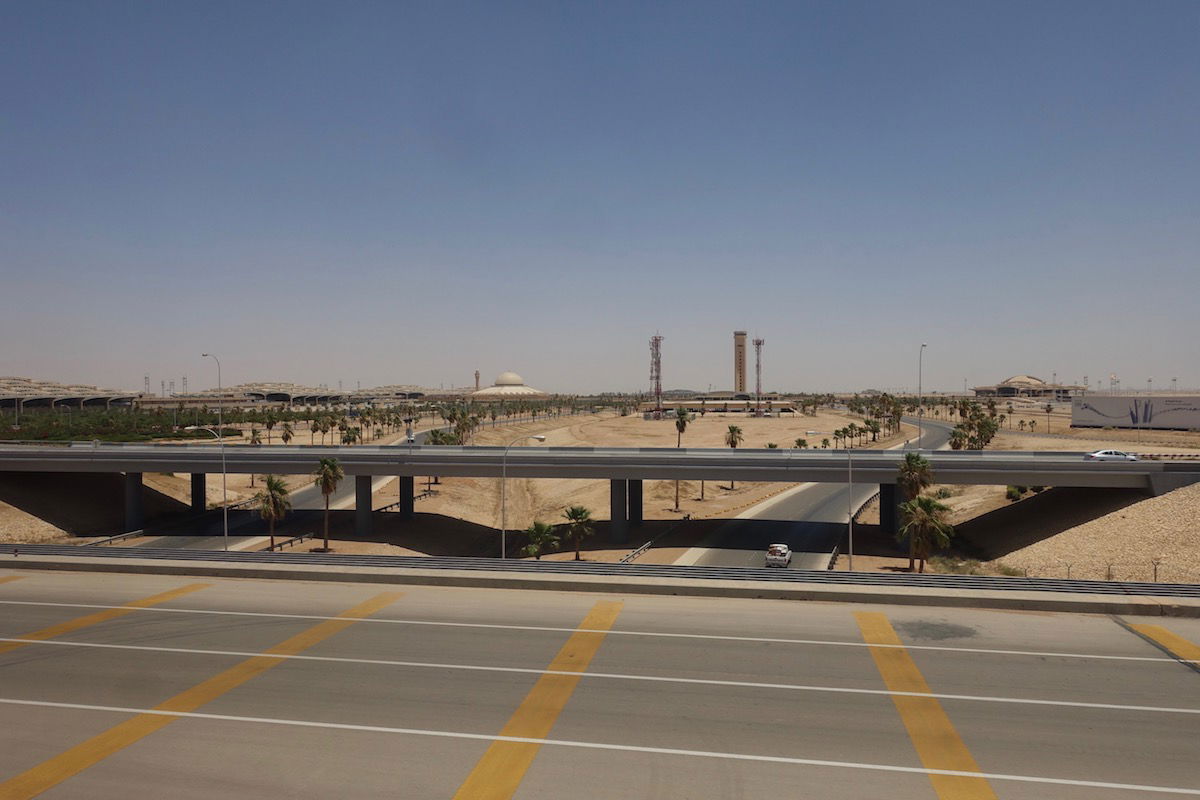 Taxiing Riyadh Airport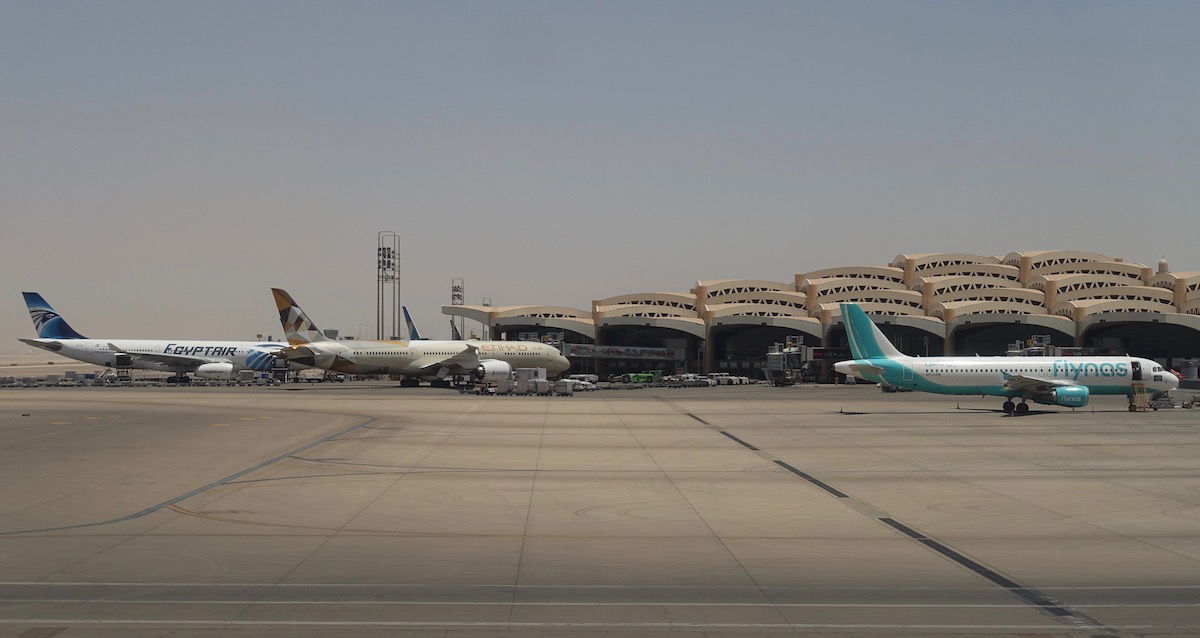 Riyadh Airport terminal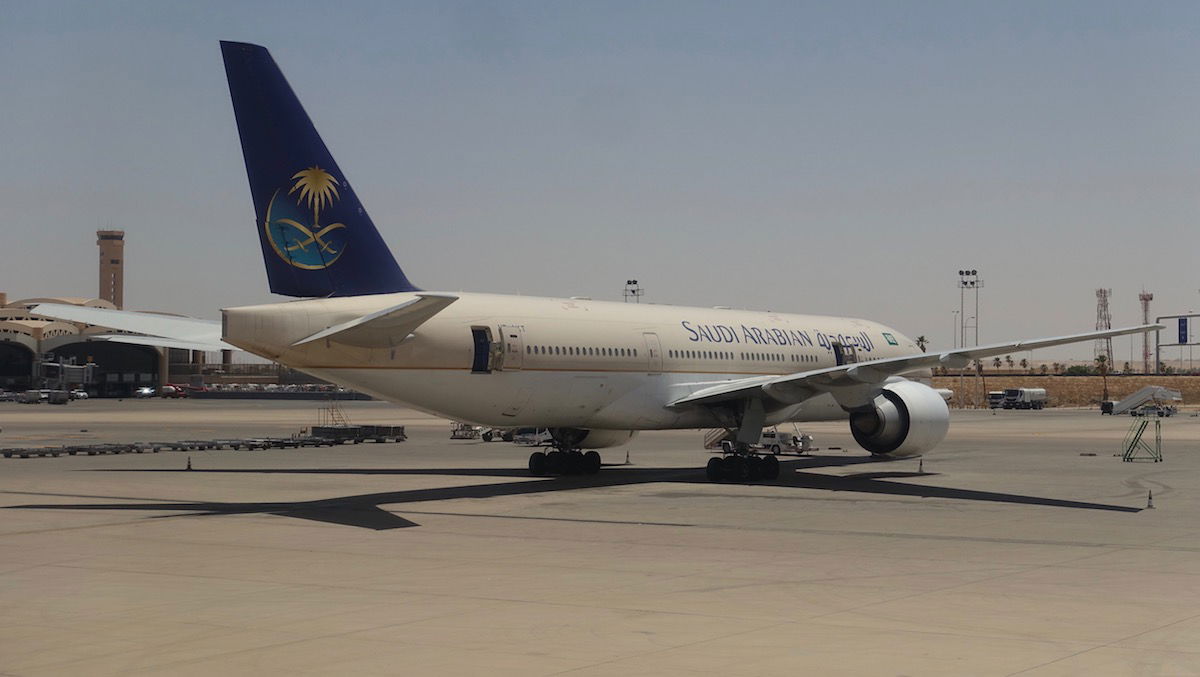 Saudia 777 Riyadh Airport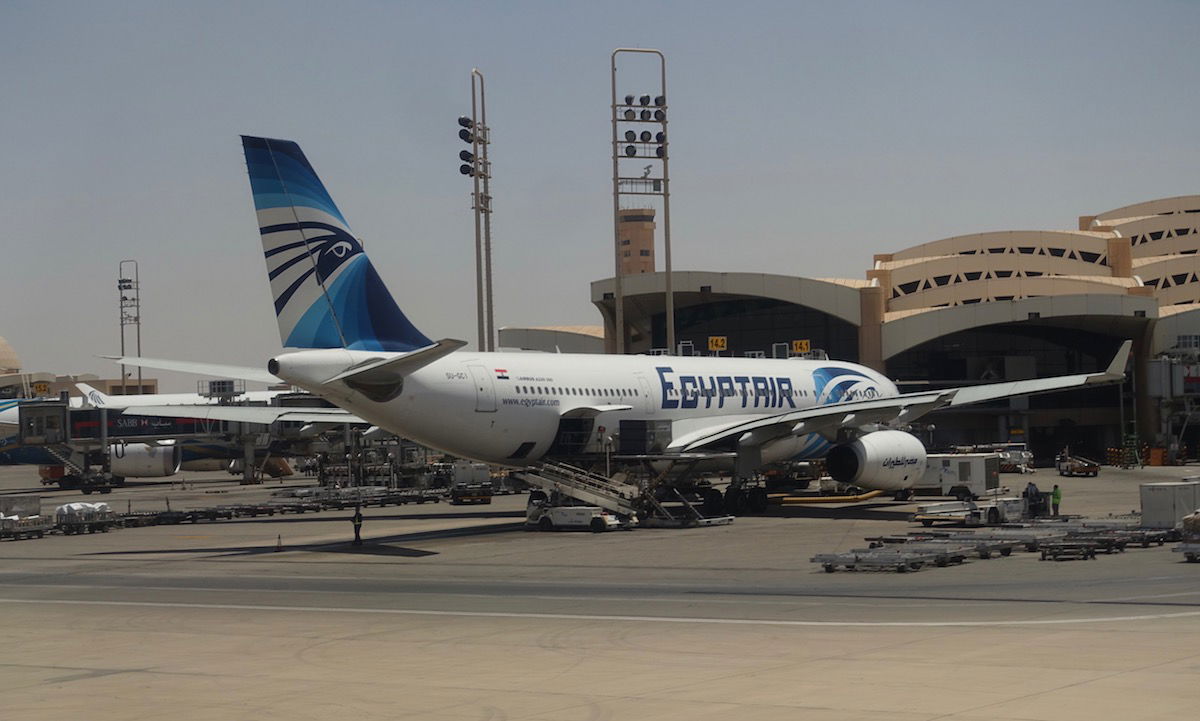 EgyptAir A330 Riyadh Airport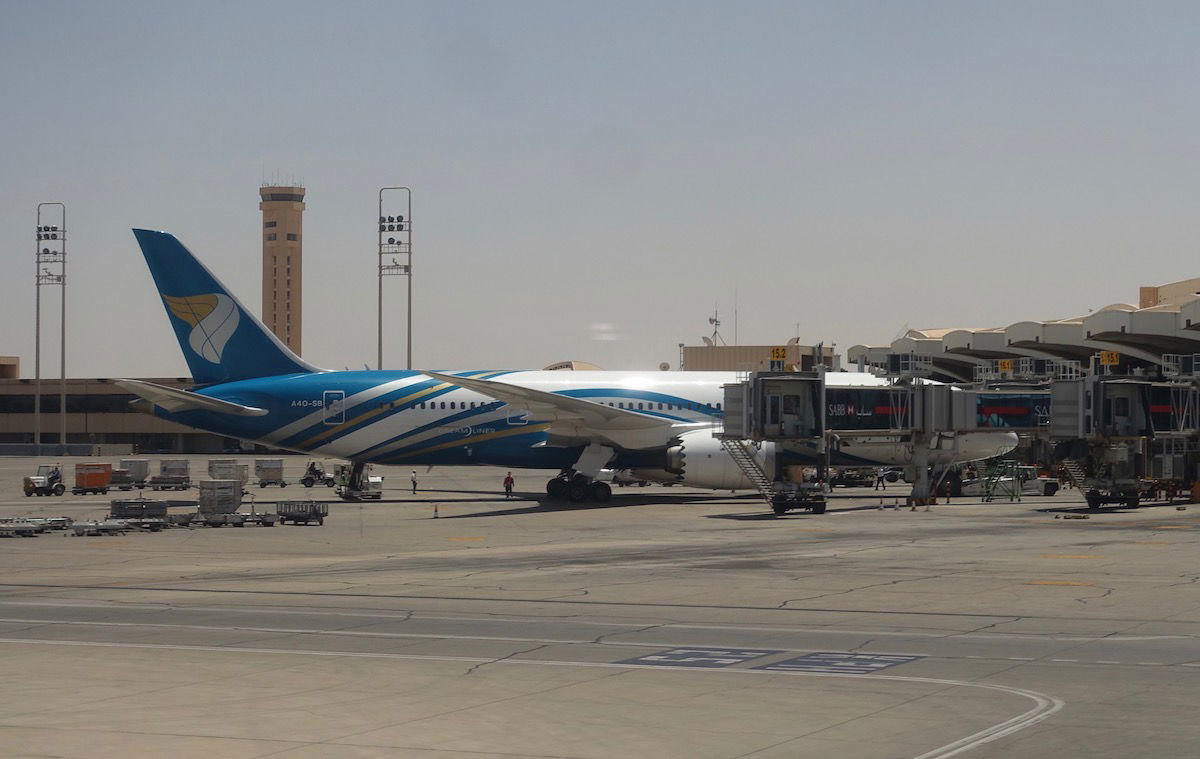 Oman Air 787 Riyadh Airport
We pulled into the fairly quiet terminal at 12:40PM, and a few minutes later I was off the plane.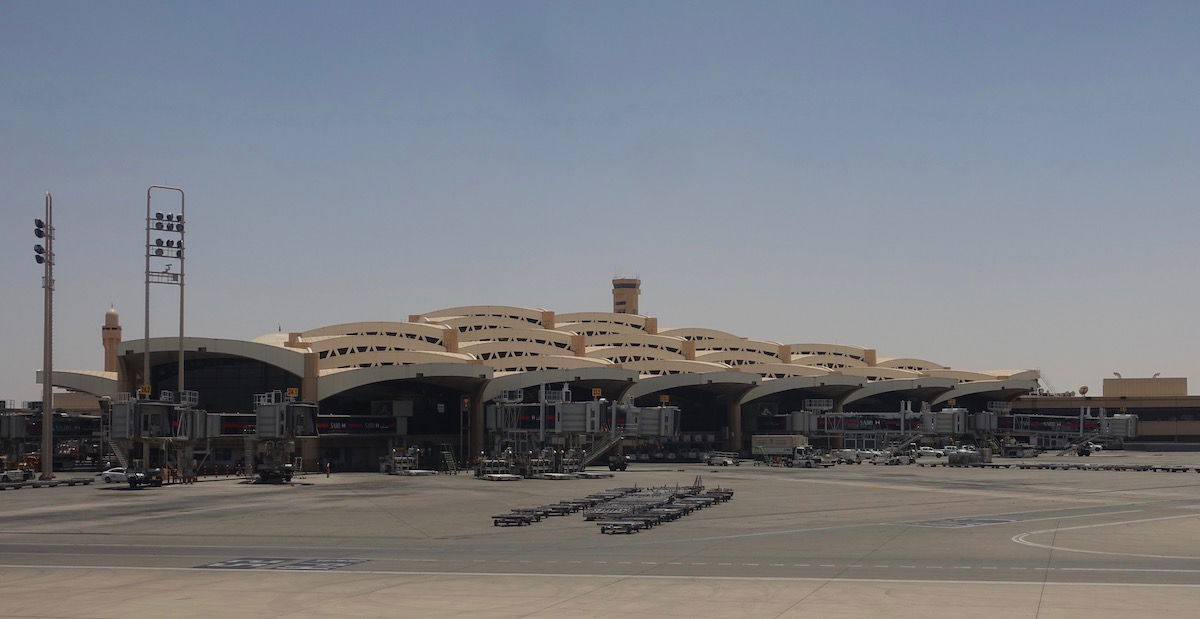 Arrival gate Riyadh Airport
Saudia first class bottom line
It would be an understatement to say that Saudia exceeded my expectations. What a pleasant surprise. Saudia has gorgeous new first class suites with great amenities and excellent catering. Furthermore, the crew on my sector was excellent.
There are certainly some areas where they could still improve — they could have better bedding, better hot beverages, and I do wish they didn't have OnAir Wi-Fi, but I guess that's tough to change at this point. But overall I found Saudia's first class to be excellent, which I wasn't expecting.
Saudia was recently rated by Skytrax as the world's most improved airline, and I can see why.