Introduction: A Quick Jaunt On Saudia, Jet, And Tunisair
Review: Korean Air First Class Lounge New York JFK Airport
Review: Saudia First Class 777-300ER New York To Riyadh
Review: Saudia First Class Lounge Riyadh Airport
Review: Saudia First Class 777-300ER Riyadh To Dubai
Review: Hyatt Regency Dubai Creek Heights
Review: Marhaba Lounge Dubai Airport
Review: SkyTeam Lounge Dubai Airport
Review: Jet Airways Business Class 737 Dubai To Mumbai
Review: GVK Lounge Mumbai Airport
Review: Jet Airways First Class 777-300ER Mumbai To London
Review: Yotel London Heathrow Terminal 4
Review: SkyTeam Lounge London Heathrow Airport
Review: Tunisair A320 Business Class London To Tunis
Review: Sheraton Tunis
Review: Tunis Airport Lounge
Review: Tunisair Business Class A330 Tunis To Montreal
---
Tunisair 791
London (LHR) – Tunis (TUN)
Tuesday, June 13
Depart: 5:55PM
Arrive: 8:50PM
Duration: 2hr55min
Aircraft: Airbus A320
Seat: 4A (Business Class)
As is common in the region, this flight was operated by an aircraft with a short-haul business class product, where business class is simply an economy seat with a blocked middle seat and better service. The only problem was that as I boarded I noticed that my seat, 4A, was actually behind the curtain that separates business class from economy. The curtain was behind row three, so I made the crew aware of this, and they quickly moved the partition back by a row, which only took a moment.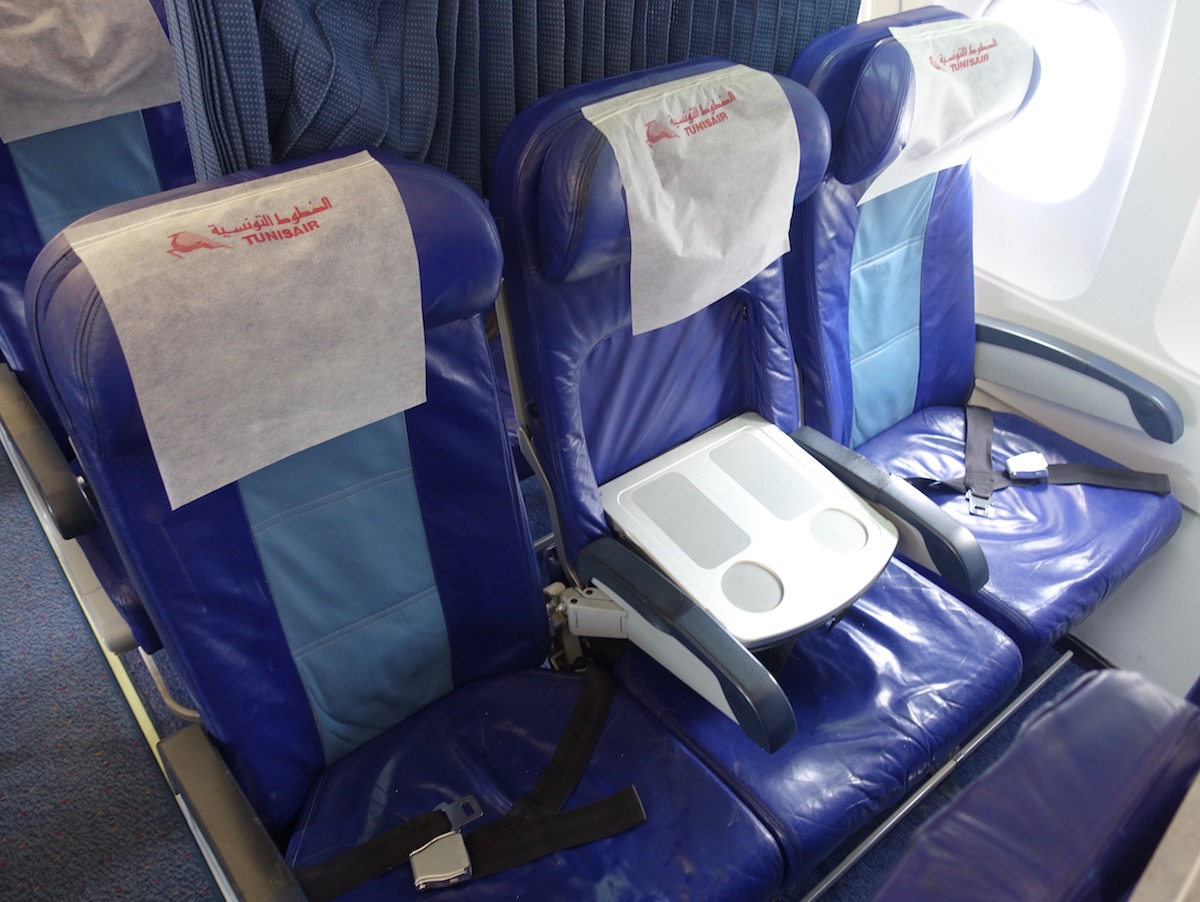 Tunisair A320 business class seats

Tunisair A320 business class cabin
On the plus side, I found Tunisair's legroom to be excellent for an economy seat. Maybe I've just been flying too many airlines with slimline seats that have 29-30″ of pitch lately, but by comparison the seat was downright roomy, and also had excellent padding.

Tunisair A320 business class seats

Tunisair A320 business class legroom
As you'd expect, the middle seat had a tray table that folded out.

Tunisair A320 business class blocked middle seat
Boarding was pretty quick, and by 5:45PM the cabin door closed. Initially there were eight people in business class, and I had all of row four to myself. However, the captain came into the cabin and upgraded someone (maybe her husband?) from economy when the door closed, and he was seated in the aisle across from me. The captain then made a brief welcome aboard announcement, and informed us of our flight time of 2hr30min.
By 5:55PM we began our push back, and five minutes after that we began our taxi. At this point the crew did a manual safety demonstration.
The taxi to the departure runway was super quick. We just crossed runway 27L, and by 6:10PM we were cleared for takeoff on runway 27R.

Taking off runway 27R London Heathrow
Our takeoff roll was quick, and we had some great views of the airport after takeoff.

View after takeoff from London Heathrow

View after takeoff from London Heathrow

View after takeoff from London Heathrow
Just a couple of minutes after takeoff, two people moved up from economy to business class. While the crew didn't explicitly come and get them, they seemed to know the crew, and the crew acknowledged them as they moved up. They proceeded to talk really loudly the entire flight.
About 10 minutes after takeoff the seatbelt sign was turned off.

View after takeoff from London Heathrow
At that point the purser came and sat on the armrest of the aisle seat on my side, and proceeded to chat with the guy who had been upgraded earlier for the first hour of the flight.

Attentive service in Tunisair business class
About 15 minutes after takeoff the crew brought out tray liners and landing cards for Tunisia.

Tunisair business class tablecloth
The gentleman who had been upgraded was served his meal right away, though I wasn't offered anything. After not having been served anything for the first hour, I went to the lavatory, and saw the other flight attendant sitting in the galley playing with her phone. We made eye contact, and based on her reaction it was clear she didn't realize I was even in the cabin. Then before I could even return to my seat, my meal was on my tray table.
For what it's worth, the lavatory was clean but basic.

Tunisair A320 business class lavatory
The food quality was actually really good, though I find it annoying when airlines don't take the plastic wrapping off the tray. I get that maybe it's intended to show that the food was stored in a hygienic way, but personally I think crews should always take this stuff off before serving (do others feel differently?).
Below is what the meal looked like without the plastic.
There was a delicious Tunisian appetizer — I'm not sure what exactly everything was, but it tasted great.

Tunisair business class meal — appetizer
Then there were some sweets as well as a cheese plate.

Tunisair business class meal — appetizer

Tunisair business class meal — cheese plate
Rather than first letting me finish the appetizer, the flight attendant also immediately brought out the main course, which offered a choice between fish or beef. I selected the fish, and it was great as well.

Tunisair business class meal — main course
The food quality was excellent, among the best I've had for a short-haul flight out of Europe. Unfortunately, though, the crew was nowhere to be seen. The guy who had been chatting with the purser for the first hour of the flight was now in the galley chatting with both of the flight attendants, so they were too busy to provide any service.

Tunisair A320 business class cabin
Finally a bit over 30 minutes later they cleared the trays.

Tunisair business class tray not being cleared
When they did, I asked for a cup of coffee, and some more water.

Tunisair business class meal coffee
A few minutes later we began our descent, at which point they gave each passenger a plate with a few dates.
By 8:30PM the seatbelt sign was turned on, and 10 minutes later we had a very rough landing in Tunis. From there it was a five minute taxi to our remote stand.

Tunisair A320 on arrival in Tunis
On the plus side, they had a separate bus for business class passengers, so we didn't have to wait long.
Immigration was an interesting experience. The officer seemed rather suspicious of me, asked what I did, spent quite a while going through all my passport pages, etc. Eventually he let me through, but then a couple of minutes later he chased me to the customs hall, where he asked again what I did for work. He again looked through my passport, and then motioned that I was free to go.
In the arrivals hall I was met by someone from the Sheraton, who would drive me to the hotel.
Tunisair A320 business class bottom line
For a short-haul product departing Europe, I found the seats to be quite comfortable, and the food to be excellent. However, unfortunately the service was terrible. The crew was much more interested in talking to one passenger than providing any service. It's a shame, because it would have been a great flight otherwise.