For those of us obsessed with miles & points, I think it goes without saying that the goal is to redeem miles at the saver level whenever possible. The thought of redeeming any other way almost makes me sick to my stomach.
Of course we're in the minority, given that a vast majority of people are using their transferrable points for "pay with points" travel purchases, or even worse, merchandise. Both of those redemption options are generally yielding a return of a cent per point or less.
While the goal is to redeem at the saver level, in some instances that just isn't practical, so I think it's worth examining instances where redeeming miles at the "standard" level doesn't represent a horrible value. I think Singapore KrisFlyer is one of those programs.
Why I like Singapore's KrisFlyer program
Singapore KrisFlyer is one of my favorite frequent flyer programs for a variety of reasons, including:
You can transfer points to KrisFlyer from Amex Membership Rewards, Chase Ultimate Rewards, Citi ThankYou, and Starwood Preferred Guest
KrisFlyer is the only way to book most first & business class award tickets on Singapore Airlines
KrisFlyer's saver level award rates for travel on Singapore Airlines are very reasonable
KrisFlyer has generous change & cancellation policies, making it easy to lock something in and then change it later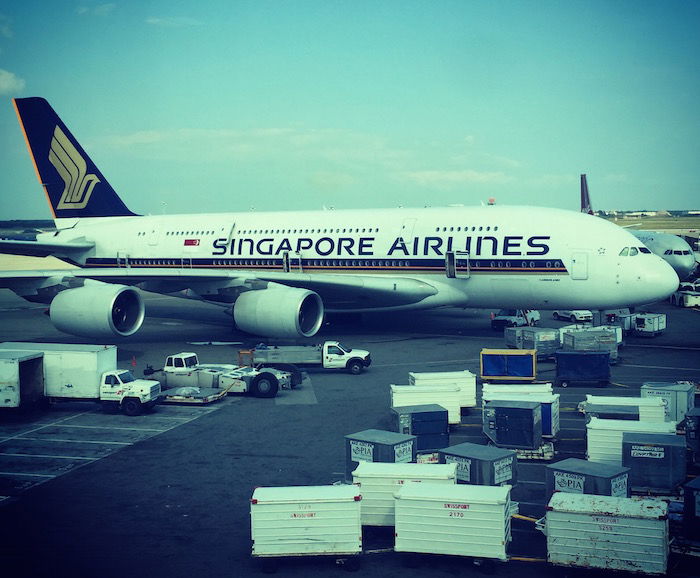 Redeeming for first class saver awards can be tough
If you've tried to redeem miles for Singapore first class at the saver level lately, you may have noticed that space is pretty tough to come by. It's certainly not impossible, but one of the main challenges is that Singapore's new 777s feature just four first class seats, meaning there's rarely saver level space on those planes in advance (which I can't blame Singapore for).
Singapore recently simplified their award structure. Previously they had saver, standard, and full awards. Saver awards were cheap, standard awards were more expensive, and full awards were outrageously expensive.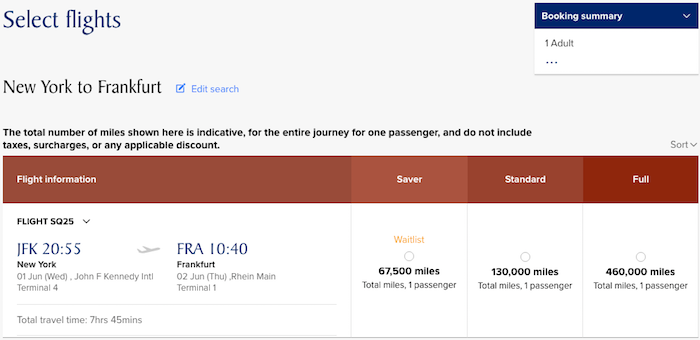 Now they just have saver and standard awards, meaning the outrageously priced awards have been eliminated as an option. While not for everyone, I do think it's worth examining the standard level premium cabin award costs, because in some cases they're not that bad.
How expensive are Singapore KrisFlyer standard awards?
Just to give a few examples, factoring in the 15% discount you receive for booking awards through Singapore's website…
A one-way standard first class award from San Francisco to Hong Kong costs 136,000 KrisFlyer miles.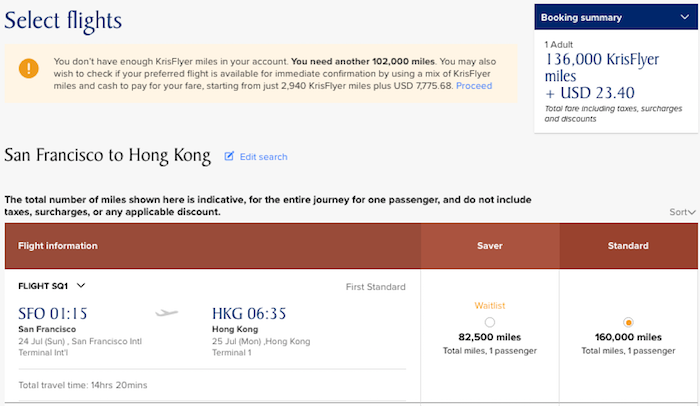 A one-way standard first class award from Los Angeles to Tokyo costs 144,500 KrisFlyer miles.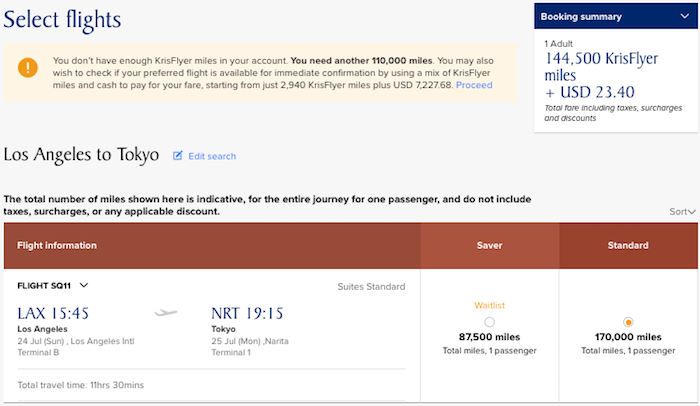 A one-way standard first class award from New York to Frankfurt costs 110,500 miles: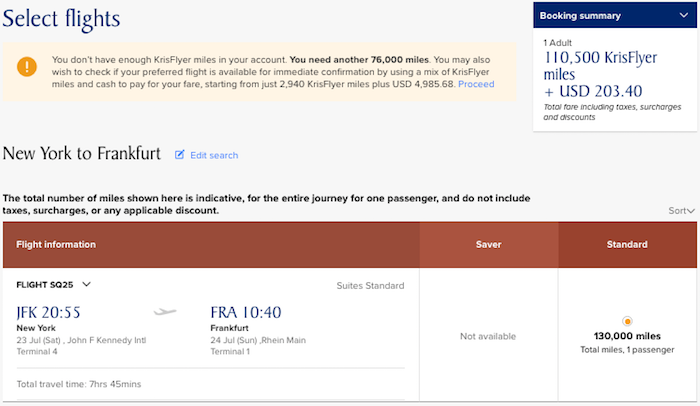 Singapore also recently announced a new nonstop flight between San Francisco and Singapore, which will be operated by an A350 without a first class cabin. I haven't seen any saver level award space on the flight, but a standard award costs 102,000 KrisFlyer miles.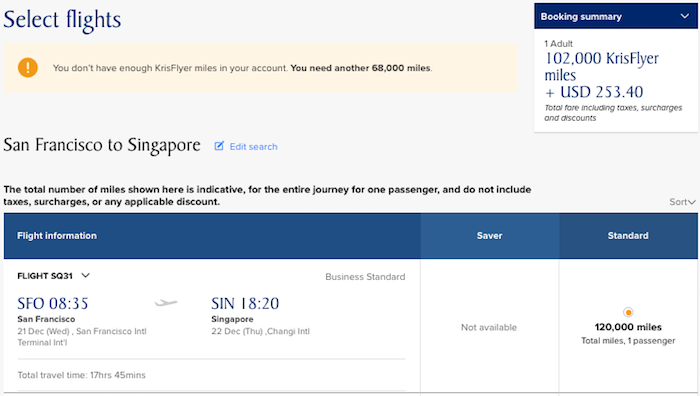 In many cases the standard award costs aren't much higher than the saver award costs charged by other airlines.
For example, United MileagePlus charges 110,000 miles for Lufthansa first class between New York and Frankfurt, while that same route is bookable on Singapore Airlines through KrisFlyer at the standard level for 110,500 KrisFlyer miles plus some fuel surcharges, with much better availability.
American AAdvantage charges 110,000 miles for Cathay Pacific first class between San Francisco and Hong Kong, while that same route is bookable on Singapore Airlines through KrisFlyer at the standard level for 136,000 KrisFlyer miles.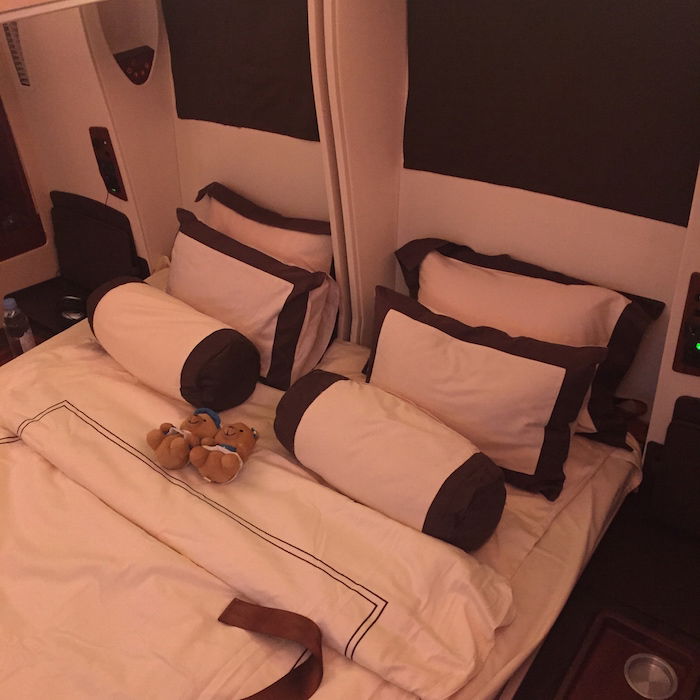 Singapore Airlines A380 Suites Class
Bottom line
I'm not suggesting anyone should run and make a bunch of standard KrisFlyer award bookings because they're such an incredible value. Rather I'm suggesting that there's merit to booking KrisFlyer standard awards under certain conditions, like:
If you're traveling during peak times and/or really need to be somewhere, and are otherwise struggling to find saver level space
If you're someone who values the convenience of booking a direct flight and locking it in, rather than trying to tweak a ticket as the departure date approaches
If you have tons of points spread across multiple transferrable points currencies, since you can pool them all with KrisFlyer
Keep in mind that a majority of people redeeming miles for premium cabin awards aren't doing so at the saver level. Yes, there are lots of people out there actually redeeming 400,000+ miles for roundtrip business class in mediocre products. For those people, KrisFlyer standard awards represent a much better value.
Have you ever booked a non-saver level award, and if so, through which program?