In the interest of full disclosure, OMAAT earns a referral bonus for anyone that's approved through some of the below links. These are the best publicly available offers (terms apply) that we have found for each product or service. Opinions expressed here are the author's alone, not those of the bank, credit card issuer, airline, hotel chain, or product manufacturer/service provider, and have not been reviewed, approved or otherwise endorsed by any of these entities. Please check out
our advertiser policy
for further details about our partners, and thanks for your support!
One of the key benefits of the World of Hyatt Credit Card is the free anniversary night credited to your account every year at a Category 1 through 4 Hyatt property.
While the most aspirational Hyatt properties are often at least a Category 5 and typically Categories 6 or 7, there are still some great gems in the Category 1 through 4 lineup, such as the Andaz Peninsula Papagayo Resort in Costa Rica, the Park Hyatt in Saigon and the Park Hyatt in Siem Reap, and both of the main Hyatt properties in Seattle, the Hyatt at Olive 8 and the Grand Hyatt Seattle.
My husband and I each have the Hyatt Visa and find it's a great way to get a solid two-night getaway a year when we combine our anniversary nights. This summer, we're planning on heading up to Seattle, so I hopped on to the Hyatt website to see if I could book our anniversary night online.
I found it a bit curious that every single weekend night this summer I searched for availability at the Hyatt at Olive 8 returned error messages.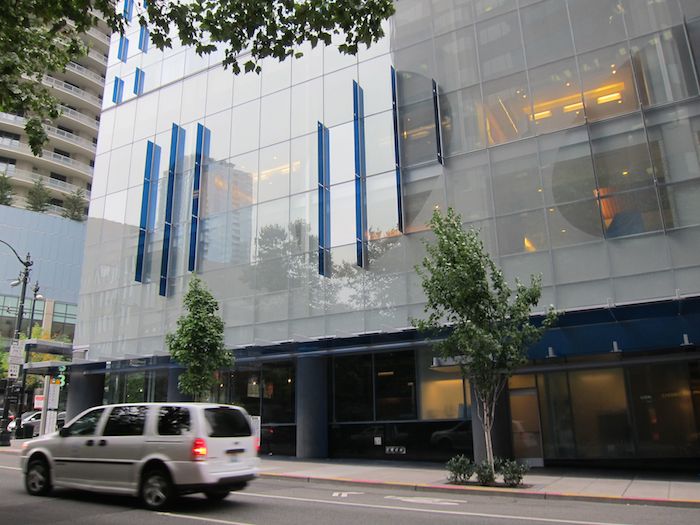 First weekend of August…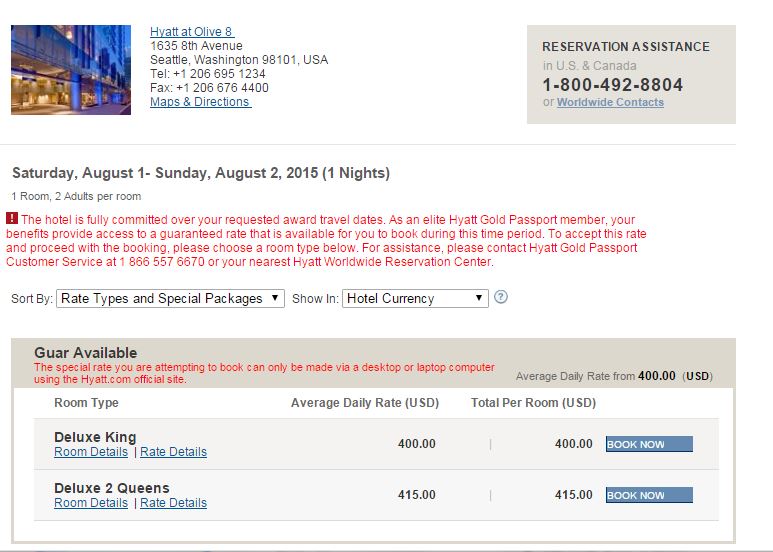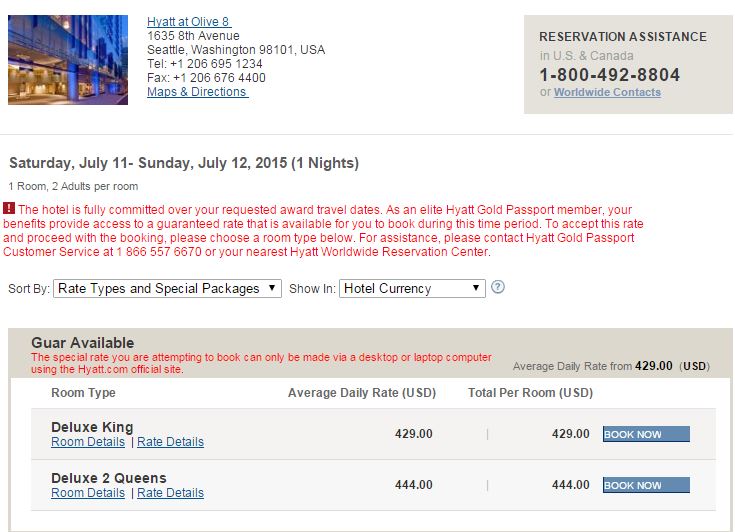 …and every weekend I tried in June.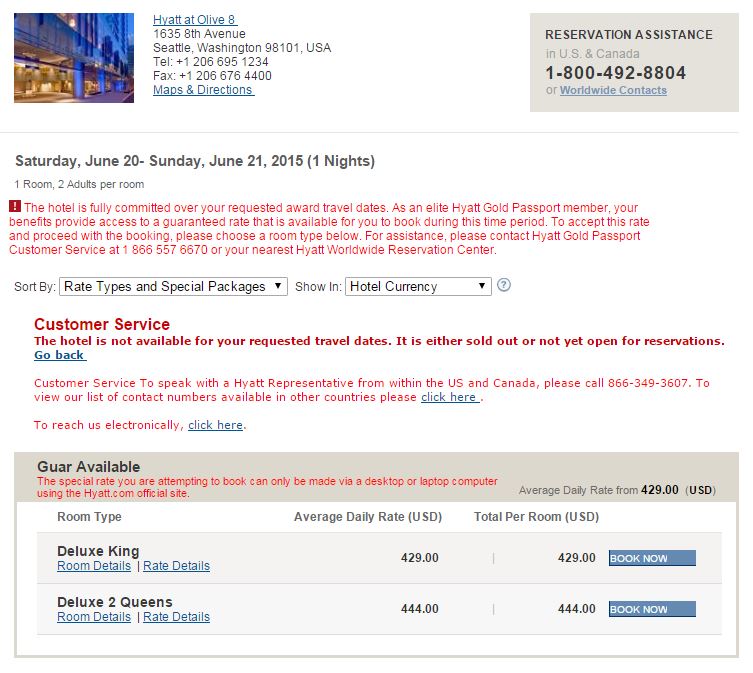 Wow! It must be pretty popular on the weekends. So what about during the week?
I tried a Wednesday in June.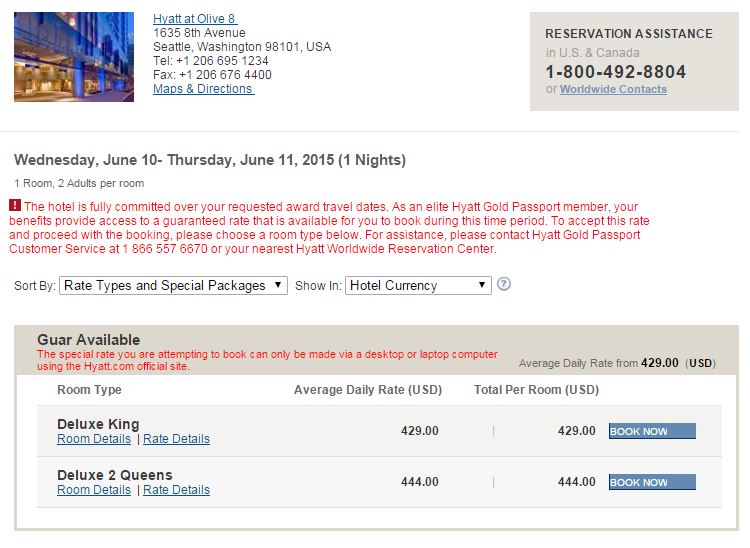 I tried a Monday in July.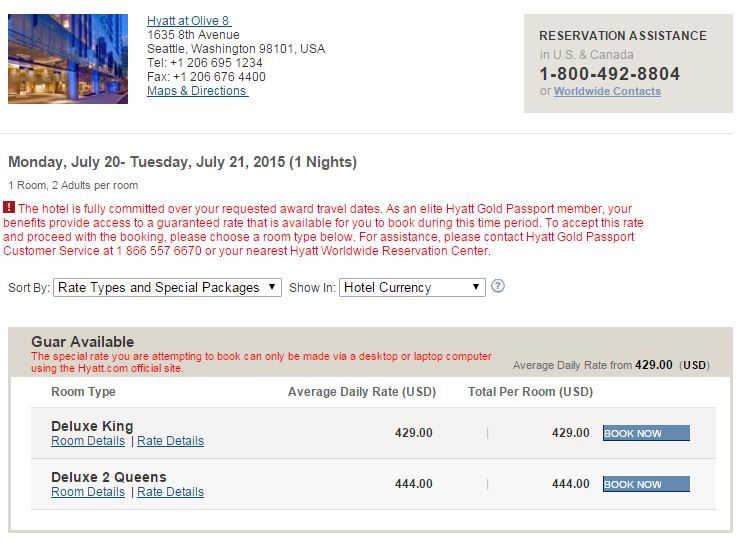 I tried a Sunday night in August.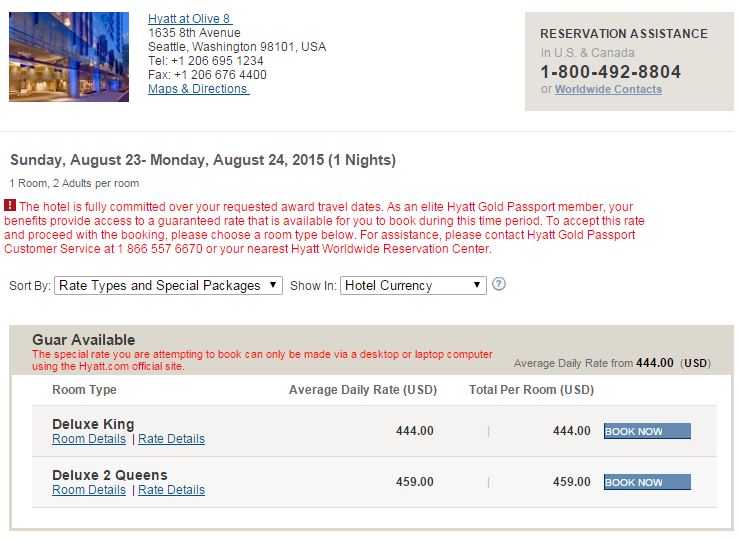 So when is the first room available using a Hyatt award at the Olive 8?
It's not Monday, August 31, that's for sure: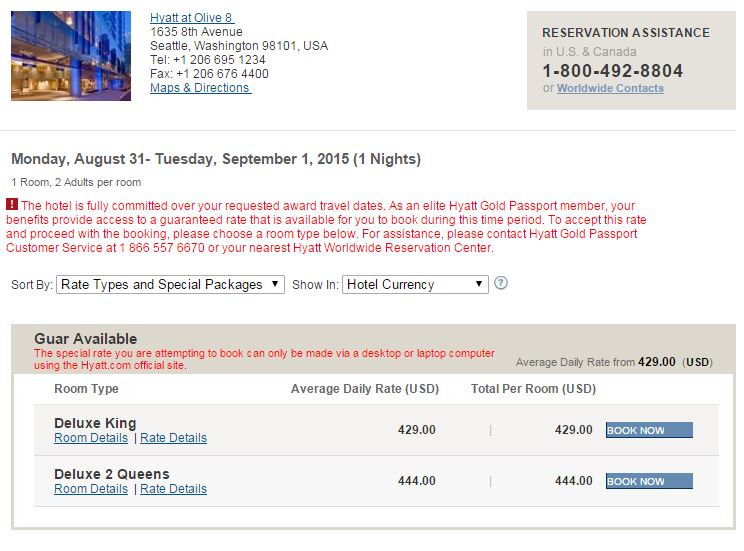 If you guessed September 1, 2015, you're on the money.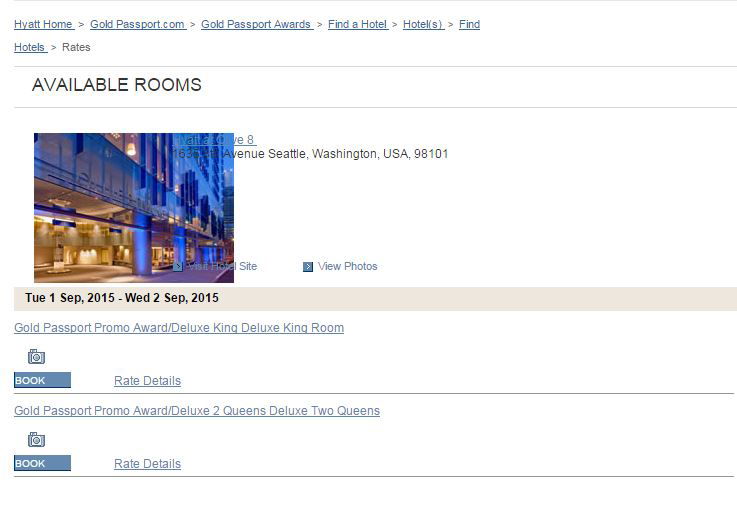 The Hyatt Olive 8 is wide open in September, in fact, even on the weekends.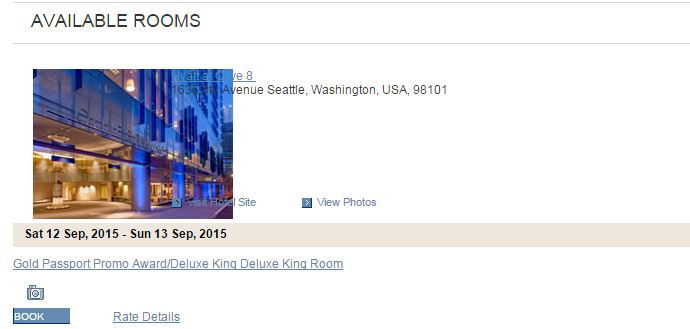 Now, to be clear, these shenanigans aren't just limited to anniversary nights on the Hyatt Chase Visa.
The Hyatt at Olive 8 seems to be blocked for all award bookings through the summer using Gold Passport points, too.
For instance, here's the error message you'd get if you were to try and book a random Tuesday in July using your Gold Passport points.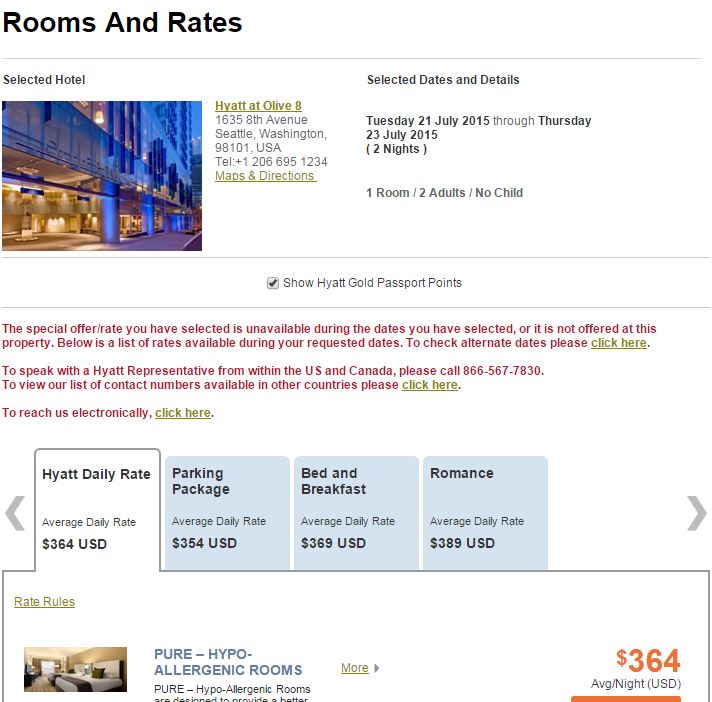 What gives, Hyatt?
To make sure this wasn't a computer system error, I called Gold Passport and they confirmed that rooms at the Hyatt at Olive 8 were unavailable for award redemption all summer long.
Let's be clear: when the Park Hyatt New York tried to pull these shenanigans, they could at least claim they were sold out of their (scant amount of) award-level rooms.
The Hyatt at Olive 8 has deluxe rooms you can pay for. Just not deluxe rooms you can use your awards or redeem Gold Passport points for.
The Deluxe Rooms Are NOT Sold Out
You'll notice that in each of the error messages above, Hyatt has generously offered a "GUAR AVAILABLE" rate available only to elite Gold Passport members which essentially forces a basic deluxe room category into availability when none are bookable. As you can see, these are "generously" being offered at $400 and up a night.
What this is supposed to mean is: "We are so sorry that our hotel is really fully committed in this room category, but because you're an elite member of Gold Passport we will move heaven and earth to get you a room."
Except this isn't the case at all.
Let's make a dummy booking for the weekend of July 31st through August 2nd.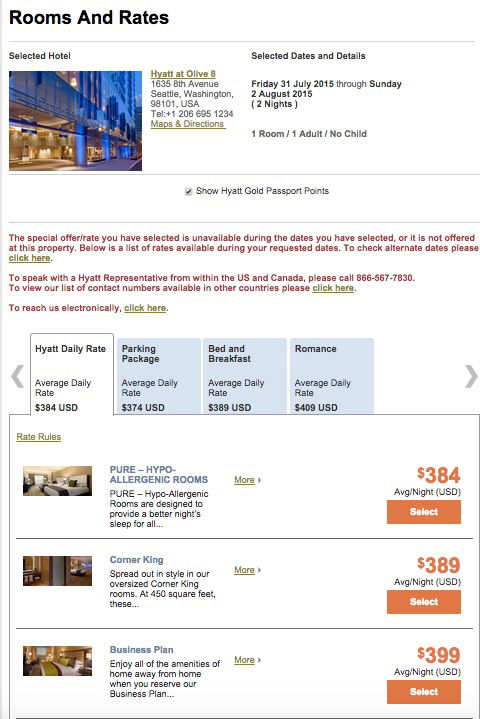 "You see," the folks at Gold Passport will tell you, "there are no Deluxe Rooms for sale at the Hyatt Daily Rate. Therefore we simply can't offer you an award night."
That seems strange, but you know what seems stranger? Look at the tab for "Parking Package," starting at $374 a night — $10 cheaper than the so-called "Daily Rate."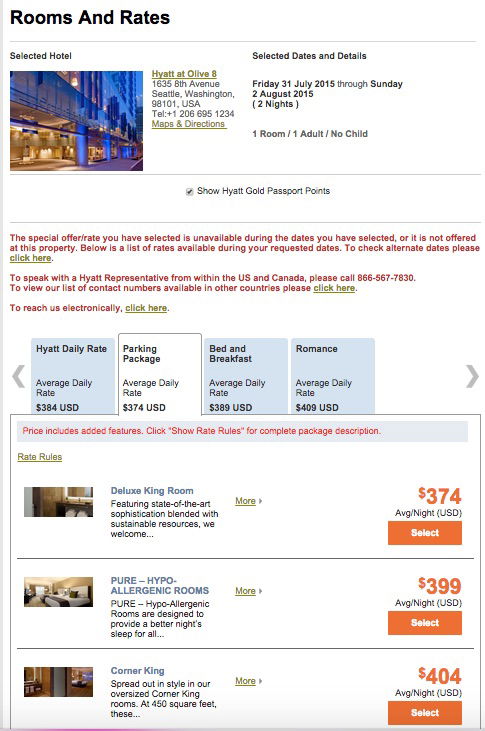 Oh, look! A deluxe room! At $374 a night, which, incidentally, includes parking!
How about the "Bed and Breakfast" package?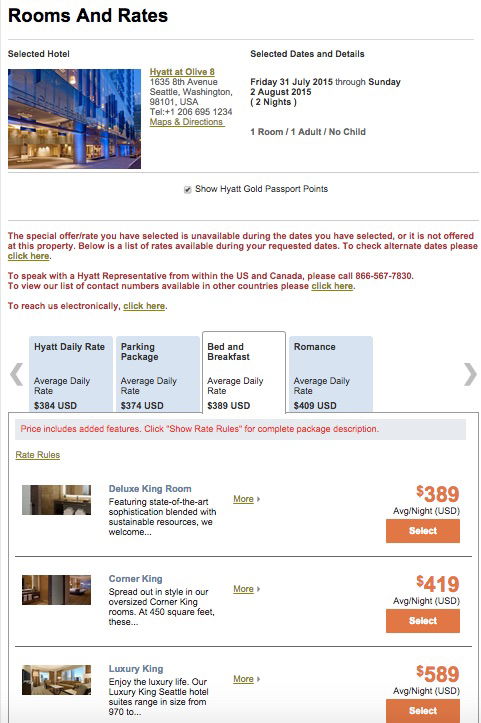 Why, there's another Deluxe King Room, hiding in plain sight!
Don't be fooled. This is some shady, shady behavior.
Hyatt has plenty of Deluxe King rooms available at the Hyatt at Olive 8 this summer, but they're only selling the rooms as part of specialty packages. Specialty packages which are actually cheaper than the daily rate. Specialty packages which, coincidentally, are not bookable using Gold Passport redemptions or Chase Hyatt Visa award nights.

There's no other explanation for this other than an outright manipulation of the Gold Passport program to screw over loyalty members and Chase Hyatt Visa cardholders in hopes of getting more paying-out-of-pocket customers during the summer tourist season.
While Ben's noted — in the past — that the Hyatt Gold Passport program is a step above the other hotel loyalty programs in terms of respect for its customers, that's clearly not the case anymore.
Gold Passport appears to be taking cues from FIFA as far as ethical standards are concerned.
These Shenanigans Are Devaluing Your Gold Passport Points
There's no way around it: whatever is going on at the Hyatt at Olive 8 is a straight-up devaluation of your Hyatt Chase Visa and of the Gold Passport program generally.
What the Hyatt at Olive 8 is basically saying is: "sorry, if you want to stay with us this summer, you have to pay for it out of your own pocket. But come back September 1st and we'll roll out the welcome mat for you."
It used to be the anniversary night was a phenomenal benefit of the Hyatt Chase Visa. Then some hotels starting moving up categories. The Andaz West Hollywood is now a Category 5, and no longer attainable as an anniversary night hotel.
If you want to use a Chase anniversary night to stay in New York, you may as well just stay at the New York-New York Hotel and Casino (a Category 4): there are no properties in Manhattan lower than Category 5 – not even a Hyatt Place.
Now, evidently, on the Category 1 through 4 properties that do remain, you better not want to redeem any free nights at a nice hotel. In a popular city. In the summer.
I call bull$#it on this, quite frankly. Hyatt has a lot of explaining to do, as there is simply no denying that the Hyatt at Olive 8 has been purposely "blocked" for the entirety of the summer.
Has anyone seen these kind of shenanigans at other Hyatt properties?