Hello from Munich! After flying from Miami to Casablanca on Royal Air Maroc's new Boeing 787-9, I connected to Munich on one of their 737s. I booked this itinerary for just 44,000 Etihad Guest miles one-way in business class, which I'd consider to be an excellent deal.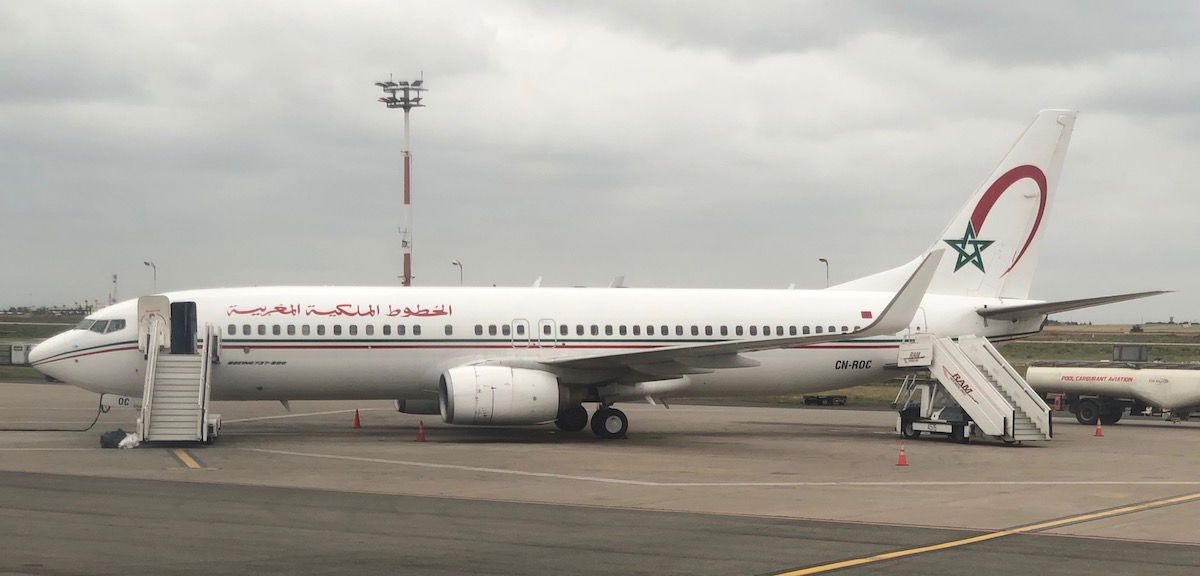 In this post I wanted to share my initial thoughts, and I'll have a full trip report soon.
Royal Air Maroc 737 business class cabin & seats
Royal Air Maroc's 737 business class cabin consists of a total of 12 seats, in a 2-2 configuration. These seats are similar to what you'd find in domestic first class within the US, with a bit more legroom.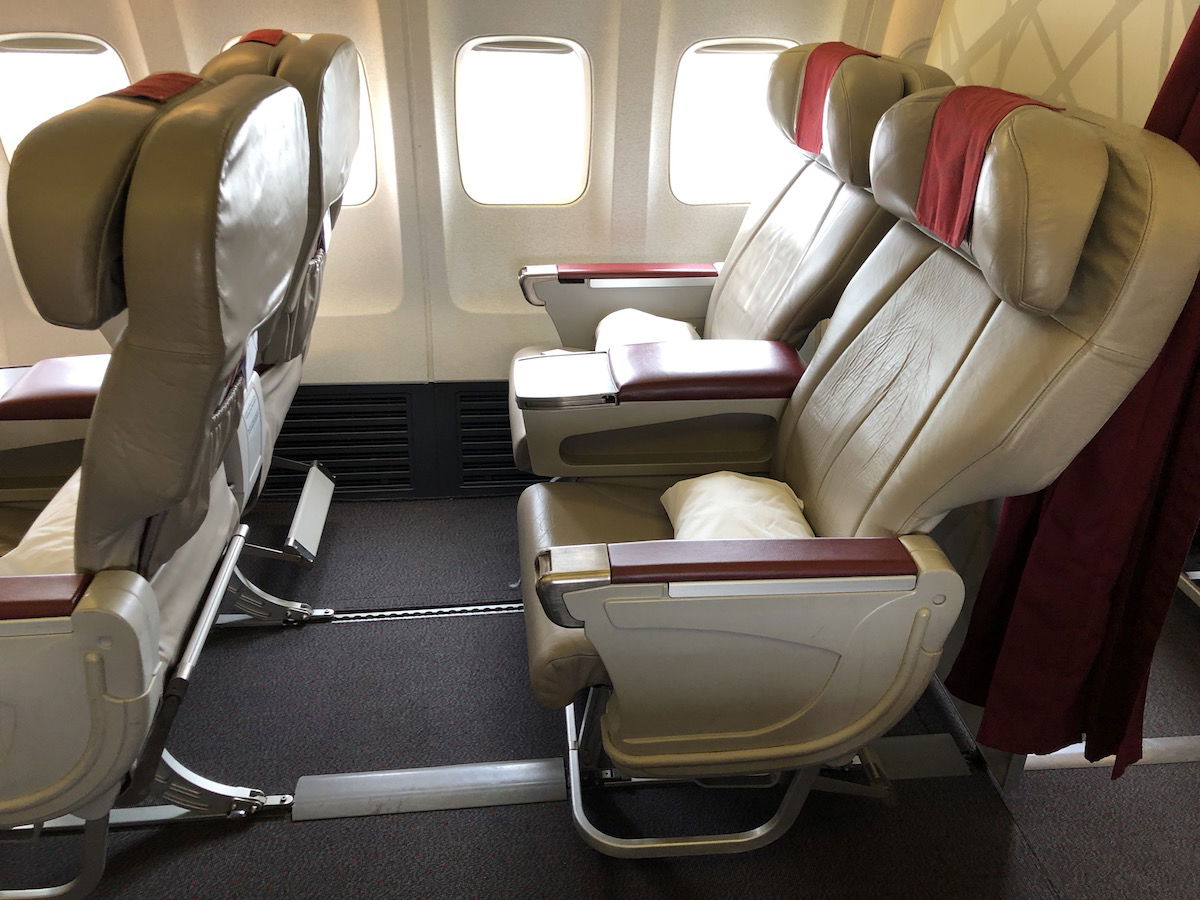 That's a great thing. While Royal Air Maroc is an African airline, in many cases they're competing with European airlines offering their short haul product, which consists of economy with a blocked middle seat. So in that sense Royal Air Maroc is a significant upgrade.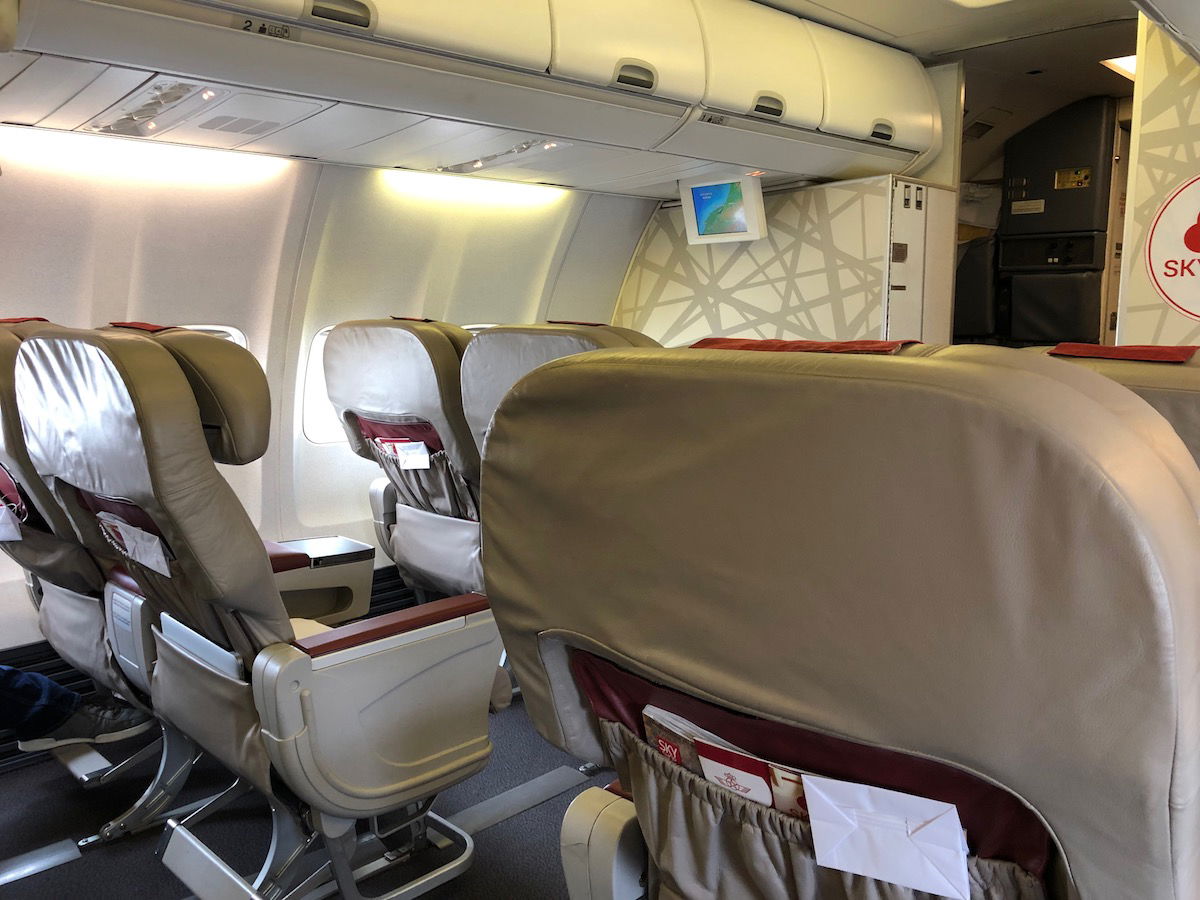 Royal Air Maroc business class food
Royal Air Maroc offers printed menus and a decent enough meal for this roughly three hour flight.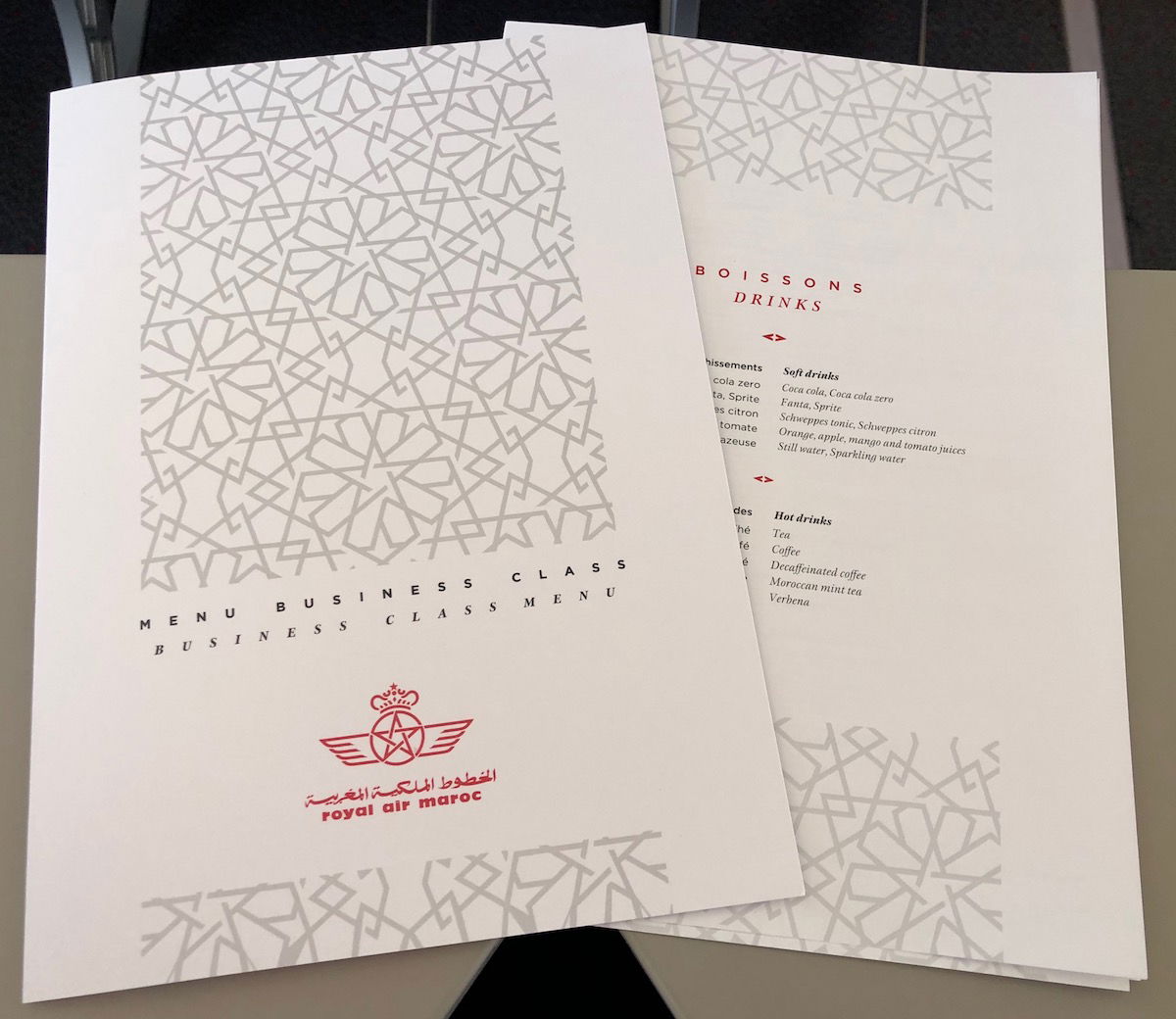 Service began with drinks and packaged almonds. While Royal Air Maroc's only champagne on long haul flights is rose, on short haul flights they instead have Laurent-Perrier brut, which is impressive.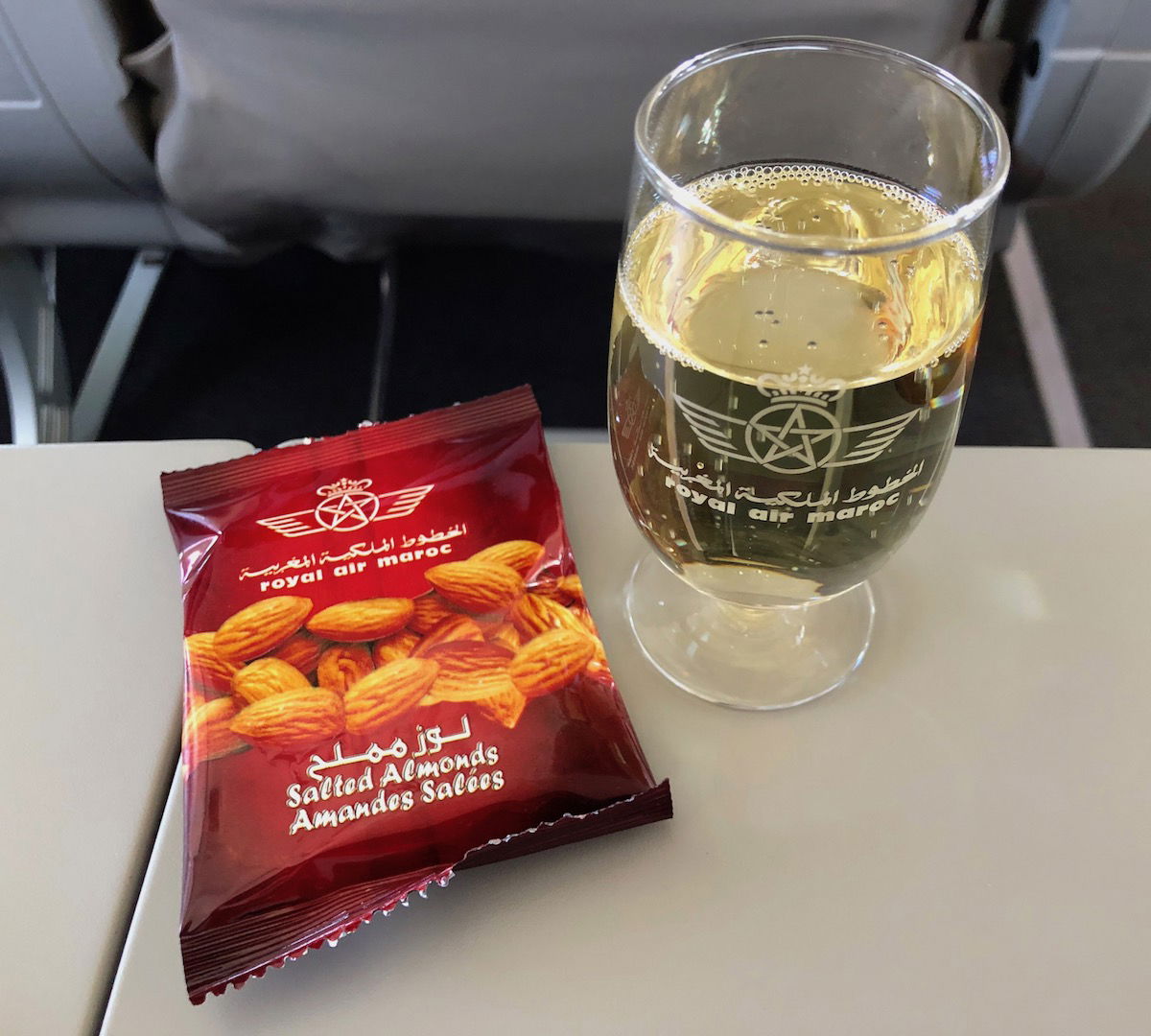 I was served a tray with an appetizer consisting of smoked duck breast, as well as the dessert, which was a praline mille-feuille.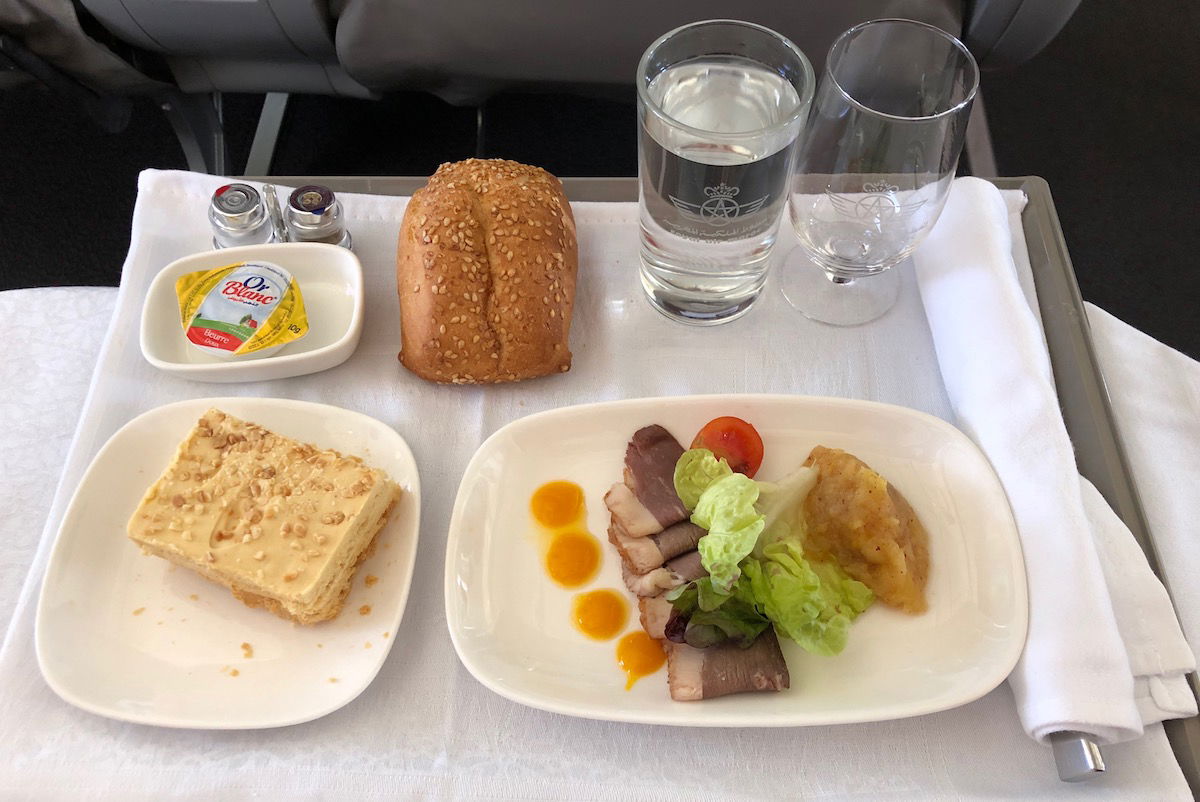 For the main course there were two options, including steamed salmon with rice and vegetables.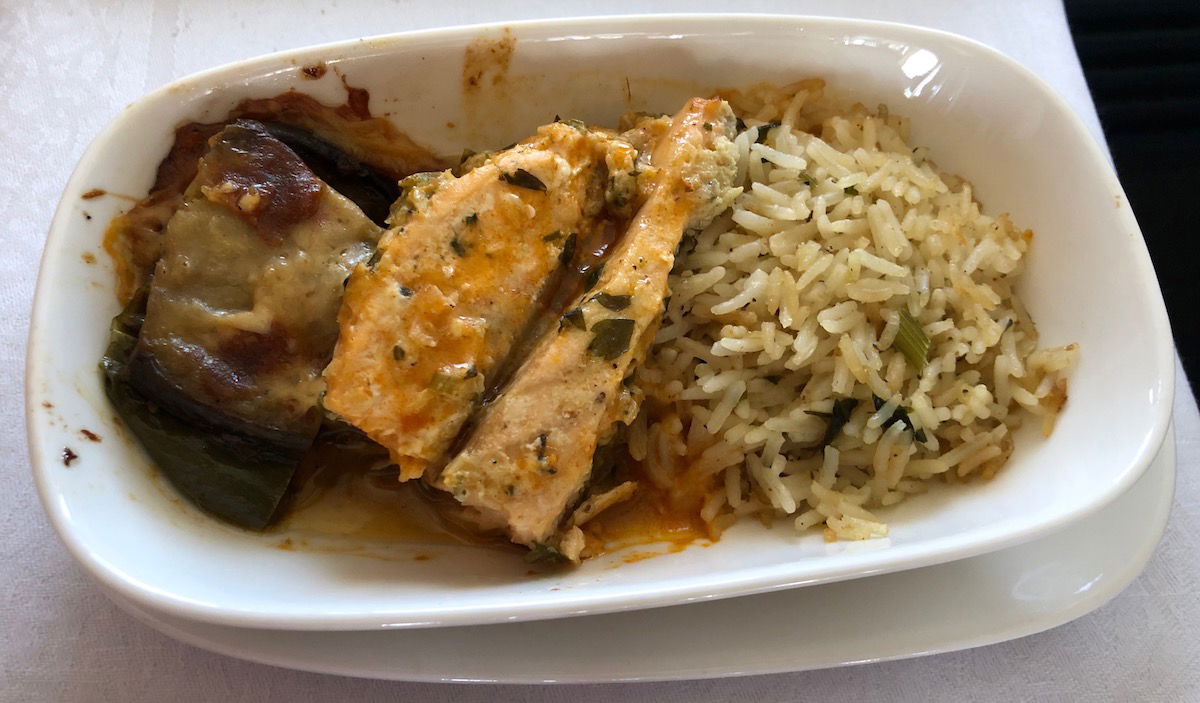 Then a cheese trolley was rolled through the cabin.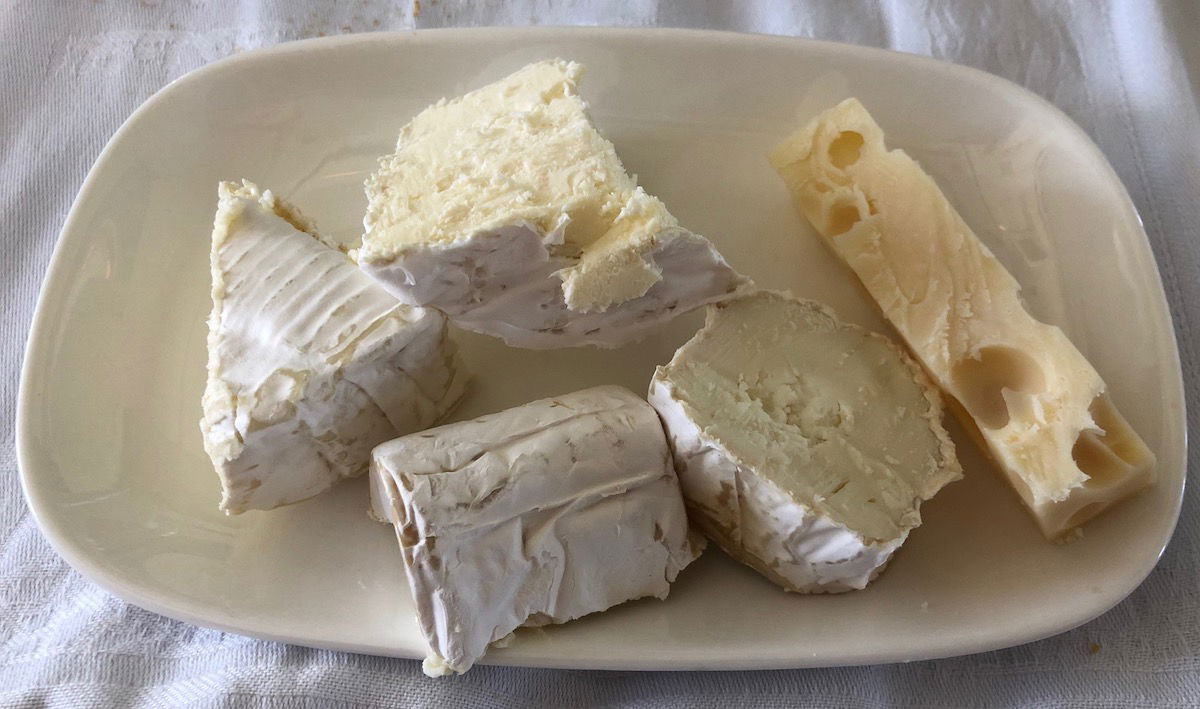 It wasn't the most amazing meal ever, but I'd say it was significantly better than what most European airlines offer on similar flights.
Royal Air Maroc business class amenities
There were no amenity kits or anything on this short flight, but there were pillows and blankets, which were alright.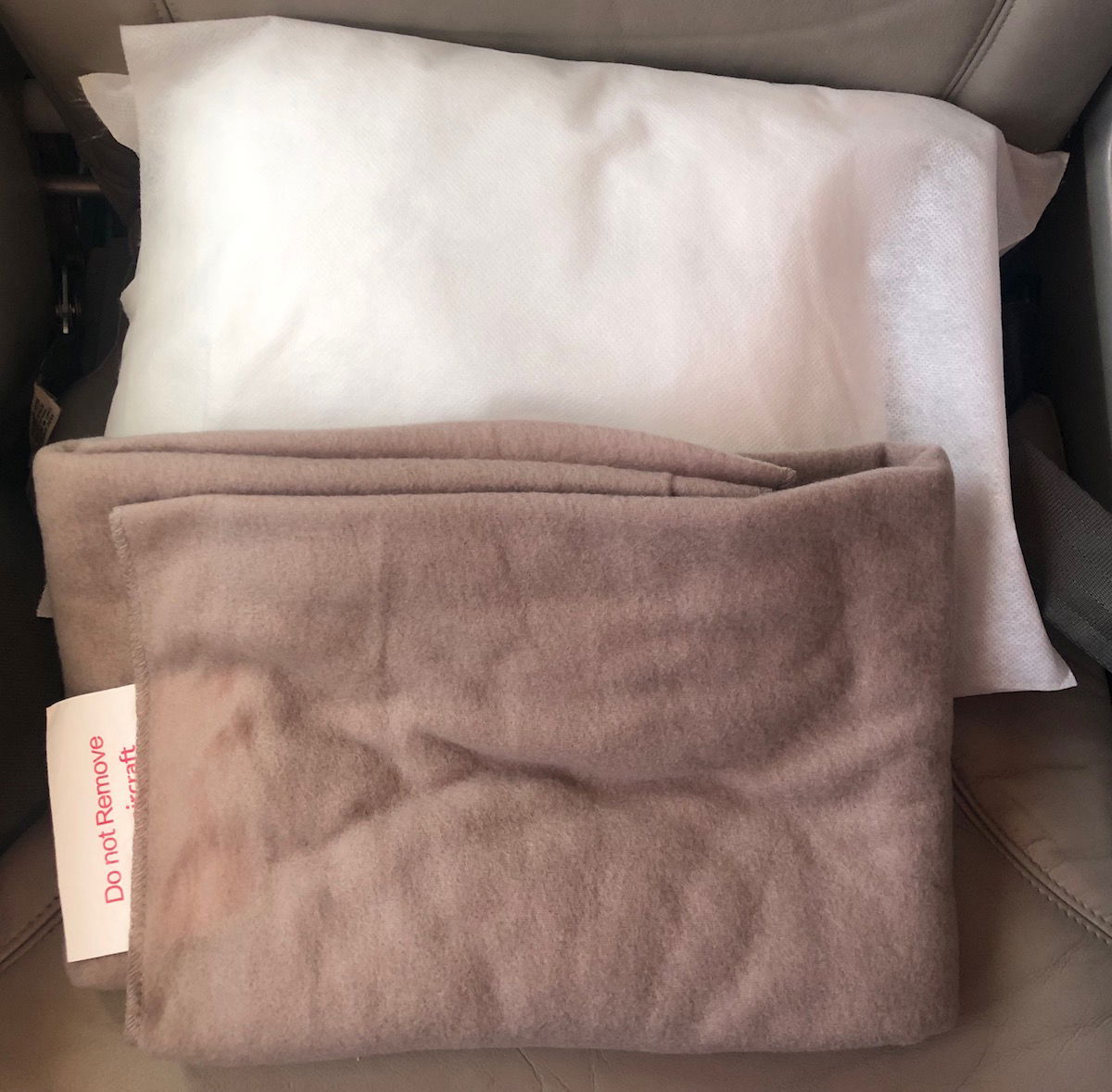 Royal Air Maroc business class entertainment & Wi-Fi
Unfortunately Royal Air Maroc's 737s don't have personal entertainment or Wi-Fi. However, they do have:
Overhead monitors, which alternate between showing films and showing a moving map
An app where you can stream a very limited number of movies and TV shows
My biggest frustration was that this version of the 737 didn't have power ports, so I couldn't charge my electronics.
Royal Air Maroc business class service
There were two flight attendants taking care of the three business class passengers, and the service was consistent with my past experiences on Royal Air Maroc — service was really friendly but also unpolished.
A note about Casablanca Airport
When I wrote about flying Royal Air Maroc yesterday, a few of you commented "I would never fly them again, Casablanca Airport is HORRIBLE." Based on my past experiences I'd agree, but they just recently opened a terminal extension, and the new terminal is such a massive improvement over the old one.
There was no line whatsoever at transit security, and the new terminal extension is even kind of nice.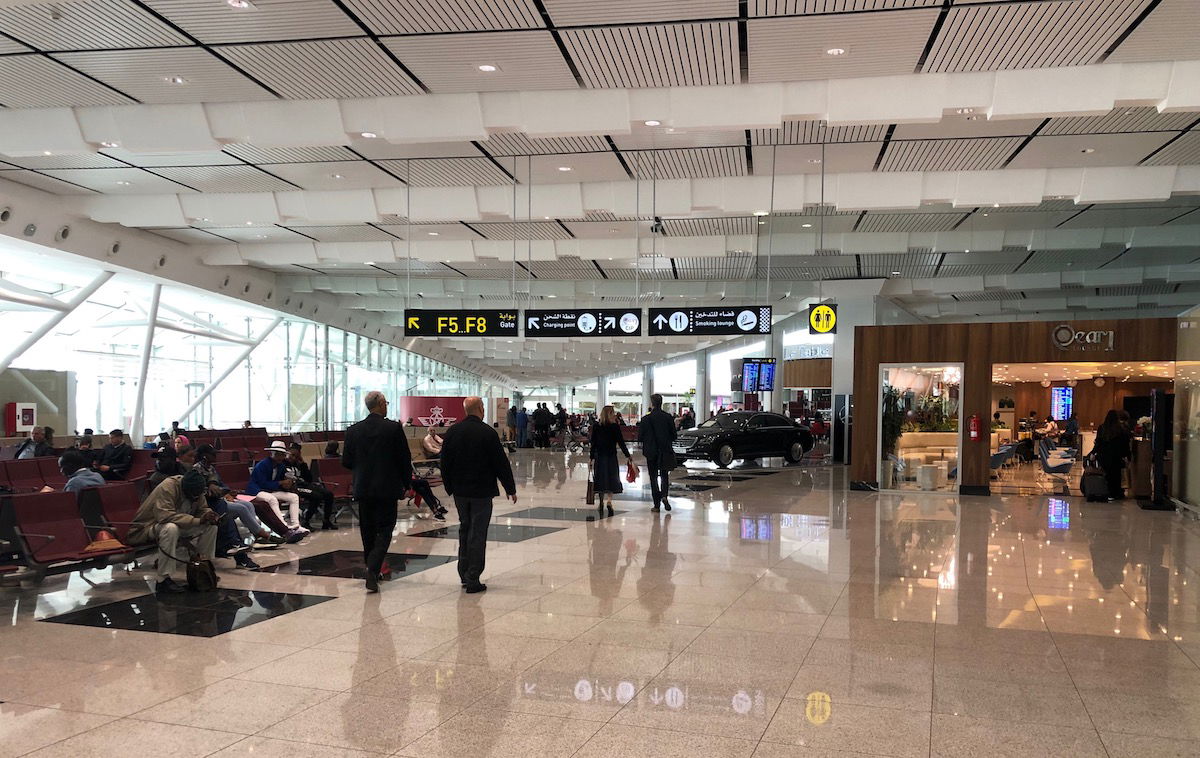 Royal Air Maroc even has a new lounge, which is significantly nicer than the previous one.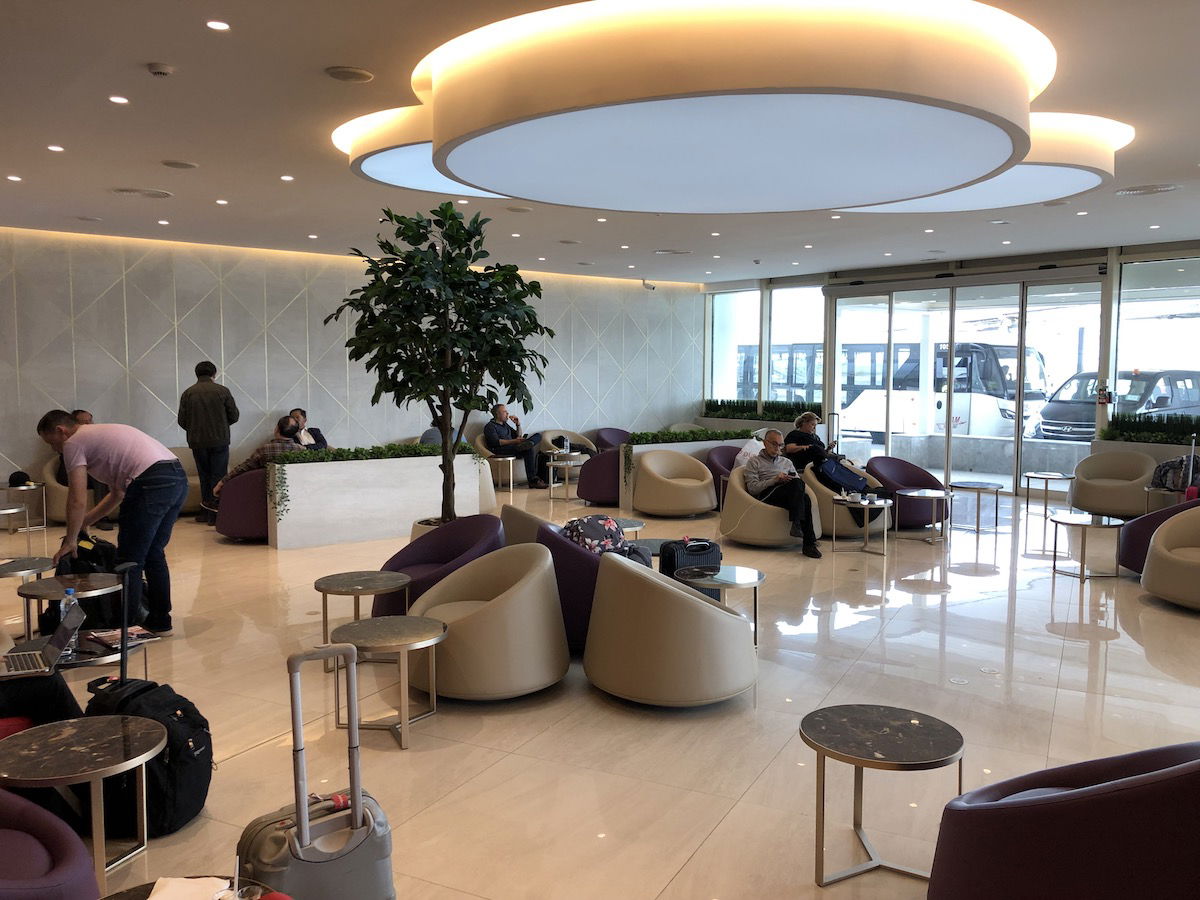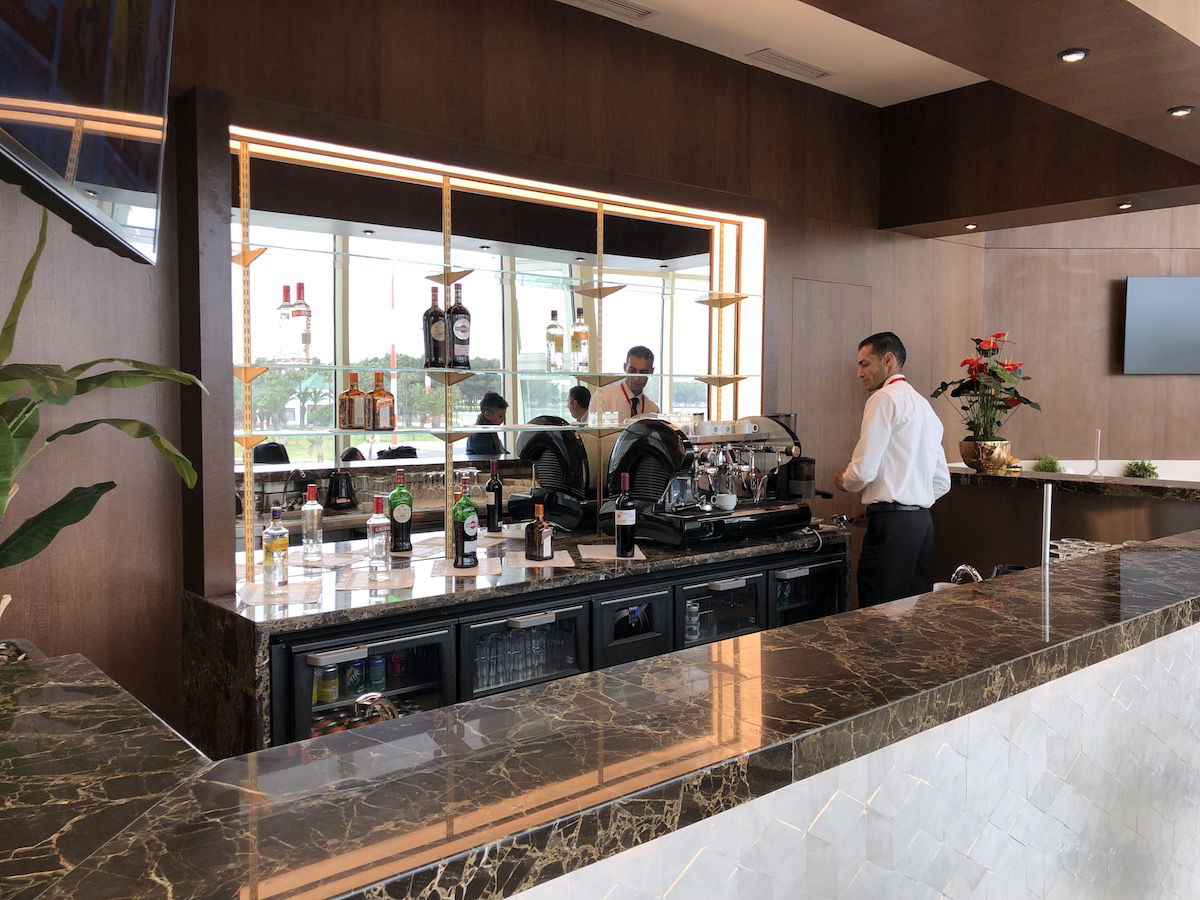 I actually think this is now one of the best airports to connect at in the region.
Royal Air Maroc 737 business class bottom line
Royal Air Maroc offers a solid business class product on their 737s, especially if you're comparing them to the business class products offered by most European airlines offering routes to Casablanca.
Royal Air Maroc has good seats that are comparable to what you'd find in the US, and they also have friendly and well intentioned service, and pretty good food. Just don't expect many frills beyond that.
My only real complaint is that I wish they had power outlets.
If you've flown Royal Air Maroc's 737 business class, what was your experience like?