EXTRA PERKS AVAILABLE
Enjoy breakfast, upgrades, & more
Want to take advantage of Marriott STARS benefits, including a space available room upgrade, complimentary breakfast, a hotel credit, and more? Contact Ford ([email protected]) for more details. He may even be able to help if you already have a stay booked. This is valid for paid stays at BVLGARI, EDITION, Ritz-Carlton, Ritz-Carlton Reserve, and St. Regis.
At the very end of March (the last week of ski season), Ford and I spent five nights at the St. Regis Deer Valley. We were seeing friends in Salt Lake City, Ford wanted to ski, and there was a good opportunity to redeem points.
The St. Regis Deer Valley might just be my favorite ski resort in the United States that's bookable with points. Full disclosure — the only ski-related activity I engage in is après-ski, so don't ask me about the whole skiing thing.
Redeeming points at the St. Regis Deer Valley
The St. Regis Deer Valley is a Category 8 Marriott Bonvoy property, meaning that a free night redemption costs either 70,000, 85,000, or 100,000 points per night, depending on whether pricing is off-peak, standard, or peak. On top of that, Marriott Bonvoy offers a fifth night free on award redemptions.
We were staying for five nights over off-peak dates, so we ended up paying a total of 280,000 Bonvoy points for our stay. Personally I value Bonvoy points at ~0.7 cents each, so to me that was the equivalent of paying $1,960 for the entire stay, or just under $400 per night.
That was less than half of the cost if paying cash, so I'd consider that to be a good deal.
The St. Regis Deer Valley has a $35 nightly resort fee (this applies whether redeeming points or paying cash), and that includes transportation within five miles of the hotel, Wi-Fi access, daily recreational activities, a nightly champagne sabering, and coffee and seasonal beverages.
Book St. Regis Deer Valley with Marriott STARS
If you're booking a paid stay at the St. Regis Deer Valley, I'd highly recommend booking through a travel advisor affiliated with the Marriott STARS program. You'll pay the same as the flexible cash rate available on Marriott's website, and you'll receive the following additional perks:
Complimentary full or continental breakfast daily for up to two people per room
Hotel credit valued at 100USD once per stay
Room upgrade, subject to availability at check-in
Complimentary basic Wi-Fi daily
In-person welcome
Personalized welcome amenity and note
Note that Marriott STARS upgrades are prioritized ahead of upgrades through other programs, like Amex Fine Hotels & Resorts, which is why I'd recommend booking through STARS. You can earn Bonvoy points when booking a Marriott STARS rate, and can also take advantage of any elite benefits, should you have status.
If you want help with a Marriott STARS booking at the St. Regis Deer Valley, Ford is happy to help, and can be reached at [email protected]
St. Regis Deer Valley location
As the name suggests, the St. Regis is located in Deer Valley, which is one of the ski areas of Park City. The hotel is about one mile from the town of Park City, and it's a fairly easy walk, or you can take the hotel's complimentary on-demand shuttle. Park City offers plenty of dining and shopping (including the Meredith Marks boutique — sorry folks, I'm sad to report that the Brooks Marks tracksuit was sold out).
If you're flying to Deer Valley, the closest airport is Salt Lake City International Airport (SLC), which is about a 45 minute drive (or 40 miles) from the resort.
St. Regis Deer Valley check-in & lobby
Arriving at the St. Regis Deer Valley sure is an adventure. The hotel is located on top of a mountain, so you can access it in one of two ways — you can either drive straight to the hotel, or you can take the funicular.
There's a road leading up to the hotel, though there's not really a sidewalk, if you're into getting your steps.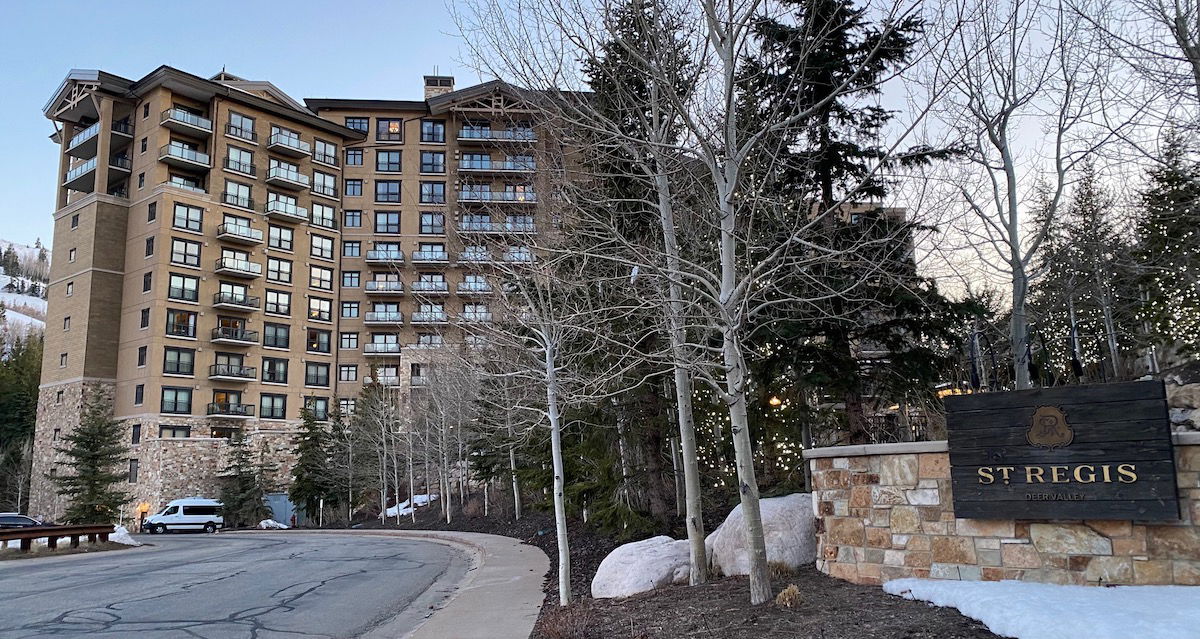 Arguably the much more fun way to access the hotel is via the funicular. It's located at the base of Deer Valley. That entire building below exists solely to be the departure point of the funicular, so that's kind of cool. I can't imagine this thing was cheap to build.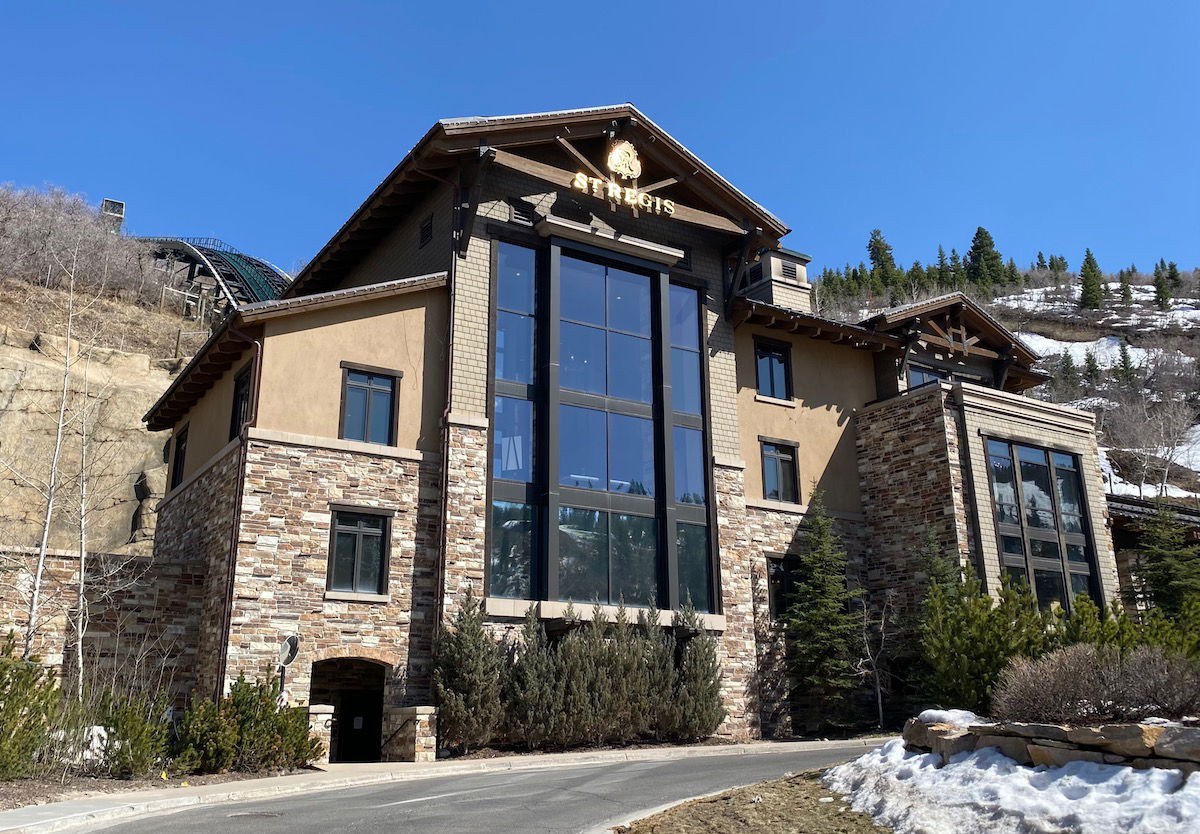 There's a sitting area down there where you can wait for the funicular.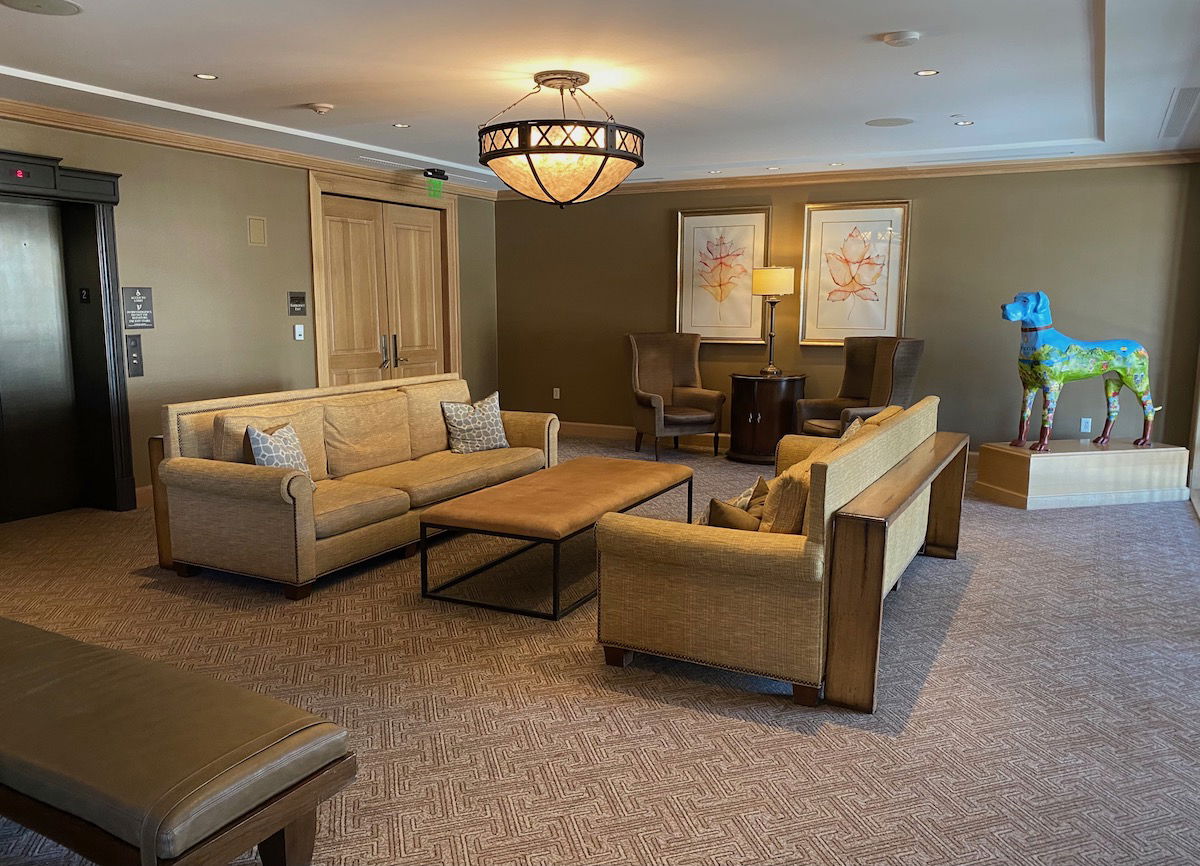 The funicular ride itself takes around 90 seconds, and it covers a vertical distance of around 500 feet.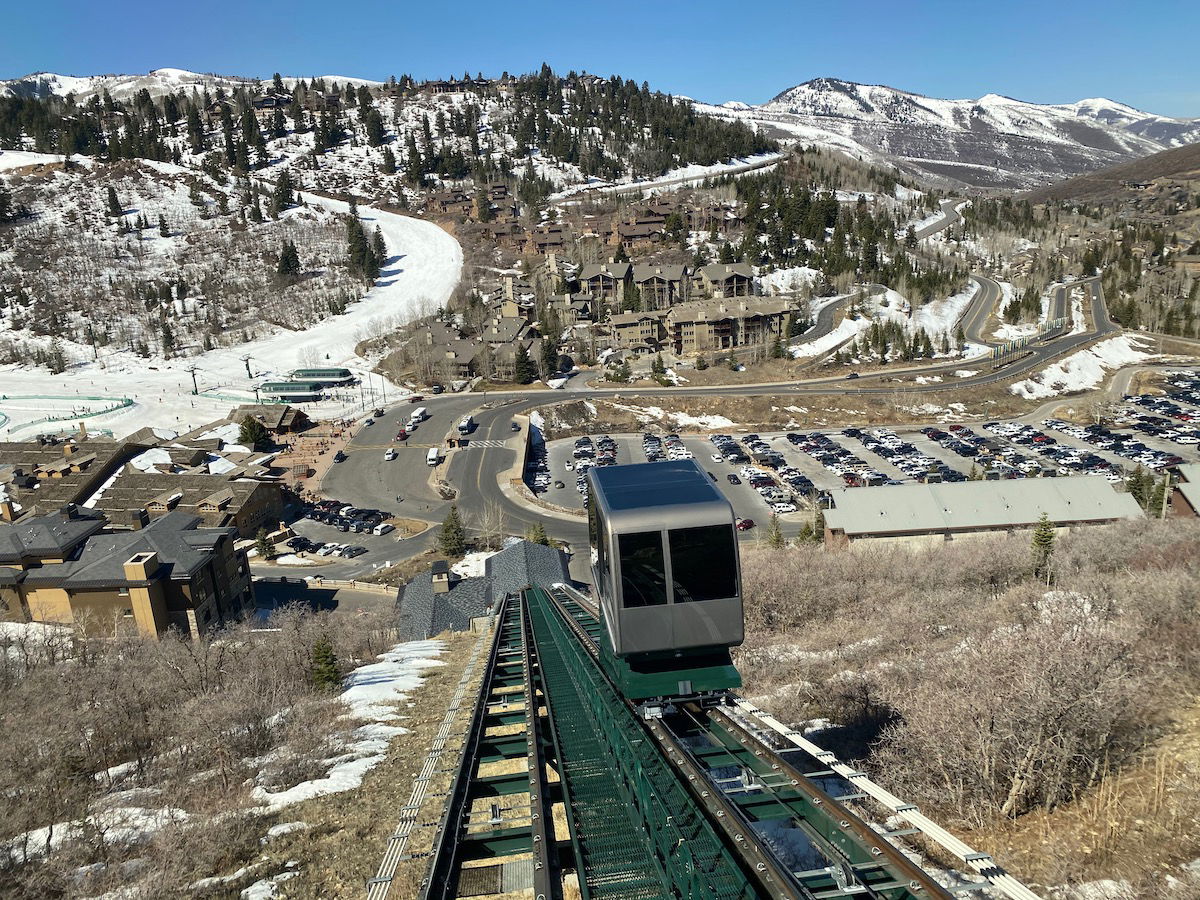 The funicular is comfortable as well — you can either sit on a couch or stand.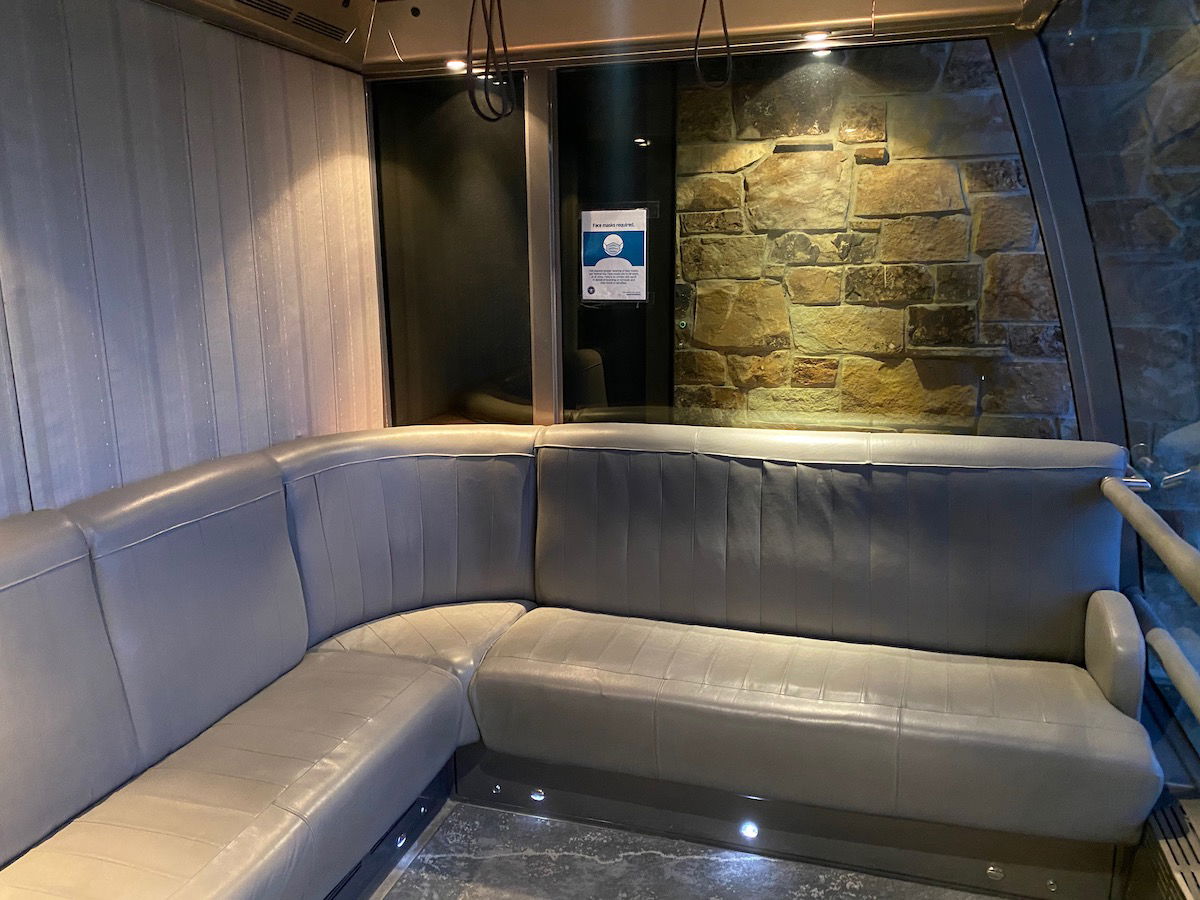 By the way, I found it fascinating that the funicular had a sign from the TSA indicating that face masks are required. Obviously the hotel had a mask policy, but does the federal transportation mask mandate apply to a funicular at the St. Regis, or was the hotel just taking some liberties here?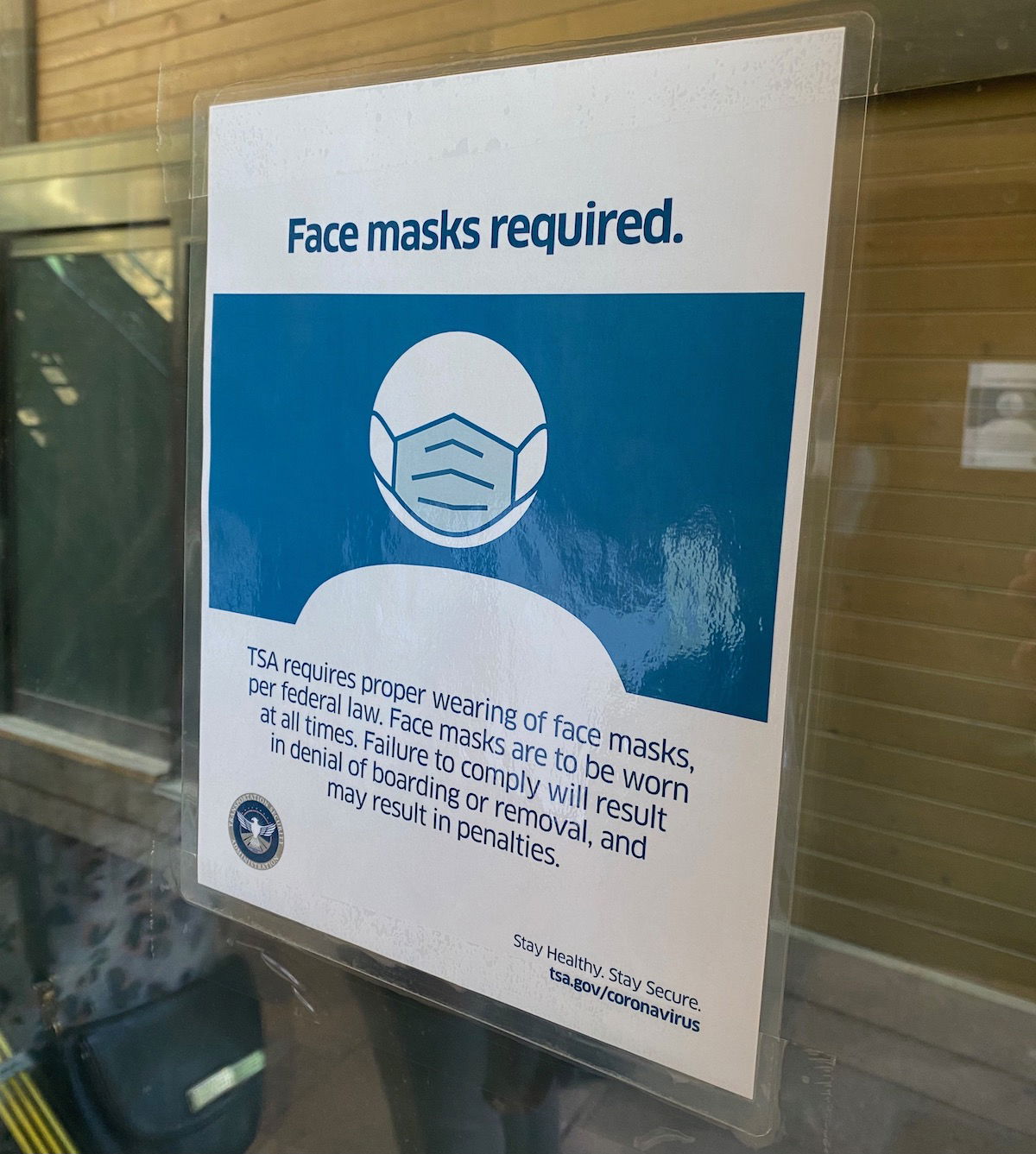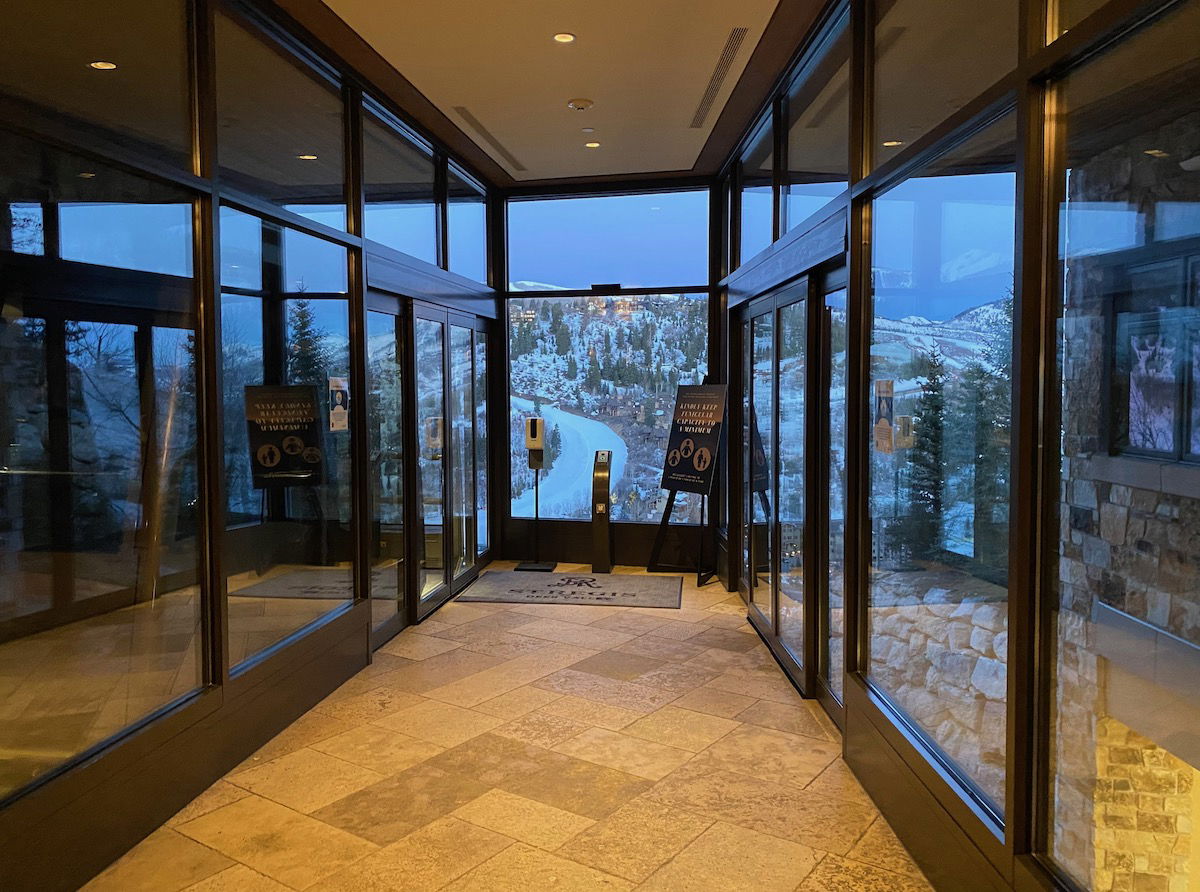 The St. Regis has a super nice lobby with very high ceilings, and it also has plenty of seating.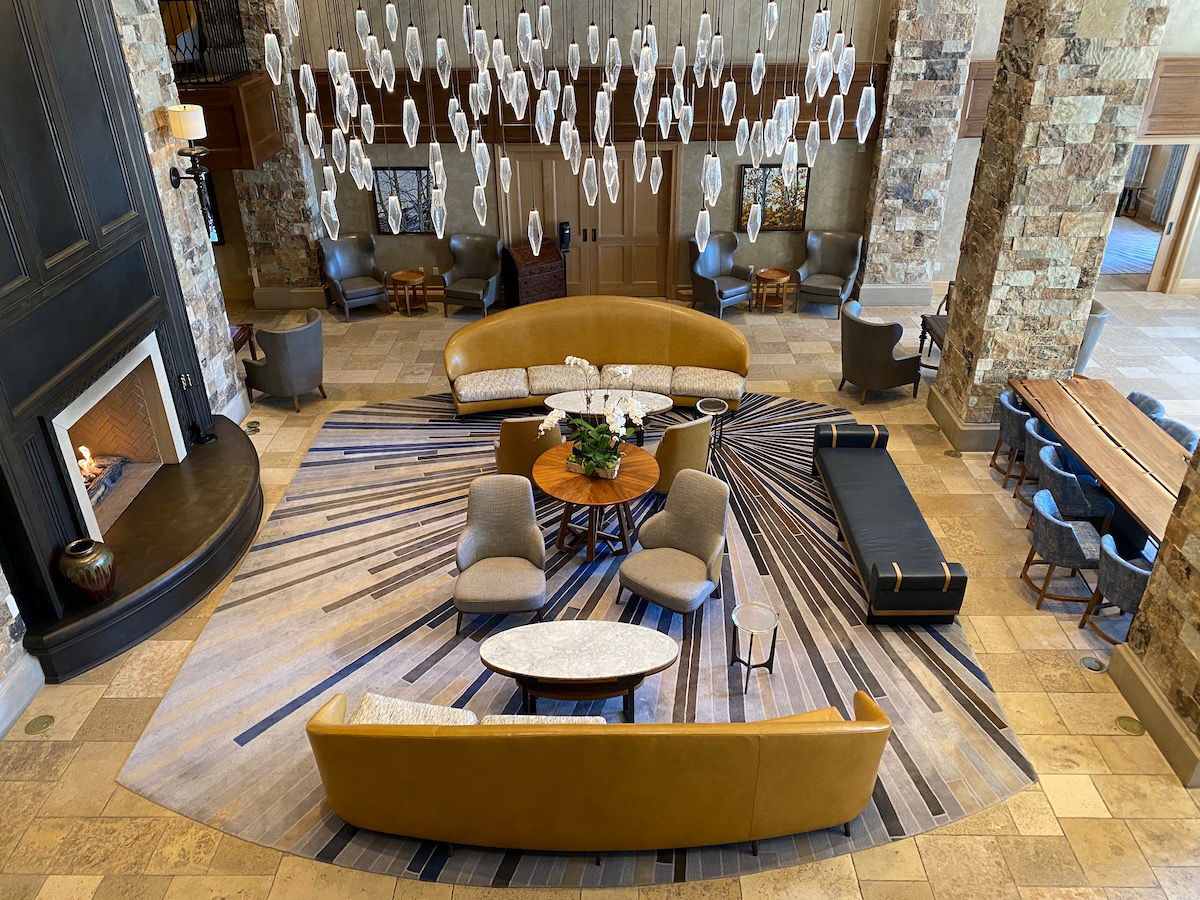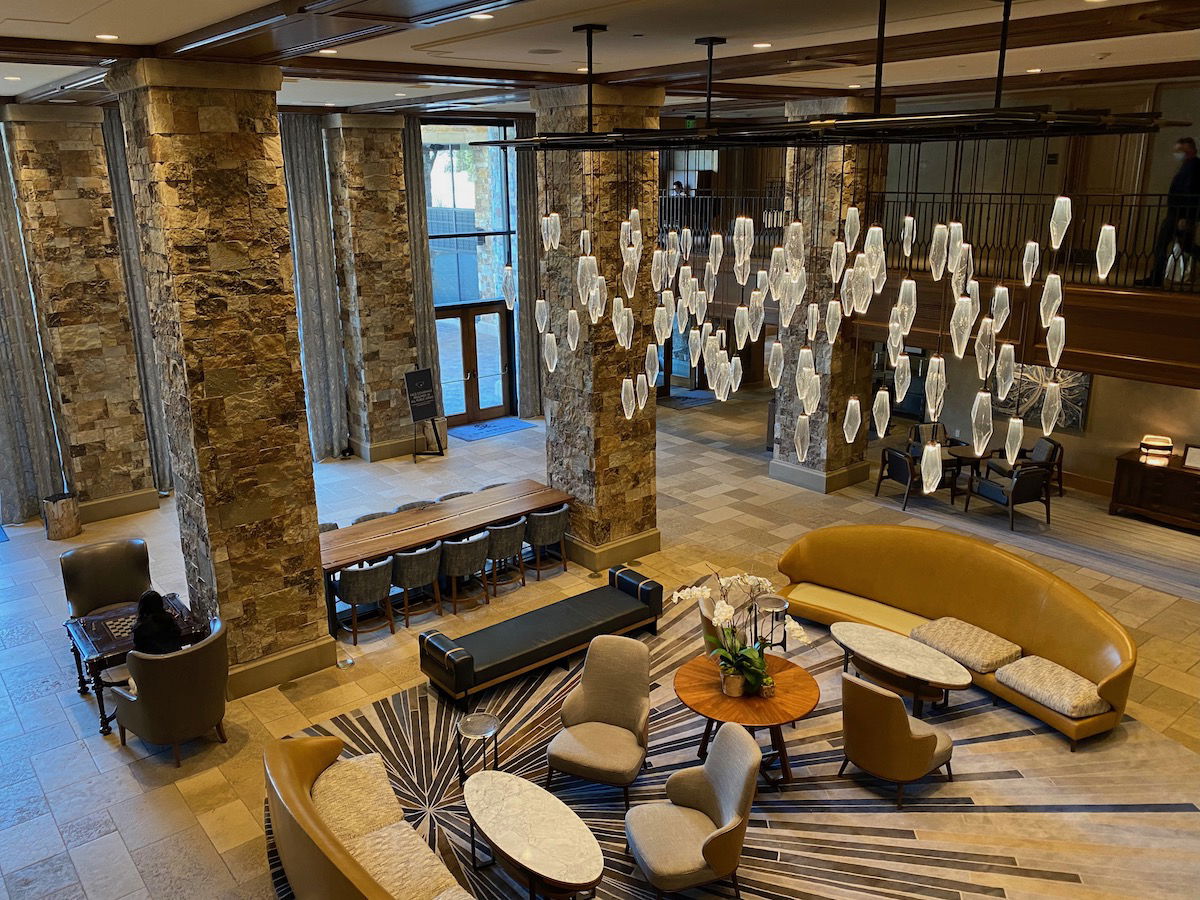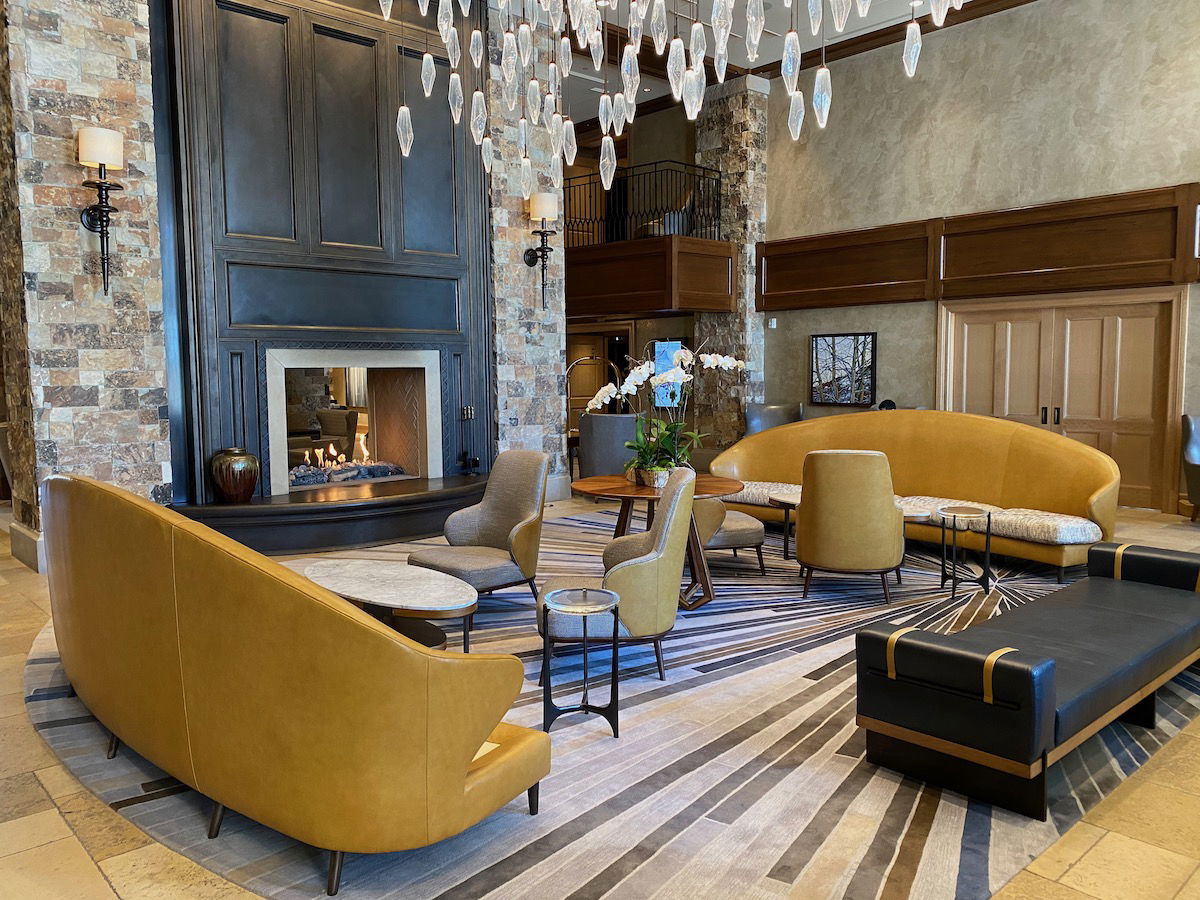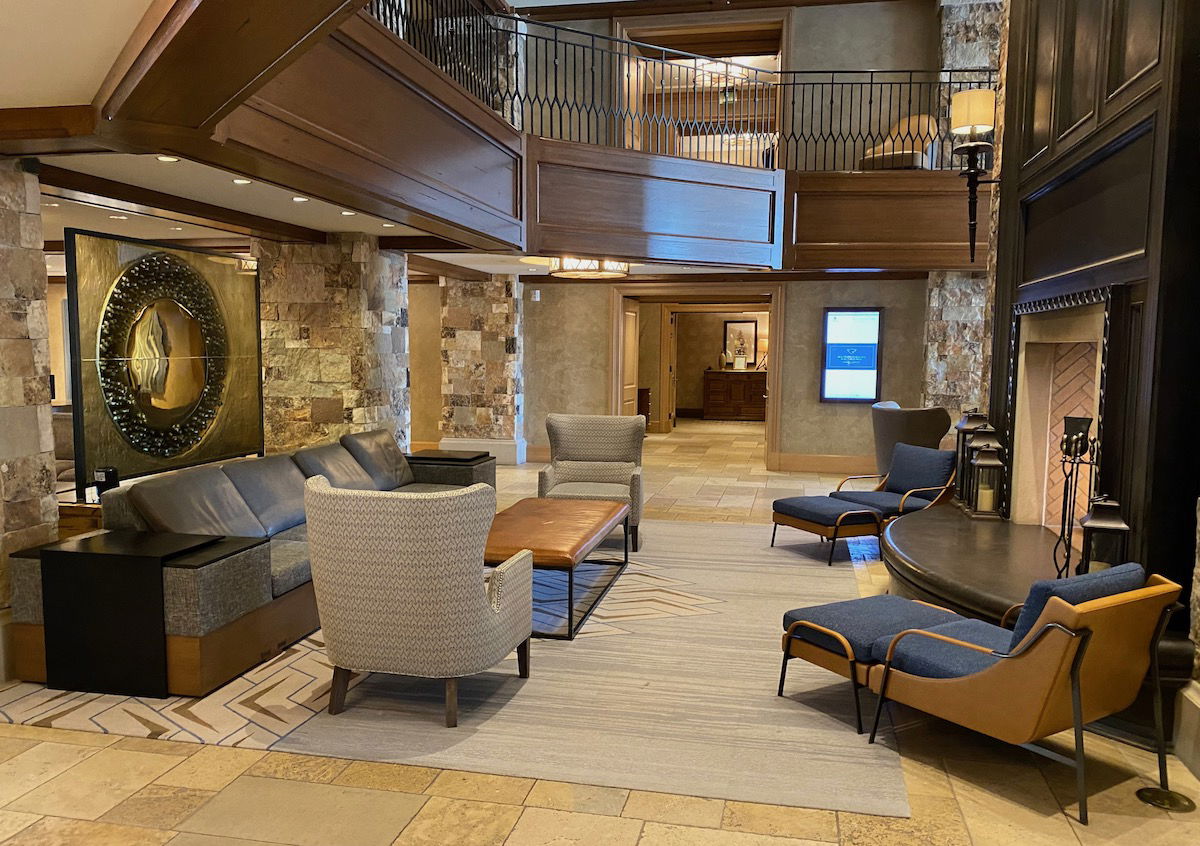 Reception is located at the far end of the lobby. Our check-in experience was great, and the associate checking us in shared just the right amount of information about the hotel's facilities and policies. Within a few minutes we had a key and were on the way to our room.
St. Regis Deer Valley one bedroom suite
Here's something I love about the St. Regis Deer Valley — the hotel has 177 accommodations, and 64 of those are suites. That's a ridiculously high ratio of suites, and personally I've had good luck with upgrades at this hotel.
On this stay we were upgraded to one of the hotel's 900 square foot one bedroom suites. Specifically, we were assigned room 610, located on the sixth floor (the hotel has seven floors).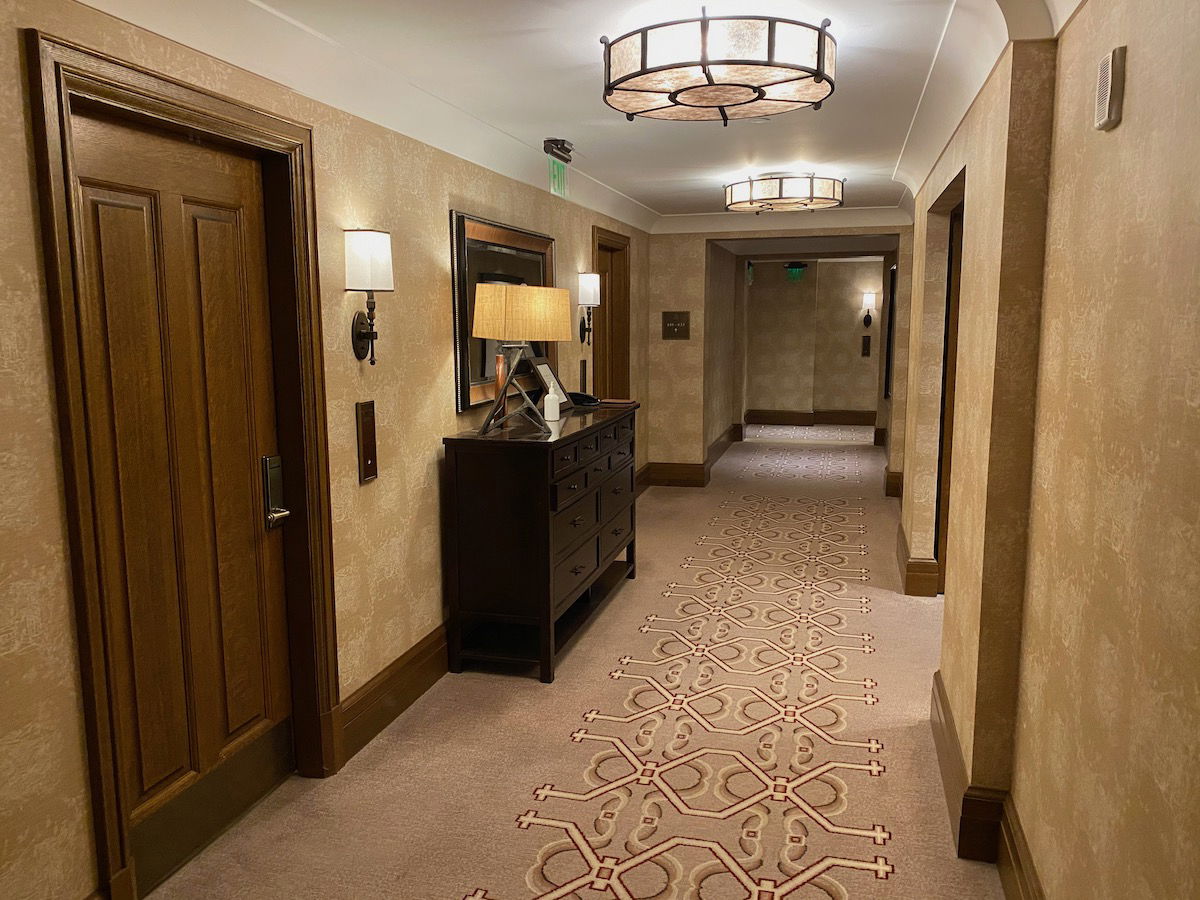 The St. Regis Deer Valley's one bedroom suites are huge. Inside the entrance to the room was the living area. At the front of the room was a kitchen and a dining area — the dining area had a bench and two chairs, while the kitchen was well stocked, and had three barstools.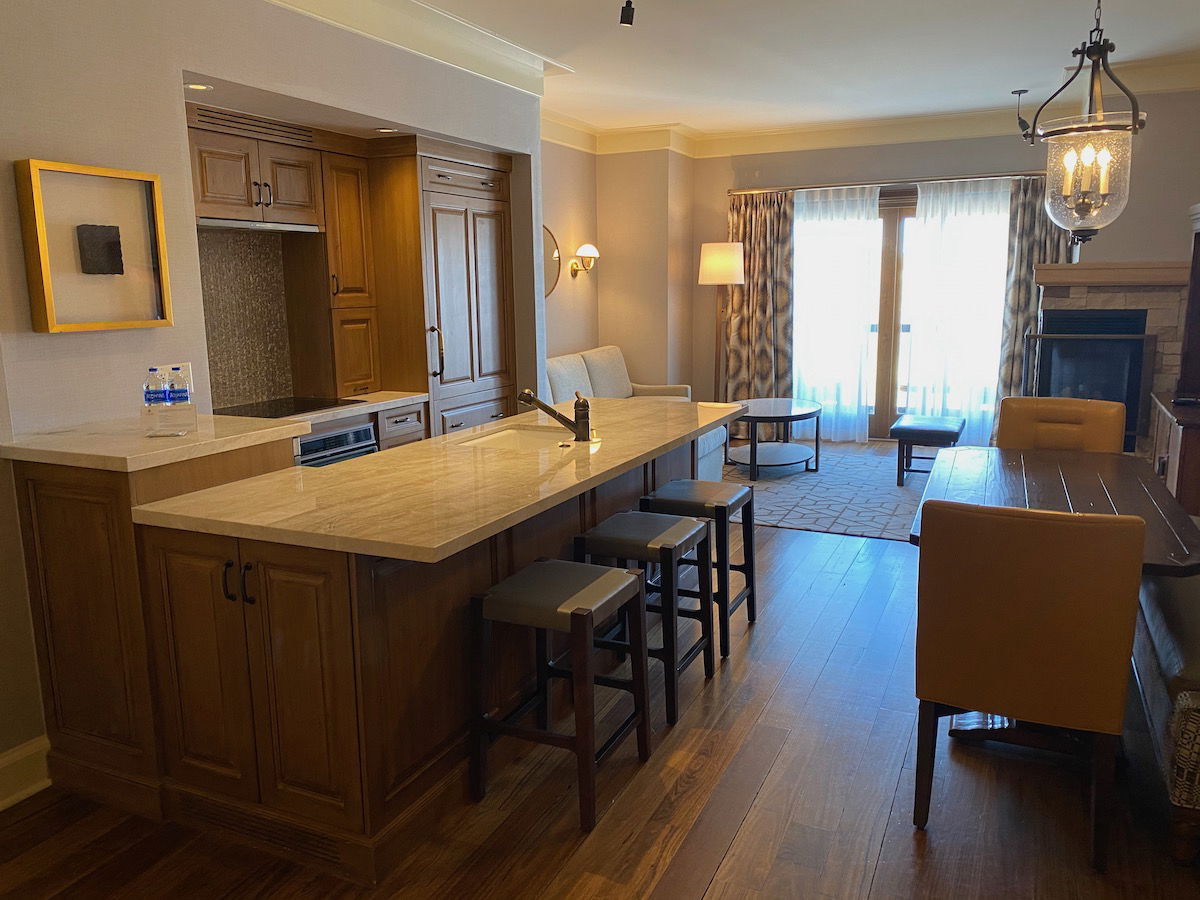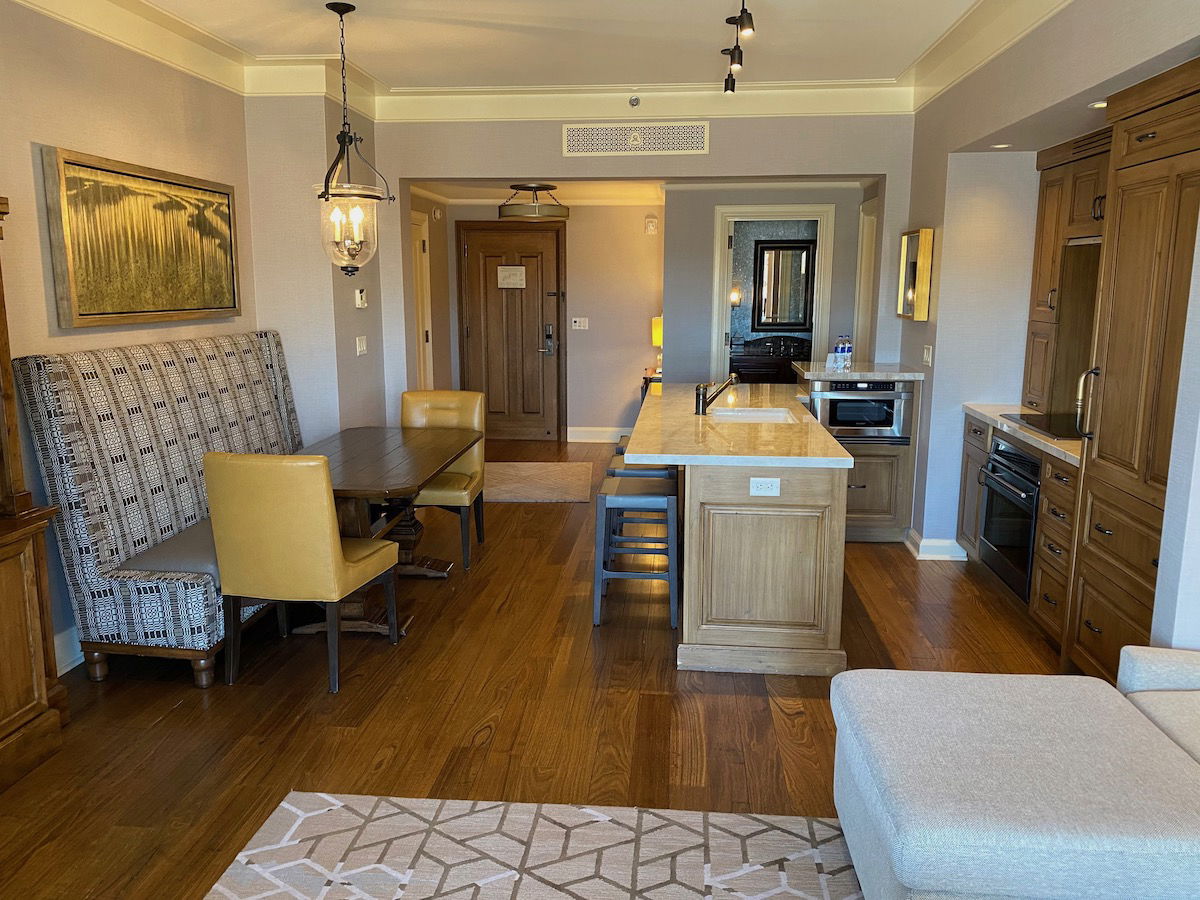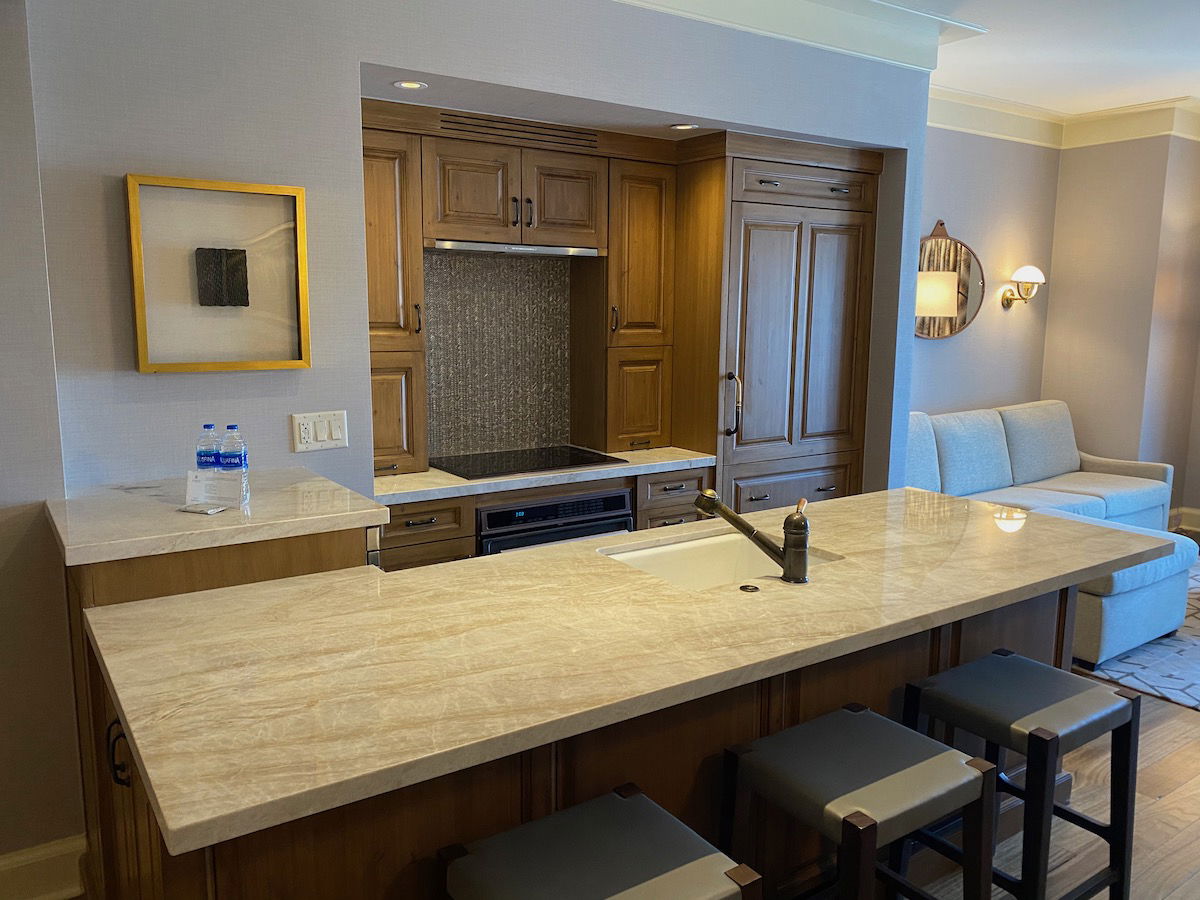 Further into the living area was a couch, a TV, and a fireplace.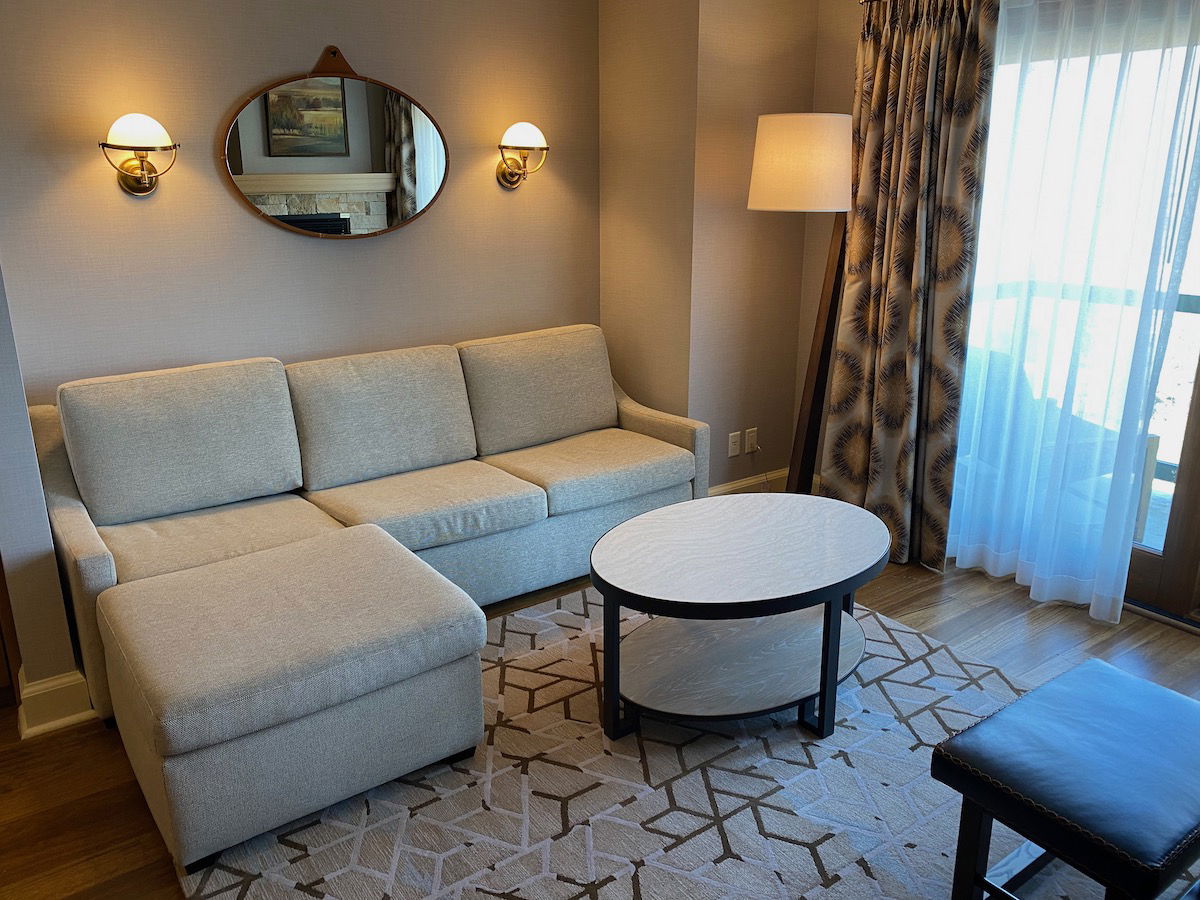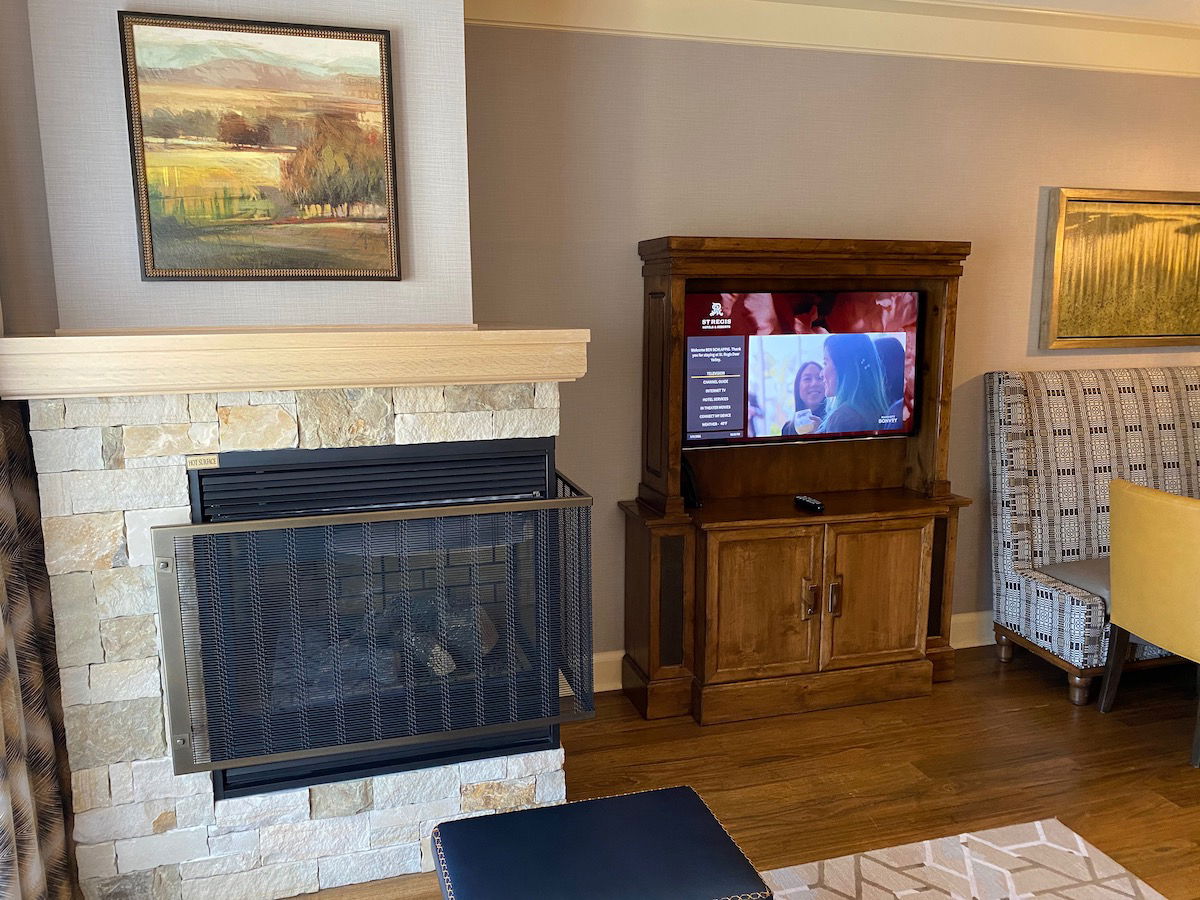 There was also a half bathroom back near the entrance.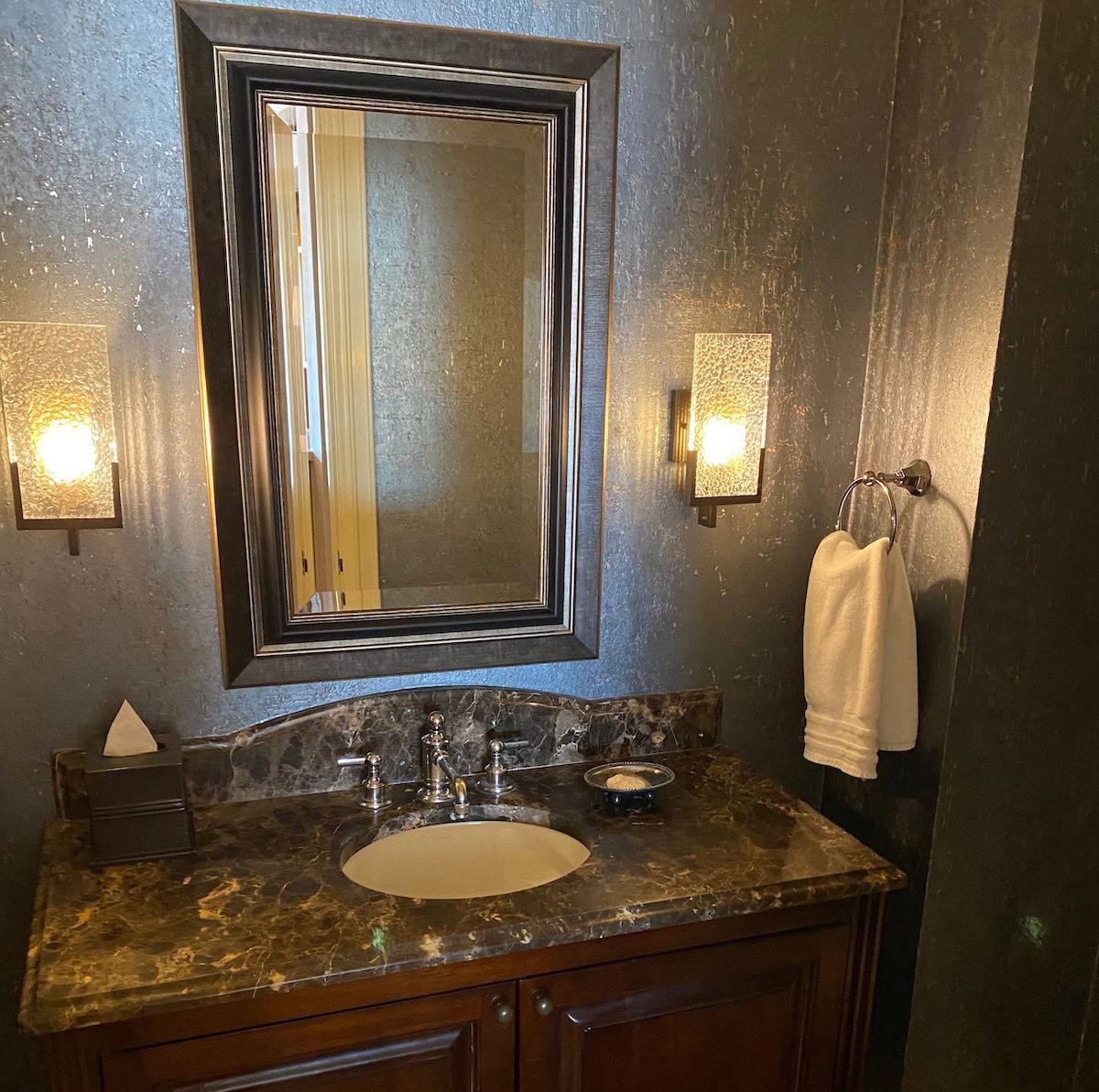 Then there was a door leading into the bedroom, which featured a comfortable signature St. Regis king bed, a loveseat, a desk with a chair, a TV, and a fireplace.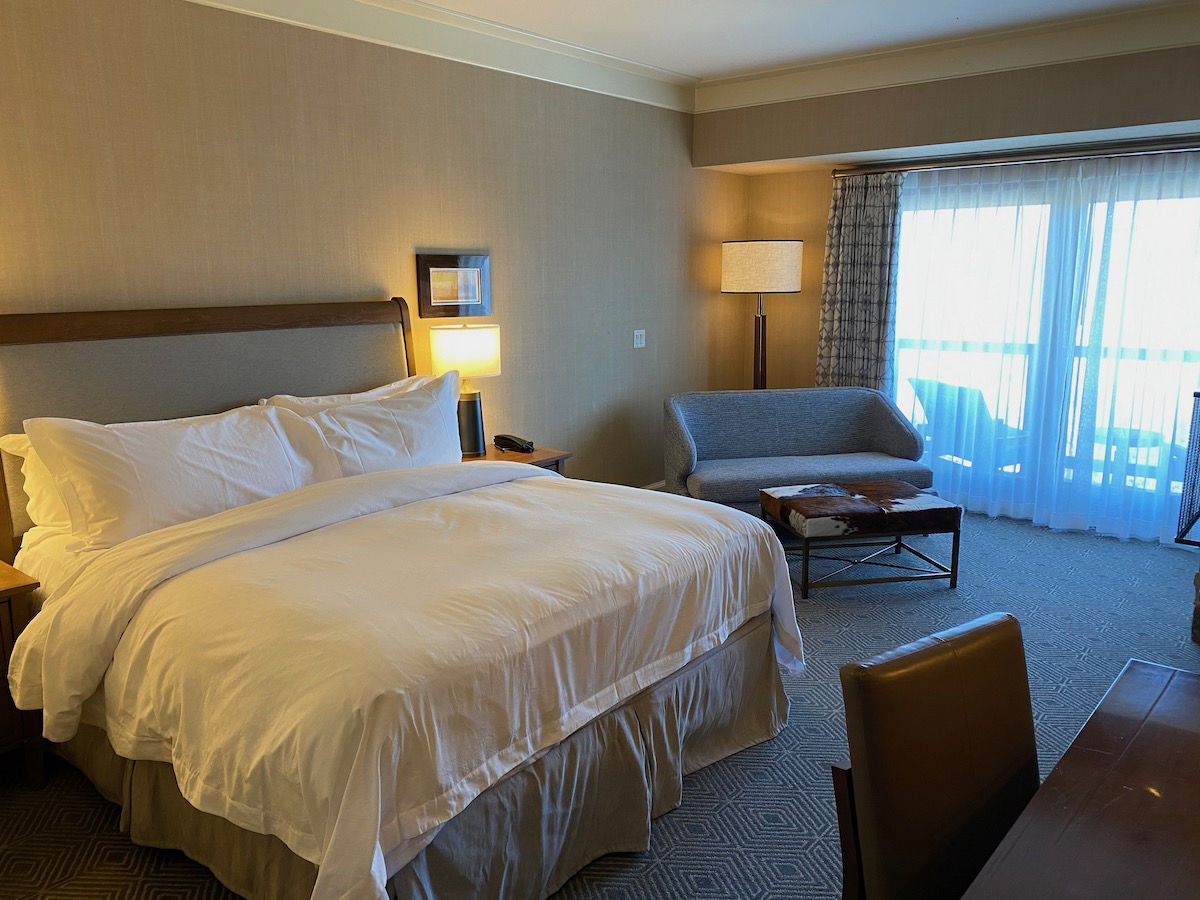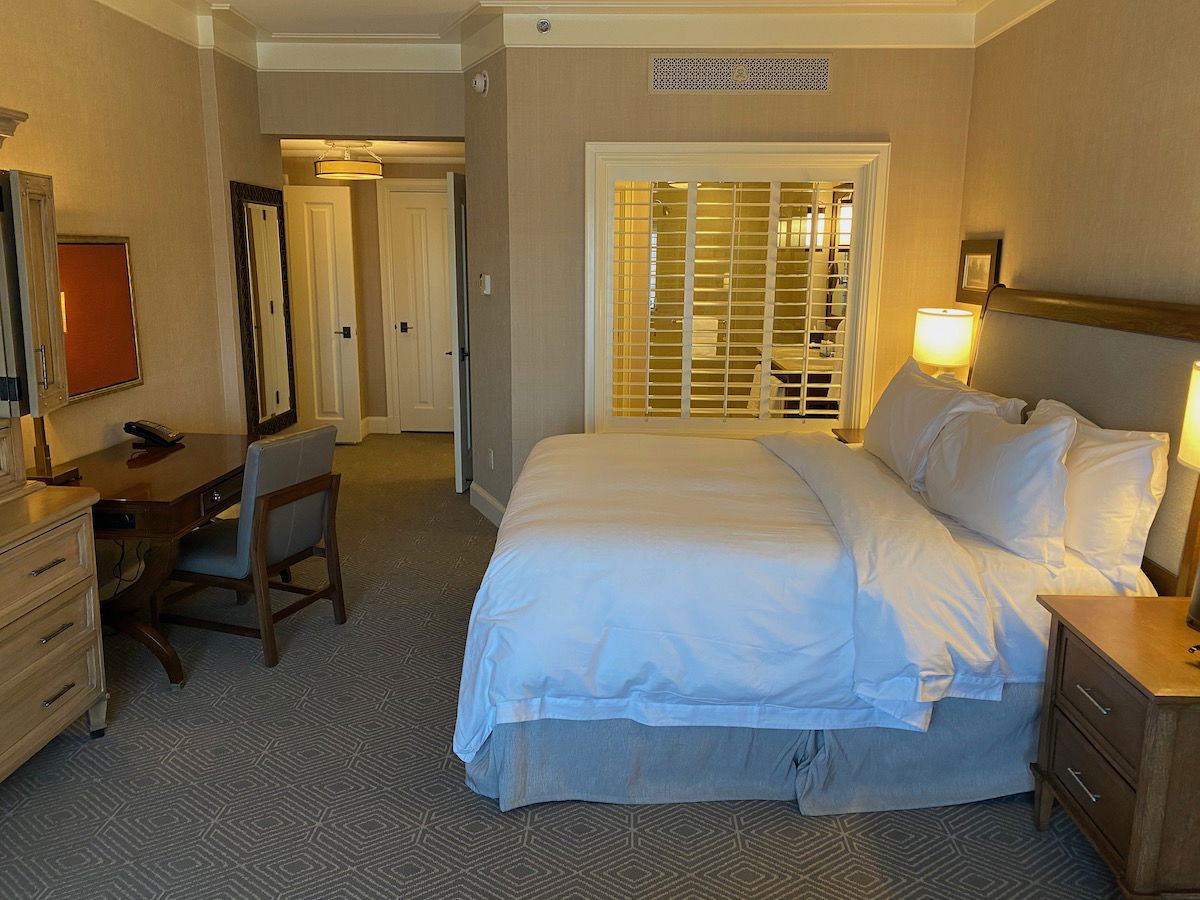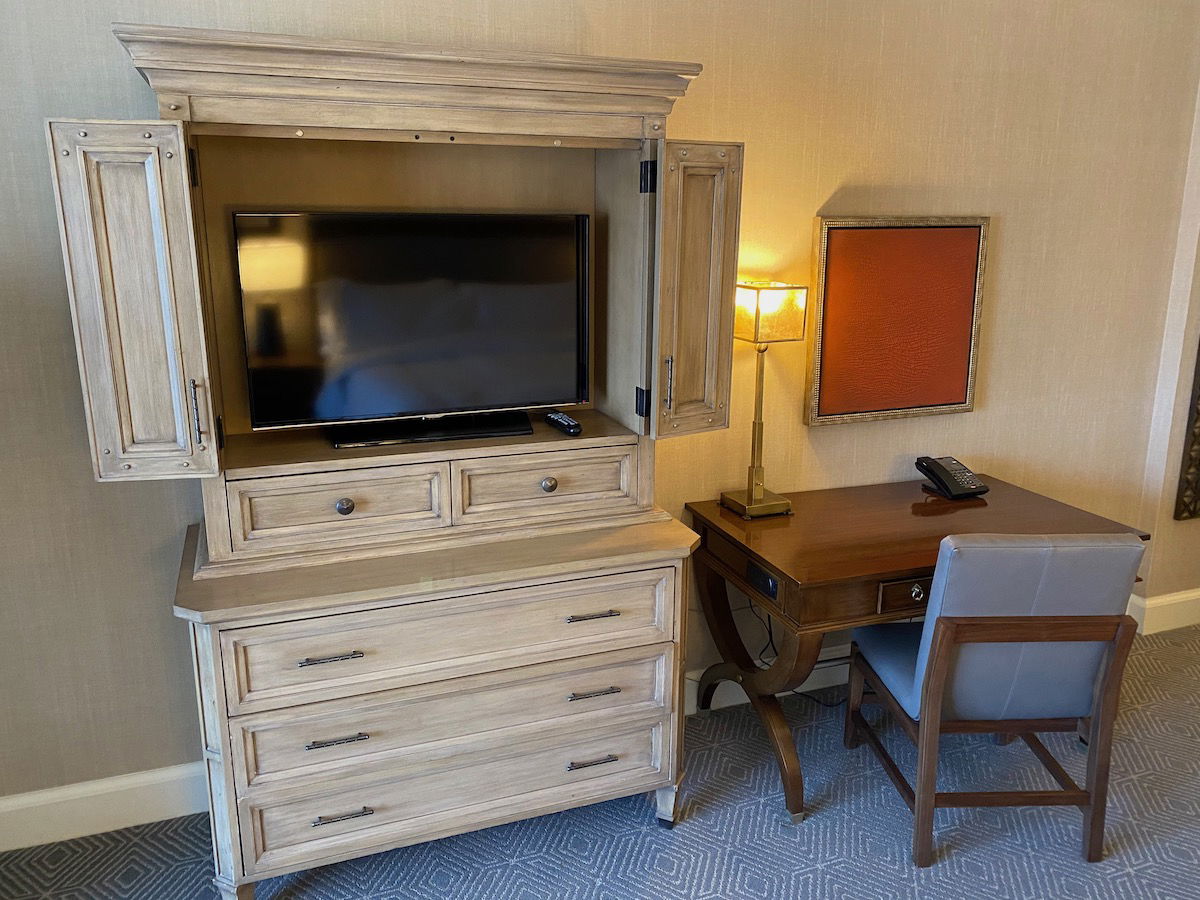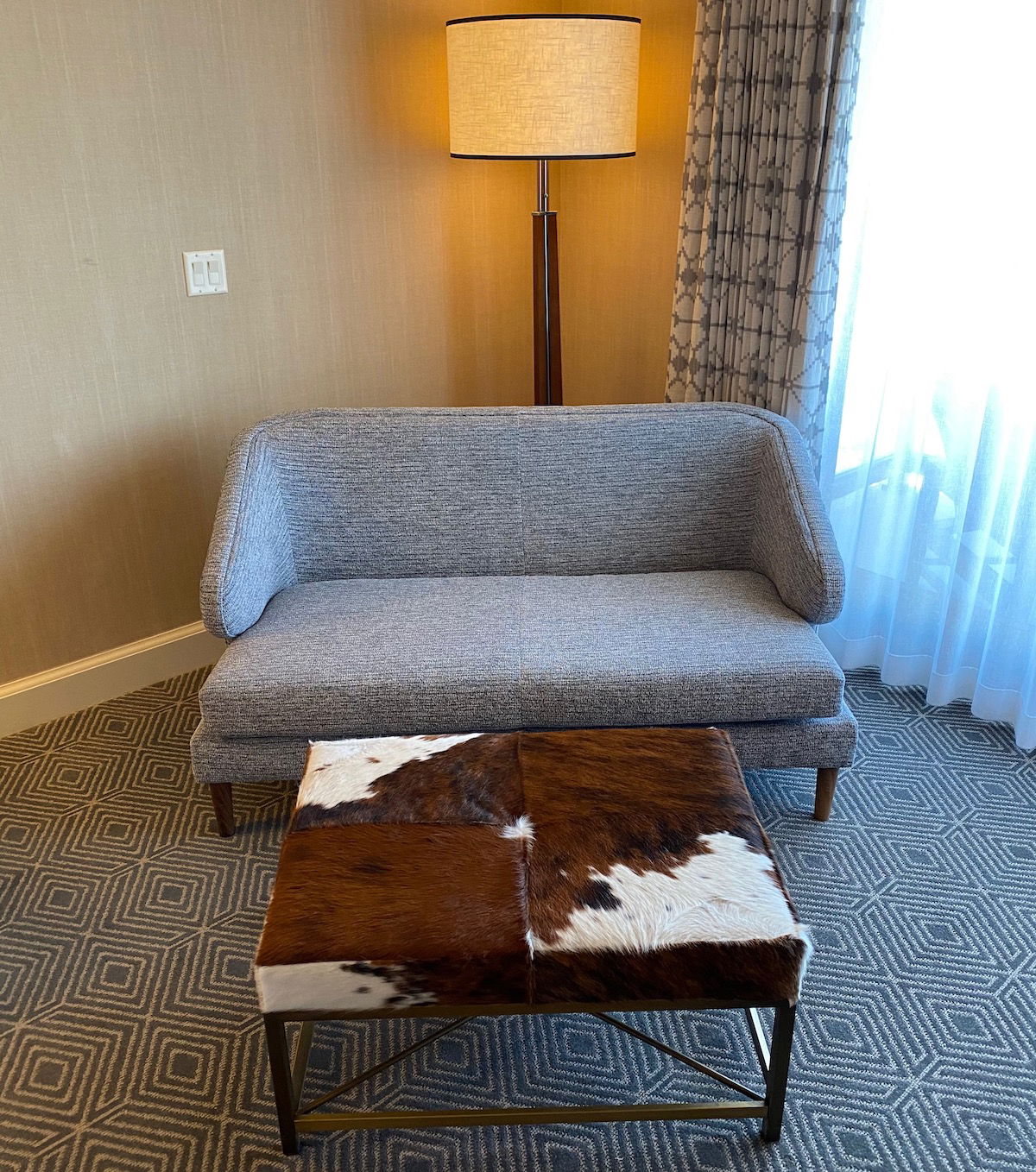 A room with two fireplaces? Yes please!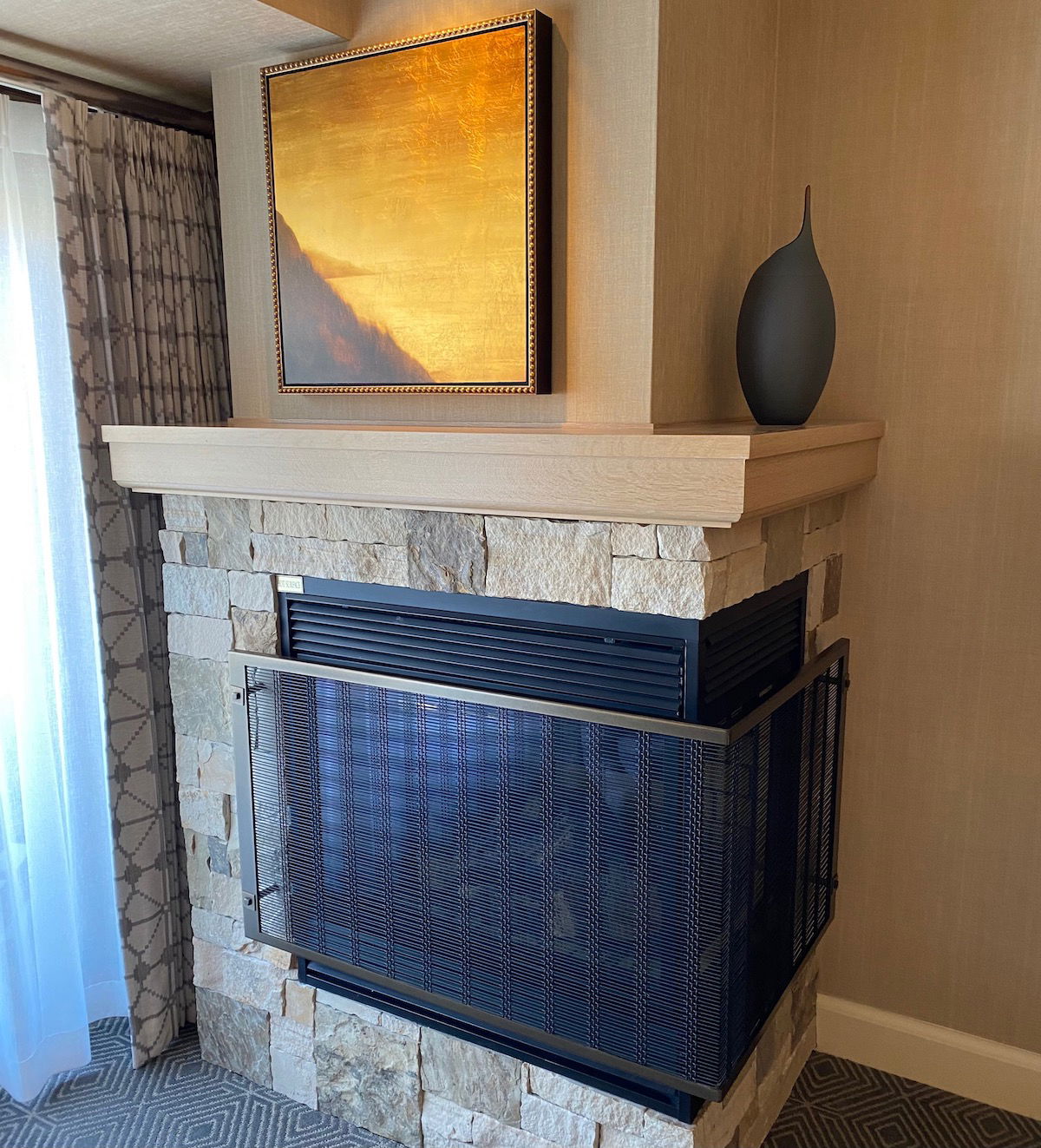 Then there was the full bathroom, which had double sinks, a soaking tub, a walk-in shower (with two shower heads), and a toilet.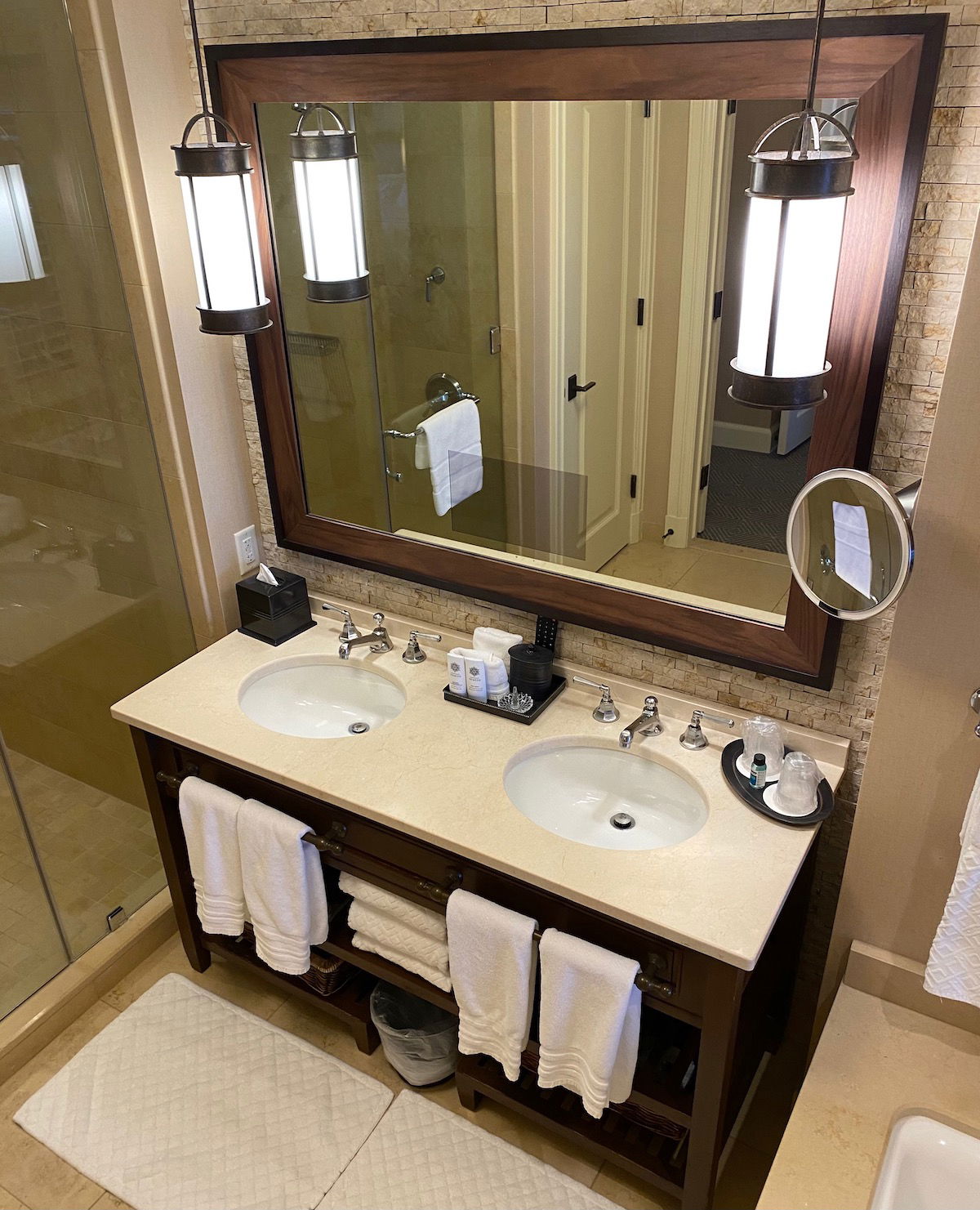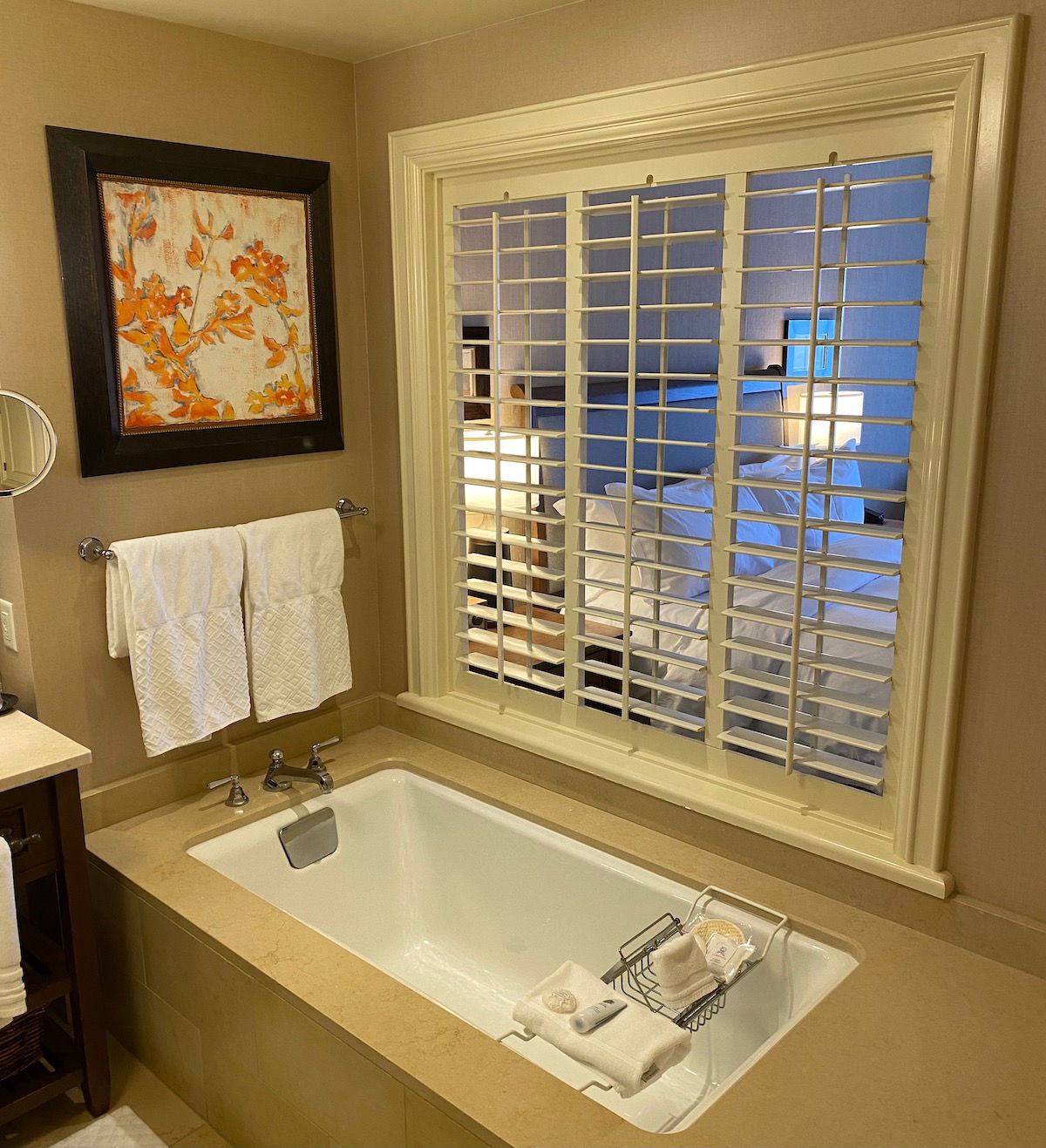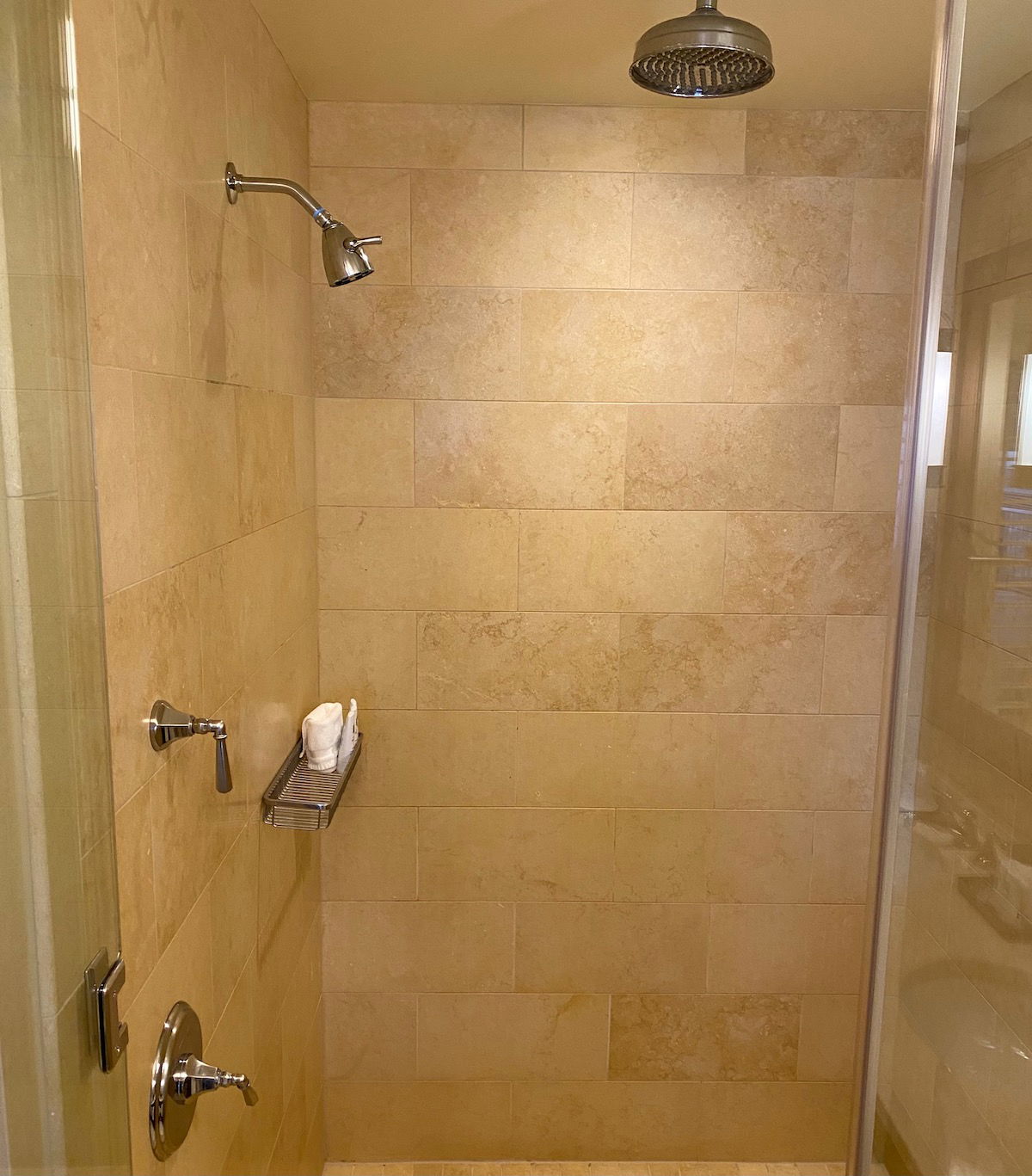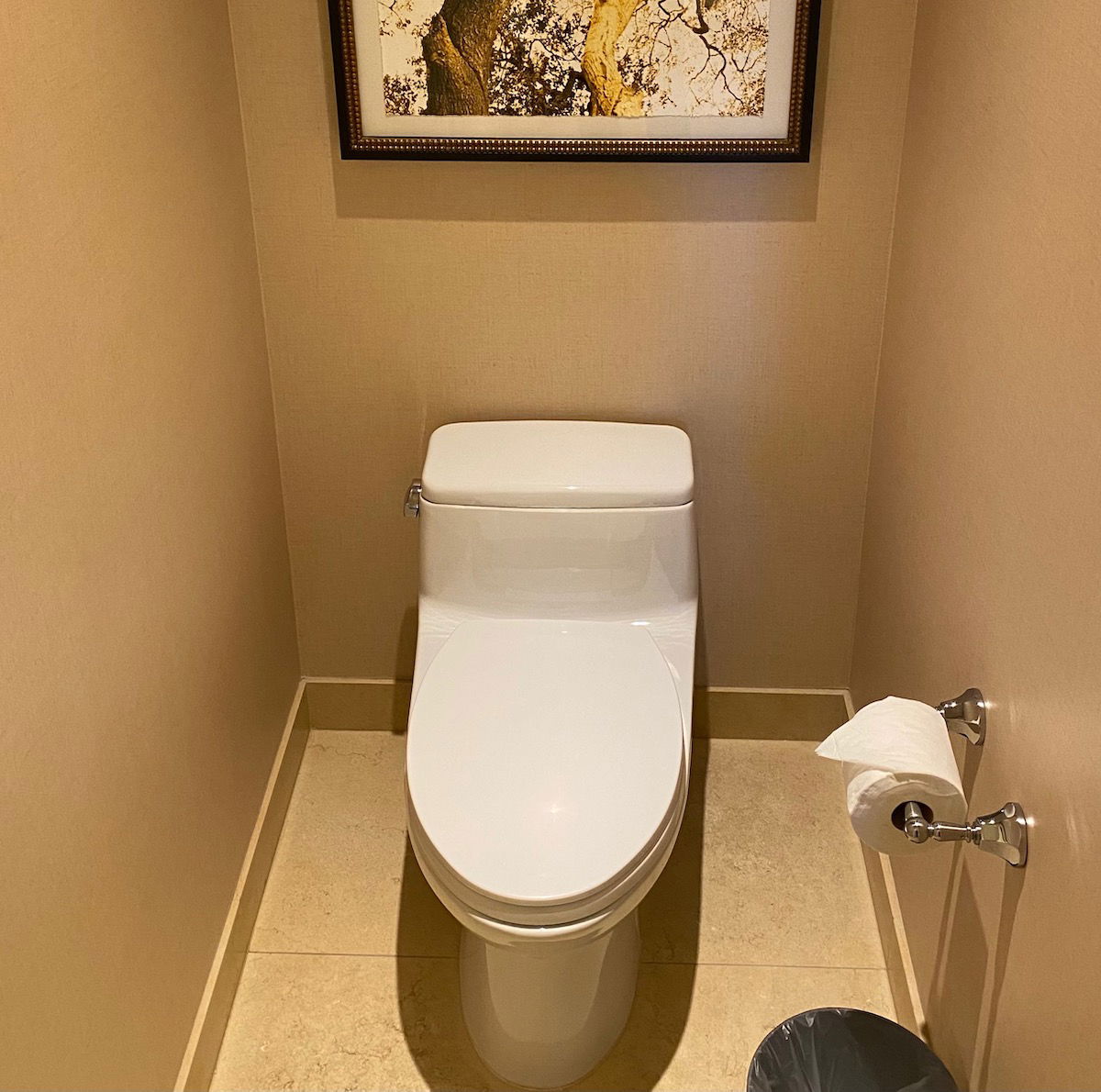 Toiletries were from Remede, as is standard for St. Regis. I'm a fan, particularly of the body wash.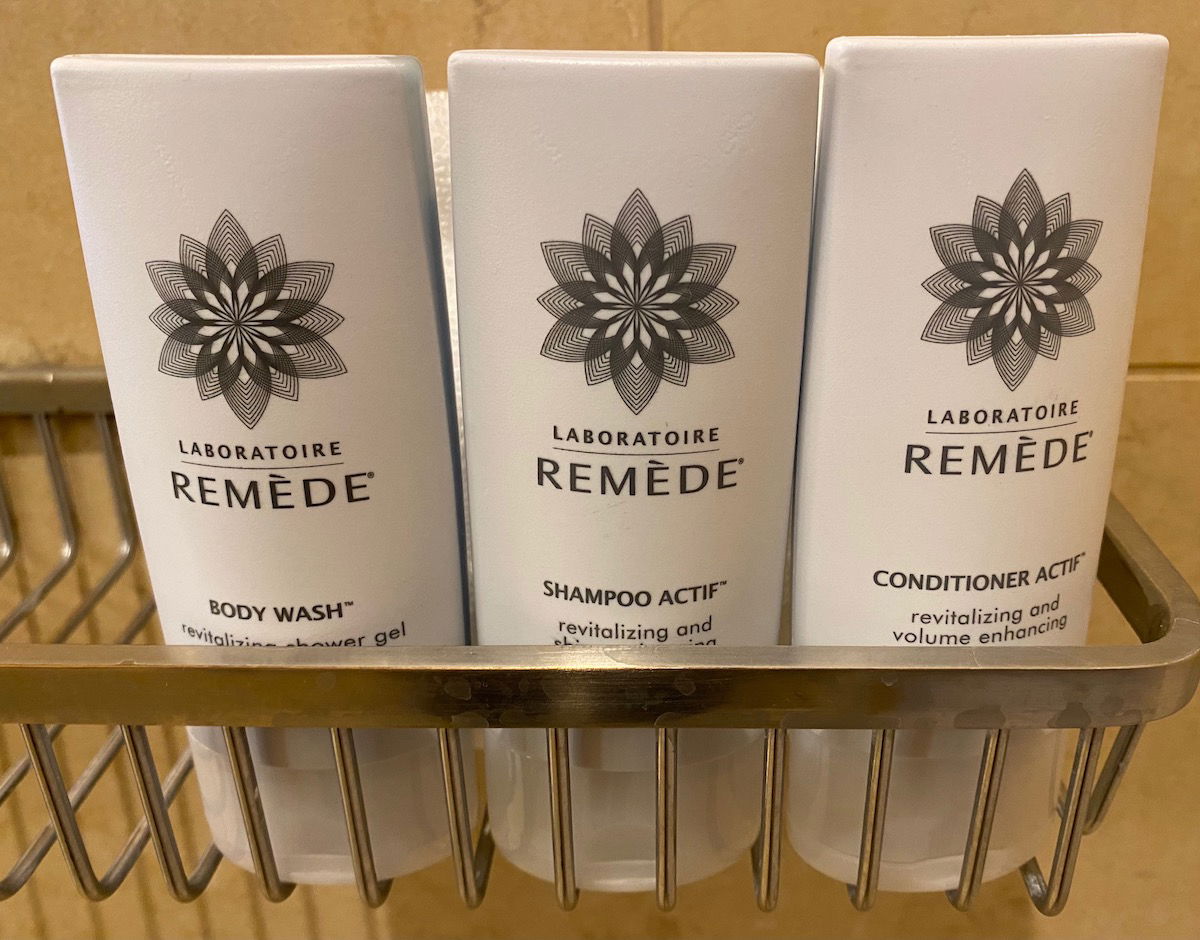 The room had two separate small balconies (one off the living room, and one off the bedroom). Each had a couple of chairs.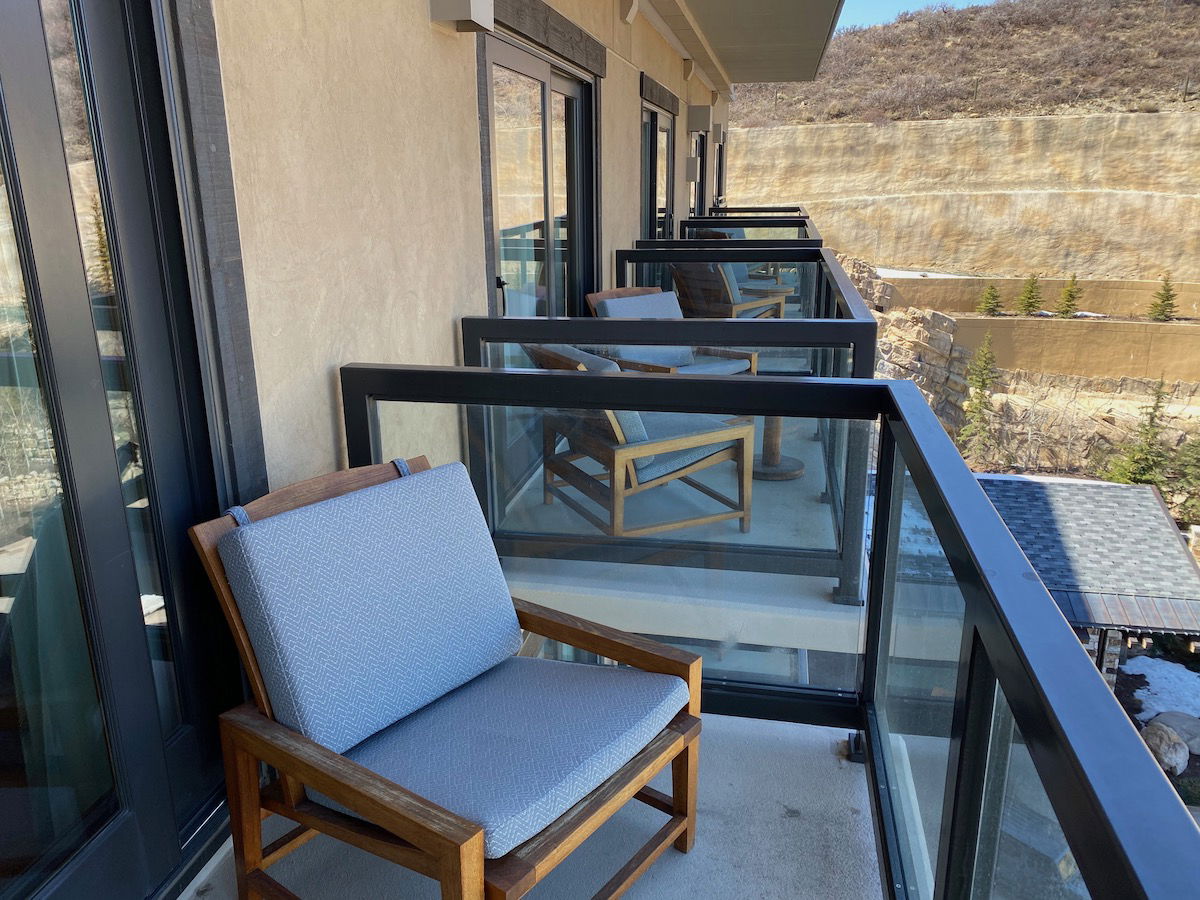 While not a direct view of the slopes, the room had a lovely view of the nearby mountains.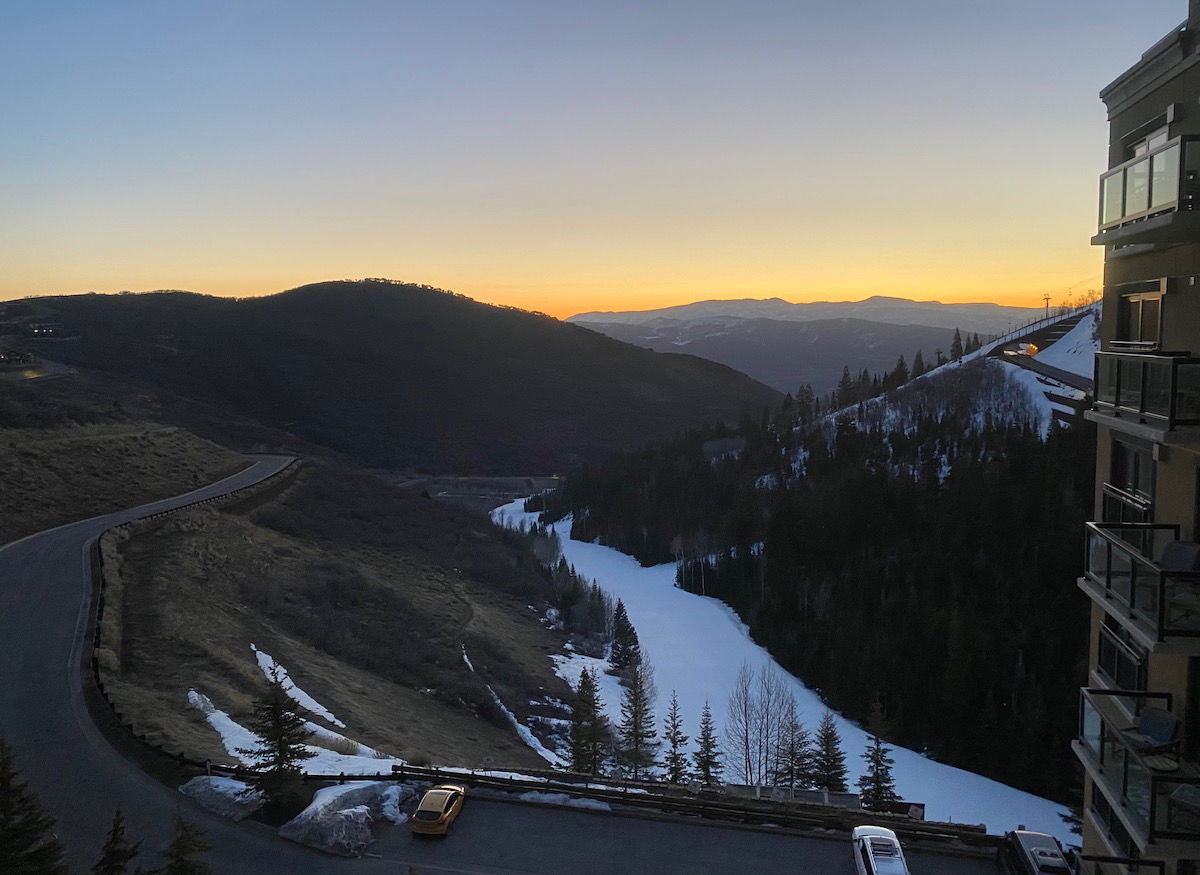 St. Regis is known for offering butler service, and suite guests receive that at this hotel. Butler service at the hotel includes packing and unpacking services, two garments pressed per person each day, shoe shine, and 24-hour delivery of coffee & tea. The main benefit I value there is the coffee, as it's sure nice to have a fresh pot of coffee brought to your room whenever you'd like.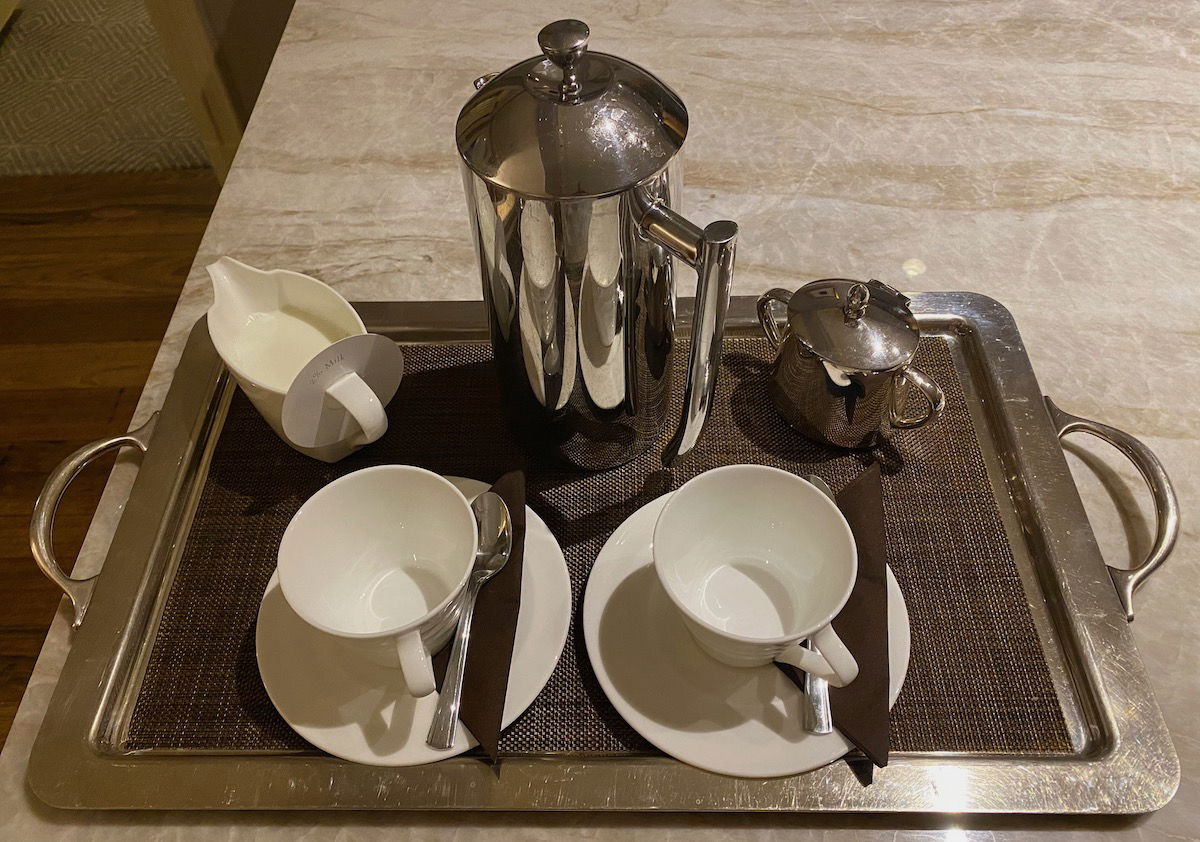 So yeah, I like the rooms at the St. Regis. I've had great luck with upgrades, and the rooms as such are cozy, well maintained, and comfortable. I will say that they're perhaps a bit on the bland side, though.
St. Regis Deer Valley pool & hot tub
The St. Regis Deer Valley has a pretty nice pool for a ski resort, along with a couple of hot tubs. While we were technically still there during ski season, funny enough it almost reached 70 degrees on our last day there.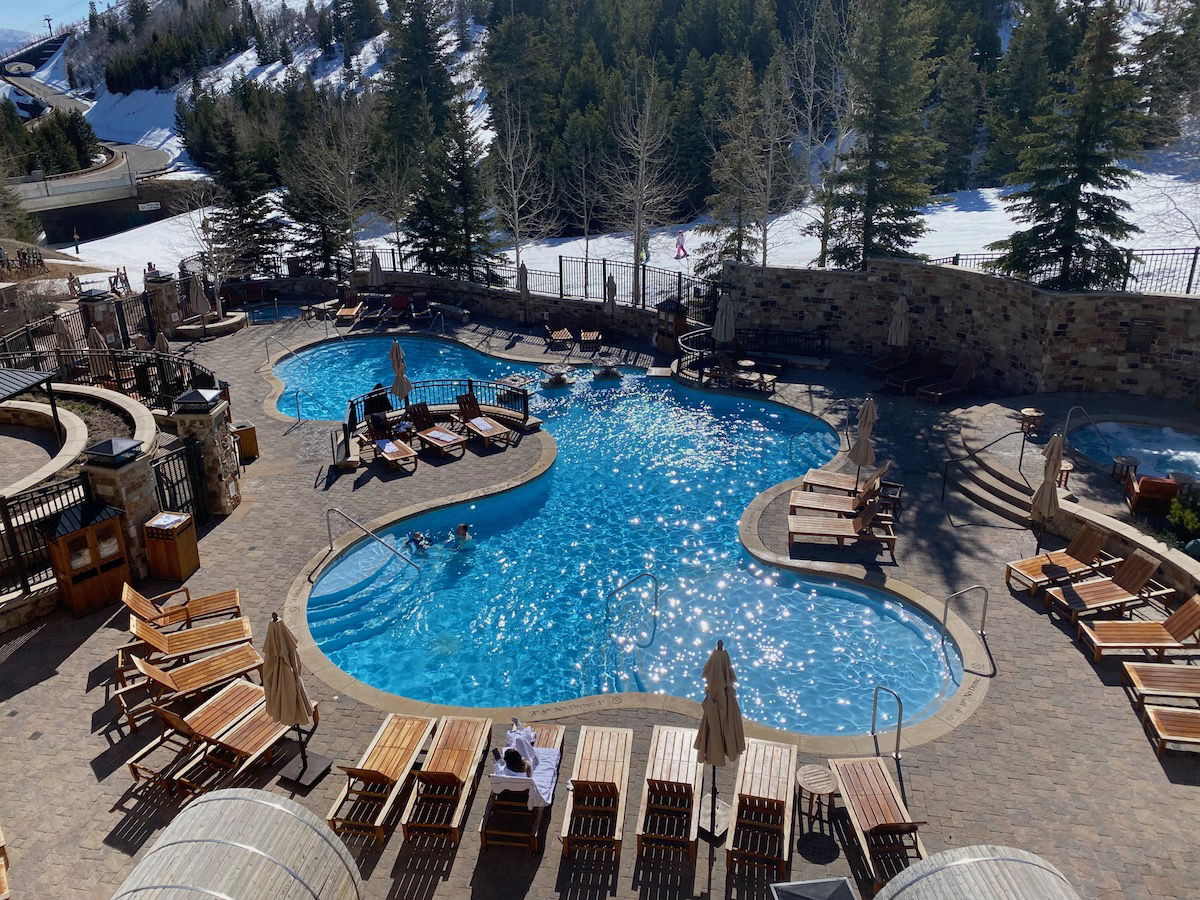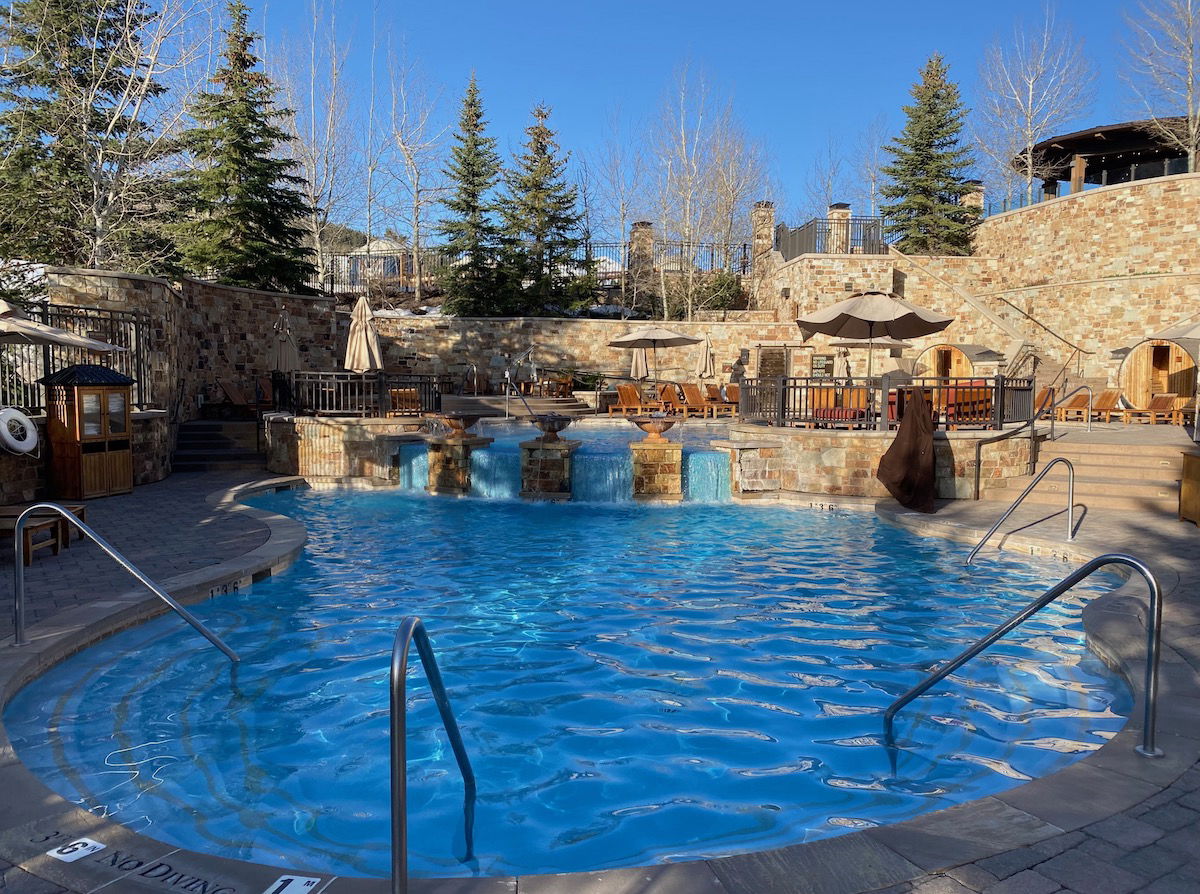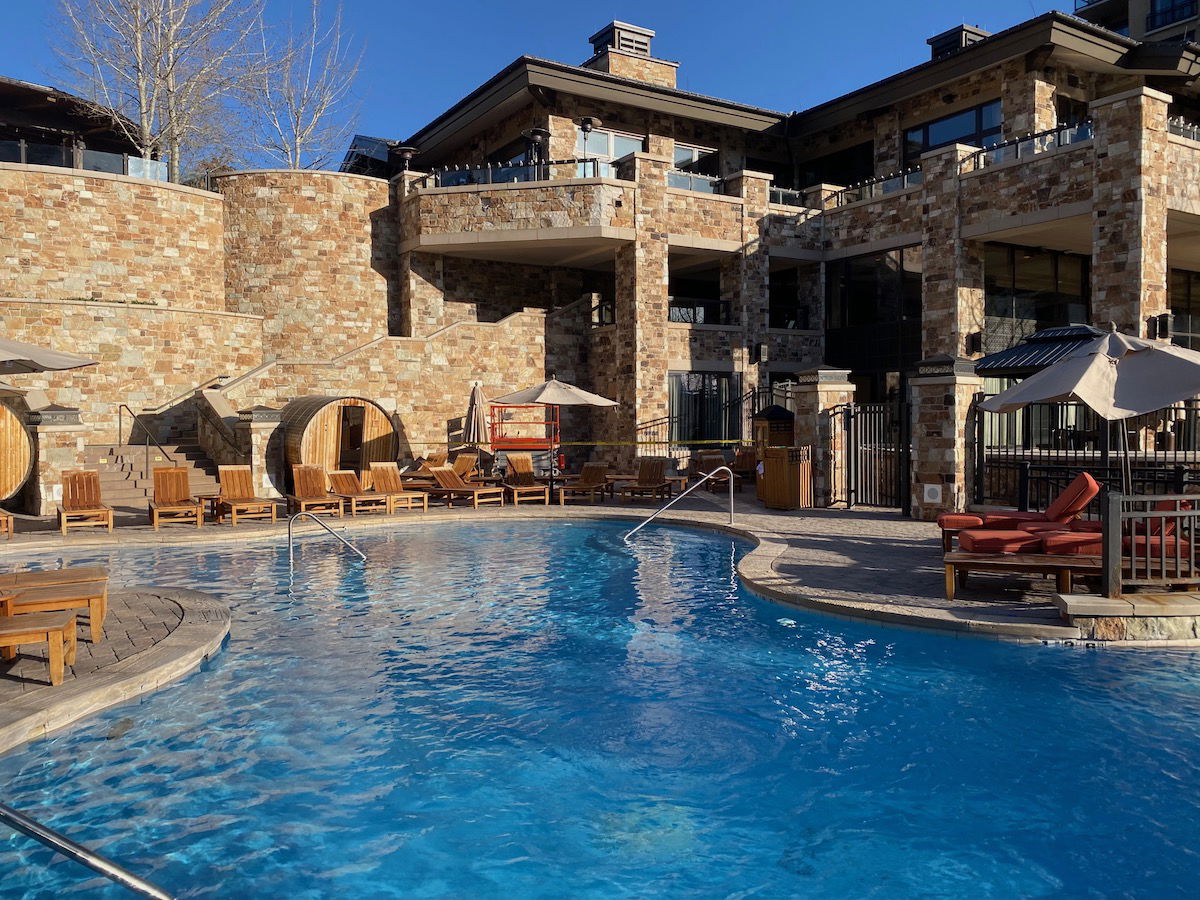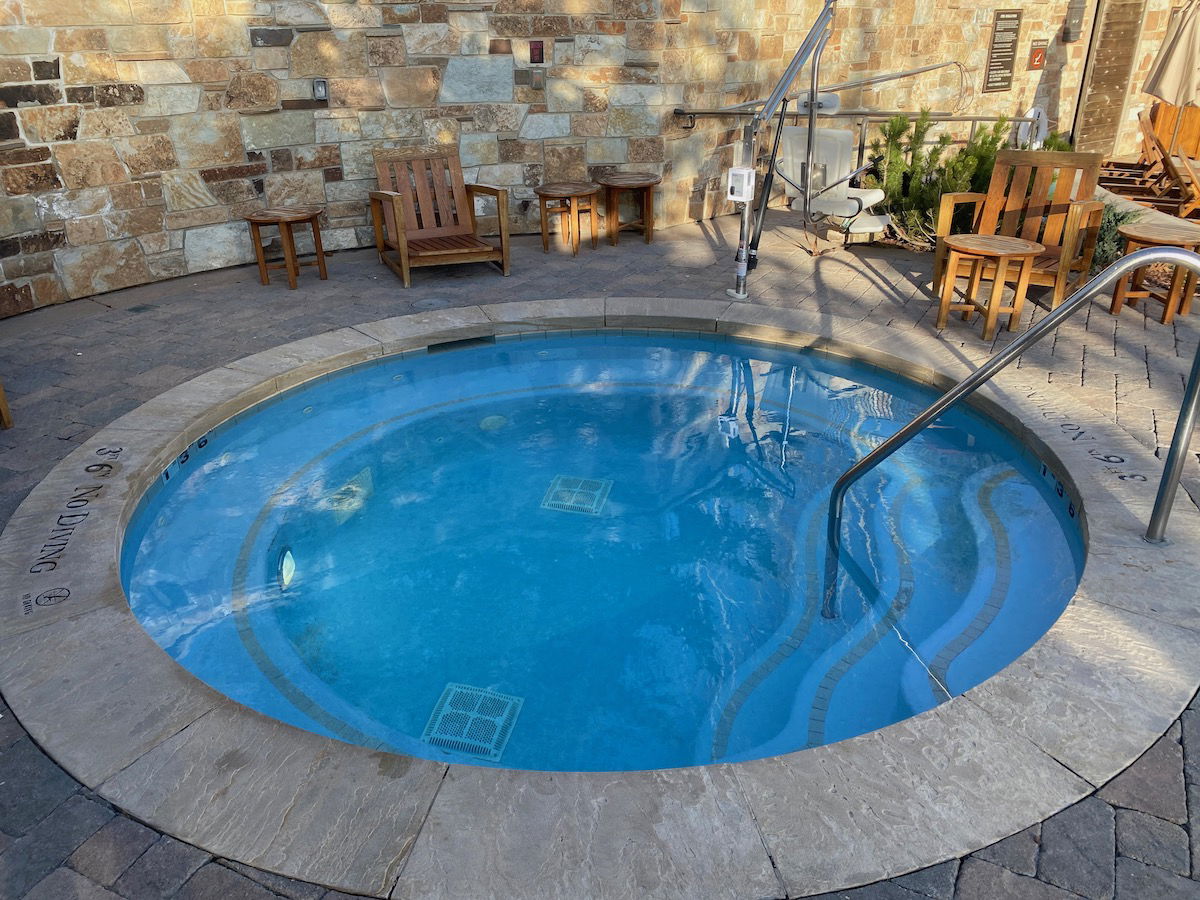 St. Regis Deer Valley spa & gym
The St. Regis Deer Valley has a Remede Spa, though I didn't visit it. What I did visit was the hotel's excellent gym, which was large and featured modern equipment.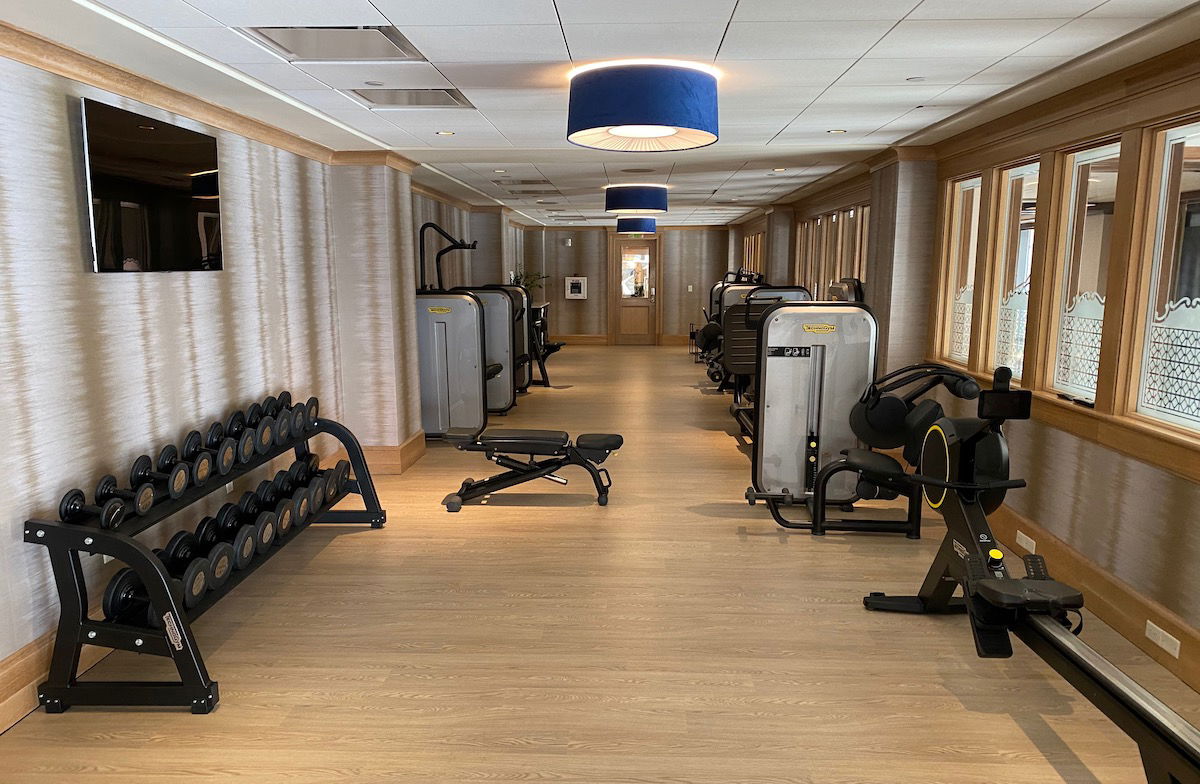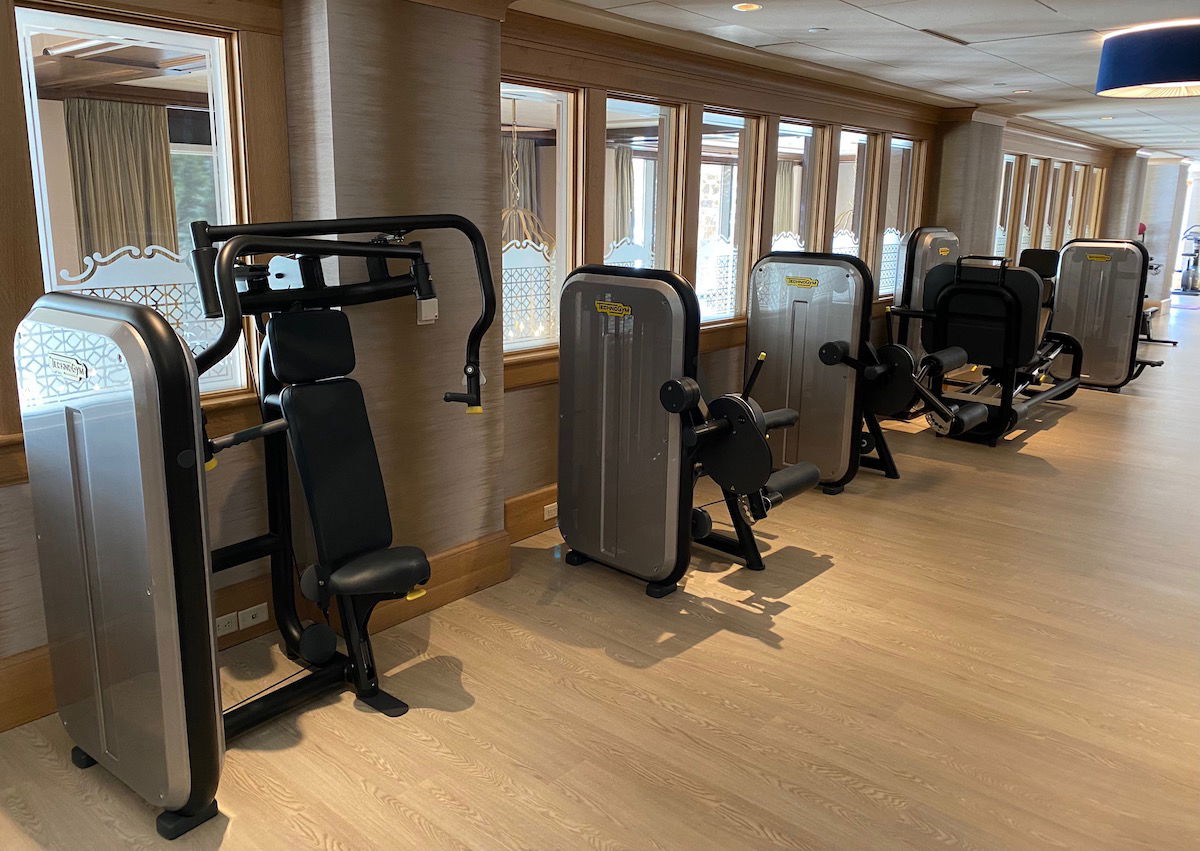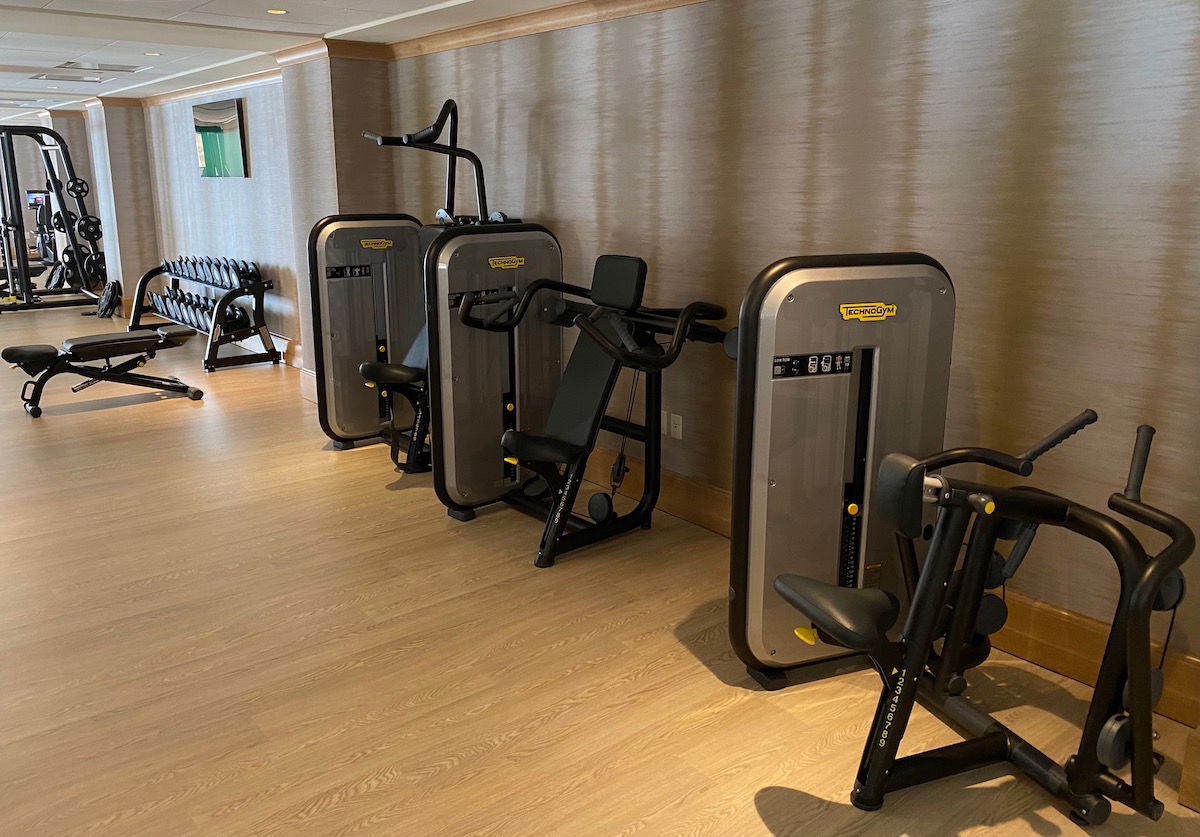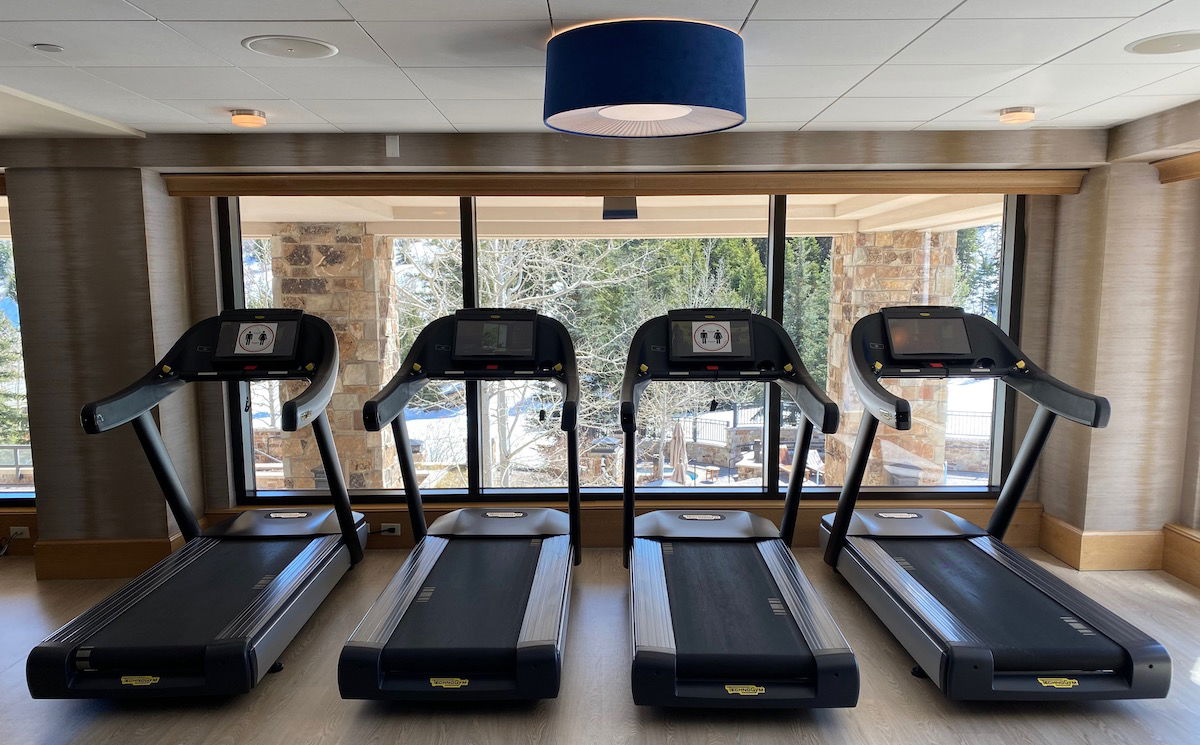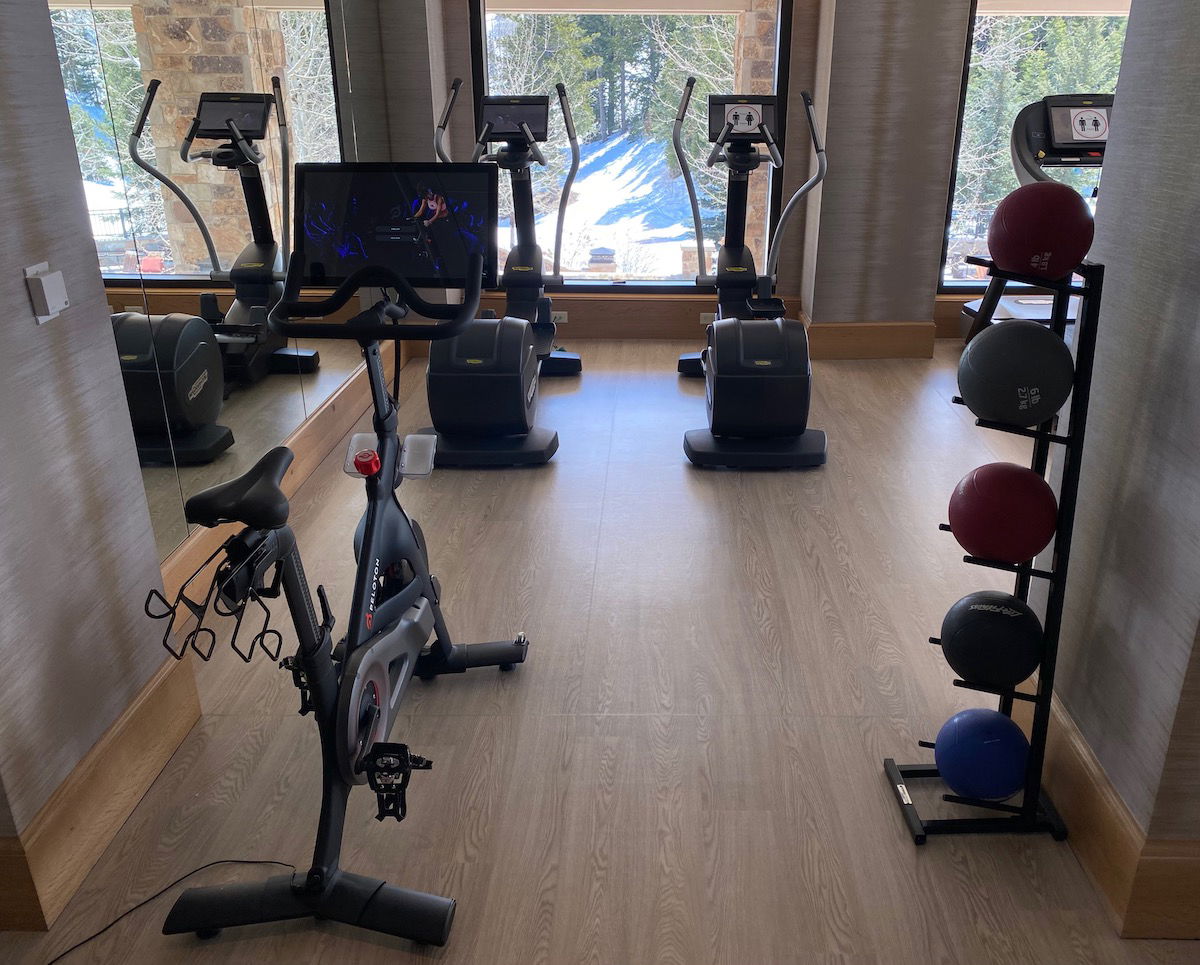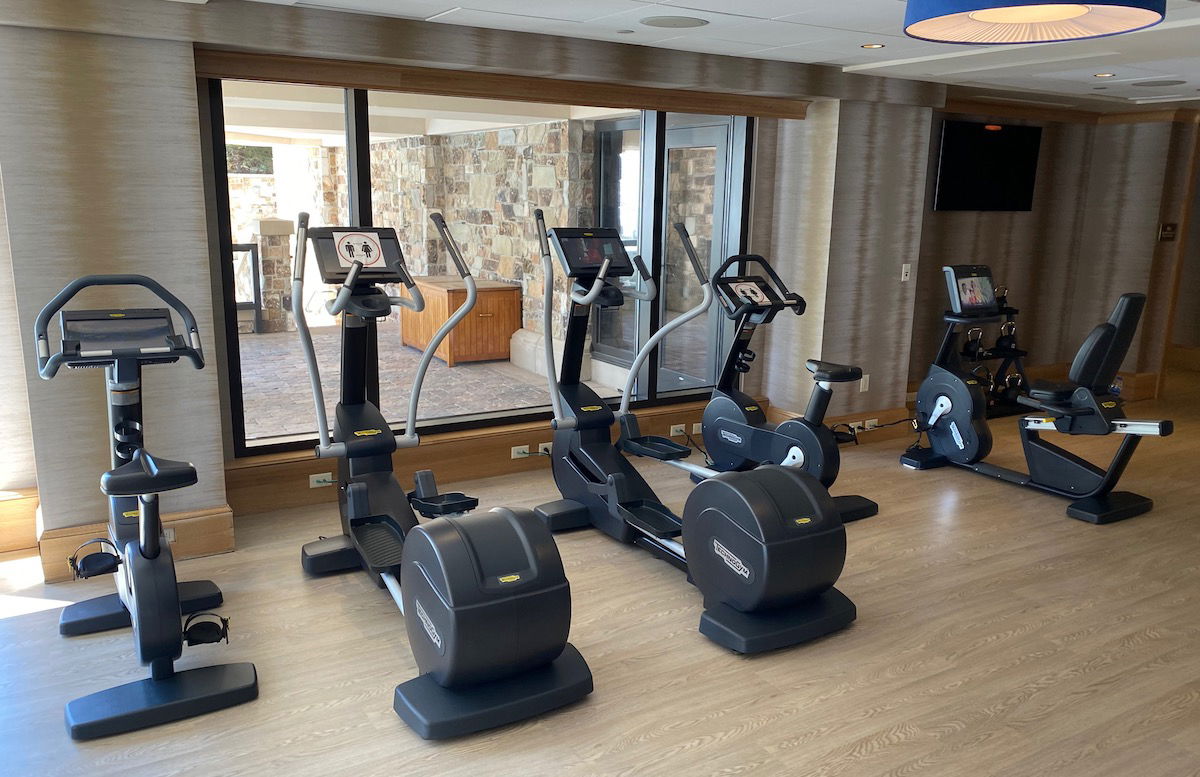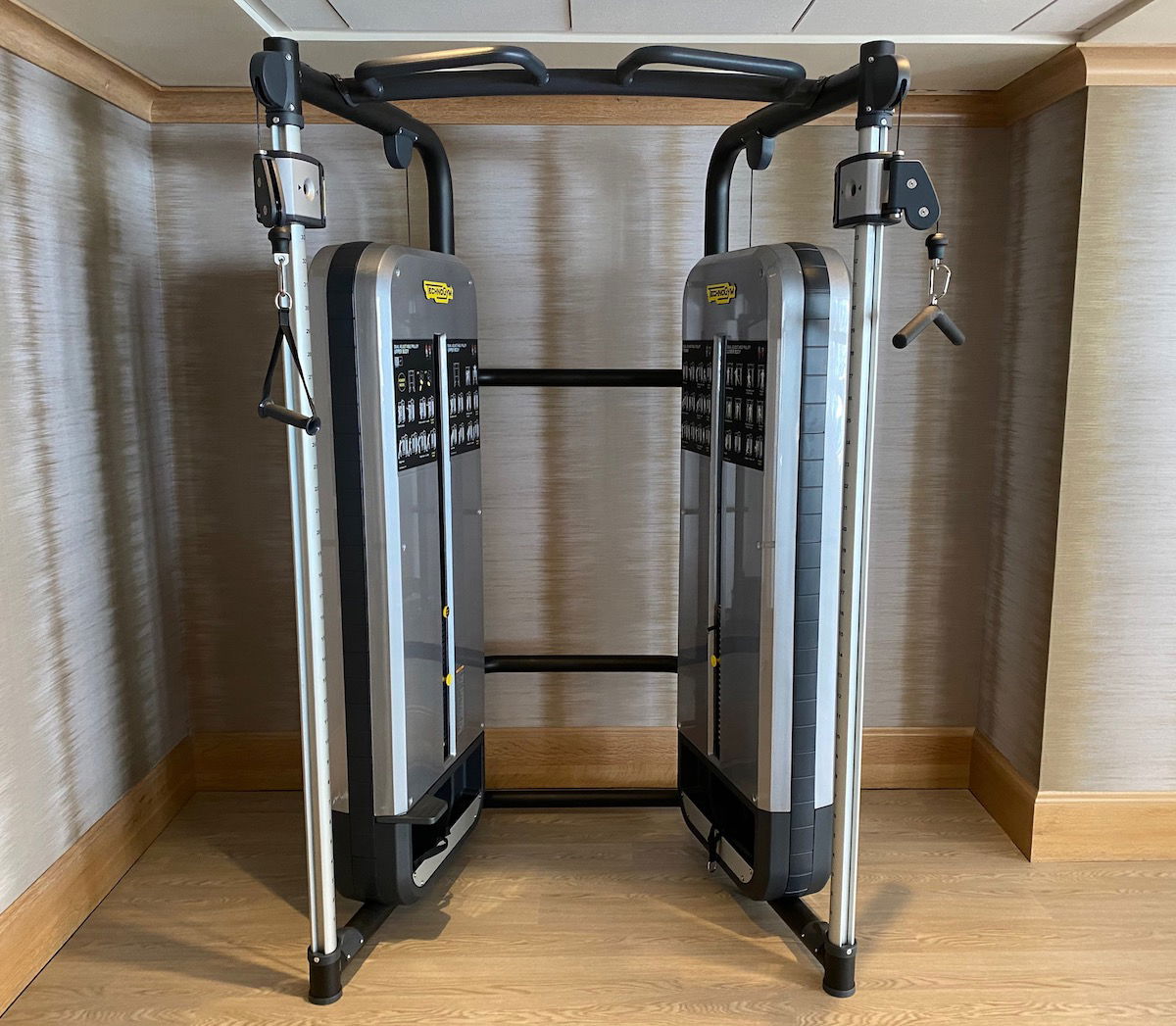 St. Regis Deer Valley RIME Restaurant
RIME Steak & Seafood is the St. Regis' breakfast and dinner restaurant. From the lobby you just walk up the stairs towards the funicular, and then the restaurant is on the left.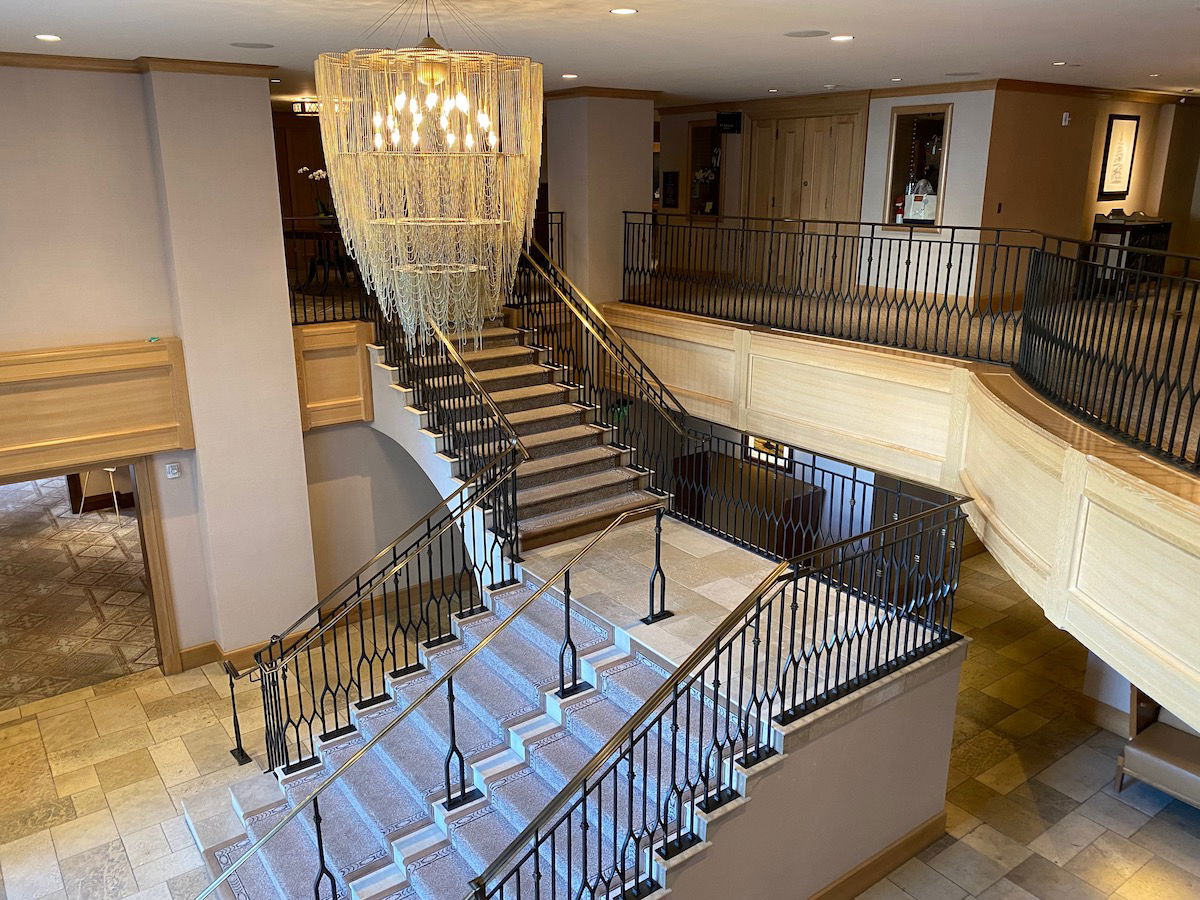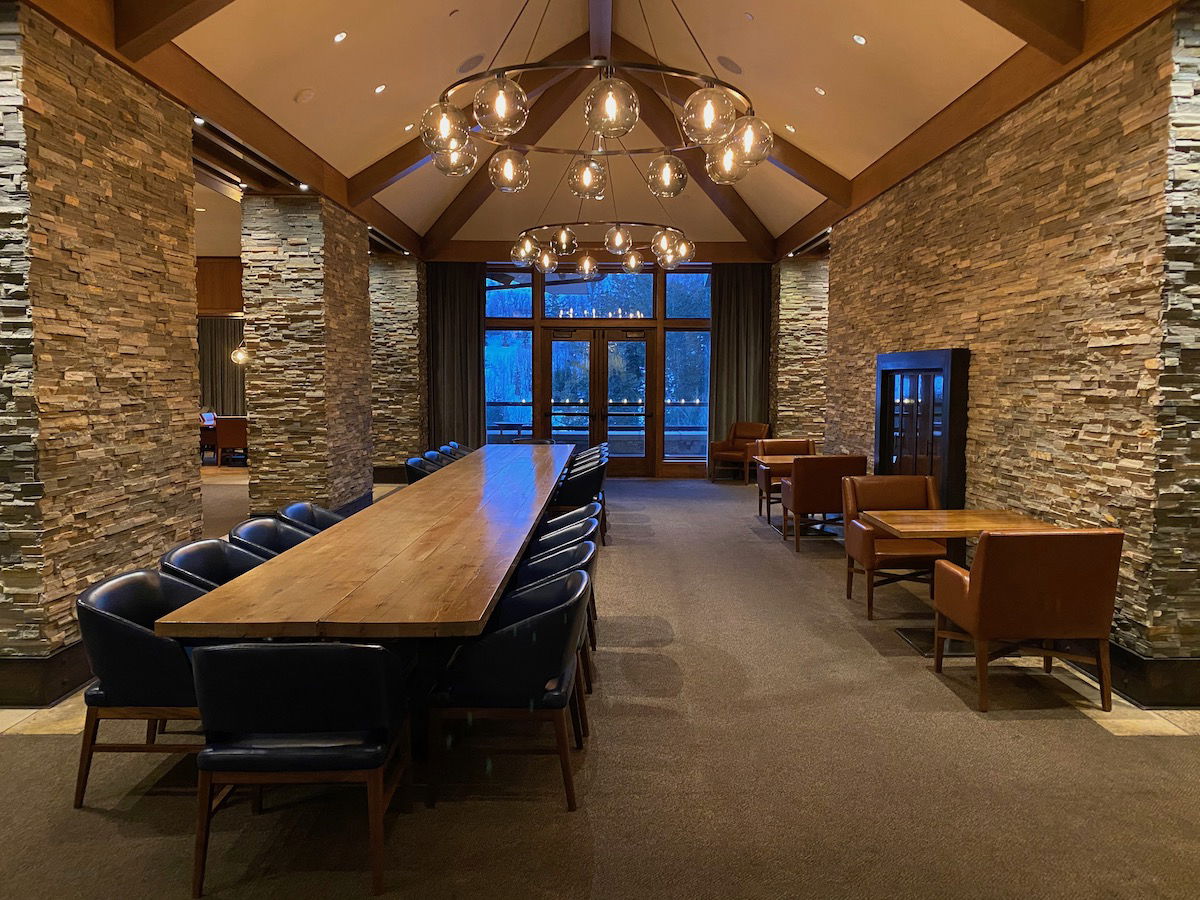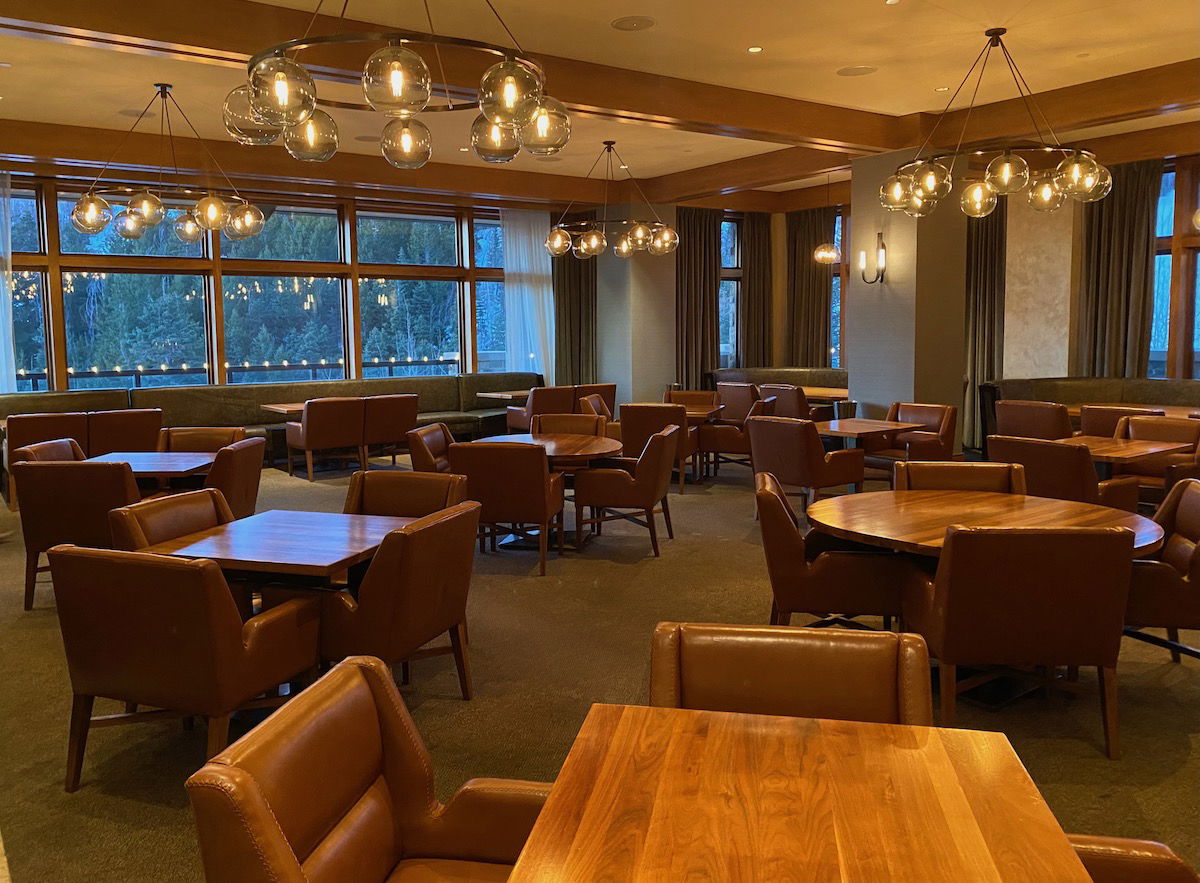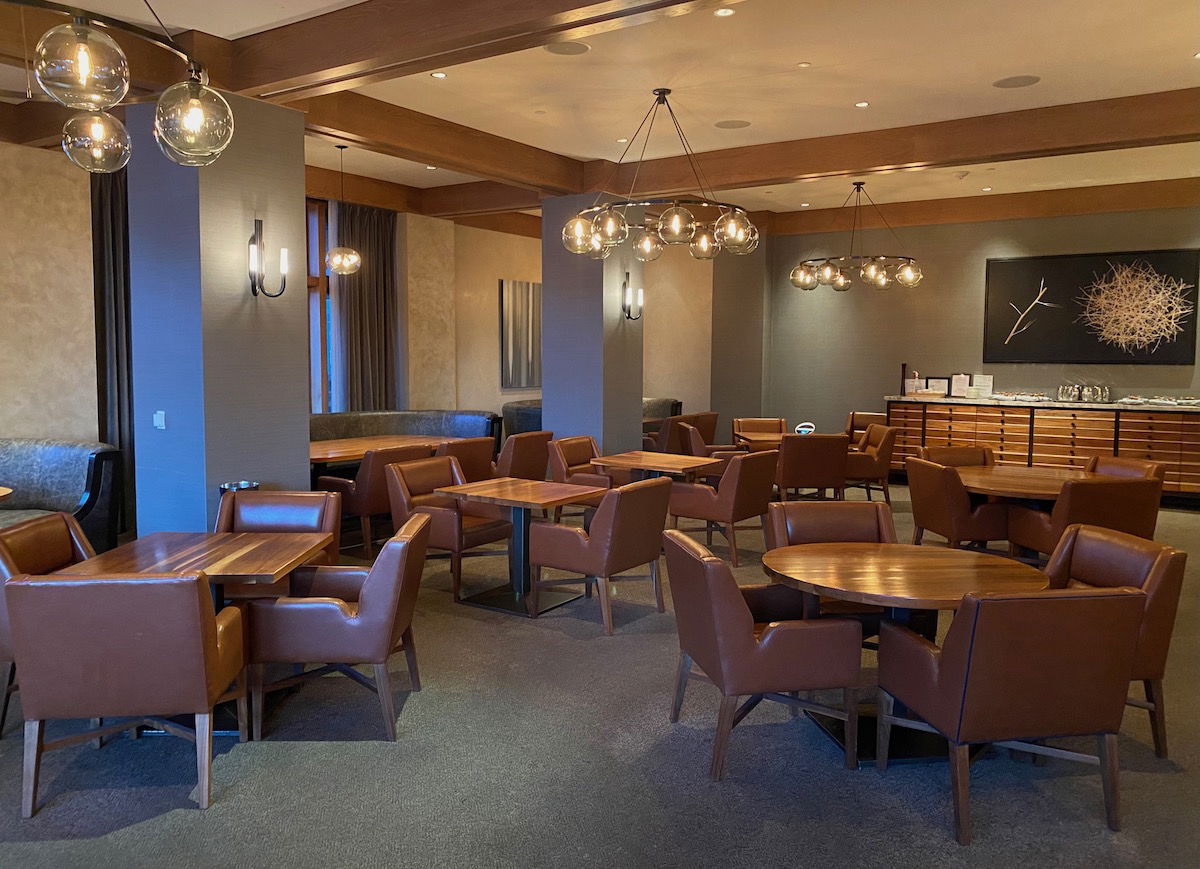 We never had dinner here, though we did have breakfast here each morning (it's served from 7AM until 11AM). As a Marriott Bonvoy Titanium member I selected complimentary breakfast as my elite welcome amenity. At this hotel that benefit is for a $40 daily breakfast credit.
While that credit won't necessarily cover everything for two people, we appreciated the freedom to order whatever we wanted, rather than getting the "continental" breakfast that some other Marriotts serve elite members, which might just be a muffin and a coffee.
The breakfast menu read as follows: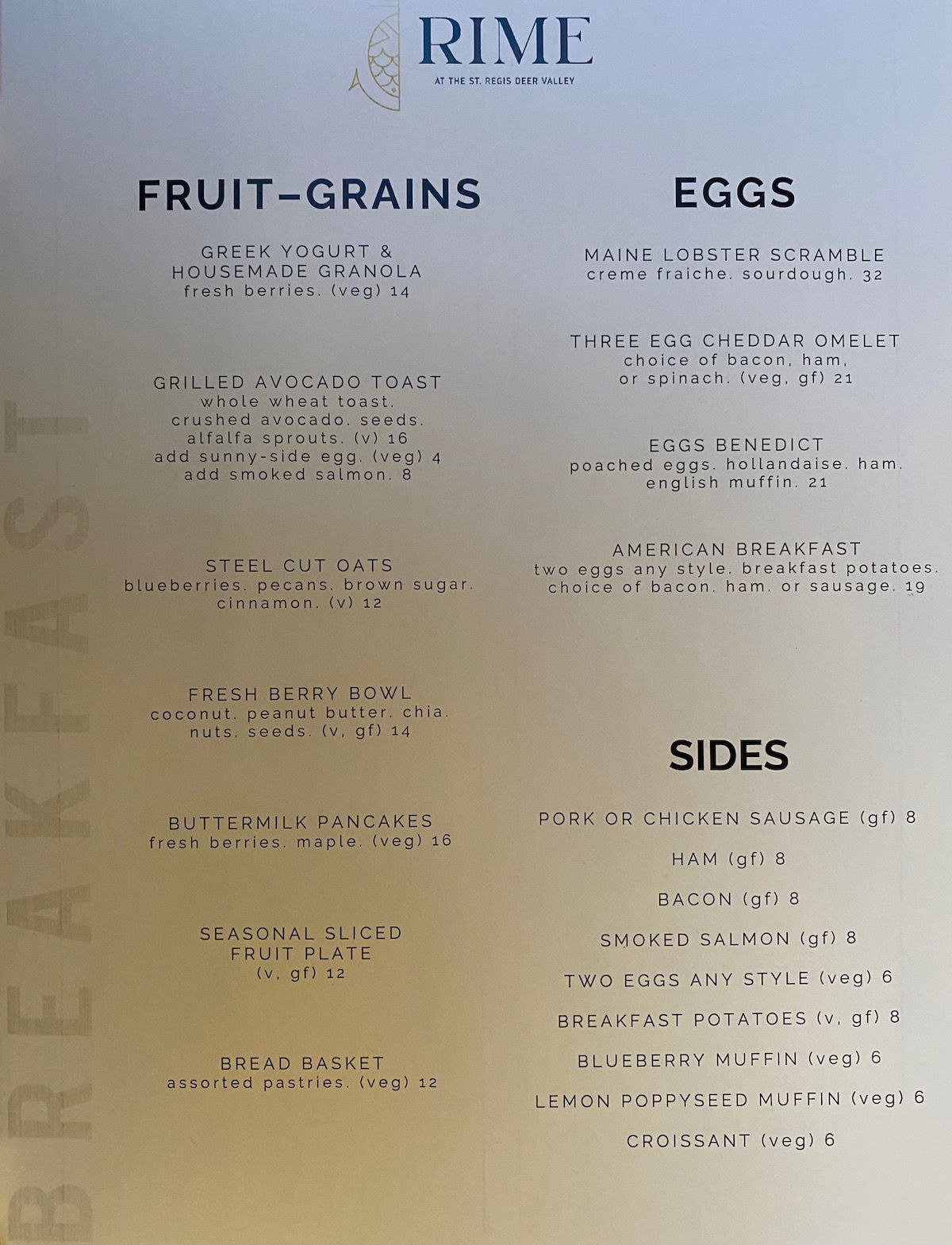 The coffee and cappuccino were excellent…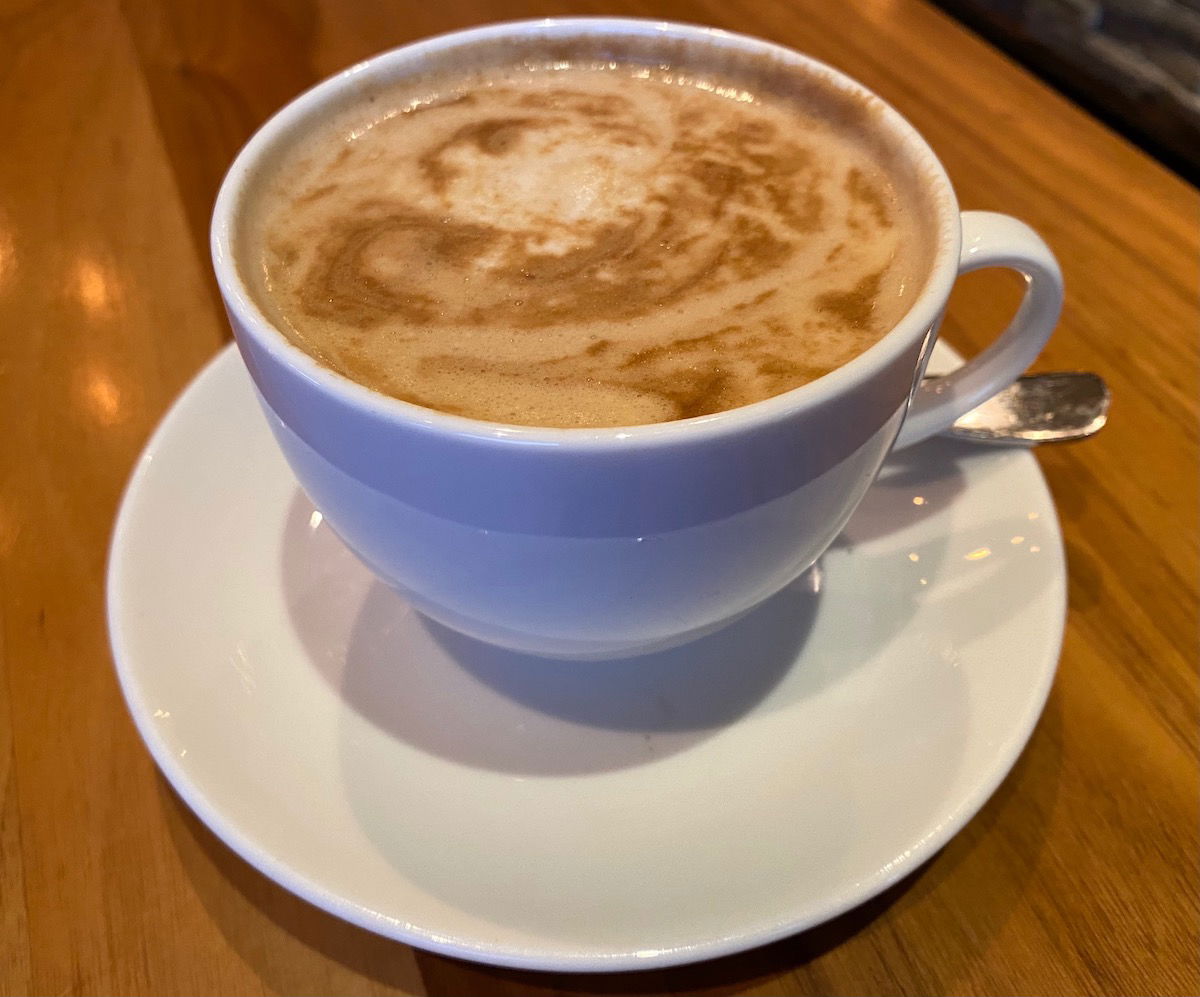 Over the course of our stay we sampled a variety of things, including the fresh berry bowl, the greek yogurt & granola, the avocado toast, and a couple of versions of the American breakfast.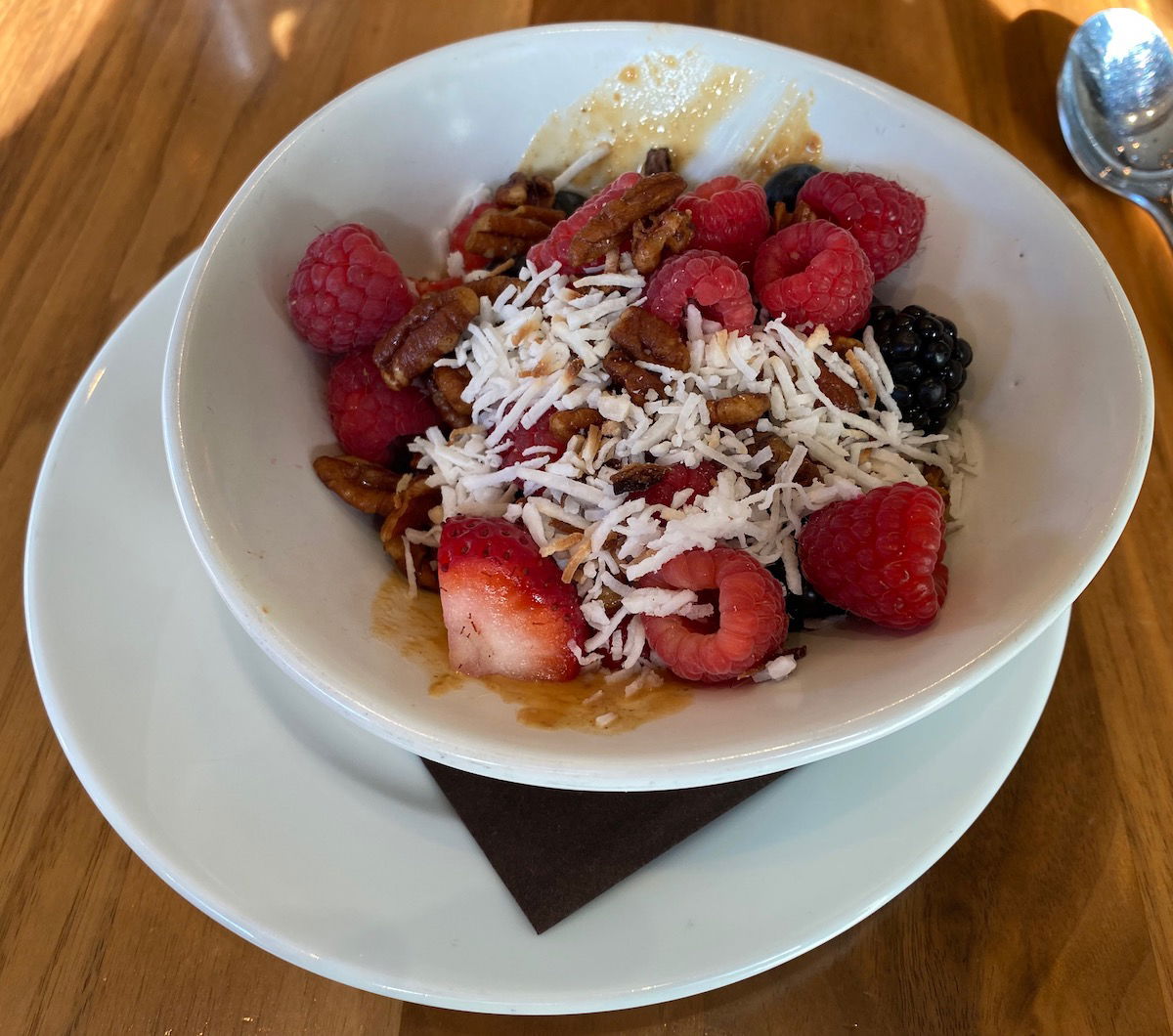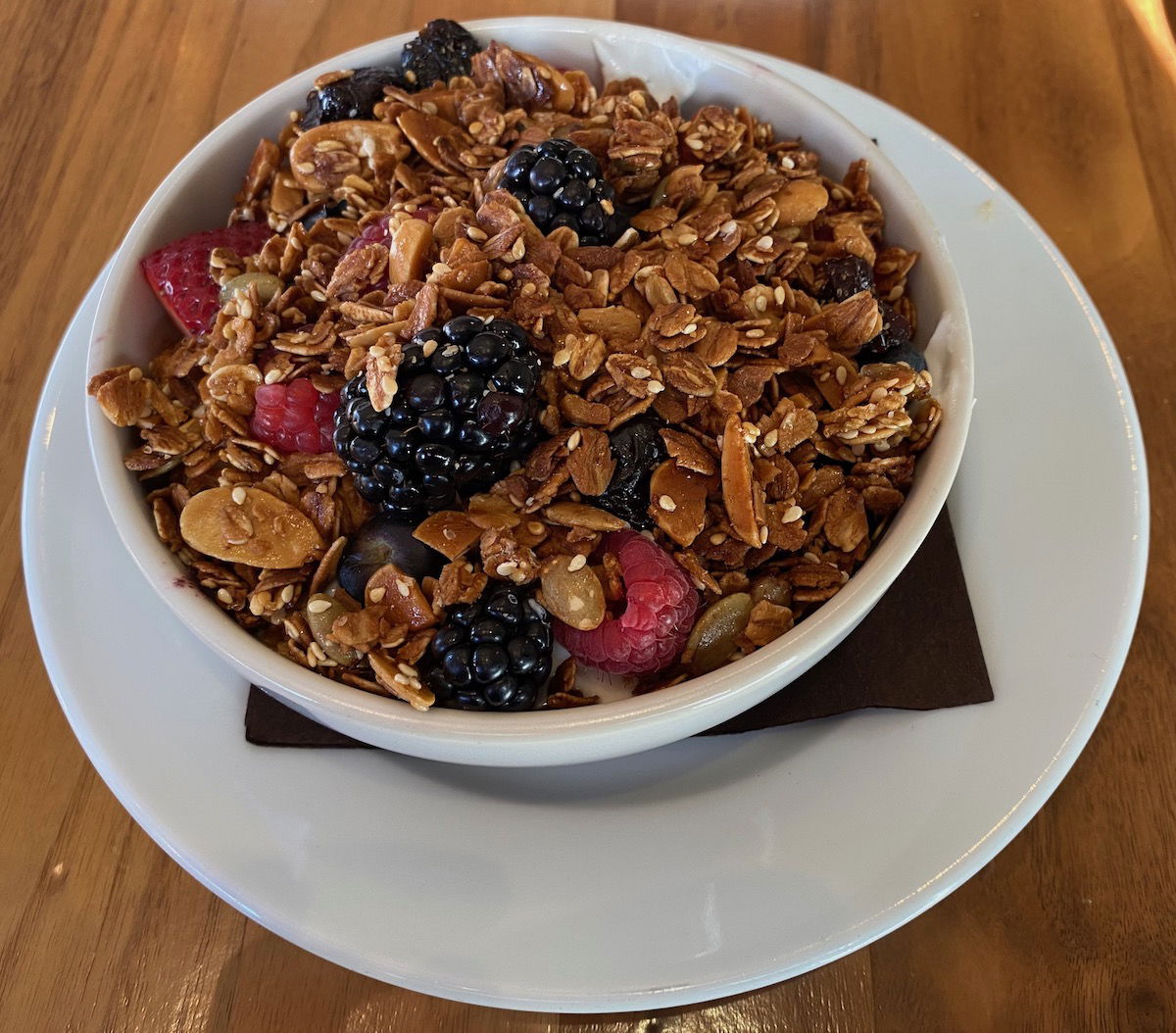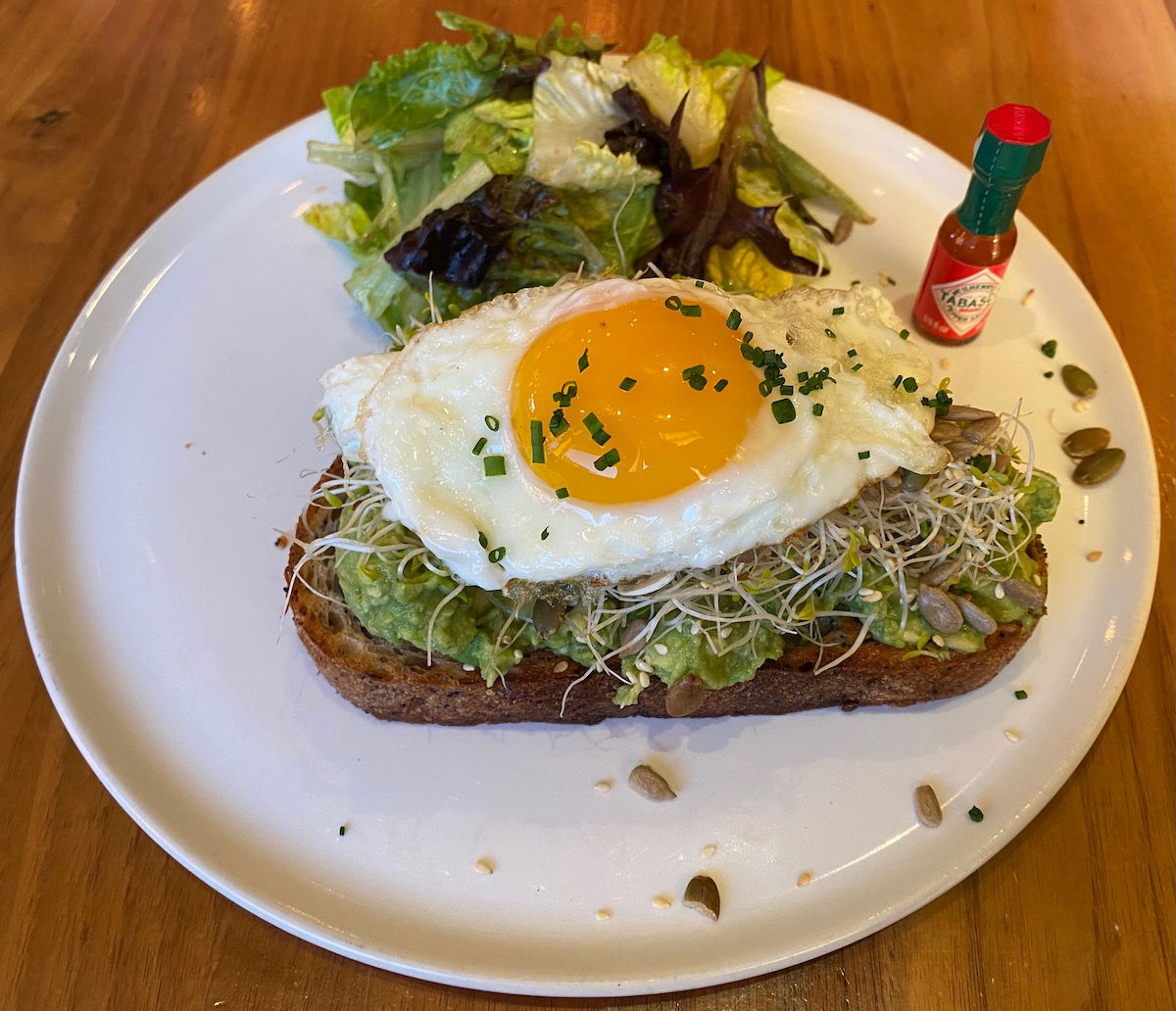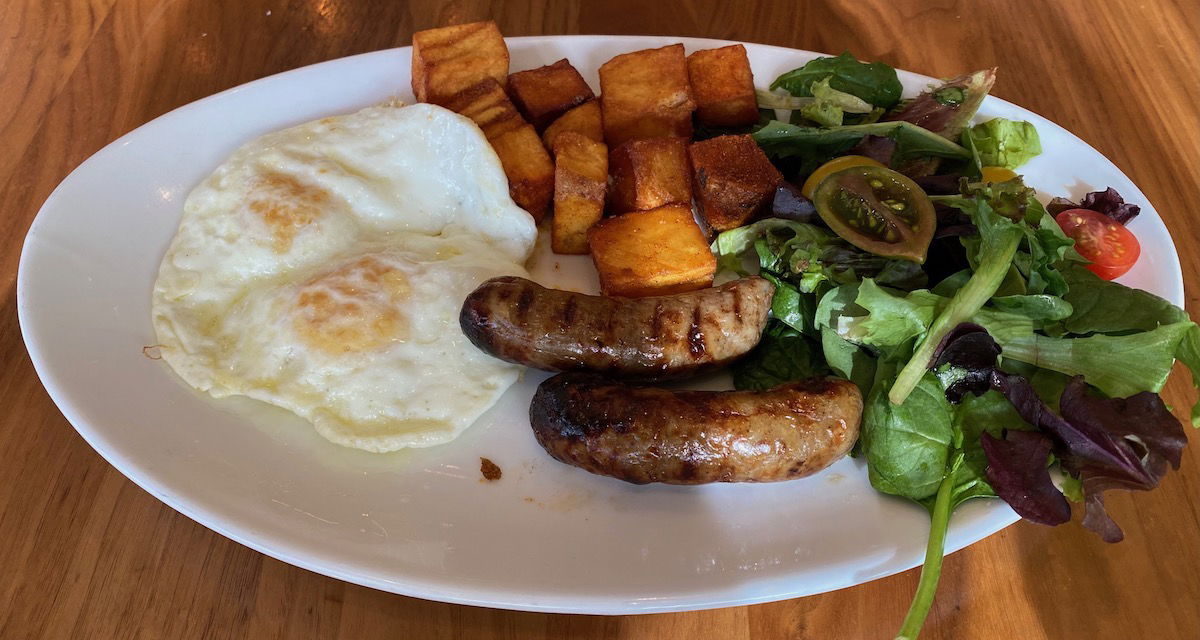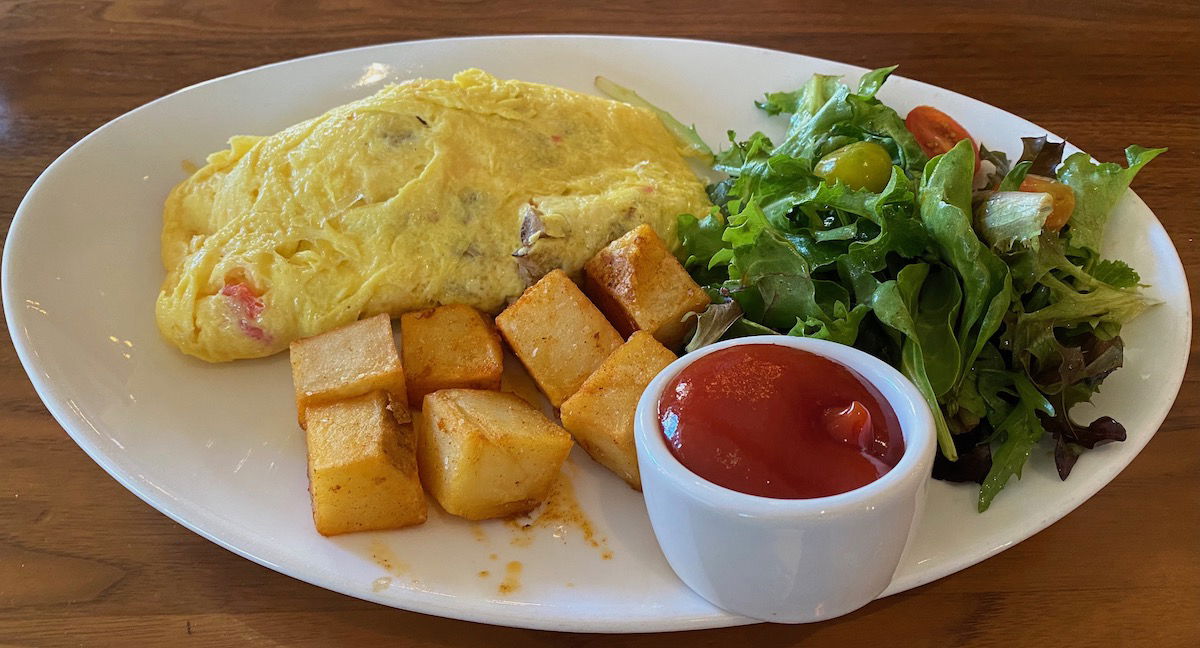 The food and service were consistently very good.
St. Regis Deer Valley Brasserie 7452 & Mountain Terrace
The St. Regis Deer Valley's other food & beverage outlets were Brasserie 7452 (with the 7452 referring to the altitude of the resort in feet) and the adjacent Mountain Terrace. These were both open for lunch and dinner, and were popular with people for après-ski. The weather was beautiful, so we sat outside on the terrace several times.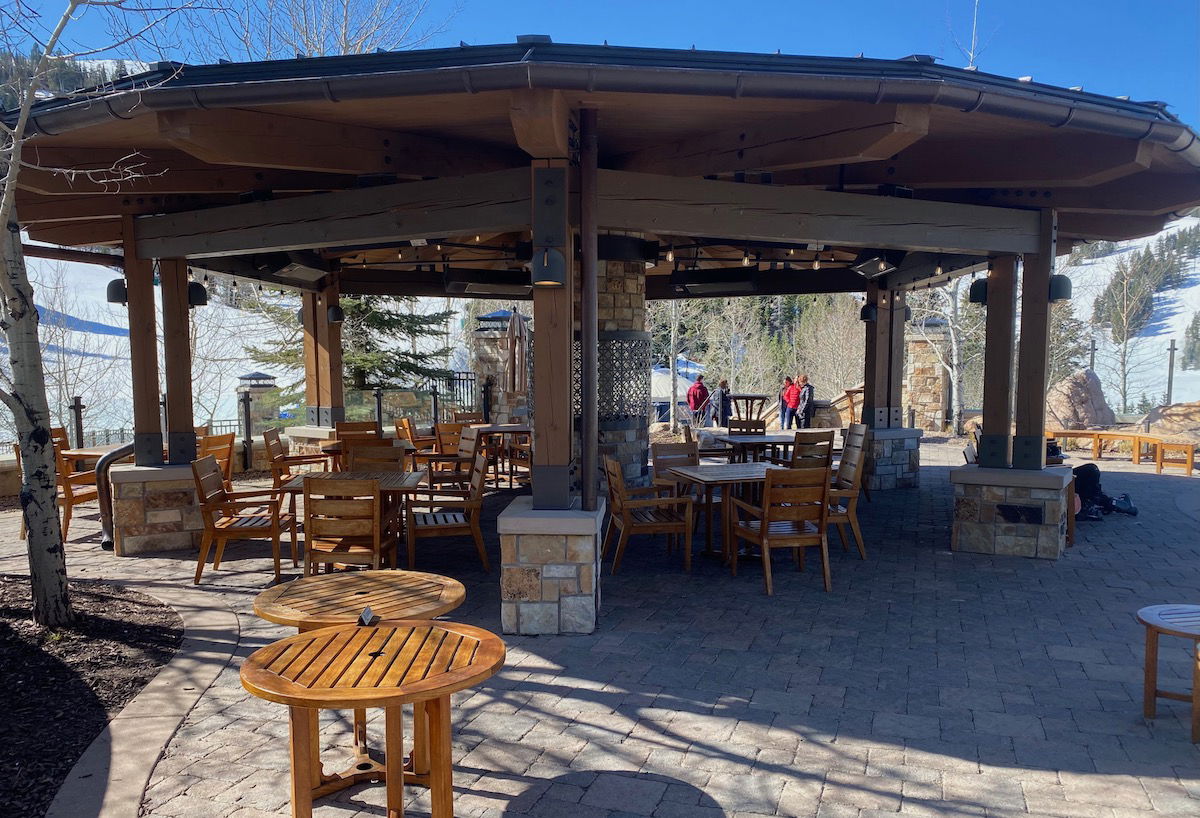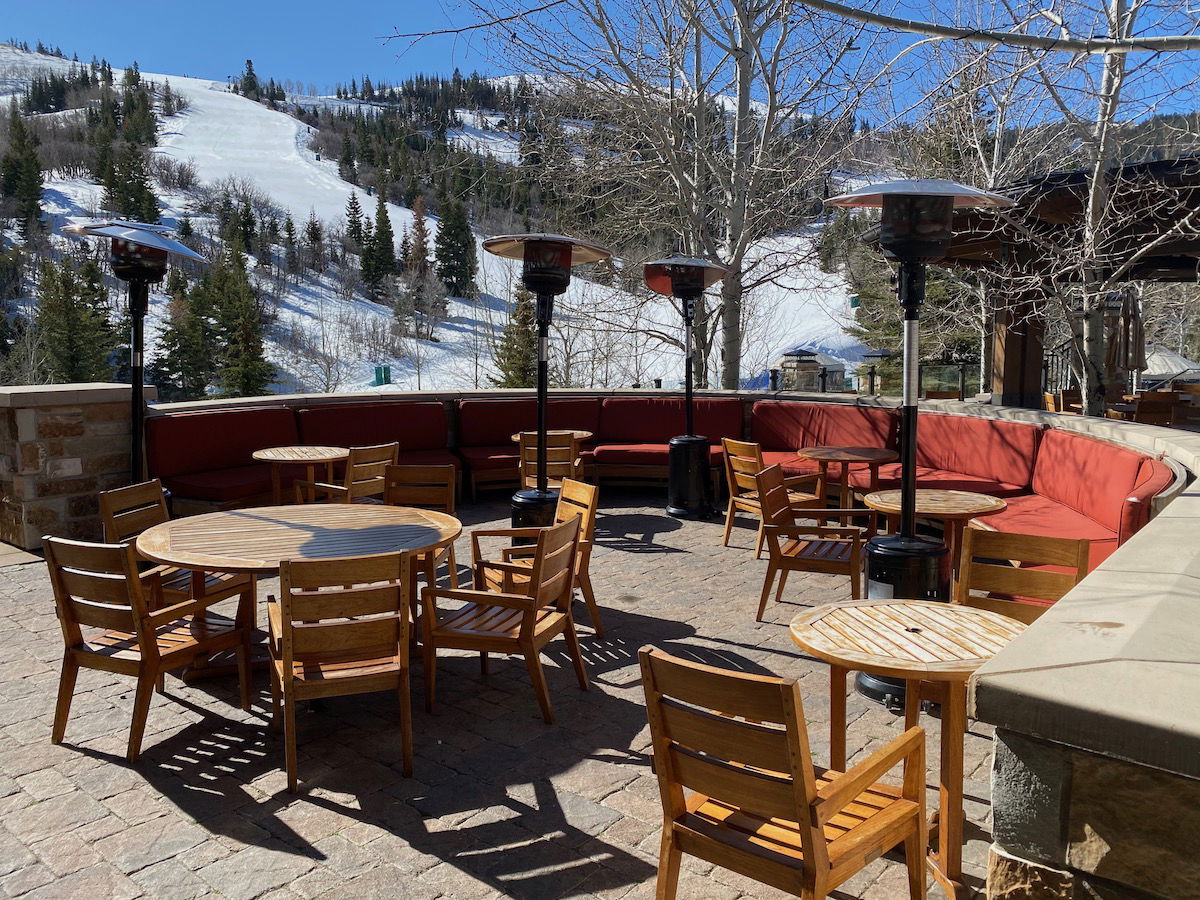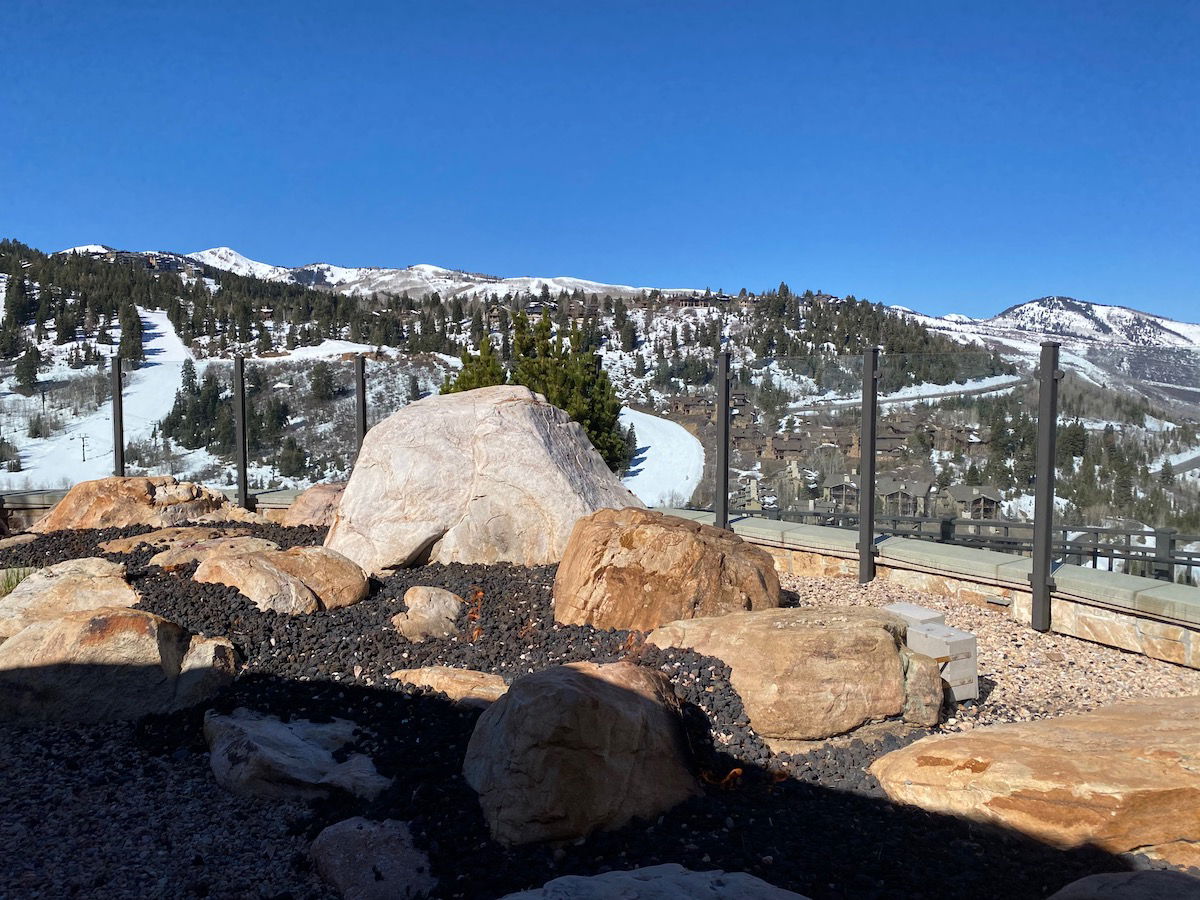 The lunch menu read as follows: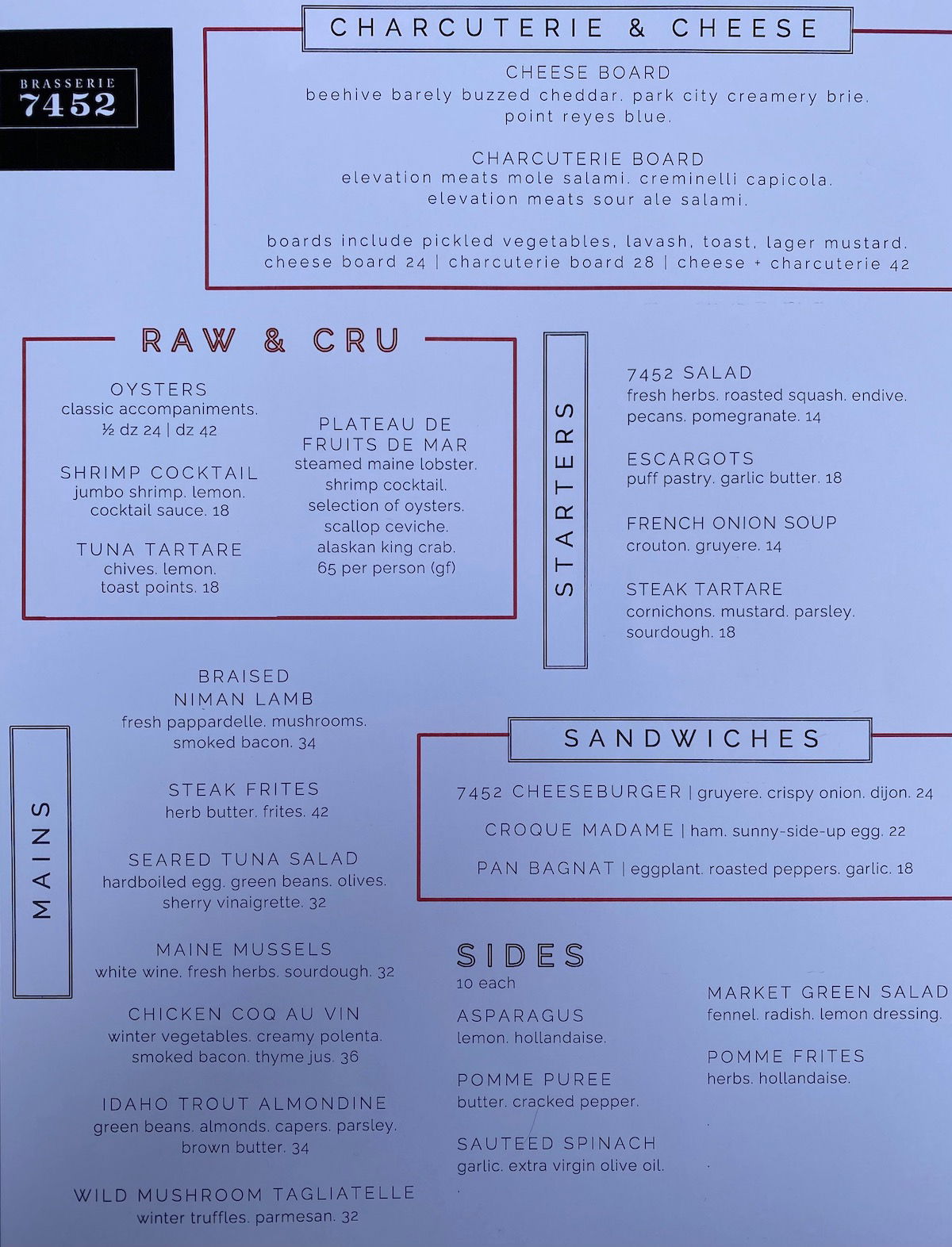 The cocktails tasted good, at least by Utah standards (which is to say they were light on alcohol).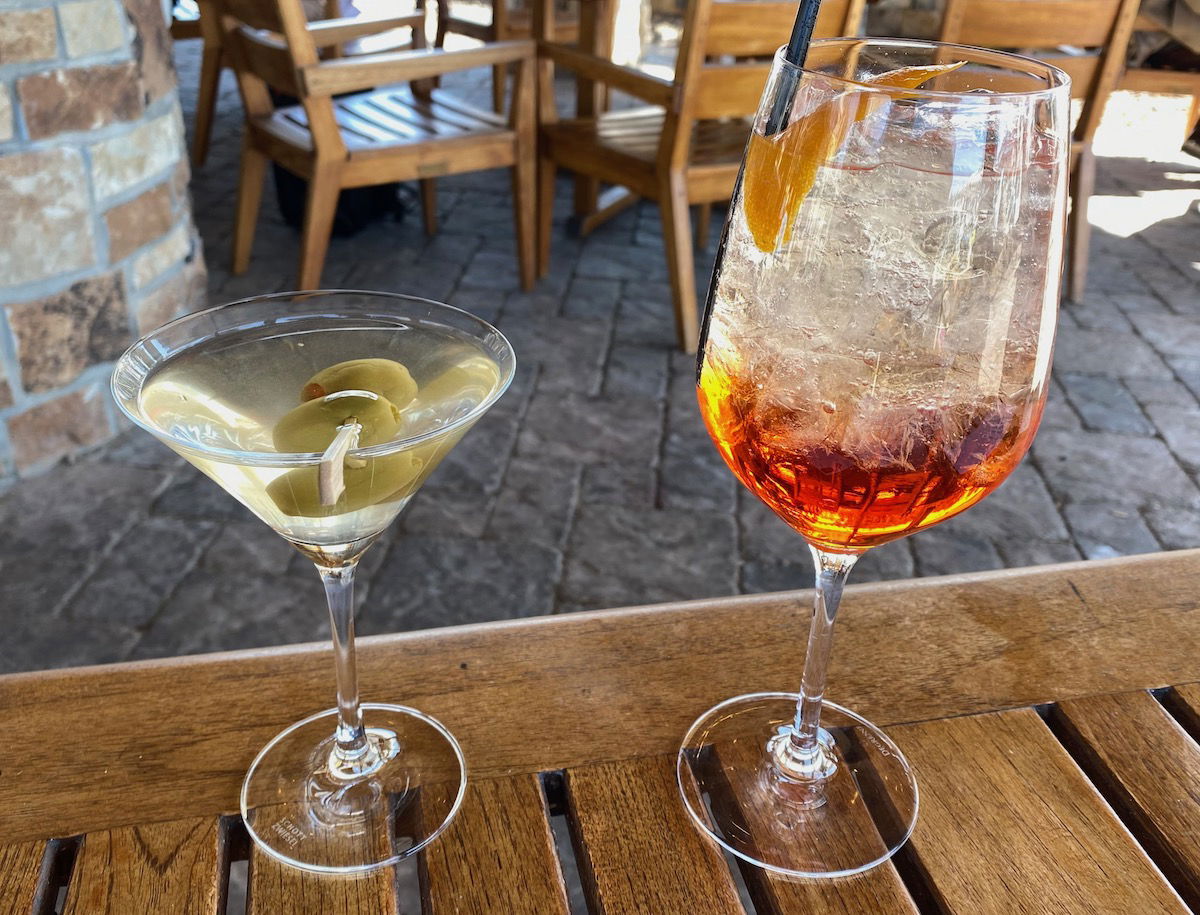 The food was good across the board, from the oysters, to the seared tuna salad, to the steak tartare, to the tuna tartare, to the cheese and charcuterie.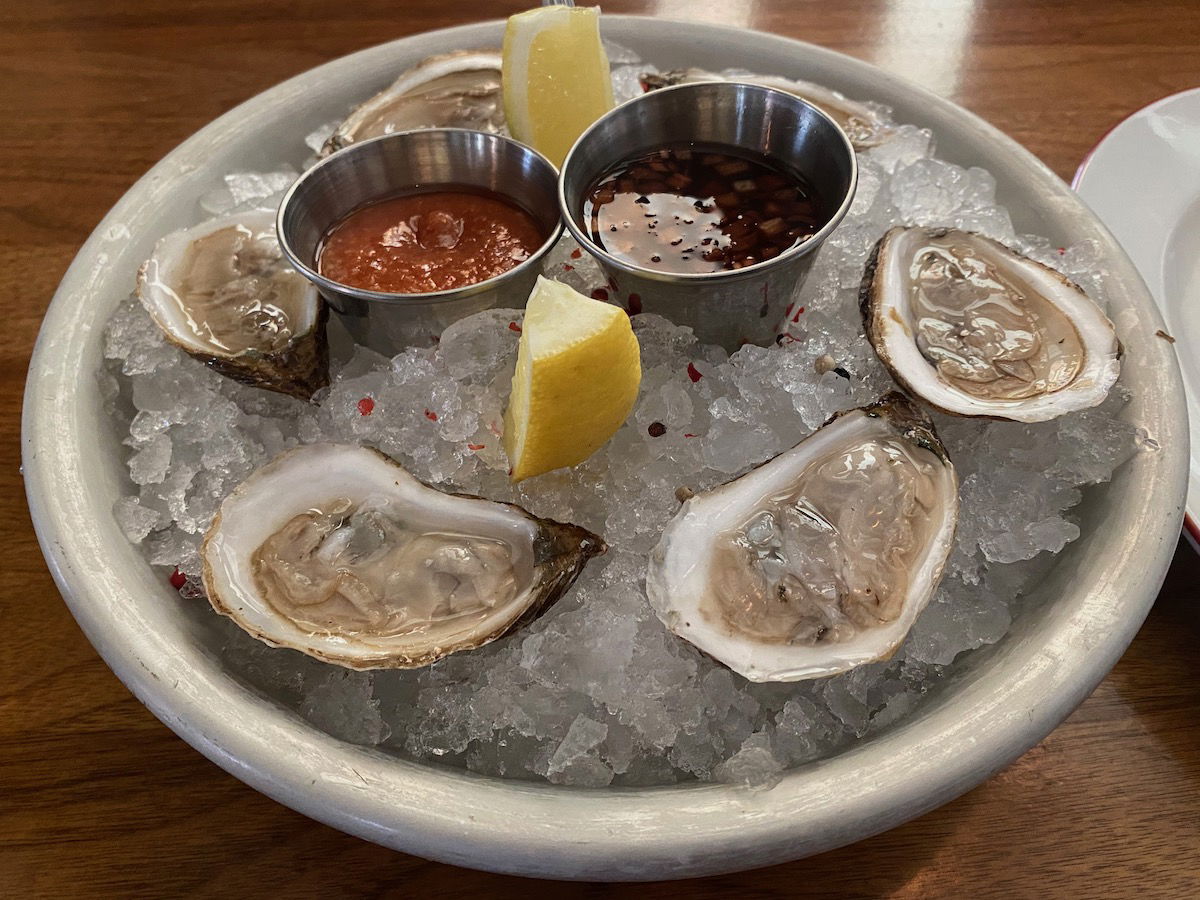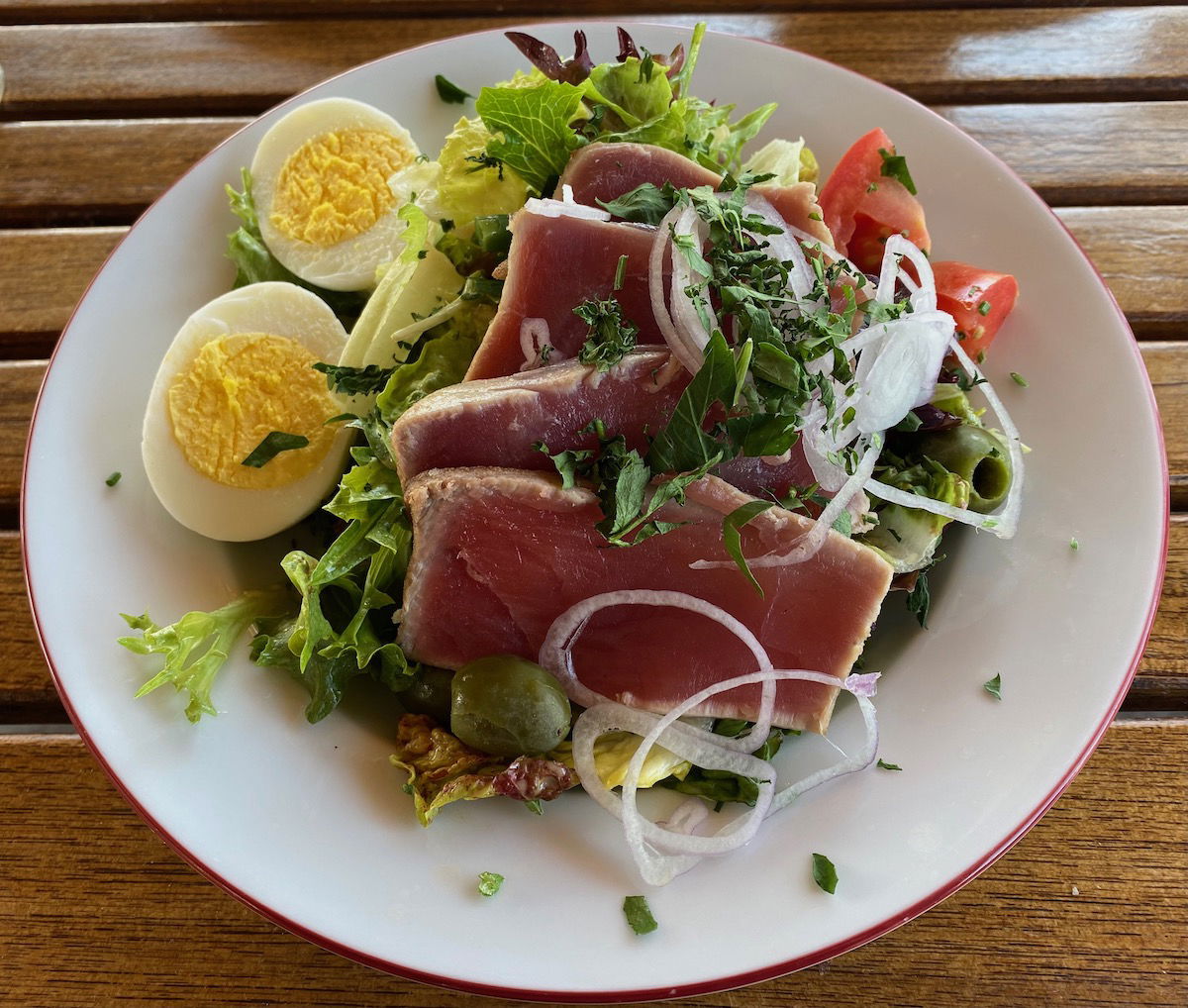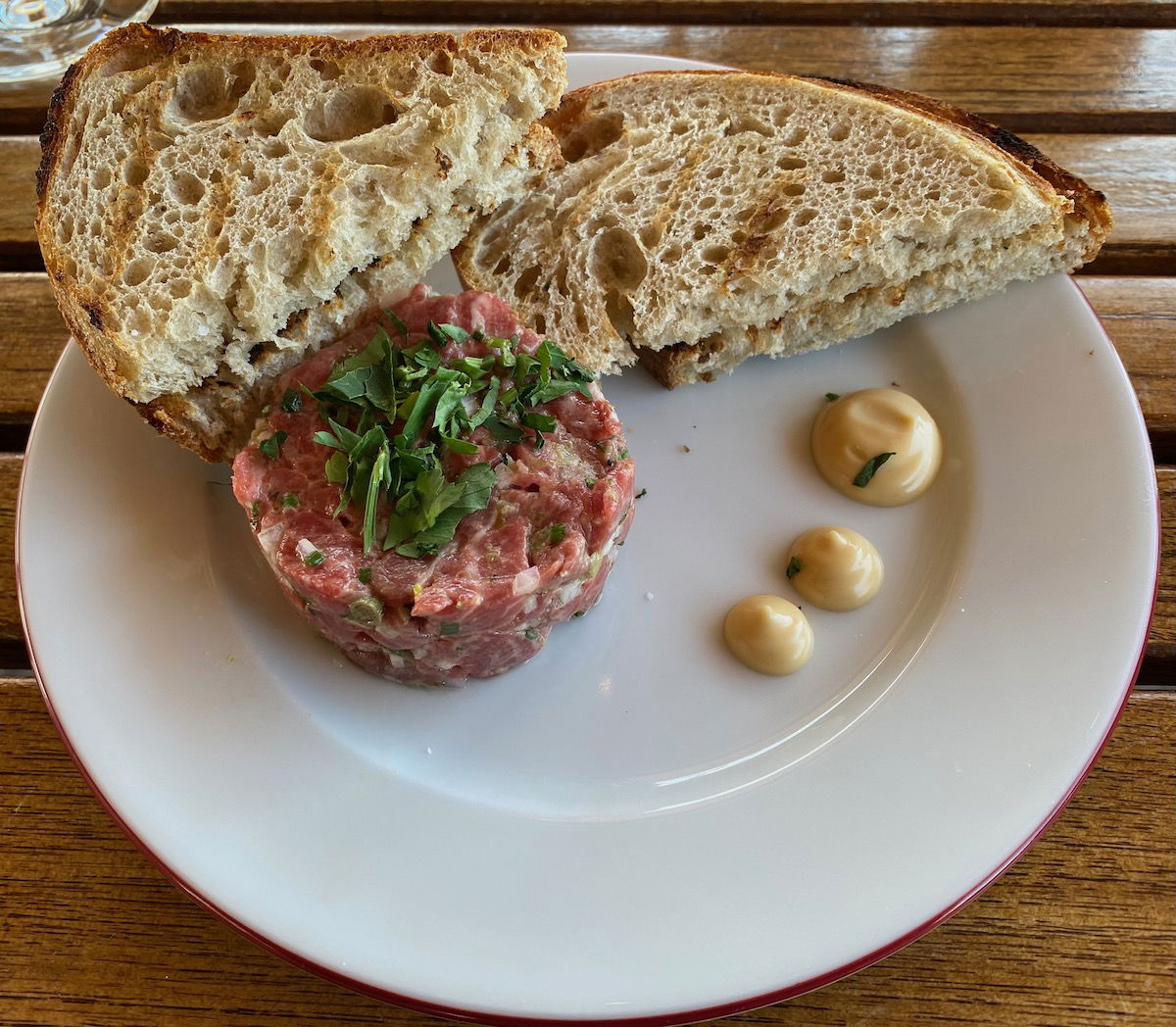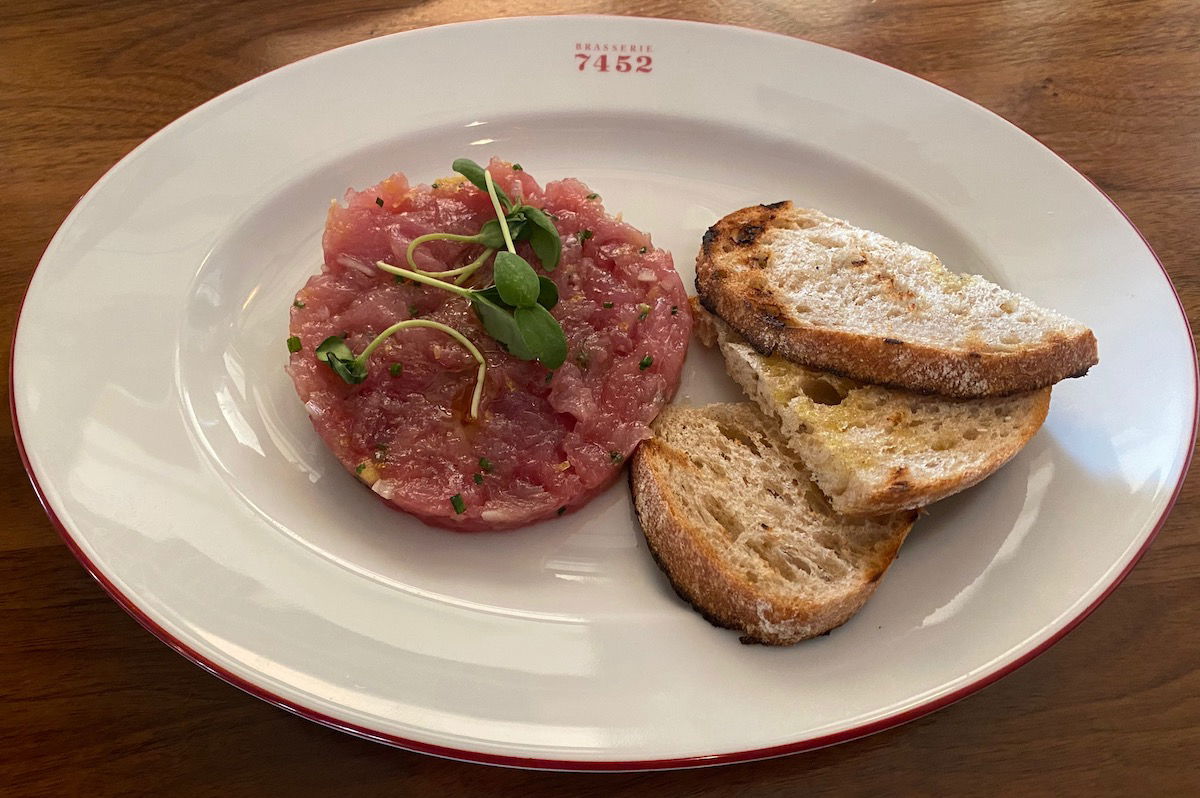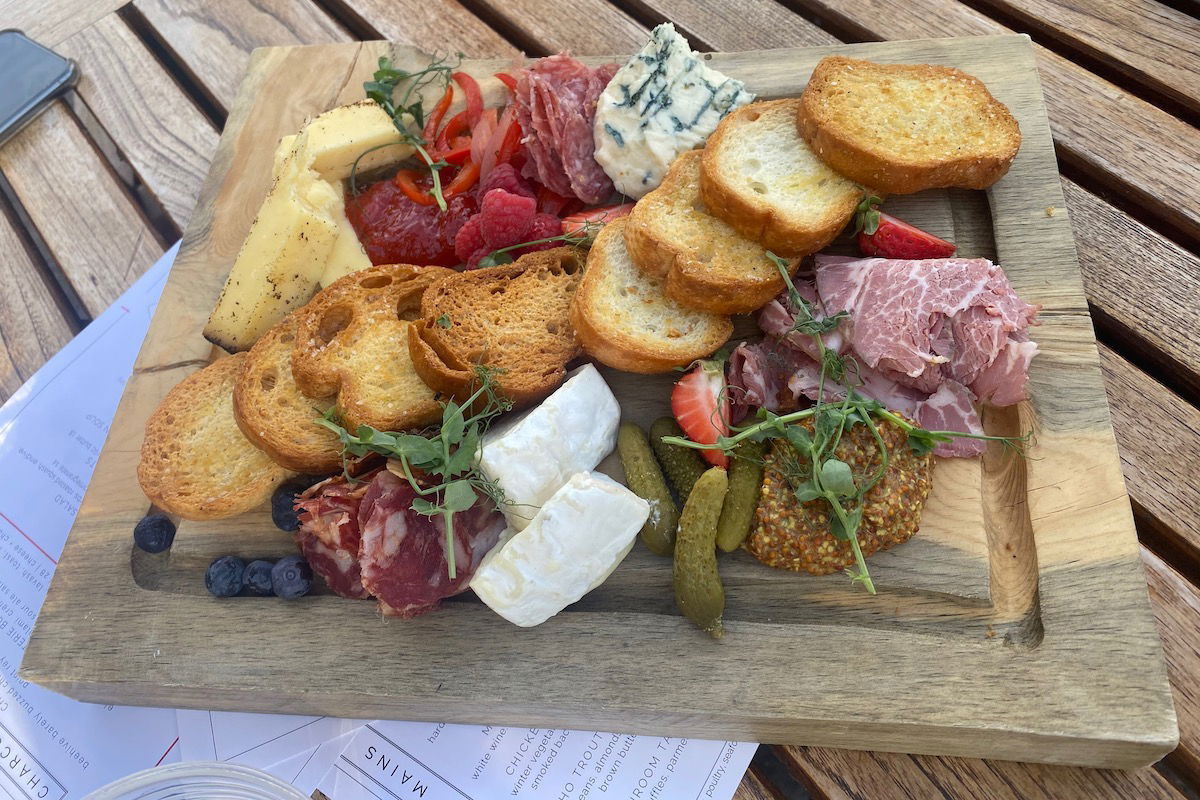 St. Regis Deer Valley market
The St. Regis Deer Valley also has a market just off the lobby, where you can pick up everything from drinks to snacks to souvenirs.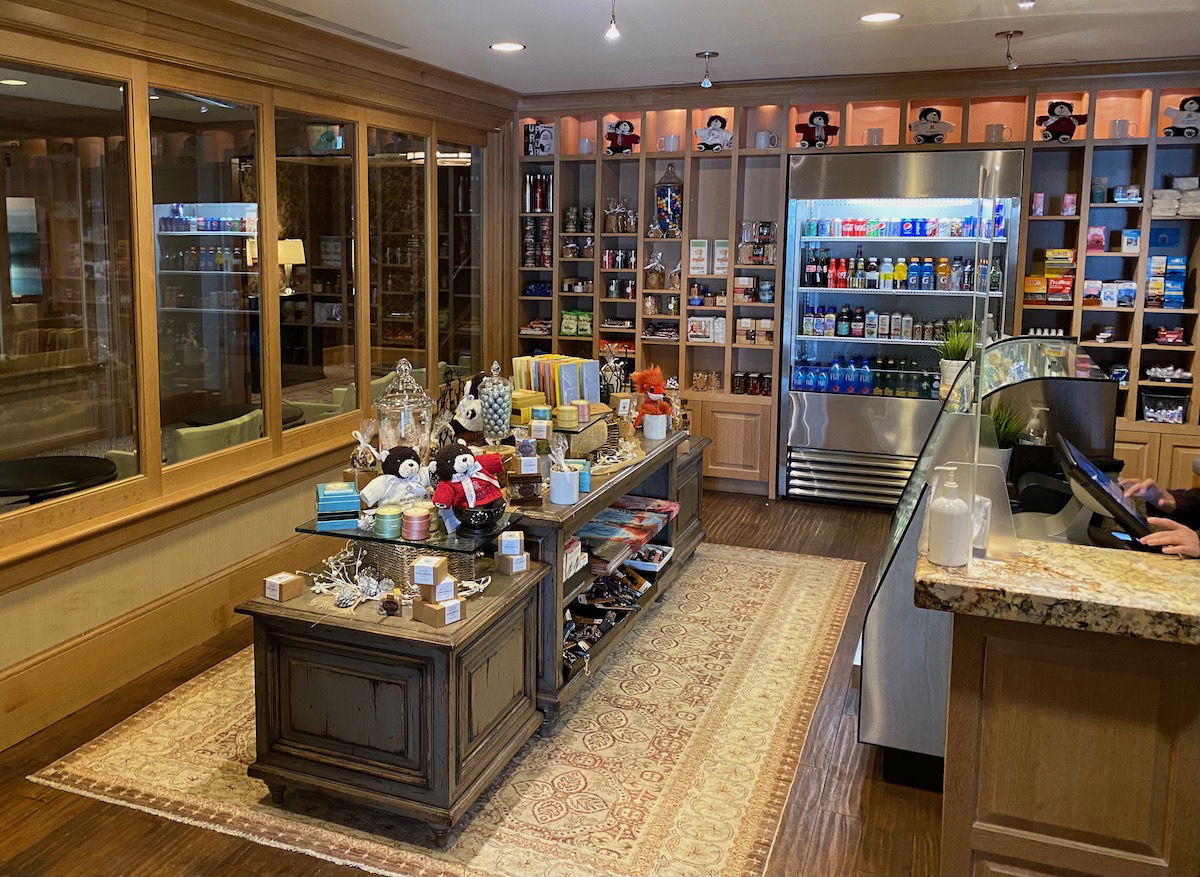 St. Regis Deer Valley service
I found the service at the St. Regis Deer Valley to be solid. Staff we interacted with were consistently friendly, helpful, and detail-oriented, from the front desk associates, to the restaurant servers, to the butlers. Ultimately service isn't that personalized (this isn't a particularly small hotel), but for a St. Regis in the United States, I was impressed.
St. Regis Aspen vs. St. Regis Deer Valley
Two of Marriott's most popular luxury ski resorts in the United States are the St. Regis Aspen and the St. Regis Deer Valley. I've stayed at both, so figured I'd share a couple of the things that I prefer about each property. Let me once again emphasize I'm not a skier, so I can only speak to everything but the skiing conditions.
What do I prefer about the St. Regis Aspen?
I love that the St. Regis is right in town; you can literally walk out the door of the hotel and be right in the middle of the town, while the Deer Valley property is a bit of a hike
I personally prefer Aspen to Park City, in terms of the restaurant scene, general walkability, etc.
I prefer Colorado to Utah for the fact that you can actually get a decent cocktail, etc.; I know this might sound petty to some, and I can certainly go without drinking, but if you're paying St. Regis prices for a cocktail, it's nice if they at least have a decent amount of alcohol in them
What do I prefer about the St. Regis Deer Valley?
I prefer the hotel as such, and in particular have had much better luck with upgrades than at the St. Regis Aspen
I far prefer flying into a major airport like Salt Lake City, where you're much less likely to be impacted by bad weather than flying into Aspen, where cancelations are common when the weather gets bad
Bottom line
The St. Regis Deer Valley is a fantastic ski resort, particularly when you consider that you can earn and redeem Marriott Bonvoy points here. The hotel has a beautiful setting, nicely appointed rooms, great public spaces, and excellent food.
This continues to be my favorite ski resort in the US that can be booked with points.
If you've stayed at the St. Regis Deer Valley, what was your experience like?