I recently had to be in Chicago for a couple of nights (and before anyone asks, I both got tested and was traveling for a reason exempt from the quarantine requirement), and decided to book the Thompson Chicago.
Why? Well, I've really come to love the Thompson brand, having had good stays at the Thompson Dallas and Thompson Nashville. I didn't necessarily have high hopes of this property, but the price was reasonable and I'm continuing to work my way towards lifetime Globalist status with Hyatt, so I try to spend money with Hyatt over competitors whenever possible.
Booking the Thompson Chicago
I had booked the Thompson Chicago through Hyatt Privé. The rate was $169 per night, and for booking through Privé I'd receive the following perks on top of the typical Globalist perks:
Daily full breakfast for two in the hotel's restaurant
A $75 property credit per room per stay
A one category room upgrade confirmed at the time of booking
Early check-in (as early as 9AM) and late check-out (as late as 4PM), subject to availability
A welcome gift and letter
Well, at least theoretically I should have received those perks, though in retrospect I basically received none of those perks.
Redeeming points at the Thompson Chicago
The Thompson Chicago is a Category 4 World of Hyatt property, meaning that a free night redemption costs 15,000 World of Hyatt points per night (this also means a Category 1-4 free night certificate could be used here).
I value World of Hyatt points at ~1.5 cents each, so paying cash was the better value here.
Thompson Chicago location
The 247-room Thompson is in Chicago's Gold Coast, and I thought the location was great. The weather was beautiful when I was in Chicago, so it was a great base from which to walk around, as it was a short walk from Lake Michigan, and not far from lots of great restaurants and shopping (though I didn't partake in either).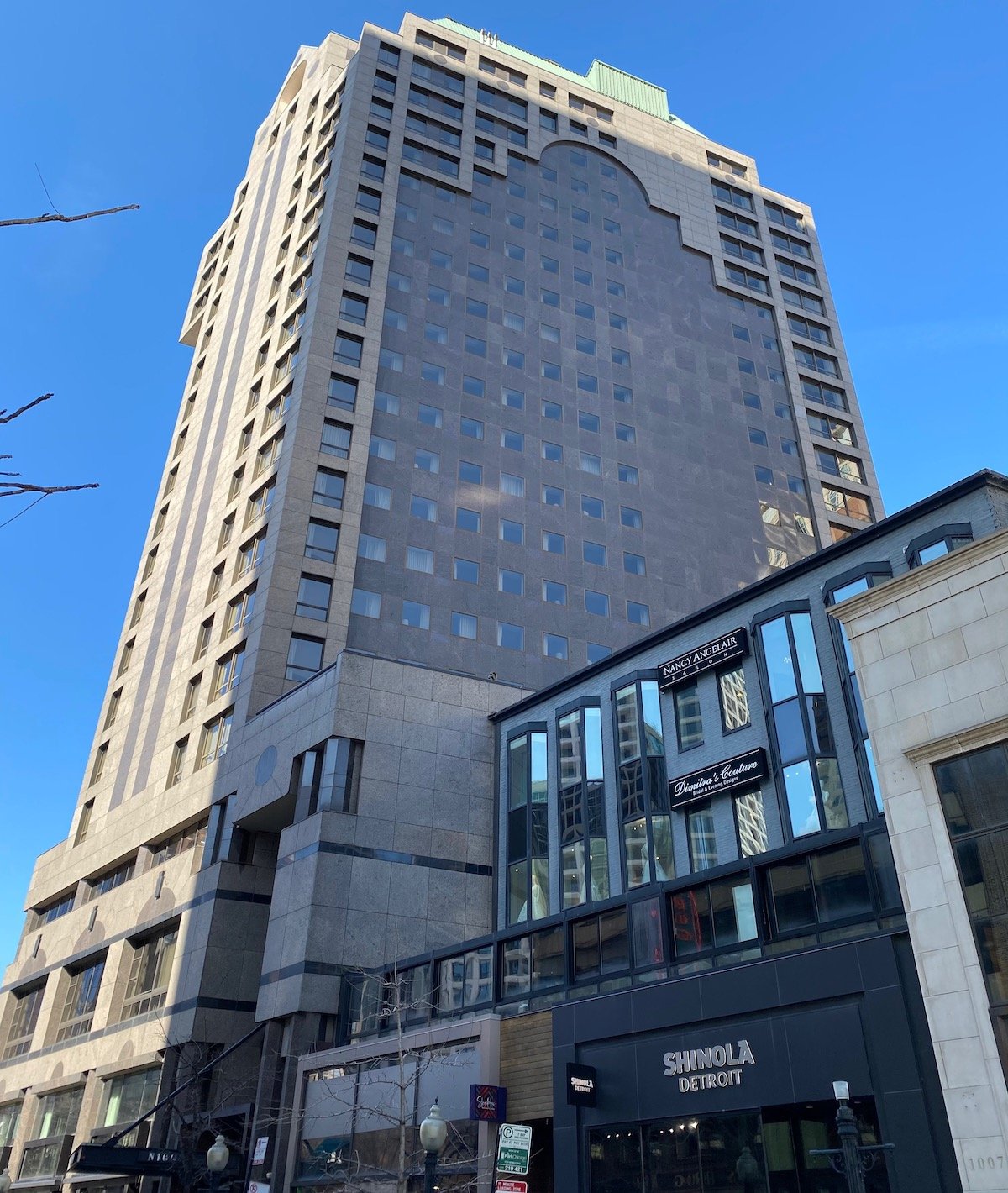 Thompson Chicago exterior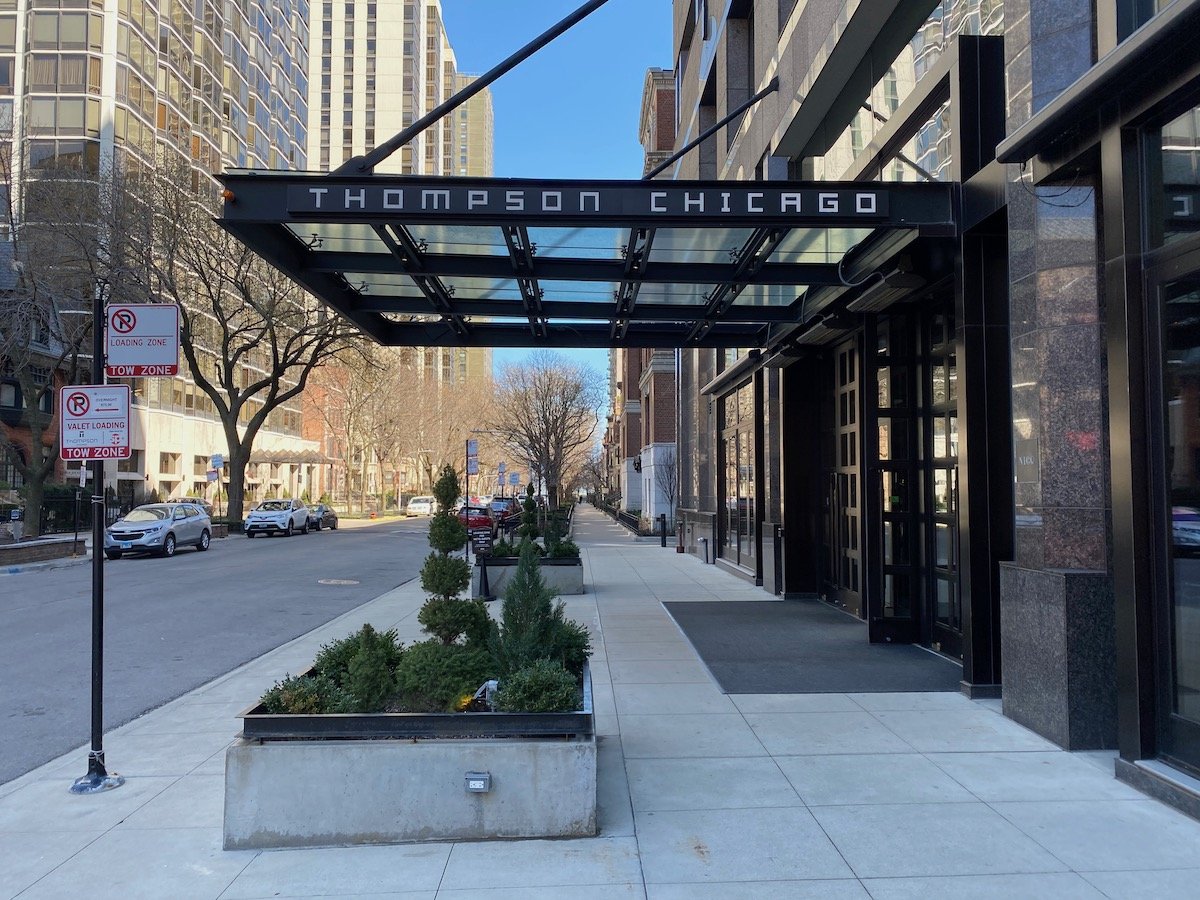 Thompson Chicago exterior
Thompson Chicago check-in & lobby
The Thompson's lobby is cute and has some character, as I've found to be the case at all Thompson locations. There were a variety of seating options, and I was generally a fan of the design.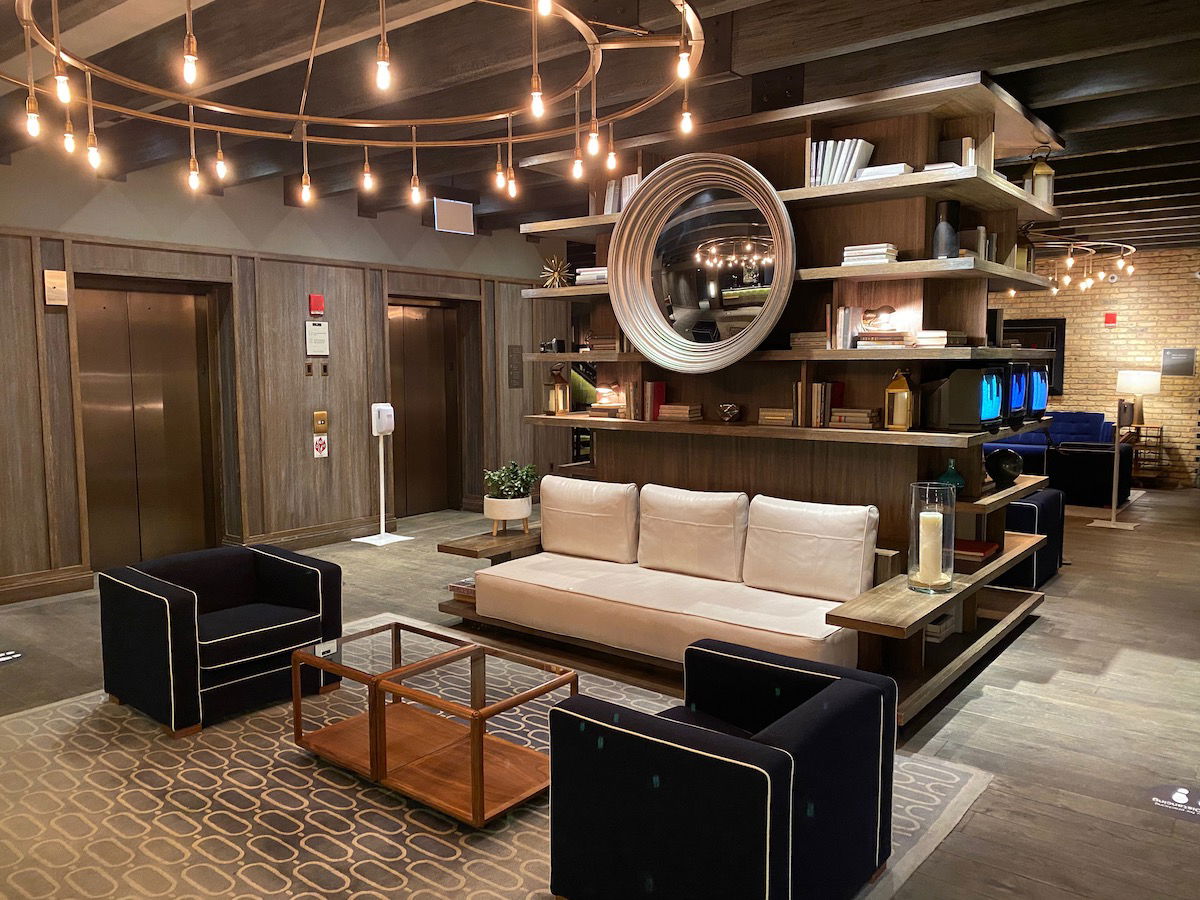 Thompson Chicago lobby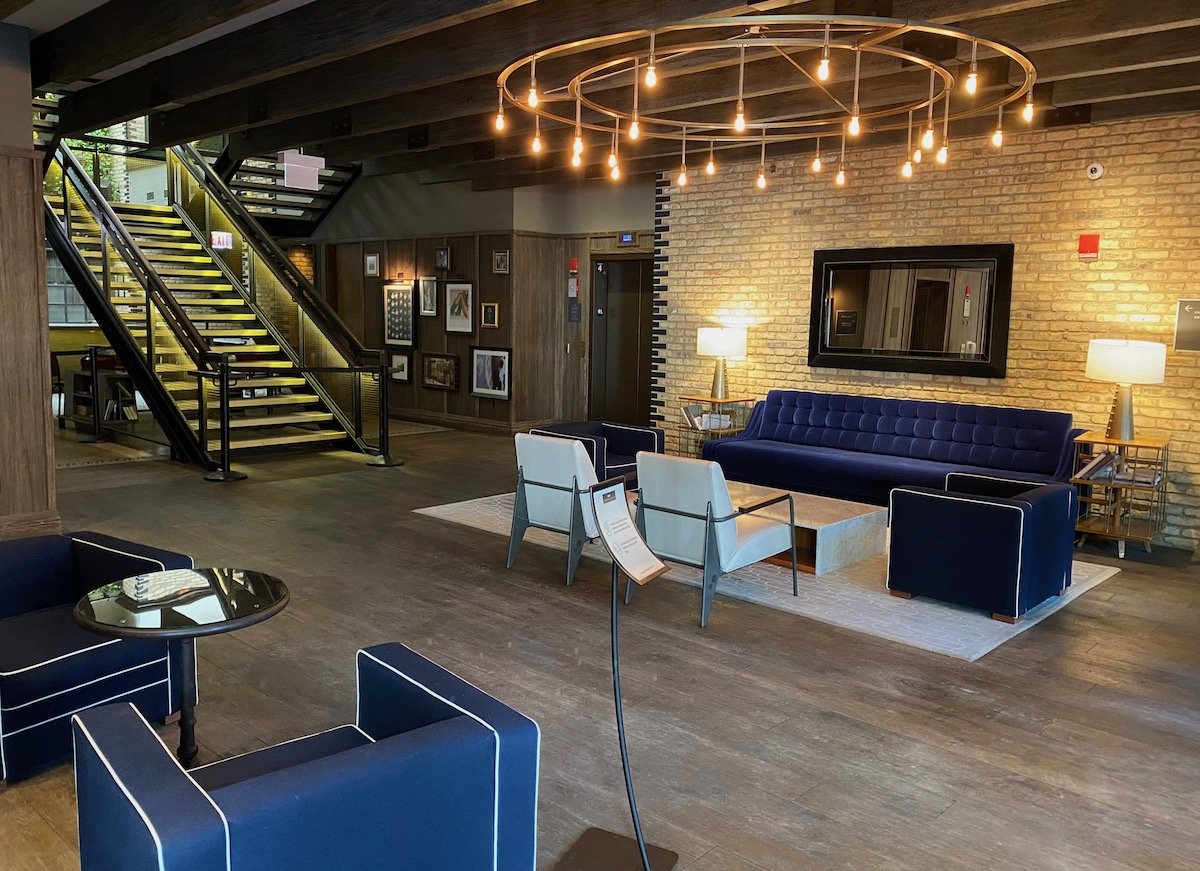 Thompson Chicago lobby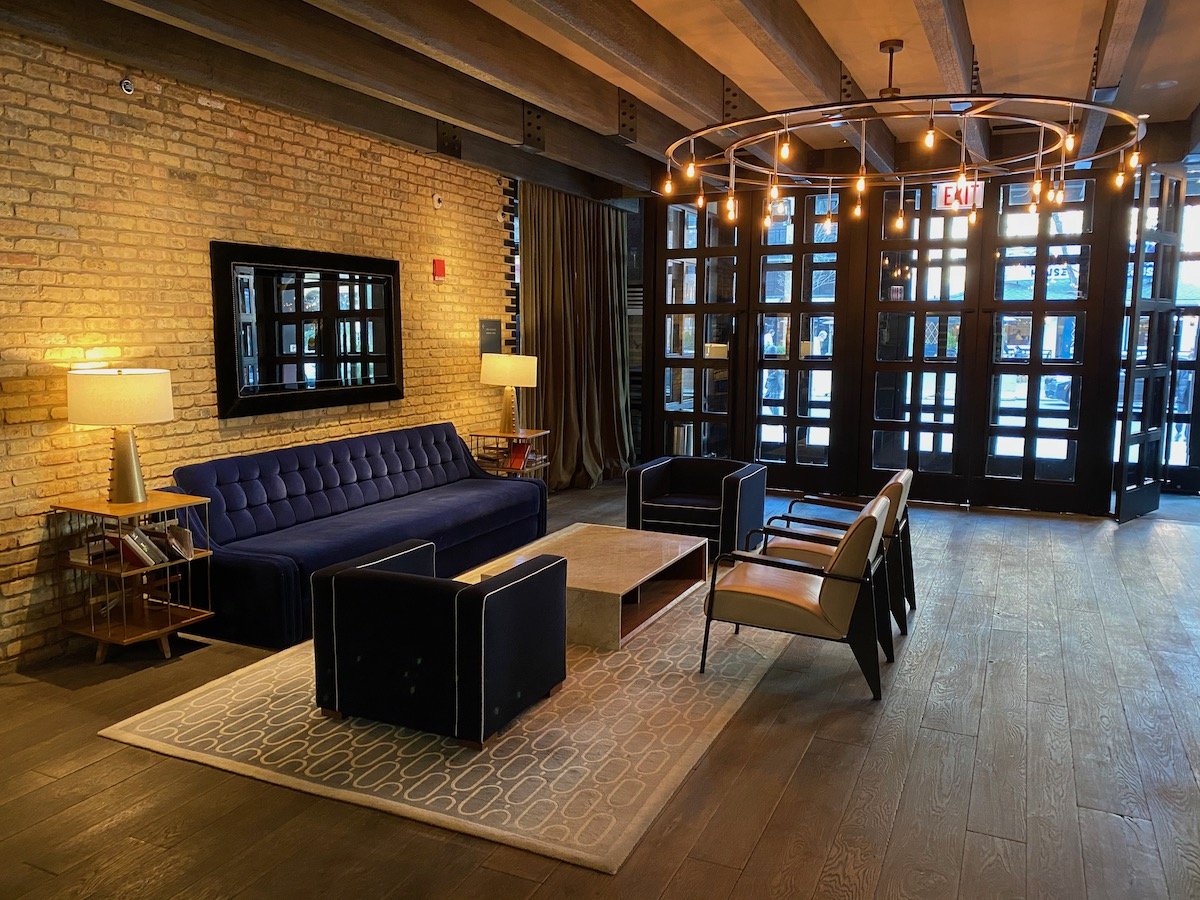 Thompson Chicago lobby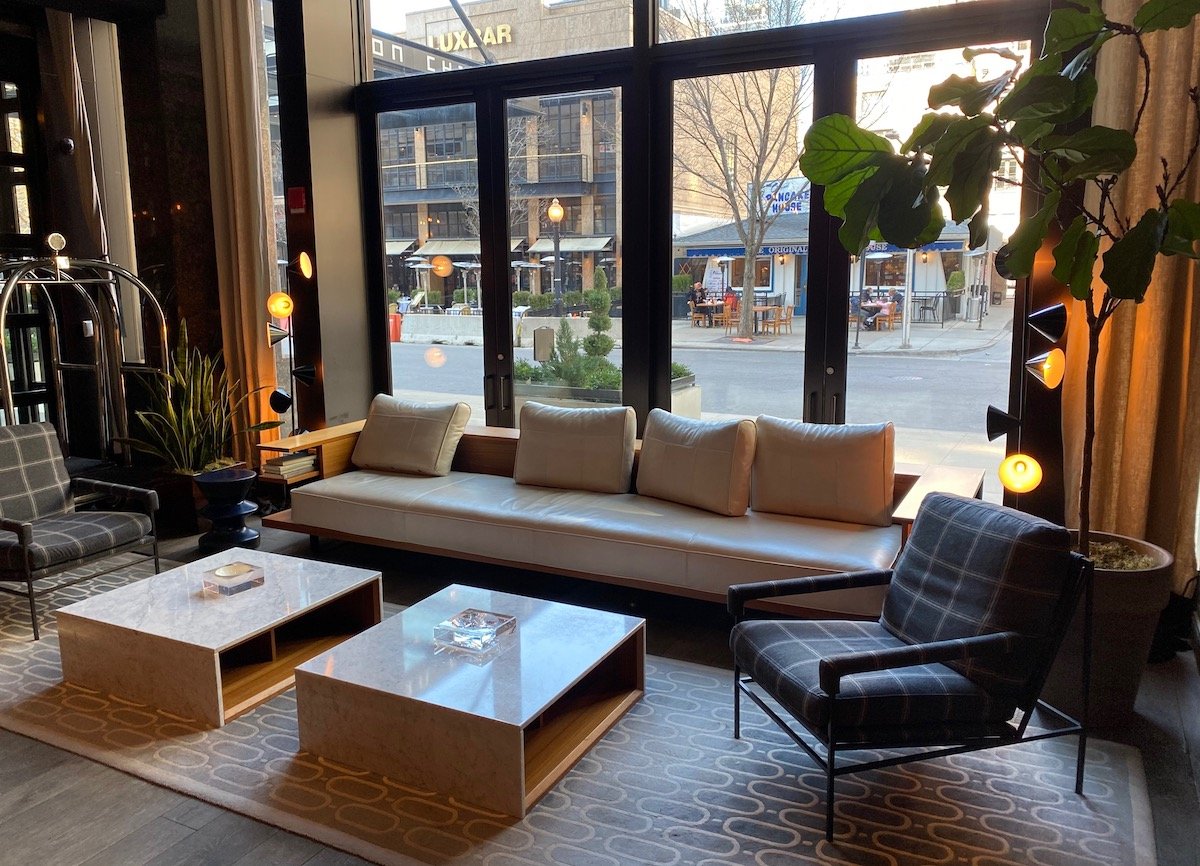 Thompson Chicago lobby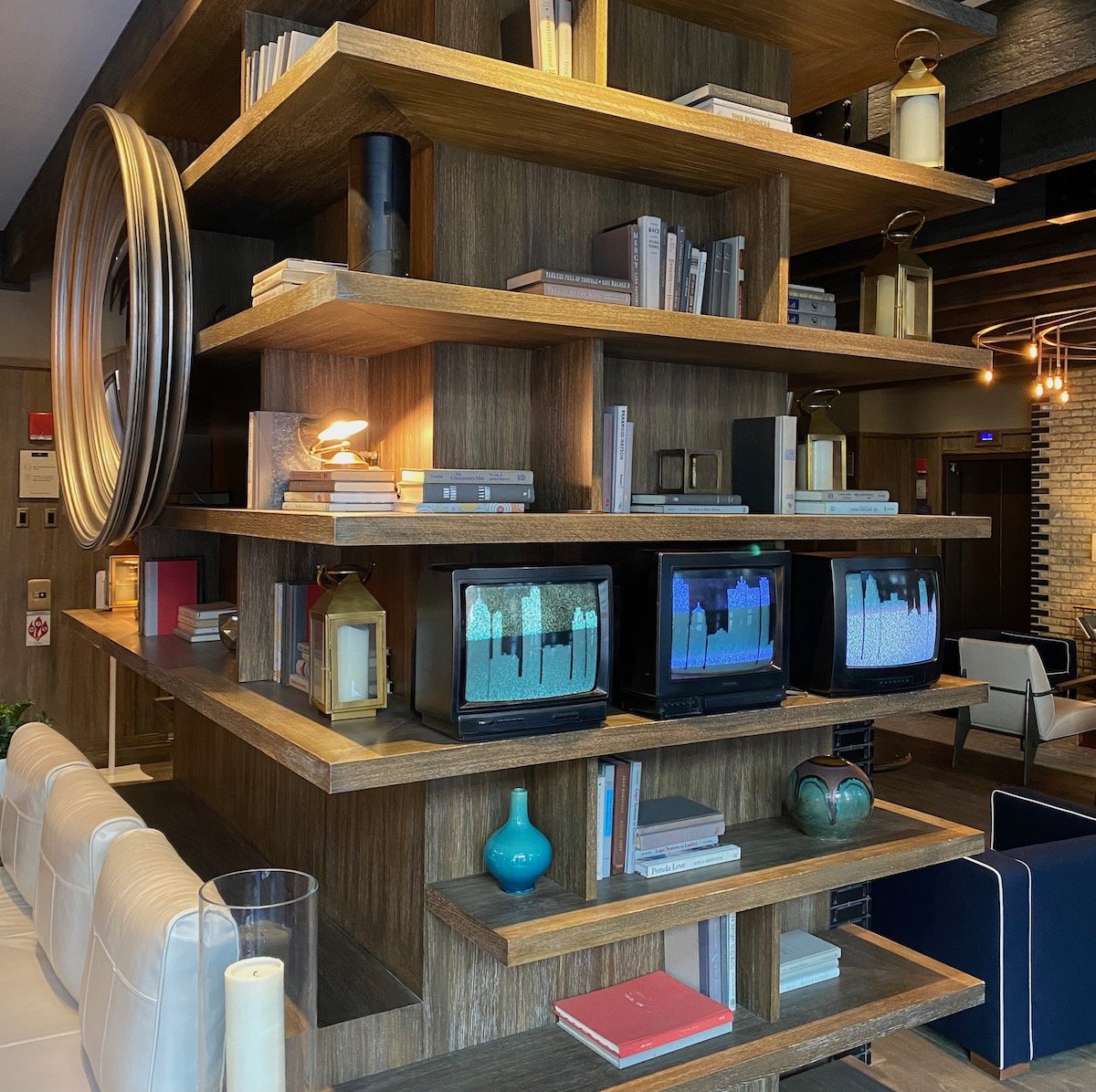 Thompson Chicago lobby
Also off the lobby was one of the hotel's restaurants, which was closed and roped off, so the below is the only picture I could get of it (I've heard good things about the restaurants here).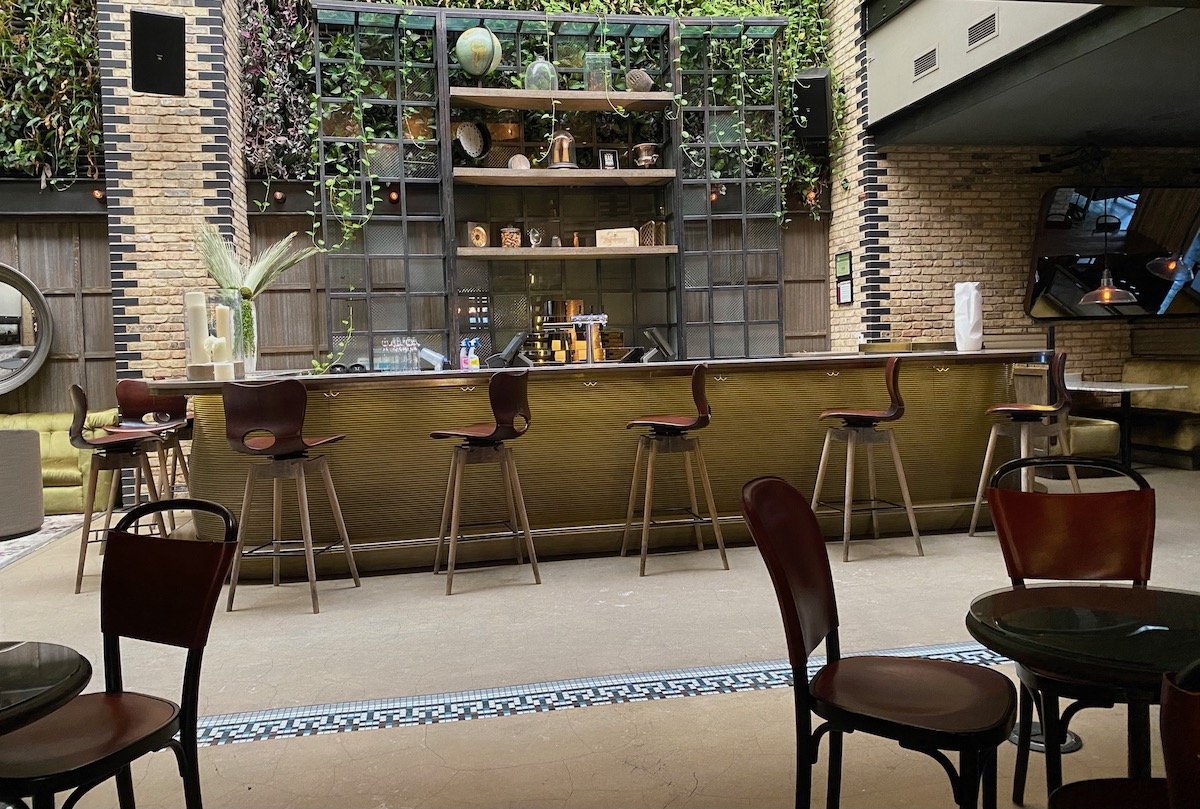 Thompson Chicago lobby restaurant
When I arrived at the hotel there was another person being checked in. It seemed like there was only ever one front office person working at a time, and it probably took about 10 minutes for the previous check-in to happen, so there was a bit of a wait.
The guy checking me in was friendly, and told me I had been upgraded to a corner room. I asked about the possibility of an upgrade to a junior suite as a Globalist member (at least two were still showing for sale online), though he claimed junior suites weren't available. Hmmm.
He explained the restaurants were closed, but handed me a room service menu that would be available.
"Great, so I can order my Globalist breakfast through this?"
"No, this is done through a third party, so that won't apply, but we'll post some bonus points to your account because we can't offer breakfast."
In case anyone is wondering about the bonus points situation, apparently Hyatt has a "breakfast recovery bonus" of 500 points per guest per night. That's totally ridiculous, if you ask me. 500 points are worth ~$7.50 to me, which seems like unreasonable compensation for not being offered a full breakfast.
Then he brought up the Hyatt Privé $75 credit with my rate.
"While our restaurants are closed, we have some food and drinks in the back room that you can apply your credit to."
"Okay, is there a menu, or what kind of stuff do you have?"
"There's no menu, but you can let us know what kind of stuff you want."
"Well what kind of stuff are we talking about?"
"Well we have prosecco and… soft drinks… and snacks."
I wasn't looking to drink unnecessarily, so I basically had $75 to spend on soda and junk food. Lovely.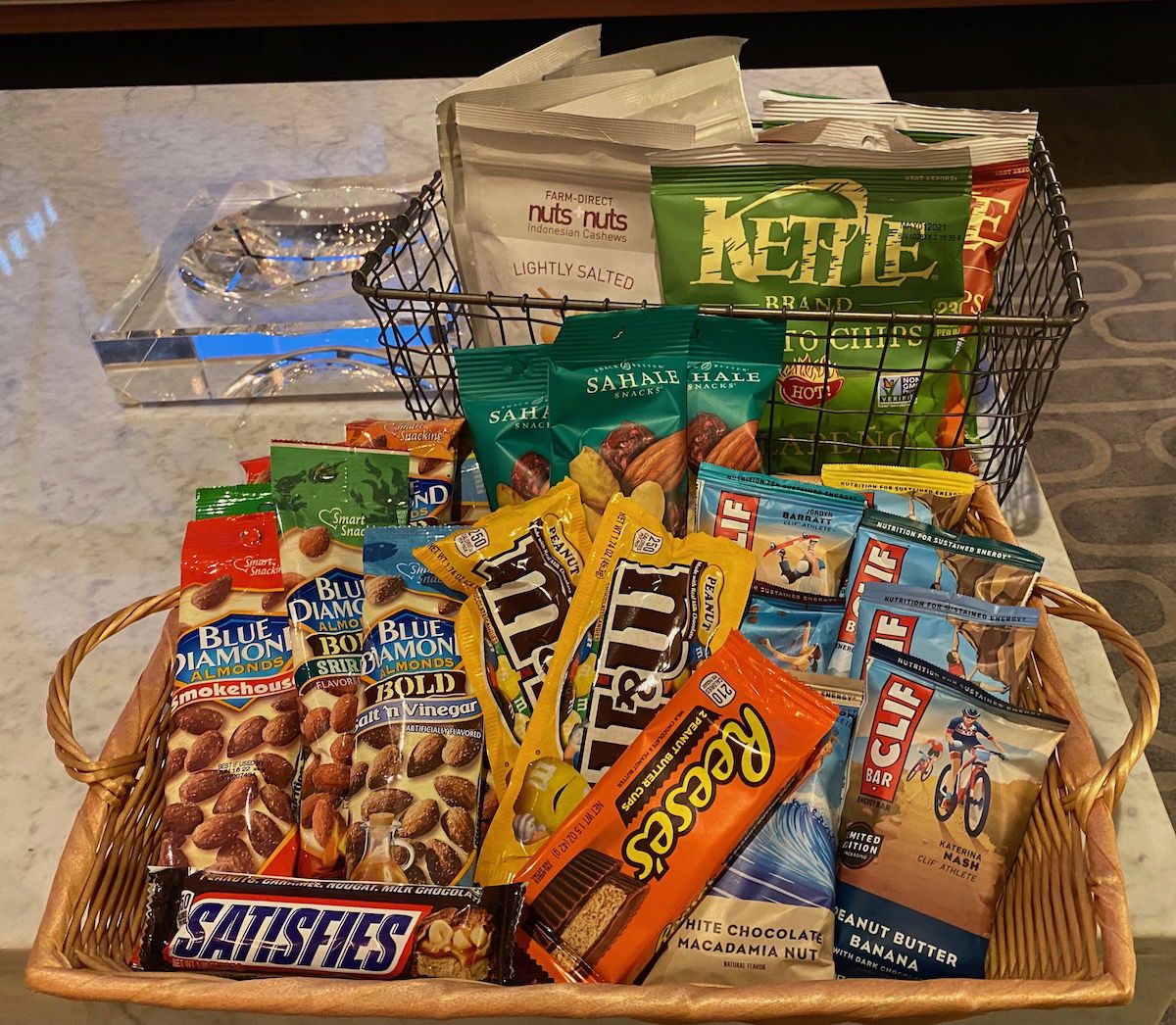 Thompson Chicago snack basket
I ended up spending under $15 total, but go figure the morning I checked out there was literally no one at the front desk, so I just left. And then when I received the folio for my stay a couple of hours later, the charges weren't correctly removed.
Anyway, here's the letter I was handed at check-in, basically being told to expect very little: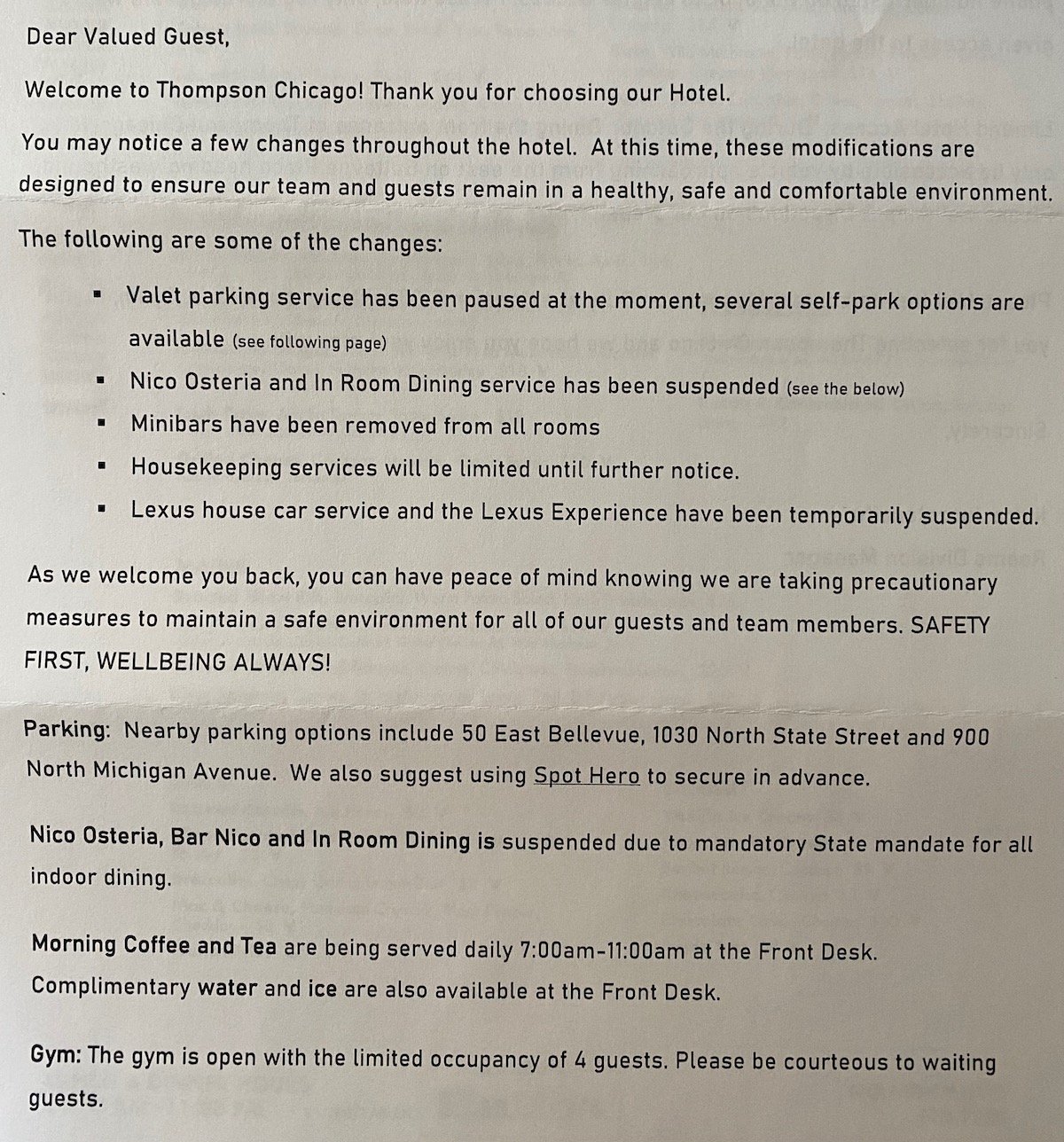 Thompson Chicago corner room
The Thompson Chicago has 21 floors, and I was assigned room 1708, on the 17th floor. By the way, this nearly 250 room hotel ordinarily has just two elevators, which doesn't seem like a lot. And during my stay one of the elevators was broken, so at times several parties would get into the elevator, despite posted restrictions limiting capacity.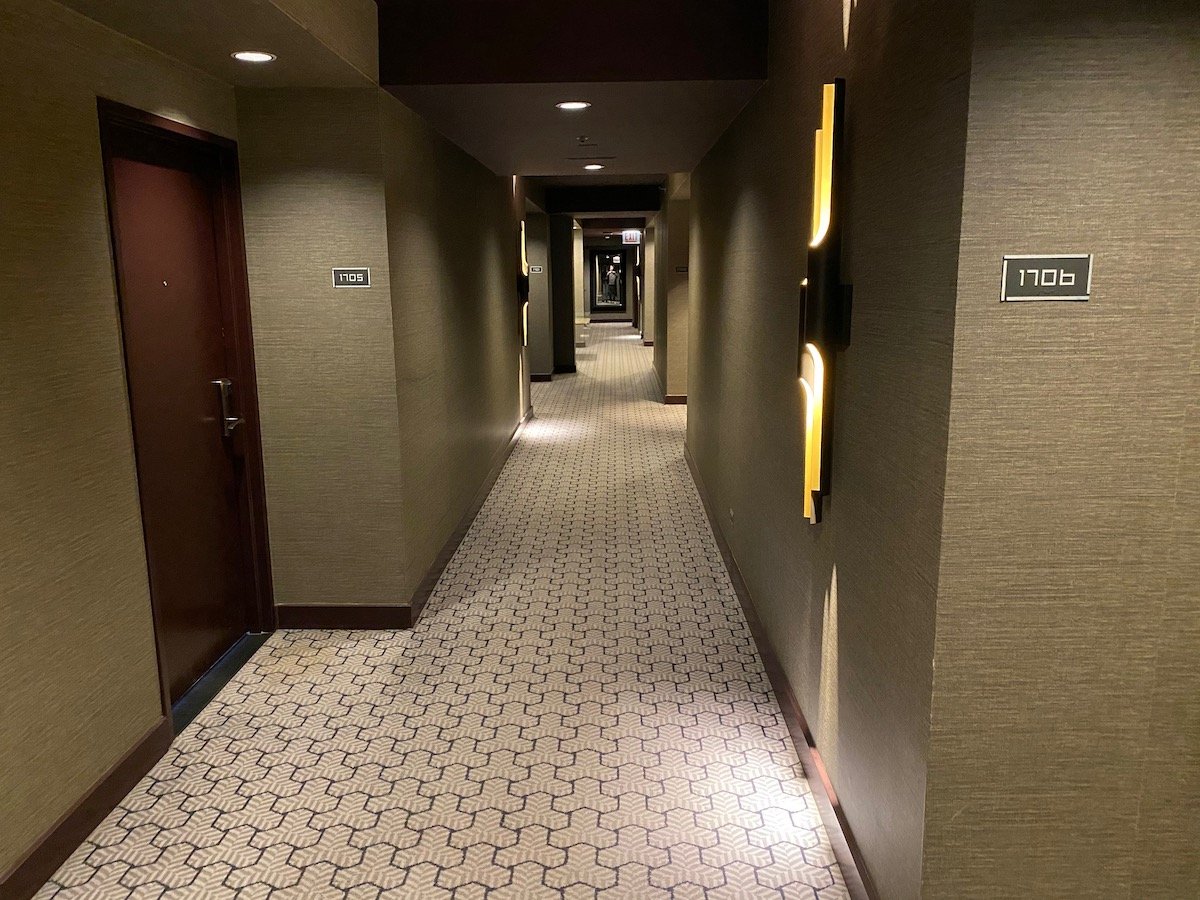 Thompson Chicago hallway
The Thompson really felt bare bones. For example, below is the table in the hallway as I exited the elevator. Is there usually something on there, or…?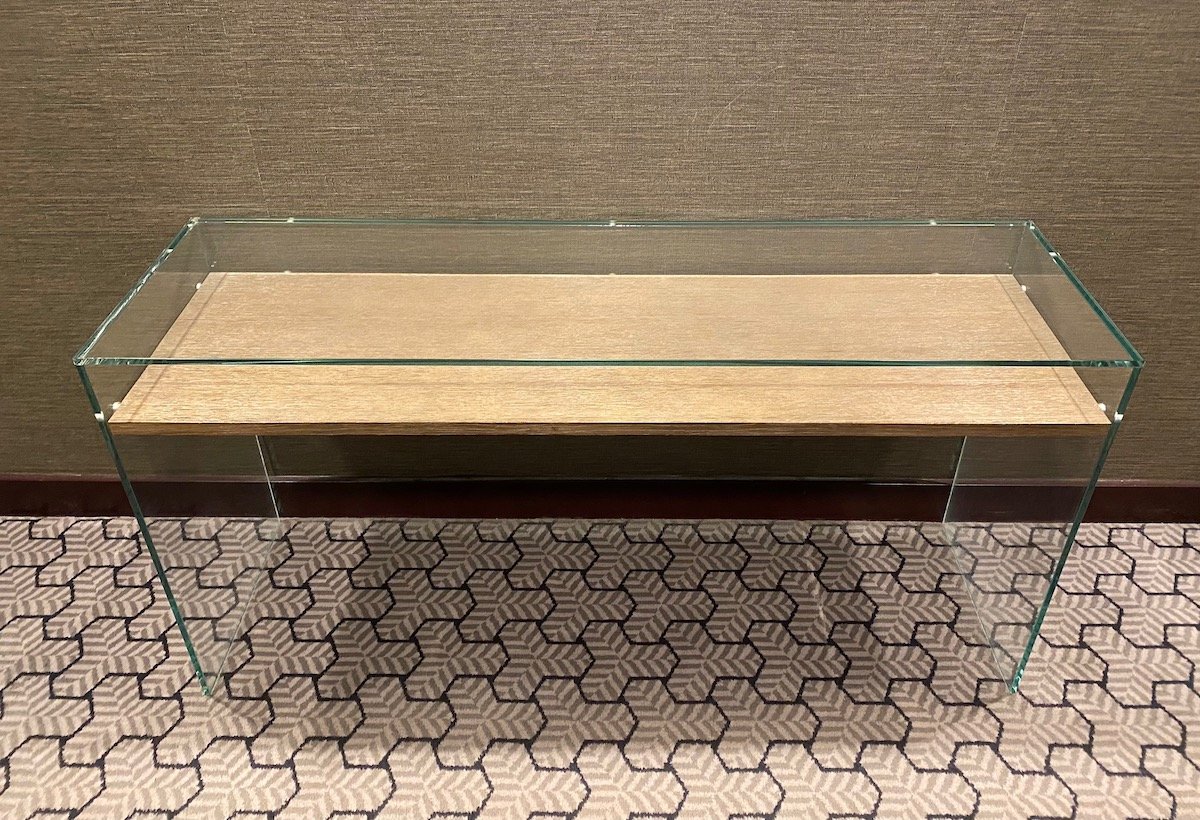 Thompson Chicago hallway table
The corner room I was assigned was 450 square feet, so it was a decent size and had plenty of natural light. The bathroom was inside the entrance and then to the right, while the rest of the room was straight ahead.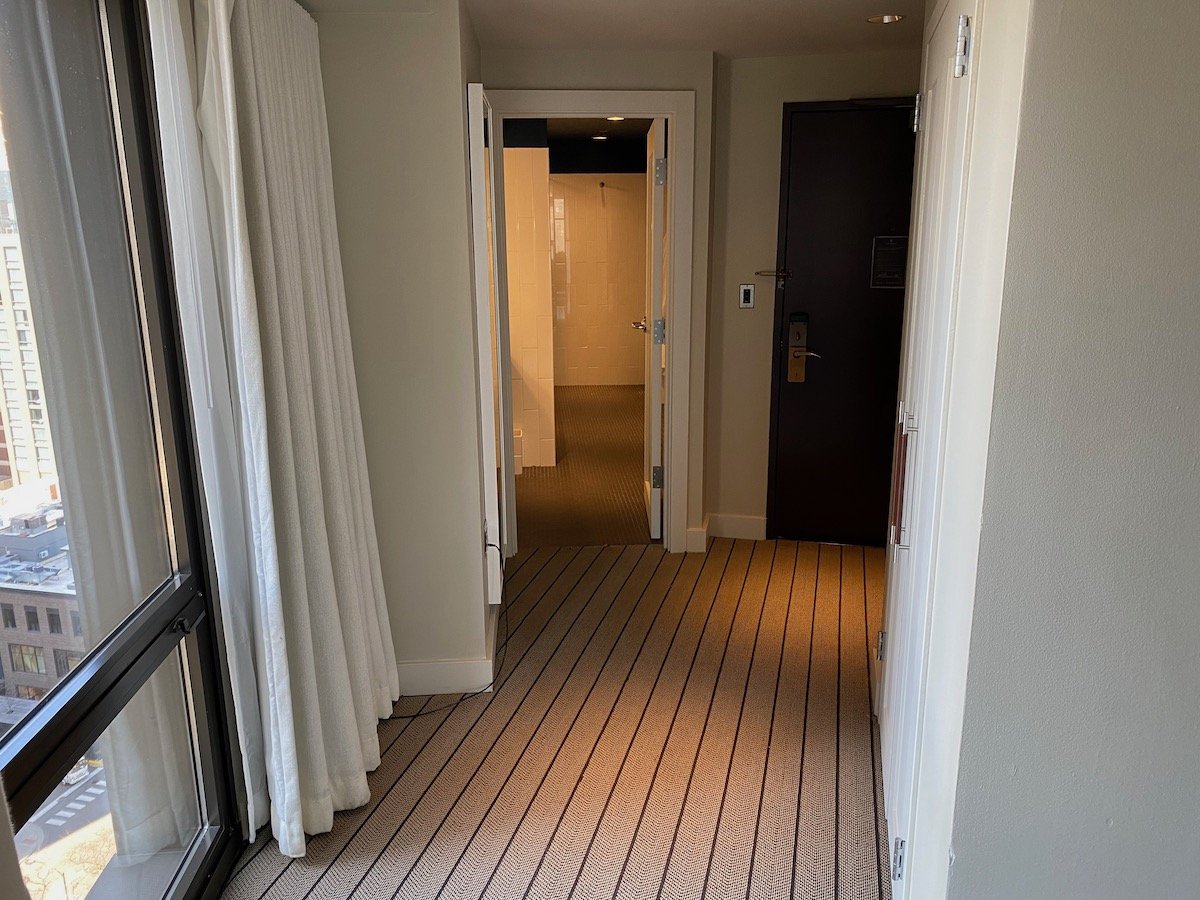 Thompson Chicago corner room entryway
The room itself was reasonably nice, though definitely the least nice of the Thompson properties I've stayed at. The king bed was comfortable, and there was a bunch of art around the bed.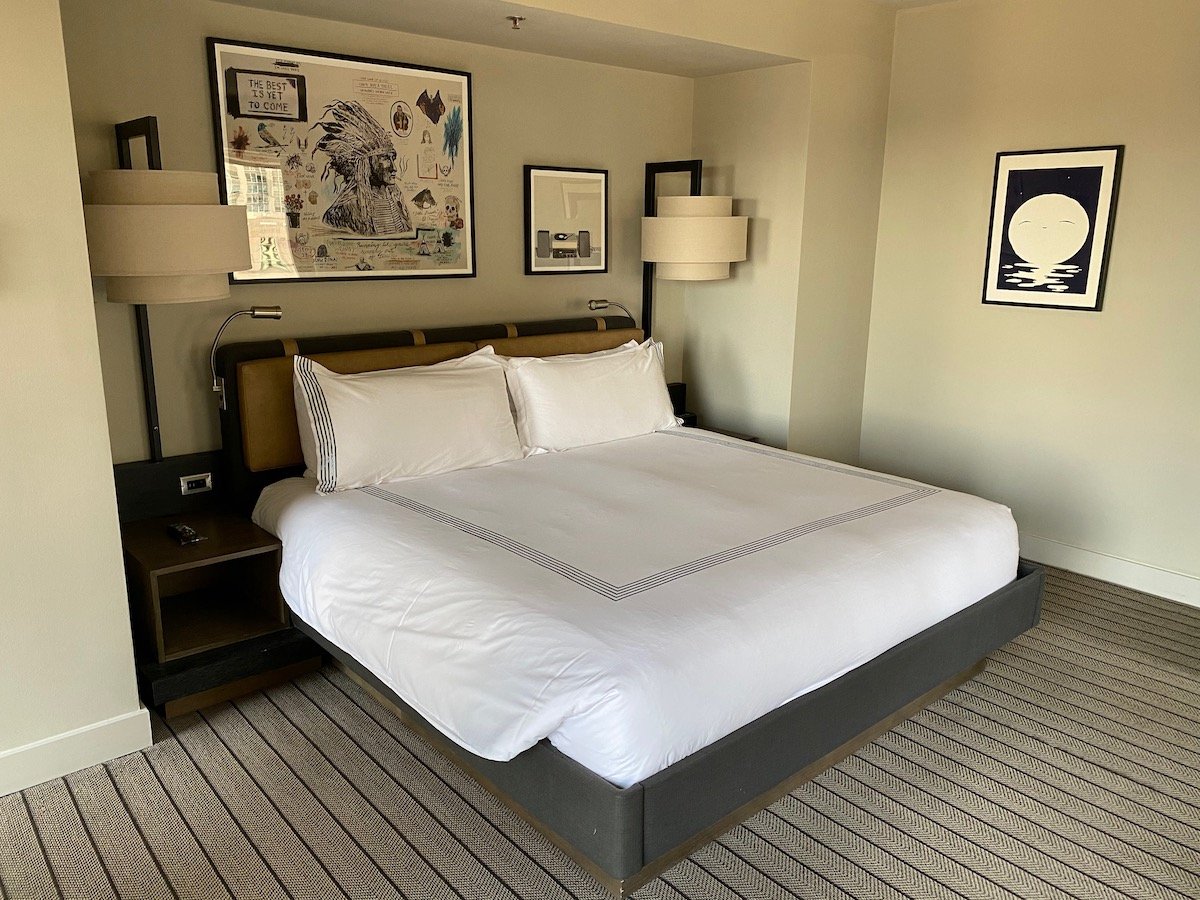 Thompson Chicago corner king room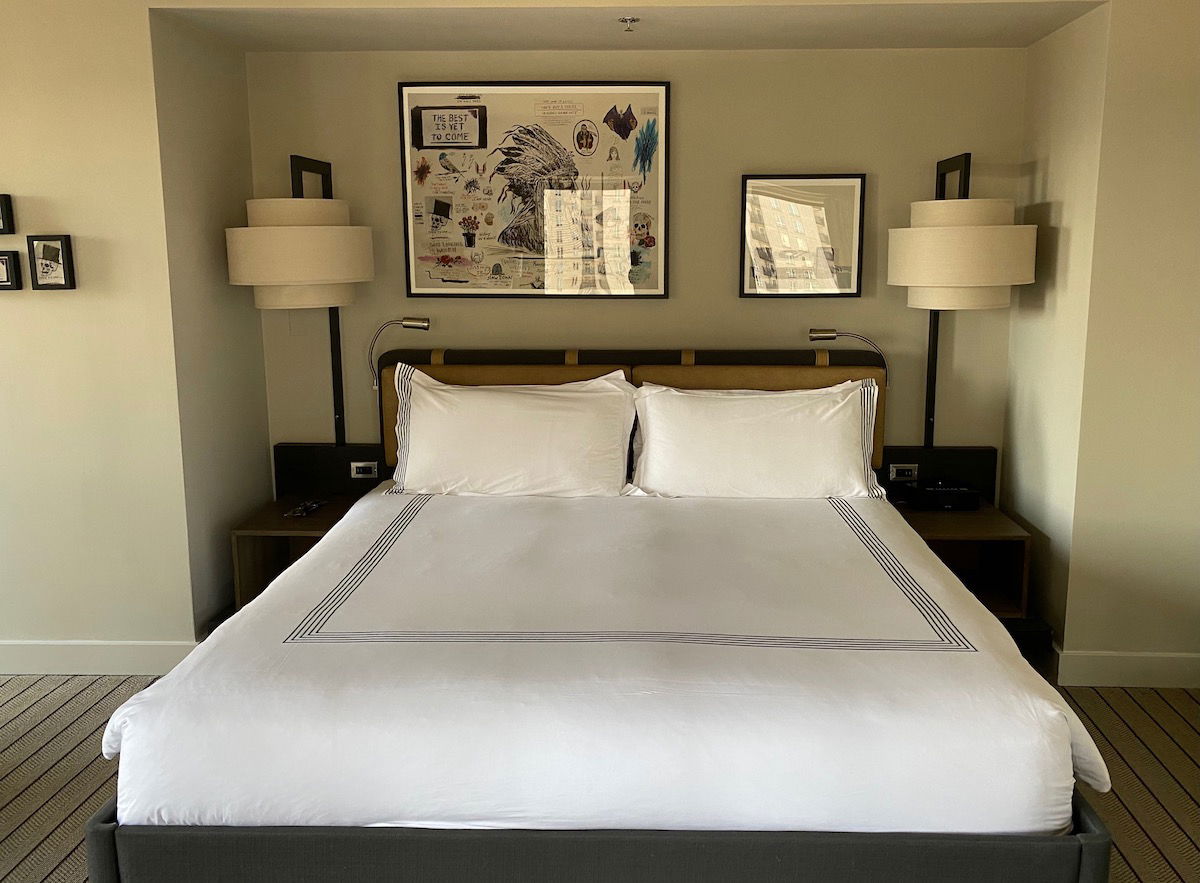 Thompson Chicago corner king room
The rest of the room design felt a bit more random to me. I don't know if it's that the carpet didn't match the rest of the room, the bland walls, or what.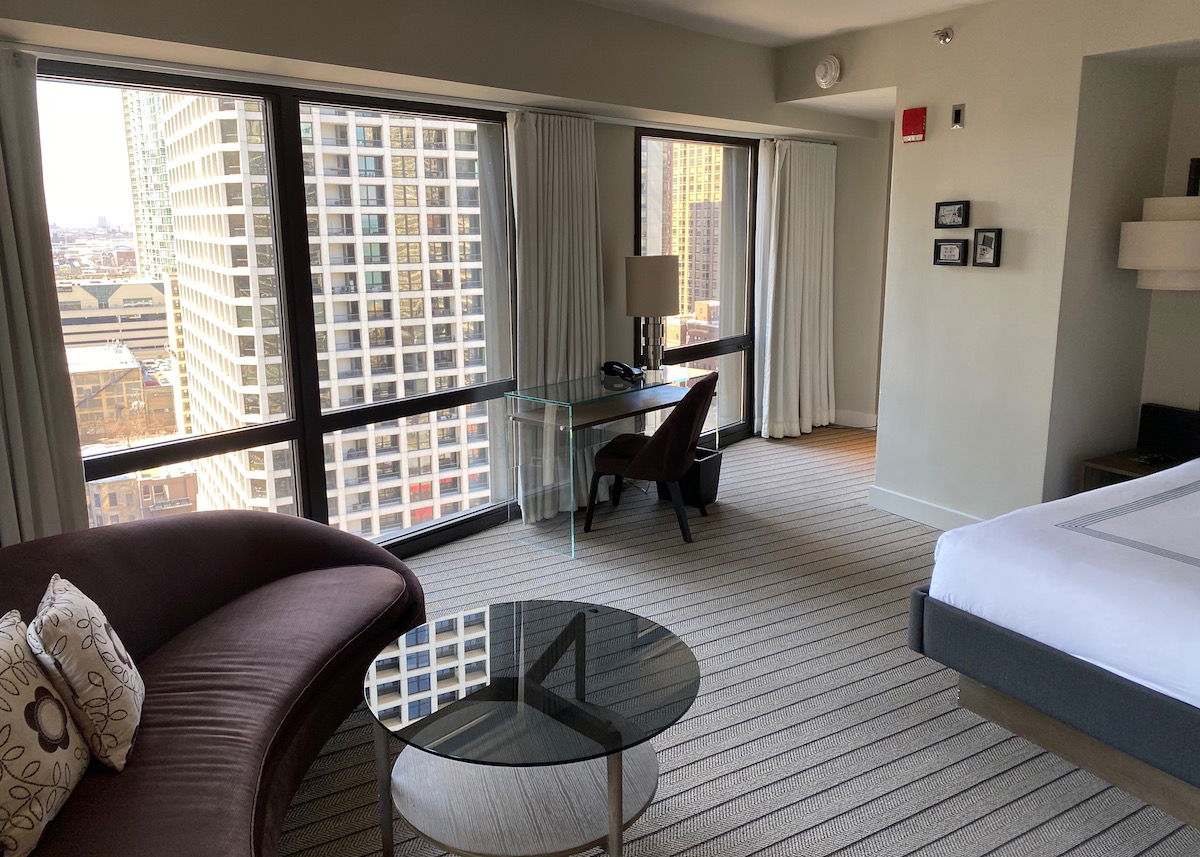 Thompson Chicago corner king room seating
The room had a couch and chair, a desk with another chair, and an empty mini-fridge.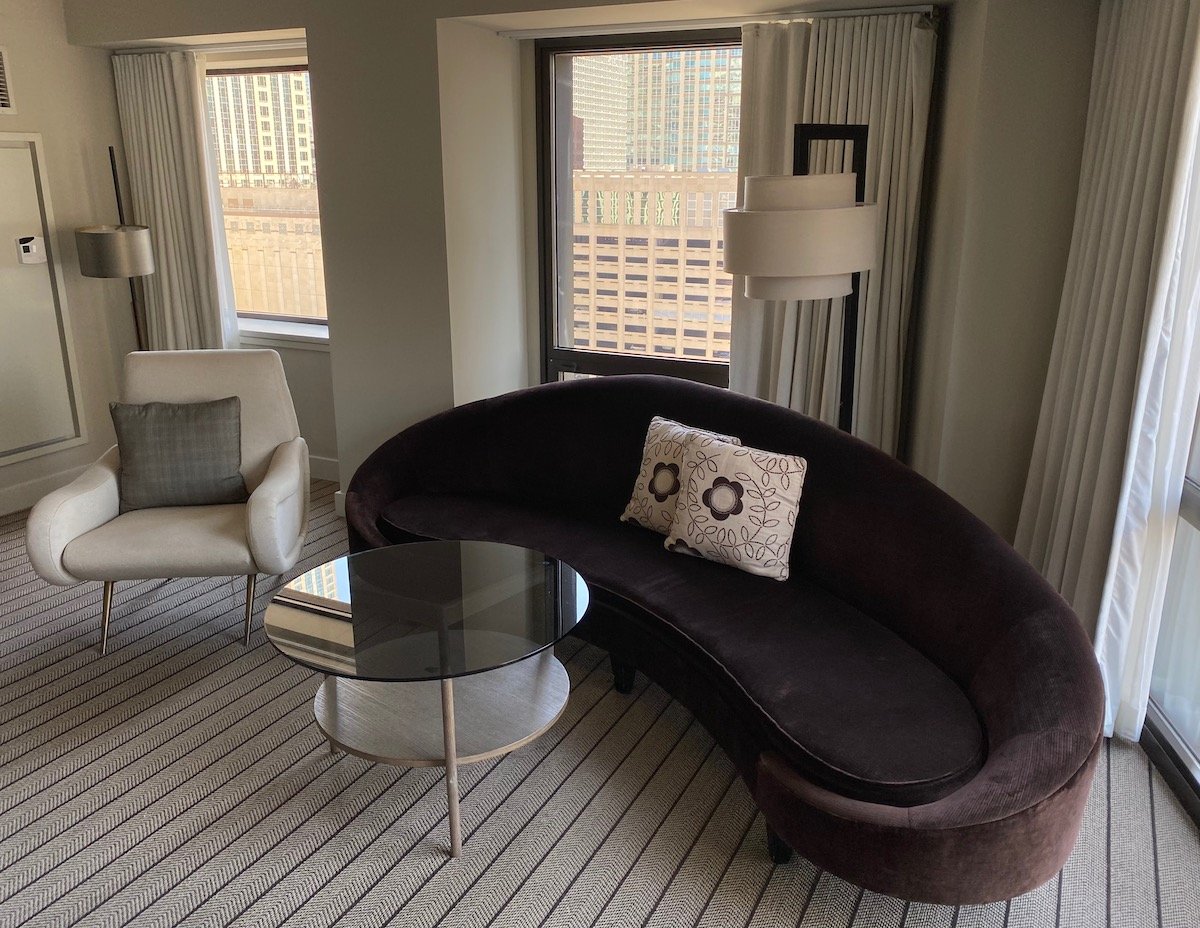 Thompson Chicago corner king room seating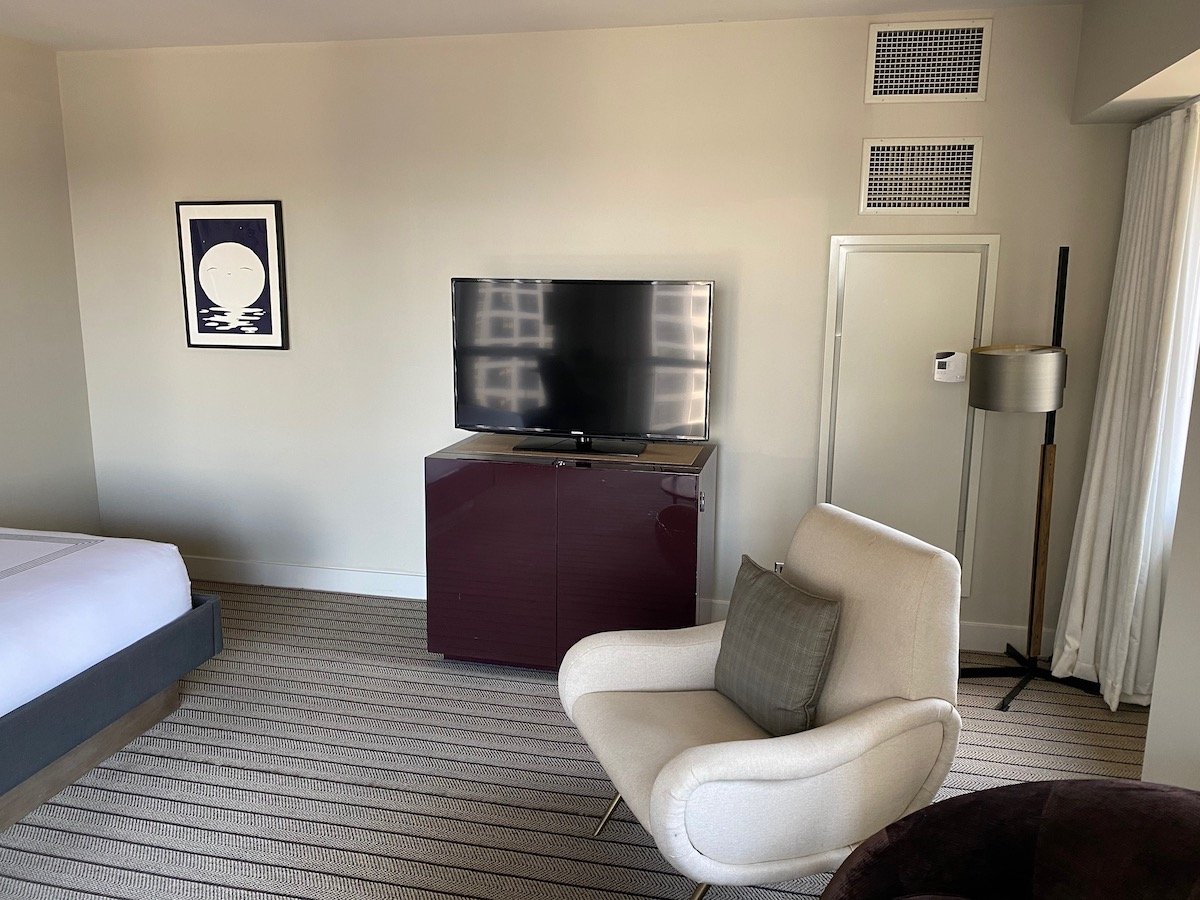 Thompson Chicago corner king room TV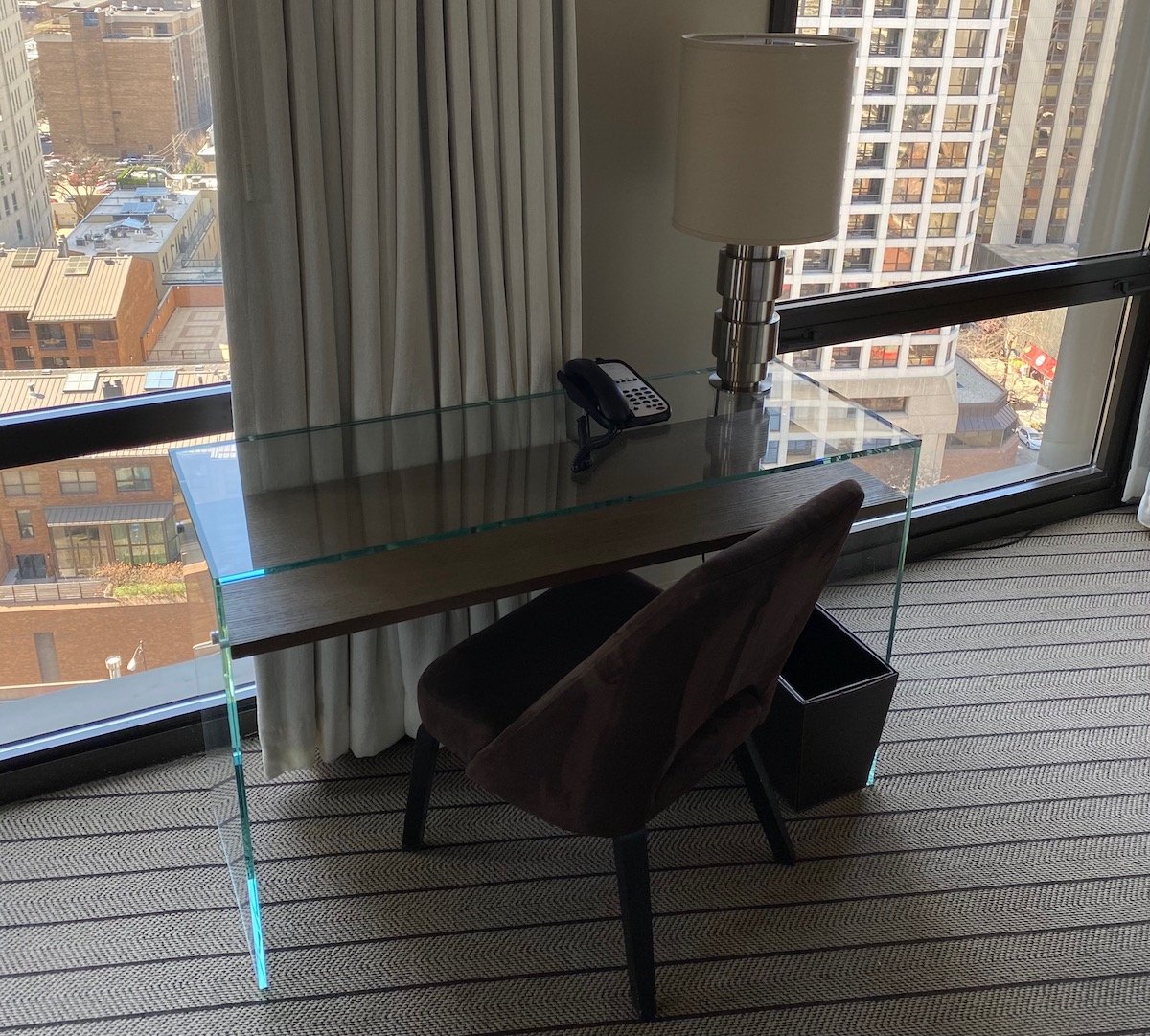 Thompson Chicago corner king room desk
The room had lovely panoramic views, thanks to being a corner room.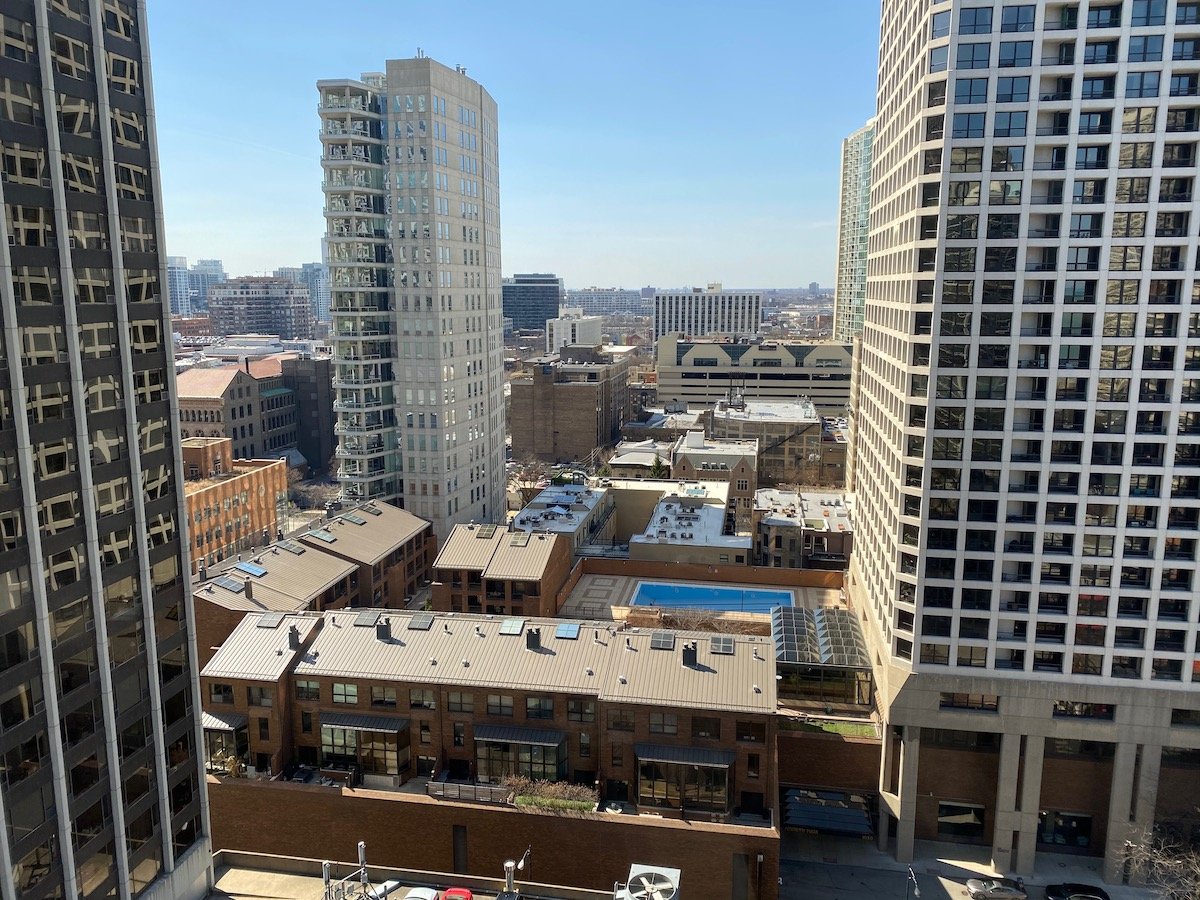 Thompson Chicago corner king room view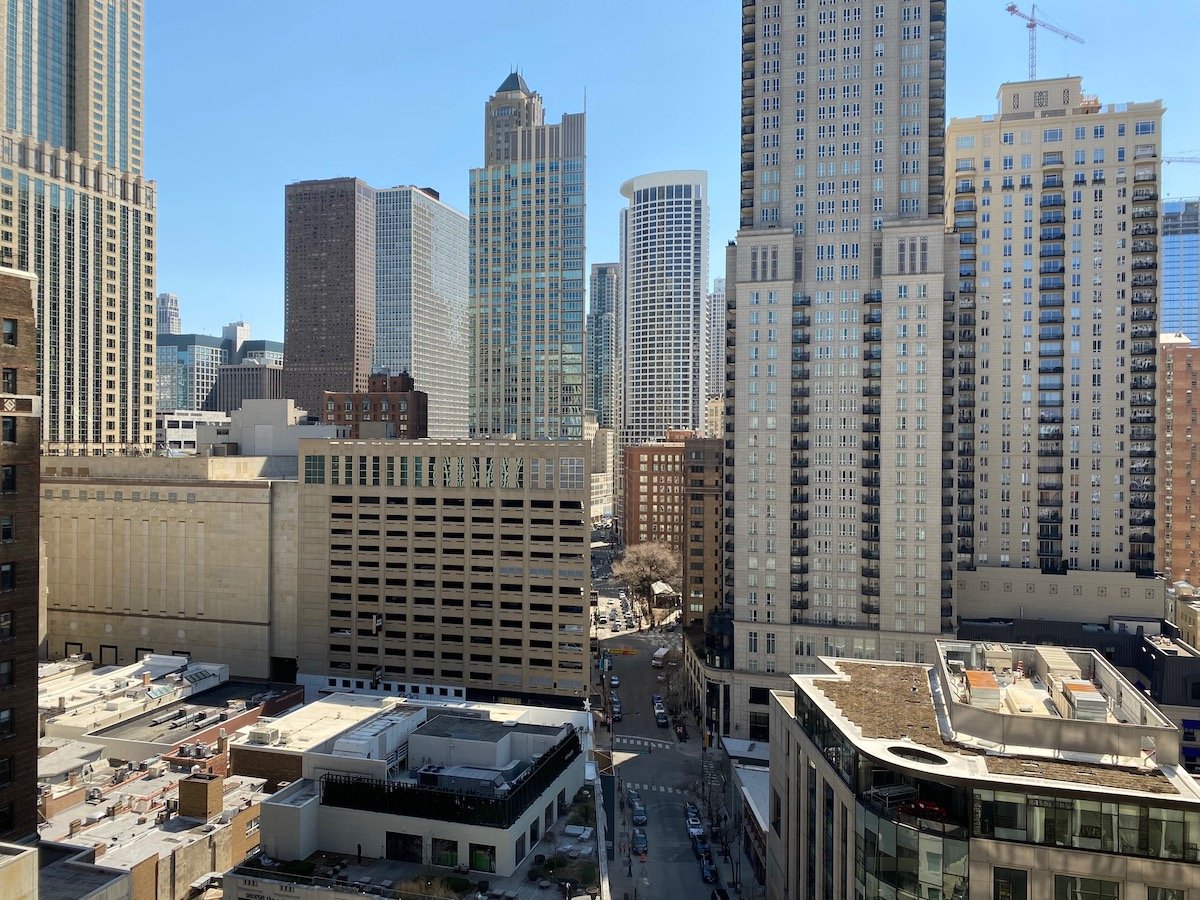 Thompson Chicago corner king room view
The bathroom was also a good size, and had a sink, a tub, a walk-in shower, and a toilet. It's pretty rare to see both a walk-in shower and tub in a non-suite, so that was cool.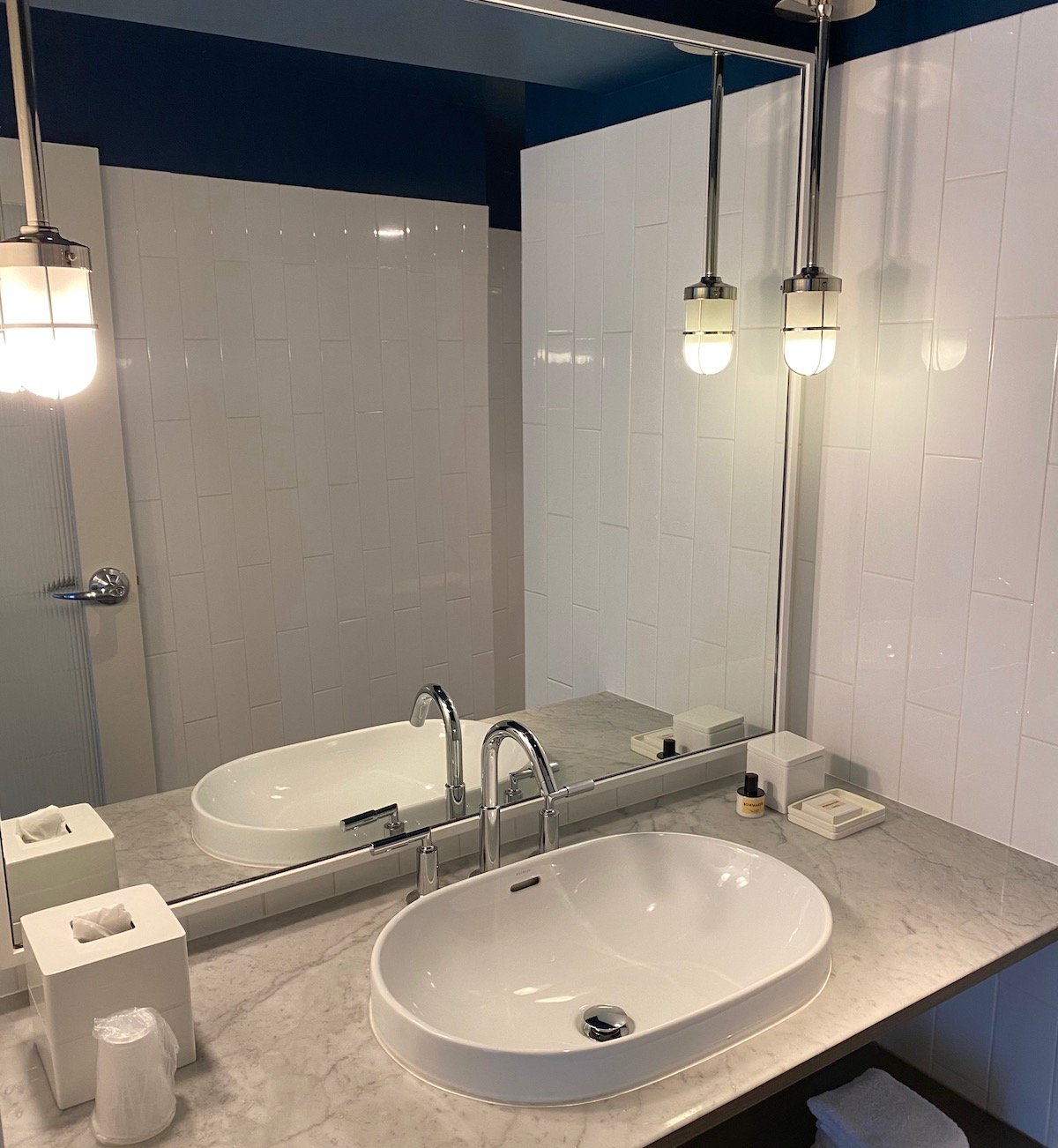 Thompson Chicago corner king room bathroom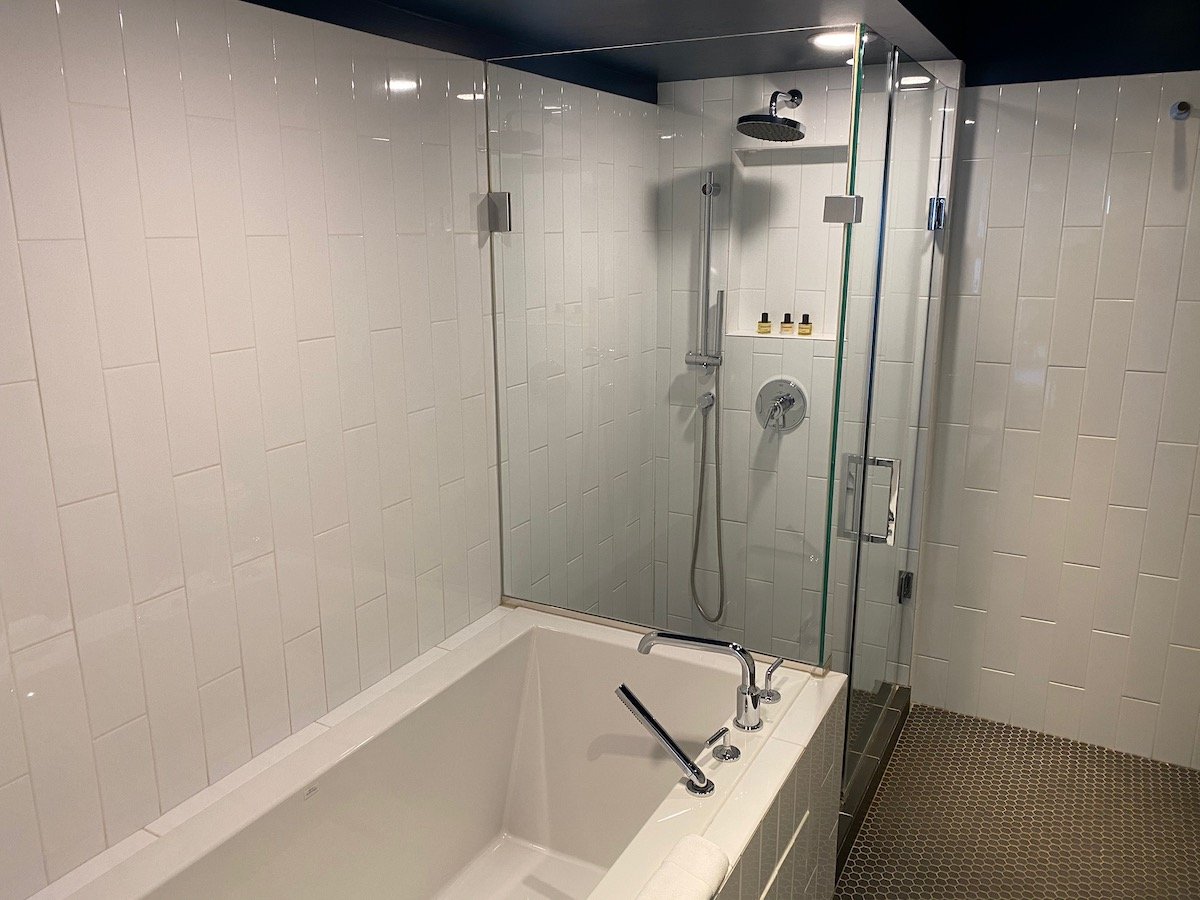 Thompson Chicago corner king room shower & tub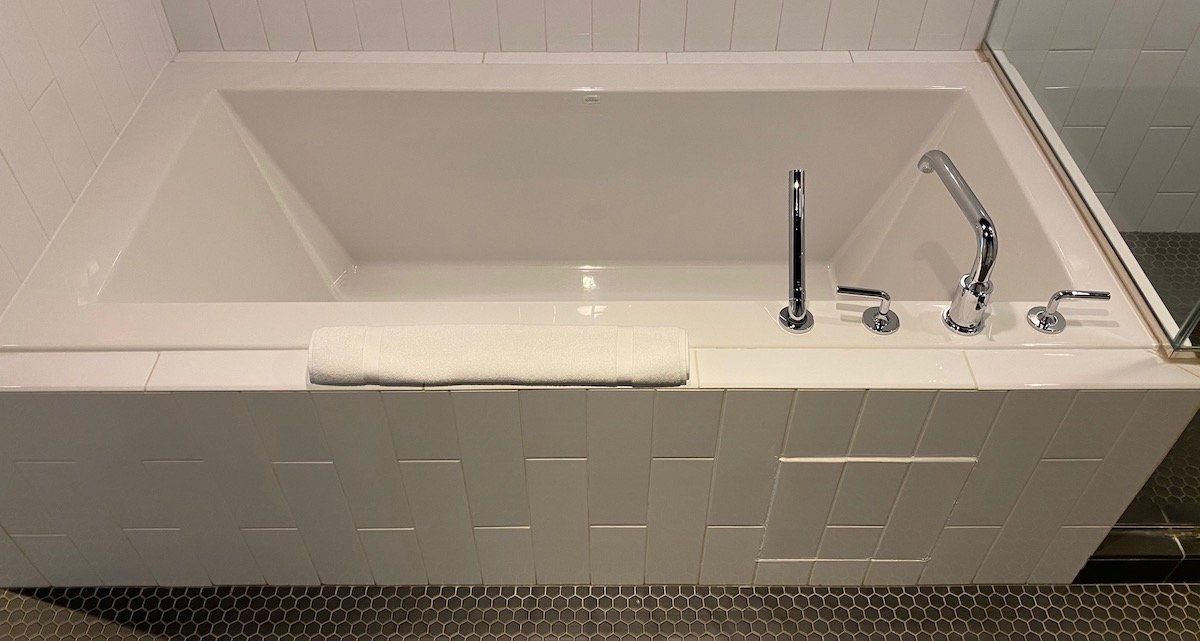 Thompson Chicago corner king room tub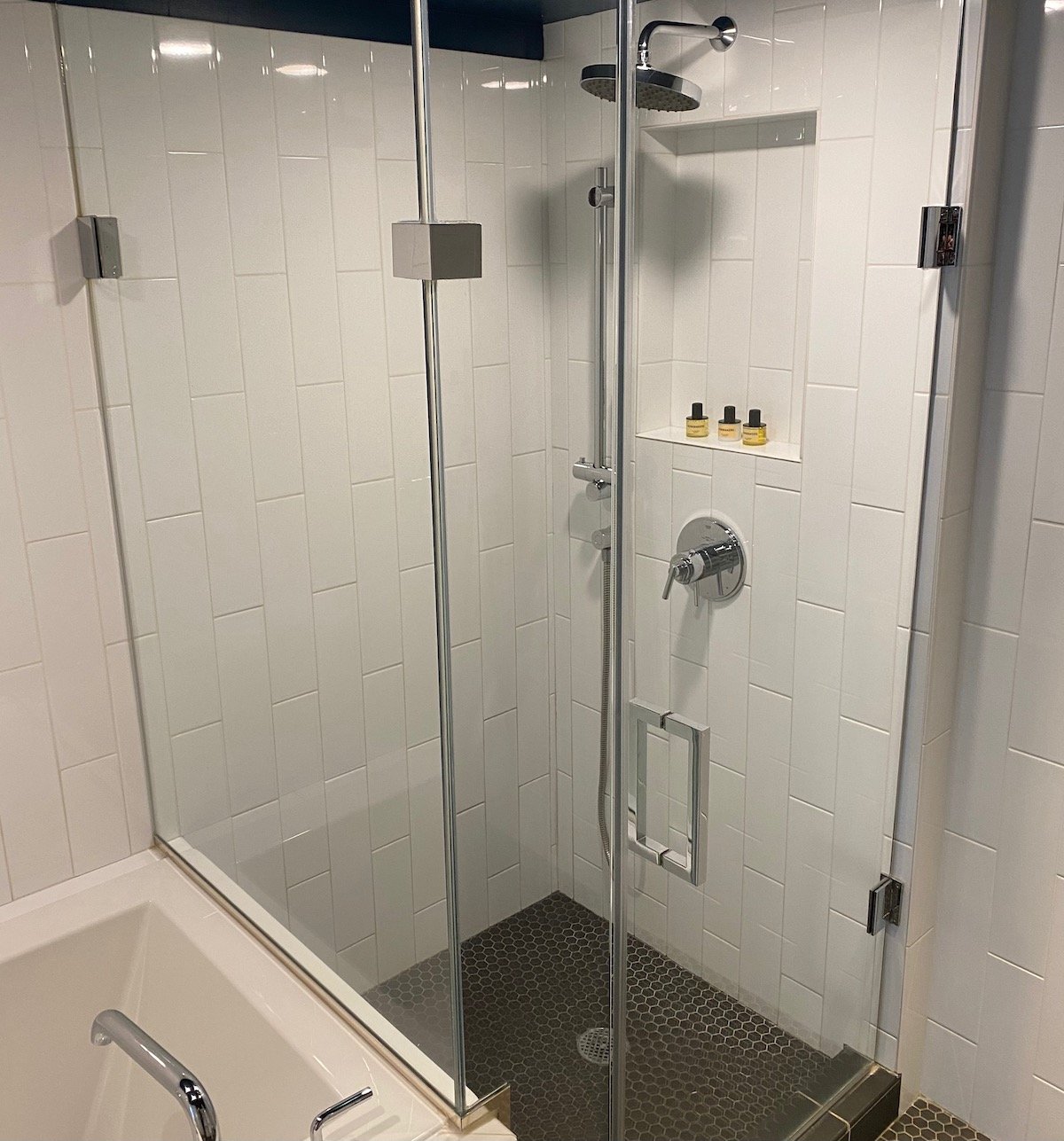 Thompson Chicago corner king room walk-in shower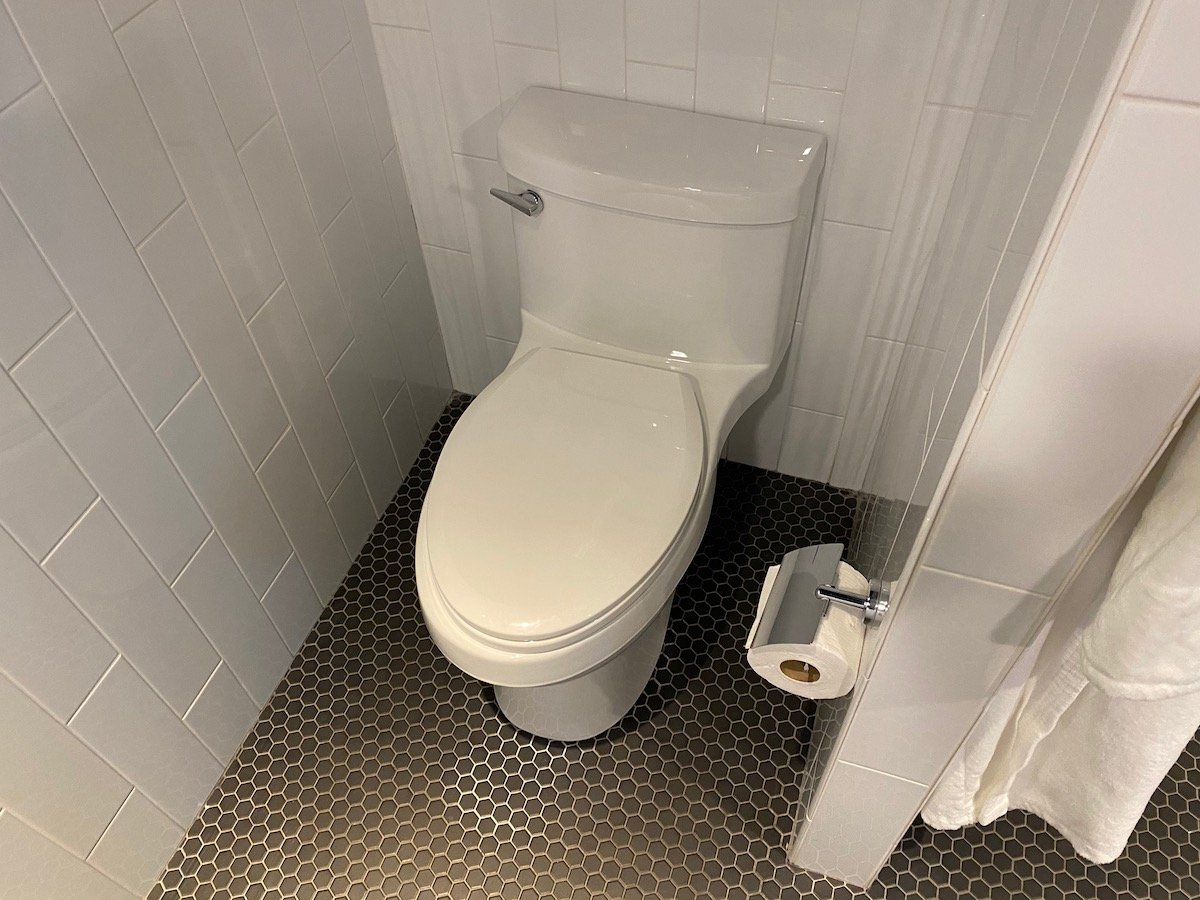 Thompson Chicago corner king room toilet
Toiletries were from the Bowmakers collection from D.S. & Durga, which I quite like, minus the bottles (which are very hard to use).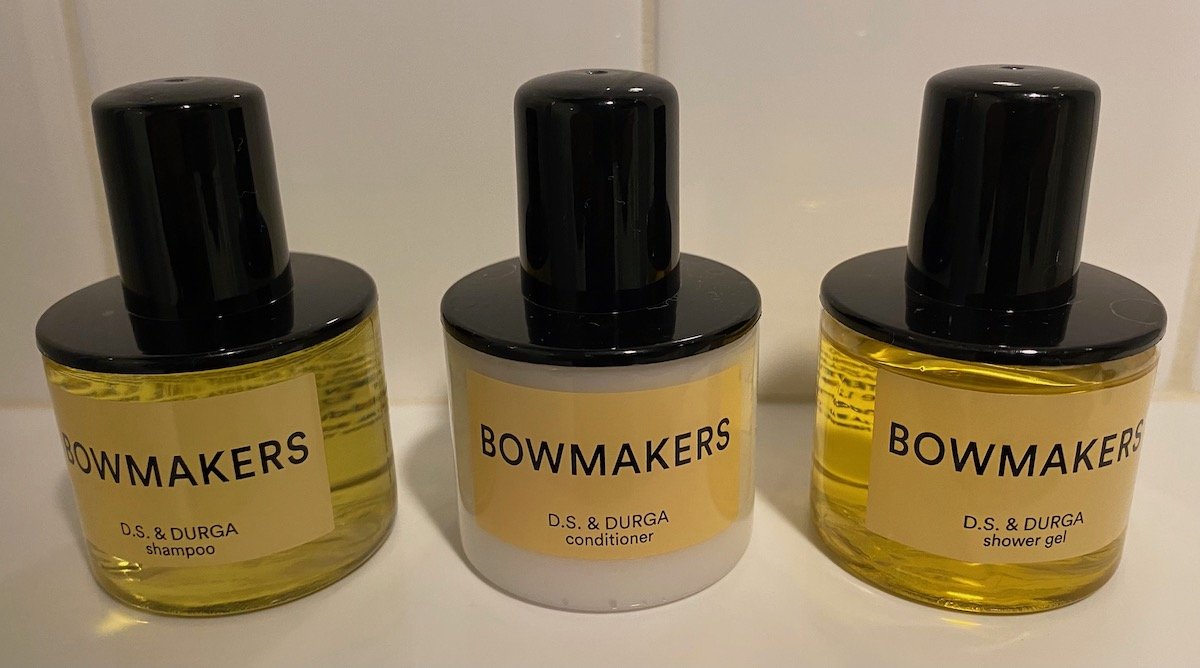 Thompson Chicago toiletries
For booking through Hyatt Privé there should have been a welcome amenity, but there wasn't one. That really exemplifies the hotel's laziness. Obviously it's a tough time for the hotel industry, and if you want to close all restaurants, fine. But I knew they had drinks and snacks in the back room, so it's not like they didn't have something they could put in my room and pretend it was an amenity. But instead they just chose not to offer what was promised.
Thompson Chicago gym
The Thompson Chicago's fitness center is on the fourth floor, and I had the chance to use it. It was nothing like the gym at the Thompson Dallas, but was perfectly fine, and most importantly there was no one else using it.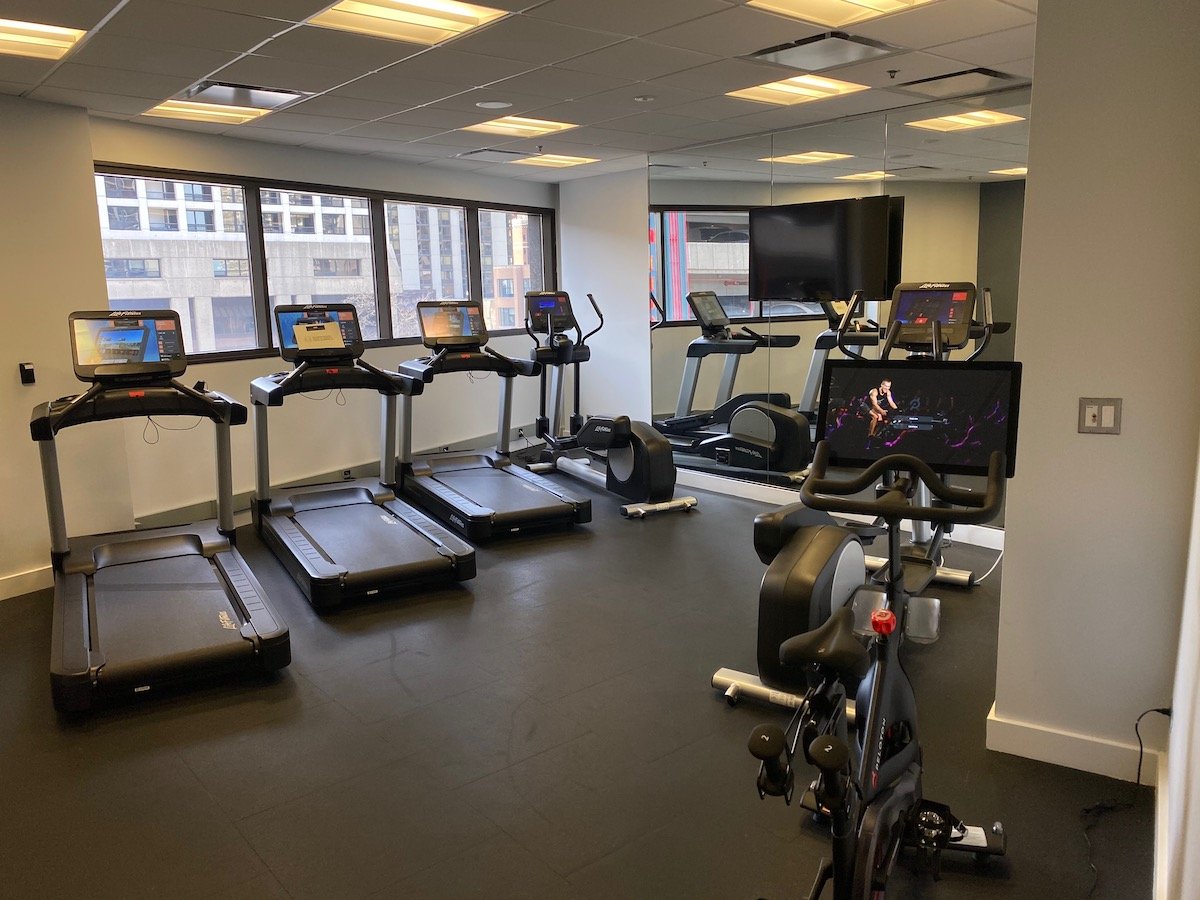 Thompson Chicago gym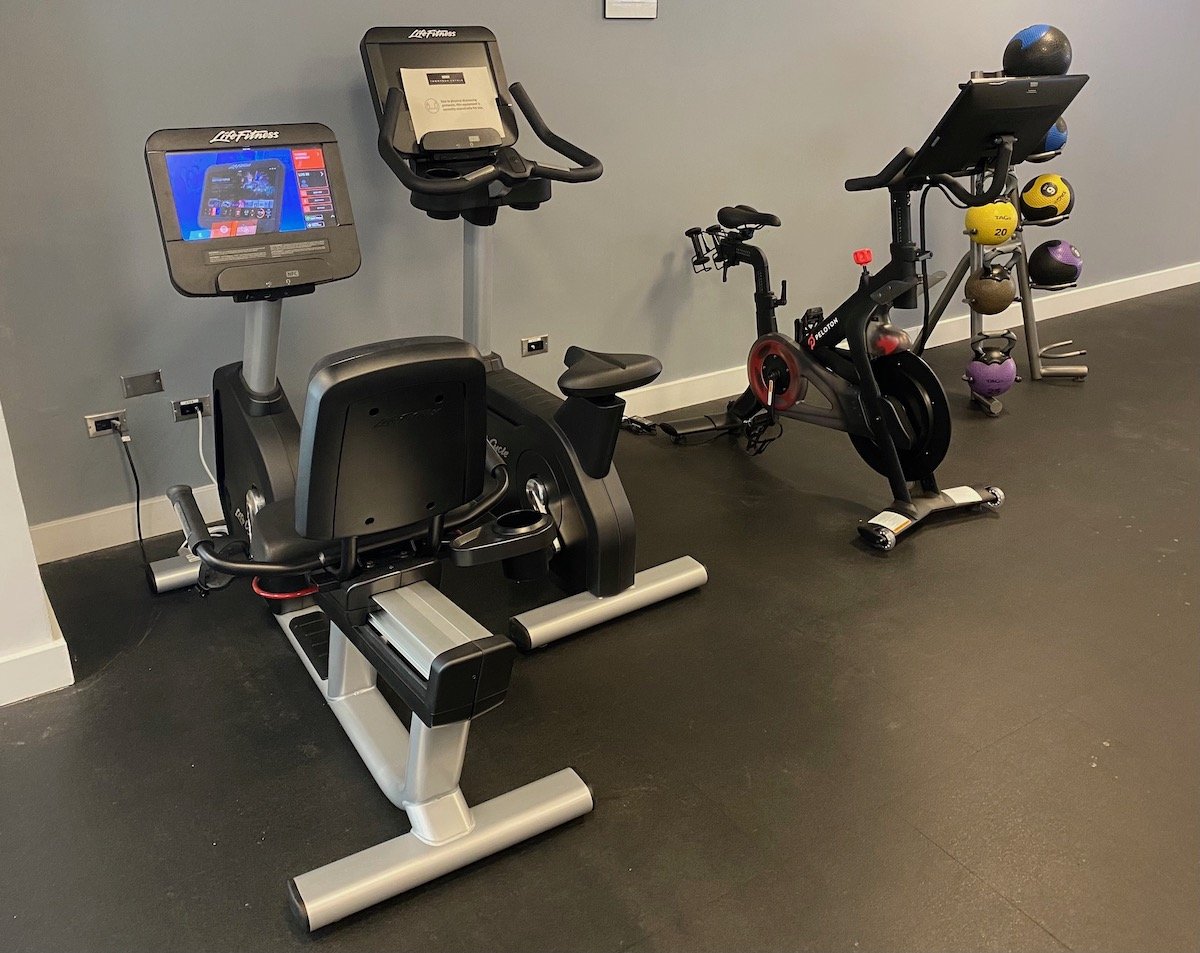 Thompson Chicago gym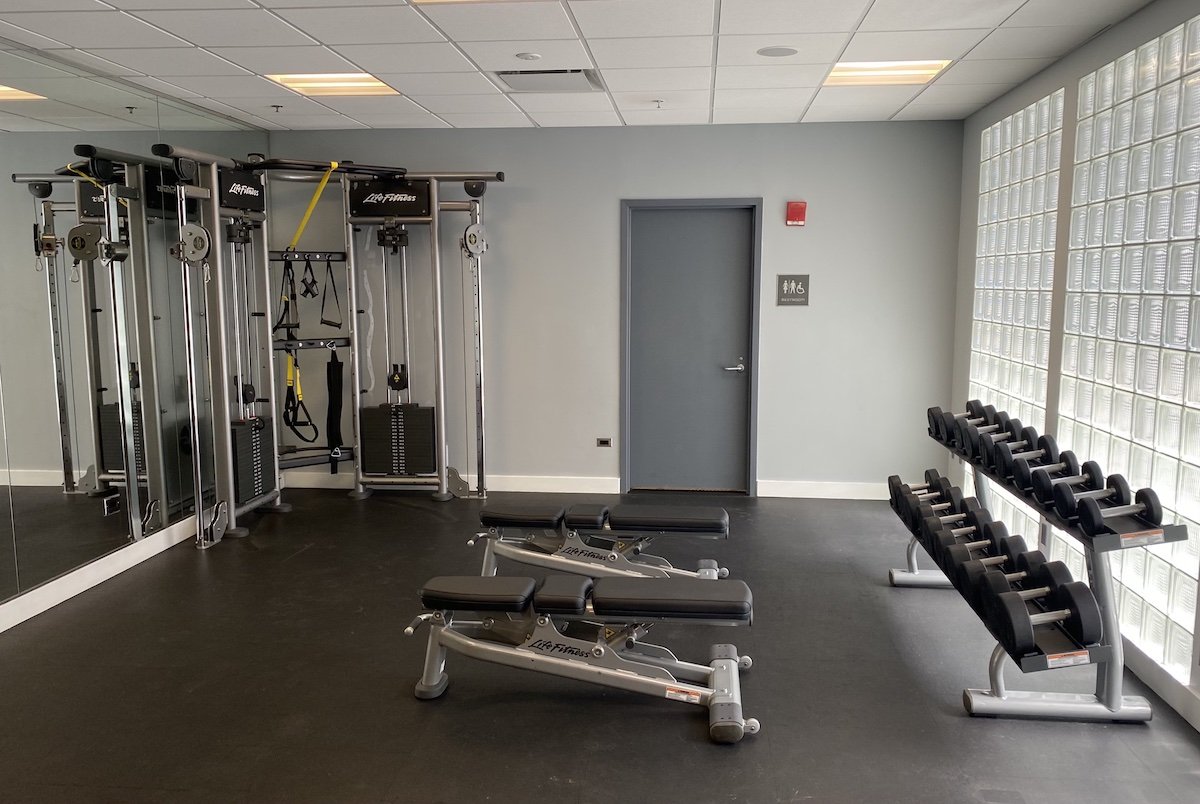 Thompson Chicago gym
Thompson Chicago coffee, room service, and more
Due to the lack of other services, the Thompson Chicago had complimentary coffee and tea in the lobby daily from 7AM until 11AM, which was at least a nice touch.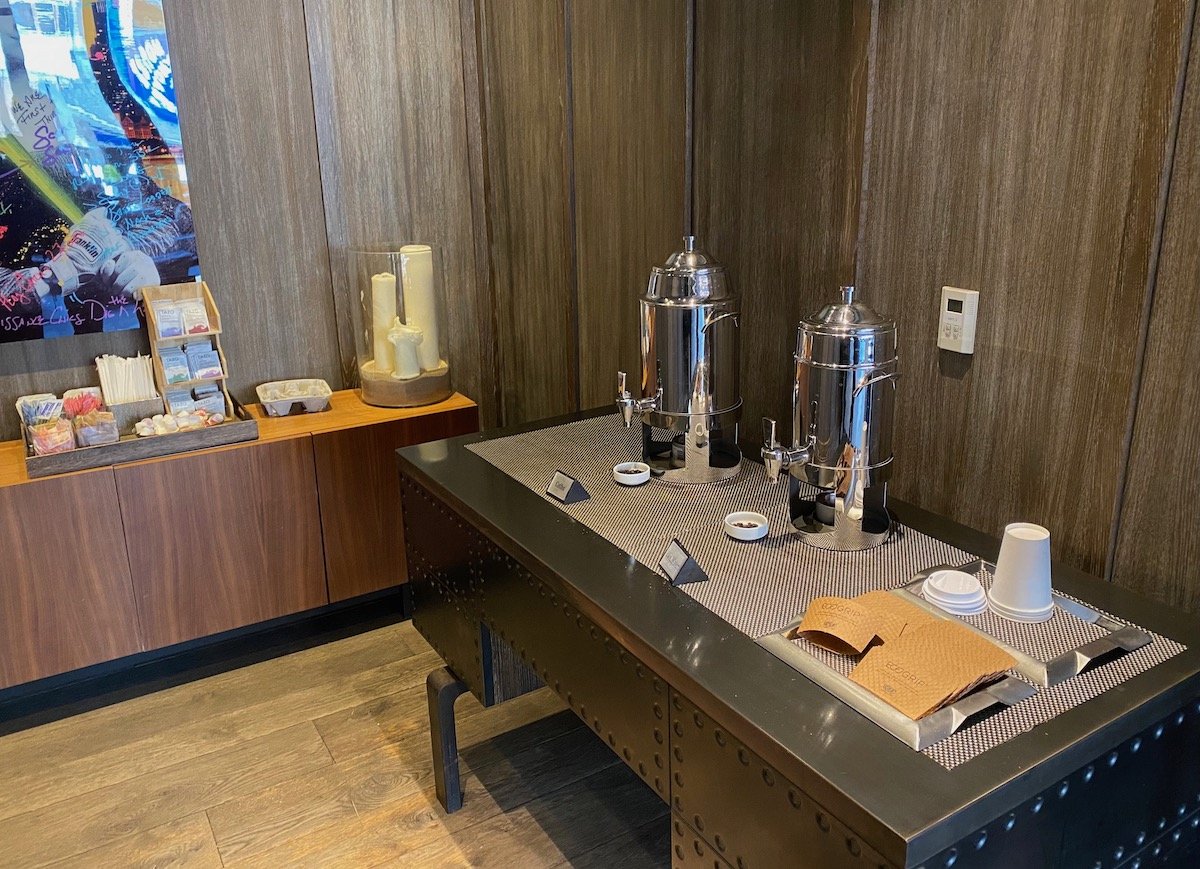 Thompson Chicago complimentary coffee
One morning I did decide to order room service via the menu I was presented at check-in. The room service is provided by Butler, which I had never heard of before. It's an interesting concept — think of it like a cross between Postmates and room service.
If my understanding is correct, Butler essentially works with many hotels in a few cities, and then you can easily order food through the website, and it's delivered directly to your room.
The benefit of this over some other food delivery services is that they deliver food directly to your room's door without any confusion, so the integration is a bit more seamless.
For what it's worth, the breakfast menu read as follows: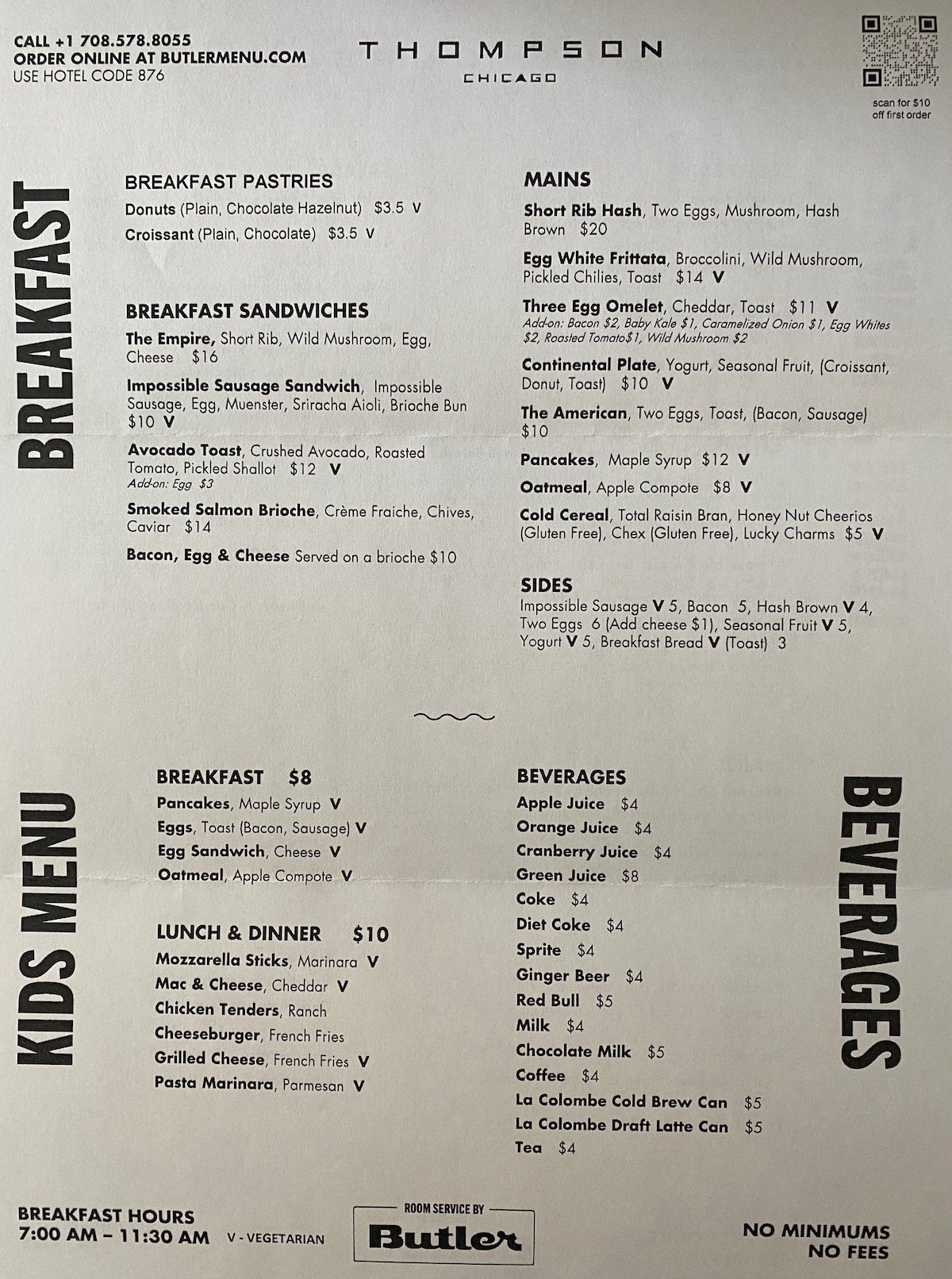 The lunch & dinner menu read as follows: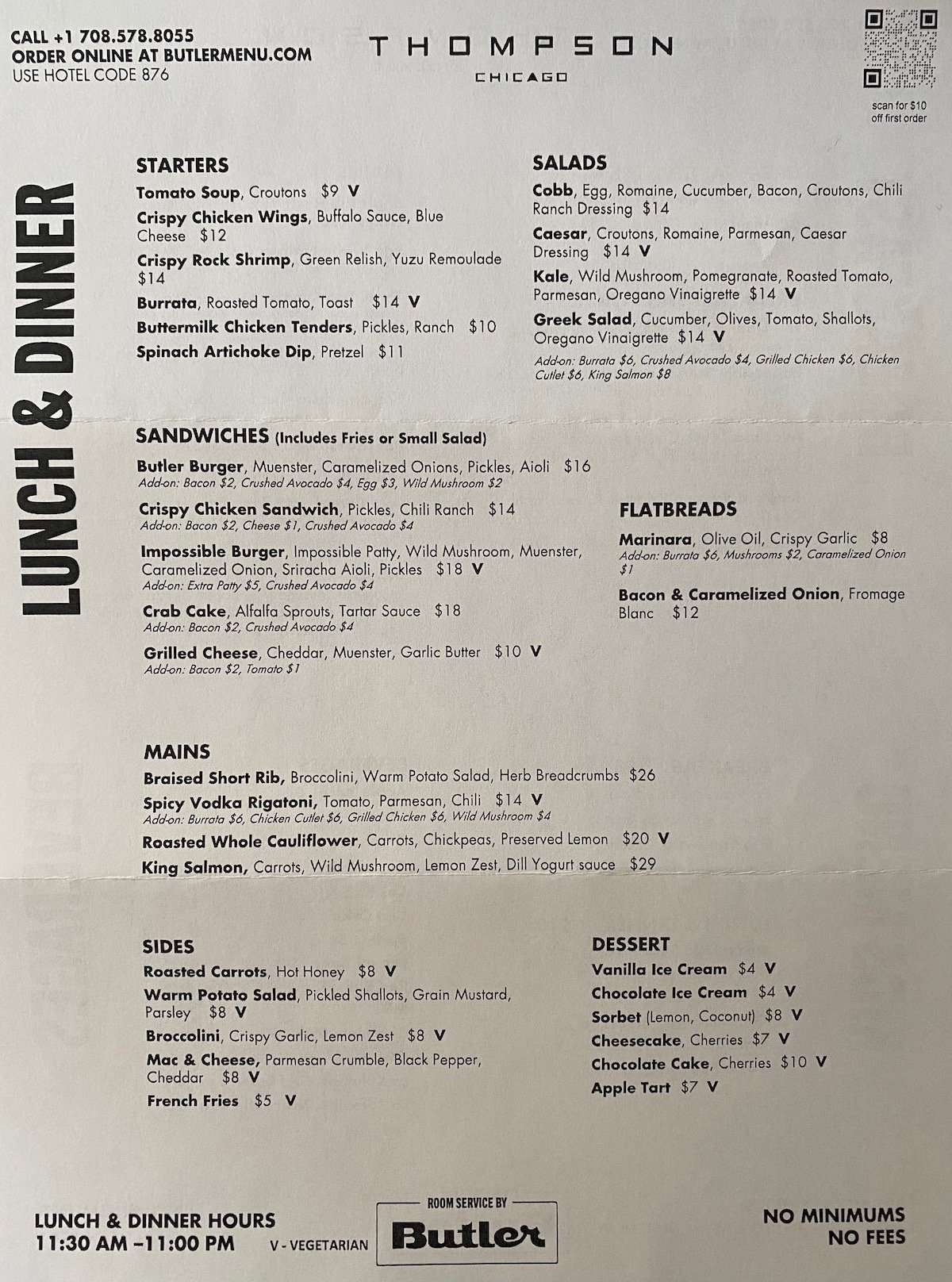 Below is a look of what the avocado toast and omelet looked like — they were totally fine, but nothing special.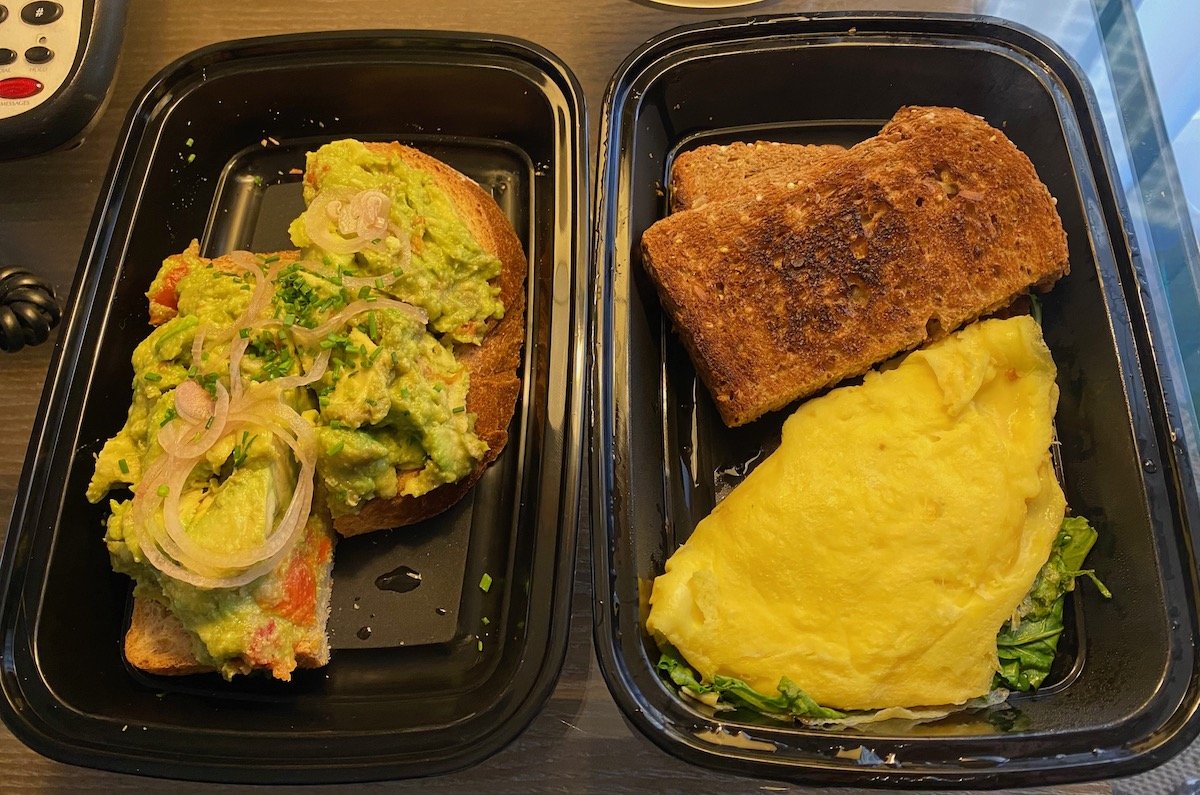 Thompson Chicago room service breakfast
Bottom line
While I recognize that it's a tough time for the hotel industry, I can't say the Thompson Chicago impressed me much. Physically the hotel is fine — the lobby is cute, and the rooms are decent, though not as nice as other Thompsons.
However, along with the Hyatt Carmel Highlands, this was the most disappointing Hyatt I've stayed at in a while in terms of the amenities the hotel chose to offer. Both of the hotel's restaurants were closed, which is fine. But then there was no breakfast option, so I received 500 points per person per night, which really isn't a fair replacement.
And then I could simply spend my $75 credit on candy, and that wasn't even taken off the bill correctly, because the hotel was so short staffed that there was no one in the lobby when I checked out.
Hopefully the situation at this hotel improves in the coming months, though to be honest even pre-coronavirus I haven't heard amazing things about this hotel. Hyatt is disappointing me quite a bit lately.
If you've stayed at the Thompson Chicago, what was your experience like?