In the interest of full disclosure, OMAAT earns a referral bonus for anyone that's approved through some of the below links. These are the best publicly available offers (terms apply) that we have found for each product or service. Opinions expressed here are the author's alone, not those of the bank, credit card issuer, airline, hotel chain, or product manufacturer/service provider, and have not been reviewed, approved or otherwise endorsed by any of these entities. Please check out
our advertiser policy
for further details about our partners, and thanks for your support!
EXTRA PERKS AVAILABLE
Enjoy breakfast, upgrades, & more
Want to take advantage of Hyatt Privé benefits, including a room upgrade, complimentary breakfast, a hotel credit, and more, when booking a cash stay? Contact Ford ([email protected]) for more details. He may even be able to help if you already have a stay booked.
We've been living in hotels for quite a while, and in late 2020 we spent a couple of weeks at the Park Hyatt Beaver Creek (as I'll explain below, the economics worked out very favorably). Yes, I realize I'm way late with this review, but better late than never, right?
Booking our stay at the Park Hyatt Beaver Creek
There's huge variance in the rates at the Park Hyatt Beaver Creek, as you'd expect for a seasonal ski resort. In peak season the hotel runs over $800 per night. However, we stayed in late November before peak season, and paid a lot less than that.
We booked through a Hyatt Privé travel advisor (Ford, specifically), meaning we paid the same as the standard rate at the hotel, and received the following additional perks:
Daily full breakfast for two in the hotel's restaurant
A $100 property credit per room per stay
A one category room upgrade confirmed within 24 hours of booking (room-to-room or suite-to-suite) — based on availability at the time of booking
Early check-in (as early as 9AM) and late check-out (as late as 4PM), subject to availability
A welcome gift and letter
On top of that, at the time the hotel was offering a third night free promotion, and we ended up paying around $200 per night. Best of all, this stay was at a time when World of Hyatt had a fantastic promotion offering triple points. As as a World of Hyatt Globalist member paying with the World of Hyatt Credit Card (review) I was earning 21.5x World of Hyatt points per dollar spent. I value World of Hyatt points at 1.5 cents each, so to me that's a 32% return on spending.
Redeeming points at the Park Hyatt Beaver Creek
While we paid cash, I should note that you can also redeem points at the hotel. The Park Hyatt Beaver Creek is a Category 7 World of Hyatt property, meaning that a free night redemption costs the following number of points:
30,000 points in a standard room
48,000 points in a standard suite
60,000 points in a premium suite
To me redeeming 30,000 points per night would be the equivalent of paying $450. In winter redeeming points can be an amazing value, while in other seasons it's not as great of a value.
Even if you're not a Hyatt loyalist, earning World of Hyatt points can be pretty easy. In addition to being able to earn World of Hyatt points with the World of Hyatt Credit Card (review), you can also transfer over points from Chase Ultimate Rewards.
Earn World of Hyatt points with the following cards:
Park Hyatt Beaver Creek's interesting history
In order to manage expectations, I think it's important to understand the property's history. The 190-room hotel actually opened as the Hyatt Regency Beaver Creek back in 1989, and was converted into a Park Hyatt in 2001. While the hotel has been updated over time, it doesn't have the full-on Park Hyatt feel.
Ultimately hotel groups are highly inconsistent. I find Park Hyatt to be one of the most consistent brands, but this property is an outlier. The hotel doesn't have the sleek minimalist design you'll find at most Park Hyatts, but rather the property feels more like a traditional mountain resort, which makes sense given the location.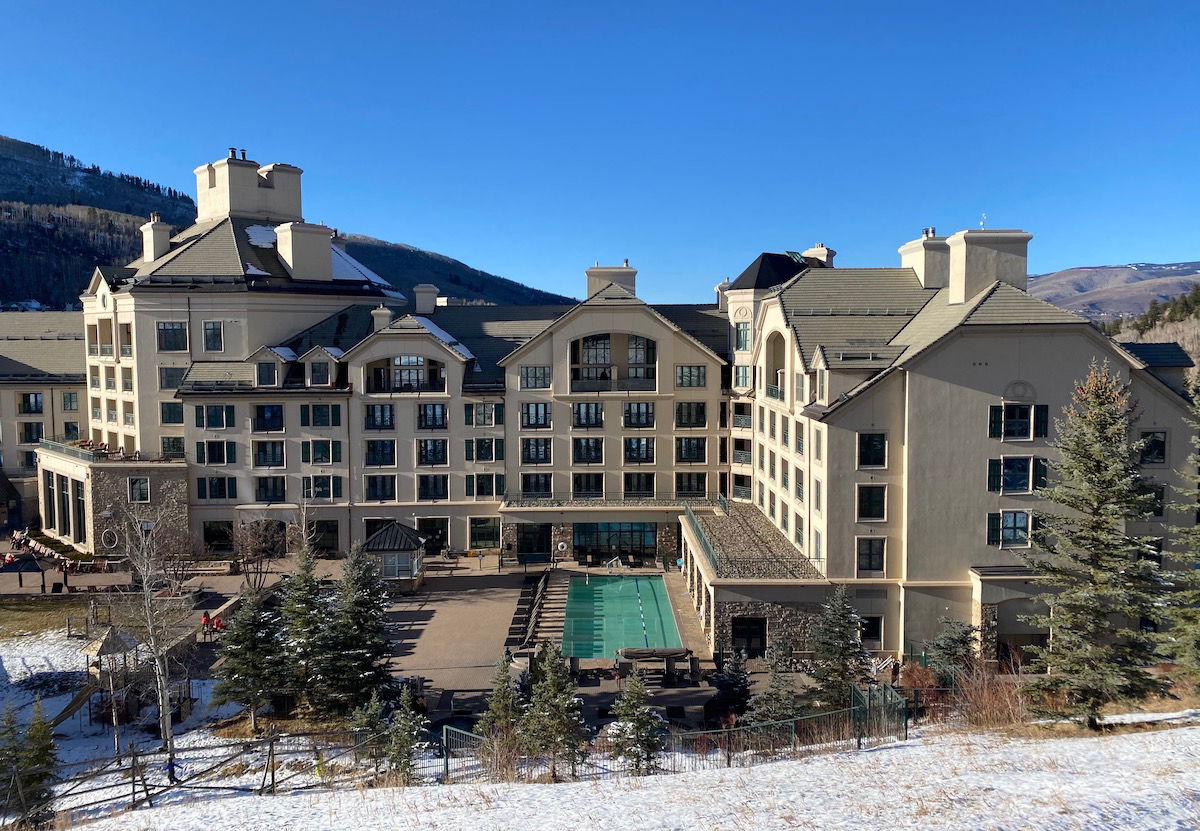 At the end of the day this is a fantastic property for its great location in Beaver Creek village and the ski-in, ski-out potential, but don't come here expecting this to be the Park Hyatt Sydney in terms of design or service.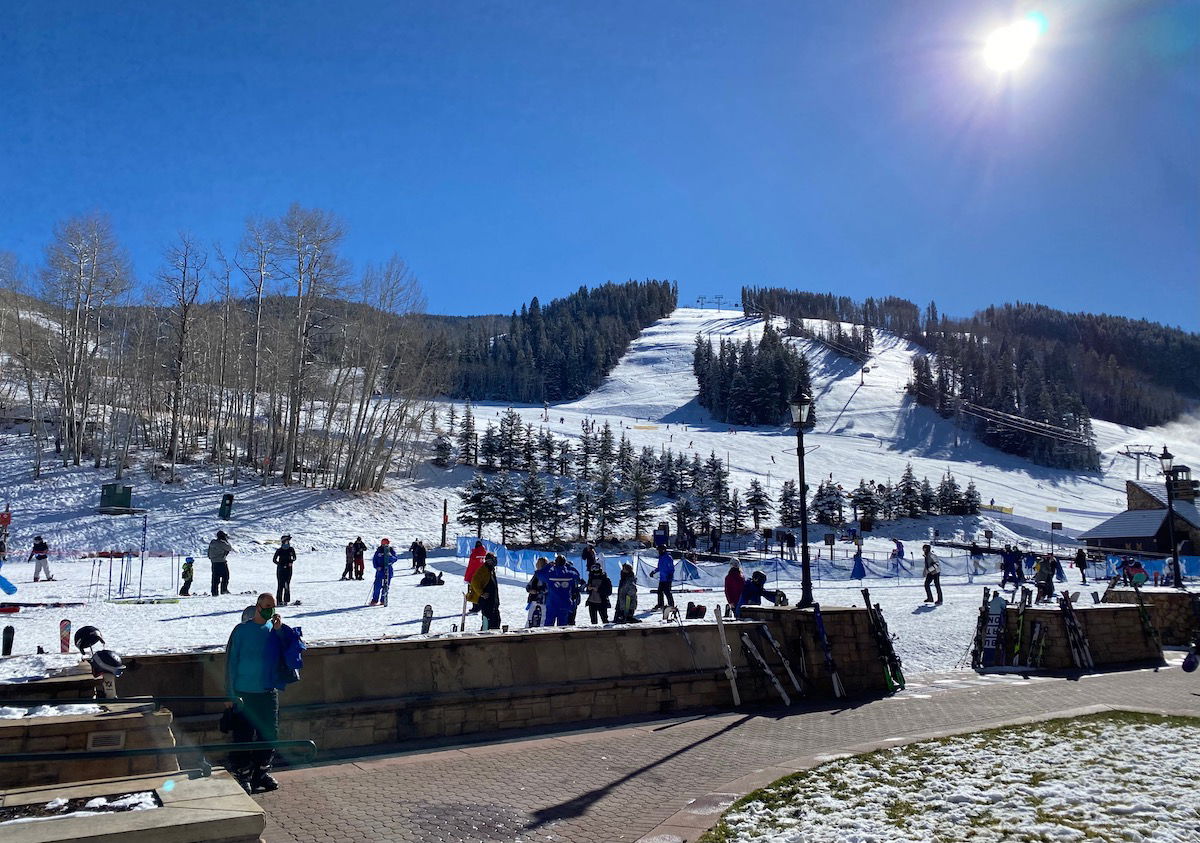 Park Hyatt Beaver Creek location
One of the best things about the Park Hyatt Beaver Creek is its location, as it's located right in heart of the village of Beaver Creek. The village is tiny and super quaint, and it's almost built around the hotel. Not only does this give you direct access to ski slopes, but you also have access to the restaurants and shops in Beaver Creek.
Below is a map of the village of Beaver Creek, which gives you a sense of the layout.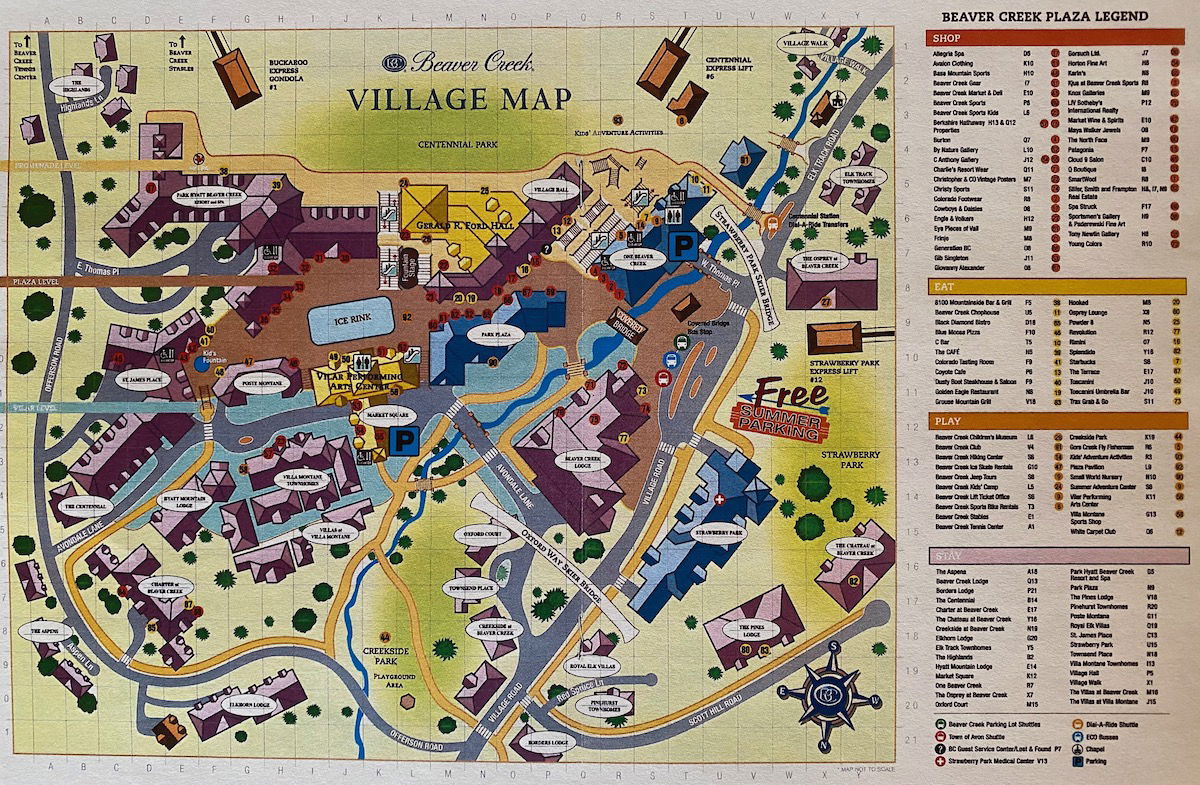 Below are some pictures of Beaver Creek, to give you a sense of what it's like (in the first picture below that's the Park Hyatt on the left).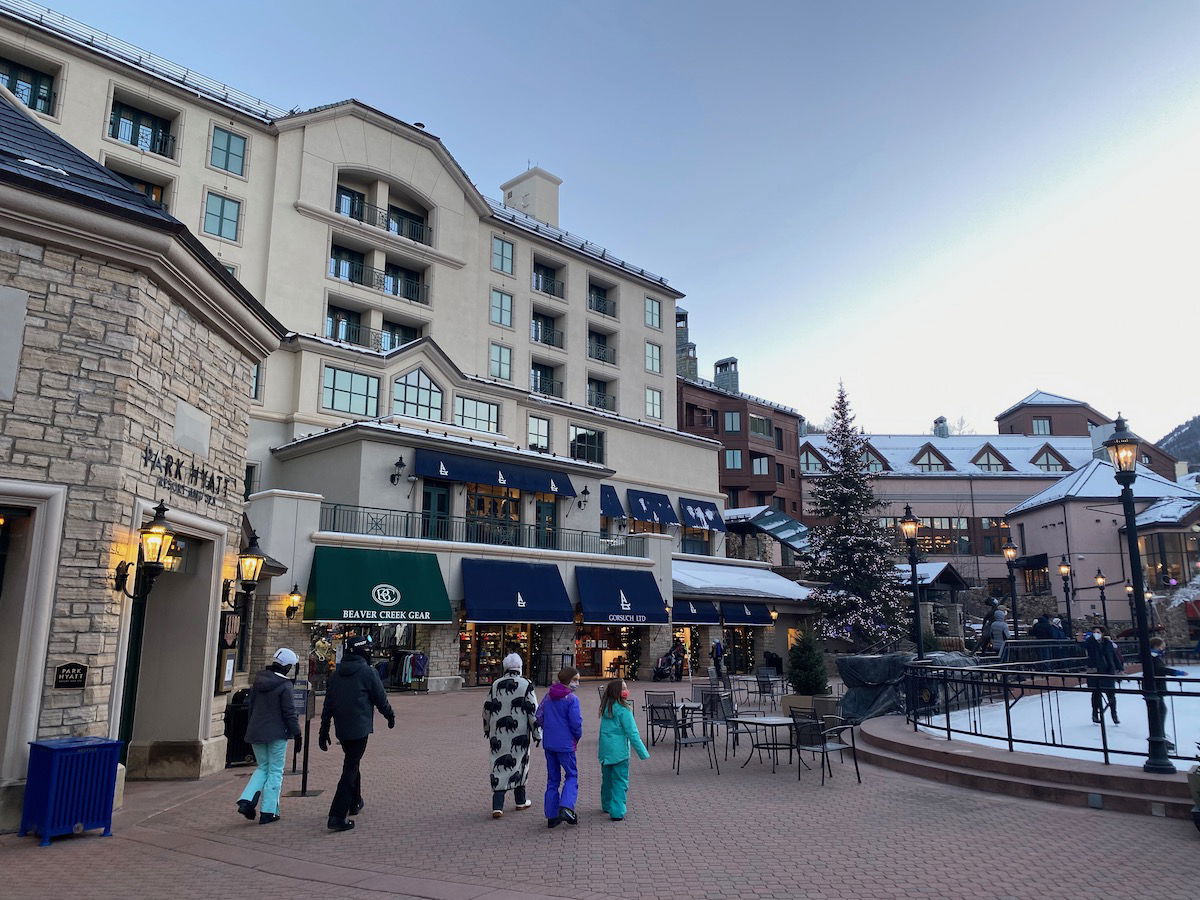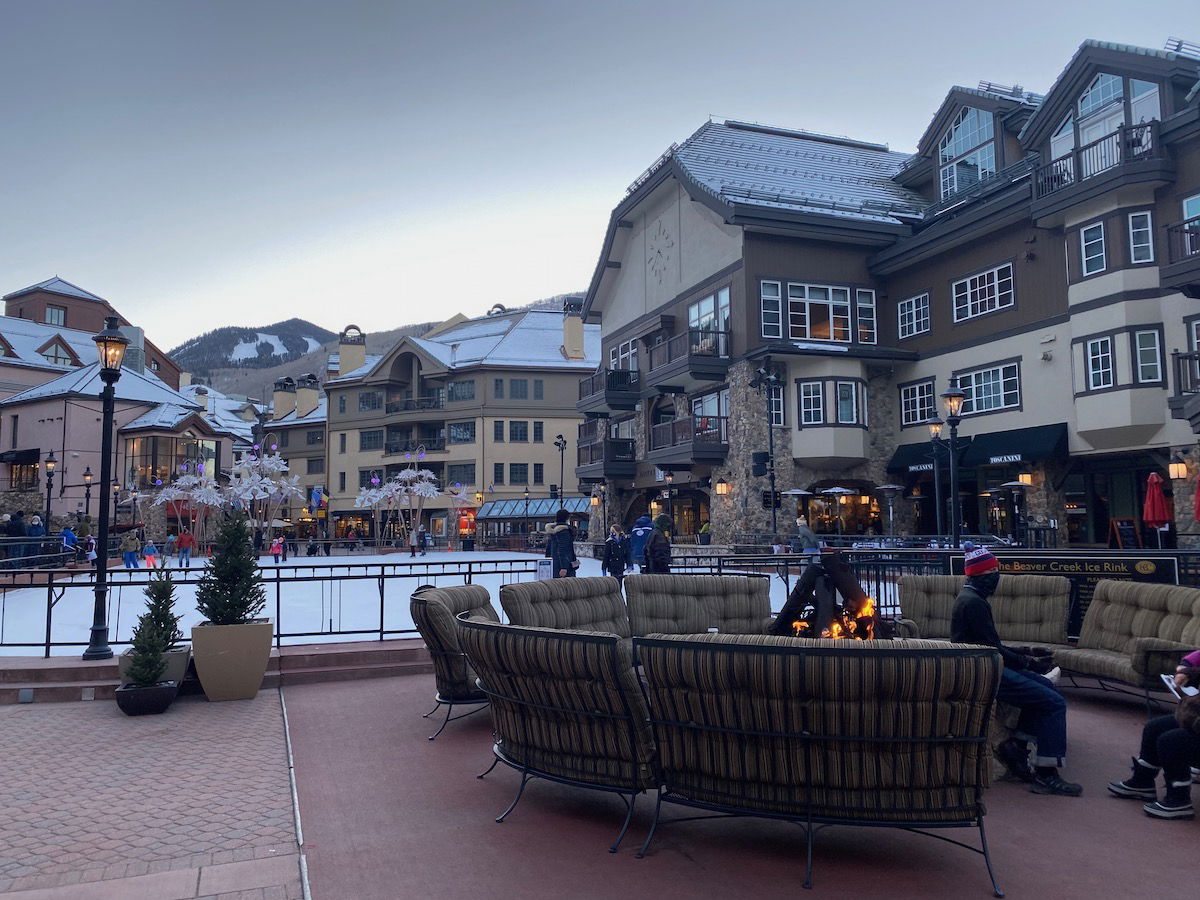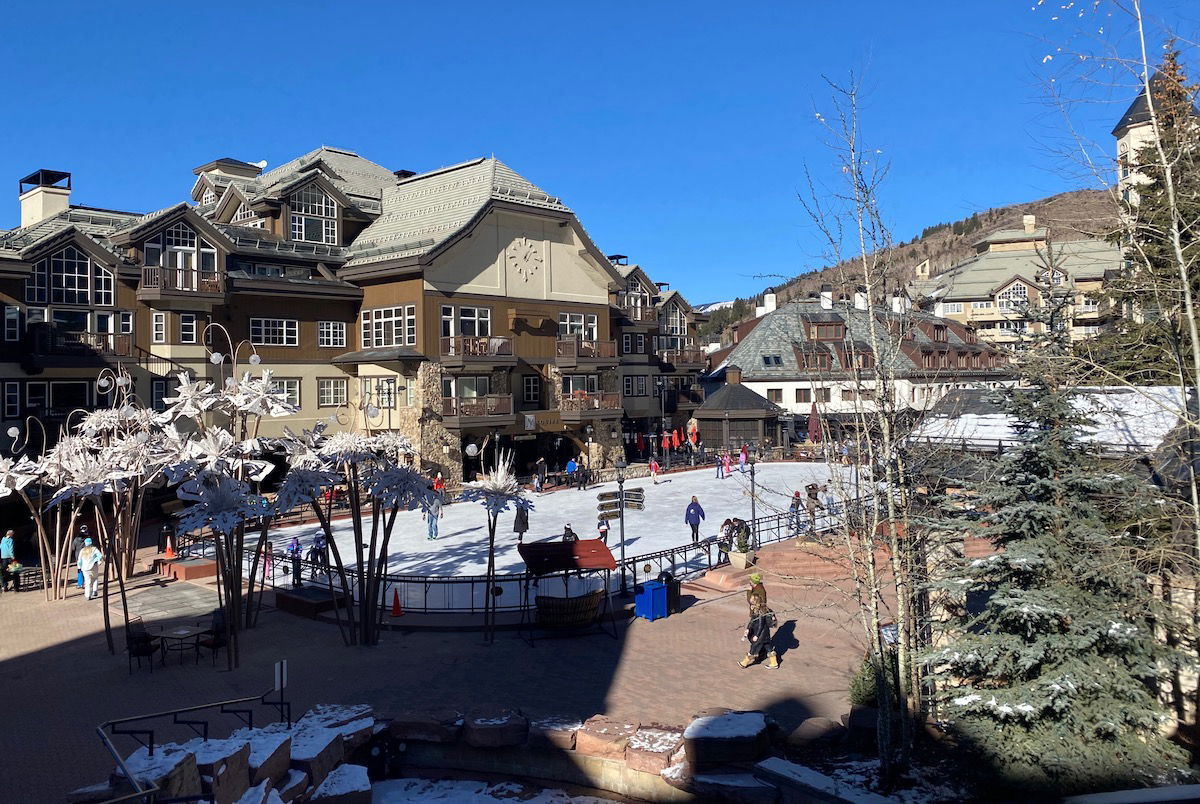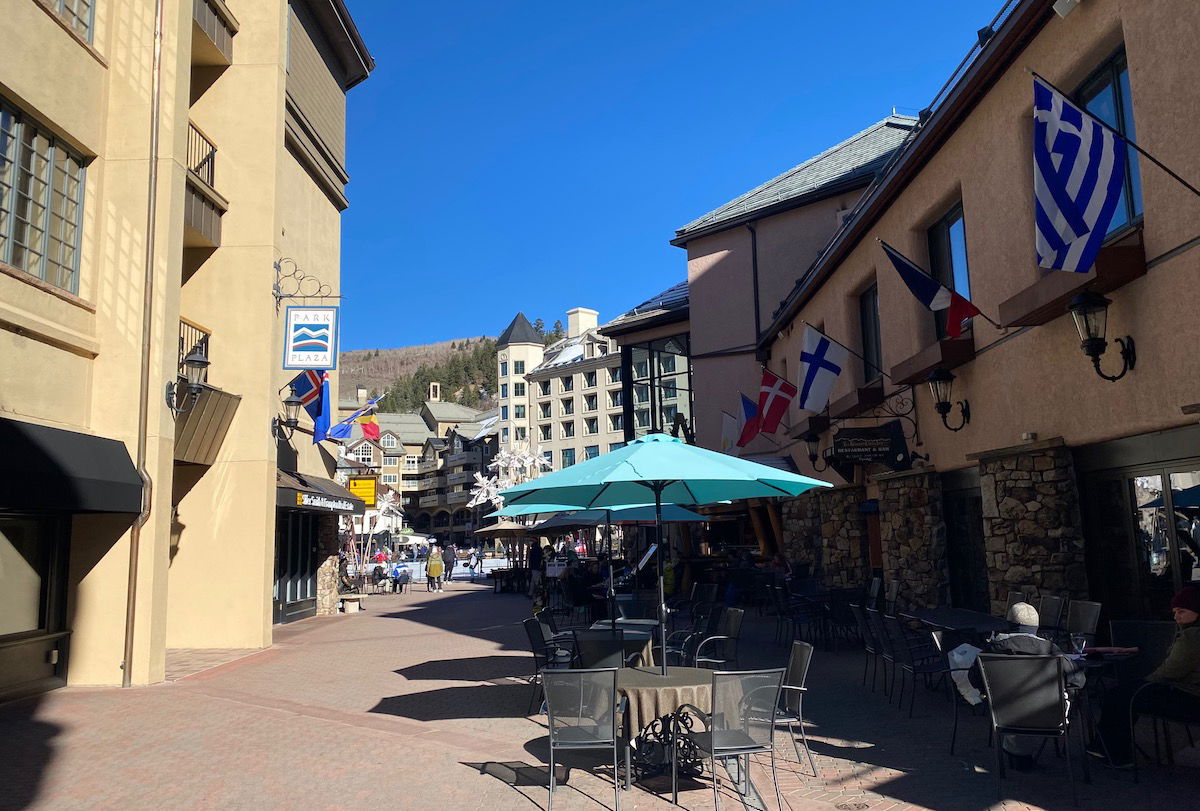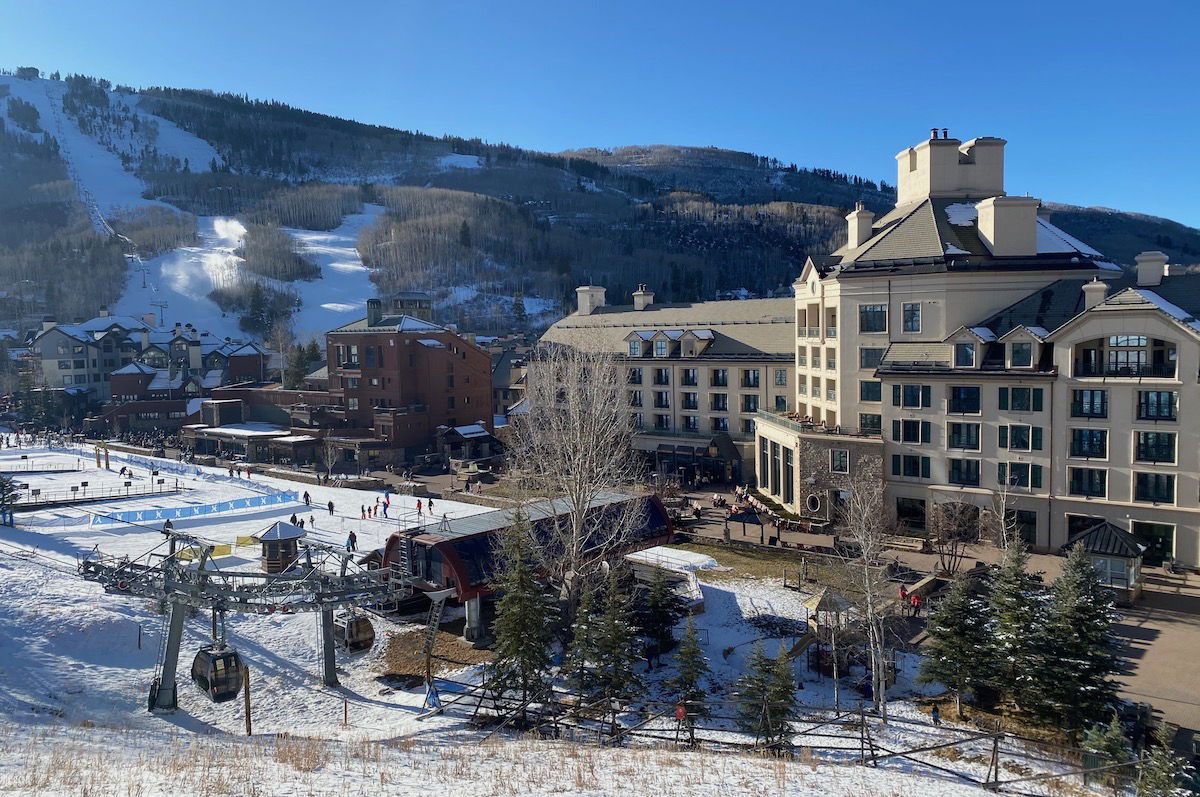 The Park Hyatt also offers a complimentary hotel car, either within Beaver Creek, or to Bachelor Gulch (where the Ritz-Carlton is located).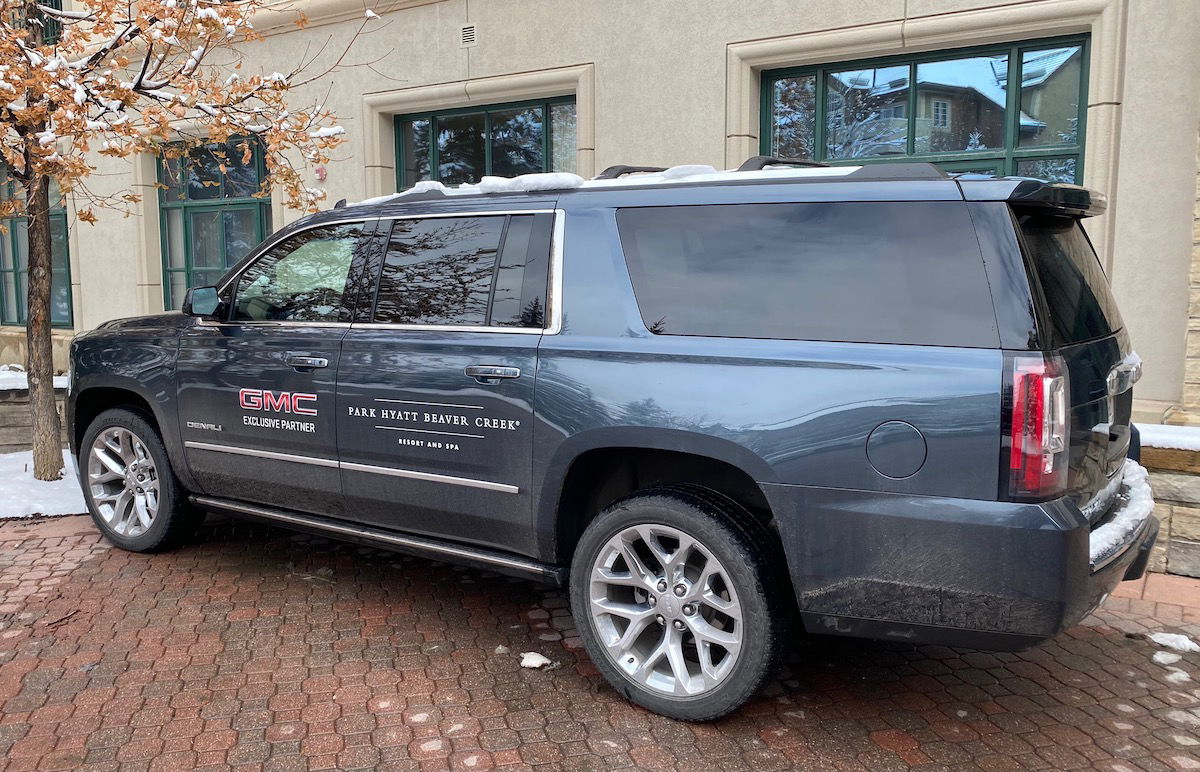 As far as accessing Beaver Creek goes, the Park Hyatt is about 30 minutes from Eagle County Regional Airport (EGE) or around two hours from Denver International Airport (DEN). Of course weather and traffic can greatly impact travel time.
I do appreciate how much closer Beaver Creek is to Denver than Aspen, since it makes it much easier to get there from a major airport, especially with the possibility of a snowstorm.
Park Hyatt Beaver Creek check-in & lobby
We arrived in Beaver Creek after some heavy snowfall, which sure made for some beautiful views.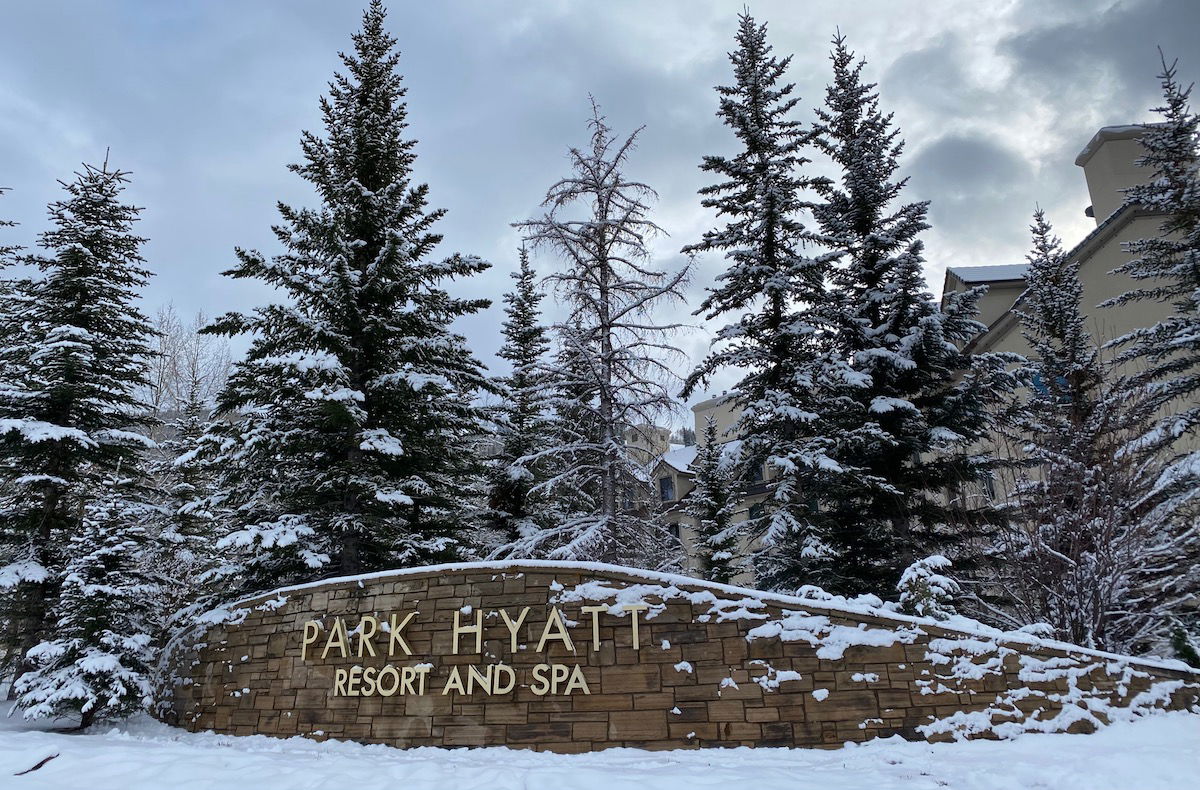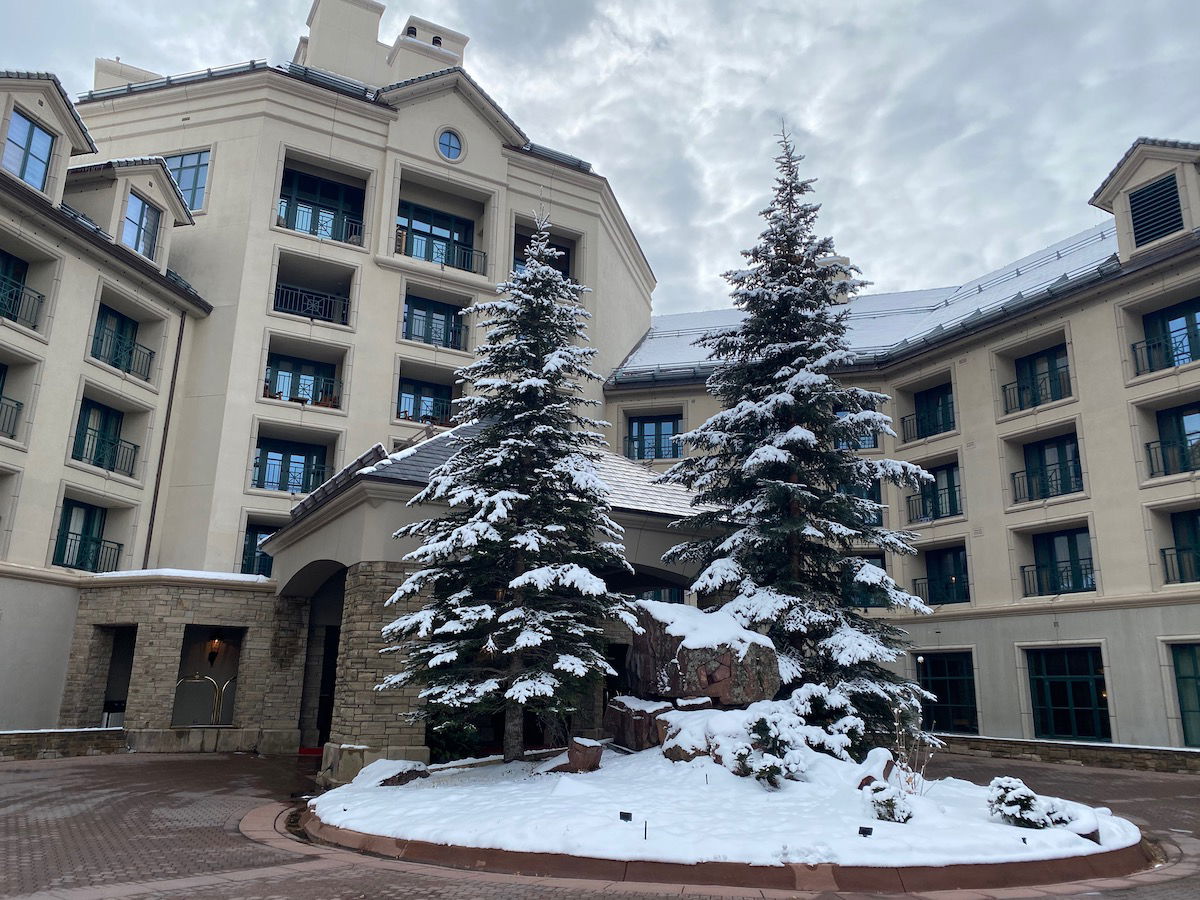 The bellmen helped us with our bags, and we headed for reception, which was just inside the entrance past the (fake) fireplace. There were three separate check-in desks, so that guests could also take a seat while going through the check-in process.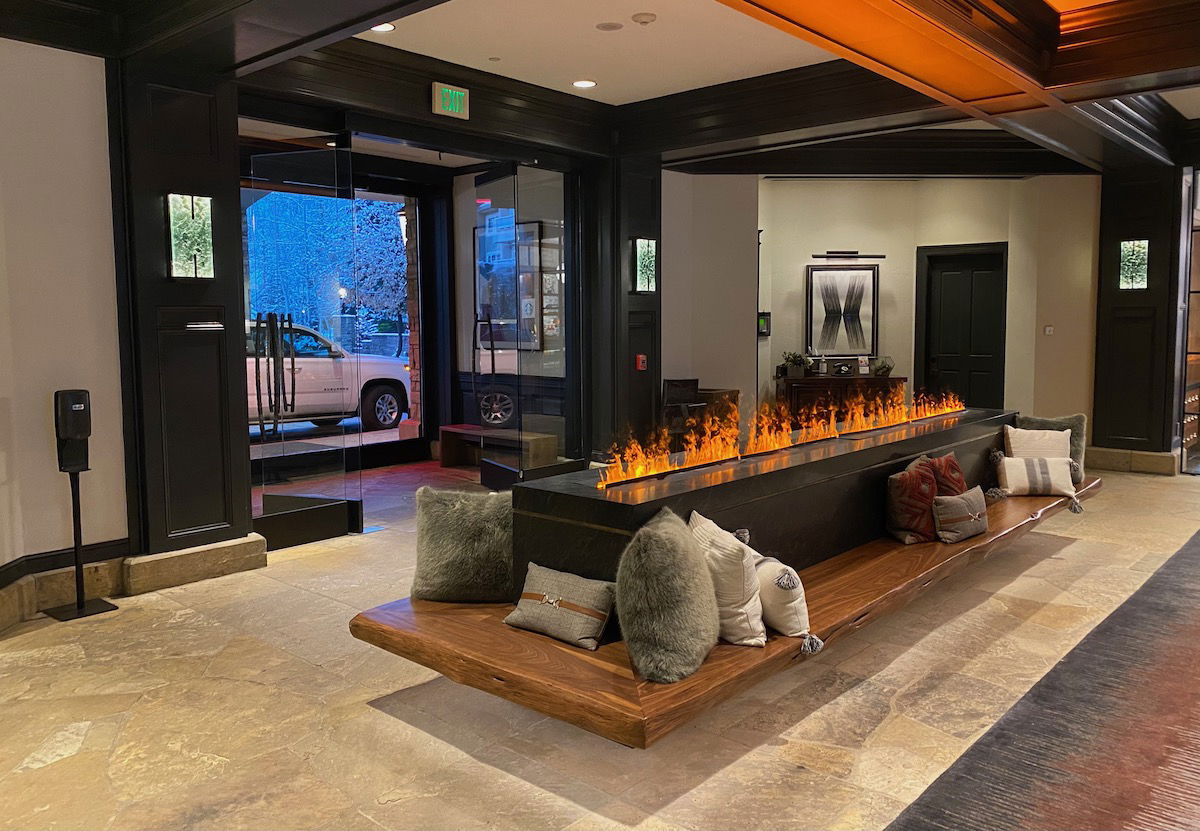 I quickly took a look around the lobby. It's my understanding that the Park Hyatt Beaver Creek recently underwent a renovation to the lobby area, and it gives me high hopes for how the rest of the hotel may be renovated as well.
Brass Bear Bar is the Park Hyatt's lobby bar, and it has lots of cozy seating, and massive floor-to-ceiling windows that give you an amazing view of the ski slopes.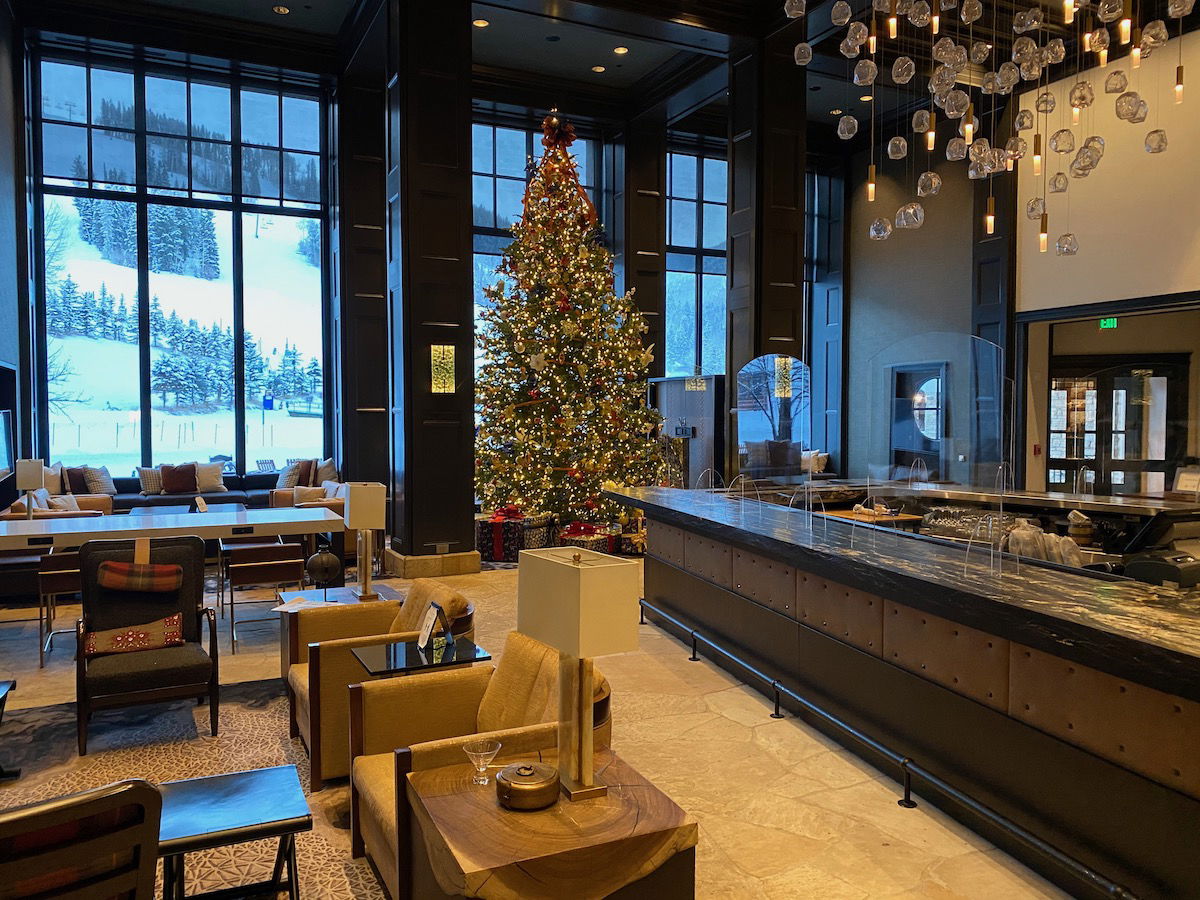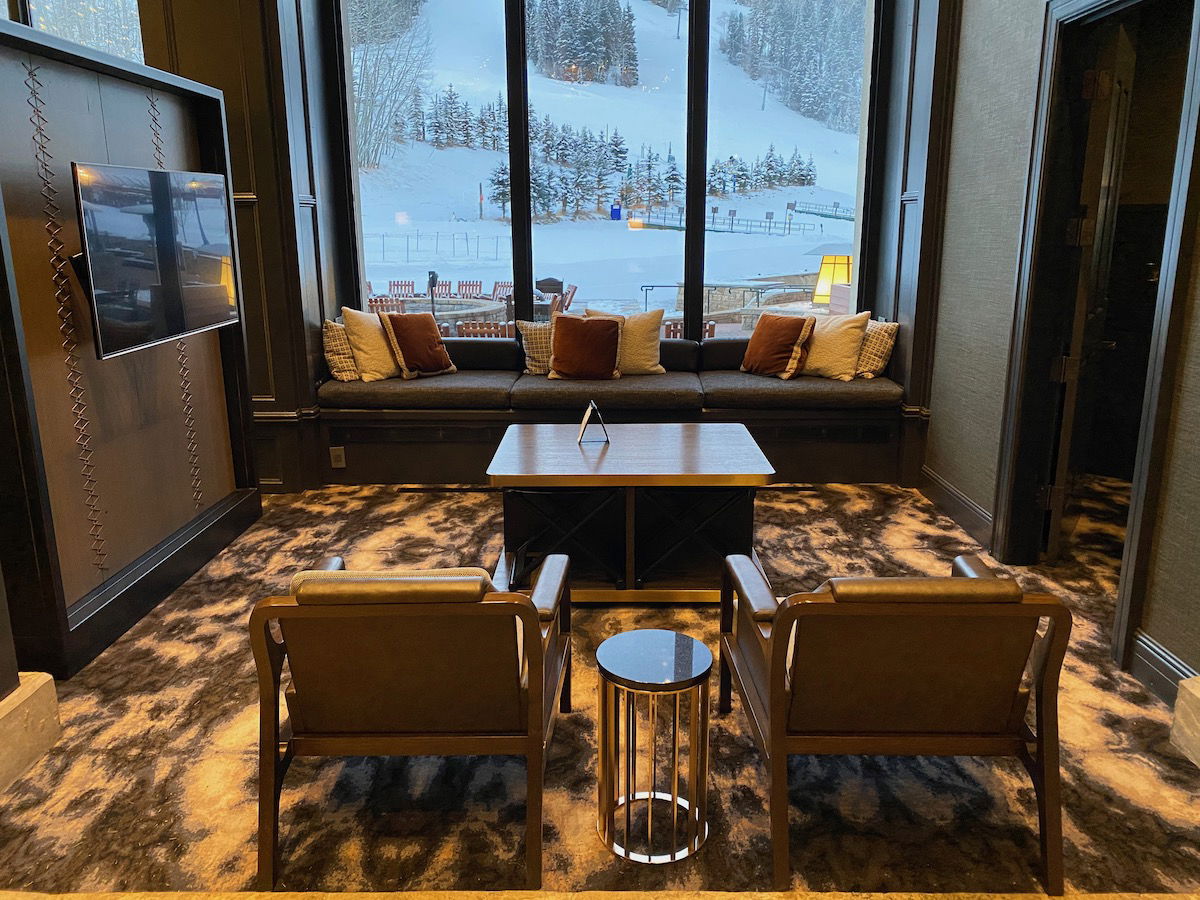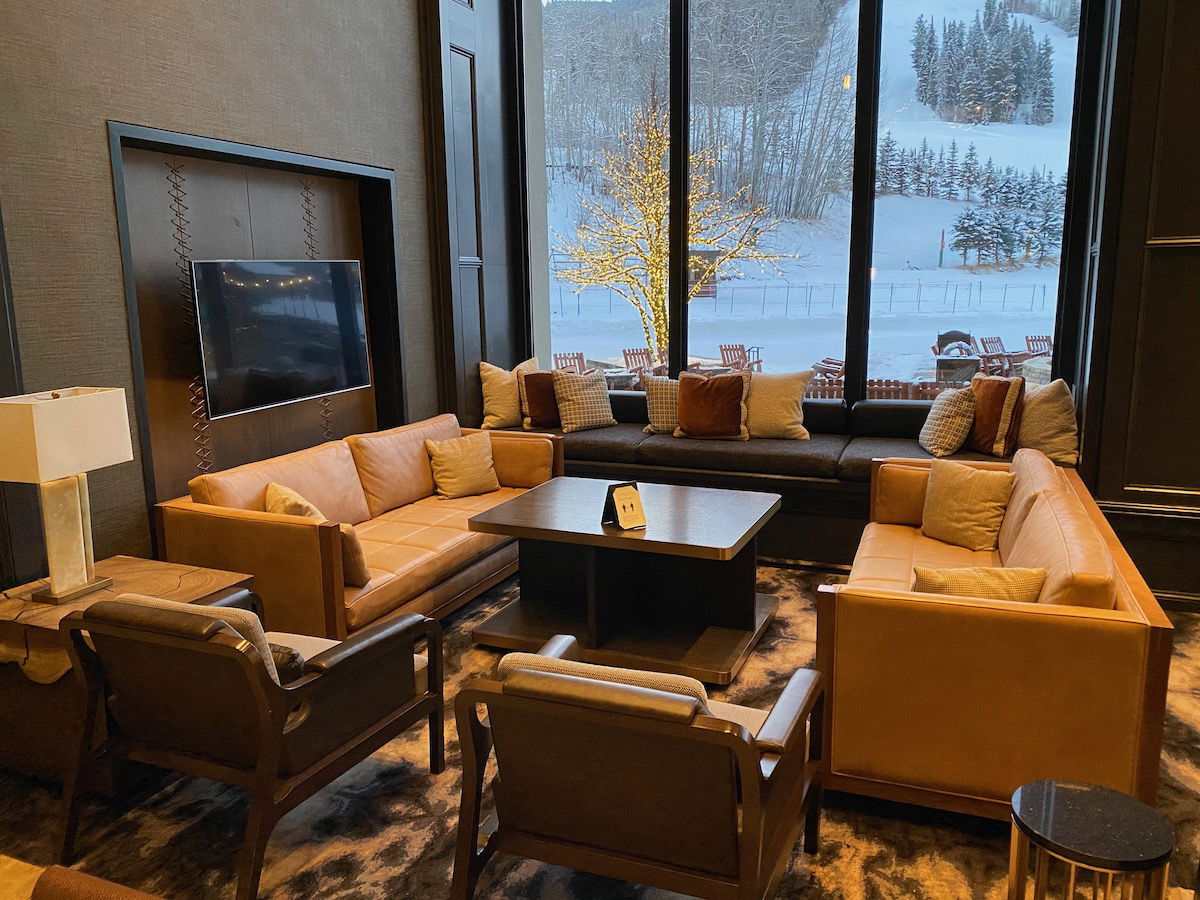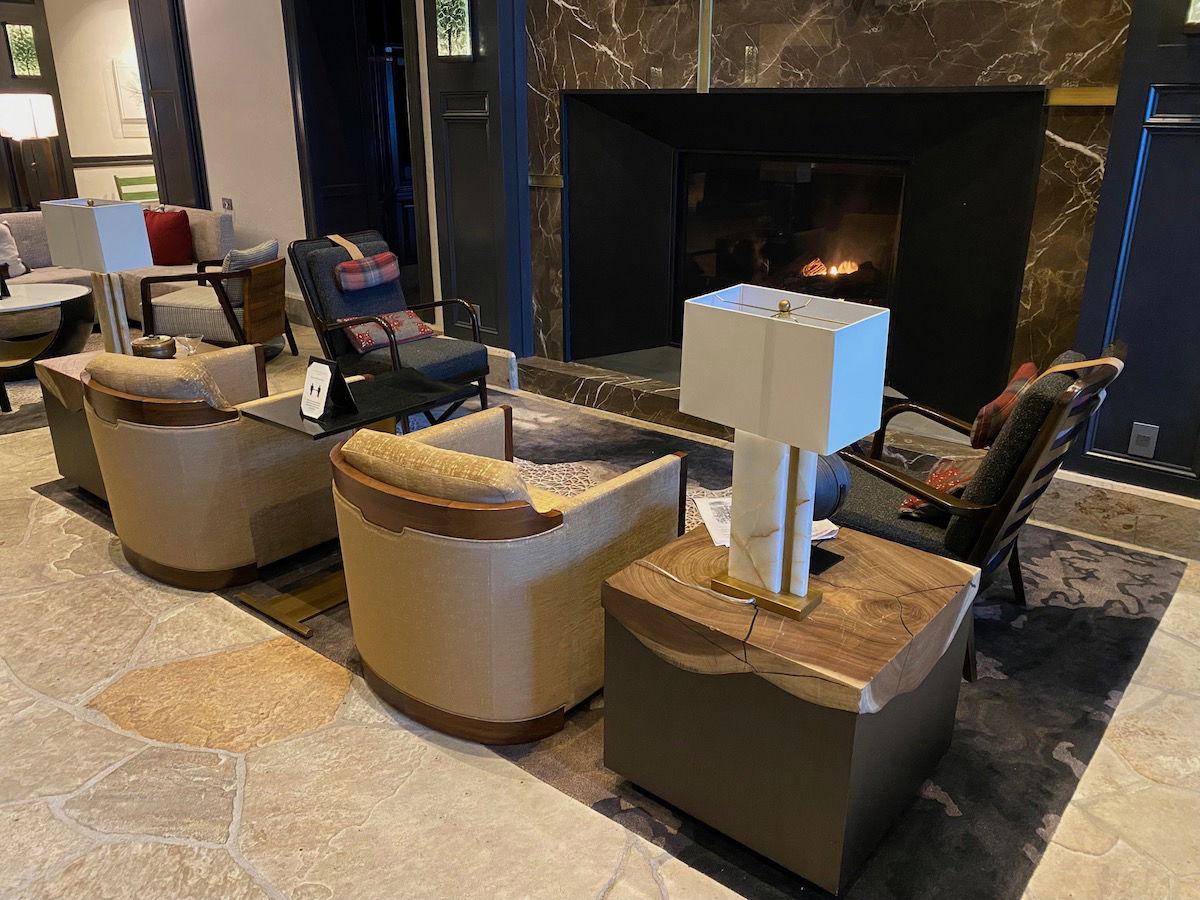 We were checked in pretty quickly, and were informed that we had been upgraded to a Park Fireside Suite, which is the standard suite at this hotel for Globalist upgrades (though there's lots of competition for upgrades here, so I'd recommend using a Globalist Suite Upgrade Award if possible).
Park Hyatt Beaver Creek Park Fireside Suite
We were assigned room 3006, a Park Fireside Suite on the third floor (the hotel has four floors). While the lobby bar was freshly renovated, the hotel started to look a lot more "rustic" starting with the elevators, and then towards the guest room hallways.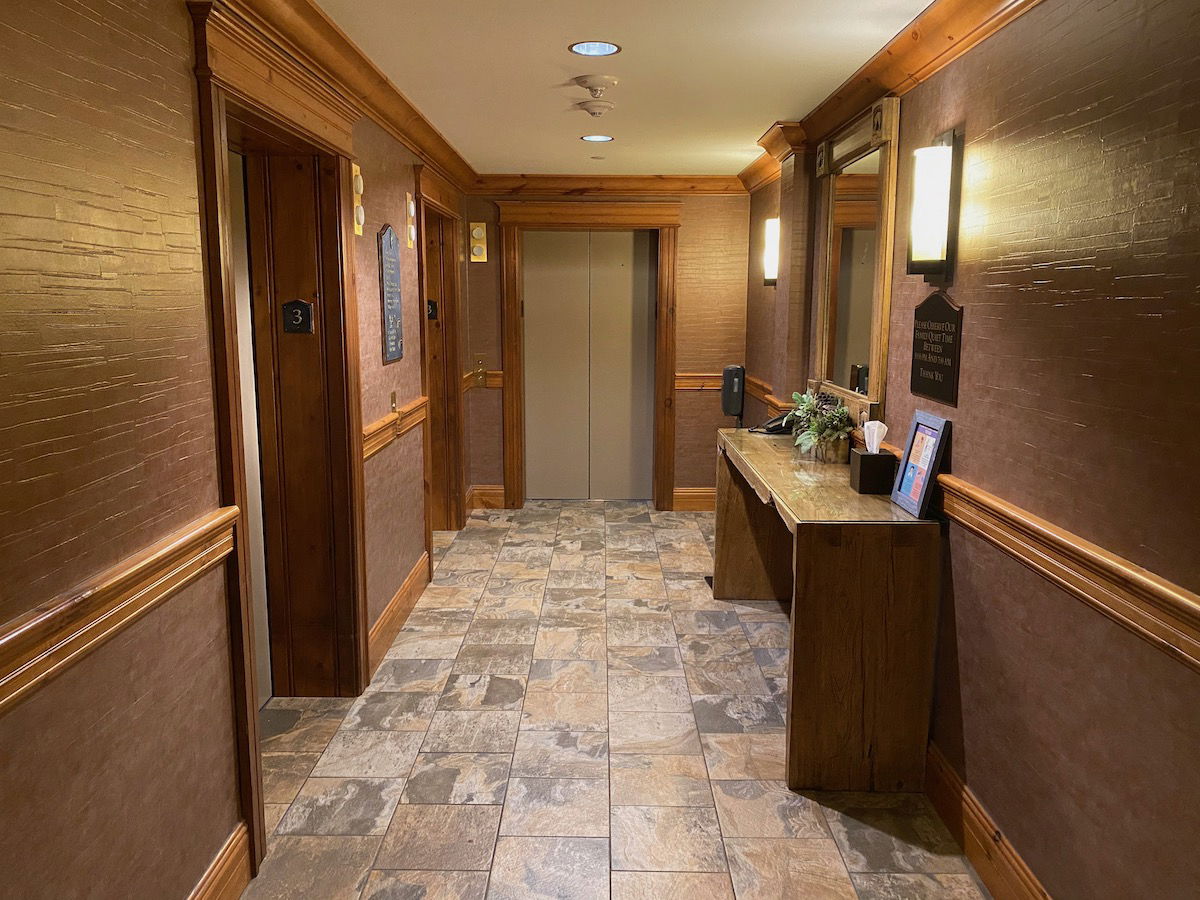 Our room was just down the hall and on the left side.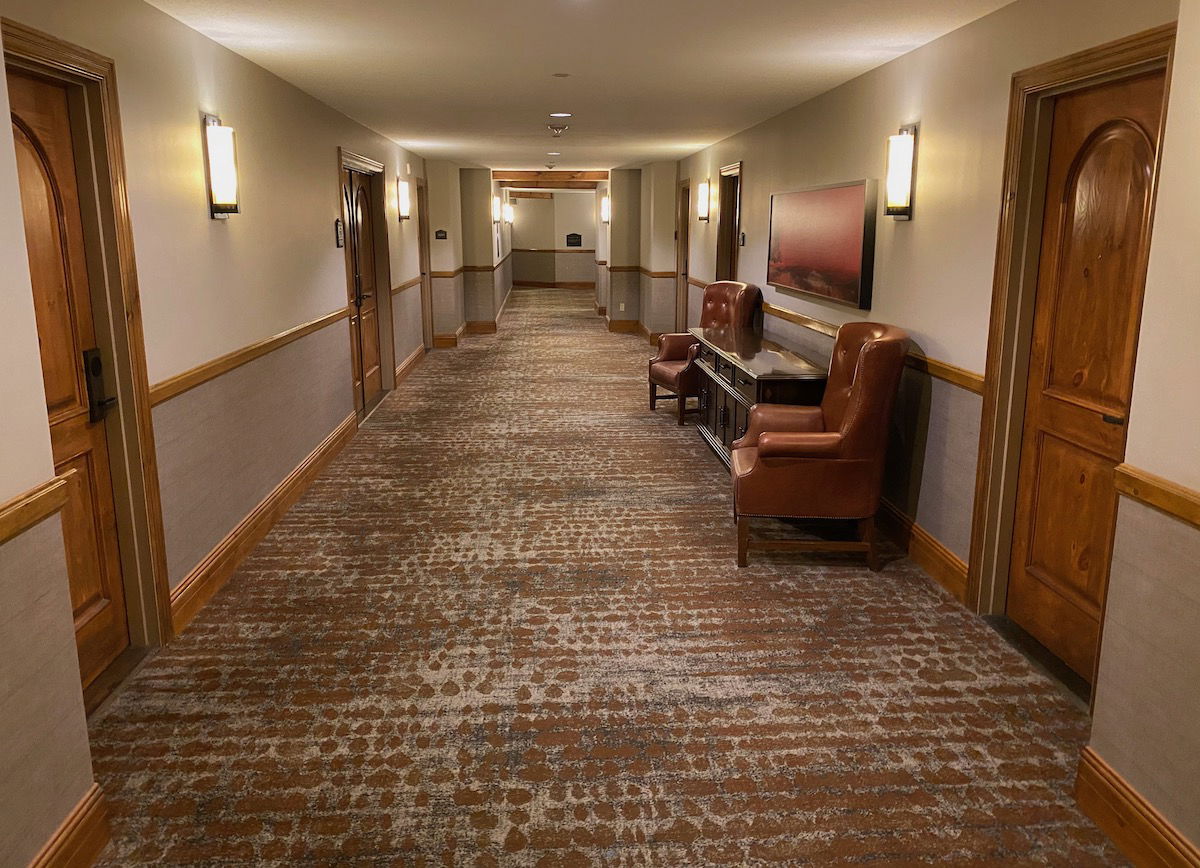 The Park Fireside Suite is marketed as being 600 square feet, so I'd consider it to be a fairly spacious junior suite, rather than a full suite. Inside the entryway was the bathroom to the right, and then the living area and then bedroom area was straight ahead.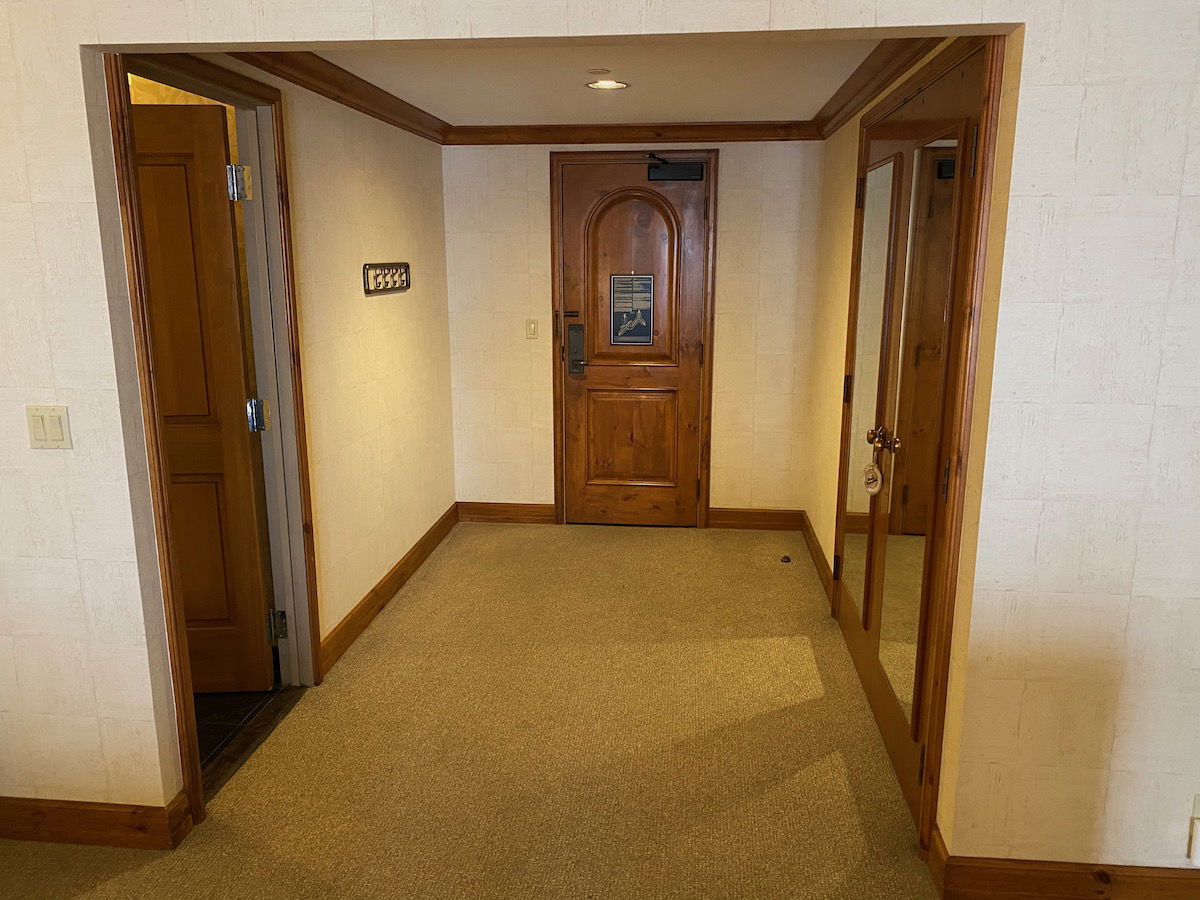 In the living area was an "L" shaped couch and a chair, along with a side table. This faced a TV and a gas fireplace.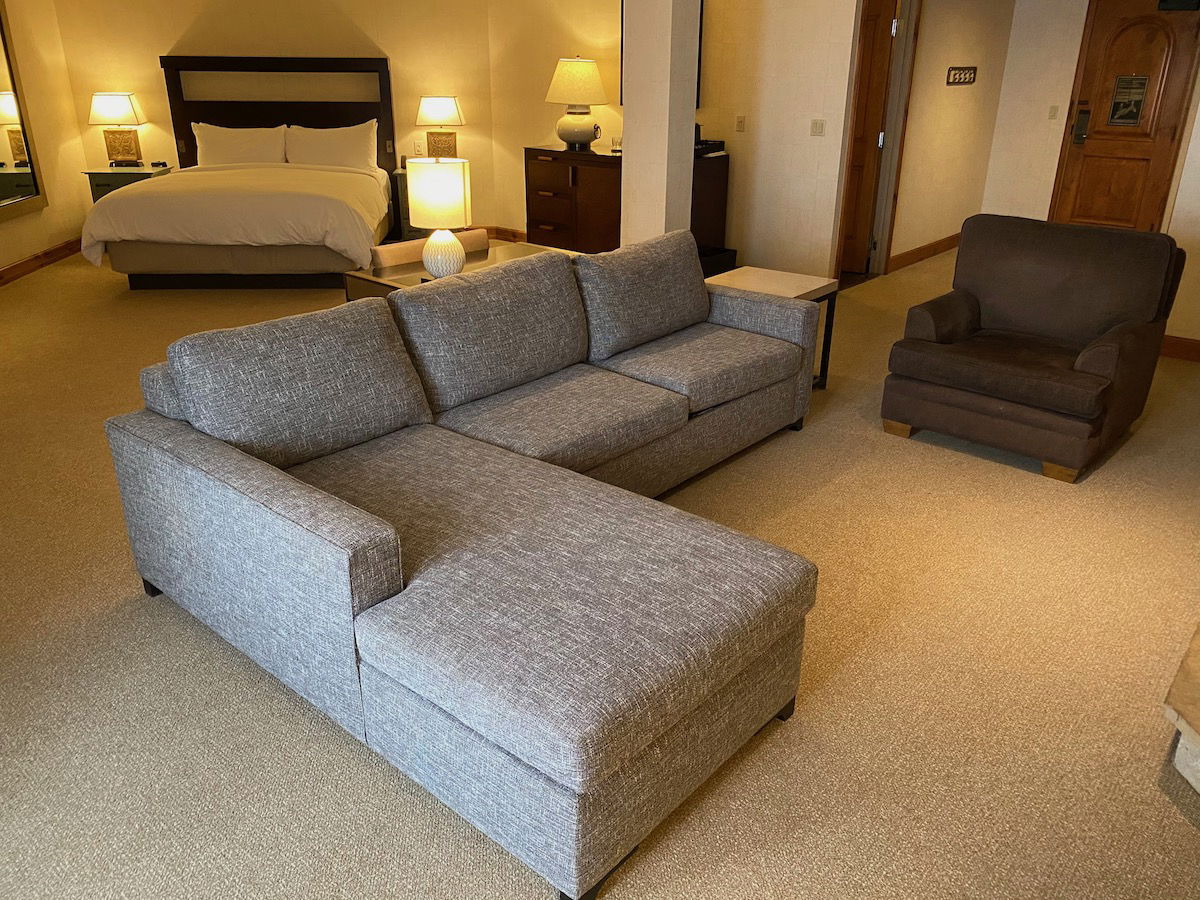 Behind the couch was a workstation with a comfortable chair.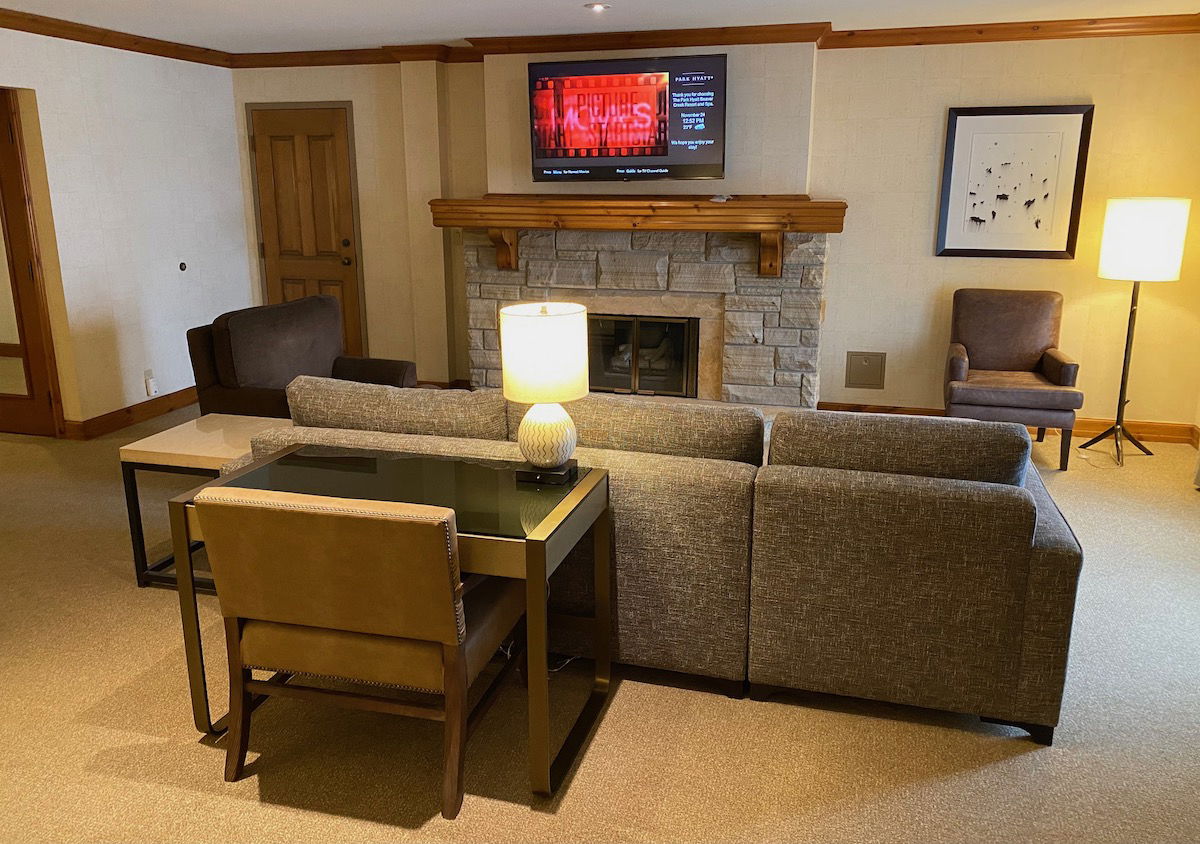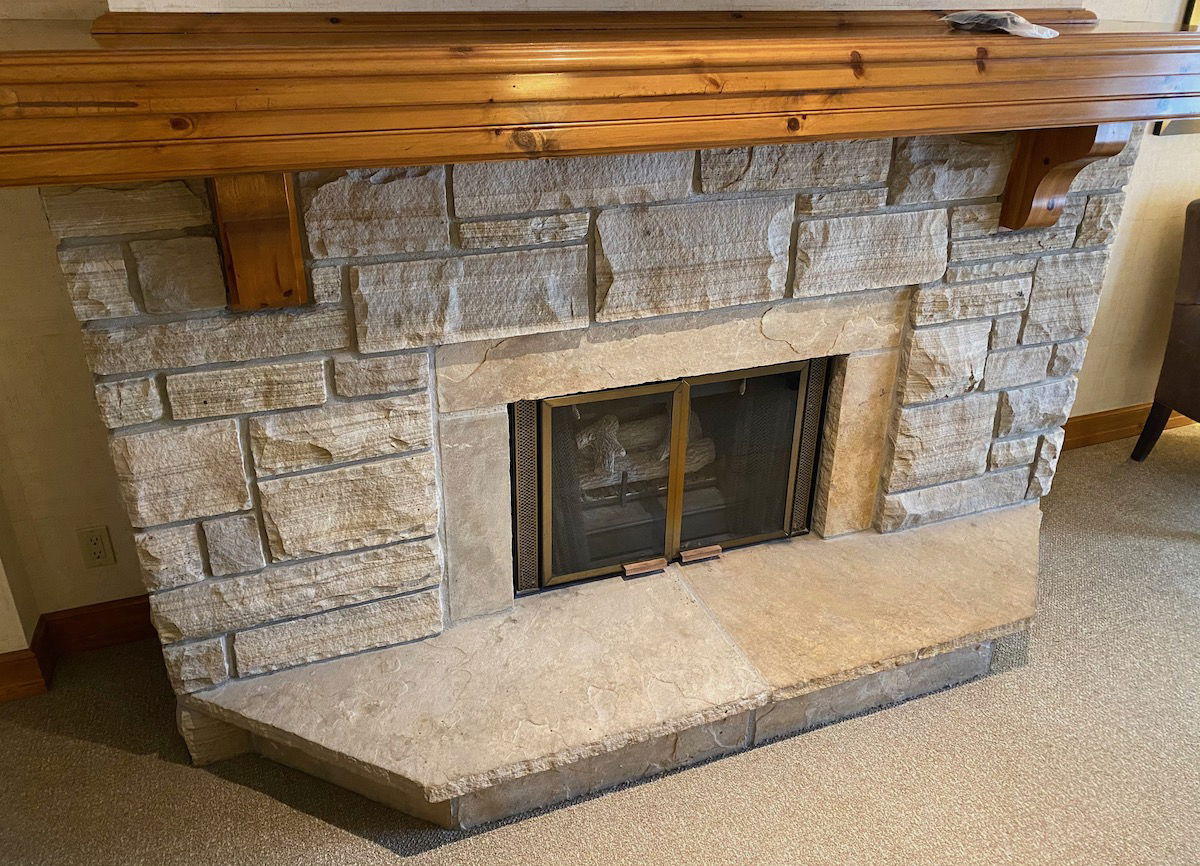 Then in the far right corner of the room was a king size bed.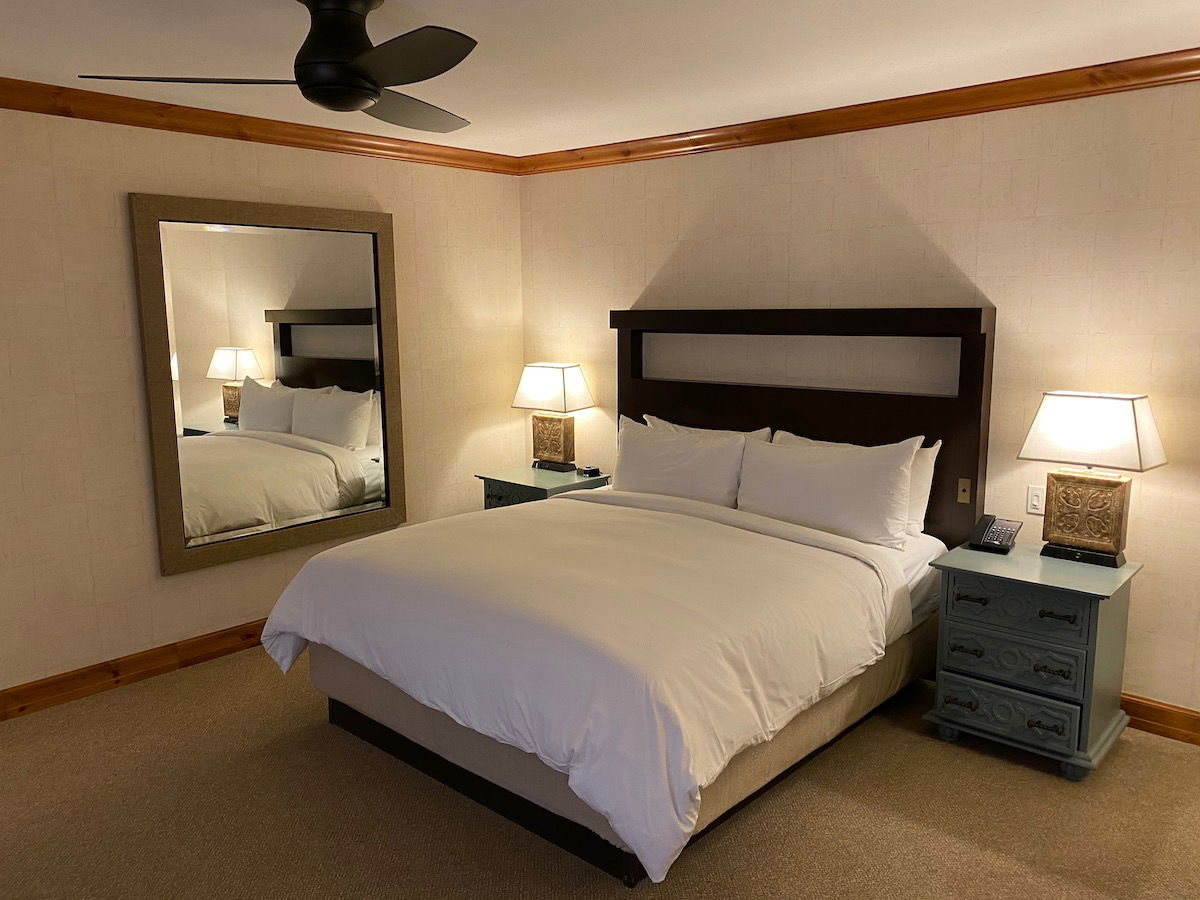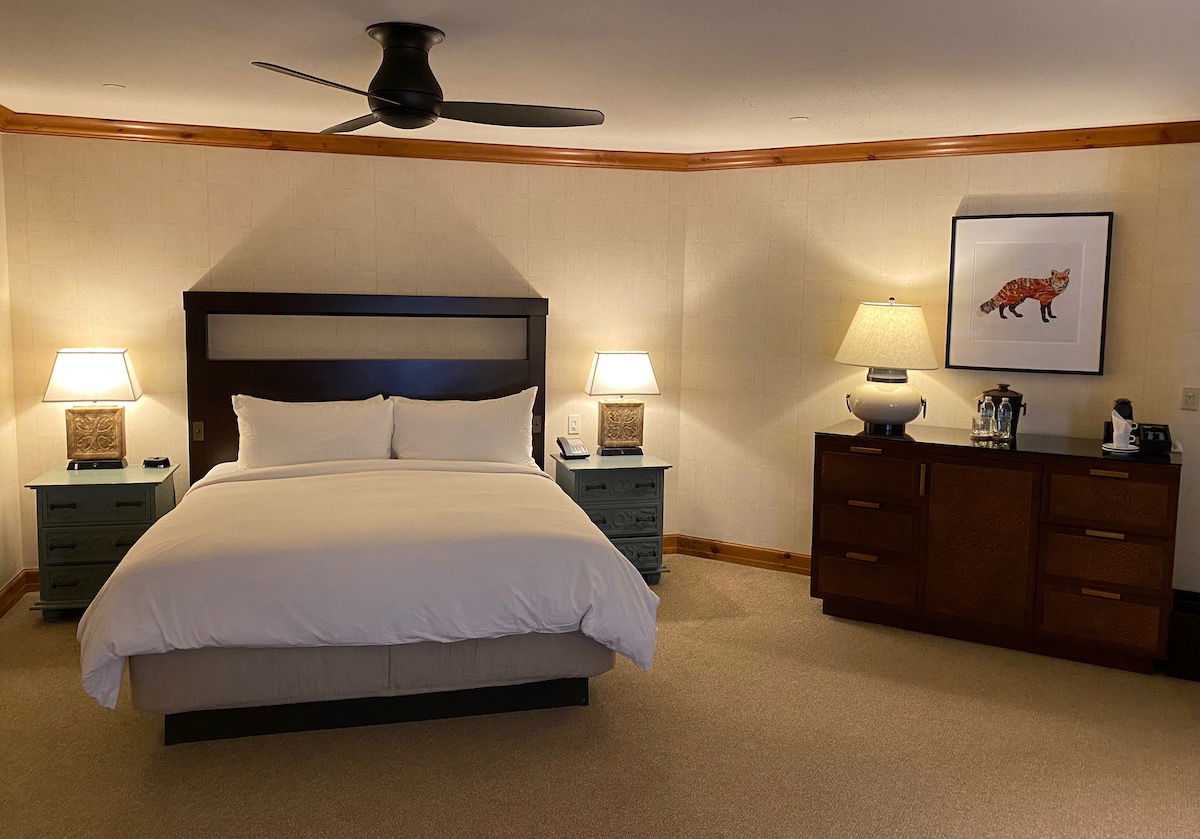 There was a console with a Nespresso machine and an empty mini-fridge.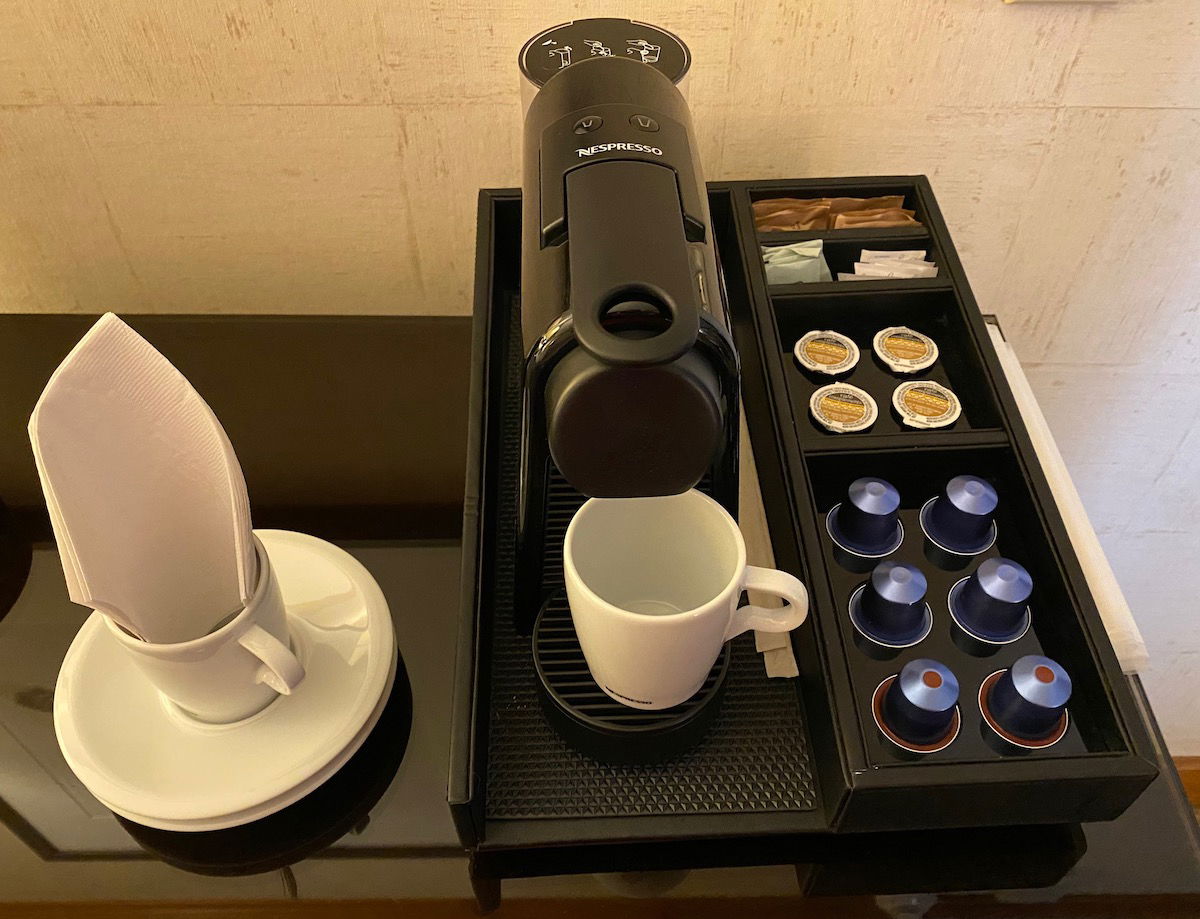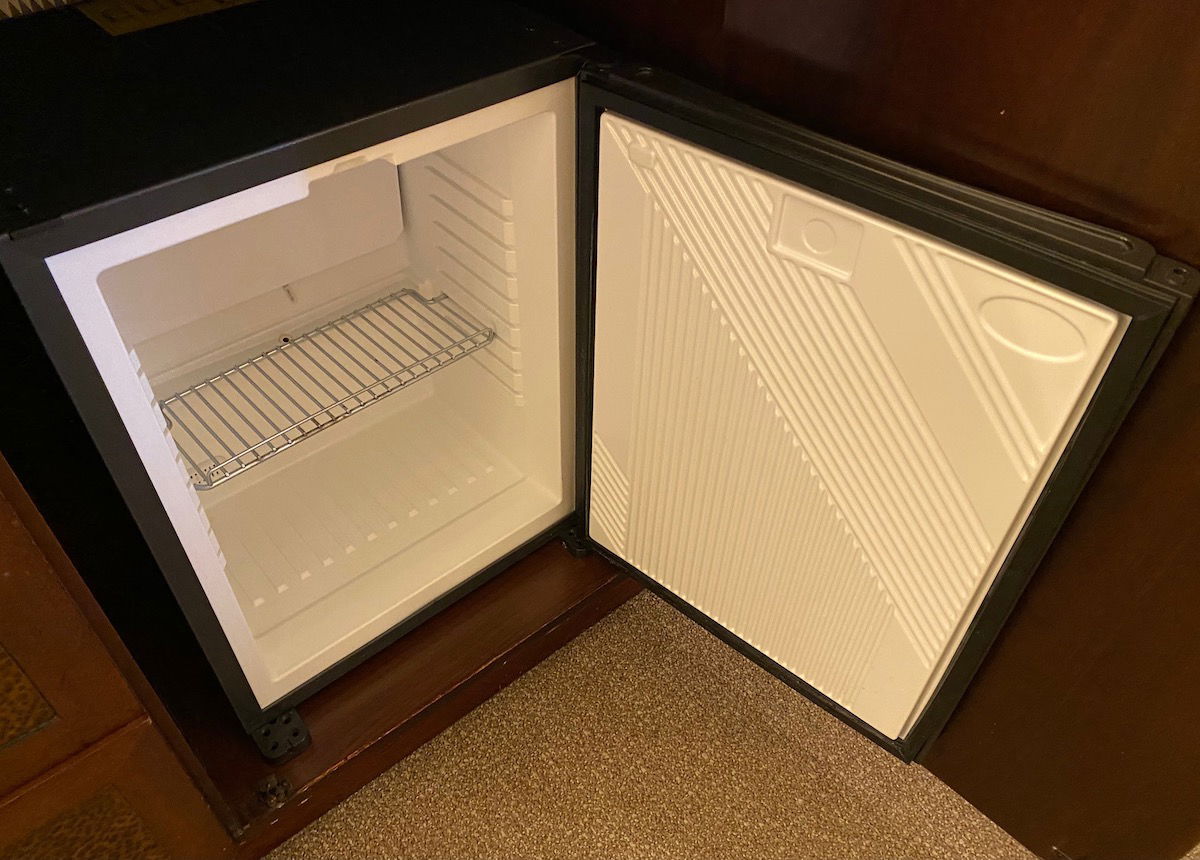 As you can tell, the room has a rather awkward shape, but I think they do a pretty good job furnishing it in light of that.
The Park Fireside Suites at the hotel face the driveway rather than the ski slopes, so that's something to be aware of if you care about having a particular view. I still enjoyed the view, though.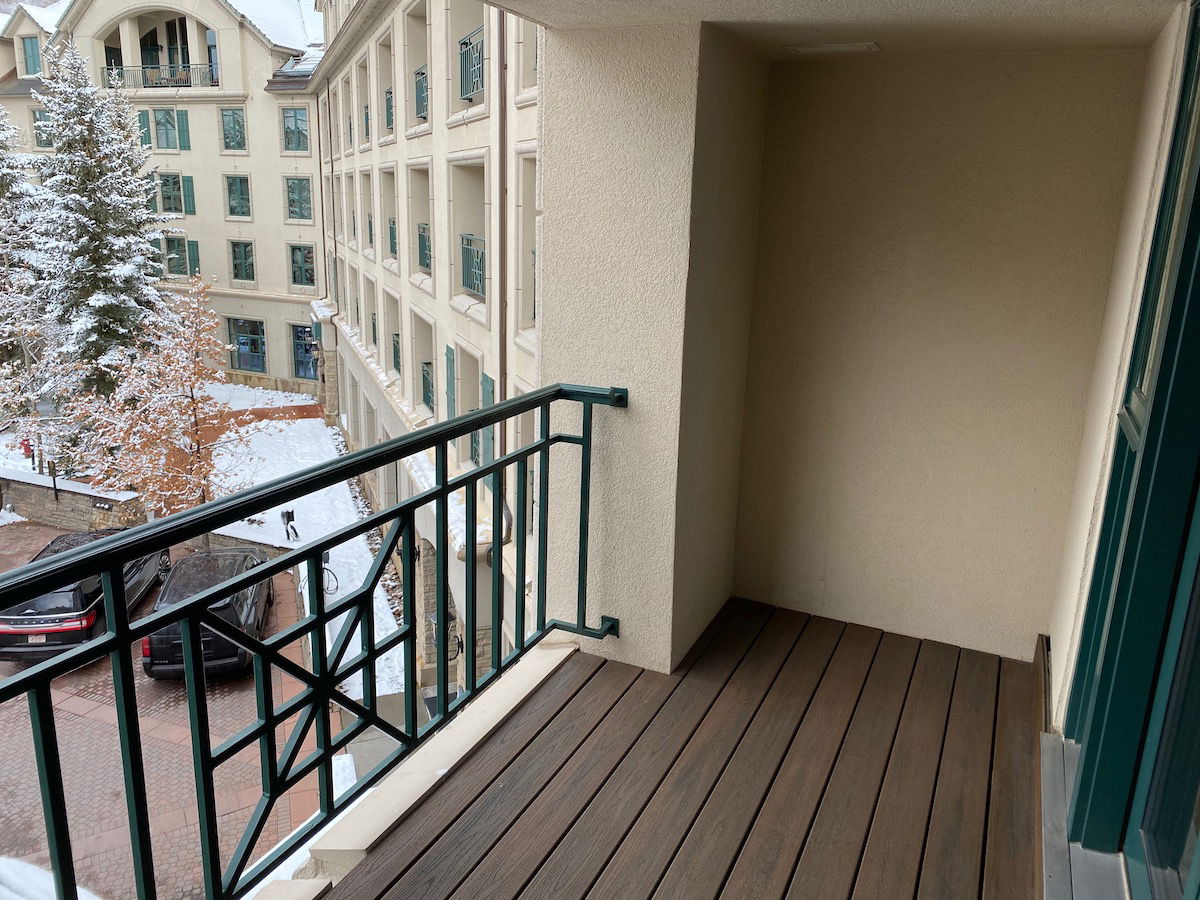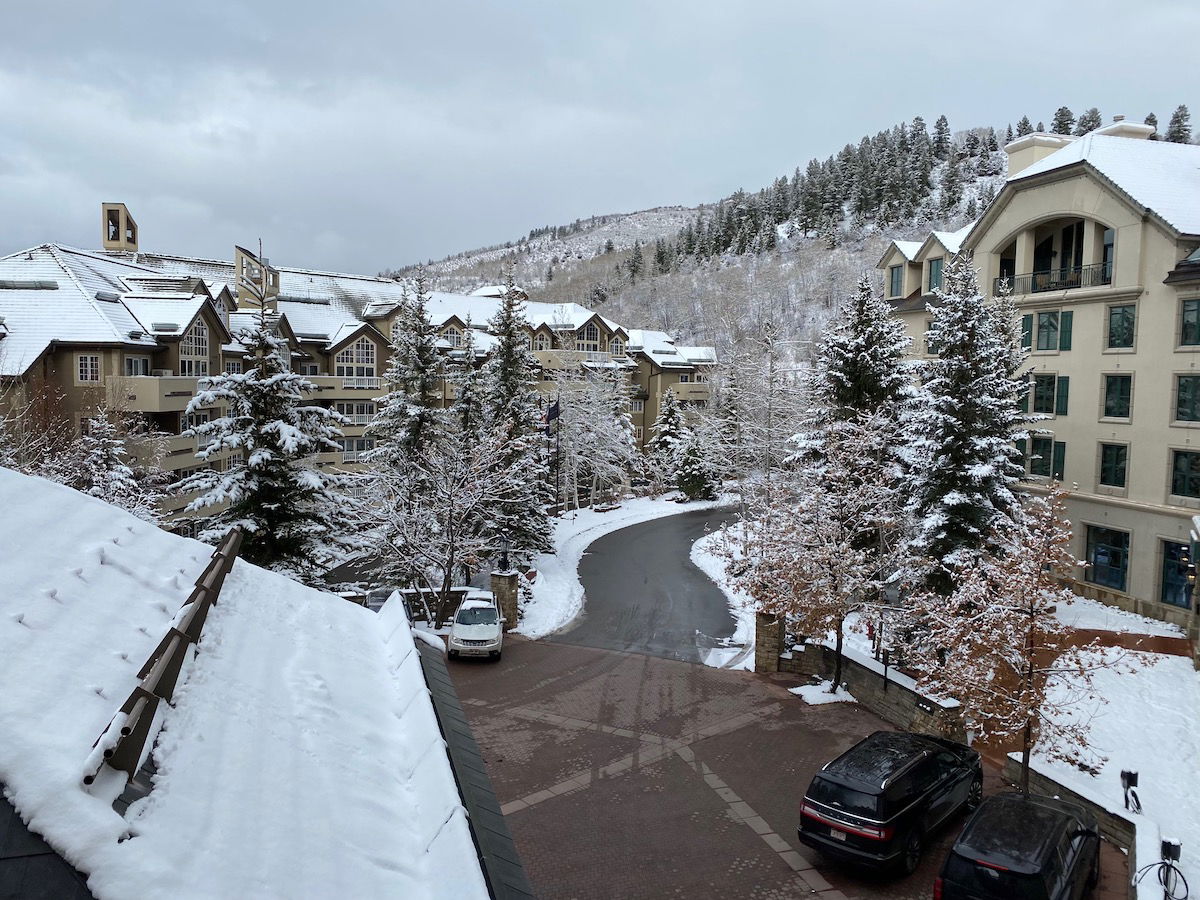 As far as the bathroom goes, it could use a renovation, and didn't feel very luxurious. The bathroom had double sinks in one room, and then there was a room behind that with a toilet and a shower & tub combo. This felt more like a "standard" bathroom at a Hyatt Regency, rather than a bathroom in the suite of a Park Hyatt.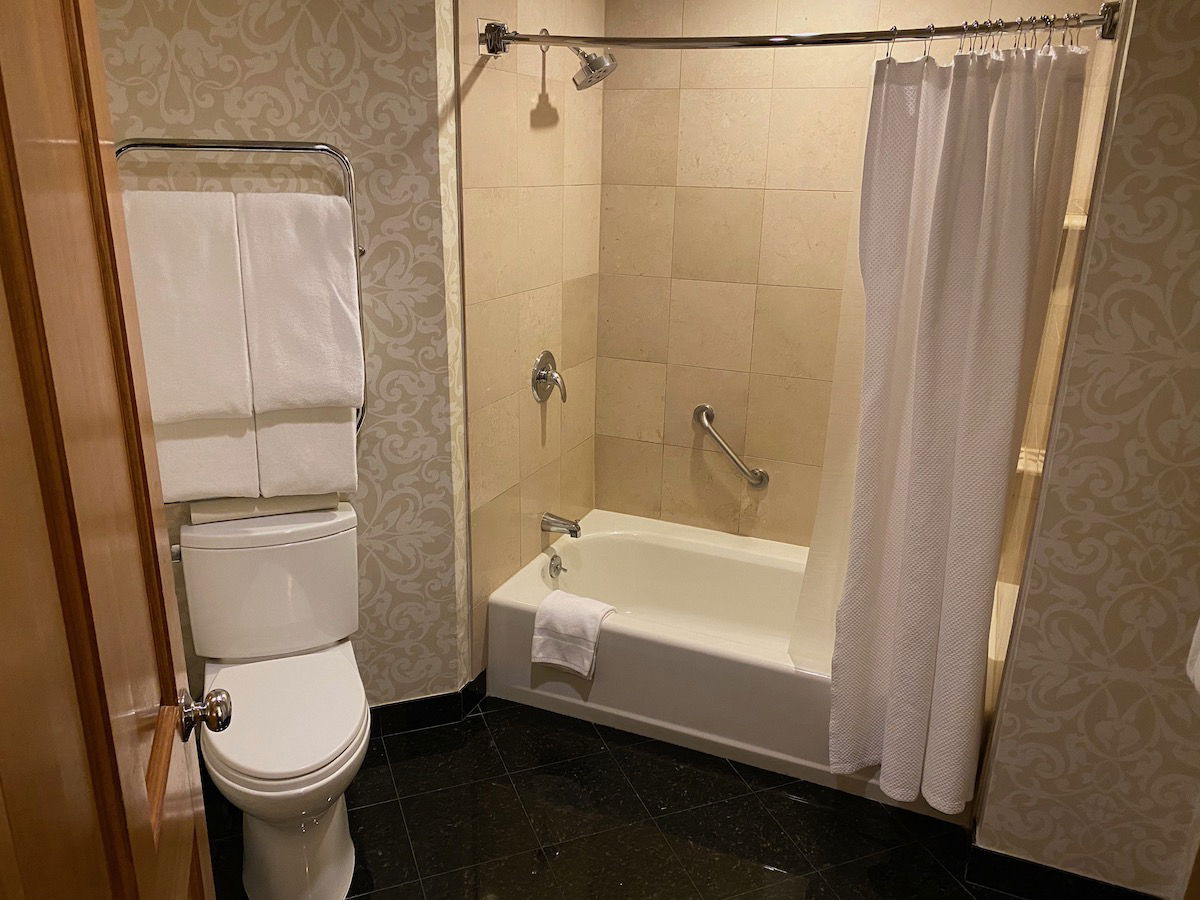 As is standard for Park Hyatt, toiletries were from Le Labo, which is always lovely.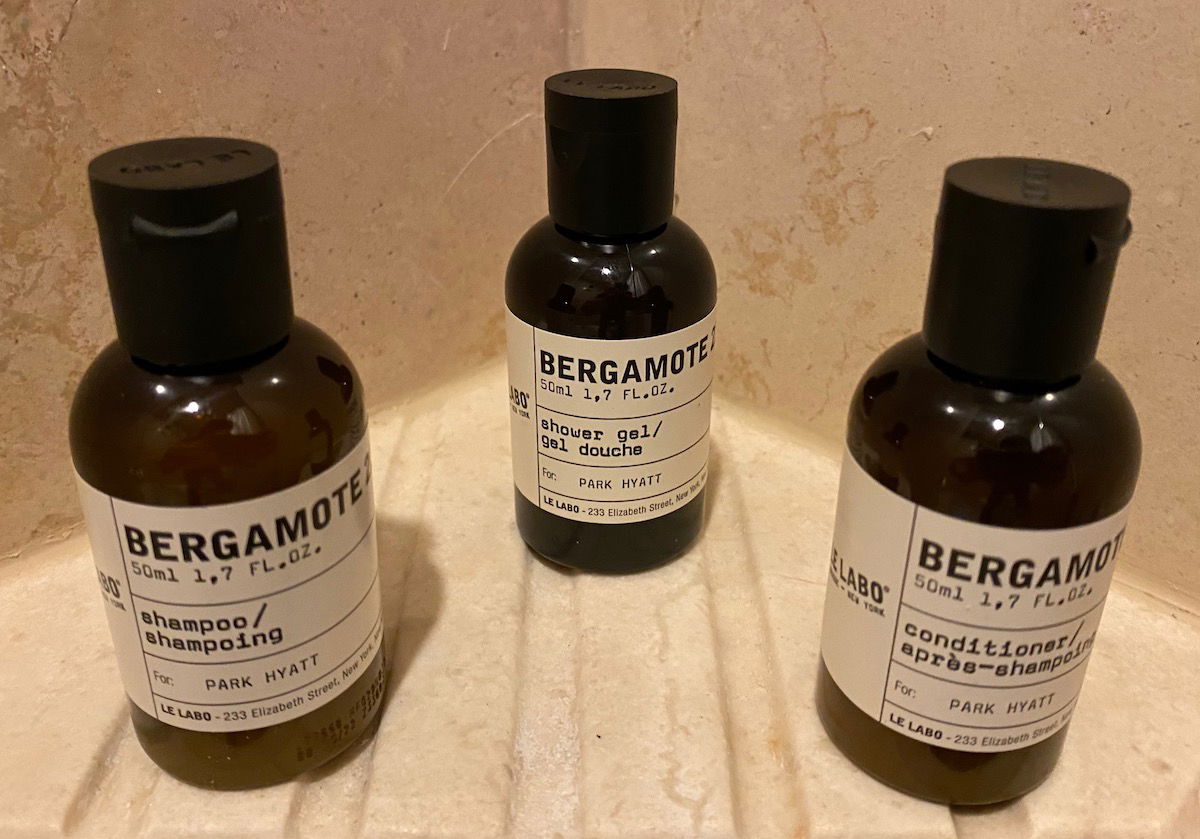 All things considered, we appreciated the size of the room, and for what we were paying, we got a heck of a deal. The room was clean and well maintained, though didn't feel like your typical Park Hyatt. I'm hopeful that the hotel will undergo a full renovation in the coming years.
Park Hyatt Beaver Creek Mountain View room
Ford's mom joined us for part of the trip. We just booked her a standard room through Hyatt Privé, and she was upgraded to a Mountain View king room (she was in room 3011, just down the hall from us). I wanted to briefly share my impressions of that room, since it had clearly been renovated more recently, and felt higher end.
The room had a king size bed, a loveseat, a desk with a chair, and a TV on top of a console.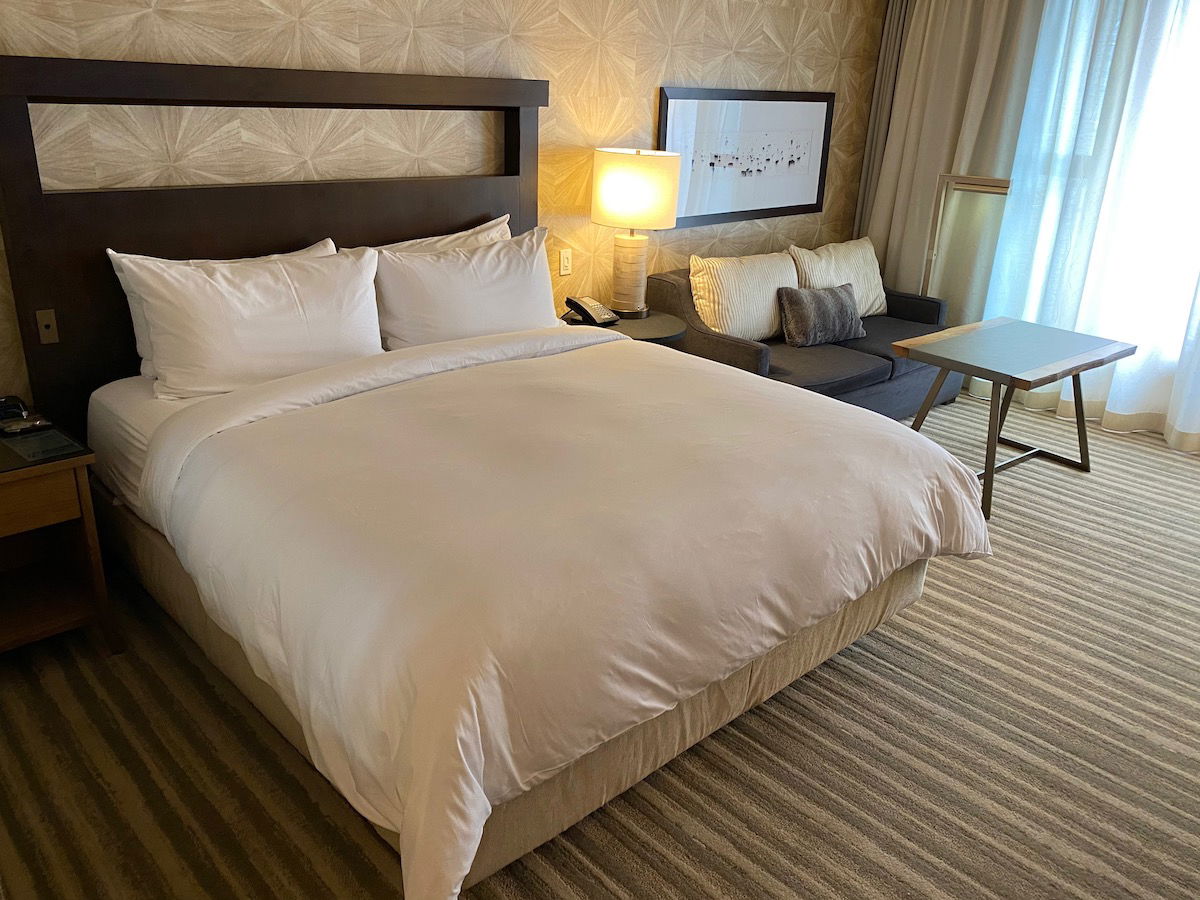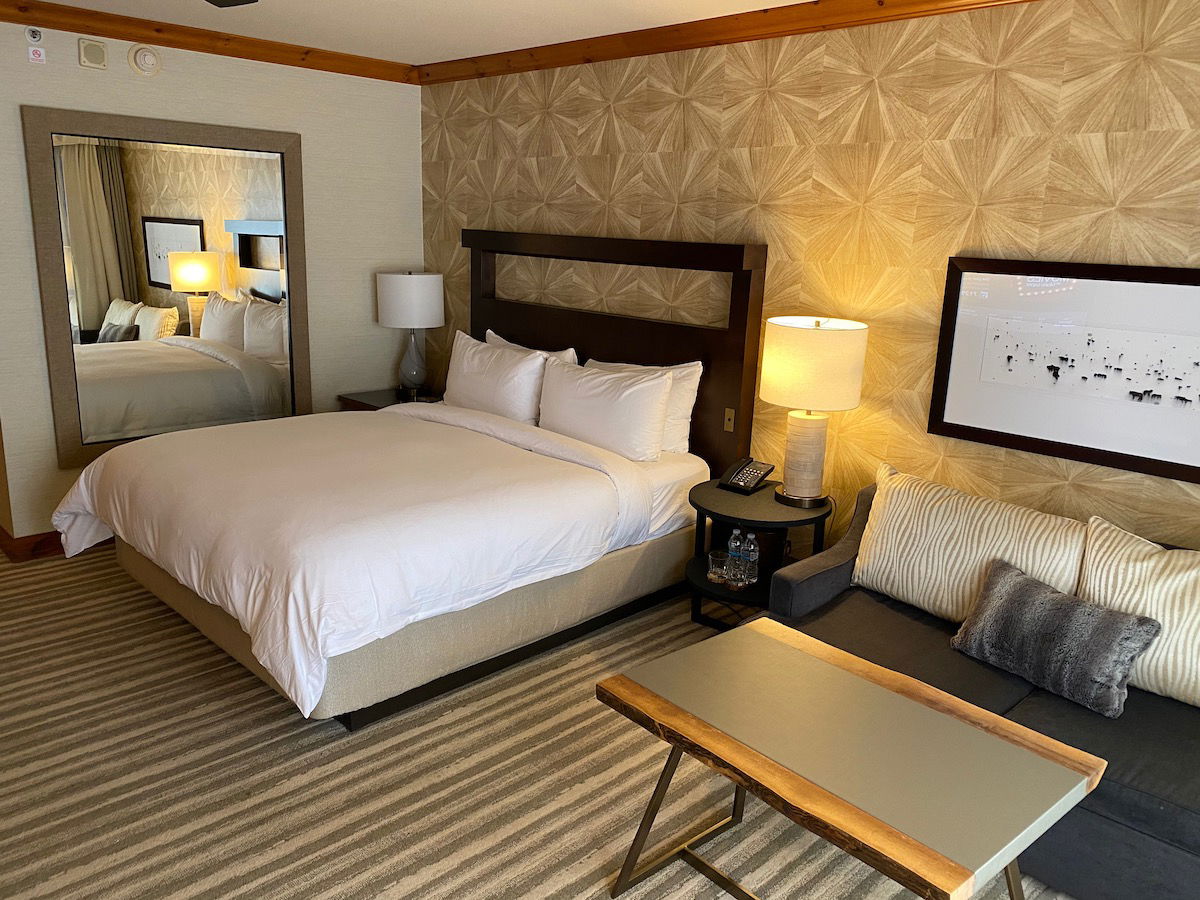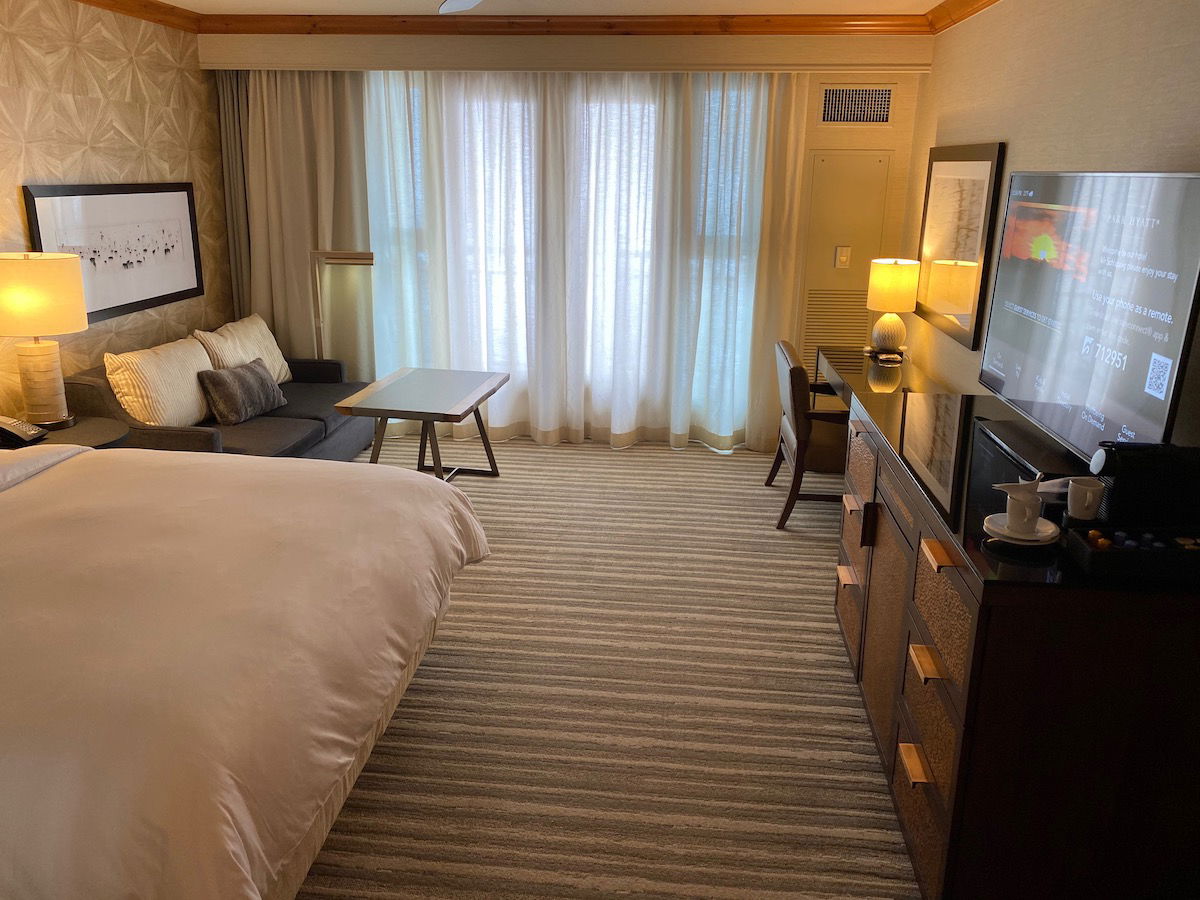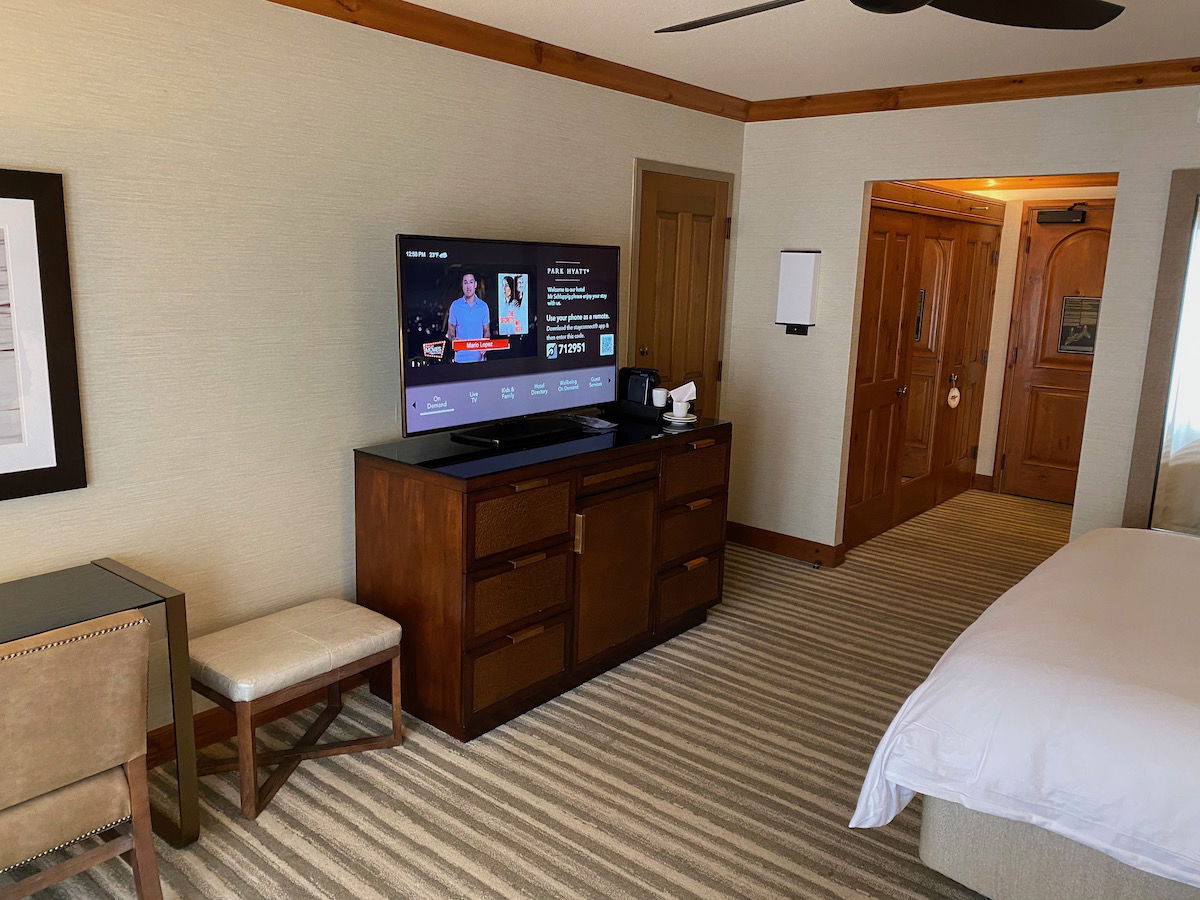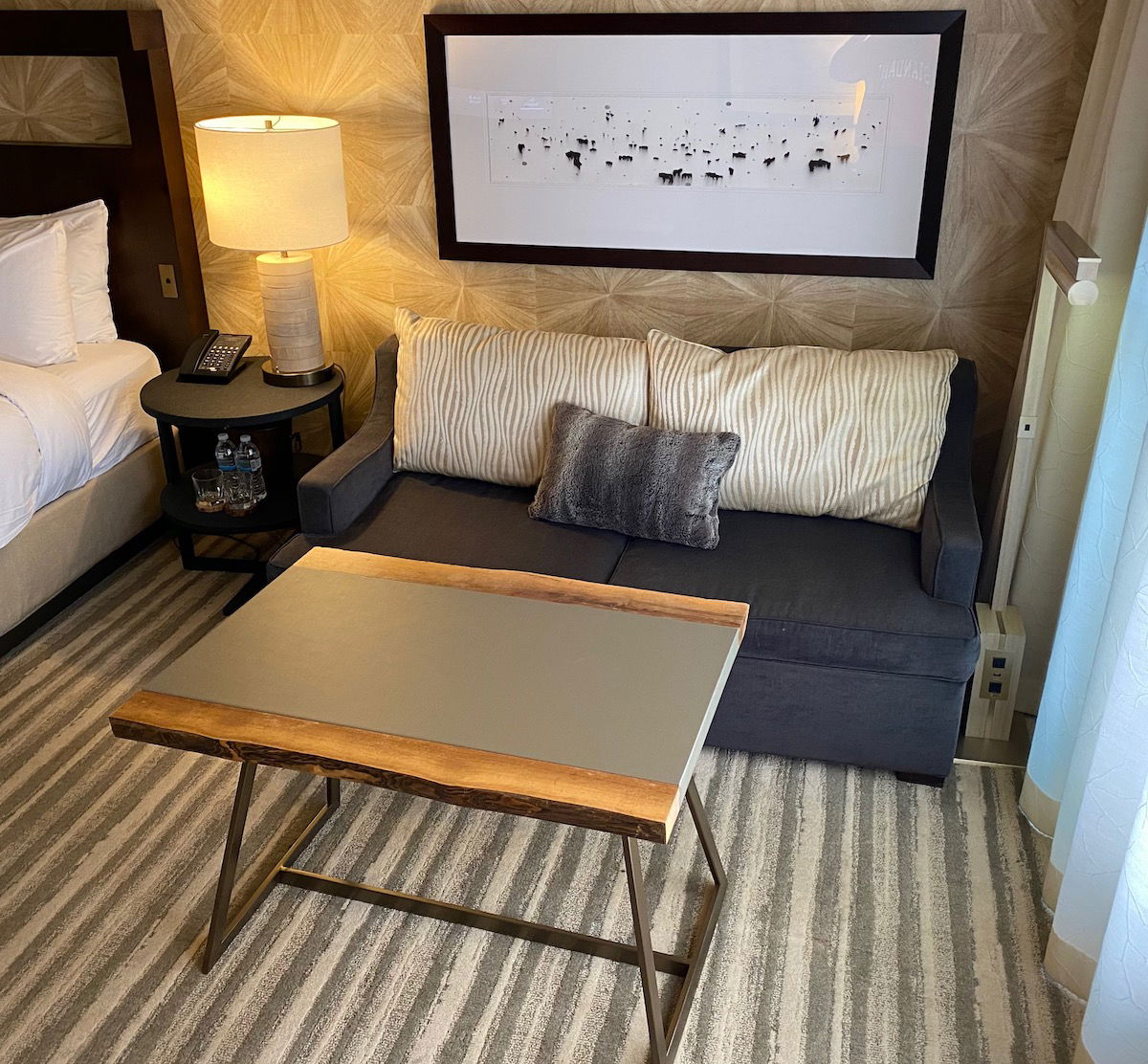 The bathroom had double sinks, a toilet, and a shower & tub combo.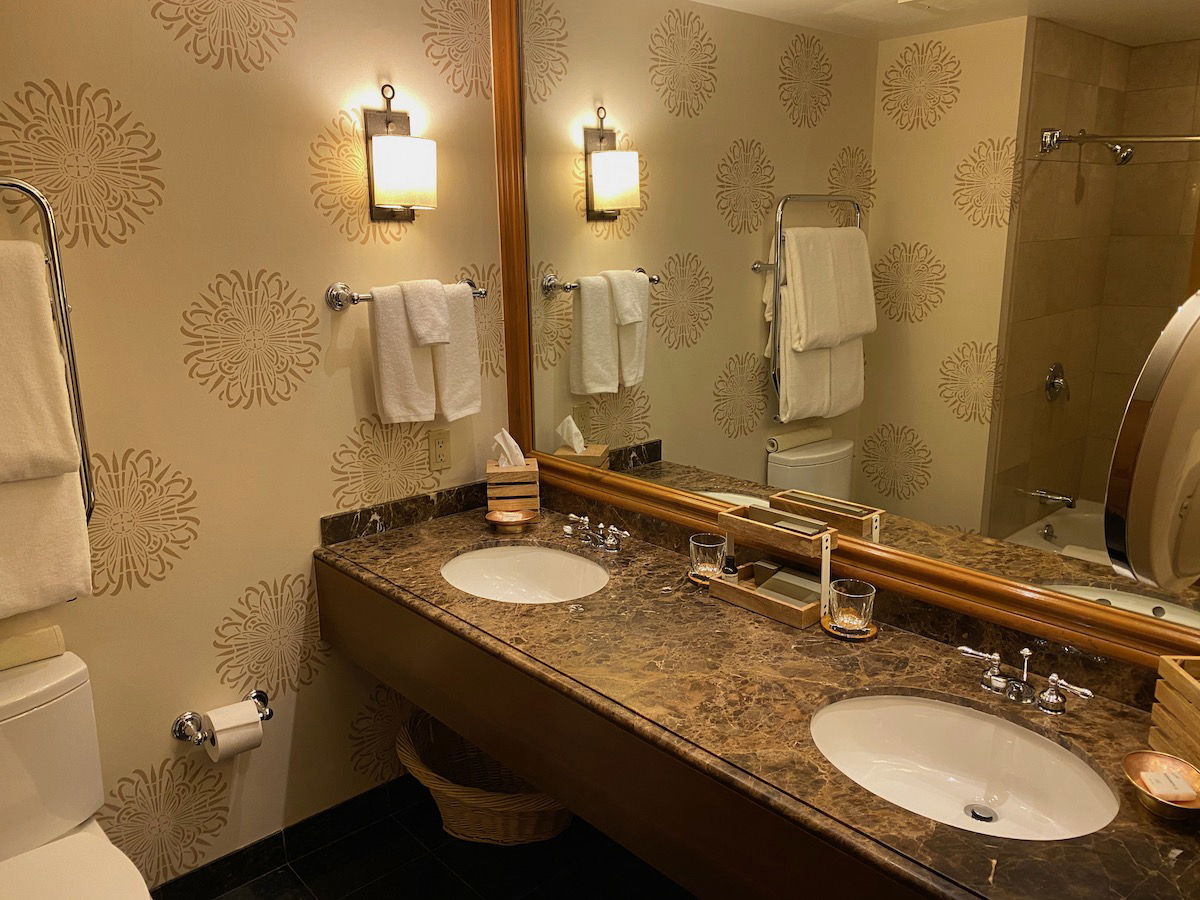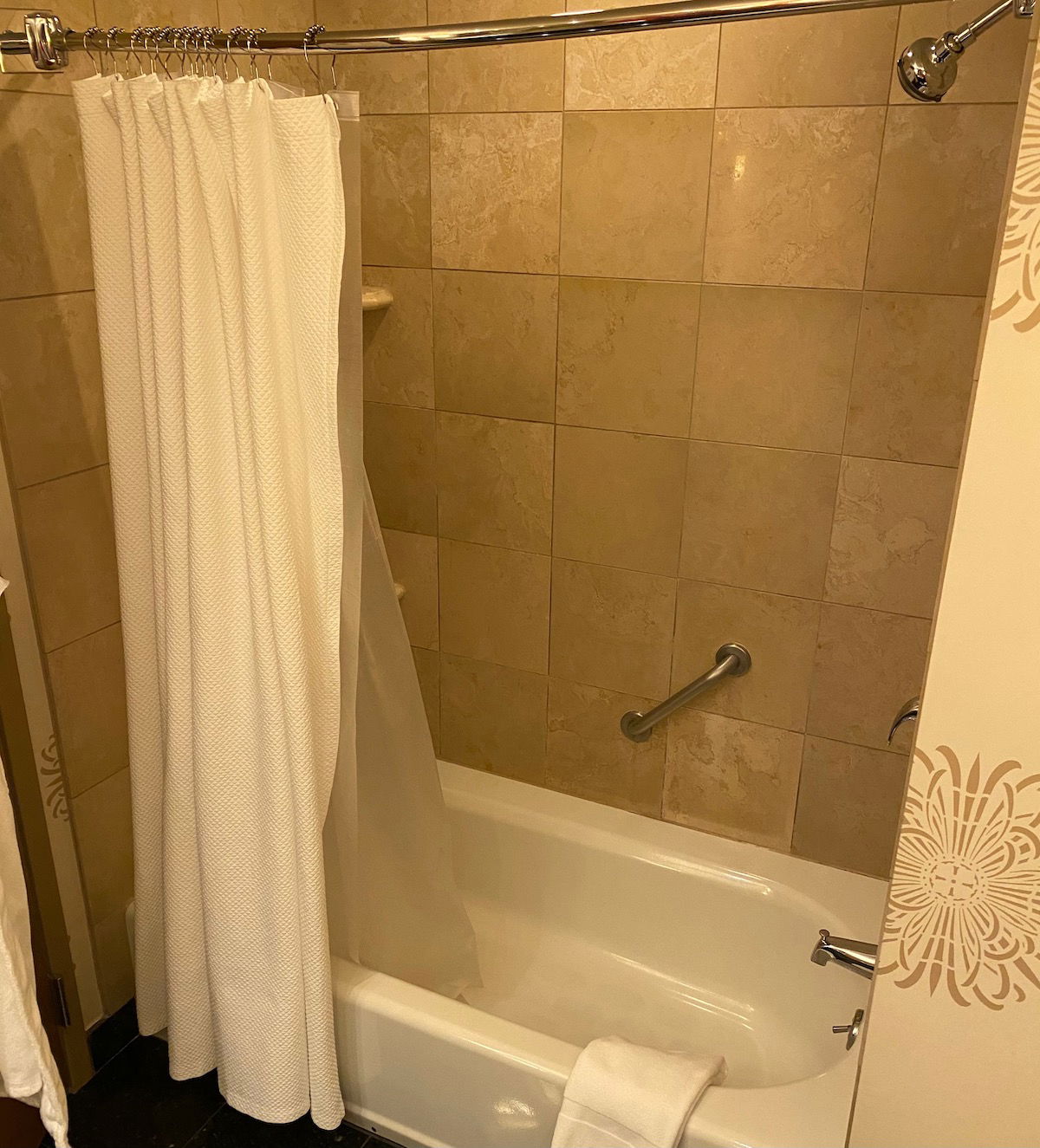 The room had an awesome view of the mountain.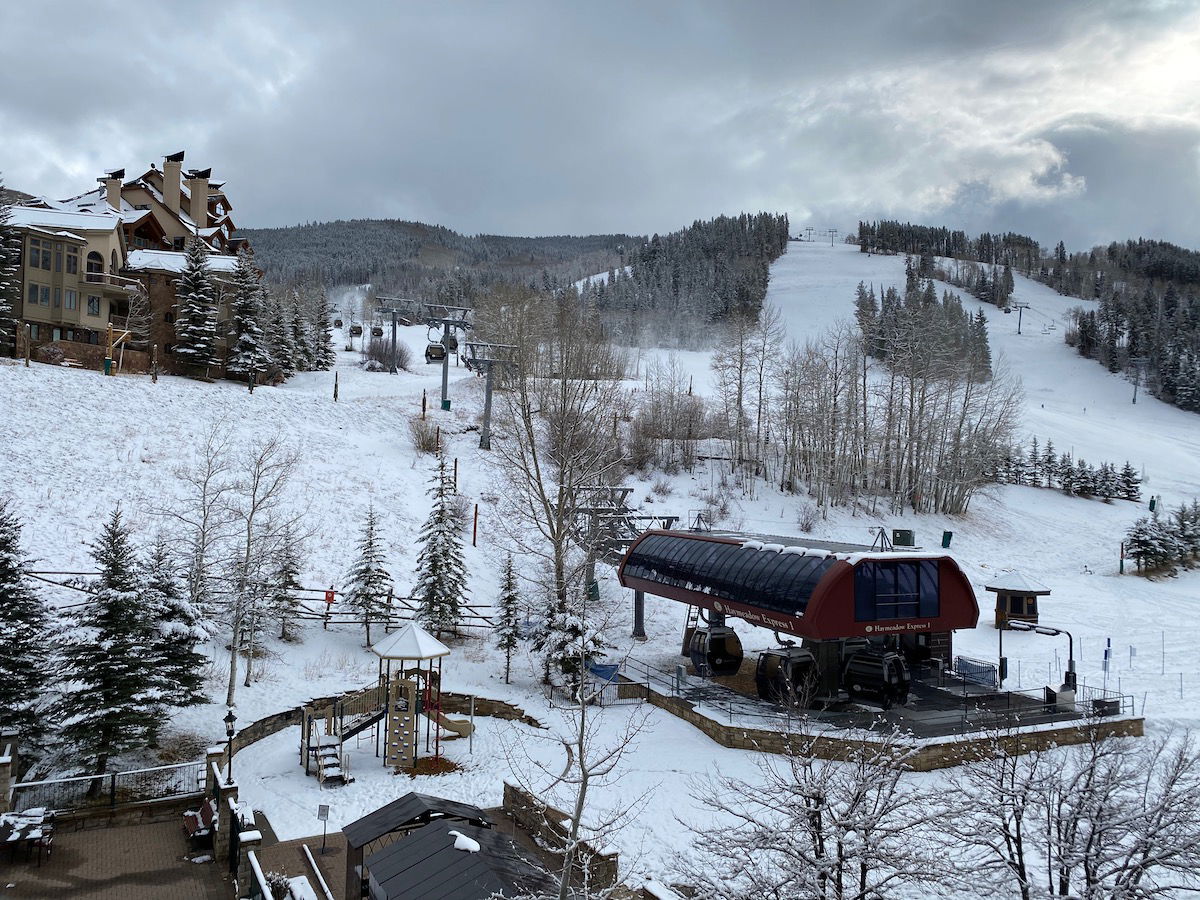 Park Hyatt Beaver Creek pool & hot tub
While most people probably don't come to a ski resort to swim, the Park Hyatt had a reasonably nice lap pool, as well as several hot tubs (which we enjoyed on multiple occasions).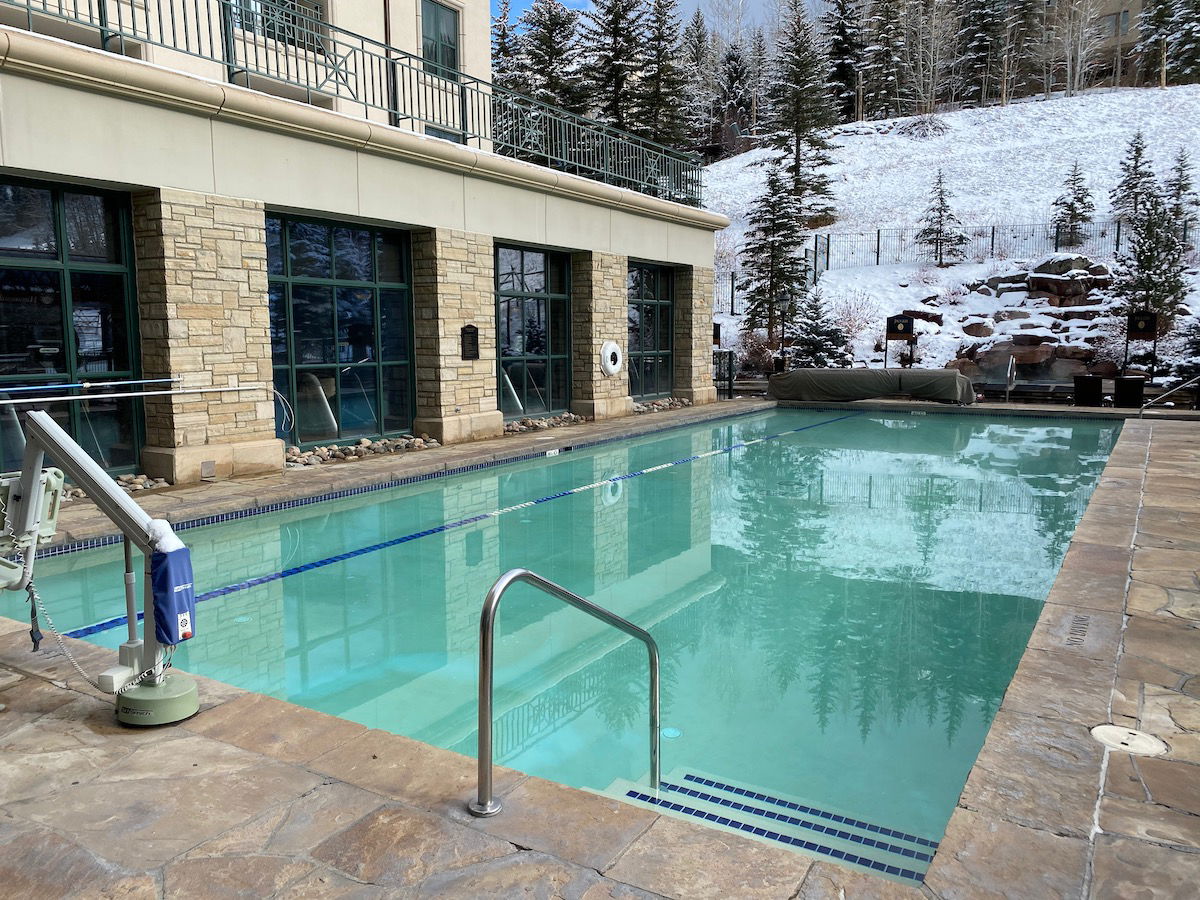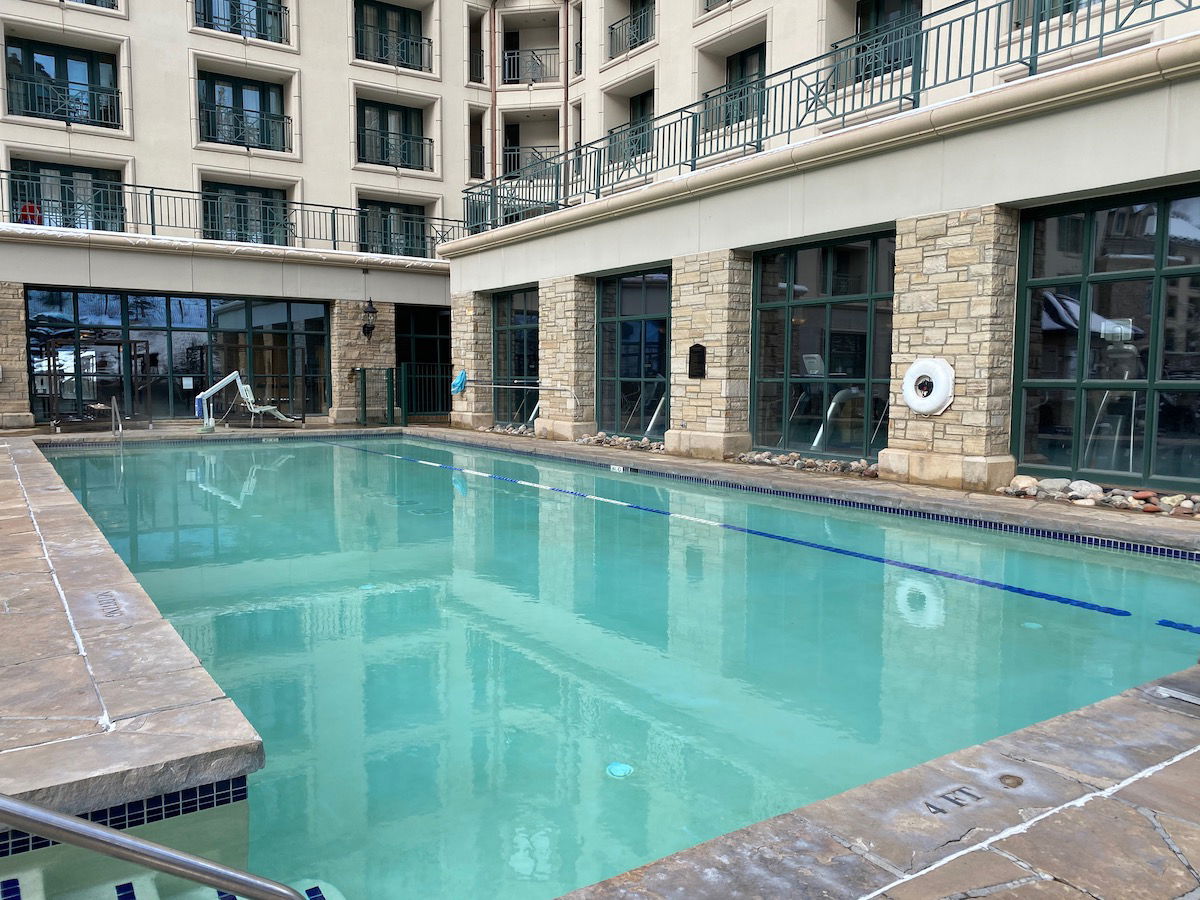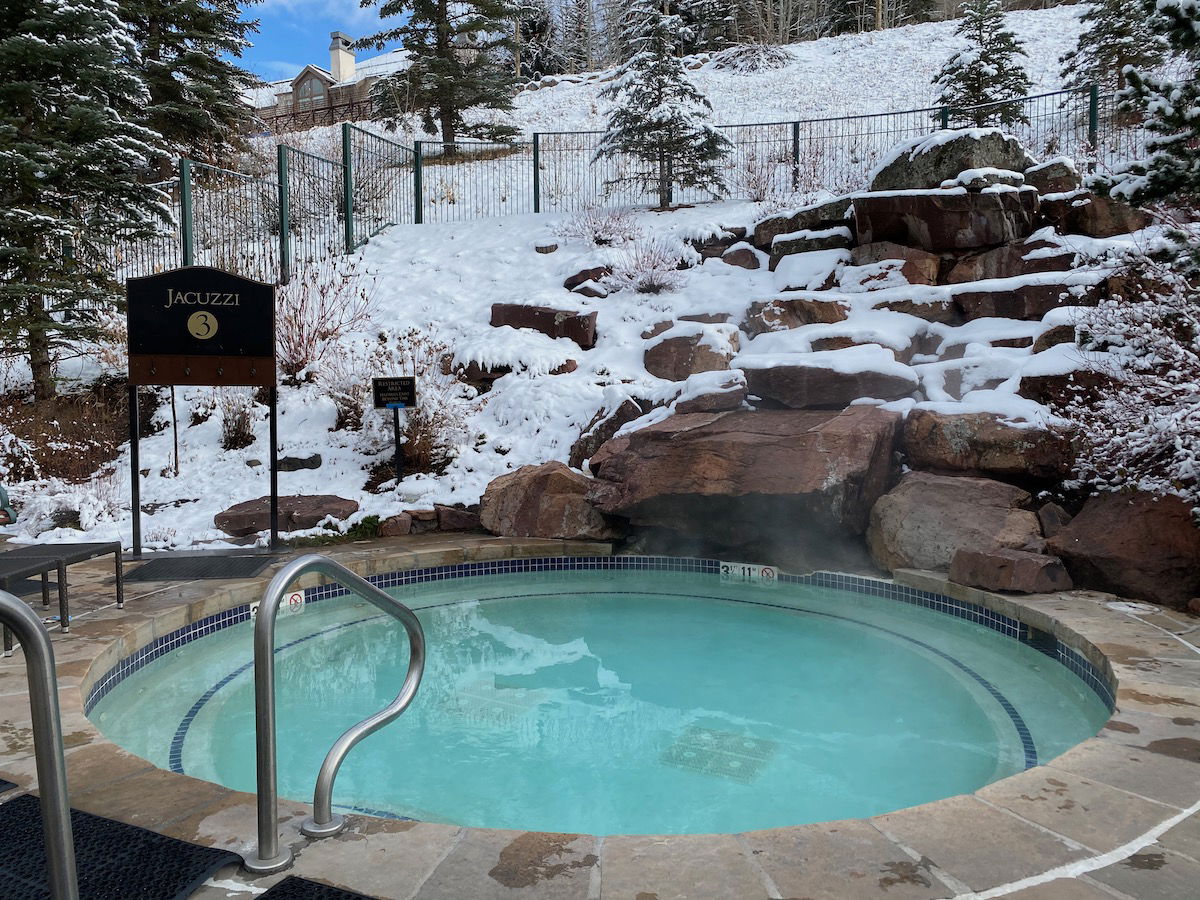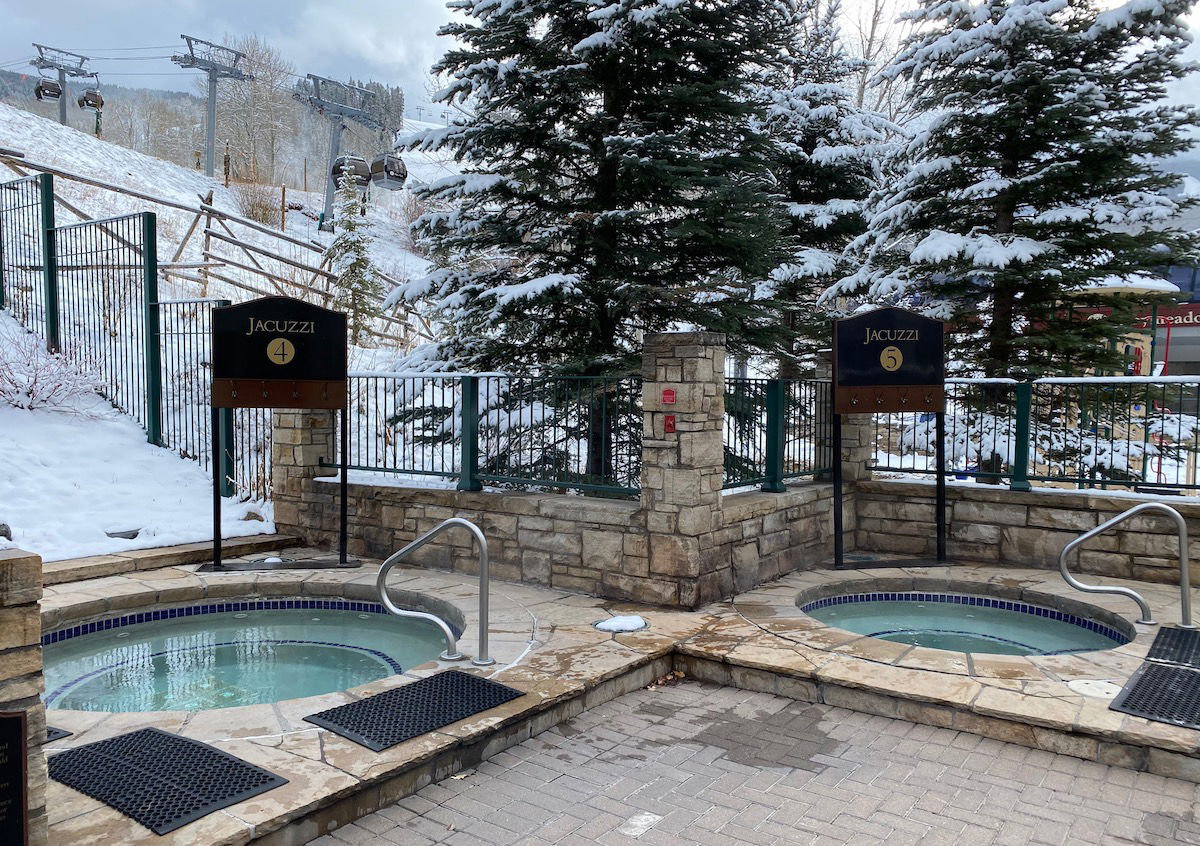 Park Hyatt Beaver Creek spa & gym
The Park Hyatt Beaver Creek has a spa and gym, which also has a retail space. We didn't get any spa treatments, but we did use the gym every day.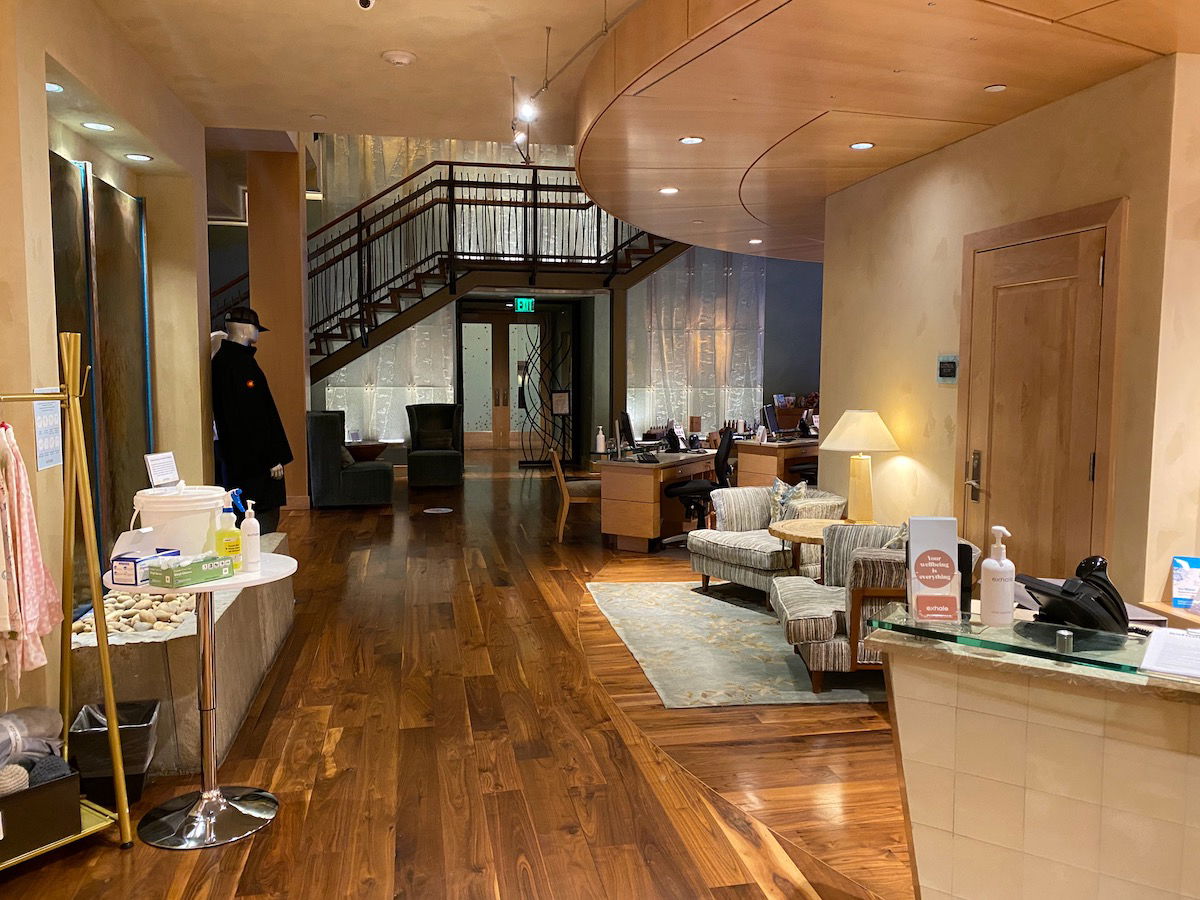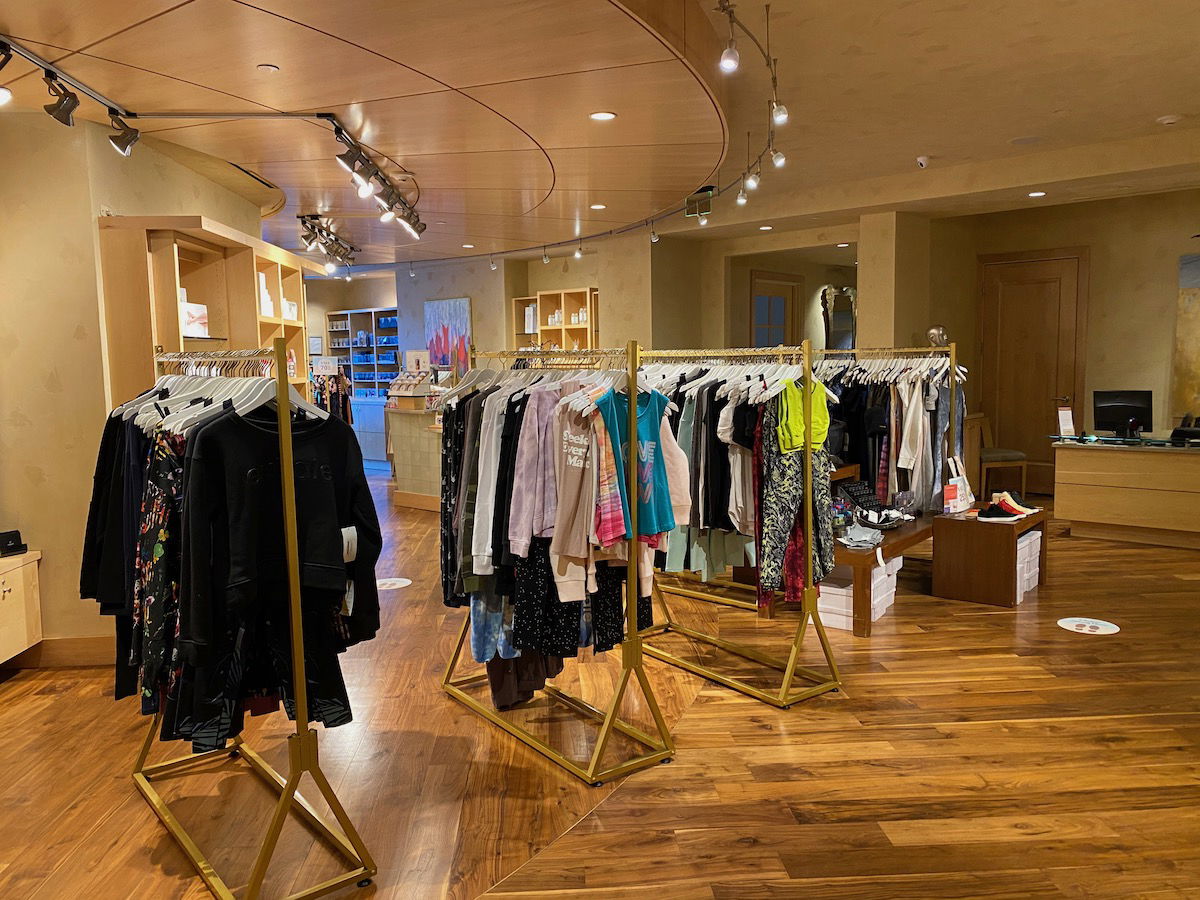 The Park Hyatt Beaver Creek gym was massive, which was much appreciated. Most of the equipment was pretty good but not cutting edge.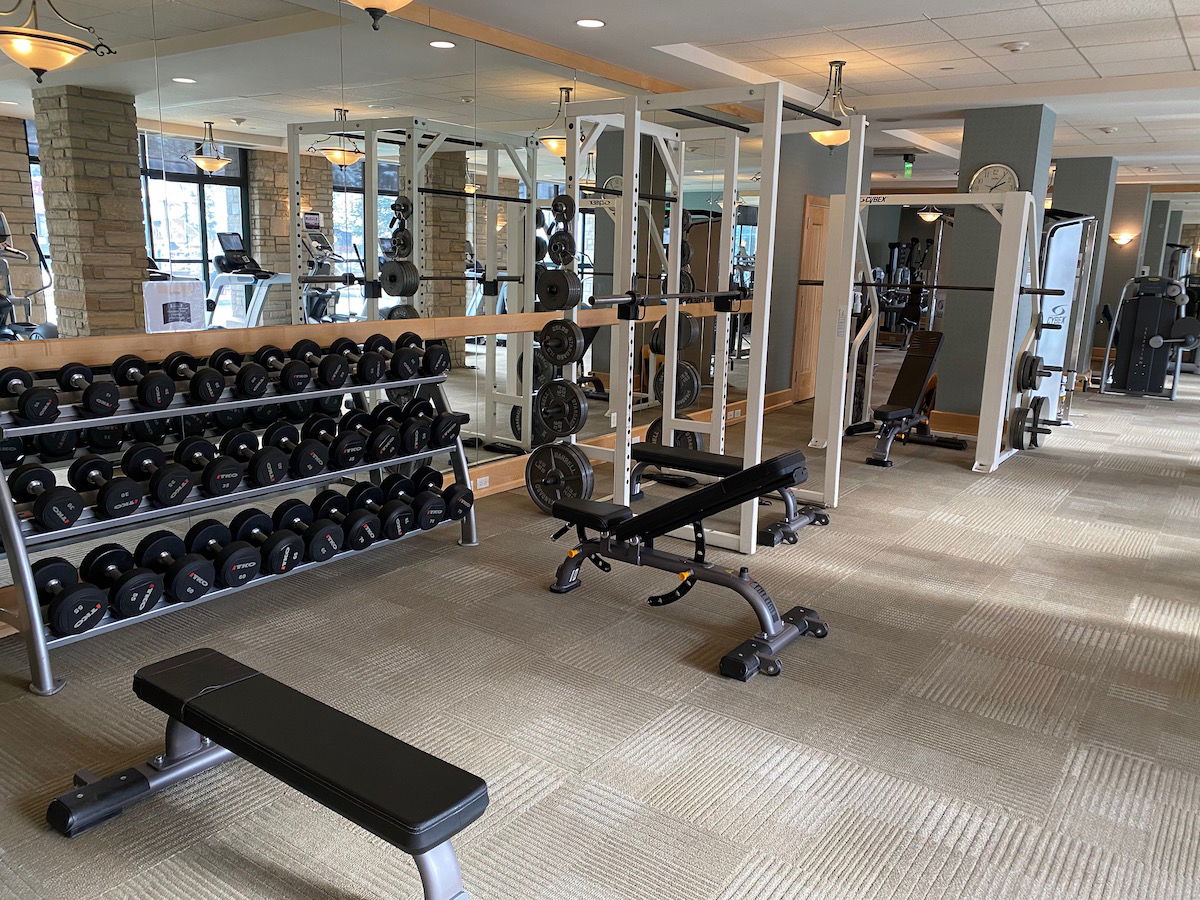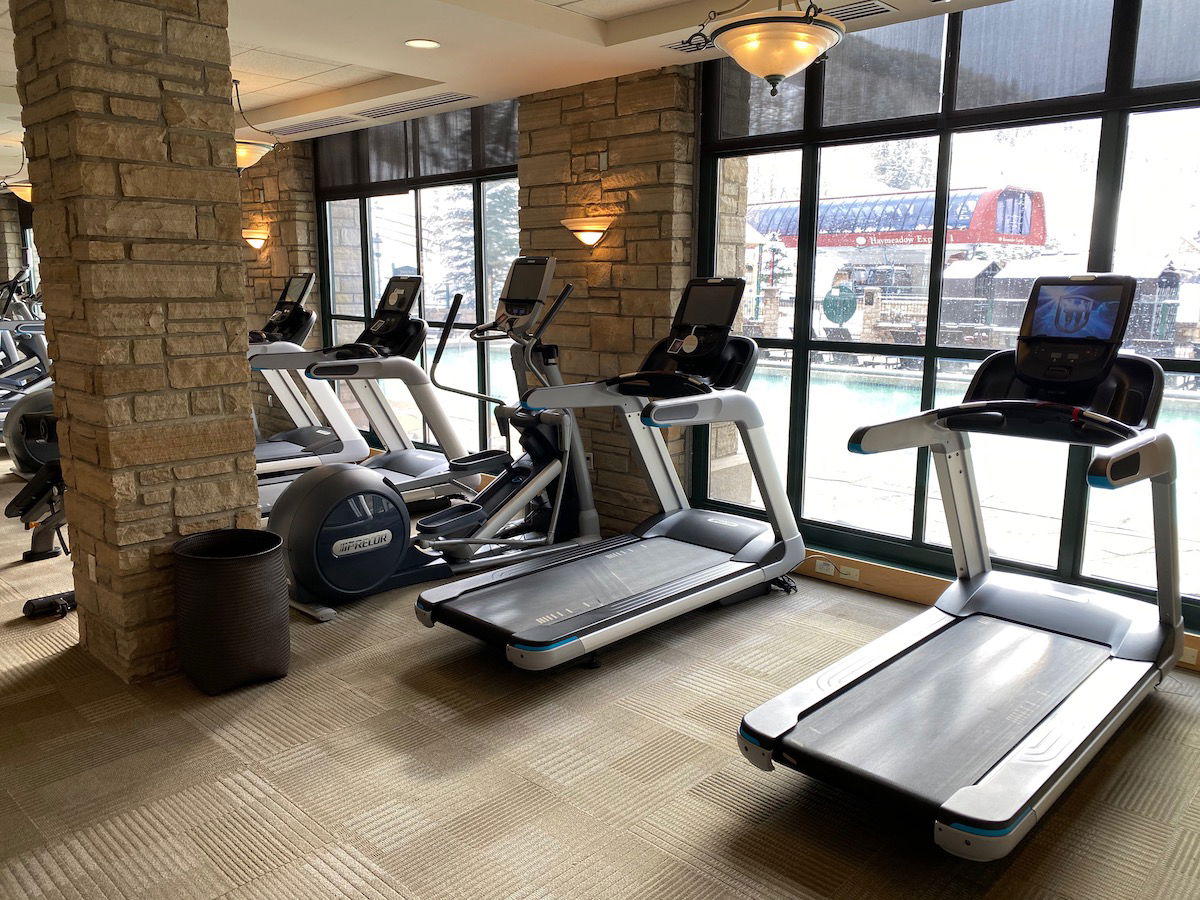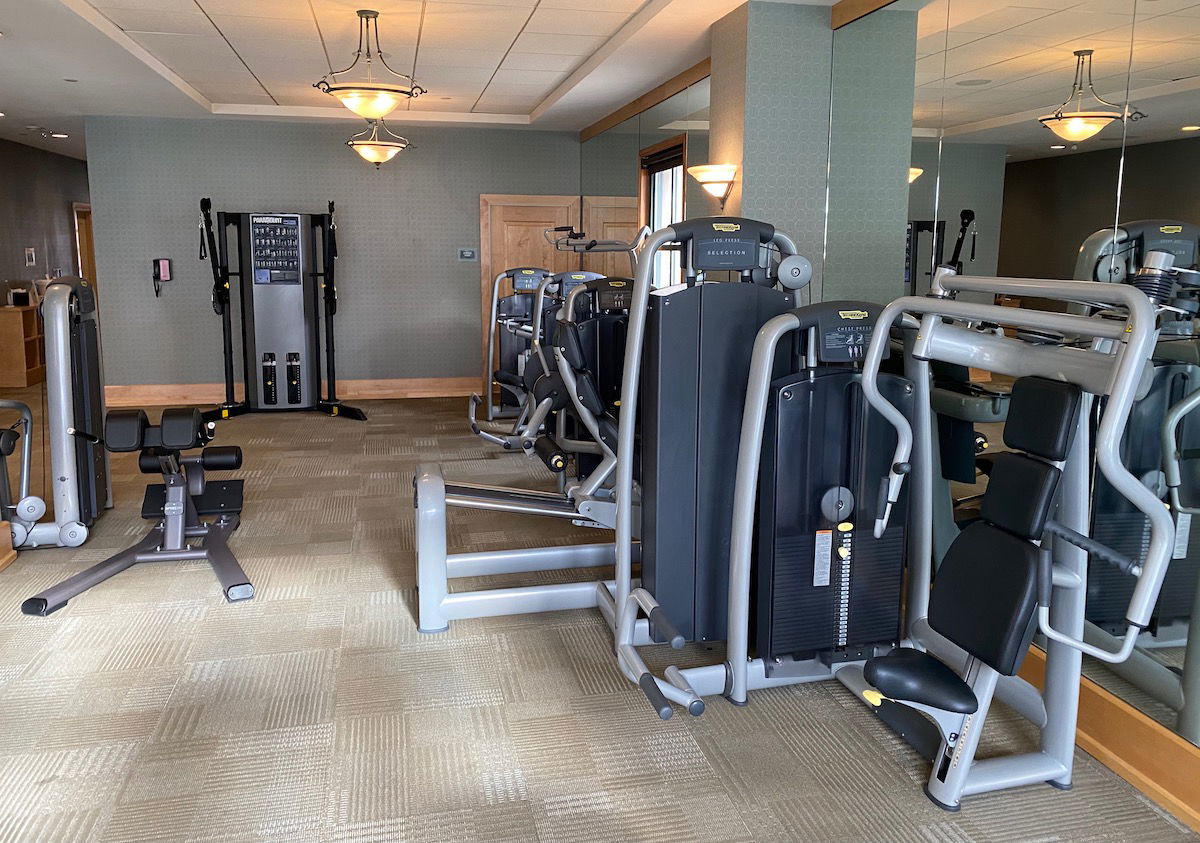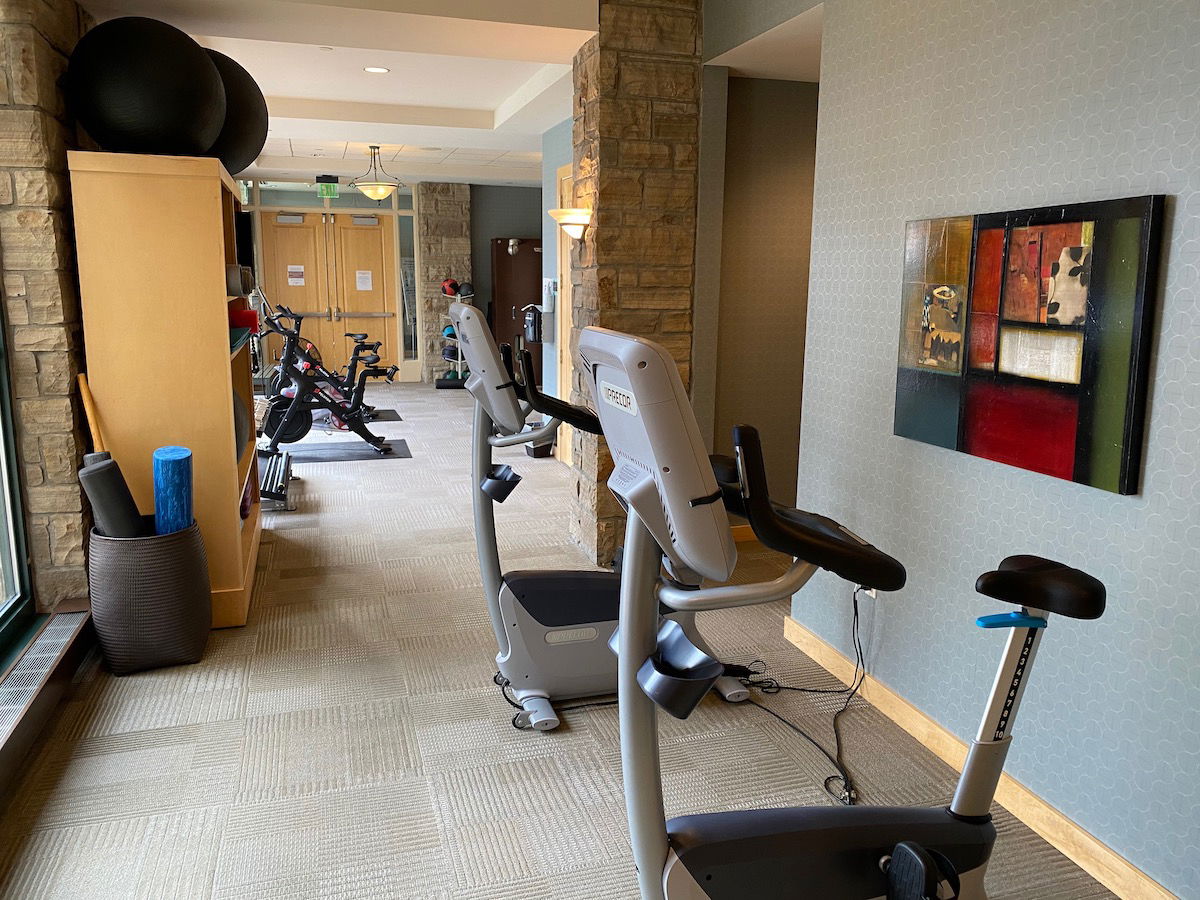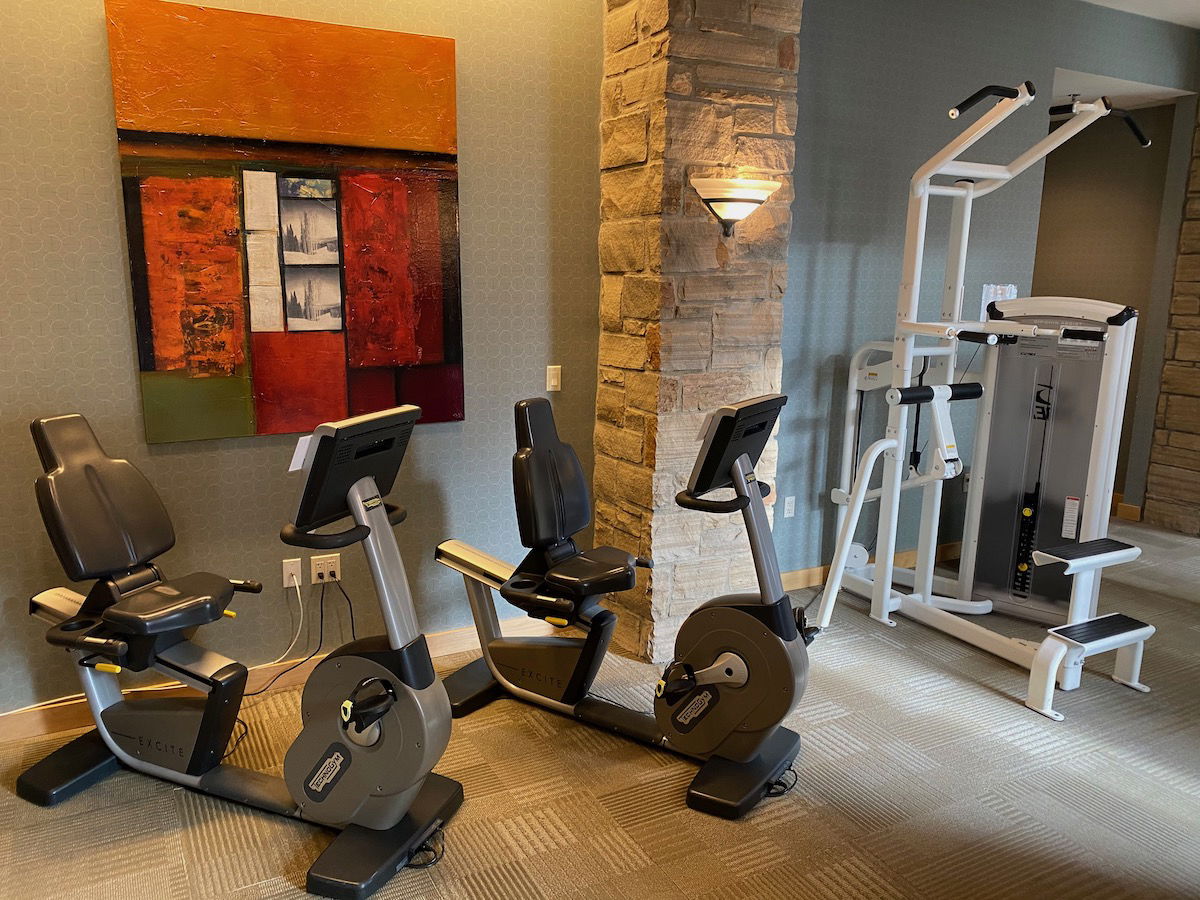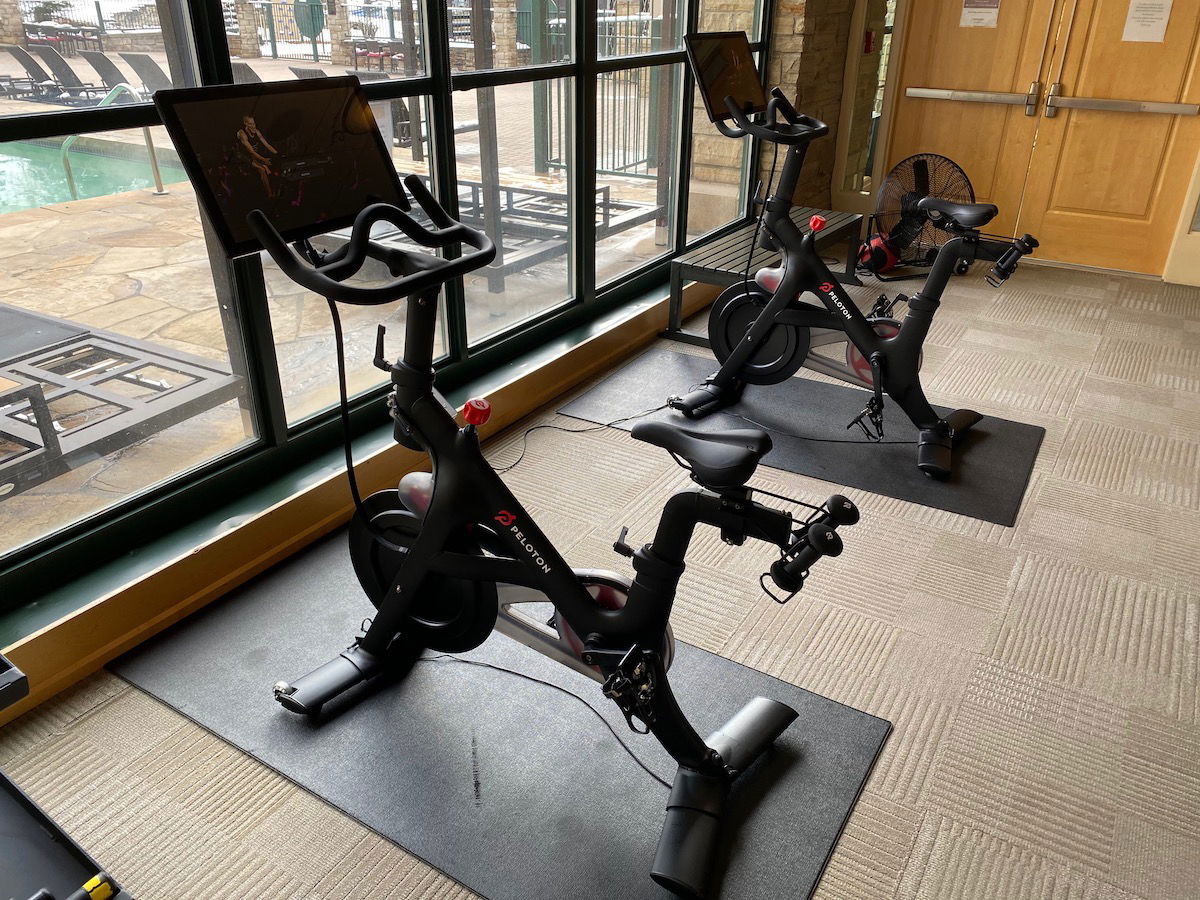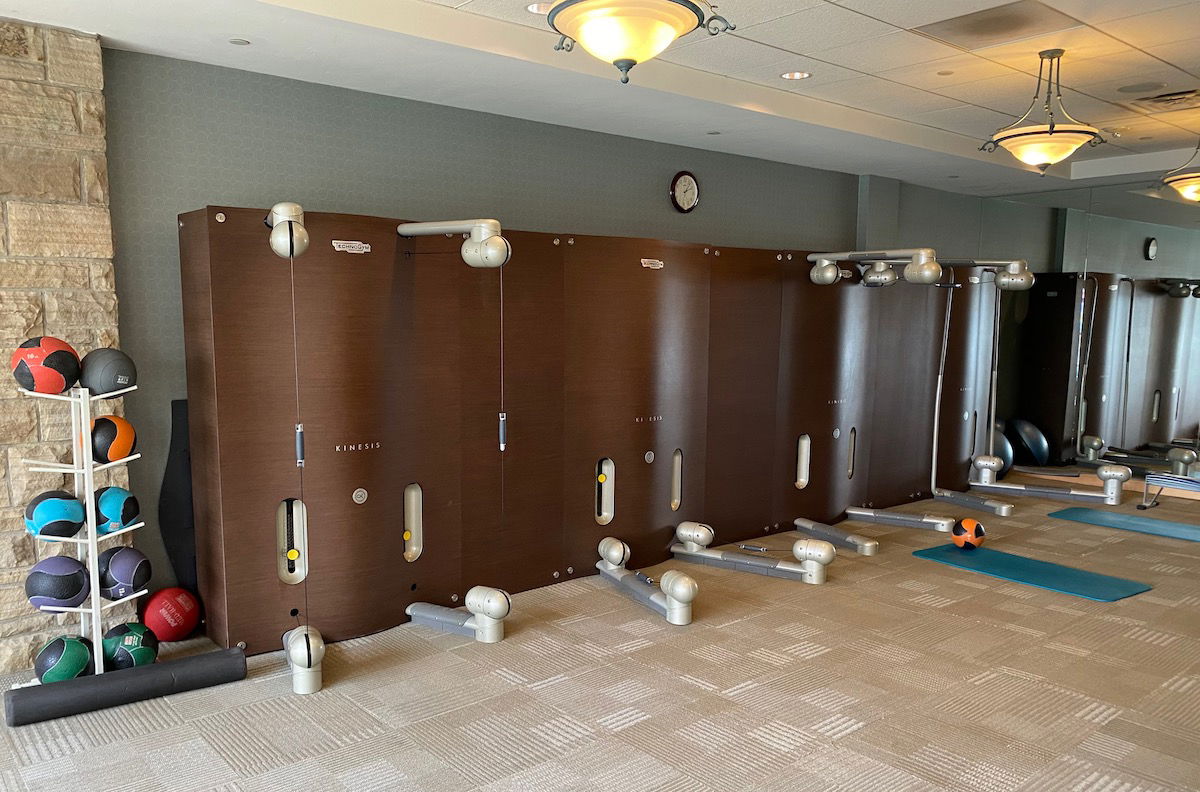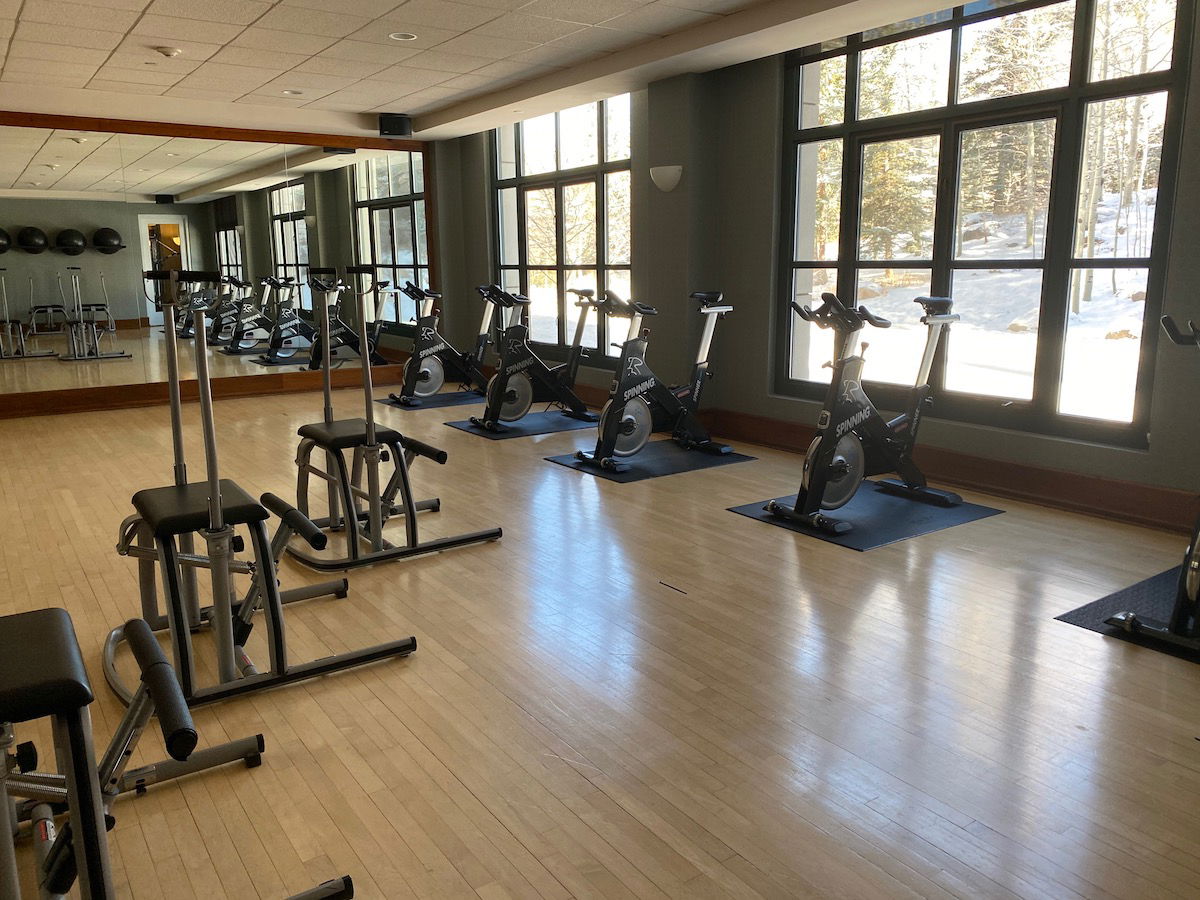 Park Hyatt Beaver Creek Fall Line Market
The Park Hyatt Beaver Creek has a 24/7 market in the lobby, just next to reception. This is a great place to buy snacks, soft drinks, a bottle of wine, a protein shake, etc. There's also a coffee machine, for easy access to 24/7 coffee (it's not a great machine, but it's something).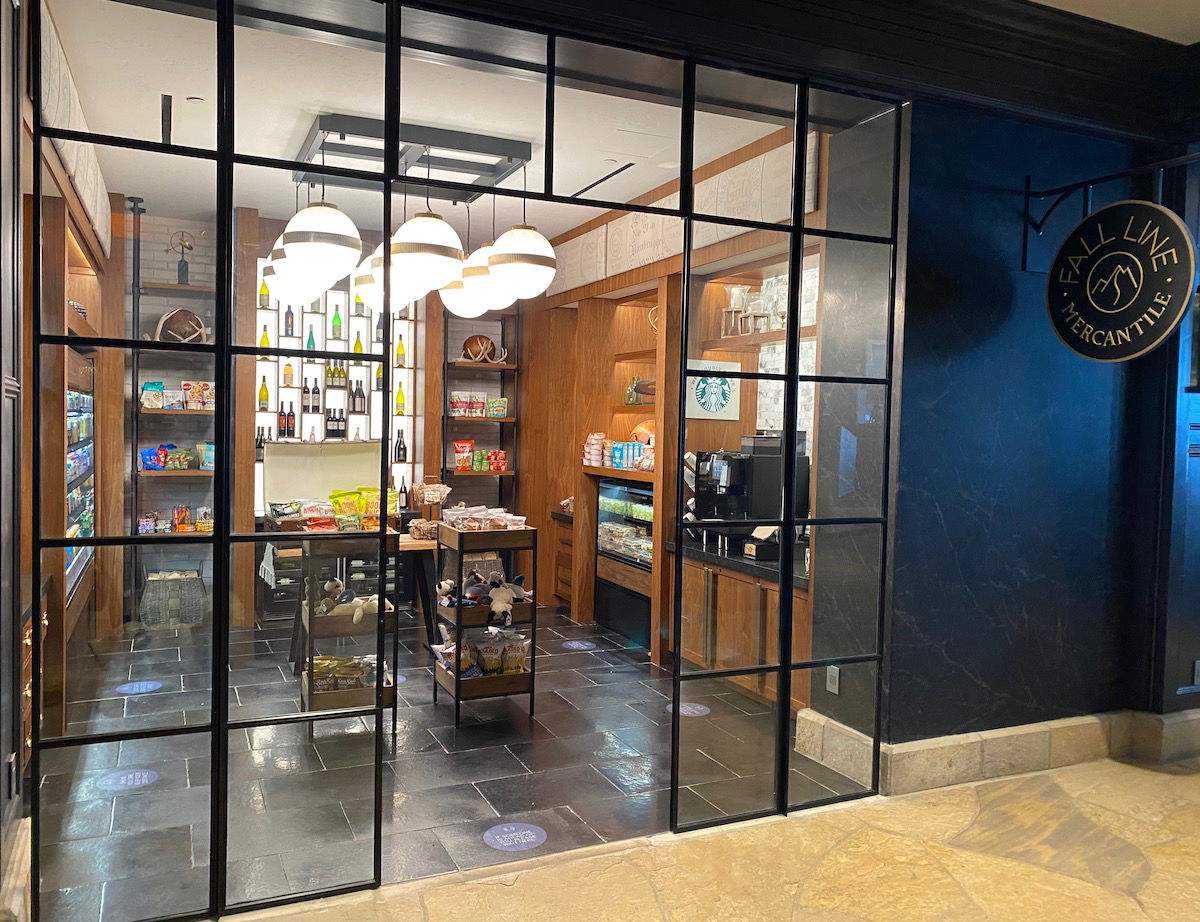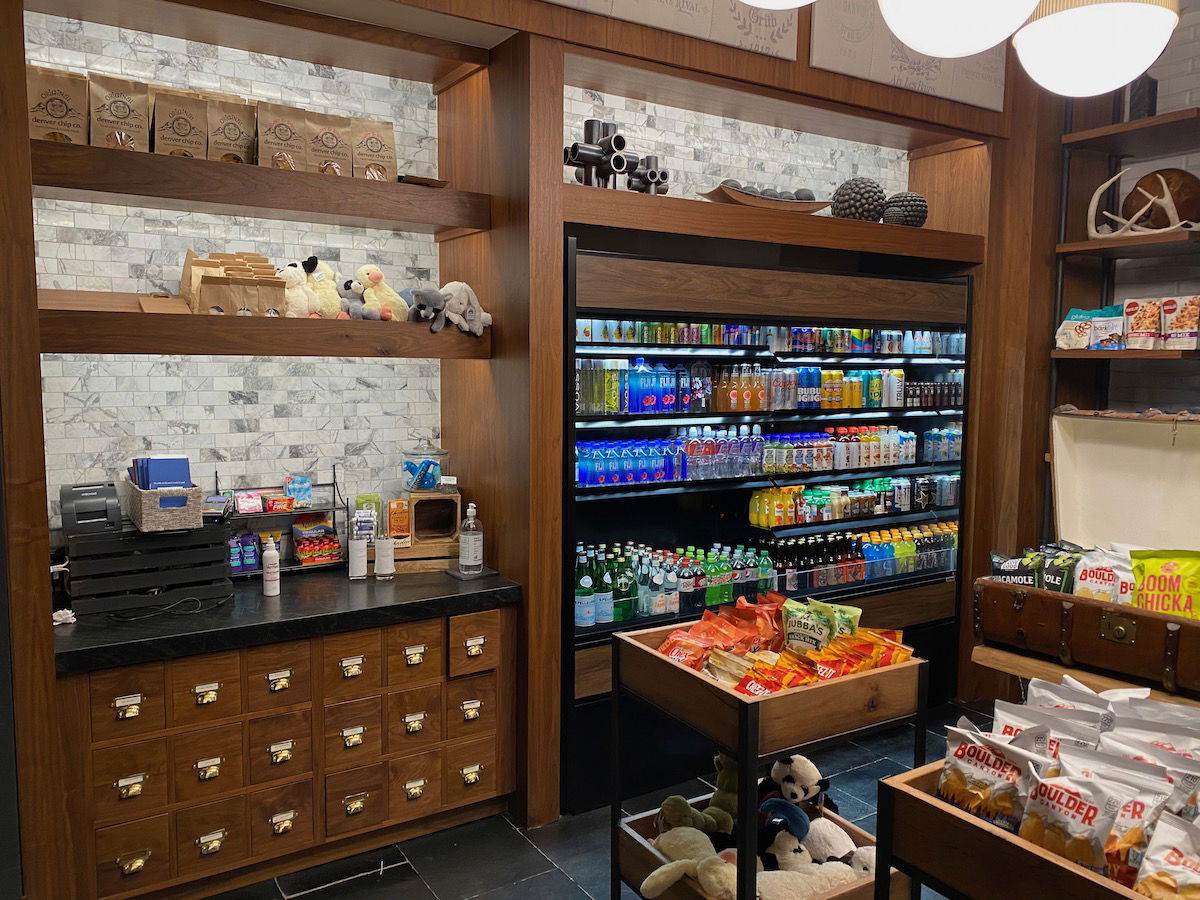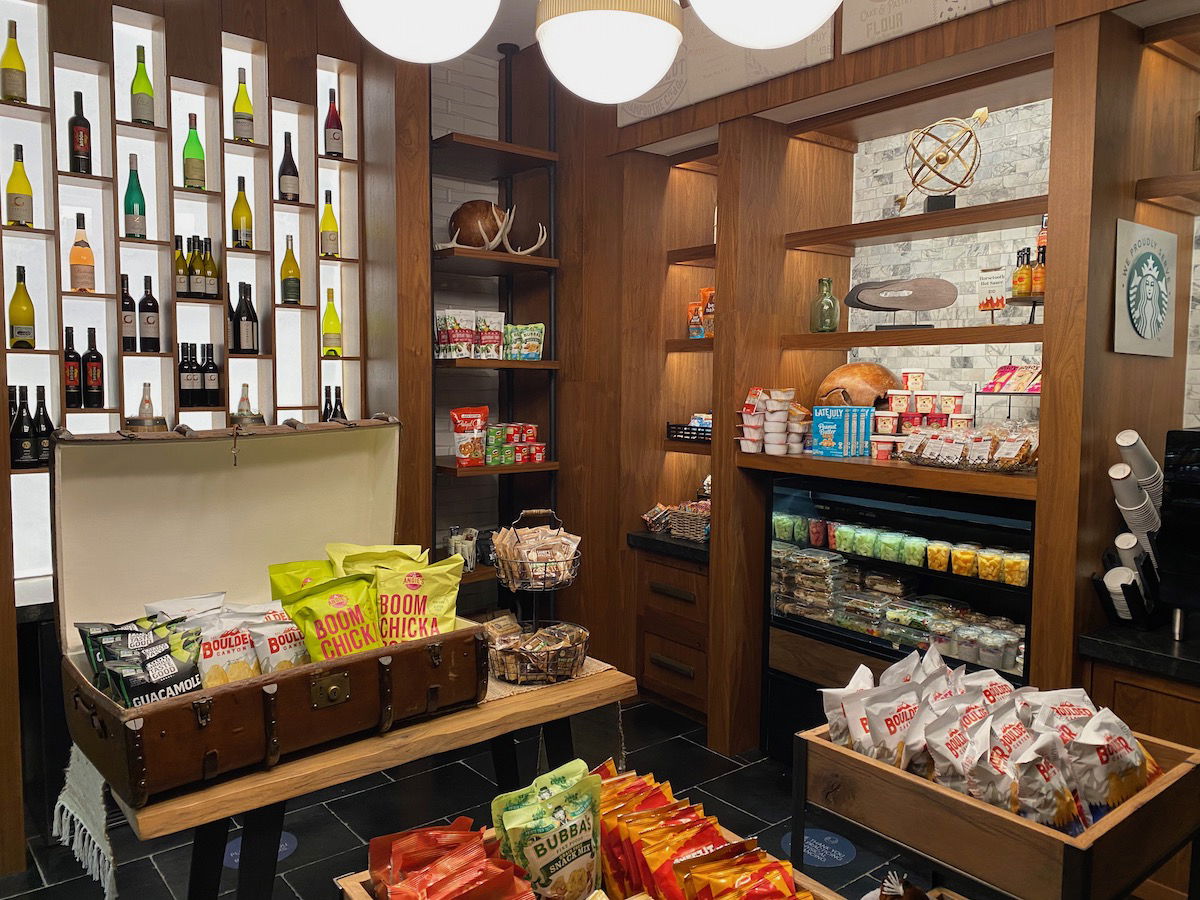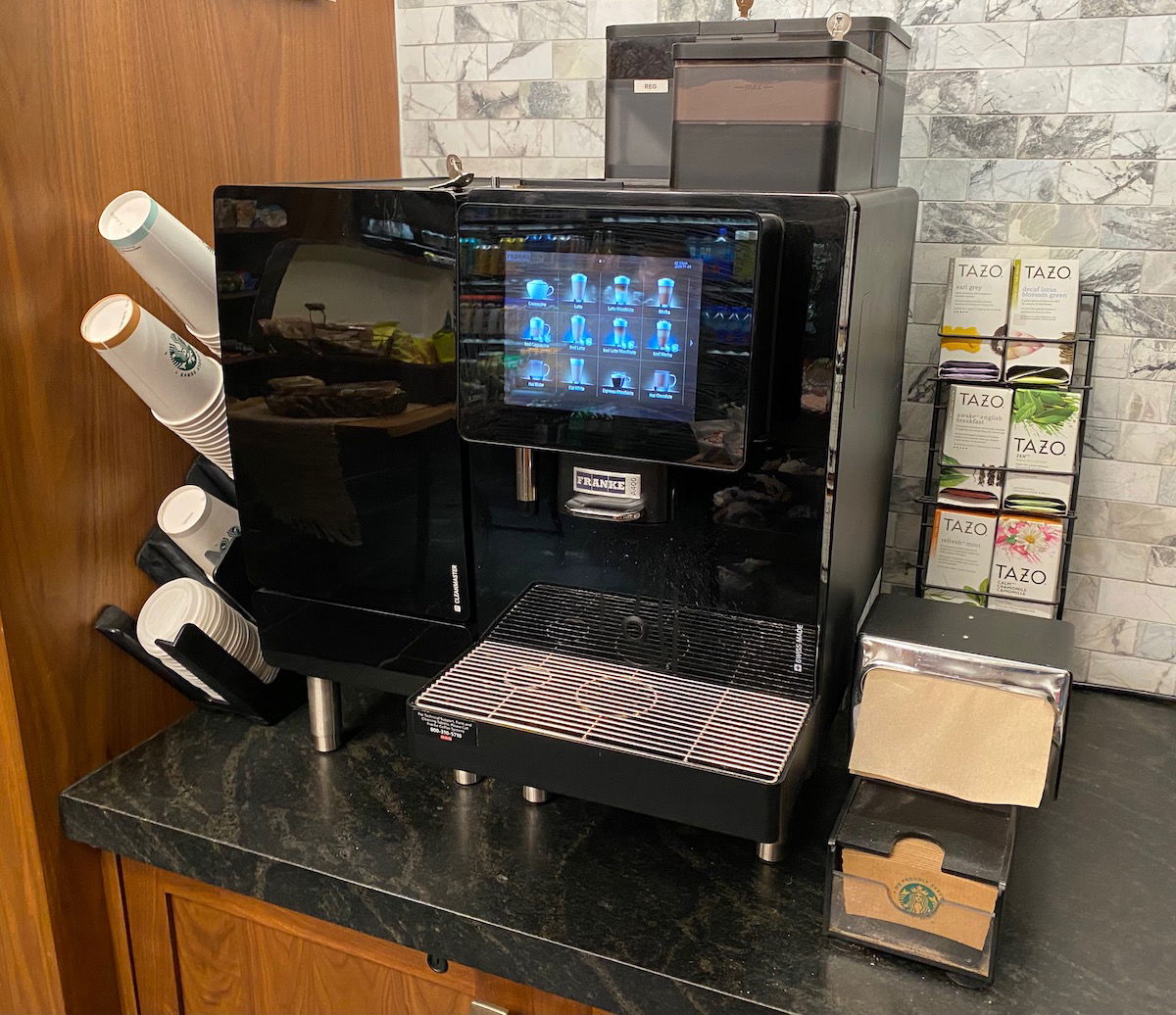 Park Hyatt Beaver Creek 8100 Mountainside Bar & Grill
The Park Hyatt Beaver Creek's signature restaurant is 8100 Mountainside Bar & Grill (8,100 feet is the elevation of Beaver Creek, hence the name). It's open daily for breakfast, lunch, and dinner.
The restaurant has a bar area, then an indoor dining area, and then a huge terrace with heat lamps.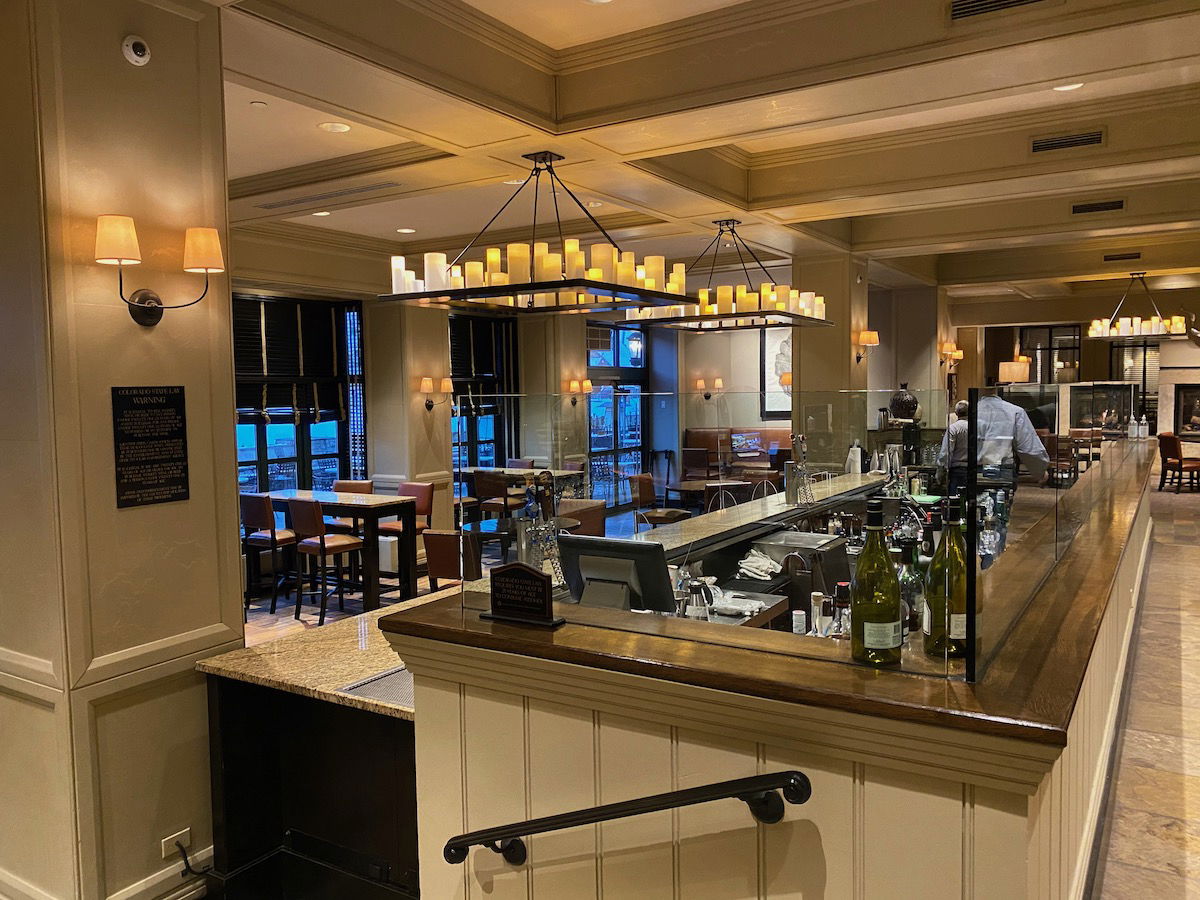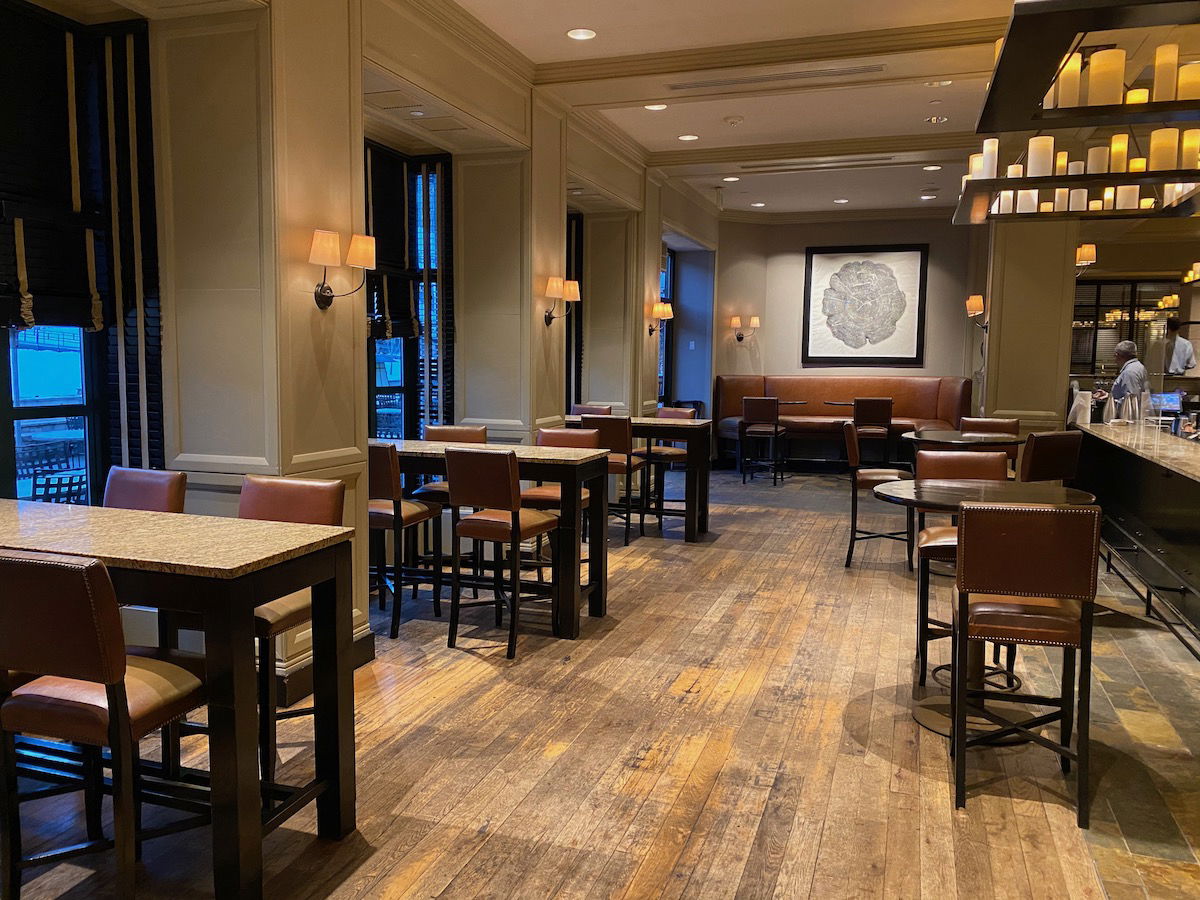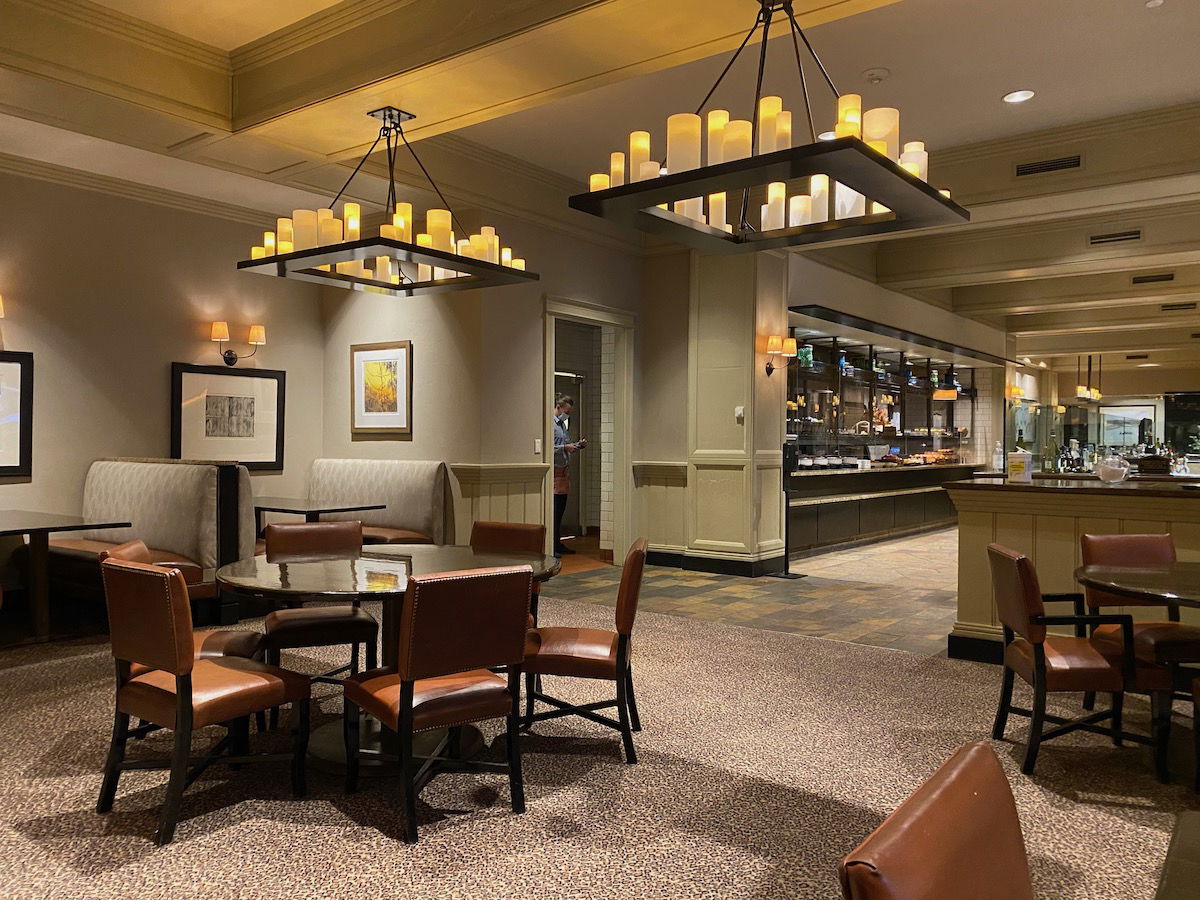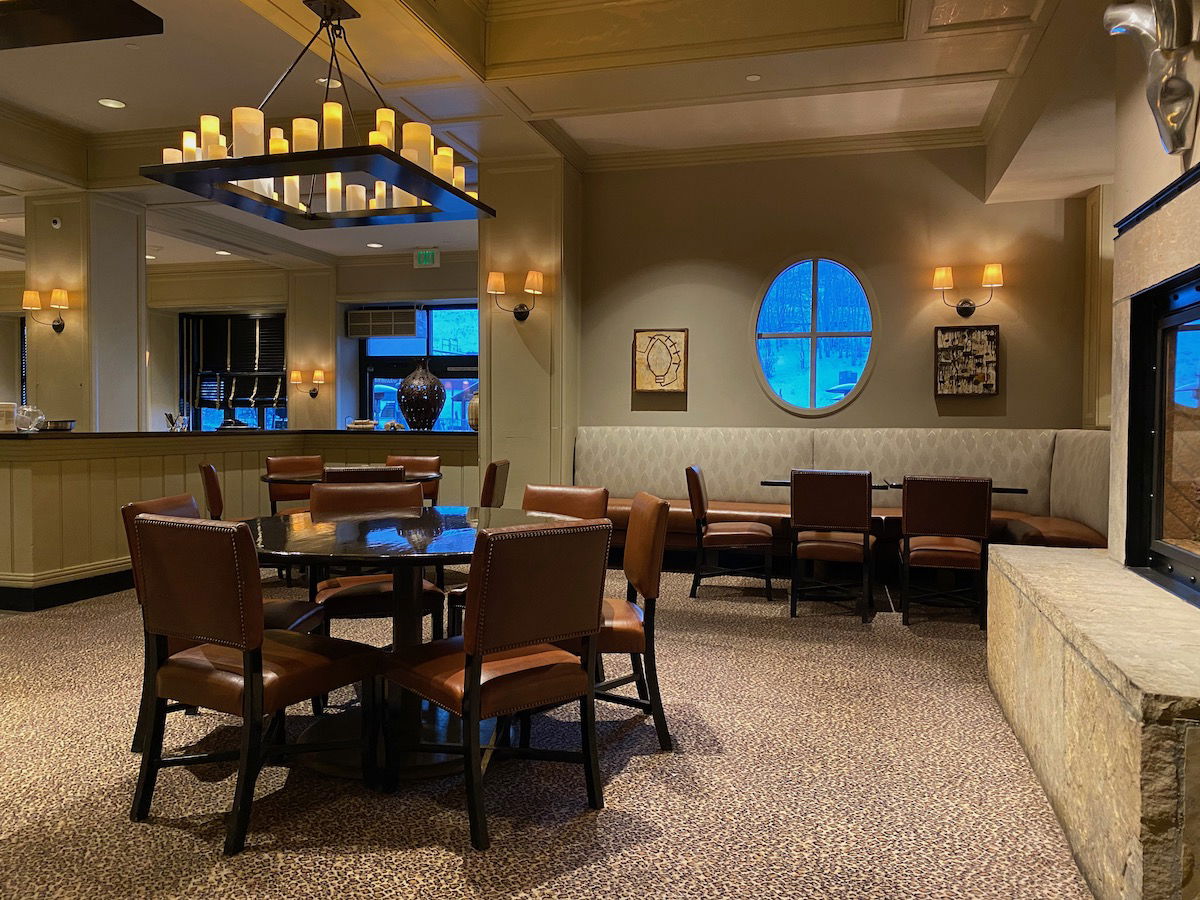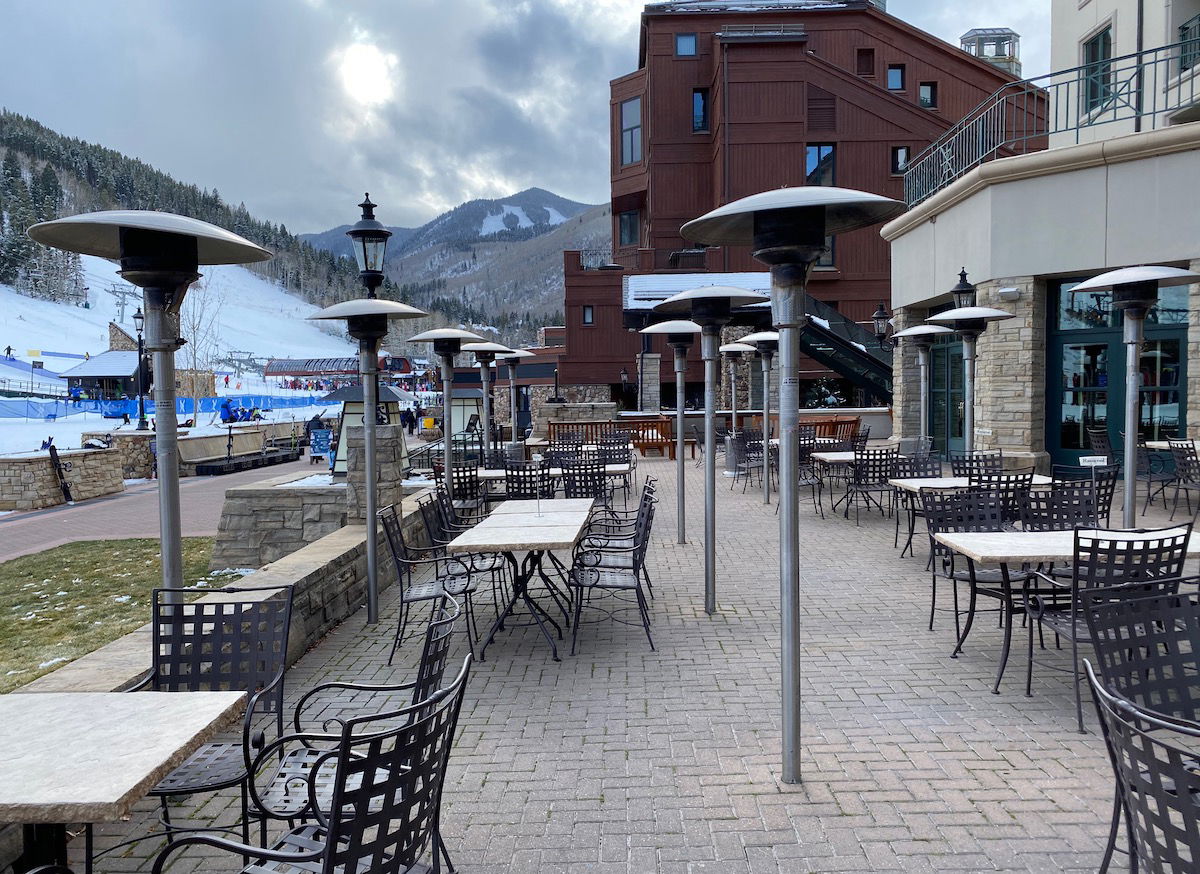 Breakfast was served daily from 7:30AM until 10:30AM at Mountainside Bar & Grill, and that was included both thanks to my World of Hyatt Globalist status, and thanks to booking through Hyatt Privé. Breakfast had been adjusted due to coronavirus, and consisted of a staffed buffet with shields. You'd simply point to what you wanted, and then they'd plate the food for you.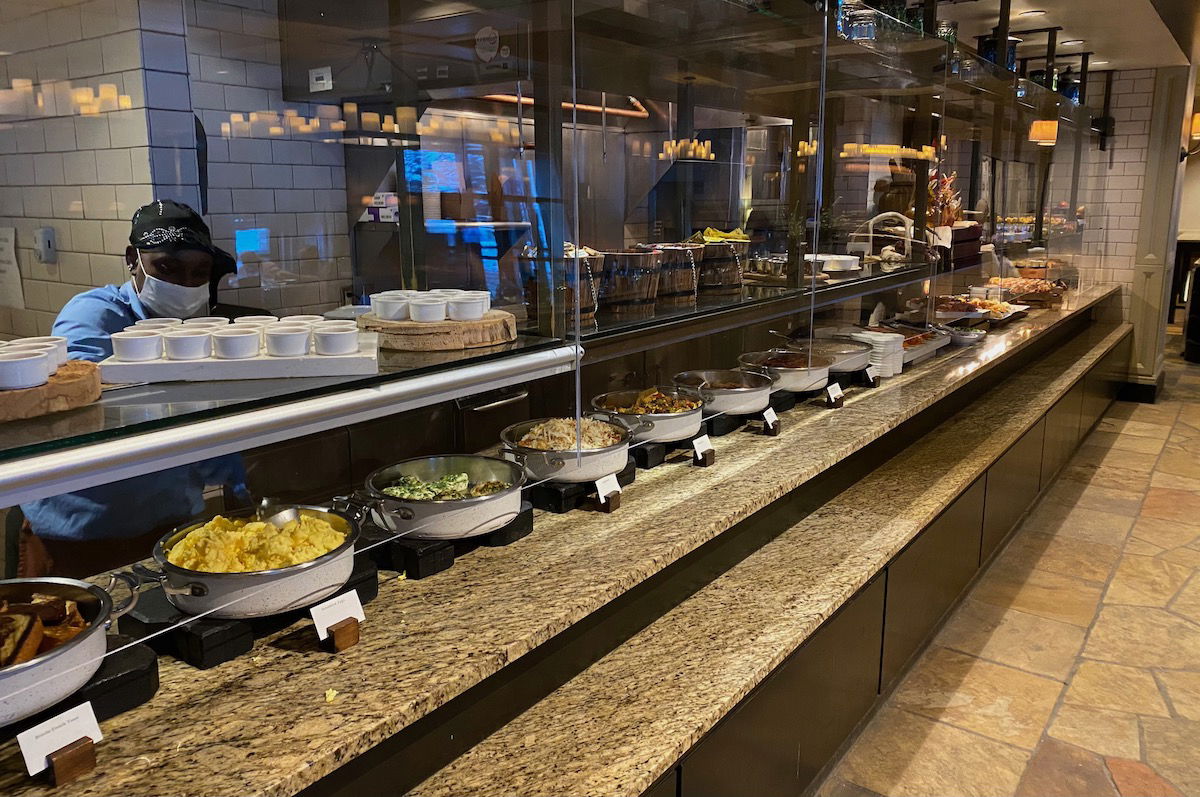 The buffet included fresh fruit, yogurt, pastries, croissants, toast, cereal, cold cuts, scrambled eggs, sausage, oatmeal, french toast, hash browns, and more. The selection alternated a little daily, and the people working at the buffet were lovely.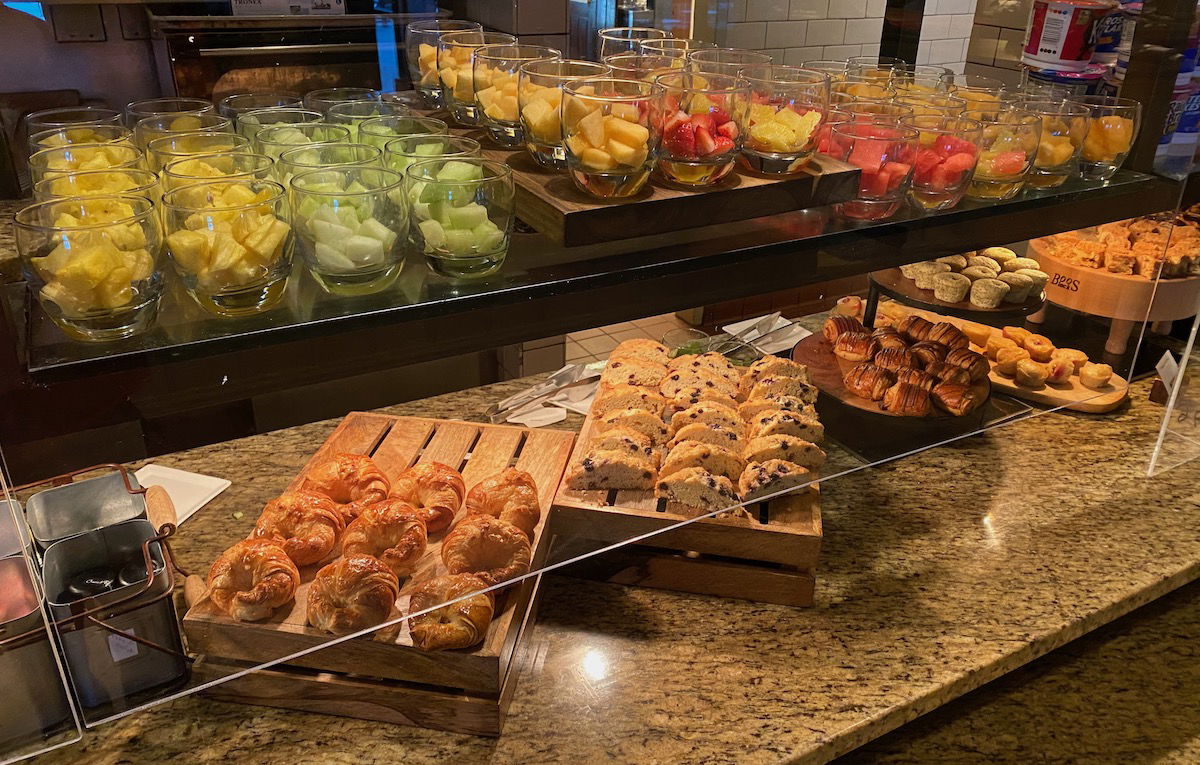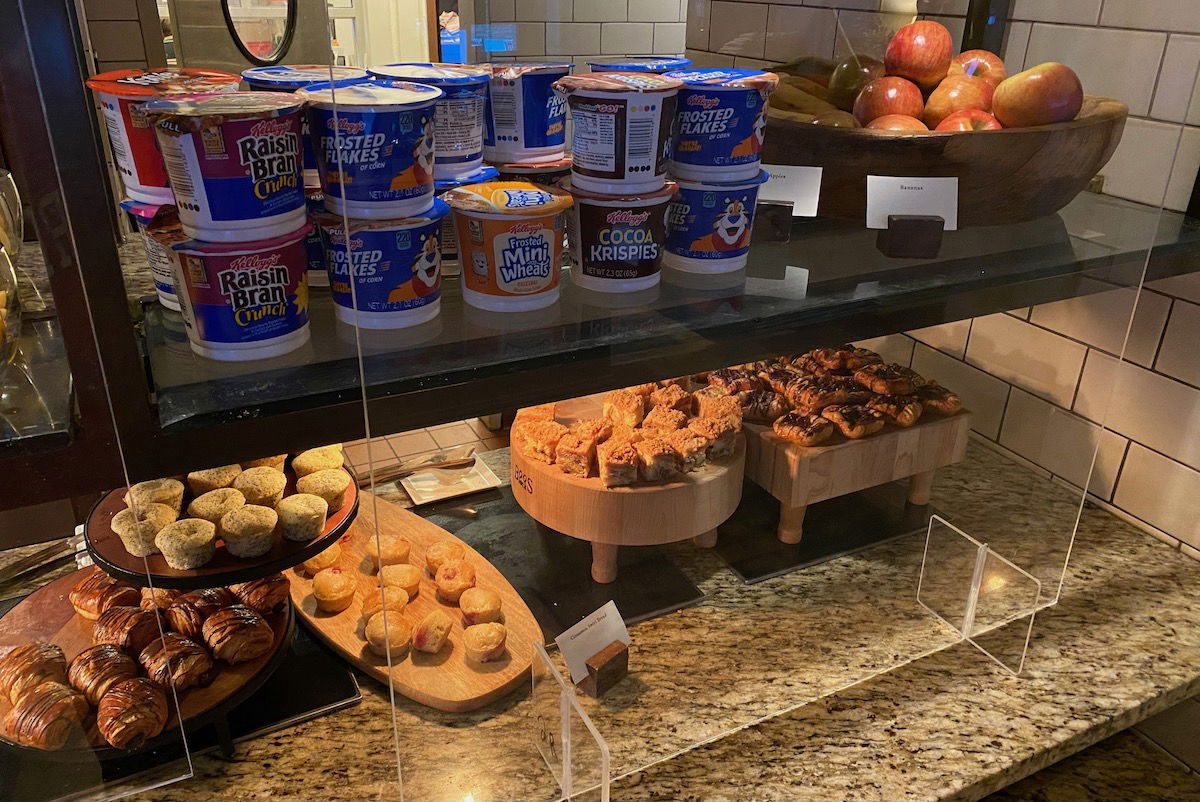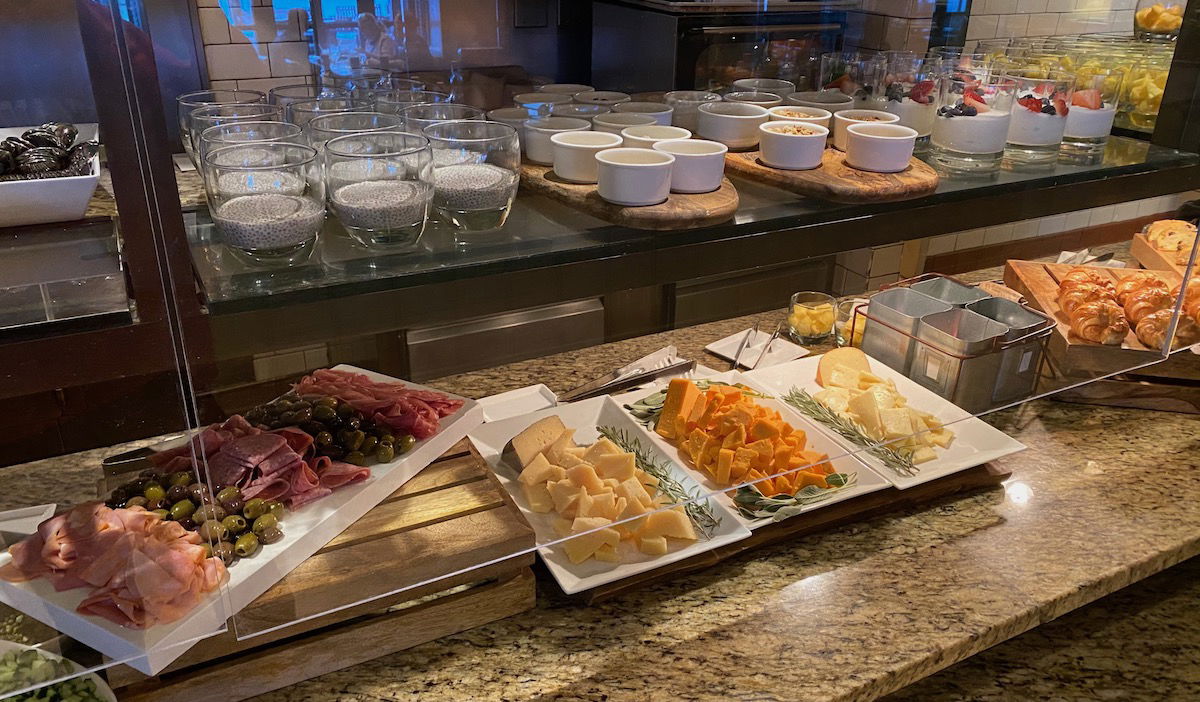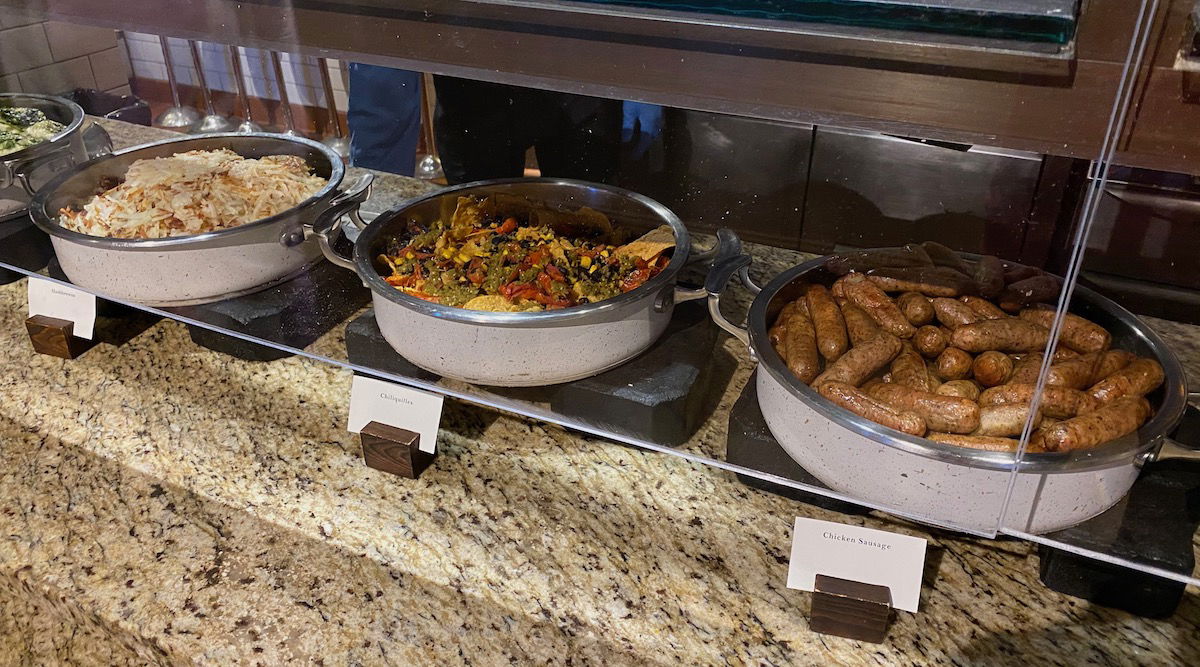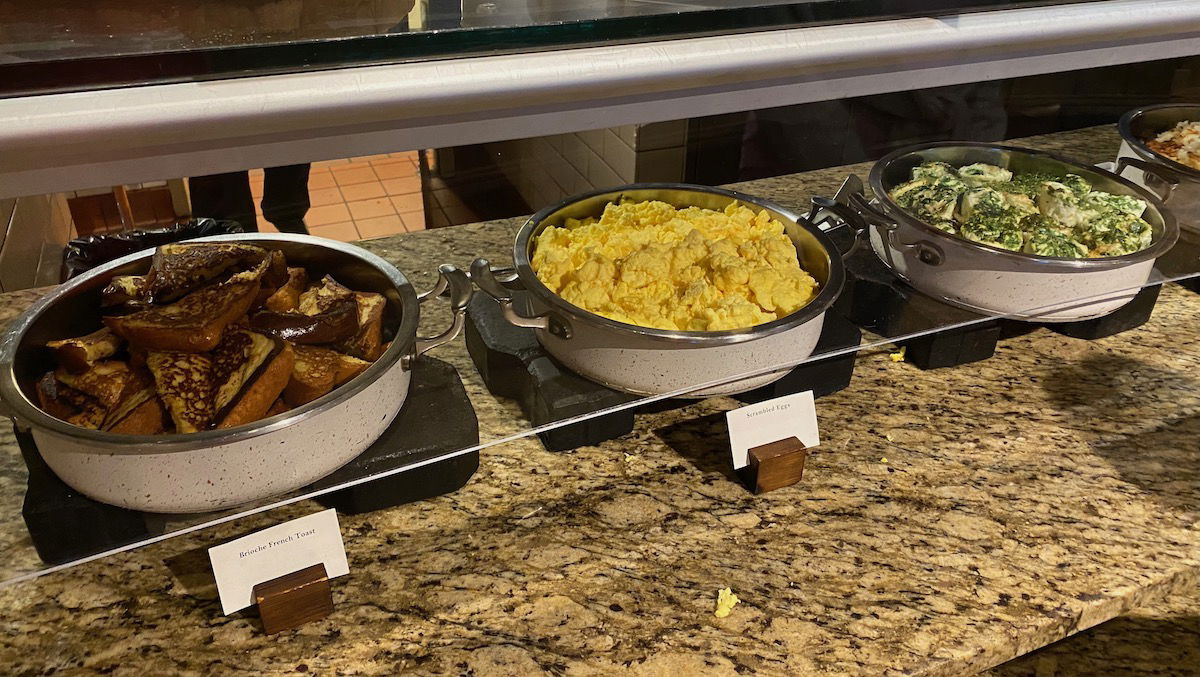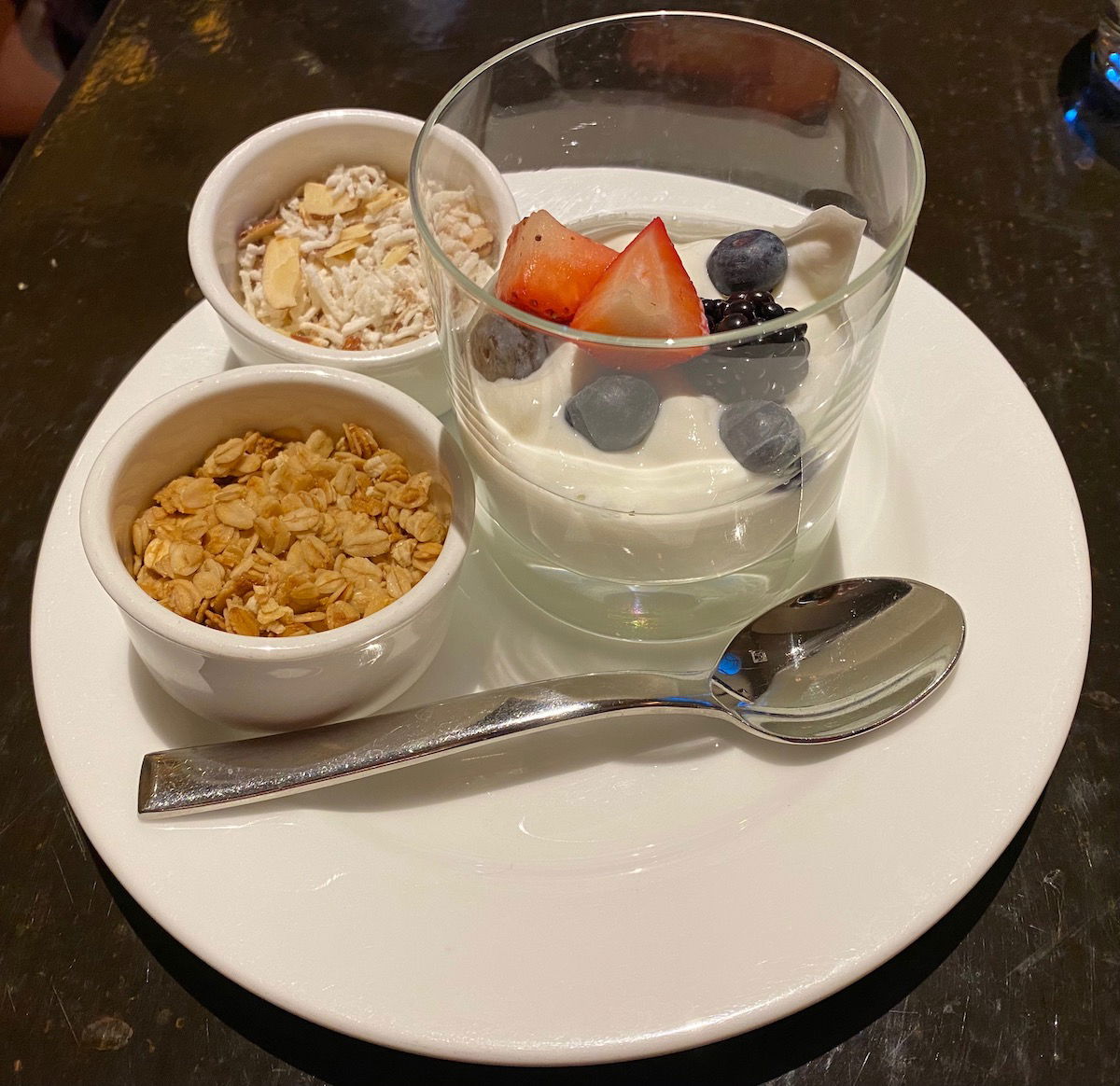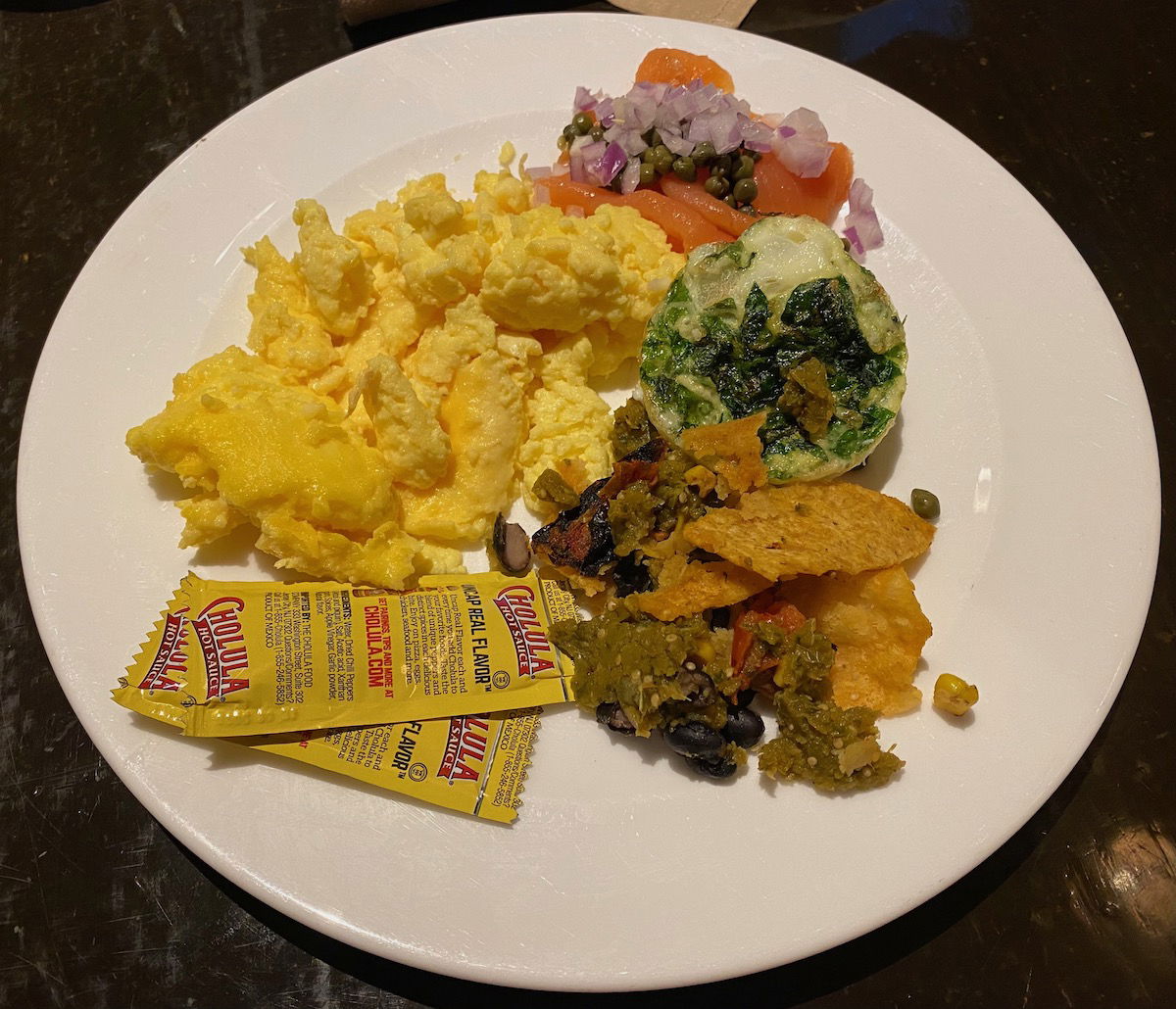 Breakfast included drip coffee. Espresso-based drinks were extra, and I was a bit surprised that the hotel had no fresh juice options, even for purchase.
Mountainside Bar & Grill serves lunch daily from 11:30AM until 2:30PM, and we loved sitting on the terrace and enjoying drinks and meals there. You can find the lunch menu here.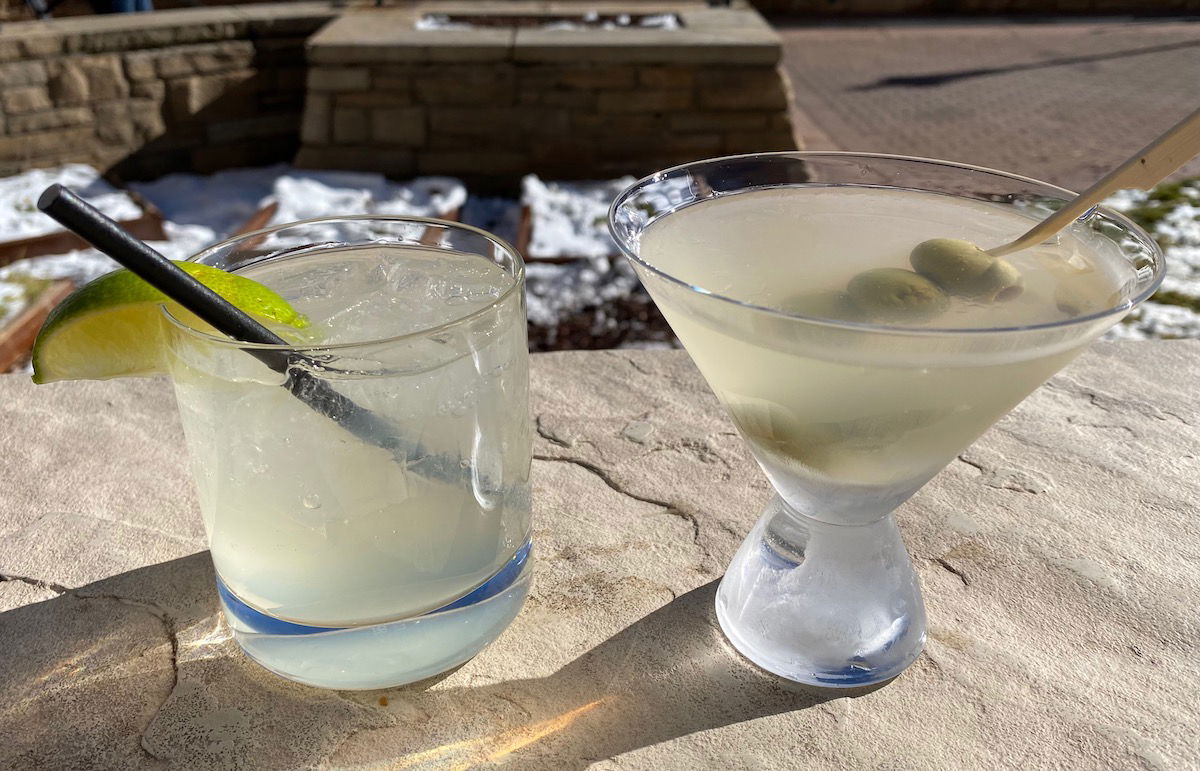 To give you a sense of the food, we had chicken flatbread and chili one day, which were tasty.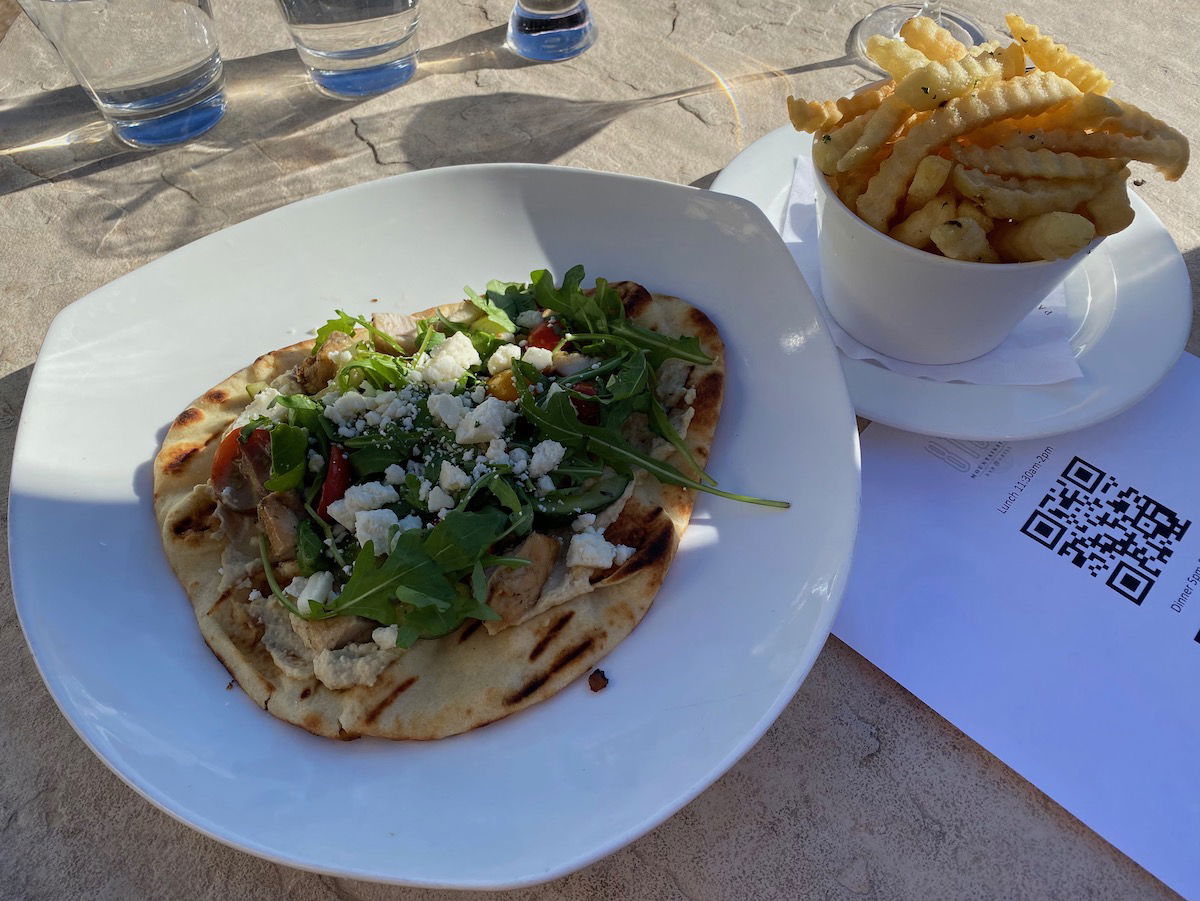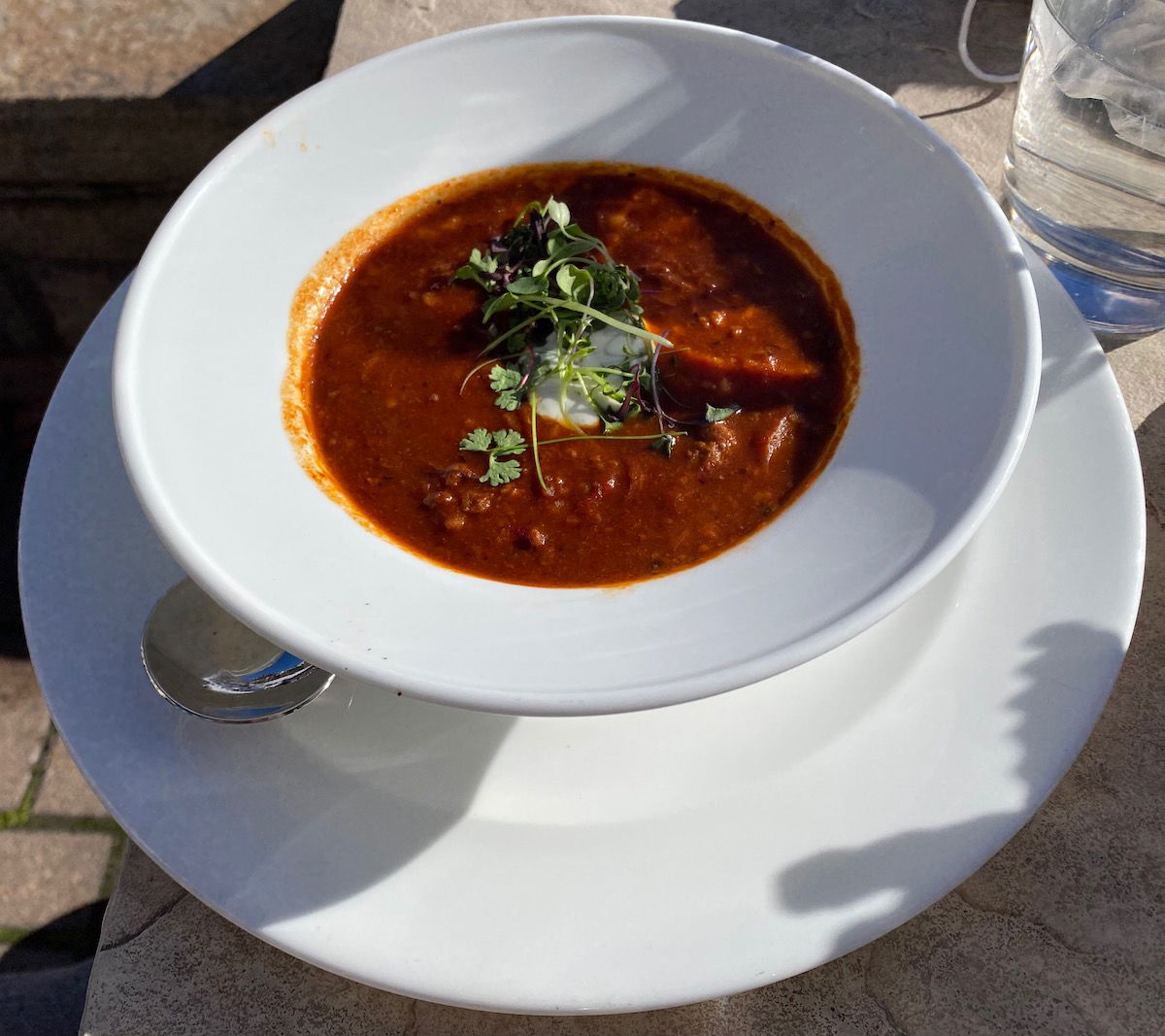 We also had dinner at the restaurant once, and you can find the dinner menu here. We shared a bibb salad, and had the cauliflower steak and salmon.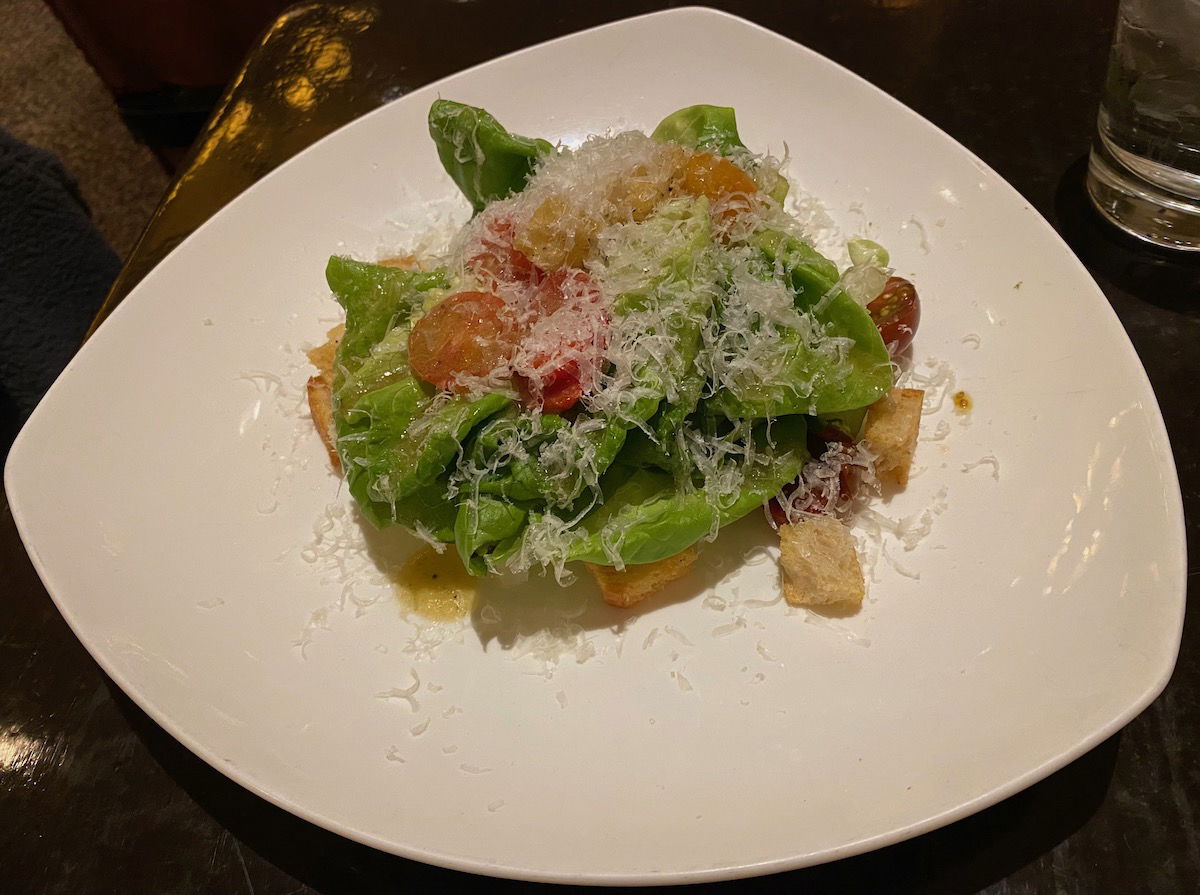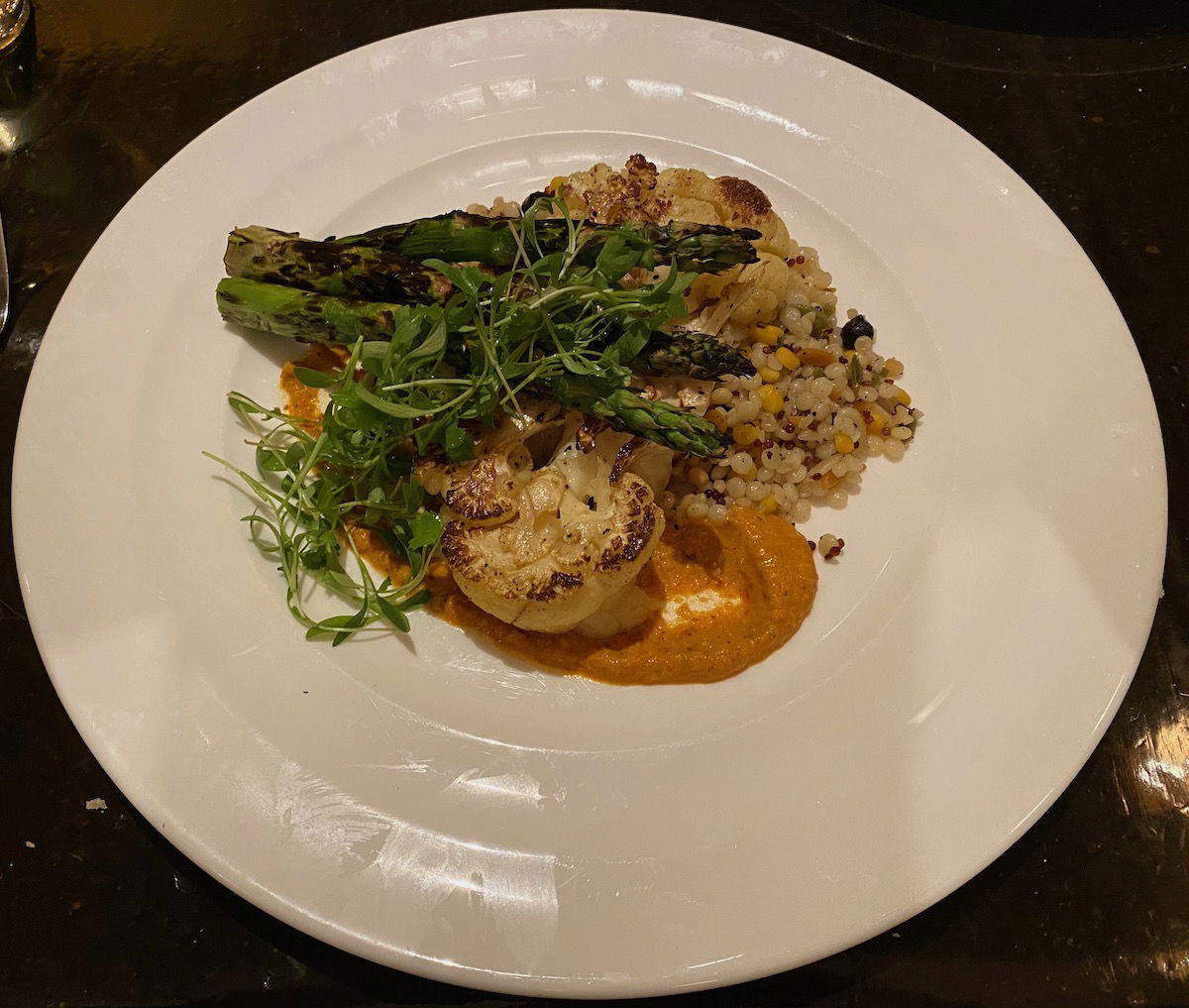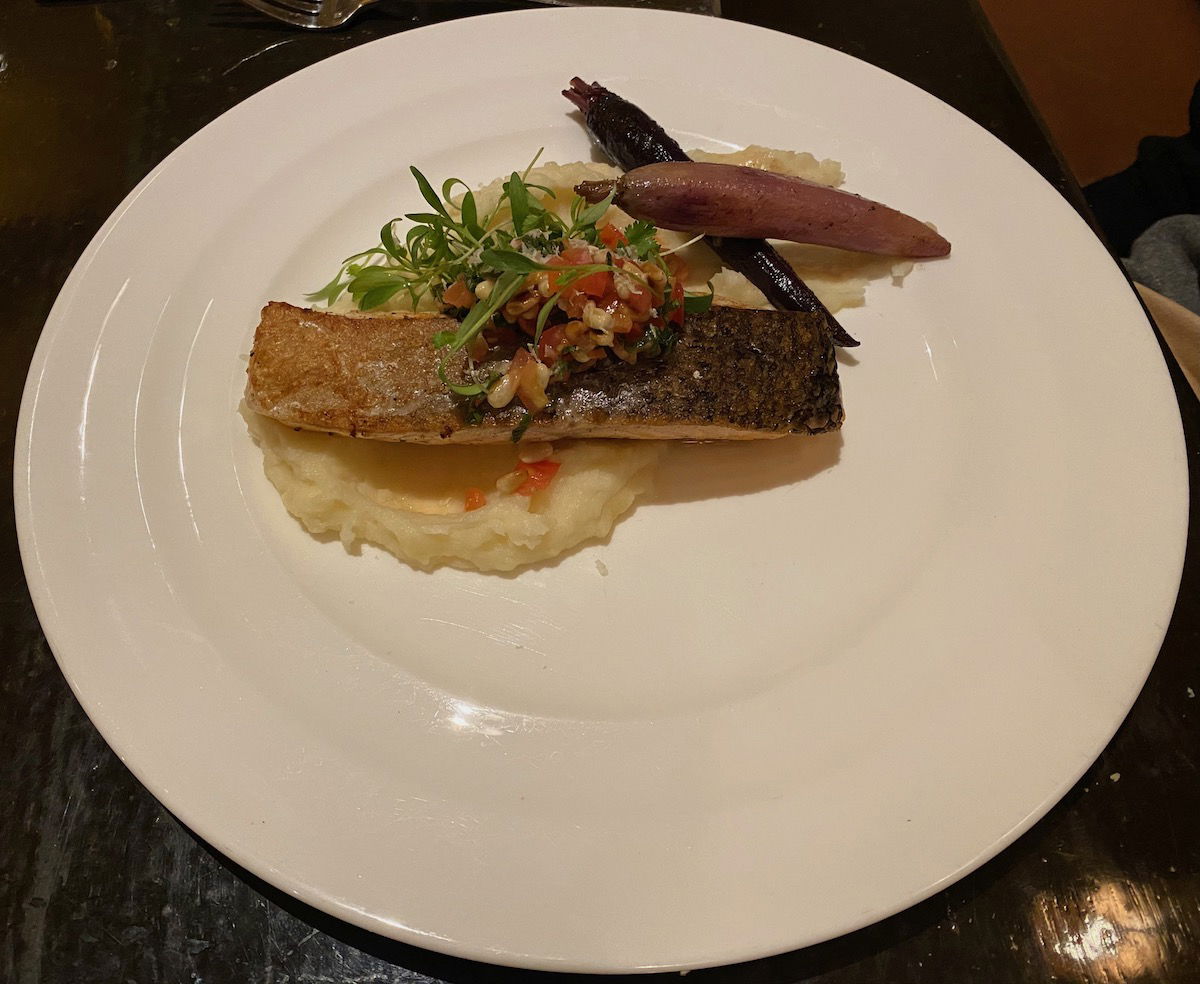 The food was decent across the board, though ultimately nothing to get excited about.
Park Hyatt Beaver Creek laundry facilities
The Park Hyatt Beaver Creek has guest laundry facilities, which is easily one of my favorite hotel amenities ever, especially when you're living in hotels. One of my biggest frustrations with living in hotels is the laundry situation — you either have to go to a laundromat, or pay more to have a hotel wash something than you'd pay to buy it new (at least for underwear and socks).
So having laundry facilities at the Park Hyatt was noteworthy.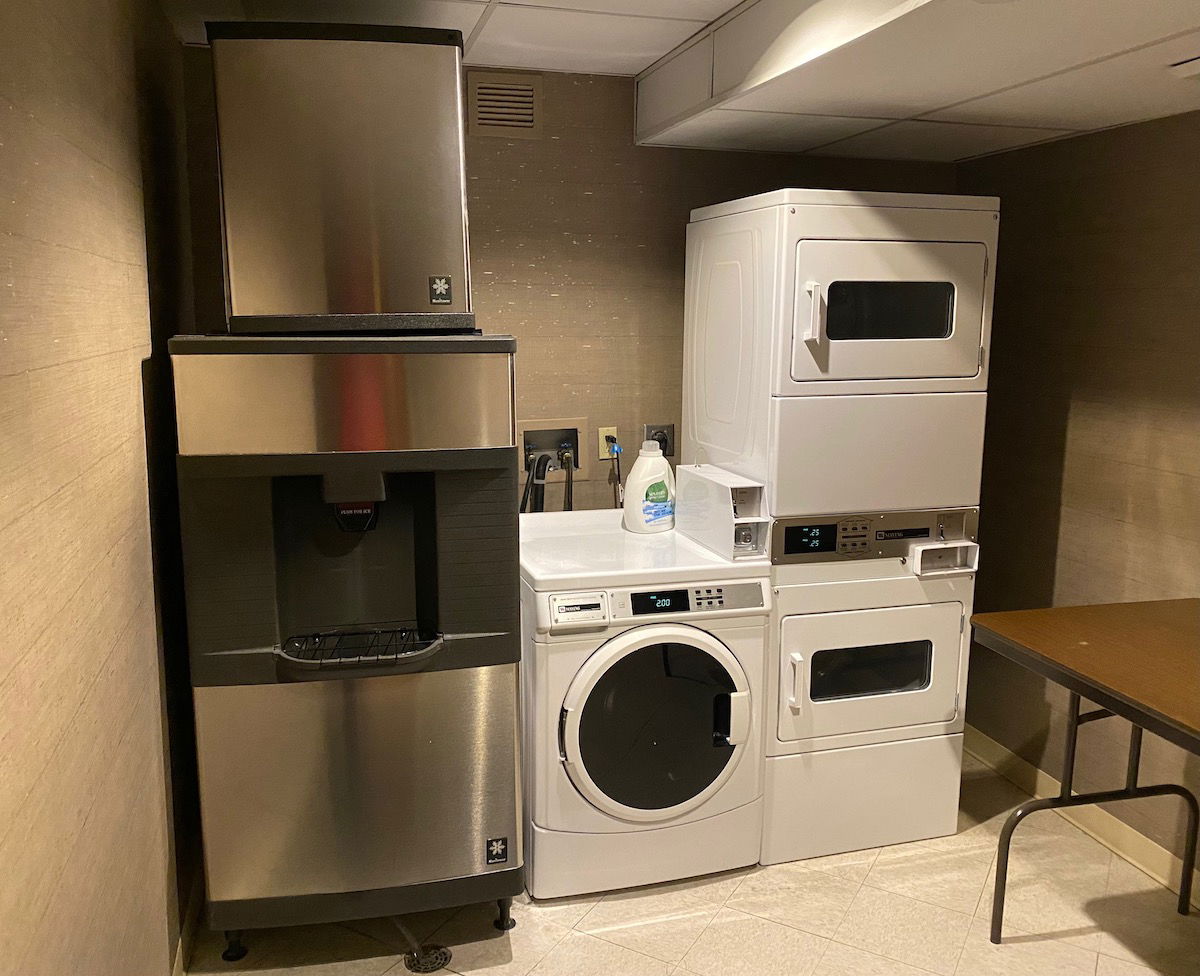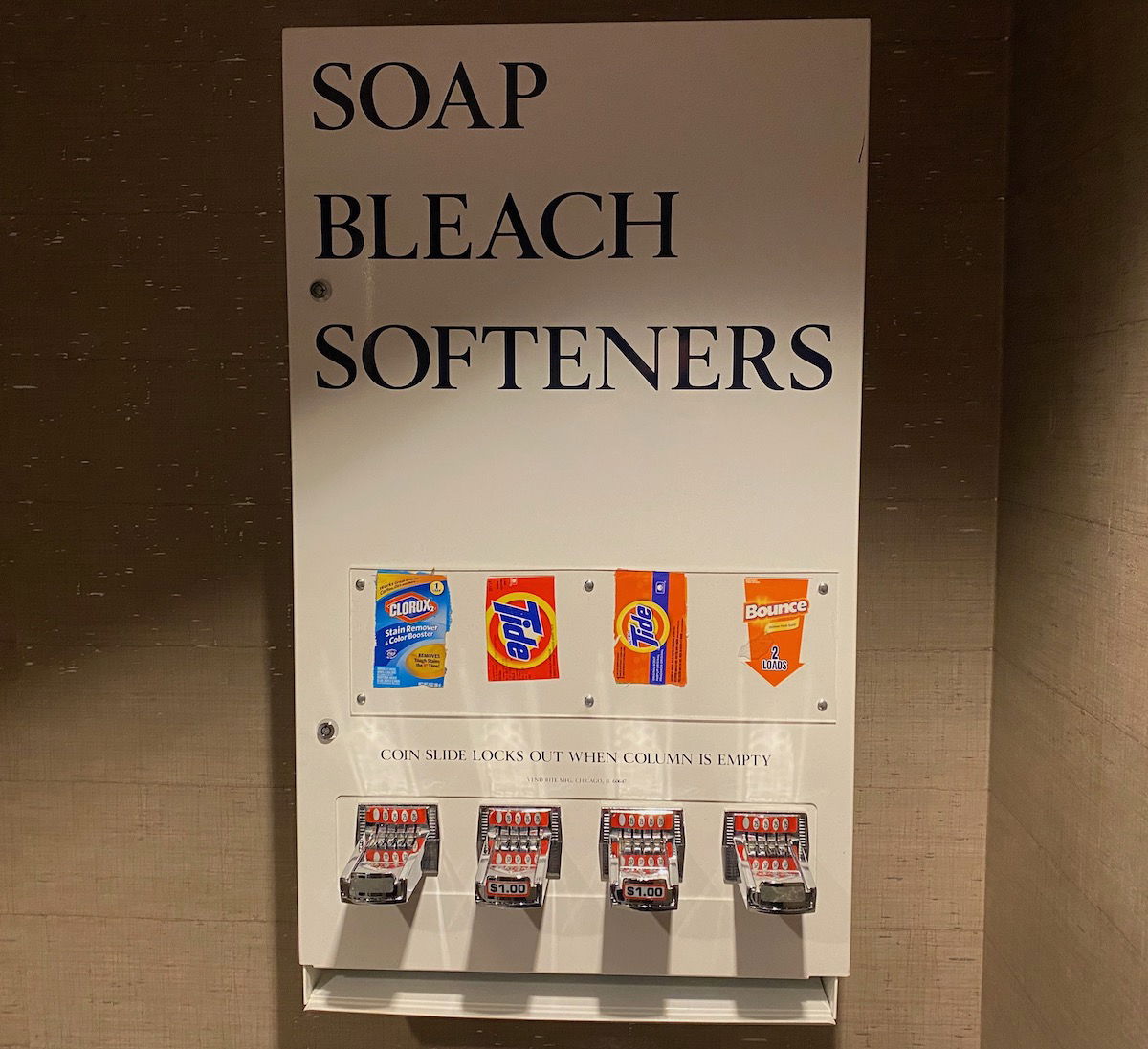 Park Hyatt Beaver Creek s'mores
The Park Hyatt Beaver Creek has a fire pit near the mountain, and guests at the Park Hyatt can get free s'mores daily. You can go to Fall Line Market to pick up your s'mores daily at any time.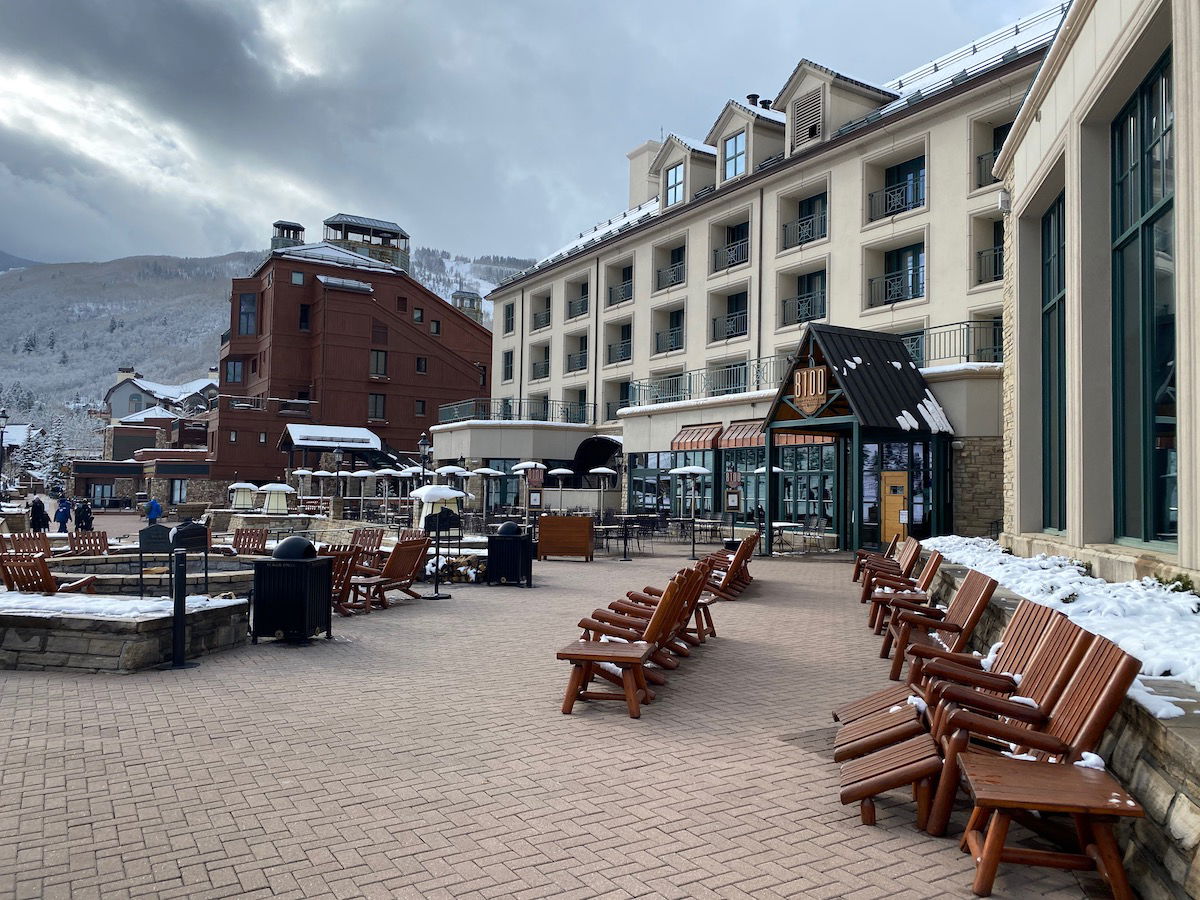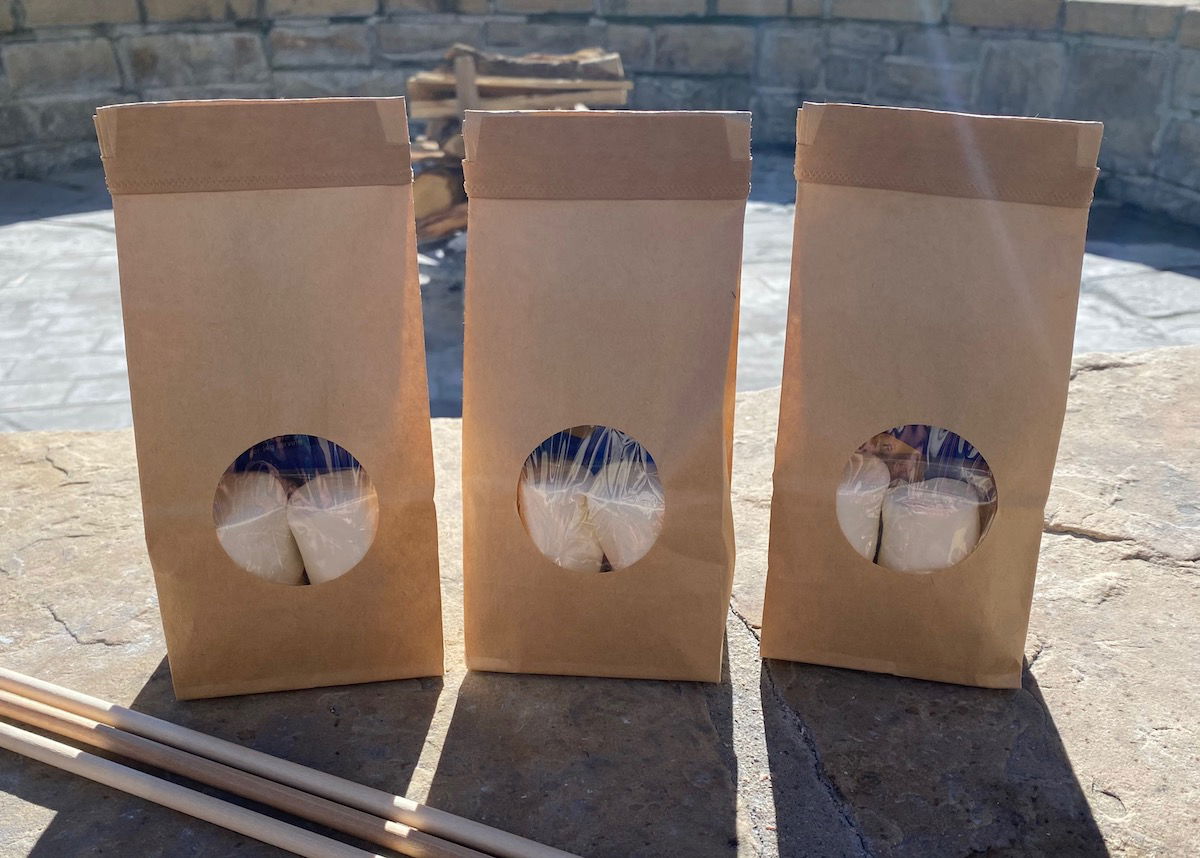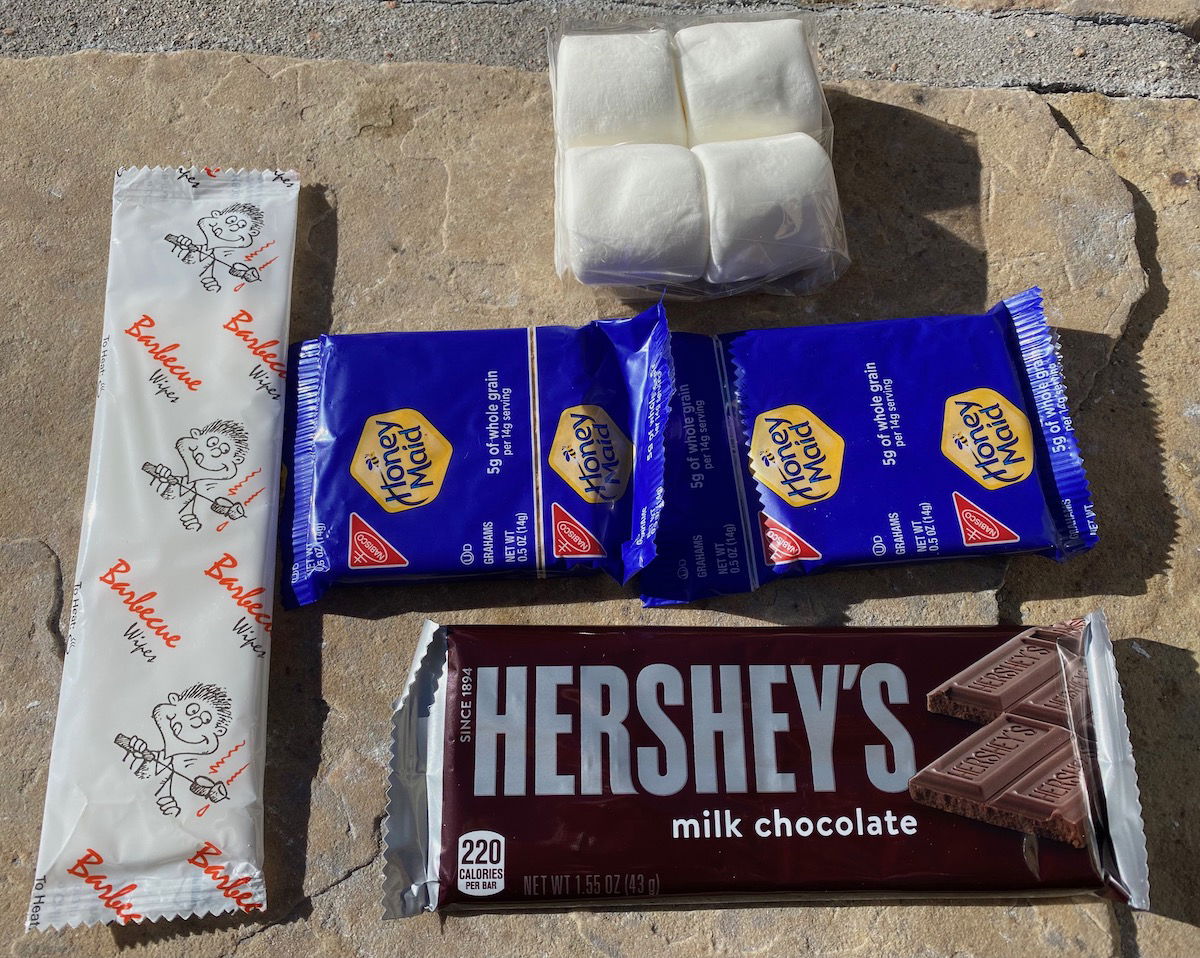 Bottom line
I've always been curious about the Park Hyatt Beaver Creek, and I'm happy we finally had the chance to stay there with a great deal. This is a solid option if you're into skiing, and having direct access to the cute village of Beaver Creek is awesome as well. We got an attractive rate in the off season, and in peak season redeeming points here can represent a phenomenal value.
Just make sure you come into a stay here with reasonable expectations, as this physically feels a lot more like a nice Hyatt Regency than a Park Hyatt, in my opinion.
If you've stayed at the Park Hyatt Beaver Creek, what was your experience like?