In this post I wanted to talk a bit about how my experience traveling, and even living in hotels, has informed my decision of where to live. I call Miami home, though as I explained in a previous post, we're currently living in hotels as we wait for our new home to be ready.
What travel taught me about where to live
In my early 20s I lived in hotels full-time for several years. There were a few motivations for that, not the least of which was that I was indecisive about where I wanted to live, so I decided to just not live anywhere in particular.
Many people assume that the more you travel, the more you have absolute favorite places, and the more you're decisive about where you want to live (this always brings me back to "the curse of the traveler"). For me it has been exactly the opposite:
There are cities I adore, but I'm not sure I'd necessarily want to live in them long-term; there's a huge difference between being a visitor somewhere, and actually living there
The more places I've been, the more I've realized some of the cons to the places I love, and some of the pros to the places that I didn't think I loved
The specific place I live doesn't impact my happiness much — rather it's certain environmental factors that I've found to be much more important
Given how little free time the average person has after factoring in work, family obligations, fitness, and other activities, I think people tend to put too much value into what cities have to offer, rather than other factors
Now, there are a few things worth acknowledging about my particular situation:
I'm very fortunate that I can work from anywhere in the world; I recognize that for a lot of other people job opportunities are what drive where people live, but that's not the case for me
I'm an introvert, so I'm not looking for big social scenes, and in that sense I don't care that much about whether a city is known for having particularly friendly people or not, for example
I stay pretty busy in my own "bubble" when I'm home — I spend most of the day working, I like working out, I like going out to eat sometimes (more pre-coronavirus than now, obviously), and I love spending time with Ford and Winston
What I look for in a place to live, and why I like Miami
I've spent only a limited amount of time in Miami recently, since we'd rather not be there right now with the lack of coronavirus precautions. I've received two types of comments/questions from some:
Why on earth would you live in Miami?
If you're going to complain about Miami, "we" don't want you there, go live somewhere else; I didn't realize I needed to be voted "onto the island" to live in a city, and needed to have exactly the same take as everyone else
With that in mind, let me clarify — I actually really like living in Miami. That's despite the fact that I almost never go over to Miami Beach (it's too wild for me, and I'm not a beach person), and also despite the fact that I'm not much of a partier.
Why do I like living in Miami? Let me share the reasons, roughly ranked in the order that I prioritize them:
Warm weather and sun — personally I'm someone who loves to be in warm weather and to have sunlight, as it impacts my mood in such a positive way; if you have the same preferences that I do, there aren't many places with weather as good as Florida
Views & landscape — I love a place with beautiful views and geographic diversity, and I find it to be so inspiring as a backdrop; that could mean living in the middle of nowhere in the mountains, or having a view of the water, even if it's in the distance (I wish Florida weren't so flat, but I'll take the ocean)
Somewhere that's accepting — I'm gay and married, and fortunately a lot has improved in the past decade when it comes to being a gay person in the US; I think in most major cities (and even many smaller ones) gays can feel pretty comfortable being themselves nowadays, though I'd never like to live in a place where I wouldn't feel comfortable being myself (I'd like to be able to feel comfortable referring to Ford as my husband, and not faking that he's a "friend," or whatever else; obviously there are homophobes everywhere, but I'd like them to be the exception rather than the norm)
Cost of living — if you have the flexibility to live anywhere, cost of living is an important factor; Miami is a major city and absolutely isn't cheap, though Florida has the benefit of having no state income tax, which I'd factor into the overall cost of living
An easy life & access to services — one day I'd absolutely love to live in the middle of nowhere, but at this point in my life I appreciate the ease of living in a major city where you're minutes from anything you could need, and where you have access to services like Uber Eats, Postmates, Instacart, or whatever else; you can have just about anything delivered to your door in 30 minutes, and that saves me so much time and hassle
Being close to family — while not in Miami, most of our family does live in Florida, so it's great to be able to see them without getting on a plane, especially as our parents get older
A city that feels international — I absolutely adore how international Miami feels, as some days I legit feel like I'm in an expat in a different country; while I definitely feel like an outsider, I don't mind it one bit
Proximity to an international airport — I love the fact that many places in Miami are just 10-15 minutes from the international airport, which is oh-so-convenient, especially when you're a frequent flyer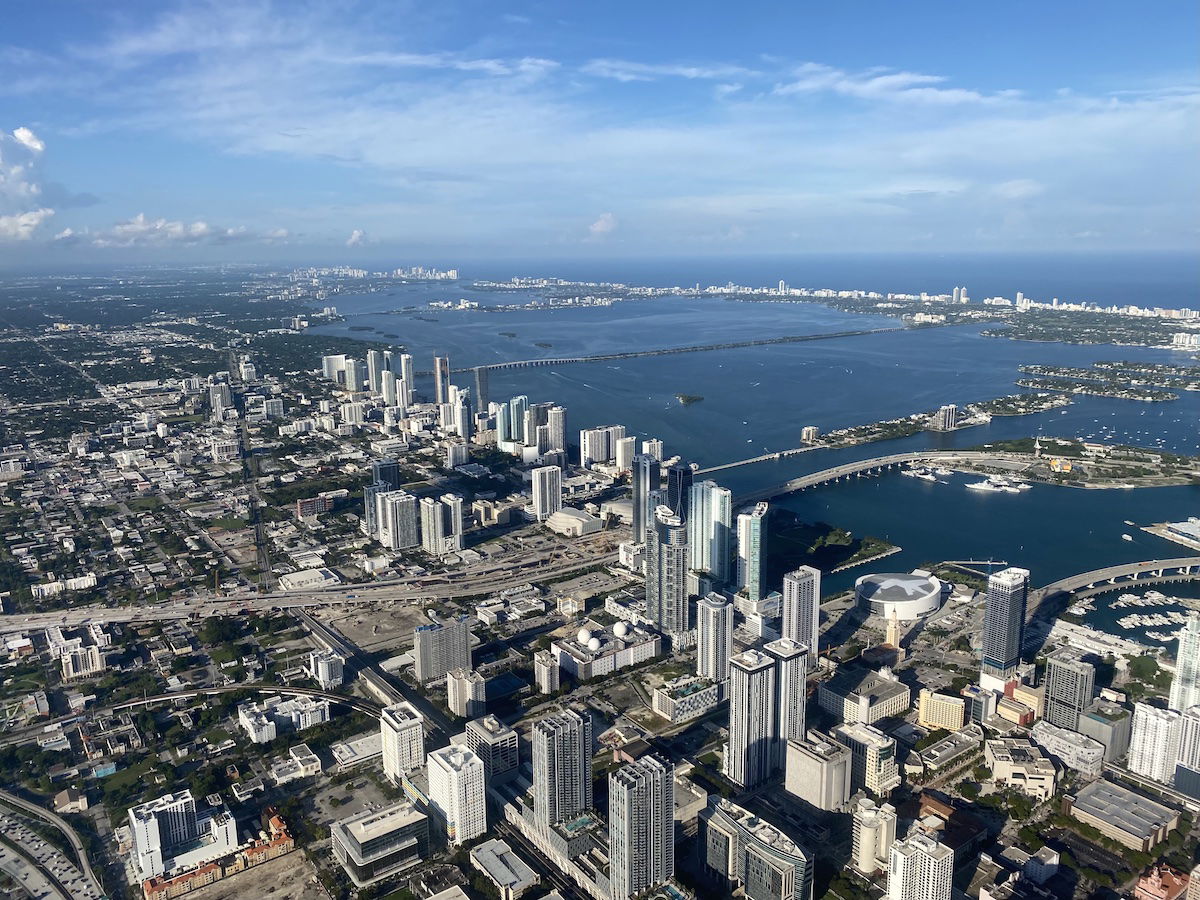 Bottom line
Travel has no doubt changed what I've looked for in a place to live. I used to think there was one perfect place to live, and that I just needed to find it. Then I accepted that there are pros and cons to just about every place, and that if there were a perfect place to live, it would no longer be perfect because everyone would be there.
Personally I enjoy living in Miami, even though I may not be your "typical" Miami person. I'm not a partier, and I don't love the beach. For me Miami is just a great home base — the weather is nice, I love looking at the water, I love how international the city feels, I love how close it is to the airport, etc.
Do I love everything about Miami? Of course not. Do I think I'll live there forever? Probably not. Would I ever vacation in Miami if I didn't live there? Probably not. But for us it's home for now, and we're very happy with it.
I'm curious to hear how you guys feel — how important is choosing the right place to live, what do you look for, and what's your favorite city?