For the return portion of my quick trip to Germany, I flew Condor's new Airbus A330-900neo business class from Frankfurt to Seattle. I was looking forward to this flight, as Condor is totally refreshing its long haul fleet, replacing old Boeing 767s with cutting edge Airbus A330-900neos featuring an all-new onboard product.
So, how was my Condor business class experience? For the most part I found the product to be excellent. The hard product is great, while the soft product is arguably even better than Lufthansa's. I can't wait for the implications of Condor increasingly competing head-to-head against Lufthansa in many markets, especially given Condor's reasonable pricing.
How I booked my Condor business class ticket
I booked my Condor business class ticket using Alaska Mileage Plan miles. I booked the following in business class for 55,000 Alaska Mileage Plan miles plus $170.95 in taxes and fees:
3/02 DE2032 Frankfurt to Seattle departing 1:55PM arriving 3:55PM
I love Alaska Mileage Plan's unique airline partners, as this is the only major program with which you can book Condor flights.
I did end up paying some cash to upgrade to Condor's Prime seats, which are the premium seats in the first row of business class. Not only do these seats have significantly more space, but they also come with some special amenities. I'll cover that below, and then in a separate post I'll talk about whether I think it was worth it. The one-way upgrade cost was $360, which is on the steep side.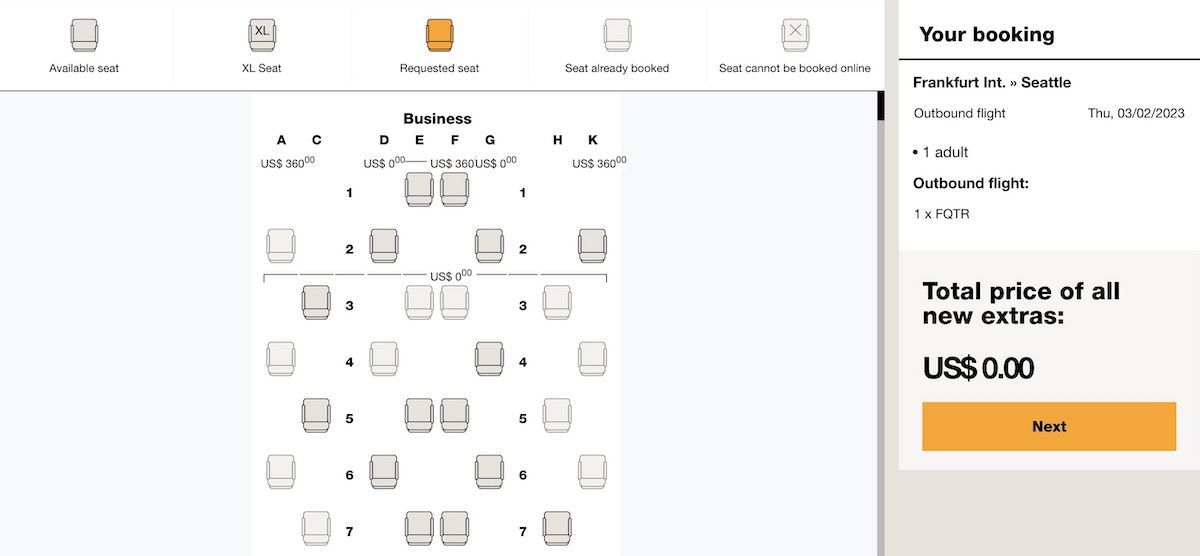 I think one other important thing to remember is that Condor has reasonable paid business class fares. For example, in some cases one-way business class fares crossing the Atlantic start at just over $1,000, which is a spectacular deal for such a competitive business class product.
Admittedly I'm starting to see Condor increase prices a bit, given the much more competitive product being offered. Nonetheless, Condor's fares (particularly for one-ways) are often a fraction of what you'd pay with the airlines belonging to the global joint ventures.
So while Condor is never going to be huge across the Atlantic, I'm hoping that it has a similar impact on transatlantic pricing to what we've seen in the United States with JetBlue Mint.
Condor business class lounge & boarding
Condor operates from Terminal 1 at Frankfurt Airport. The airline doesn't operate its own lounges, but rather business class passengers can access the Lufthansa Business Lounges. My flight was departing from gate B45, so I used the Lufthansa Business Lounge (which I recently reviewed) right across from the gate.
It's kind of funny how Condor sends its business class passengers to the lounges of its biggest competitor, but that's just the reality of Terminal 1 at FRA, as there are no third party lounges airside.
According to my boarding pass, boarding was scheduled to start at 12:55PM (one hour before departure), though it ended up starting at around 1:25PM. I headed to the gate a bit early, and admired this gorgeous A330-900neo. I absolutely love Condor's new striped livery — it's totally out there, but so fun.
For what it's worth, I was flying onboard the plane with the registration code D-ANRH, which had just been delivered to the airline in December 2022.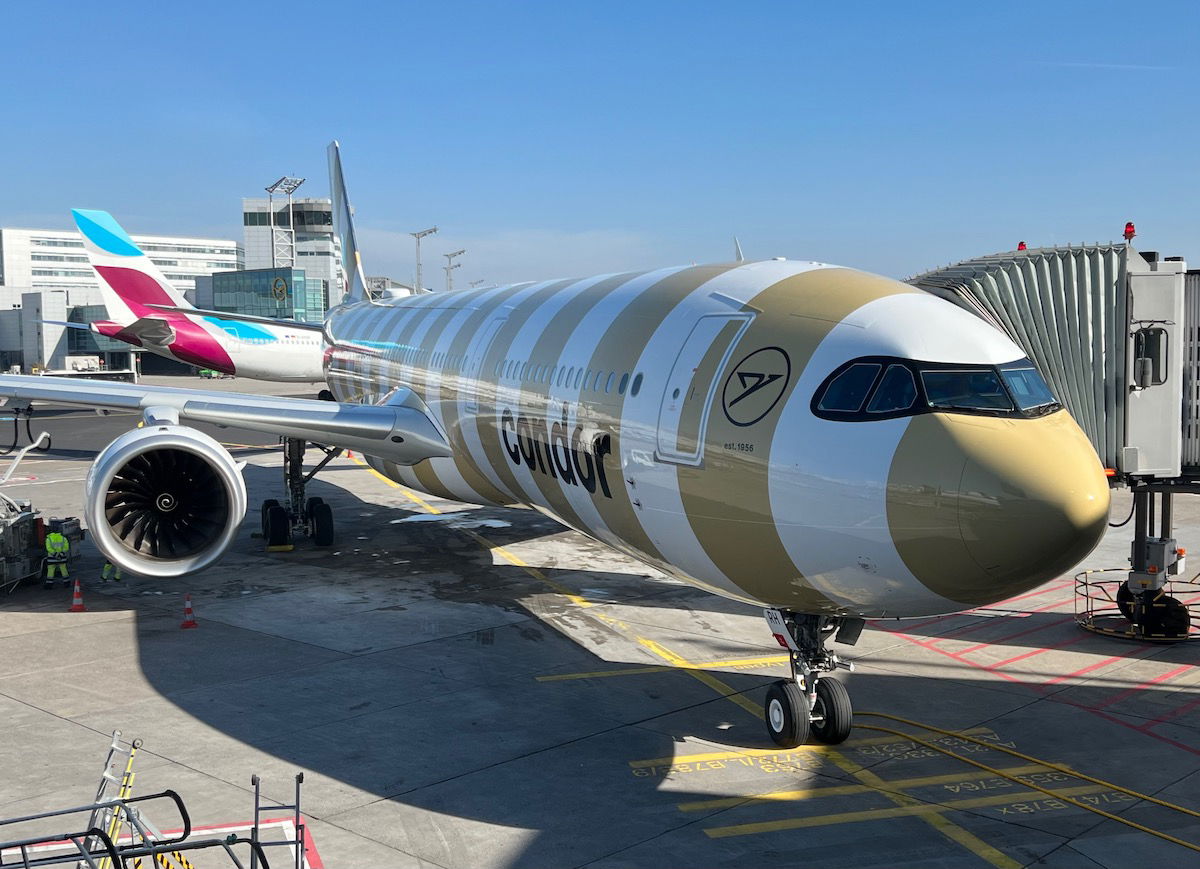 Condor A330neo business class cabin & seats
Condor's Airbus A330-900neos have a total of 30 business class seats, spread across eight rows in a 1-2-1 configuration. Specifically, Condor chose Safran's Skylounge Core seats, which are in a staggered layout.
The reason these seats are staggered is because this allows space to be utilized as efficiently as possible. That's because the footwell is to the side of the seat in front, so it minimizes the pitch required for each seat.
In this section let's look at the 26 regular business class seats, and then in the next section I'll look at the four Prime seats.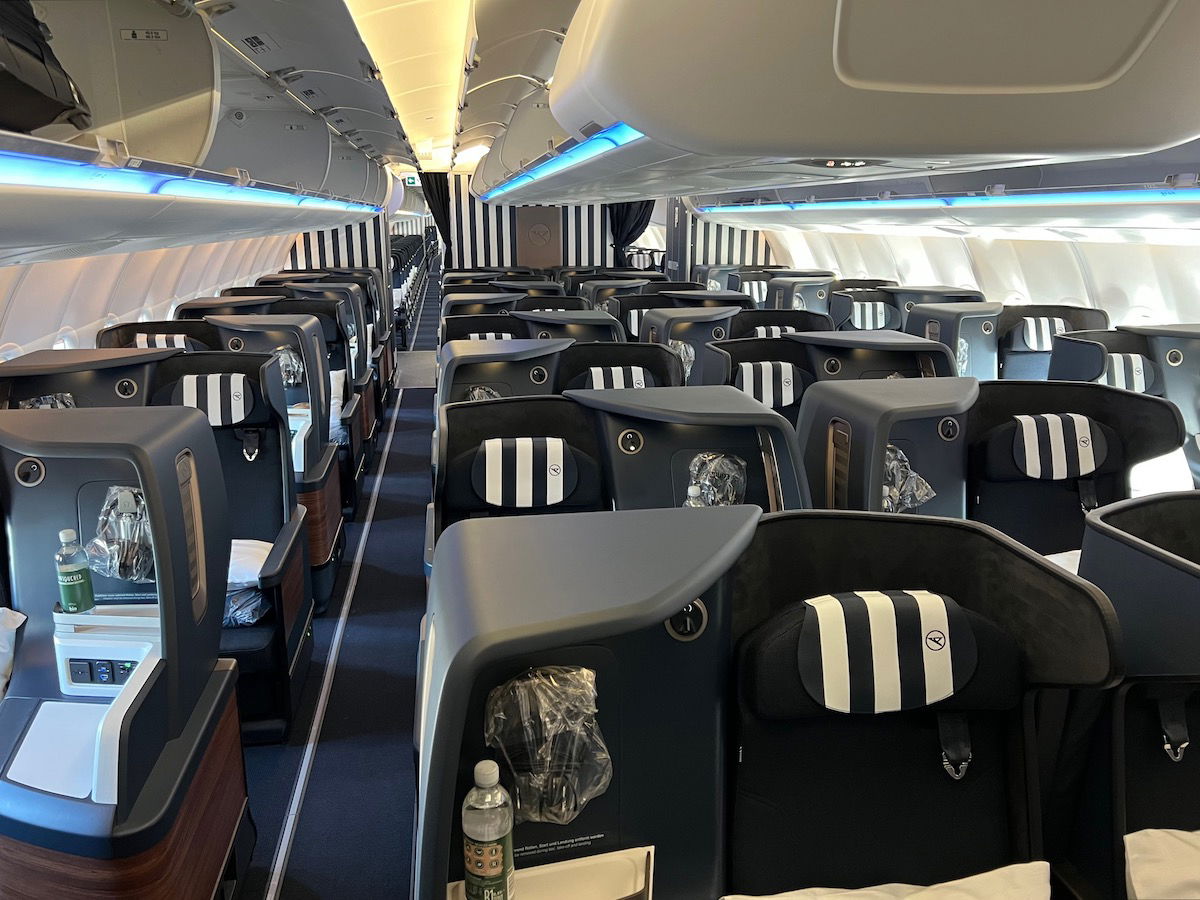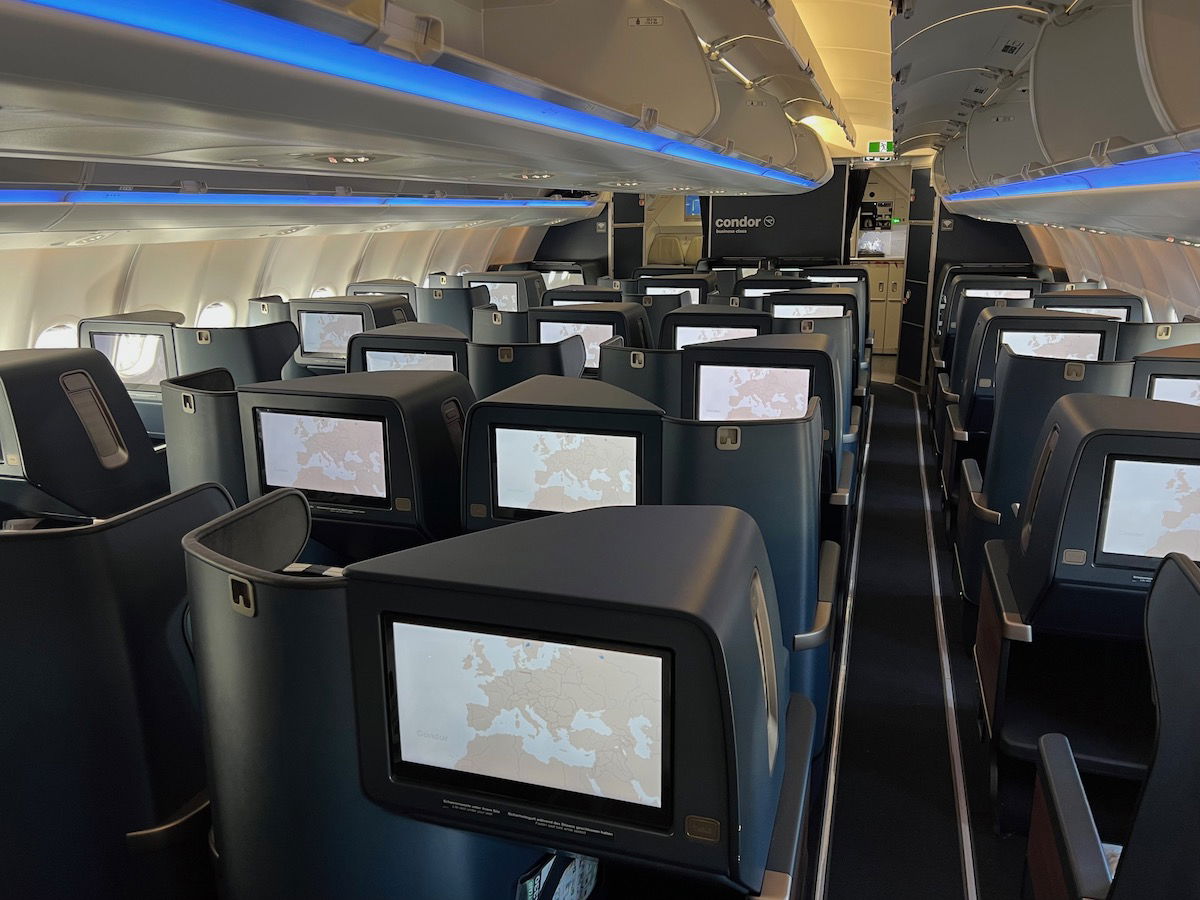 The seats along the windows alternate between being closer to the aisle and being closer to the window. The seats in odd numbered rows are closer to the aisle, and these wouldn't be my preferred seats, as you don't have much privacy, and it's also harder to look out the window.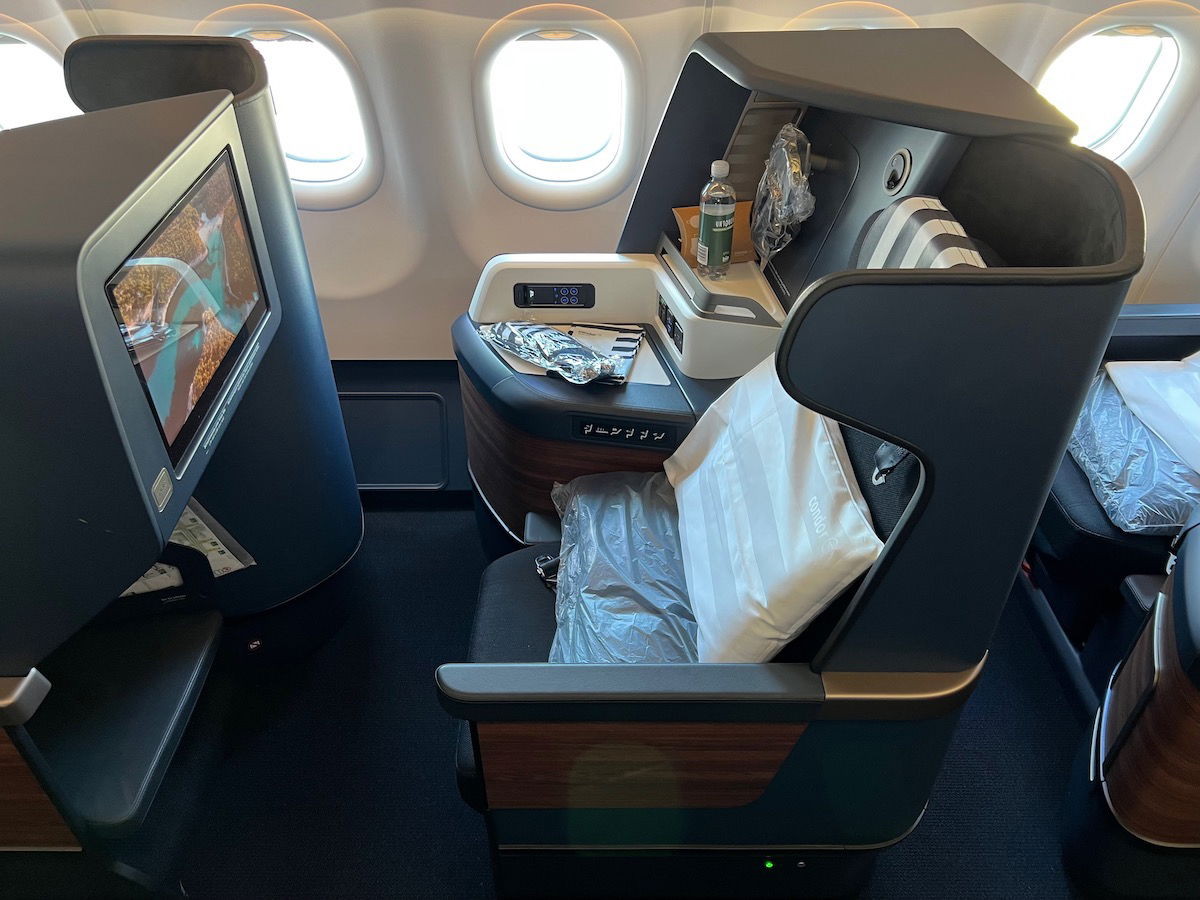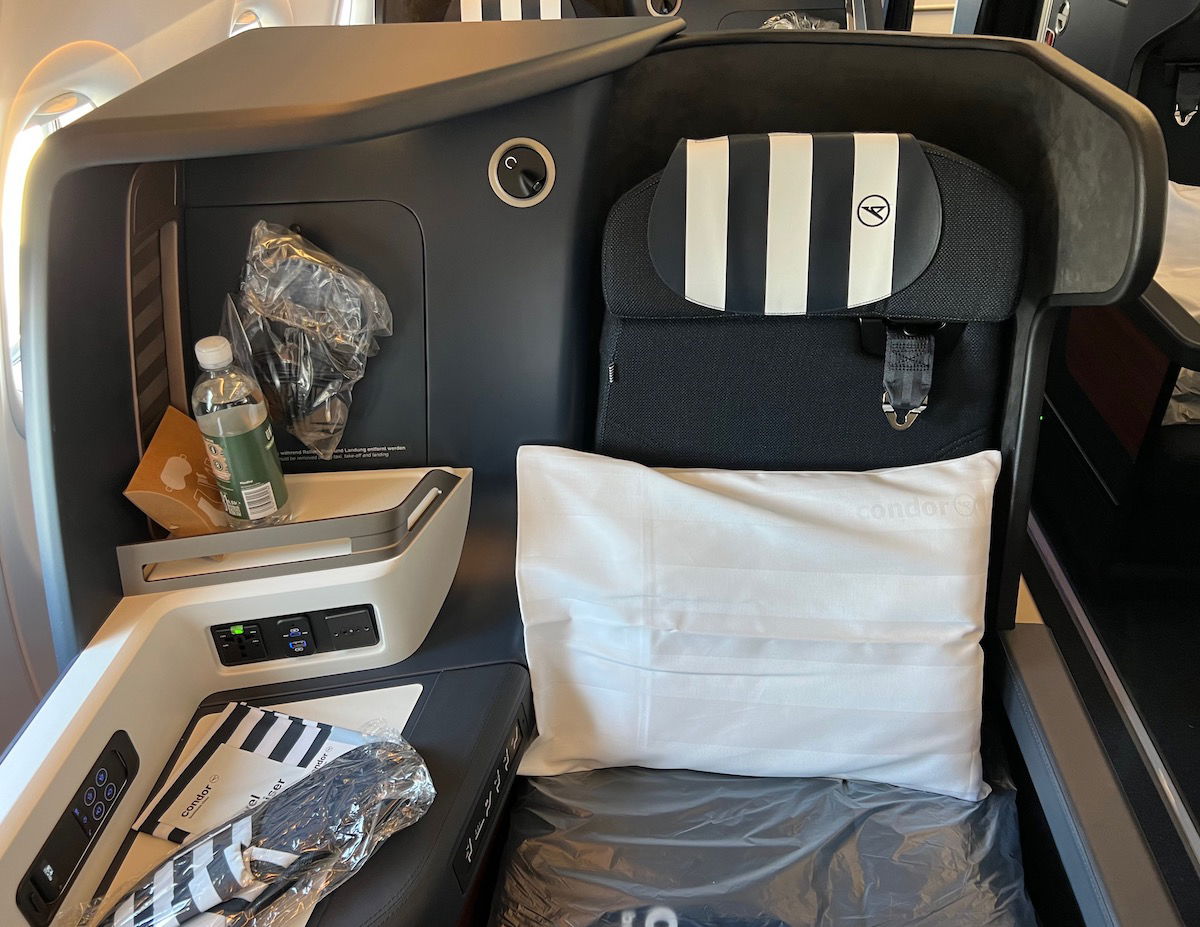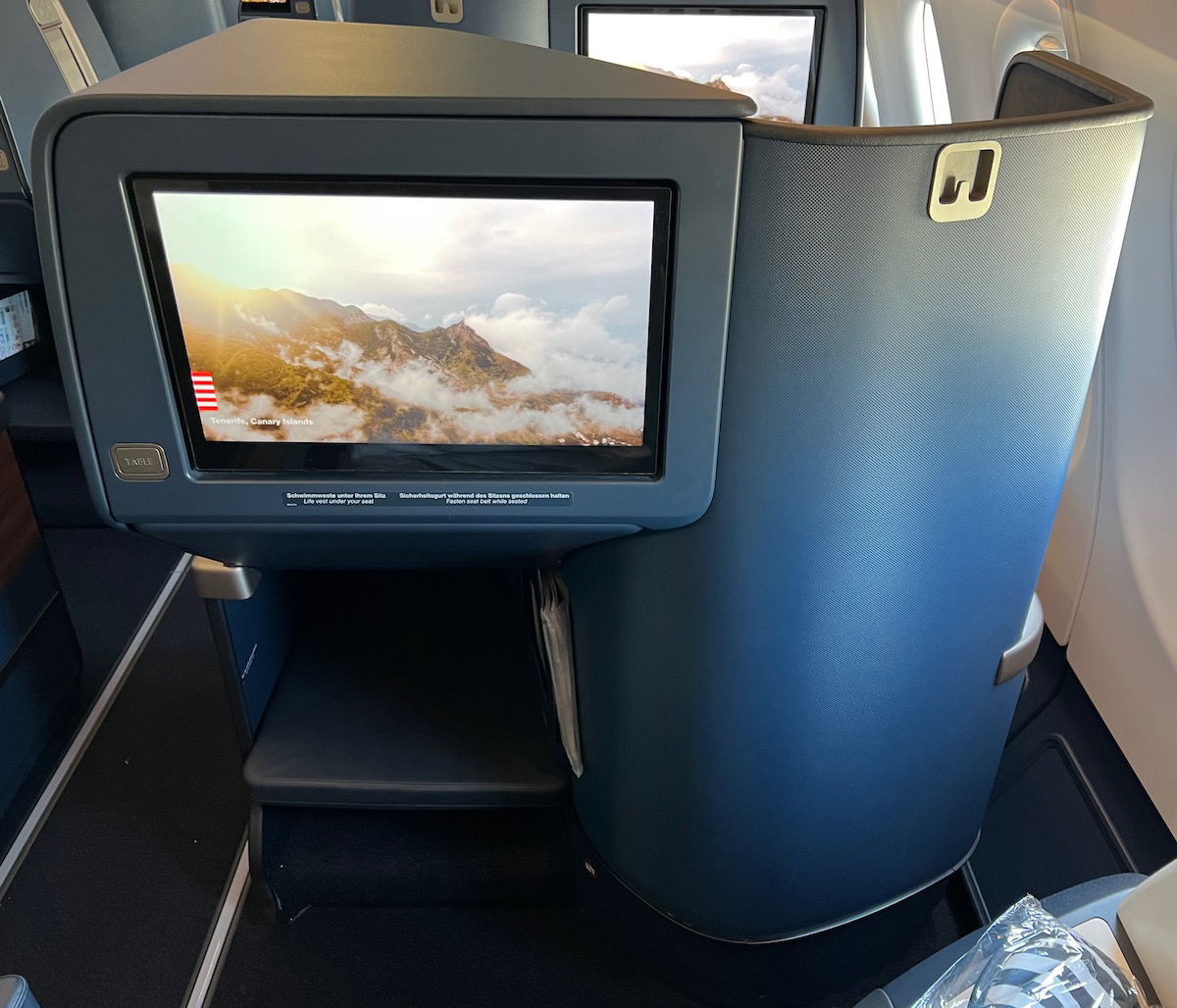 The seats in even numbered rows are closer to the windows, and these would be my preferred seats, as they offer the most privacy, and make it easiest to look outside.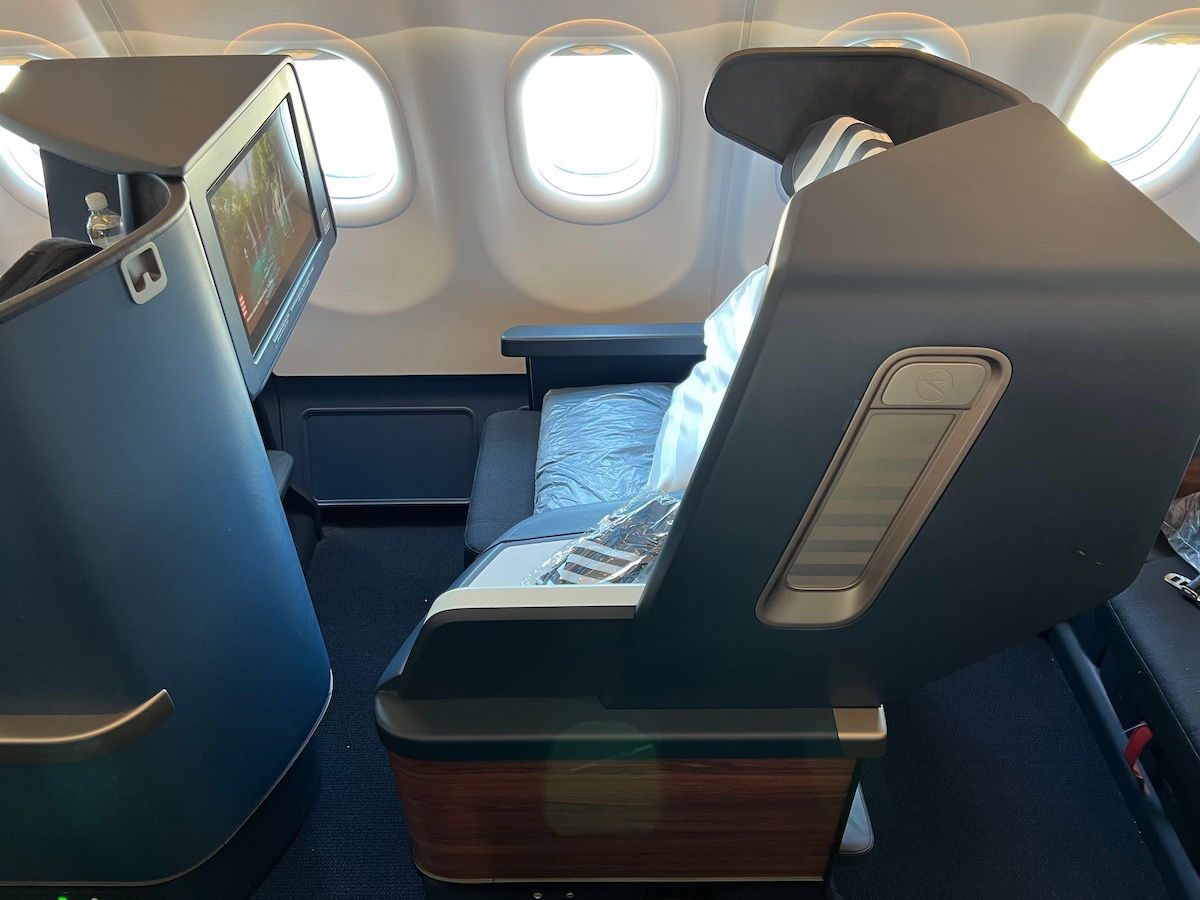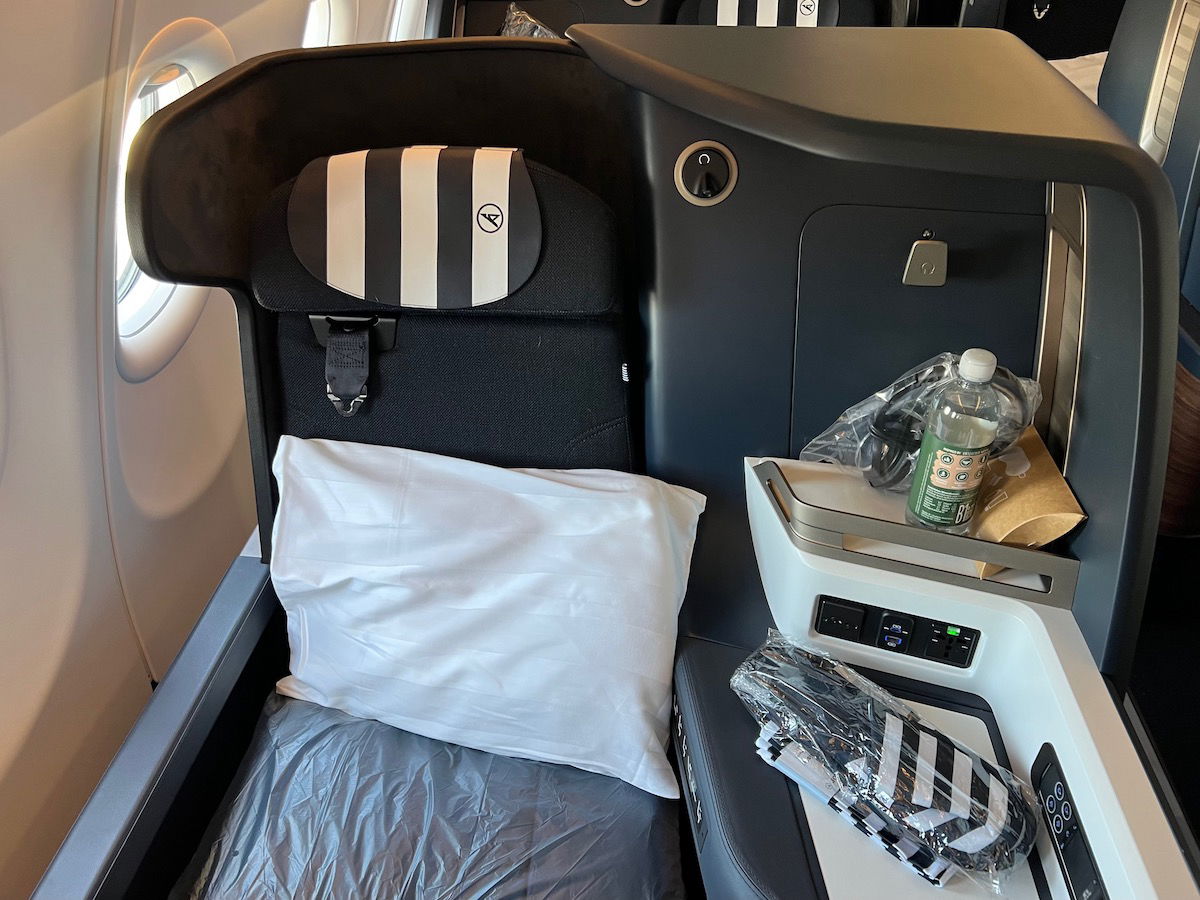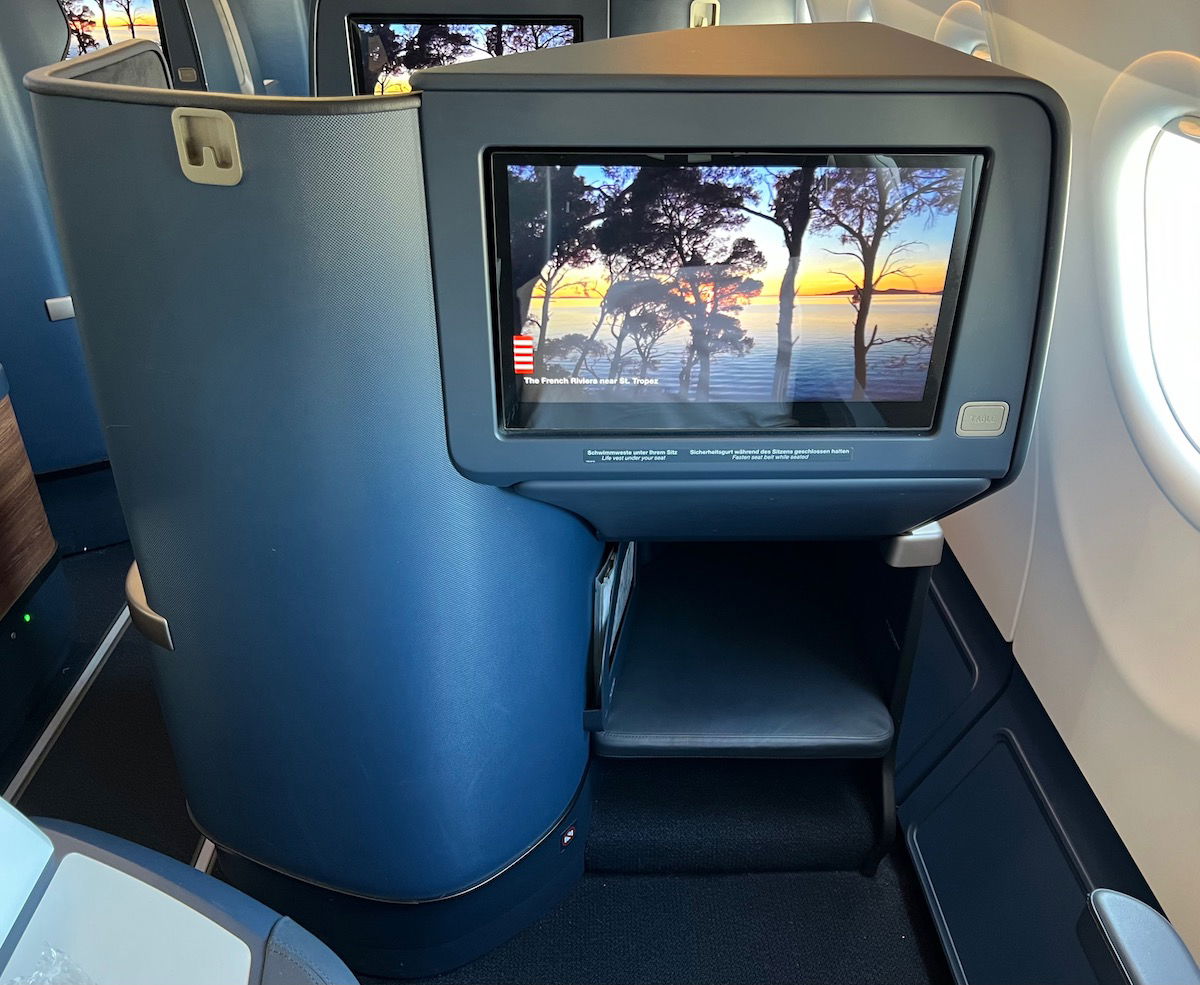 In the center section, you'll find that odd numbered rows have "honeymoon seats," which are seats that are close together. This is ideal for those traveling together, since you have some separation from the aisle, and can be closer to the person you're traveling with.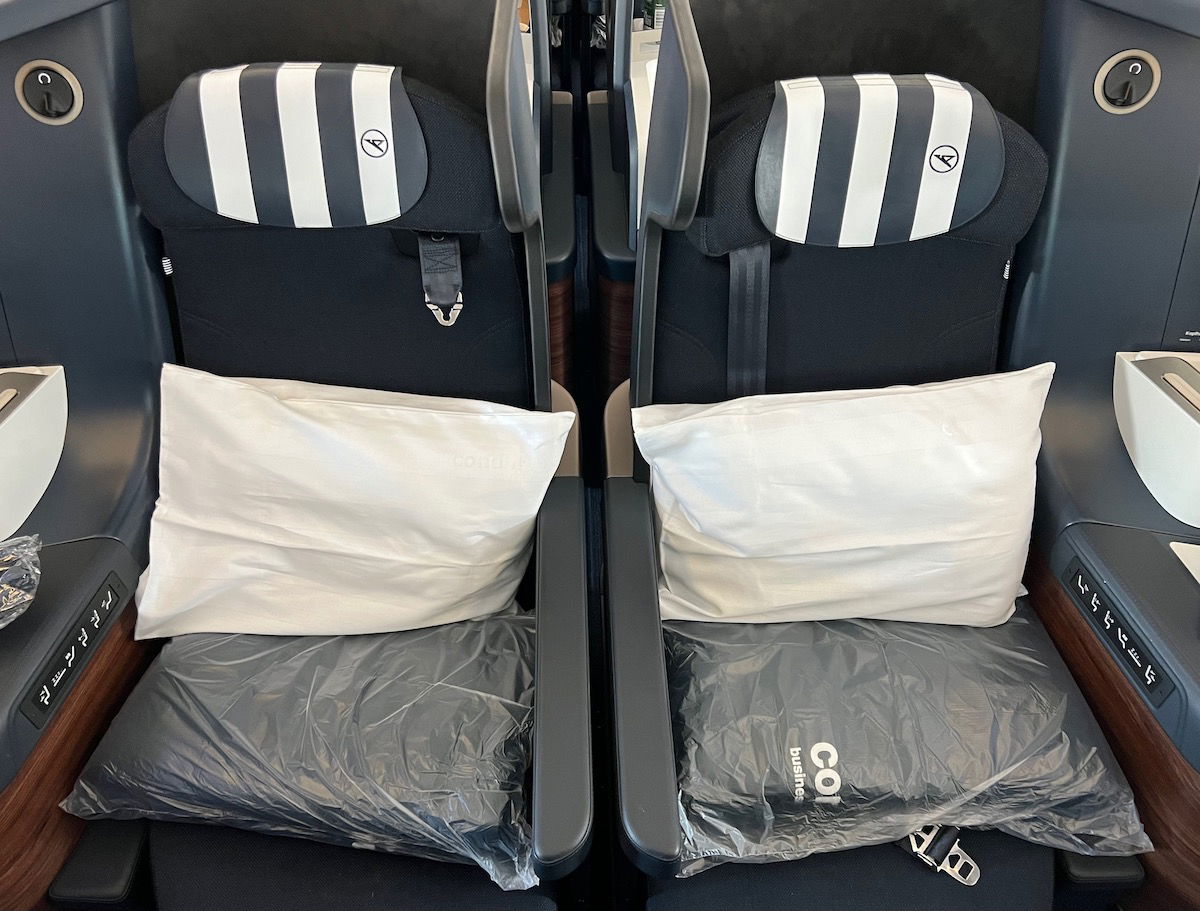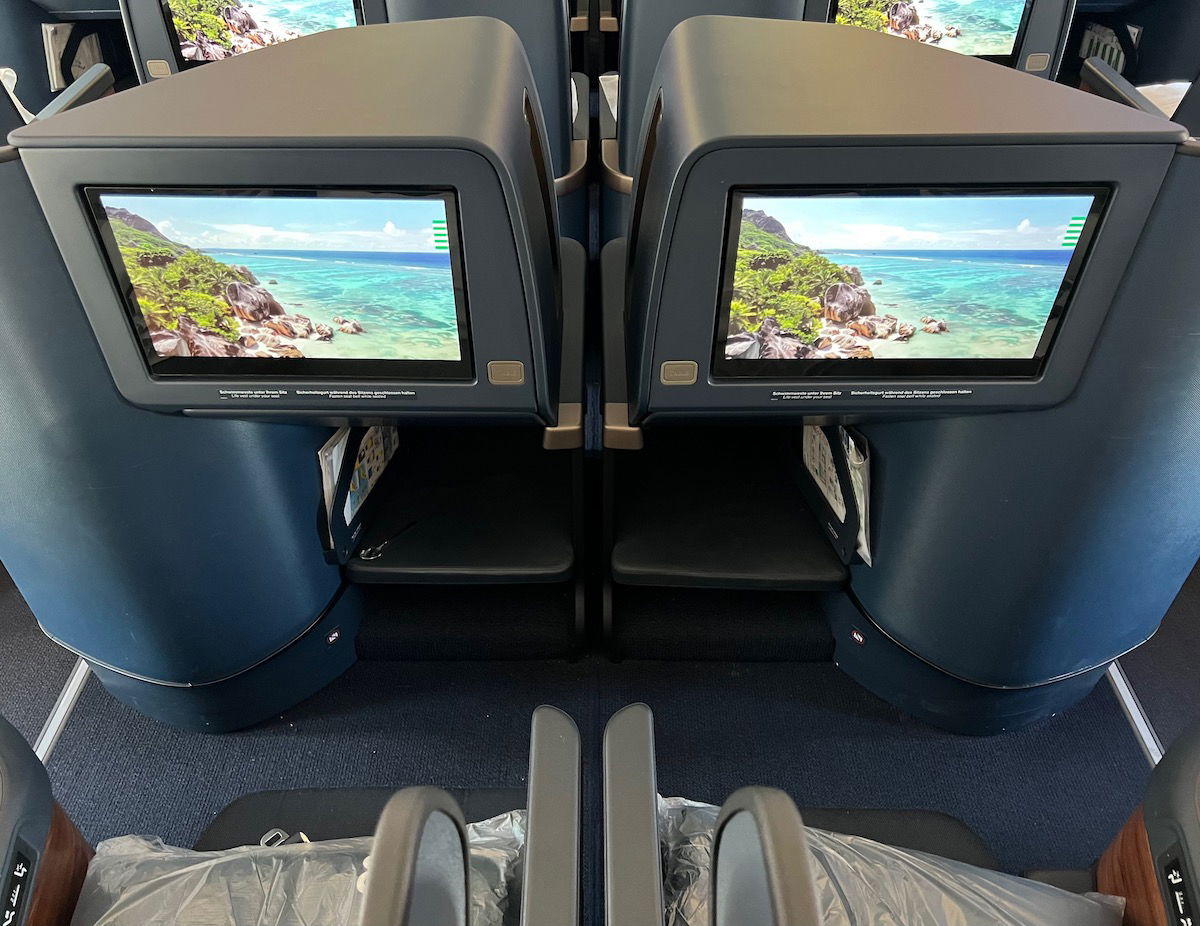 Meanwhile the middle seats in even numbered rows would be my least preferred seats in this configuration. That's because you're seated far from the person next to you, and very close to the aisle.
In these kinds of staggered configurations, one of the downsides is that you have to place your feet in a footwell, which can be pretty restrictive. The footwells looked like they were a pretty decent size to me. However, admittedly the A330-900neo isn't as wide as some other aircraft, so the seats will feel a bit narrower than on an A350, for example.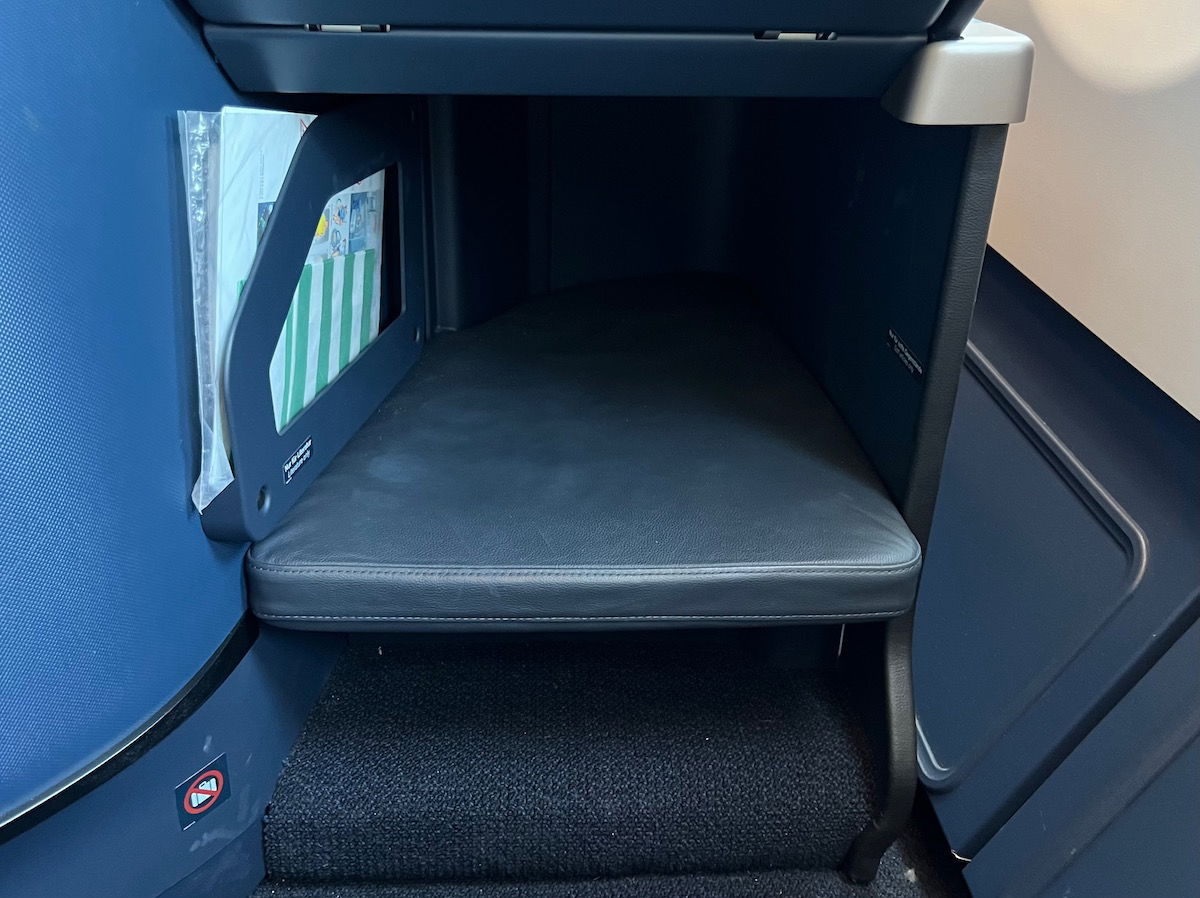 Condor's standard business class seats turn into 1.99 meter lie flat beds, and feature 17.3″ 4K personal televisions, with a touchscreen and remote control. I'll talk more about the tech in the section below about Prime seats, since the tech is mostly identical.
Condor A330neo Prime seats
Now let's take a look at Condor's Prime seats, which are the four special seats in the first row seat (in reality there's no row one by the windows, so this consists of seats 1E, 1F, 2A, and 2K).
While the actual seats (like, what you sit on) are identical to all the other seats, what makes this product so special is how much space you have for your feet. Rather than having to place your feet in a small footwell, you have a massive ottoman to enjoy. The personal space offered by this seat really is on par with what you'll find in some first class suites.
I assigned myself seat 2K, the Prime window seat on the right side.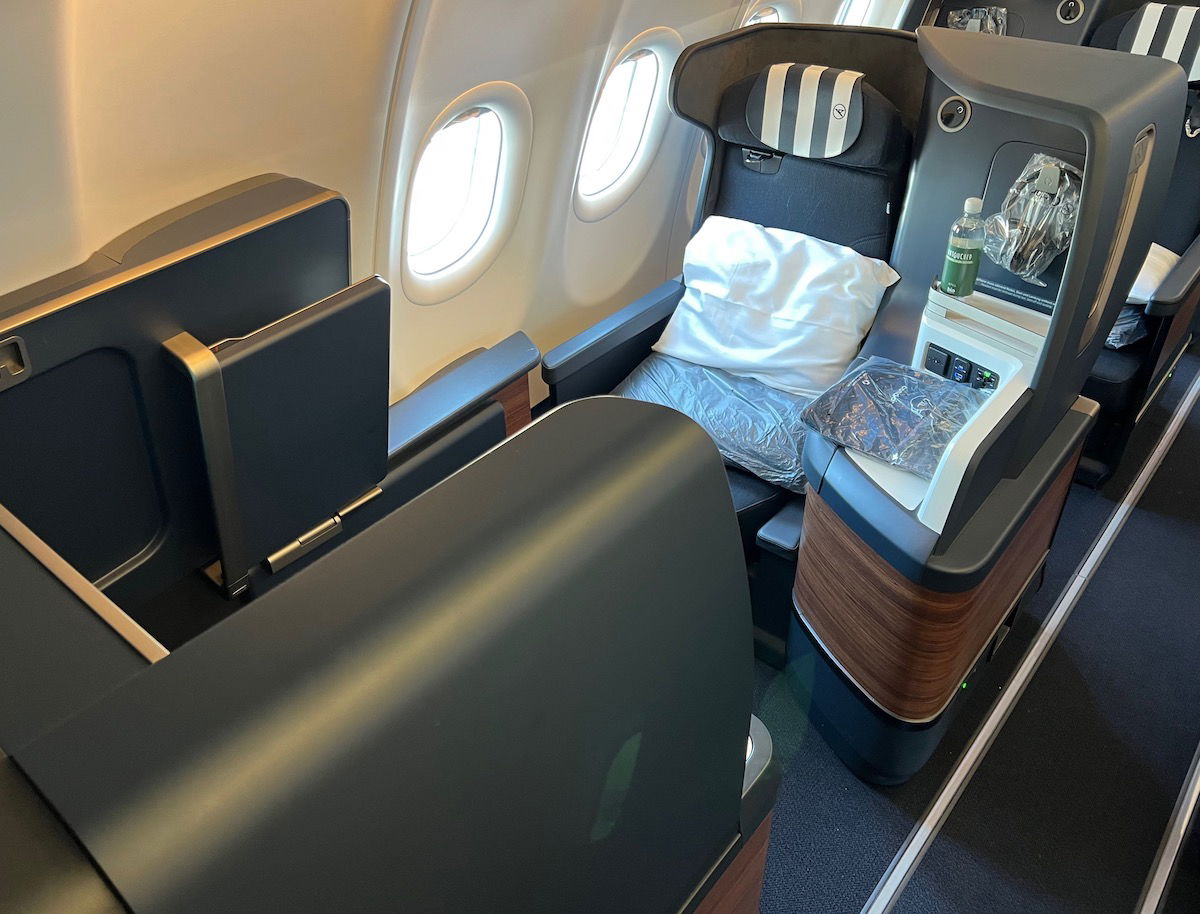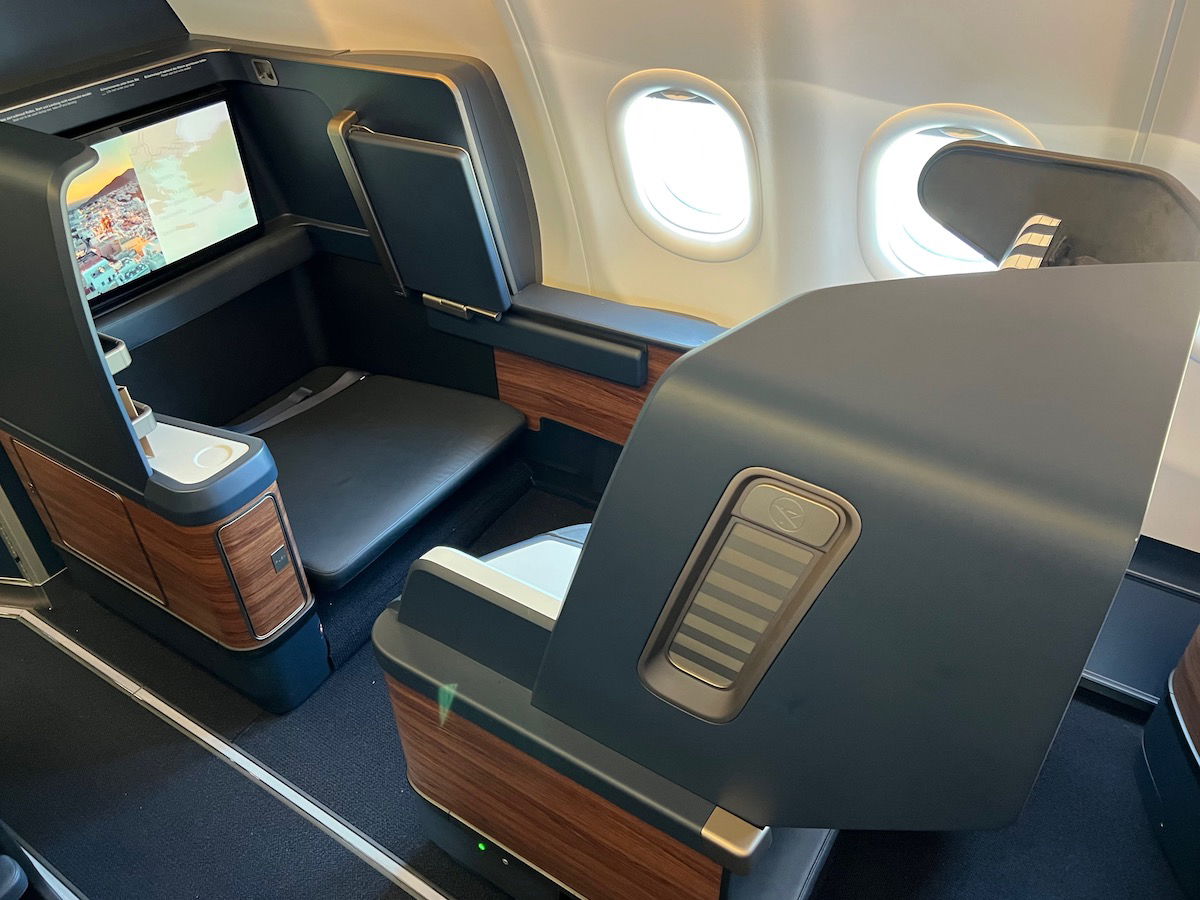 The window seats in this configuration are really special, though I do have to say that the pair of the seats in the center felt a bit less premium to me. Not only are they much closer to the galley, but the ottomans looked narrower. So I'd definitely recommend going for a window seat if possible.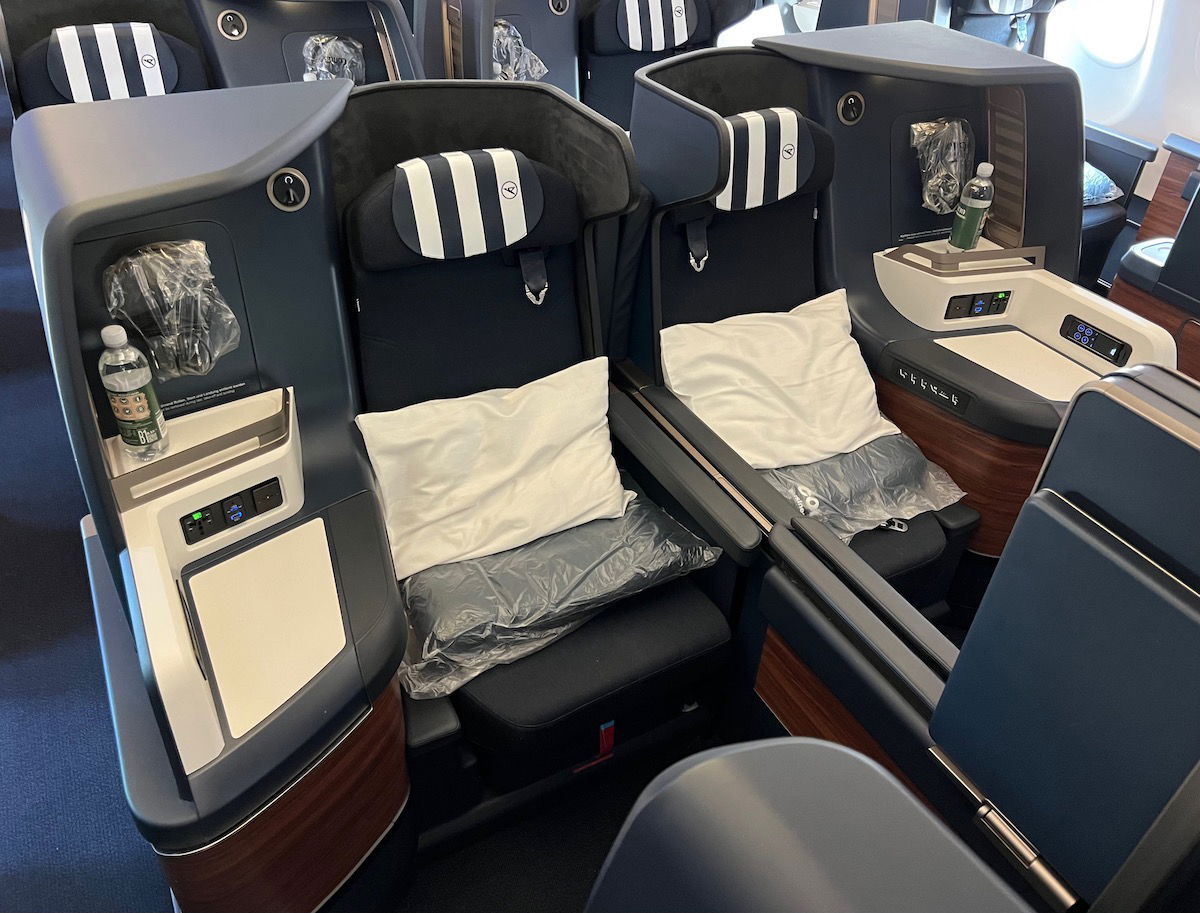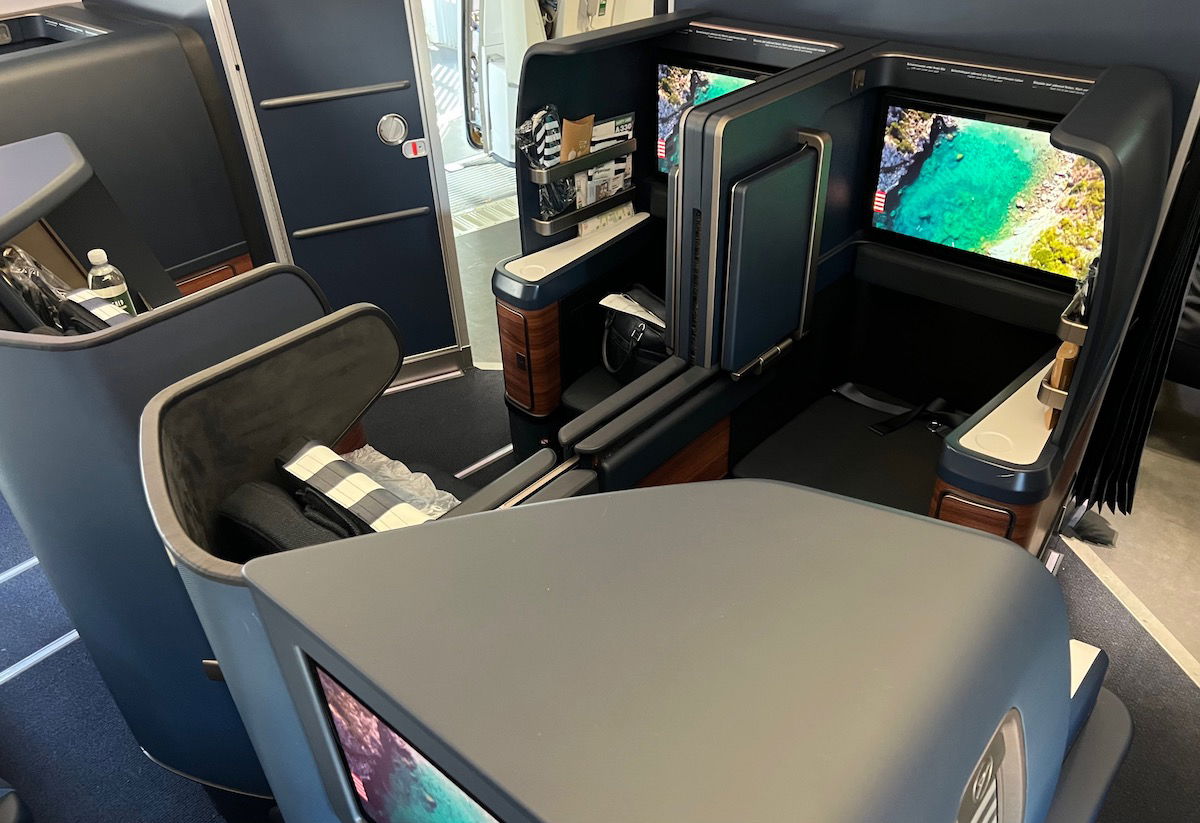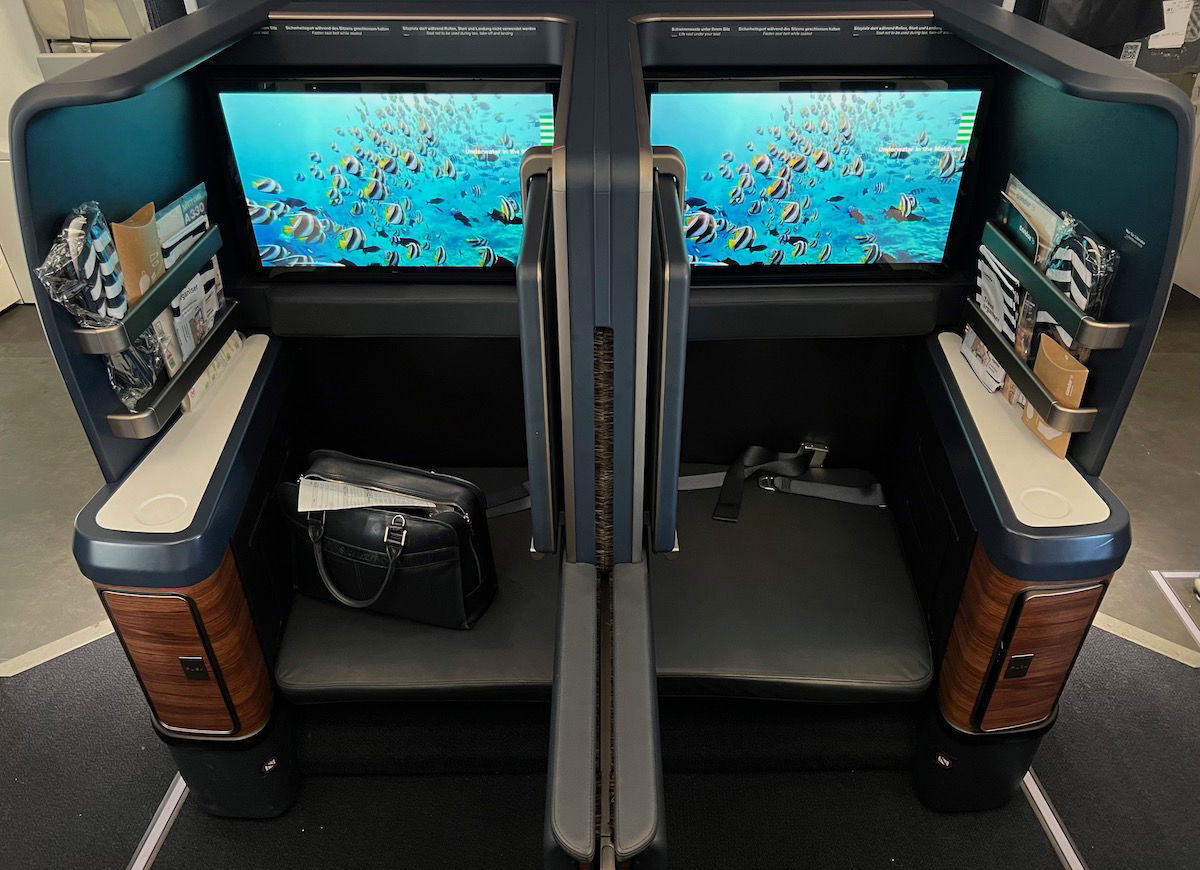 Condor's new A330-900neos have very good tech at the business class seats.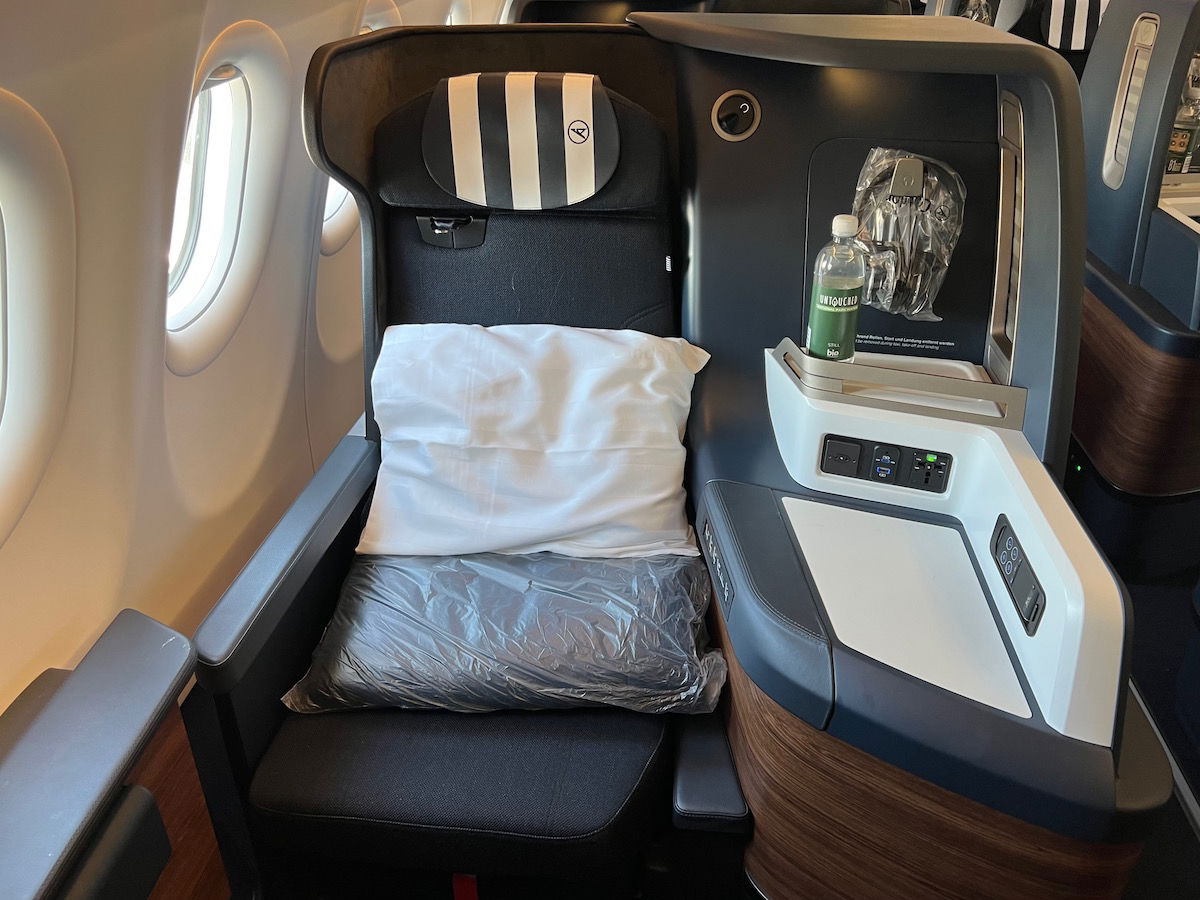 To the side of the seat is a hook for headphones.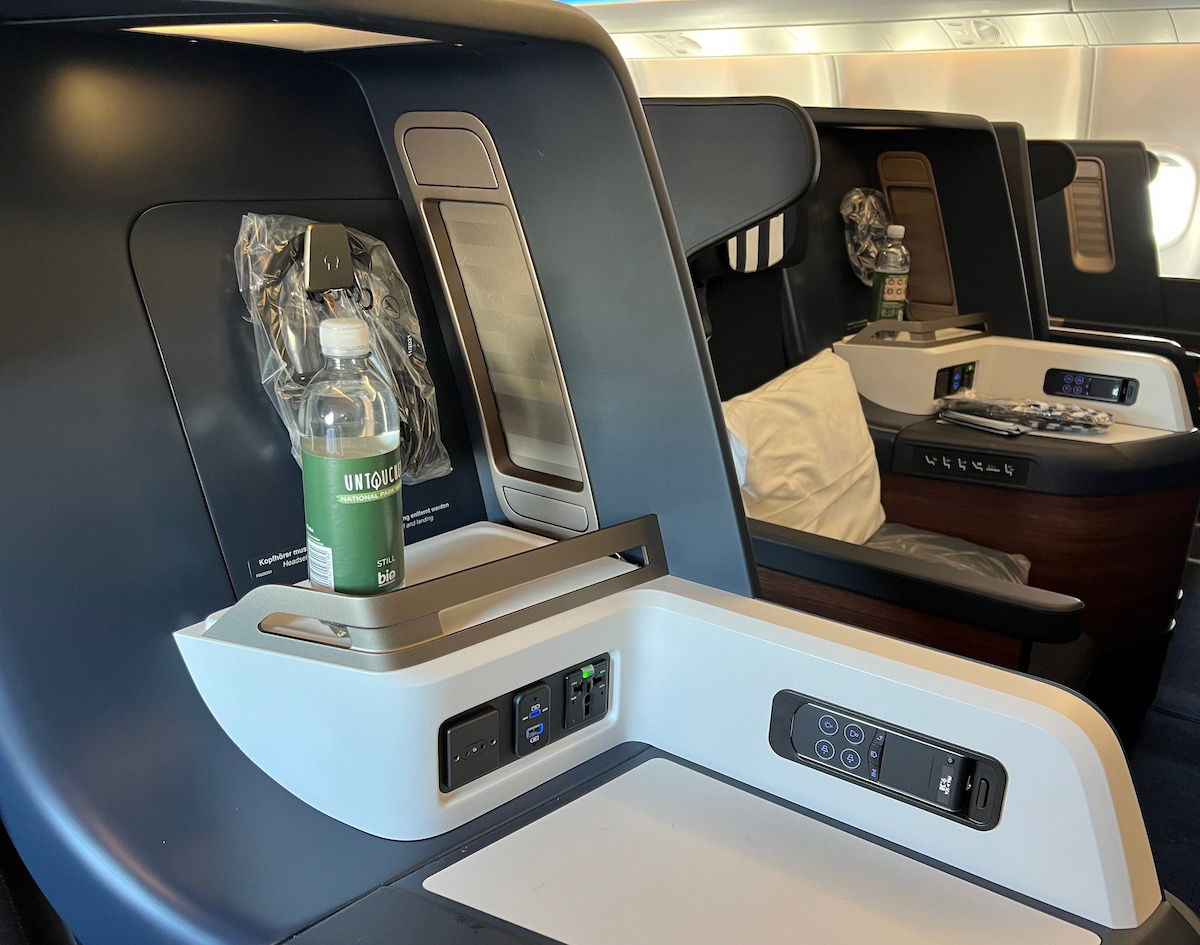 Underneath that is the headphone jack, and three charging outlets, including USB-A, USB-C, and AC.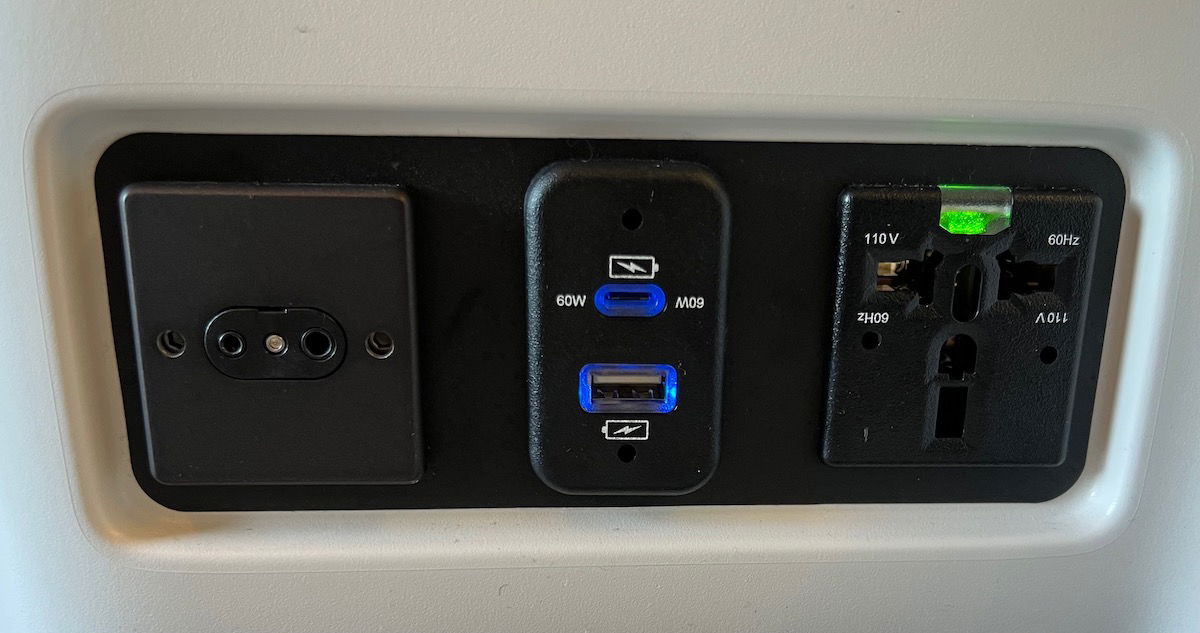 There's also an entertainment controller, which can be used to control the screen (given how far the screen is from the Prime seats, this is a better option than just using the touchscreen feature).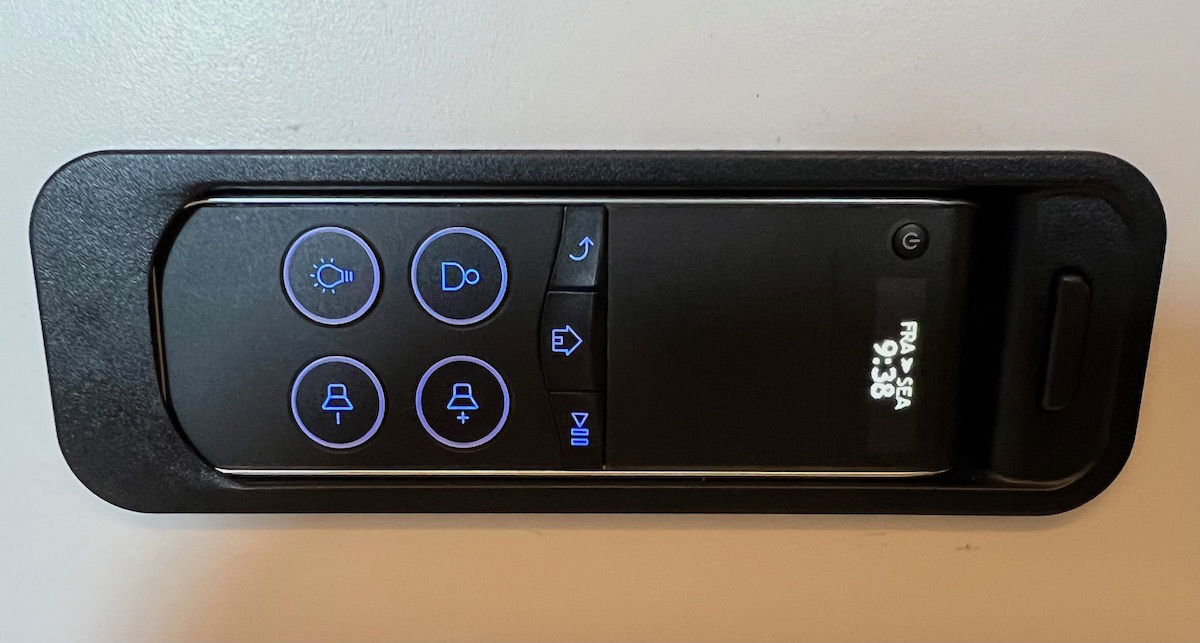 The seat controls are on a panel to the side of the seat, and are easy to use.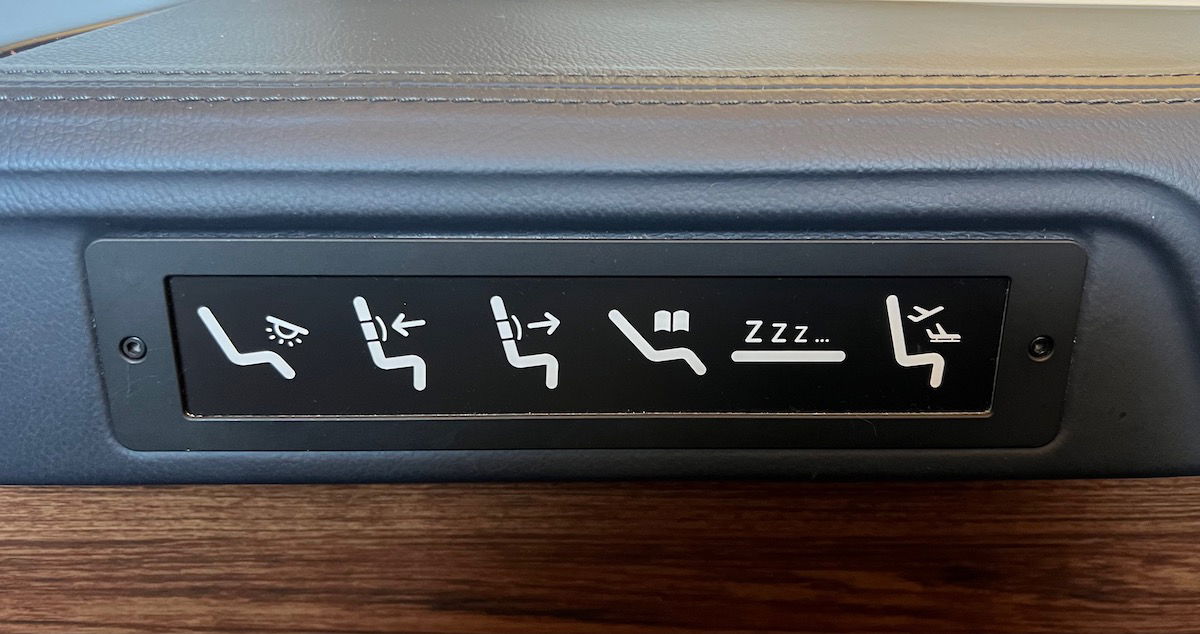 Now, on to the unique features of the Prime seats. The Prime seats have significantly larger televisions, as they're 24″. The huge ottoman can double as a buddy seat, if you want to dine face-to-face with a travel companion.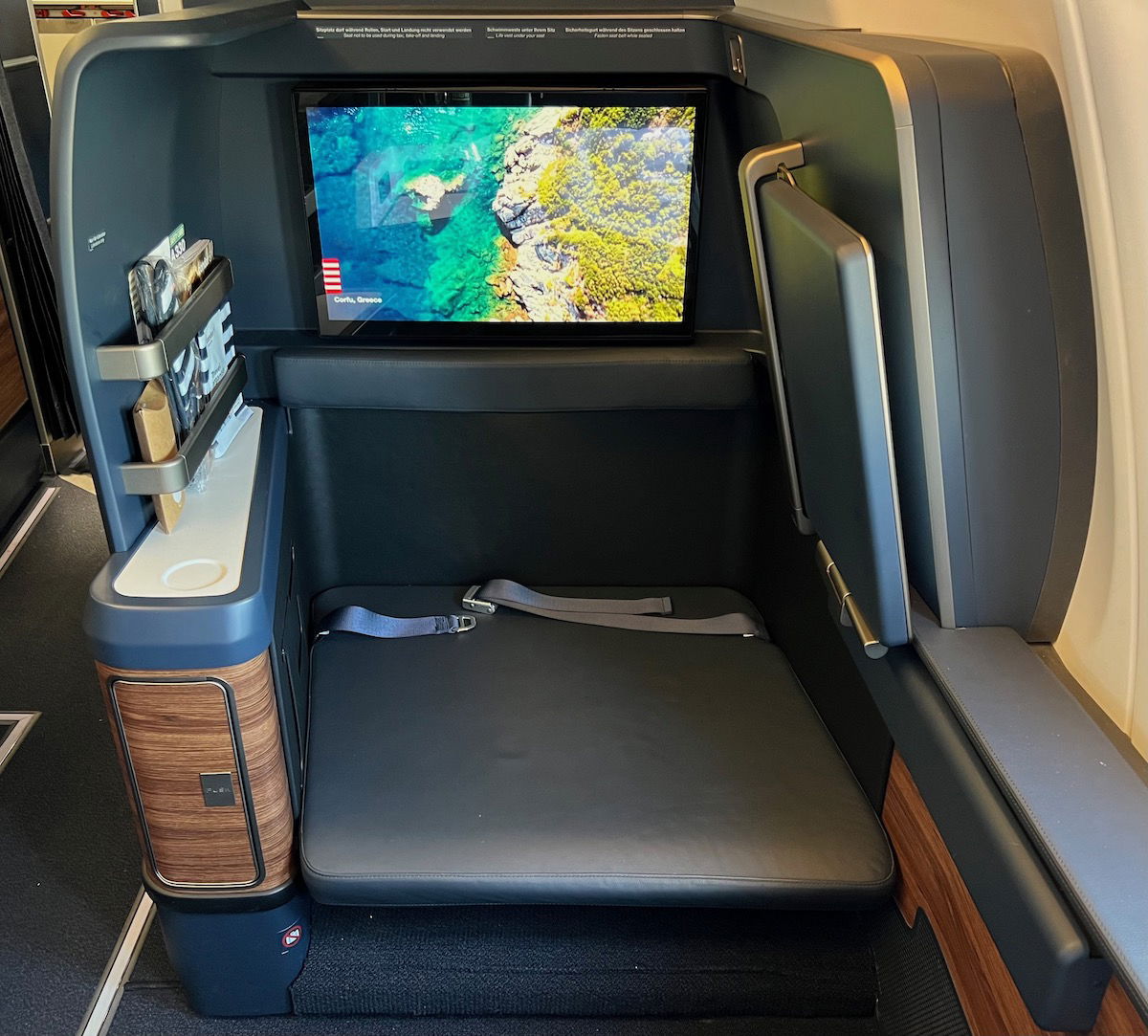 The tray table folds out from the side of the seat. It's a good size, though not particularly large if you were to dine with someone.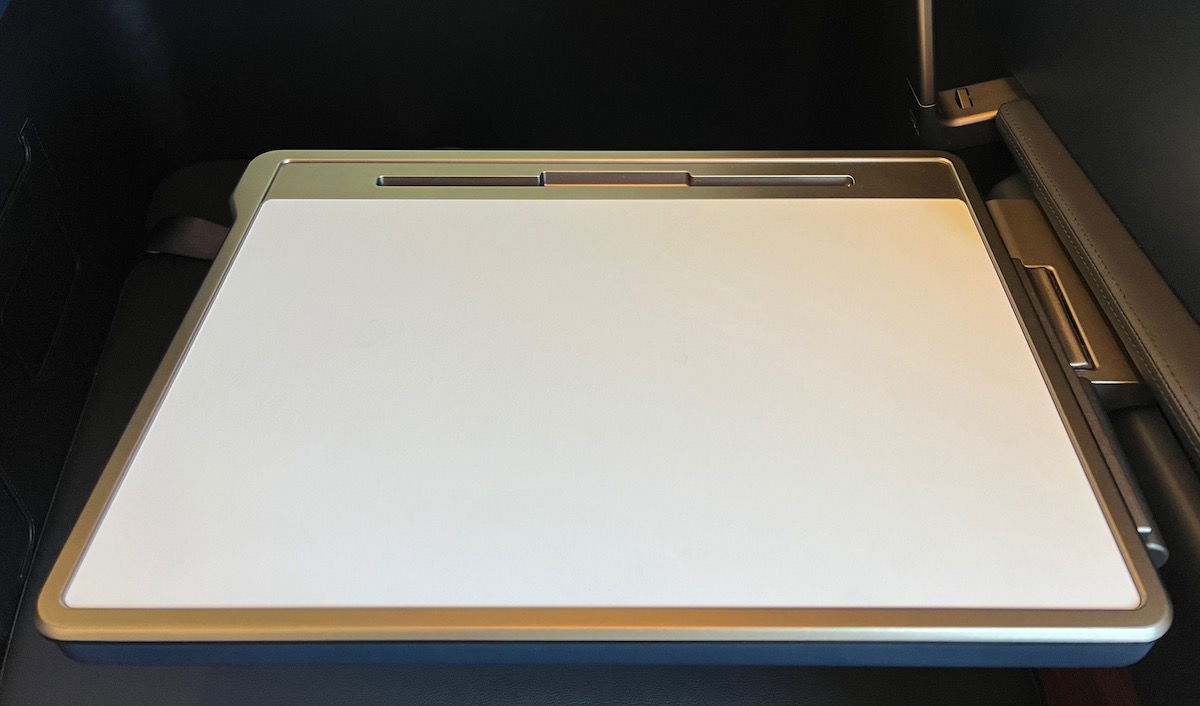 Then to the left of the seat is a small storage compartment, which you won't find at the other seats.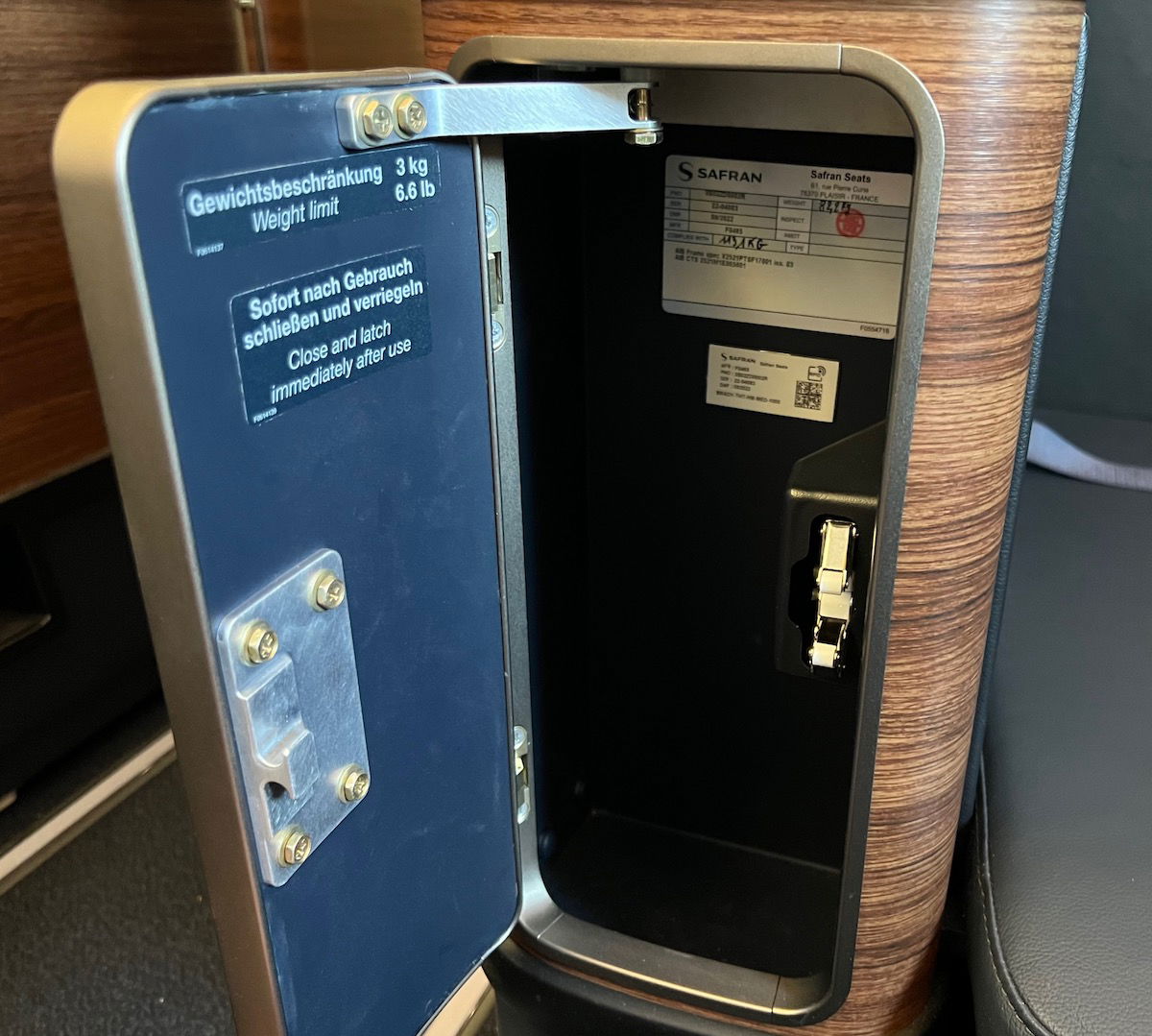 Above that is the literature pocket, which is exposed.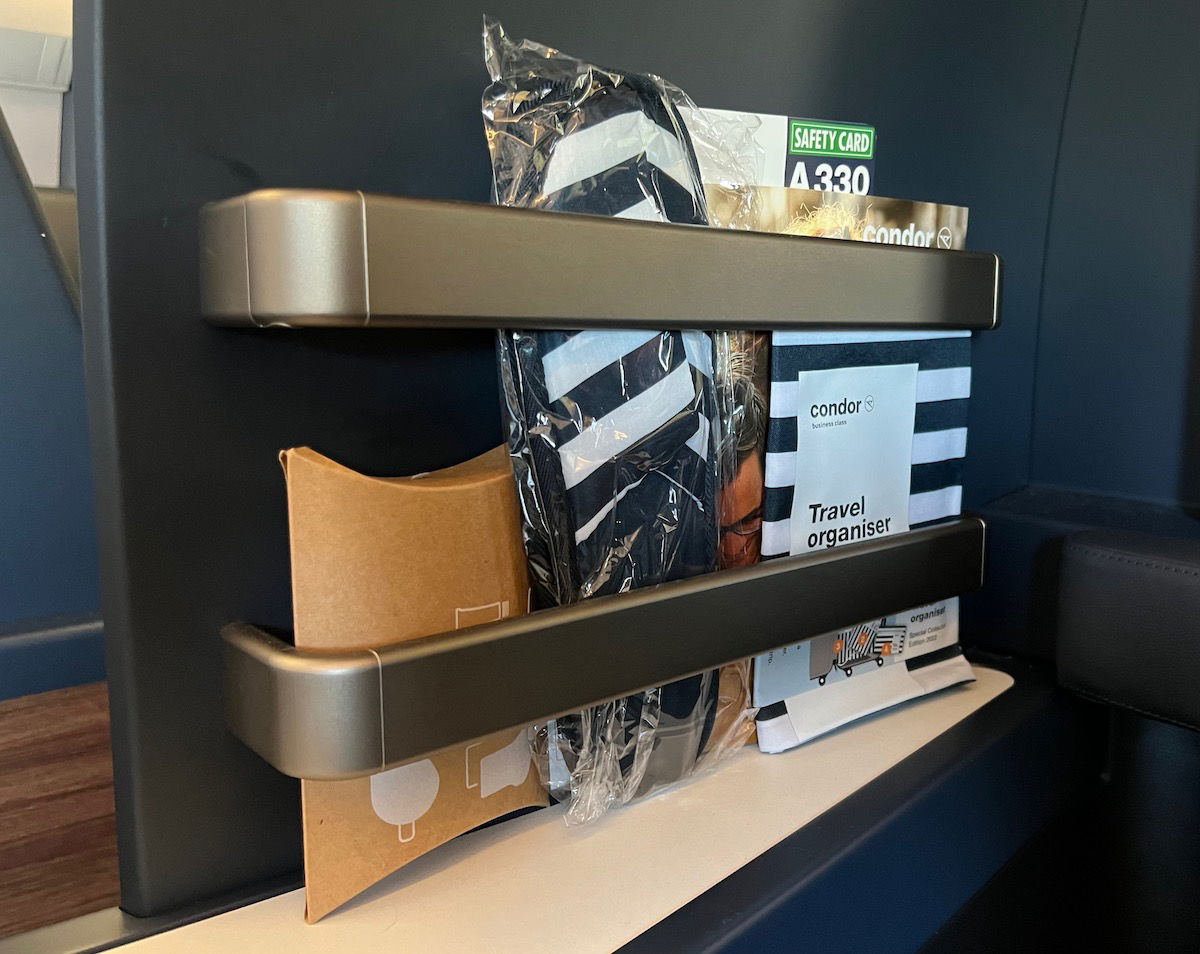 The overhead consoles on the A330-900neos have reading lights, though unfortunately don't have individual air nozzles.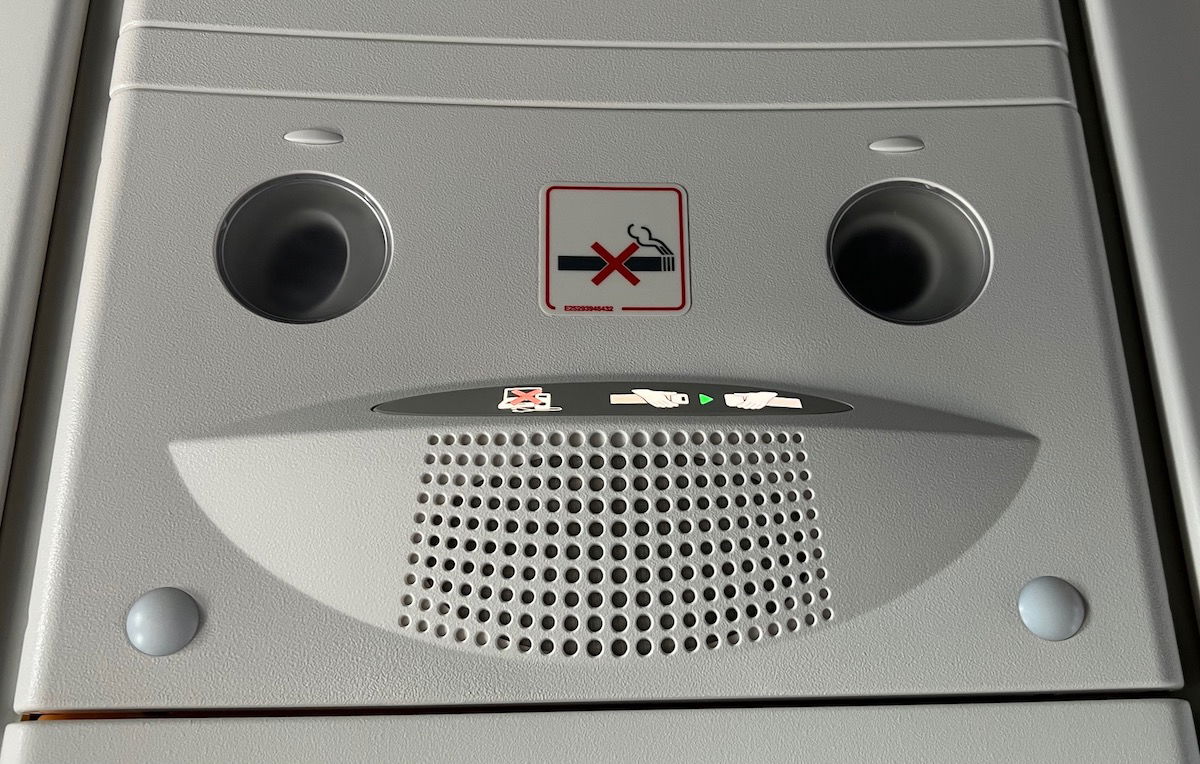 Condor business class amenities
There was no shortage of amenities in business class, and those in Prime seats even got some extra goodies. Waiting at each business class seat upon boarding was a pillow and blanket. The pillow was decent, while the blanket was super cozy. I also loved how the inside of the blanket had a striped pattern, like you'll find throughout the cabin (and on the outside of the aircraft, for that matter).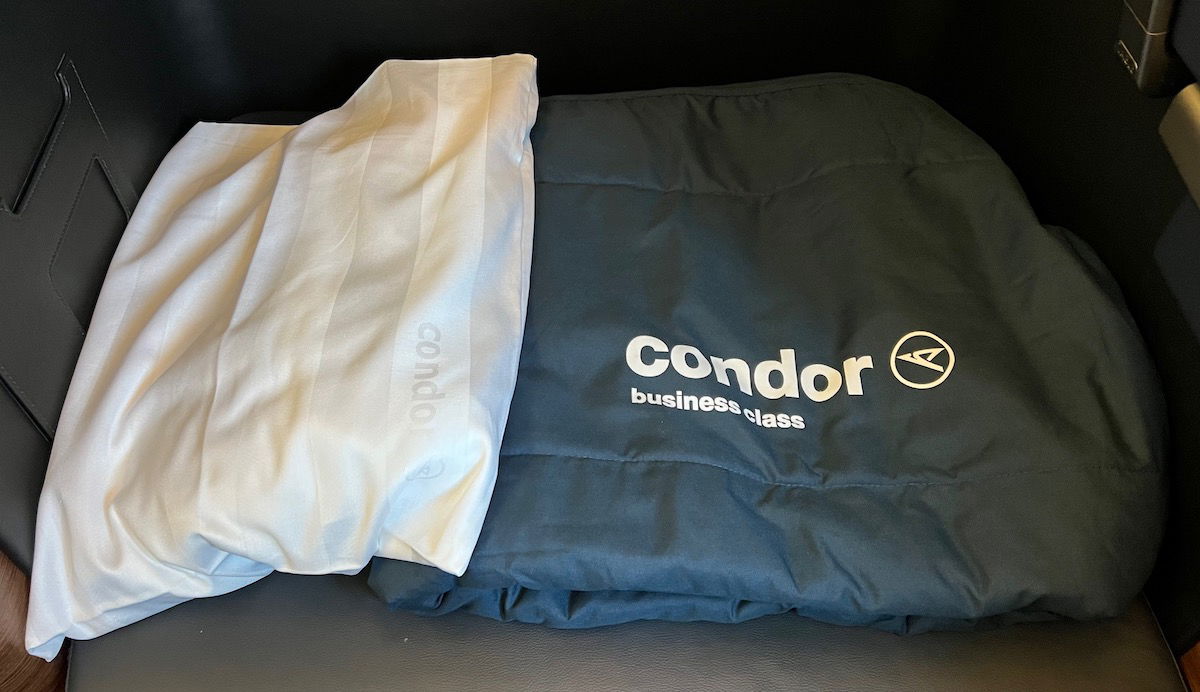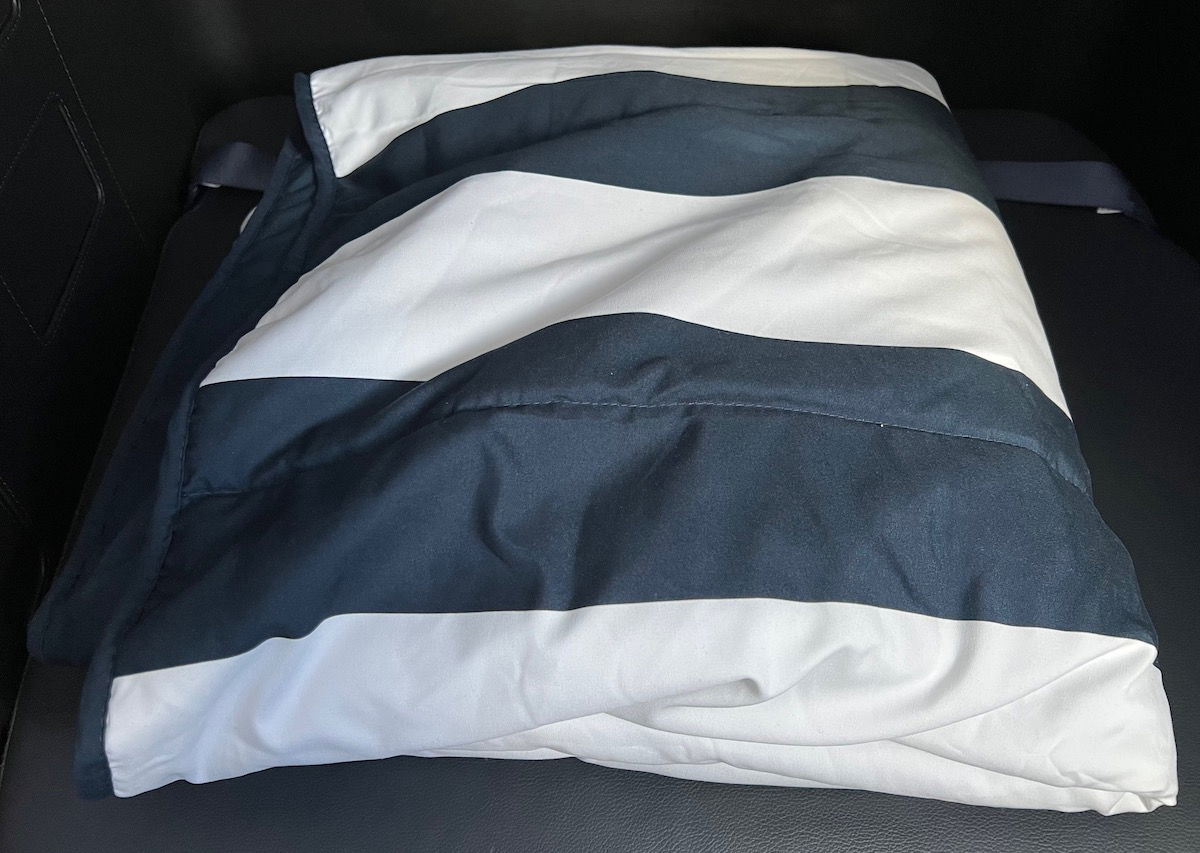 Next up was an amenity kit, which was pretty basic, and in a cardboard container. It had socks, eyeshades, a dental kit, facial moisturizer, and lip balm. Earplugs are available on request from the crew.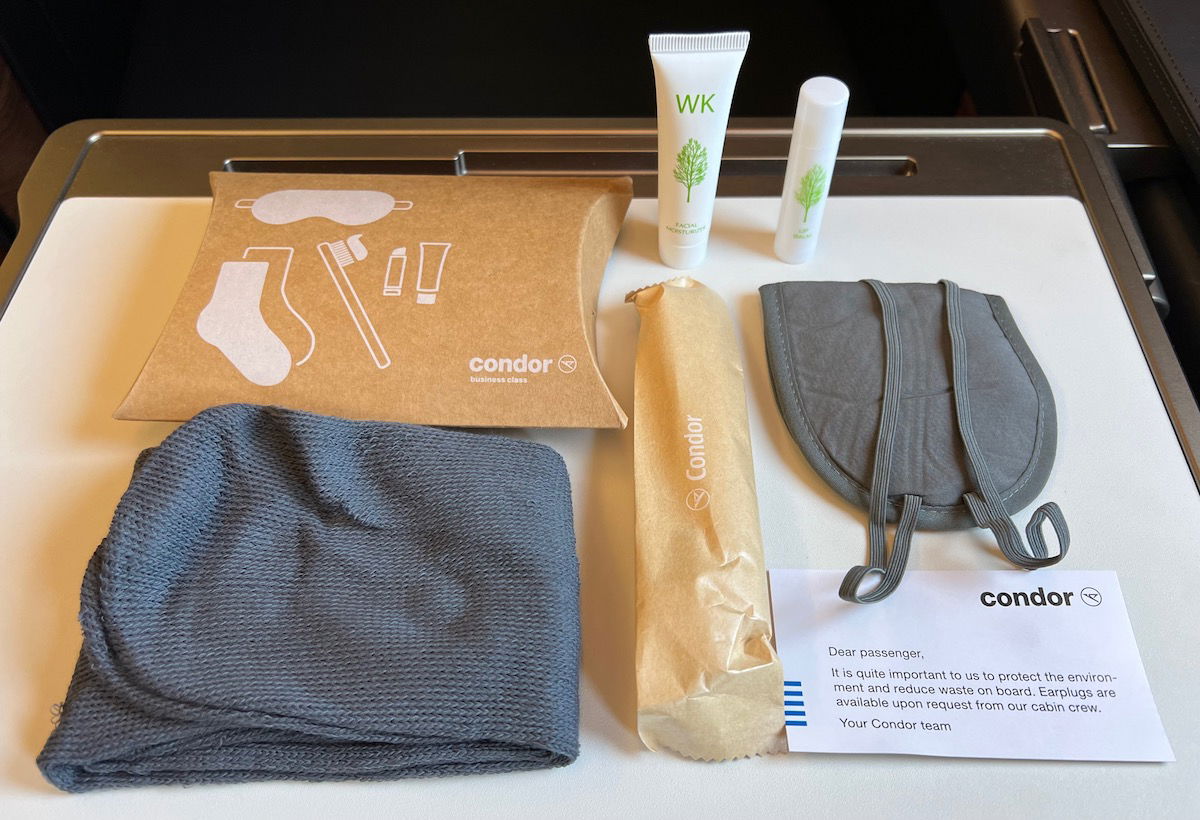 Next, there was a striped travel organizer (I was even given one of these last year in Condor's regional business class).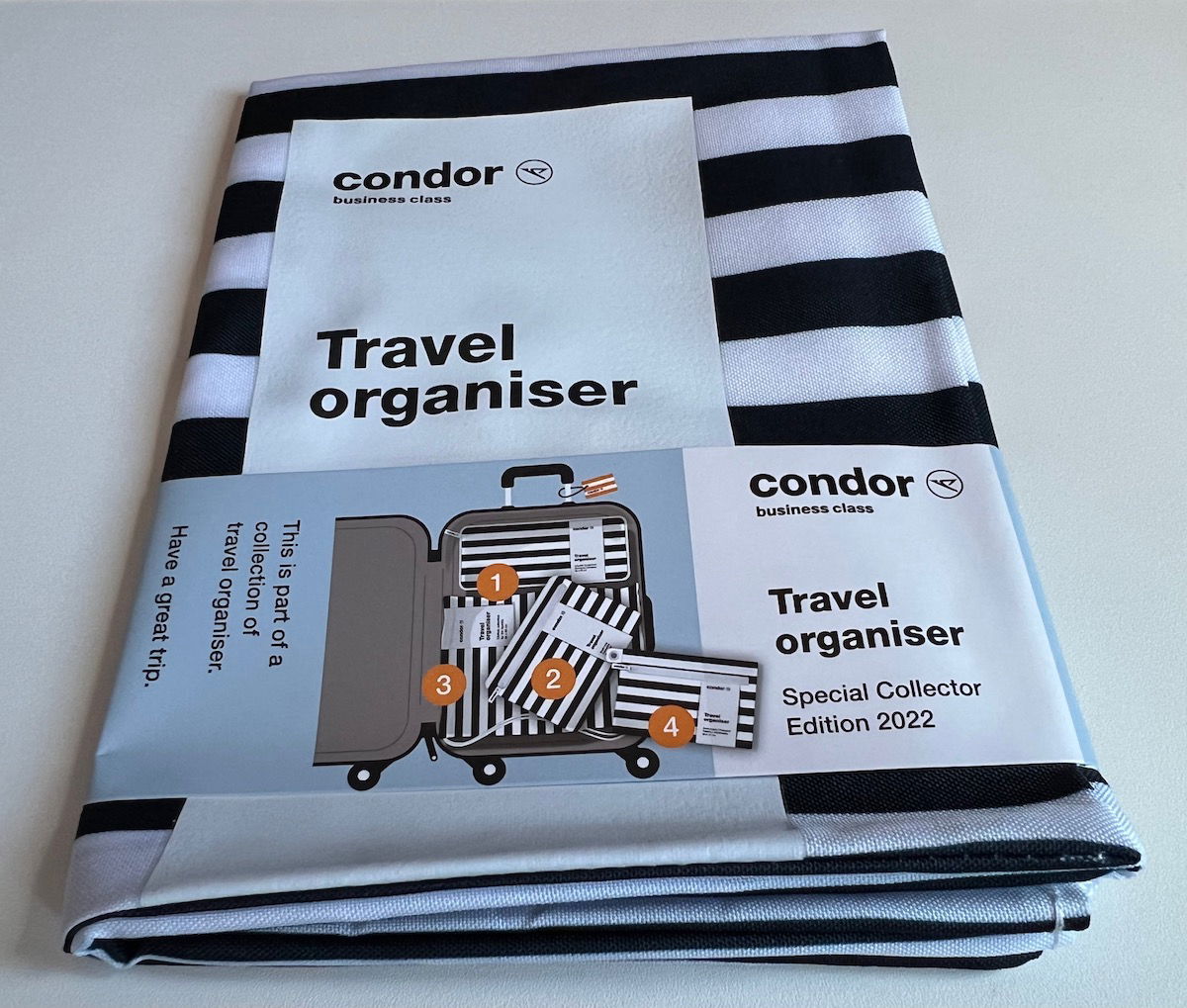 There were also a pair of headphones. They were just okay, but that doesn't really matter, since Condor's A330-900neos have bluetooth audio in business class, so you can use your own headphones.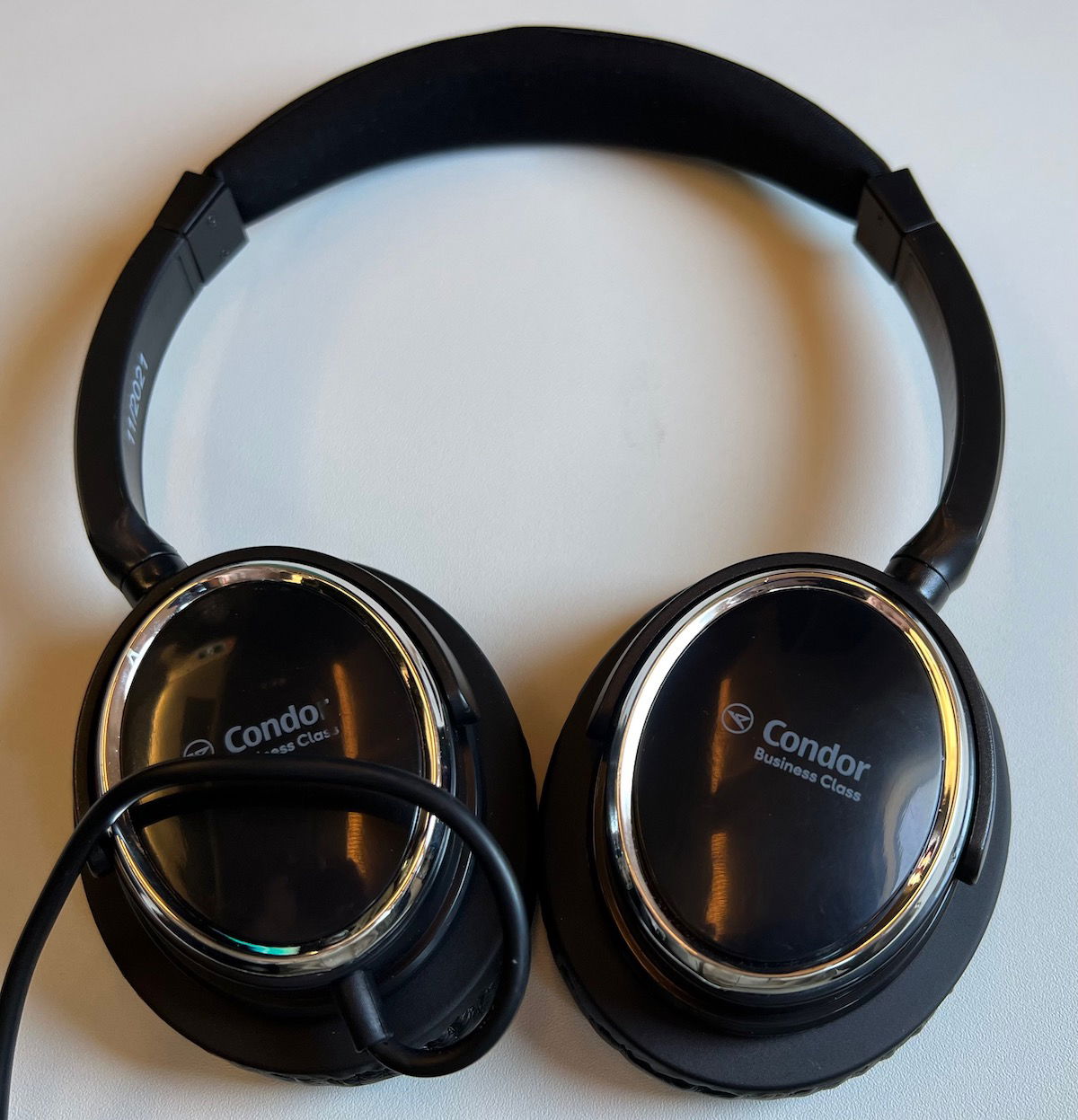 Next, there was a bottle of water at each seat.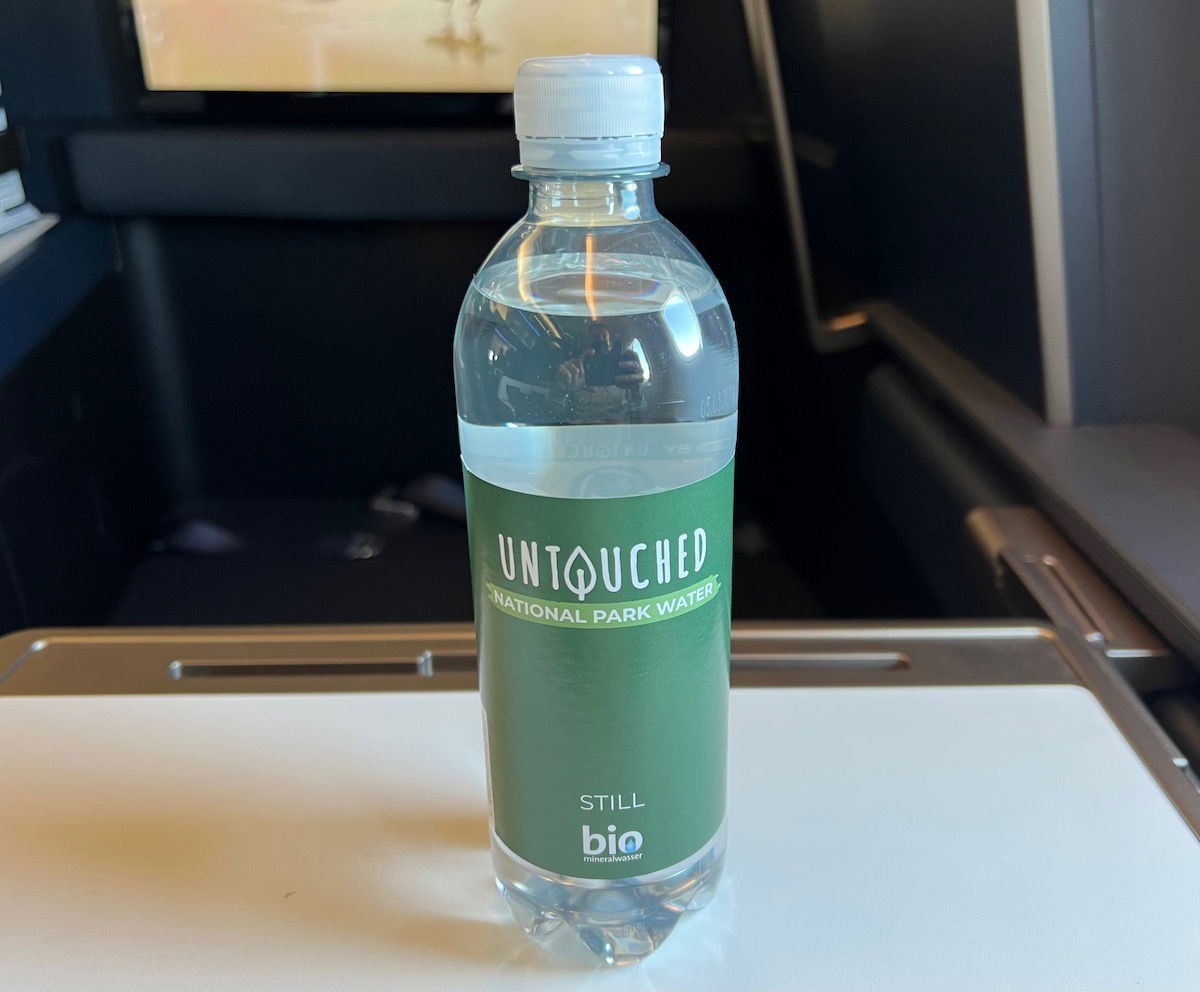 During boarding, pre-departure drinks were served, with the choice of champagne, orange juice, or water. Drinks were even served with a package of mixed nuts. You'll almost never find a snack with a pre-departure drink, so that's a cute little feature.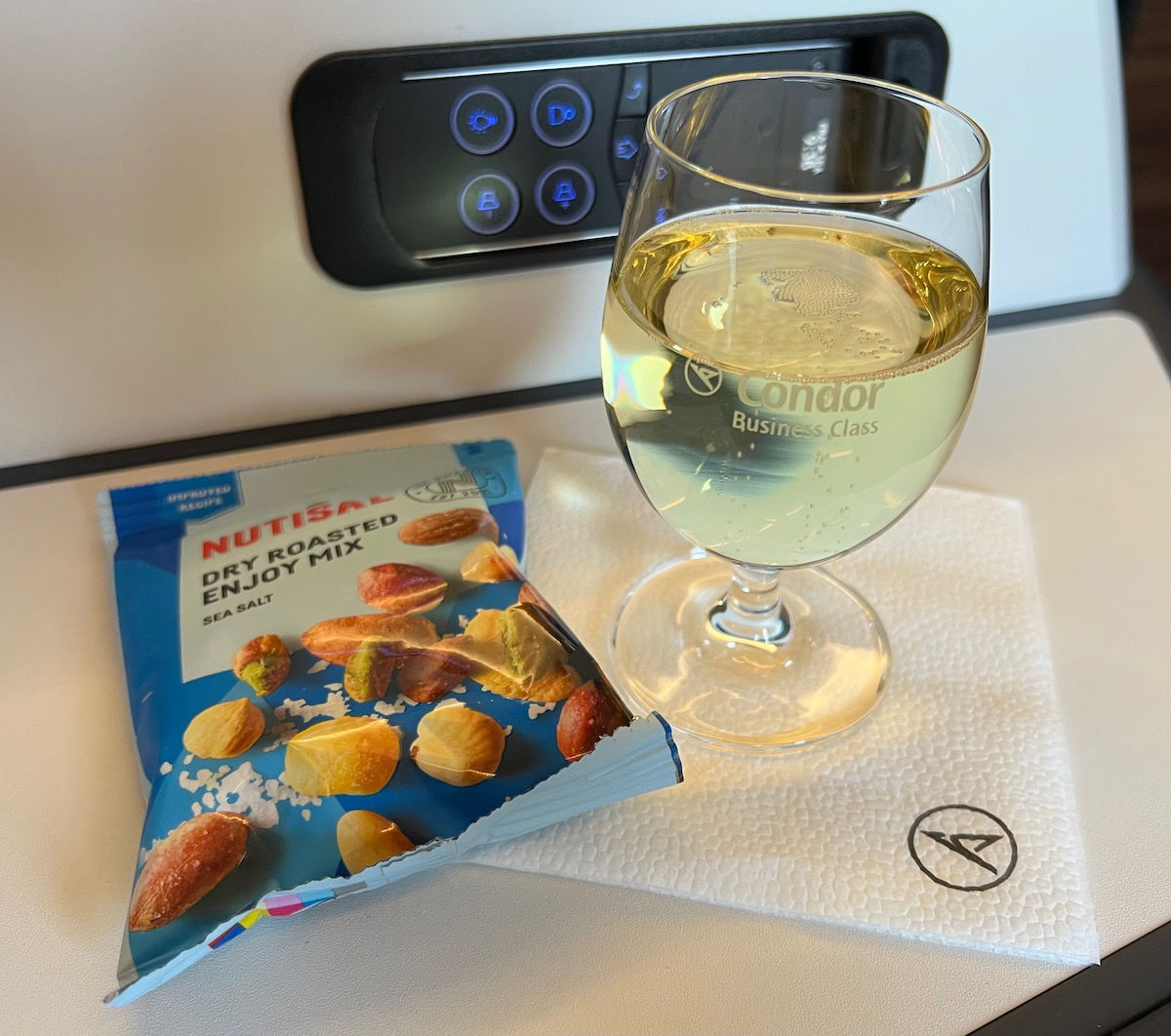 Then there were some amenities exclusively for those in Prime seats. This included pajamas and slippers, which were Condor branded.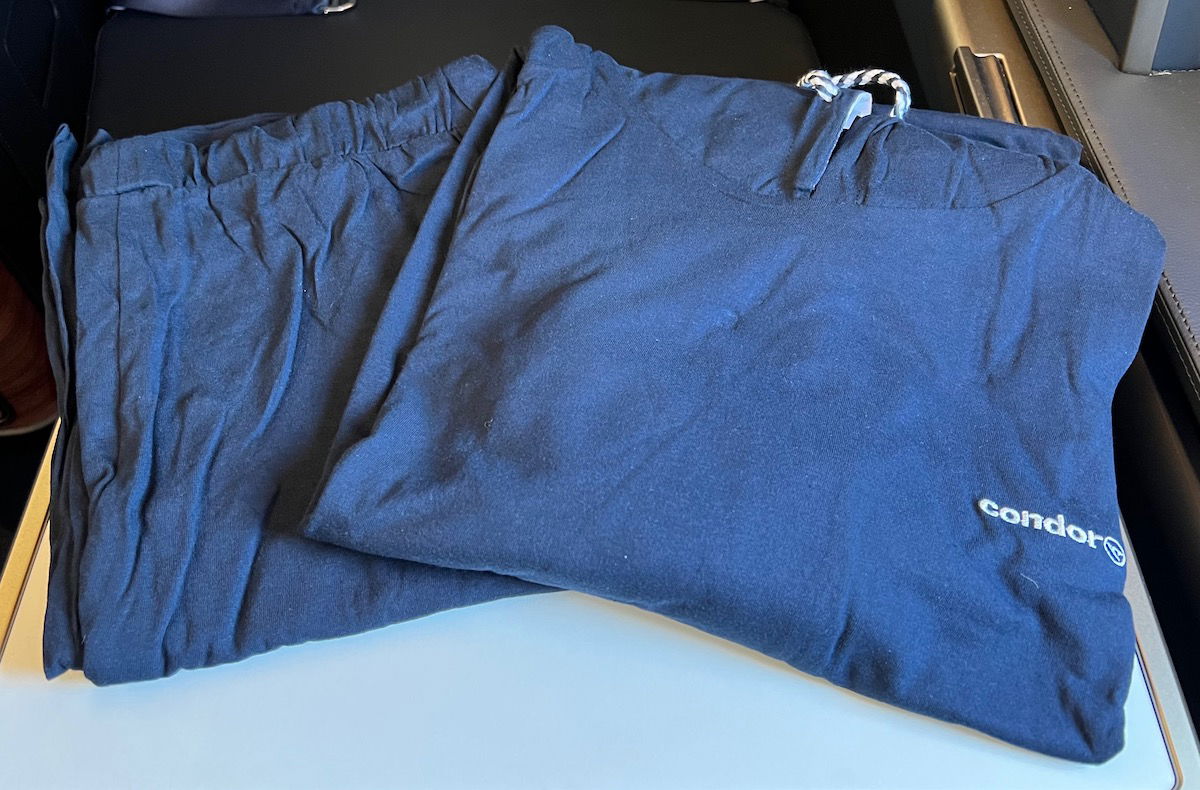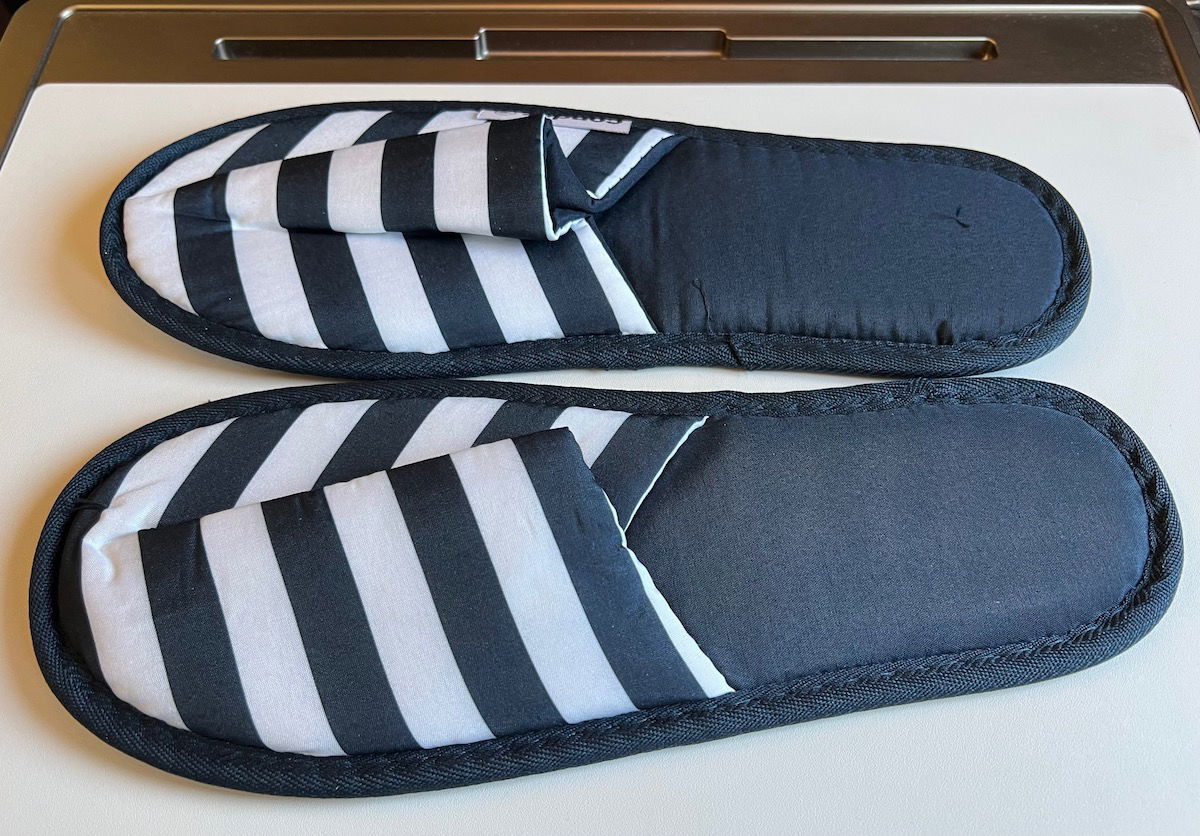 Prime seat passengers also receive a snack basket, which contained Haribo gummy bears, peanut M&Ms, Pringles, some chocolate crackers, and salted caramel popcorn.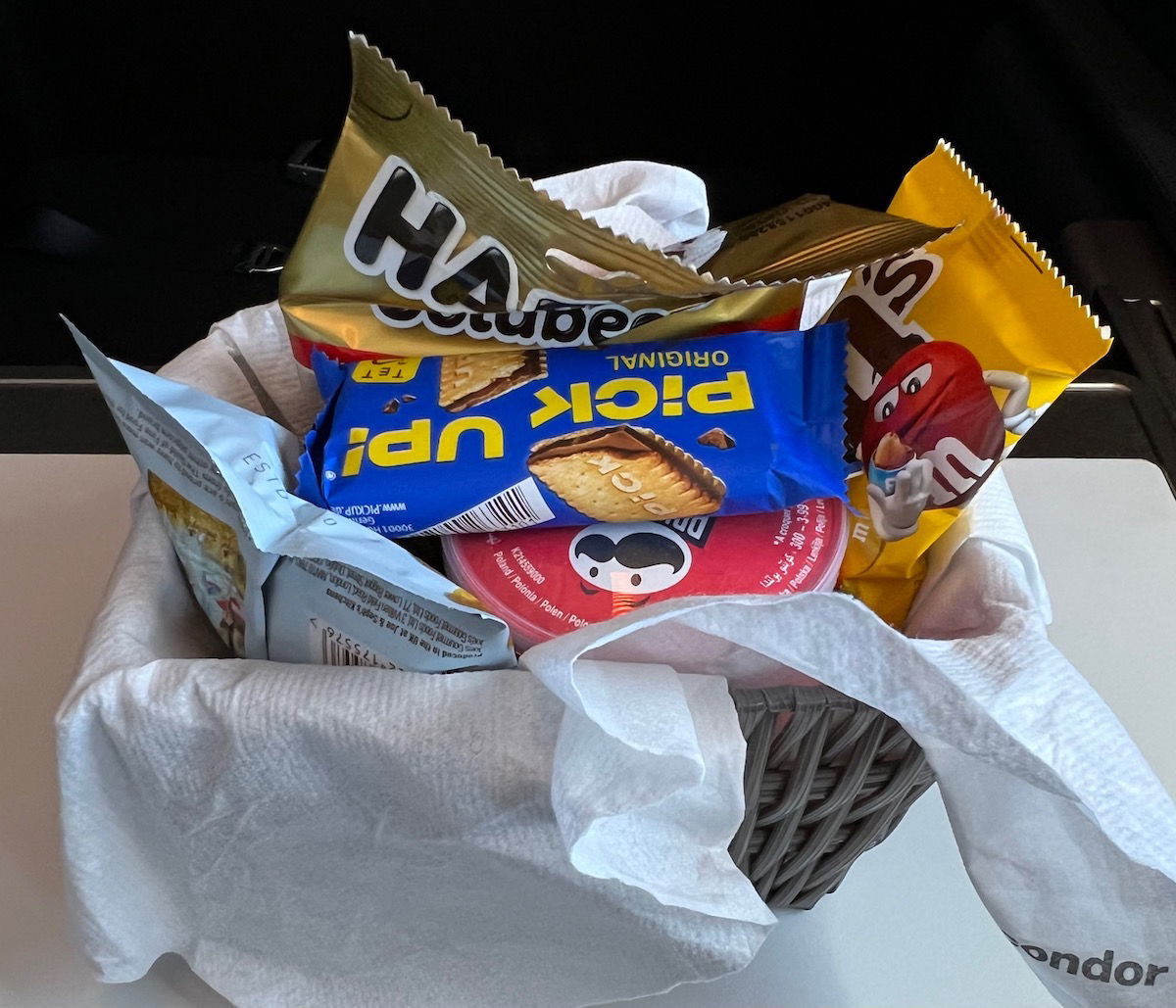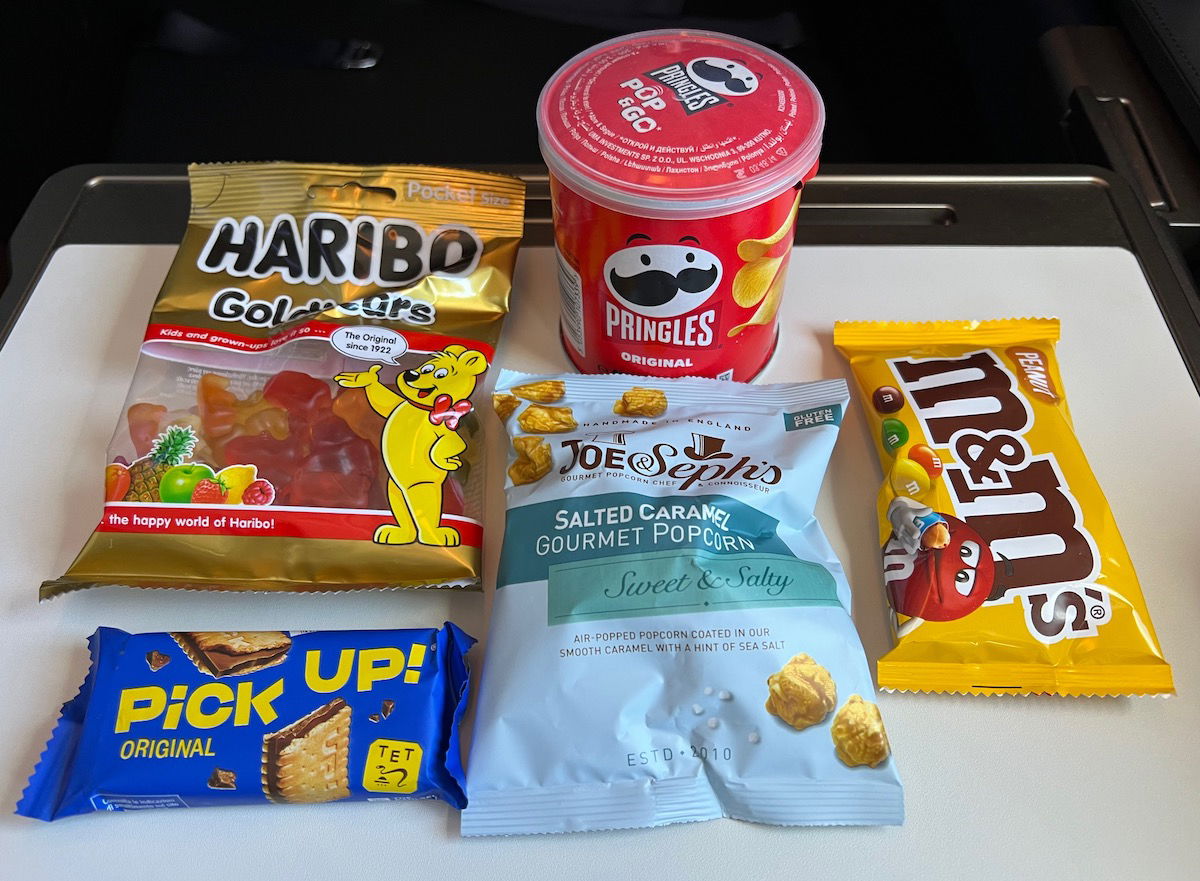 All-in-all, I'd say this is a pretty impressive selection of amenities.
Condor A330neo business class entertainment & Wi-Fi
With the introduction of the A330-900neo, Condor has hugely improved its inflight entertainment offering… with one catch.
Let's start with the personal televisions. Condor has excellent high definition monitors at each seat, with an extensive selection of movies and TV shows. By my count, there were over 230 movies, and over 100 TV shows. I found the system to be easy to use, and quite responsive.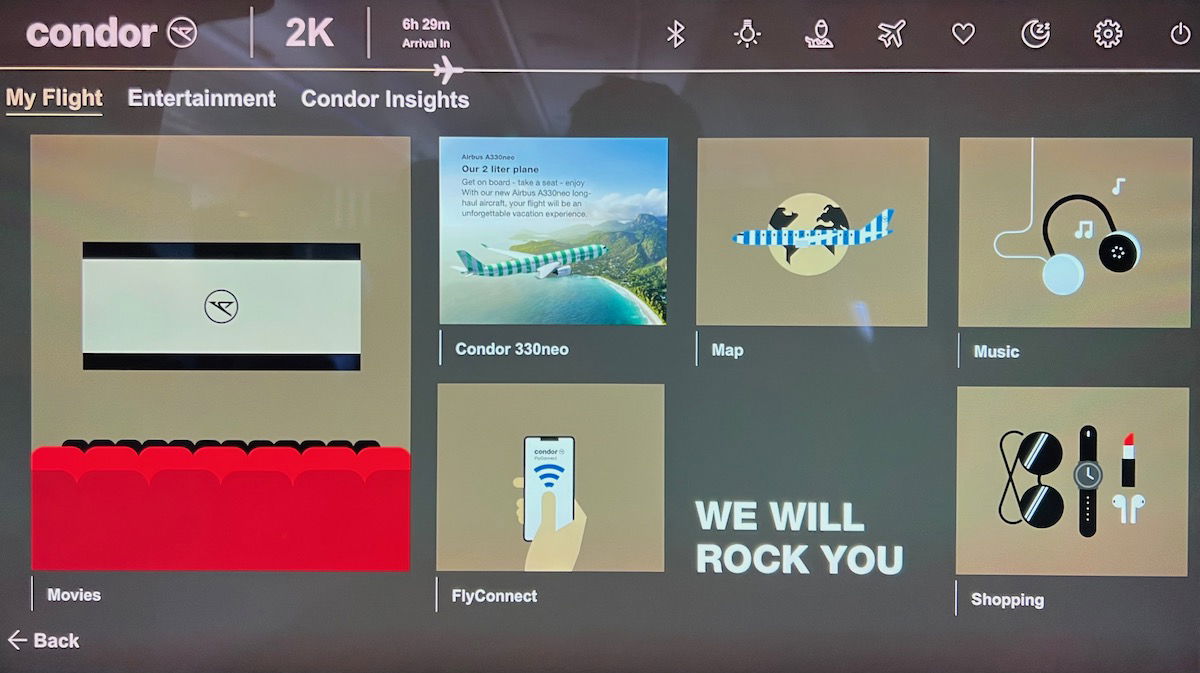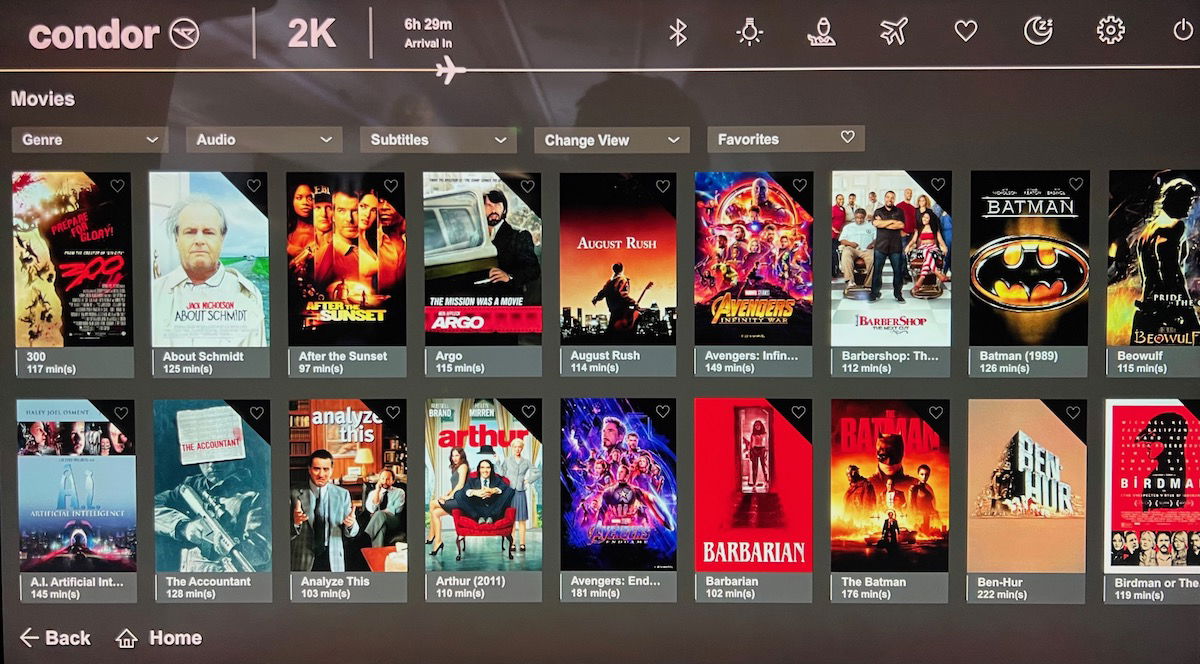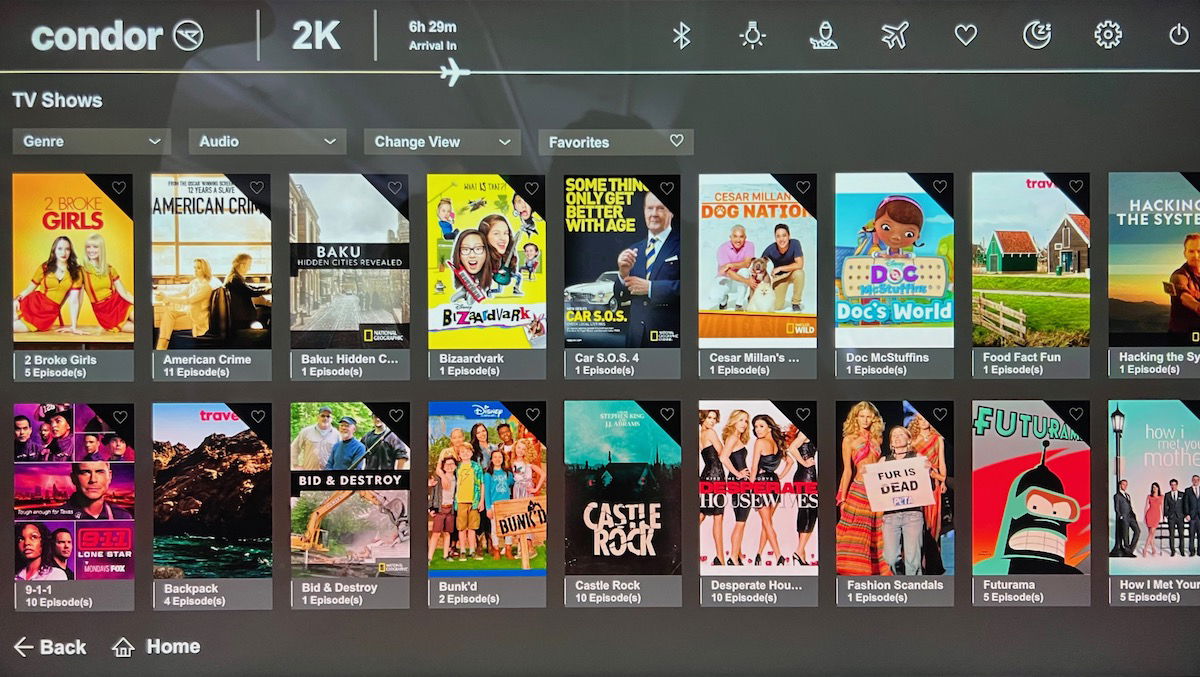 As mentioned above, Condor also has bluetooth audio on its A330-900neos, so you can pair your own headphones with the entertainment system. This is an awesome development that we're seeing at several airlines.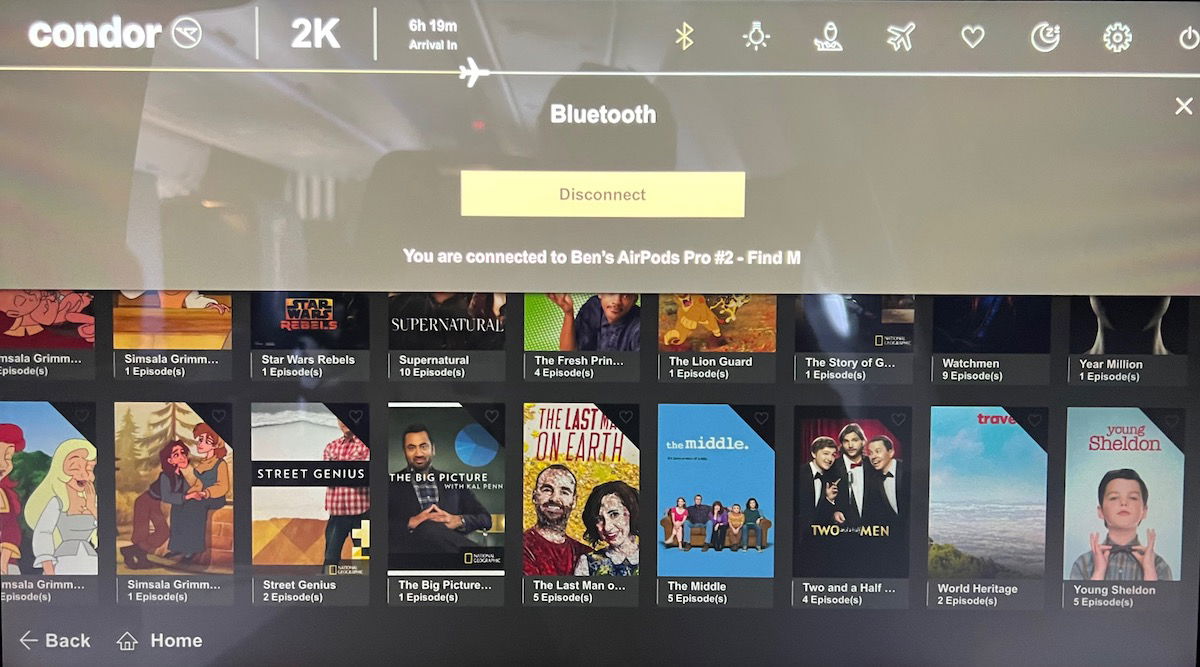 The A330-900neo also has a map feature, which allows you to customize your preferred view, zooming in or out as far as you'd like.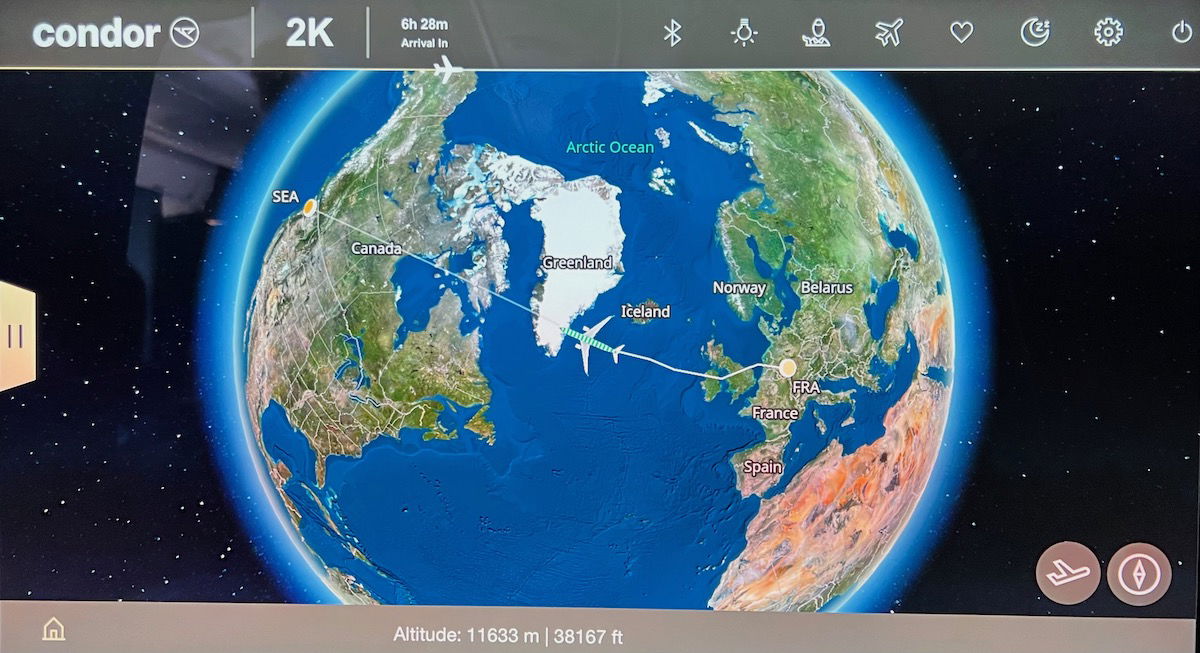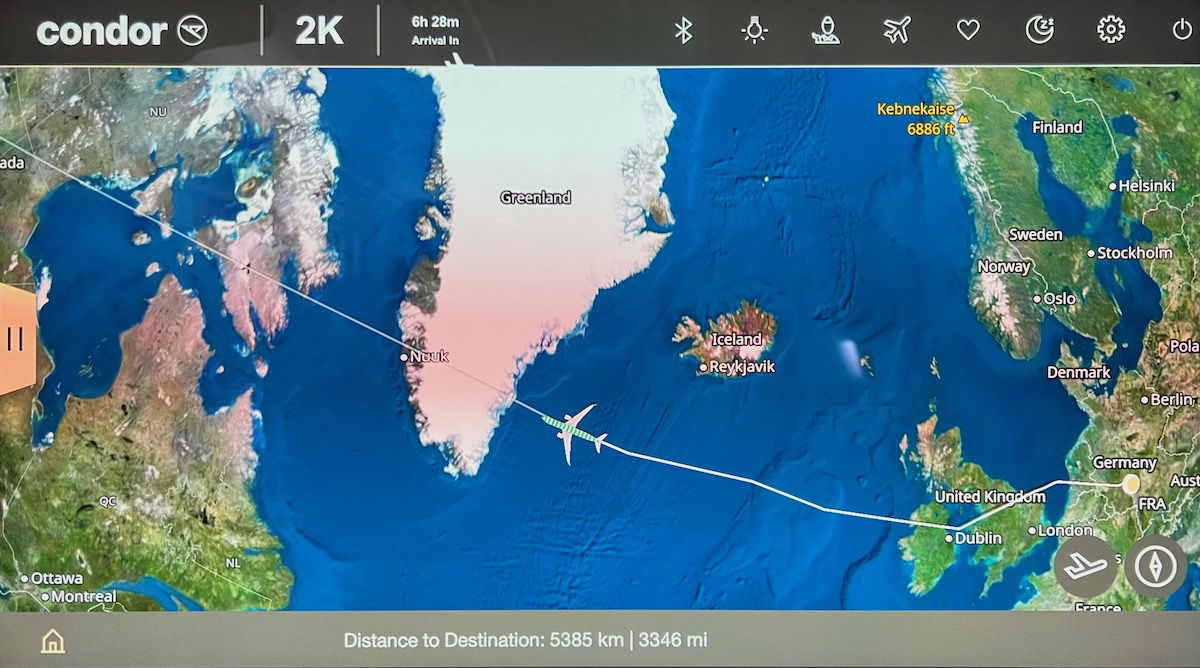 Now, on to the less impressive thing. It's fantastic that Condor finally introduced Wi-Fi on its A330-900neos, as that hasn't historically been available on 767s. The airline has four different Wi-Fi plans:
There's a free chat pass that allows you to text and message for 10 minutes
There's an unlimited chat pass, valid for the entire flight, which costs €7
There's a basic two hour pass, allowing you to use the internet for €12
There's a premium four hour pass, allowing you to use the internet (allegedly with higher speeds) for €20

There are two major issues. First of all, the Wi-Fi is really expensive. For €20 you should be getting Wi-Fi for the entire flight, not for four hours. If you wanted Wi-Fi for the entire 10-hour flight, you'd need to pay €60. Though I ended up just buying two passes for €40, which covered me for most of the flight.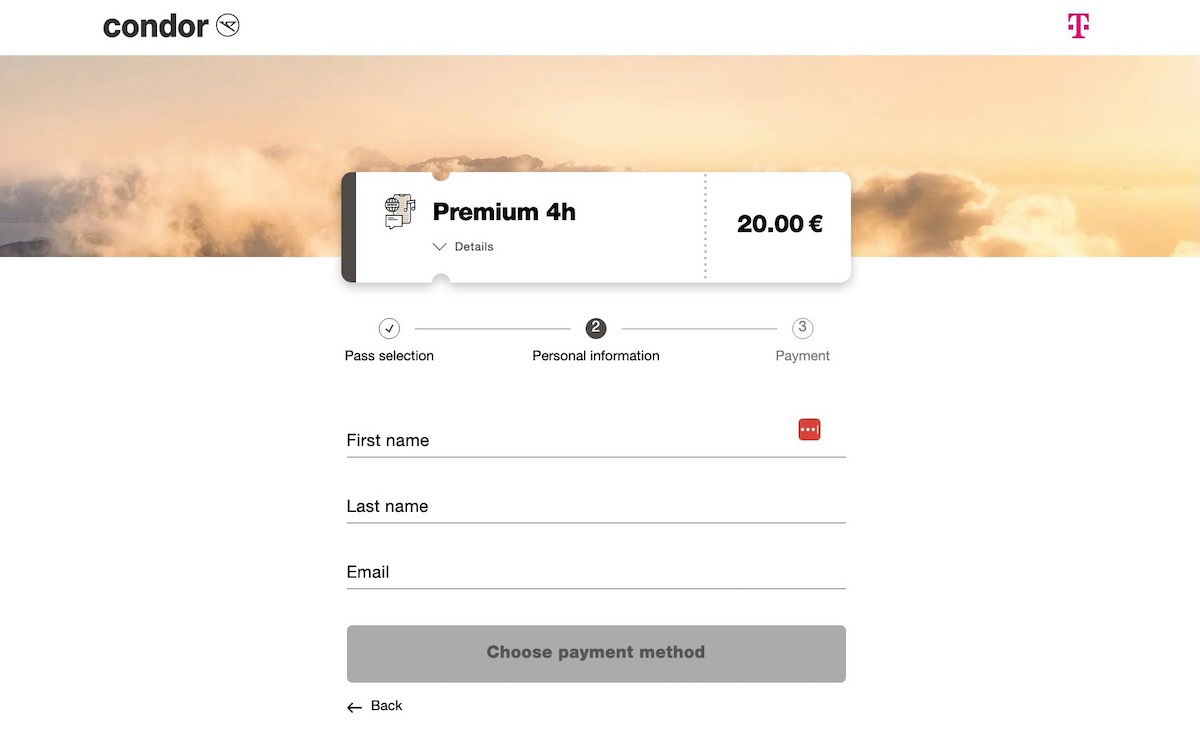 The pricing is high, but I could stomach it if the quality were good. Unfortunately it wasn't. Condor's Wi-Fi is excruciatingly slow, the slowest I've had on any new plane in a very long time. It honestly reminded me of the OnAir Wi-Fi we saw on many airlines a decade ago. For what it's worth, Condor selected Inmarsat's high-speed GX Aviation inflight broadband for its A330-900neos.
If Wi-Fi is going to be so slow, Condor needs to make big changes to the pricing. It's unreasonable to charge among the highest Wi-Fi prices in the industry while delivering the lowest speeds, all while being a value oriented airline.
Nonetheless, suffice it to say that Condor's new entertainment and Wi-Fi is a massive improvement over the previous setup.
Condor A330neo departure from Frankfurt
Our departure was a bit delayed, but fortunately our flight time was shorter than usual. At 2:05PM the captain made his welcome aboard announcement, which was very detailed. He informed us that we'd be departing from runway 7C, that our flight time would be 10 hours, that we'd have a takeoff weight of 212 tons, and that we'd have a cruising altitude of 38,000 feet. He also gave us a rundown of our route, which would see us flying over Scotland, Greenland, Northern Canada, and then the Rockies.
At 2:15PM we began our pushback, with a completely full business class cabin (economy didn't seem to be quite as full).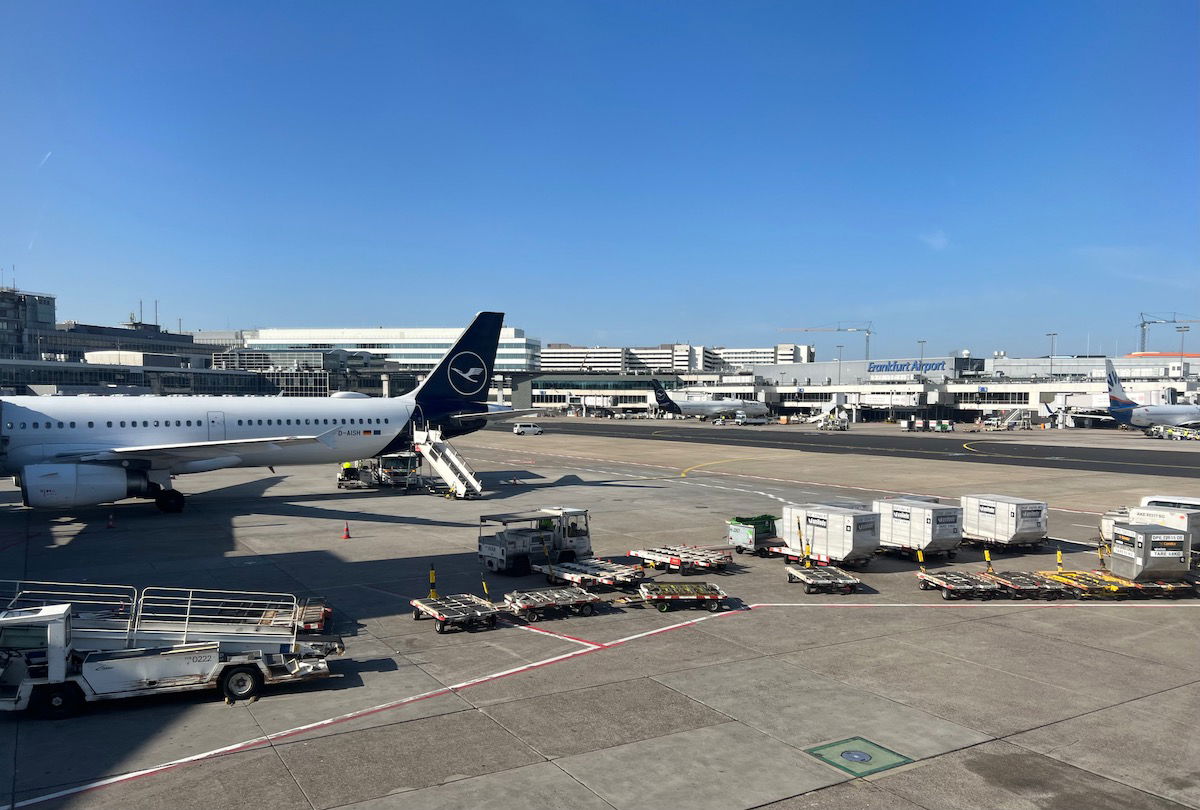 Around this time the safety video was screened. It doesn't appear that Condor has updated its safety video to reflect the new branding, as the video felt a bit outdated, and depicted Condor's old livery.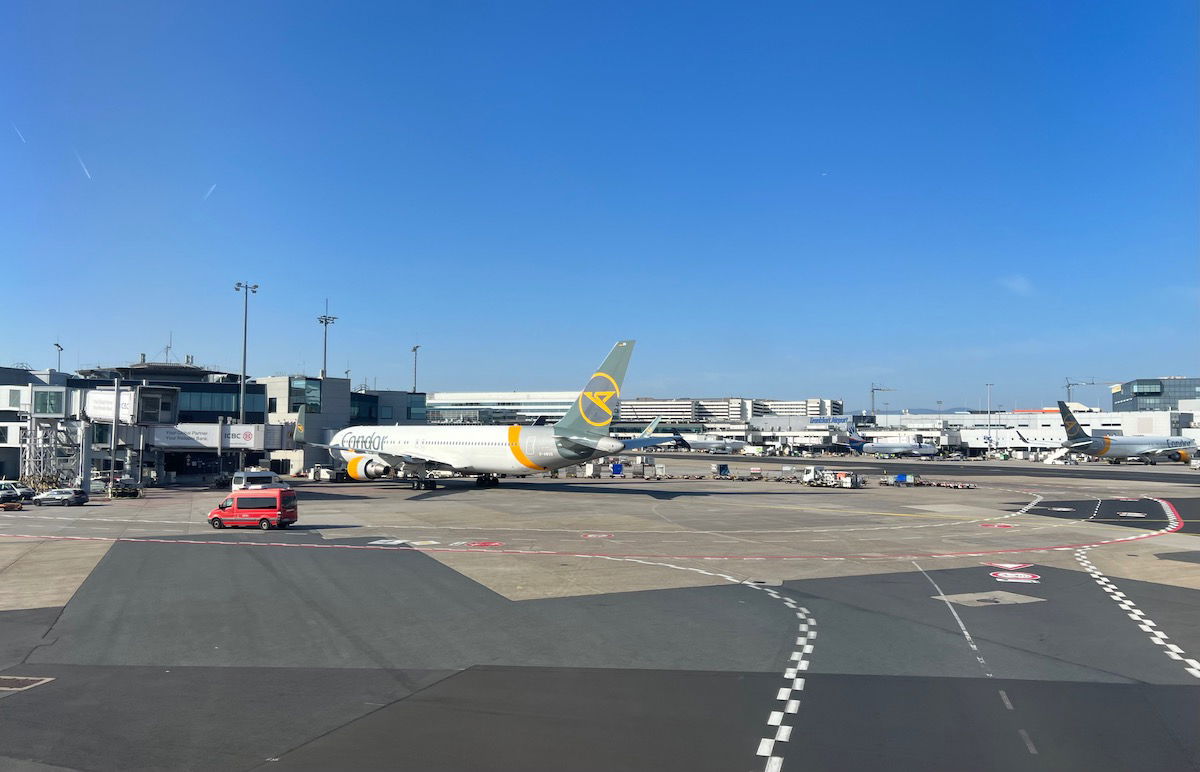 At 2:20PM we began our taxi, and it only took about 10 minutes to get to our departure runway. Once there, we were cleared for takeoff. It was a beautiful, clear morning over Frankfurt.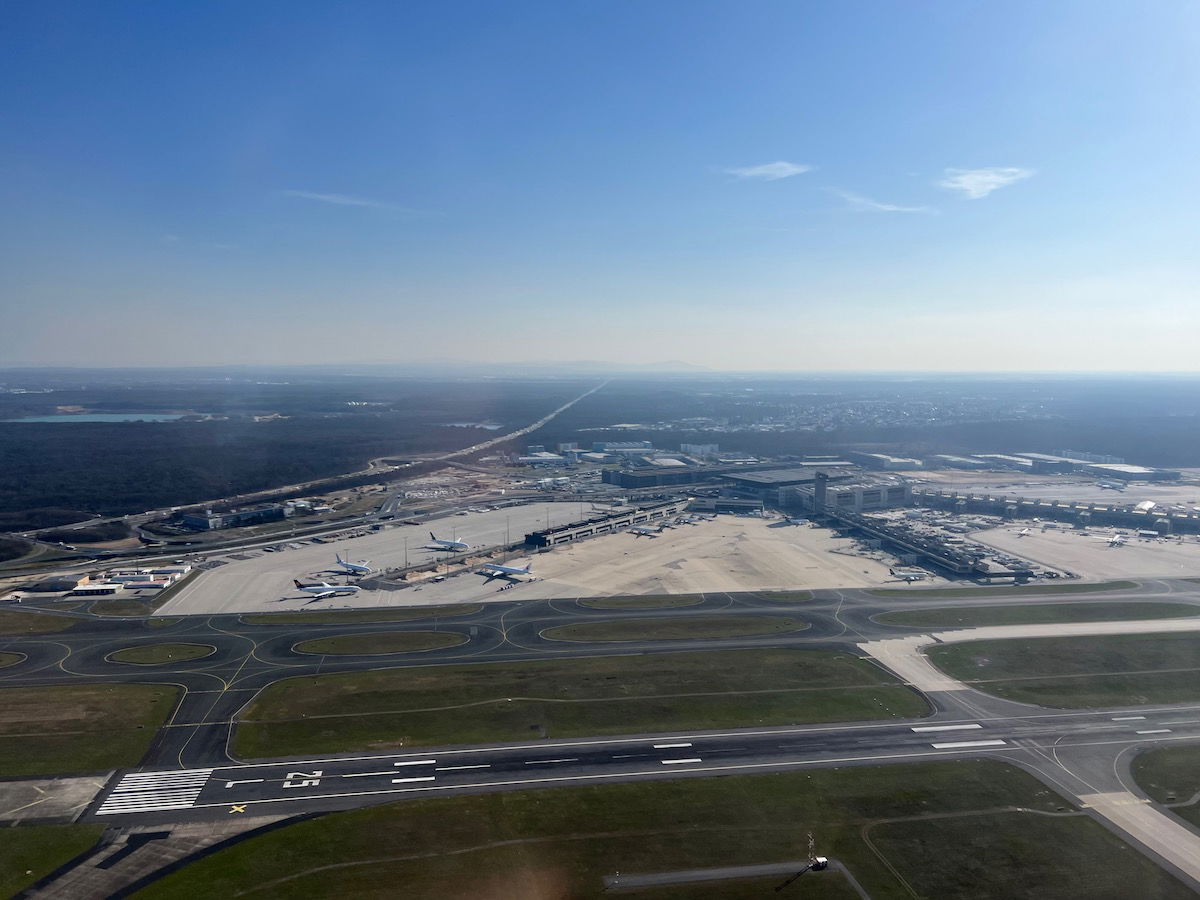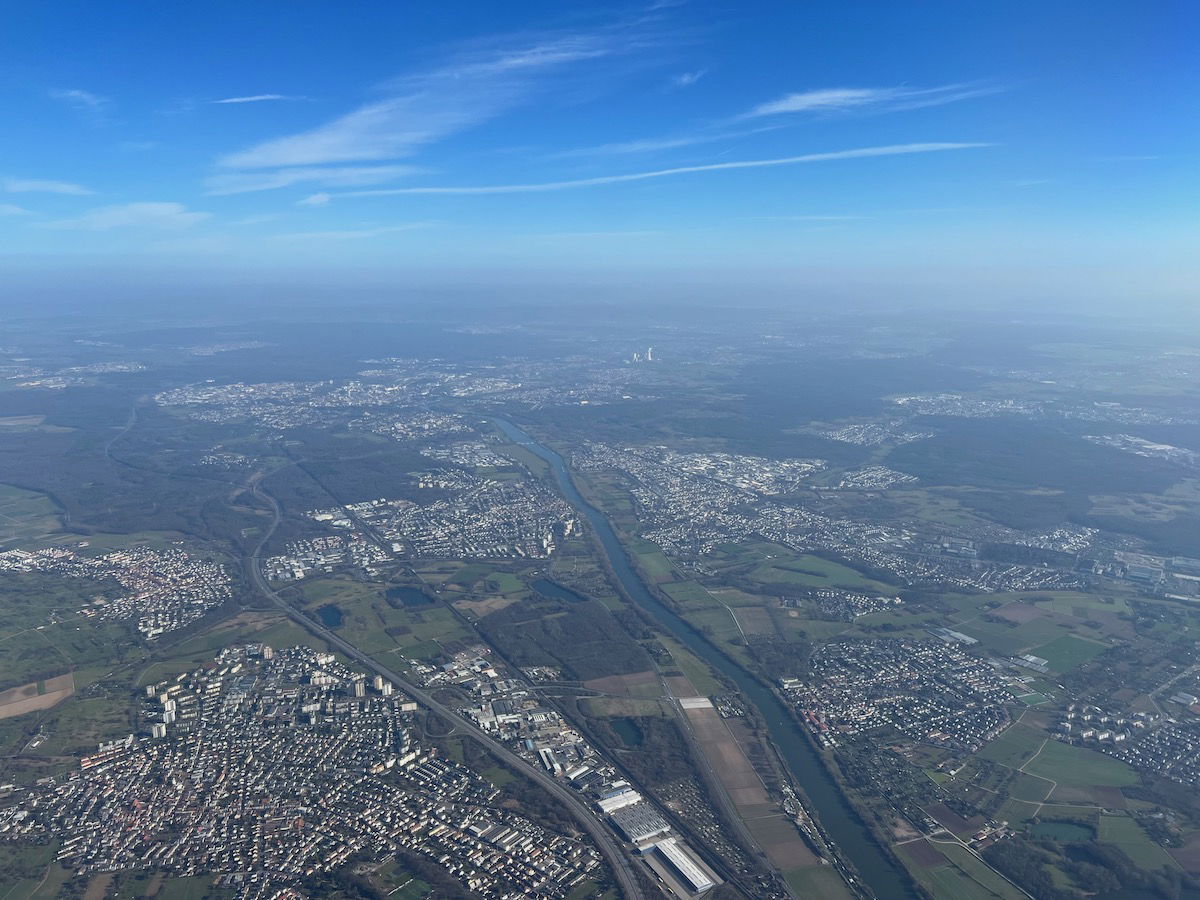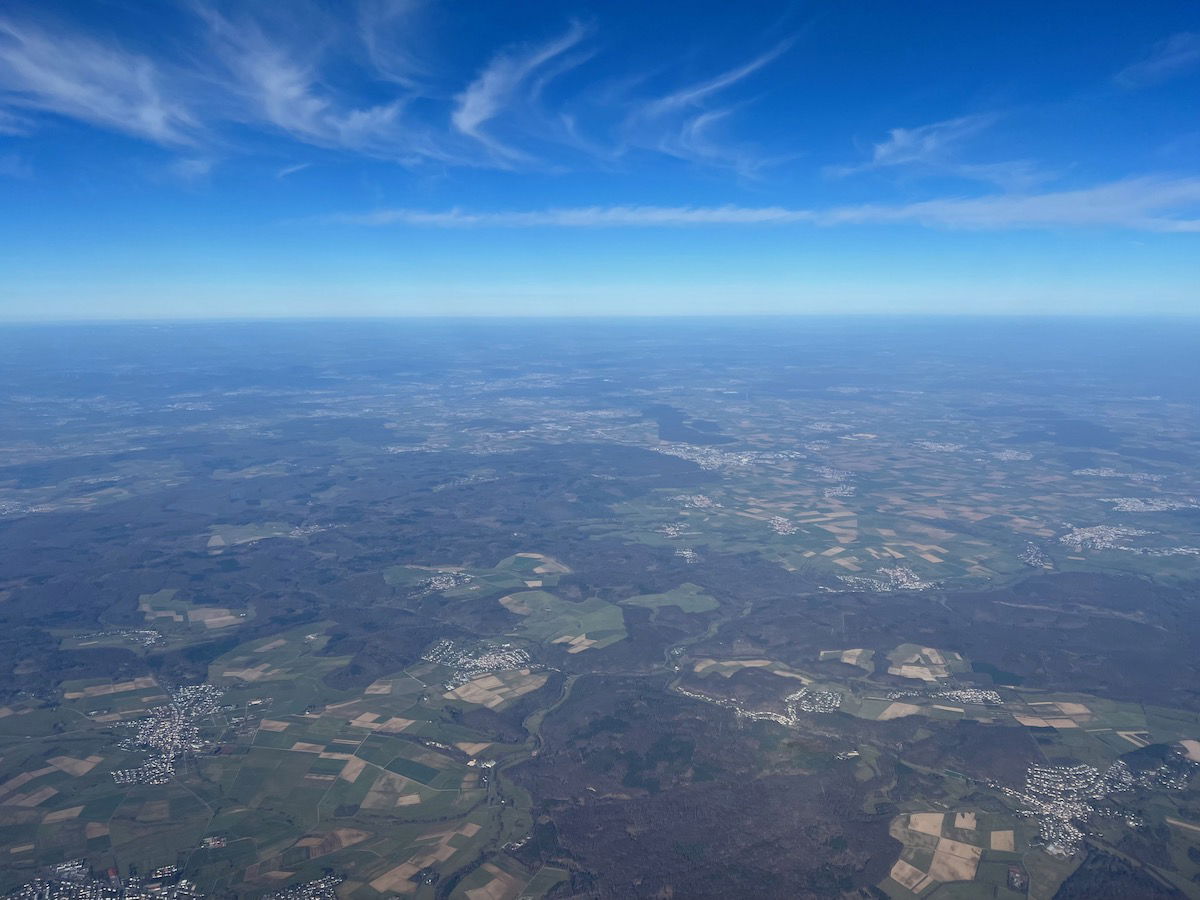 The seatbelt sign was turned off about 20 minutes after takeoff. At that point the crew closed the curtains between the cabin and galley.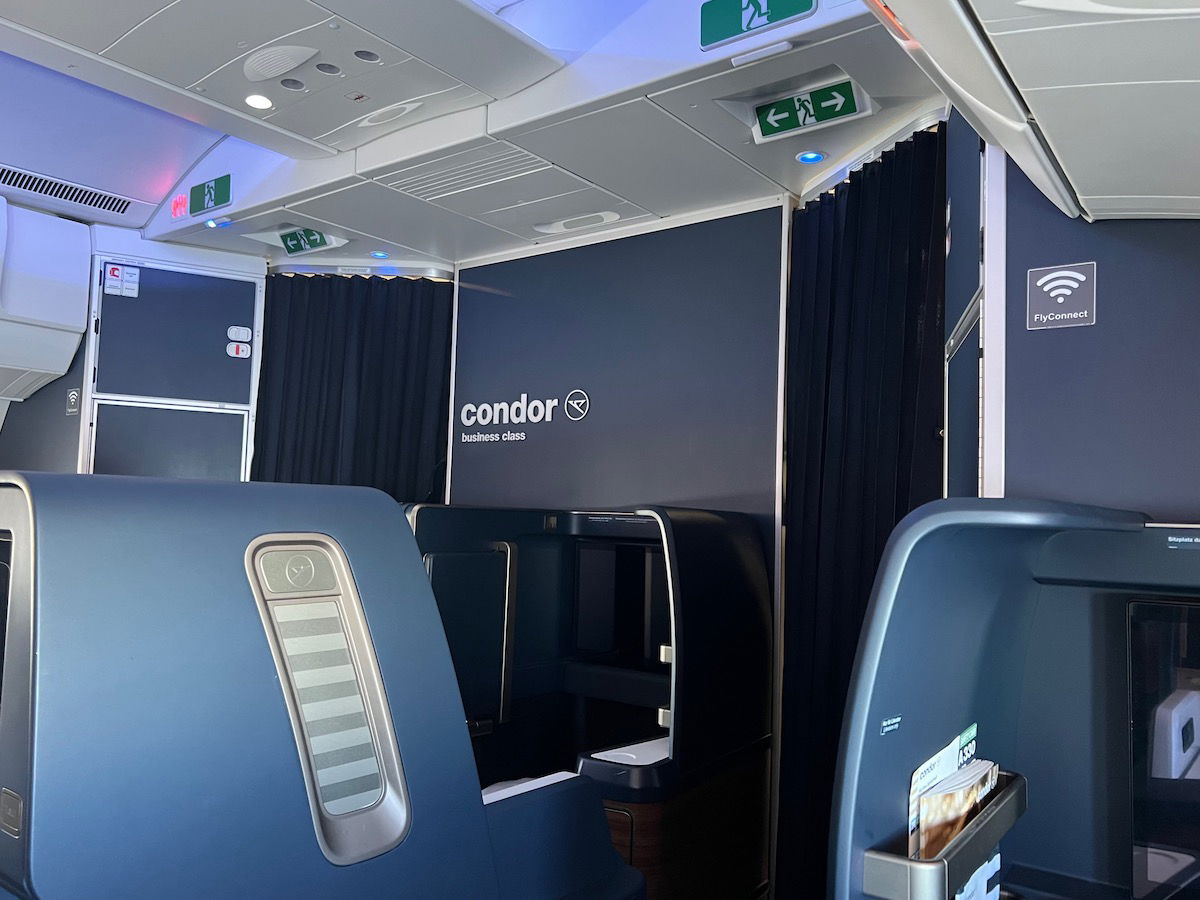 Condor business class lunch service
On this flight, lunch was served after takeoff. About 30 minutes after takeoff, the menu and drink list for the flight were distributed.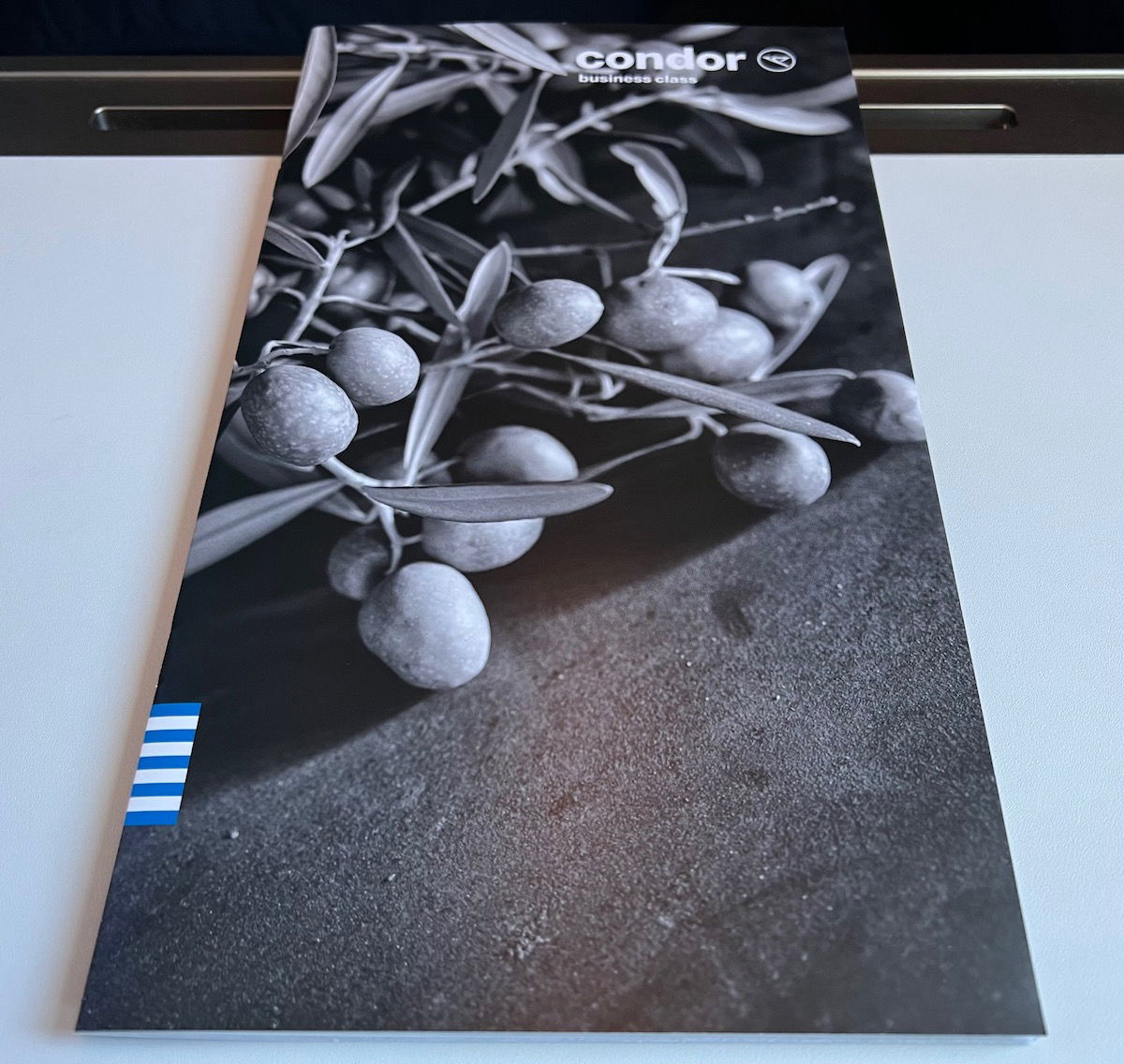 About 10 minutes after that, warm towels were passed out, and 10 minutes after that tablecloths were placed on trays.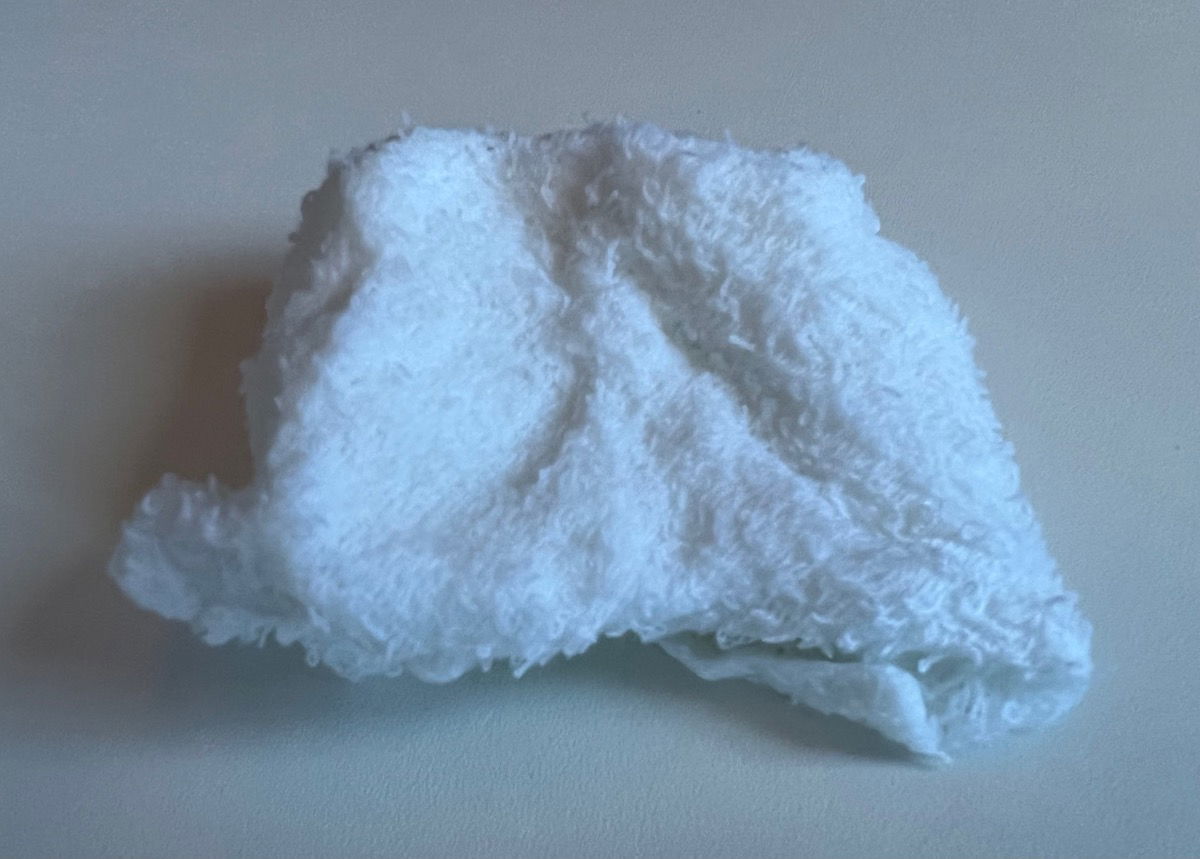 Below you can find the Condor business class lunch menu for this flight.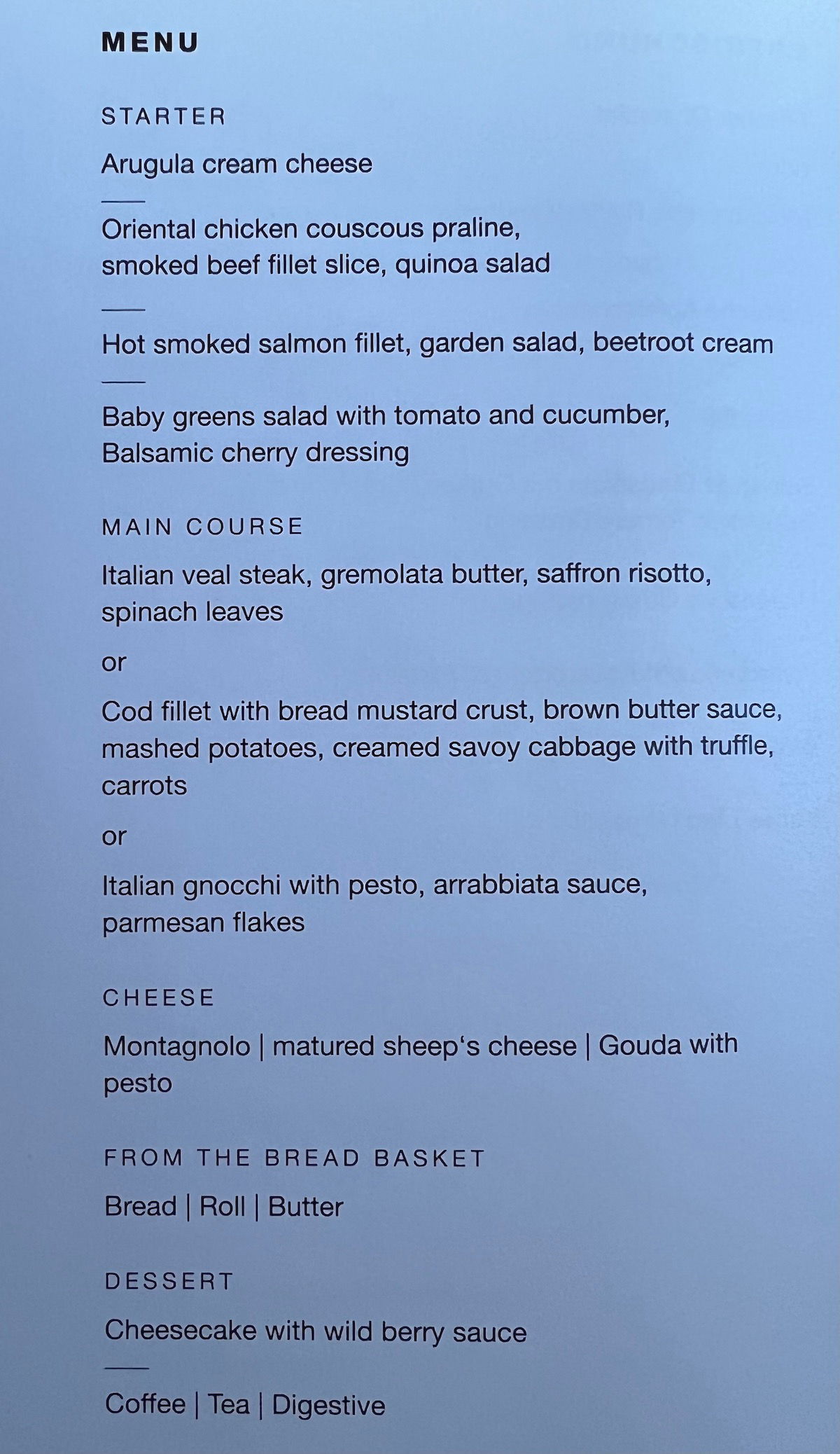 Below you can find the Condor business class drink list for this flight.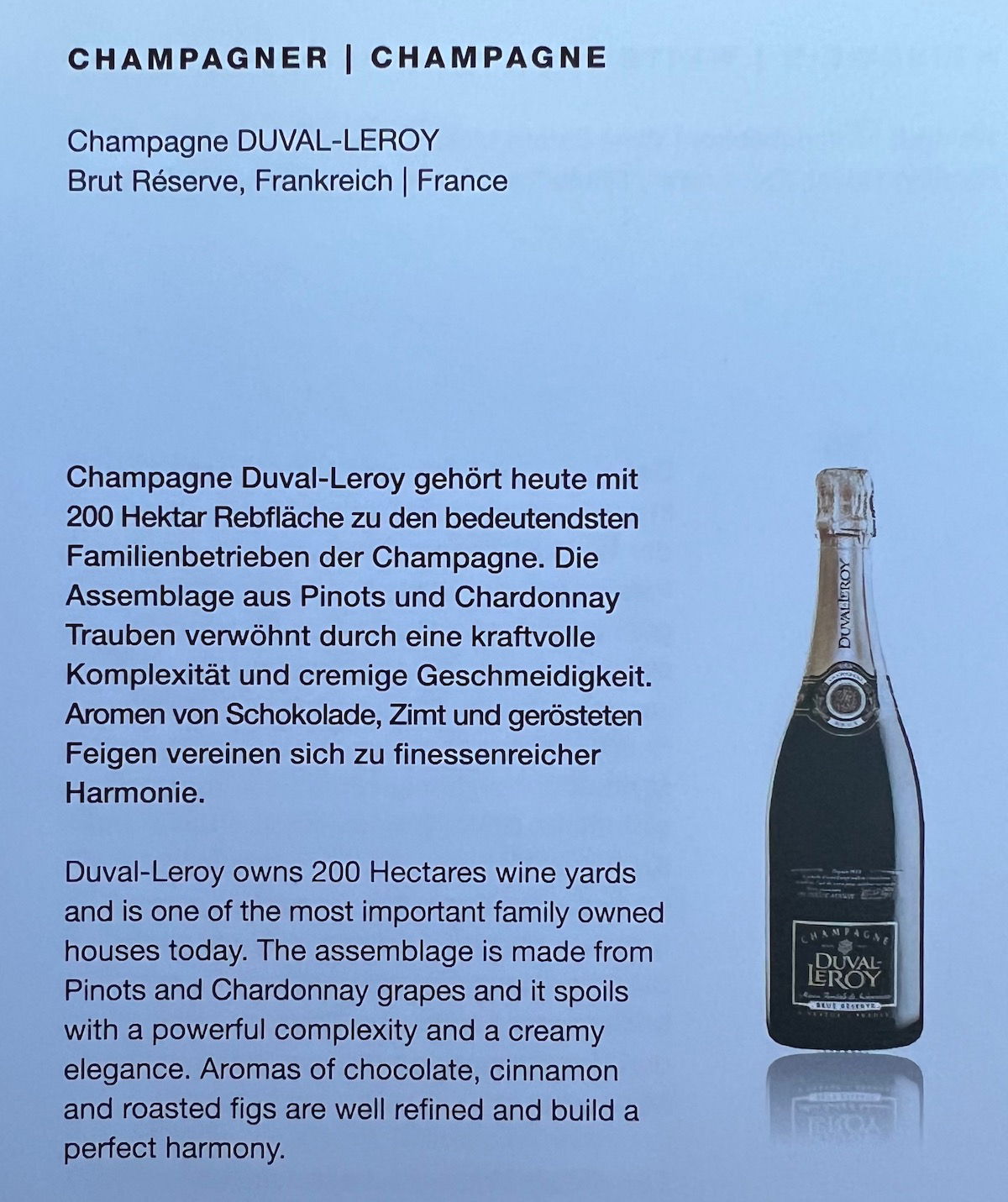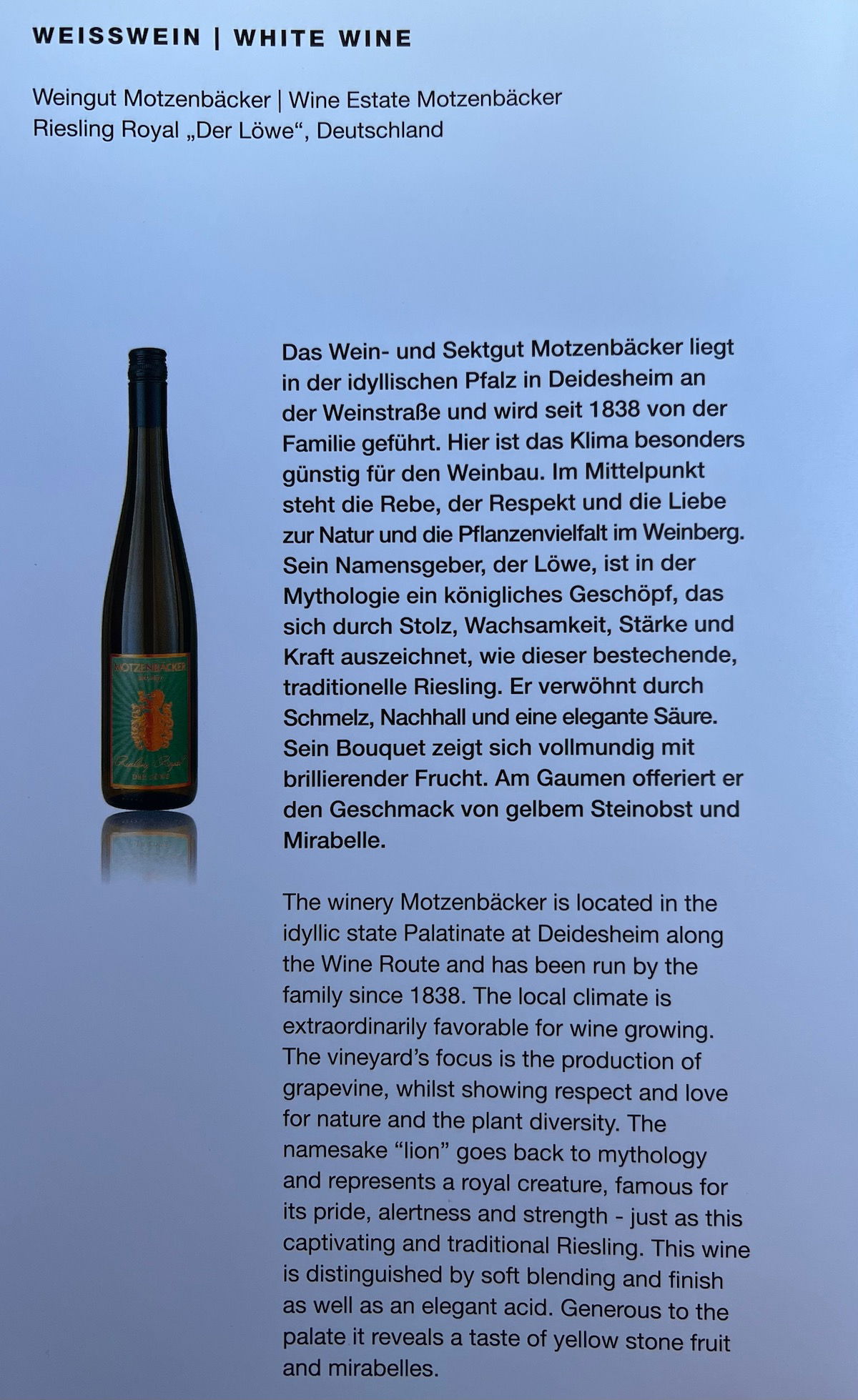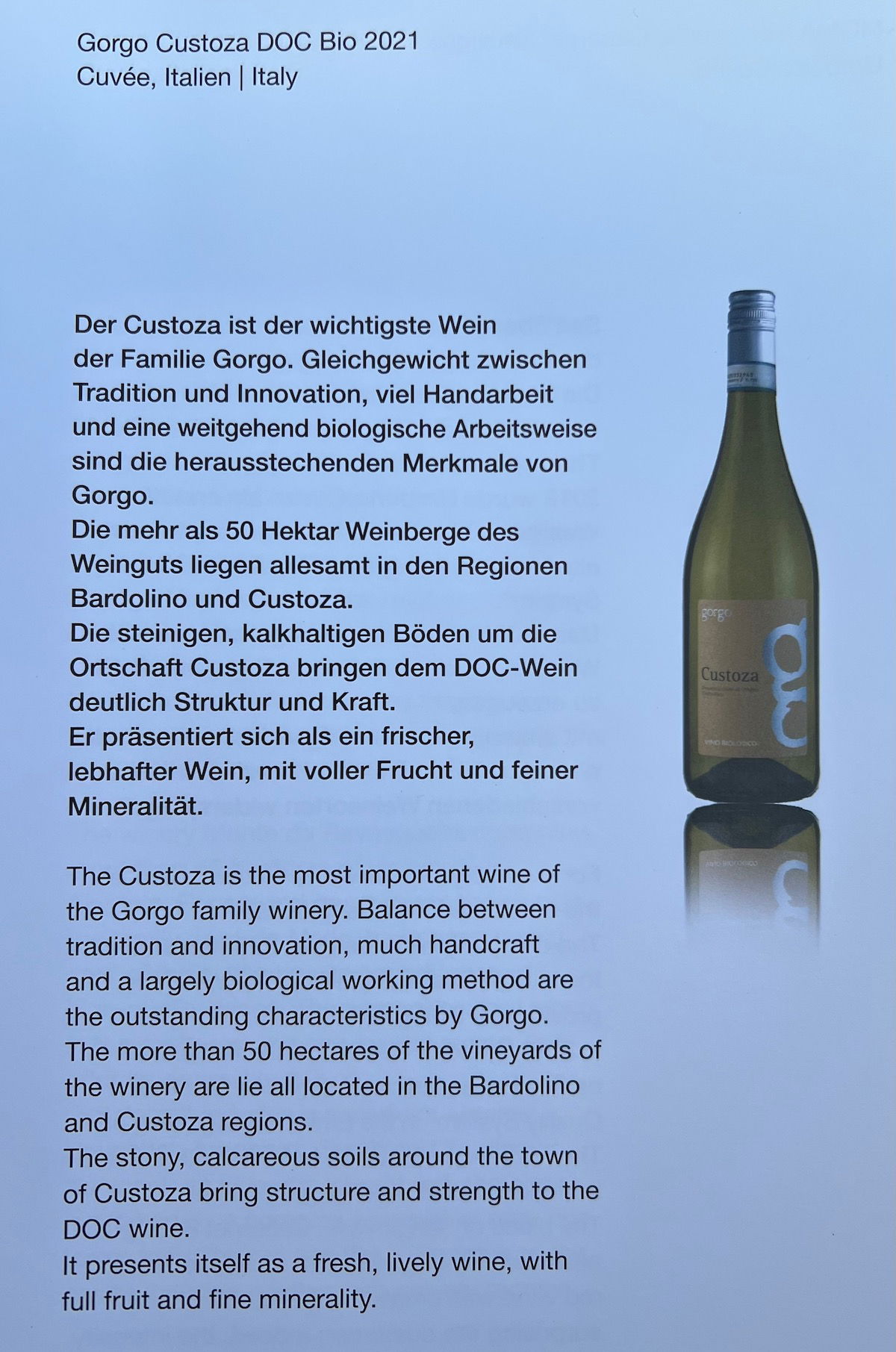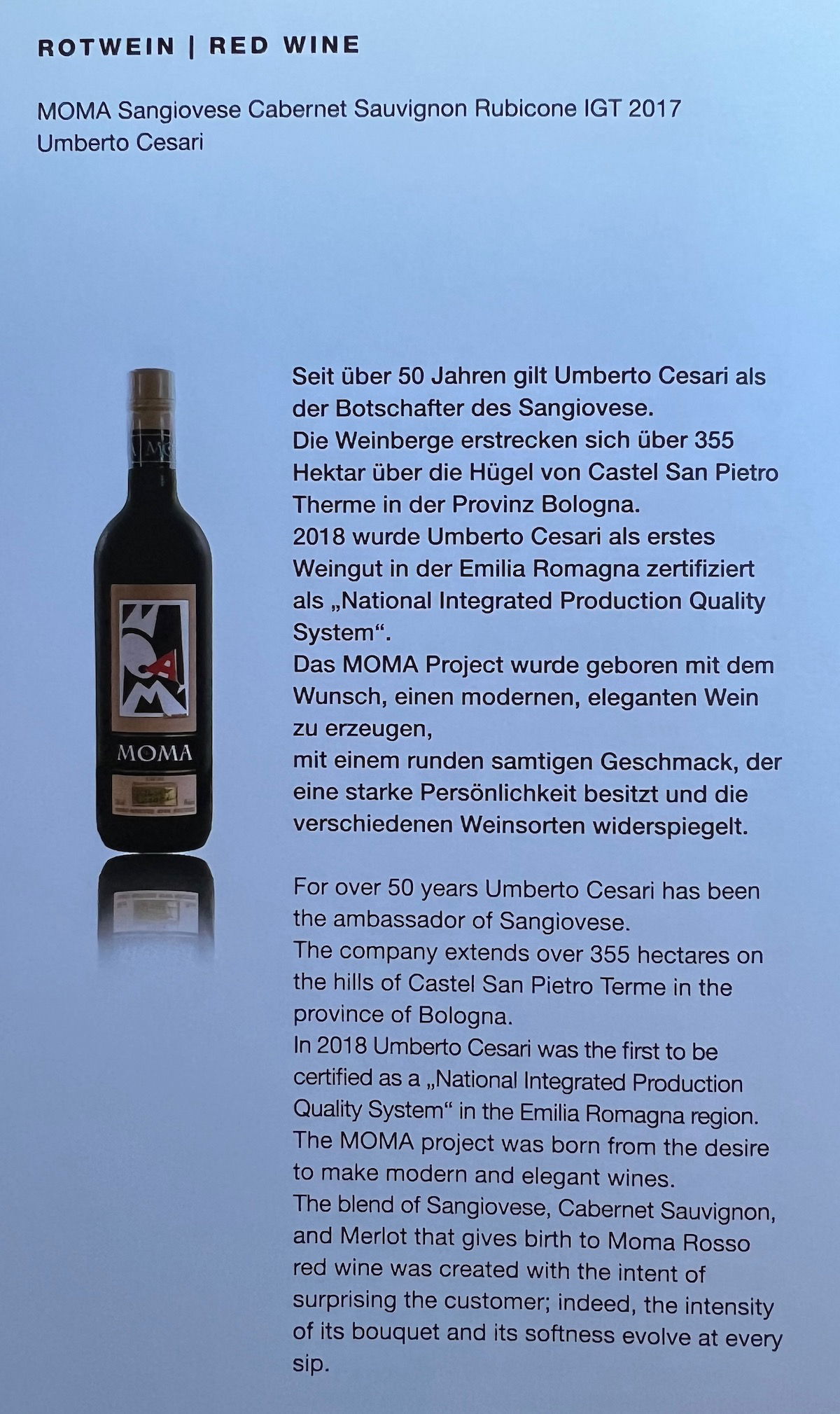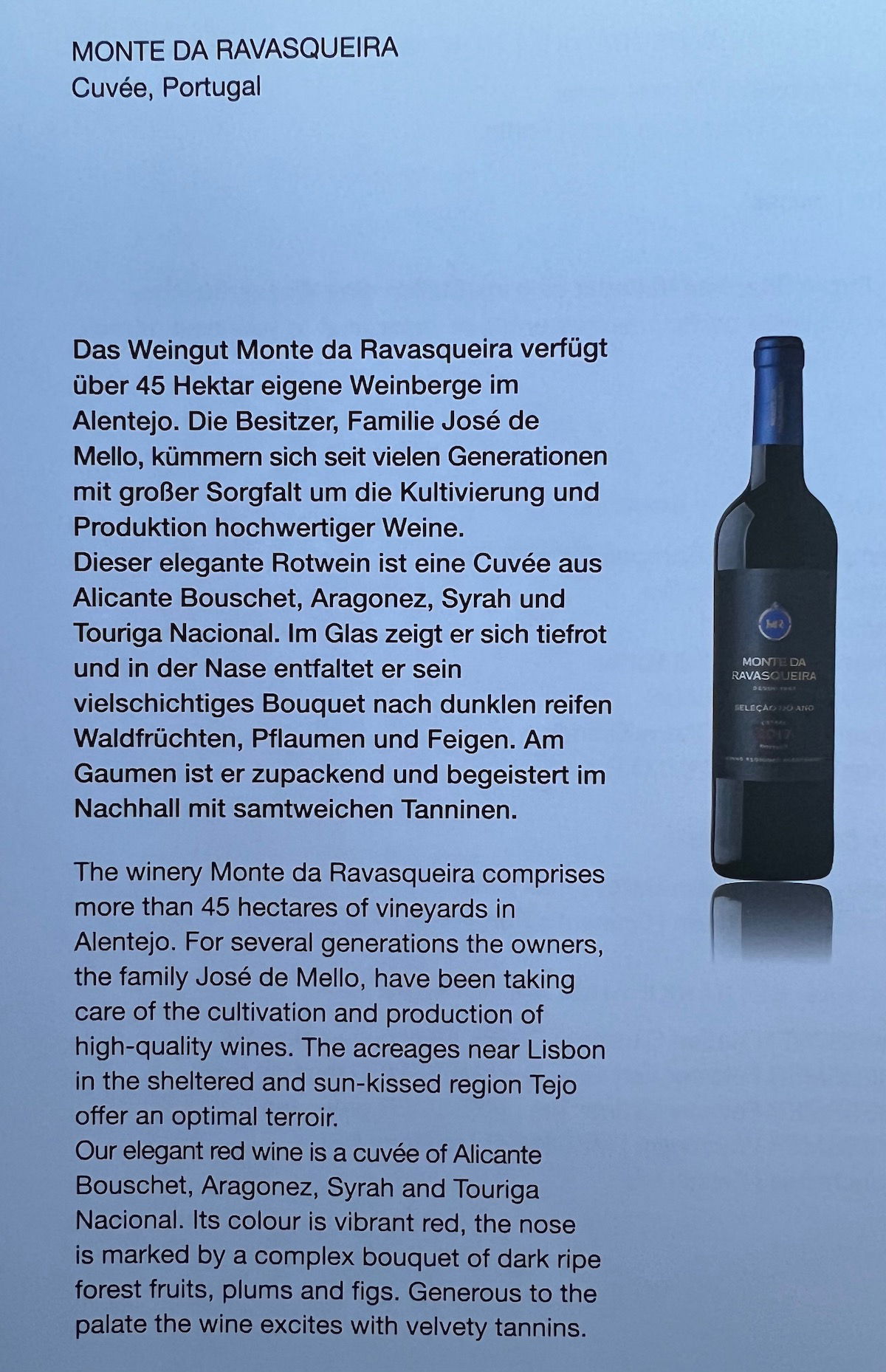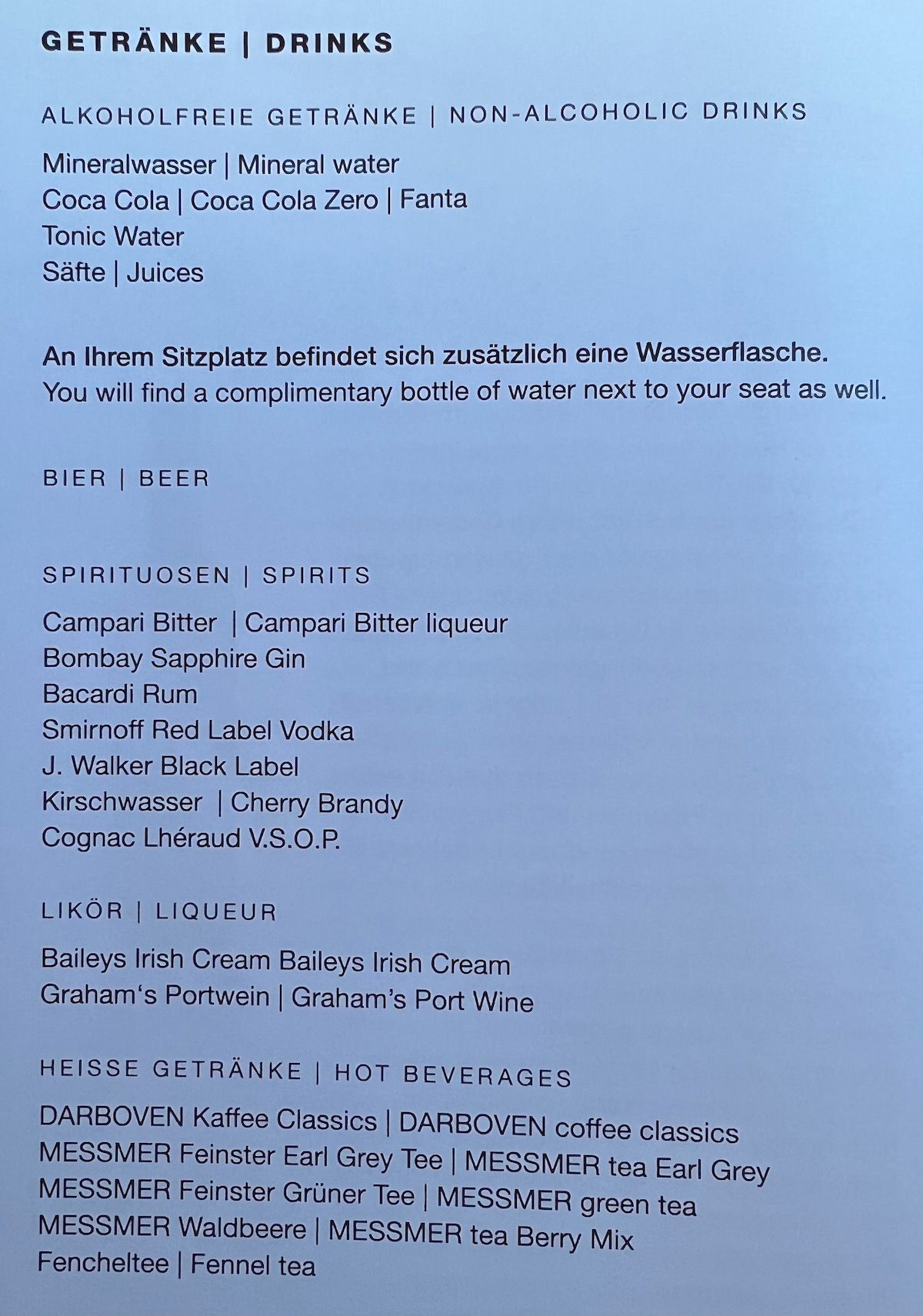 The meal service started with drinks being offered. Interestingly these were served back-to-front, so I was served last. That's not a big deal, but if you're going to have the first row be a premium product with a somewhat differentiated soft product as well, you'd think that you'd maybe start the drink service there. Like I said, it's not a big deal at all, but just a minor point.
To drink, I ordered the Italian white wine that was on the drink list. I was informed that it was unfortunately not loaded for this flight, but that there was instead an Argentinian chardonnay. I usually dislike chardonnay, but it was quite tasty. I also had a glass of water to go along with it. Drinks were served with a ramekin of mixed nuts.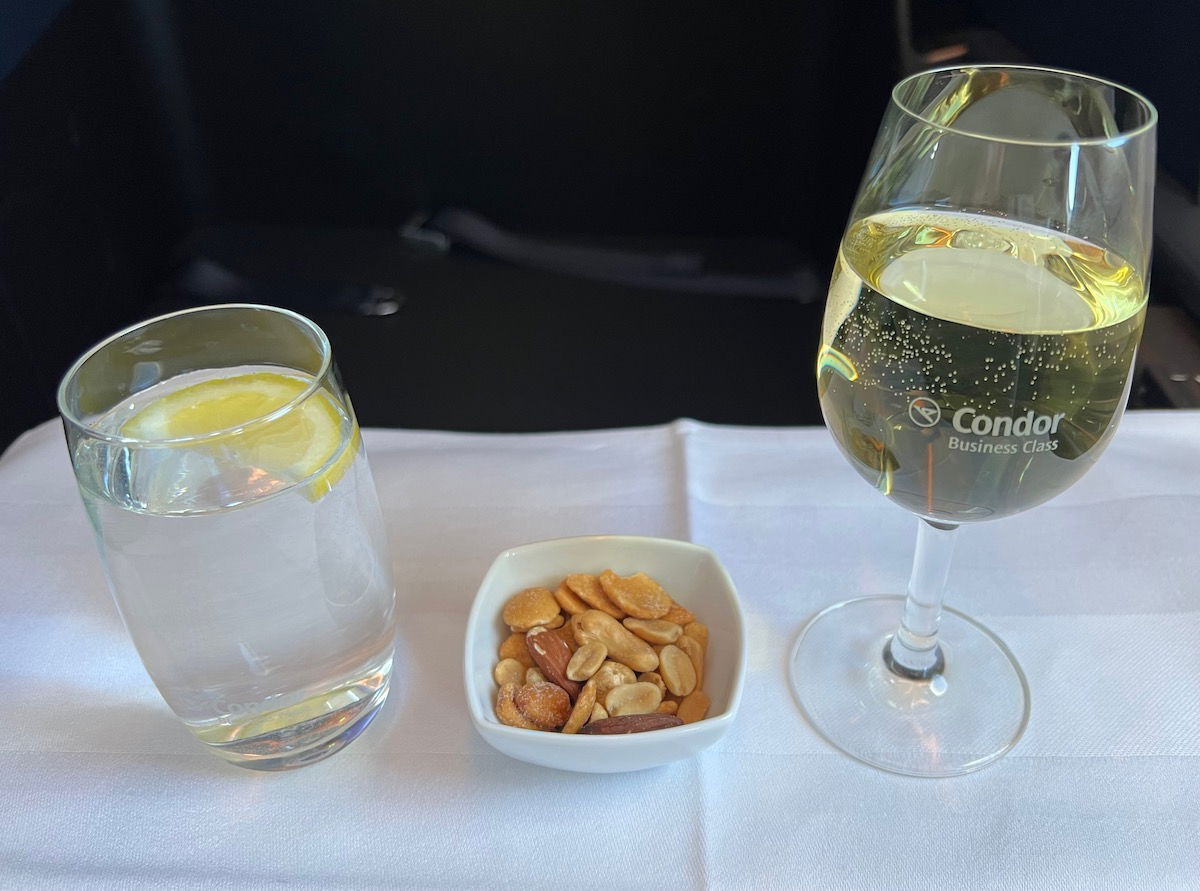 The service pace was very leisurely on this flight, with the appetizer being served just under two hours after takeoff. Again, I was very impressed, and found the quality and quantity to be better than on Lufthansa. The first tray consisted of two appetizers, a salad, and a selection of bread.
The two appetizers were a chicken couscous praline with smoked beef fillet slices and quinoa salad, and a hot smoked salmon fillet with garden salad and beetroot cream. This was very tasty.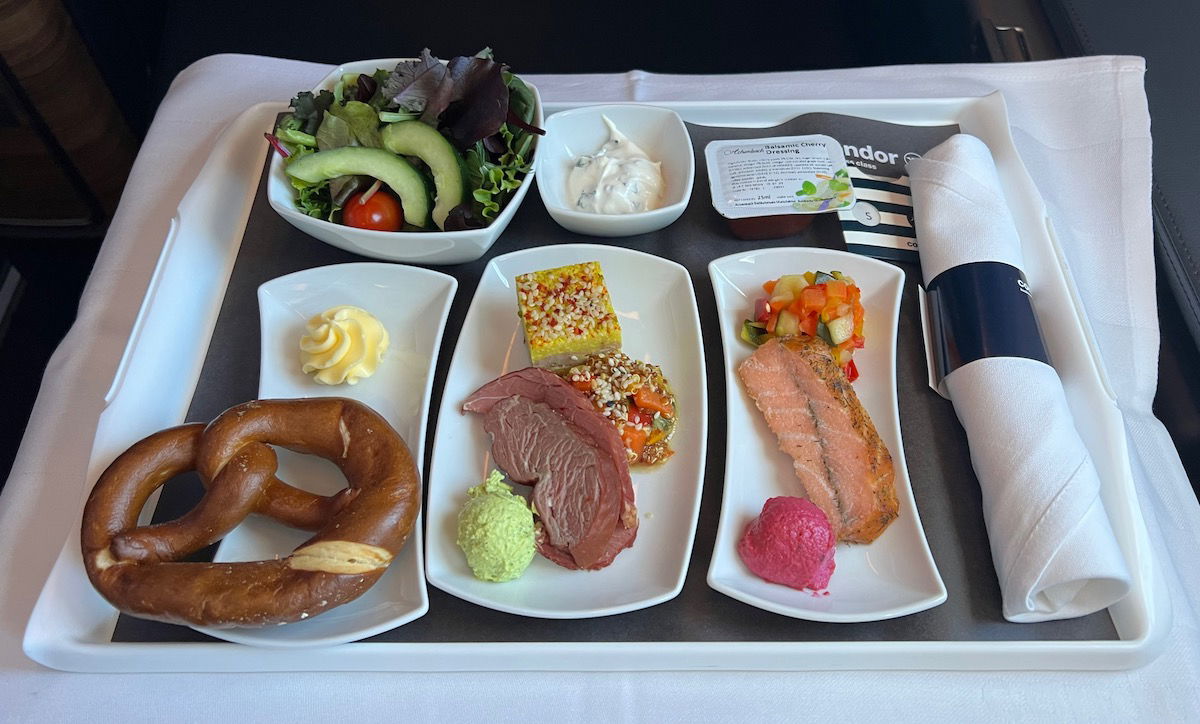 The entire starter tray was cleared, and then around 30 minutes after the appetizer service, the main course was brought out. Of the three choices, I selected the cod fillet with bread mustard crust, brown butter sauce, mashed potatoes, creamed savoy cabbage with truffle, and carrots. The dish was flavorful and nicely presented (the garnishing was a bit better than the appetizer on my recent British Airways first class flight).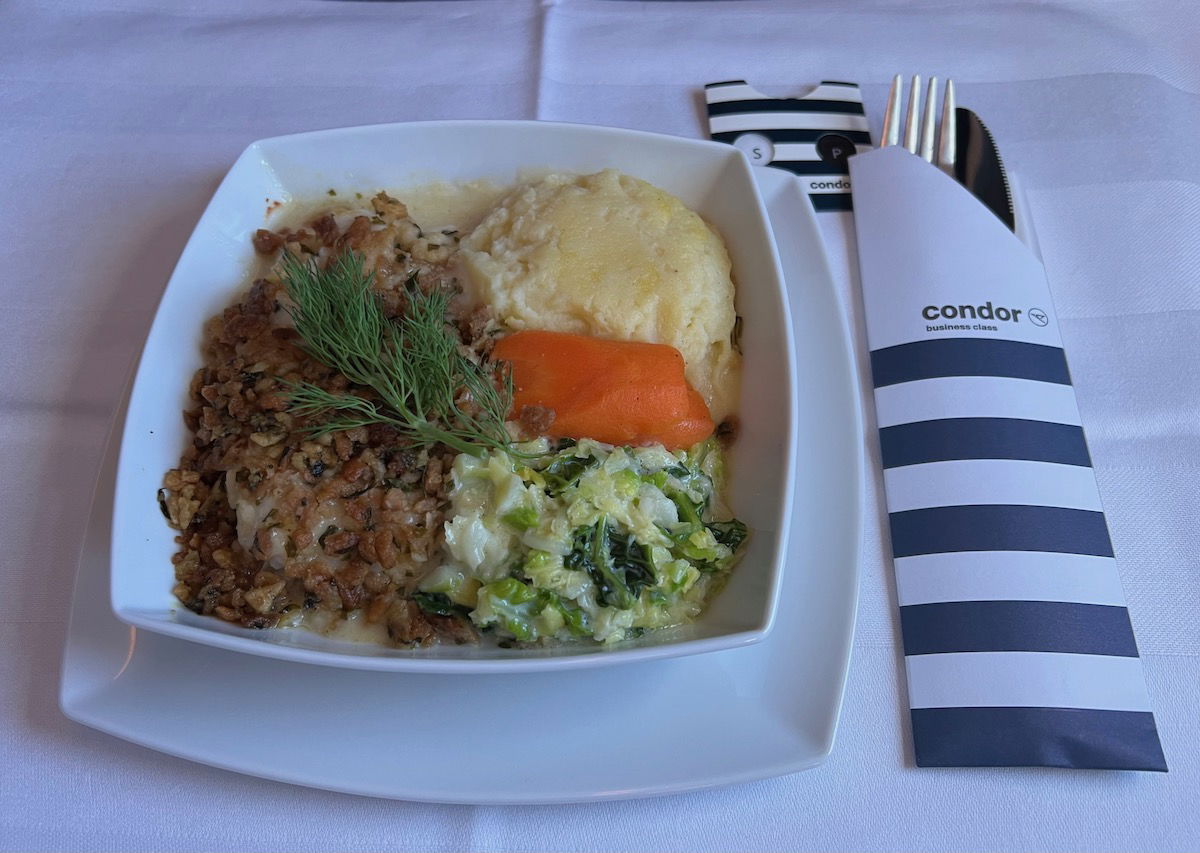 Another 30 minutes later, a trolley was rolled down the aisle with a cheese course. I loved the selection, as it consisted of montagnolo, sheep's cheese, and gouda with pesto, all with dried cranberries.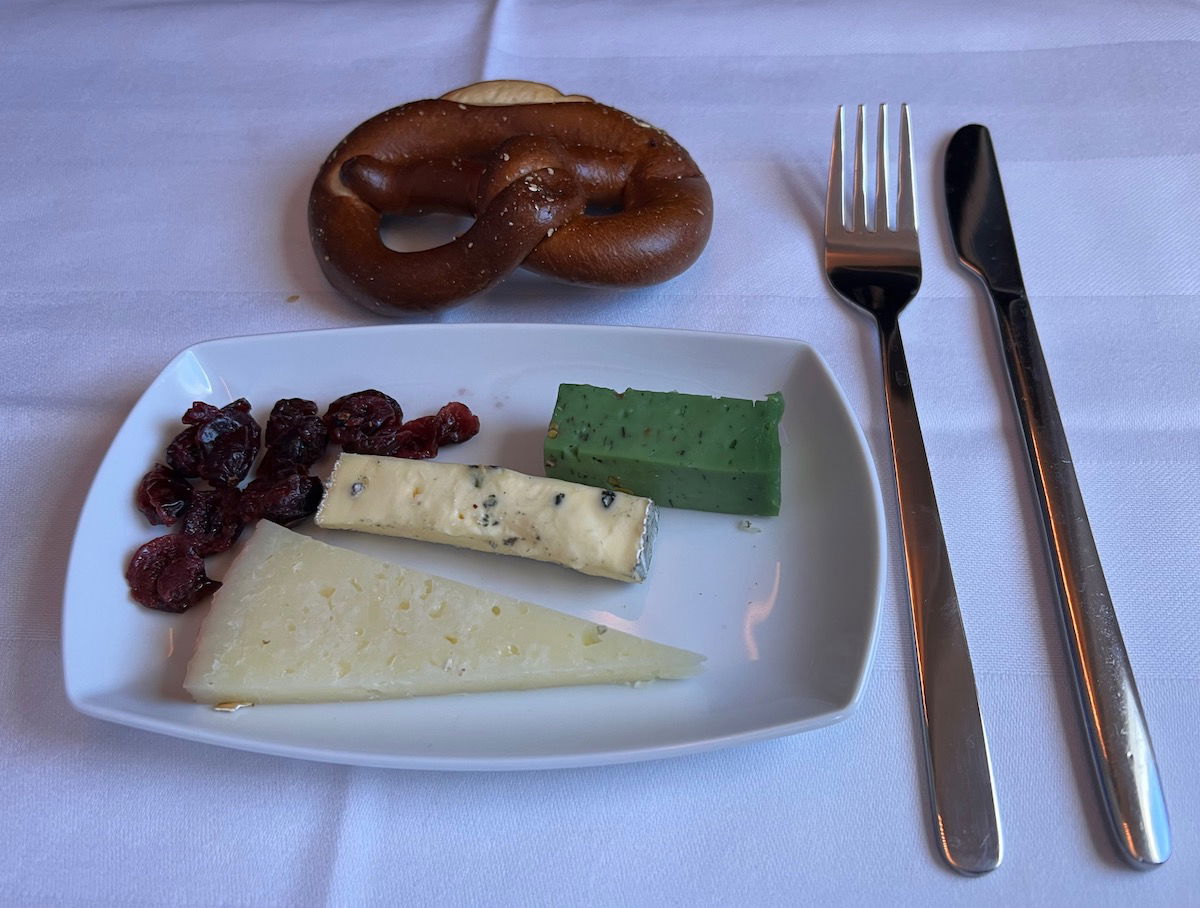 Last but certainly not least, I was offered a cheesecake tart with berry sauce, which was also excellent.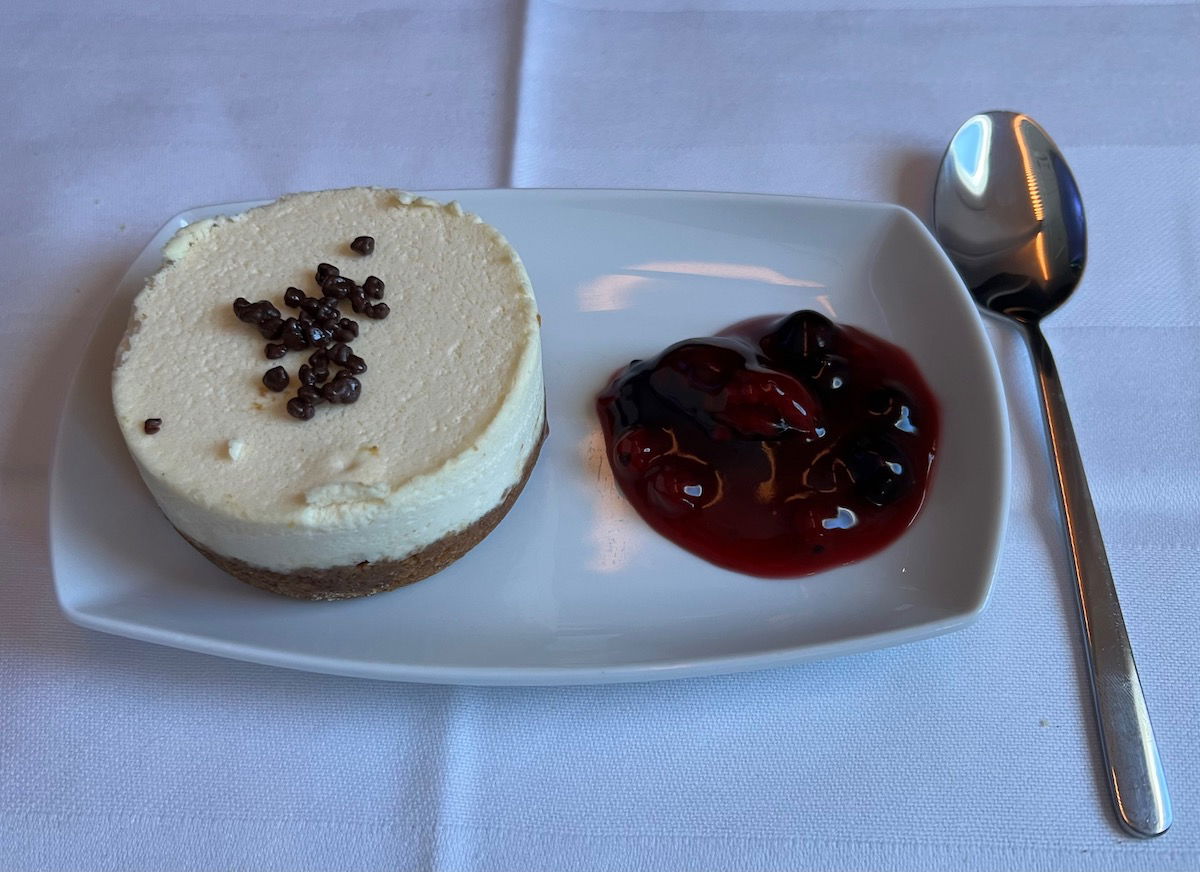 At the conclusion of the meal, I was asked if I wanted coffee or tea. I ordered an espresso, and that was even served with an edible spoon.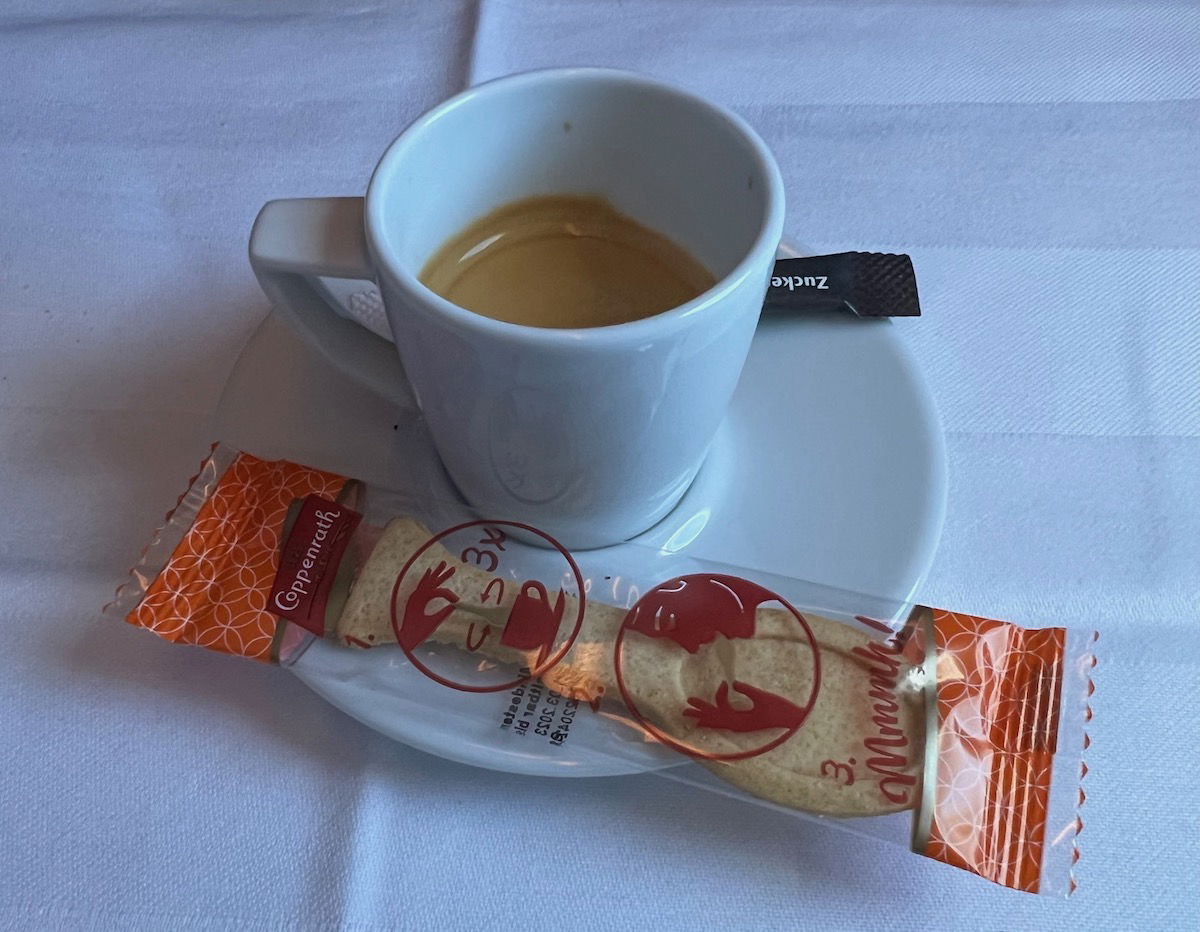 Honestly, what a great meal, especially given that Condor has historically been a discount leisure airline. The meal service was noticeably better than in Lufthansa business class, in terms of quantity and quality.
The only concern I have about the meal service is that it was only completed 3.5 hours after takeoff. I don't mind a leisurely meal service on a daytime flight (especially since Condor doesn't have many people connecting off a redeye from the Middle East or India), though I am confused by the pace, since the crew seemed to be hustling.
In fairness, Condor does have a really extensive meal service, more so than in Lufthansa business class. I just hope the service is faster on overnight flights.
Condor A330neo business class bed
After the meal, I decided to try to get some rest. At this point there were around 6.5 hours remaining enroute to Seattle. I reclined my seat and put out my bedding.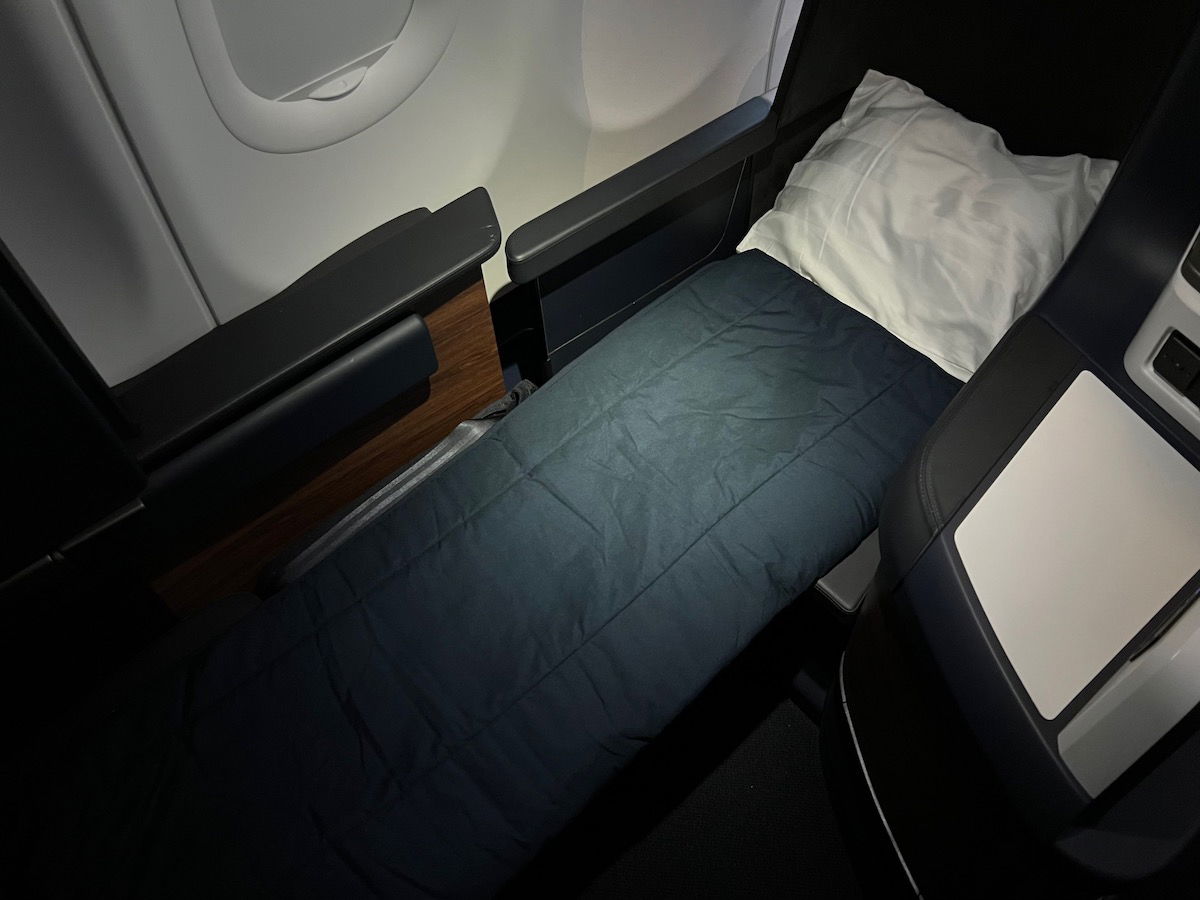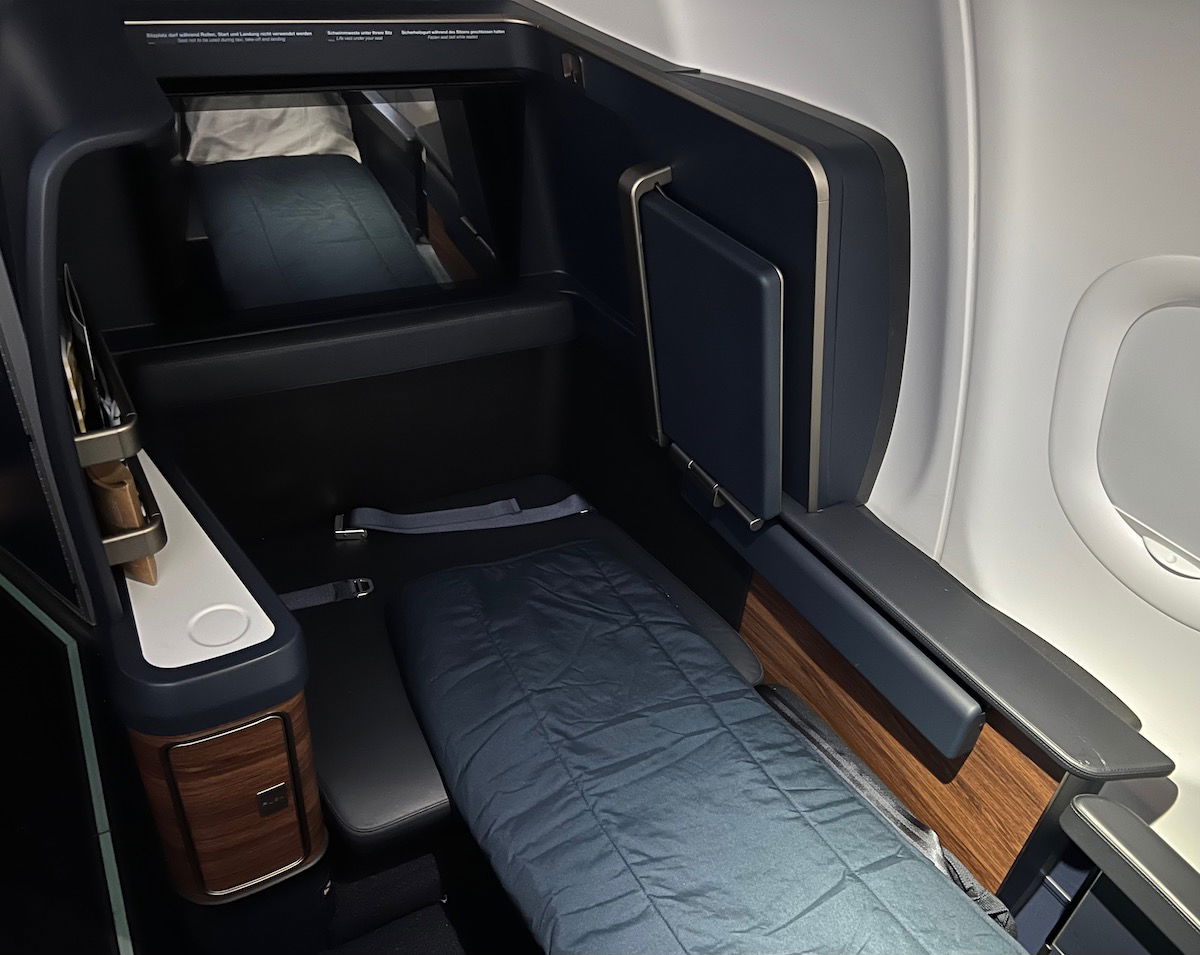 These Prime seats absolutely rock in terms of comfort. While the seat itself isn't that wide, the ottoman is massive, and I felt like I was more in a first class suite than a business class seat. I didn't end up sleeping for very long, but that was more a function of it being a daytime flight, and wanting to get some work done.
Condor A330neo business class lavatories
As far as lavatories go, there are three bathrooms around the business class cabin — there's one at the back of the cabin at each aisle, plus one by the cockpit. I'd note that there's not a galley behind business class, so the bathroom is next to some seats. That could be a reason to avoid assigning a seat in the last row (which is ordinarily my preference).
The lavatories were clean and modern, but weren't particularly large, and didn't have any special amenities.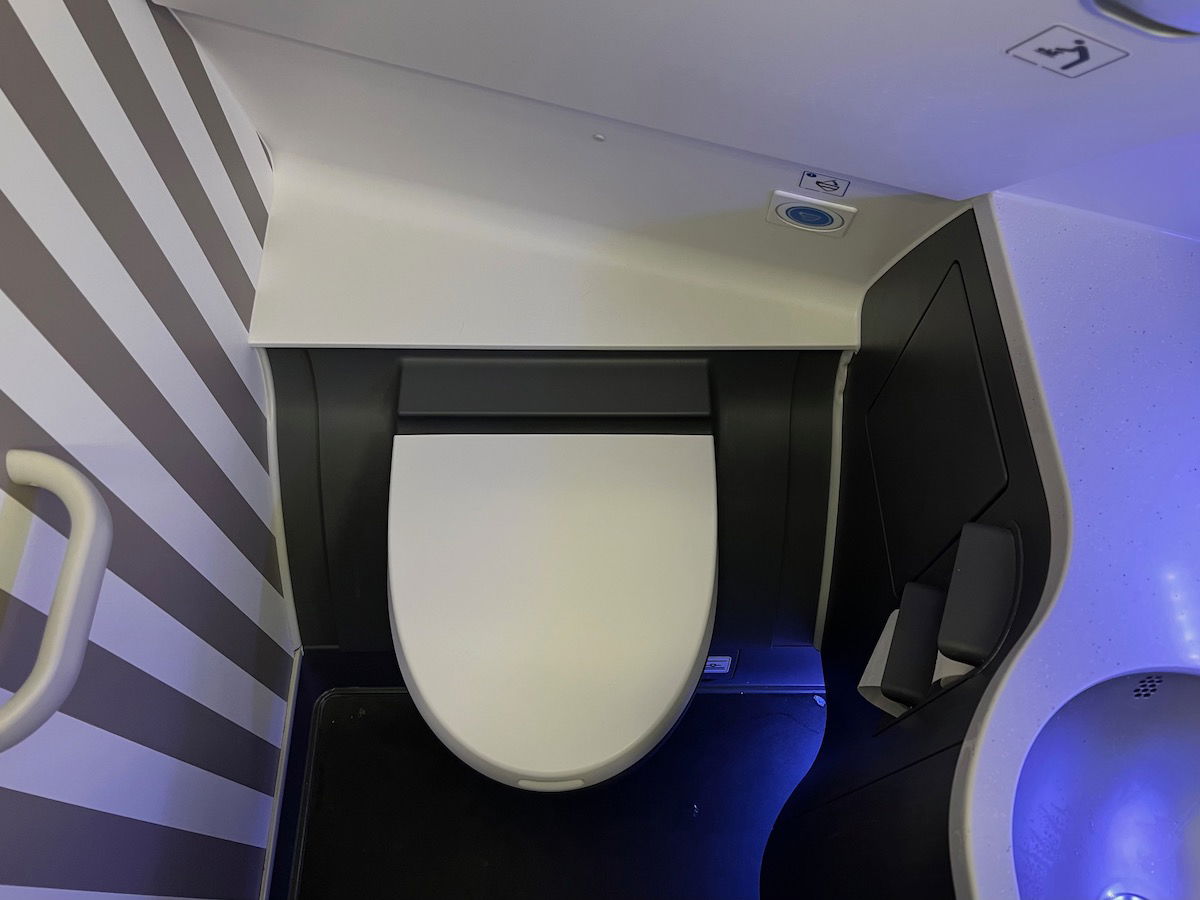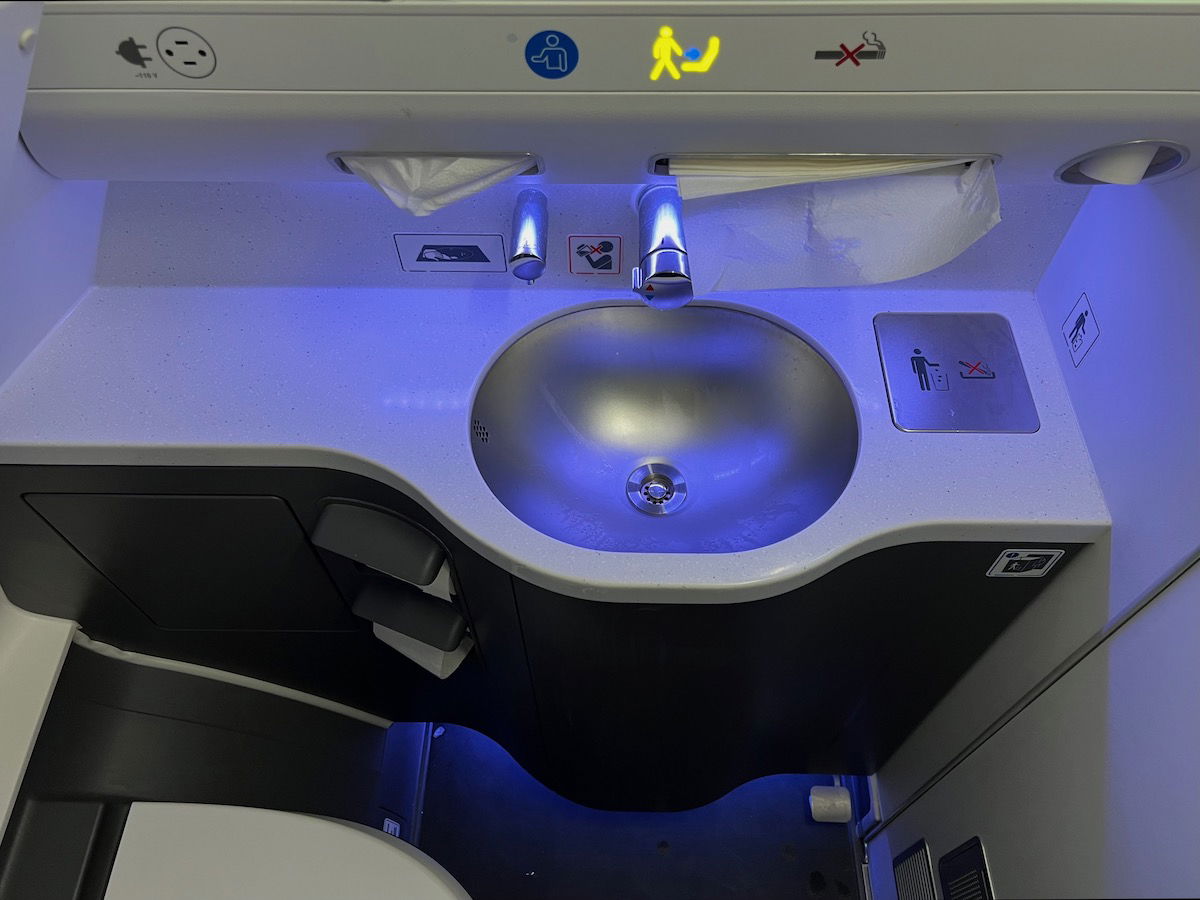 Condor's A330neo business class midflight snack
Around four hours before landing (just 2.5 hours after the previous meal service finished), the crew passed through the cabin with a snack service. At this point we were over Northern Canada, and were treated to some breathtaking views.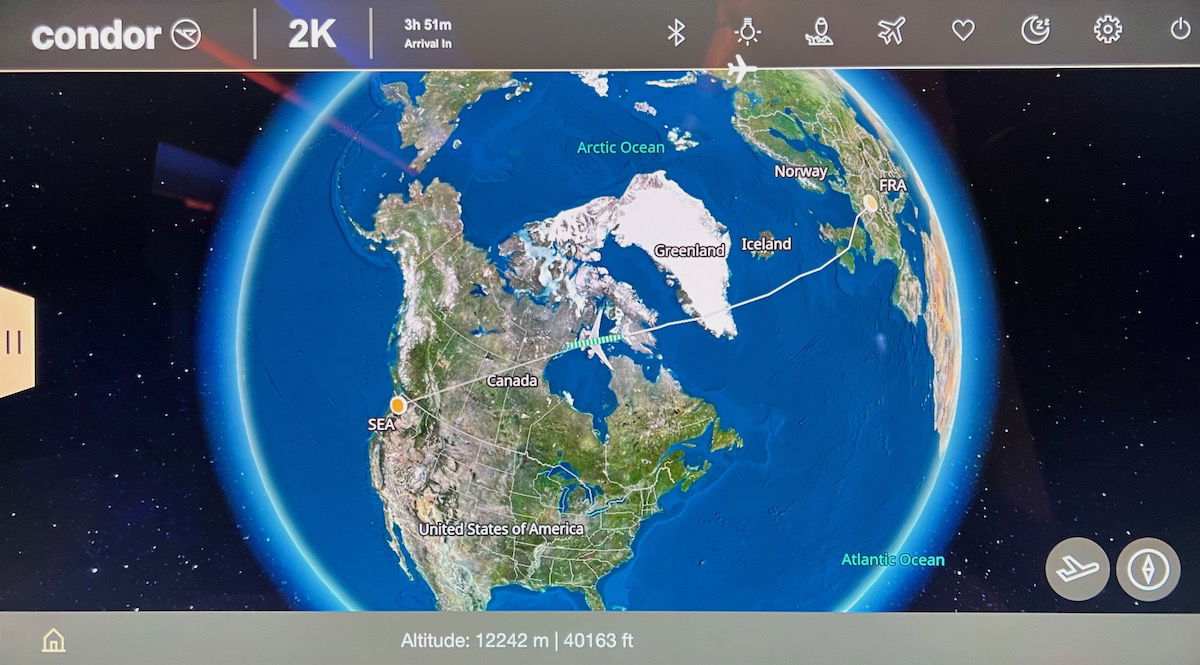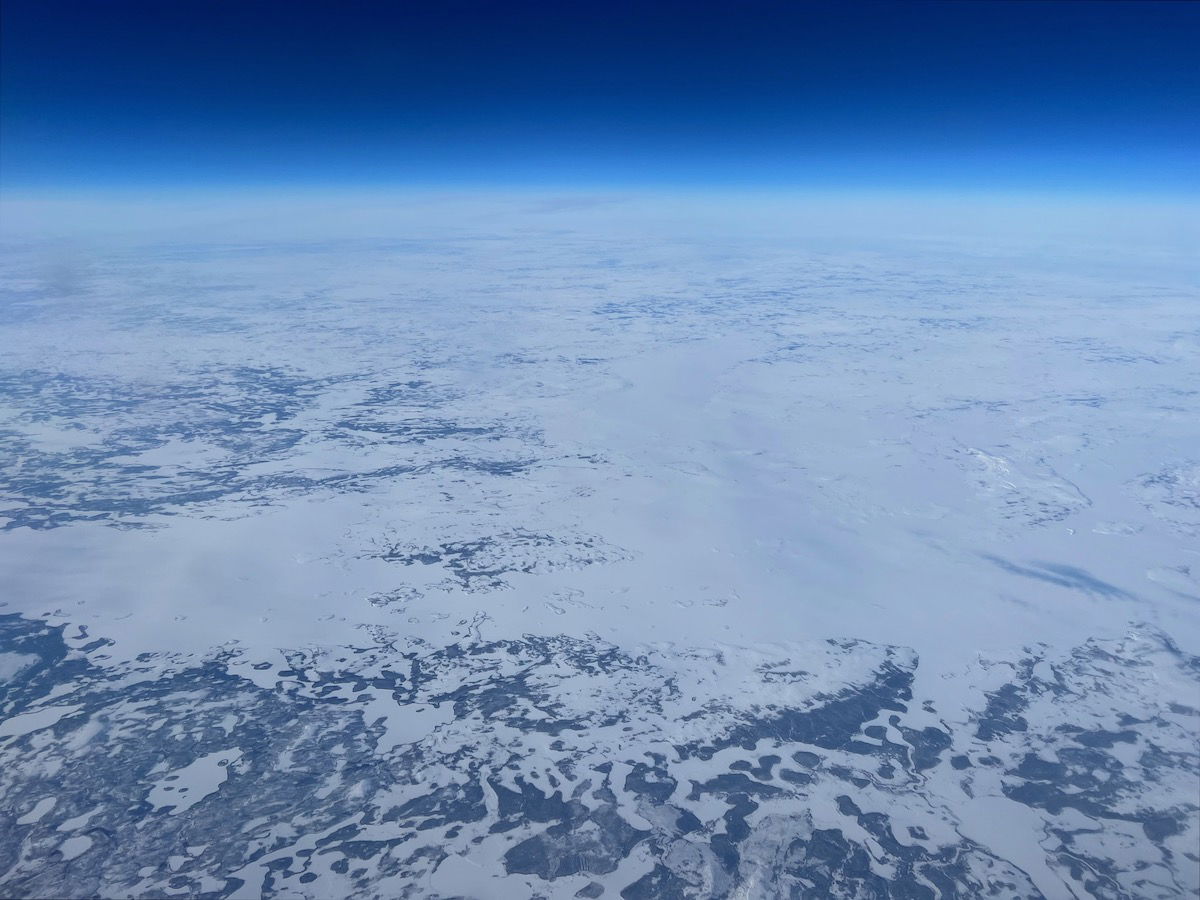 This snack service once again exceeded my expectations, since Lufthansa doesn't have warm midflight snacks in business class on routes like this. You can find the snack menu below.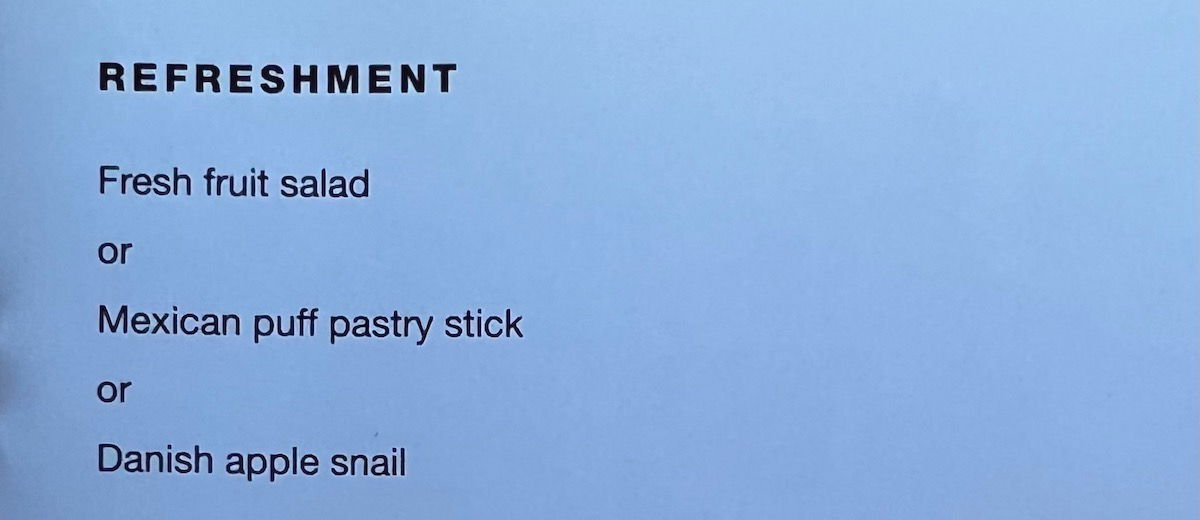 I selected the Mexican puff pastry stick, which was almost a little like a calzone. I had a glass of water and a cup of coffee to go along with it.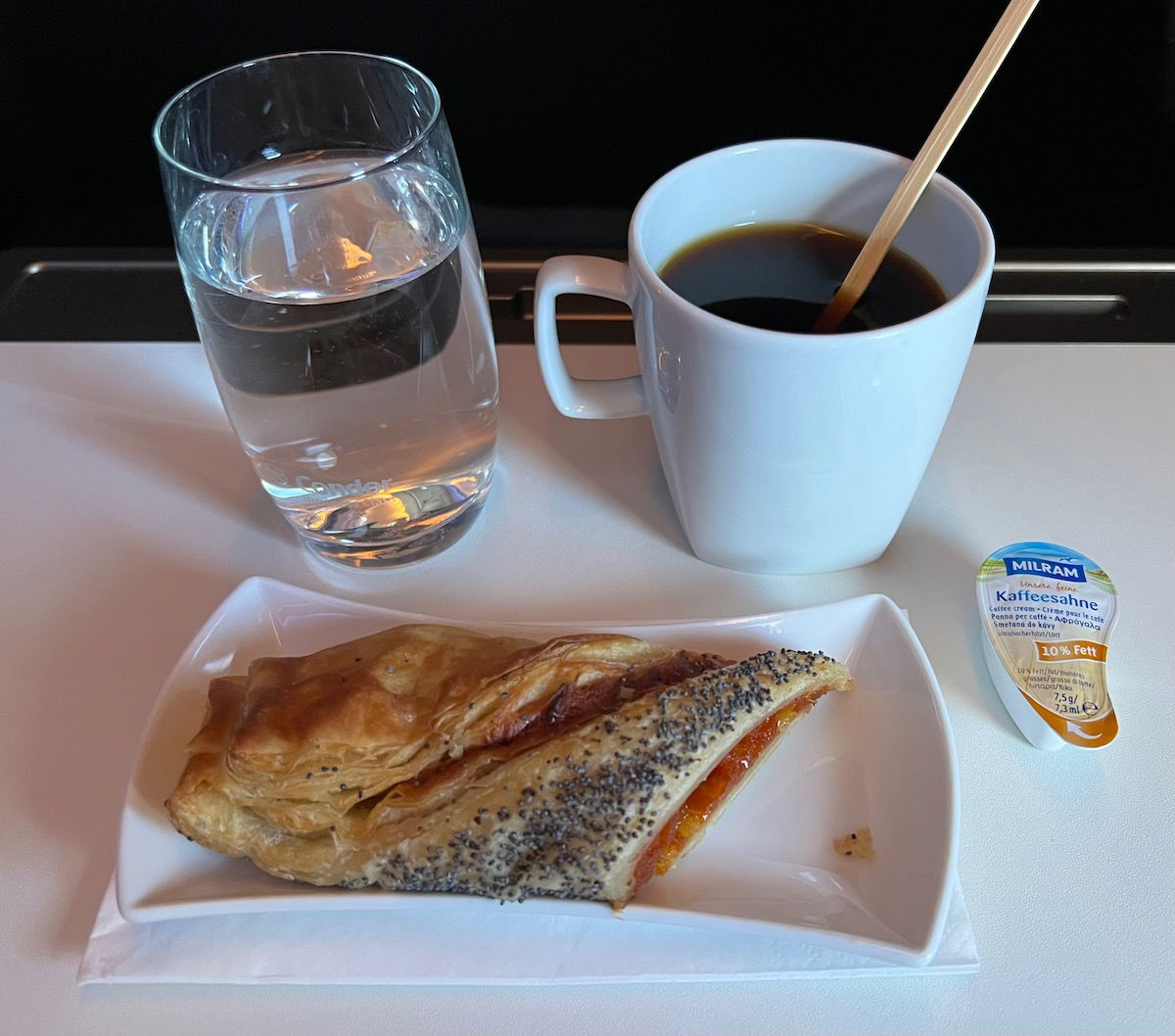 Condor's A330neo business class pre-landing meal
This flight was almost a nonstop eating adventure, because just under two hours before arrival, the pre-landing snack was served. You can find the menu below.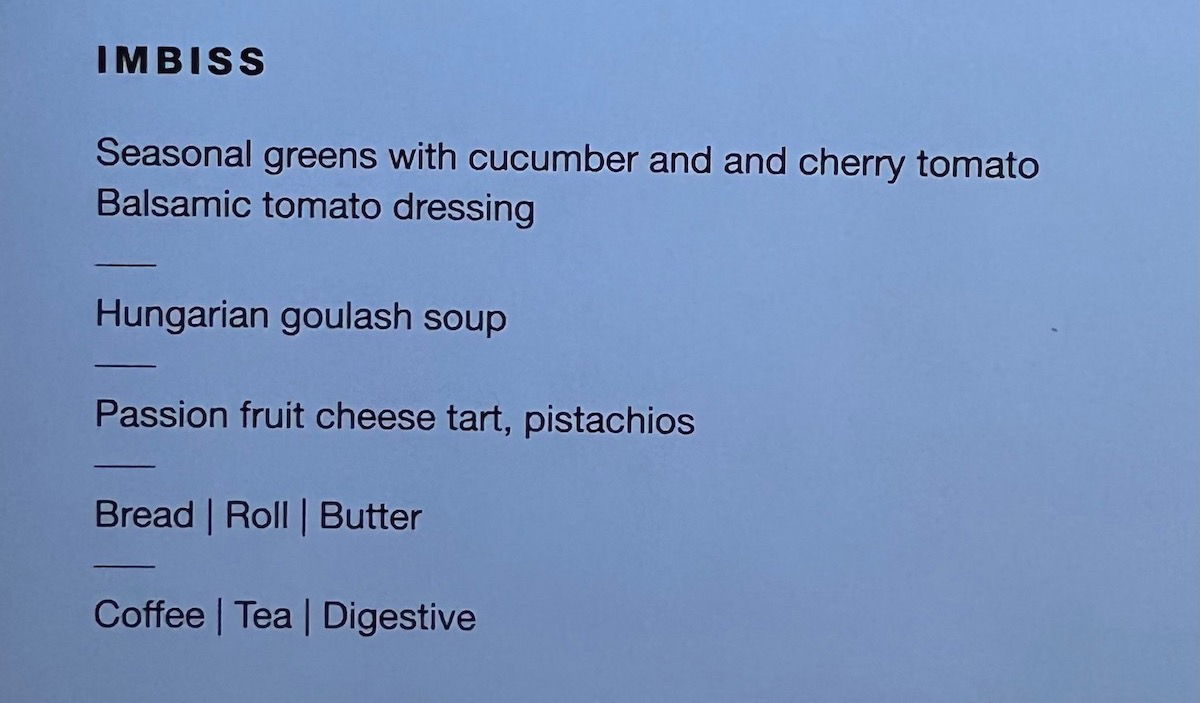 The menu suggested that the meal would be a Hungarian goulash soup, though as it turned out, currywurst was actually being served. I'm not a currywurst fan, so I asked if they had any other options. I was happy when they said that they did, and I instead had a tasty tomato and cheese ravioli dish. This came with a side salad, a bread roll, and a passionfruit cheese tart.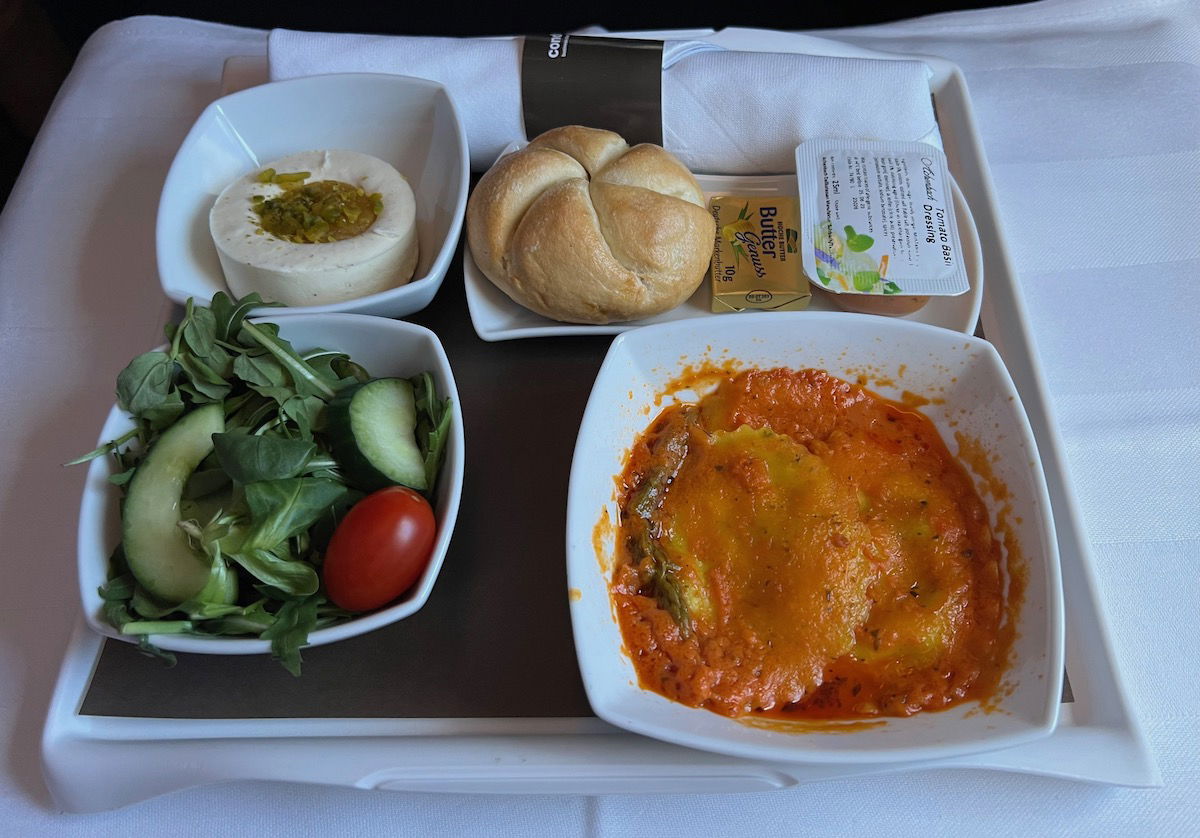 My tray was cleared a bit over an hour before landing.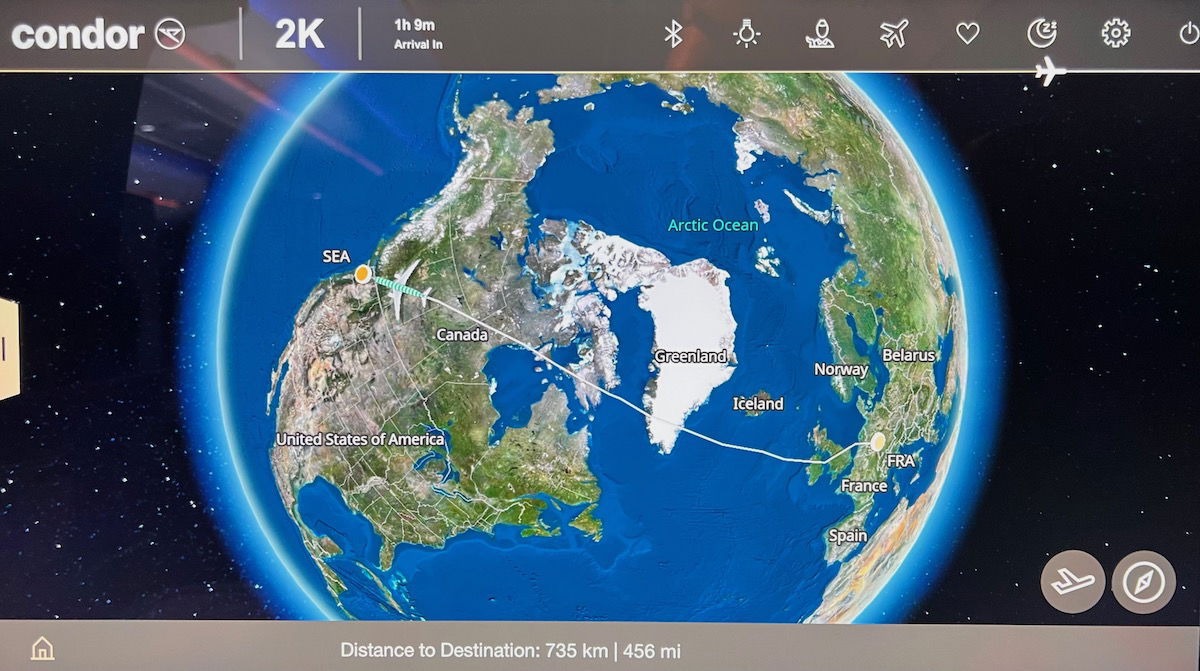 Condor business class service
The crew on this flight was friendly and professional. They also worked hard, given that there were basically three meal services during the flight. As I mentioned above, the main meal service was on the slow side, but that didn't bother me in this context.
Condor A330neo arrival in Seattle
At around 2:55PM the captain announced that we'd be descending shortly, and would be landing at around 3:30PM. My eyes were glued out the window during the approach, given the views.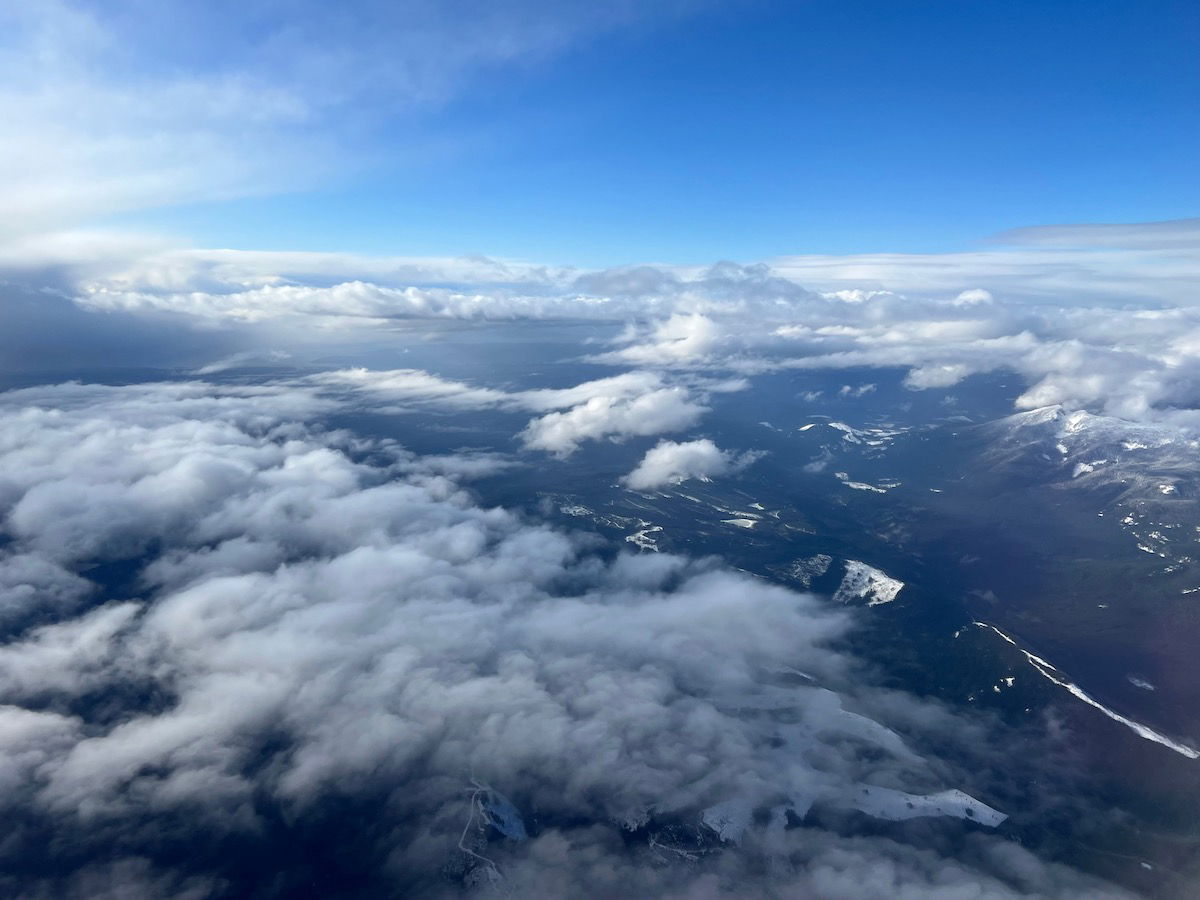 I used to live in Seattle, but haven't been back in years. The view of the city sure made me want to return.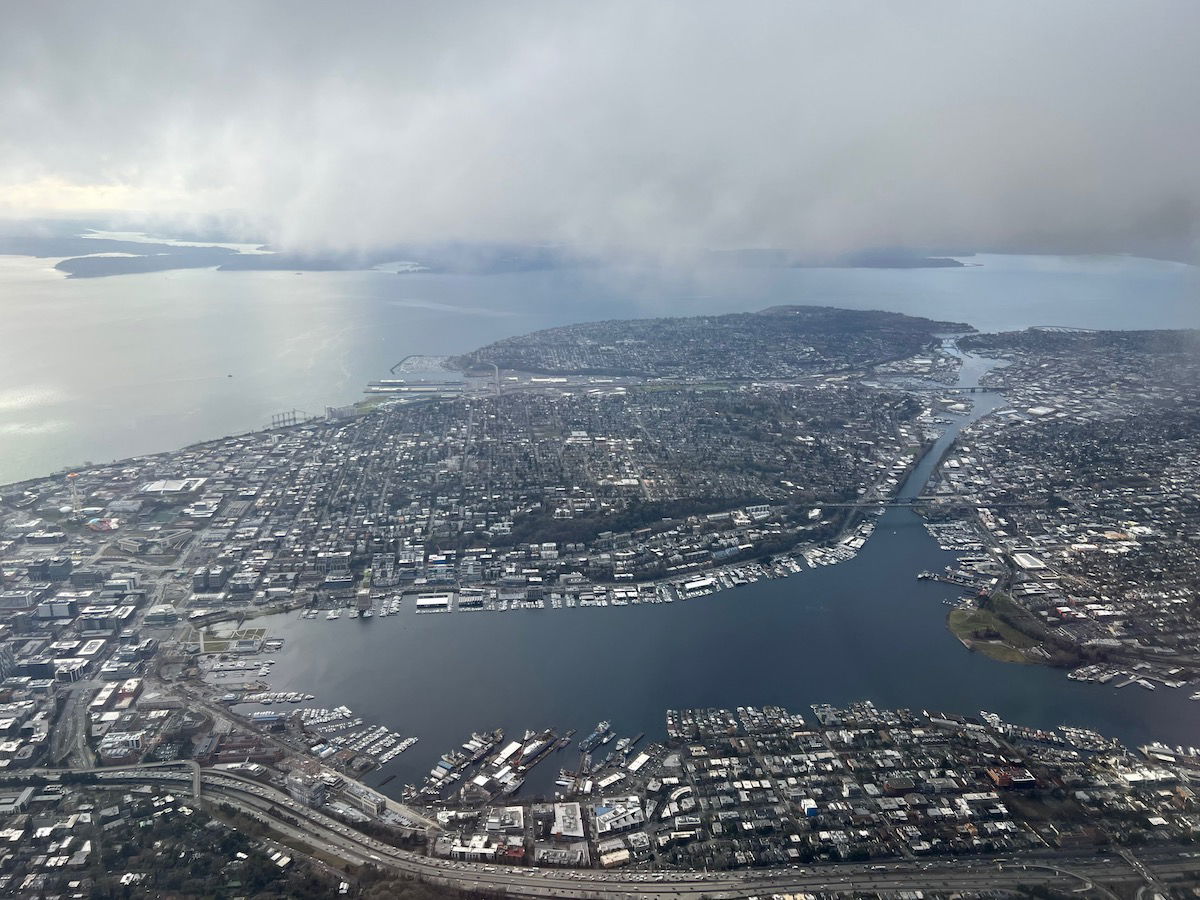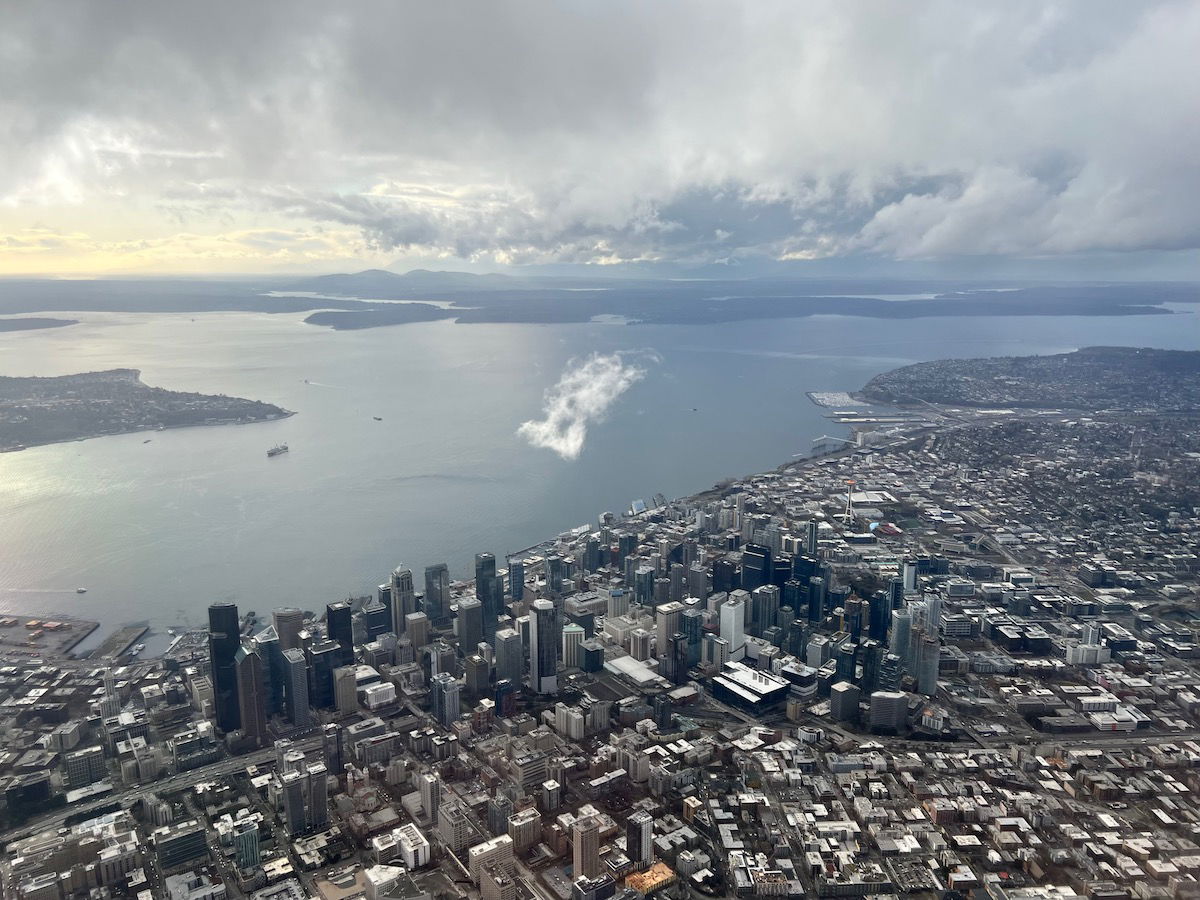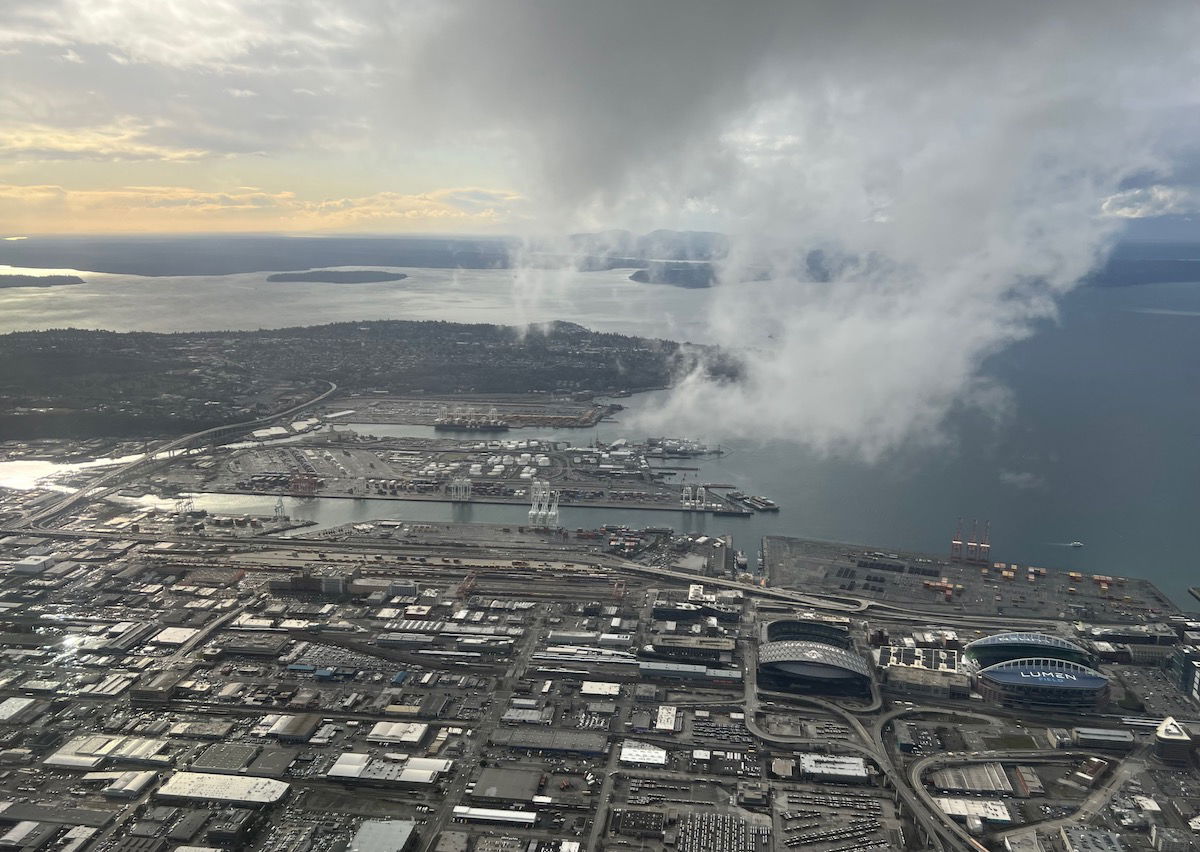 We had a smooth touchdown in Seattle at 3:40PM. From there we had a very short taxi to the airport's new international terminal. The whole arrivals facility was beautiful, though it required a lot of walking (which personally I like after a long flight, but I imagine it's more of a struggle for others).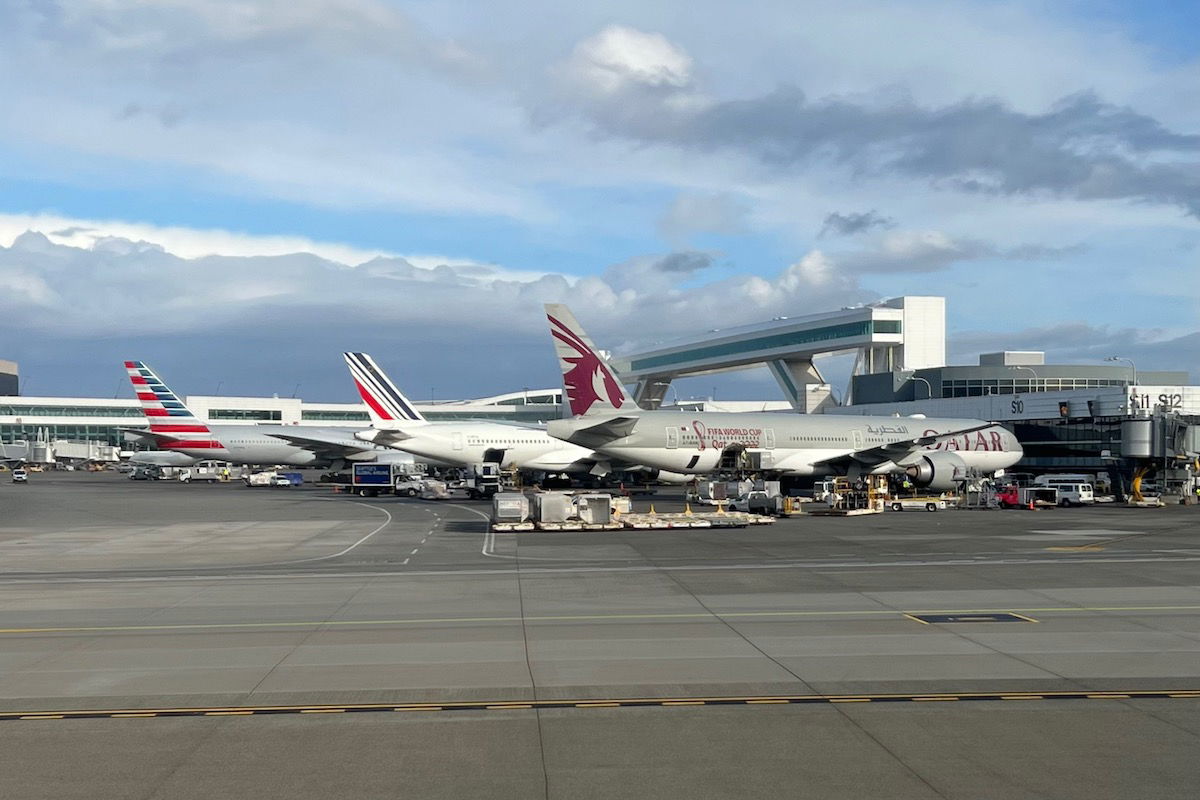 I was through immigration quickly, and headed to the Marriott SeaTac Airport, where I'd be spending the night, prior to returning to Miami the following morning.
Bottom line
I had an exceptional flight in Condor's new A330-900neo business class. The airline is reinventing itself, with swanky new long haul jets that compare favorably to what Lufthansa offers. The most important thing to remember is that Condor offers value, as the airline significantly undercuts the competition on pricing.
I loved Condor's new cabins, the mostly great tech, the excellent entertainment selection, the amenities, and the meals, all of which were better than what you'll find in Lufthansa business class.
The major area for improvement is with Wi-Fi, as it's very slow and overpriced (but still better than nothing). Meanwhile the service flow was slow, which I didn't mind on a point-to-point daytime long haul flight, though that would be more of an issue on an overnight flight.
If you can get a good deal on Condor business class, I'd absolutely recommend flying with the airline. I hope Condor increasingly gives Lufthansa a run for its money, as German aviation could use some competition.
What do you make of Condor's A330-900neo business class?