German leisure airline Condor is in the process of reinventing itself. The airline is about to refresh its fleet with all new Airbus A330-900neos, and on top of that is competing head-to-head with Lufthansa in more markets. Ahead of the first A330-900neo delivery, the airline has revealed an original new livery… it's so ridiculous that I love it.
Condor reveals new brand identity
Condor has today unveiled its new brand identity, including an all new livery. Nope, it's not April Fools' Day, though initially you may think it is.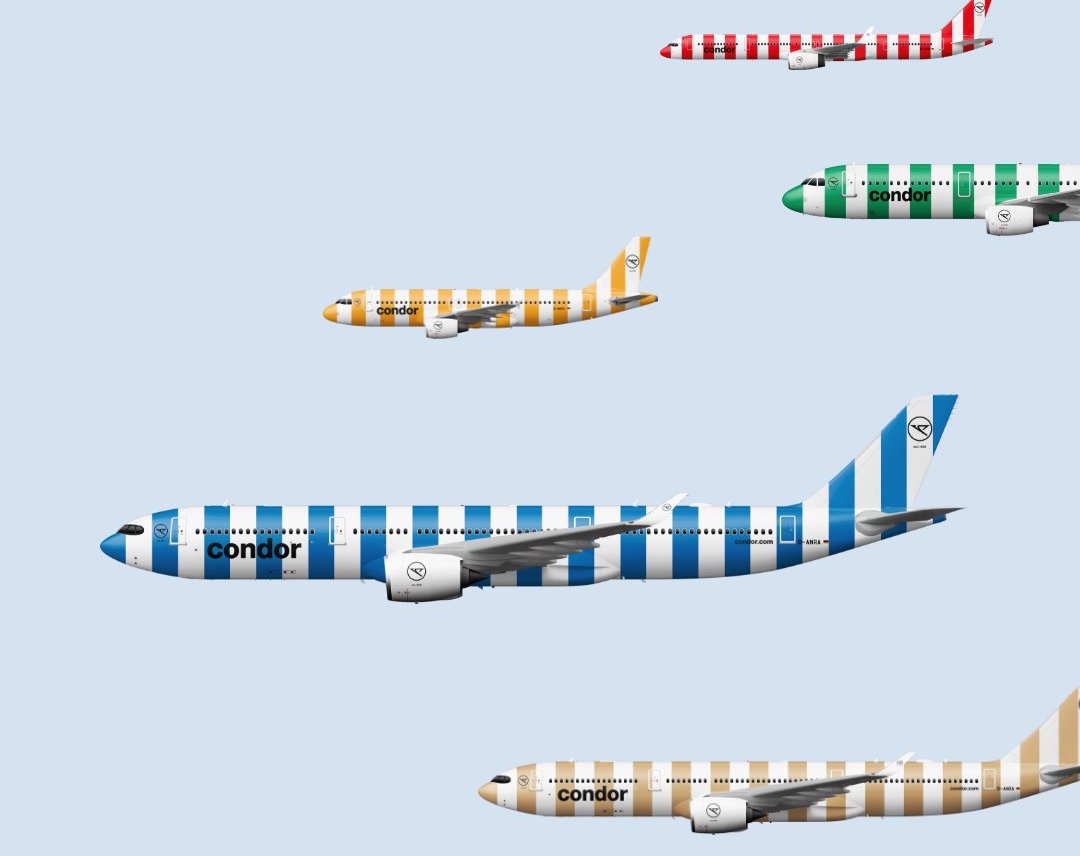 This new livery is intended to emphasize that the airline is a leisure carrier, as apparently "vacation is stripes." As it's described:
Condor is vacation. And vacation is stripes. Germany's most popular leisure airline is unveiling its new brand identity today: In the future, Condor will wear stripes in five colors. Inspired by parasols, bath towels and beach chairs, Condor is evolving into a distinctive and unique vacation airline.
Here's how Ralf Teckentrup, CEO of Condor, describes this:
"Condor has undergone a transformation over the past two and a half years: From a subsidiary of a vertically integrated travel group to an independent airline that looks back proudly on its history and tradition, while at the same time embarking on the path to the future. We want to express this unmistakably through our corporate identity: Condor is vacation and Condor is unmistakable – like our new design, with which we are now launching into the future. Our new trademark are stripes, our figurative mark stands for our origin and the colors for diversity. This triad is new, what remains is our passion. It has always made Condor unique and is therefore also reflected in our claim: Passion is our compass."
A few more key details:
The corporate identity's lead colors are yellow and blue, but they're complemented by the contrasting color gray
Planes will be painted in stripes that are five different colors, including yellow, red, blue, green, and beige, intended to "stand for the facets of the diversity of Condor's guests, employees and the multitude of opportunities to discover the world with Condor"
The Condor signet (the condor in a circle) has received a "facelift, with finer and more dynamic lines"
The Condor lettering is more compact, and is now fully lower case
It's expected that 80% of Condor's fleet will be repainted with the new livery by 2024, with aircraft getting the new livery at the same time that they need to be repainted anyway
The first A330-900neo with the new livery will be flying this fall, while the first A321 with the new livery will be flying as of April 5 (it has the registration code D-AIAD)
I kind of love this new livery… I think?
When I first saw Condor's new livery, I almost thought it was a joke. But it quickly grew on me, and I kind of love it. A couple of thoughts:
Condor is a leisure airline, and it's nice that the airline has a playful and fun livery
With virtually all airlines adopting a similar style livery and claiming that they're doing something unique, it's fantastic to see an airline finally do something bold and special
I think this might just be the boldest new livery we've ever seen an airline introduce?
The alternating colors reminds me of Icelandair's new livery, though Condor's is definitely cooler
Bottom line
German leisure airline Condor has introduced a new livery that's unlike anything we've seen before. The new livery features stripes in five different colors, and Condor planes will no doubt stand out at whatever airport they fly to.
The first plane with the new livery will be an A321, and it'll fly as of tomorrow. Meanwhile we can expect A330-900neos to enter service as of this fall with this new livery.
What do you make of Condor's new livery? I'm curious if I'm the only one who loves just how "out there" this is!