Condor just revealed its new Airbus A330-900neo cabins, including a competitive-looking business class. Lufthansa executives should be sweating…
Condor Airbus A330-900neo cabin details
In mid-2021, German leisure airline Condor revealed plans to acquire 16 Airbus A330-900neo aircraft. This was a huge development for the airline, as the carrier used to fly rather outdated Boeing 767s on long haul flights.
A330-900neos offer more capacity, much better fuel efficiency and economics, and also give Condor the opportunity to reinvent the inflight experience. Condor is increasingly competing head-to-head against Lufthansa on certain routes, rather than just focusing on leisure routes.
The airline has just revealed what we can expect from the inflight product. Condor's A330-900neos will feature a total of 310 seats, and will be in a three cabin layout. Let's go over the details (this is in addition to Condor recently revealing its bold new livery, which I love).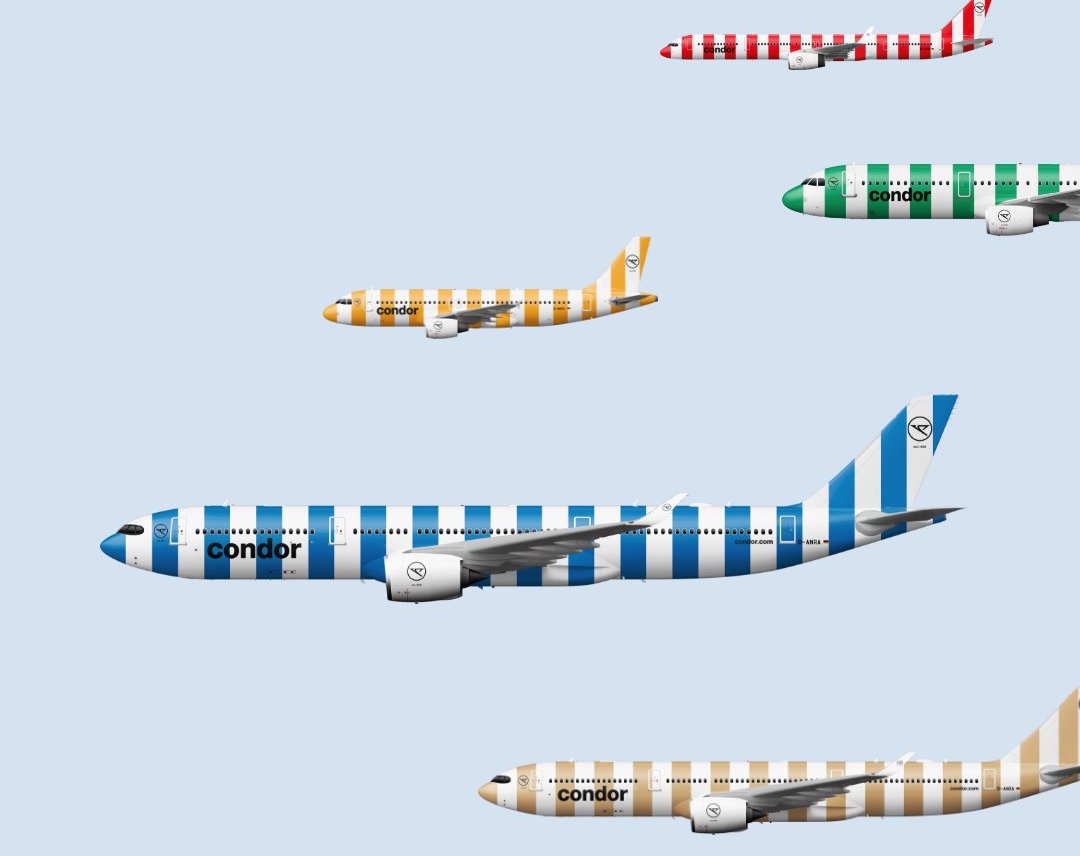 Condor business class A330-900neo
Condor's A330-900neo business class will feature a total of 30 seats, in a 1-2-1 configuration. Condor will use a staggered configuration in business class, offering each passenger direct aisle access. Seats convert into a 1.99 meter lie flat bed. Business class seats will also have 17.3″ 4K personal televisions, with a touchscreen and remote control. There will even be special Prime Seats in the first row, featuring extra amenities and space.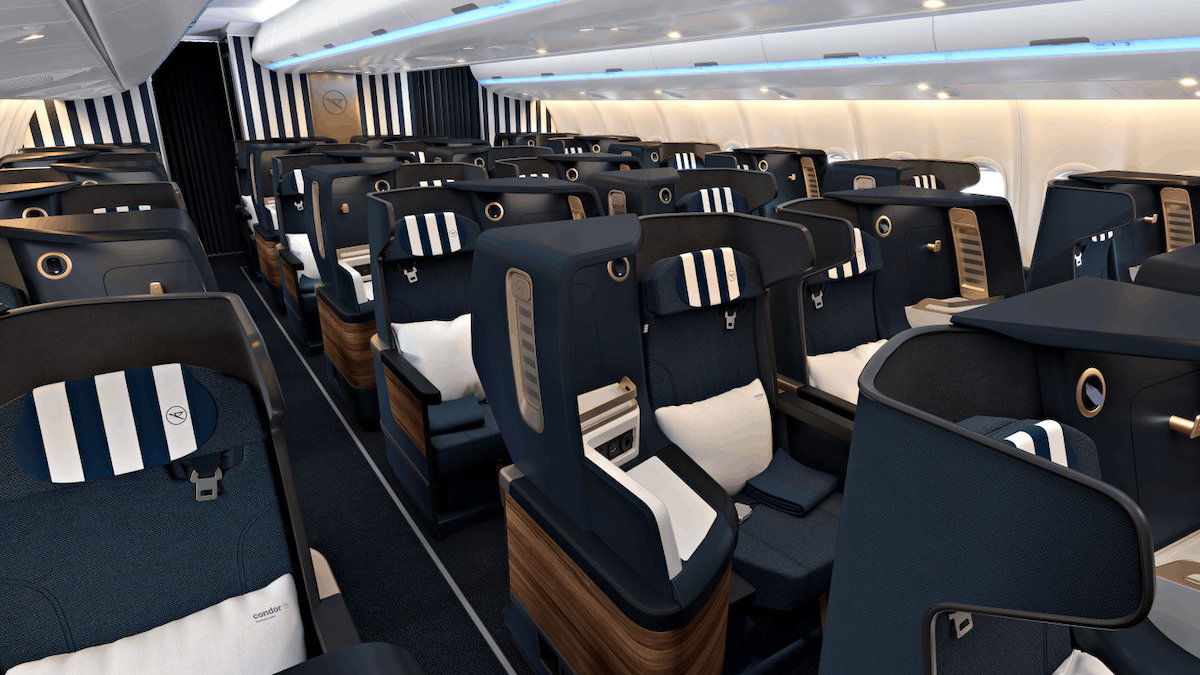 Condor premium economy A330-900neo
Condor's A330-900neo premium economy will have 64 seats, in a 2-4-2 configuration. While the airline is marketing this as premium economy, in reality this is more like extra legroom economy, since seats won't have any additional width.
Premium economy passengers will enjoy up to 15cm of additional seat pitch, a greater seat recline angle, adjustable headrests, and footrests. Condor premium economy will have 13.3″ 4K personal televisions with touchscreens.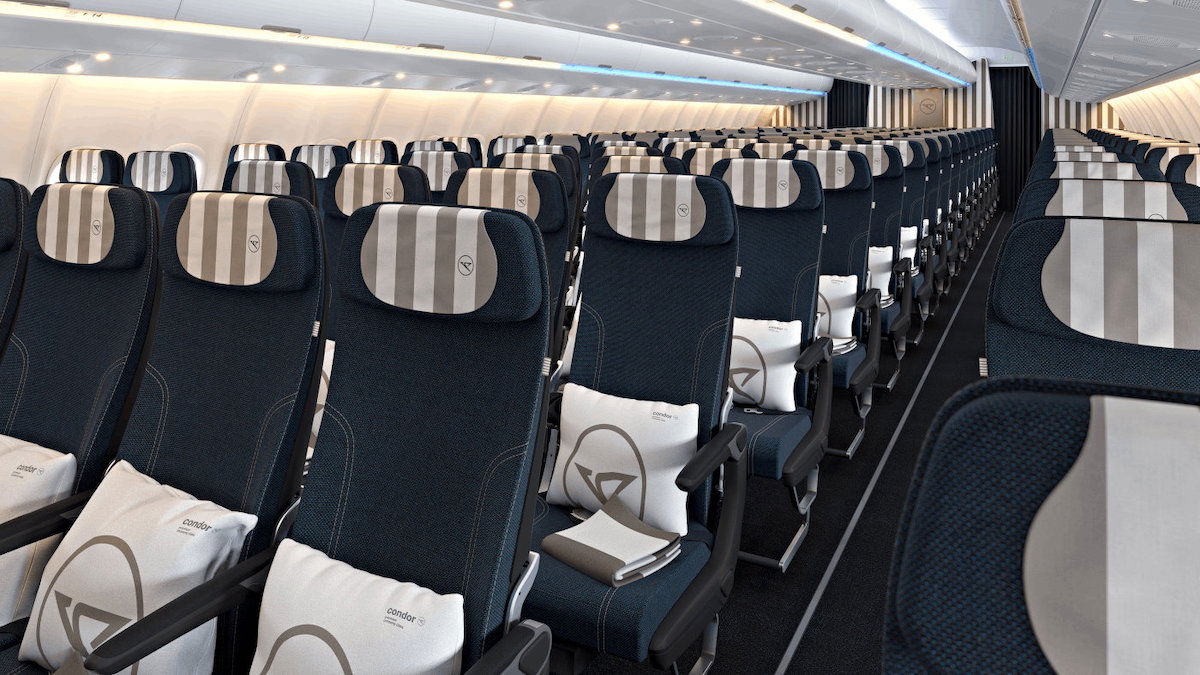 Condor economy A330-900neo
Condor's A330-900neo economy will have 216 seats, in a 2-4-2 configuration. There's not any information as to what seat pitch will be like, but each seat will have a 13.3″ 4K touchscreen personal television.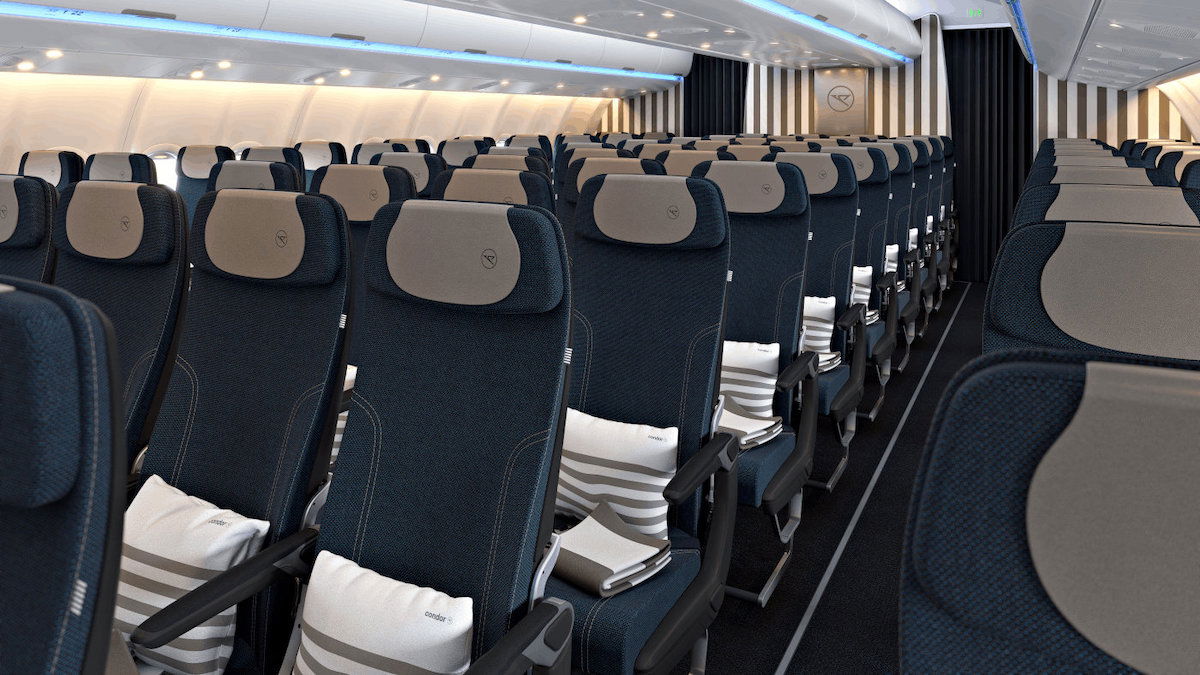 Condor will offer high speed Wi-Fi
Condor's Airbus A330-900neos will feature high-speed broadband internet throughout the cabin, which is an exciting development, as historically Condor hasn't offered Wi-Fi. There's no information yet as to what pricing will be like. Here's to hoping the airline will have fixed pricing with no data caps.
When & where will Condor fly A330-900neos?
Condor intends to take delivery of its first A330-900neo as of the fall of 2022, with one plane to be delivered each month. That's a pretty fast delivery timeline, as it means that the airline will have most of its A330-900neos by the end of 2023.
While flights operated by the A330-900neo aren't yet on sale, it's stated that they'll enter service in the winter of 2022, with the first destinations including the Dominican Republic, Mexico, and Seattle.
Condor's new cabins look fantastic!
Condor's cabins look great in general, but it's even more exciting that Lufthansa will finally be getting some increased competition in Germany when it comes to product quality. Historically Condor has been a leisure airline and hasn't really moved much into Lufthansa's turf.
The carrier currently flies Boeing 767s that feature an outdated product, including angled seats in business class. Ironically with these new cabins, by the end of 2023 Condor should have a much more consistent and premium long haul business class experience than Lufthansa does.
Condor's new business class isn't cutting edge, but it's a phenomenal improvement for the airline, and in general I love the finishes and the branding. For an airline like Condor, having flat beds direct aisle access, and Wi-Fi, is more than sufficient.
I'd say Condor deserves a Skytrax 5-star rating, what do y'all think? 😉
Bottom line
Condor will start flying Airbus A330-900neos as of later this year, as the airline looks to update its long haul fleet. We now know what to expect onboard. Condor's A330-900neos will feature 310 seats, including 30 business class that are fully flat and feature direct aisle access.
While the airline claims it has premium economy on these planes, in reality it's just extra legroom economy. Condor will also finally have Wi-Fi on its planes, and improved seatback entertainment.
Very well done, Condor! I can't wait to fly one of these planes.
What do you make of Condor's A330-900neo cabins?