In May 2022, Air France unveiled its new business class product. I wanted to provide an update on this, and especially about when this product will enter service, as there has been a bit of a delay. Let's take a look at everything we know about Air France's new business class.
Air France introduces business class seats with doors
Air France will be introducing a new business class product, which the airline hopes will help it move even more upmarket. These new seats are a reverse herringbone product with direct aisle access and doors.
Air France won't just be adding doors to its existing reverse herringbone seats, but rather the airline is rolling out seats that have been redesigned altogether. Specifically, Air France has selected Safran Versa as its new business class seat, which is the updated version of the Safran seat that Air France currently has. As it's described, Air France has designed this seat based on 3 "F"s:
Full flat, meaning that the seat transforms into a real bed almost two meters long
Full access, providing all business class passengers direct aisle access
Full privacy, ensuring optimal privacy thanks to the addition of doors
Beyond the added privacy, seats will also feature 17.3″ 4K high definition anti-glare screens with a noise reducing headset, a new bluetooth connection allowing passengers to use their own headphones, and several electric sockets. All planes with the new business class product will also feature Wi-Fi, as installing this has been a priority for Air France in recent years.
Below you can find renderings of the new cabin on the Boeing 777, which sure looks swanky to me (I love the lit up winged seahorse on the front of each storage console, plus the carpet).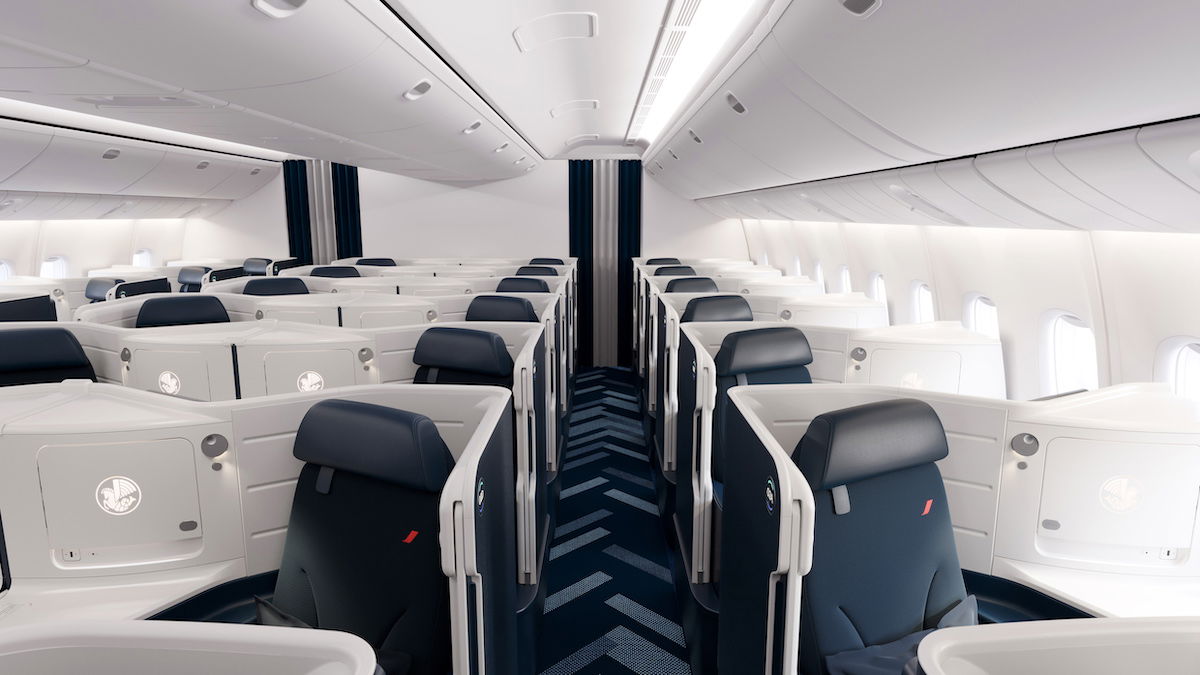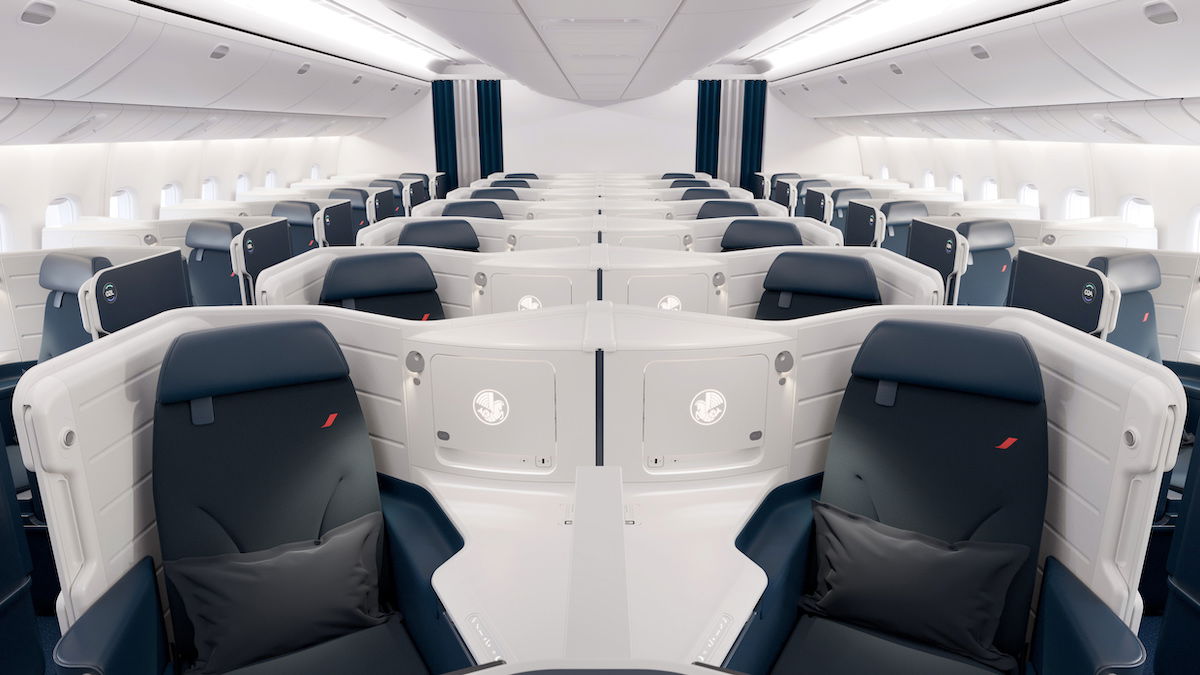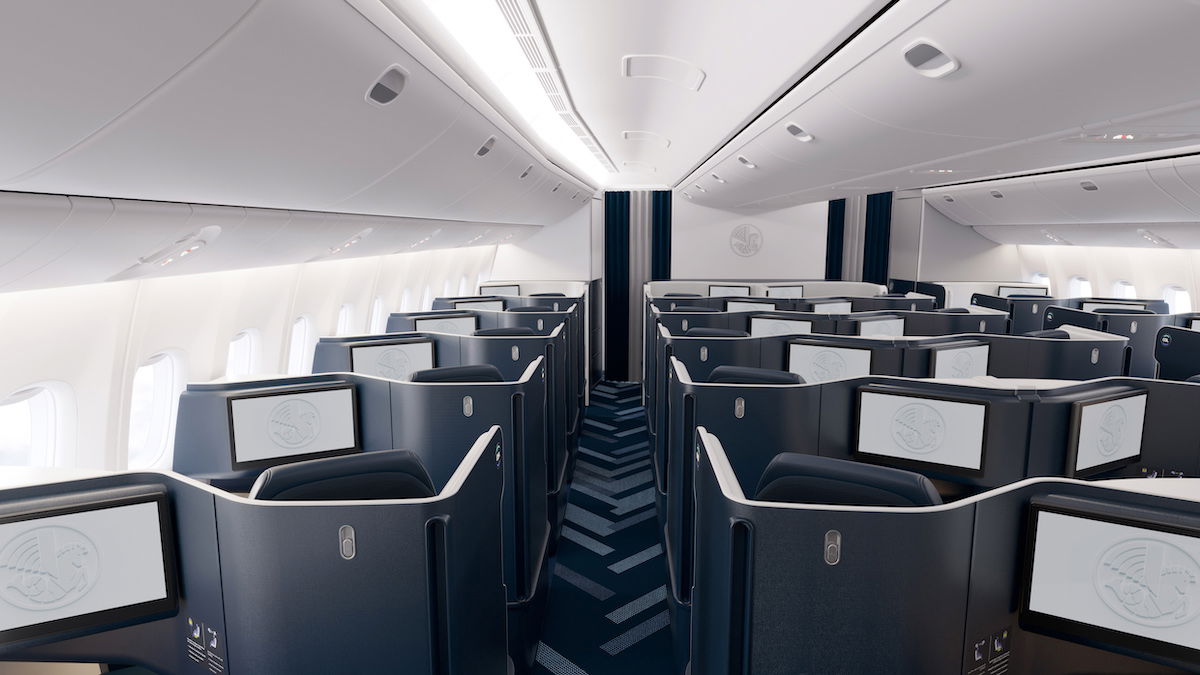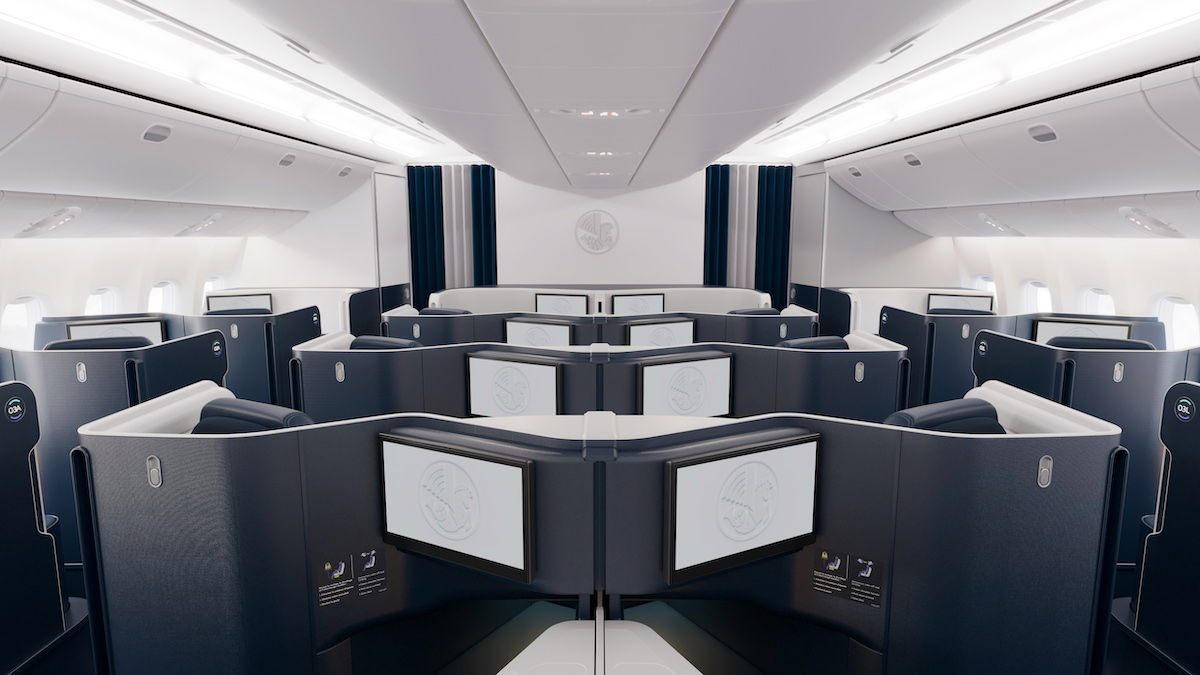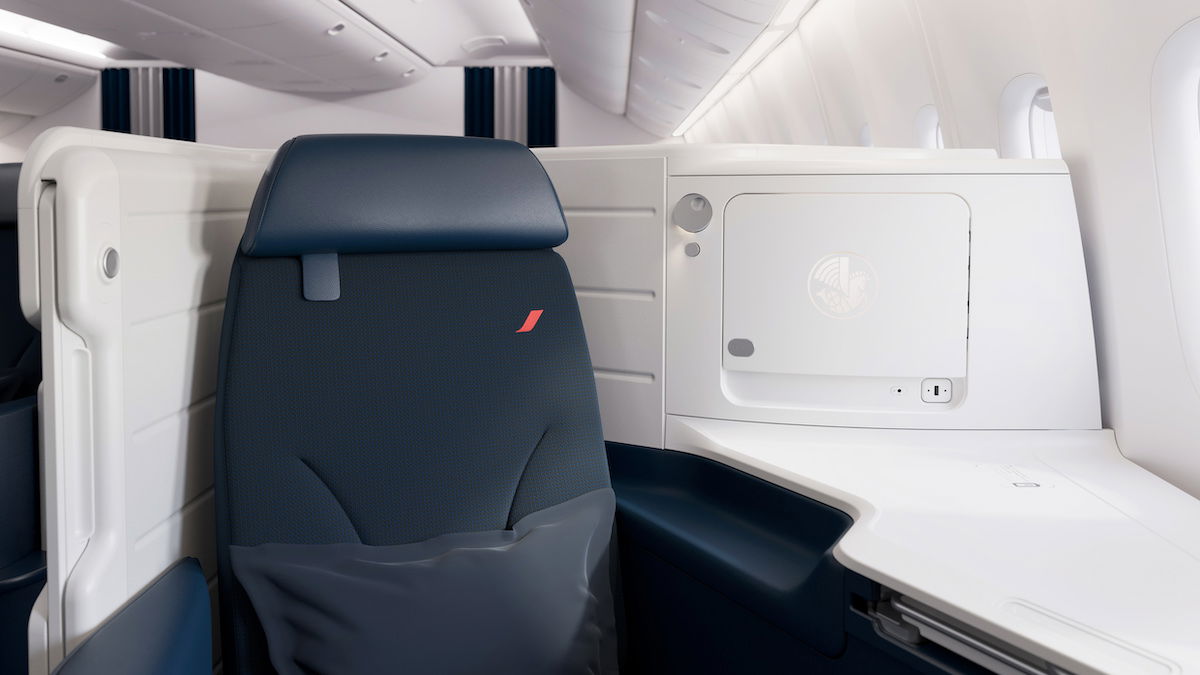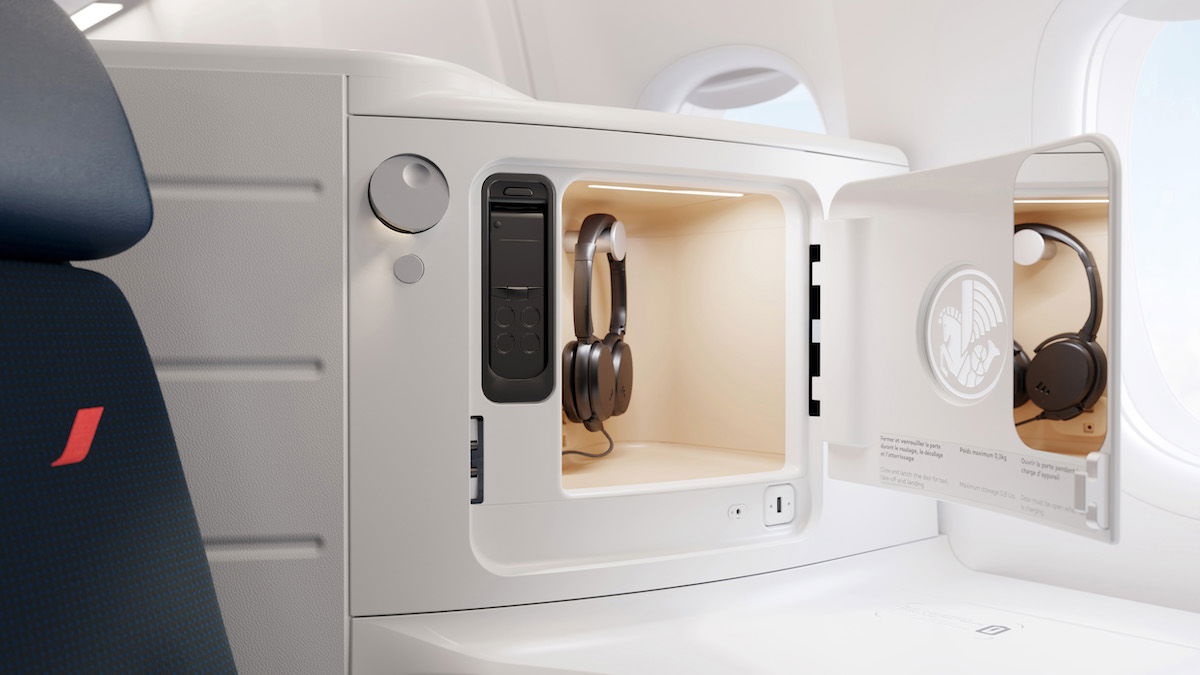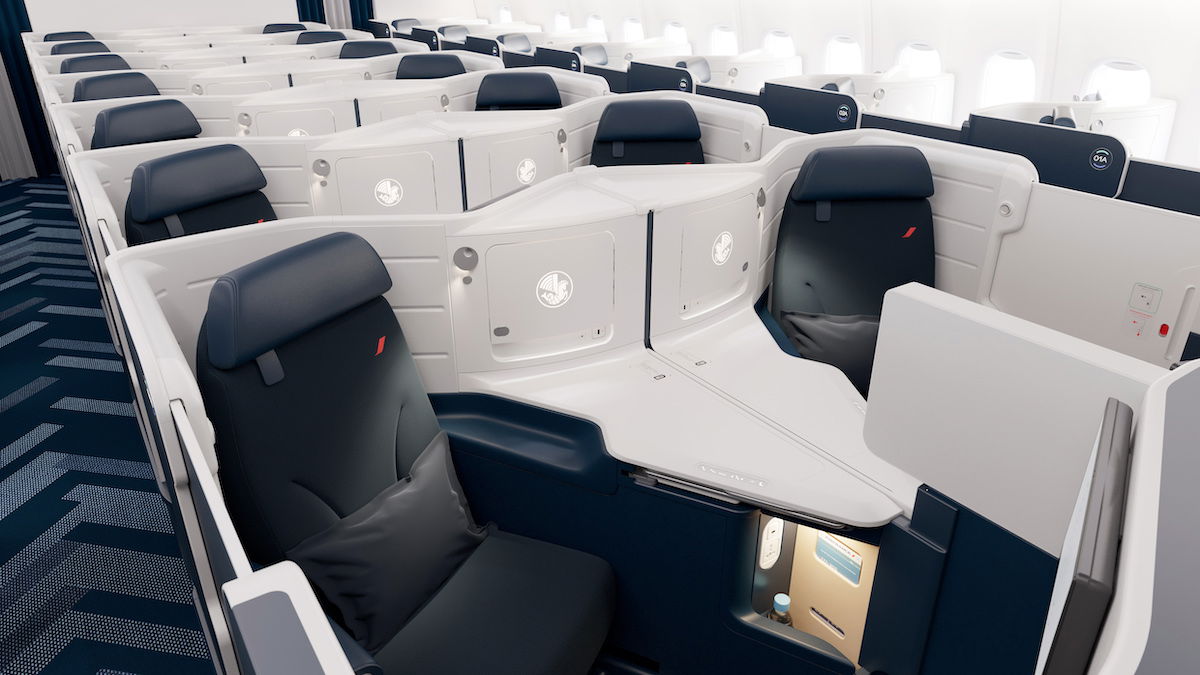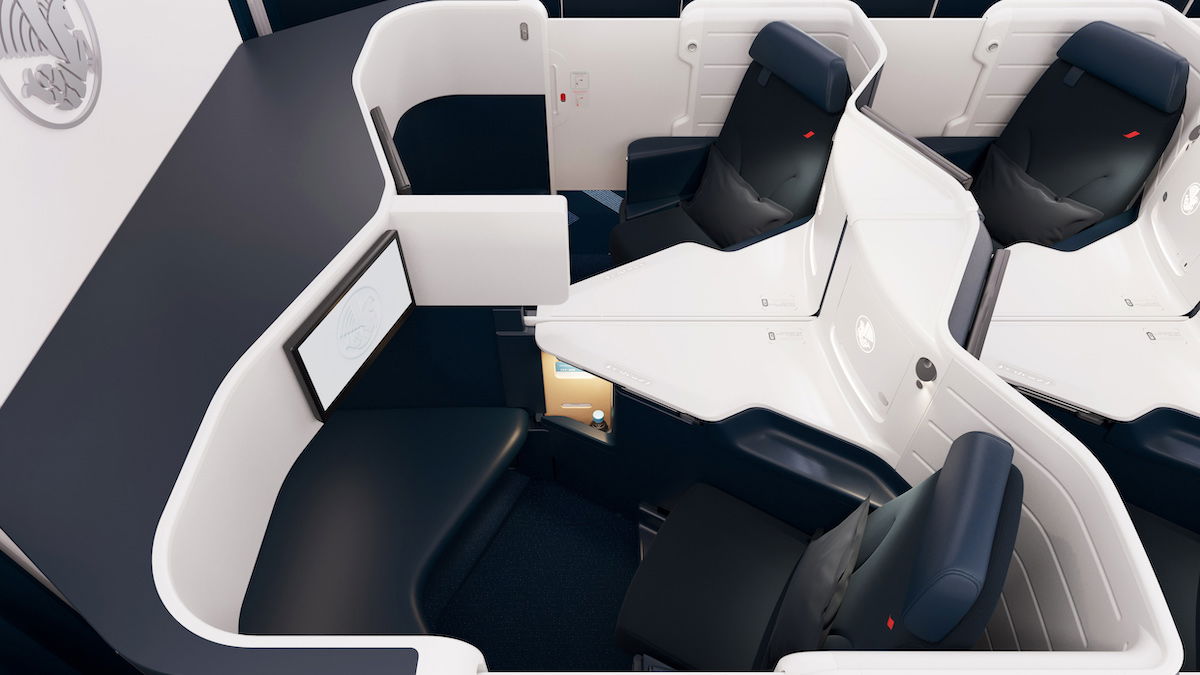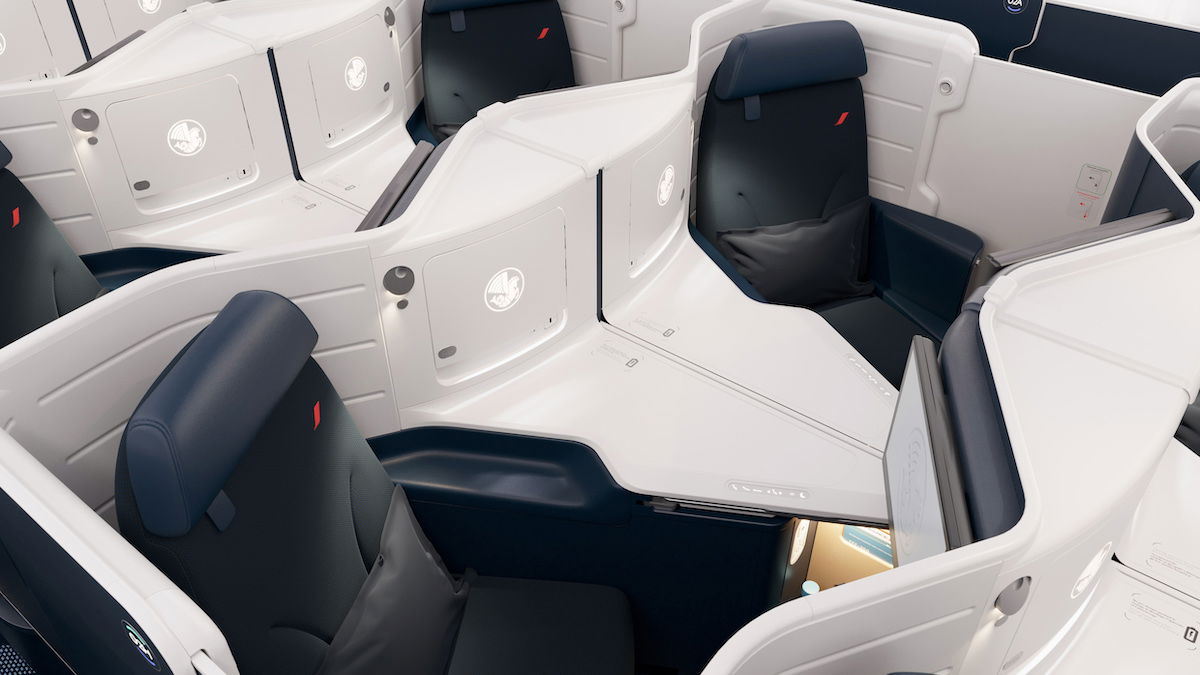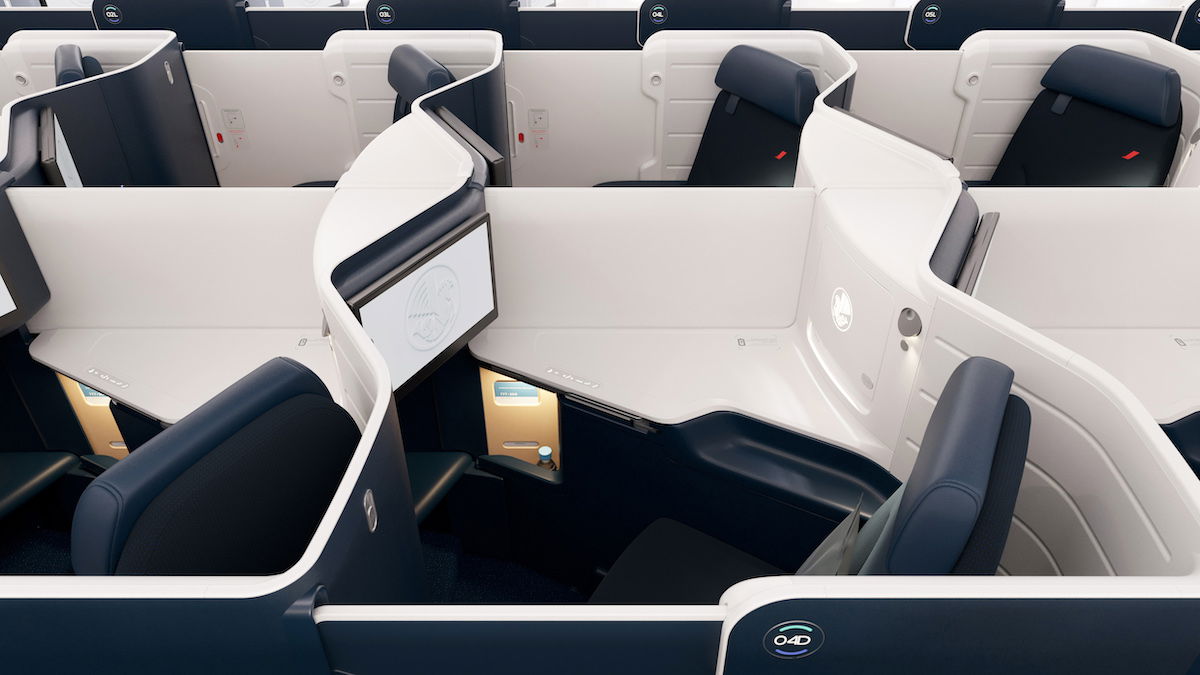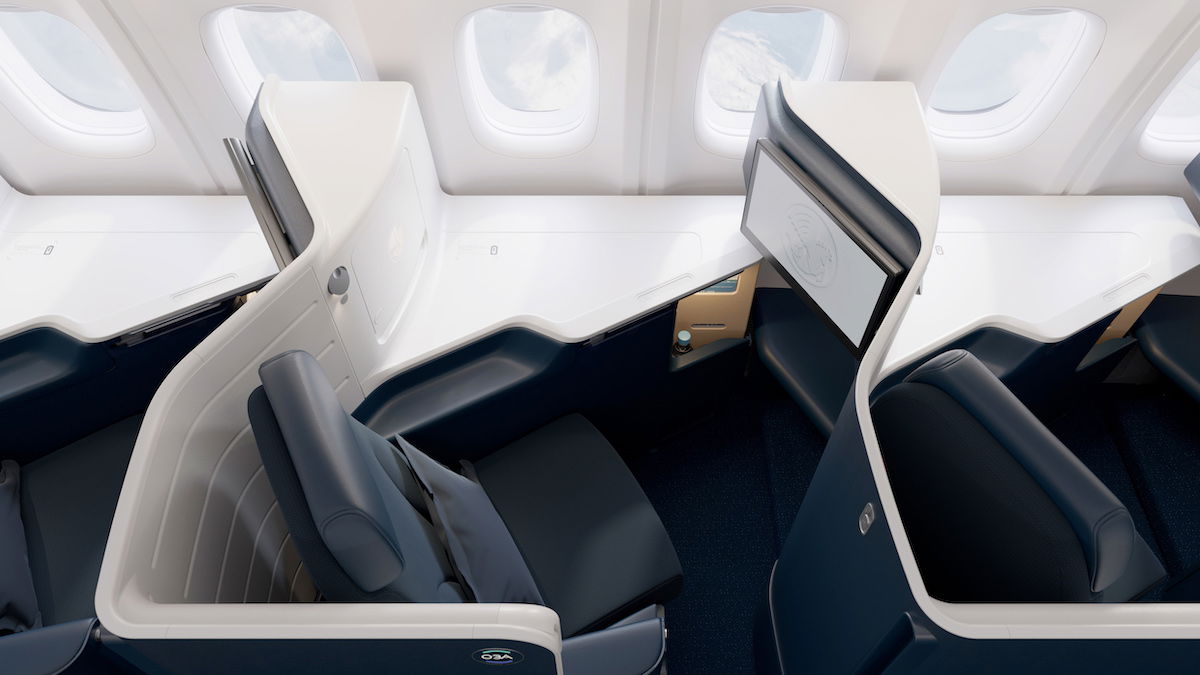 Air France will reconfigure 12 777-300ERs with new cabins
Air France's plan is to initially retrofit 12 Boeing 777-300ERs with new business class seats. The planes will be totally reconfigured nose-to-tail, and will feature 369 seats, including:
48 business class seats
48 premium economy seats
273 economy class seats
These planes will also get Air France's latest premium economy and economy, already found on other jets, including the Airbus A350.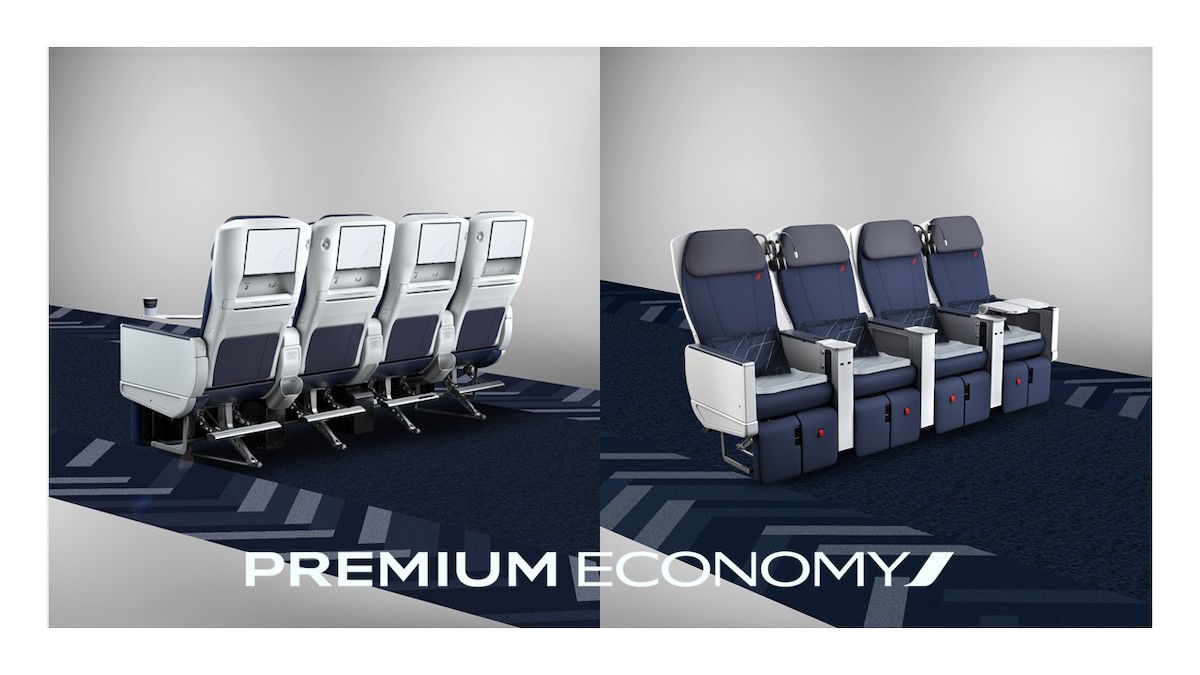 Which Boeing 777-300ERs will be reconfigured? Air France currently has 43 Boeing 777-300ERs in its fleet, and it's my understanding that:
19 Boeing 777-300ERs are in a four class configuration, featuring first class; these won't be reconfigured
10 Boeing 777-300ERs are in a high-density configuration for leisure routes, with 472 seats; these planes were recently reconfigured, and won't be reconfigured
The remaining Boeing 777-300ERs feature old cabins with angled business class seats, and these are the planes that I believe will be reconfigured
Suffice it to say that this will represent a huge upgrade for these tired 777s. Air France is also being pretty efficient about this, as these 777s currently feature 381 seats. When reconfigured, the planes will feature a total of 12 fewer seats, but they'll have six additional business class seats and 24 additional premium economy seats. Wow.
Future Air France A350s will get new business class
It's not just 12 Boeing 777-300ERs that are getting the new business class seats. On top of that, Air France will start installing its new business class on Airbus A350-900s delivered starting this year (in 2023).
Air France already has 20 Airbus A350-900s in its fleet, with a further 21 jets on order. It sounds like we should expect most of the remaining A350s to feature the new cabins, which is exciting.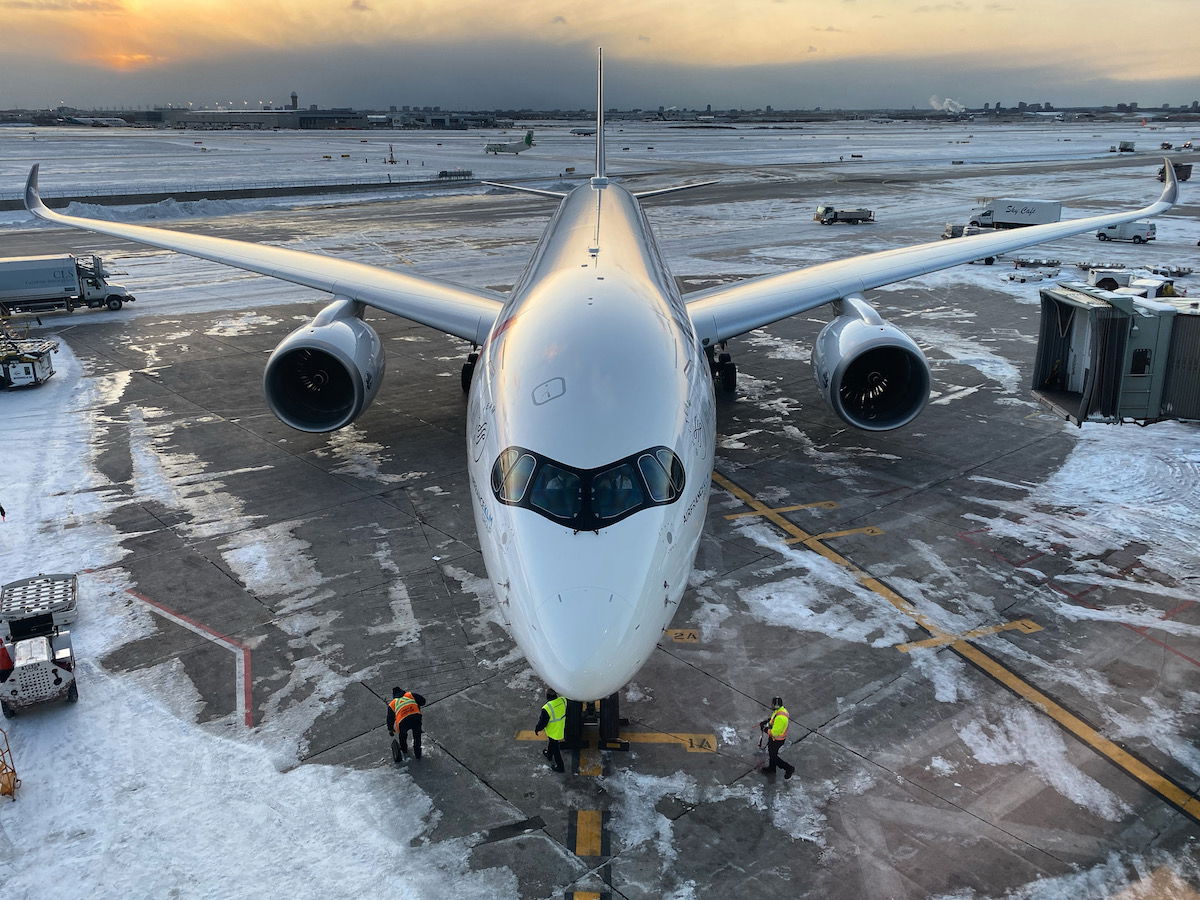 New York will be first destination to get new cabins
The first Boeing 777 with the new seats is expected to enter service in the coming days. While the plane was initially supposed to start flying as of September 2022, there has been a bit of a delay.
Based on current schedules, the Paris (CDG) to New York (JFK) route should be getting a 777 with the new cabins as of January 20, 2023. Specifically, the following flight is scheduled to be operated by this jet indefinitely (though of course that's subject to change):
AF22 Paris to New York departing 8:30AM arriving 10:50AM
AF15 New York to Paris departing 5:30PM arriving 6:40AM (+1 day)
While Air France offers La Premiere (first class) on most frequencies to New York, that's not the case on all flights. In this case the three-cabin Boeing 777-300ER will be replacing a three-cabin Boeing 777-200ER, which also doesn't have first class.
Air France is still committed to first class
Understandably many people wondered whether the new business class signaled that Air France is no longer committed to maintaining first class. After all, some might consider it a bit strange that the new best business class is debuting on a plane without first class, since you'd think you'd want to offer this to the most premium destinations.
Fortunately that's not the case. Air France is introducing a new first class ("La Premiere") product, and we'll also see the footprint of the product expand. The catch is that the new first class will only be introduced in late 2023 or early 2024.
My read on the situation is that Air France wanted to immediately update its Boeing 777s most in need of a refresh. It's not like Air France is removing first class from 777s to install new business class seats. Rather the airline is starting with the planes most in need of new cabins.
When Air France does come around to introducing its new first class product, those planes should also have the new business class.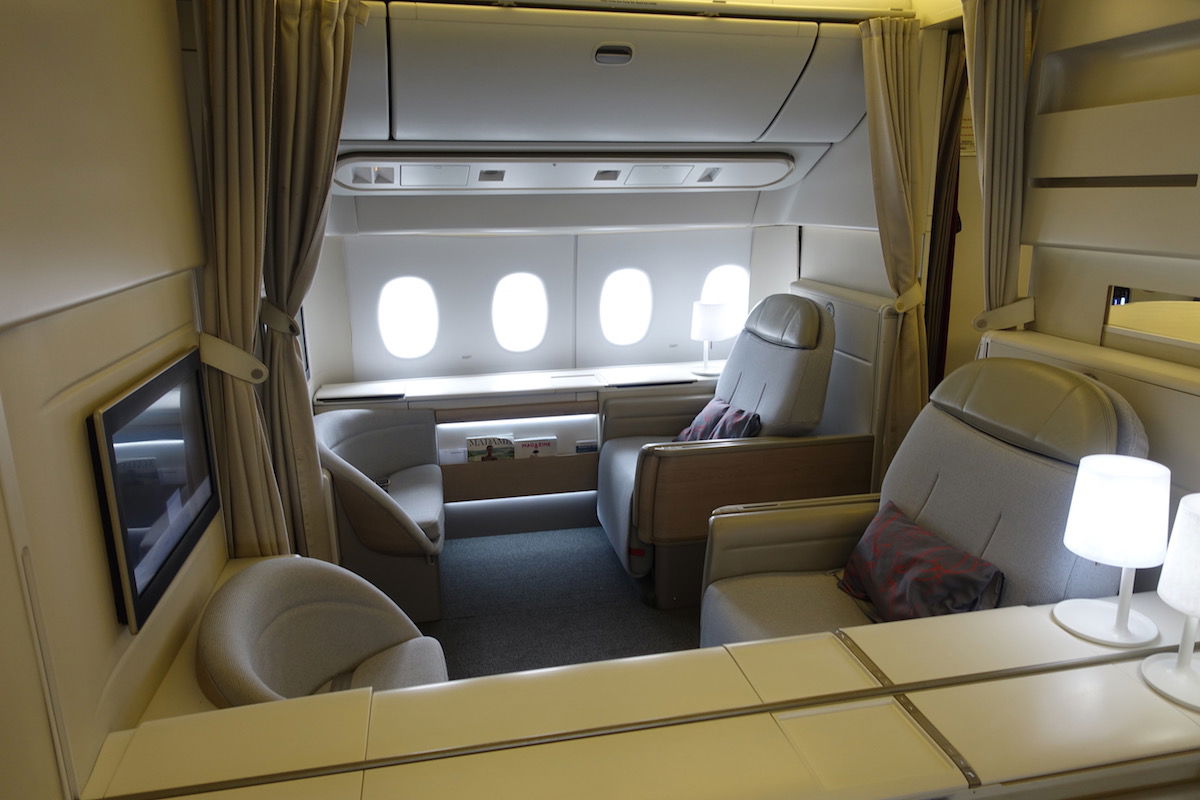 Bottom line
Air France is introducing a new business class seat on select Boeing 777s and Airbus A350s. Specifically, 12 Boeing 777s will be reconfigured with the cabins over the coming months, while upcoming A350s deliveries will also feature these new cabins.
How exciting to see Air France-KLM really investing in the premium experience, between this, the new first class, and KLM also soon introducing a new 777 business class.
It's always nice to see an airline only announce a new product shortly before it enters service, rather than years in advance (not that I'm thinking of a particular other European airLHine when making that statement).
What do you make of Air France's new business class suite?