Introduction
Around the World on 90k Part I: Warsaw and Beijing with Nothing But a Passport and a Dream(liner)
Around the World on 90k Part II: Blowing Through the Horn of Africa
Korean Air Lounge New York JFK
LOT Polish Business Class 787 New York To Warsaw
Westin Warsaw
LOT Polish Business Class Lounge Warsaw
LOT Polish Business Class ERJ-170 Warsaw To Zurich
Swiss Panorama Lounge Zurich
Swiss Business Class A330 Zurich To Beijing
Grand Hyatt Beijing
Ethiopian Airlines Business Class 787 Beijing To Addis Ababa
Ethiopian Airlines Cloud Nine Business Class Lounge Addis Ababa
Ethiopian Airlines Business Class 767 Addis Ababa To Frankfurt
Lufthansa Business Class Lounge Frankfurt
Lufthansa Business Class 747-8 Frankfurt to Washington
Park Hyatt Washington DC
---
After my flight on LOT Polish last year from Warsaw to Chicago on one of their older 767s, I was curious to see how their 787 experience compared.
LOT Polish 27
New York (JFK) – Warsaw (WAW)
Saturday, June 28
Depart: 10:55PM
Arrive: 1:00PM (+1 day)
Duration: 8hr5min
Aircraft: Boeing 787
Seat: 2B (Business Class)
We boarded through door 2L, and upon presenting our boarding passes to the cabin crew, were directed left to the business class cabin. The purser, who was standing at the door, was a lot to take in. She had a bright red uniform, which quite nicely contrasted the "what do you want?" look on her face.
LOT's business class cabin on the 787 consists of 18 fully flat seats, spread across three rows in a 2-2-2 configuration.

LOT Polish 787 seatmap per Seatguru
I really liked the way the cabin looked. It was "fresh" with bright colors, and with only 18 seats was a fairly intimate cabin.
We quickly stowed our belongings into the large overhead bins and settled into our seats, 2A & 2B.

LOT business class 787, seats 2A & 2B
The seats are fully flat, so there's an "ottoman" of sorts connected to the row of seats in front, which becomes part of the bed when you recline.

LOT business class 787, seats 2A & 2B
Each seat has a coat hook and storage unit above the ottoman, as well as an area to store your shoes or other small personal items below the ottoman.

LOT business class 787, seats 2A & 2B

LOT business class 787, seat 2B
At each seat were pillows, blankets, and some sort of "sheets," which could have doubled as fancy restaurant napkins. While basic, the bedding was good.

LOT business class pillow & blanket

LOT business class pillow & blanket
On the center console were intuitive seat controls.

LOT business class seat controls
And under the console and to the left of my seat were the entertainment controls and a cupholder with a bottle of water.

LOT business class entertainment controls

LOT business class entertainment controls

LOT business class bottled water
Behind that was an Empower adapter and USB port, where electronics could be charged.

LOT business class power ports
Also in that area were some headphones. They weren't noise canceling best I could tell, and weren't very comfortable — I couldn't get through more than a couple of sitcoms without my ears hurting.
And of course since this was a 787, it had the "signature" windows, which are substantially larger than on any other commercial planes. There are also no window shades, but rather there's a "dimmer," so that you can darken the cabin if you want. This was actually only my second flight on a 787, and my first longhaul flight — the previous one was from Beijing to Tokyo Narita on ANA.
Quite possibly the best thing about the cabin was that it had individual air nozzles. Most non-US airlines keep their cabins at sauna-like temperatures, which is compounded by most of them not offering personal air nozzles. The fact that LOT has these on 787s is awesome.
While the flight wasn't originally booked full, due to the cancellation of the earlier flight, all business class seats were eventually taken.
Once everyone was settled in we were offered pre-departure beverages, amenity kits, refreshing towels, and an amuse bouche, which was served on an edible spoon.

LOT business class amenity kit, pre-departure champagne, and amuse bouche
While the amenity kit didn't seem to have any branded toiletries, it actually had a nice selection of items, including a nail filer (which I don't really get, because it's very bad etiquette to do anything involving nails on a plane, in my opinion).
Shortly thereafter the menu and wine list were distributed, which were in a single pamphlet.
Boarding was efficient, and at 10:45PM the door closed. As we pushed back the safety demonstration began to play, which was awfully fancy.
We began our taxi to runway 13R, which took about 20 minutes. The amazing thing is that in the time we taxied to the runway, three British Airways planes took off (two 777s and one 747). It's crazy how many frequencies they have out of JFK.
At around 11:20PM we were airborne, and began a smooth climb out to our cruising altitude.
About 20 minutes after takeoff the seatbelt sign was turned off and captain made his welcome aboard announcement, informing us of our flight time of 7hr40min, which would put is into Warsaw on-time.
As the crew finished service preparations, I browsed the entertainment selection. I was rather tired at this point (you've gotta love late eastbound departures out of the US, which are ideal for sleeping), so ended up just watching a couple of sitcoms.
This is probably a good time to mention that while the cabin looked fresh, it already had some issues. Andrew's entertainment controller was broken, while my tray table was stuck and wouldn't come out. I called over the flight attendant, and she nearly broke her finger getting it out.
At this point the crew came around to take drink and dinner orders.
The dinner menu read as follows: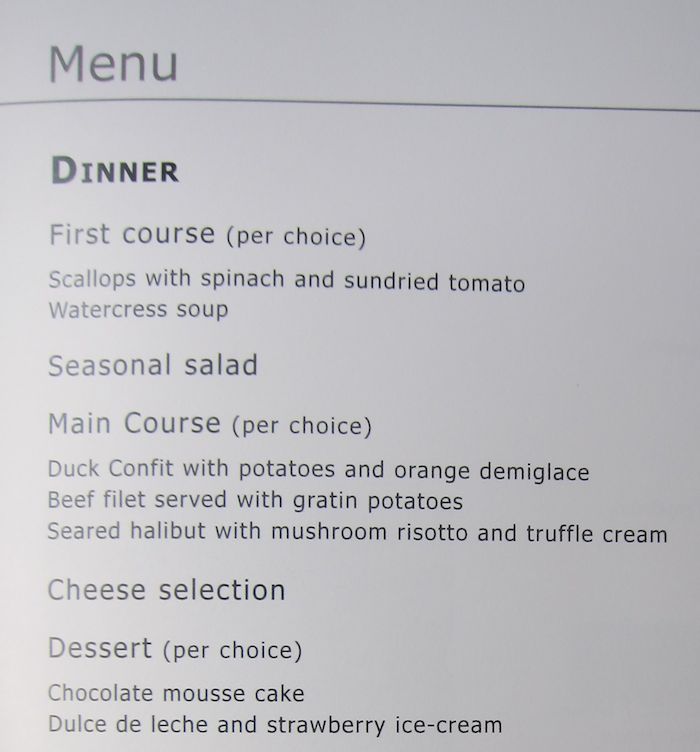 And the wine list read as follows:
And the drink list read as follows:
Service began with hot towels.
This was quickly followed by drinks and cashews.

LOT business class drinks and nuts
At this point tablecloths were distributed, and then a cart was rolled around with a selection of appetizers and salad. I was impressed that they didn't have trays, but rather served directly onto the tablecloth — that's a nice touch, in my opinion. I have to say that the flight attendant primarily working our aisle was efficient and friendly — she was also about half the average age of the rest of the crew, for what it's worth.

LOT business class meal service
To start I had the scallops appetizer and salad, both of which were very good. That was served with a selection from the bread basket.

LOT business class appetizer & salad
I also ordered a glass of champagne at this point. LOT served Nicolas Feuillattee Brut Reserve — not bad for business class, and actually the same champagne that was served in the oneworld first class lounge LAX the last time I visited.
For the main course I ordered the seared halibut with risotto and asparagus. While it was perfectly edible, the halibut was very "dense" rather than flaky.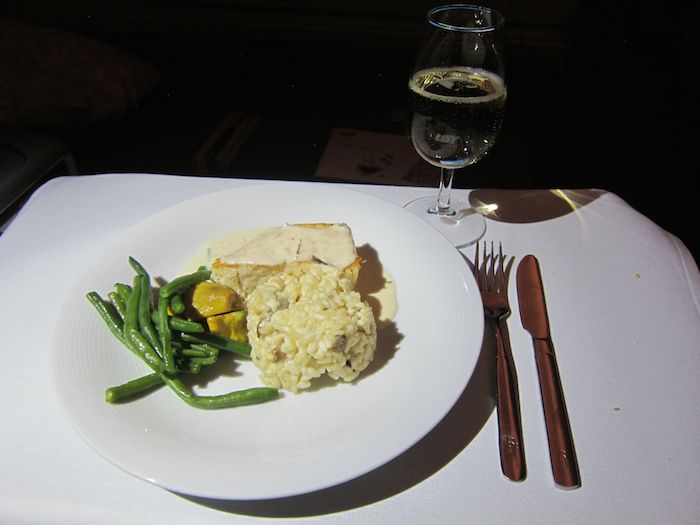 LOT business class main course

LOT business class main course
Andrew had the beef filet with gratin potatoes, which didn't look amazing.

LOT business class main course
Next a pre-plated cheese course was served.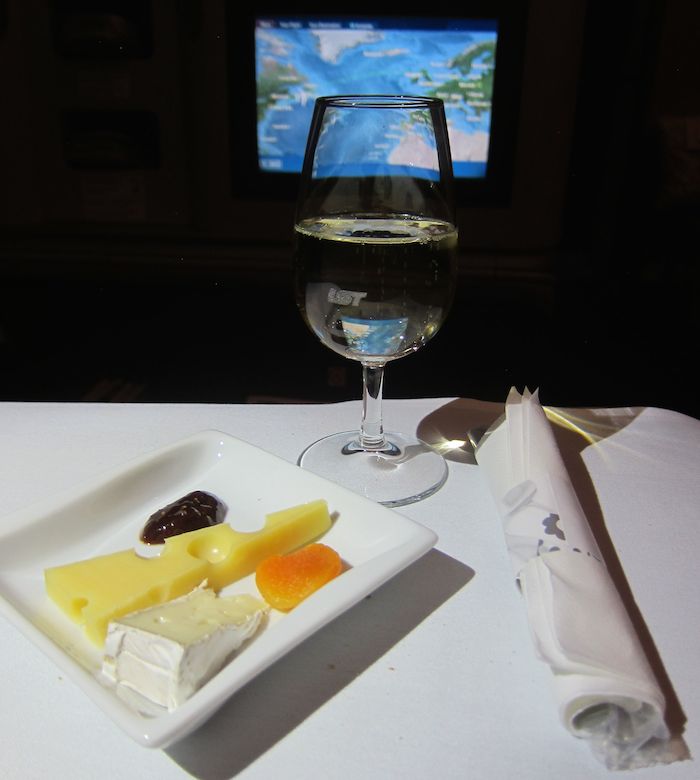 LOT business class cheese course
And then dessert. I ordered the dulce de leche and strawberry ice cream with berries, which was good, though still hard as a rock. It took about 30 minutes before I could even begin to chisel at it.
Meanwhile Andrew had the chocolate mousse cake, which looked good.
The entire meal service took about two hours, and on the whole I was impressed. While the main course wasn't amazing, the food was infinitely better than on my flight out of Warsaw last year, and by business class standards I would say was even above average. It wasn't quite as good as Austrian or Turkish catering, but still very good. And the flight attendant on our aisle was friendly, efficient, and attentive, so I couldn't have asked for more in that regard.
As I mentioned above, I couldn't get my tray table out earlier in the flight, and after dinner couldn't put the tray table back in. While it slid into the "casing," it wouldn't close all the way.

LOT 787 business class stuck tray table
The business class cabin has two lavatories — one on the right side of the cabin, which is the primary business class lavatory, and then one by the flight deck. On the 787 the lavatory doors "slide," so rather than "folding" like on most other planes, they slide open on a track.

LOT 787 business class lavatory
After dinner I reclined into the fully flat position, which made for a comfortable bed. On the center console there's a partition which "slides" up, so that you have quite a bit of privacy. While there are other business class hard products that I prefer overall, it's tough to beat these kinds of seats when you're traveling with someone.
One thing I did notice is that both of our seats were being held together in the back by duct tape. Odd.
Since this flight was departing so late and in the middle of summer, there were only a couple of hours of darkness before it got bright outside. While the windows block most of the light when "dimmed," you can still kind of see outside if you look.
About 90 minutes before landing — which seemed awfully early — breakfast was served.
The breakfast menu read as follows:
I had some orange juice and coffee to start. I tried to order a cappuccino, though apparently the machine was broken on this flight, so coffee and tea were the only options.

LOT business class juice and coffee
Breakfast consisted of the choice between a "hot" option and "continental" option. I selected the hot option, which was mushroom quiche with tomato sauce. It was quite good.

LOT business class hot breakfast
Andrew selected the continental breakfast, which consisted of fruit, cold cuts, yogurt, and most importantly, two chocolates — he wins for sure. 😉

LOT business class continental breakfast
Croissants were also offered, though if you selected the hot option there wasn't really anywhere to put it.

LOT business class croissant and jam
About 45 minutes before landing the captain came on the PA to update us on our arrival time, which he anticipated would be at 1PM.
At around 12:30PM we began our descent, at which point the crew came around to offer each passenger a chocolate.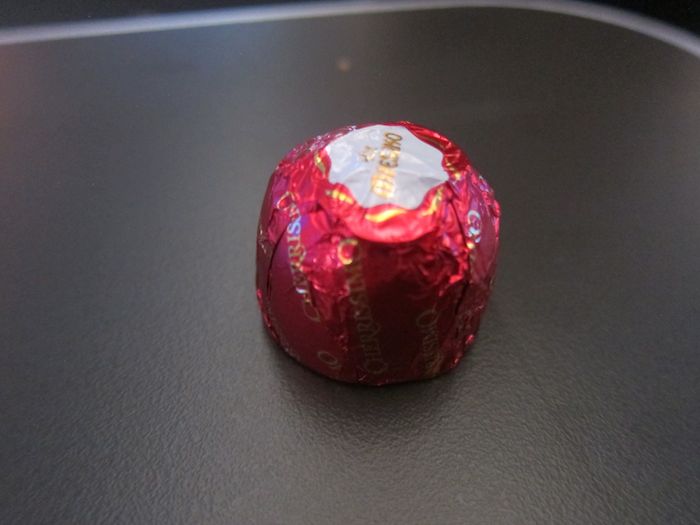 LOT business class pre-landing chocolate
There was a bit of chop on our initial descent into Warsaw, though it smoothed out as we continued out descent.
Eventually we touched down on runway 13 in Warsaw at 1PM sharp. When we landed the purser gave us "a vhery vharm vhelcome to Vharshaw," which I don't think could have been delivered with less warmth if she tried.
Our taxi to the gate took about five minutes, and at around 1:05PM we parked next to a LOT 787 and Emirates 777.
The great thing about Warsaw Airport is that it's quite small. There wasn't a single person at immigration, so we were through in a matter of minutes.
Unfortunately the transfer to the hotel wasn't as smooth as we might have hoped, due to a dispute with our taxi driver.
LOT Polish business class bottom line
All things considered I was impressed by LOT business class, especially in comparison to the flight I had last year from Warsaw to Chicago. The seats were comfortable, the cabin was bright (though in oddly bad condition for a fairly new plane), the food generally good, and the flight attendant working our aisle was fairly friendly.
I wouldn't hesitate to fly LOT again.
If you've flown LOT Polish before, what was your experience?