---
Note: This post is written by my friend Andrew, who took the trip with me
At the airport, we visited the Air China Business Class Lounge. They seemed to be going for a mid-90s motif, which made me wonder if they stocked Zima and free AOL installation CDs. I took a quick shower (it wasn't exactly luxurious, but did the trick). We debated whether to change our plans due to a terrorist threat, and decided against it. Then we boarded our flight for Ethiopia.
Ethiopian Airlines' 787 seemed to be in better condition than the one we flew with LOT a few days earlier. The cabin itself was beautiful – I loved the color scheme. My remote control was working, and there was no masking tape holding the seat together. I had heard really positive things about the friendliness of Ethiopian's cabin crew. Ours was merely ok – their smiles seemed as genuine as Joan Rivers' face, and they didn't seem interested in making conversation. It was strictly business.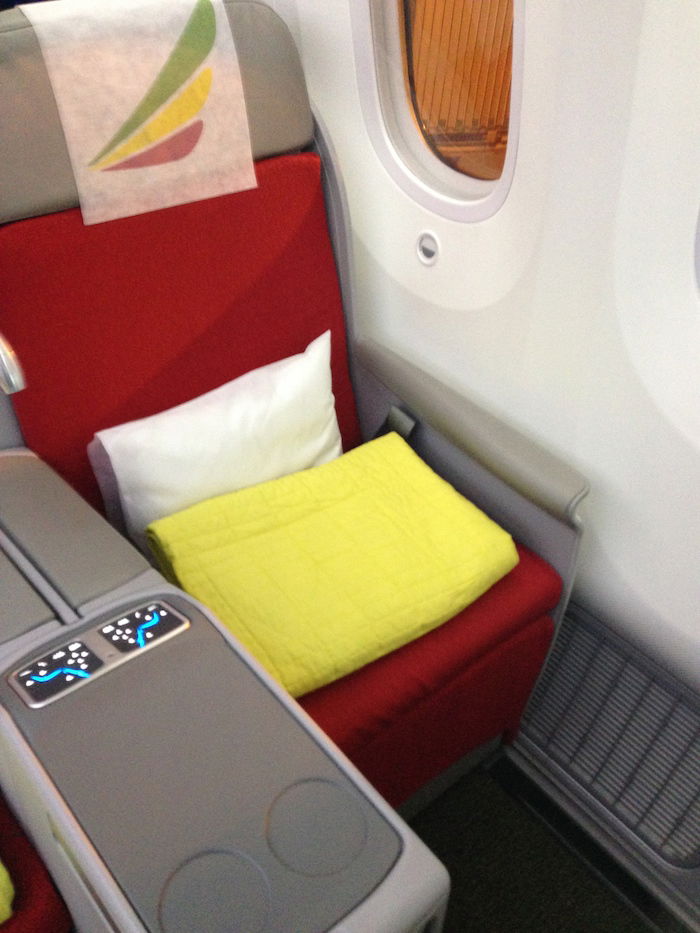 I ordered the beef for dinner, which was pretty chewy and had all the flavor of bubble wrap. The meal also included a seasonal salad, which was mysteriously labeled as a "hot snack" on the menu. At least my cheesecake for dessert was good.
The seat was kind of uncomfortable, to be honest. After several consecutive flights with fully-flat seats, sleeping on angled-flat seats on this segment made me feel like I was traveling in the cargo hold. (Don't worry, I'm only kidding…but I've definitely become spoiled by this trip – I usually have no trouble falling asleep in coach.) The bedding felt harsh against my skin, as did the fabric on the seat itself.
Addis Ababa's Bole International Airport was interesting. It kind of reminded me of a Costco, but with prayer rooms and leaks in the ceiling. Apparently we were not eligible to visit "Cloud Nine Lounge 1," but they gladly let us into "Cloud Nine Lounge 2." I have no idea what the difference between the two was. We waited there for a few hours, walked around the terminal for a bit, and boarded our 767-300 bound for Frankfurt.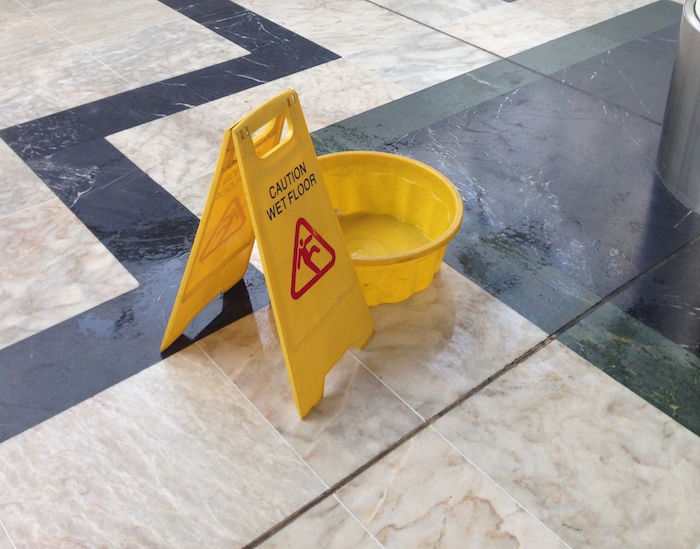 The experience was like going back in time, as I don't think the cabin had changed much since the 80s. The flight attendants even looked like they had perms. Lucky was so exhausted that he napped for much of the flight, while I stayed up and sobbed silently (I was watching Downton Abbey on my laptop – nothing happy ever happens to those people!).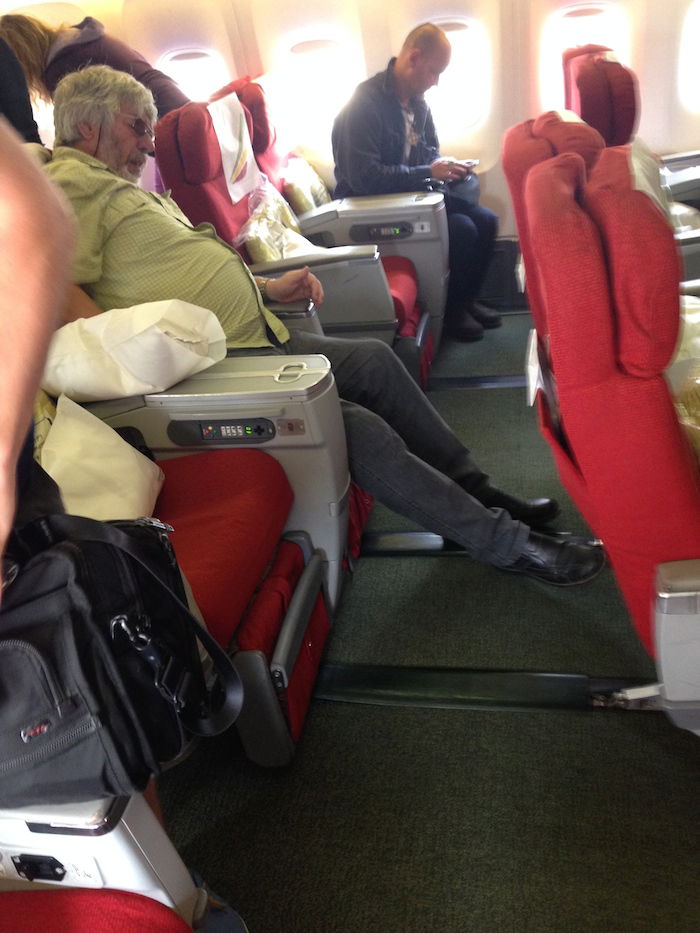 The menus we were given listed some food choices, but they bore no resemblance to the options that were actually on board. The "blast from the past" theme continued, as my lunch reminded me a lot of the food they used to serve in my elementary school cafeteria.
By the time we arrived in Frankfurt, I was exhausted, both emotionally (from Downton) and physically (from a full day of travel). The hotel at Frankfurt Airport is the nicest Sheraton I've ever stayed in…but even if it was the Hanoi Hilton, I think I would've slept like a baby.
The following day we completed the last leg of our trip, from Frankfurt to Washington-Dulles on a Lufthansa 747-8. This was my first long-haul Lufthansa flight, my first time sitting in the upper deck of any aircraft, and my first time on the 747-8. I was actually more excited about this flight than any of the others (maybe because from the way Lucky has always described it, Lufthansa sounds like the closest I'll ever get to heaven). The aircraft itself is massive, and the business class cabin is beautiful. The seats themselves had some positives and some negatives.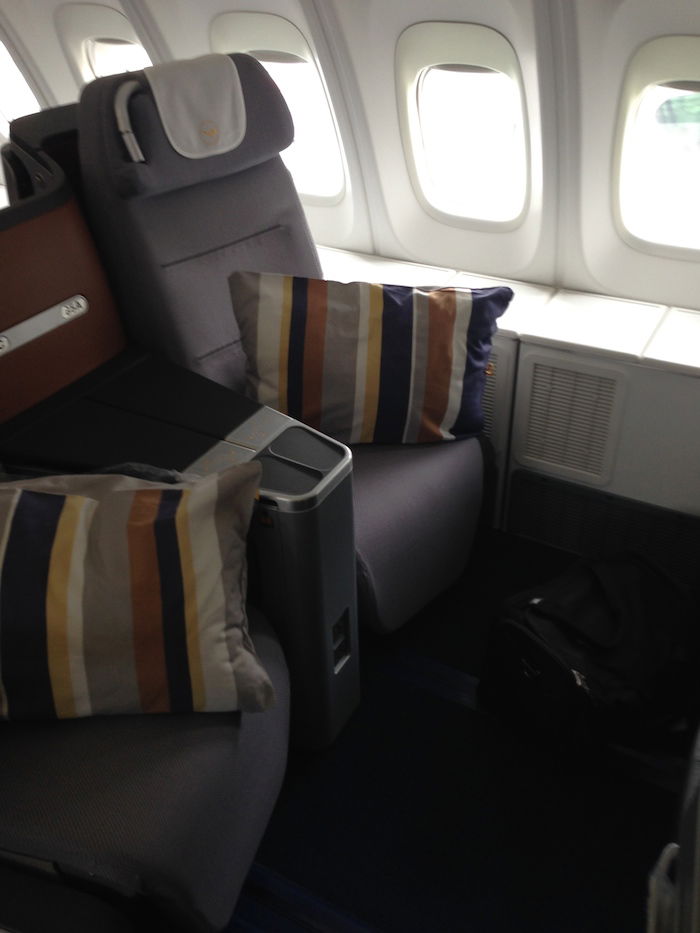 On the plus side, they were comfortable (as were the blankets and pillows), there was some nice stowage space (more than any other products I tried on this trip), and the entertainment selection was decent. The food was pretty good, especially the dessert, "Charlotte Royale." (Though that seems like a more appropriate dessert to serve on US Airways – perhaps with some Philadelphia cream cheese?)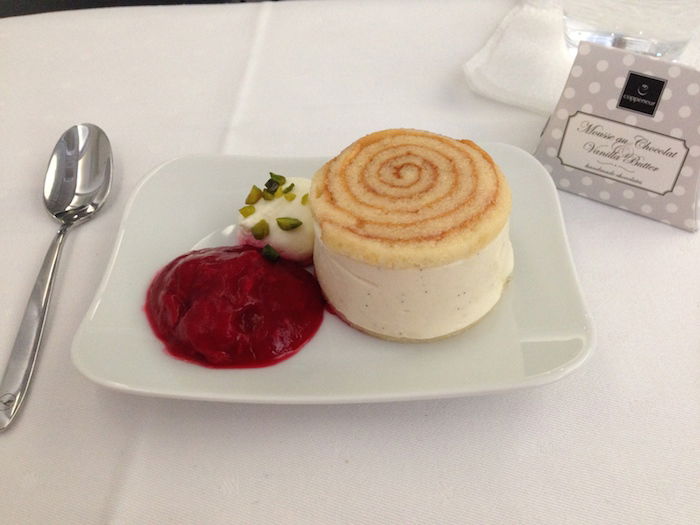 As far as negatives go, there wasn't much separation between me and the person next to me (I was sitting next to Lucky, but in a business class cabin I would expect that many people are seated next to strangers). We were angled toward each other, with our feet just inches apart and separated by a thin partition. There is no privacy shield between the seats, so the other person is easily visible the entire flight, including when the seats are in the fully flat position. This level of intimacy could be ideal if you're seated next to your favorite celebrity and/or you like to creepily watch people while they sleep, but otherwise it might be a little uncomfortable. (And let's be real: unless your favorite celebrity is a reality TV star, they're going to be sitting in first class.)
Overall, I had an incredible trip. It was exhausting and grueling, and I'm sure sitting on airplanes for hours at a time and being presented with food constantly was not great for my waistline, but it was totally worth it. Lucky is a great travel companion, mostly because he laughs at my terrible jokes. I also owe a lot of thanks to you guys for helping to plan this itinerary! I hope you enjoyed reading about it.