---
LOT Polish 411
Warsaw (WAW) – Zurich (ZRH)
Tuesday, July 1
Depart: 7:40AM
Arrive: 9:45AM
Duration: 2hr5min
Aircraft: Embraer 170
Seat: 2A (Business Class)
We boarded shortly after 7:30AM, and I quickly took my seat, 2A.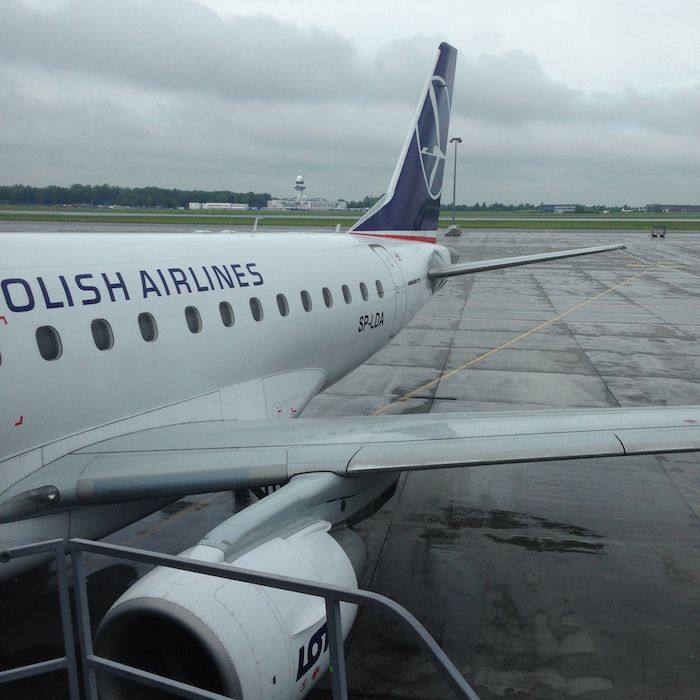 LOT Polish Embraer 170
There was no row one on the left side of the aircraft, so it was actually a bulkhead seat, though a very spacious one at that. For those of you not familiar with intra-Europe business class, it's ordinarily just economy class with a blocked middle seat and better food and service. That allows the airlines a lot of flexibility, since they can adjust the size of the business class cabins with each flight.
The advantage of these Embraer jets is that since they're in a 2-2 configuration, they just block the aisle seat, so you really have the set of two seats to yourself.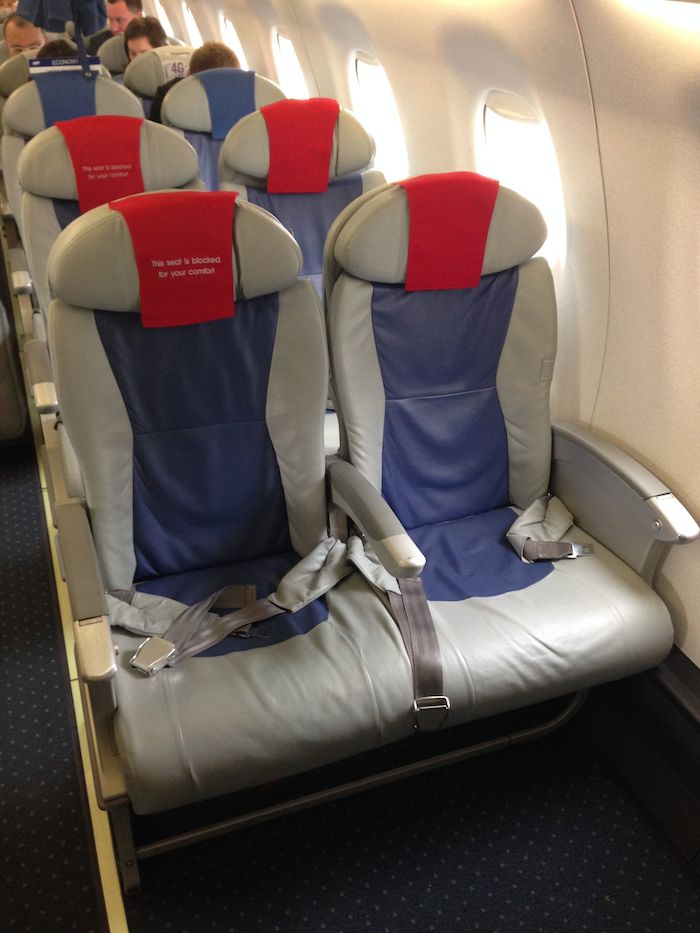 LOT Polish business class Embraer 170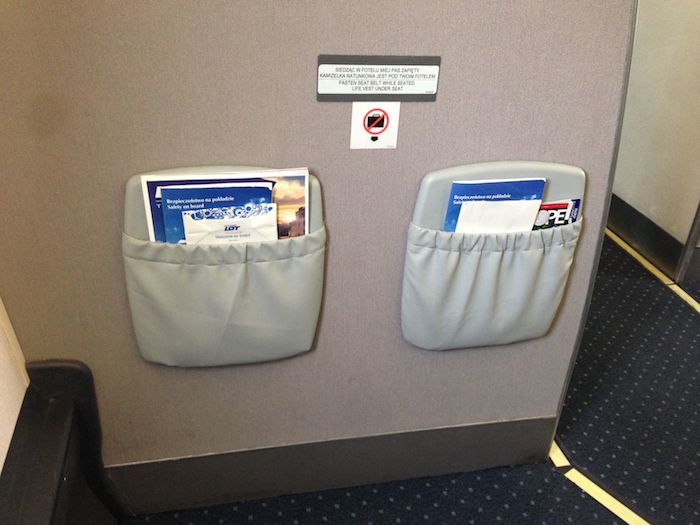 LOT Polish business class Embraer 170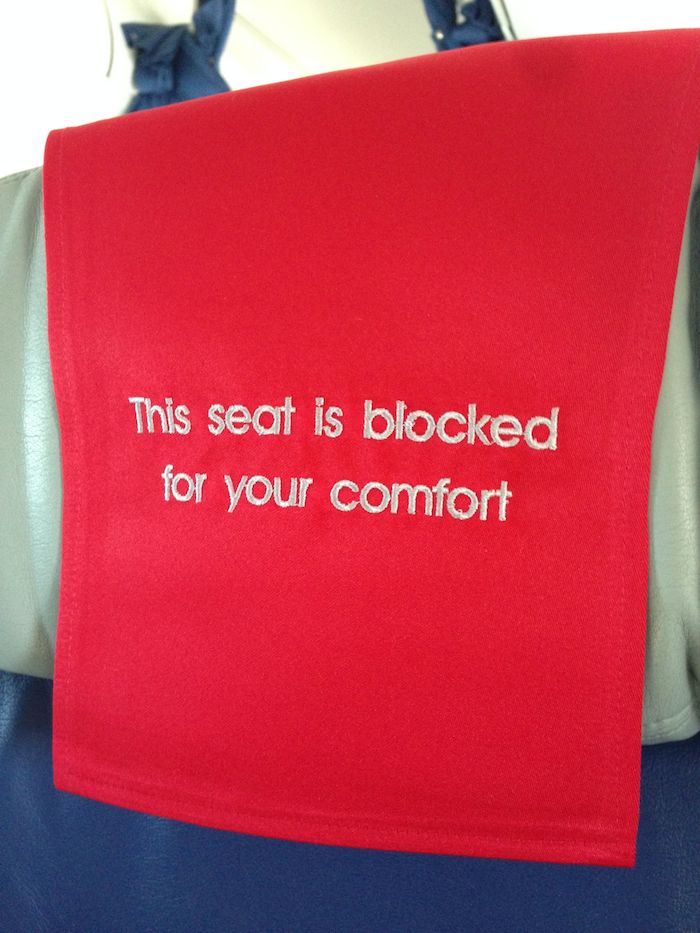 LOT Polish business class seat blocking
Once boarding was completed, one of the flight attendants offered us pre-departure beverages and a refreshing towel — that's more than you get on a lot of other European airlines before departure.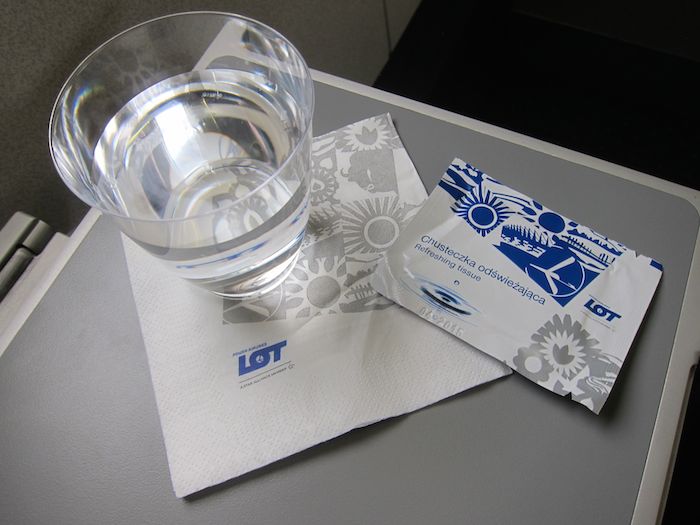 LOT Polish business class pre-departure water and refreshment towel
We were also offered pillows and blankets. Again, that's really impressive, since most airlines don't offer them in business class within Europe.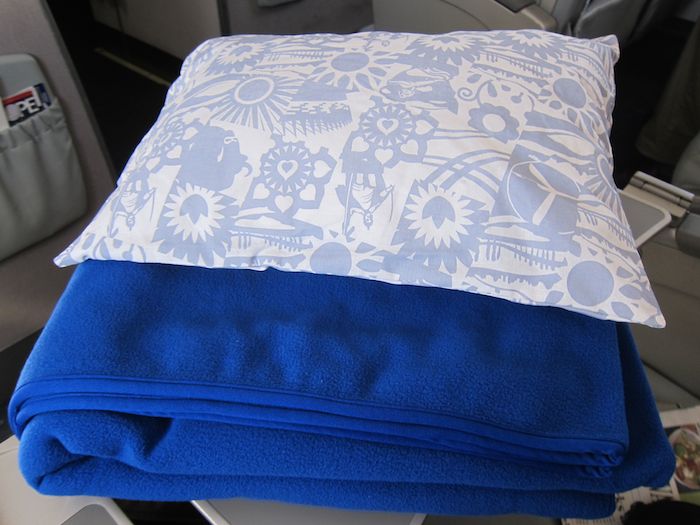 LOT Polish business class pillow and blanket
Boarding was completed by about 8AM, and once the door closed there were only a total of three of us in business class (the business class cabin ended at row three on this flight).
The captain came on the PA to apologize for the delay and inform us of our flight time of 1hr40min, which he hoped would put us into Zurich close to on-time.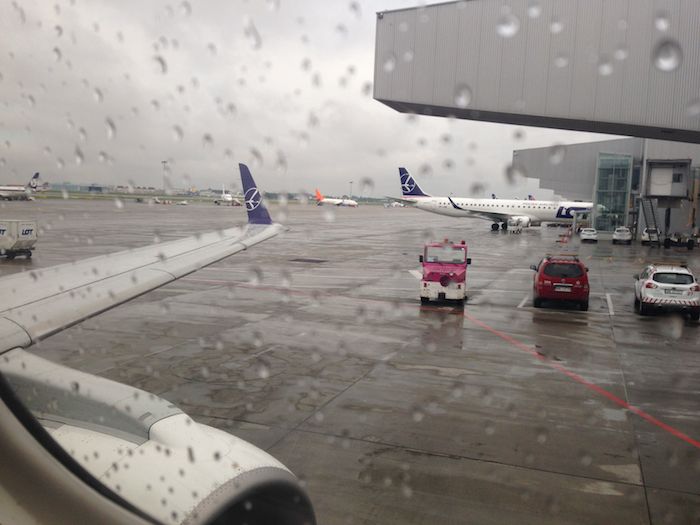 LOT Polish Embraer 170
As we began our pushback, the manual safety demonstration was done.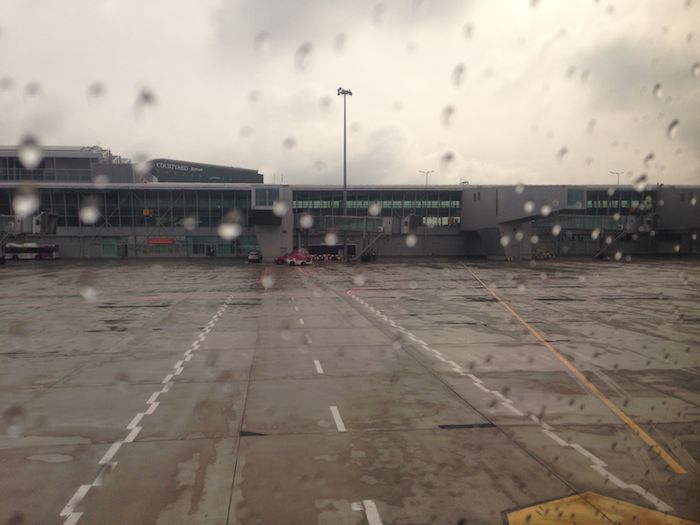 Warsaw Airport pushback
We began our taxi to our departure runway, runway 33, which took about 15 minutes. We taxied by some interesting traffic — both the predictable, like a LOT 787, as well as airlines you see less of, like Enter Air and Travel Service.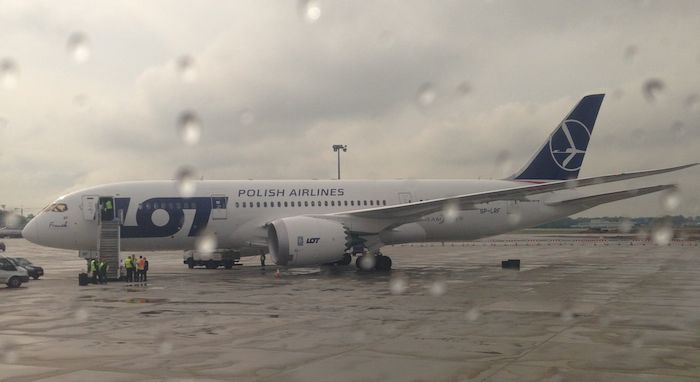 LOT Polish 787
By 8:20AM we were taking off from runway 33.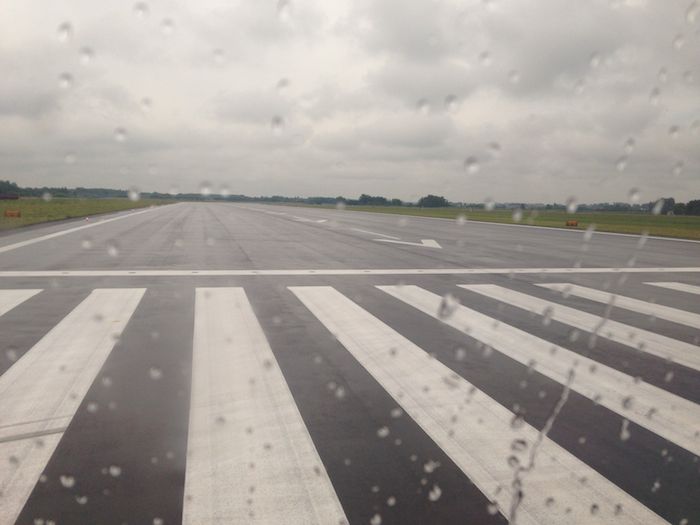 Warsaw Airport lining up on runway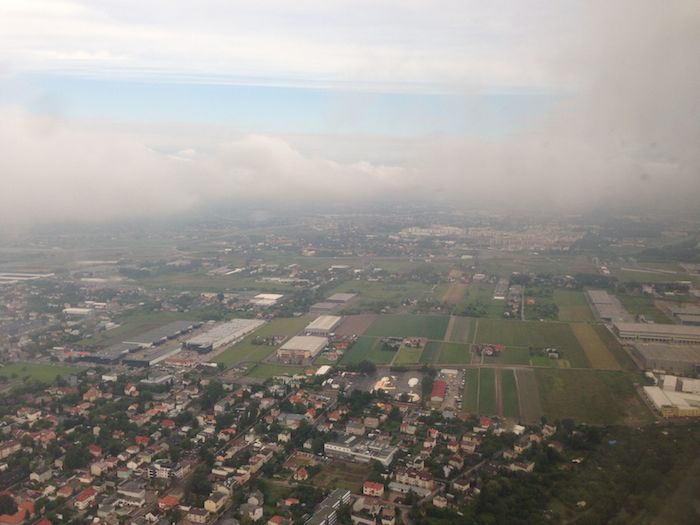 Shortly after takeoff from Warsaw Airport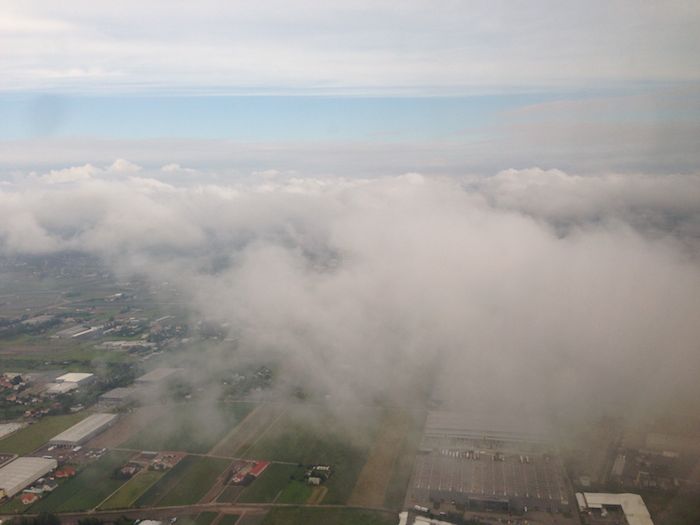 Shortly after takeoff from Warsaw Airport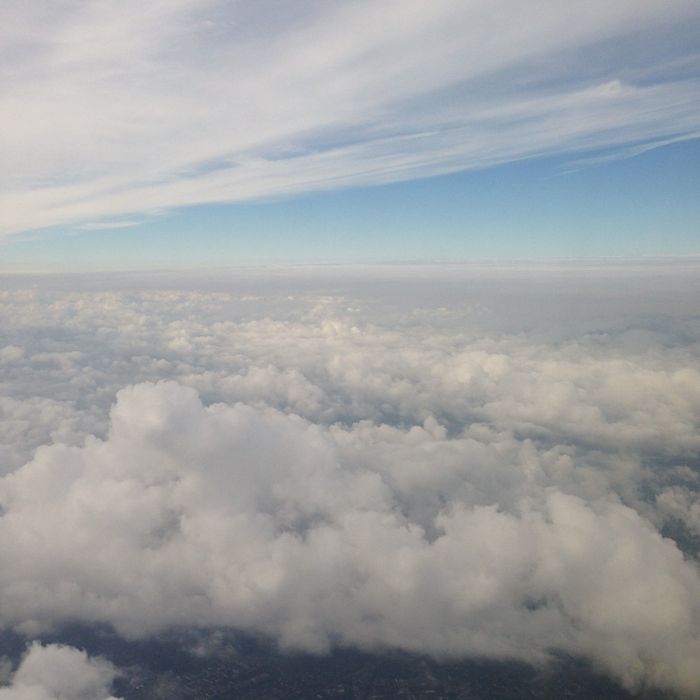 Shortly after takeoff from Warsaw Airport
About 15 minutes after takeoff the crew began their service. It's amazing how many flight attendants they have on an Embraer 170. I counted at least three, if not four.
In business class service began with beverages and packaged snack mix. I ordered an apple juice.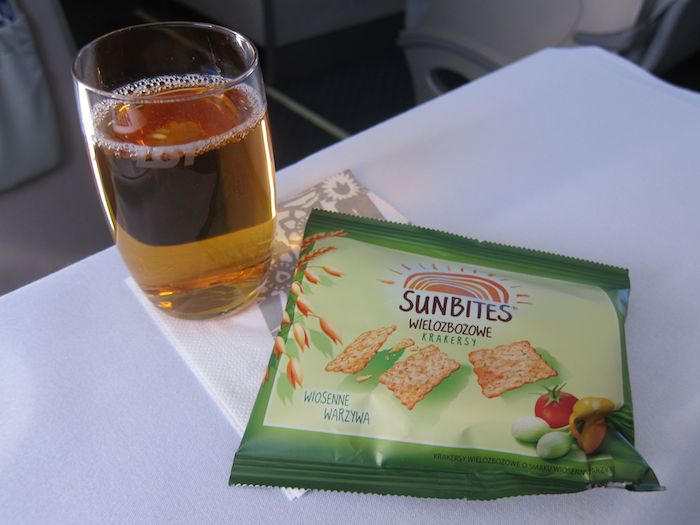 LOT Polish business class drink and snack
Shortly thereafter the meal was served, which consisted of some mystery something-or-another, salmon, two rolls, and Lindt truffles. Most exciting had to be that they had Nutella in the breadbasket — yum!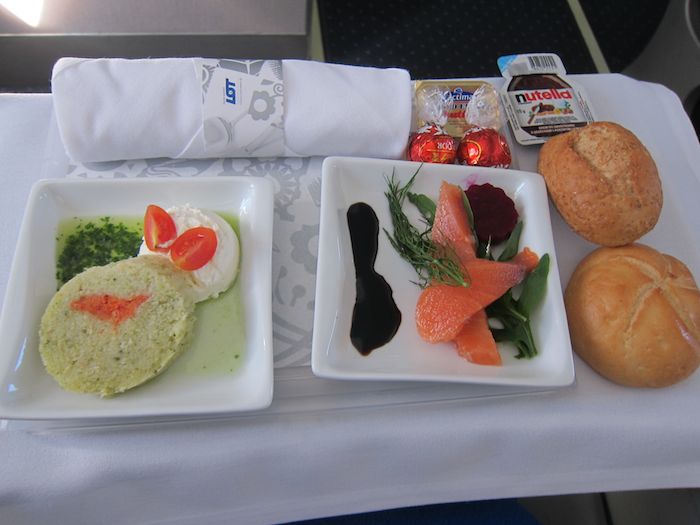 LOT Polish business class snack
I asked the flight attendant what the thing on the left was. She responded "sheeken" (which I've learned over time is the standard response in Poland when you're not sure what something is, much like "I'm so sorry" and "thank you for waiting" are the standard response in Japan for… well, everything). I said "oh, chicken?" She said "no, maybe something with vegetables." I tried it and it was actually quite decent… whatever it was.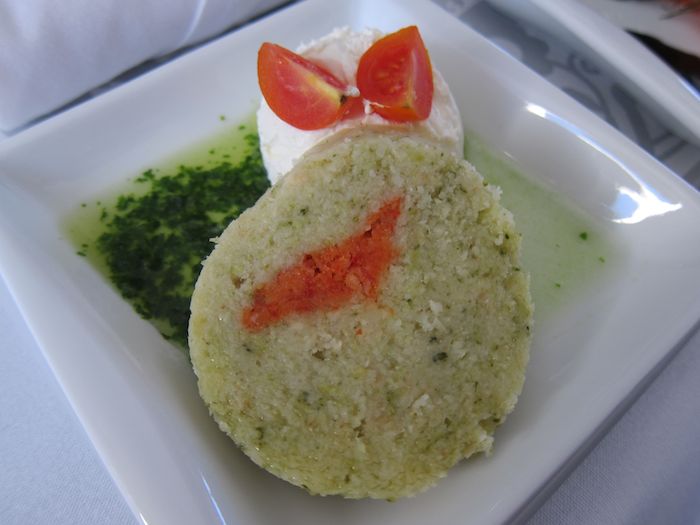 LOT Polish business class snack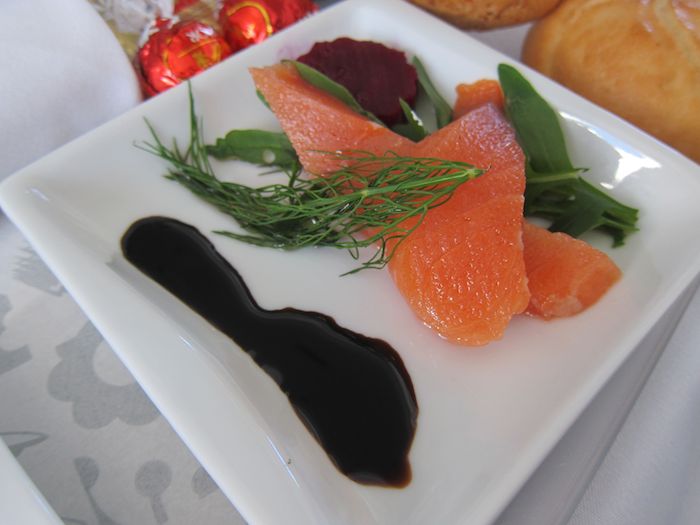 LOT Polish business class snack
After the snack I had some coffee.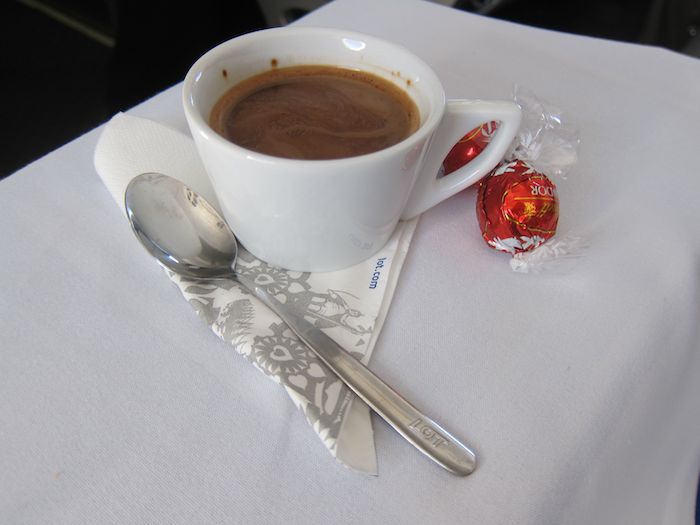 LOT Polish business class coffee and chocolate
I was impressed by the service. Usually in intra-Europe business class on planes like these the business class flight attendant serves business class passengers and then goes to economy to continue service there, though in this case she was solely responsible for the three of us, and was extremely attentive in offering refills.
I watched a couple of TV shows on my iPad, and before I knew it we were initiating our descent into Zurich. As usual, the views on approach were gorgeous.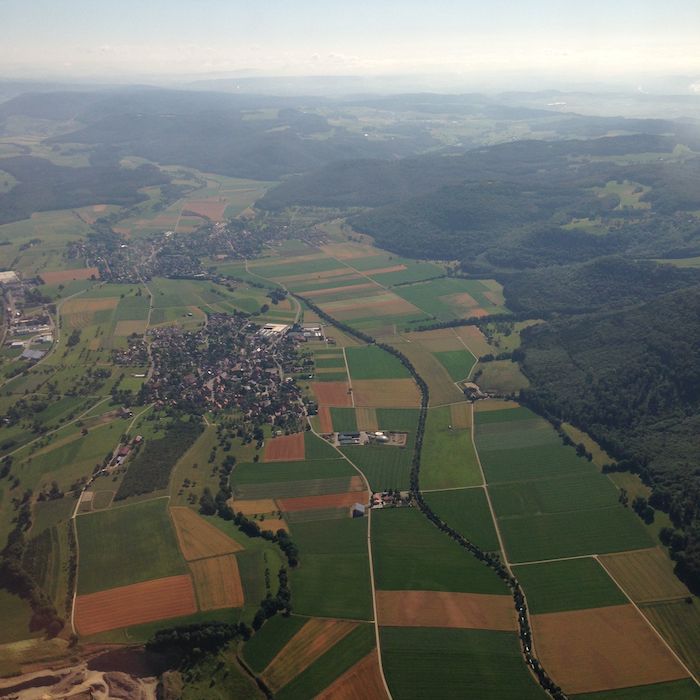 Descent into Zurich Airport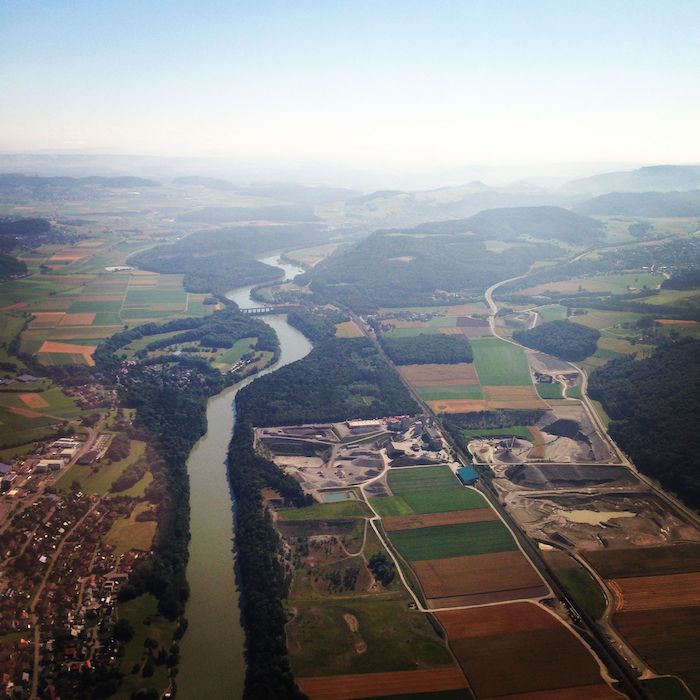 Descent into Zurich Airport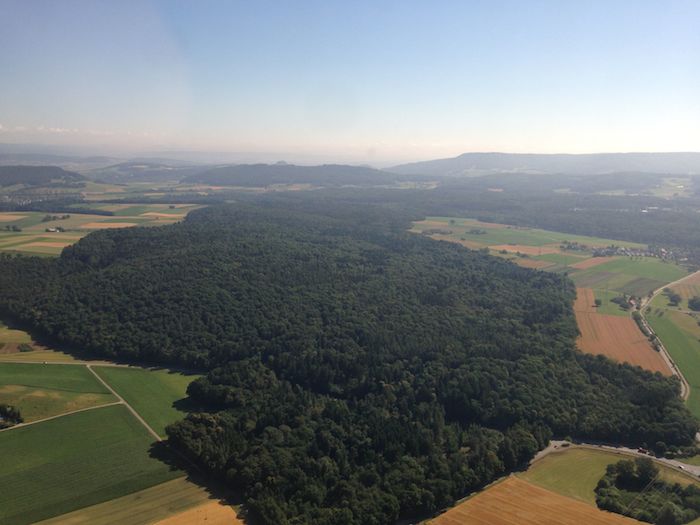 Descent into Zurich Airport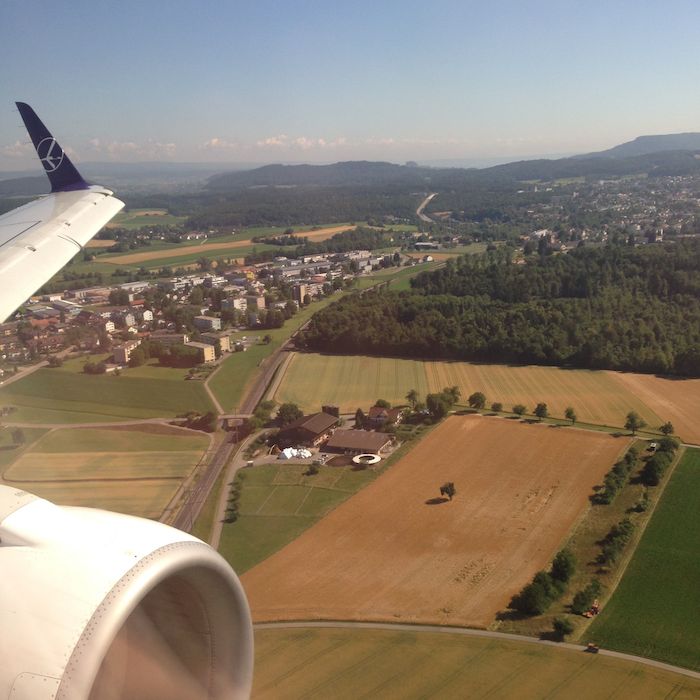 Descent into Zurich Airport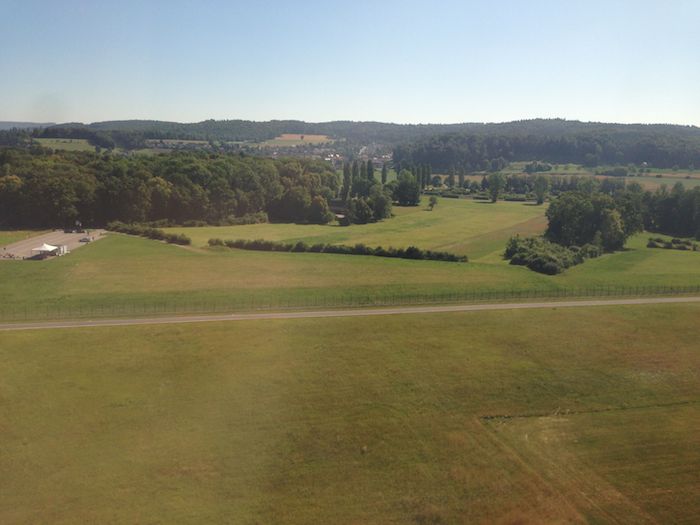 Final descent into Zurich Airport
We touched down on runway 14 at 10AM, a bit behind schedule.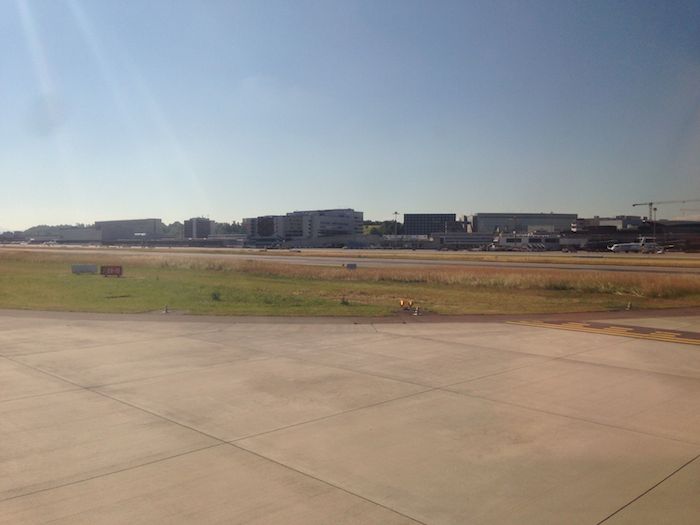 Touchdown Zurich Airport
Our taxi to our gate took maybe 10 minutes, so we got there at around 10:10AM, about half an hour behind schedule. Fortunately we had a long layover, so that wasn't a problem at all.


Zurich Airport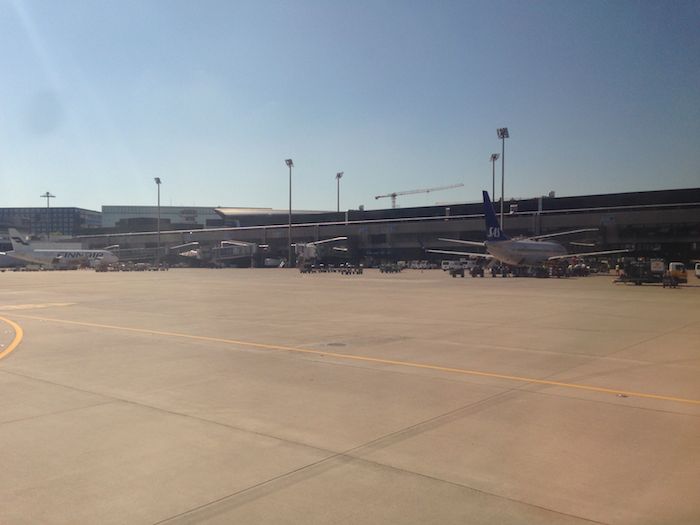 Zurich Airport
We parked next to an SAS 737, which kind of made me want to go to Northern Europe (which is next on my list of places to go, and I should be visiting in the next couple of weeks).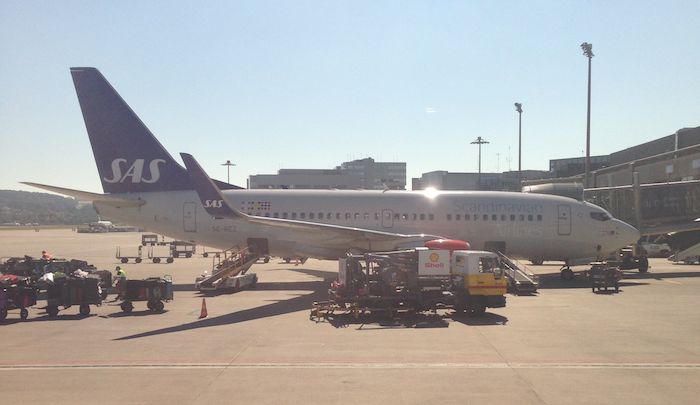 Zurich Airport
Bottom line
LOT's intra-Europe product impressed me. The pre-departure beverages, pillows, and blankets are a lot more than other European airlines offer. And the Embraer is a really comfortable jet, arguably more comfortable than any Airbus or Boeing short-haul narrowbody, given that they just have 2-2 seating. The crew on this sector was also quite good.