I'm in the midst of a US Airways 90,000 mile business class award to North Asia with my friend Andrew B. As you may recall, he's the Helsinki contest winner thanks to his excellent memes, fellow movie and fetish night goer, etc.
I asked him to share our Warsaw adventures from yesterday with y'all!
---
Greetings from Warsaw!
So, apparently I'm a magnet for bad luck, at least when it comes to taxis. After passing very quickly through immigration and customs at Warsaw Chopin Airport, we went to the taxi stand outside. I momentarily let go of my carry-on, and it tipped over (I do not use Lucky's scientifically-calibrated anti-tip system, which I believe was pioneered by Sir Isaac Newton). Unfortunately, it tipped in the direction of the cab we were about to enter.
The driver claimed that the plastic handle on my carry-on scratched the side of the bright-red car and caused 300 zloty (about $100) worth of damage. There was no red paint on the luggage handle after the incident, and considering that the bag did not fall from the top of the Empire State Building (or the Palace of Culture and Science here in Warsaw), I do not think it caused that amount of damage (or really any whatsoever). It certainly didn't cause the other various scratches and dings that were all over the exterior of the vehicle.
The driver pulled out his cell phone to call the police. Rather than duke it out, Lucky (who had just taken out cash at an ATM), eager to avoid any drama that occurs outside an episode of the Real Housewives, just gave him the 300 zloty. Obviously, we took a different taxi into the city. (I will definitely be paying Lucky back, despite his protestations, once I take out some cash.)
Anyway, later in the day (after a glorious nap), we walked to Warsaw's Old Town, which is about 25 minutes from our hotel. The area is quite beautiful (most of it had been destroyed in World War II, but it was meticulously rebuilt). We ate dinner, stopped for a quick dessert, and afterwards it was raining.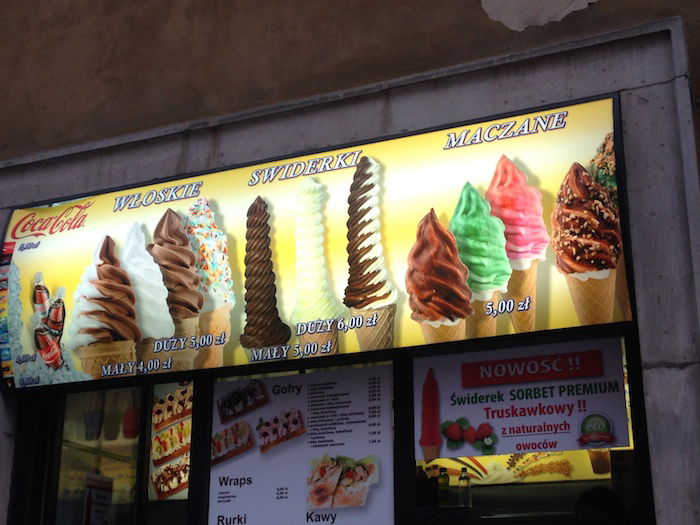 I wonder what Freud would say about my choice of dessert?
It was around 9 pm, and we opted to take a cab back to the hotel. Some were waiting on the outskirts of Old Town. We hopped in one. The driver said there would be an extra charge since it was nighttime. I have heard of a nighttime surcharge before, so I wasn't too concerned.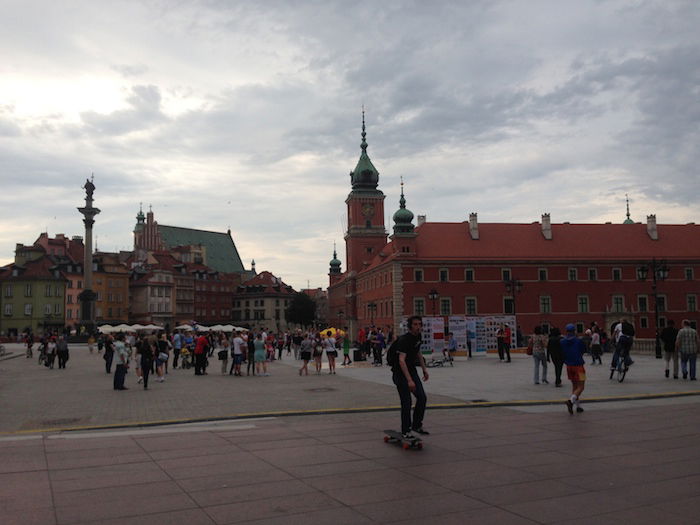 Warsaw Old Town
There was a meter in the cab, which seemed legit (though in the darkness we could not see the readout on the meter until we arrived at the hotel). The 5-minute drive cost 90 zloty, or $30. We tried talking to the driver and he said he had warned us about nighttime. I ran inside to grab the concierge. I asked him how much it should cost for a ride from Old Town at night, and he said at most 30 zloty with nighttime and Sunday surcharges. He came out to talk to the driver, who told the concierge that he informed us that this was a private taxi service that would cost more money. The concierge was nice about it, but there was nothing he could do aside from tell us that it happens frequently. So we got taken for a ride in more than one way.
I promise to try to be more savvy in the future…but aside from being street-wise enough to avoid these situations in the first place, I wonder how others would have handled them. Any thoughts?