---
Note: This post is written by my friend Andrew, who took the trip with me
Hopefully my perspective will be a little different from Lucky's, as someone who's not quite as accustomed to premium travel as he is.
I think on this trip, Lucky found out that having me along was the equivalent of having 13 black cats for travel companions. Or a member of the Kennedy family. Still, the trip went relatively smoothly, all things considered.
We started off our journey at the Korean Air lounge in JFK's Terminal 1. As Lucky pointed out, outlets were in short supply, and their internet filters were actually offensive (though this has since been fixed, so kudos for that). Also, the ambient temperature made me long for the relative coolness of the inside of a pizza oven.
Now for the flight on LOT's 787. First, the Dreamliner was beautiful, both outside and in. There were some issues: the remote for my entertainment system wasn't working, Lucky's tray table was very difficult to open, the cappuccino machine was inoperative (though it's kind of neat that they have one in the first place), and part of the seat was held together with masking tape. But the seat and bedding were both extremely comfortable, and I felt like I had plenty of personal space to myself. I got several hours' sleep. In fact, I'd go so far as to say this was my favorite hard product of the entire trip.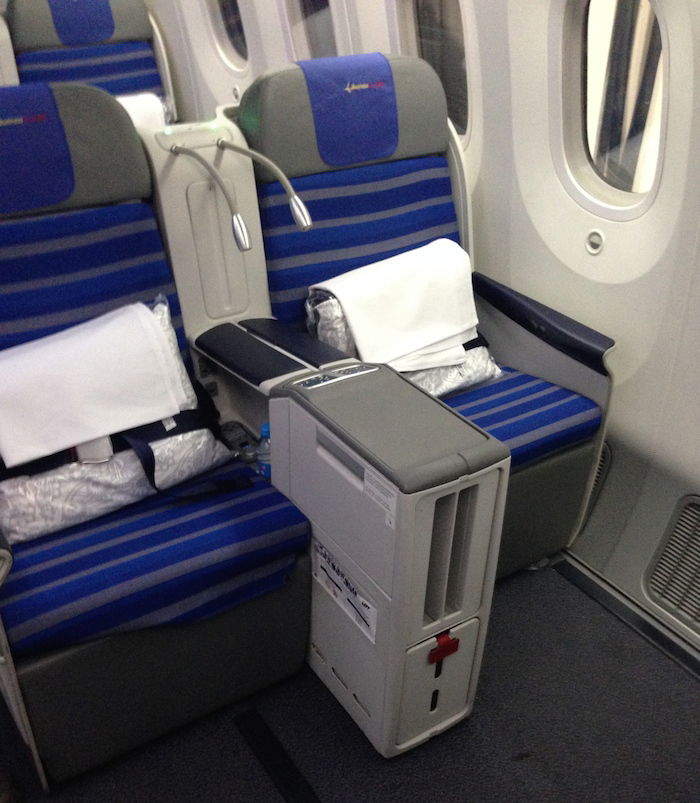 I also think LOT must offer an excellent health plan to their crews. Based on most of the flight attendants on this leg, it appears that the plan covers smile muscle removal surgery. The flight attendant working our side of the cabin did smile quite a bit, and seemed genuinely pleasant and helpful, so we lucked out. The others looked like they would come out with a bowl of borscht, slam it down in front of you, and say, "you will eat now." (If you're an Orange is the New Black fan, picture Red.)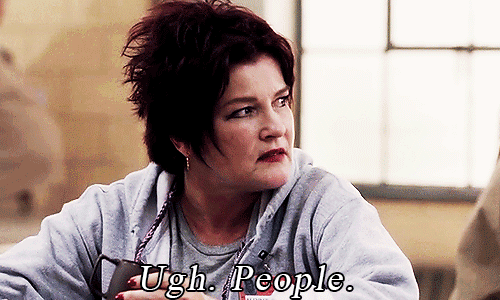 Upon arrival in Warsaw, one of the flight attendants welcomed us with all the warmth and sincerity of Stephen Hawking's computer voice. Thankfully, deplaning was super quick, as was the customs/immigration process.
The Westin Warsaw was a great home base. It's not super close to the Old Town, but you can walk there in a half an hour. It's only a 10-minute walk from the scary/imposing Palace of Culture and Science, which looks like it's straight out of 1984. The hotel's employees were really nice, across the board. The city's taxi drivers, on the other hand, were not as genial.
Our departure from Warsaw resulted in some drama at the airport. Think our troubles ended there? Think again.
Our flight to Zurich on a LOT Embraer 170 was pleasant and uneventful. It was my first experience with intra-Europe business class (i.e. having the seat next to you blocked).
At Zurich Airport, I realized I didn't have my boarding pass for the Zurich-Beijing leg. So, we headed to the transit desk. And, as you probably guessed, we had to duke it out again about the lack of visa. Thankfully, it all worked out.
After that, we went to the Swiss Panoramic Lounge. It had an outdoor area where you could view the airfield, including a Singapore A380 and, my personal favorite, a US Airways 767-200 (seeing one of those is like visiting your sweet old grandma at the nursing home).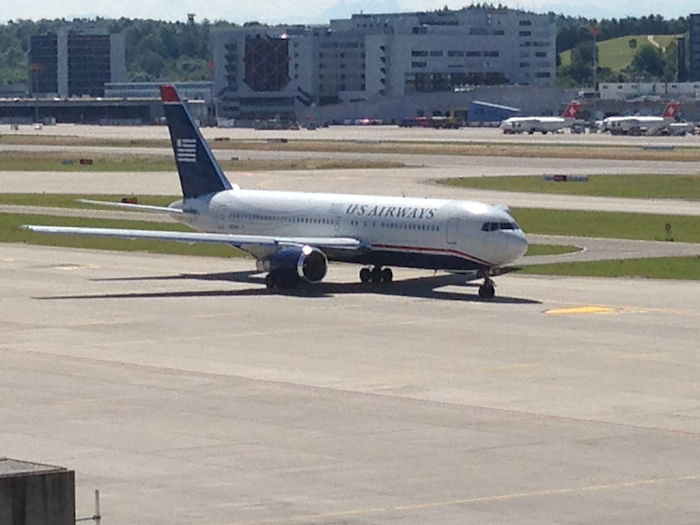 Next was our Swiss flight to Beijing. Where should I start with all the good things I can say about Swiss? Well, for one thing, their logo is a big plus. (Get it?) The business class cabin on the A330-300 was almost as beautiful as the cabin crew. Seriously, where did they find these people? They made Brad and Angelina look like Quasimodo and the Geico gecko, respectively. And the service was great too – super attentive and genuinely friendly.
Even aside from the eye candy, the food was delicious. As far as seat comfort goes, I was worried that having a seat angled toward the aisle would make me feel more exposed than Janet Jackson at the Super Bowl, and everyone had warned me about the confinement of the foot cubbies.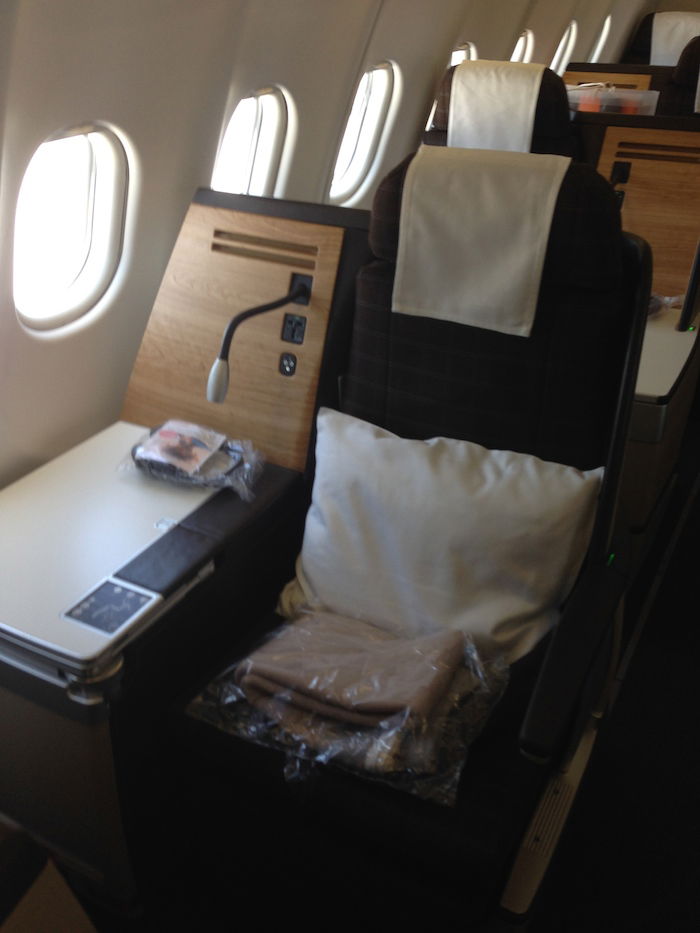 Maybe it was the two mixed drinks I had (I'm a lightweight, so any more booze than that would have had me streaking down the aisle singing The Sound of Music), but I was totally comfortable and had no problem falling or staying asleep. The in-flight entertainment was a little lacking – there weren't too many options. Lots of friends had told me how great The Lego Movie was, so I tried to watch it. By the middle, I was ready to scoop my eyes out with a melon baller and/or light myself on fire, so that was a horrible choice. Instead I ended up watching a documentary called The Secret Life of Dogs, because puppies.
Arrival at Beijing was a bit of a cluster, with hectic immigration lines and unclear signage. It took a while to be processed. On the plus side, getting a taxi only took a few seconds, and the cab driver taught us how to say the name of our hotel in Mandarin.
The Grand Hyatt Beijing was beautiful – by comparison, my apartment looks like a severely-neglected homeless shelter. The people were friendly (if a bit distant and cordial), and my room was super comfy and filled to the gills with free bottled water, which is the fastest way to my heart (and kidneys).
On our last day in Beijing, Lucky and I took a tour of Tiananmen Square, the Forbidden City, and the Great Wall. (Lucky had seen all this before, so he was a good sport for agreeing to do it all again.) Our tour guide, "Michael Jordan" (he's much shorter in person), told us he'd never been out of China, but when Lucky asked him where he wants to visit first, he said, "wherever Megan Fox lives."
We visited the Mutianyu section of the wall, where we took a chair lift to the top (fun fact: Lucky is terrified of heights, unless he is hurtling through the sky in a pressurized aluminum tube clutching a Diet Coke with lime). On the way down we took a toboggan, which was super fun. (Oh, and the wall itself was kind of nifty too, I guess – but I don't think I was visible from space while I was on it, sadly. Maybe after a few more croissants at the hotel lounge.)