In the interest of full disclosure, OMAAT earns a referral bonus for anyone that's approved through some of the below links. These are the best publicly available offers (terms apply) that we have found for each product or service. Opinions expressed here are the author's alone, not those of the bank, credit card issuer, airline, hotel chain, or product manufacturer/service provider, and have not been reviewed, approved or otherwise endorsed by any of these entities. Please check out
our advertiser policy
for further details about our partners, and thanks for your support!
---
My LAX ground experience with Hainan Airlines started before I even got to the airport. Hainan offers complimentary chauffeur service to business class passengers booked on revenue fares.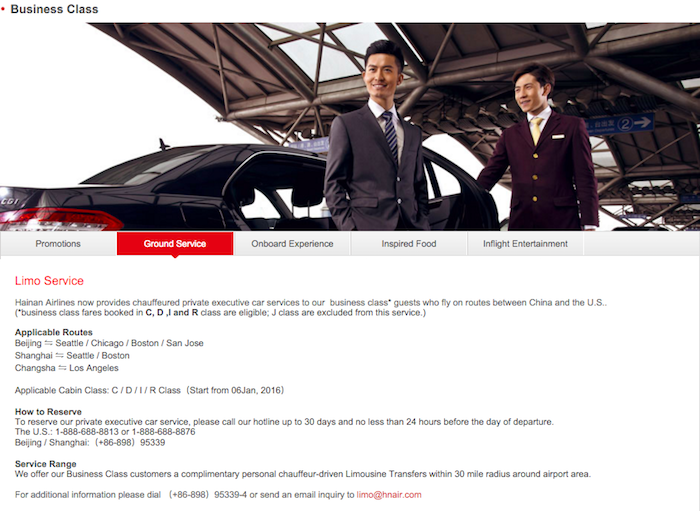 While Emirates and Etihad offer similar services and let you request them online, Haian's process is a bit more complicated. To arrange the chauffeur you either have to call or email them. I chose to email Hainan's limo service, which can be done at [email protected]. I was impressed by their responsiveness, as I heard back within hours:
Dear,

Thank you for your email. You are available for the limo servicer. Please finish the attachment and send back to us. If you don't know how to fill it! You can call us 95339-2!

Best regards!
Attached were two forms I had to fill out to request the service. There were some aspects of the form which confused me a bit, though I was pleased when I heard back from them less than 24 hours later confirming my limo service for all four occasions (on arrival and departure in both Los Angeles and Changsha).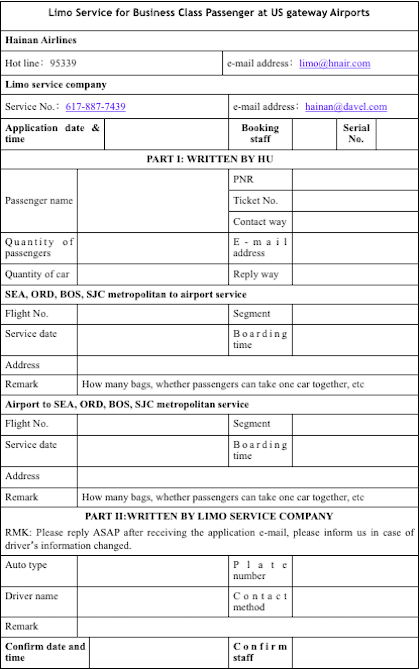 I had arranged for the limo to pick me up in West Hollywood at 9:30AM, so I'd have plenty of time before my 12:35PM departure.
The driver was there about 15 minutes early, and picked me up in a nice Cadillac XTS. The limo service is provided through Dav El, and the driver was extremely professional. I thought it was pretty funny that when he picked me up he said "you're flying… I don't know how to pronounce the airline's name… is it who-nani?"
I tipped the driver $20 (as I usually do for airline provided chauffeur services), and was dropped off at LAX around 10:15AM.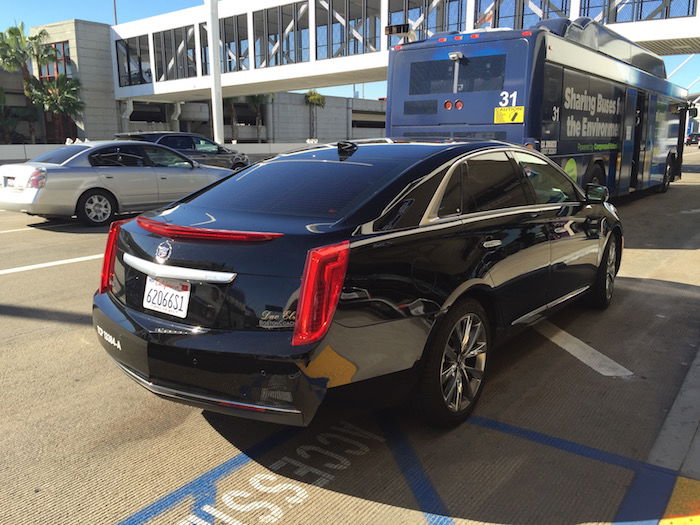 Hainan Airlines limo service LAX
Hainan Airlines departs from Terminal 2 at LAX, rather than Tom Bradley International Terminal, where most foreign carriers depart from. That's both good and bad news depending on how you look at it. The good news is that the terminal is smaller, so it's typically easier to get through security. The bad news is that the lounge options are much more limited.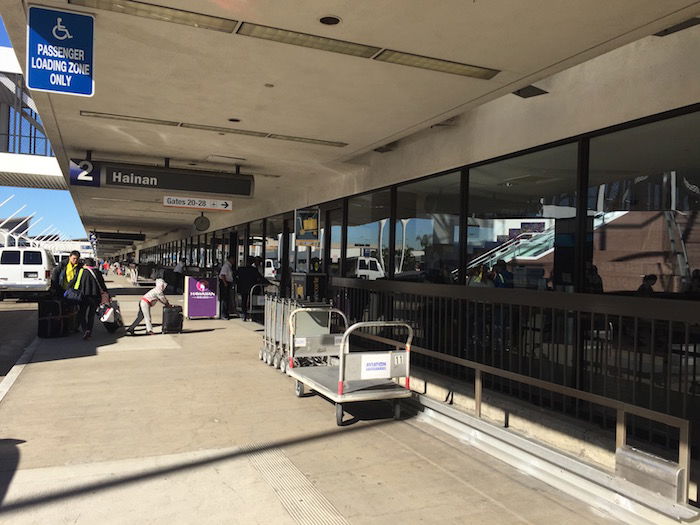 LAX Terminal 2 exterior
Upon entering the terminal I turned right past the Hawaiian and Sun Country check-in counters, where I found the Hainan Airlines check-in counters squished in the very end of the terminal.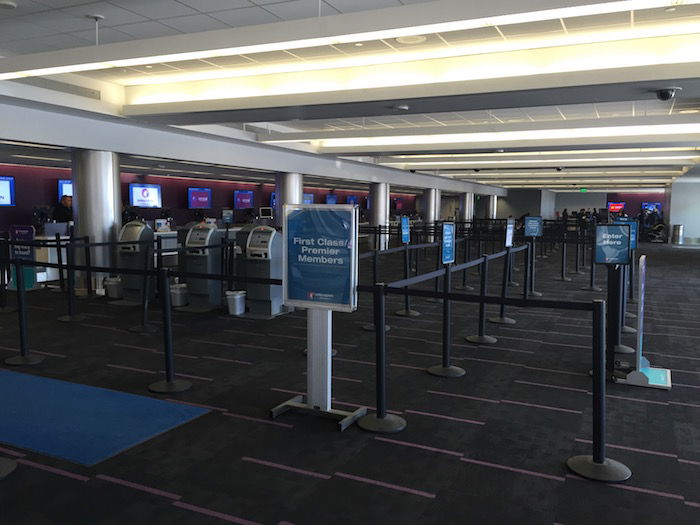 Terminal 2 check-in area LAX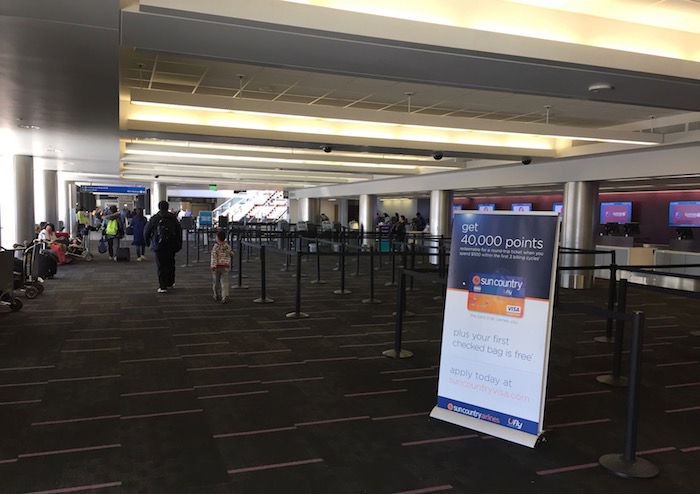 Terminal 2 check-in area LAX
The check-in space is rather small, and it's pretty clear the terminal is running out of space for airline check-in. It might be time for them to switch to shared check-in spaces, given that not all airlines use their counters constantly.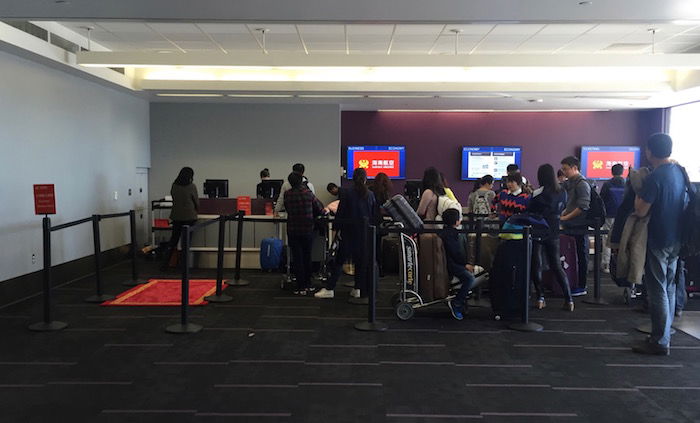 Hainan Airlines LAX check-in counter
There was a business class lane on the left side of the check-in area, where there was no queue.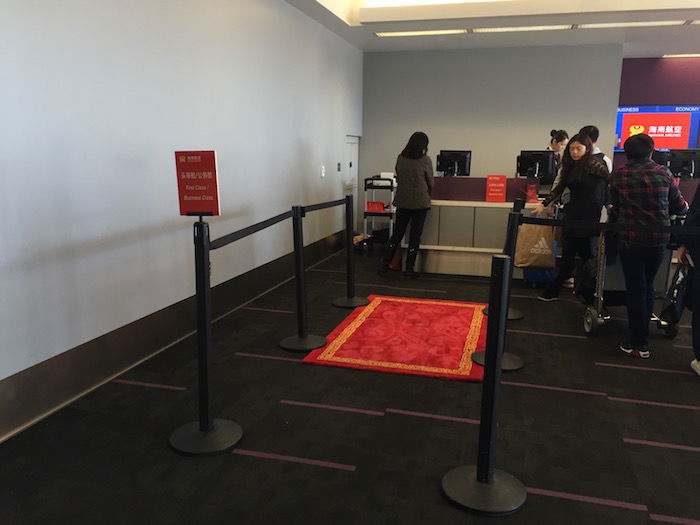 Hainan Airlines LAX business class check-in counter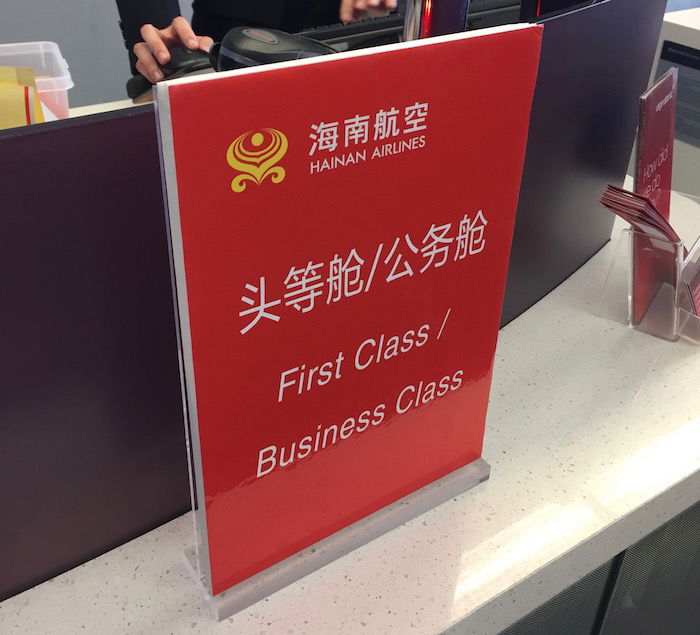 Hainan Airlines LAX business class check-in counter
The agent had me quickly checked in, and much to my surprise she actually requested to weigh my carry-on. Fortunately my carry-on wasn't that heavy, so I didn't have to check it (I didn't voluntarily declare my other bag, though, or else I may have had to check my carry-on). I also had her add my Alaska Airlines Mileage Plan number to the reservation, so I'd be able to earn miles for the trip.
I knew the flight wasn't very full, so tried to ask if there was any way she could assign me a window seat which has good odds of having the aisle seat next to it stay open. When I asked how full the flight was, she said "flight very not full." Alrighty then!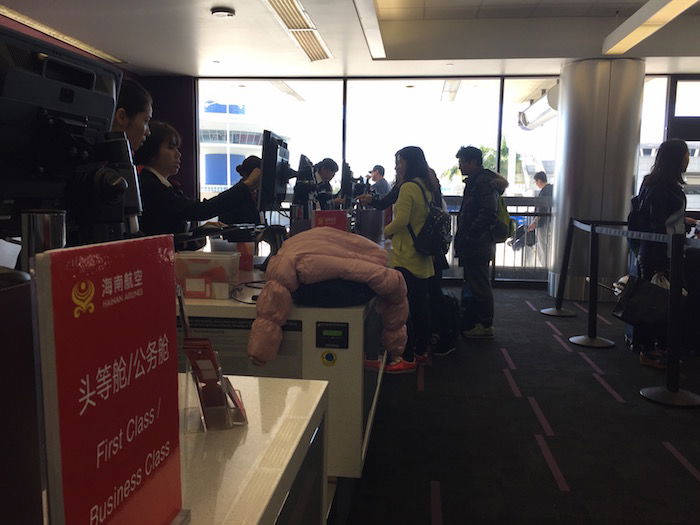 Hainan Airlines LAX business class check-in counter
In no time she had my boarding pass printed, and also wrote me a lounge invitation. Hainan has the cutest lounge invitations I've ever seen, as there's even a ribbon on the end of them.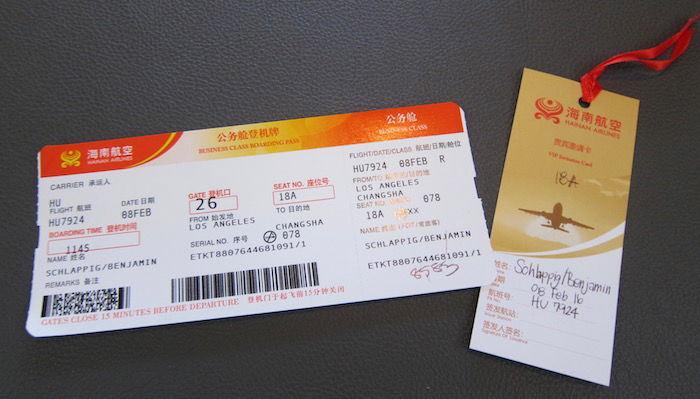 Hainan Airlines boarding pass & lounge invitation
With my boarding pass in hand I headed towards the TSA checkpoint. While the entry to the checkpoint is on the lower level, the actual security checkpoint is up an escalator.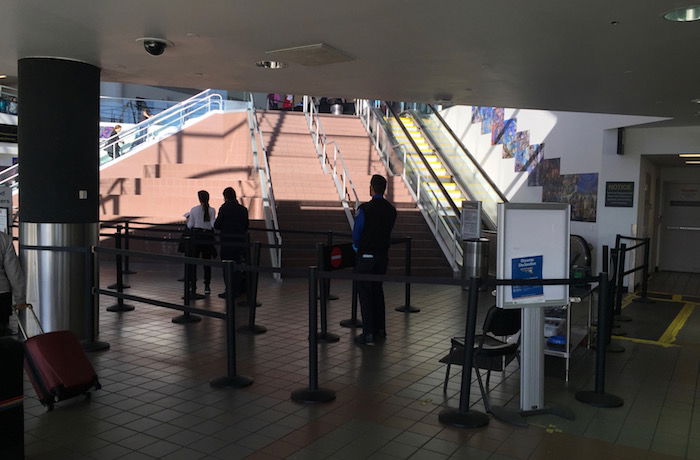 LAX Terminal 2 security checkpoint
There was quite a line at security, though I noticed there was a premium lane, which was roped off. I saw a contract worker standing maybe 20 feet away, and asked him if there was any way to use the premium lane. Much to my surprise he opened the lane, so it seems it's very much on demand. That saved me a good 15 minutes.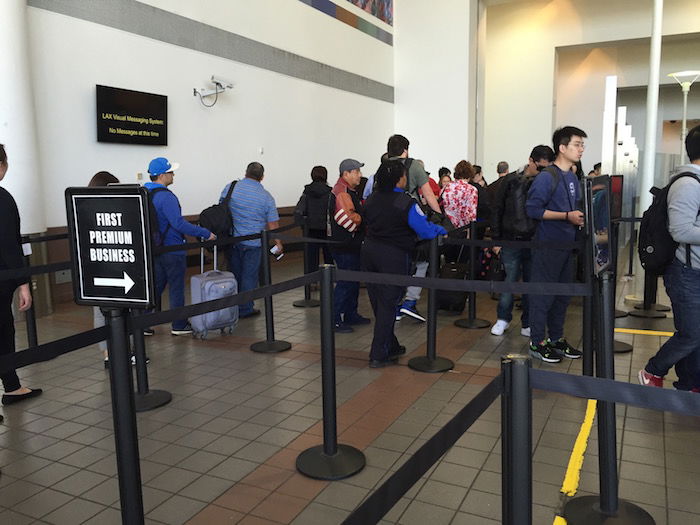 LAX Terminal 2 security checkpoint
While the security checkpoint wasn't that crowded, it was one of the most jumbled security experiences I've had in a while. And after looking at the departures monitor I guess that sort of made sense. There were flights to Mexico City, Maui, Del Bajio, Guadalajara, Changsha, and Zacatecas leaving within a couple of hours. It wasn't your typical Monday morning frequent flyer crowd, that's for sure.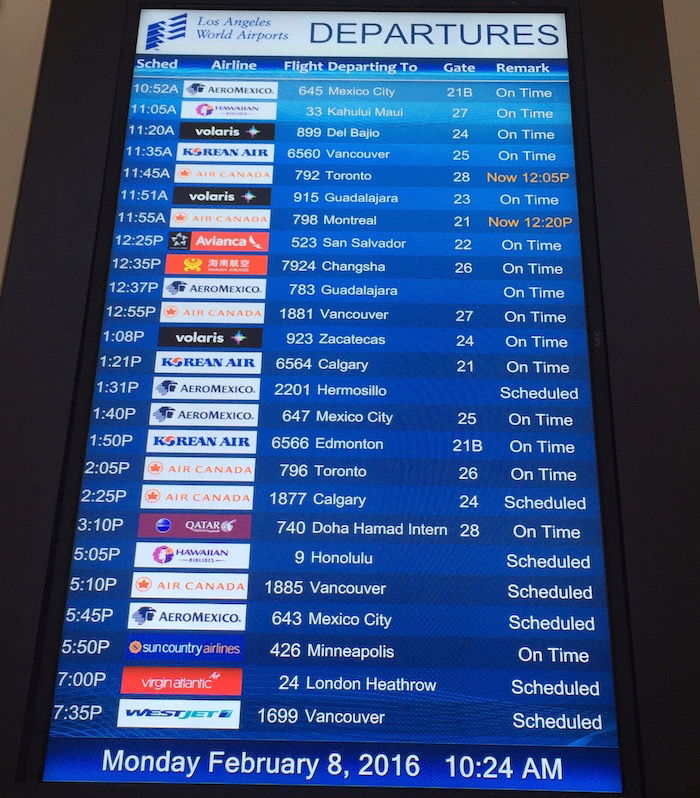 Terminal 2 departures board LAX
The new Terminal 2 at LAX is gorgeous. It's really well done, and so much nicer than how it used to be. It's on the small side, so it's not the most exciting place to spend hours on end, though it's also quite convenient due to its smaller size.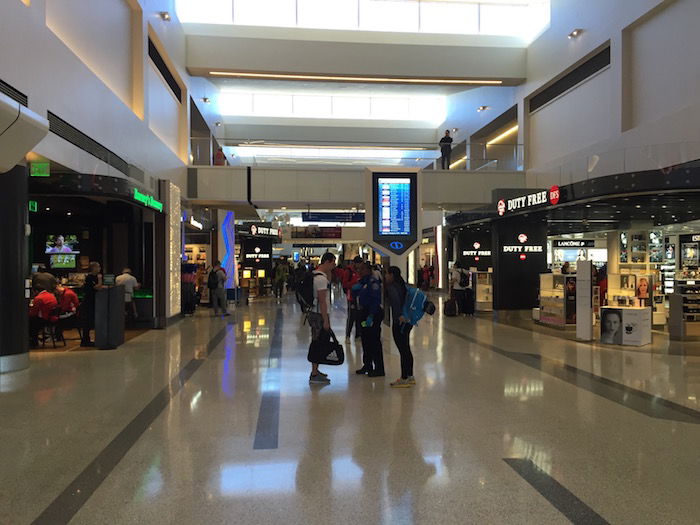 Renovated LAX Terminal 2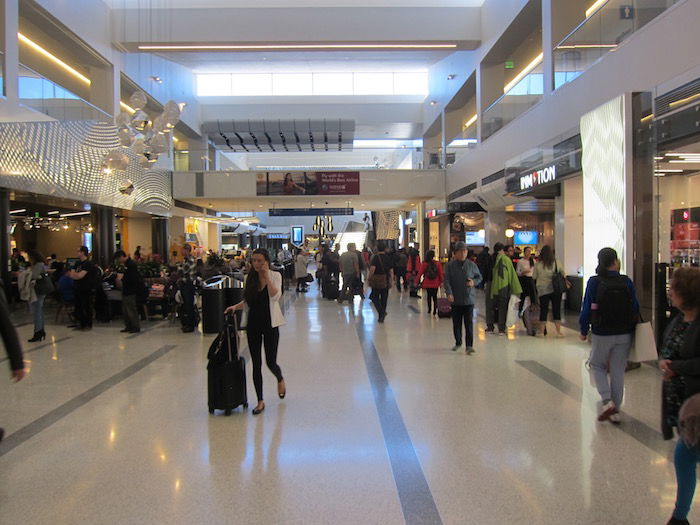 Renovated LAX Terminal 2
Qatar Airways recently started flights to LAX, and I couldn't help but laugh at their not-so-modest, completely unqualified ad.


Qatar Airways' modest ad
The lounges are located one level up from the main concourse, and you can access them either via swanky, back-lit stairs, or by elevator.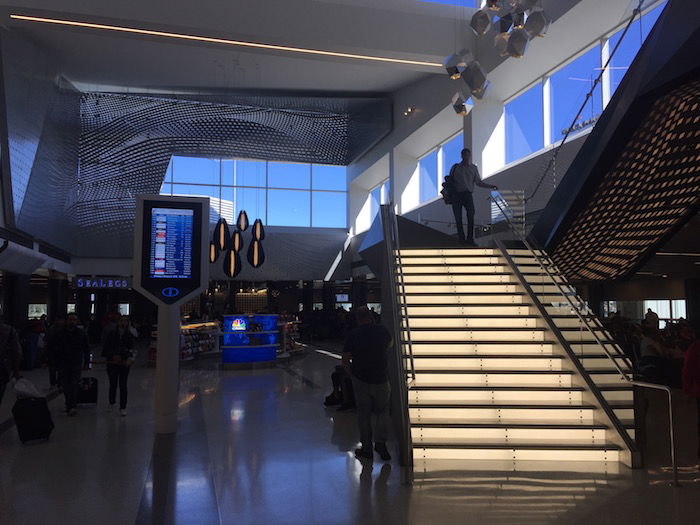 Renovated LAX Terminal 2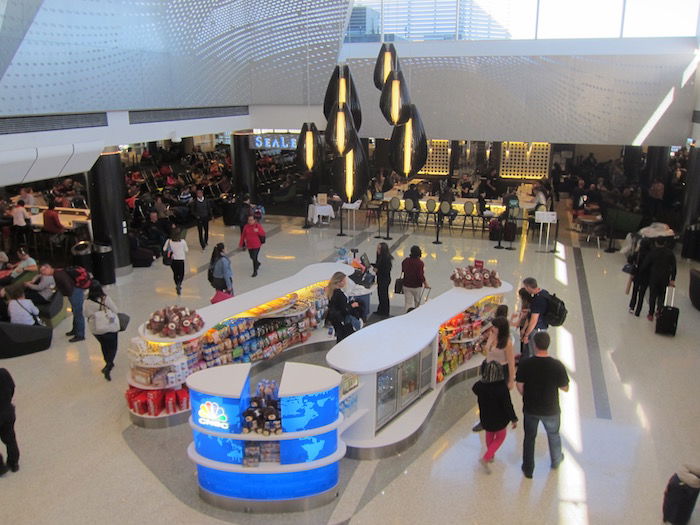 Renovated LAX Terminal 2
The bad news is that the terminal only has two lounges — there's the Air Canada Maple Leaf Lounge and the Virgin Atlantic Clubhouse. Hainan Airlines (along with Qatar Airways) use the Air Canada Lounge for their passengers in Los Angeles. While it's a perfectly fine lounge, it's a bit underwhelming when you're flying two of the world's so-called 5-star airlines. 😉
Thankfully, your options do expand a bit if you have a credit card with lounge access.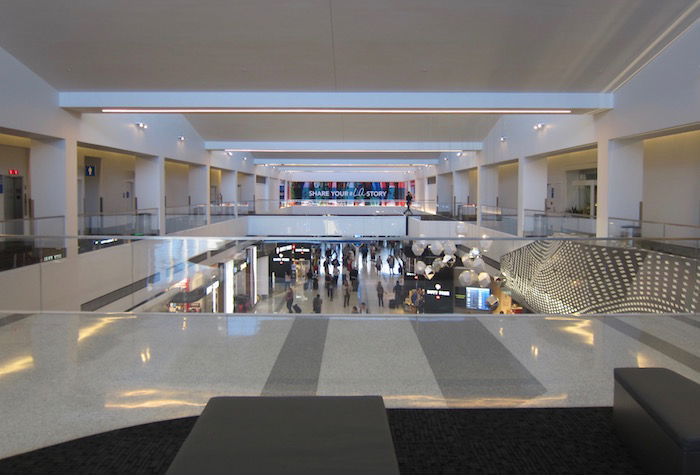 LAX Terminal 2 upper level with lounges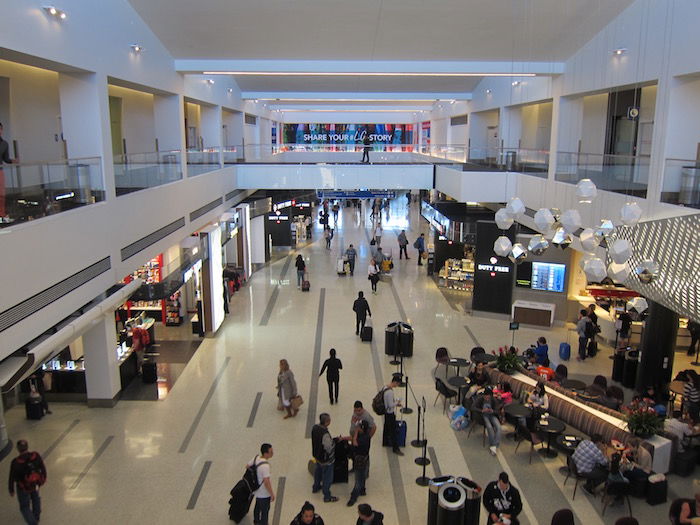 LAX Terminal 2 upper level with lounges
The Air Canada Lounge is located to the right once at the top of the stairs, down towards the end of the hallway.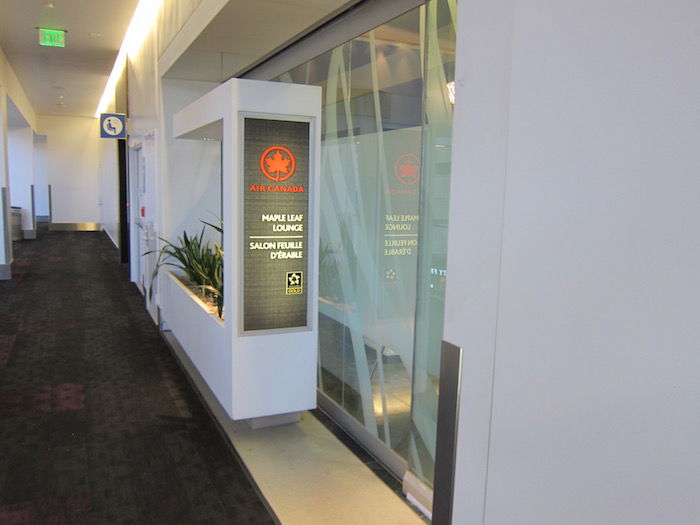 Air Canada Maple Leaf Lounge LAX
I've reviewed the Air Canada Maple Leaf Lounge Los Angeles before, so won't do so again in this post. This lounge is also a Priority Pass lounge, meaning you can access this lounge even if you're not in first or business class. Priority Pass memberships come with several cards, including:
For a North American lounge, the Maple Leaf Lounge is actually quite nice. The one thing I noticed is that it was extremely full, presumably due to the number of airlines they're contracting it out to.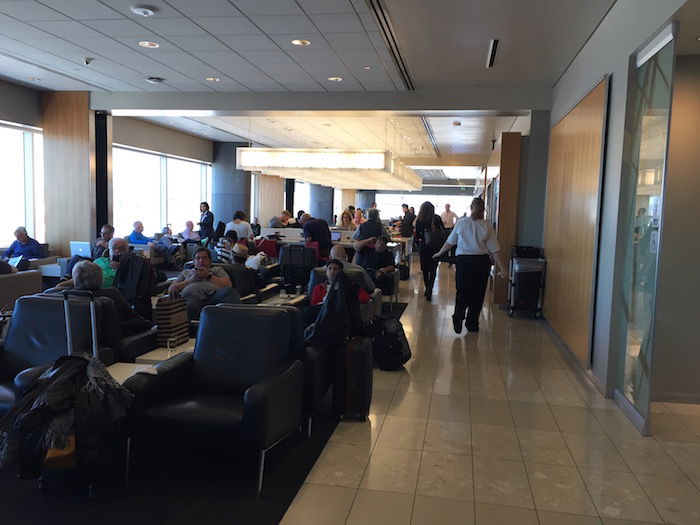 Air Canada Maple Leaf Lounge LAX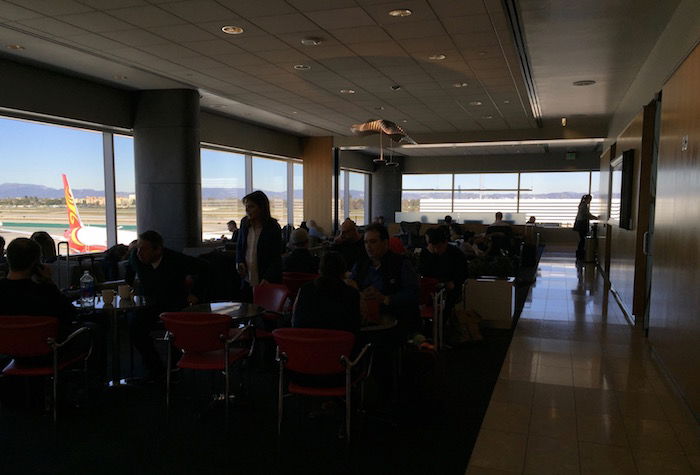 Air Canada Maple Leaf Lounge LAX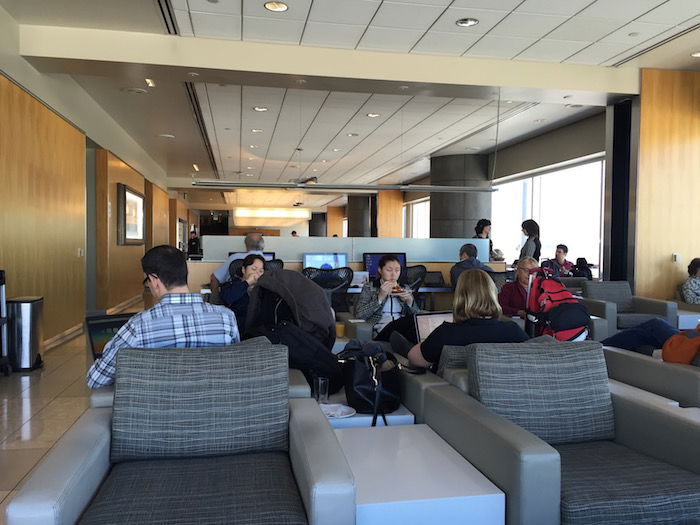 Air Canada Maple Leaf Lounge LAX
The food spread itself was quite good, though.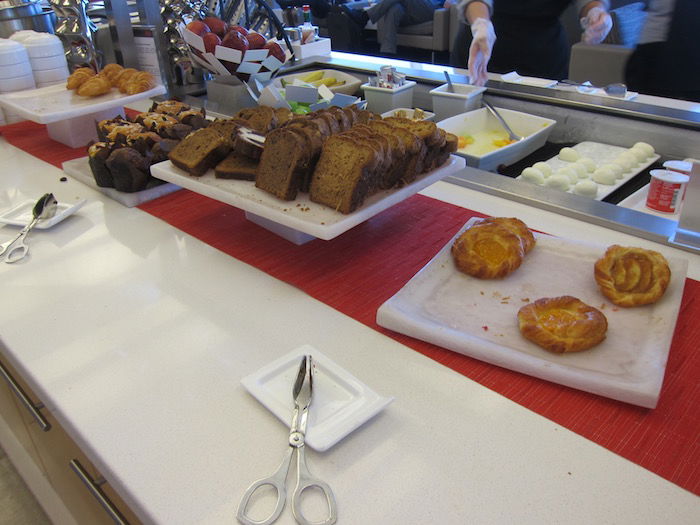 Air Canada Lounge Los Angeles food selection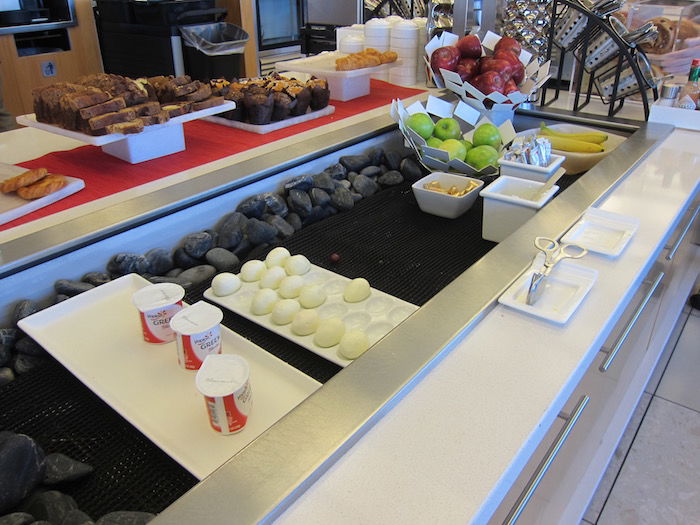 Air Canada Lounge Los Angeles food selection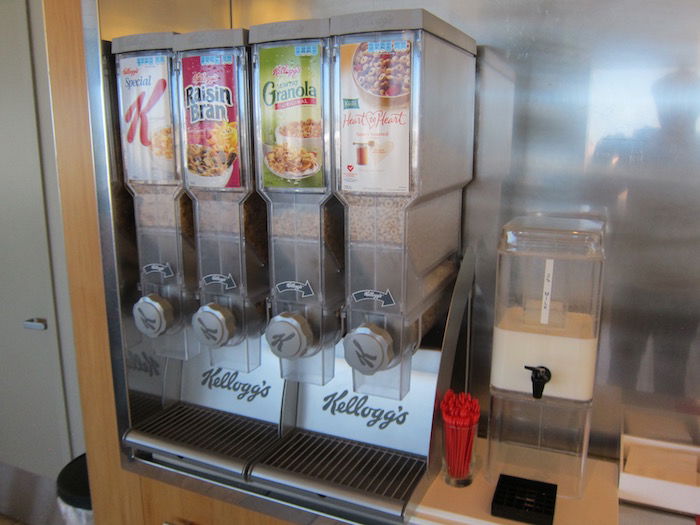 Air Canada Lounge Los Angeles food selection
I'm also happy to report that the Air Canada Lounge Los Angeles once again serves beer, wine, and liquor. Apparently they didn't have a license for a while, so that's great news.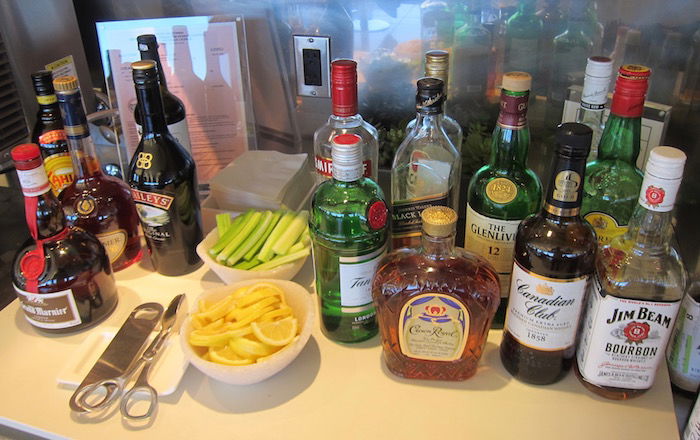 Air Canada Lounge Los Angeles alcohol selection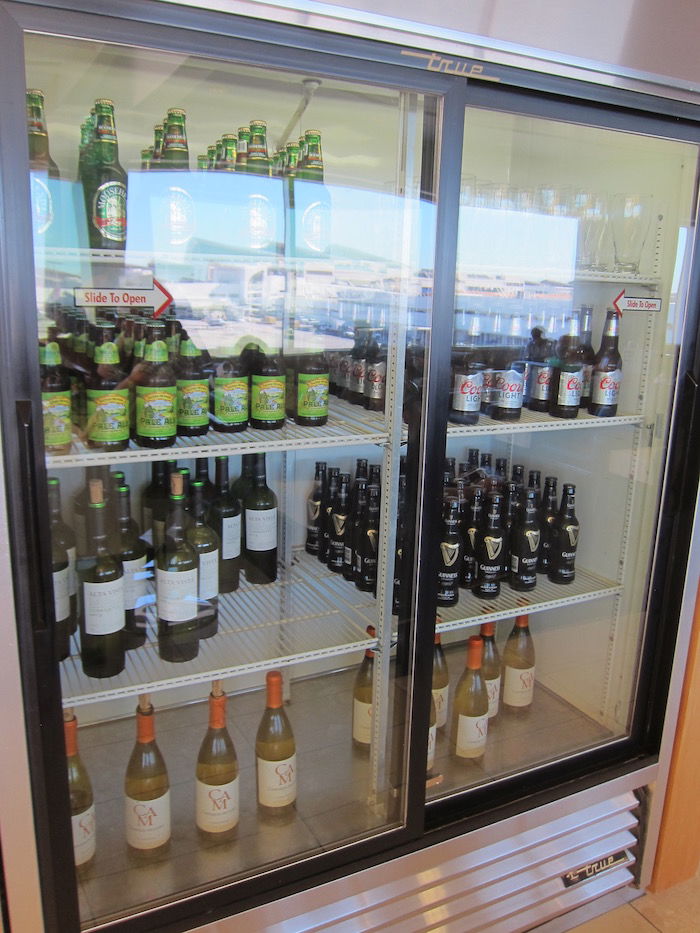 Air Canada Lounge Los Angeles alcohol selection
The other cool thing about the Air Canada Lounge is that you have a nice view of gate 26, which Hainan Airlines uses for their flight.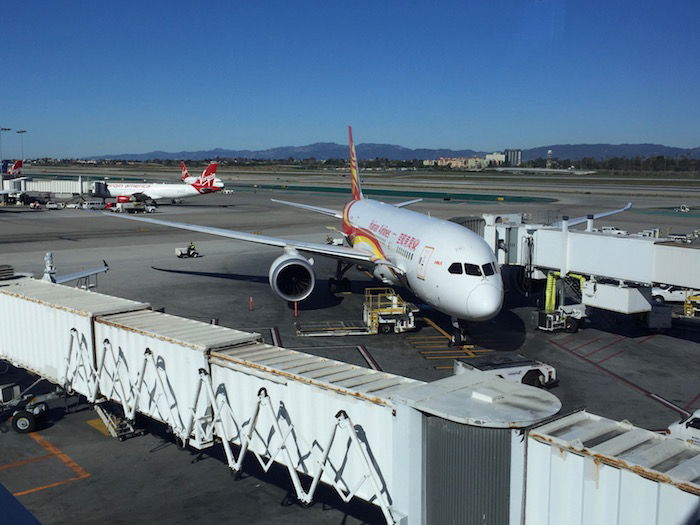 Hainan Airlines 787 LAX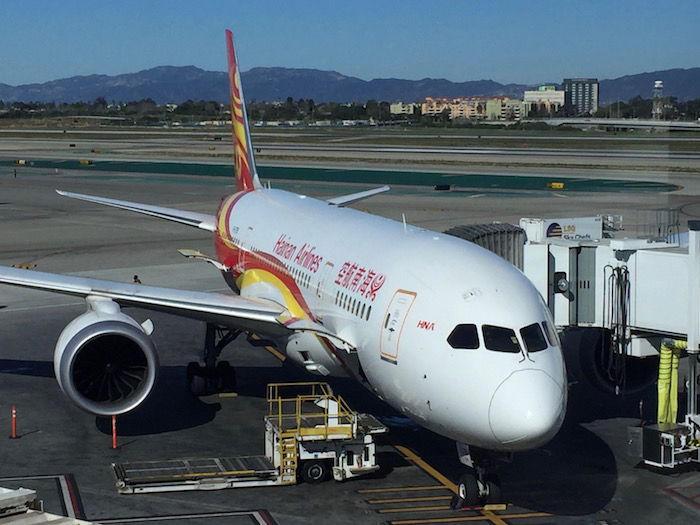 Hainan Airlines 787 LAX
Boarding was scheduled to commence at 11:45AM, so I headed down to the gate at around 11:30AM. Terminal 2 seems to have very limited gate seating, so the area was quite crowded.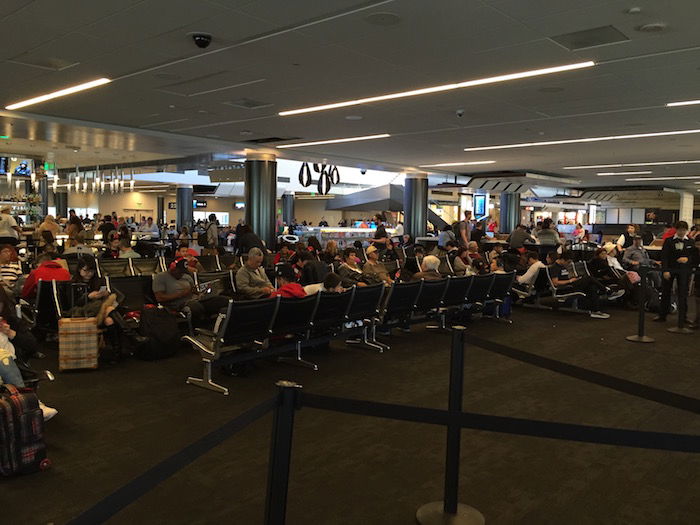 Hainan departure gate LAX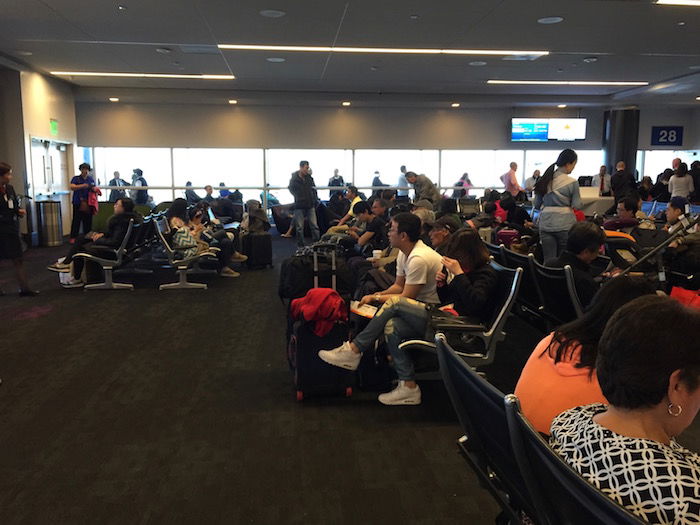 Hainan departure gate LAX
While the views of the plane were great from the lounge, they weren't quite as good from the gate, given the pole which was in the way.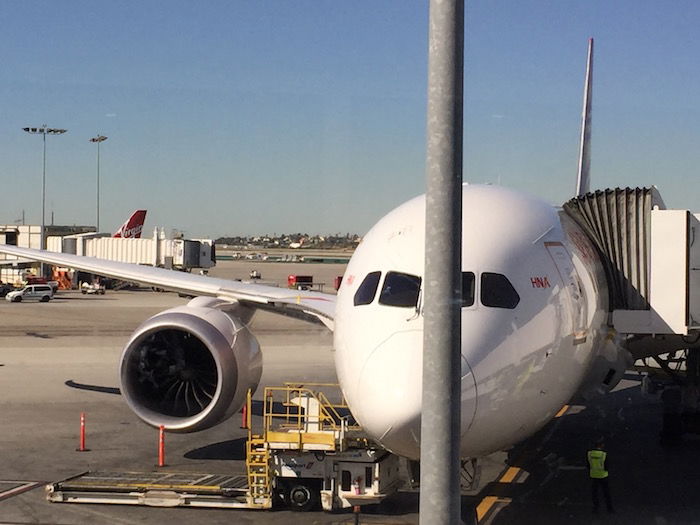 Hainan 787 from gate
As I got up to the gate there was a gate agent roaming around checking passports and boarding passes, so that passports wouldn't be needed when boarding.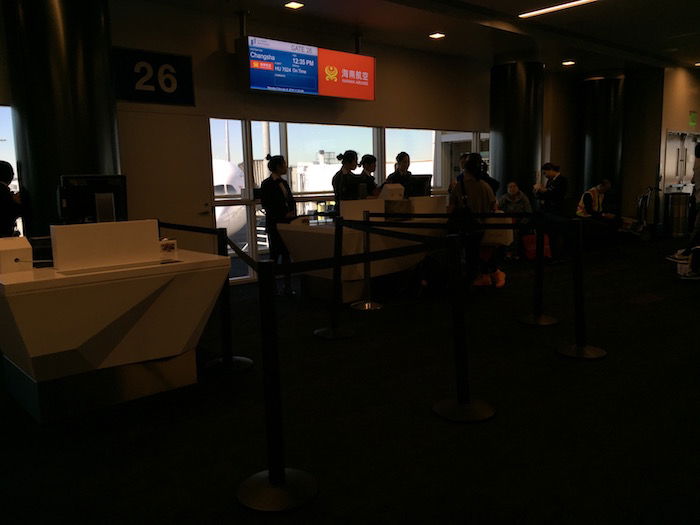 Hainan departure gate LAX
I think she noticed I was the only English-speaker and/or caucasian in the gate area, so she said "excuse me, this might seem like a weird question, but what are you doing in Changsha? Are you just transiting?"
Hmmm, I figured this was some sort of Heathrow-style security quiz, until she continued.
"My friends and I can get cheap tickets there, and we're trying to decide if we should go. But we never heard of Changsha before this flight, so aren't sure if it's worth visiting."
I thought that was rather adorable, and probably represents the sentiments of many who see Changsha listed on the departures board.
I explained that I was in exactly the same boat as her, and had no clue what Changsha had to offer, but that I was visiting for a couple of days. She also worked for another Chinese carrier which flies out of LAX, so I told her I'm mainly taking the flight since I had heard good things about Hainan and was curious to check them out, though was also looking forward to seeing Changsha for a couple of days.
At 11:45AM boarding was called. I didn't actually hear any priority boarding announcements, so I think everyone could board at once. Fortunately I was stationed near the gate when the call was made, since I wanted to get on as soon as possible to take pictures.
Hainan Airlines Lounge & Ground Experience Los Angeles
Hainan Airlines doesn't have much to work with at LAX — their check-in area is tiny due to space limitations, and there's only one lounge at Terminal 2 which contracts out to other airlines. So given those parameters, I'd say they're doing fine. The real thing which "wows" is their chauffeur service, even for those on discounted business class tickets. I don't know of any other Asian airline which offers chauffeur service in the US, so that's pretty awesome.