There are many airlines that offer premium cabin passengers complimentary chauffeur service, including several that offer the service on award tickets.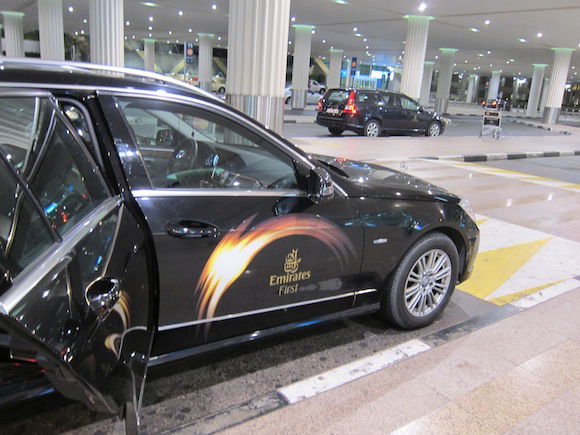 Emirates first class chauffeur service in Dubai
One of the questions I'm most frequently asked when it comes to the chauffeur service is whether or not you should tip. Over the years I've spoken candidly with some drivers doing these airport pick-ups, so figured I'd share what I've found out:
Tipping norms differ depending on where in the world you are
This goes without saying. Tipping norms in Japan are different than in the US, for example. For the most part, I try to adopt to local tipping norms when traveling. For example, in Japan I won't try to tip anyone because it's considered rude. But at the same time I'll sometimes be overly generous by local standards depending on where I am. In taxis in the UAE I'll often round up to the next "bill." So if a taxi fare is 30AED, I'll sometimes give them 50AED. They work crazy hours and are away from their families, and after having heard so many of their stories over the years, it just feels right.
Airport "runs" are generally least profitable for drivers
In general, airport pick-ups aren't especially profitable for drivers. That's because they're expected to be there once the flight arrives so that the passenger is never waiting on them, even though it can sometimes take 60-90 minutes for someone to clear customs and immigration, collect their baggage, etc. That's all time that they're "waiting" and can't otherwise be working.
Airlines negotiate great rates with limo companies
Of course that's how the free market works. Airlines offer limo companies a ton of volume, often 100+ pick ups and drop offs a day even at an outstation. So they're negotiating great rates with the limo companies.
How are drivers paid for airline chauffeur service?
If you use the complimentary chauffeur service offered by an airline, what are the drivers getting paid? First of all I should say that this varies by country, and I only have insight into how it works in the US.
Typically the drivers for the big companies which do these pick-ups are only getting paid what would be the equivalent of a 20% gratuity, so they do somewhat rely on tips. Say an airline is billed $100 for a chauffeur service. In turn, the driver will only get ~$20 of that, and they may very well be waiting for your pick up for over an hour. And that doesn't account for positioning on either end of your pick-up.
Like any industry, there are profitable trips and less profitable trips. It's kind of like the Uber effect. You give up margins somewhat in favor of volume, and that's what's happening here.
Why I think you should (but don't have to) tip
Let me try to sum up my philosophy on this as simply as possible:
I like to "live and let live." I try to understand how people make a living, and do what I can to be "fair" towards them. For example, if someone works in retail and on a commission, I don't want to waste an hour of their time if I'm not serious about buying shoes.
You don't have to tip, because at the end of the day the airlines are "selling" you a product that includes a car service, presumably with tip included. It's not your fault that they're arranging it at an especially attractive cost for the airline, and a cost where the limo company comes out ahead, while for the most part the driver is making less than minimum wage on these airport pick-ups.
A good driver will appreciate that different cultures have different perspectives on tipping, and won't be disappointed if you don't tip, because they realize it's nothing personal against them.
So for a "normal" ride to or from the airport in the US in a complimentary chauffeur service arranged by the airline I'll usually tip ~$20.
You don't have to tip, and it's not your fault that the drivers aren't getting paid much. But a while back when I realized that drivers are typically making less than minimum wage on airport pick-ups, I decided what I considered to be fair based on my standards.
What do you guys think — do you tip when use a complimentary chauffeur service, and if so, does it vary based on where you are?