When I first moved into hotels my luggage situation was a mess… as summed up in the picture below.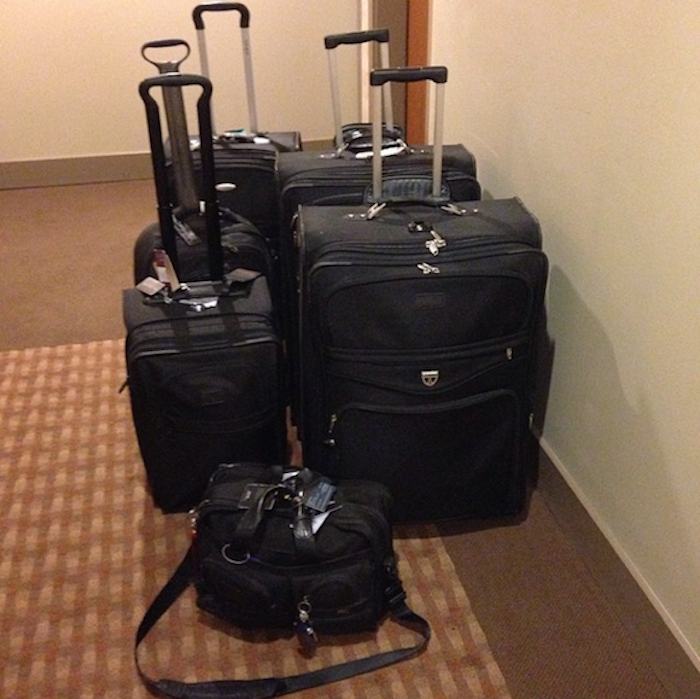 Over time I've realized that if you're going to live out of suitcases full time you need to be super-minimalist and just live out of a carry-on. While it means my wardrobe is quite limited, it also saves me dozens of hours a year of waiting at baggage claim, not to mention the potential headache of lost bags (though amazingly enough even carry-ons can get lost).
Up until this year I had a Tumi 20″ Alpha International, as well as the Tumi Alpha laptop bag. It was a sleek set, if not a bit corporate looking. On US airlines you're entitled to take aboard one carry-on and one "personal item," so the 20″ rollaboard was my carry-on, and the laptop bag was my personal item.
But then I discovered the wonders of the weekender bag (mine is from Killspencer) . Yes, most people travel with a weekender bag as their carry-on. I, on the other hand, travel with my weekender bag as my personal item. And it has probably increased my carry-on capacity by about 50%.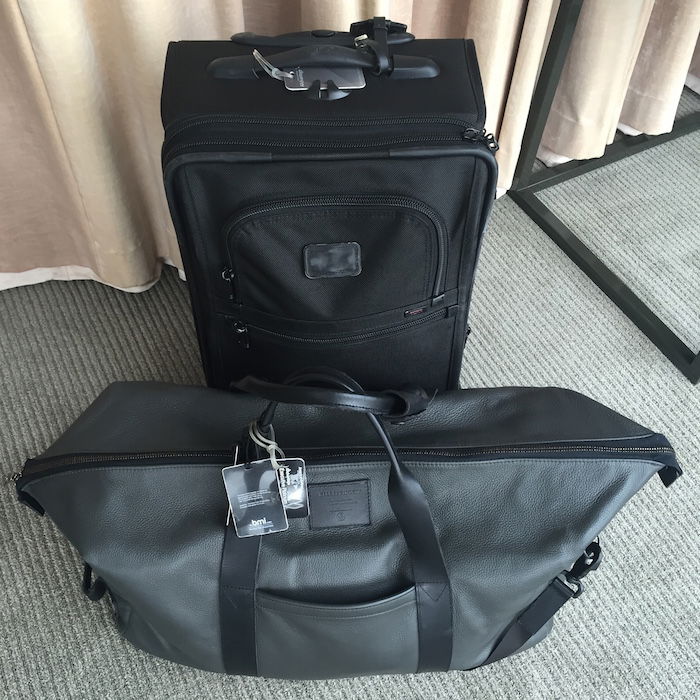 Is it within the spirit of carry-on policies? Perhaps not. But let's look at the actual rules. Here's American's carry-on baggage policy:
Carry-on bag

Your carry-on bag should be:

Up to 45 inches (22 x 14 x 9 in) or 115 centimeters (23 x 36 x 56 cm) including handles and wheels
Able to fit comfortably into the sizer we've provided at the airport

Personal item

Your personal item must be smaller than your carry-on, able to fit under the seat in front of you and can include:

A purse
A briefcase
A laptop bag
Similar items such as a tote
My weekender bag is smaller than my carry-on, and it can fit (very snugly) underneath the seat in front of me… so it does technically qualify!
Some will likely claim I'm being selfish by carrying on a weekender bag as a personal item, but the reality is that I always put it underneath the seat in front of me, so it's not inconveniencing anyone.
To be honest I'm still kind of shocked I haven't been called out on it a single time. Not even a single comment from a gate agent. Because it is rather huge. The only mention I've received of it is from a flight attendant on a non-US carrier who literally laughed when she saw the size of my weekender bag, and said "well done… wow."
But it's awesome. Not only does it hold everything my laptop bag previously held (laptop, electronics, toiletries, etc.), but it also holds several pairs of shoes, undershirts, etc.
Does anyone else us my strategy of using a weekender bag as a personal item in order to maximize the amount you can carry-on?