---
After a fantastic flight on the outbound, I was excited to see if the service level I experienced was an exception or the norm. Well, this flight sure was "different."
Hainan Airlines 7923
Changsha (CSX) – Los Angeles (LAX)
Thusday, February 11
Depart: 1:00PM
Arrive: 10:35AM
Duration: 13hr35min
Aircraft: Boeing 787-8
Seat: 15G (Business Class)
I boarded through the very forward door, and upon presenting my boarding pass was escorted to my seat, 15H. The 787 business class cabin has a total of 36 seats, spread across six rows in a 2-2-2 configuration.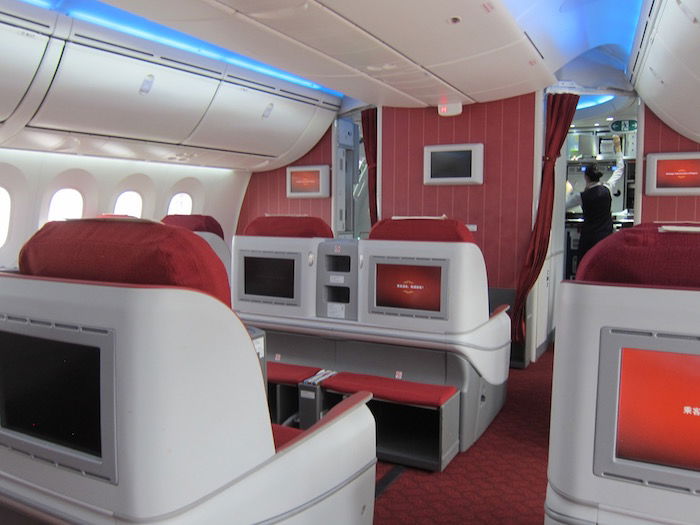 Hainan 787 business class
I was seated in the last row of the forward cabin, in an aisle seat on the right side. On second thought that probably wasn't a good seat choice, since it was immediately in front of the lavatory.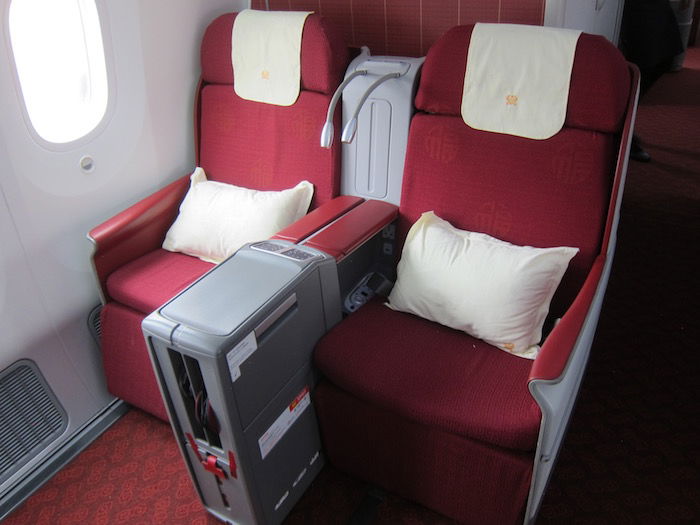 Hainan 787 business class, seats 15H & 15K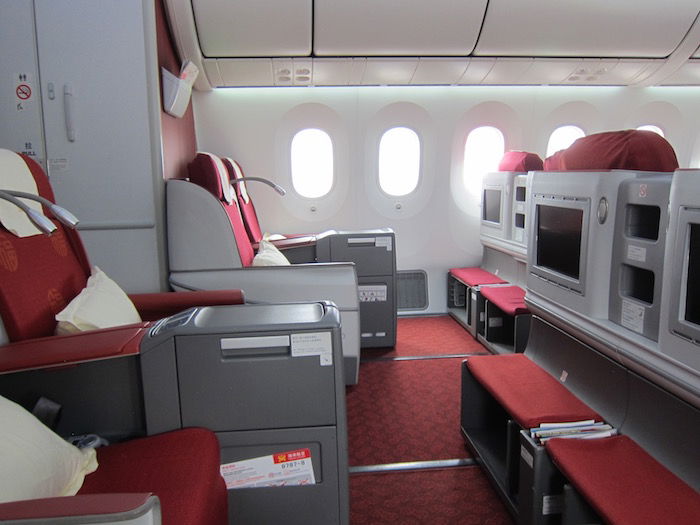 Hainan 787 business class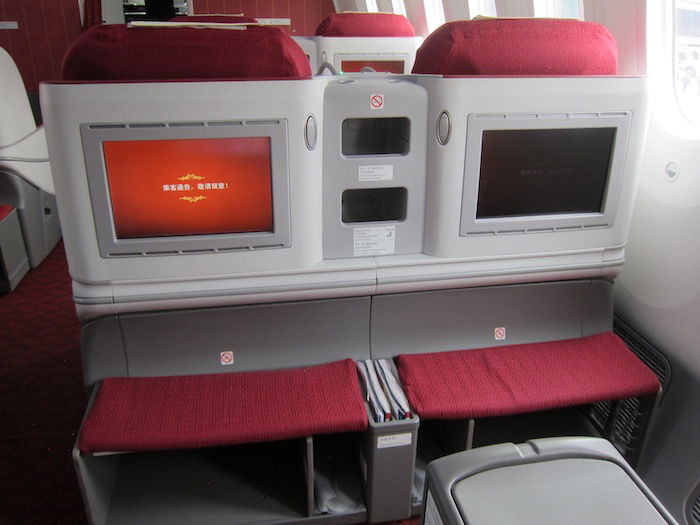 Hainan business class seats 787
I took a picture out the window, where I saw a nice variety of plane — Changsha Airport does have some cool traffic.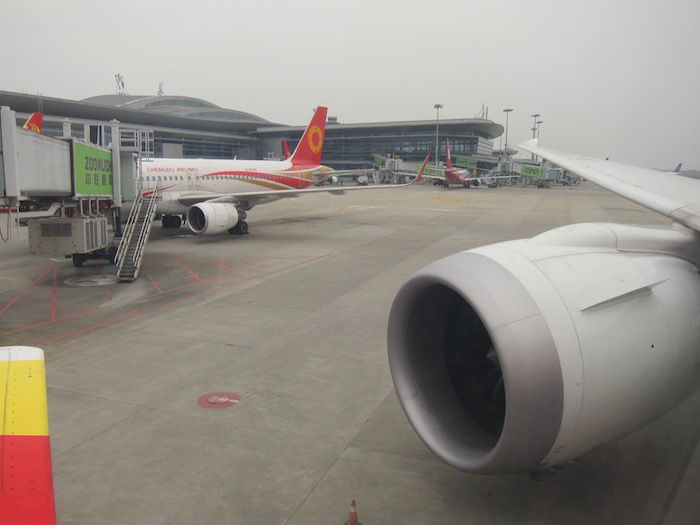 View at gate Changsha Airport
About five minutes after settling in, an older Chinese lady settled into the window seat next to me, and her husband was in the aisle across from me. They engaged in a full-on conversation from a distance, and didn't have inside voices. So I offered to switch seats with the husband so they could sit together (they didn't speak English, so I pointed at myself and then at the seat the husband was seated in). She was extremely grateful, and squeezed my arm, presumably as a way of saying thank you.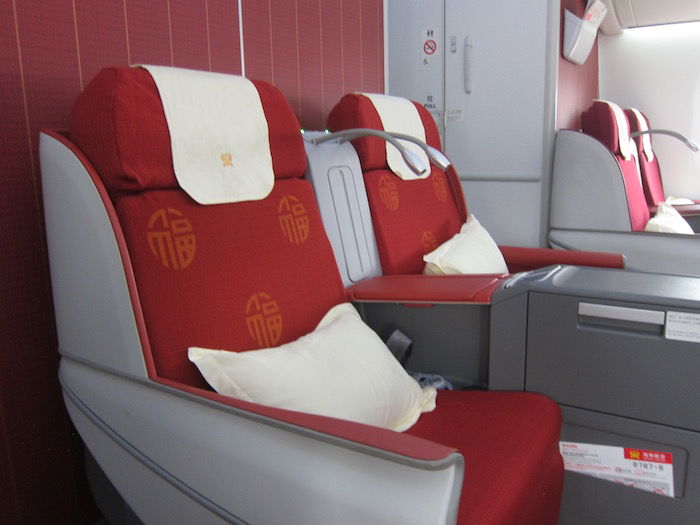 Hainan business class, seats 15D & 15G
Well, the flight was way oversold in economy, though it seemed that only a few passengers had been booked in business class. As the cabin continued to fill up, every business class seat was taken, and it seemed like at least 80% of the passengers were op ups.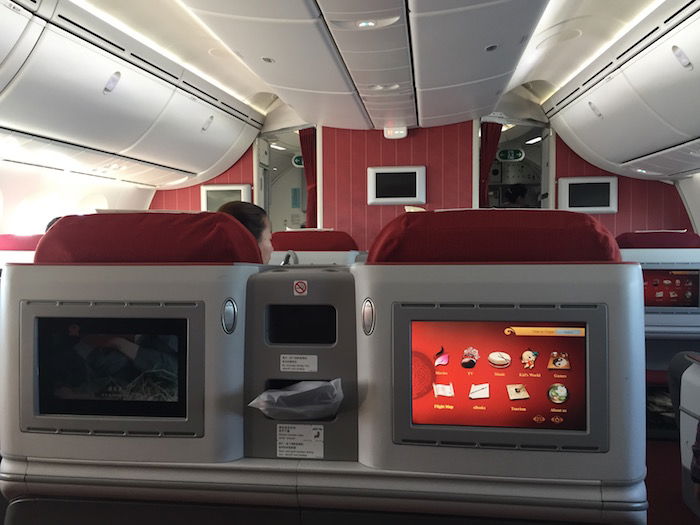 Hainan business class cabin view
Once settled in one of the flight attendants came by to introduce herself and offer me a (non-alcoholic) drink. I ordered a glass of orange juice, which was offered with some nuts and a warm towel.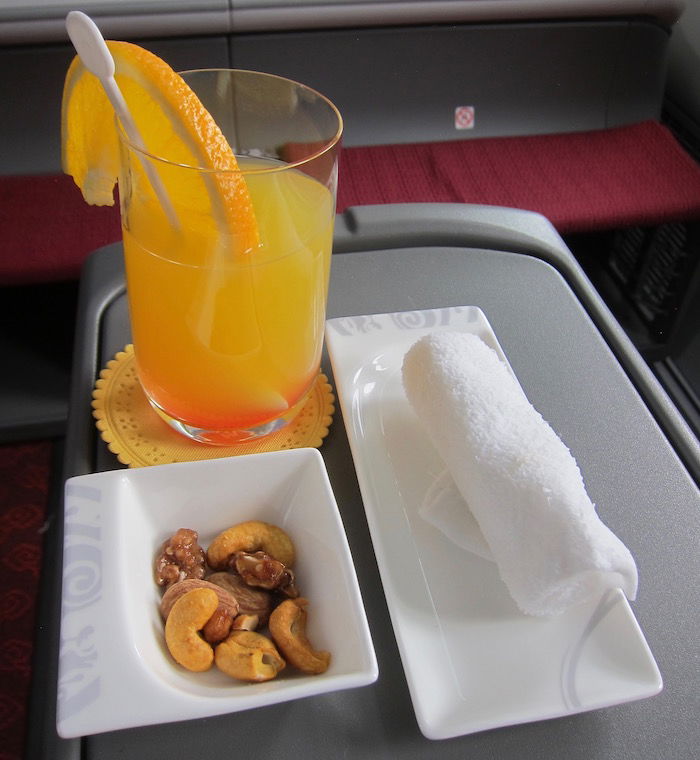 Hainan business class pre-departure orange juice and nuts
Much like on the outbound, the quantity of nuts was limited — I counted eight of them.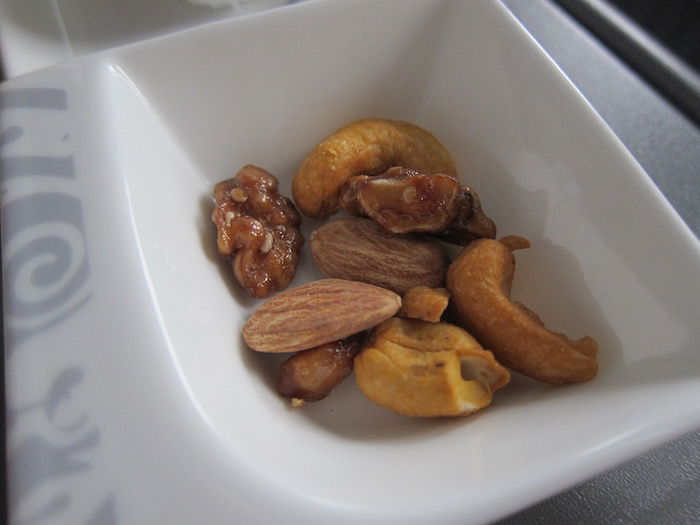 All 8 nuts I was offered
Shortly thereafter I was offered the menu for the flight, as well as an amenity kit. There were no pajamas on this sector, oddly.
The cabin door closed at around 12:50PM, and shortly thereafter the captain came on the PA to add his welcome aboard. While the captain on the outbound seemed to be American, this one was Chinese, best I could tell. He informed us of our flight time of 11hr20min, though didn't let us know the implications of that — that we'd be two hours early. Of course I could compute the numbers, but when the flight time is 11hr20min and the block time is 13hr35min, you're going to be at the gate way early.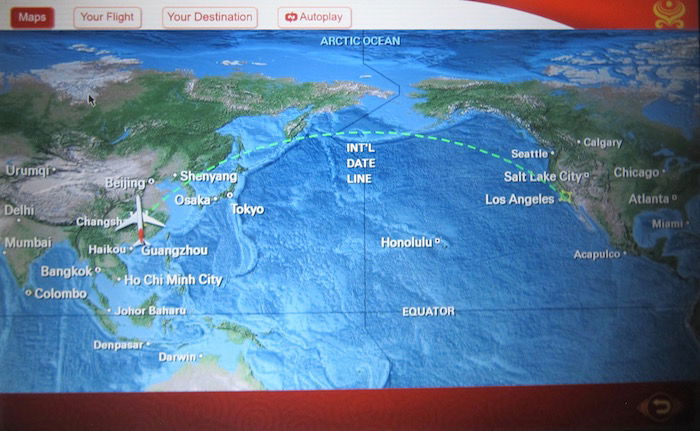 Airshow enroute to Los Angeles
We pushed back at 12:55PM, at which point the safety video began to play.
With every business class seat taken, it was a really tough crowd for the crew. There are cultural differences between American and Chinese passengers, and the overall ambiance in the cabin was about as relaxing as a night market — I can't imagine what it was like in economy.
Since there were so many operational upgrades, people traveling together were seated apart, and couples would just yell across the cabin to have conversations.
People would try to use the lavatory when it was occupied, and rather than noticing that it was occupied, they'd just keep pulling at the handle.
Once we started taxiing people would still walk around the cabin to talk to one another.
If someone wanted something from a flight attendant, they'd simply physically grab the flight attendant. It was rough to watch.
None of this is to say "how dare they," since I realize many of the people probably weren't frequent flyers and didn't understand they couldn't walk around when the seatbelt sign was on, how the lavatories worked, etc. But it was still tough to observe.
Anyway, we taxied to the runway and were airborne at 1:05PM, so I was excited to get to Los Angeles way early.
Shortly after takeoff the cabin manager, April, came on the PA to welcome us aboard. Her English was lacking, in the sense that you could tell she was reading off her script and trying to pronounce everything phonetically, without really knowing what much of it meant. She also kept referring to our destination as "The Angeles."
About 20 minutes after takeoff the seatbelt sign was turned off, at which point meal orders were taken.
The dinner menu read as follows (the beverage list was the same as on the outbound flight, so see that post for the list):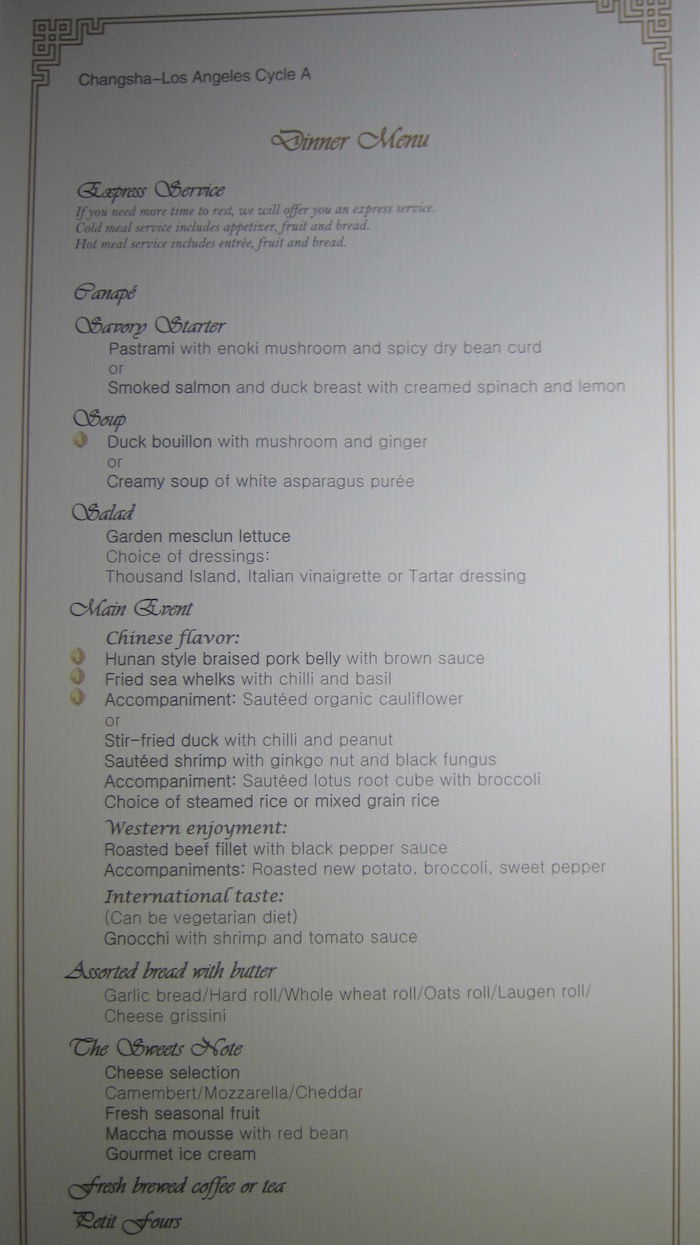 Drinks were served about 15 minutes after meal orders were taken. I ordered some champagne. Along with the drinks there was a small starter consisting of some rubbery vegetables and mystery meat.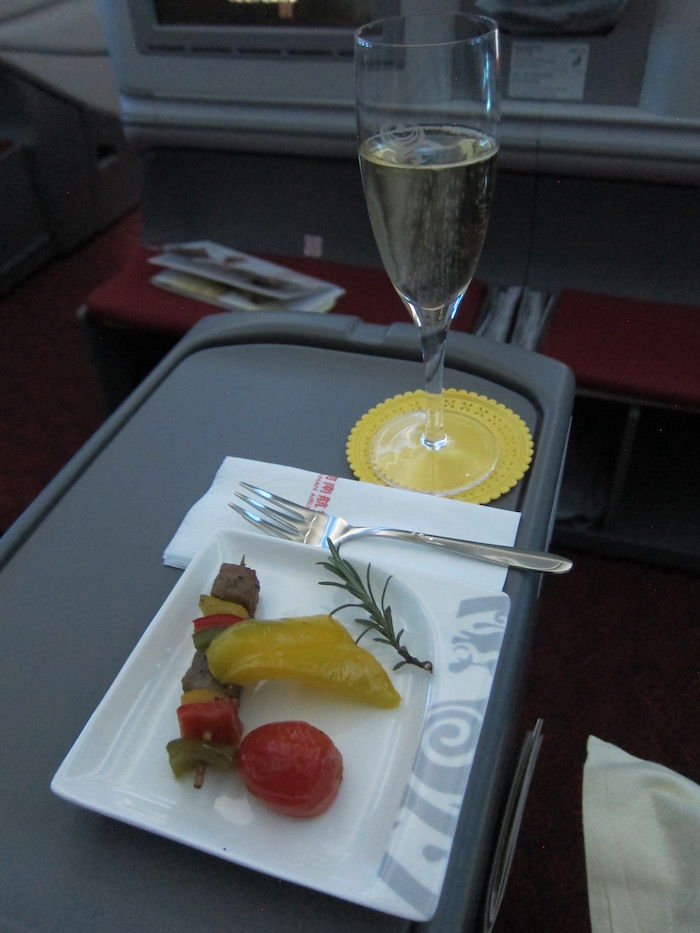 Hainan business class dinner — champagne and snacks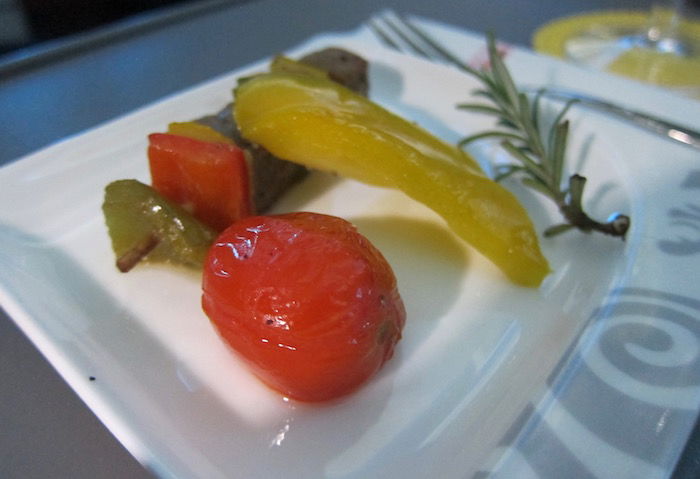 Hainan business class dinner — snack
About 20 minutes later my table was set, including a personal breadbasket.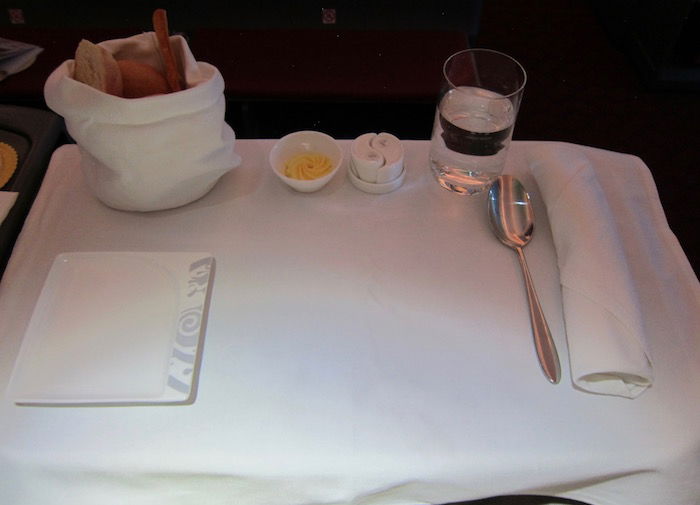 Hainan business class table setting
The breadbasket consisted of garlic bread, a crostini, a wheat roll, and a multi-grain roll.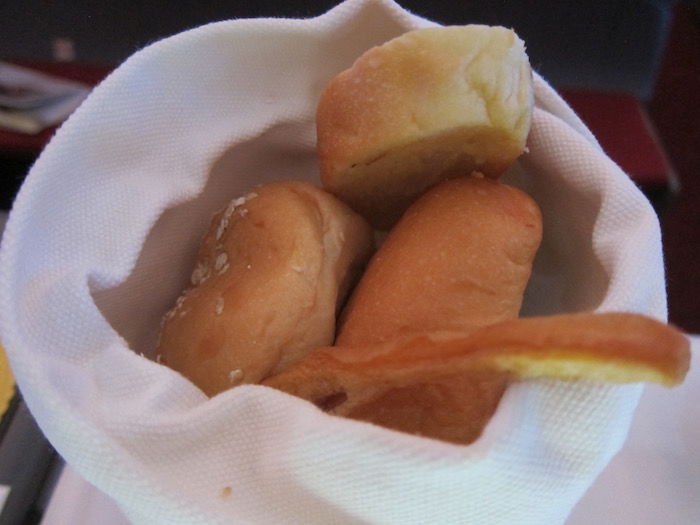 Hainan business class breadbasket
For the starter I ordered the salmon and duck, which was surprisingly decent.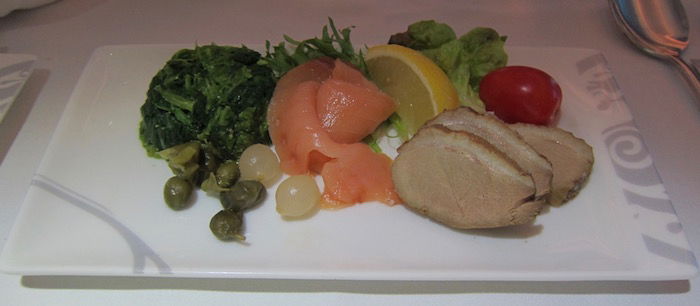 Hainan business class dinner starter — smoked salmon and duck breast
After that I had the white asparagus puree soup, which was tasty, and much like on the outbound, the presentation was excellent.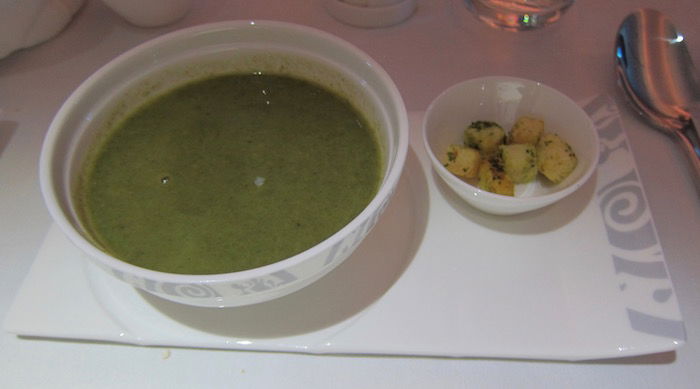 Hainan business class dinner soup — creamy soup of white asparagus puree
Next I had the salad. I chose the tartar dressing since it sounded intriguing, though I think they went slightly overboard with the quantity they served me.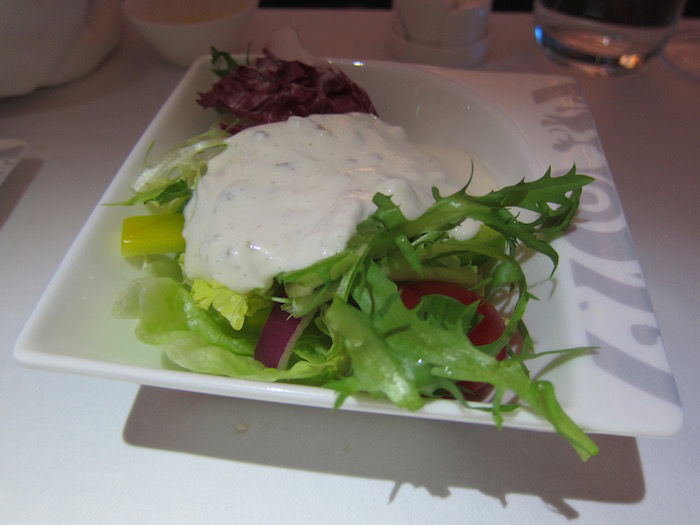 Hainan business class dinner salad — garden mesclun lettuce with tartar dressing
For the main course I ordered the gnocchi. I've never had very good catering departing China, so I always try to go with the "safest" option. The gnocchi itself was quite good, though the shrimp were tiny.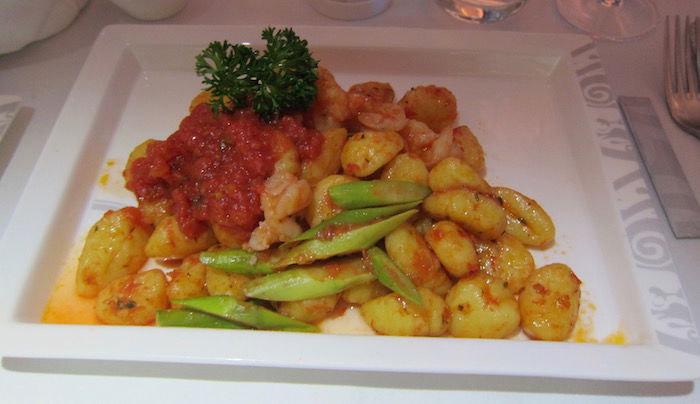 Hainan business class dinner main course — gnocchi with shrimp and tomato sauce
Service throughout the meal was at a very personalized pace. Aside from dessert, everything was served individually rather than off a cart, so once you were done with one dish they'd bring out the next.
Then for dessert there's a cart they roll around with cheese, ice cream, etc. I simply selected the macadamia nut Haagen-Dazs ice cream, which is my favorite flavor.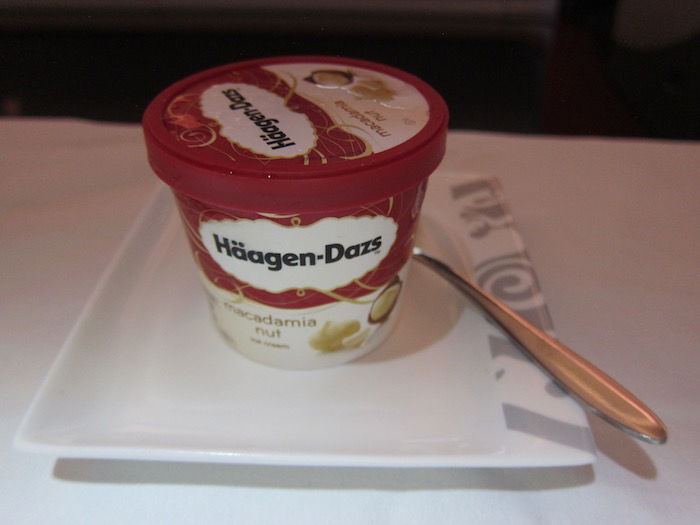 Hainan business class dinner dessert — macadamia nut ice cream
To finish off the meal I had a cappuccino, though I'm pretty sure it was made with hot water and powder, so it wasn't very good.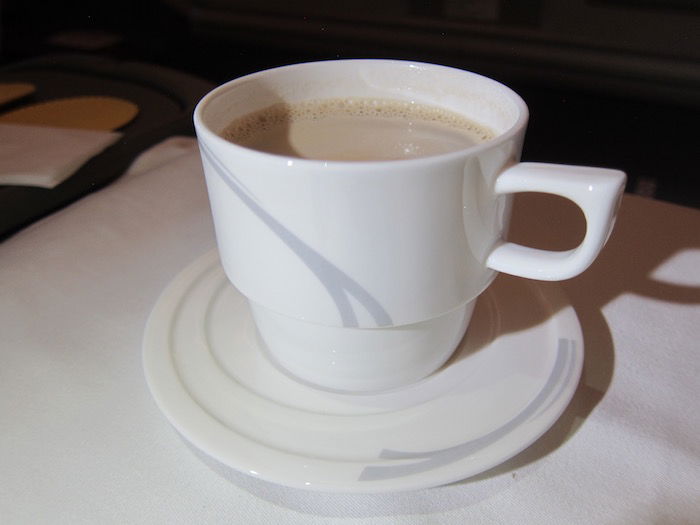 Hainan business class cappuccino
The crew was friendly, way better than what I've had on other Chinese airlines. There weren't any crew members quite as charming as Maria on the outbound, though I was still generally impressed.
And I have to say that the crew handled the meal service with incredible ease. They really worked their tails off, as the cabin was full, and I've never in my life seen such demanding passengers. They'd (physically) grab the flight attendants when they wanted something, and the flight attendants handled that with grace. So they deserve extra points for how awesome they were.
After the meal I decided to watch the show "Beyond Magic with DMC 4," which was available on my inflight entertainment system. I love magic shows, and this one was especially good.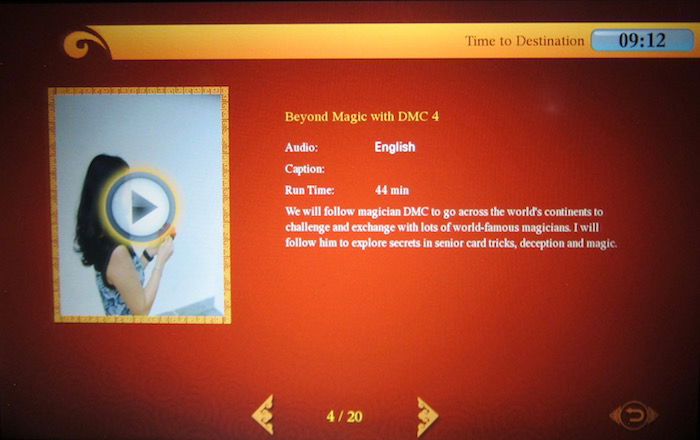 Hainan Airlines business class entertainment selection
One thing which I found annoying was that since people were largely seated apart, they'd constantly walk in front of my seat to cross between aisles, rather than going through the galley. This happened constantly, dozens of times during the flight.
Eventually I put up my legrest, and they'd still climb over my legs to get between aisles, rather than just walking through the galley.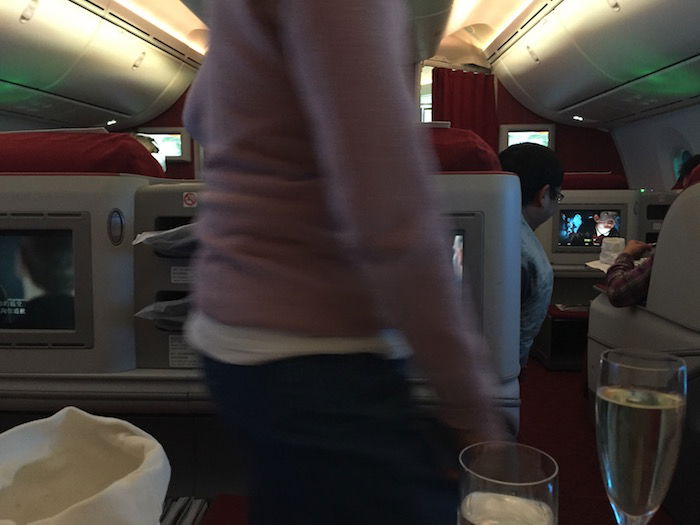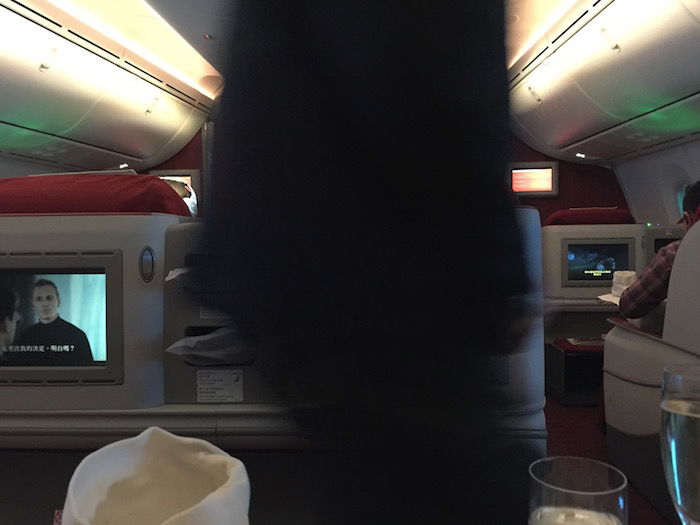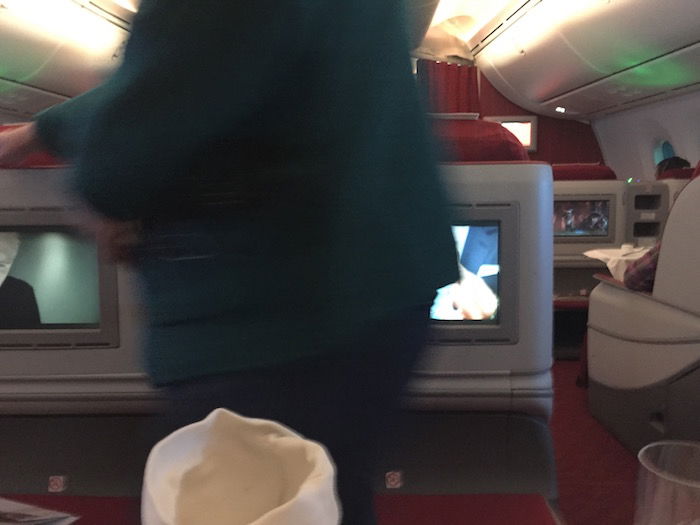 With about nine hours left to Los Angeles I decided to get some rest, so requested to have my bed made, which was promptly taken care of.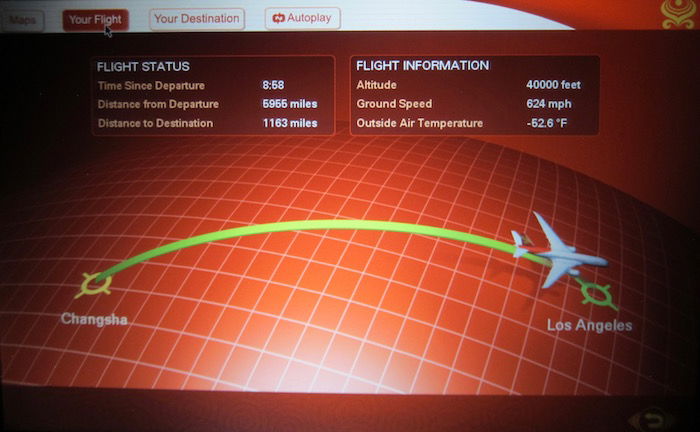 Airshow enroute to Los Angeles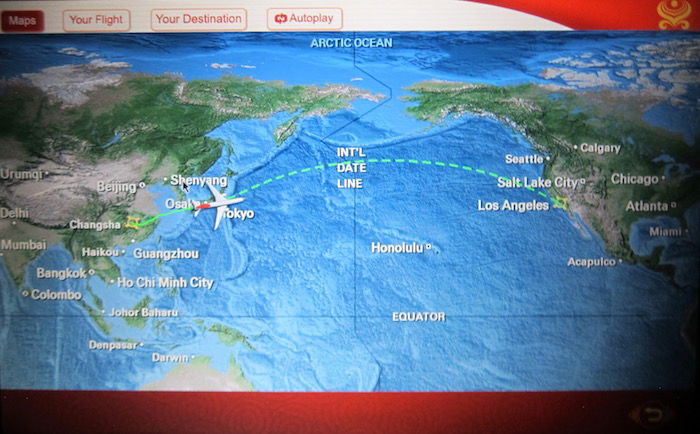 Airshow enroute to Los Angeles
As I explained in the outbound review, Hainan's bedding is exceptional, and includes two plush pillows, a sheet over the seat, and a great duvet.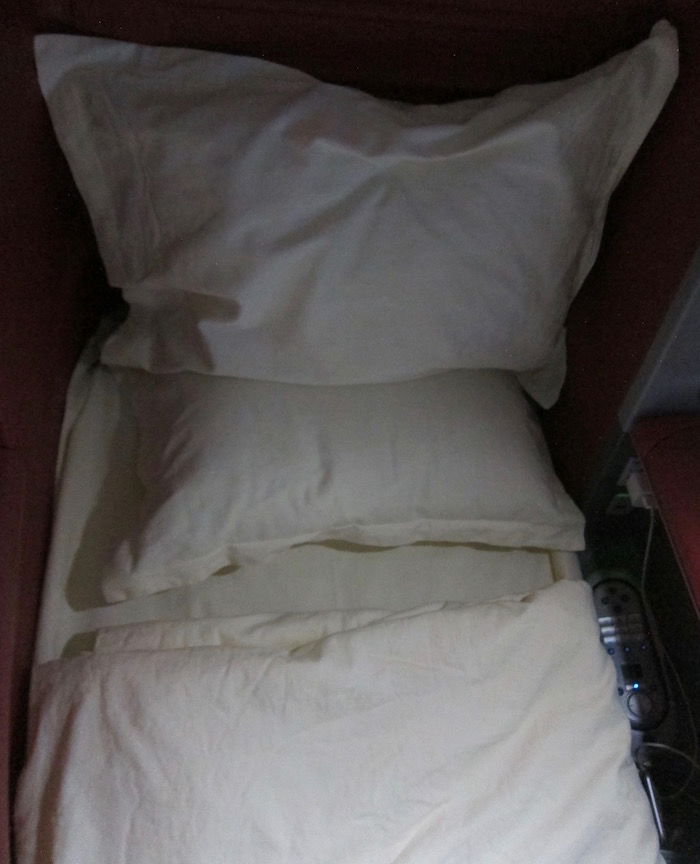 Hainan business class turndown service
I just wish the seat itself were more private and spacious. There was a guy seated next to me and there no partition between seats, so I felt like I was being watched during the flight. On the plus side, I think I lucked out with the best seatmate on the plane, as he was well behaved and didn't say a word the whole flight.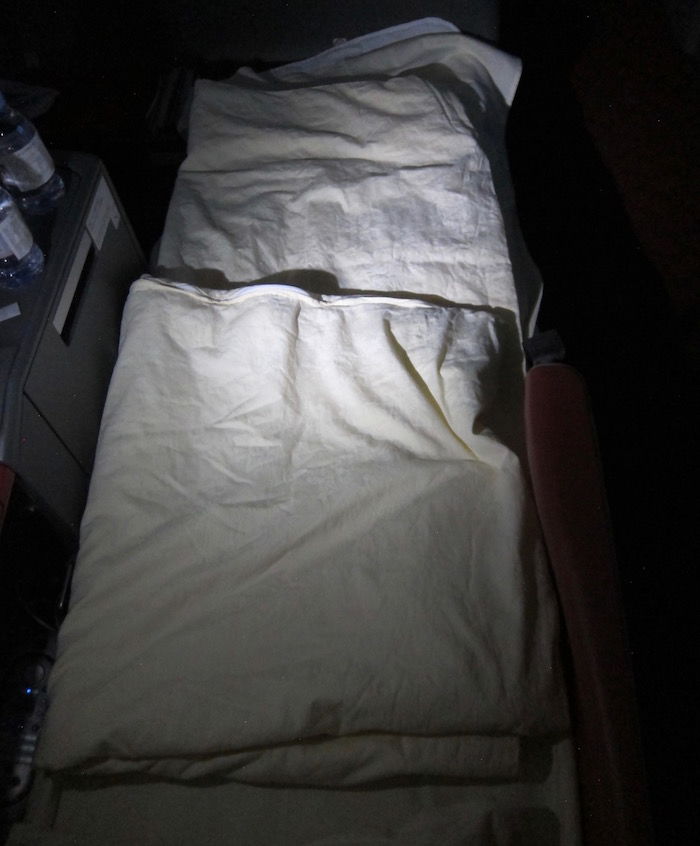 Hainan business class turndown service
With the turndown service I was also offered a bottle of Evian water.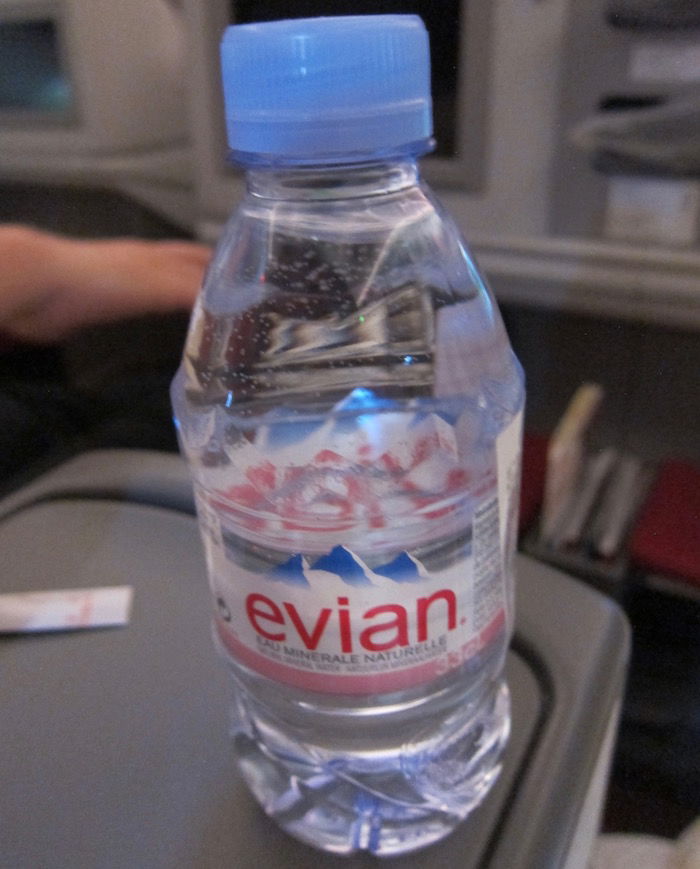 Hainan business class bottled water
I slept much better than I was expecting — the lack of privacy didn't bother me once I managed to fall asleep, and the great bedding kept me asleep.
I woke up with 2.5 hours to go until our arrival in Los Angeles, as the cabin lights were being illuminated in preparation for the pre-landing service.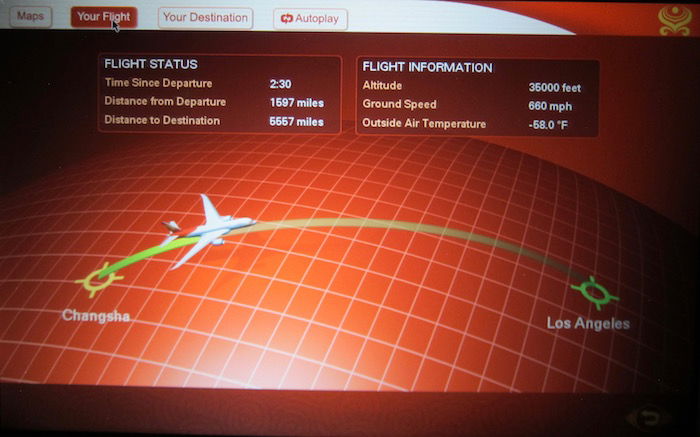 Airshow enroute to Los Angeles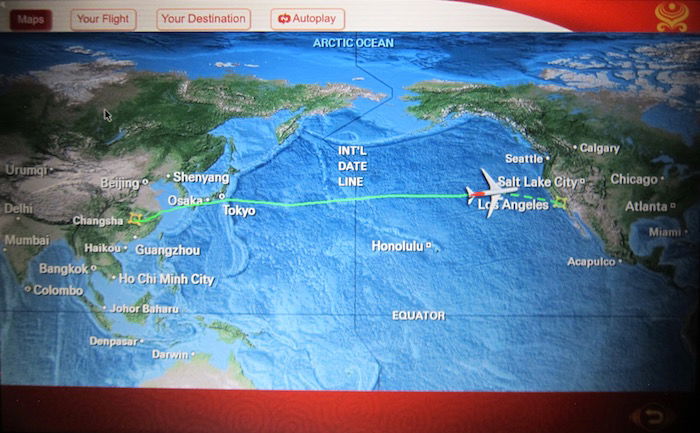 Airshow enroute to Los Angeles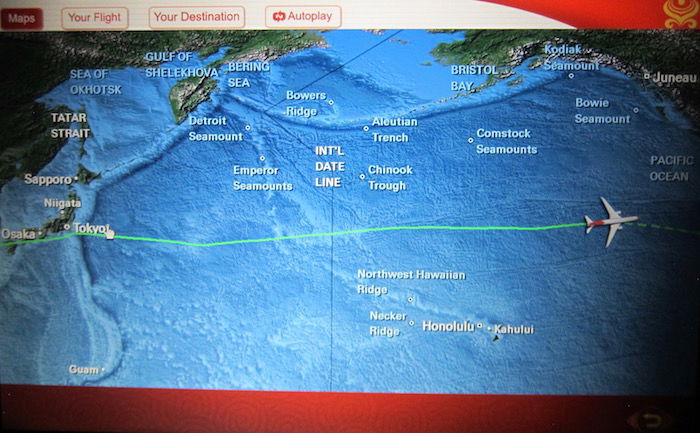 Airshow enroute to Los Angeles
While I didn't take advantage of it, here's the snack menu which was available mid-flight: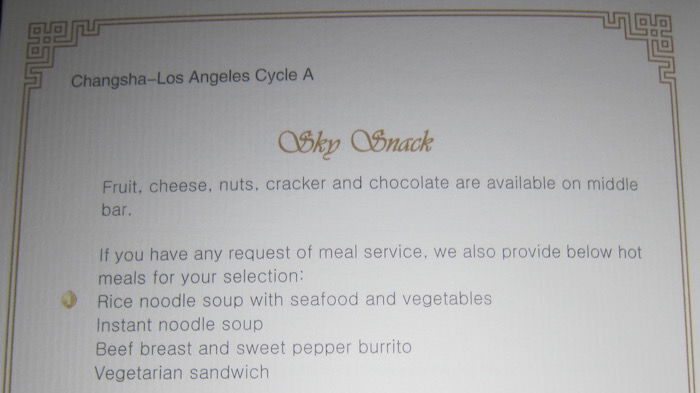 There was also a self serve snack bar across from the galley.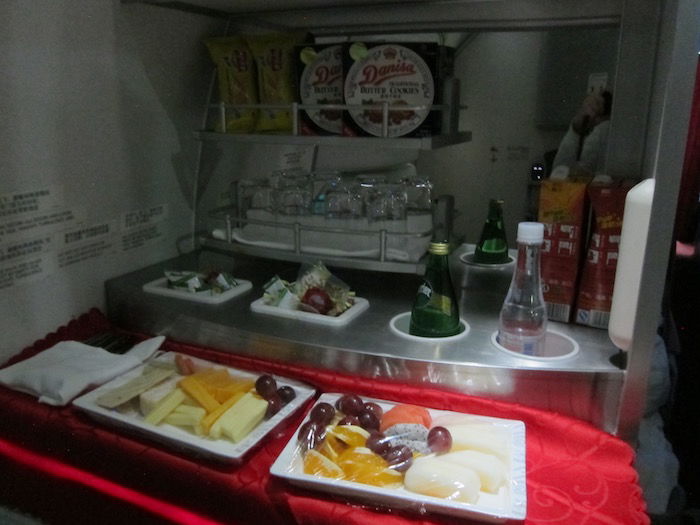 Hainan business class snack setup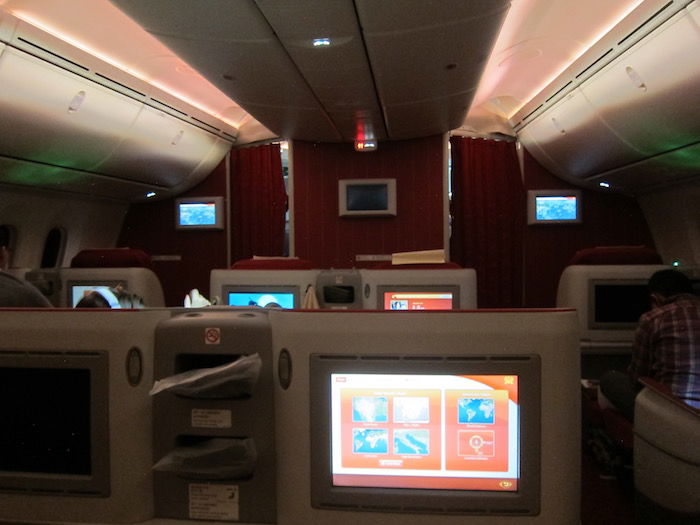 Cabin before breakfast service
Within a few moments the flight attendant came around to take meal orders. The breakfast menu read as follows: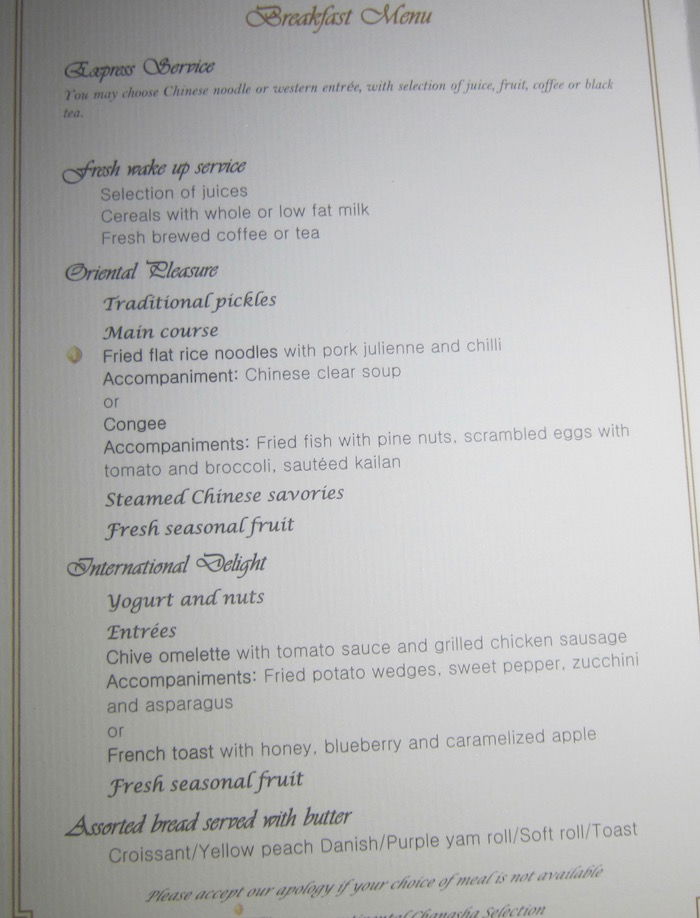 I ordered a coffee to go along with breakfast. My table was quickly set, including a breadbasket with a danish and a roll.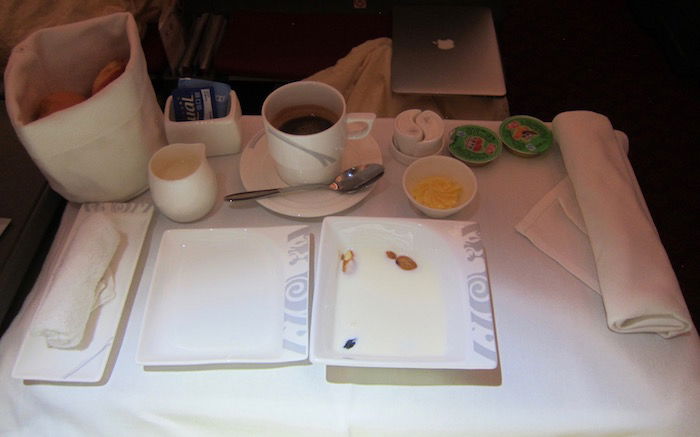 Hainan business class breakfast — table setting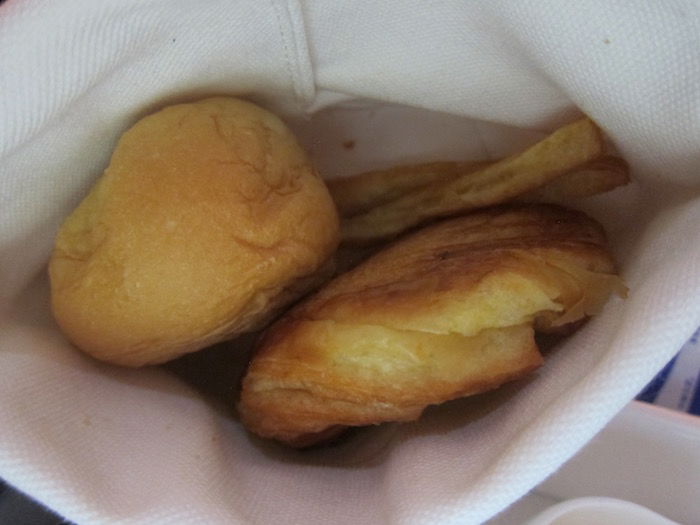 Hainan business class breakfast — breadbasket
To start I was offered some yogurt and a fruit plate, both of which were very good.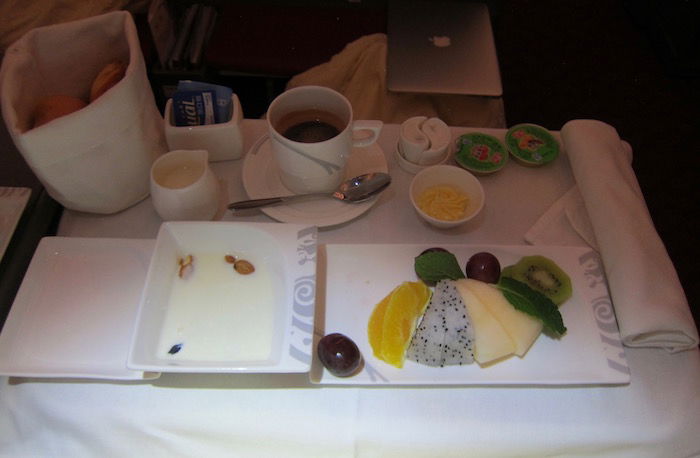 Hainan business class breakfast — yogurt and fruit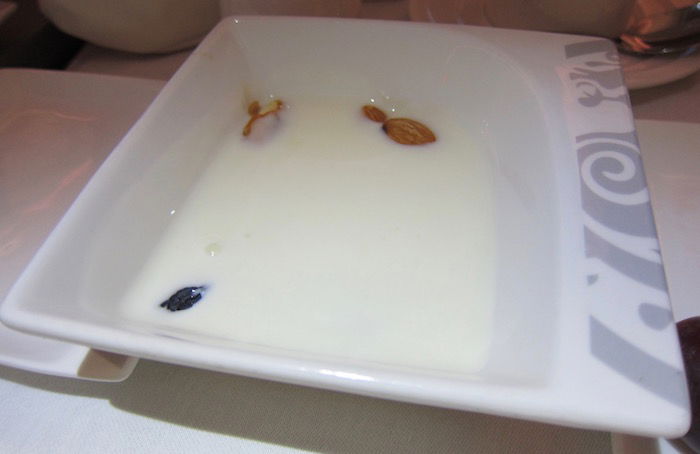 Hainan business class breakfast — yogurt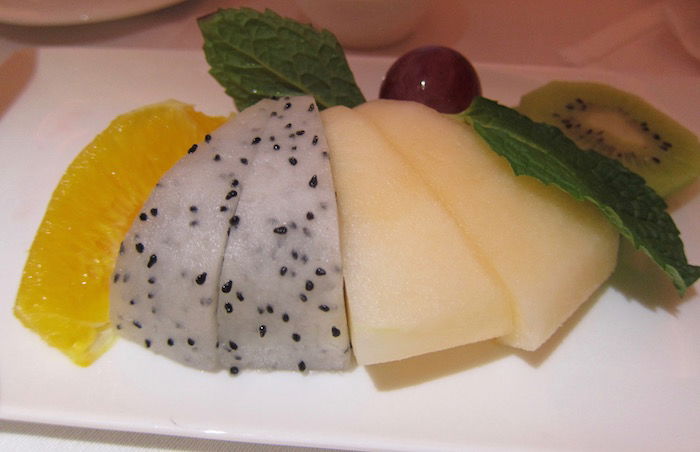 Hainan business class breakfast — fresh fruit
For the main course I ordered the omelette, which was doused in ketchup. I'm not a huge fan of ketchup in general, and hate it with a passion on omelettes (hot sauce for me, please!), and I'm not sure why they'd proactively pour it on there. Other than that the omelette was very good.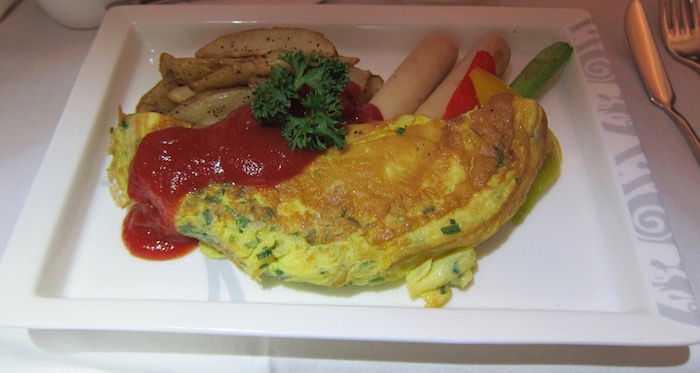 Hainan business class breakfast — chive omelette
A couple more interesting things to note about this flight. This crew seemed to have no issues with phones being used, unlike on the outbound. People around the cabin were using phones throughout the flight, and the crew didn't say anything. Given the demographic of the passengers, I'm guessing they had bigger rules to enforce.
Also, the bathrooms on this flight were in disgusting condition. It's not that the crew didn't try to keep them clean, but it seemed that I was the only passenger aware that the toilet had a "flush" function, as everyone just did their business and called it a day.
Lastly, I'd note that I would highly recommend against sitting in row 15, especially the center seats. They're right next to the lavatories, and even worse, there's no curtain between the cabin and the lavatory area, so you'll pick up quite a bit of light.
At 8AM PT the captain came back on the PA to advise us we'd be landing at 8:30AM, about two hours early. Our descent into Los Angeles was smooth, and the views were great (though since I wasn't in a window seat I couldn't get good pictures).
We had a smooth touchdown on runway 24R at 8:30AM sharp. Cabin manager April came on the PA to welcome us to "The Angeles." Our taxi to terminal 2 took about 10 minutes, so we got to our gate at around 8:40AM.
People started getting up the second the plane touched down, and when we got to the gate people pushed their way to the front to exit first.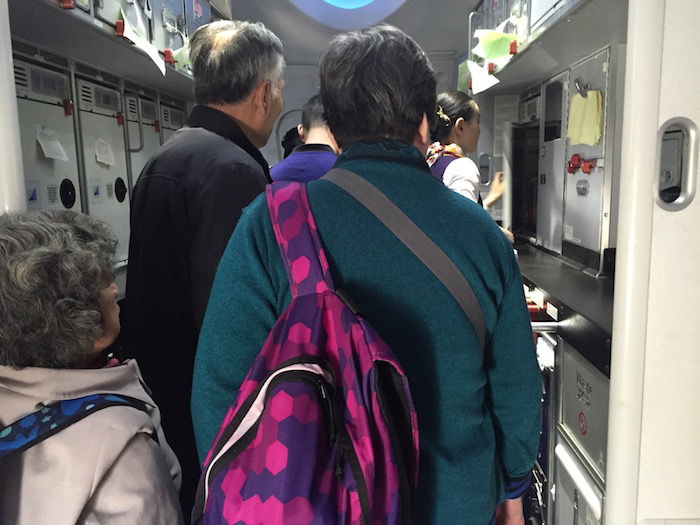 Deplaning LAX
Unfortunately it was about 20 minutes before the cabin door actually opened, given that the immigration facility only opens at 9AM.
Being off the plane over 90 minute early was awesome, though! I phoned up the limo service Hainan Airlines uses to inform them I had arrived so early, and they sent a driver within 10 minutes.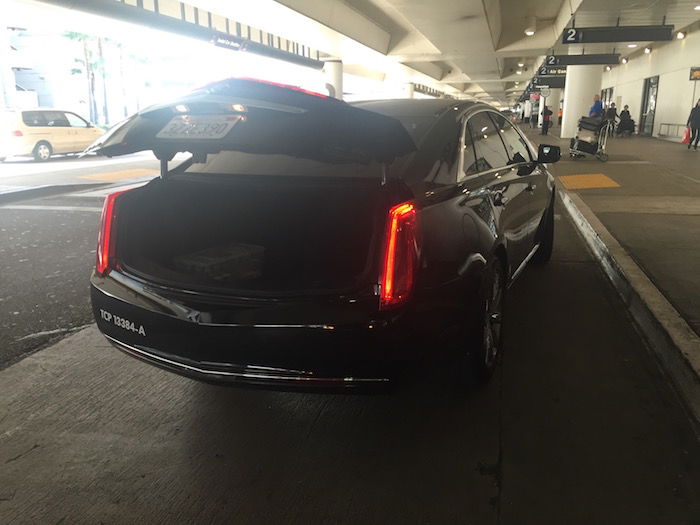 Hainan Airlines limo service LAX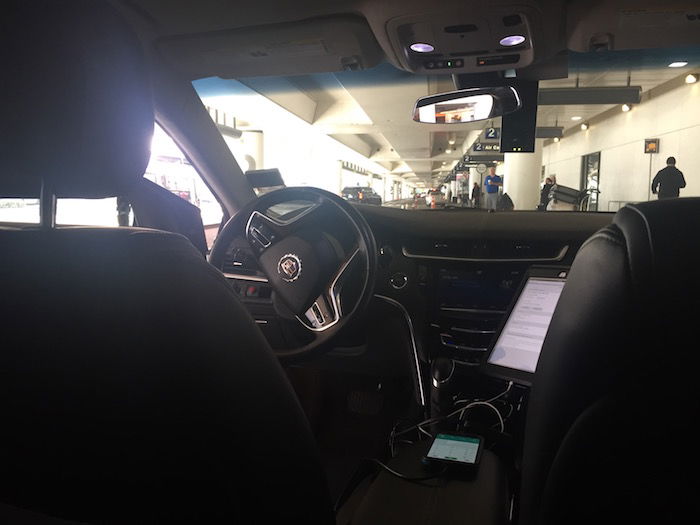 Hainan Airlines limo service LAX
Hainan Airlines business class bottom line
The outbound flight on Hainan was definitely more enjoyable. That probably comes down to the slightly better crew, the emptier flight (I had an empty seat next to me), the easier to deal with passengers, the better catering out of the US than out of China, etc.
Still, Hainan's efforts on this flight impressed me. The crew was well intentioned and professional, and handled the service with incredible grace.
I realize it's cultural largely because most people in China don't travel as much as those in the US, and also there are different cultural norms. But really the major downside to this flight was their lack of inside voices, lack of flushing toilets, and not understanding personal space as it pertains to peoples' seats.
Still, between arriving over 90 minutes early and getting a decent amount of sleep, I'd say my flight on Hainan was a success.
Hainan offers a really solid business class product, and has the best soft product of any Chinese airline I've flown.
Do they deserve to be a Skytrax 5-star airline? I can't really figure out why they would be. They're solid, but to suggest their overall product is one of the best in the world seems a bit off.
But I'd fly Hainan again without hesitation.