---
After a quick ride on the Airport Express we were at the Thai check-in counter by 5PM. Check-in was quick, and in no time we were on our way. Usually it takes me about 15 minutes from check-in to the lounge at Hong Kong, but that wasn't the case this time, and I'm not sure why. First the departure passport check line took forever (a combination of long lines and our agent being the absolute slowest), and then we had to take two sets of trains to get into the terminal.
We made it to the Thai lounge by 5:45PM. In the past I've said that the Thai lounge in Hong Kong is my favorite Star Gold lounge in the world, but I just didn't get that feeling this time around, or maybe I was just previously too vocal in expressing my love for this lounge. Nothing has changed since my last visit, other than the fact that every last seat was taken in the lounge. It's not quite the peaceful, comfortable lounge I remembered. Either way, I was happy to just be able to check my email.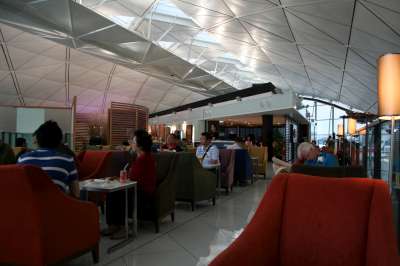 Thai lounge in Hong Kong
I was quite entertained by the guy sitting across from me, who looked like he could use a nap.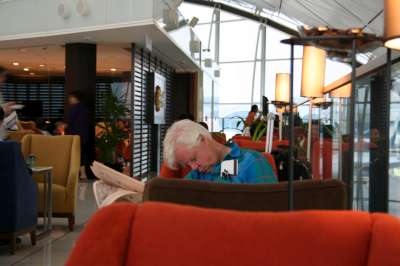 Zzzzzzz….
I also ran into a FlyerTalker I had met just a few weeks earlier in Ann Arbor, so we talked for a few minutes before it was time to board. On the way out I quickly decided to check out the Red Carpet Club, which is only a few minutes from the Thai lounge. Much to my surprise it was quiet, so I'd actually consider using it over the Thai lounge in the future. I guess people have figured out that they can use partner lounges when traveling United to the point that it ruins the trick.
Either way, the Red Carpet Club in Hong Kong is easily the nicest one in the system.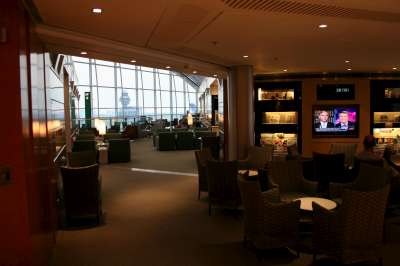 Red Carpet Club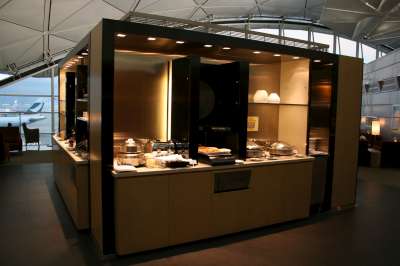 Red Carpet Club
As we were about to hop on the escalator to head to the gate, I couldn't help but notice the Virgin Atlantic flight attendants walking by.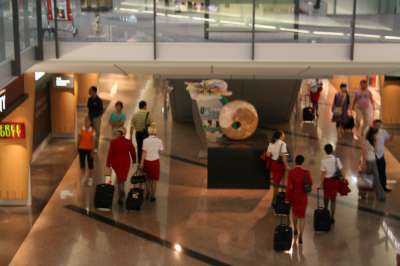 Virgin Atlantic flight attendants
Anyway, after a passport check at the gate, boarding started at 6:15PM.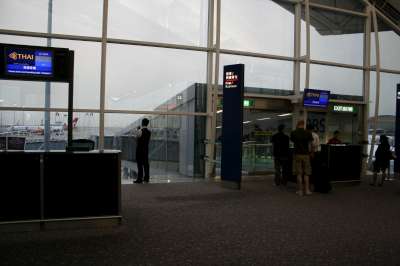 Departure gate
Thai 0639, HKG-BKK, 333
Sunday, August 23
Depart: 6:45PM
Arrive: 8:25PM
Duration: 2hr40min
Seat: 12C (Business Class)
Once onboard we were greeted with the traditional Thai greeting and directed to our seats. Unfortunately this was a two cabin plane, which meant there was no first class. After flying so much international first class, this cabin really felt cramped. Add that to the fact that this flight was full up front, and it almost felt like a coach experience.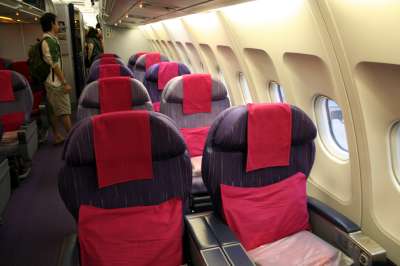 Regional business class seats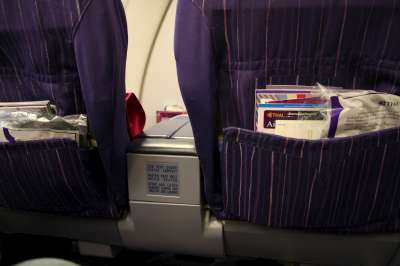 Seatback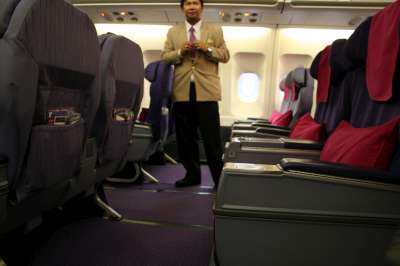 Not enough legroom!
As soon as we settled in we were offered a variety of newspapers along with pre-departure beverages and menus for the flight.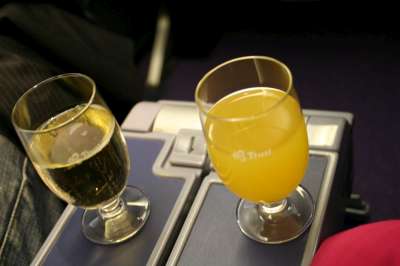 Pre-departure beverages
Eventually boarding finished up, and like I said, every last business class seat went out full. What happened to the recession?!?
As the doors closed the captain came on the PA to inform us that our flight time would be 2hr20min. We began our relatively long taxi, but once we made it to the runway were number one for takeoff.
Minutes after we were airborne the seatbelt sign was turned off and the flight attendants sprung into action for the dinner service. Given that we had a four hour layover in Bangkok and would be using the first class lounge, I wasn't planning on having dinner on this flight. The appetizer sounded pretty good, though, so I gave in to that.
The menu read as follows:
Hong Kong – Bangkok

First Course
Hot Smoked Creole Salmon

Main Course
Pan-fried Veal Loin with Cottage Cheese, Red Wine Sauce
Yellow Fettucine
Roasted Green Bean, Carrot

or

Roast Duck with Plum Sauce
Steamed Thai Hom Mali Rice
Choy Sum, Carrott, Mushroom with Oyster Sauce

or

Stir-fried Pork with Onion, Red and Green Capsicum
Steamed Thai Hom Mali Rice
Sauteed Vegetables

Assorted Breads, Crackers, Butter
Cheese and Fresh Fruits Plate

Dessert
Vanilla Ice Cream
Tea, Coffee
Espresso, Cappuccino
The service began with almonds and drinks.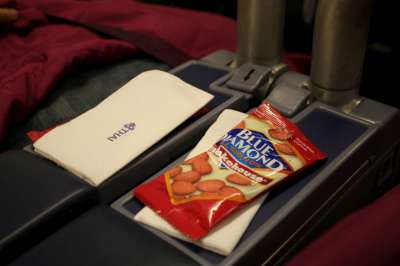 Almonds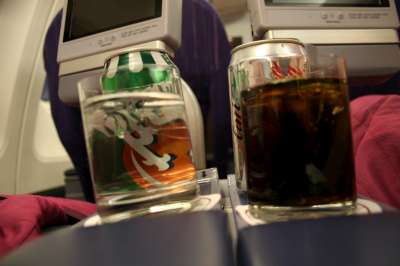 Diet Coke
The appetizer was delivered on a tray shortly thereafter.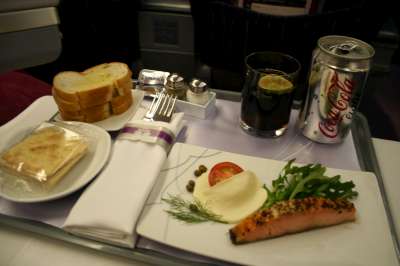 Appetizer
Like I said I passed on the main course, partly because I really didn't want to eat, and partly because none of the options sounded particularly appealing to me. Without even asking I was served the dessert and cheese course, though, which I accepted just so I could snap a picture (and maybe to snack away at just a bit of the ice cream). 😉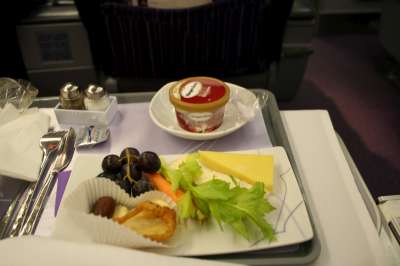 Dessert
I tried to nap for the rest of the flight, since I was feeling pretty tired and knew it'd still be a long night, both with the four hour layover as well as the 11 hour flight coming up.
As we began our descent we hit a few bumps, at which point the seatbelt sign was turned on. The flight attendants prepared the cabin for landing, and at around 8:10PM we had a "smooth as silk" touchdown. 😉
After a short taxi we made it to the gate just a few minutes ahead of schedule. As we were deplaning there was a lady standing on the jetway with a sign that had our names on it. She escorted us to the waiting golf cart and whisked us off to the lounge. She joked that she was a formula 1 racer, but I wouldn't doubt it based on how quickly she was driving through the terminal. As I've said in the past, I think Thai ground services in Bangkok are probably the best of any airline in the world.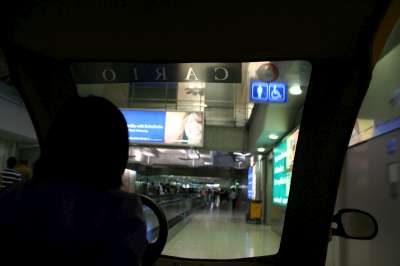 Ride to the lounge
What really sets Thai ground services in Bangkok apart from the rest is the Spa they have for premium passengers. Business class passengers get 30 minute massages, while first class passengers get hour-long massages. Given that we were departing in first class, we asked to be dropped off at the Spa. While we didn't want our massages just yet, we wanted to make appointments, as the Spa tends to fill up at night in anticipation of all the European late night departures.
The agent that drove us in the golf cart escorted us into the Spa and assisted us in making appointments. We made appointments for 10PM, at which point we were escorted to the first class lounge, which is right across the hall.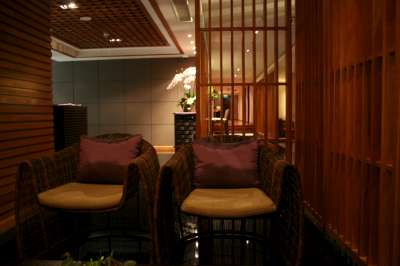 Spa waiting area
The first class lounge itself is pretty darn nice. They basically have semi-private "living rooms" for first class passengers, appointed with couches, chairs, desks, and a TV with international channels, not to mention the most attentive service you could possibly ask for.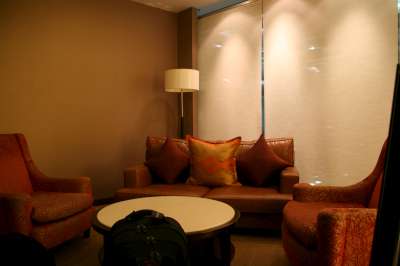 Our "living room"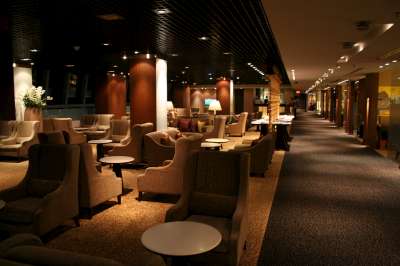 Thai First Class Lounge
While the lounge has a dining room, you can also dine in your "living room," which I prefer. You can either order food off the menu or they have a buffet area where you can see the selection firsthand and order from there.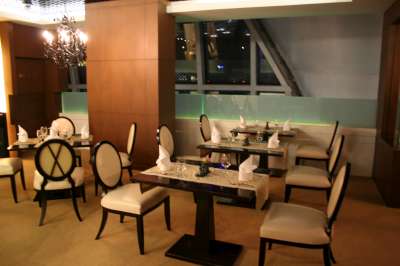 Dining room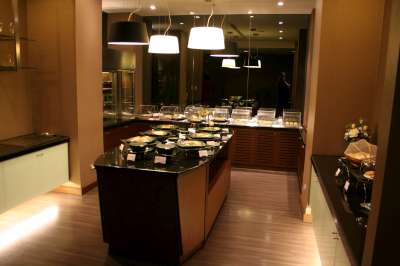 Buffet area
The service in the lounge is almost over attentive. You basically have a personal "butler" standing right at the outside edge of your "living room" waiting for you to make a request. I ordered some spring rolls and a Diet Coke, while my brother ordered a chicken noodle dish. Both were promptly delivered and delicious.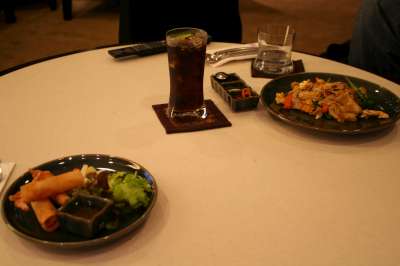 Snack
After dinner I took a quick shower and checked my email, and before we knew it, it was time for our massages. We were escorted over to the Spa, which is right next door.
We sat down in the waiting area for about a minute, at which point we were escorted to our private rooms. Typically they ask you to shower beforehand, but I explained that I had just showered. Each Spa room is rather large, with a sectioned off changing room, where I was asked to change into a bathrobe.
They do a good job of making everything "discreet," although I wasn't a huge fan of the only garment of clothing you're supposed to wear, their version of underwear. It was basically a fishnet. OK, I'll stop there. So while they do a good job of making it discreet, I really wasn't a fan of the fishnet type thing they make you wear, which serves no purpose.
Either way, the massage was fantastic. An hour of pure bliss. There's no better service than a relaxing hour-long massage before an 11 hour redeye. Afterwards I felt like refreshed and ready to travel.
I was escorted into the tea room located inside the Spa, where I waited on my brother. Once he was done we headed back to the first class lounge. I browsed the web for a little while longer (although the internet was really slow), and at around 12:20AM we were fetched for our flight.
We were escorted to our nearby departure gate, although it was unfortunately a remote gate. Of course Thai has a classy way of transporting first class passengers to remotely parked planes. No, not a Mercedes S600. No, not a Porsche Cayenne. Instead they have a full sized bus with "VIP" written on the outside. So yeah, we got a personal bus to drive just us (and our escort) to the plane.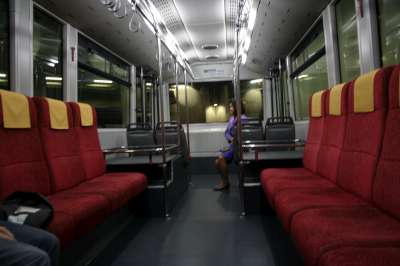 Our "VIP" bus
By the time we got to the plane it was raining, so we quickly ran aboard, at which point we thanked the escort for her help and were ready for the longest flight on our trip.
Thai 0924, BKK-MUC, 346
Monday, August 24
Depart: 12:50AM
Arrive: 7:15AM
Duration: 11hr25min
Seat: 1E (First Class)
Upon boarding I was surprised to see that the other six seats in first class were already taken. We had the center seats in the first row, and quickly settled in. In no time the three polite flight attendants working first class welcomed us aboard with pre-departure drinks, slippers, pajamas, amenity kits, headphones, newspapers, and menus. The whole plane was boarding through door 1L, which meant everyone walked through the first class cabin to board.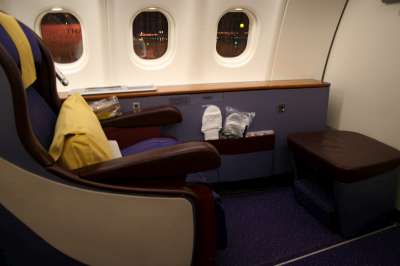 Seat 1A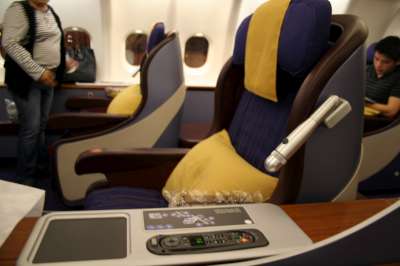 My brother's seat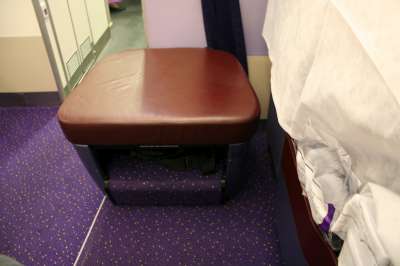 Ottoman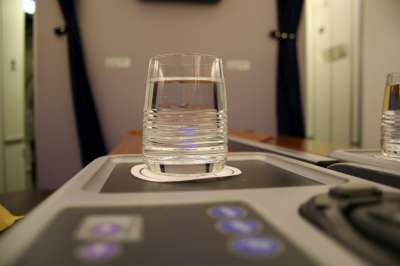 Pre-departure water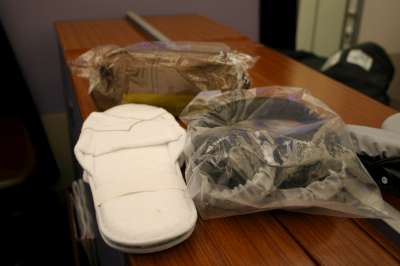 Slippers, amenity kit, and headphones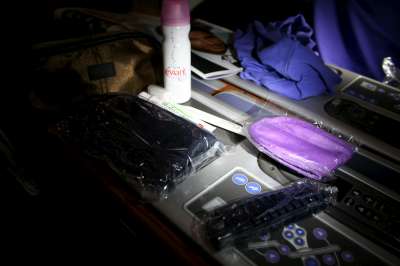 Contents of the amenity kit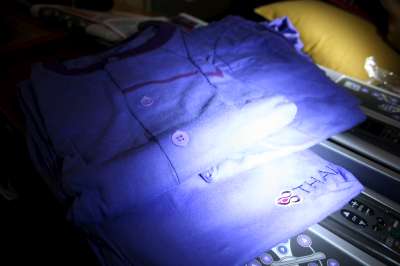 Pajamas
While the seats weren't nearly as private as the suites on Swiss and Turkish, they were comfortable nonetheless. However, going from a totally empty cabin with suites to a full cabin without suites was a bit of an adjustment (I know, what a tough situation to be in). 😉
As boarding finished up we were informed we would be a bit delayed because out departure slot wasn't until 1:20AM due to the weather. The captain also informed us that the flight time would be 10hr55min.
As expected, the engines started at around 1:10AM, at which point we began our taxi without delay and were airborne within 10 minutes after an extremely long takeoff roll. My brother and I always like to play an "over/under" game, whereby one person guesses how long the takeoff roll will be for a given longhaul flight, while the other guesses either over or under. Well, let me tell you, when you time it and get close to a minute, it starts to get scary. 😉
Our rate of climb had to be among the slowest I've ever experienced, and the seatbelt sign wasn't turned off for about 15 minutes.
Once it was I changed into PJ's. The three flight attendants immediately sprung into action, starting with a beverage service, followed quickly by dinner.
The menu read as follows:
Bangkok – Munich

First Serving

Oscietra Caviar with Garnitures

First Course
Duck Foie Gras with Cepes Chutney
Celeriac Salad
Marinated US Sea Scallops on Avocado Mousse and Sun-dried Tomato

Main Course
Lobster Thermidor
Duchess Potatoes, Carrot
Green Peas in Tomato Cup

or

Roast Pork with Crackling, Pork Juice
Roast Potatoes, Apple Puree
Braised Red Cabbage

or

Chicken with Chili Paste and String Beans
Steamed Thai Hom Mali Rice, Thai Omelet

or

Stewed US Beef Short Rib with Turnip and Chu Hou Sauce
Egg Noodles, Sauteed Mixed Vegetables

Bread Selection / Butter
Assorted Cheese / Fresh Fruits

Dessert
Assorted Cakes
Tea, Coffee, Espresso, Cappuccino
My table was quickly set, with great attention paid to the little details, like the direction of the logos on glasses, equal spacing between everything, etc.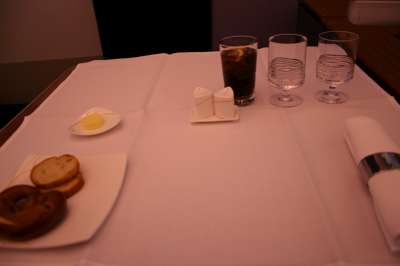 Table set up
The first course was a generous helping of caviar with all the garnishes.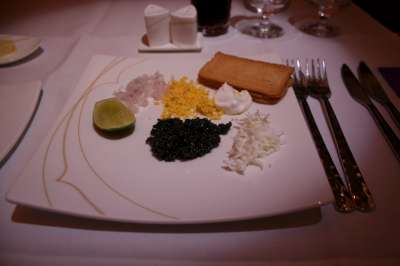 Caviar
I wasn't all that interested in the appetizer, both because I wasn't that hungry and also because it didn't interest me all that much. So next came the main course. I went with the short ribs, which I didn't care too much for. I should have pre-ordered a meal, but I forgot. My brother went with the lobster thermidor, which he said was excellent.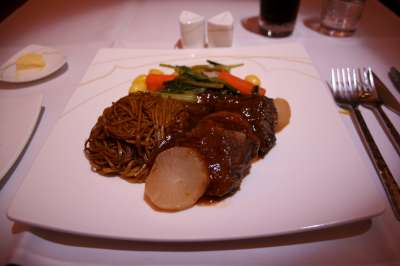 Short ribs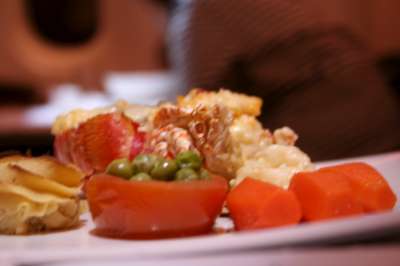 Lobster thermidor
Next came dessert, which was ridiculously delicious. I can still taste it now!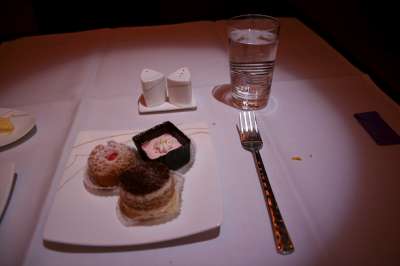 Dessert
While the service was top notch, the meal itself wasn't nearly as elaborate (or for that matter to my liking) as what I got on Swiss and Turkish. Nonetheless I kind of appreciated not having a nine course meal, given how tired I was. Right after dinner I fell asleep, and I slept surprisingly well. I got a full six hours of sleep, and woke up refreshed and relaxed. With three hours to go I decided to watch a movie, and I eventually decided on My Life in Ruins. It was a great airplane movie, meaning it was entertaining and didn't require me to think a whole lot, just how I like it.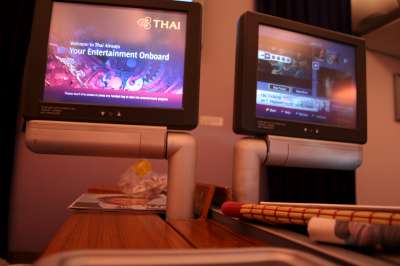 PTV's
About halfway through the movie it was time for breakfast.
The breakfast menu read as follows:
Second Serving

Fresh Fruits
Plain Yoghurt, Fruit Yoghurt
Cereals

Main Course
Mediterranean Ricotta Tart
Grilled Bacon
Schwinswurtsel Sausage
Mushroom Panoche with Fresh Herbs
Pan-fried Prawns with Oregano

or

Scrambled Egg with Smoked Salmon in Tartlette
Three Mushrooms with Fresh Herbs
Grilled Back Bacon
Breakfast Cheese Sausage
Oven Roasted Tomato with Olive Oil and Herbs

or

Cold Cuts Platter
(French Salami, Bierchinken, Easter Ham, Gruyere Cheese)Chicken with Chili

or

Noodle Soup with Fish and Shrimp Balls

Assorted Breads, Butter, Marmalade, Jam, Honey
Tea, Coffee, Hot Chocolate
The service started with orange juice and the bread basket.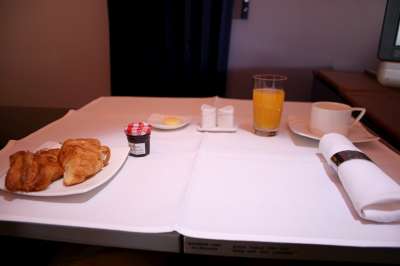 Orange juice, croissant, and pastry
This was followed by peach yoghurt, cereal, and fresh fruit.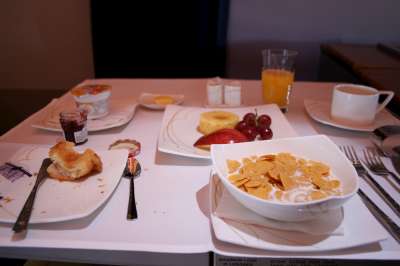 Yoghurt, cereal, and fruit
For the main course I went with the ricotta tart, minus the meat sides. It was excellent. I'm really starting to love airplane breakfasts.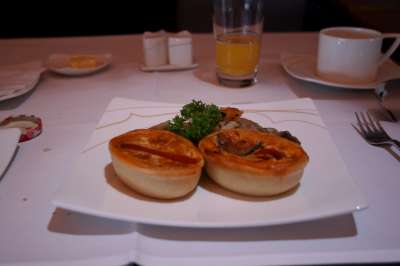 Ricotta tart
As soon as breakfast finished up I changed out of my pajamas and was ready for the other 5,000 miles of travel the day would bring. About 30 minutes out of Munich an arrivals video was shown, which was obviously designed for Lufthansa.
The views of the German countryside were great as usual on approach, and we had another smooth touchdown. After a quick taxi we made it to the gate, where we were off to connect to our Swiss flight.
While Munich is generally more convenient than Frankfurt when it comes to connecting, we had just about the longest trek possible. We went through immigration (I realize there might have been an easier way) and proceeded to Lufthansa First Class check-in to pick up our boarding passes for our connecting flights. Unfortunately it wasn't that simple.
Stay tuned….