———————————————————————-
It was the end of May and I had no real international premium travel booked for the summer. I was going to be busy, so time was limited. My brother and I try to take one big trip together every year (some of you might remember our trip to Malta last year), so this seemed like a good time to plan something together. Unfortunately my brother is in an accelerated MBA program which leaves him with virtually no time off, since he has summer classes as well.
I needed to be back home by August 24, which is when my classes started, while my brother couldn't leave before August 14, which was when his summer term ended. Well, that kind of narrowed down our options. Nonetheless I was determined to find a good award which would maximize both our in-air experience and our destination cities. As most of you probably know, getting there is at least half the fun for me.
While we had no clue where we specifically wanted to go, I had a general idea. I was sitting on 240,00 Aeroplan miles (Air Canada's spun-off frequent flyer program), and Aeroplan had recently liberalized their routing rules to allow awards from the US to Asia to go via Europe. For 120,000 miles per person in first class, this seemed like the perfect award.
There were two products I definitely wanted to fit into this award. First, we both wanted to try Swiss' new first class product, which is on their new A330-300's. Swiss is also one of my brother's favorite airlines, since they have his favorite champagne in first class (stay tuned for that). I also wanted to fly Turkish Airways on one of their leased 777-300ERs from Jet Airways, which are flown from London to Istanbul and Istanbul to Asia. They also seemed to have amazing ground services in Istanbul.
This worked out well since Istanbul was always a city I wanted to visit, and I figured we could also visit Hong Kong, a city I have visited many times but my brother hasn't. It would be a good opportunity for me to put my "tour guide" skills to the test. 😉
Anyway, piecing together this itinerary was quite an adventure which took a couple of days, but I couldn't have been happier with the end result. After a surprisingly quick one hour call to Aeroplan, and 120,000 miles and $200 in taxes per person later, we were sitting on this award.
Day 1, TPA-ORD, UA0859, 0909-1055, United Economy, 2hr46min, 320
Day 1, ORD-ZRH, LX0009, 1915-1100 +1, Swiss First Class, 8hr45min, 333
Day 2, ZRH-LHR, LX0332, 1205-1300, Swiss Business Class, 1hr55min, 321
Day 2, LHR-IST, TK1992, 1630-2220, Turkish First Class, 3hr50min, 77W
(Stopover, two days)
Day 4, IST-HKG, TK0070, 2350-1440 +1, Turkish First Class, 9hr50min, 77W
(Destination, three days)
Day 8, HKG-BKK, TG0639, 1845-2025, Thai Business Class, 2hr40min, 333
Day 9, BKK-MUC, TG0924, 0050-0715, Thai First Class, 11hr25min, 346
Day 9, MUC-ZRH, LX1101, 0930-1030, Swiss Business Class, 1hr, AR1
Day 9, ZRH-JFK, LX0014, 1300-1545, Swiss First Class, 8hr45min, 333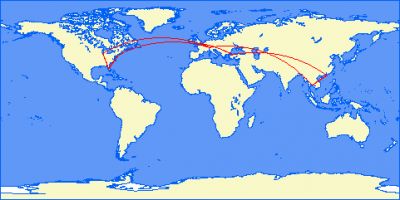 For more details about why I chose this particular routing, see my original post on the award from back when I booked it.
You'll probably notice that my award starts in Tampa but ends in New York. This is because of Aeroplan's ten segment award rule. Flying back to TPA would have taken two more segments, which would have put me at 11 segments. Also, given that my classes started the same day I returned home, I decided to just book a $99 ticket on DL from JFK-TPA. Thanks to my Northwest Platinum status I was expecting an upgrade as well, so that was no big deal.
In the end our award trip would be 10 segments and cover over 24,000 miles. I hope through the report you'll see why I'd choose such a crazy routing when there were more direct routings, and most importantly why getting there can be half the fun…