---
After a quick Air Train ride I arrived at terminal 3 at around 5PM. The terminal looked futuristic from the outside and I vaguely recall Hunter bragging about it on the Upgrd Podcast, so I was expecting it to be nice. Unfortunately it was anything but. Actually, calling it a mad house would be a compliment. The check-in area was as civilized as an Air China flight boarding from a remote gate (and yes, I speak from firsthand experience).
I proceeded to the first class counter, where there was no line, so I was immediately helped by a friendly "red coat." As she looked at my ID she said "hmmm, how do you pronounce your last name?" I told her, and she said "ohhhh, I love that name." As she handed me my boarding pass I asked if there was a premium security line, given that the normal line looked pretty long. She responded "there's not, but I can make you the front of the line." She got up and escorted me to the front of the security line, and I was through in no time. Go red coats!
On the other end of security I followed the signs to the Sky Club, which was quite a hike, especially considering that my flight was leaving from gate one. I have a feeling I was actually walking in circles and past many other Sky Clubs, but I don't know. After about a 10 minute walk I arrived at the rather shabby looking Sky Club, where I was promptly admitted thanks to my American Express Platinum card.
The lounge was crowded and wasn't particularly grand. The snack selection looked like what I'd expect to be left over after a 3rd grader's birthday party. The only plus was the Nutella, although I didn't see any practical way to consume it, given the lack of crackers, bread, etc.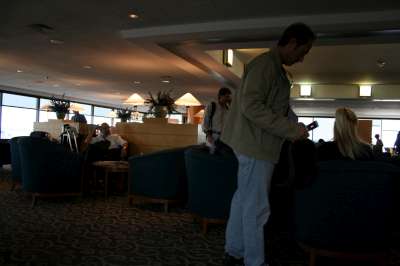 Sky Club
The bartenders and employees in the Sky Clubs are consistently nice though, and don't give you the evil eye when you don't tip for a soft drink like I sometimes get at United. I checked my email and at around 6PM started to head towards the gate. I got there at around 6:15PM for the anticipated boarding time of 6:20PM. While I was waiting there were some unique bird watching opportunities. No, not the big metal ones outside, but rather the little ones flying around inside. If JFK ever shuts down, it at least has a future as a bird sanctuary based on how many were flying around inside.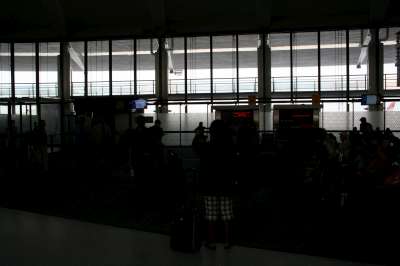 Gate one
Boarding time passed without any type of announcement, and at around 6:30PM I noticed passengers deplaning (I hadn't realized the plane wasn't there). At around 7PM boarding started, and I was off for the last leg of a long journey.
Delta 1833, JFK-TPA, M80
Monday, August 24
Depart: 6:50PM
Arrive: 10:18PM
Duration: 3hr28min
Seat: 2C (First Class)
After squeezing my way oversized carry-on into the overhead bin I settled down and was just happy to know I'd be home in a few hours. After being up for nearly 48 hours and flying international first for a long time, domestic first just isn't comfortable.
Pre-departure beverages were served within a few minutes, although I was perfectly happy with the bottle of water placed at my seat. Each seat also had a pillow and a blanket. Boarding took about 20 minutes, and by 7:30PM or so the door closed. The manual safety demonstration was done and we then pushed back. Unfortunately we didn't move very far beyond that for another 20 minutes or so. Eventually the captain came on and advised us that we were number three for takeoff and that our flight time would be 2hr24min. Number three at JFK in the evening sounds like a deal to me! He also informed us that we'd be arriving on-time. Gotta love how much the airlines pad their schedules.
In no time we were off and after a smooth climb the flight attendant began her beverage service. I went with a Diet Coke with lime. Shortly thereafter meals were served, with the choice being either a pasta chicken salad or a turkey bacon sandwich of some sort. I went with the salad. It was basically the same meal I had on my Northwest flight from Tampa to Detroit back in July.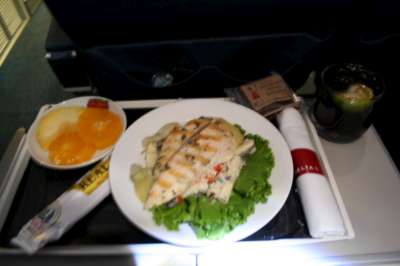 Dinner
The service was efficient although not overly friendly. It's worth noting that there were two commuting flight attendant seated across from me in first class, and after the meal service they started to talk to the working flight attendants about their common passion, cats. They shared their pictures of FiFi wearing all kinds of clothes, sunglasses, etc. Eventually they started talking about their seniority. The working flight attendant mentioned she was hired in 1966, and as if they were trying to play a "mine's bigger than yours" game, the flight attendant seated in the window seat says she's 1960 seniority. Yow!
The coolest part about the flight had to be the in-flight Wi-Fi. I've said many times before that I don't like the overall trend towards onboard Wi-Fi since flying is the one place I get to be "disconnected," and it's one of the many reasons I love flying. At the same time the novelty factor of being online in the air was too much to pass up, especially with the free Wi-Fi code Delta had through August 31.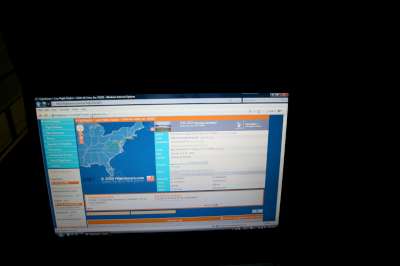 Inflight Wi-Fi
We landed in TPA a few minutes ahead of schedule, and I was happy to finally be back home.
I had one hell of a time and couldn't have been happier with the overall outcome of the trip. Thanks for reading!