---
I woke up at 6AM to finish packing and shower, and was off to the airport by 7:30AM. My dad gave me a lift since parking for over a week is rather expensive. I got to the airport by 8:15AM, and was promptly checked in. My boarding passes were printed all the way to Zurich, although I was told I would have to pick up my connecting Turkish Airlines boarding passes at London Heathrow, which I was kind of expecting.
Security lines were short, and I was even told by the TSA agent that I was in the "wrong line," as he pointed out that I should be in the expert traveler lane (which I didn't even realize we had). I'm pretty sure that's the first compliment I've ever been paid by a TSA agent.
By the time I got to the gate boarding was starting, and I boarded immediately.
United 0859, TPA-ORD, 32S
Sunday, August 16
Depart: 09:09AM
Arrive: 10:55AM
Duration: 2hr46min
Seat: 11C (Exit Row)
I stowed my rather large carry-ons in the overhead bin and settled in. I was wearing my favorite t-shirt, and as usual the flight attendants loved it. Despite the flight being nearly full, the middle seat next to me stayed empty (thanks Tampa ground crew)! As boarding finished up a pilot settled into 11D, and as it turns out it was a 777 first officer I knew. Thanks to all the flying I do out of Tampa I've gotten to know many of the pilots and flight attendants that live in Tampa and commute, so there's rarely a flight where I don't recognize a commuter I know. It always helps to make the flight pass a bit quicker.
Once we were airborne it was a typical Ted flight. The entertainment for the flight was "True Love," which is a bit more "risque" (at least visually) than the typical main screen entertainment. It might have been entertaining if I hadn't seen the episode on an earlier flight.
After the beverage service one of the flight attendants came up to me and tapped me on the shoulder — "honey, can I get you anything at all?" I responded that I was fine, and she said "you don't understand, are you sure you don't want anything? It's on us." The magic powers of the shirt. 😉
While I would sometimes take a snackbox, it would be a week filled with way too much food, plus I was having lunch with FlyerTalkers in Chicago, so I passed. I headed to the rear galley and ended up talking to the flight attendants there until shortly before landing. Ah, the stories….!
We landed right on-time and pulled into the former Ted gates in the "B" concourse. My Swiss flight wasn't until 7PM, so I had about eight hours to kill in Chicago. I scheduled my layover like this for a few reasons. First, I wanted to leave plenty of time to avoid misconnecting. Second, the flight I was on was showing as a 757-200 with first class service when I booked it, but it got downgraded to a Ted aircraft closer to departure. The later flight wasn't showing award availability, so it was my only option. Lastly, I could have lunch with FlyerTalkers this way.
Lunch wasn't until 1:30PM, so I headed to the United International First Class Lounge in the "C" concourse. There I was greeted by an agent that couldn't have been nicer. She welcomed me, told me I could leave and enter the lounge as I pleased throughout the day, and offered me a free Wi-Fi card.
The lounge was somewhat crowded (relatively speaking) since it was just before the Beijing, Hong Kong, and Shanghai flights. I tried to avoid snacking, but the selection was just too sweet (literally) for me to pass up. I kind of like United's International First Class Lounges. They're usually quiet and have an ok snack selection, but before an international first class flight I'm usually not that interested in stuffing myself with food.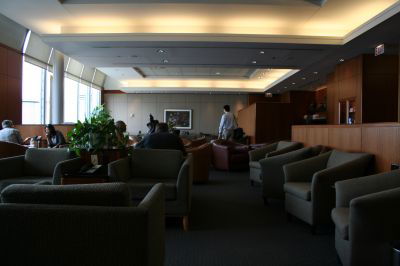 Lounge upon arrival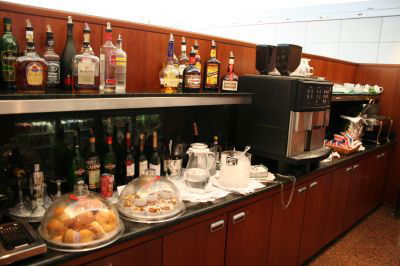 Drink/snack selection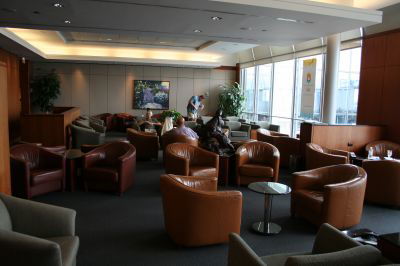 Lounge right before I left (as the Asia flights were leaving)
I checked my emails for a while, and within a few minutes two people settled in next to me that seemed to be colleagues traveling to Beijing together, although they hardly seemed to know each other. One was a guy in his mid-40's (I would guess), while the other was a younger lady in her upper-20's. The conversation was pretty funny. She was telling the guy how she used to work in a lingerie store, and she wasn't very good at it — "I'm just not a very good liar. When someone would ask me if the bra made them look fat, I'd say no, the bra doesn't make you look fat, you're just fat."
When she got up to go buy a book, her colleague, the guy, was on his cell phone talking to his wife — "I can't stand her, she's so full of herself, this'll be a long trip." Not sure if he was just trying to ease his wife's fears because he was going on a trip with a female colleague or whether he really felt that way, but it was funny. I'd also like to know how you go from making $10/hour at a lingerie store to flying paid first class internationally!
At around 12:45PM I headed to the arrivals area to meet FlyerTalker Sweet Willie, who graciously gave me a ride to lunch. Despite the air show being in town the traffic wasn't bad at all.
Lunch was great, both the food and the company. At this point it's worth noting that my brother was flying from Newark to Chicago that day, and he took a flight at around 3PM. That still left him about three hours to connect in Chicago, so I was going to meet him at the airport upon my return.
As we're having lunch I get a text from my brother that read something like "door's about to close, see you soon." Great, I thought. Then 15 minutes later I get a text that reads "engines are shut down." Crap! At that point I started to get worried, since the number one rule of award travel is to not misconnect, because it can lead to trouble. Another 30 minutes later he calls me telling me they're heading back to the gate to "reorganize and get more fuel." At this point I knew he was utterly screwed.
I called my friend Steven to see if he had any ideas (he was more wirelessly connected than I was), so it was time to look for alternatives. I was already pretty pissed, because half of the fun of the trip was spending time with my brother, and this almost certainly meant we'd be flying separately. He had a few options (theoretically): fly Newark to Zurich on PrivatAir, which is an all business class product, and meet me there (no thanks), fly from Newark to Munich to London on Lufthansa and meet me there so we can connect to Istanbul together (EWR-MUC was sold out in first class), or fly New York to Frankfurt to London on Lufthansa and meet me there.
That sounded like the plan, but as everyone knows, most "alliances" are what I'd refer to as fair weather alliances. When everything goes well they're "proud members of the XYZ alliance," but when operations get nasty the airlines just like to blame each other. In this case we were dealing with United (the airline he was flying), Swiss (the airline he was connecting to), and Aeroplan (the program that issued the ticket). I figured we were screwed, since we'd likely get the runaround from everyone. Much to my surprise, the United agent in the Red Carpet Club immediately rebooked him on the flight he wanted, which was just awesome.
While we wouldn't get to fly together to London, we'd almost certainly both make it there and the rest of our trip wouldn't be screwed up too much. It seemed like a good compromise.
Unfortunately that ruined lunch to a certain extent, since I was on the phone almost nonstop. Willie was also generous enough to give me a ride back to the airport. This time the traffic was much worse, due to the awful weather (the cause of my brother's delay) and people returning from the air show. I didn't make it to the airport until around 4:30PM. I was dropped off at terminal 5, where I proceeded to Swiss check-in.
This is where it really gets fun….