---
I don't want to be too much of a diva, but my six hour layover in Cairo was not fun. It was probably my worst layover ever. So by the time I was boarding my Oman Air flight I was hungry, thirsty, and tired, and couldn't wait to be onboard. If you want to read about the layover just check out this post, but we'll pick up onboard with this post.
Oman Air 408
Cairo (CAI) – Muscat (MCT)
Sunday, July 1
Depart: 1:10AM
Arrive: 7:15AM
Duration: 4hr5min
Aircraft: Airbus A330-200
Seat: 15A (Business Class)
I really lucked out that I got on a flight out of Cairo operated by an A330. Oman Air primarily flies 737s between Cairo and Muscat, but they do fly the occasional A330, and I managed to get on one of those flights. Oman Air has two excellent business class configurations on their A330s — their old business class is in a 1-2-1 configuration, while their new business class features Apex Suites. This flight was on an aircraft with the latter configuration.
Oman Air has a total of 30 business class seats on these A330s, spread across five rows in a 2-2-2 configuration. The forward cabin has three rows, though I was in the rear cabin, where there are just two rows. I was in seat 15A, the window seat in the last row on the left side.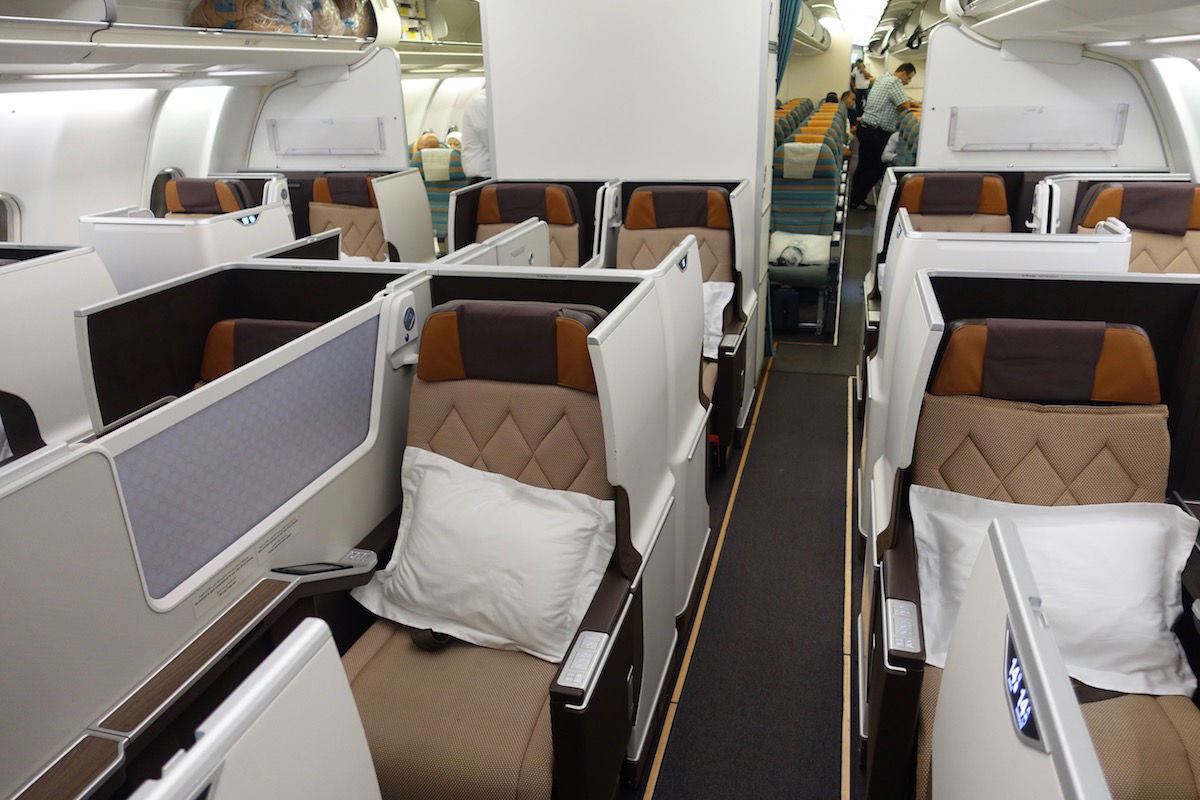 Oman Air A330 business class cabin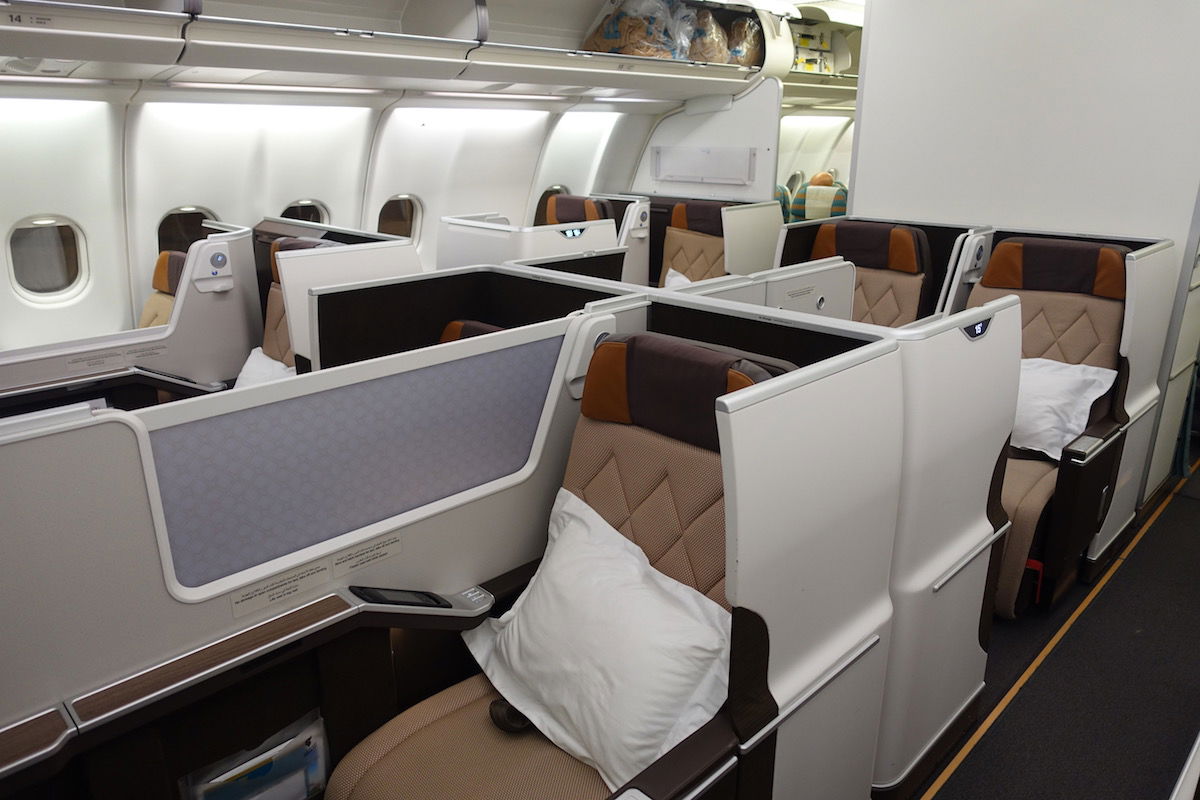 Oman Air A330 business class cabin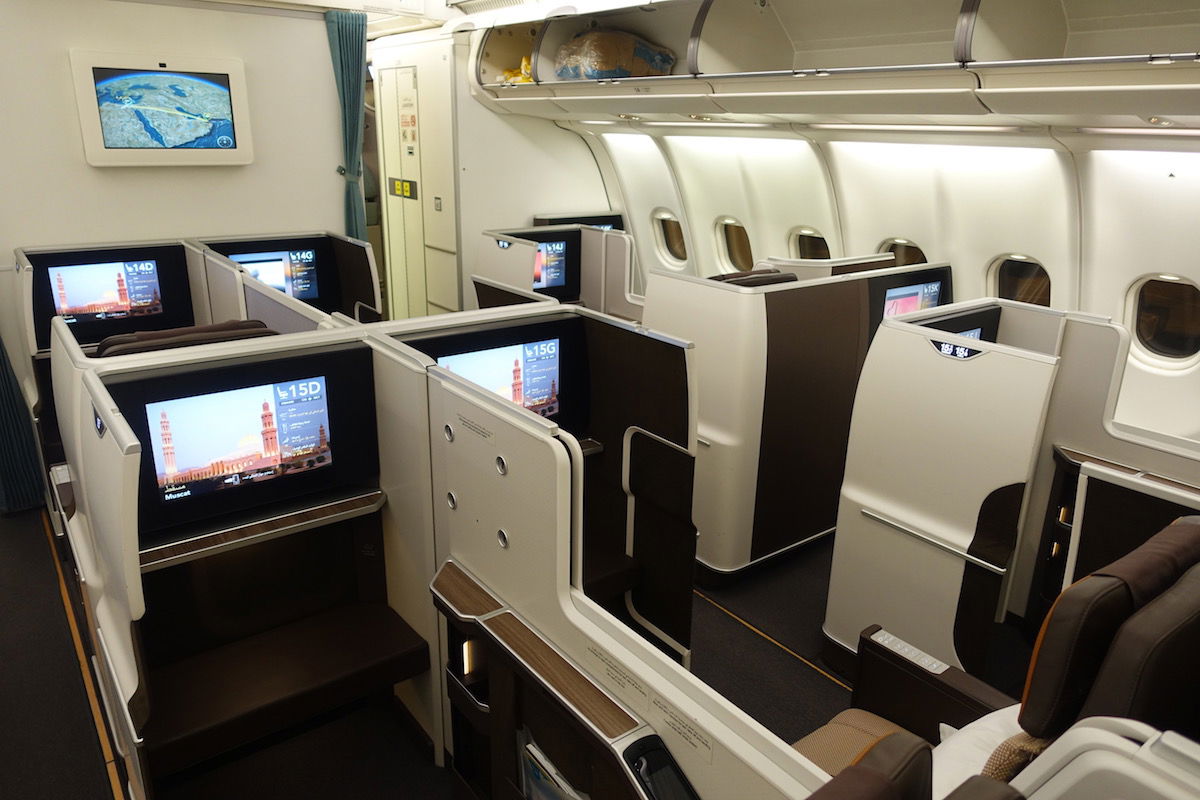 Oman Air business class cabin A330
After Qatar Airways' Qsuites, Apex Suites are my favorite business class seats in the world, and in particular I love Oman Air's finishes. If you find yourself on a plane with this configuration, you most definitely want a "true" window seat. However, I'd generally avoid row 15, since there's a missing window (I had originally assigned myself a different seat, but the seat was broken, and this was the only remaining window seat).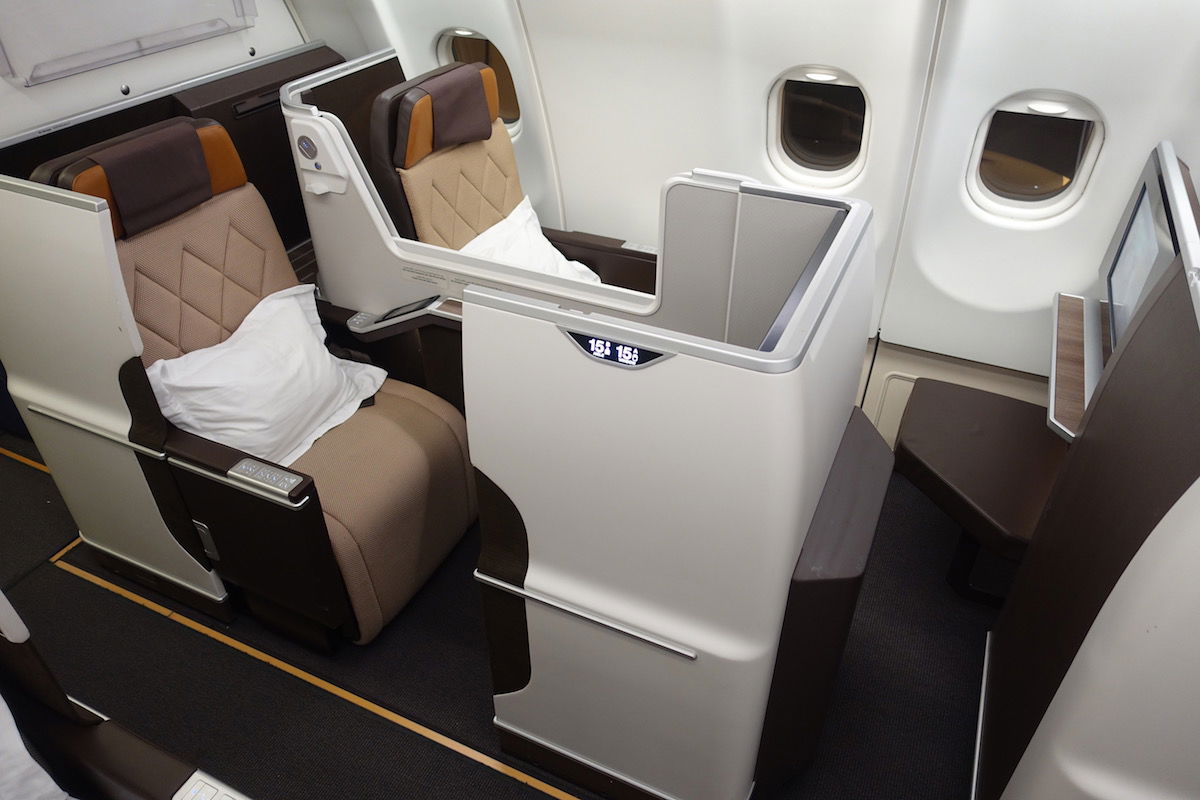 Oman Air business class seats A330
These window seats feature direct aisle access, and there's a small entryway from the aisle through which you enter.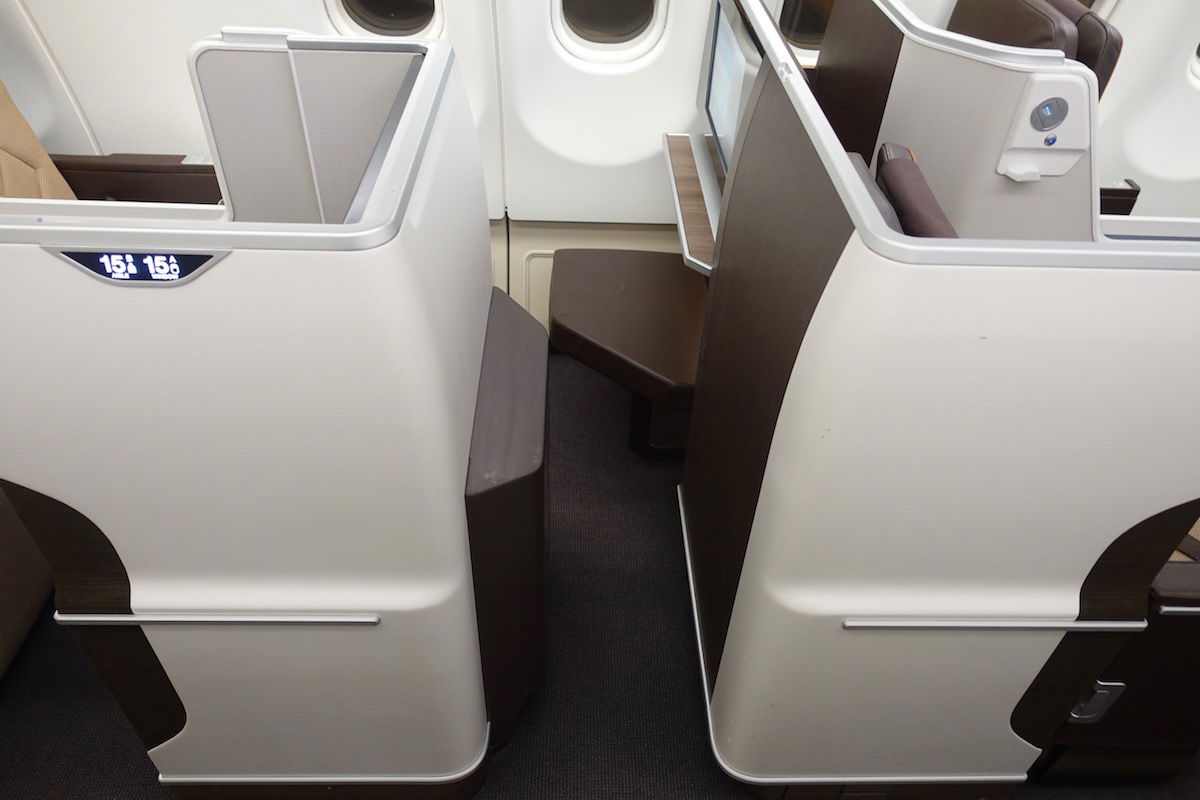 Oman Air business class seat entrance A330
What makes these seats so incredible is how much privacy they offer. They are just so darn private, thanks to the shield that can be raised between seats (though it does have to be down for takeoff and landing).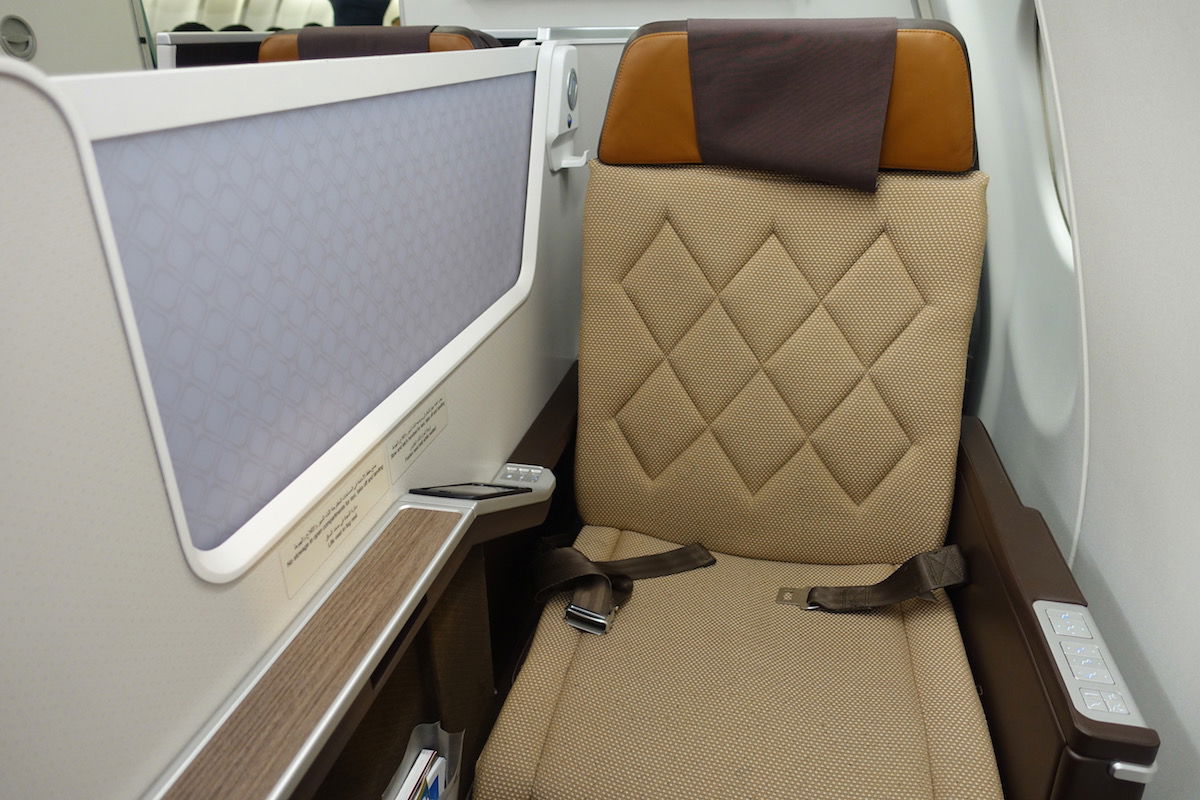 Oman Air business class seat A330
The seat isn't actually that wide, though the great thing is how much space there is for your feet. In the window seats you could easily fit a full size carry-on underneath the ottoman with room to spare, and in general you just have such a large private space.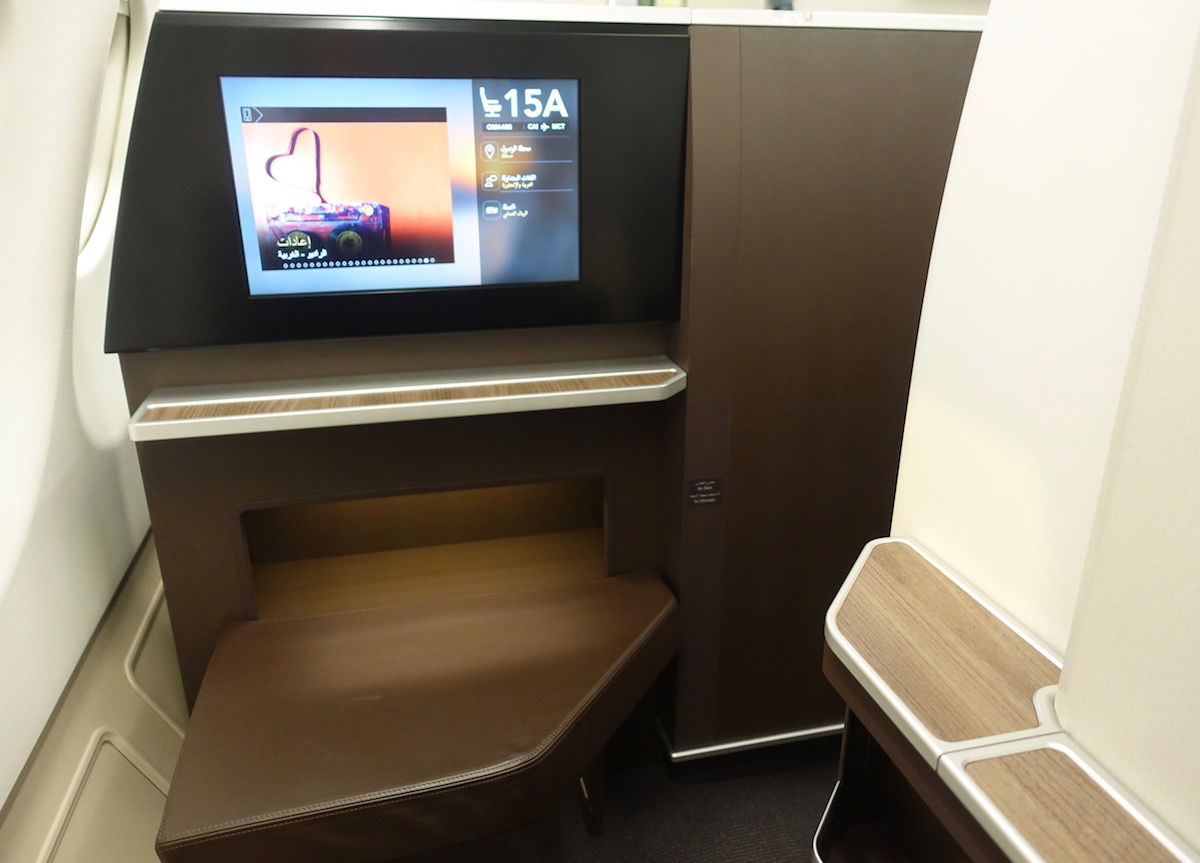 Oman Air business class seat A330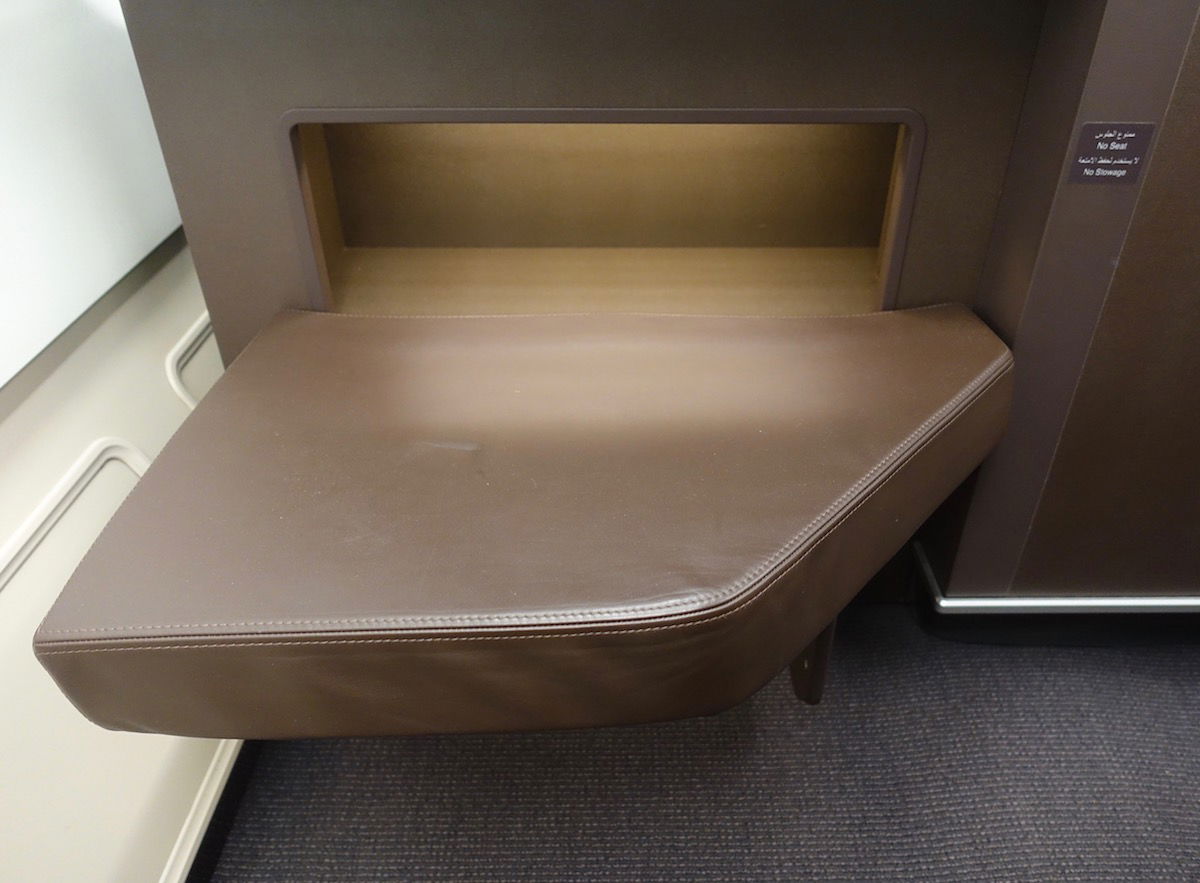 Oman Air business class seat ottoman
The tray table folded out from the armrest to the right of the seat, and was a single table.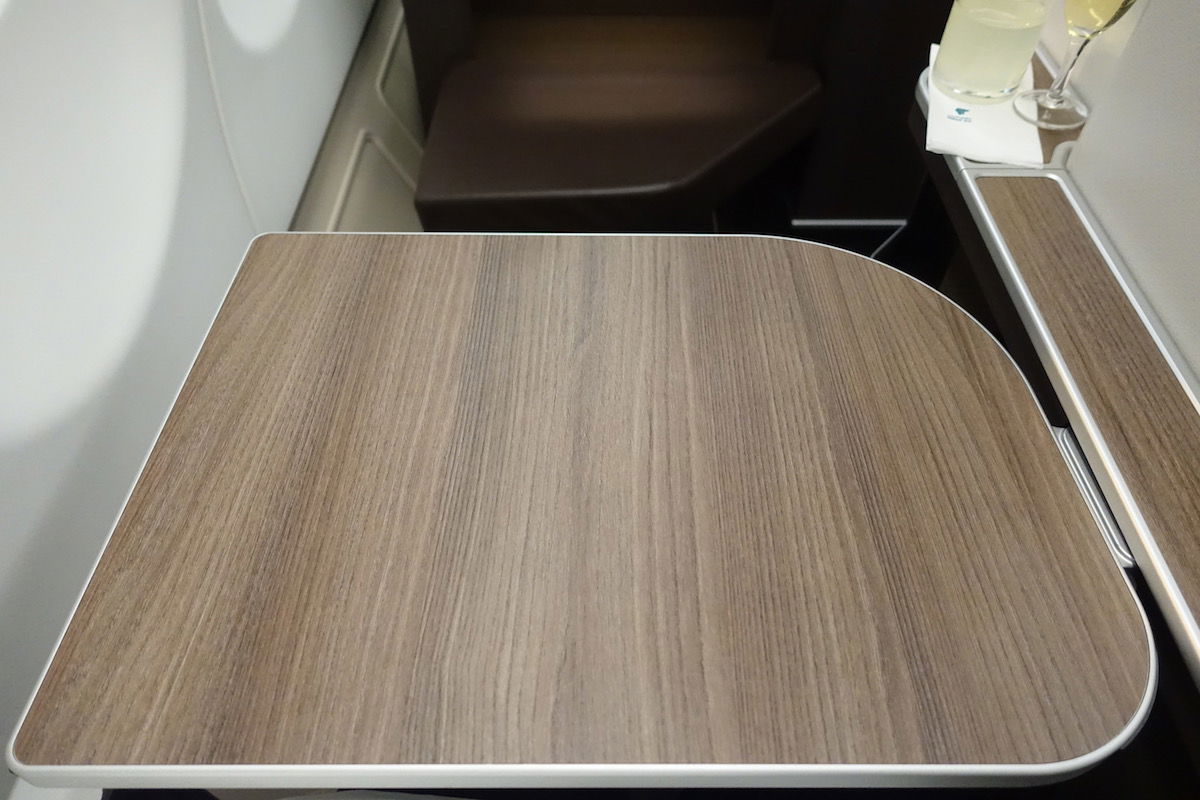 Oman Air business class seat tray table
The easy-to-use seat controls were on the left side of the seat.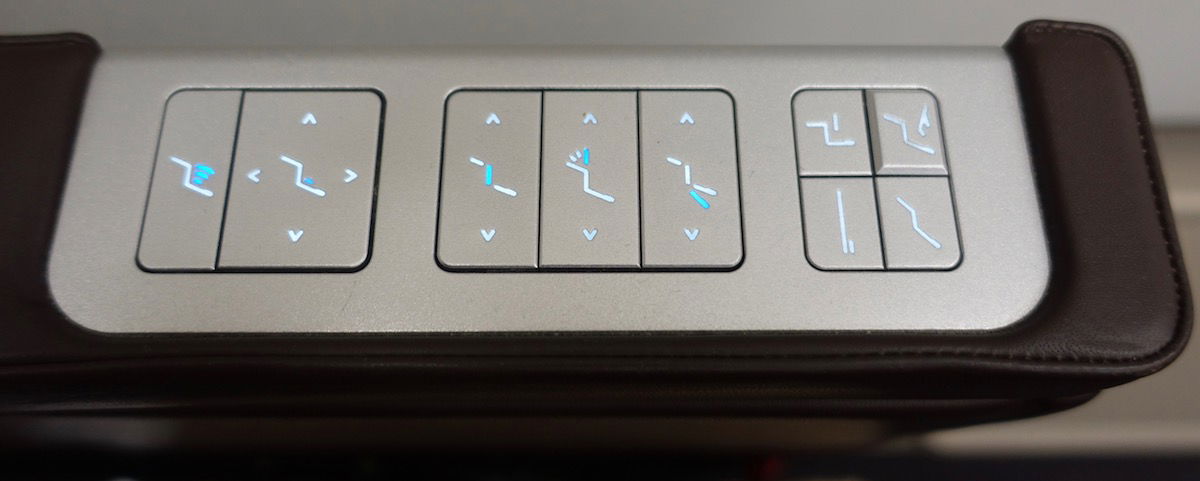 Oman Air business class seat controls
Then to the right of the seat were the entertainment controls as well as some other basic seat controls.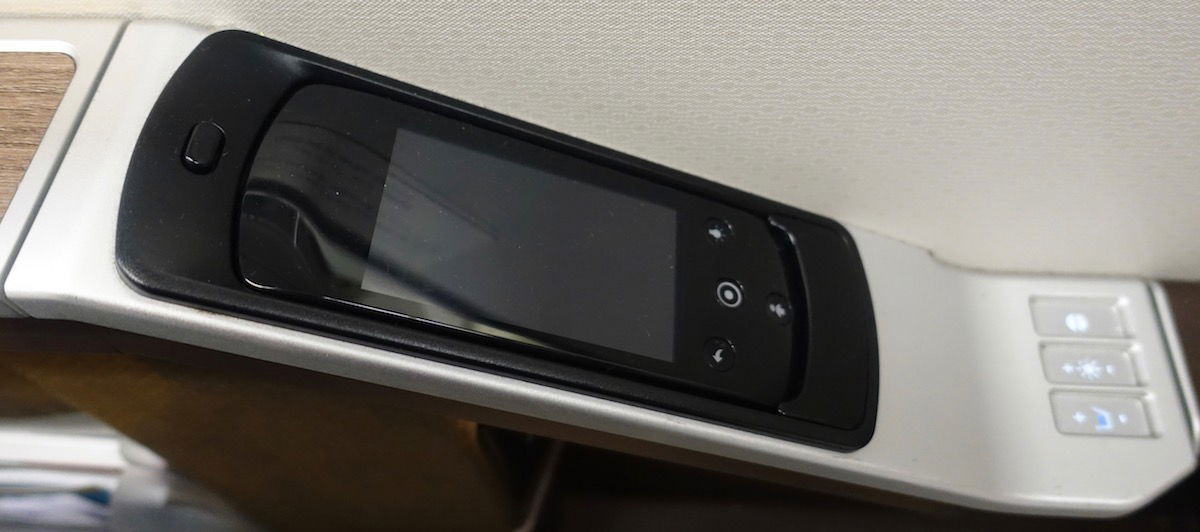 Oman Air business class entertainment controls
Underneath the seat and to the right were two exposed storage compartments. Other than that the seat doesn't have that much storage, though the good thing is that you can just leave your bag underneath the ottoman and have easy access to things that way.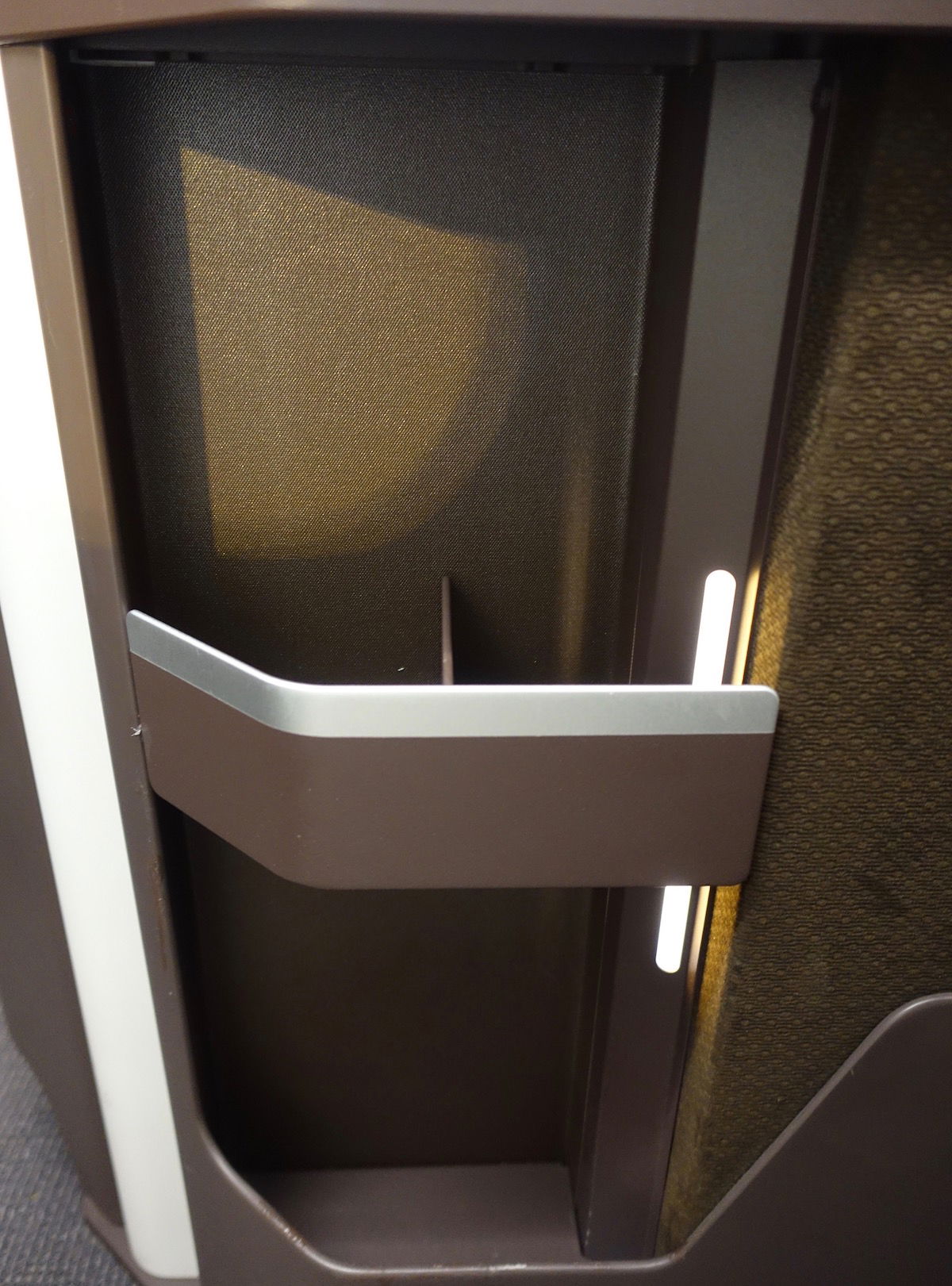 Oman Air business class seat storage
Also to the side of the seat were the headphone jack, USB outlet, and 110v outlet.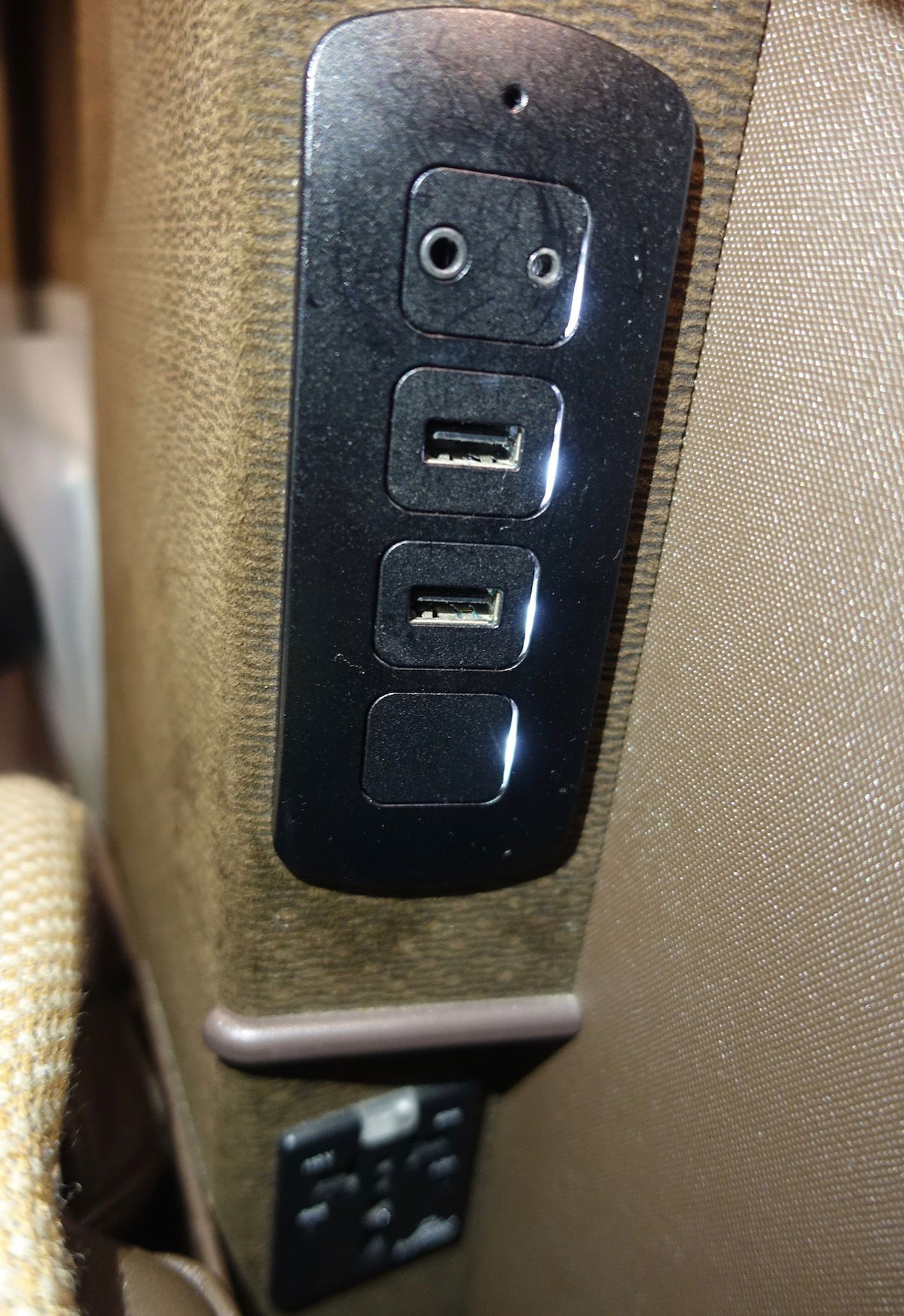 Oman Air business class outlets
My one and only disappointment with the seat is that Oman Air doesn't have individual air nozzles.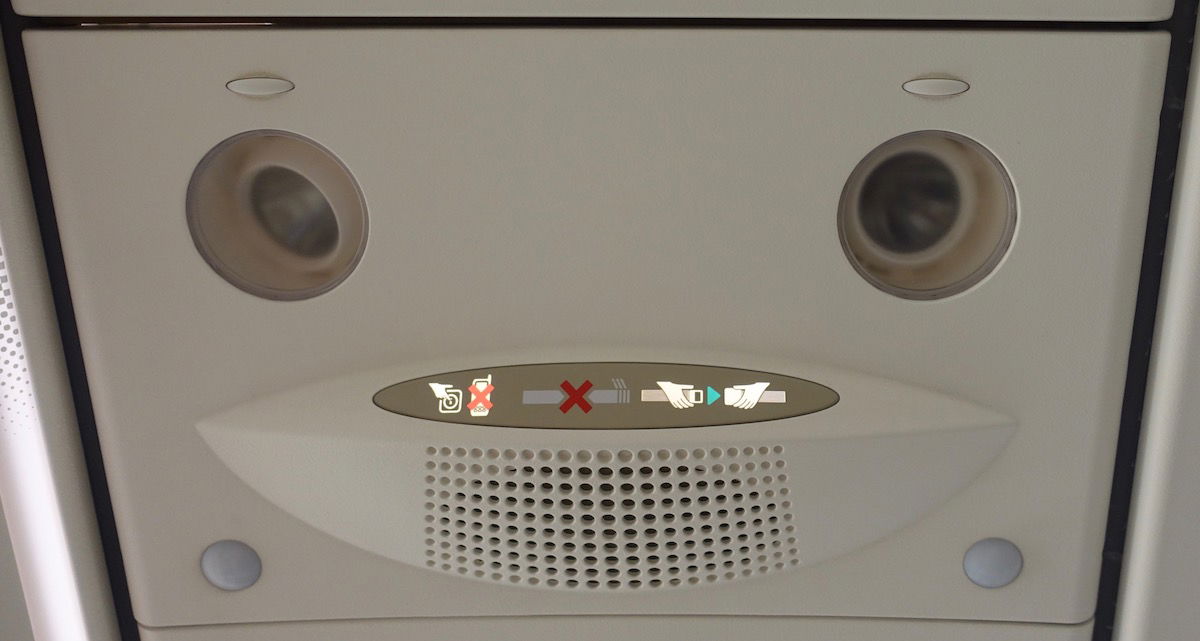 Oman Air business class overhead console
Waiting at my seat were a modest pillow and blanket, which didn't really match the otherwise excellent product. However, given that this was just a very short redeye usually operated by a 737, I was grateful to have a flat bed. Also, since the cabin was less than half full, I was able to grab a couple of extra pillows and really get comfortable.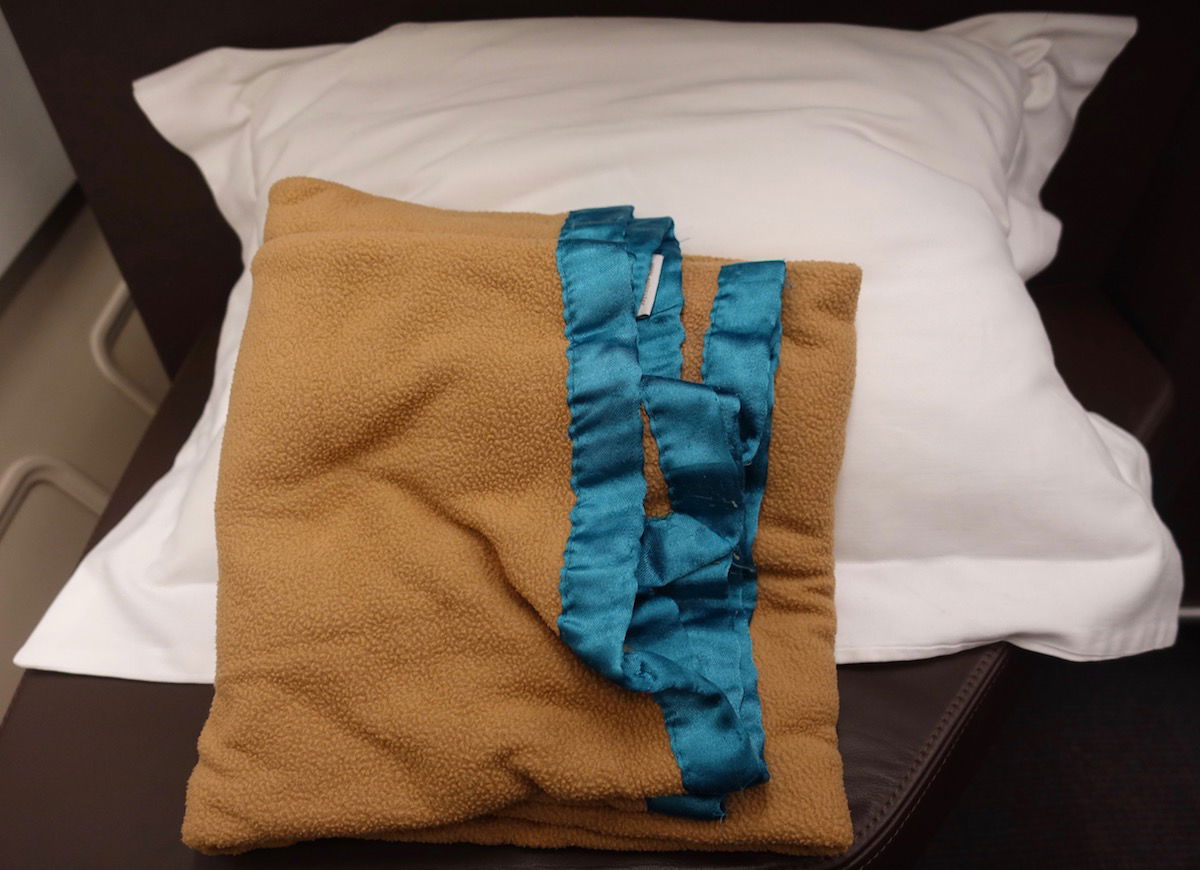 Oman Air business class pillow & blanket
Oman Air is one of my favorite "boutique" airlines in the world, and the service from the moment I boarded reminded me of why (in addition to their excellent hard product). I had two fabulous Filipino flight attendants taking care of me, who couldn't have been kinder.
"Good evening Mr. Ben, welcome aboard. May I offer you a warm or cold towel?" I started with a cold towel.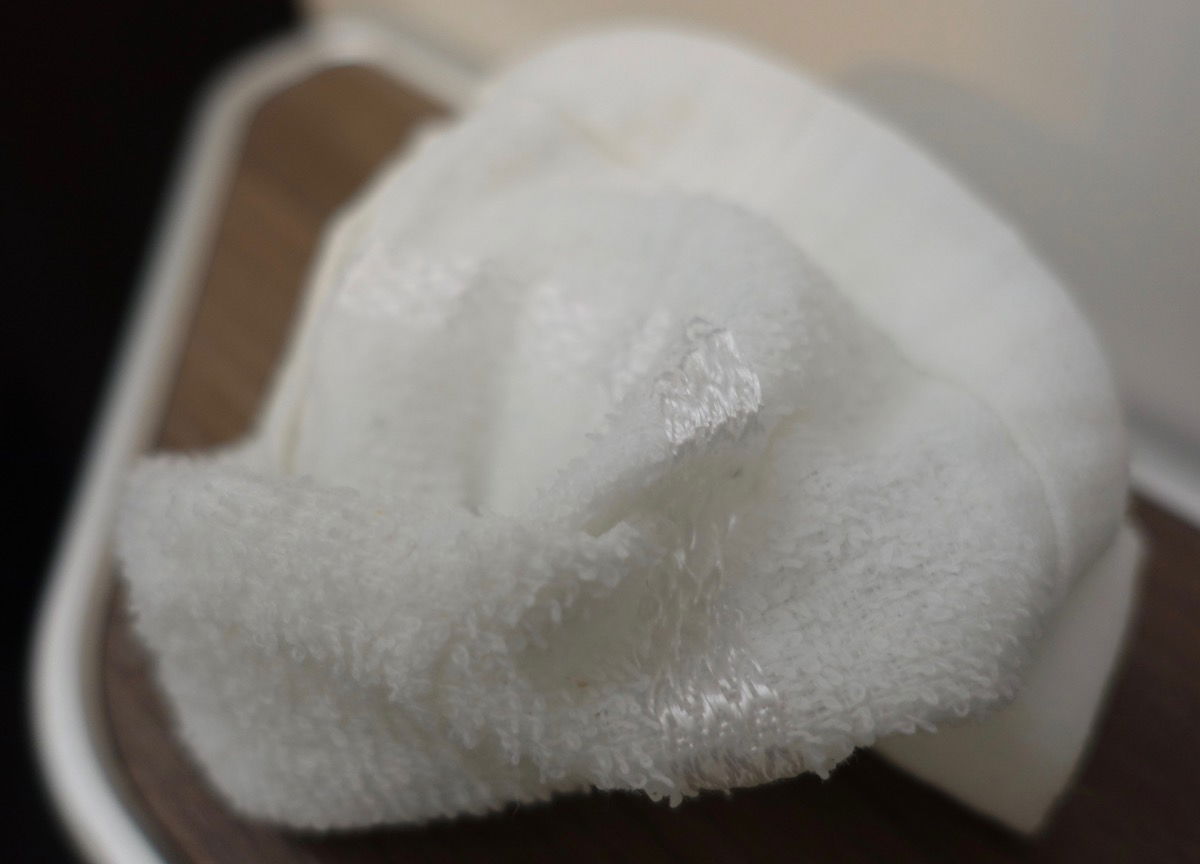 Oman Air business class warm towel
I was then asked if I wanted orange juice, water, lemon mint juice, or champagne to drink. I ordered a glass of champagne, which was poured at my seat. It's not often you see that for a pre-departure beverage.
In this case they were serving Nicolas Feuillatte 2010, which is a ridiculously good champagne for business class.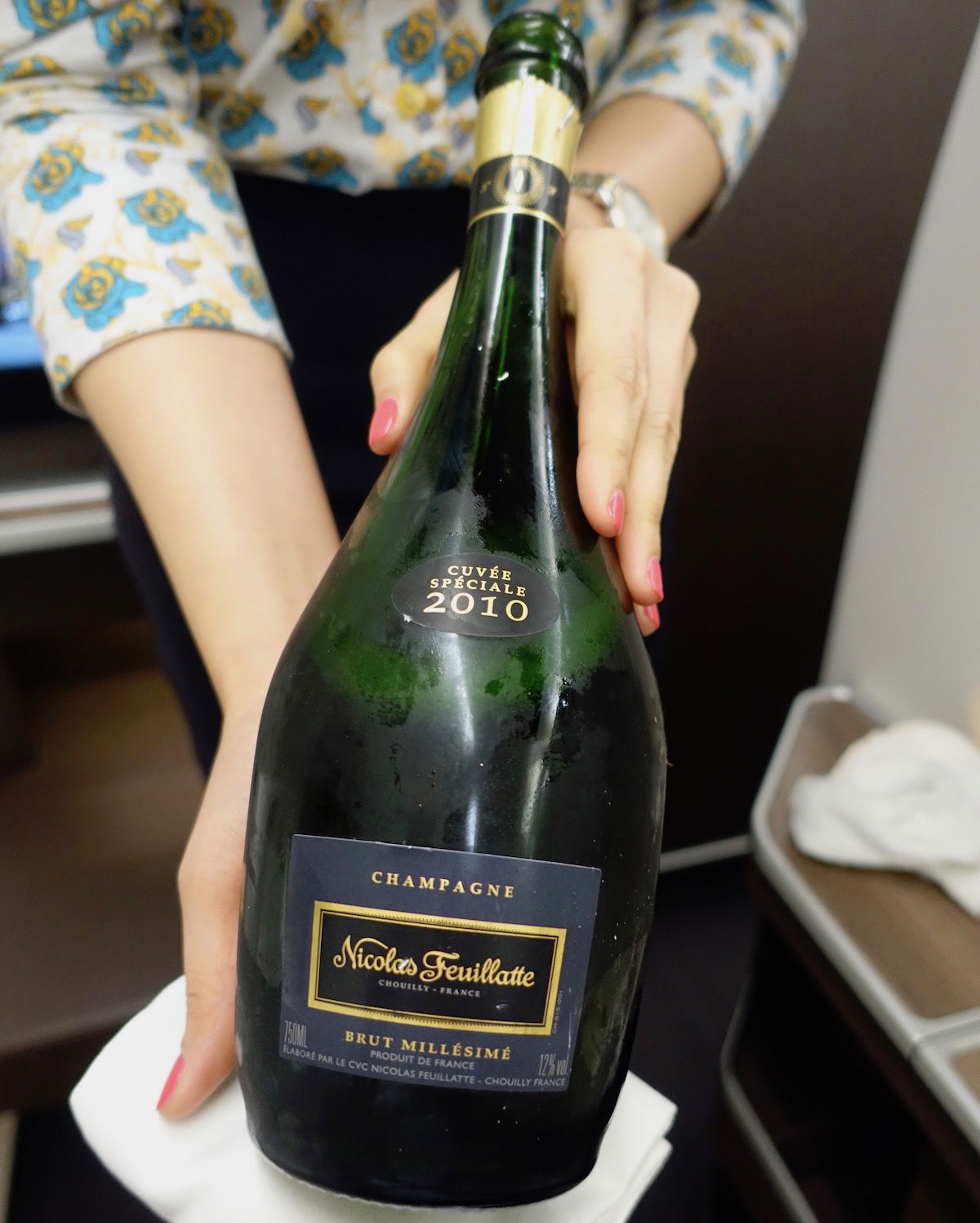 Oman Air business class champagne
I was quite thirsty at this point, so also ordered a lemon mint juice.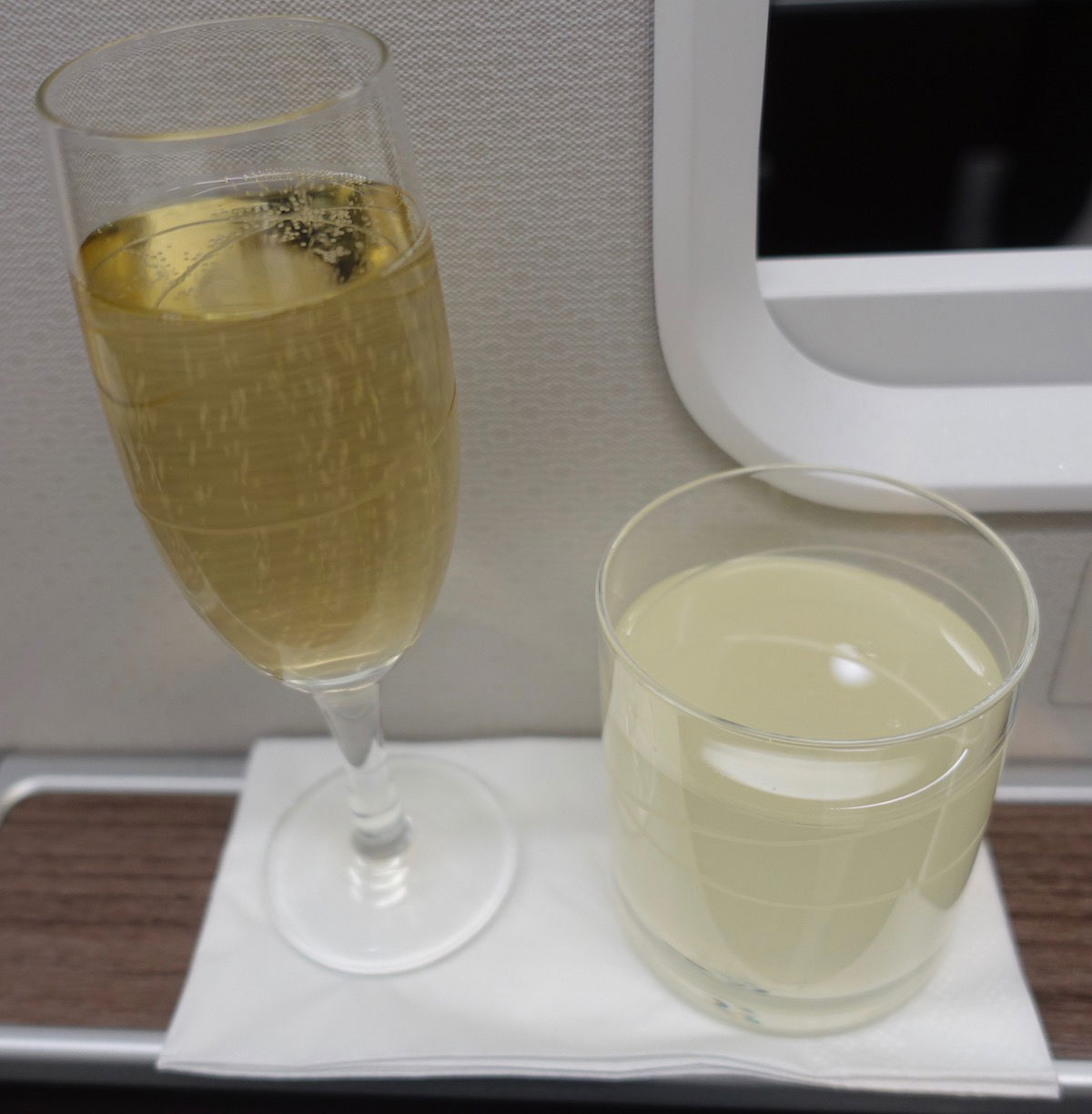 Oman Air business class pre-departure drinks
A few minutes later the flight attendant offered me a bottle of water and a comfort pouch.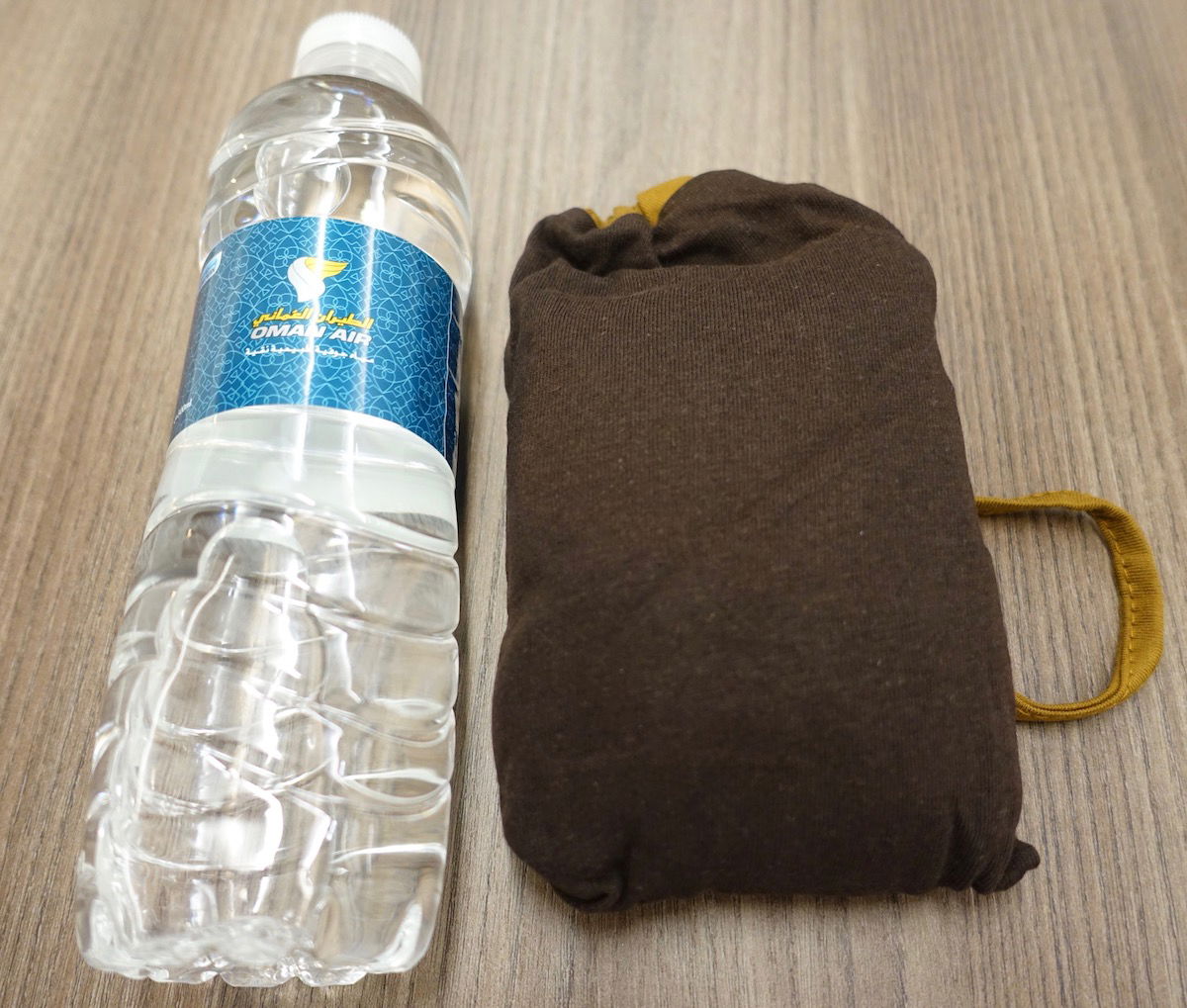 Oman Air business class water & amenity kit
The comfort pouch was smaller than their standard amenity kit, but perfectly sufficient for such a short flight, with socks, eyeshades, a comb, and earplugs.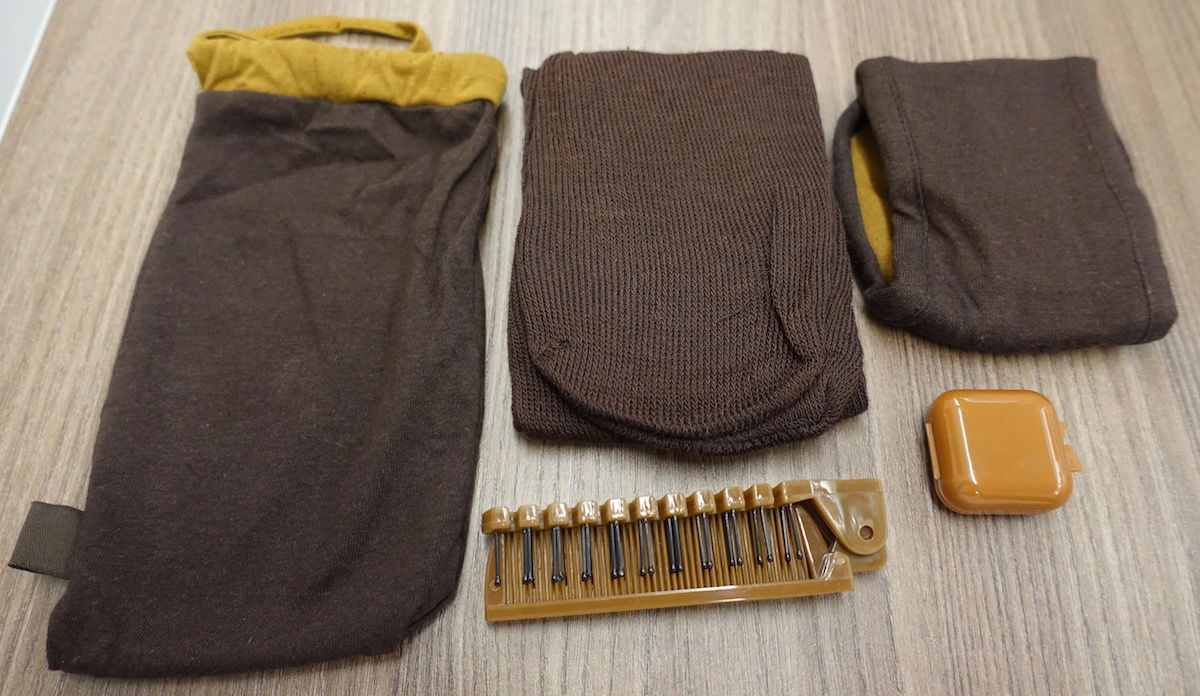 Oman Air business class amenity kit contents
About 10 minutes later the crew passed through the cabin with Arabic coffee and dates.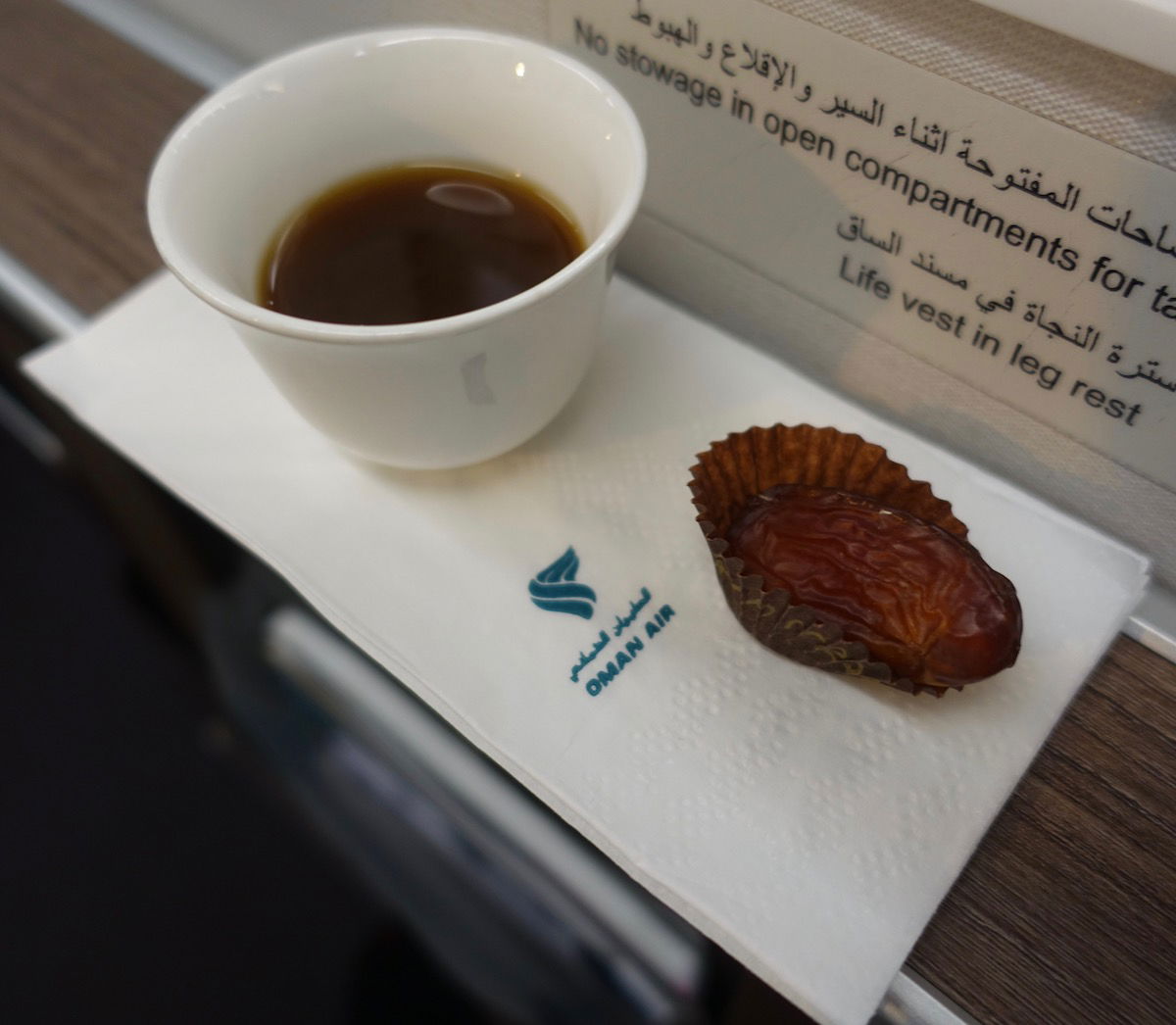 Oman Air business class Arabic coffee & dates
We had quite a delay on our departure, and during that time I was offered a couple of refills on my champagne. I was even asked if I wanted some nuts to go along with it, though I passed.
Towards the end of boarding I was brought a pair of headphones, but the flight attendant apologized profusely that they had only loaded economy headphones.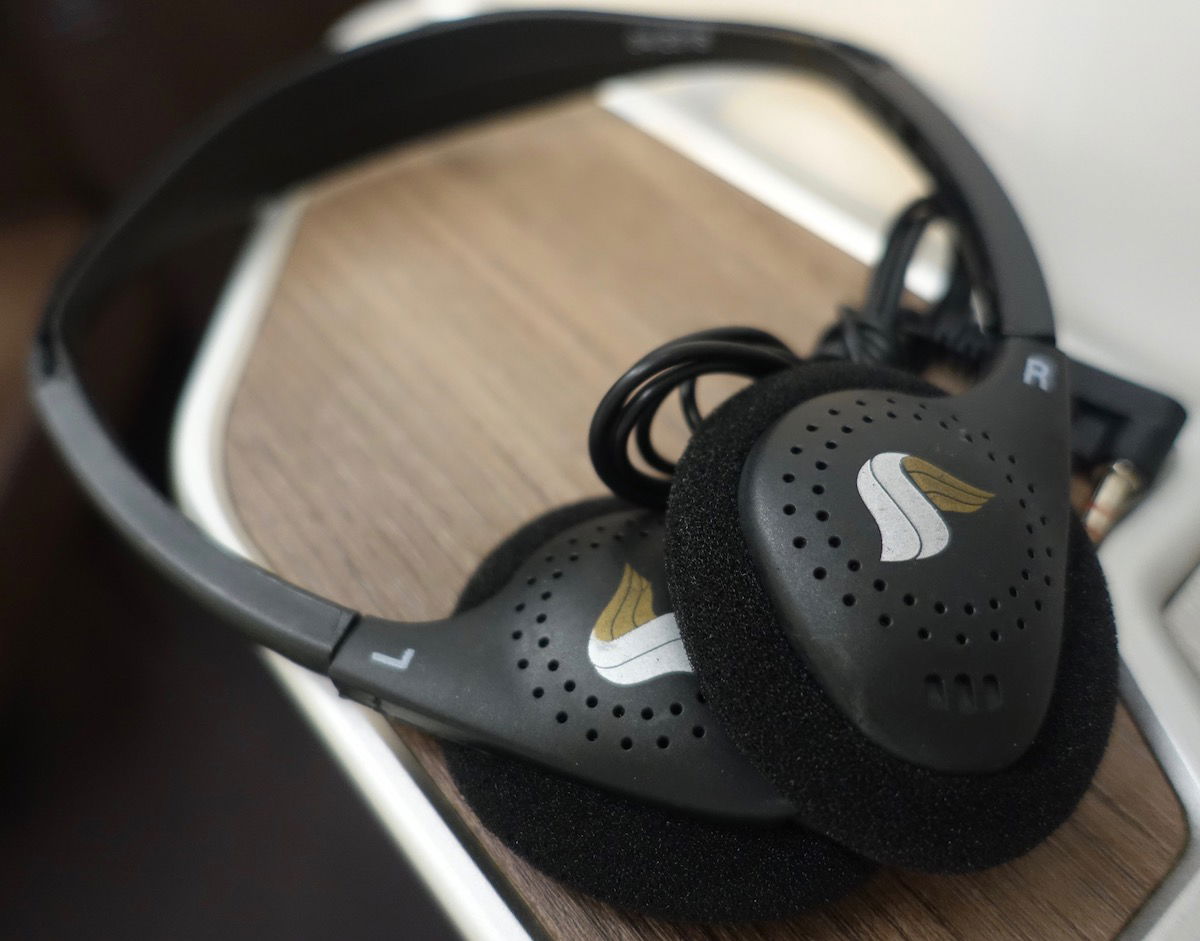 Oman Air business class headphones
While we were supposed to depart at 1:10AM, we just kept waiting and waiting and waiting. At 1:55AM the captain made a welcome aboard announcement. He apologized for the delay, and explained that this was due to issues with the check-in facility, and passengers still getting through security (this is an issue I saw firsthand).
He also informed us of our flight time of 3hr45min and our cruising altitude of 41,000 feet. One thing I find interesting about Oman Air is that most of their pilots are "local," while at most of the other Gulf carriers they primarily hire ex-pats.
I sort of just loving sitting on an Oman Air flight waiting for boarding to finish, though, since I love Oman Air's boarding music.
https://www.youtube.com/watch?v=3W9JISUn940
Finally at 2:10AM it was announced that boarding was complete, with 13 of the 30 business class seats taken. At 2:15AM we began our pushback. At this point I was super tired.
During our pushback and taxi the safety video was screened, and by 2:35AM we were cleared for takeoff on runway 5L. The seatbelt sign was turned off just five minutes after takeoff.
As we climbed out I turned on the airshow, which showed our route across the peninsula.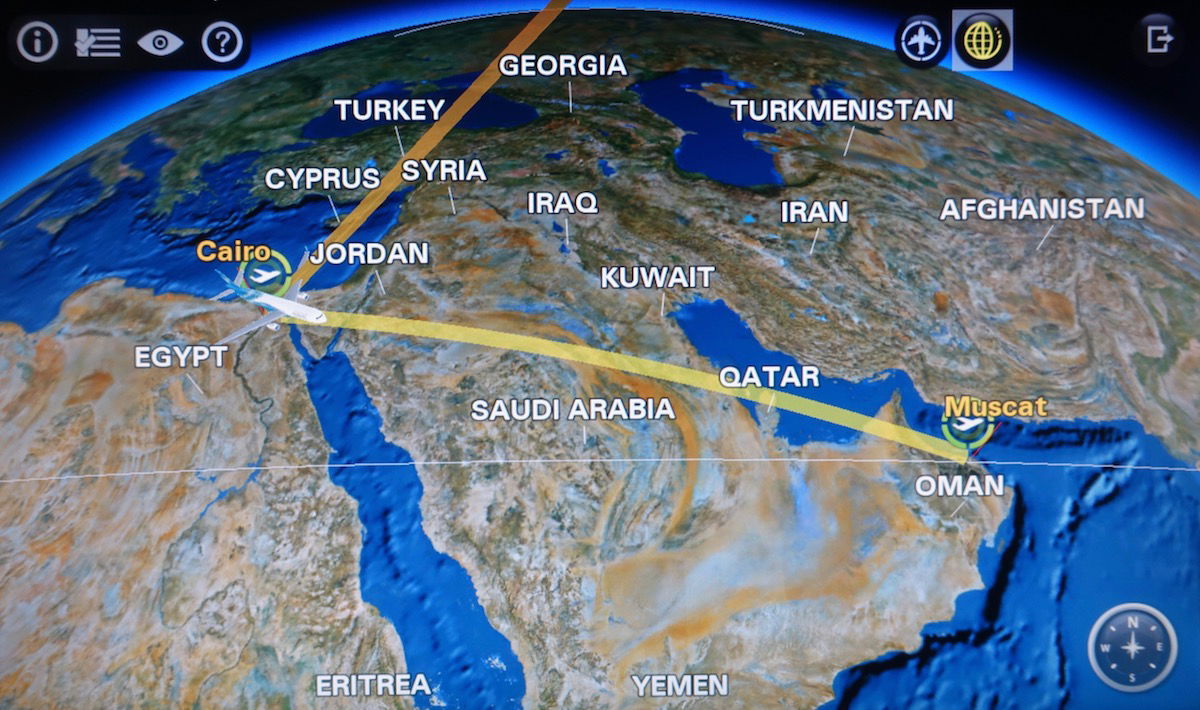 Airshow to Muscat
Given what a short flight this was, and that I wanted to sleep, I appreciated how quickly after takeoff the meal service began. Just 15 minutes after takeoff I was asked what I wanted to eat, with the choice between lamb biryani, fish, and cheese tortellini. I was also asked if I wanted still or sparkling water, and if I wanted tea or coffee with dessert, so that they could prepare everything as quickly as possible.
Just five minutes later I was brought a meal tray with the appetizer, salad, and dessert.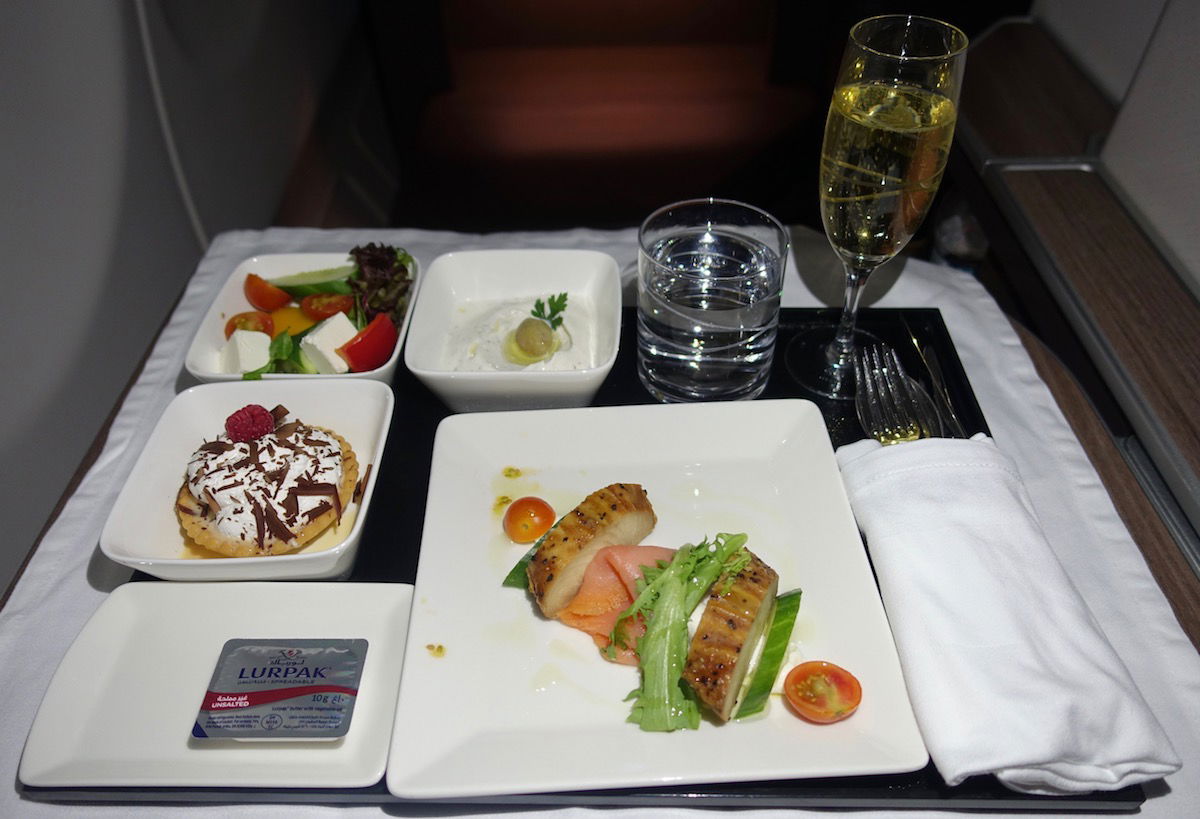 Oman Air business class snack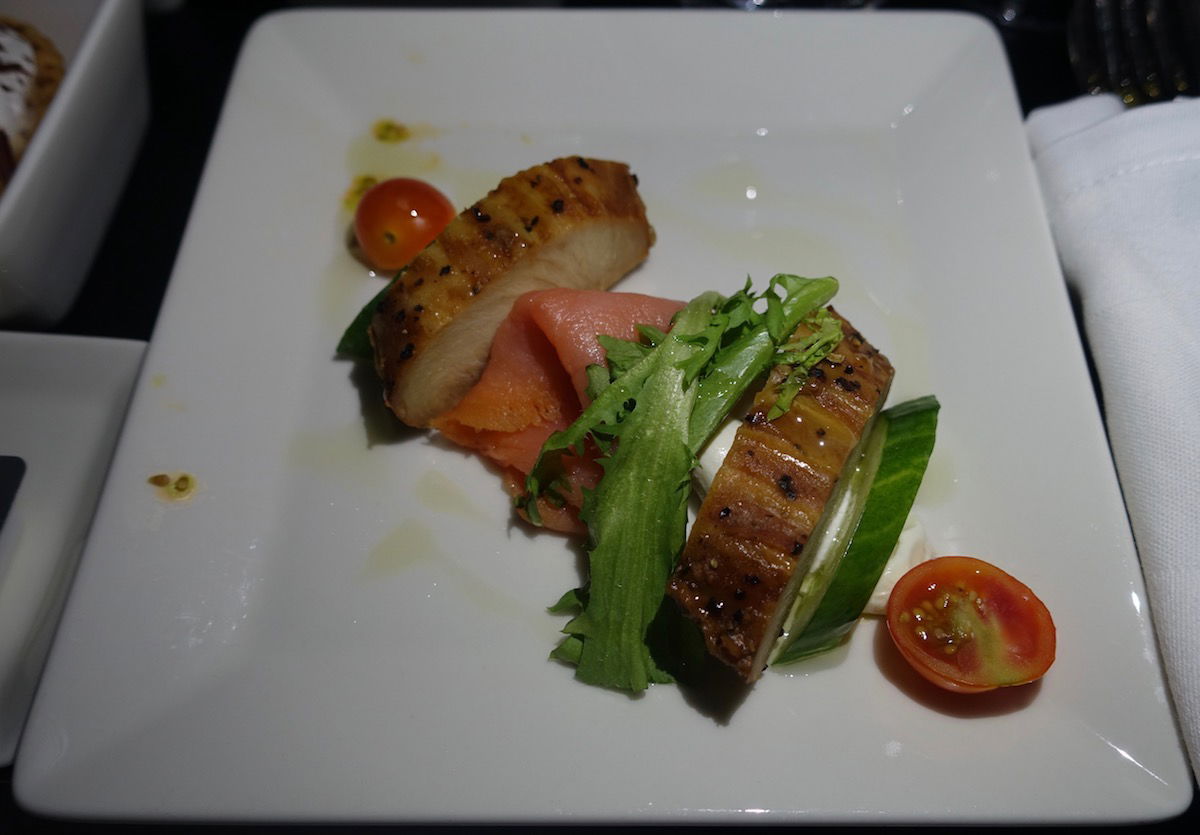 Oman Air business class snack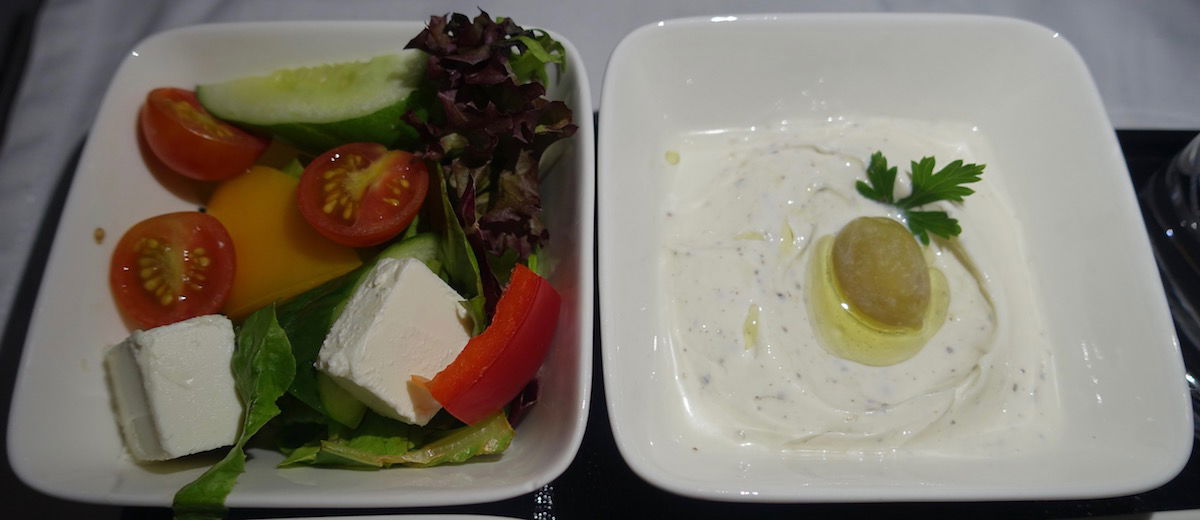 Oman Air business class snack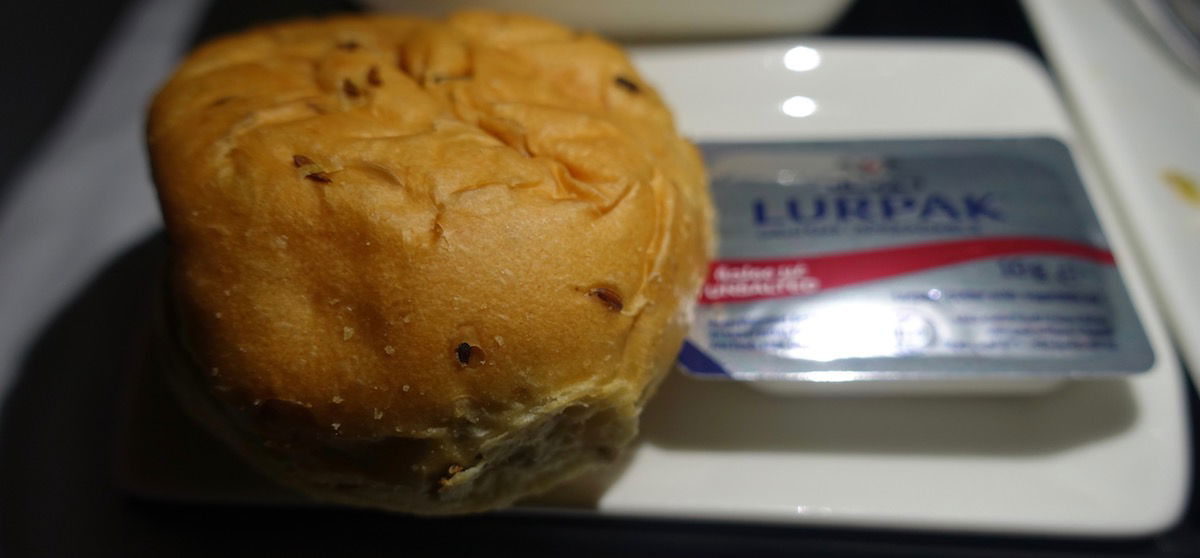 Oman Air business class bread
Within a couple of minutes of finishing the appetizer I was served the main course, which was a surprisingly excellent pasta dish.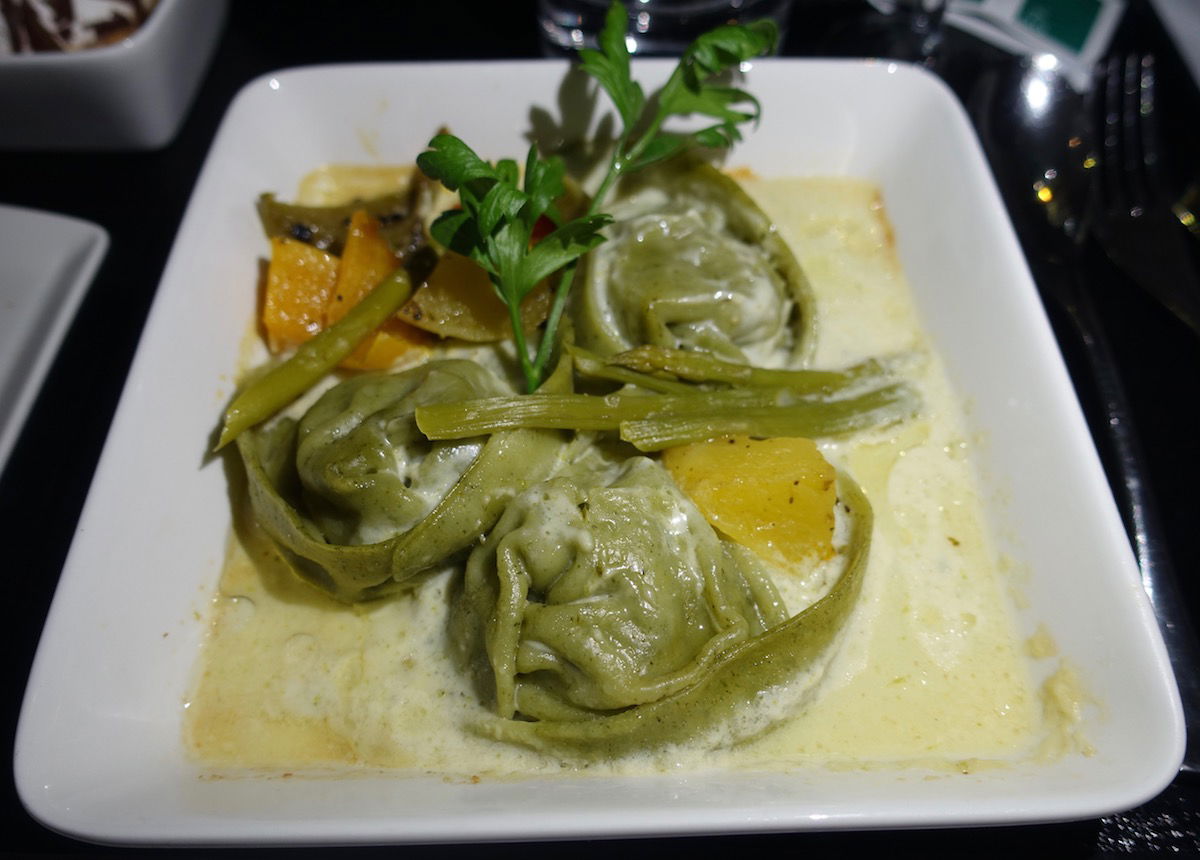 Oman Air business class main course
I also enjoyed the banoffee pie for dessert.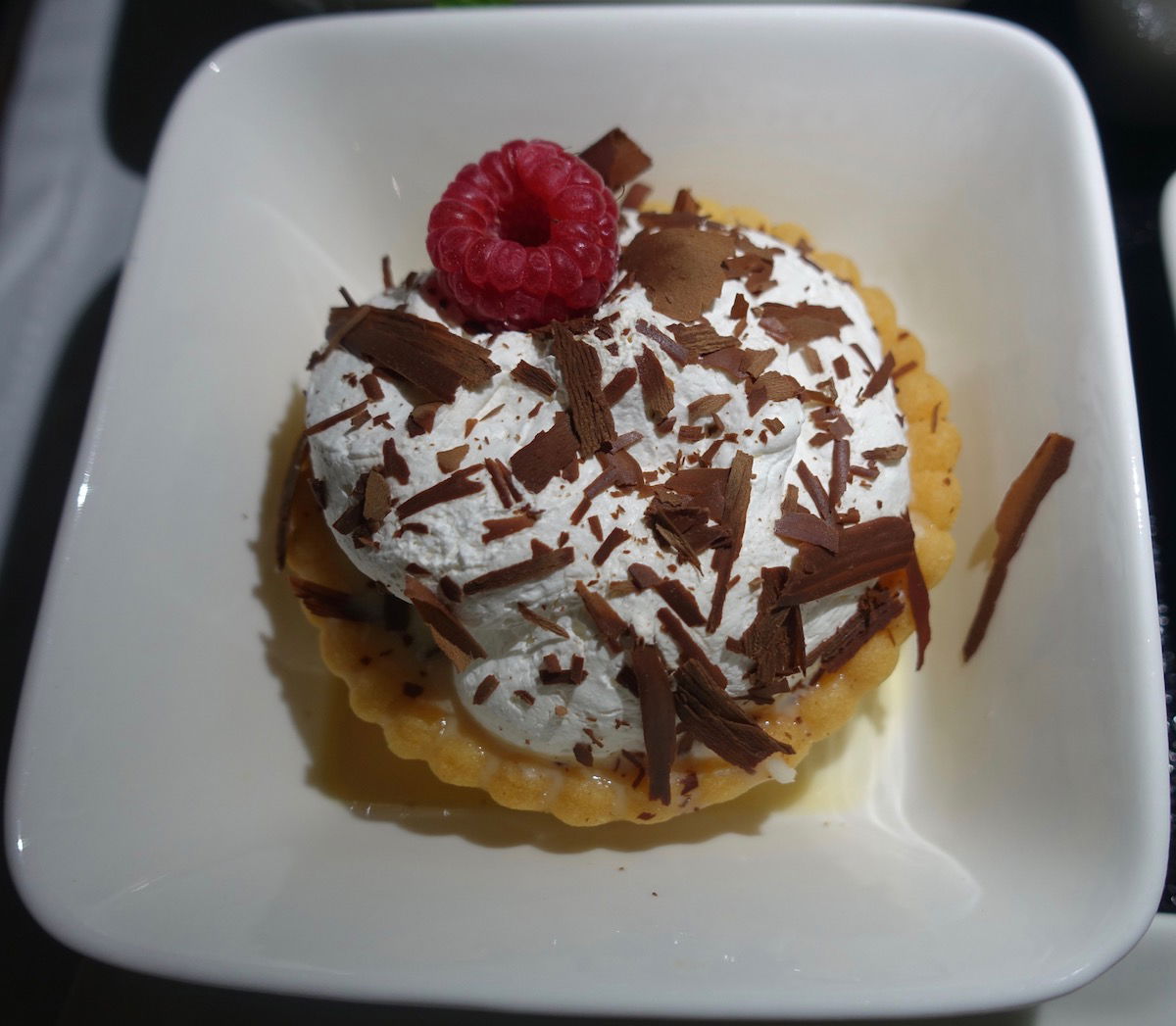 Oman Air business class dessert
The meal service was done just 45 minutes after takeoff, which I thought was really efficient. The service couldn't have been friendlier or more polished, in spite of the ladies taking care of me working really hard, and having quite a long night. They had just flown in from Muscat, so working a roundtrip including a redeye on the return seems like a very not glamorous trip to have to work.
I told them that I just wanted to sleep, but asked if I could please have a cappuccino before landing. Before going to sleep I checked out the lavatory, which was between business class cabins, and was pretty basic.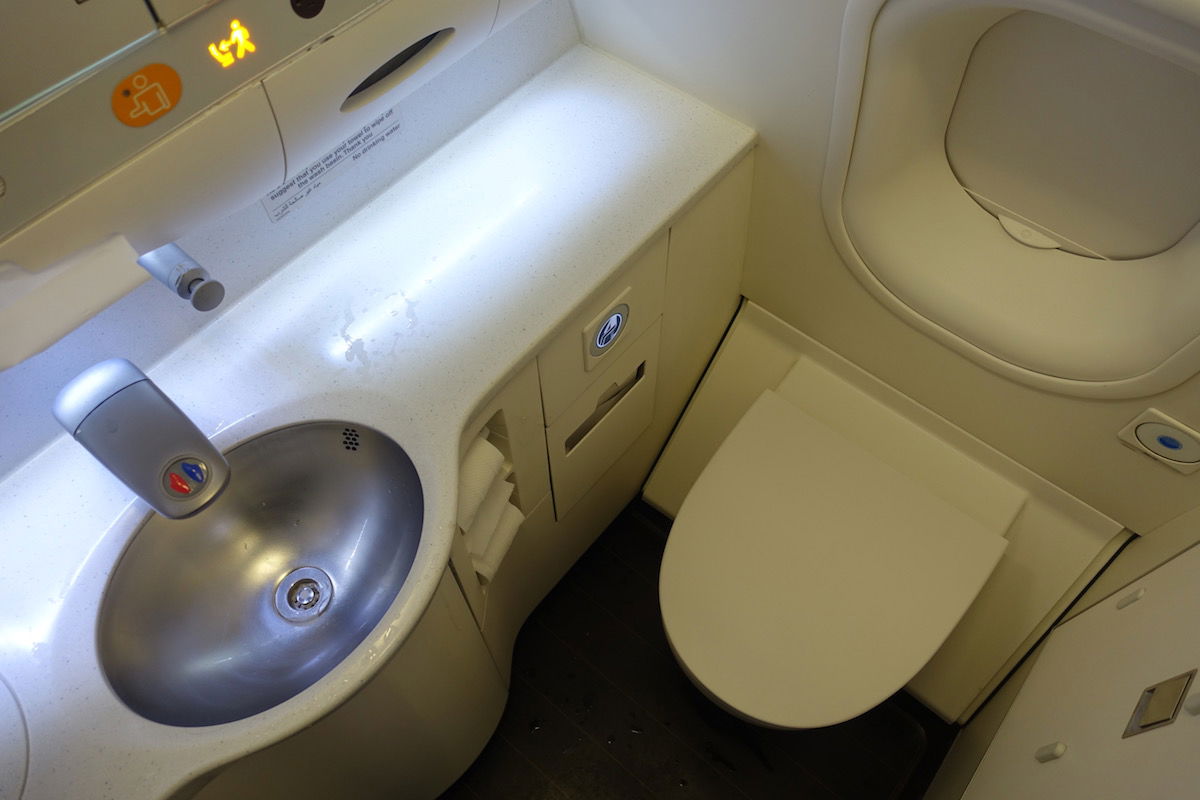 Oman Air business class lavatory
I was so tired at this point, and got a solid two hours of sleep, and woke up as we were just about to start our descent. While I only slept for two hours, it almost felt like a full night of sleep.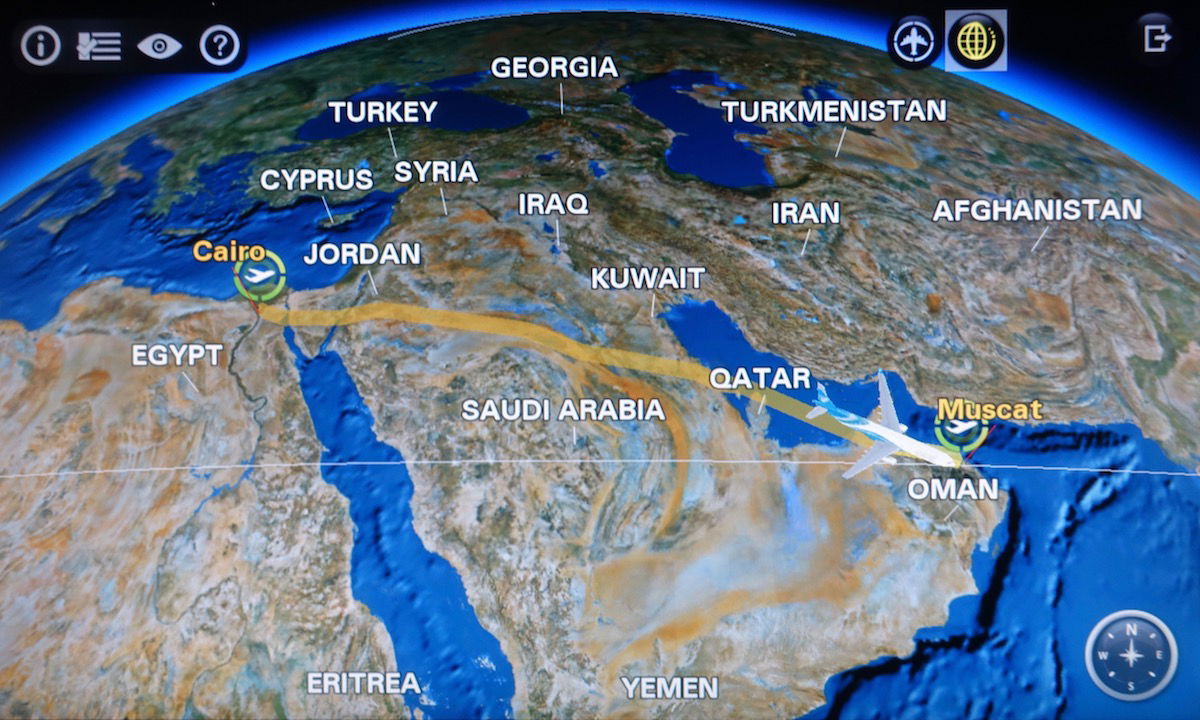 Airshow enroute to Muscat
"Mr. Ben, I hope you enjoyed your rest. Are you ready for your cappuccino?"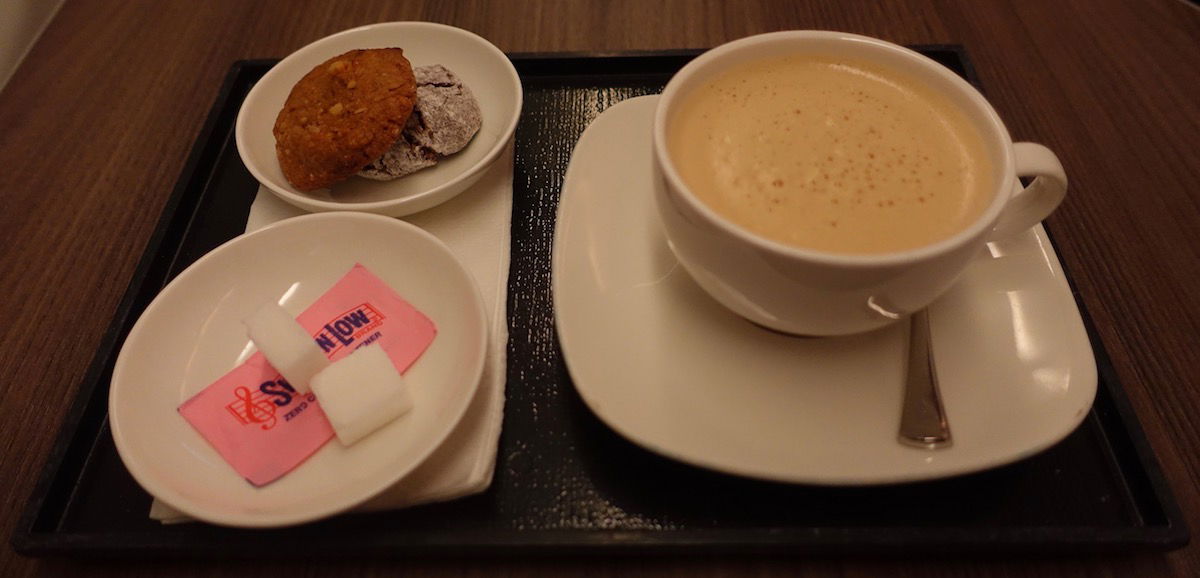 Oman Air business class cappuccino
Ah, there's nothing quite like watching the morning from above the clouds while sipping a cappuccino!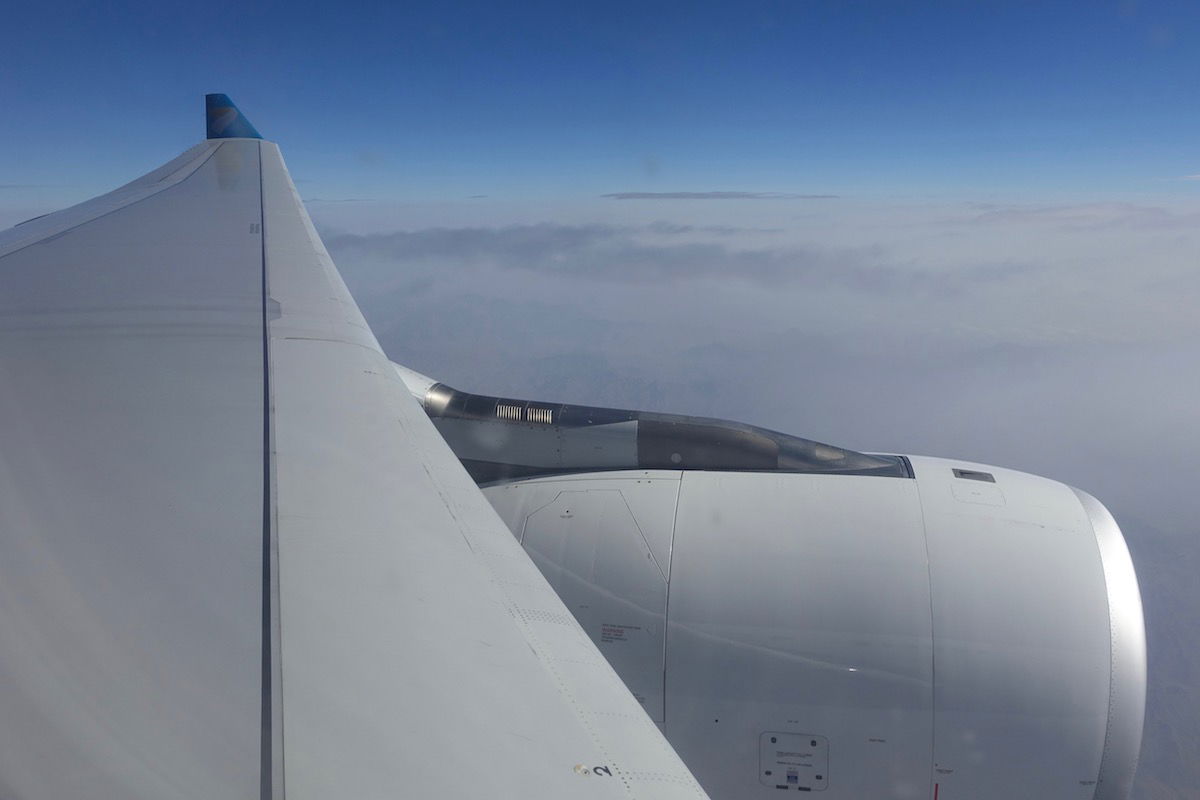 View approaching Muscat
Around this time the captain announced that we'd be landing at around 8:15AM, and a few minutes later the cabin lights were turned on and cabin was prepared for landing. During this time the two flight attendants taking care of me as well as the cabin manager came by to thank me for flying with Oman Air.
We had some beautiful views on our approach.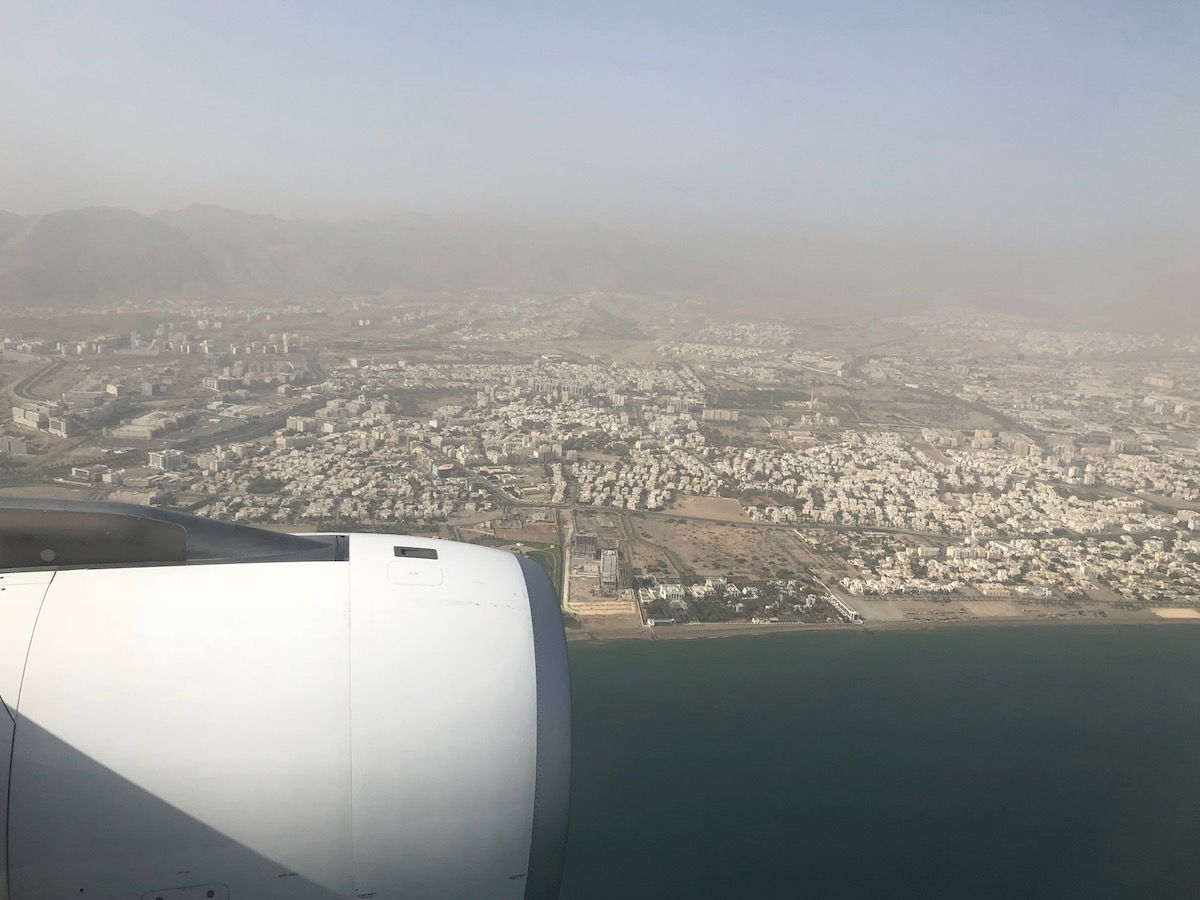 View approaching Muscat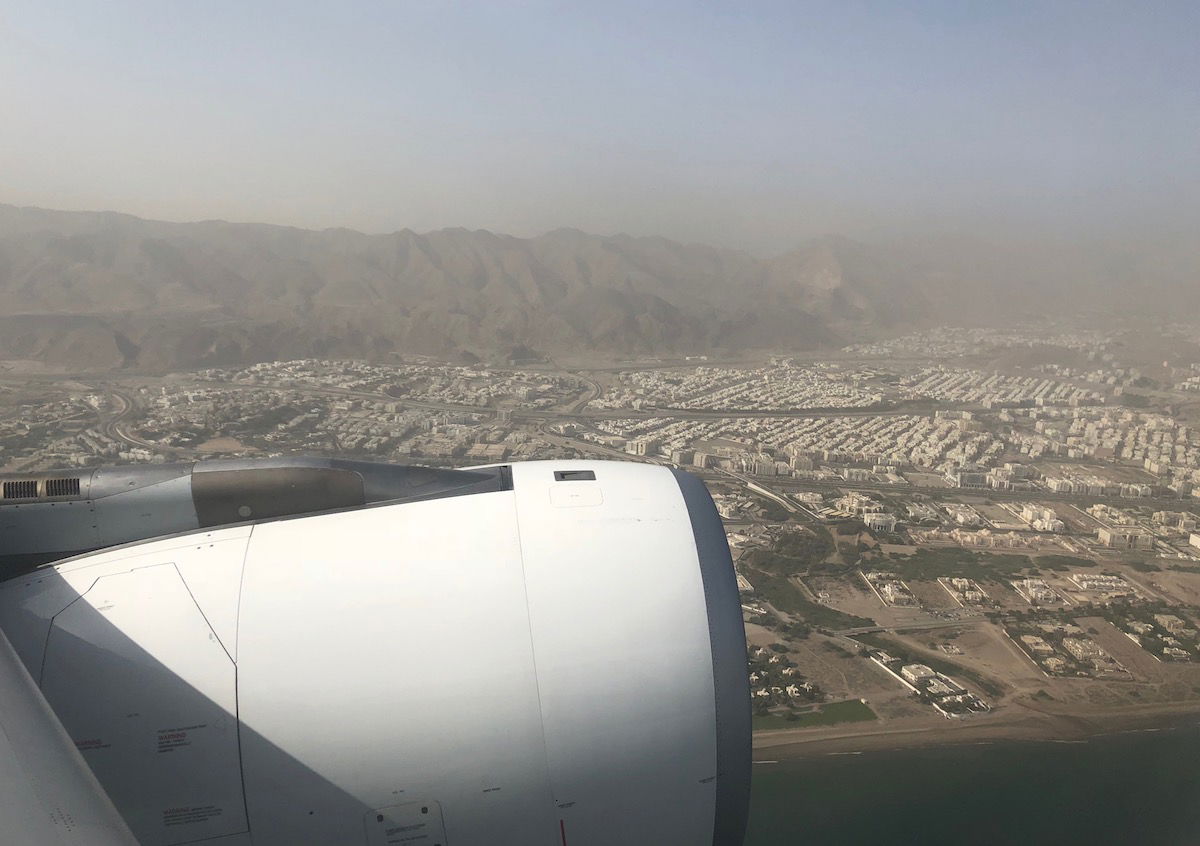 View approaching Muscat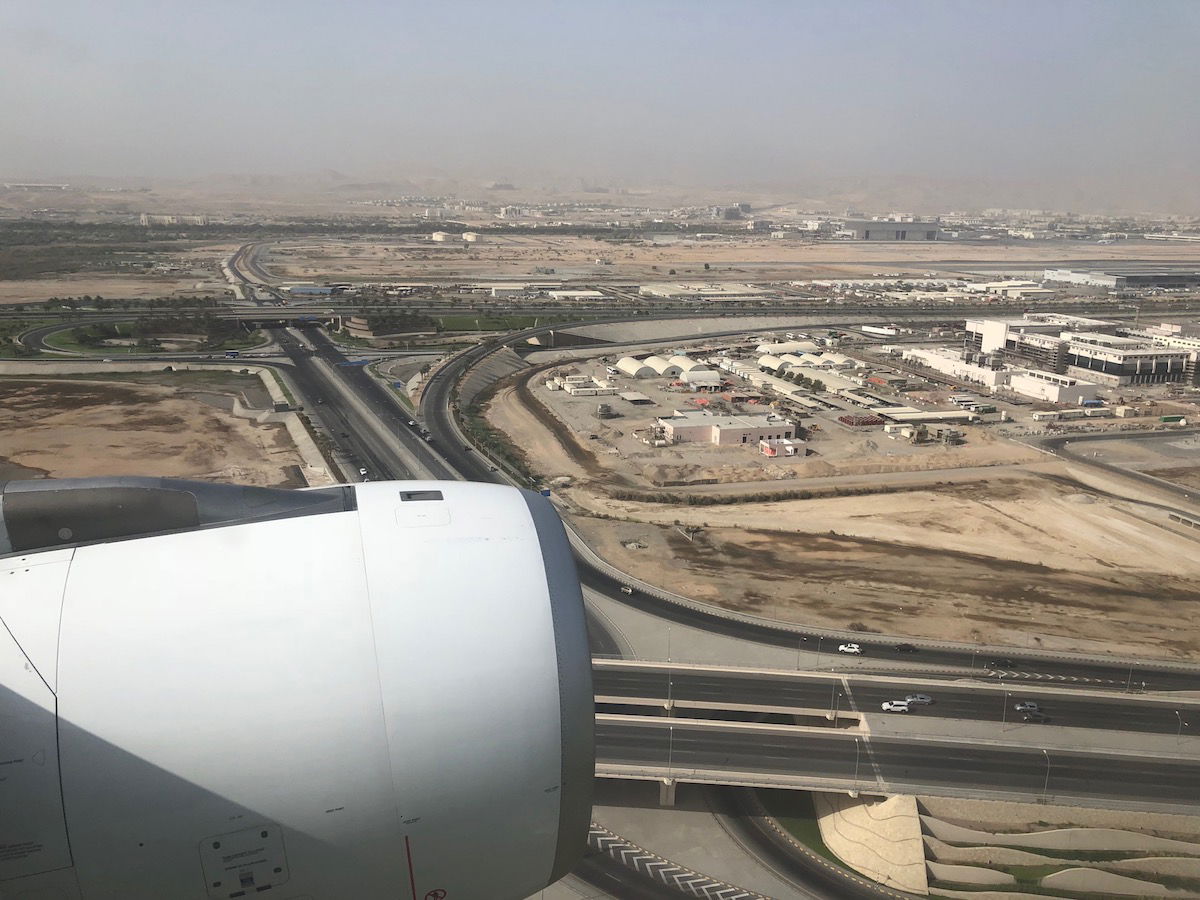 Landing in Muscat
We touched down in Muscat at 8:15AM on runway 26R.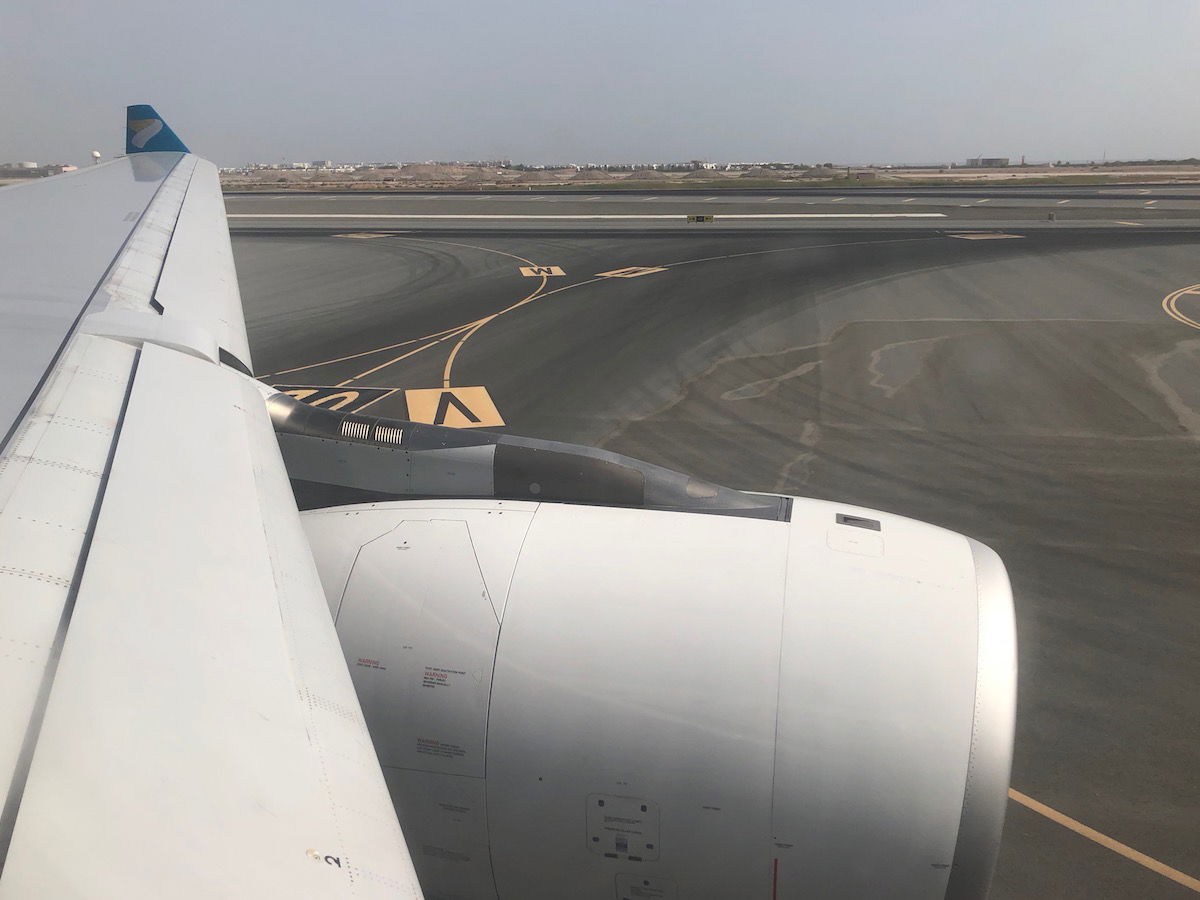 Taxiing Muscat Airport
From there we had a roughly 10 minute taxi to our arrival gate. While I had flown to Muscat Airport many times before, this was my first time visiting since the new terminal opened, and I was thrilled to finally have a gate, for once (the old terminal didn't have any gates).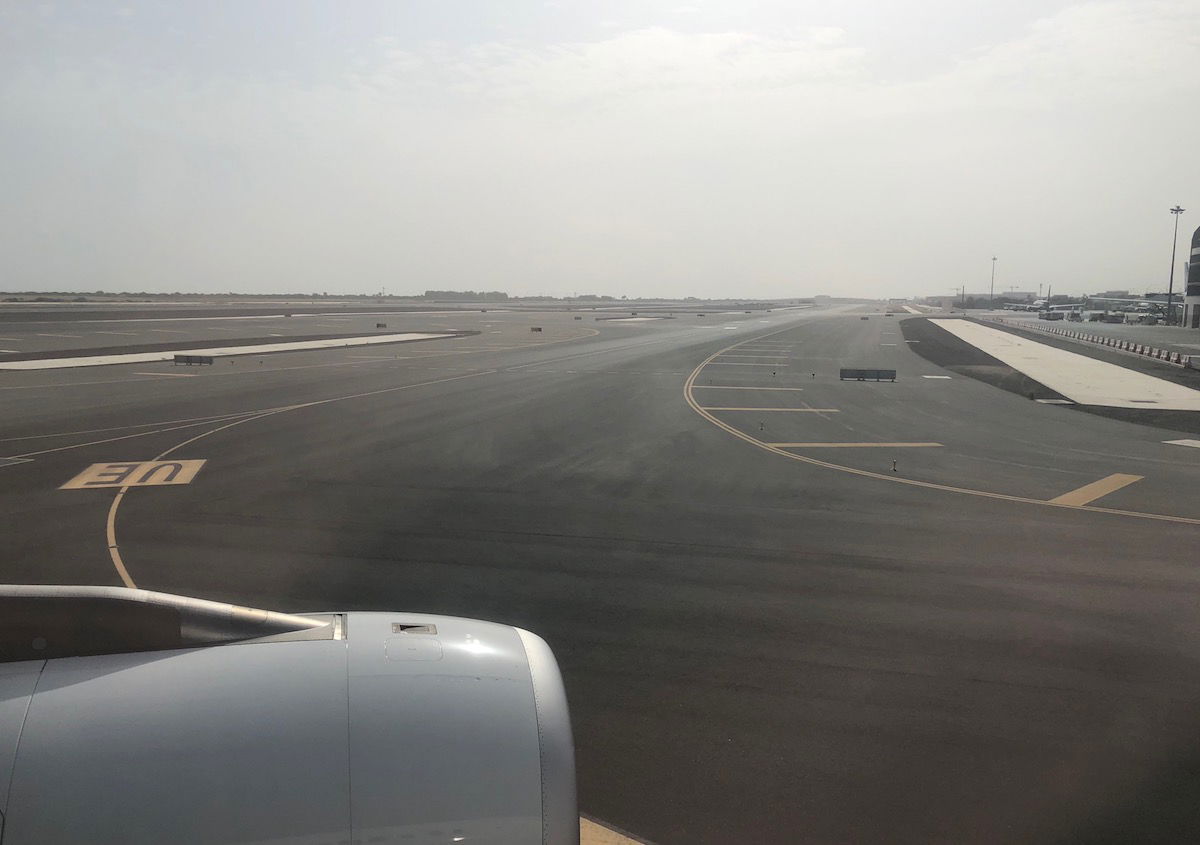 Taxiing Muscat Airport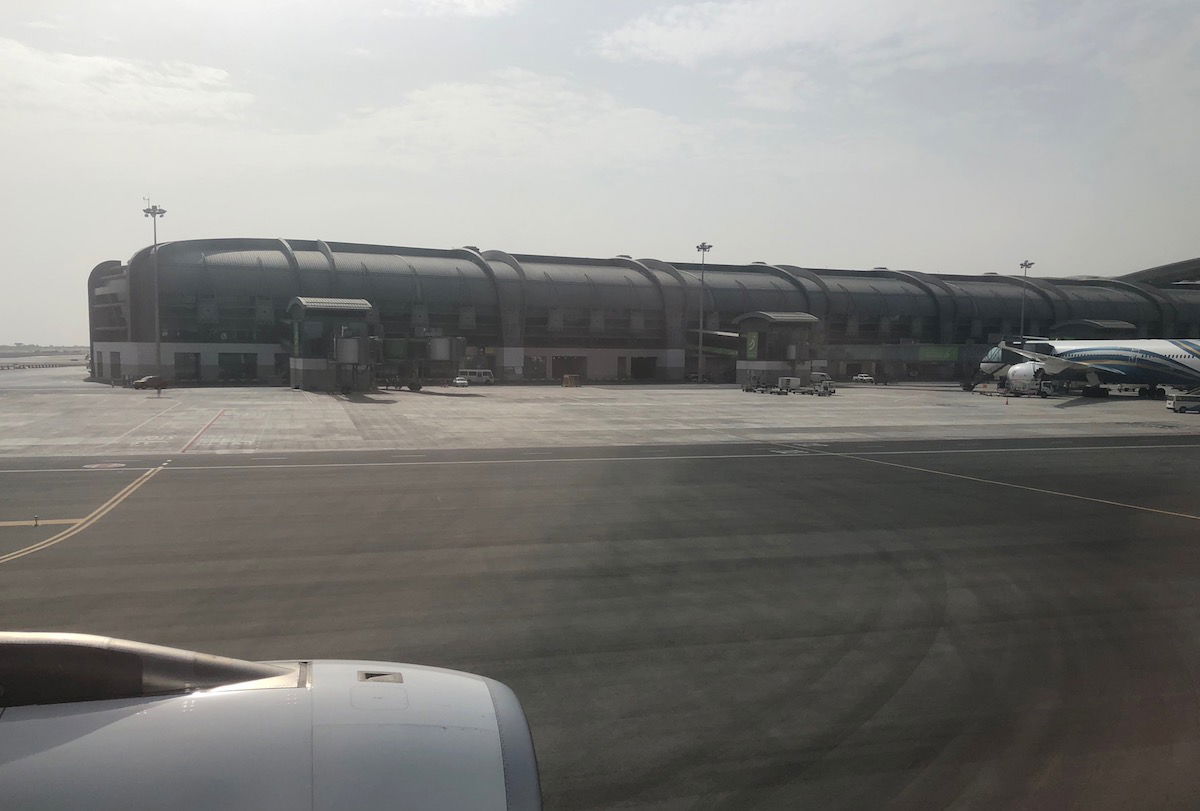 Arrival gate Muscat Airport
I bid farewell to the crew after a surprisingly restful short redeye, and couldn't wait to explore the new airport and fly Oman Air's brand new 787-9 first class.
Oman Air A330 business class bottom line
Oman Air is probably my favorite "boutique" airline in the world, and one of my all around favorite airlines period. They have a phenomenal business class hard product, excellent service, and good food.
I also love how there's something about Oman Air that actually feels like it reflects their home country — many of their pilots and cabin crew are local, and they have excellent Omani food (though I realize that wasn't reflected in the menu on this flight).