---
My flight from Nairobi arrived at Terminal 3, while my connecting flight to New York was departing from Terminal 5. After a great flight my good luck continued, as my transit was seamless.
I got on the connector bus between terminals, the bus wasn't even full, and it left within a few minutes. When I got to Terminal 5 it was still pretty quiet, and I was through security in record time. 30 minutes from deplaning in Terminal 3 to being through security in Terminal 5 is just about a new record for me.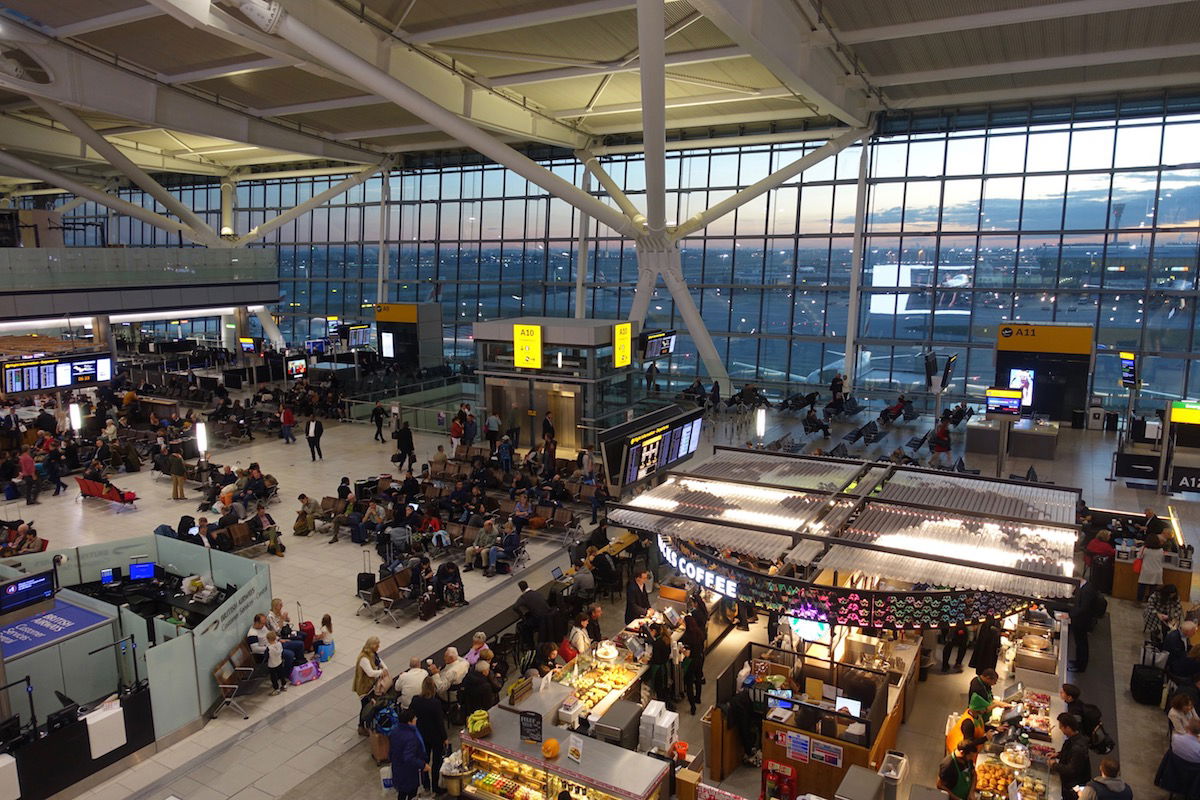 Heathrow Terminal 5
I was through security by 6:30AM, and my connecting flight was supposed to board at 7:45AM. Rather than going to the lounge I just headed straight to the B pier, where I knew my flight would depart from. The area was empty so I just sat down in the gate area and got some work done on my laptop.
A Christmas tree in late October? Oy!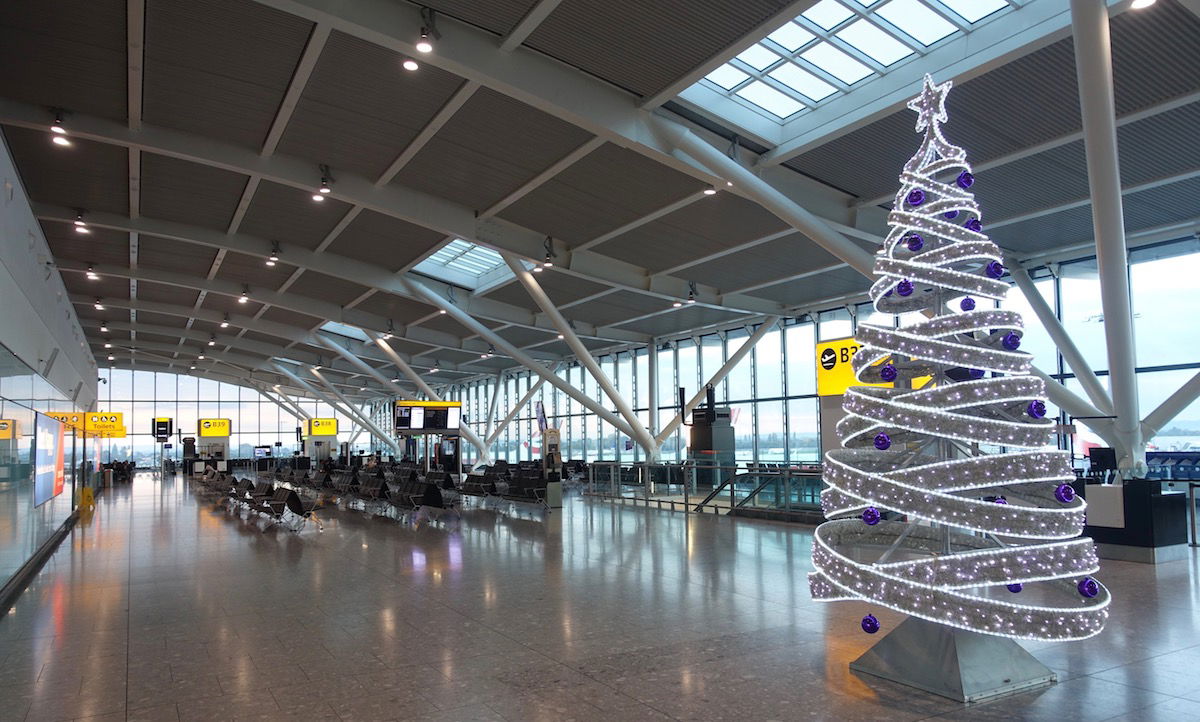 Heathrow Terminal 5
Eventually the departure board indicated that my flight would depart from gate B43, where a beautiful 747 in the oneworld livery was waiting for us.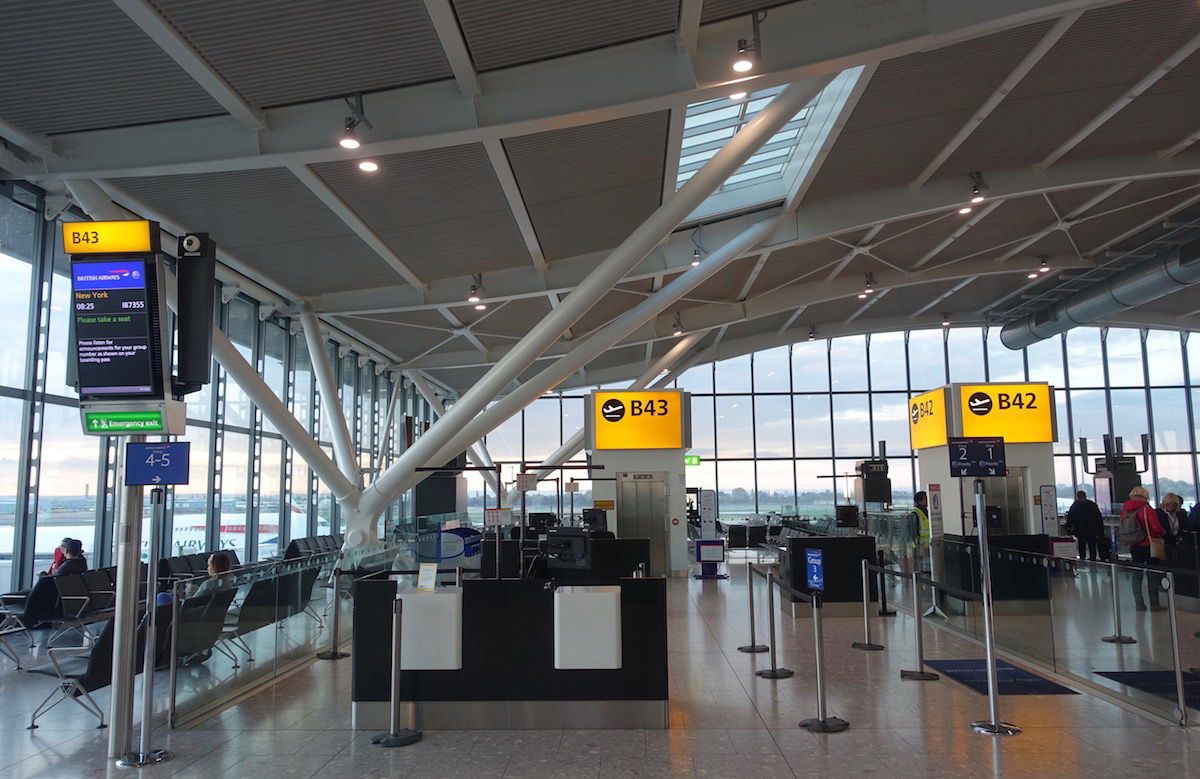 Heathrow Terminal 5 departure gate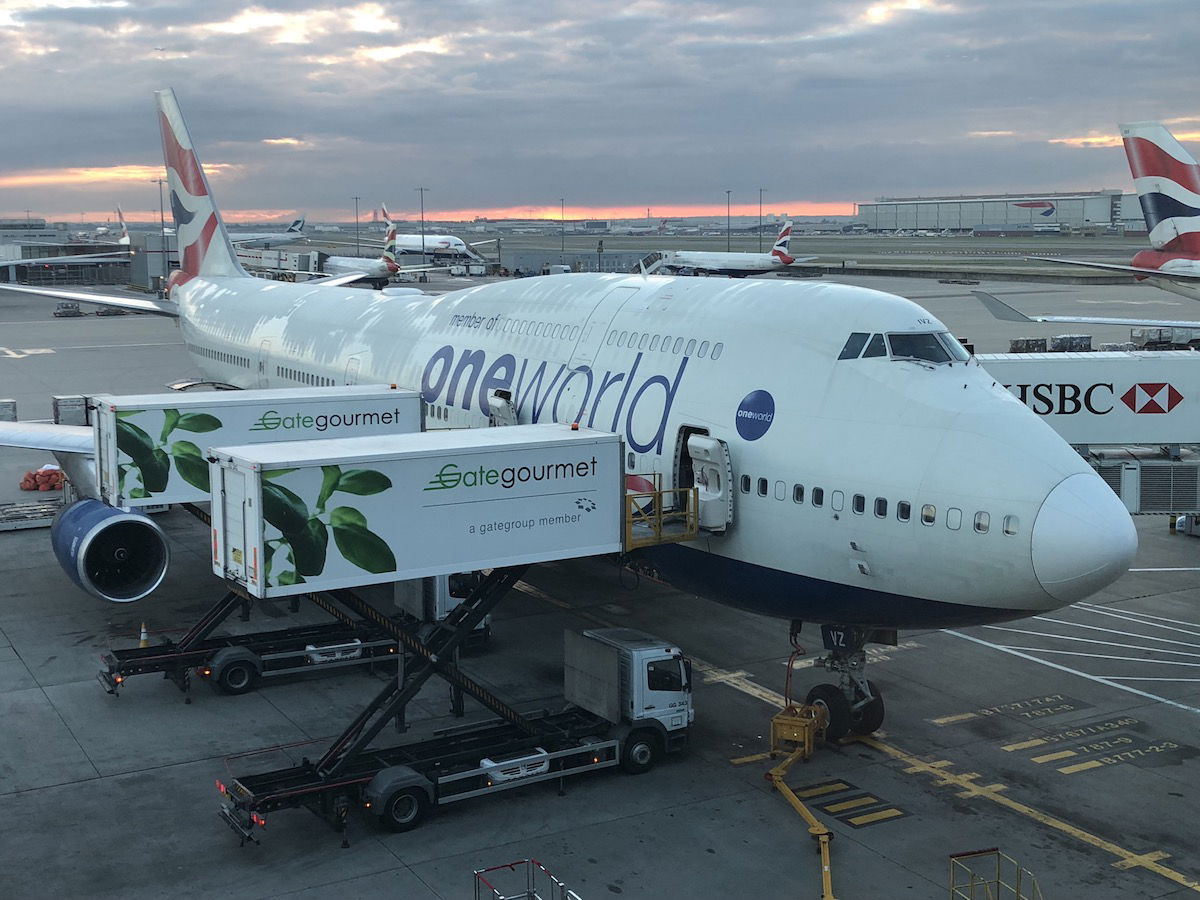 British Airways 747 Heathrow
Sure enough, boarding started at 7:45AM. As you might expect, the JFK flights are super premium, so the number of people in the premium queues was enormous. This flight would be operated by the version of the 747 featuring 86 business class seats and 14 first class seats, and that doesn't even include all the elite members presumably traveling in economy and premium economy.
British Airways 117
London (LHR) – New York (JFK)
Wednesday, October 31
Depart: 8:25AM
Arrive: 12:30PM
Duration: 8hr5min
Aircraft: Boeing 747-400
Seat: 62A (Business Class)
At the door I was greeted by the customer service director and headed straight to the upper deck, much like on the last flight. The upper deck is configured exactly the same as on the previous flight, with 20 Club World seats.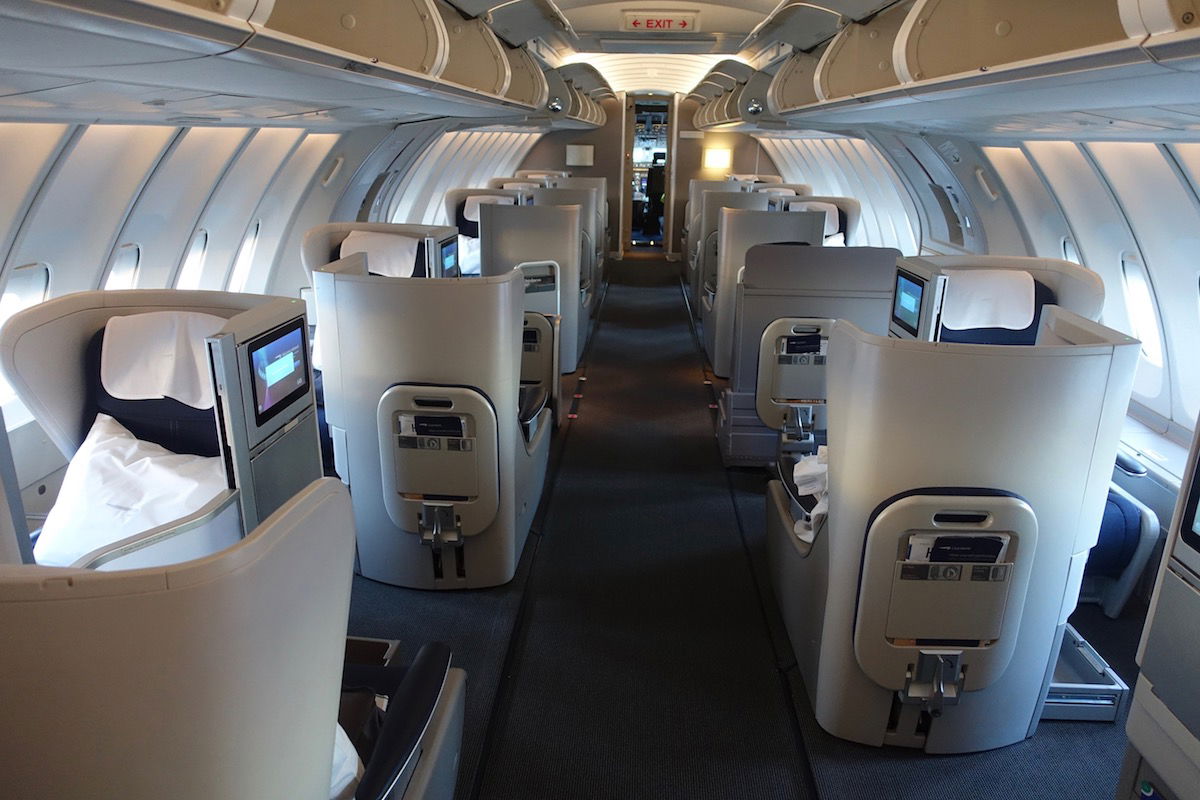 British Airways 747 upper deck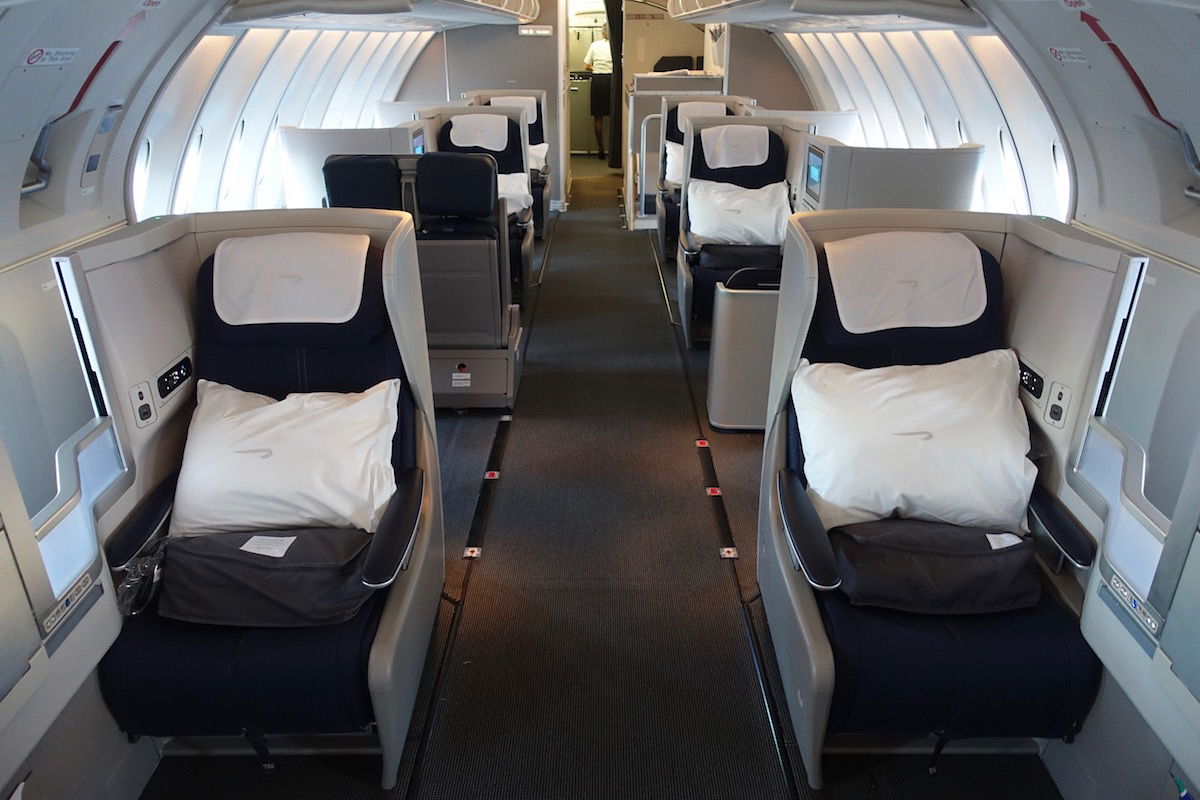 British Airways 747 upper deck
On the last flight I had 62K, the exit row window seat on the right side, while on this flight I had 62A, the exit row window seat on the left side.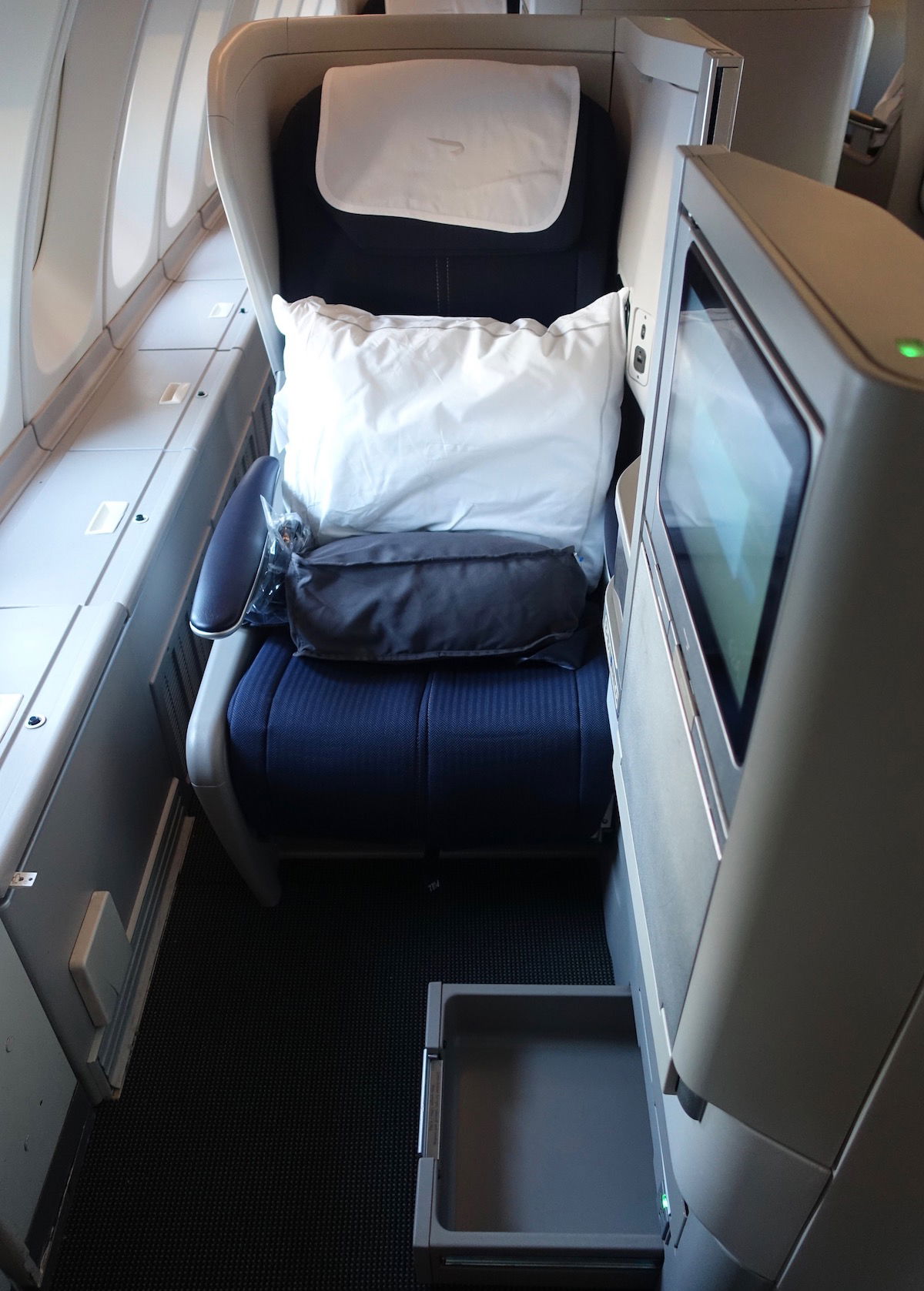 British Airways seat 62A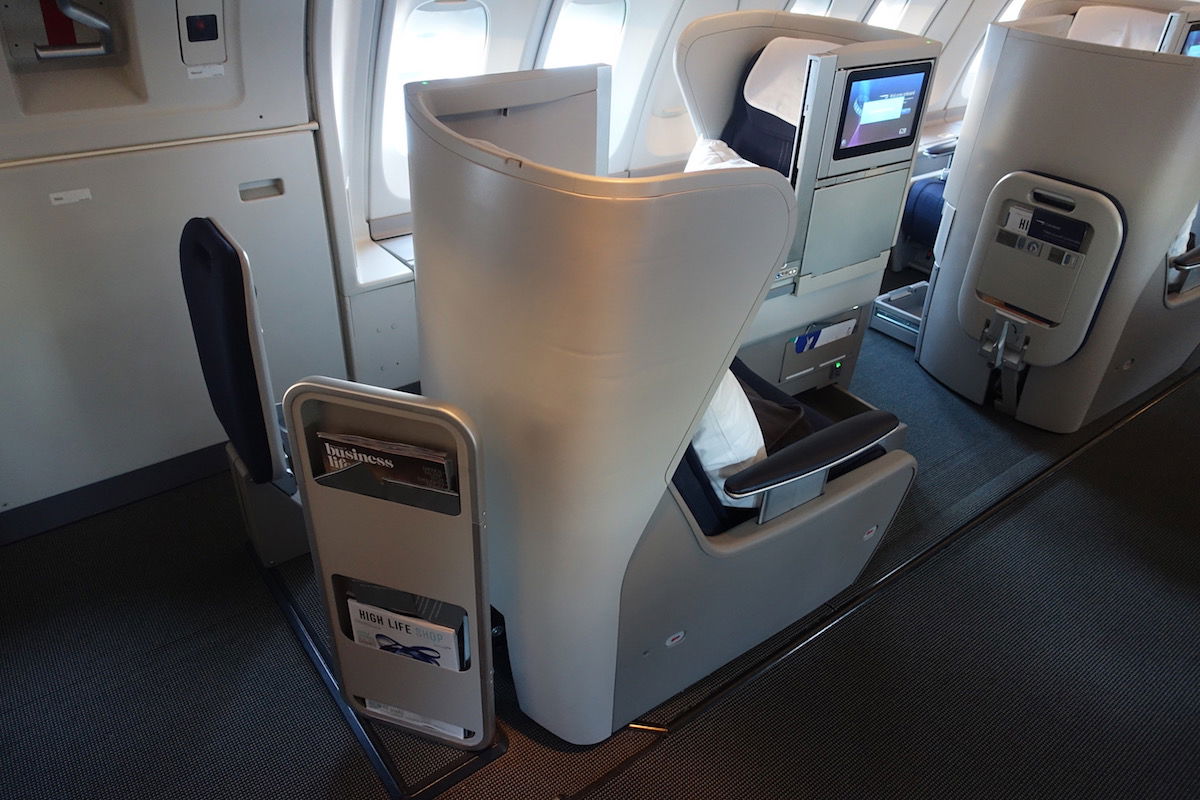 British Airways 747 upper deck exit row seats
As always, the window seats in this configuration are much better than the aisle seats, as the aisle seats feel really exposed.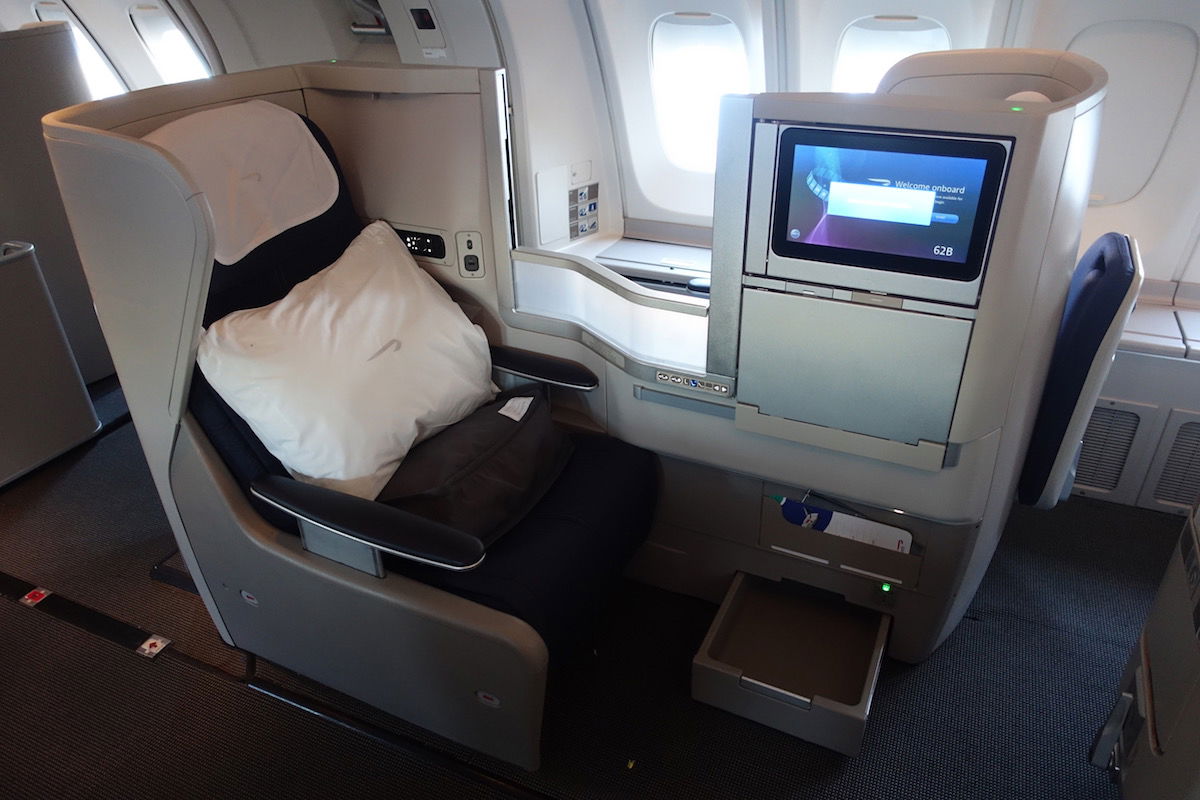 British Airways 747 upper deck exit row seats
While seat 62K faces a flight attendant jumpseat, 62A just faces the aisle, so it's nice and private, and you have direct aisle access.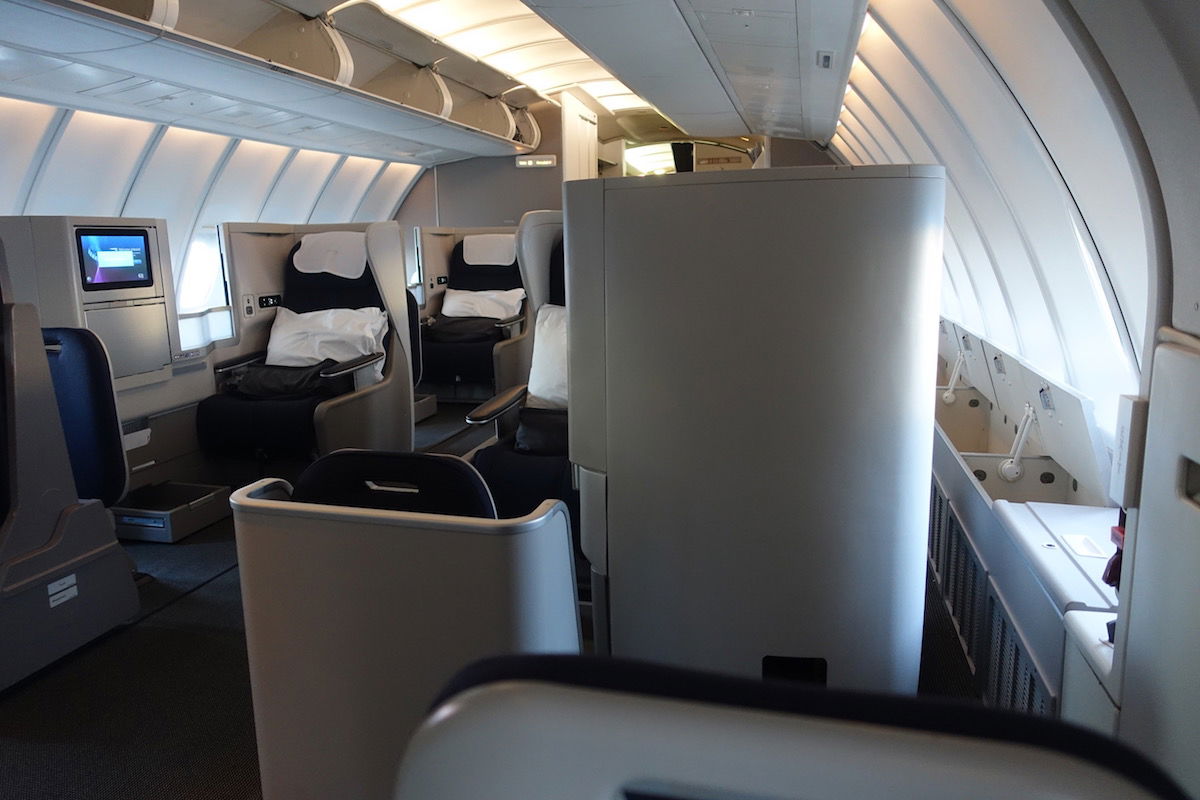 British Airways seat 62A view
You also have a direct view of the person seated next to you whenever the partition is down.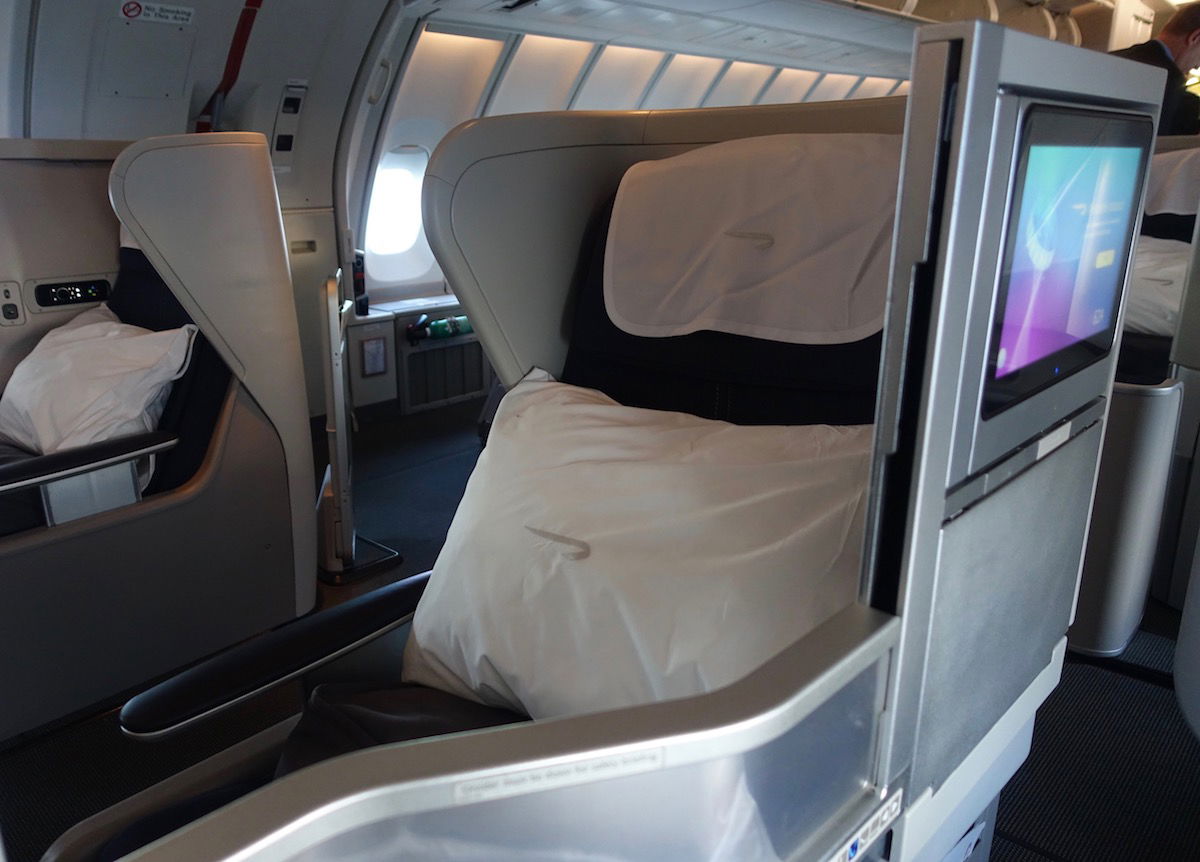 Hello, stranger!
One of the benefits of the 747 I was on was that it featured British Airways' new entertainment system. In my review of the Nairobi to London flight I noted how the entertainment screen was so low quality that it felt like a TV from two decades ago.
This plane had a new monitor which was much more high definition.
British Airways business class new TV screens
This also came with a more modern entertainment controller.


British Airways business class new entertainment controllers
Other parts of the plane were showing their age, though.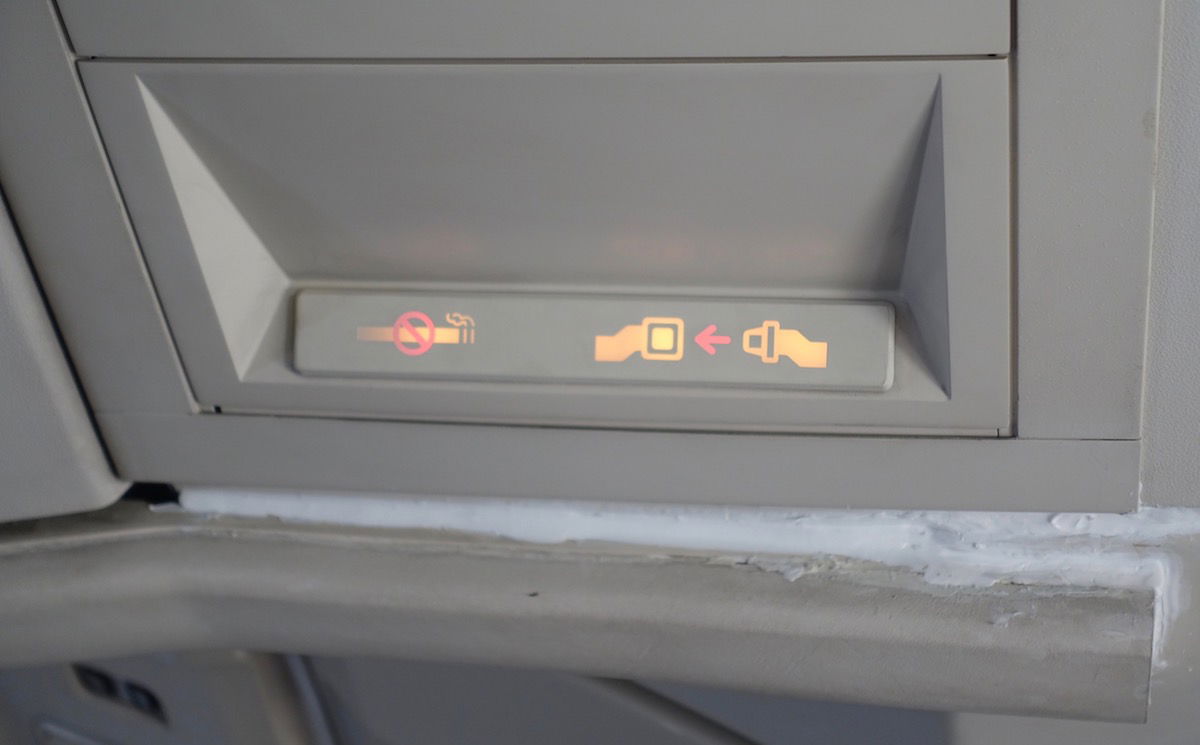 British Airways 747 overhead console
Waiting at my seat upon boarding was the excellent bedding from The White Company.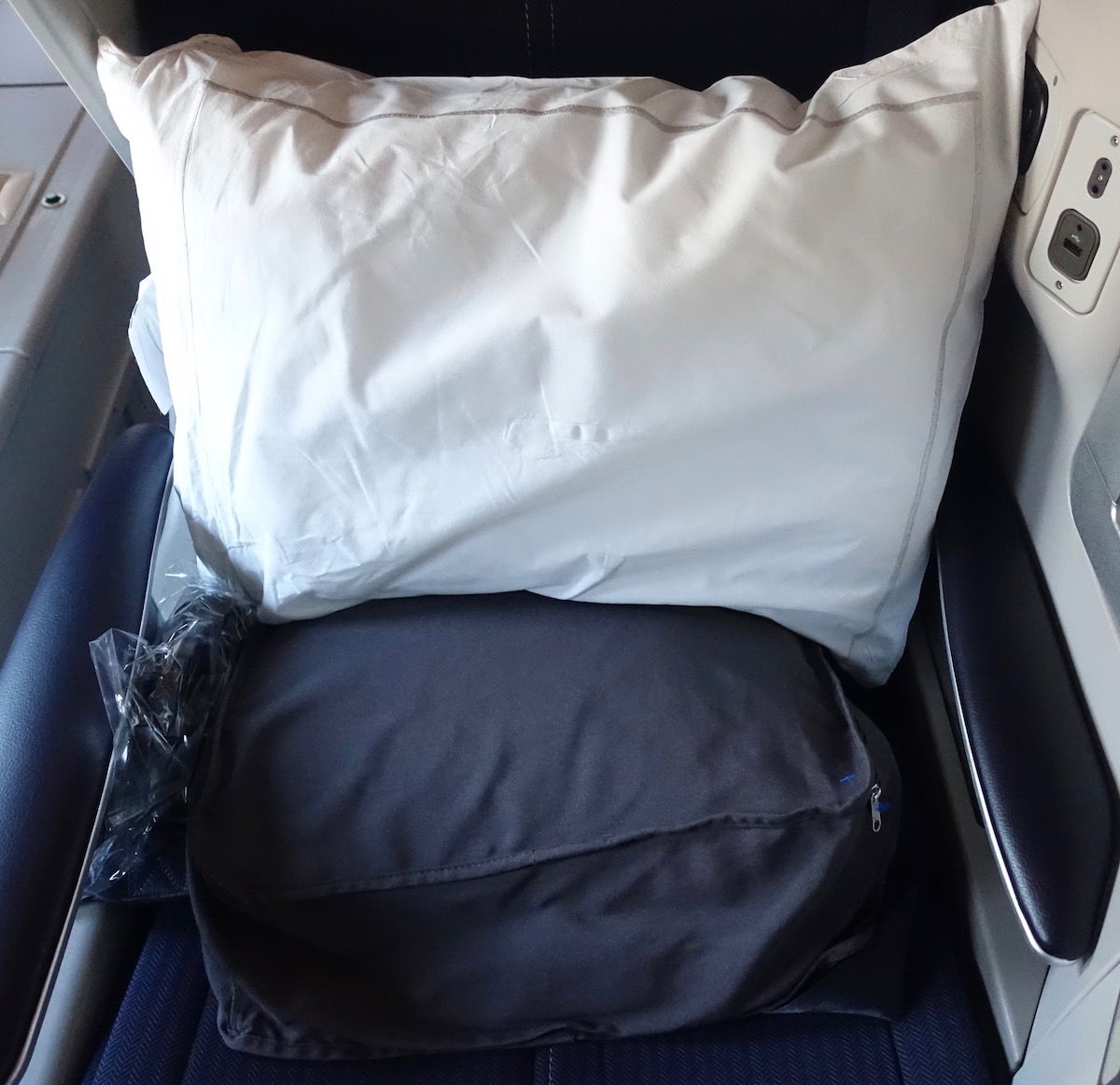 British Airways business class pillow & blanket
While my previous flight was operated by "mixed fleet" flight attendants (British Airways' younger and less experienced flight attendants), this flight was operated by one of their "worldwide" crews. Both of the flight attendants working the upper deck were older and much more polished.
In my opinion service from the worldwide crews can vary significantly — sometimes they're extremely friendly and polished, and other times they're a bit arrogant and take themselves too seriously. In this case the crew was excellent.
A moment after settling in the flight attendant taking care of me presented me with a bottle of water, amenity kit, and a glass of champagne.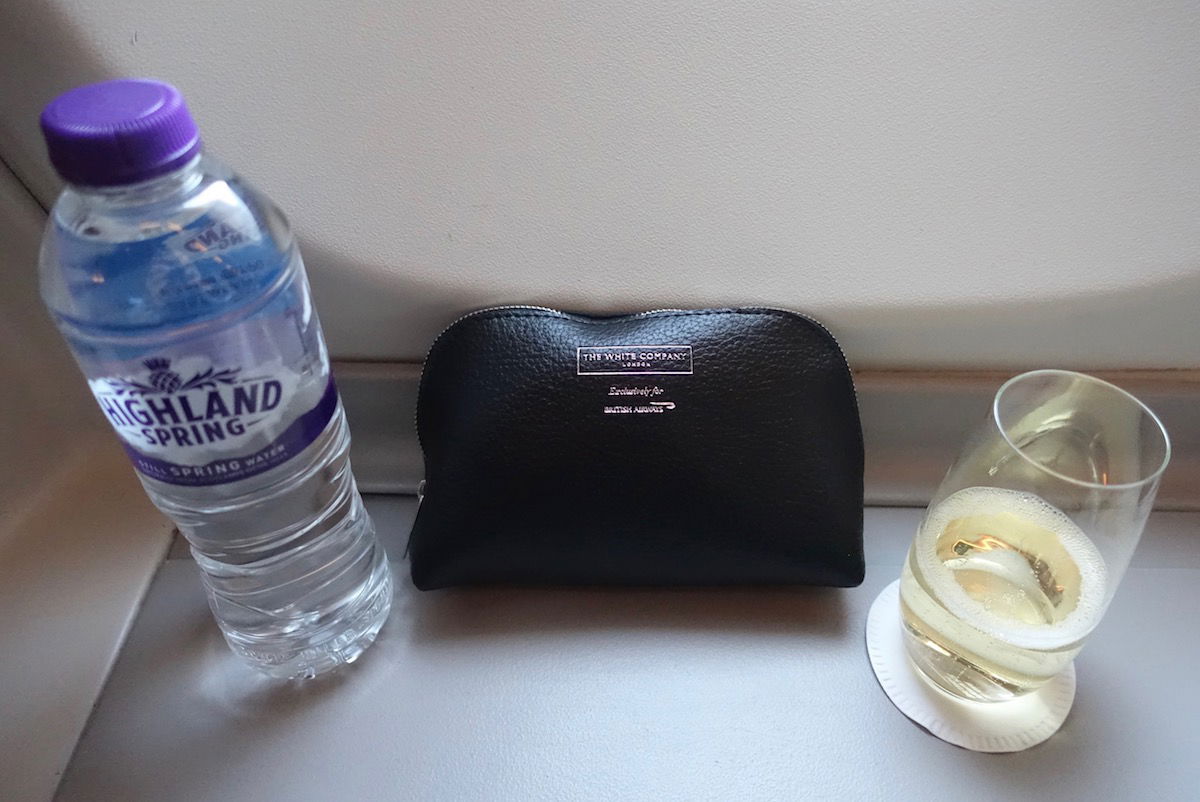 British Airways business class bottled water, amenity kit, and champagne
The upper deck quickly filled up, so as each person arrived they were offered the same. Then about 15 minutes after boarding I was given a menu.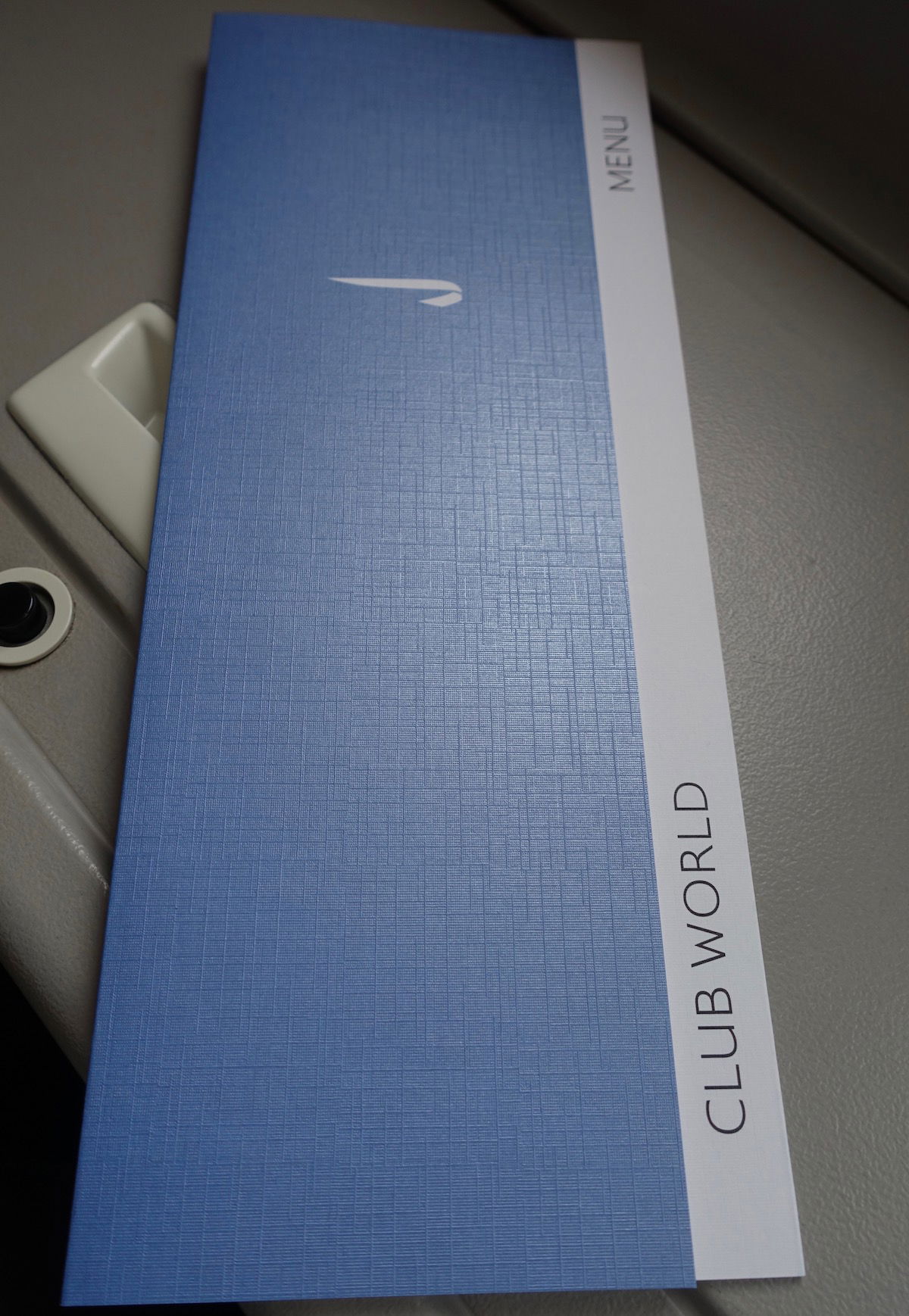 British Airways business class menu
By 8:15AM boarding was complete (with every seat in business class taken — wow!), and a few moments later the captain got on the PA. I love British Airways' pilot announcements, and this guy had some especially memorable ones.
"I'm Dave, the captain of this here jumbo jet. As we taxi out you'll see the flaps go up and down. That's just to make sure they're working as Mr. Boeing intended. After takeoff we'll be squeezing the old girl sharply right."
Our flight time was 7hr15min, and he expected we'd arrive on time in New York.
At 8:30AM we began our pushback, and at that point the safety video was screened.
Then at 8:35AM we started our taxi. We had a really short taxi to our departure runway, and then there were just a couple of planes ahead of us.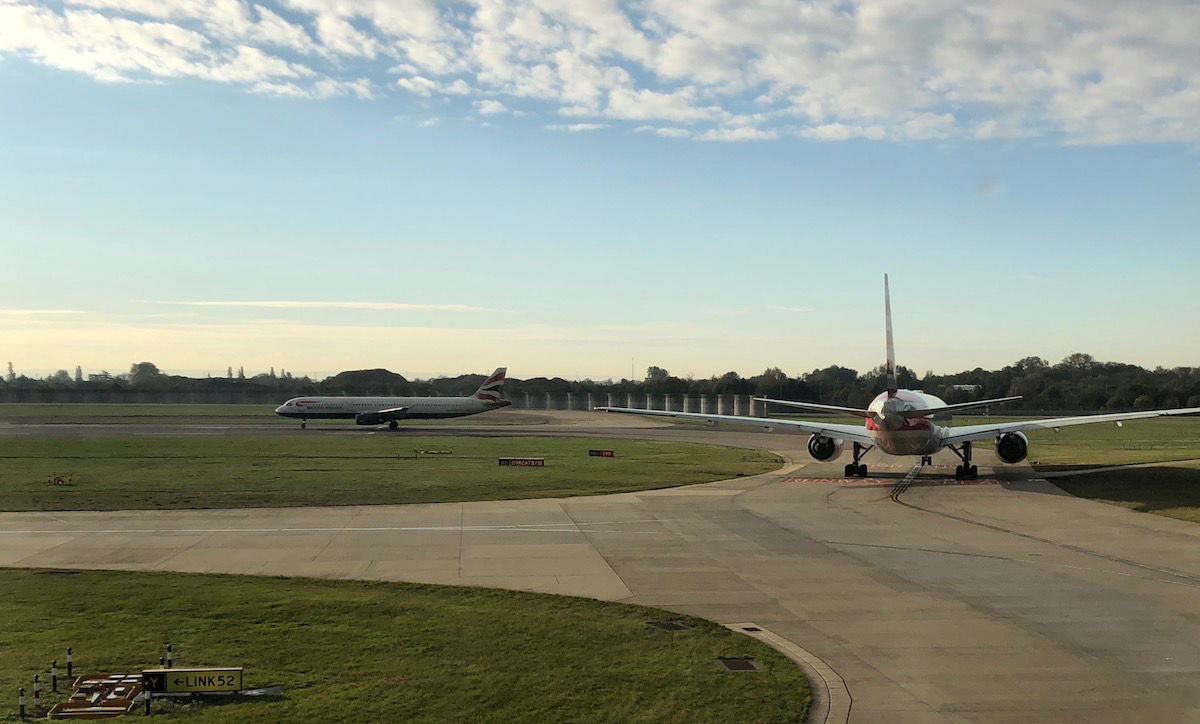 Taxiing Heathrow Airport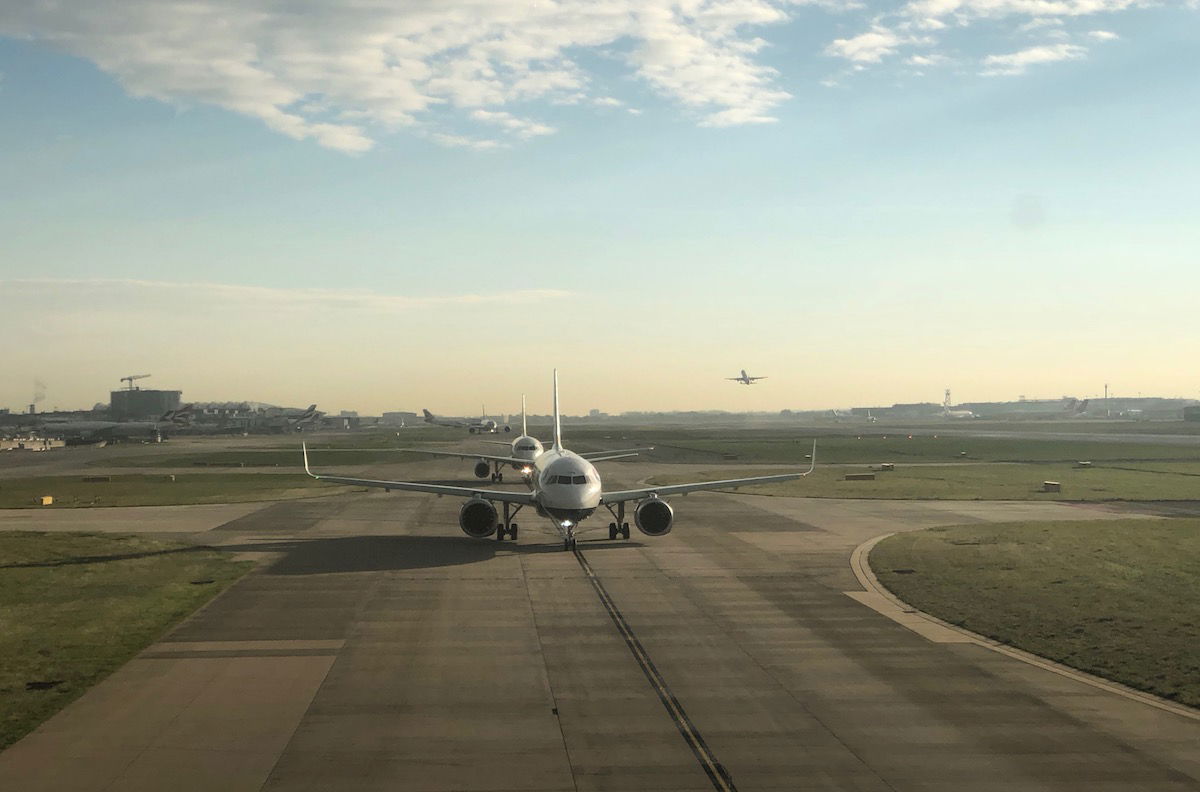 Taxiing Heathrow Airport
By 8:45AM we were cleared for takeoff. Sitting backwards during takeoff on the upper deck is always an interesting sensation.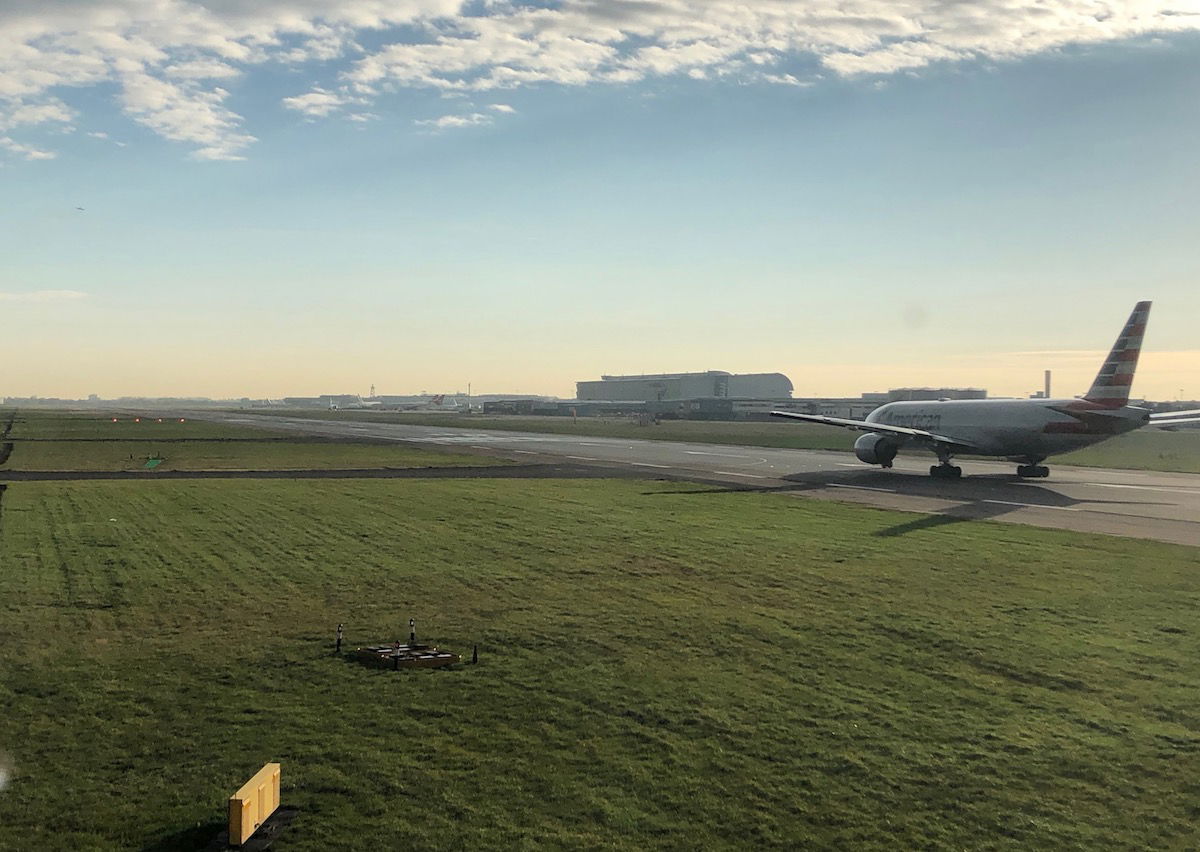 Next for takeoff Heathrow
After takeoff we had beautiful views of Terminal 2.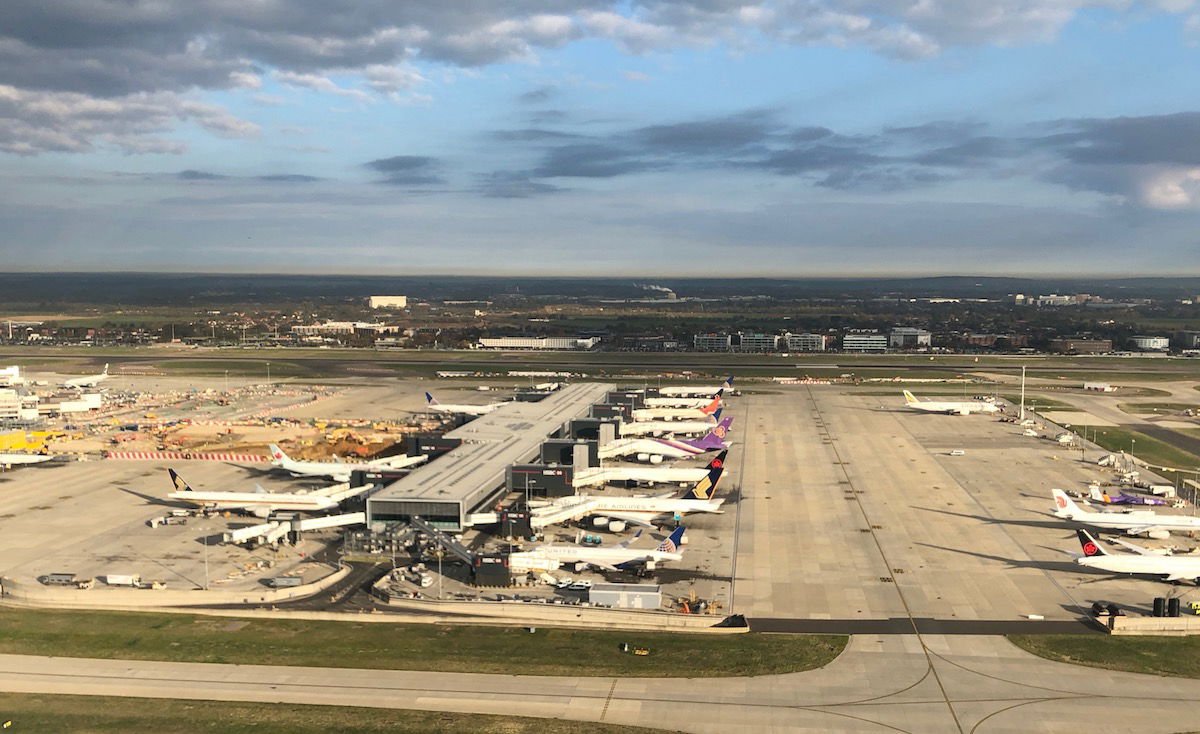 View after takeoff from London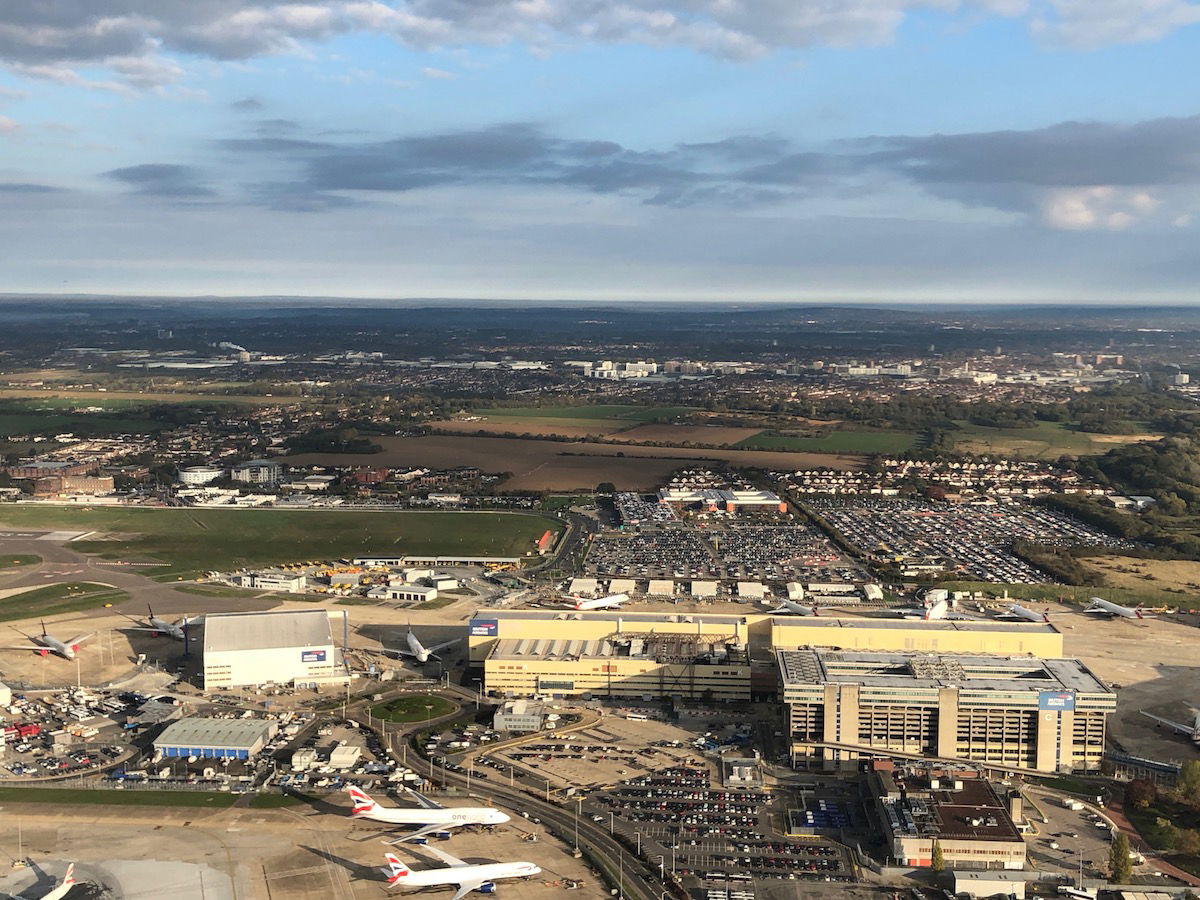 View after takeoff from London
As we climbed out I browsed the entertainment selection. While the selection itself was similar to the previous flight, the screen was so much higher quality, which was much appreciated.
British Airways business class new entertainment system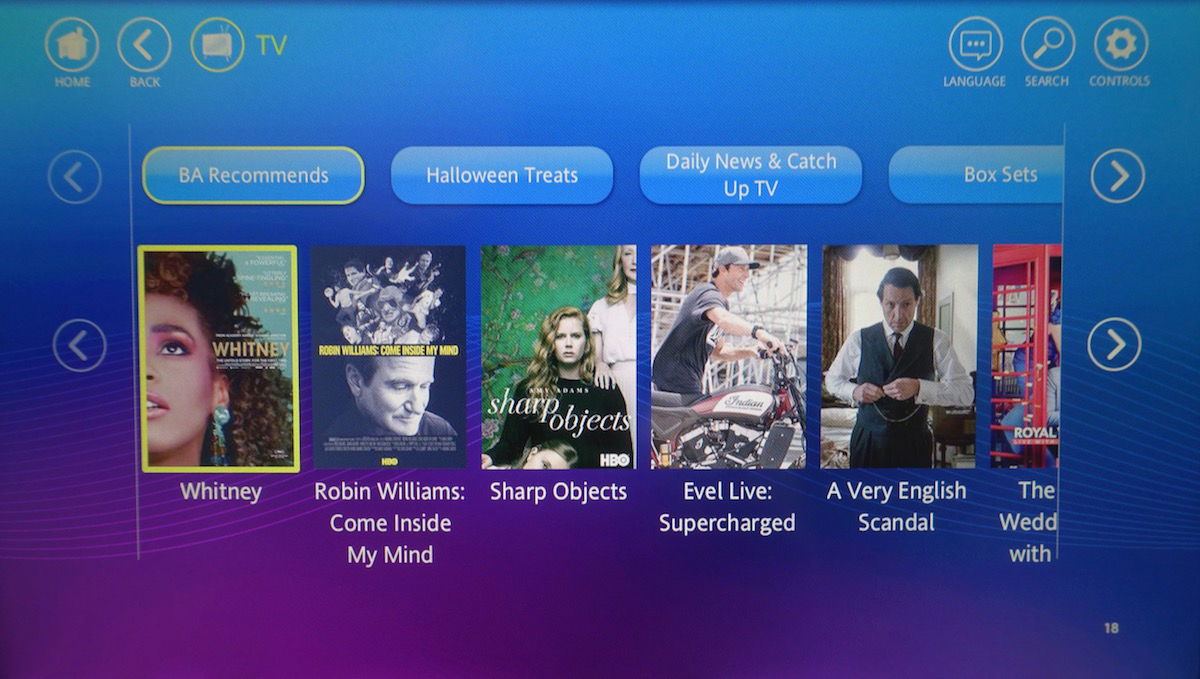 British Airways entertainment selection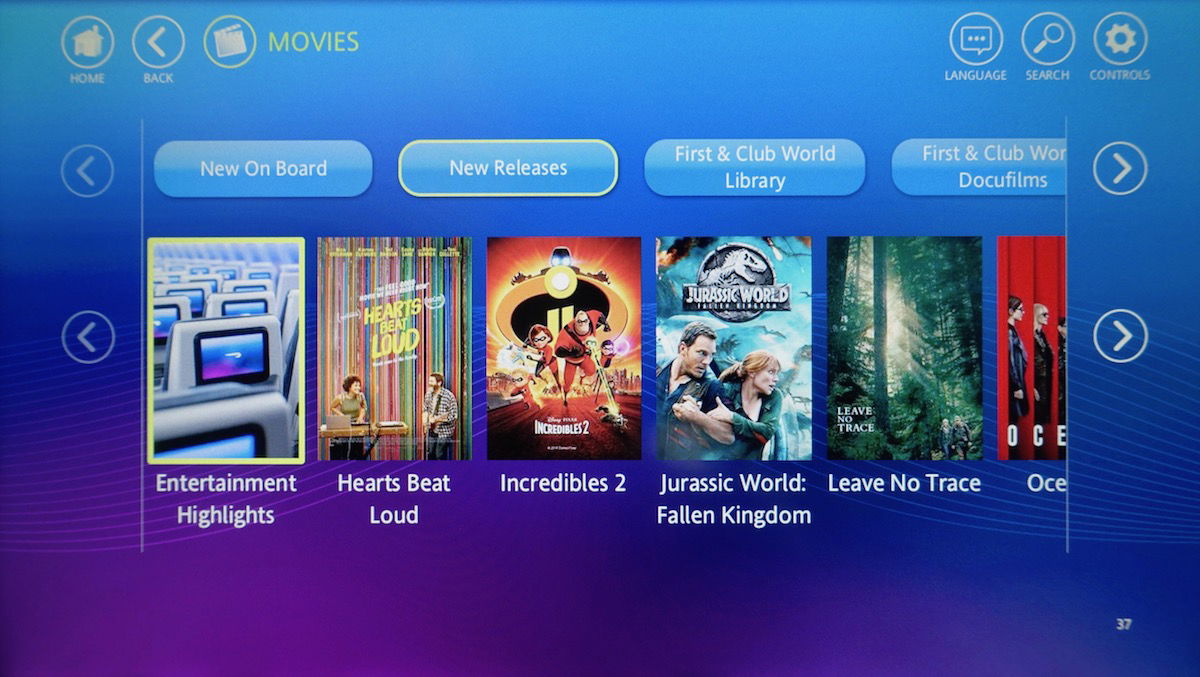 British Airways entertainment selection
Even the moving map had a much better setup.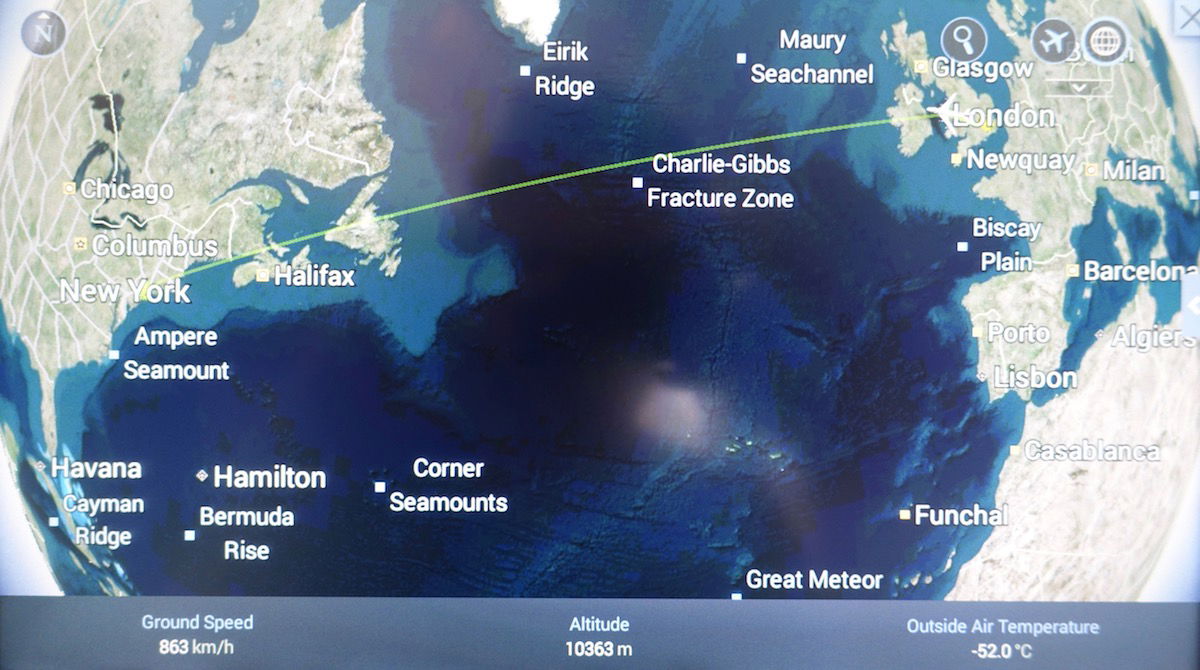 Progress to New York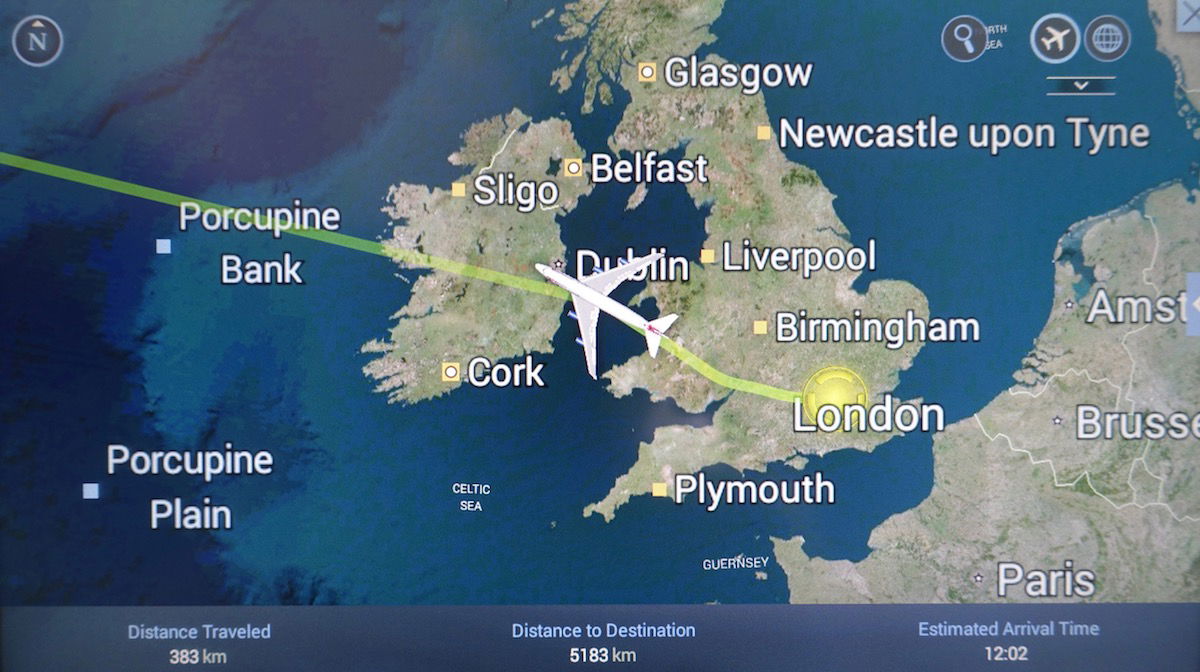 Progress to New York
The seatbelt sign was turned off 10 minutes after takeoff, and then about 20 minutes after takeoff, breakfast orders were taken.
The menu read as follows: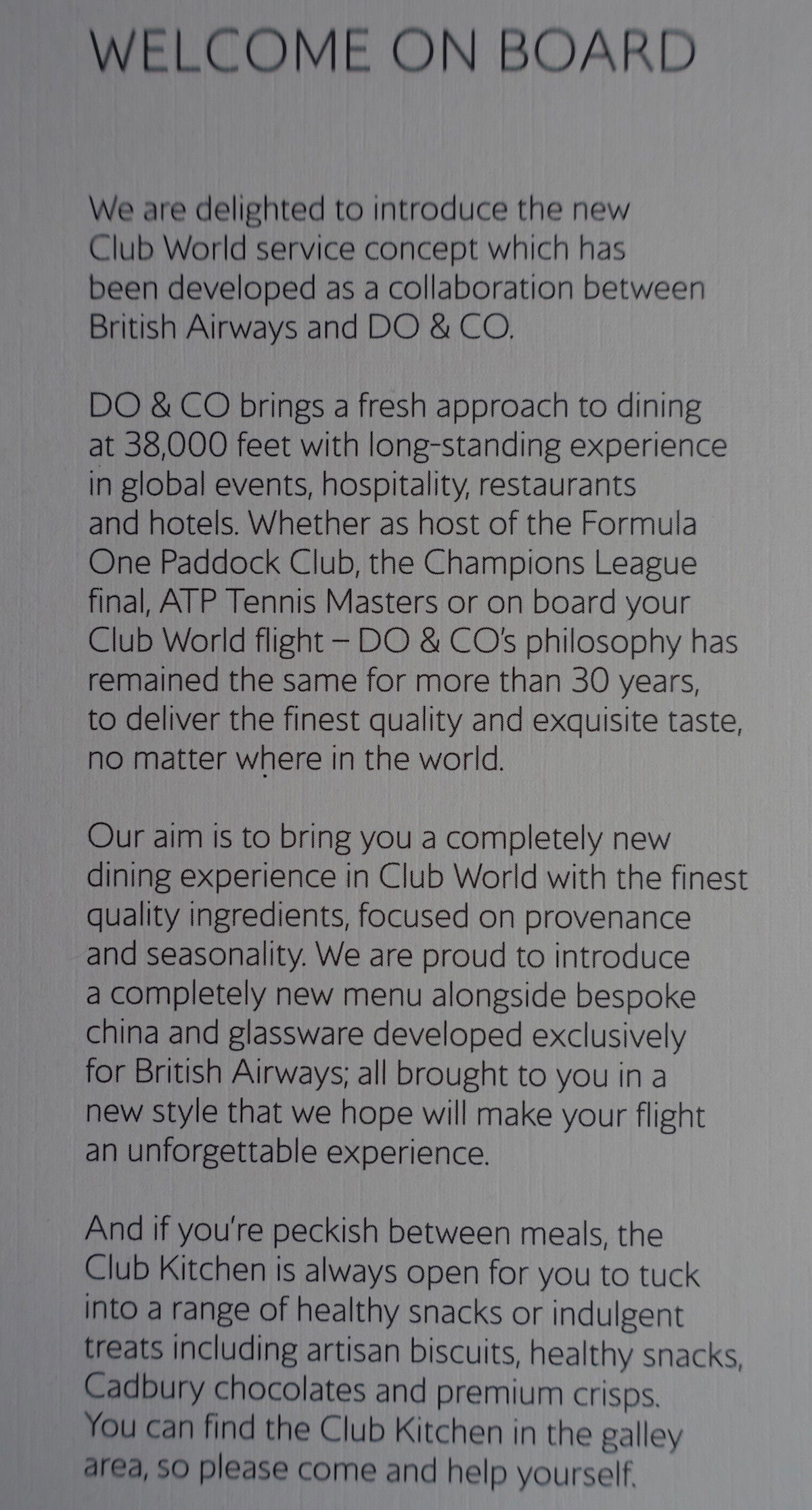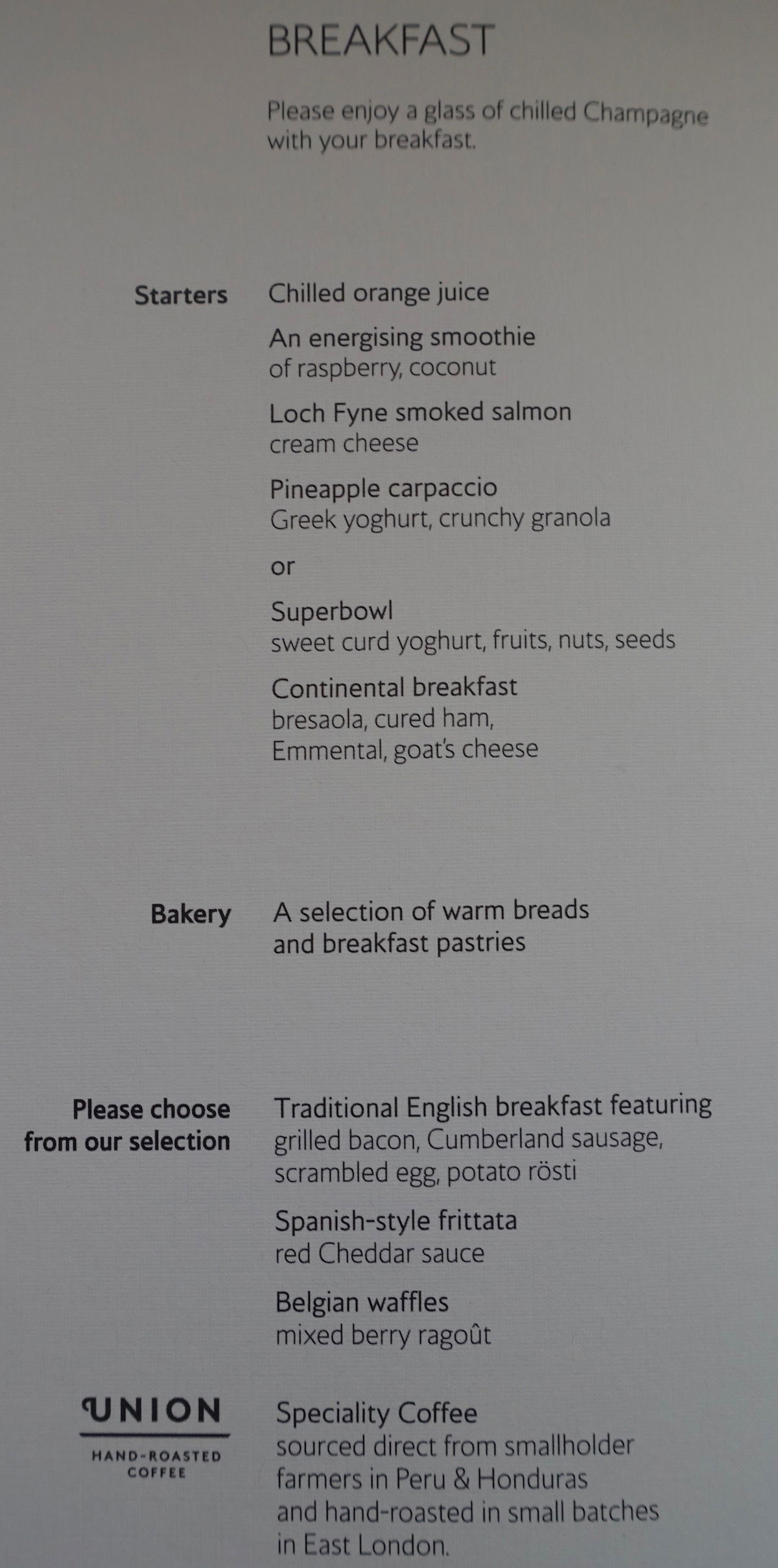 The drink list read as follows: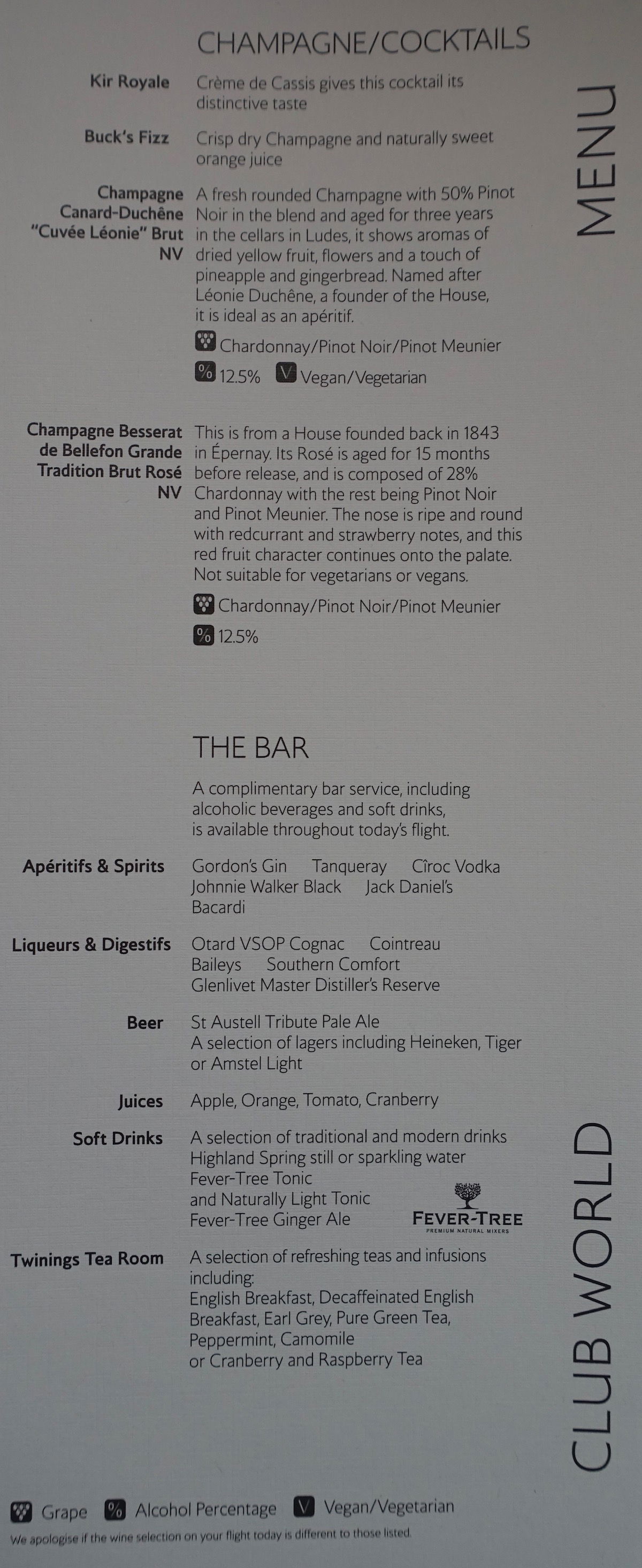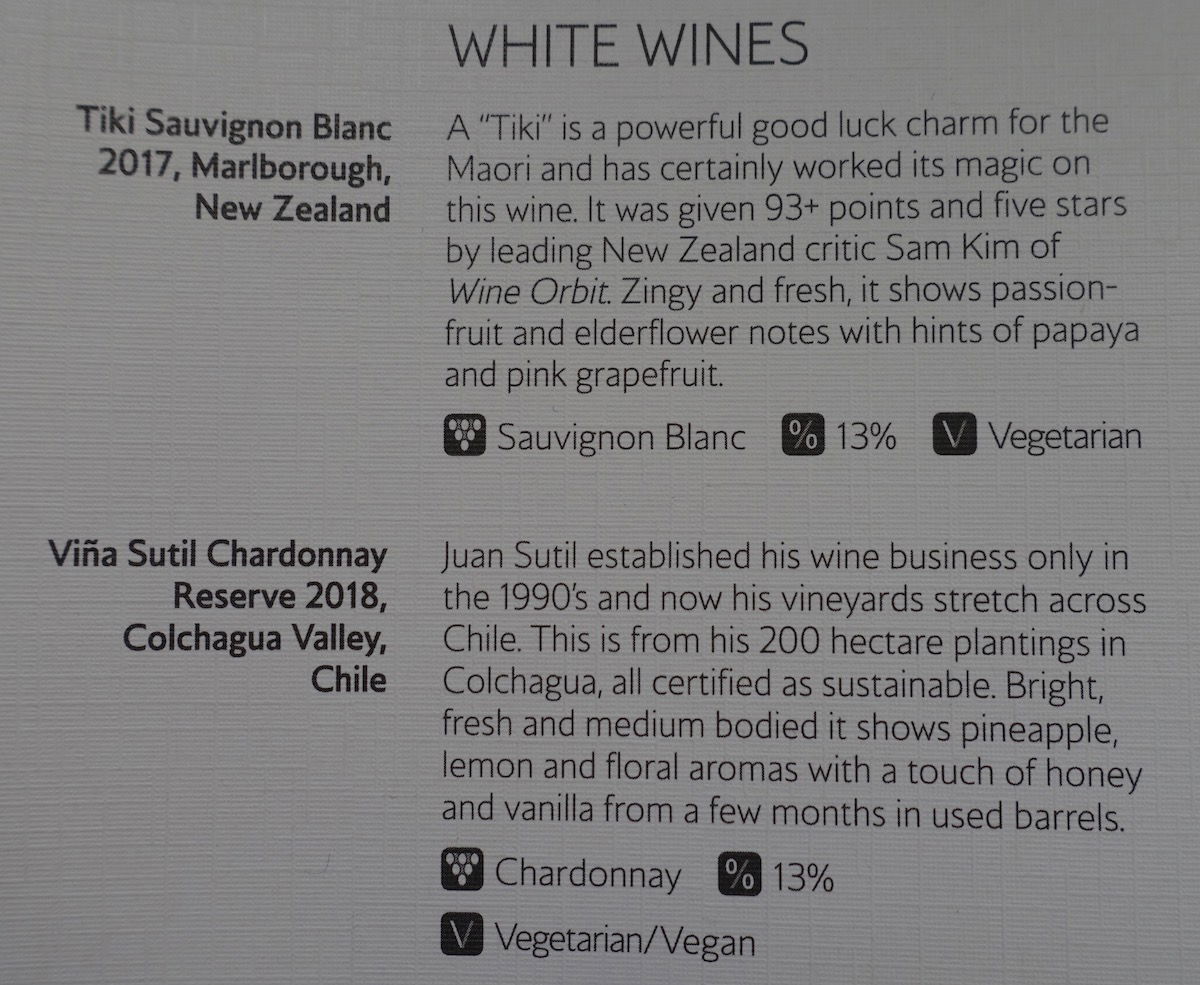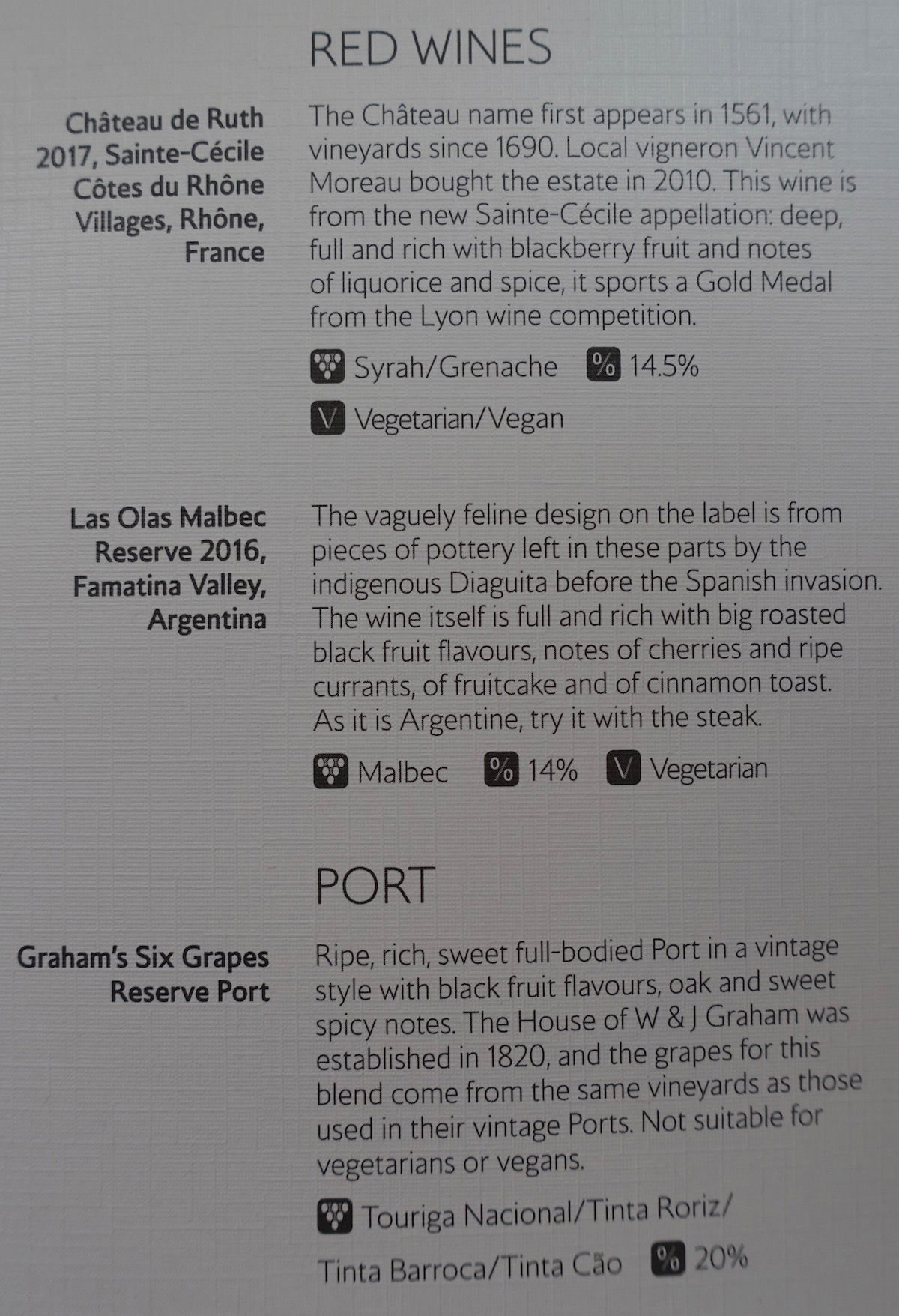 London to New York is an interesting route since it's the only longhaul one to have British Airways' new DO & CO catering, which British Airways will eventually switch to for other routes.
Of course it wasn't ideal that I was on a breakfast flight, since that's typically the least impressive meal you'll get on a plane.
Service began with warm towels being distributed.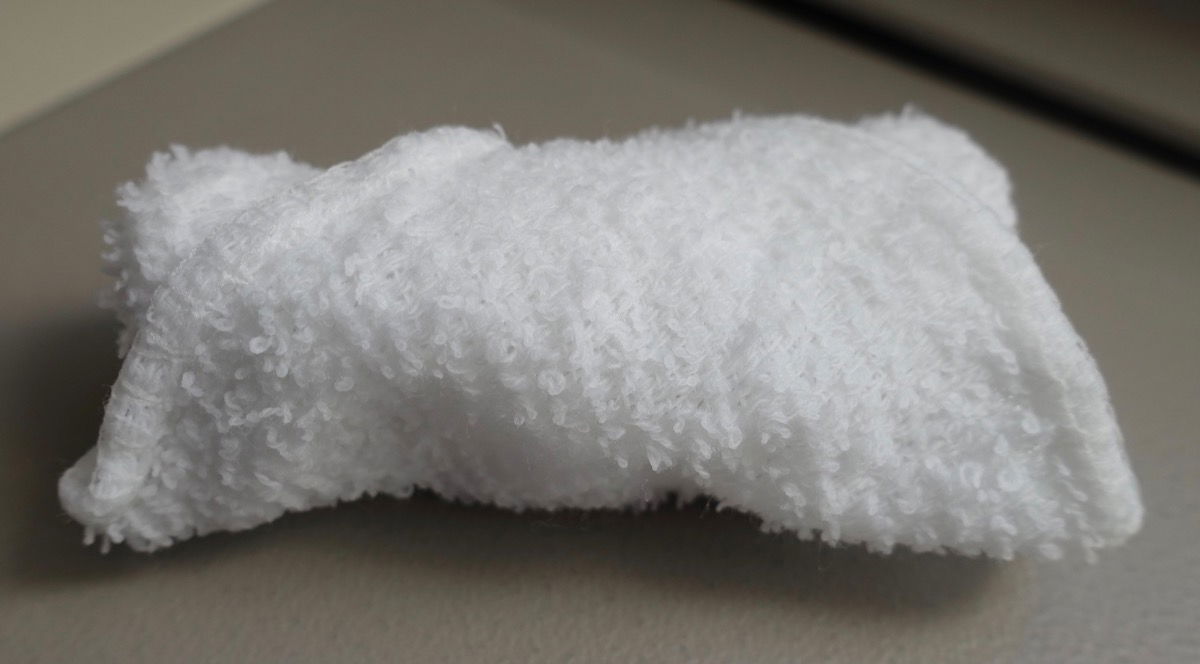 British Airways business class breakfast — warm towel
I was impressed by how quickly after takeoff service began. I was served the first tray just 30 minutes after takeoff. On lunch and dinner flights they'll first serve a drink and some nuts, but I guess with breakfast they get straight into the meal.
To start I ordered the smoked salmon as well as a smoothie, both of which were excellent. This was served with a croissant on the side. In addition to the croissant that was served in the breadbasket, there was a further selection of three other breads, though I passed.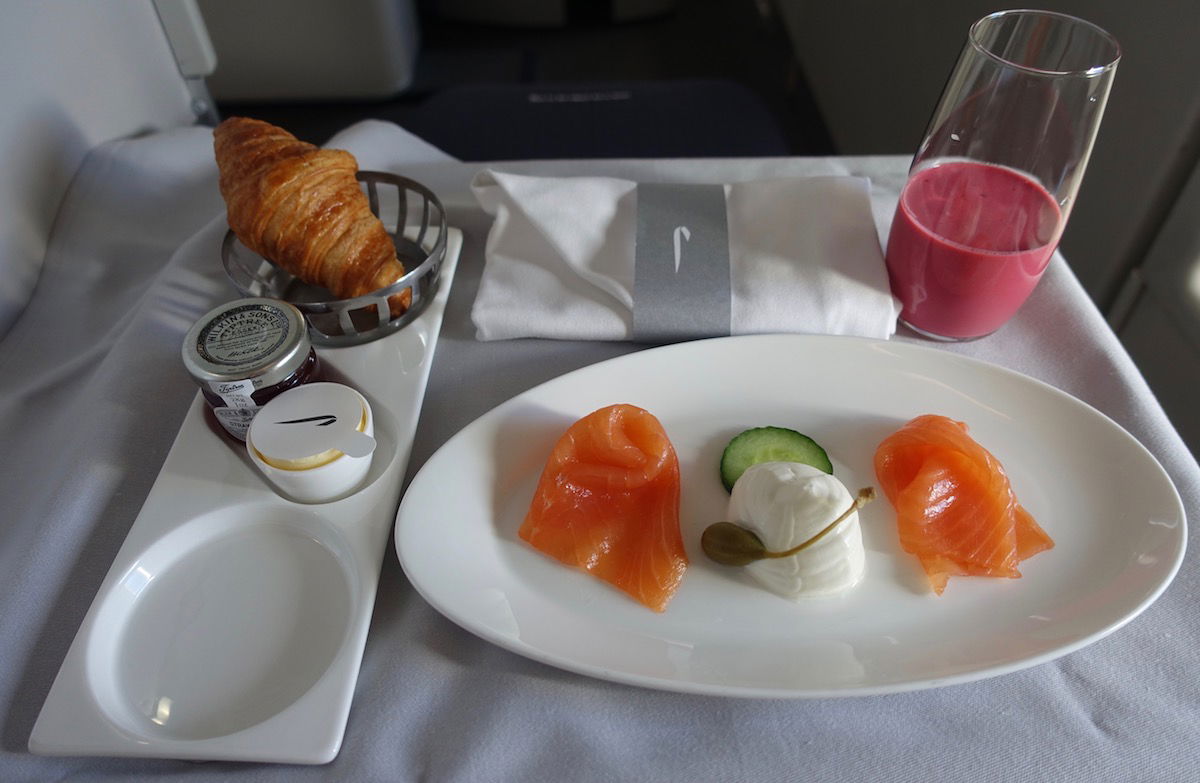 British Airways business class breakfast — starter
My main course was served just an hour after takeoff. I ordered the Spanish-style frittata with red cheddar sauce.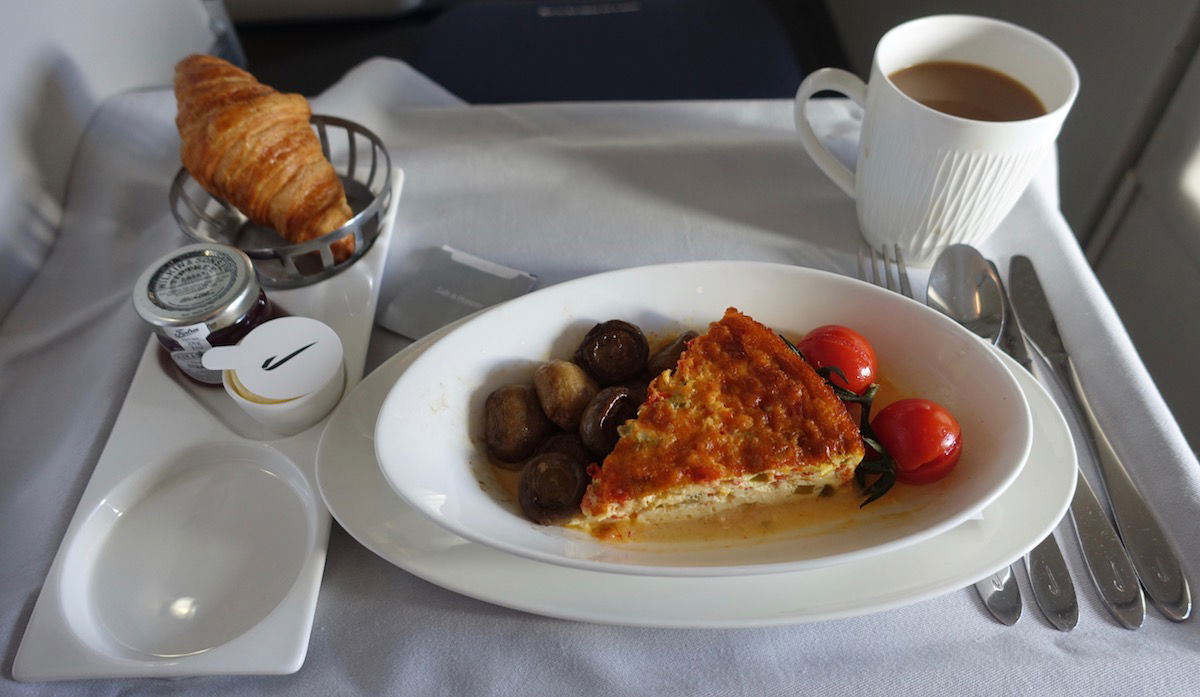 British Airways business class breakfast — main
The meal was good, though portions weren't exactly huge. I imagine I could have asked for more, but I wasn't actually hungry after flying so much with limited exercise.
Furthermore, the crew was also very good. They really performed the service like clockwork. They were both professional and personable.
After breakfast I tried to get some work done. I got lucky in that I was on one of British Airways' 747s with Wi-Fi (most of the 747s flying between New York and London have it), and you can read all about Wi-Fi on British Airways in this post.
While there are several pricing options, I chose the "stream" option for the entire flight, which is the fastest Wi-Fi. That cost 23.99GBP.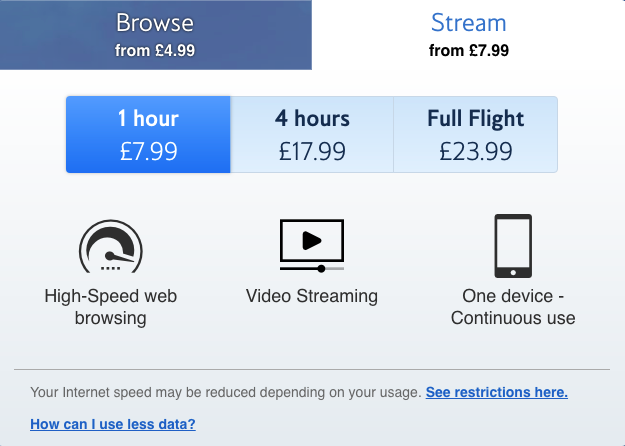 It was so great to be able to stay connected on British Airways for the first time.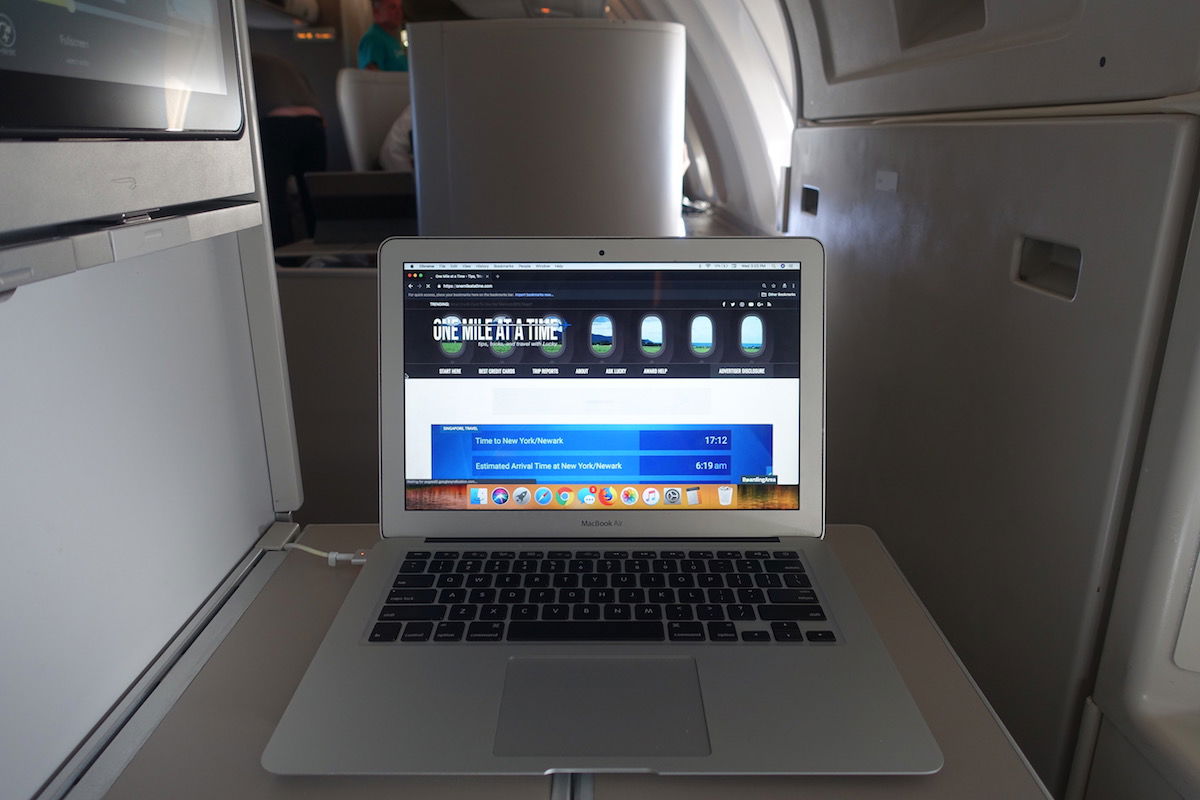 British Airways Wi-Fi
I spent most of the flight working, and about an hour after breakfast ordered a cup of coffee, which was served on a cute tray.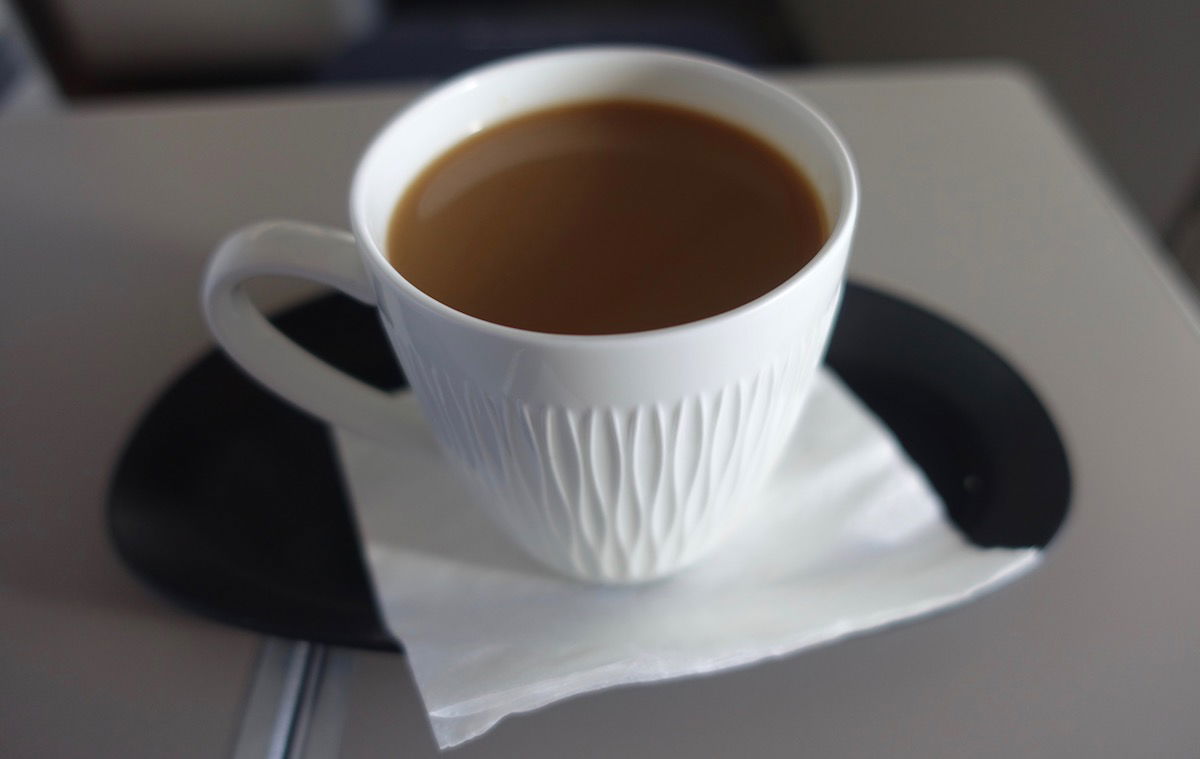 British Airways business class coffee
I then worked a bit more, and about halfway through the flight was feeling peckish. At this point I realized that British Airways has a small self serve bar on the lower deck right by the stairs to the upper deck, so I checked that out. This had a bunch of packaged snacks, drinks, and also a fridge that had further snacks.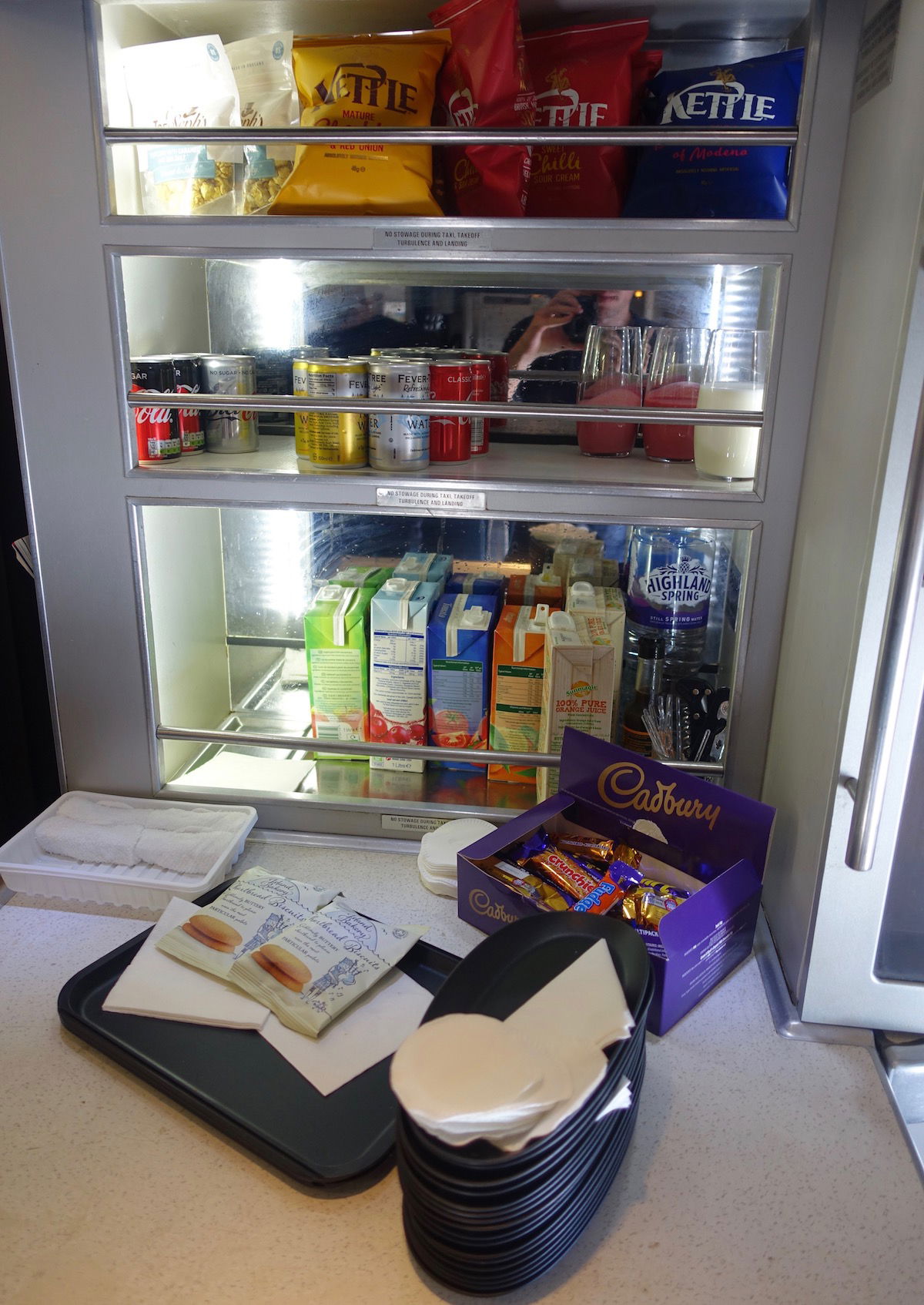 British Airways business class snacks
They had some tasty yogurt with berries and nuts, so I grabbed that and took it to my seat.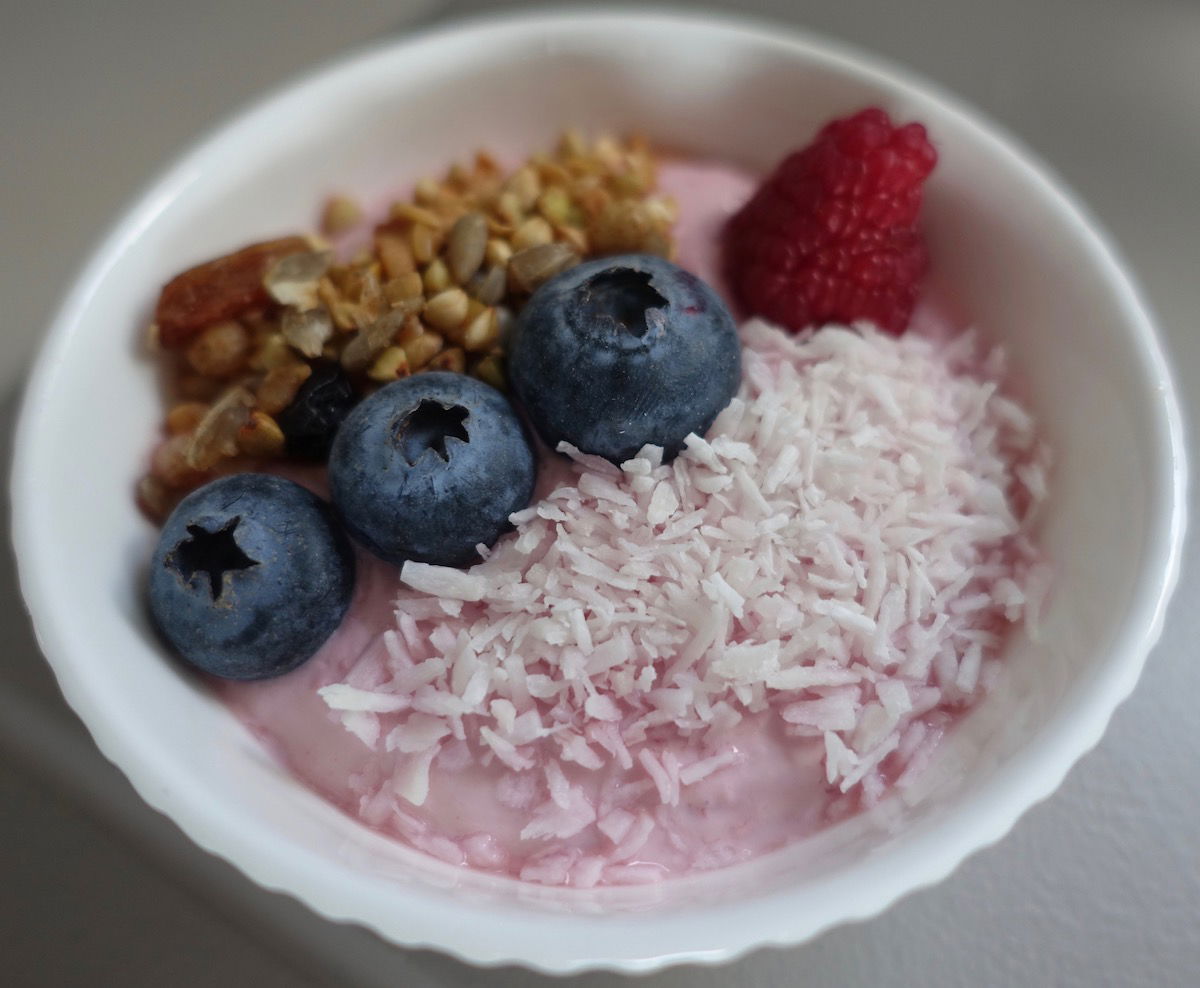 British Airways business class snack
I also ordered some tea, and the flight attendant brought me a pack of cookies to go along with it.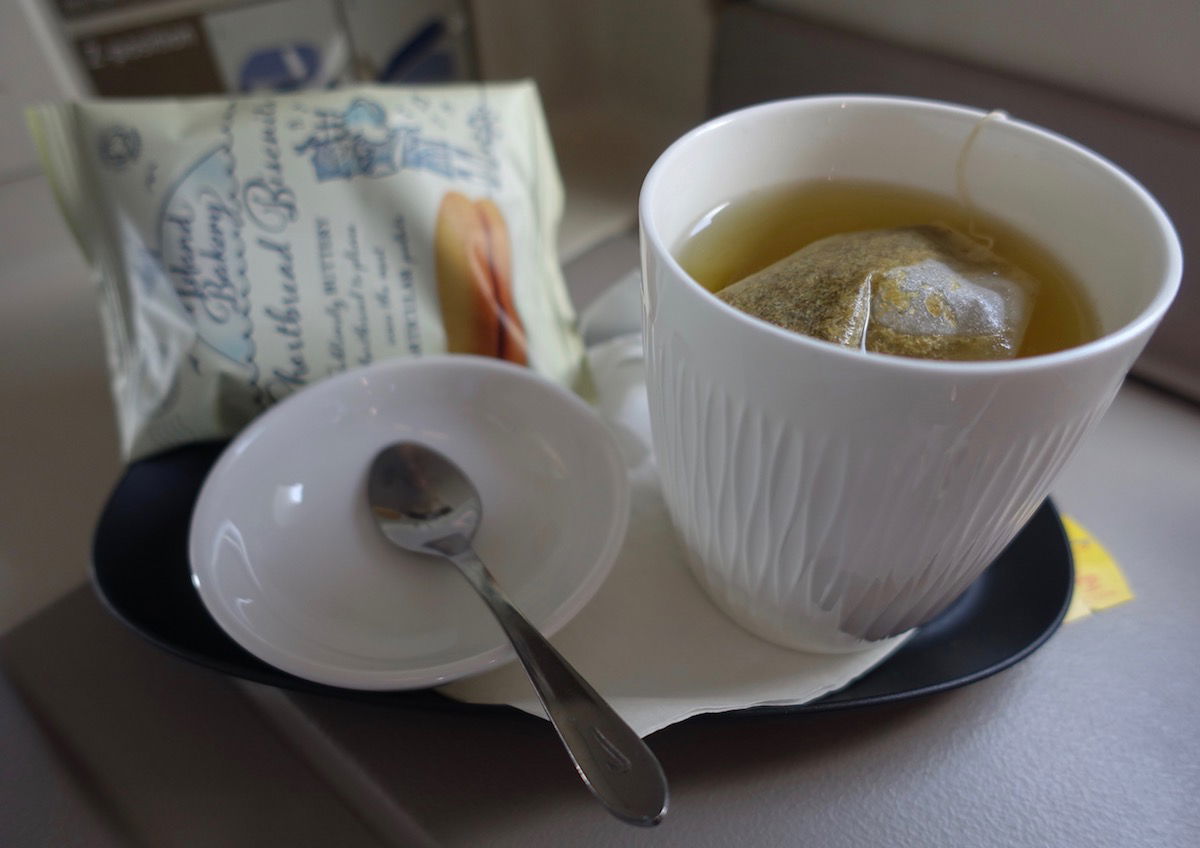 British Airways business class tea
About 75 minutes before landing, as we were over Maine, the pre-landing snack service started.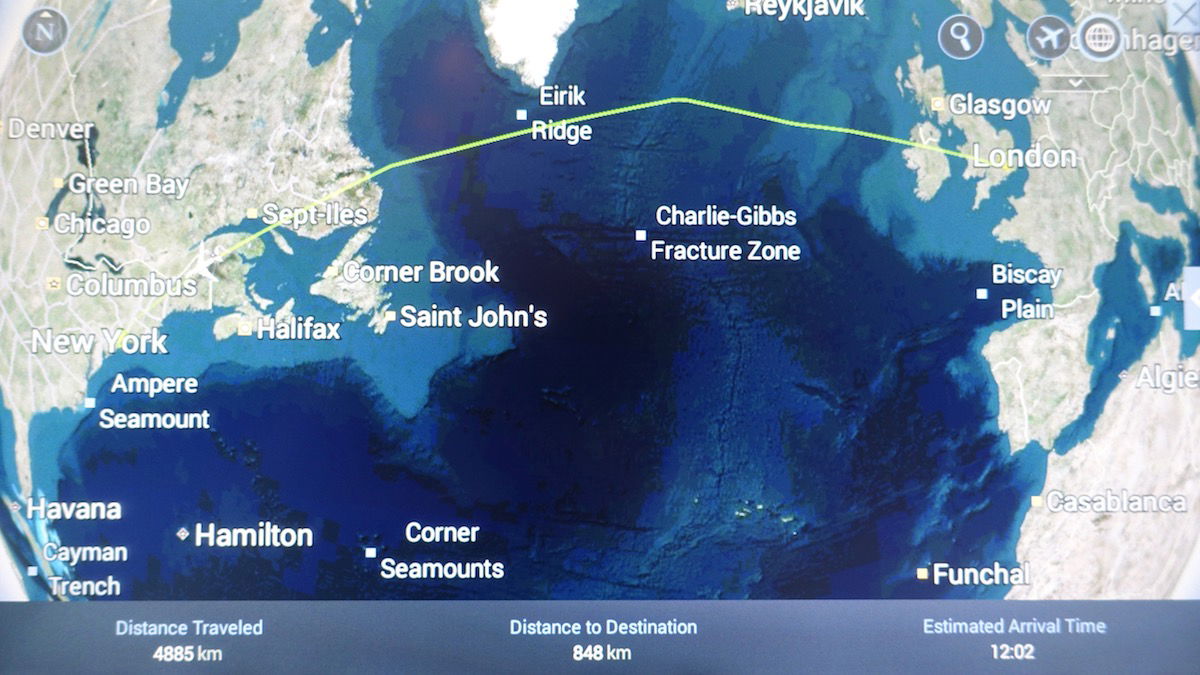 Progress to New York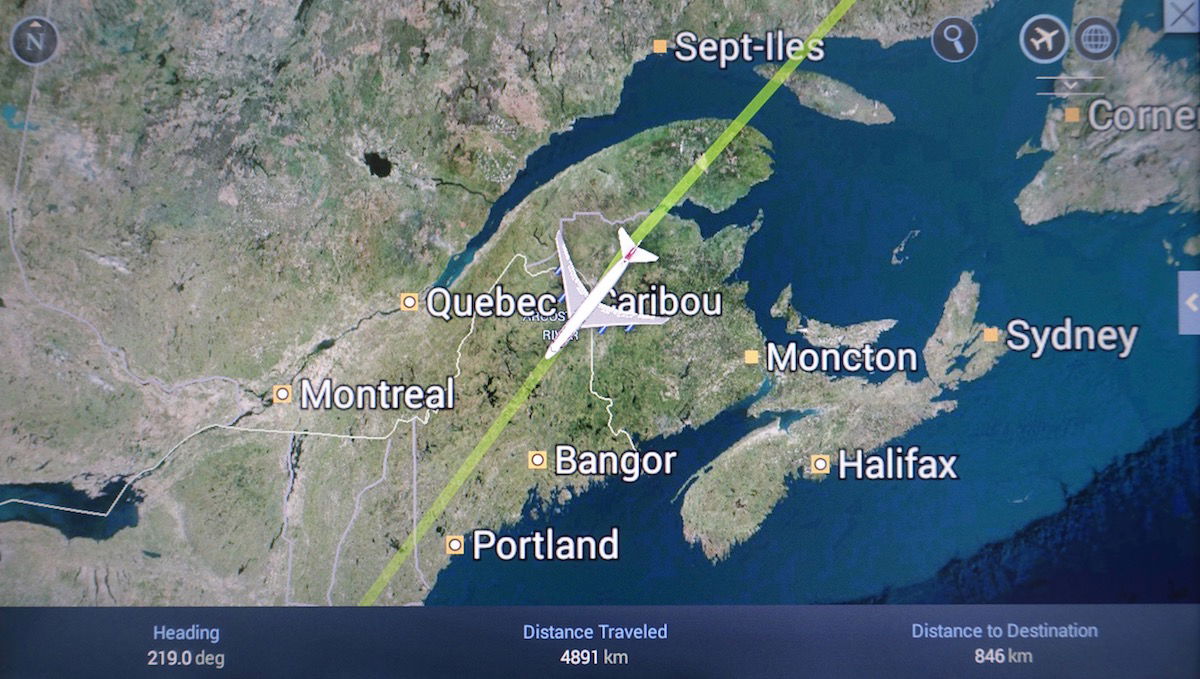 Progress to New York
British Airways serves afternoon tea on all of their London to New York flights. Personally I would have hoped they'd serve a more substantial meal on a flight where the first meal is breakfast, but that's not the case.
The pre-arrival menu read as follows: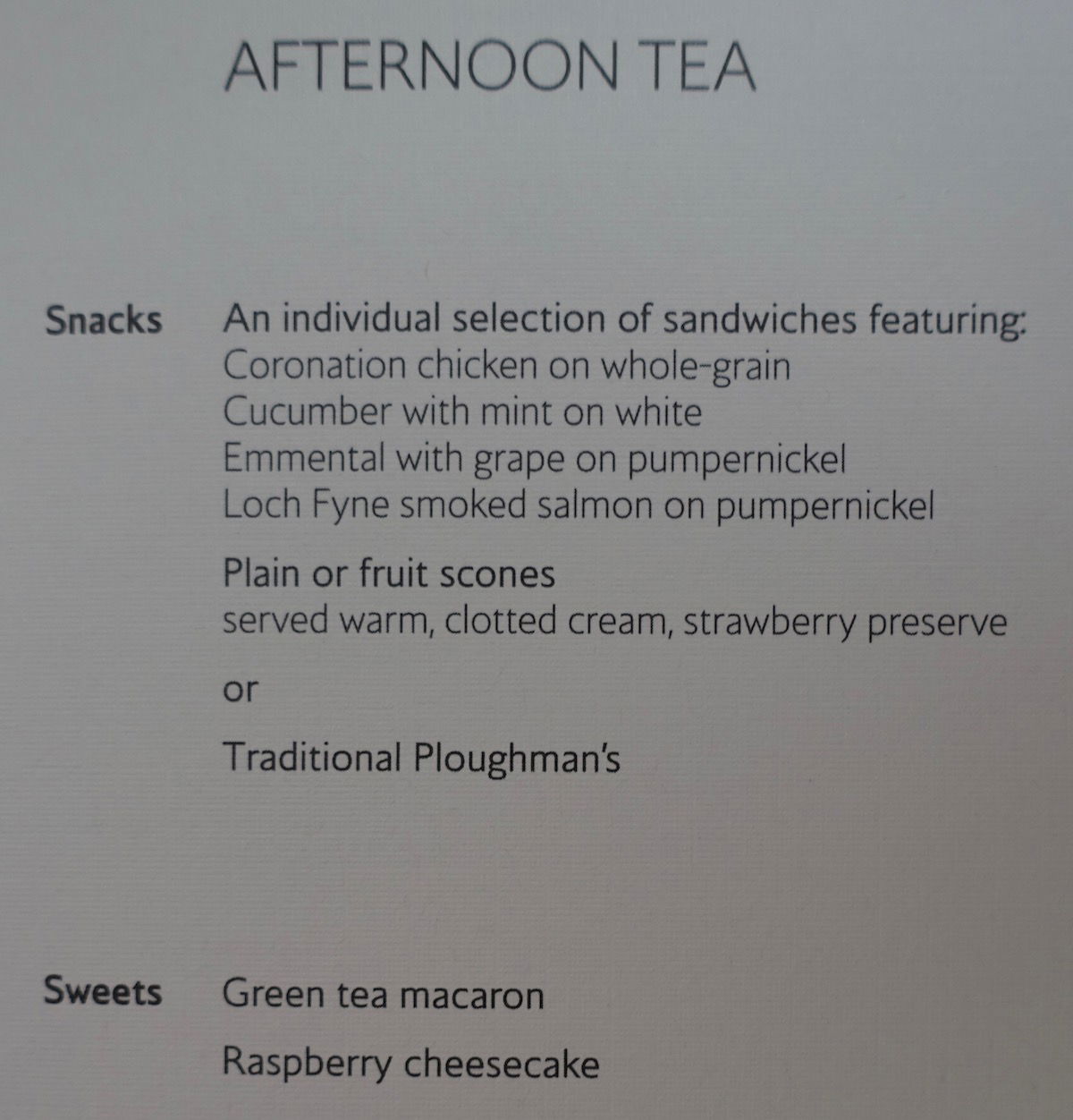 Stupidly I ordered the ploughman's, not fully knowing what it was. While well presented, it wasn't my cup of tea.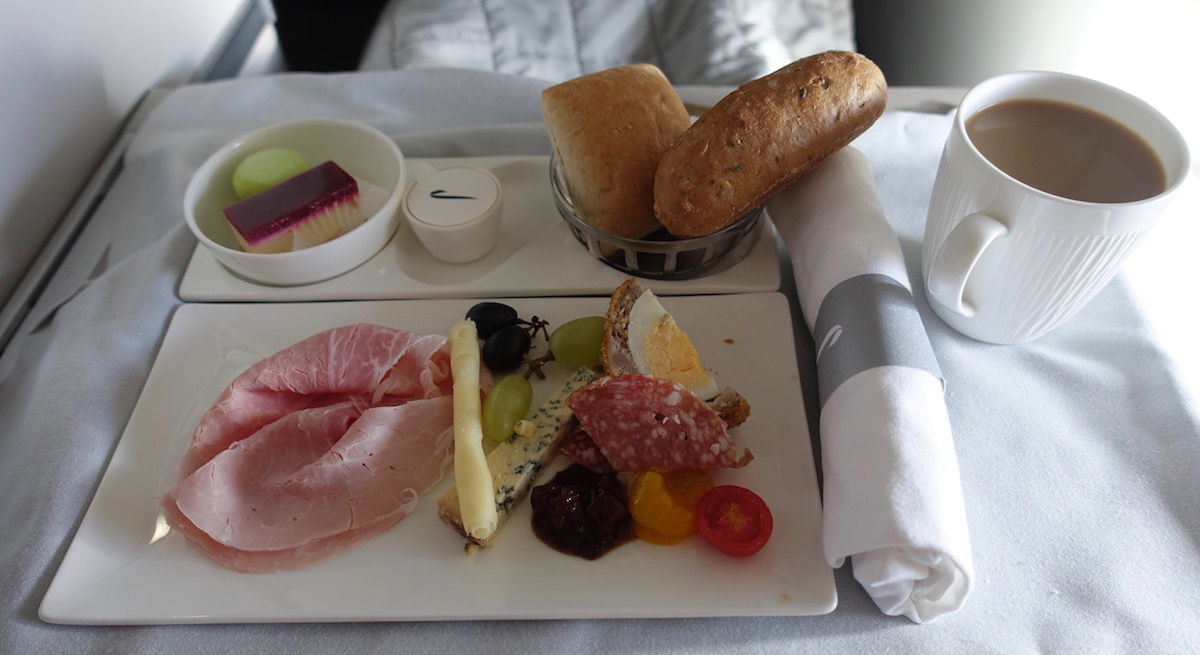 British Airways pre-arrival snack
I asked if I could also have a scone, and the flight attendant gladly obliged.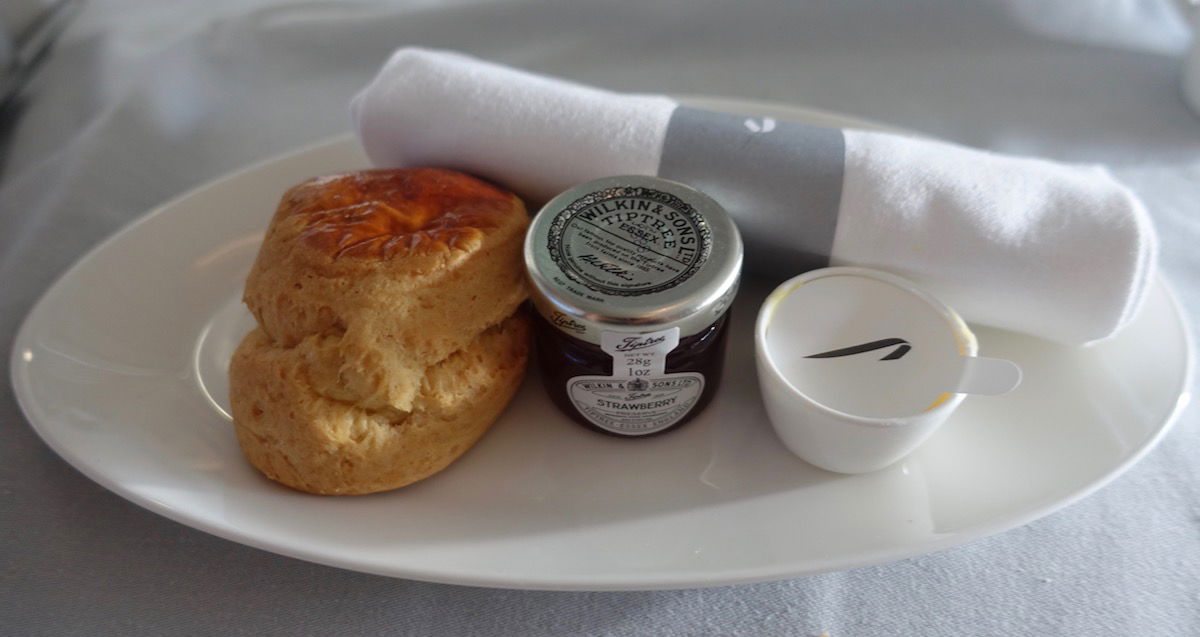 British Airways pre-arrival snack
At around 11:20AM the captain announced we were near Boston and would be landing in about 40 minutes. Sure enough, we began our descent about 10 minutes later, and about 20 minutes later the captain turned on the seatbelt sign.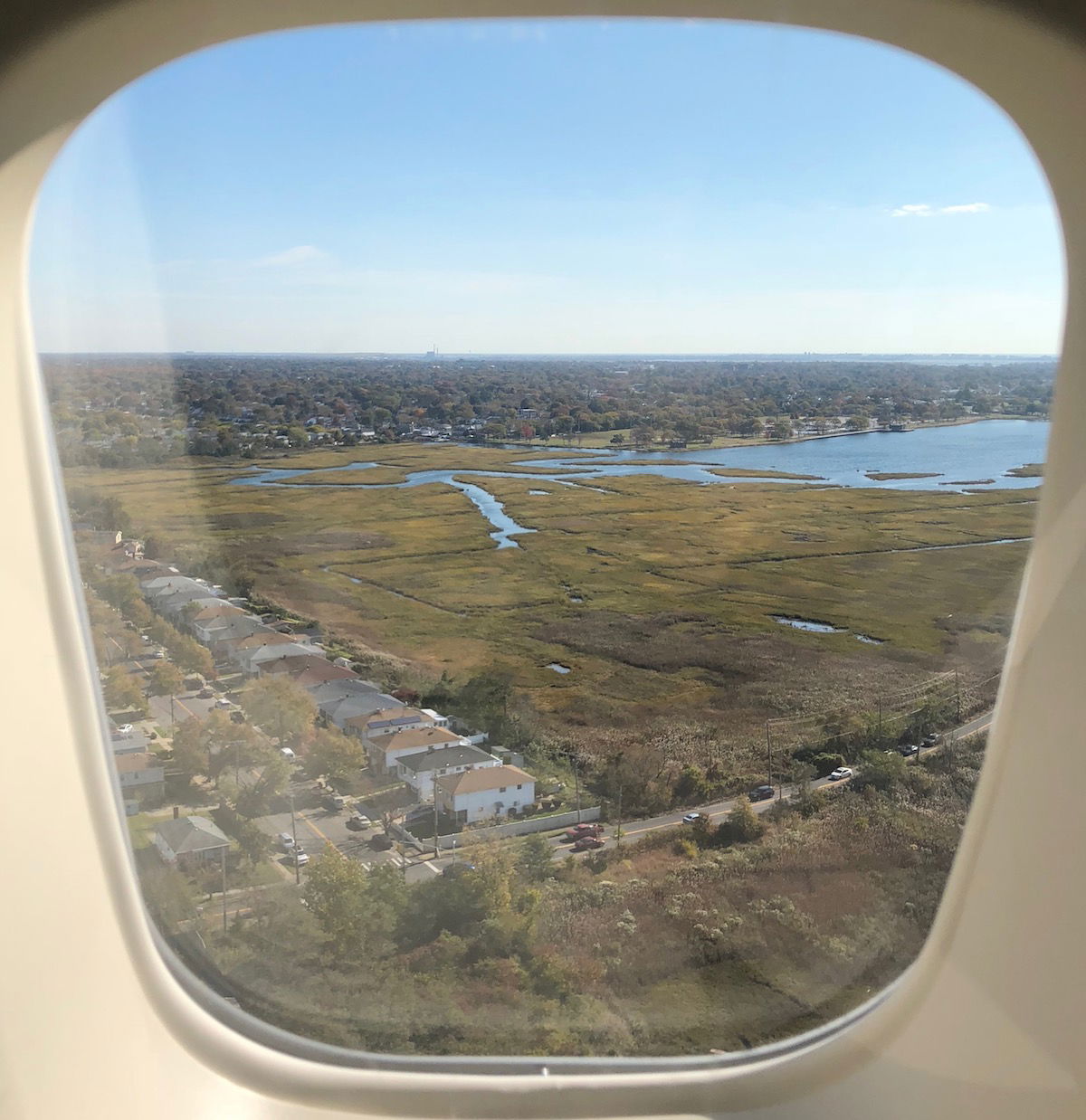 View approaching New York
We touched down in New York at 12PM. While the landing was smooth, it was really gusty on approach, so it felt like the pilots were wrestling the plane down.
Our taxi to Terminal 7 took a while, and we ended up arriving at our gate at 12:15PM, as we had to be towed in. We parked next to an Aerolineas Argentinas A330.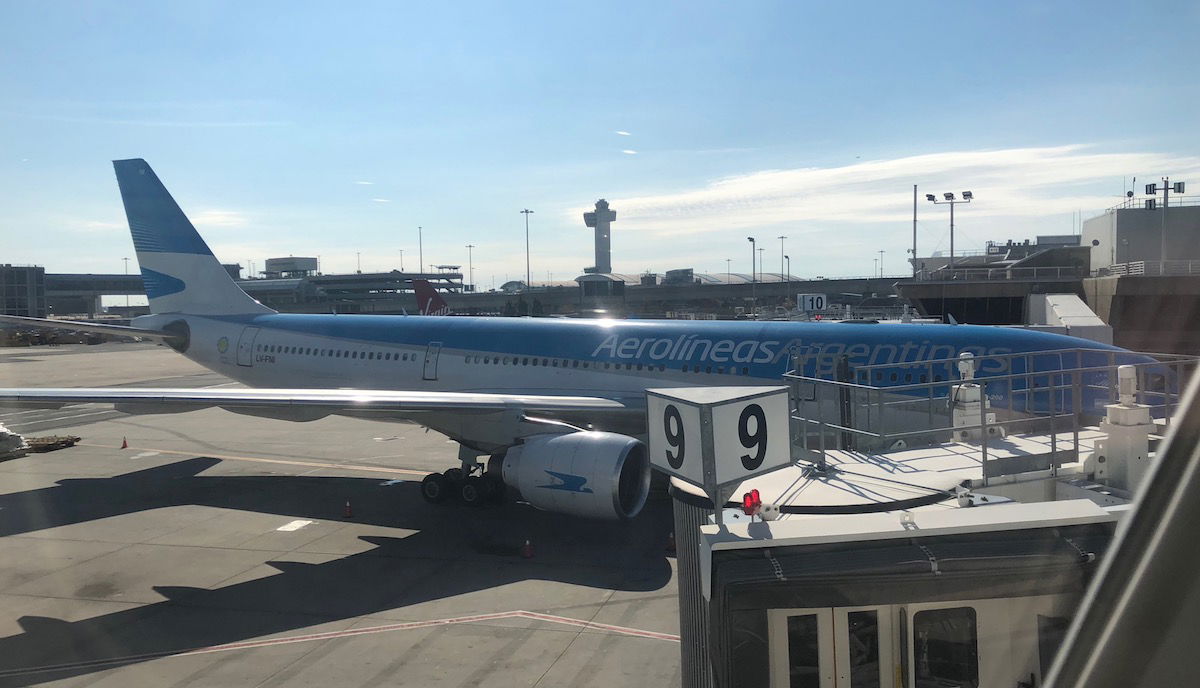 Aerolineas Argentinas A330
After pulling into the gate the captain announced over the PA "we're 15 minutes early, hooray. Cheerio."
I headed through Global Entry. Terminal 7 only has a few kiosks, and I feel like more people on that flight had Global Entry than not, so there was about a 10 minute wait to even use a kiosk. That's the first time I've ever seen that. From there I headed to Terminal 8 to catch my (delayed) flight on American.
British Airways Club World 747 bottom line
This was a really solid flight on British Airways. As before, the upper deck of the 747 is a real treat. On top of that, British Airways' soft product has improved immensely.
This flight had the added bonus of having the new entertainment screens, as well as Wi-Fi, which made the flight even better.
The DO & CO food quality was excellent, though the sheer quantity of food they serve on these breakfast flights isn't huge, especially since they offer afternoon tea, rather than lunch, before landing.
This crew was also top notch — they were friendly and polished.
You sure could say that British Airways grew on me a lot over the course of this journey.